Quick review
Sony WF-1000XM3 wireless noise cancellation earphones
The good
Fantastically warm sound
Strong balance
Great design
Excellent assortment of both silicone and foam tips
Strong battery life
Supports ambient noise cancellation and hear-thru mode
The not-so-good
Controls aren't quite as easy as the headphone variant 1000XM3
Occasional audio sync delay dependent on the phone you use
A clear champion has emerged in the noise cancelling headphone world, and now it has made something even smaller. Is the Sony WF-1000XM3 a pair you need to check out?
It's been over six months since Sony introduced its third generation of "1000" series noise cancellation headphones, and after winning a few awards, it's clear there's a new headphone king. We gave the 1000XM3 our "best of" headphone award last year, but we weren't the only ones.
Sony hasn't been resting on the news, either, and has been working to build another take on the 1000XM3. One that is smaller and doesn't take up anywhere near the same space.
In a world where the Apple AirPods have shown that wireless and cordless are what so many customers want, Sony has married the concept with its noise cancellation technology to deliver the WF-1000XM3. Are these the best in-earphones you can buy today?
Design and features
The company that created the industry-changing Walkman, Sony is an audio company, so making dents on the audio world is definitely in the brand's DNA.
It's little surprise the company has made such a dent on noise cancellation, though it did take some time. Bose practically owned this area for so long, that when the MDR-1000X first launched back in 2016, it was a surprise that the Sony headphones were so good.
With each subsequent generation, Sony has proven that it can take its headphones somewhere better.
But they're also big, and so if you want something small, you may not have the same options.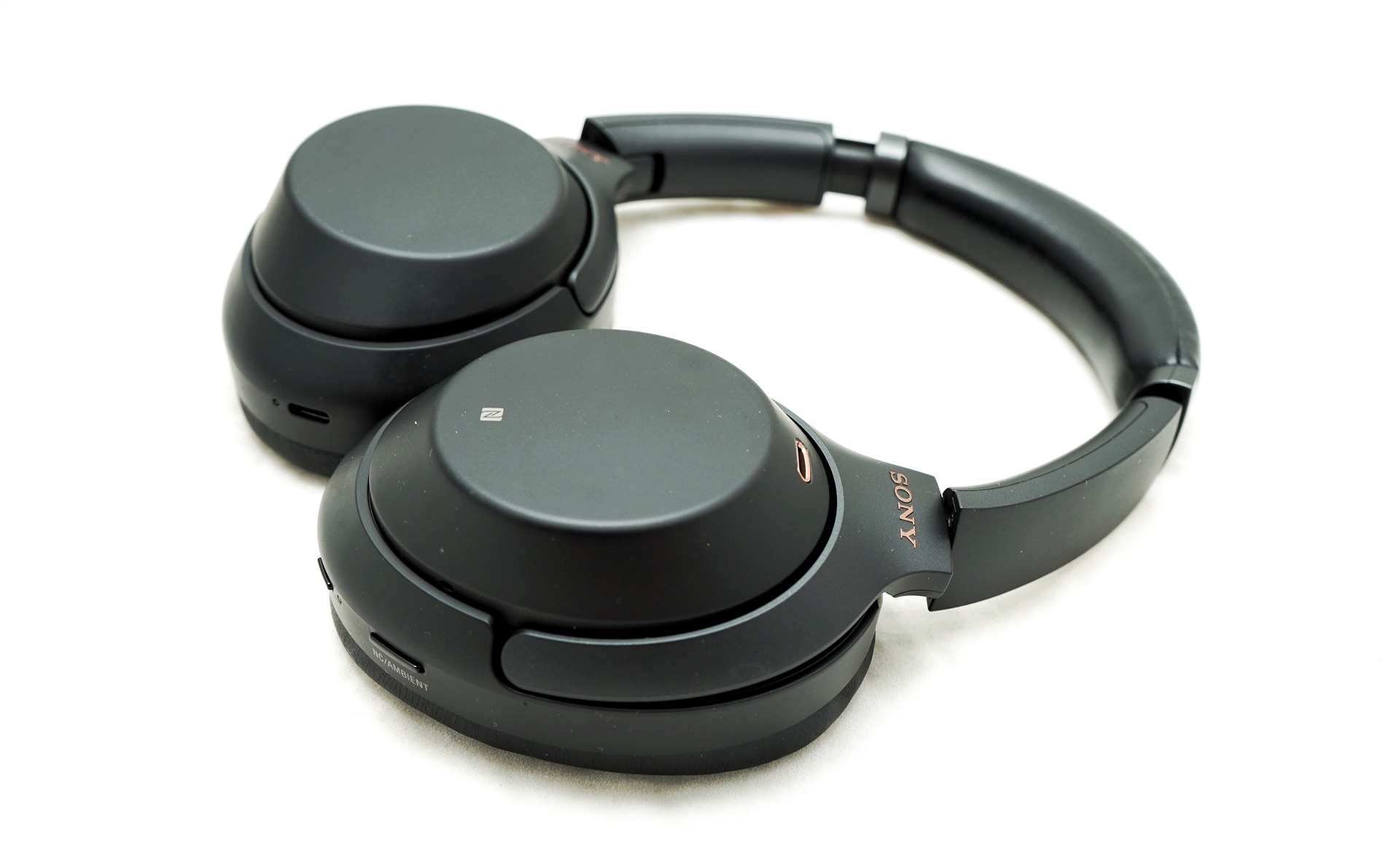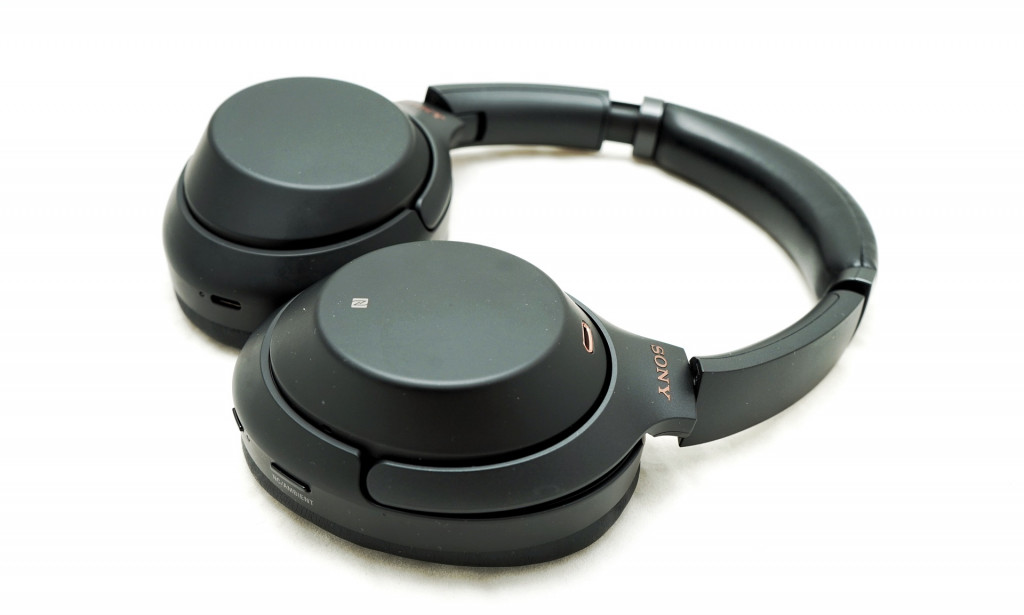 Sony did experiment with smaller earphones last year in the WF-1000X, but somewhere between battery issues and audio delays, they weren't necessarily as reflective of what the WH series had accomplished.
We're now in version two, though Sony has taken the tech from the XM3 and made it a little smaller. However, shrinking the WH-1000XM3 headphones down to something smaller isn't necessarily easy, and Sony had to make some changes.
One of these is the noise cancellation chip, which takes the QN1 in the headphones and makes it smaller. The result is the QN1e which is similar but smaller, and only works for 24-bit encoding, not the 32-bit of its 1000XM3 sibling.
Another is a slight design change, which means the fit comes across a little differently to other in-earphones, which asks you to insert the earphones and then twist them slightly down, helping to ensure a semblance of seal as you walk and creating what Sony says is a three part fit, removing the need for any extra gels or fins to hold them in place.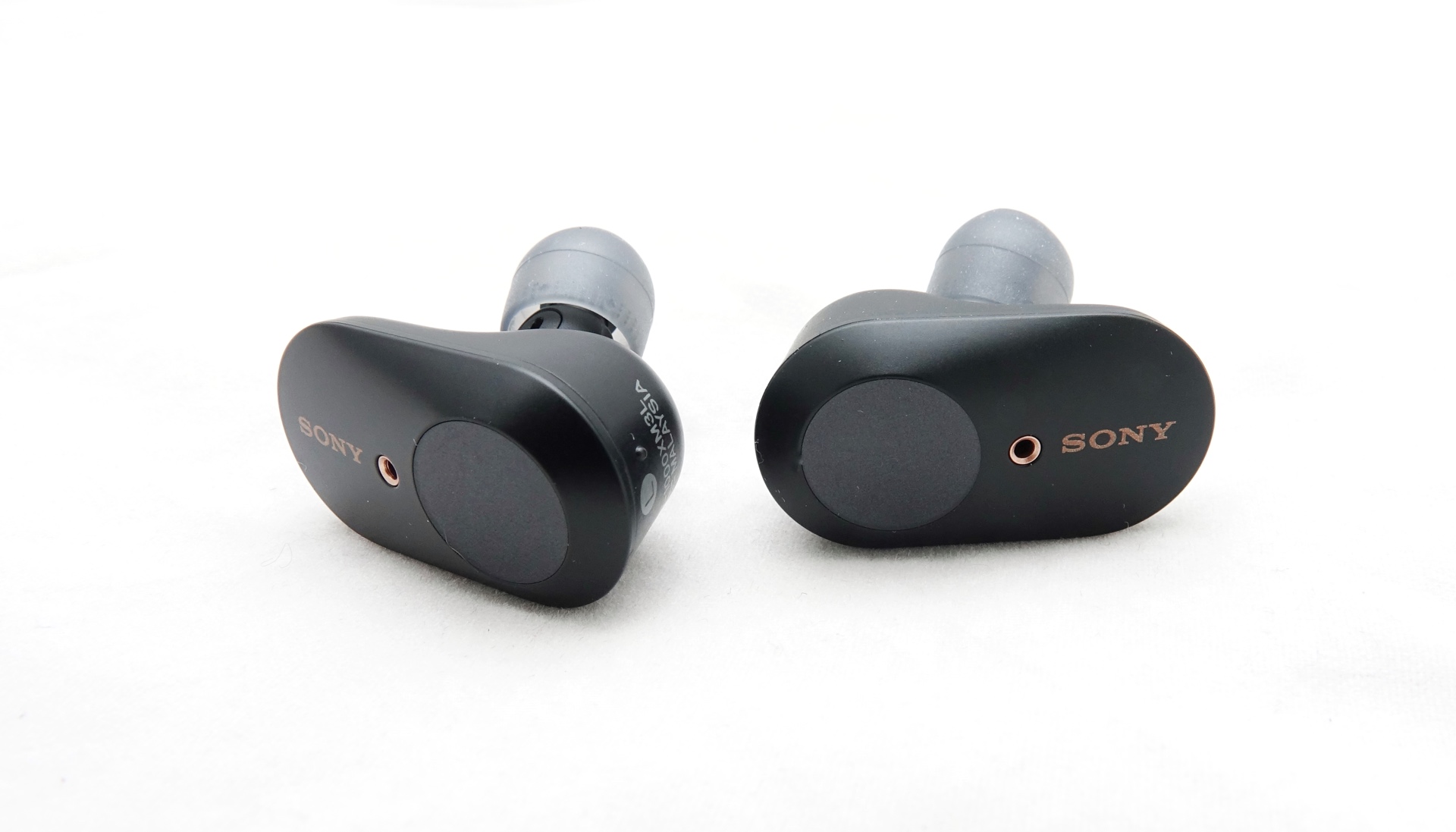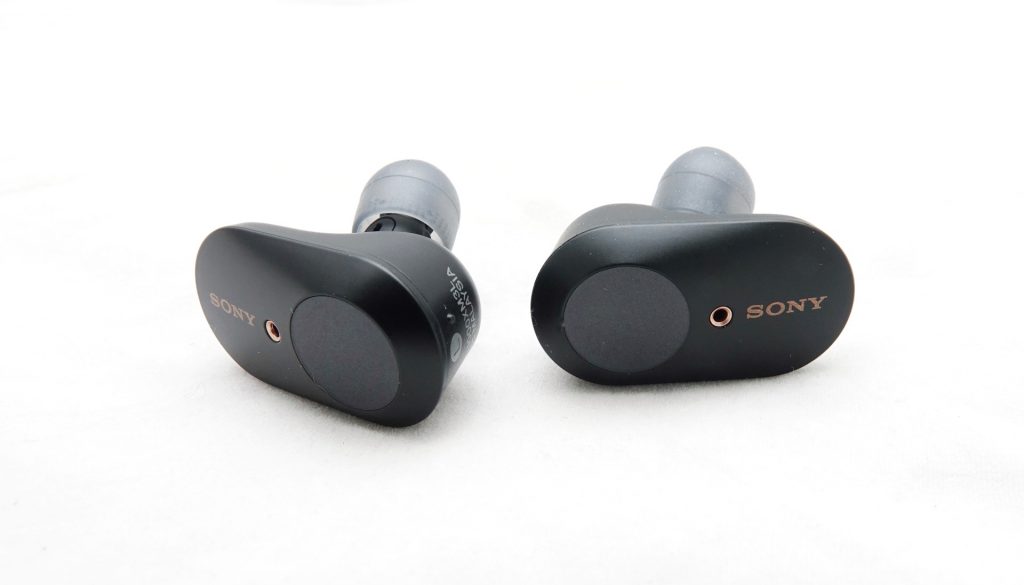 In-use
It means that when they're inserted correctly, the Sony WF-1000XM3 will fit like an earphone, but one that holds in place comfortably, something that is no doubt helped by the array of tips you're treated to.
There are several sizes available and a choice of two materials, something which feels kind given how you don't always get that from earphone makers, so we do like to see it when we can.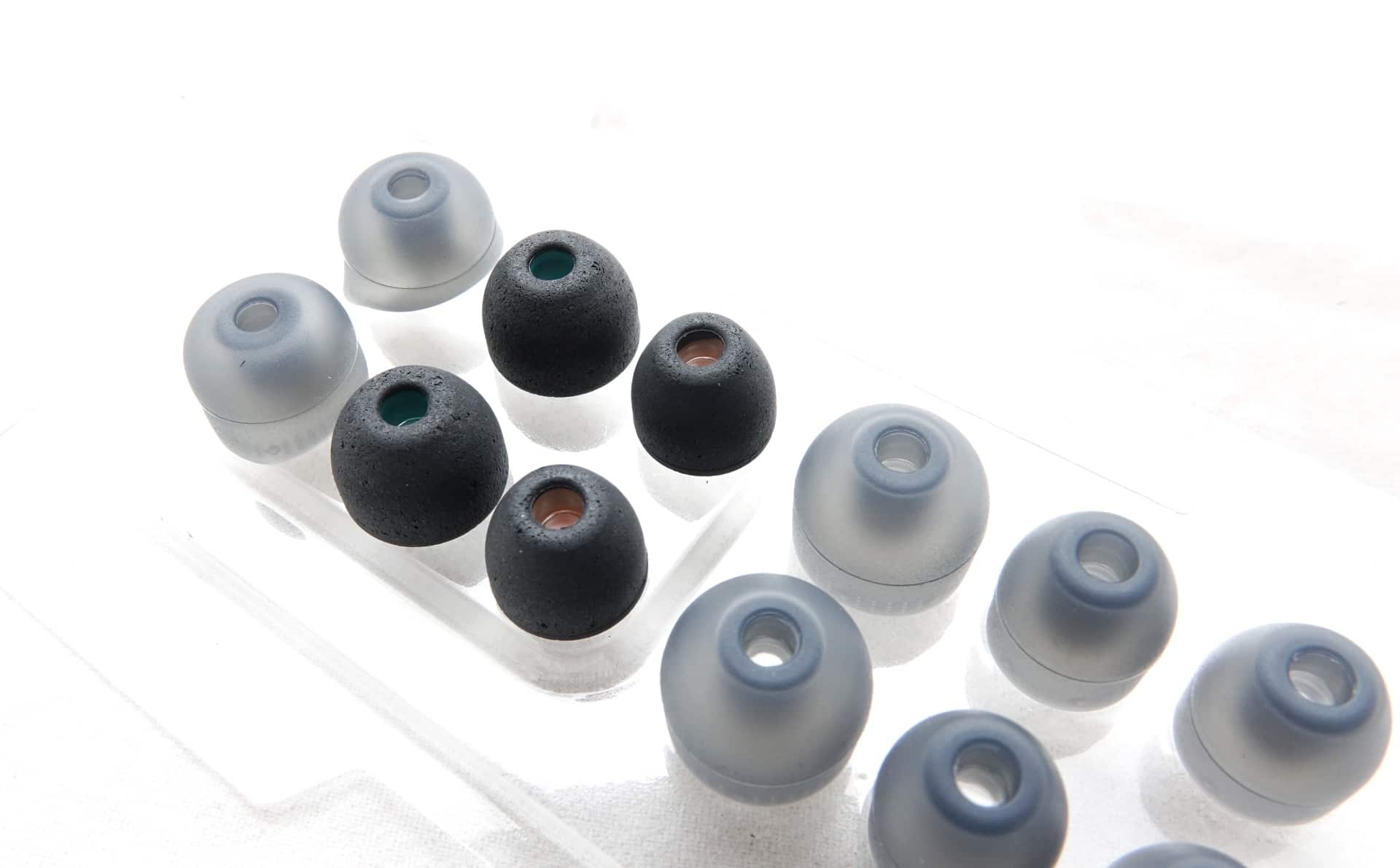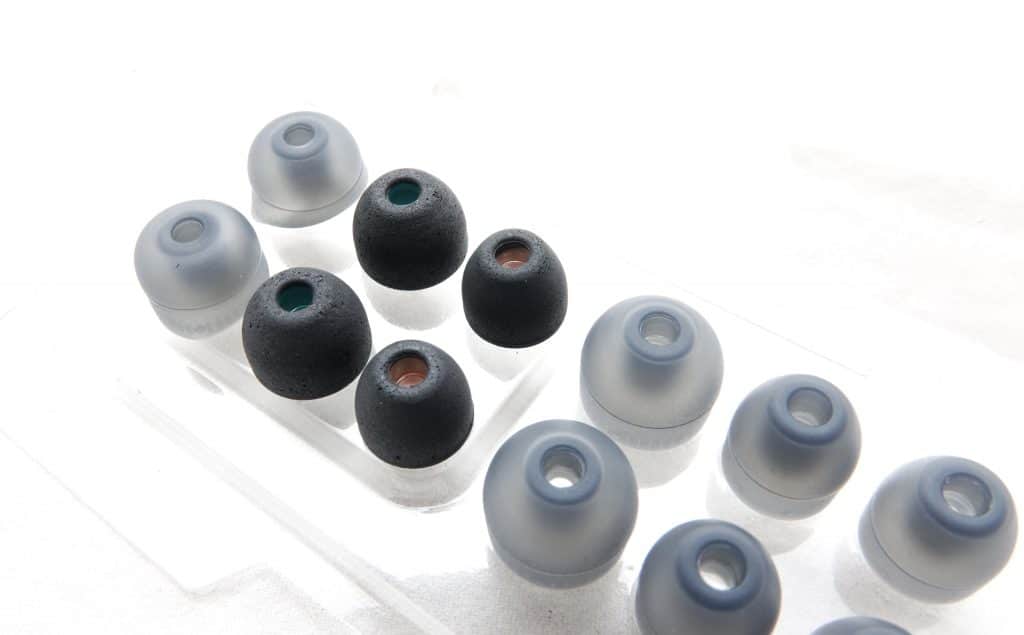 Outside of this, the design is basically a smaller take on the WH-1000XM3, complete with the same colour schemes. Our dark model was accented with rose copper points, with these smaller earphones appearing just like what you'd imagine a small earpiece to look like, but still not oversized at all. They're bigger than the Jabra Elite 65t and yet shorter than Apple's AirPods. They're clearly different, and yet still easy on the eyes both when you take them out and when you wear them.
These match the case, which is a little larger than the case for the Apple or Jabra equivalent, but still smaller than others out there. It's certainly small enough to throw in your luggage, but probably bigger than you might want in your pocket, and to Sony's credit, there's a magnet to suck them in and help ensure the earphones stay charged rather than miss the contacts altogether.
The earphones themselves come with some neat functionality, too, working independently from each other and able to work singularly if you so choose. When connected, the Sony WF-1000XM3 will also pause the music when you remove them from your ears.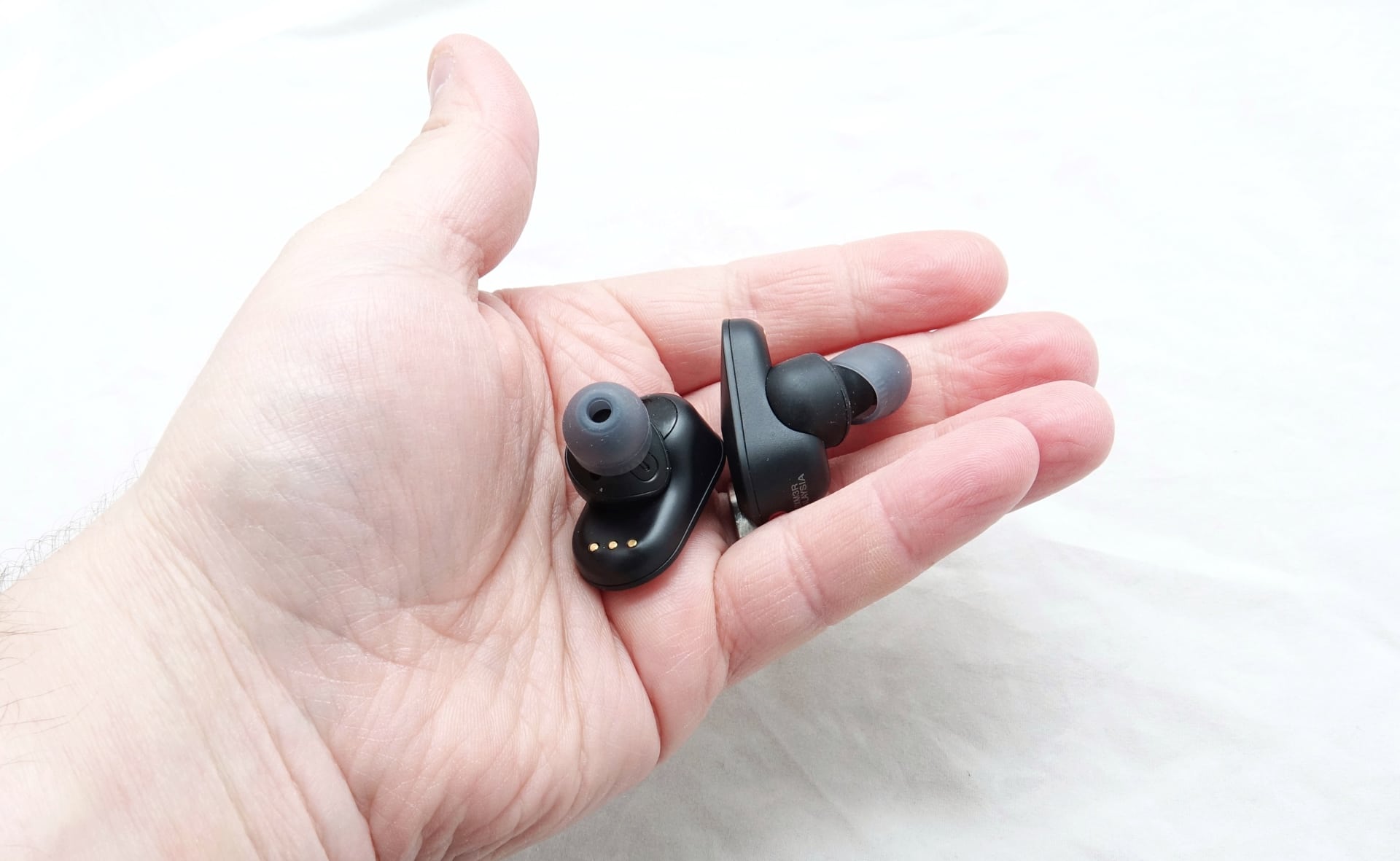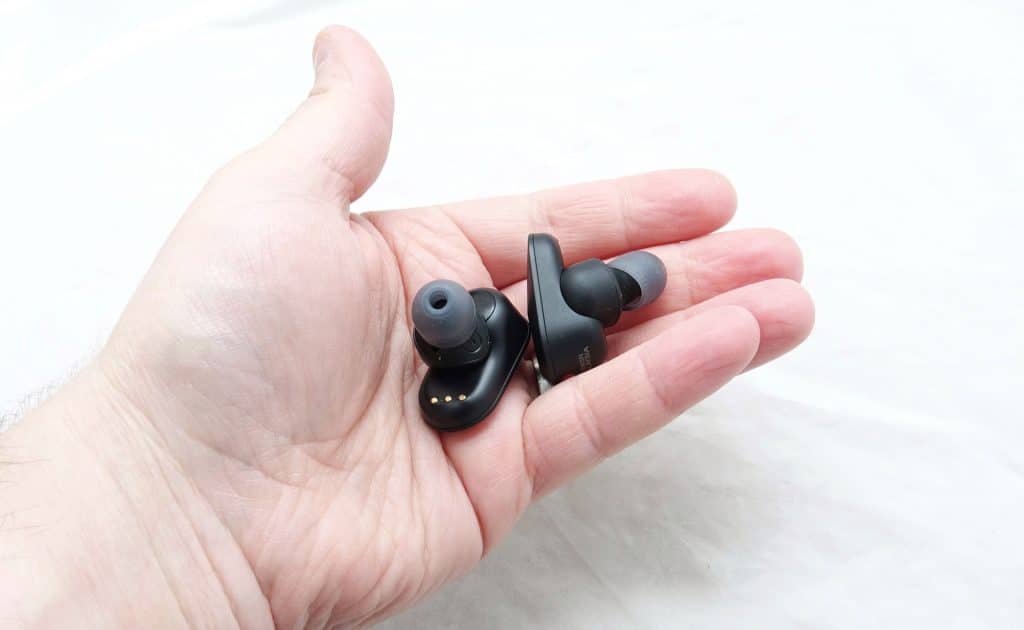 They also function a little differently compared with the big headphone brothers, adopting a similar touch-panel to what's used on the right WH-1000XM3 headphone, and yet applied to both ear pieces.
Fortunately, these can be mapped to do different things with an app.
Available for iOS and Android, the Sony Headphones app supports playback control — pause, play — as well as ambient sound control changing to shift modes and let you hear the outside world, and then voice assistant triggers.
Interestingly, Sony's ambient sound mode to let you turn on the noise cancelling mics and hear the outside world now trigger by default on the left side of the WF-1000XM3 (not like the right on the WH-1000XM3), however you can make it work on the right if you set the right pad to function as ambient sound control, too. Call it a random hack if you want to retain the right control positioning using on the WH-1000XM3 instead of retraining yourself.
Performance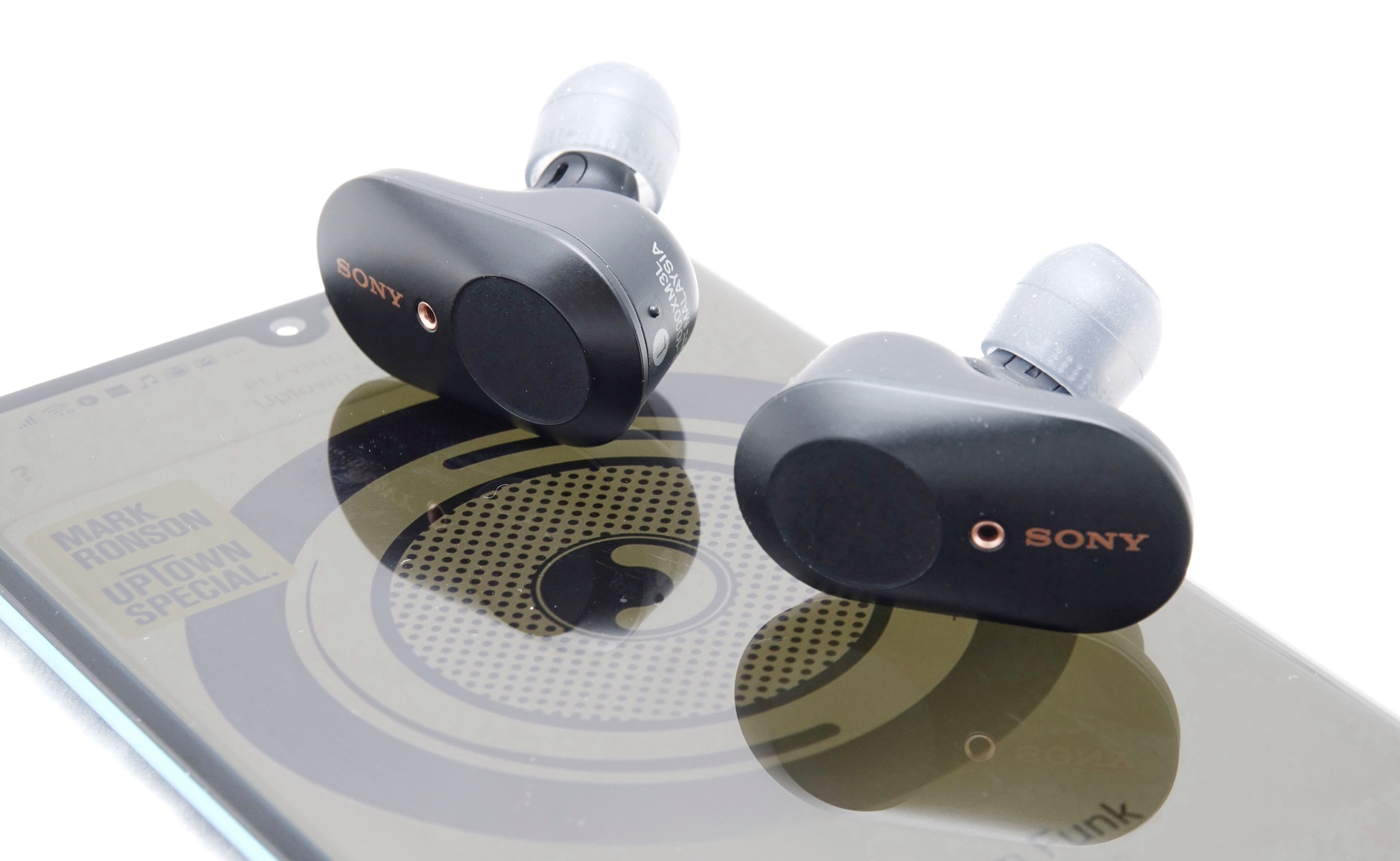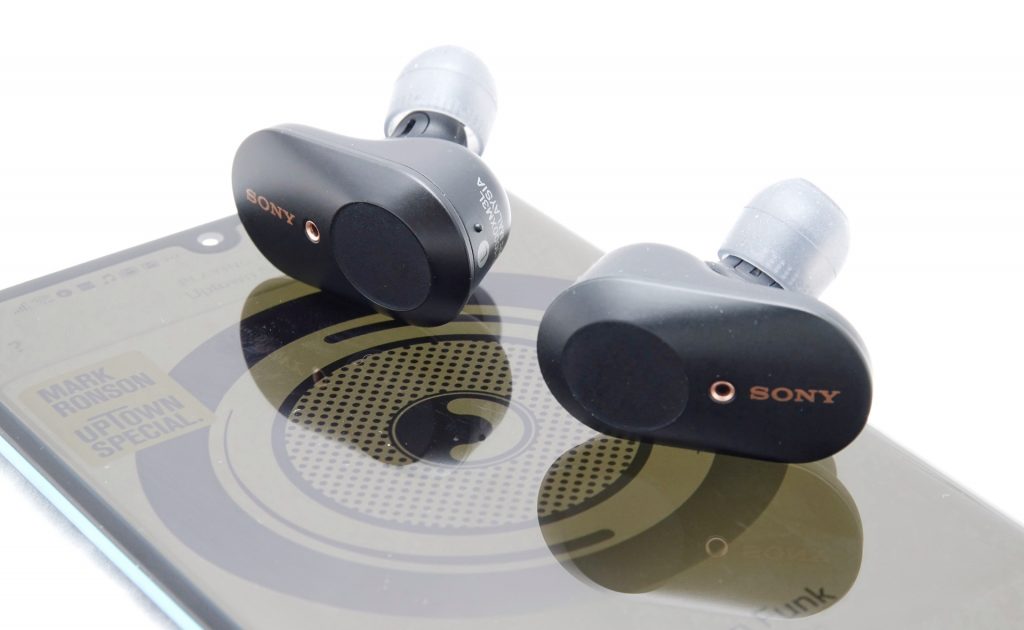 While the controls aren't quite the same because of the design, the performance aims to be closer because Sony has basically taken the big WH-1000XM3 headphones and made it smaller.
To test this, we're using Pickr's 2019 Sound Test, which you can listen to yourself using either Spotify, Google Play Music, or Apple Music.
Starting with electronic, you can hear the warmth off of Daft Punk's "Contact", with obviously clear highs and mids, and lows that aren't overly pronounced, even if the warbling in the bottom end is definitely there.
In R&B and soul, the strength of sound from the WF-1000XM3 continues, with clear distinction in sounds in Ariana Grande's "Into You" with a solid sound that can immerse as you listen. It's the same in Charlie Puth's "Done For Me" and Mark Ronson's "Uptown Funk", and there's a lovely push to the high and low in these tracks reminiscent of our time with the WH-1000XM3, just in a smaller configuration.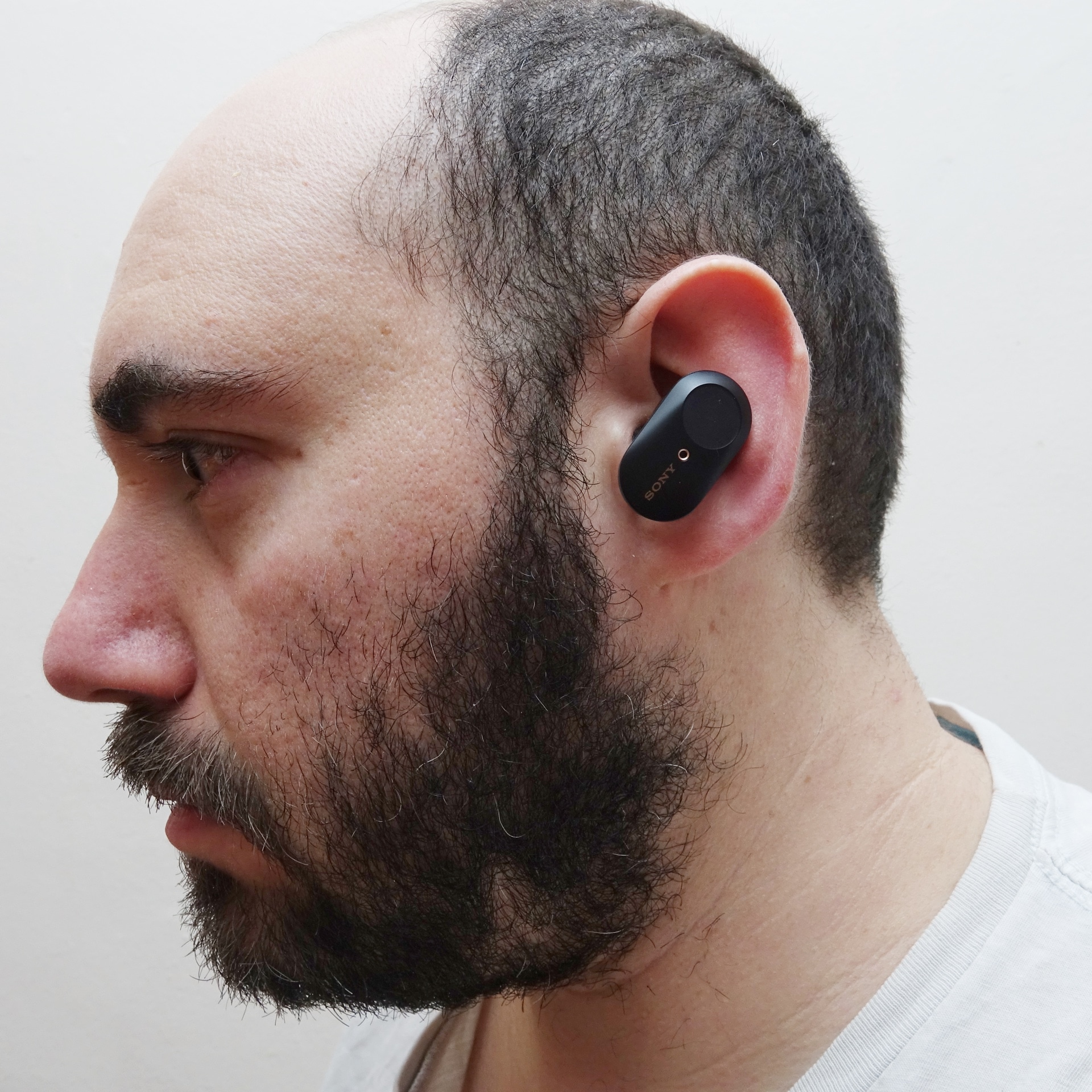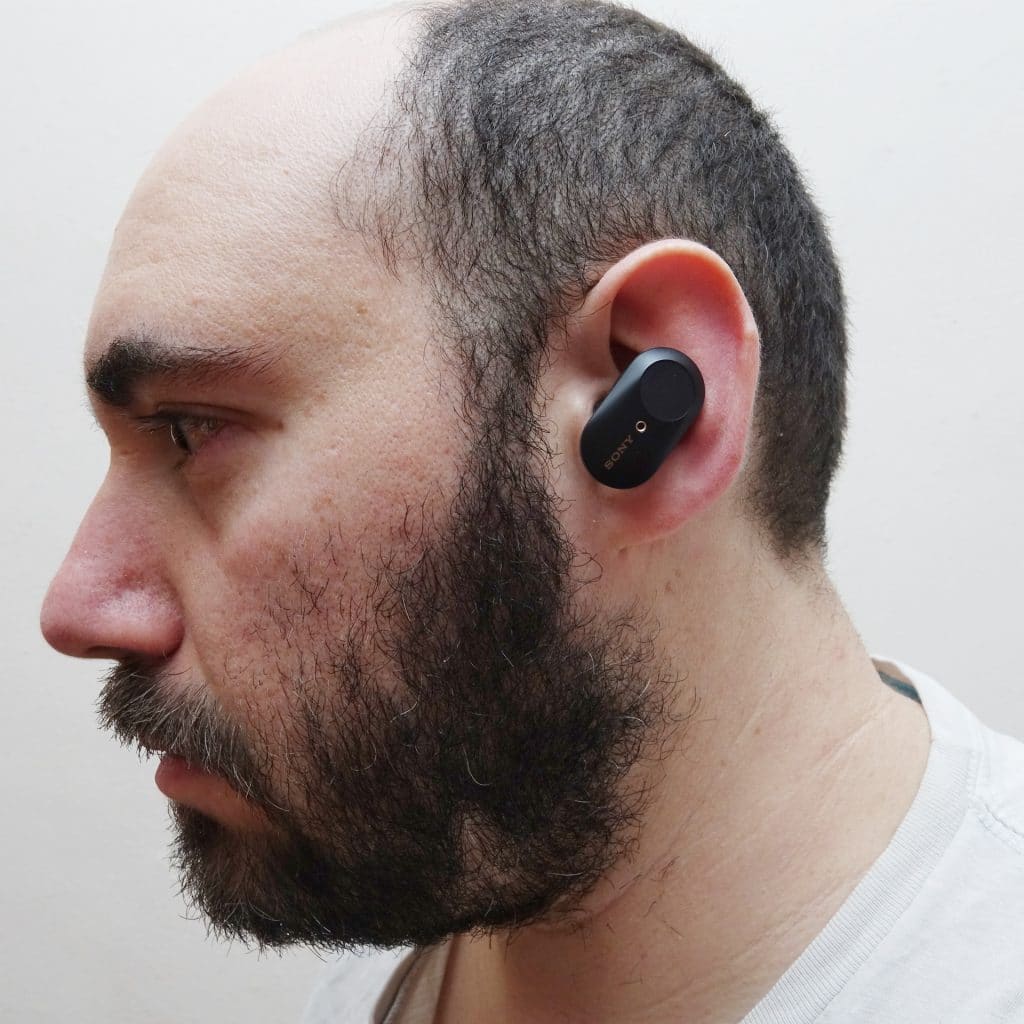 The sound in these earphones can also be overwhelmingly deep, so much that they can feel larger than the positively pint-sized space they occupy. In FKA Twigs' "Two Weeks", the back-end of the track with the effects in the front gave the WF-1000XM3 a larger sound than we expected.
It's pretty clear that Sony has made some real progress with this pair, delivering a big sound in a small size.
You get to see the level of strength in tracks that emphasise size, such as with Rage Against The Machine's "Take the Power Back", which delivers a tight snap of bass across strong guitar and vocals, and a smack of drums in the background.
There's a truly sizeable sound here unlike other tiny earphones. It's really the best of Sony in a small size.
And the more we listened to, the more we fell in love. The clarity in Deftones' "Digital Bath" was obvious and moody just as it's supposed to be, the bright and bubbly "You Can Call Me Al" from Paul Simon was delightfully fun and snappy, and the recent remaster of The Beatles' "While My Guitar Gently Weeps" was beautifully layered and easy to absorb into.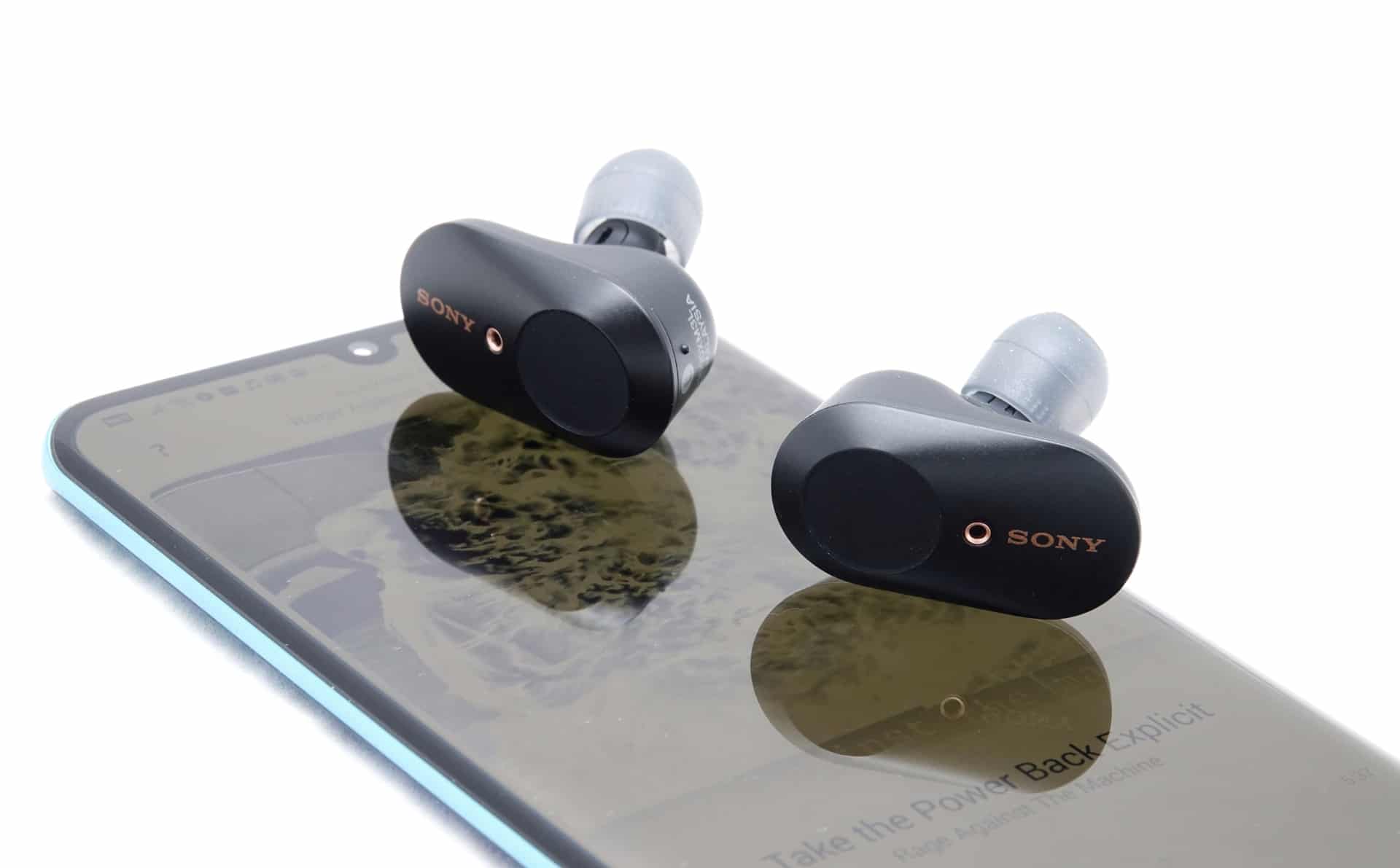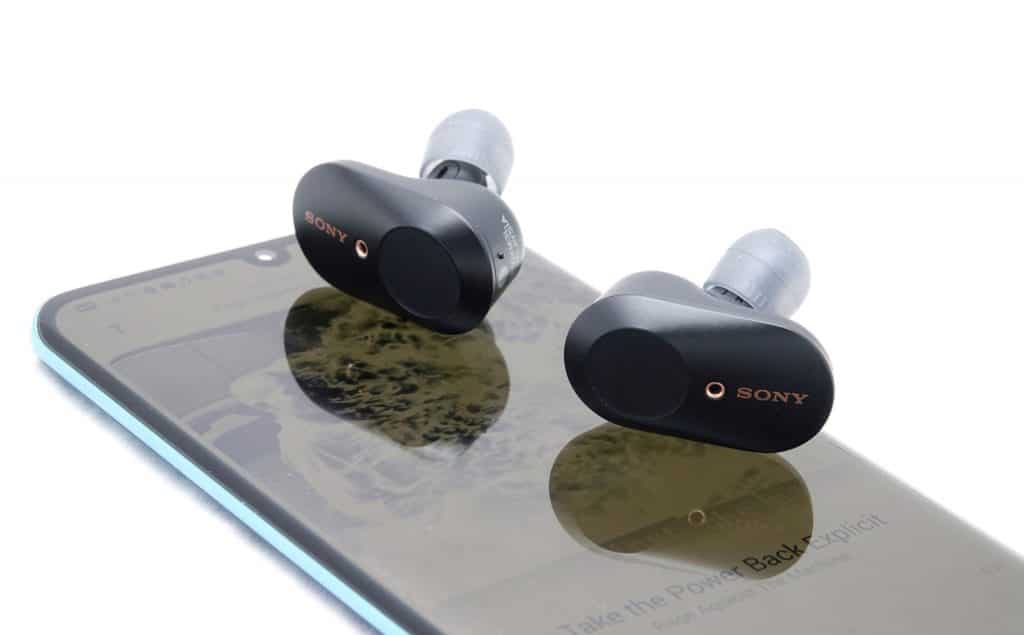 In jazz and classical, it's the same solidarity, delivering music the way we want it to be heard: like a speaker, but in your ears instead. In fact, regardless of the genre we pumped into these earphones, the sound was comfortable, clear, and clean.
Much like the WH-1000XM3, the smaller sibling in the WF-1000XM3 delivers a sound that has to be heard to be believed. These are almost as good as their around-the-ear kin, achieving a very similar sound without the cords or size.
Even the volume is spot on, with around the mid-way mark — just under actually — offering plenty of sound for us to work with.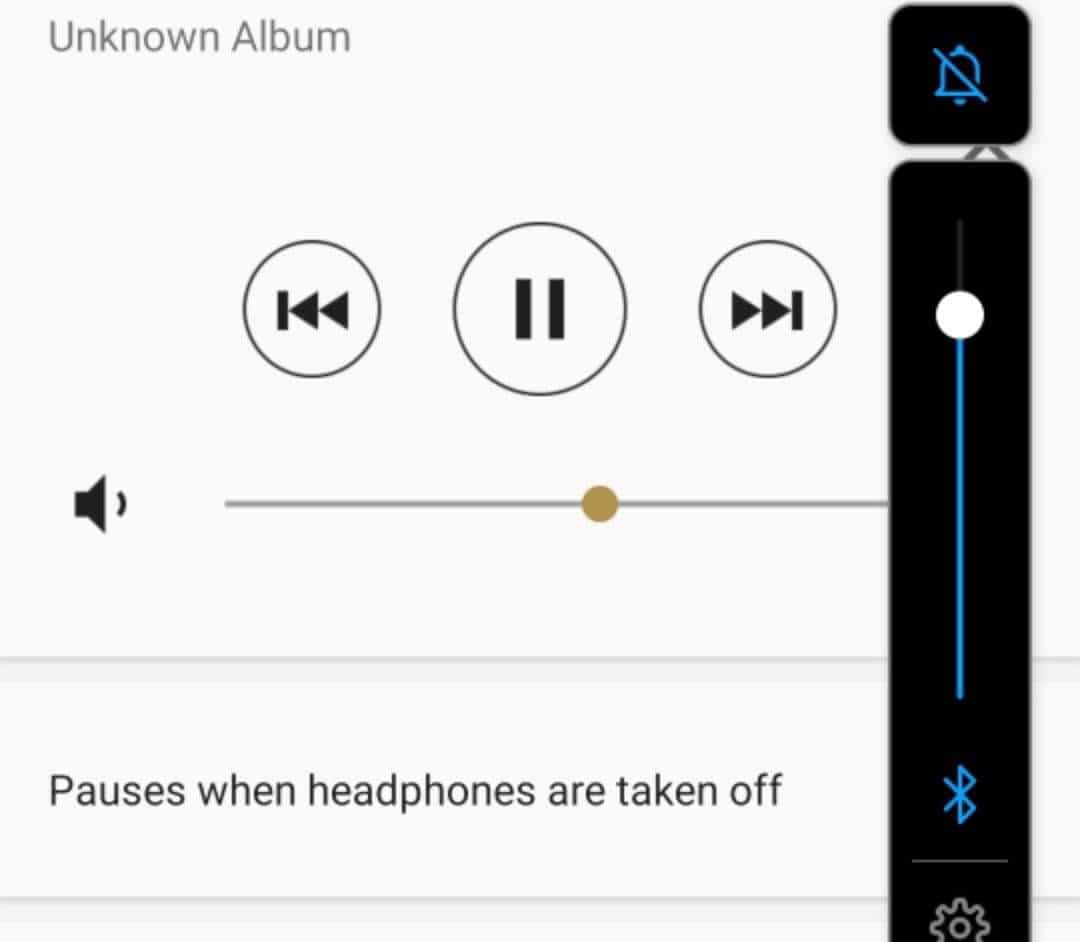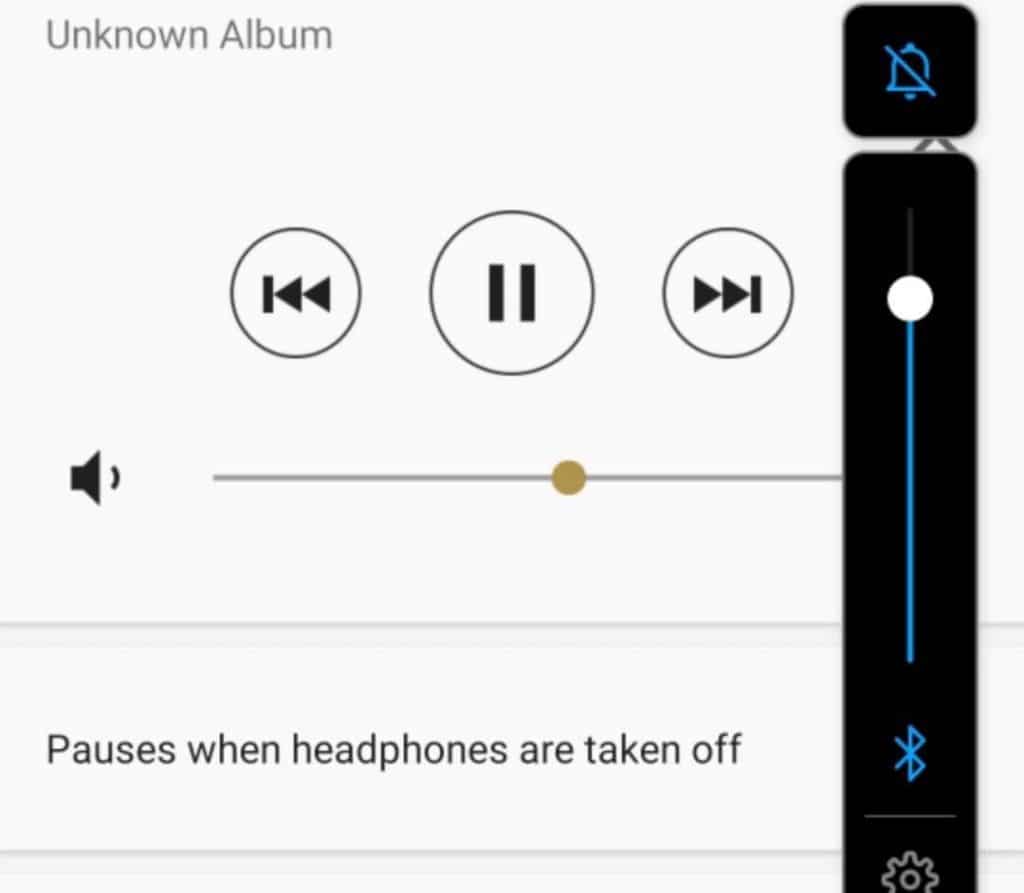 Not every phone will play nicely with the Bluetooth sound controls that the Sony WF-1000XM3 work with, and that's a problem from specific phones. With the WF-1000XM3, the Apple iPhone XS Max and Samsung Galaxy S10+ had no problem in controlling the earphones using a unified Bluetooth volume controller, but the Huawei P30 Pro disconnected the settings. In fact, if you use a Huawei or Oppo (another brand we found did something similar), you may find you have to control the volume using both the Sony Headphones app and the physical volume control of the phone.
Unfortunately, not every Android phone will bring both under the same control; it's a thing Android phones are getting better at, though clearly some are better than others right now.
Of course, the app helps, even if it's not quite as good as the app on Sony's over-ear WH-1000XM3.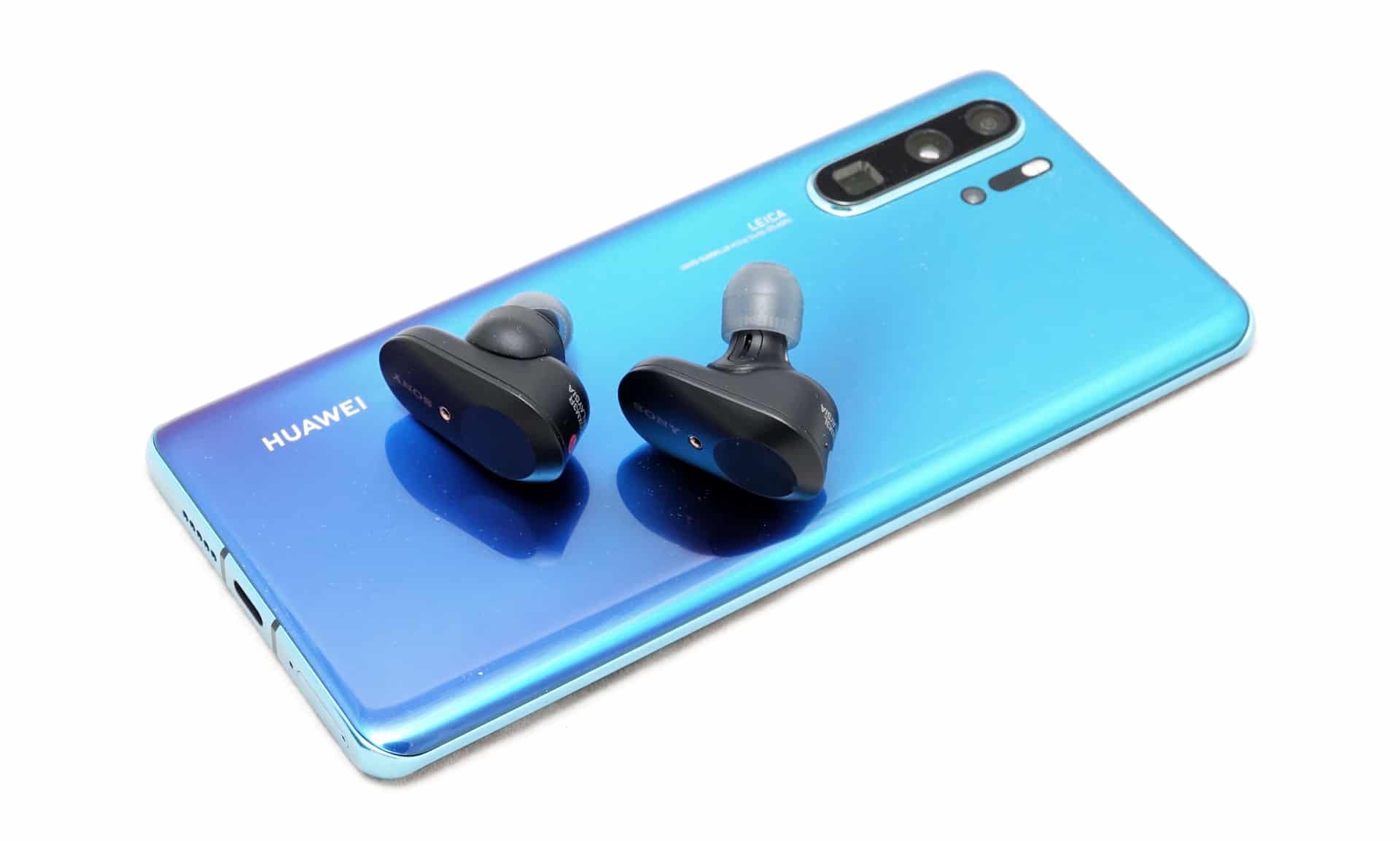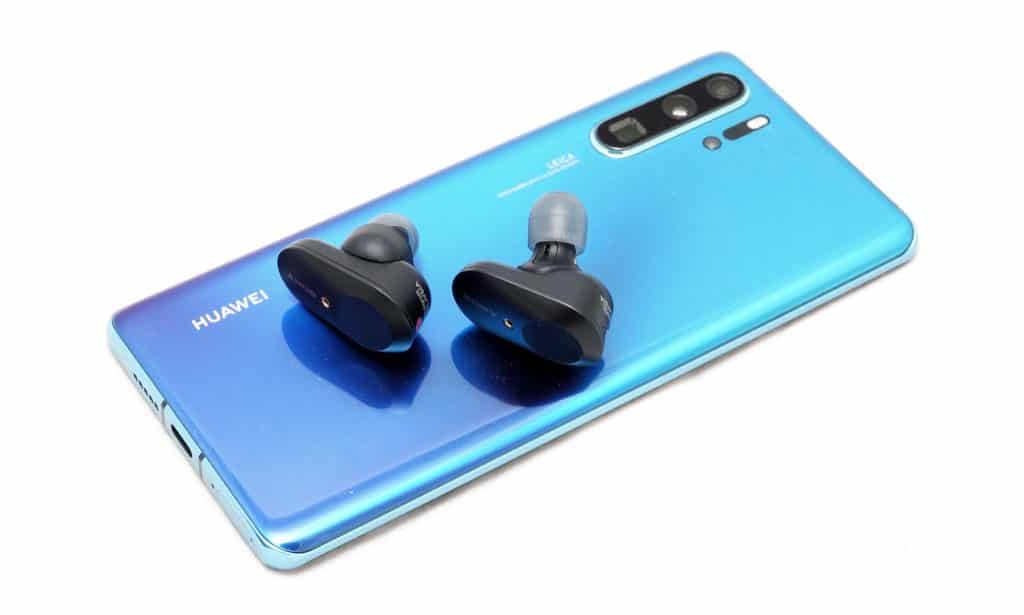 A difference in features
While the in-ear WF-1000XM3 are very close in features to its WH-1000XM3 around-the-ear siblings, there are differences.
Both offer fantastic sound that is warm, though as we listened to both, we definitely preferred the vibrancy and isolation of the WH-1000XM3 over the in-ear equivalent. Close, but not quite as isolating.
That isolation, by the way, is dependent on the tip you choose and how you squeeze them in your ear. We found over time you may need to adjust the fit to see them return to better isolation, such as when you start, though this is also based on how often you move.
Other differences between the models include the chips.
In the WH-1000XM3, there's one Sony QN1 noise cancellation chip and a 32-bit DAC. In the WF-1000XM3, there are two Sony QN1e noise cancellation chips — one in each earphone — and a 24-bit DAC.
There's not a staggering amount of difference that you'll be able to notice, to be honest, and while the WH-1000XM3 are technically capable of a better sound, the jury is still out on whether 32-bit audio — particularly that of 32-bit upscaling — is actually going to be heard by a listener.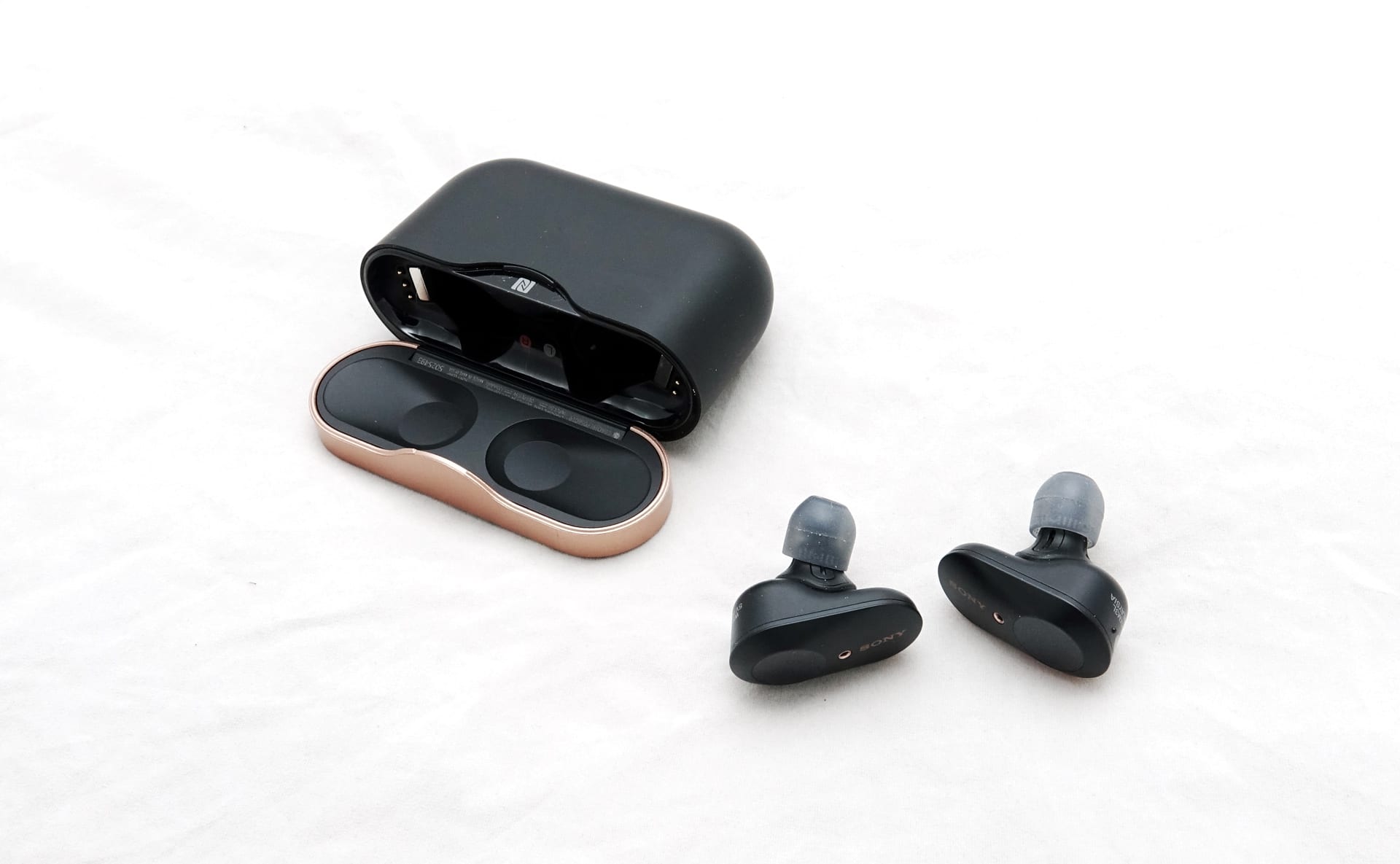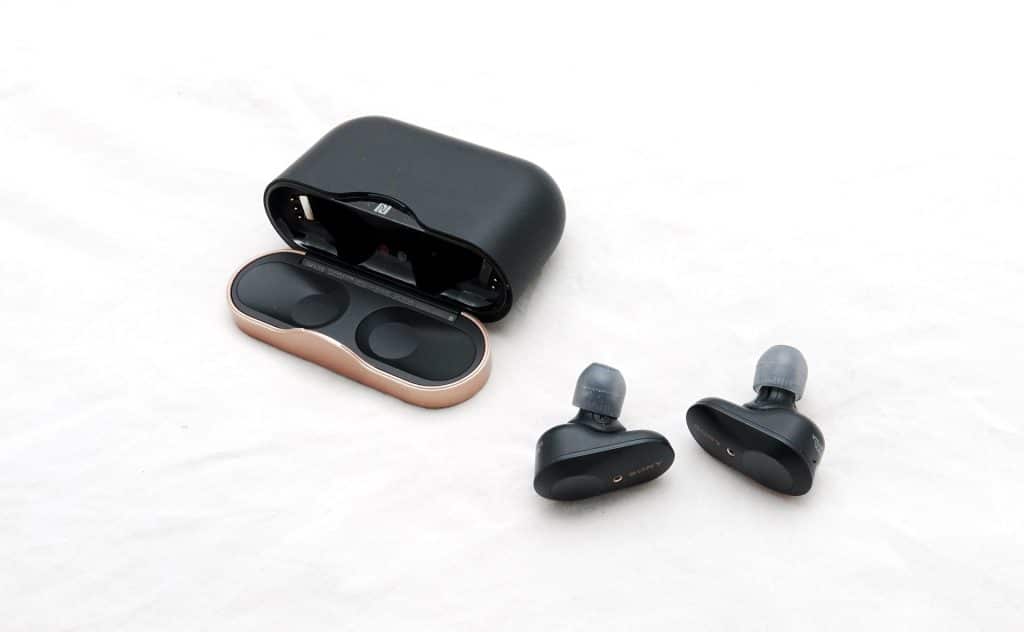 We tested the WF-1000XM3 with both 24-bit FLAC files, and music streamed from Spotify and Apple Music, and found an experience that was pretty close across the board.
However the app does deliver some differences, because there are things the WF-1000XM3 in-earphones can't do that its headphone sibling can.
For instance, there's no directional audio control in the WF model. In the headphones, you can position the sound to come from in front or behind, or one side over the other. It's particularly useful if you're trying to make the audio more positionable and sound like it's background music.
We use it on flights when we type, and it creates a different sensation for writing, as if we're in a deeper listening space. That's not on the Sony WF-1000XM3, at least not at the time this review was published.
Likewise, there are no soundstages on this model, either. You can't simulate a stadium or arena, even if you can on the WH-1000XM3.
They're not major issues, mind you, and if you have a different audio tweaking app for your phone, you may be able to bring these back using that specific app.
Fortunately, you'll get the adaptive noise cancellation control, which uses your phone's position and speed in space (how quickly you as a person move to work out whether you're on a bus or train) to change the cancellation settings. If you're on transport, it will change to offer cancellation to block most things out but voices, while street cancellation can be different again.
That's pretty much identical to what we experienced in the WH-1000XM3 review, though you also get the recent addition of wind isolation, which is definitely handy to say the least.
It's not perfect isolation, and it's missing the adaptive noise cancellation of its brother, as well, though we're not surprised. The headphone model in the WH-1000XM3 is still clearly the flagship variation, and is made for anywhere: out and about, in the office, and the sky.
The Sony WF-1000XM3 could be used in any of those places, but there's no adaptive mode so it won't take into account height, hair, or air-pressure when dealing with cancellation. It probably doesn't need to, either: they go in your ears and so miss the hair and work a little differently to headphones, so may not have to worry about "adaptive" cancellation.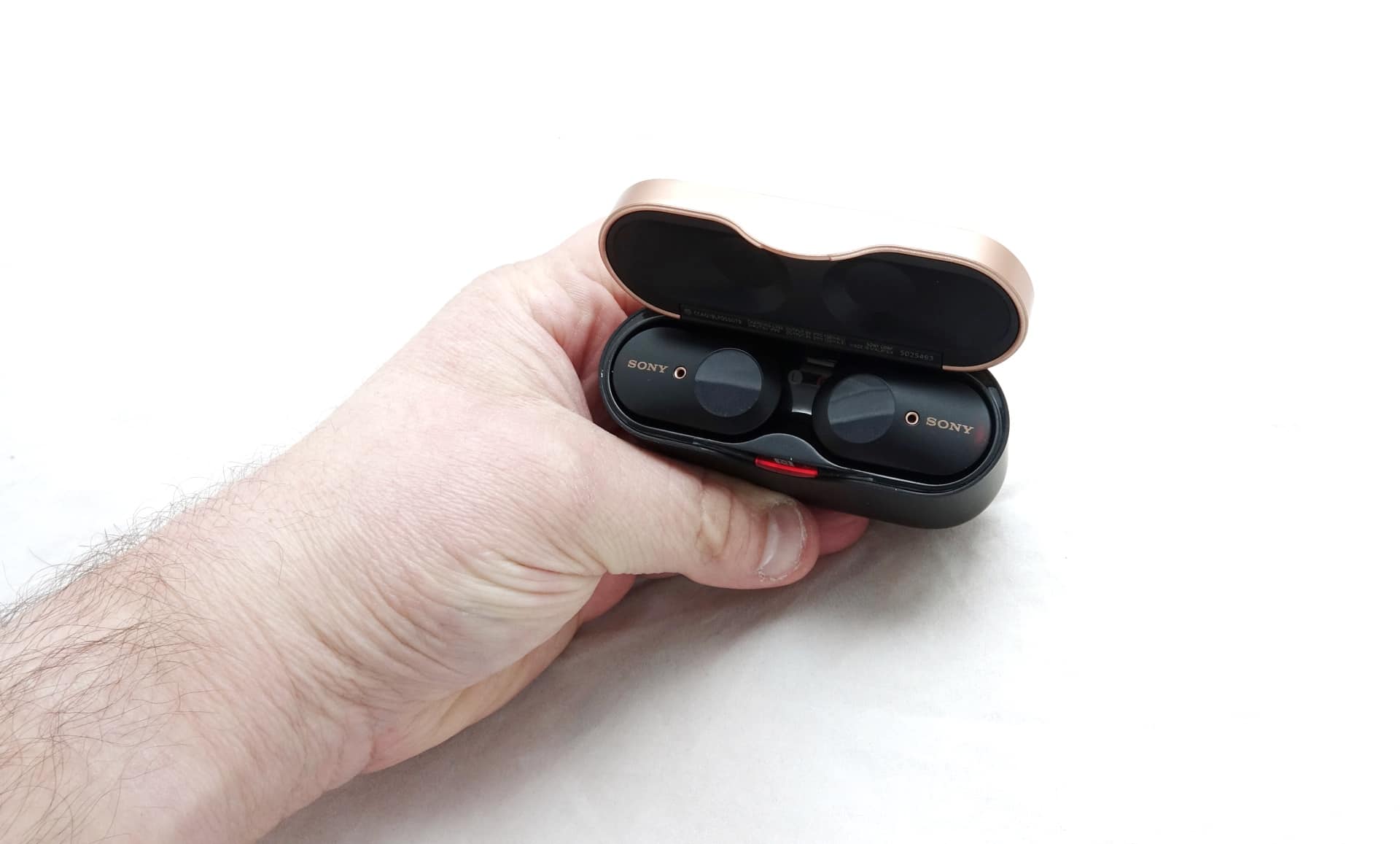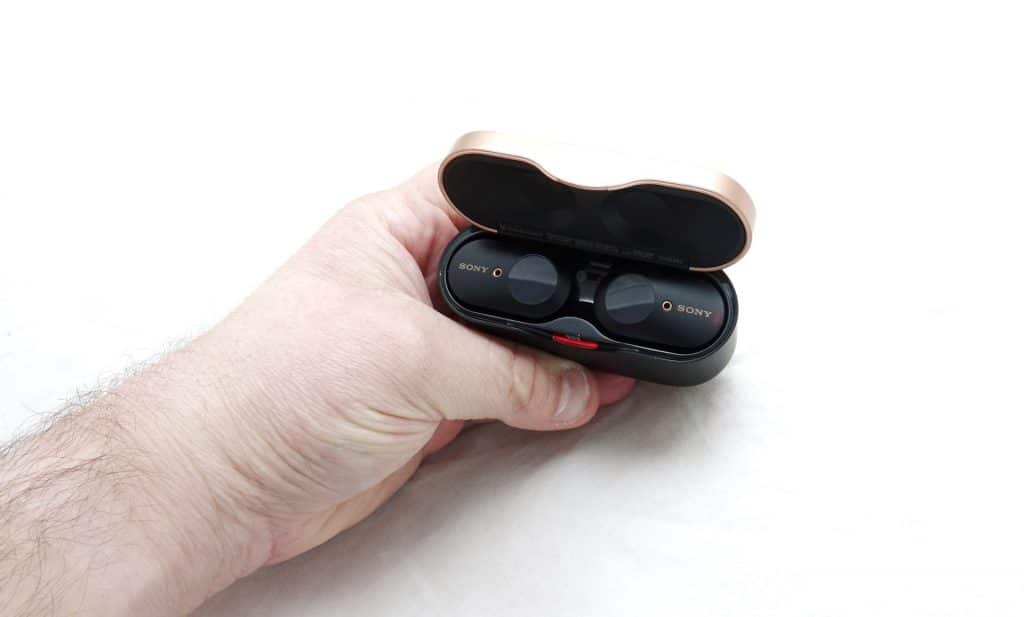 Battery
The battery is also a winner, with up to six hours for the earphones when cancellation is switched on and closer to eight when it's off.
That's one of the longest batteries for any wireless and cordless earphones — the whole "truly wireless" concept — beaten by the nine hour life of the Beats Powerbeats Pro.
To Sony's credit, the case will give you three additional charges, meaning you can get a total of 24 hours for the WF-1000XM3 when noise cancellation is switched on, or around 32 hours when it's switched off.
Basically, you shouldn't need to charge these earphones every day at all. Hell, we could probably get by with once a week of charging, if that.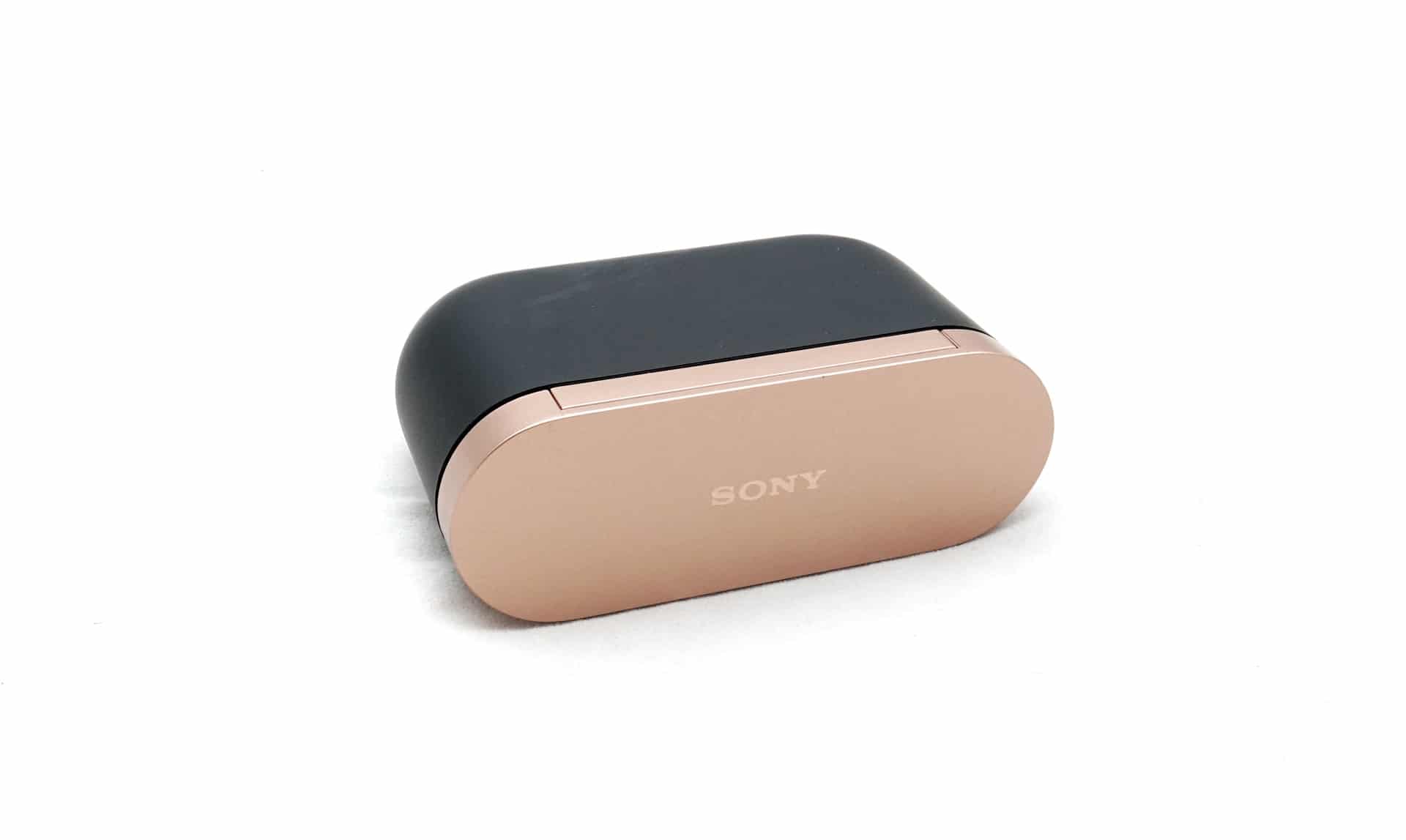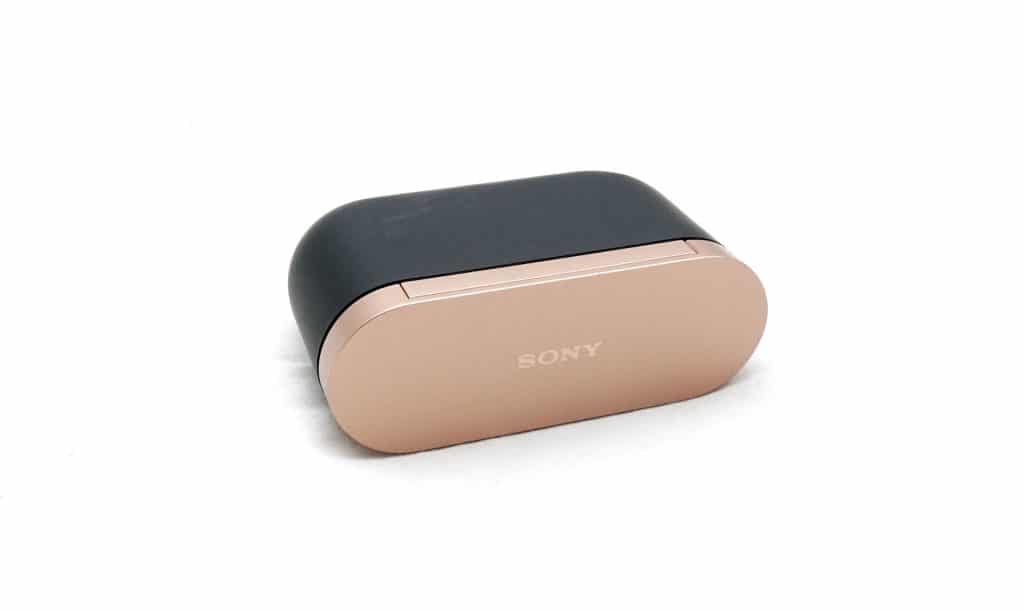 Value
The price isn't terrible, either.
Yes, the Sony WF-1000XM3 noise cancelling in-earphones come with a relatively high price, but for what you get, it's not too much of an ask.
We've reviewed and are still reviewing earphones that carry a larger price tag, and so the WF-1000XM3's recommended retail price of $399.95 doesn't seem too far off the mark.
Technically, they're close to the WH-1000XM3 which fare a little better in regards to noise cancellation, but aren't nearly as portable as the WF-1000.
Essentially, if you love the look of the features of Sony's flagship noise cancelling headphones but prefer something smaller and sleeker that won't mess up your hair, the price for this sort of sound seems about right.
What needs work?
So what needs work in Sony's second generation WF-1000 series earphone?
Right now, the answer is not much.
We'd definitely go out in a limb and say the controls could be finessed a little, because while it's fantastic that Sony lets you change the touch pad's controls to be left or right through the app, allowing you to map the function yourself, no matter what you map, there will never be volume.
While some Bluetooth earphones have a volume rocker and others have a button you can hold down to increase or decrease volume, the Sony WF-1000XM3 in-earphones won't let you control volume at all.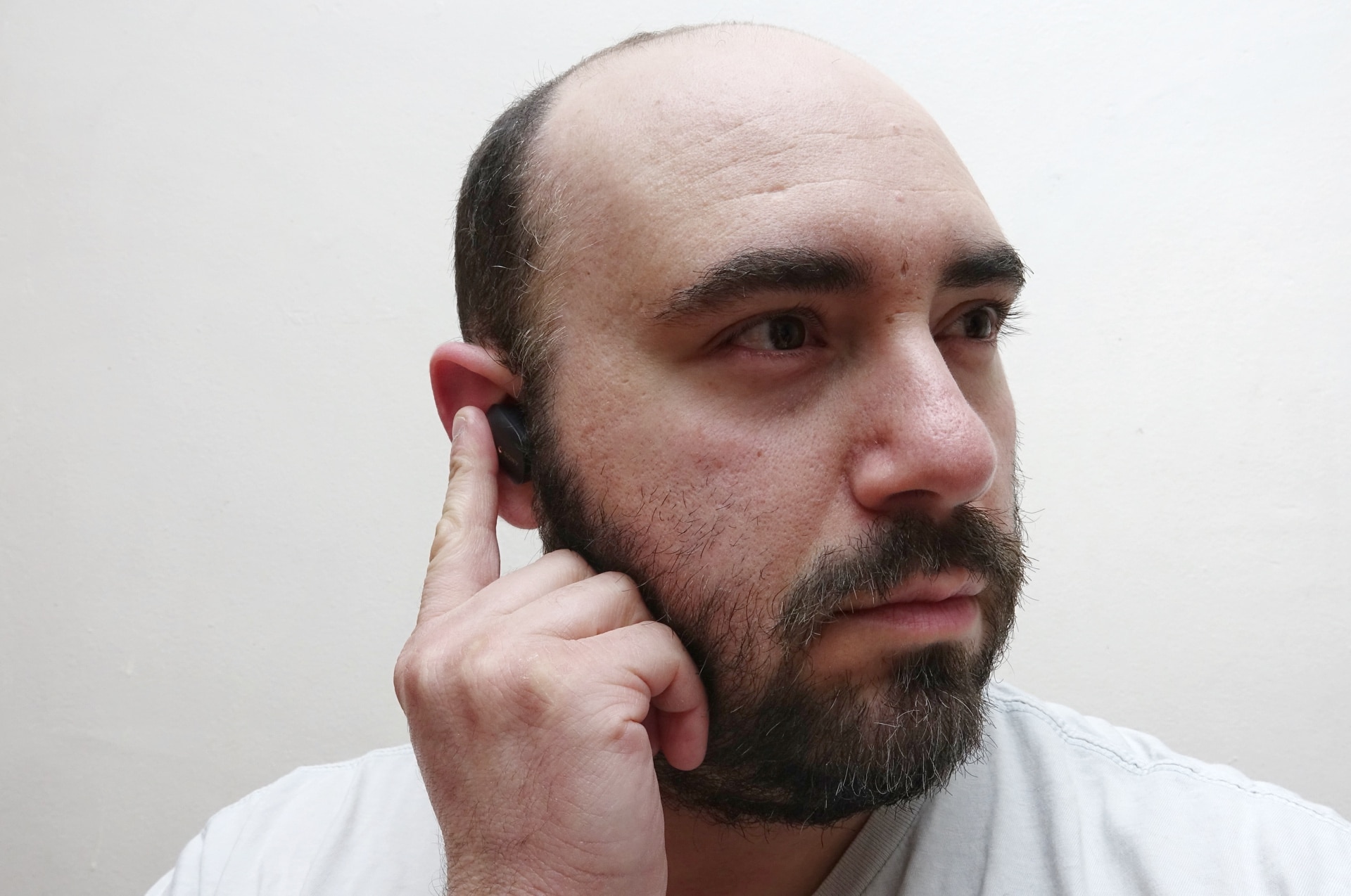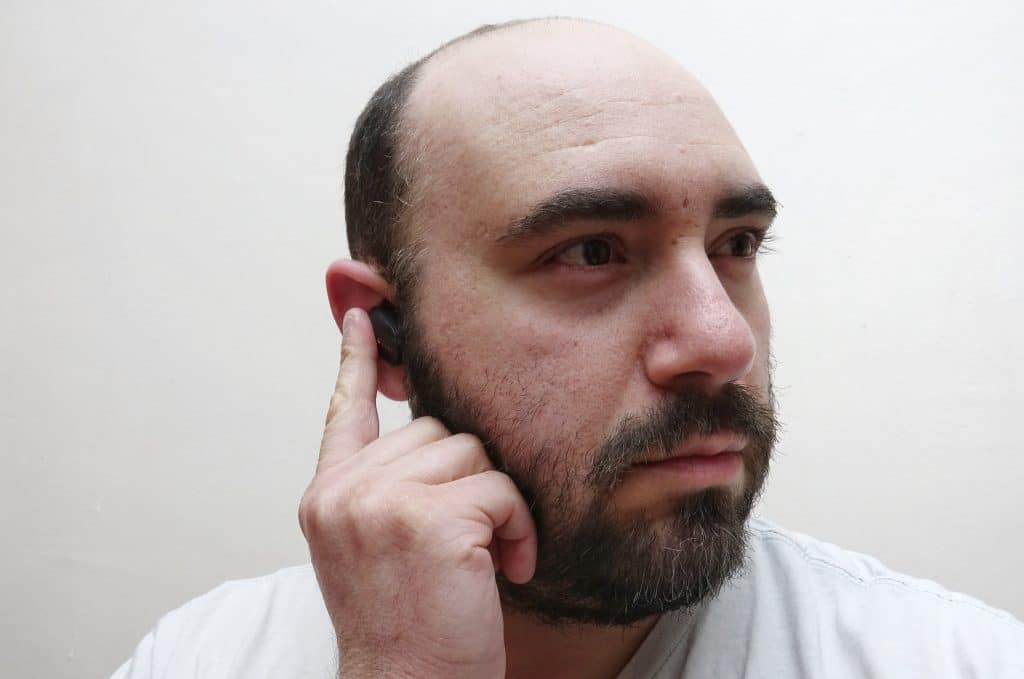 You can change volume from your phone and from the Sony Headphones app, but not from the earphones themselves.
If you have a wearable with volume control, you can do it there, too. Not from the earphones, it seems. Sorry.
You may also find the odd delay in sound depending on the phone you're using.
Much like the independent volume controls we've noted, some phones will send audio at a slight delay, though generally not all the time.
To Sony's credit, the WF-1000XM3 keeps music synchronised seemingly perfectly. We found little to no issue on a Galaxy phone or an iPhone, though again, the Huawei P30 Pro we regularly test with kept the audio synchronised about 85 percent of the time. Podcasts would invariably go out — something you can really pick up on with spoken word, which comes across more like an echo chamber in your head — while music would occasionally go to one ear and not the other.
This may end up depending on the phone you have, mind you, or it could even be a fix Sony delivers later on for its earphones, bolstering the buffer even more.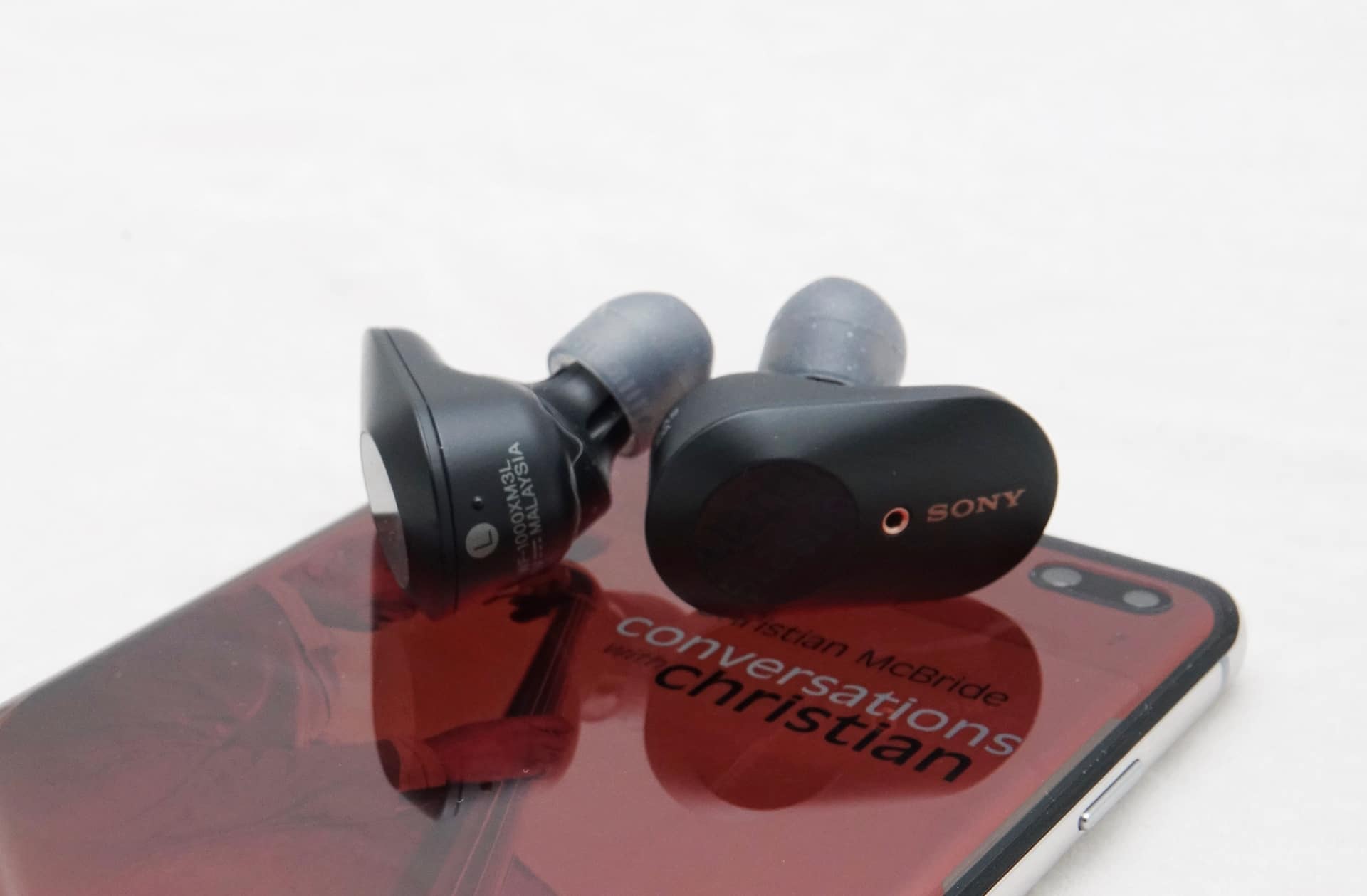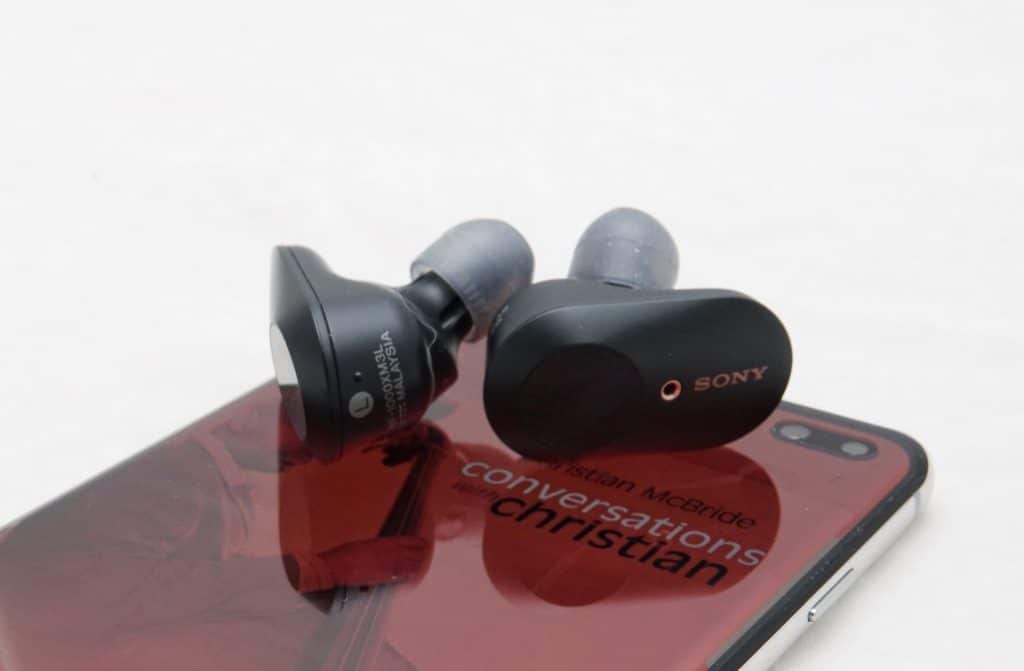 Final thoughts (TLDR)
The world of noise cancellation is getting seriously interesting. While Bose might have once dominated this area, the past few years has seen some incredible shift in the major players.
You can now find noise cancellation for low prices and some that are super high, and while Bose still produces some great active noise cancellation headphones, Bose is no longer the king.
Last year's Sony WH-1000XM3 were a revelation that managed to make the Sony take even better, and this year's Sony WF-1000XM3 manages to take most of those learnings and plunge them into a smaller, lighter, and imminently more portable design.
That means Sony now has two industry leading noise cancellation designs, offering a pair for flights and a pair for on-the-go, which noise cancellation benefits greatly from. No longer just for flight, noise cancellation can be used in more places. It can be used for walking around, for keeping your head clear of sound on transport, and generally used even in the office. Noise cancellation has more uses than just air travel, and it's here where the Sony WF-1000XM3 are positioned.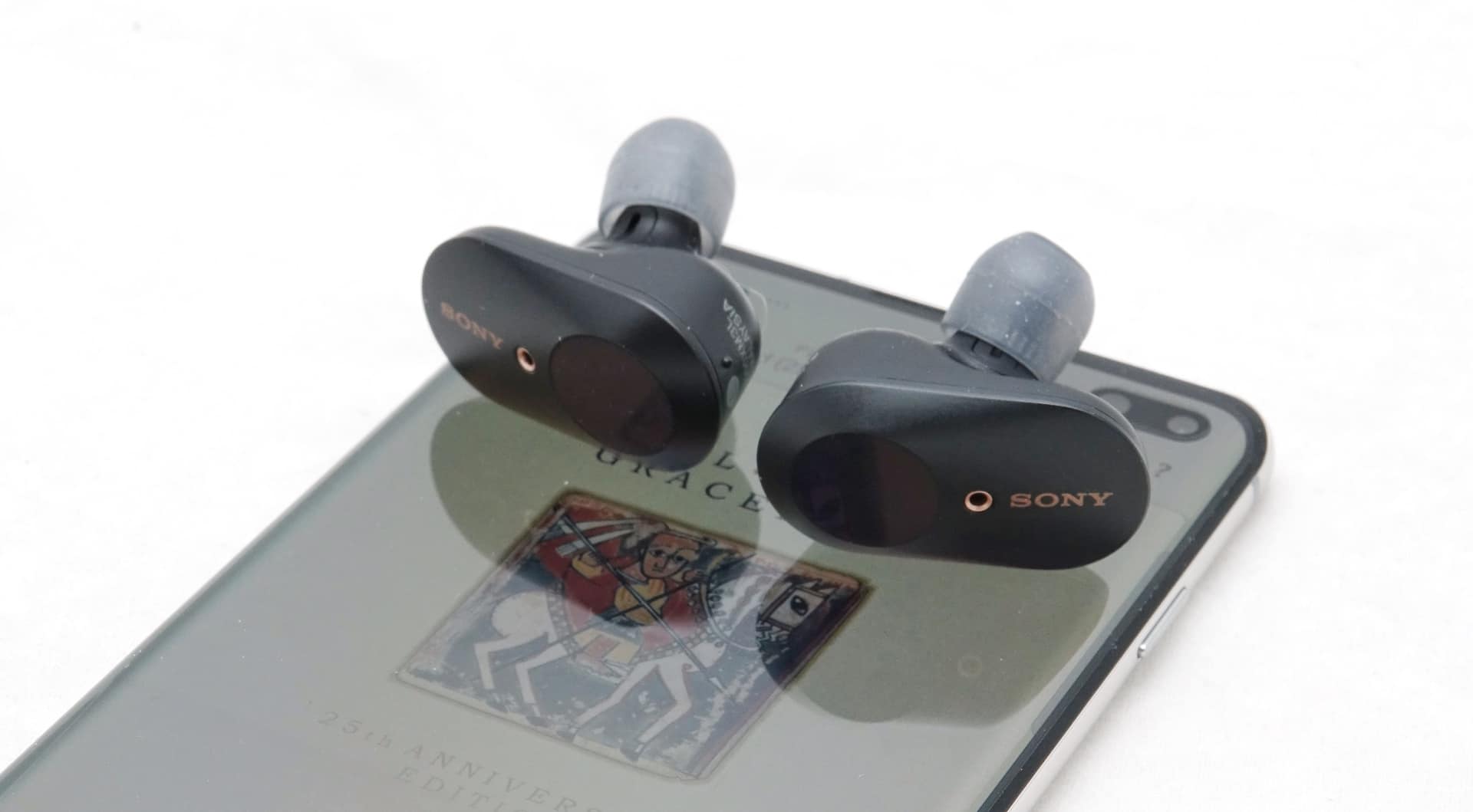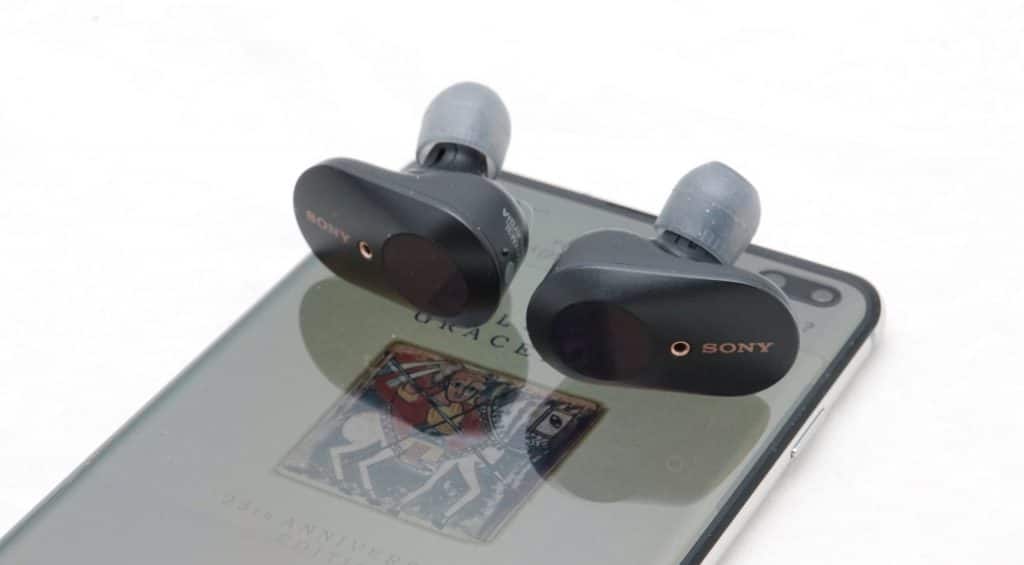 Simply put, the Sony WF-1000XM3 are built for people who want noise cancellation anywhere without leaving an imprint. They're about the most portable noise cancellation we've ever seen and highly recommended.
Sony WF-1000XM3 wireless noise cancellation earphones
The good
Fantastically warm sound
Strong balance
Great design
Excellent assortment of both silicone and foam tips
Strong battery life
Supports ambient noise cancellation and hear-thru mode
The not-so-good
Controls aren't quite as easy as the headphone variant 1000XM3
Occasional audio sync delay dependent on the phone you use