2017 started a trend for wireless earphones, as cords were cut and earpieces went solo. We saw them from lots of companies, and this year promises to see even better. Can the Jabra Elite 65t set the trend early?
Design and features
Slightly different from the previous generation, the Jabra Elite 65t may look like a follow-up to the Elite Sport Wireless, but the moment you compare them, you feel as if you're looking at two distinctively different devices.
On the one hand, the Elite Sport Wireless earphones were a fantastic first attempt, delivering cordless and wireless in-earphones with excellent audio, solid battery life, and a relatively comfortable design that would grind at your ears after a couple of hours. Yes, they were a little meatier than you might have liked, and they really did require the use of earwings to hold in place.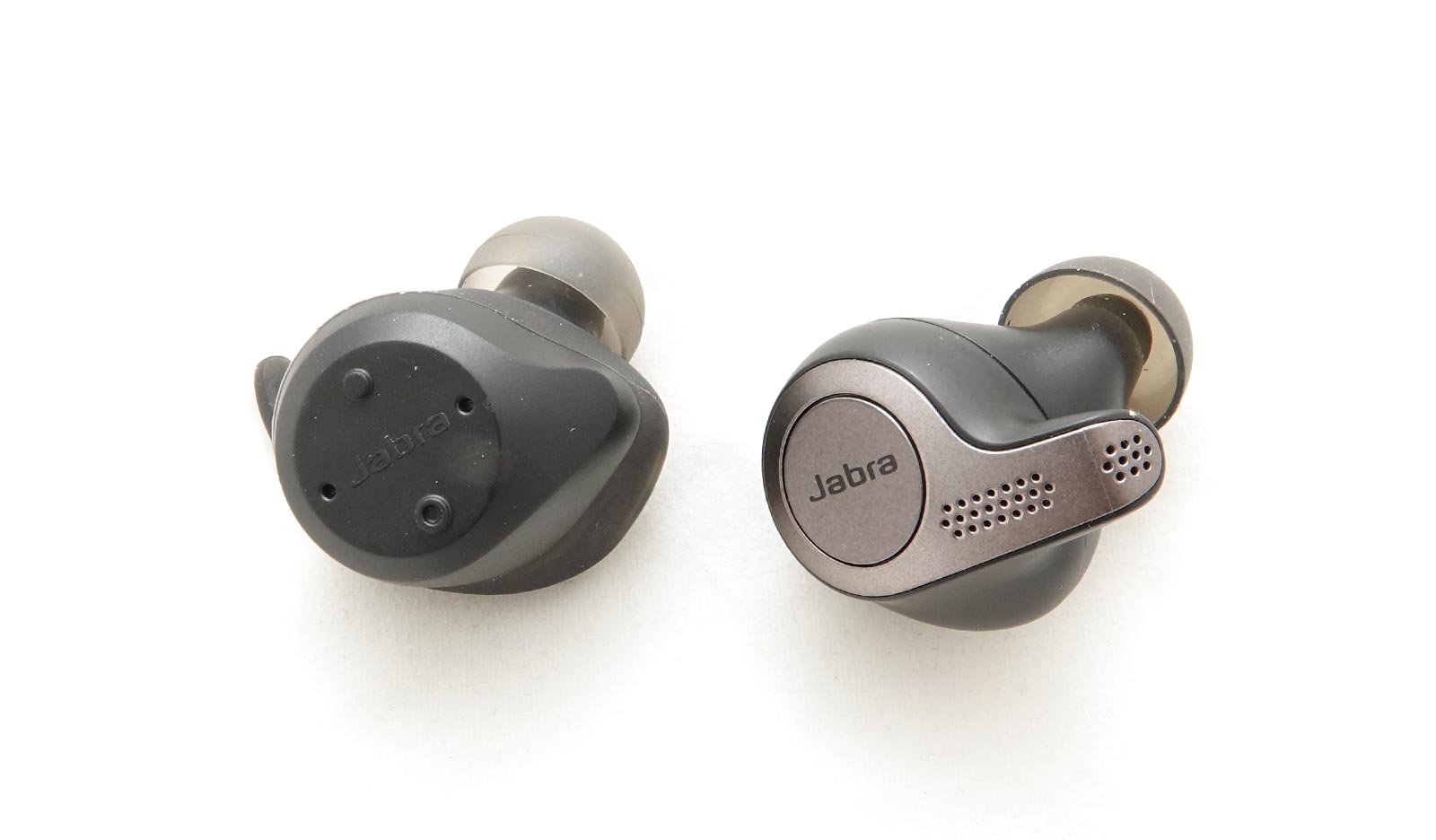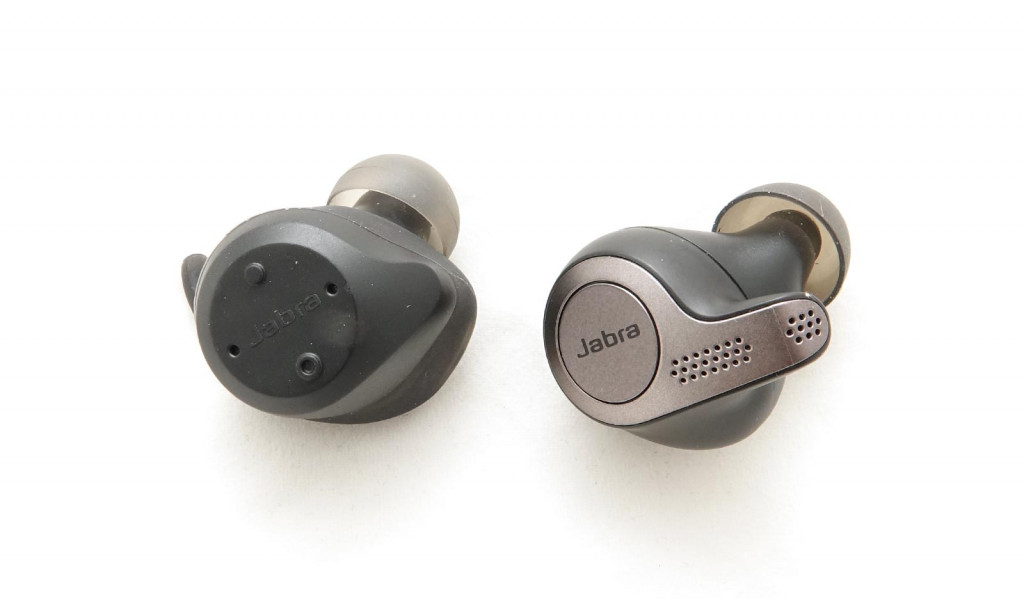 In the Elite 65t, however, the formerly bulky design feels like it's firmed up, the shape has become a little slimmer, and the need for earwings has been brought back, with a design that brings the earphone choice back to the basic question of what size tip do you need: small, medium, or large?
That means you only get three choices of tips in the box — small, medium, or large silicone tips — but it's also very easy to understand, too.
Part of what helps this design is an improved side that sits in your aural cavity, but we like the inclusion of a beamforming arm on the side, which appears to be there to give the sound more space to move around in. Aside for that obvious reasoning, it also seems sit on the outside of the ear and help to hold it in place, which is no doubt handy.
You'll also find a button on each side, with microphones on the outside of the Jabra Elite 65t, and there's good reason for the inclusion of those: you can filter the outside world into what you're listening to — into your mix, so to speak — so you don't, you know, get hit by a car. Handy.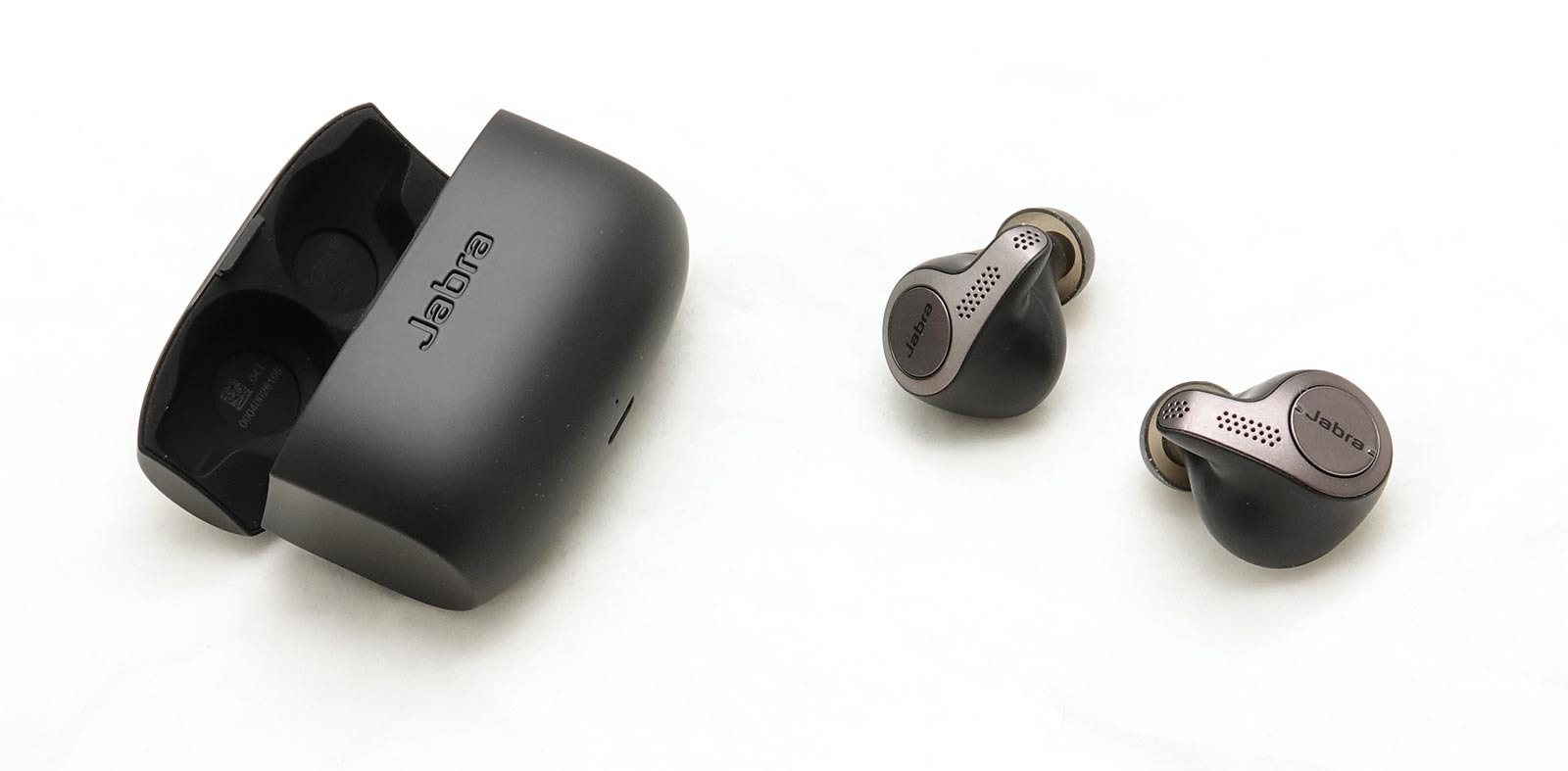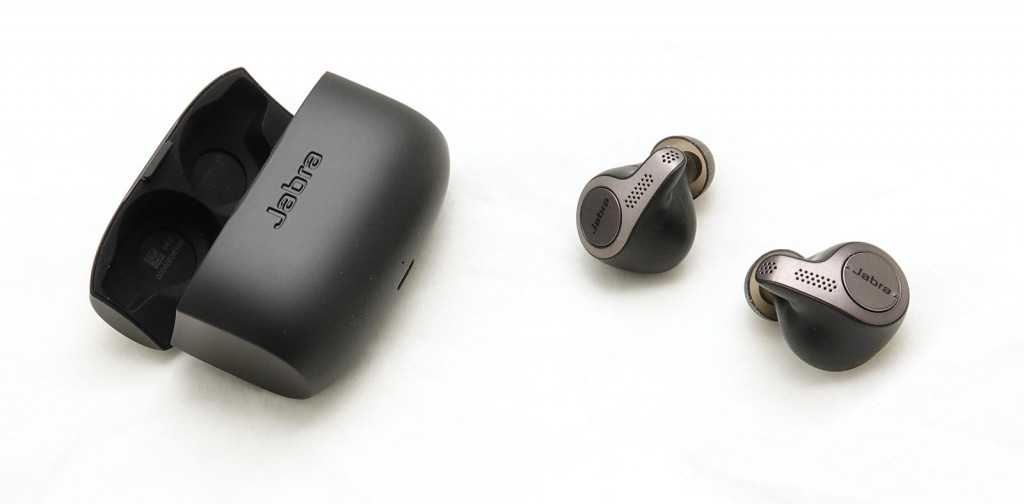 In-use
Before there's even a risk of that, you'll want to charge them up, and that's made easy thanks to a small box for both the charging and storage of the earphones.
Like last year, the box is small, but Jabra has managed to make it even smaller and easier to use. Instead of opening up like a clamshell container, now it's closer to what Apple had going for it in the AirPod case, with a lid that opens into a small box for you to insert the Elite 65t earphones.
This is an obvious improvement to last year's box, which occasionally saw us drop the earphones as we scrambled to open it and get the Elite Sport Wireless earphones into our fingers and into our ears as quickly as possible while we walked. There's much less chance of that happening now, and the box feels smaller, too.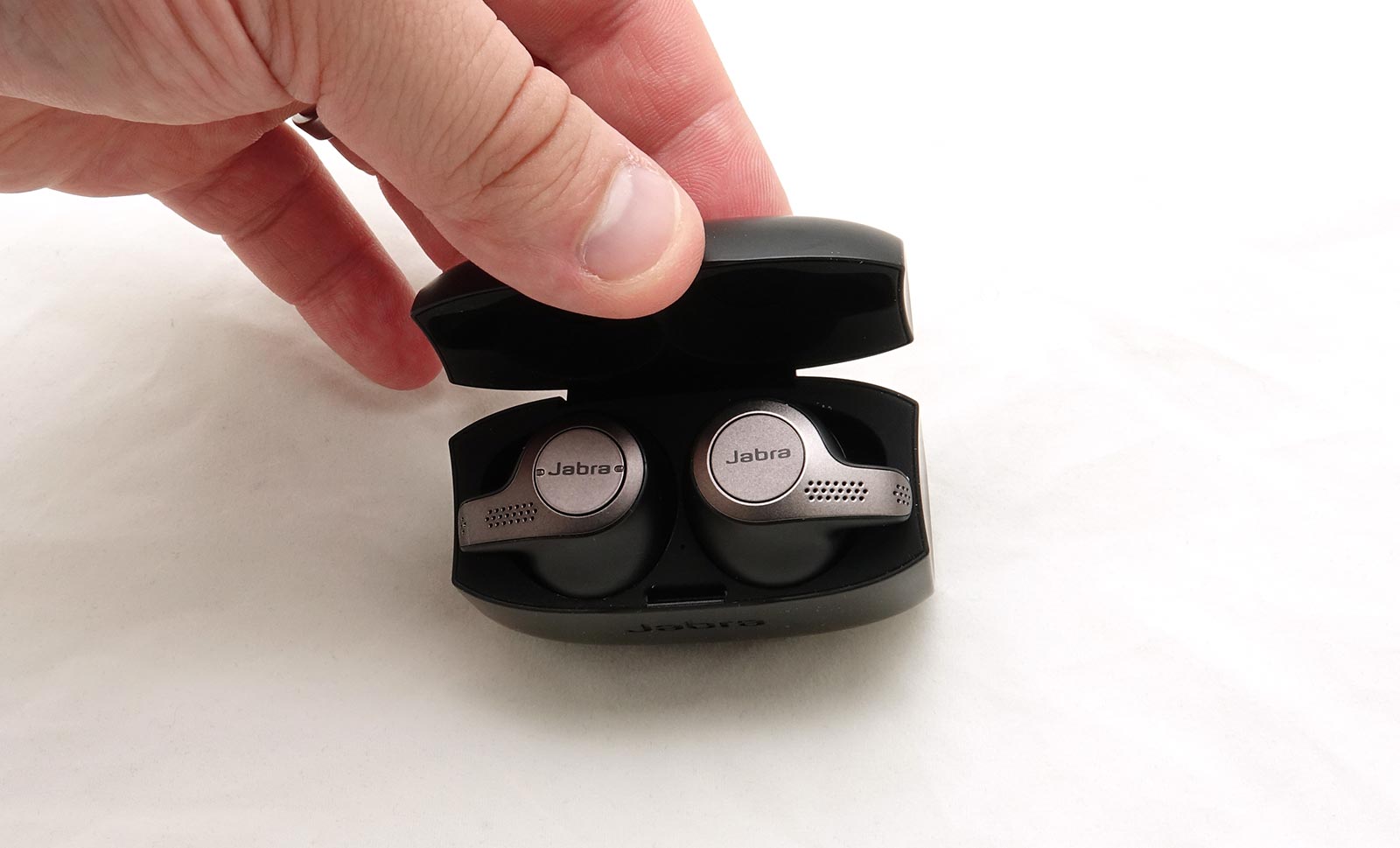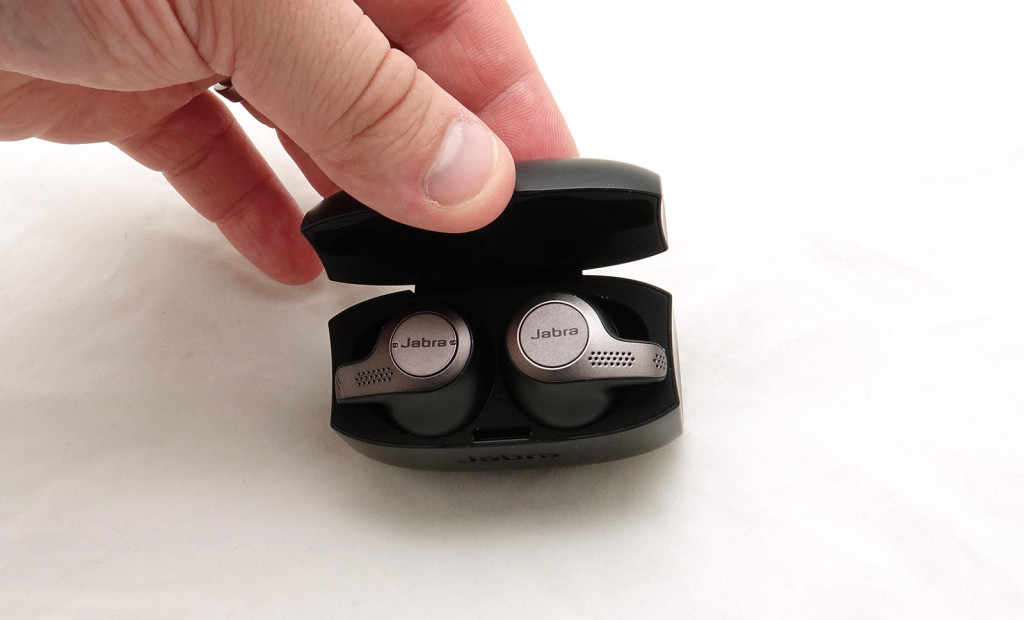 Despite this, there's still a sizeable battery inside, and with five hours in the earphones and a further ten in the case, there's plenty to work with in the Elite 65t.
From there, it's time to wear them, and really get that usability factor up to scratch, which is pretty easy to do.
The moment you take the Elite 65t out of their box, they'll switch on and go into pairing mode, which you can easily make a connection with on your phone through the settings menu. There's an app, too, which we'll get into later, but you don't have to use it. You merely need to pair, and then play some audio.
Inserting the Jabra Elite 65t into your ears, you shouldn't find issues with comfort, or nothing too serious, anyway. While the Elite Sport Wireless came across as a little heavy but still designed in such a way where you could warm up to them, the Elite 65t just fit in, and you twist so the audio beamforming bar sits across. That makes for a relatively comfortable fit, albeit one that might be seen as a little tight. We certainly found the Jabra 65t to be more comfortable than their predecessors, and we wouldn't be surprised if you did, too.
The buttons are also smaller, but not hard to use, either. On the right 65t earpiece, its one button does multiple jobs at different button presses: push it once to pause or play audio, twice in close succession to filter the real world into your sound mix and gear the world, and hold it down for a second to bring up your phone's assistant. Or hold the button down for a few seconds to switch it off. The left Elite 65t earpiece is even easier, with left and right pushes of the dimpled button going down and up in volume, while a second hold on each side will send the track changes back and forward.
None of this is hard to get used to at all, and in no time you'll be jamming to your favourite tunes.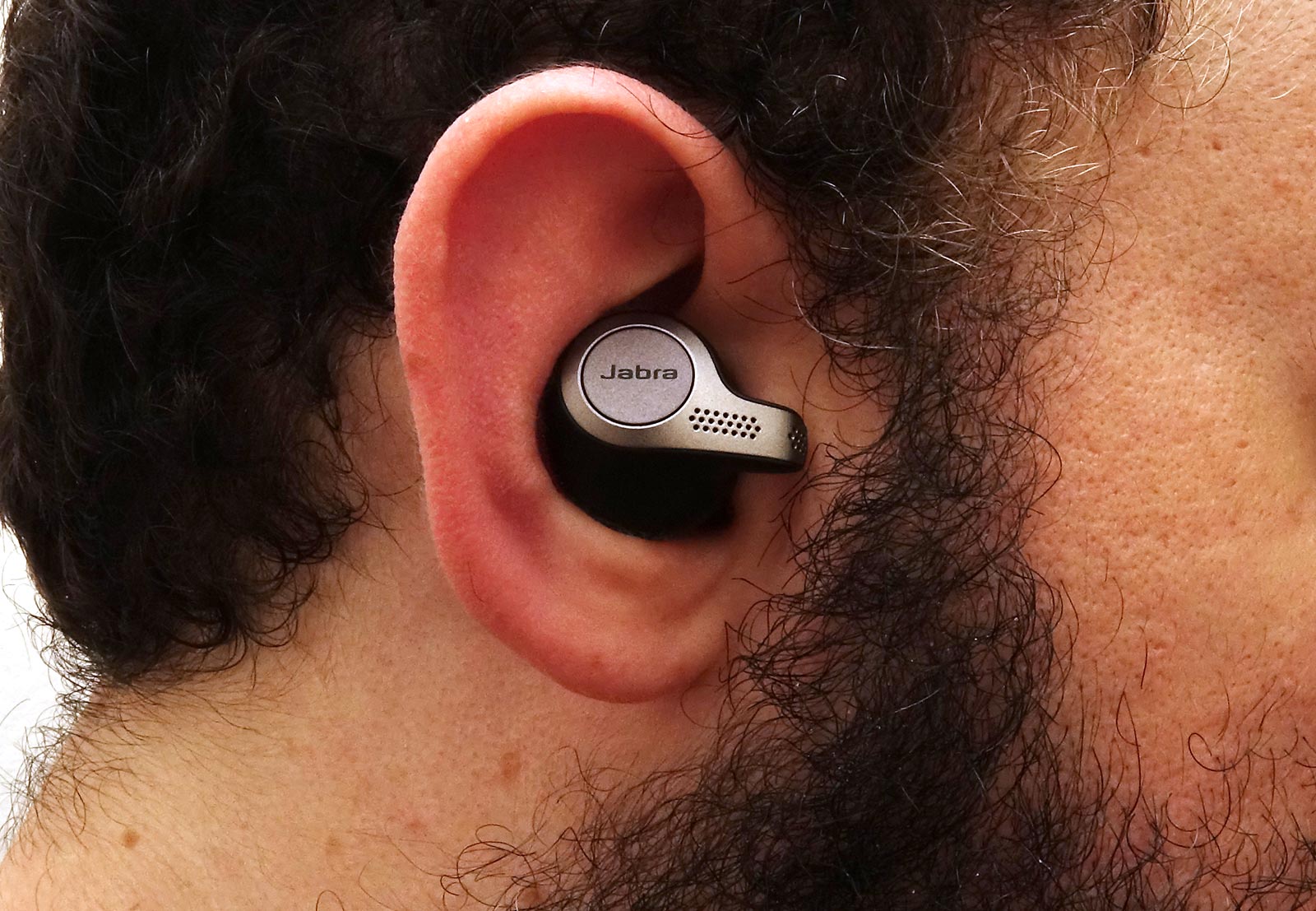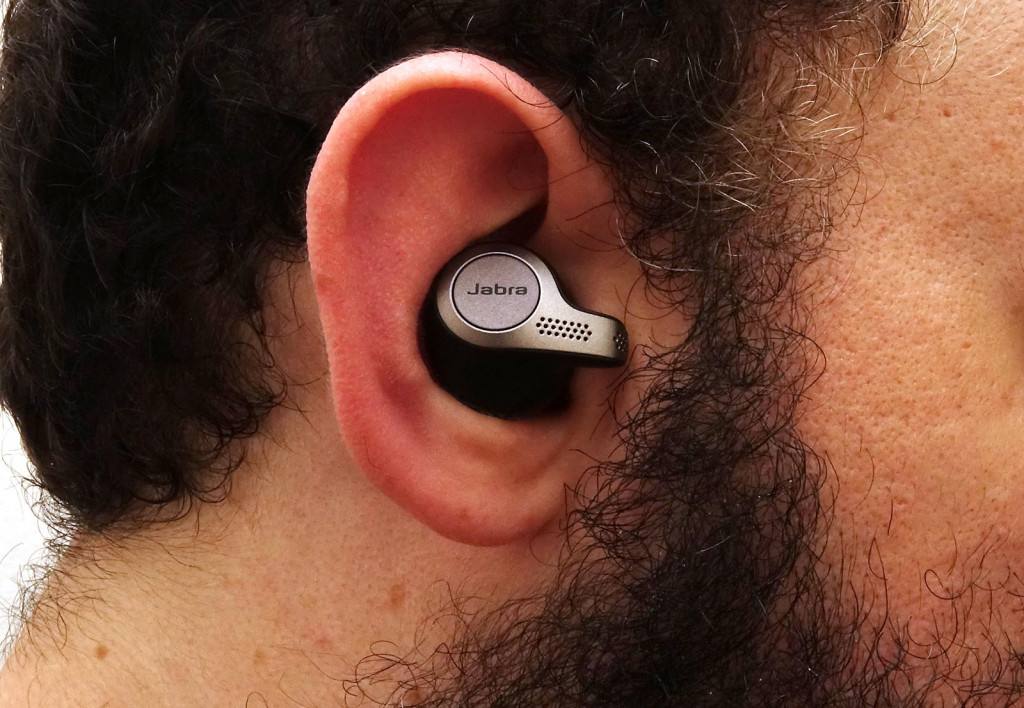 Performance
Which means it's time for us to do the same, getting stuck into the performance of the Jabra 65t with the Pickr Sound Test, which you can always try for yourself on Spotify, Google Play, or Apple Music.
That had us start with electronic and the likes of Ellie Goulding and the Propellerheads, both of which delivered a clear and bright sound, with a good punch of bass. That's the same in R&B and soul, with a strong highs and mids in tracks like Michael Jackson's "Billie Jean" and Marvin Gaye's "Ain't No Mountain", leading slightly over the mids, still with a driven punch on the bottom end.
Like the Elite Sport Wireless before them, they feel as though the bass could be a little more pronounced, but with more room for that sound to move, Jabra has delivered enough of a punch more for us to pick the Elite 65t over their predecessors.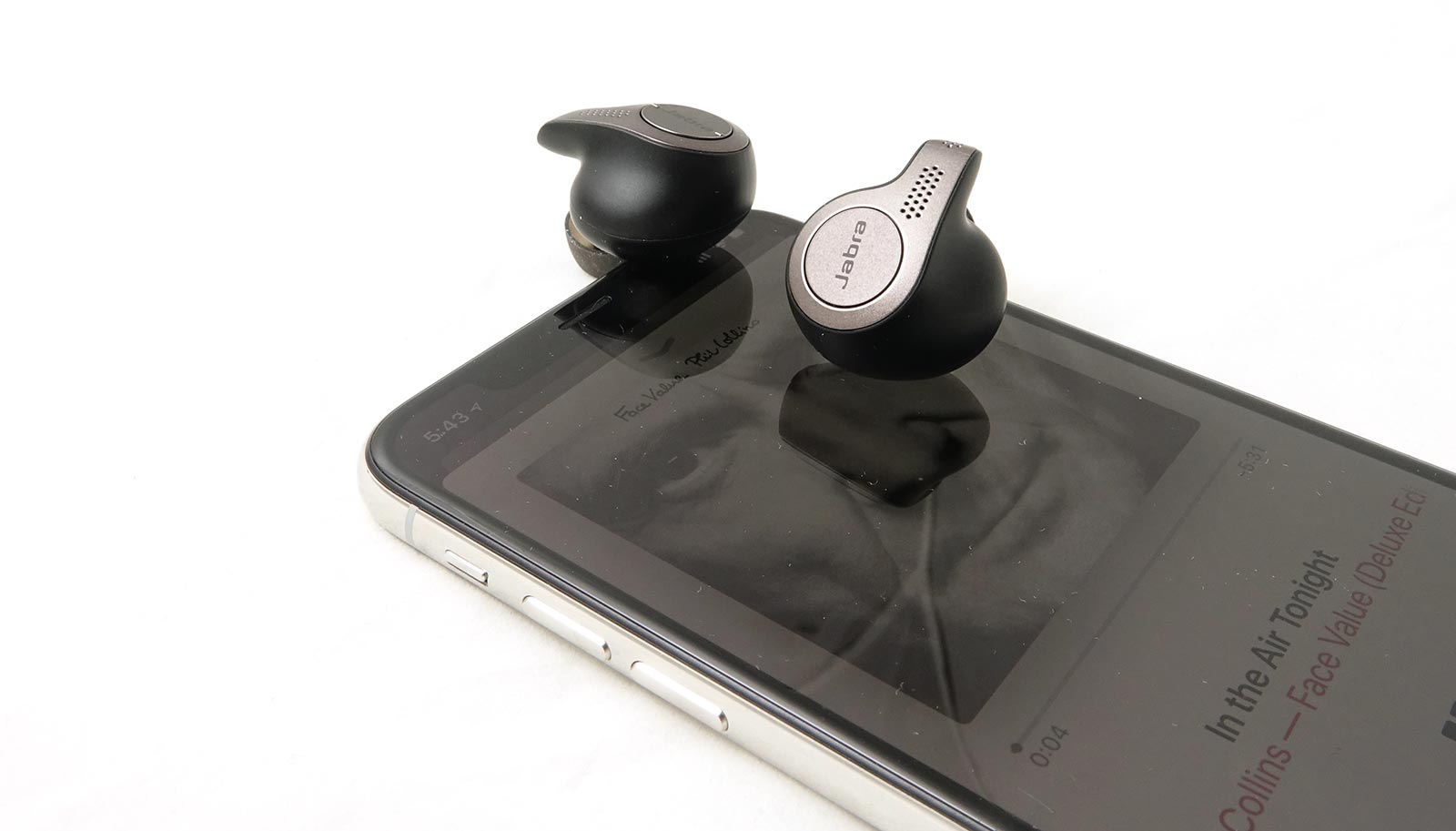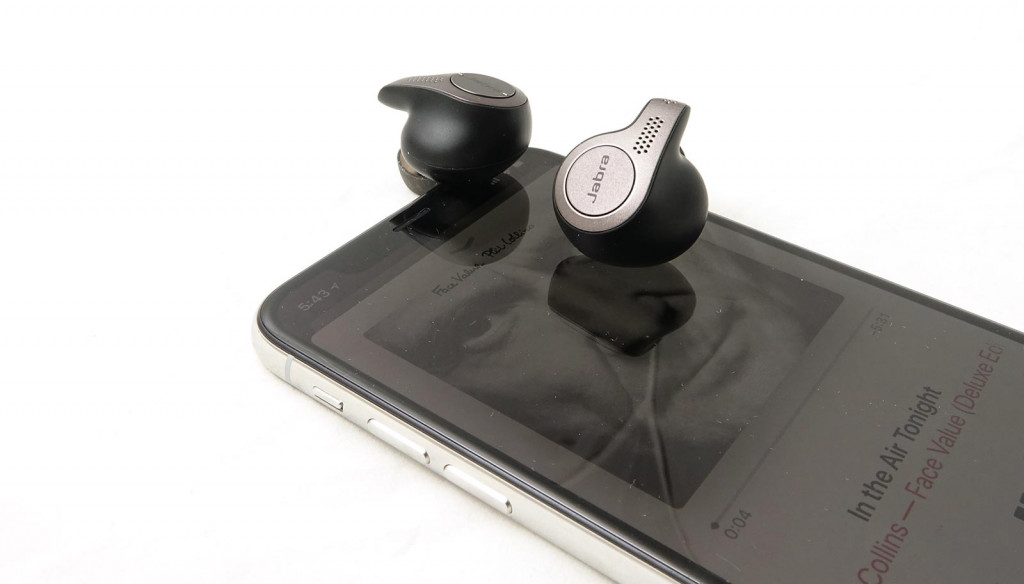 Over to pop and rock, and the punch continues, with good, clear separation Maroon 5's "Sugar", while Phil Collins' "In The Air Tonight" revealed a good sense of depth between the instruments. Rock performed just as clearly, with a massive collection of sound in Beck's "Dreams" and noticeably warbling bass in Muse's "Madness", delivering enough of the edge we look for in edgy music.
The balance and clear rendition is also noticeable in jazz and classical, with Etta James' "At Last" delivering good solid distinction between the instruments and a lovely feeling of comfort, not to the same extent a big pair of headphones would deliver, but enough whereby it might sound the music is bigger than what you'd expect. The same is true of Kurt Elling's "Bonita Cuba" and Norah Jones' "Come Away With Me", offering comfortable sound that is bright, with a clear bottom end that just needs a bit more richness to it.
Overall, it's a nice sound, and one we're definitely comfortable listening to.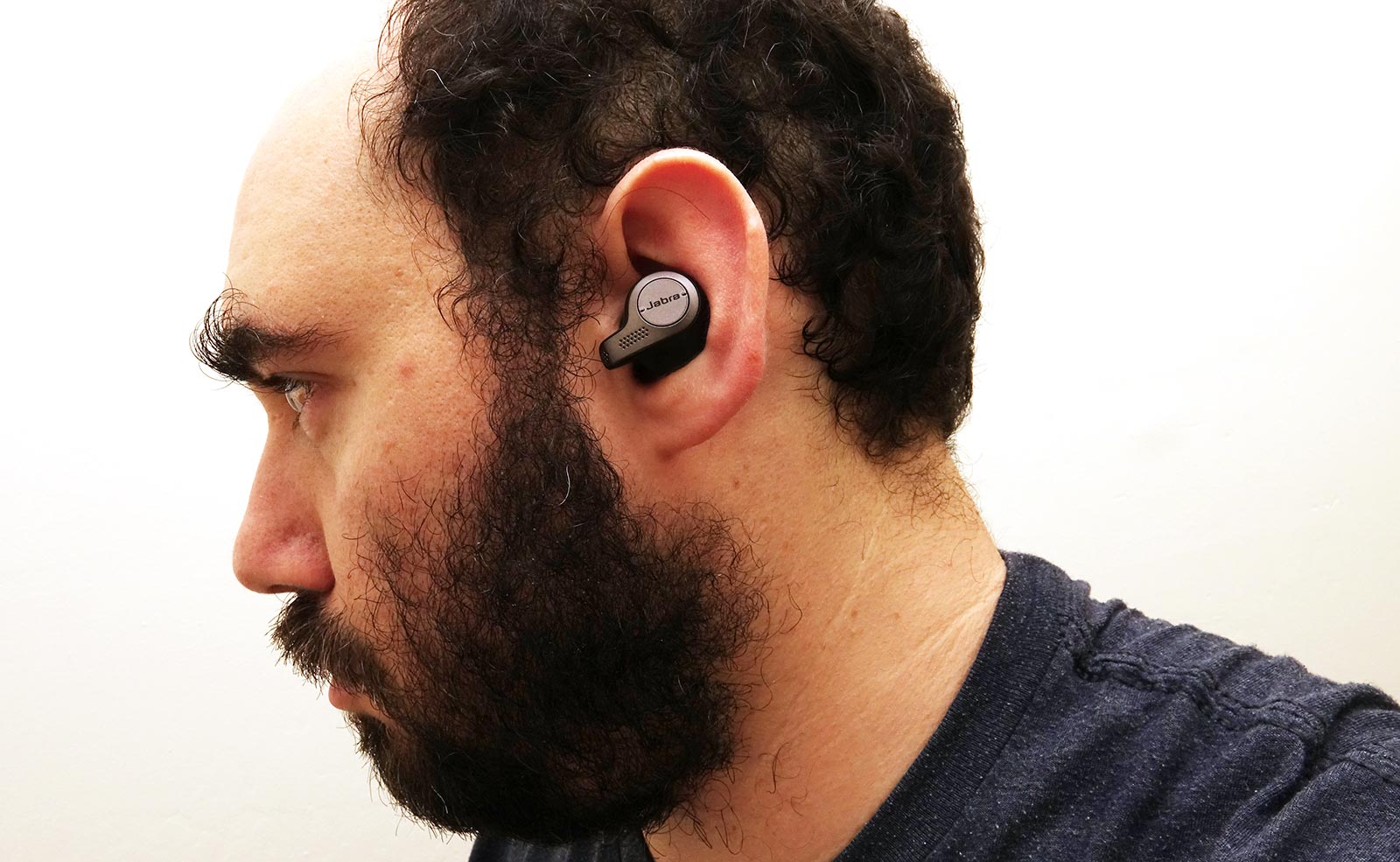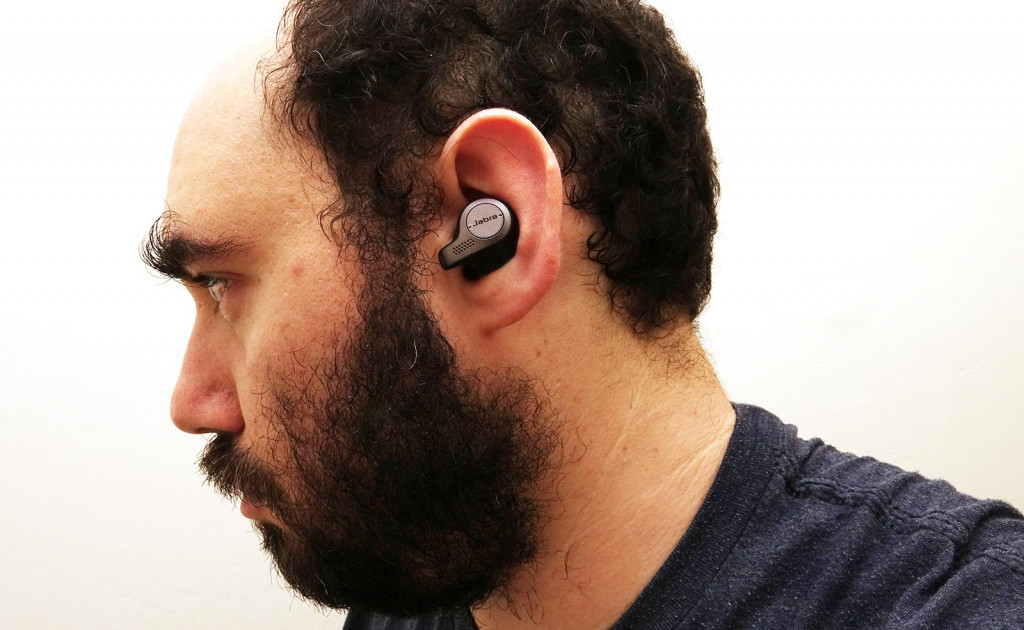 Battery
Alongside fairly strong performance is equally strong battery life, delivering a good four to five hours when in use constantly, with the battery case adding another ten. That's not bad, and depending on how often you listen, should get you through a week without needing a charge.
Charging is easy, mind you, with a microUSB port found on the underside of the case. We'd like to have seen USB Type C here, especially given it's the new universal standard, but microUSB is still ridiculously common, so there's little issue here.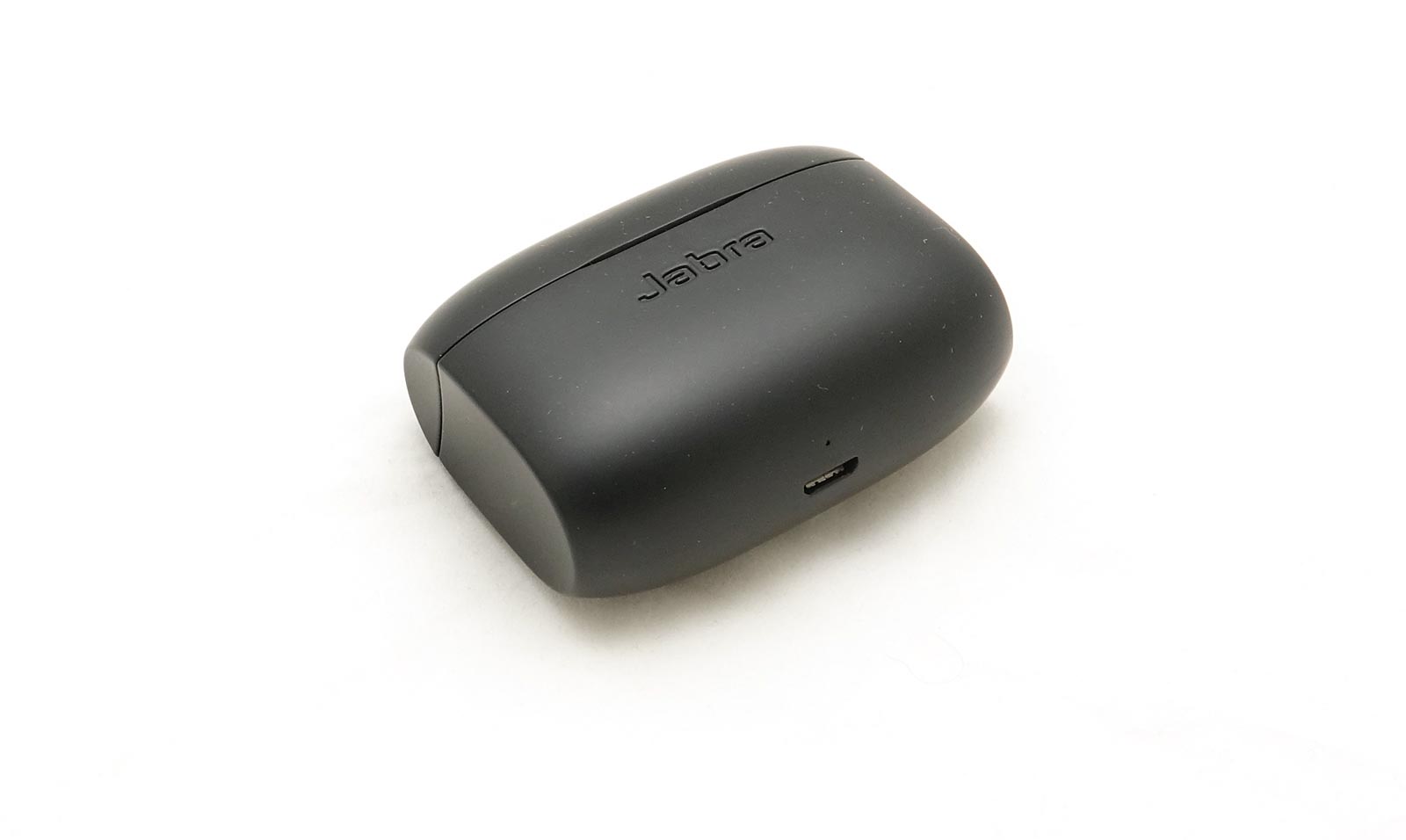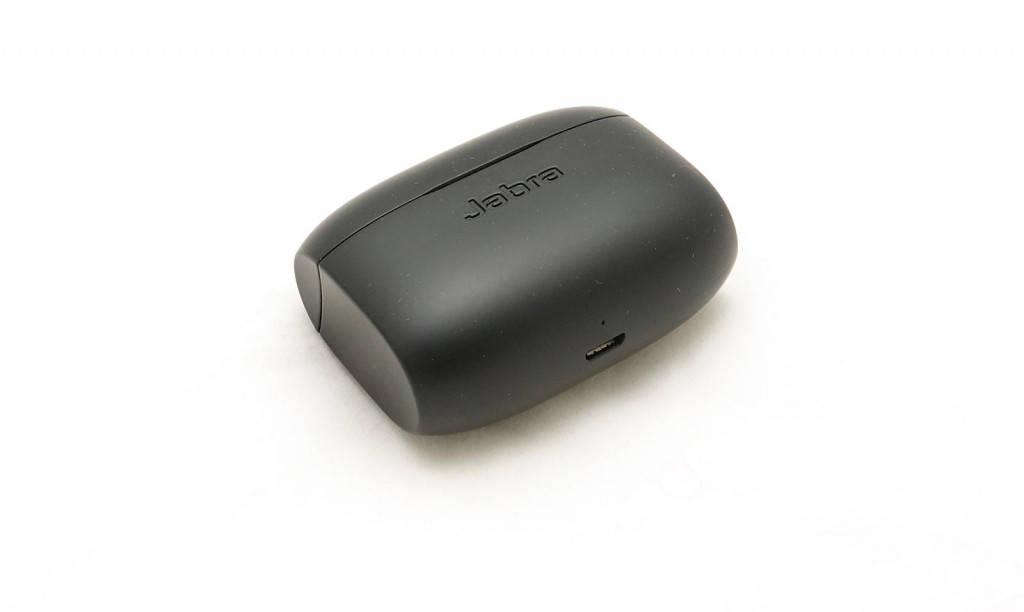 Value
At $299, though, this battery life and performance us more than satisfying, going slightly beyond the price tag of Apple's AirPods, but providing more.
There's easily a better sound, less sound bleed and stronger isolation, and a design that doesn't look out of place.
What needs work?
With strong performance, strong comfort, and strong value, you'd be surprised to find out that we find the Jabra Elite 65t a strong pair of totally cordless and wireless in-earphones, but there are two things stopping it from being the absolute muscleman of the year: the app and its water resistance.
We'll get the app out of the way, because the Jabra Elite 65t earphones have an app. "Hooray," I hear you exclaim mockingly, "another app for me to install. What does it do? Does it do anything interesting? What does it do?"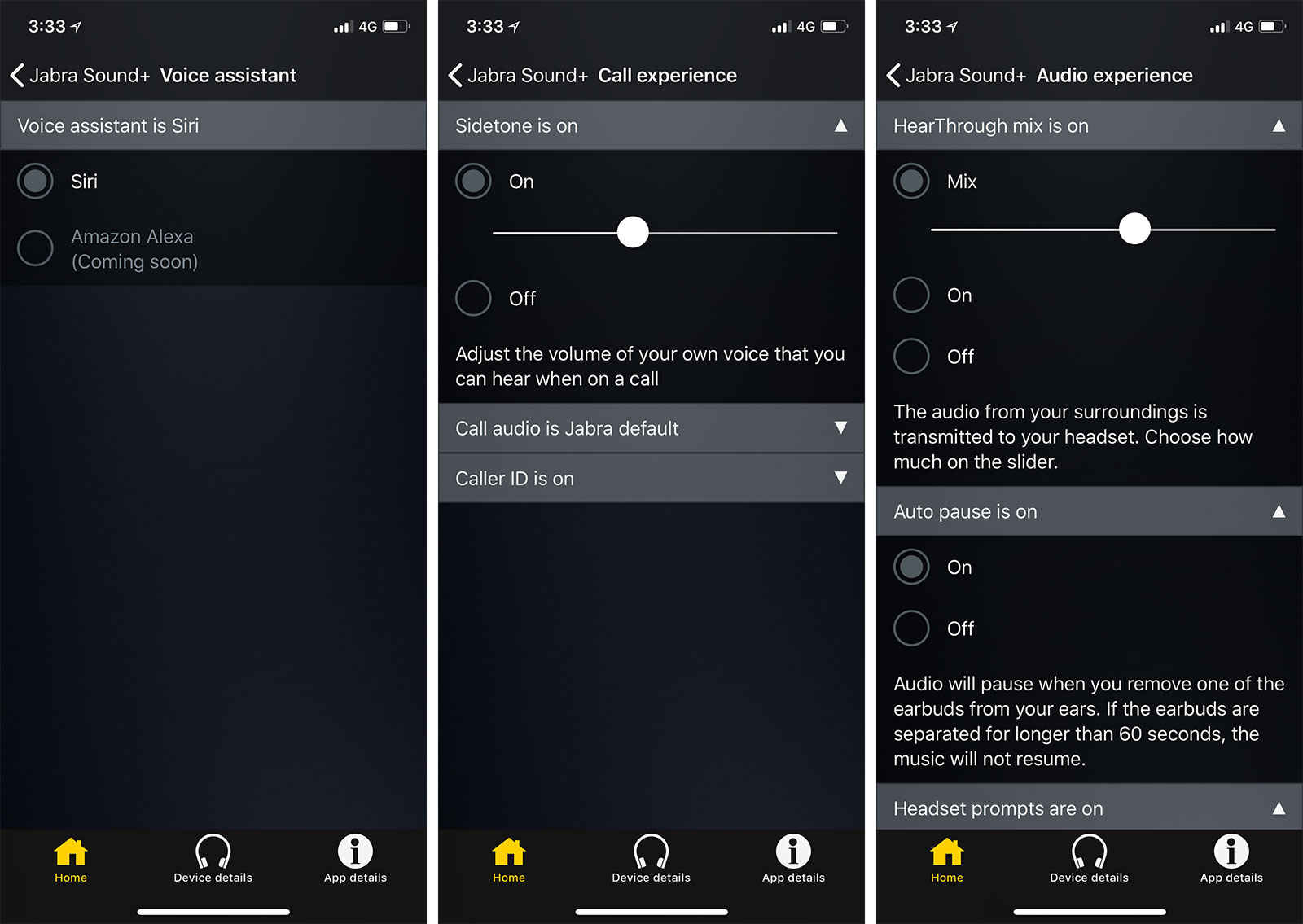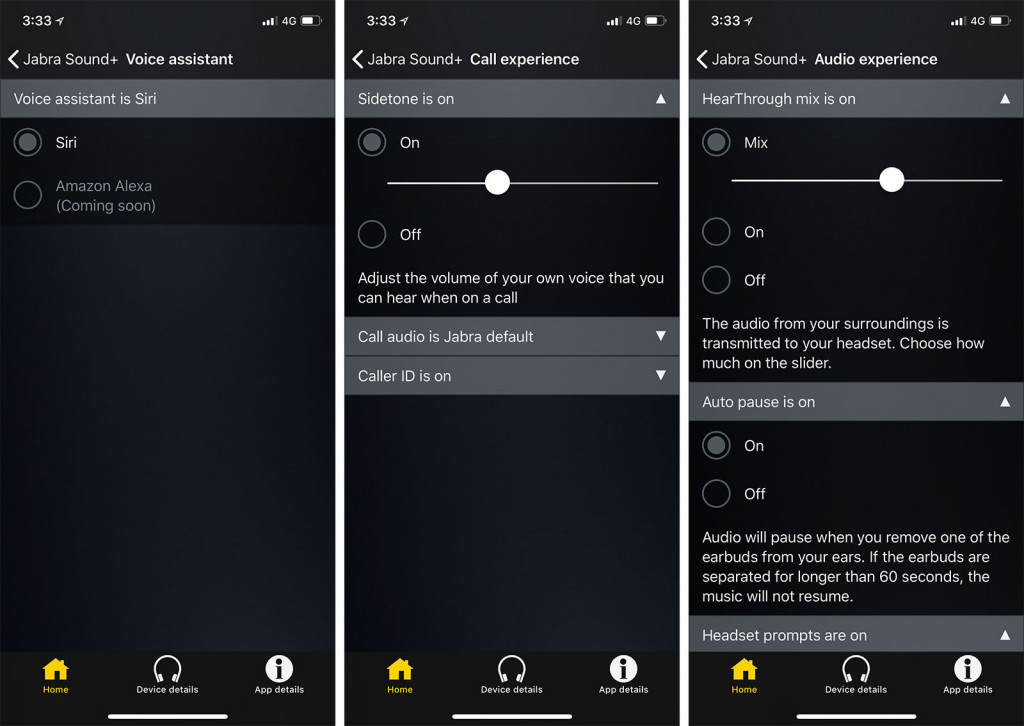 Well, that's the thing. While Jabra implies it offers control — and it does — it's not the level of control we want. Rather, it's an easier way to control the sound mix from the outside world and deciding which asssitant you want to use — Siri, Alexa, that sort of thing — but the actual sound control is a bit, well, "meh".
You get an equaliser graph to play with, but nothing in the way of presets, and nothing that makes it easy to quickly drive up the punch, the treble, the bass, and so on. It's not a tactile and easy to use interface like what Bang & Olufsen offers, and it's not even direct like what we've seen from Sony.
It's an app with an EQ, but unless you understand EQ lines, it's not exactly easy to embrace or engage with, and it's one side of things that could do with work.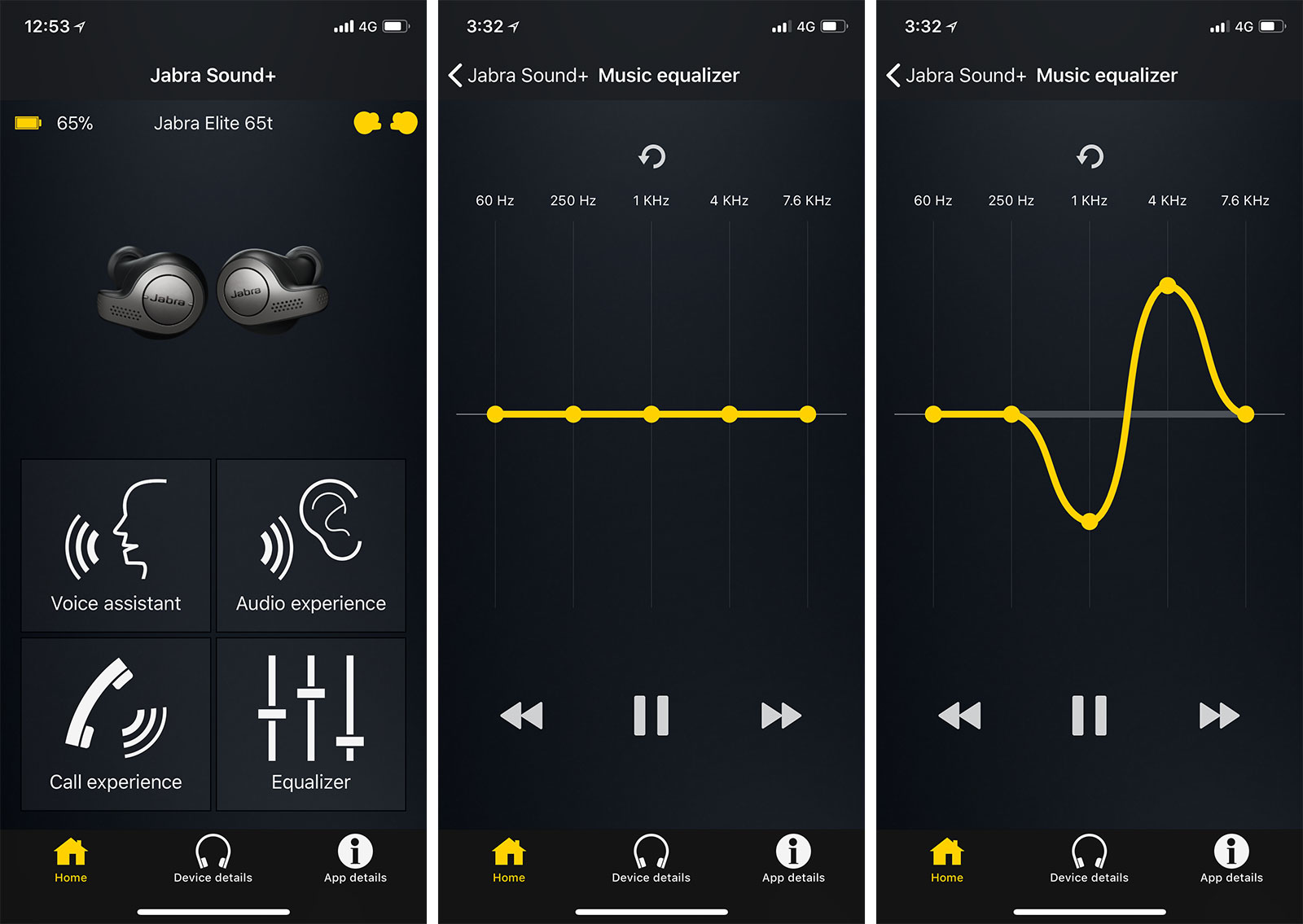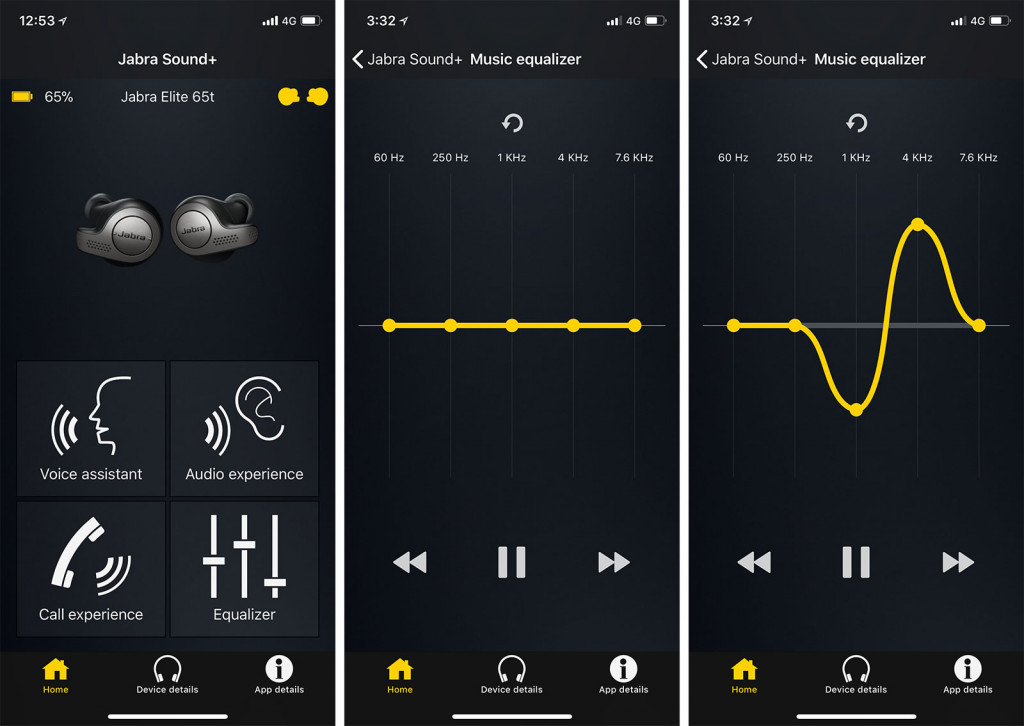 The other thing that could see a bit more is the water resistance, which is only IP55 in this model. That essentially means it's dust protected by not dust proof, and will survive water being sprayed against the earphones, but not immersion. So they should survive sweat and a run in the rain, though we'd seek cover if that rain turned into a full-blown thunderstorm.
We spoke to Jabra about that, and it told us that the Jabra Elite 65t weren't replacements for the IP67 Jabra Elite Sport Wireless, as that would come in the Jabra Elite Active 65t, though we just wanted Jabra to amp up the water resistance a little more. Seriously, even a rating of IP56 would give us more comfort, since that's a powerful water jet rating. Just something. Maybe we're just picky.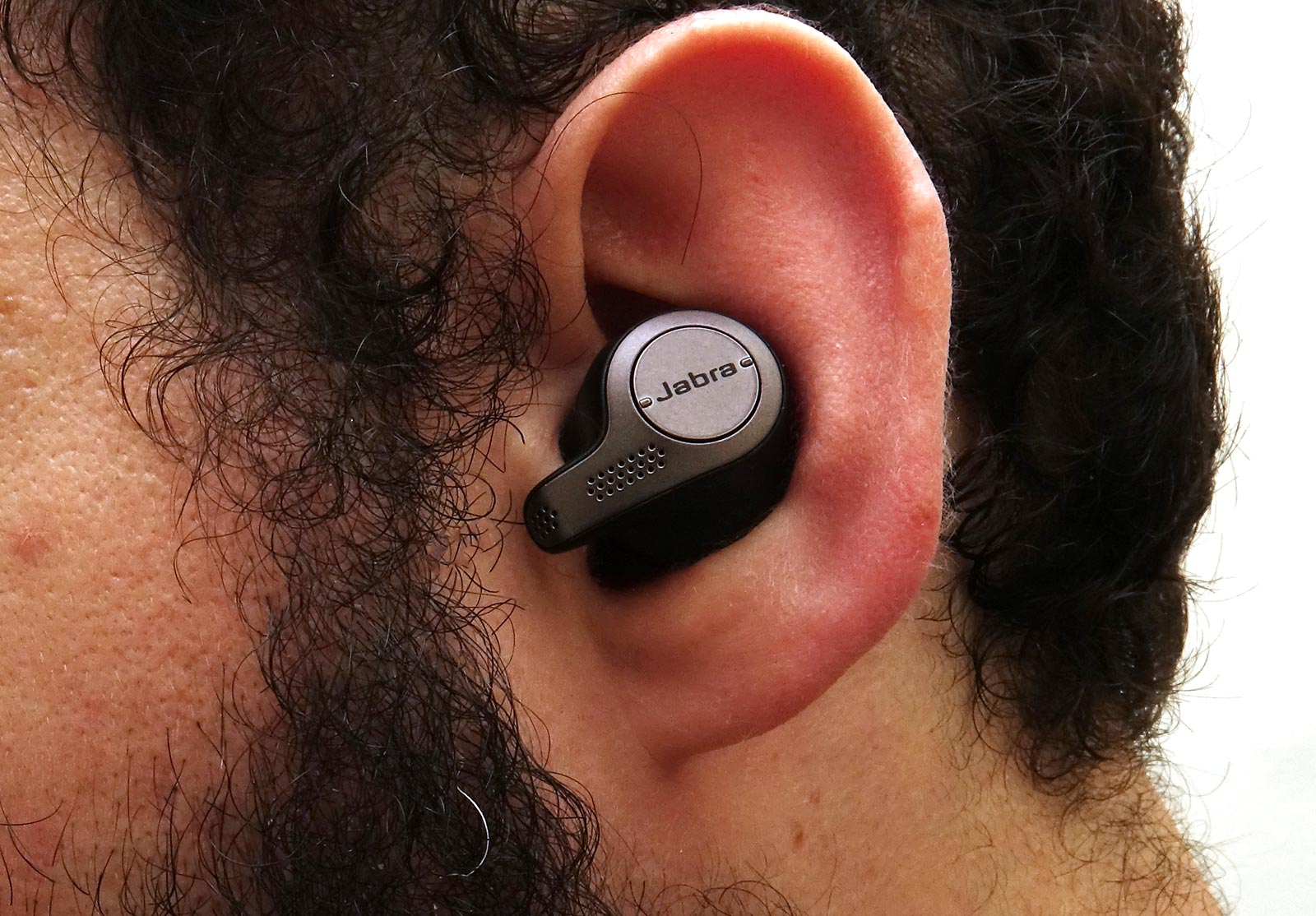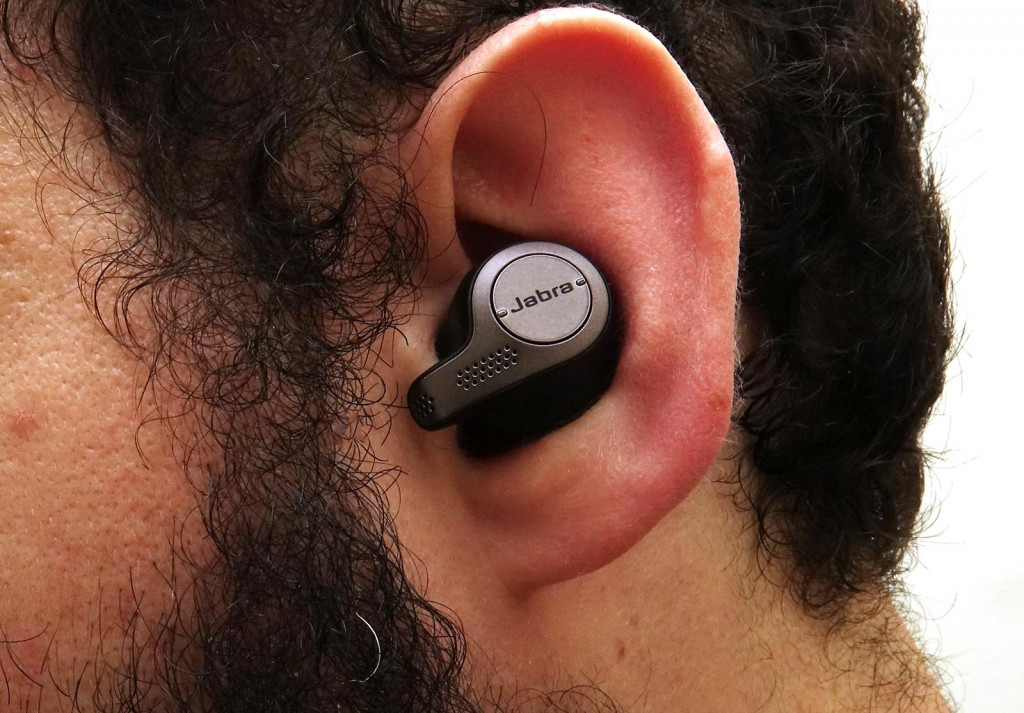 Final thoughts (TLDR)
The wireless and cordless earphone area is seriously going to heat up, and some of the players are already making tremendous headway, pun intended.
Last year's efforts from the likes of Bang & Olufsen and Apple helped get the notion of cordless into people's heads, and Jabra's Elite Sport Wireless drove that message through with a pair of premium options that didn't carry the same cost as others.
And this year, Jabra is back with something just as impressive that feels even more refined. Let's be clear, because the Jabra Elite 65t are not a replacement for the Jabra Elite Sport Wireless (we checked). Despite that, they sound better, offer better battery life, and are much more comfortable, three things that truly make them shine.
That makes them an ideal choice for anyone keen to move to the magic that is cordless and wireless. We wish they had more water resistance, but that's coming later on in a subsequent model. If that doesn't bother you, Jabra's Elite 65 are an absolute winner.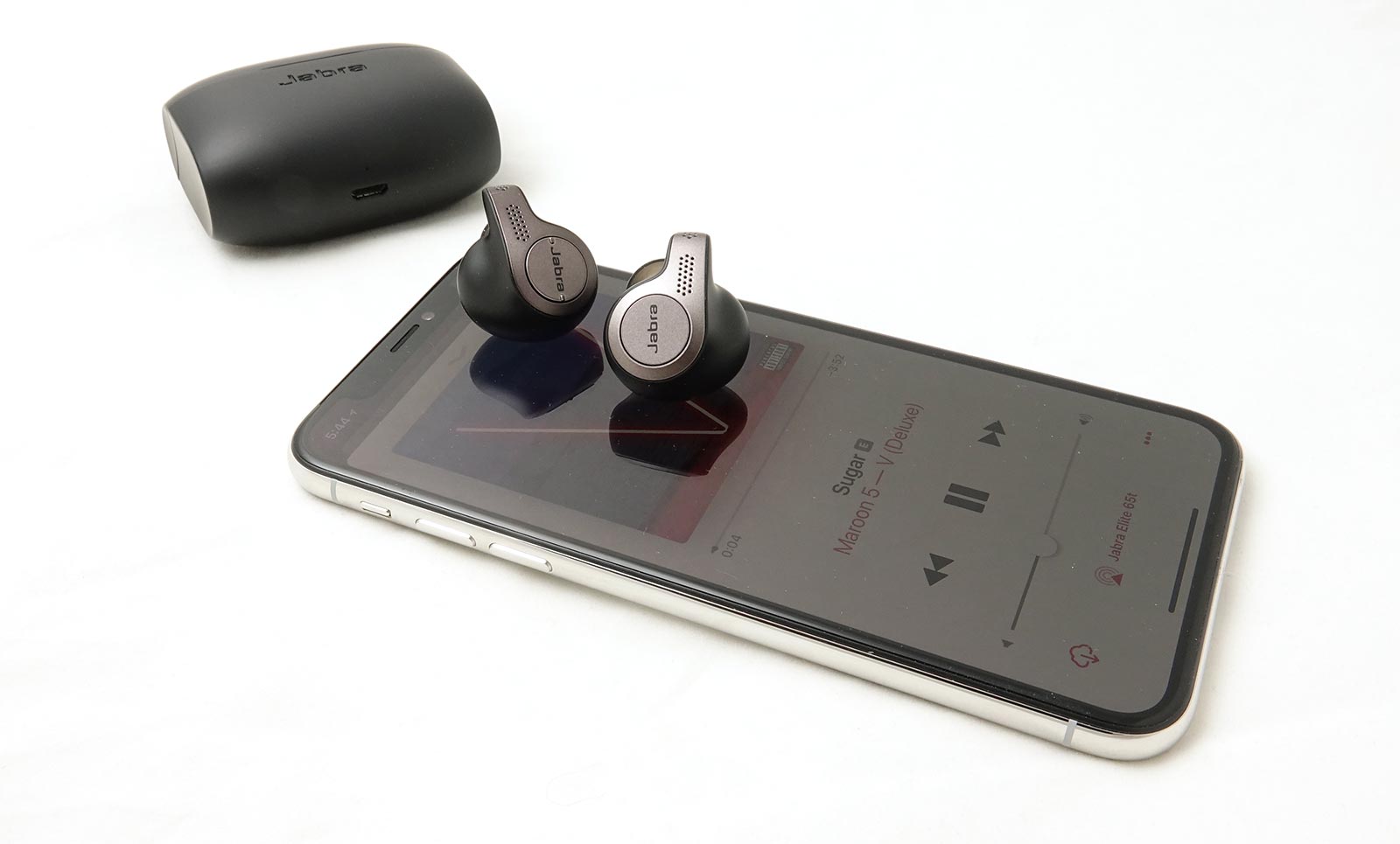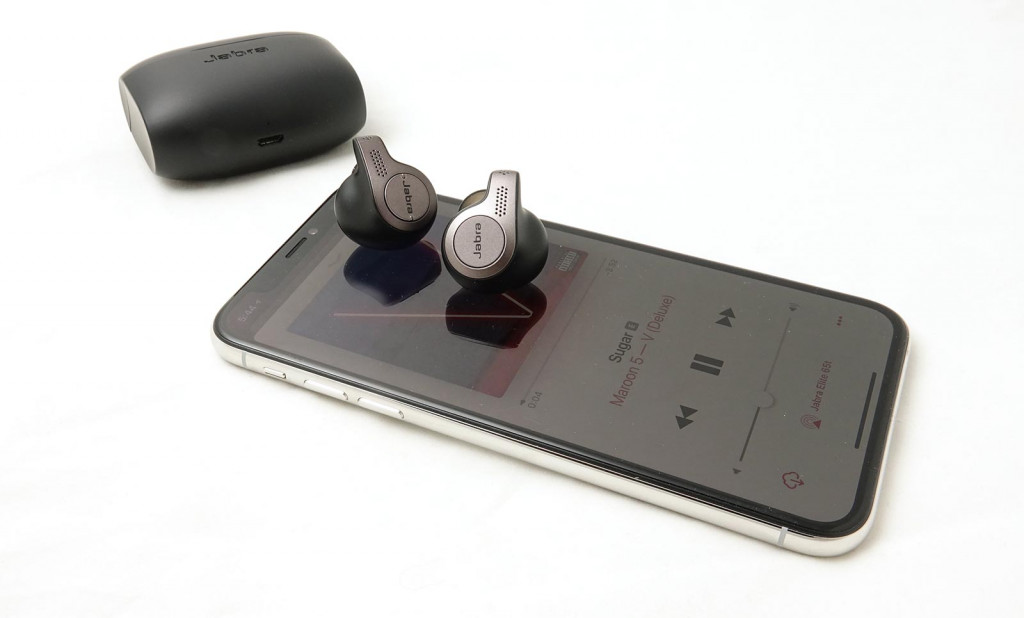 The good
Bright and punchy sound
Better bass than previous model
Fits really well, with a comfortable design (especially in comparison to the last model)
Smaller case
Good value
The not-so-good
Water resistance could be better
App lacks easy EQ settings