Quick review
Status Audio Between 3ANC
The good
Really detailed sound
A style that stands out
Great battery life
Wireless charging
The not-so-good
ANC isn't amazing
Style won't appeal to everyone
Touch controls aren't great
App isn't tremendously useful
Earphones tend to look the same and do much the same thing, so how do you stand out? With the Status Audio Between 3ANC, the idea is doing it with a unique flair for design and driver use.
Standing out in the wireless earphone world isn't easy. There are specific styles, both in design and profiles, but by and large most companies are vying for a piece of the same space: comfortable, balanced, and fashionable enough for most.
You know the big name players all without thinking, whether it's the buds-style offered by Sony, Beats, Technics, and Jabra, or the stem-equipped alternatives from Apple, B&O, and LG, to name a few. There are some other takes that offer elongated panels from your ears via Bose, not to mention the more unusual styles that cling to behind the ear or use ring-drivers to let you hear through the earphones.
Outside of design, though, earphones are often similar, partly because of the market they go after: people looking for a premium pair who can justify a max of $500.
Standing out in this market isn't easy, and often requires an out-of-the-box approach. It's what helped Australia's Nura, making bud-shaped earphones use a special otoacoustic hearing test to shape the sound to match your ears, before the company was acquired by Denon.
Nura isn't alone in being an outlier, either. There are many others which like Nura almost appear from out of the unknown.
Status Audio is one of those. A brand you'll definitely never have heard of, it offers a pair of truly wireless noise cancelling earphones that aims to stand out well and truly. The Between 3 ANC arrive with three drivers and a unique look that's clearly different from everything else out there.
Are they the splash of originality we need in portable audio today?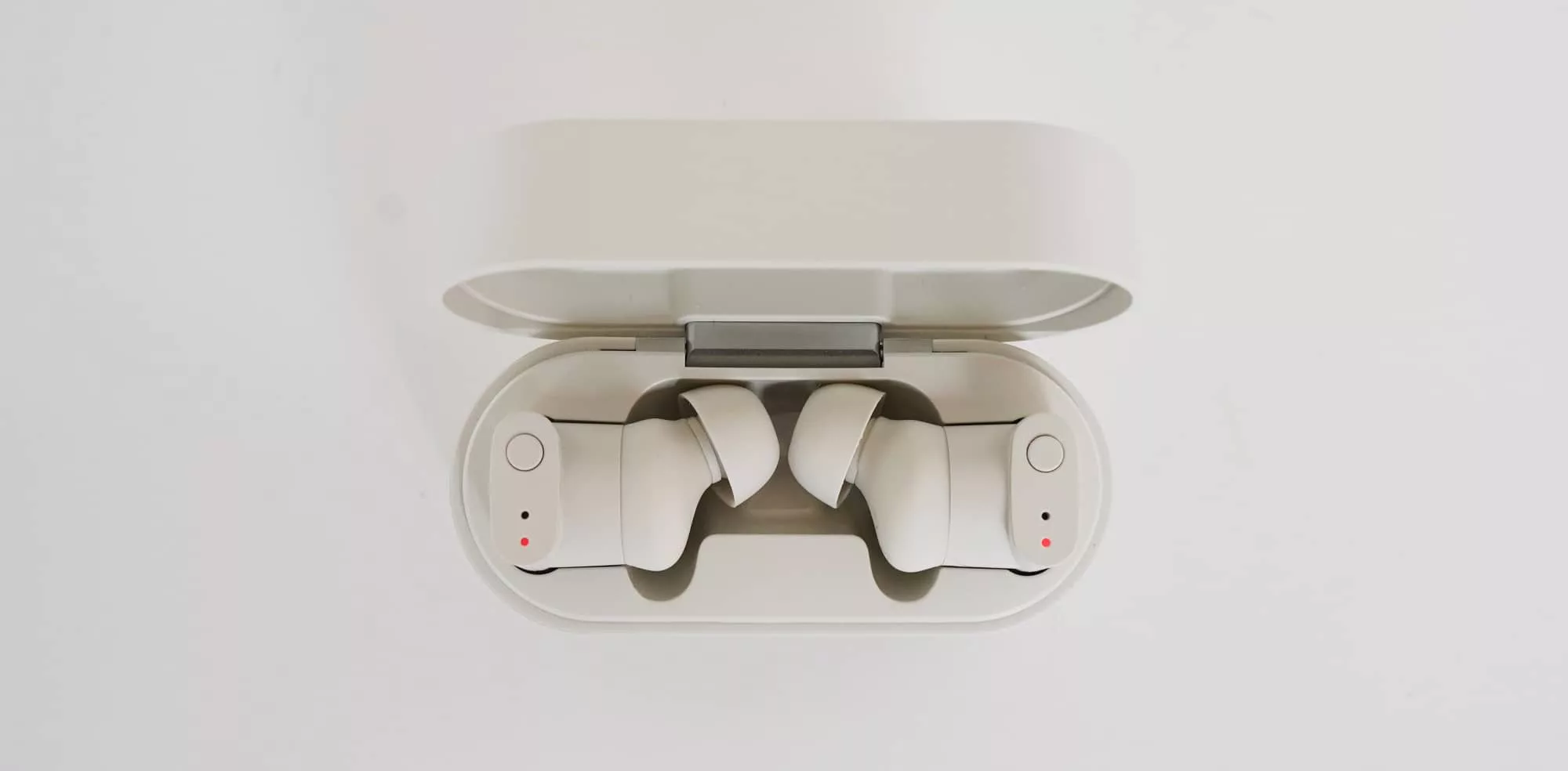 Design and features
Open the pill box and take a look inside, and you'll see a pair that aims to be different from the get-go.
They use the idea of stems like from other elongated truly wireless earphones, but rather than be the slim sticks of the AirPods Pro, the Between 3ANC are rectangular and boxy. These definitely won't resemble anyone else's pair of earphones, and that's ok.
It's a look that may divide and will certainly have its fans, but you'll know if you like them simply from how they look on a guest model, so we guess we'll volunteer.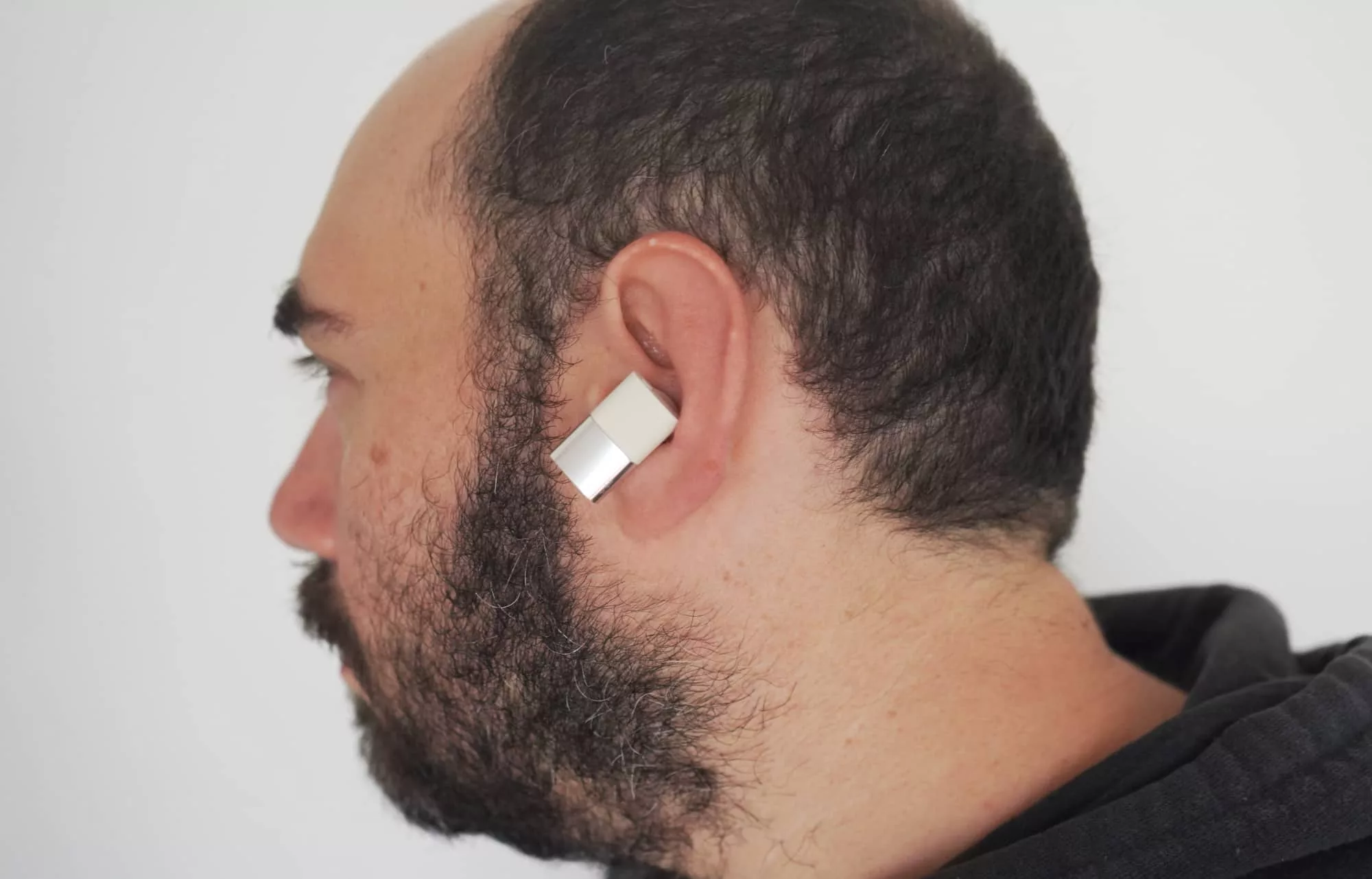 Truthfully, we're not entirely sold on the look, but as we said, it's a style that can divide. To Status Audio's credit, it's definitely unique, edging out a spot in the crowded truly wireless earphone space by being truly different.
Inside, the differences continue, where the earphones offer more audio technology than most competitors would dare to travel.
We're very much in the age of the dynamic single driver, which is very much a thing earphones offer. Typically, it's a driver improved by helper chips processing the audio to make everything just that much better, like the integrated processors Sony uses on its WF XM range, or the tiny chips with AI Apple uses in its AirPods.
Status Audio's approach is a touch different, going a little more old school with three drivers in the earphones. It's all in the name: "Between 3" basically tells you that your head will be plunged between three drivers on each side, while the "ANC" tells you what else you can expect, giving you two balanced armature drivers and one dynamic driver.
The idea is that more drivers should give you better detail overall. It's the sort of thing that might just push an audiophile to consider an earphone. Maybe maybe.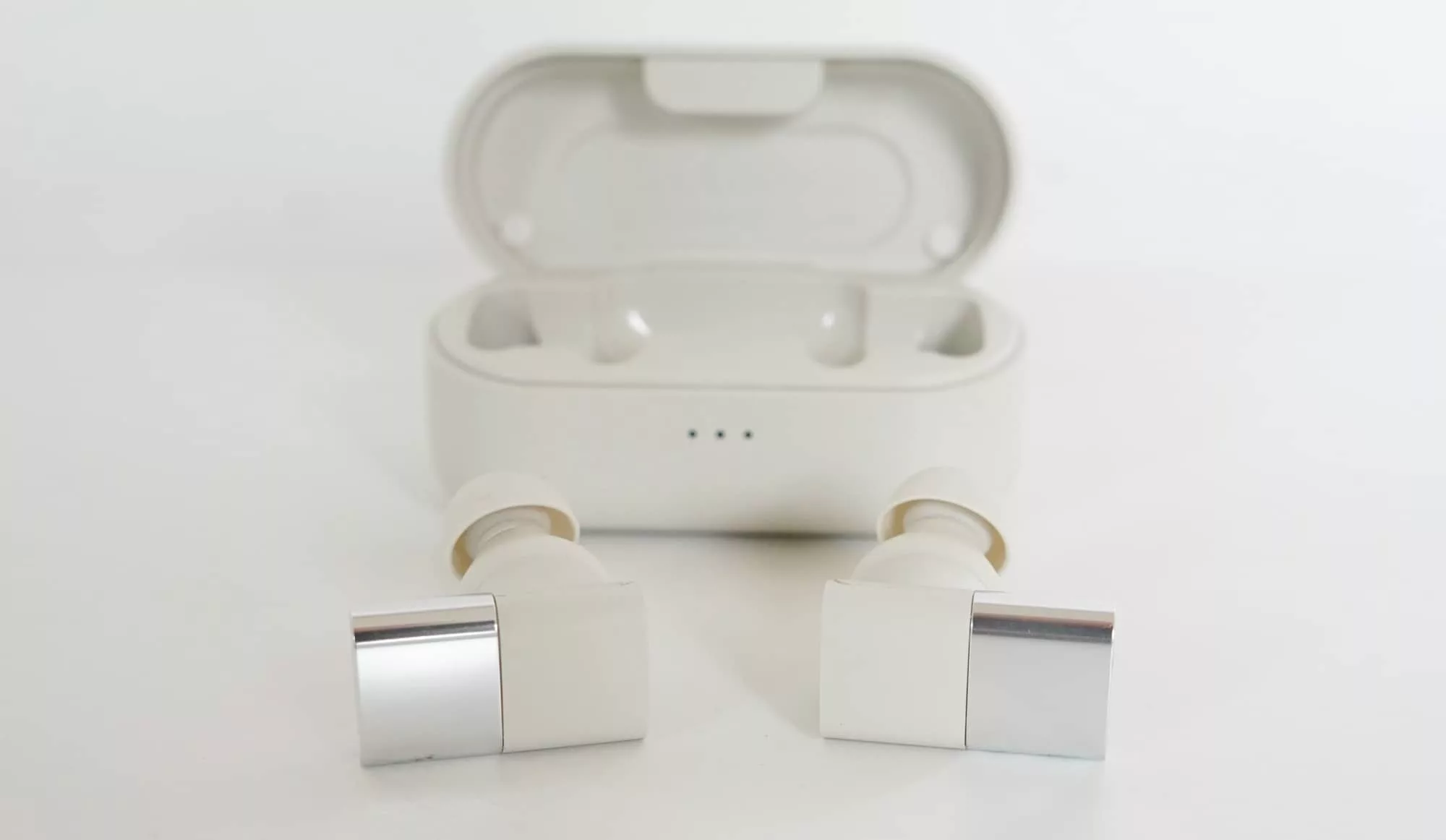 In-use
Stick the earphones on, get used to the look, pair them up, and you'll find a blinking light on either side that typically doesn't bother you or make you look like a cyborg from the future, distinct from the annoying blinking light we dealt with on Audiofly's attempt at truly wireless a few years ago.
Status Audio gives you a two-part solution for getting the right fit, with both silicone ear tips and a silicone ear rest, basically inviting you to match the right combination for your ears. You won't find an app to help you do that, not like what Technics offers in the AZ80, but at least Status Audio has tried. That's another way to stand out.
Controls see a touchpad on either side, albeit one that isn't super reliable. Basic taps on the wide stem will pause and play these earphones, and holding down either side will turn the volume down and up, but the controls are often unreliable. A tap might work, but volume controls we found almost always didn't, and there's no control customisation.
The controls are such that taking the earphones out of your ear by the stem will typically pause the music, so I kind of get why Status Audio didn't include automatic play sensors. But on the other hand, you may find the errant touch or earphone hold makes the volume go all the way down, something the earphones will inform you with whispering "min volume" into your ears.
A short tap should change cancellation to the transparency mode, but you may find it also doesn't do anything, and make you get out the app, which isn't a whole lot better.
About the only thing the app offers to help things is which equaliser mode you're using, jumping between one of three Status Audio crafts for you — "Status Signature", "Status Audiophile", or "Original Between Pro" — with no explanation on what either does. You can also define your own EQ setting, but there's no guidance or special interface here, so we hope you're happy with knobs, sliders, and numbers.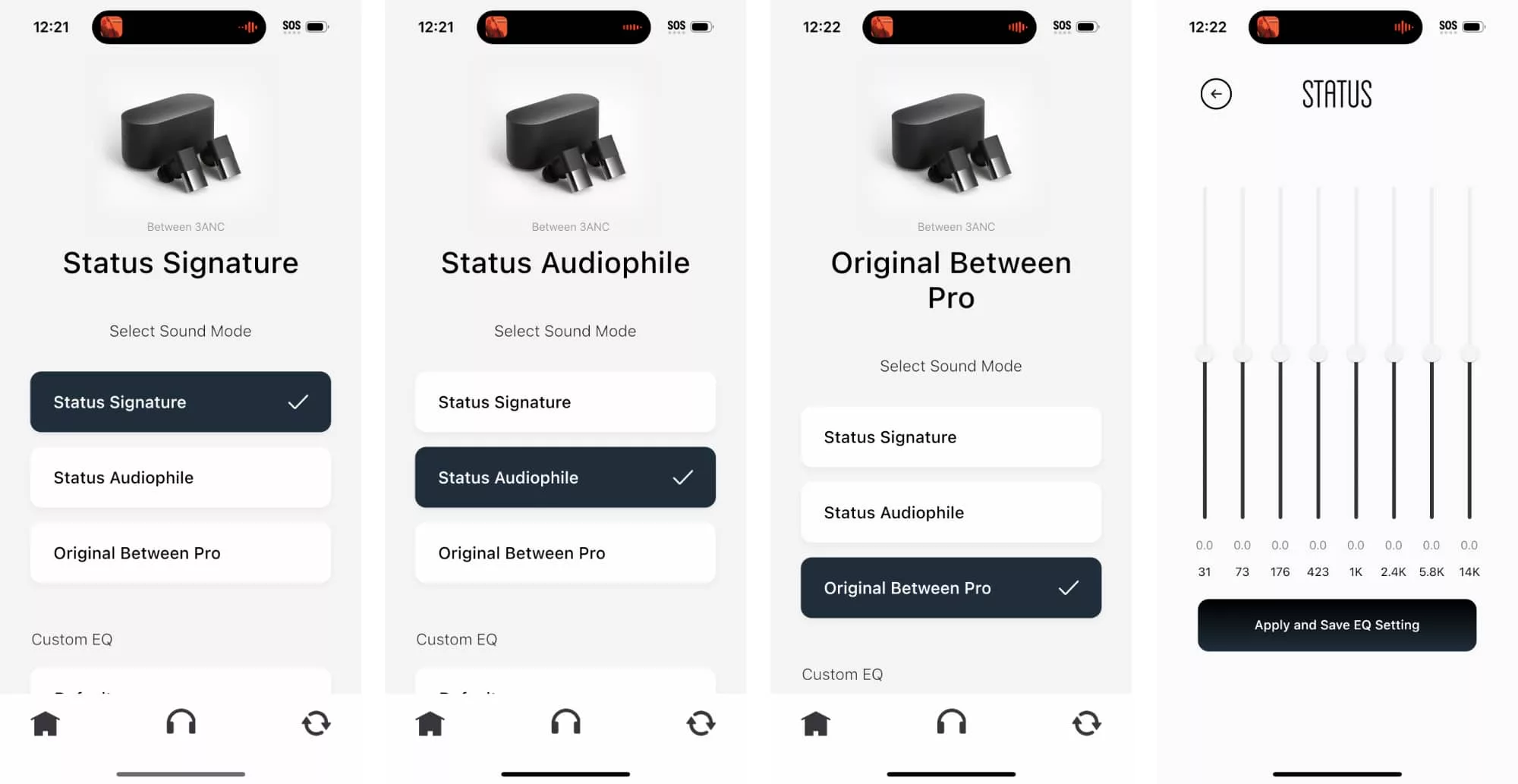 Performance
If you can live with mediocre controls and don't mind jumping between equaliser profiles, you can get stuck into the sound, which is just in stereo with none of the extra spatial or head-track spatial goodness you can find on other earphones.
For our reviews, that means diving in with the Pickr Sound Test, our method for testing every earphone and headphone that comes in for reviews, and that kicks off with electronic where we're treated to reasonable balance albeit with a flat bass.
In Tycho and Daft Punk alike, we picked up on nice detailed highs and mids atop reasonable but slightly withdrawn bass. That vibe continued with the pop sound of Carly Rae Jepsen, and in what should have been an impactful punch delivered something a touch underpowered.
Despite this, the soundstage is clear and wide, and in sounds where the bass is given clearance to move, you may find the lows are rounded and more comfortable, such as with Mark Ronson's "Uptown Funk" and Marvin Gaye's "Ain't No Mountain".
We missed out on the guttural lows we look for in FKA Twigs' "Two Weeks", but the delivery was fine in both the modern rock of the Deftones and the older classic rock of Bowie and The Beatles.
In short, the sound is fine in the 3ANC, offering detail aplenty and a good sound stage, though it may not be enough on its own.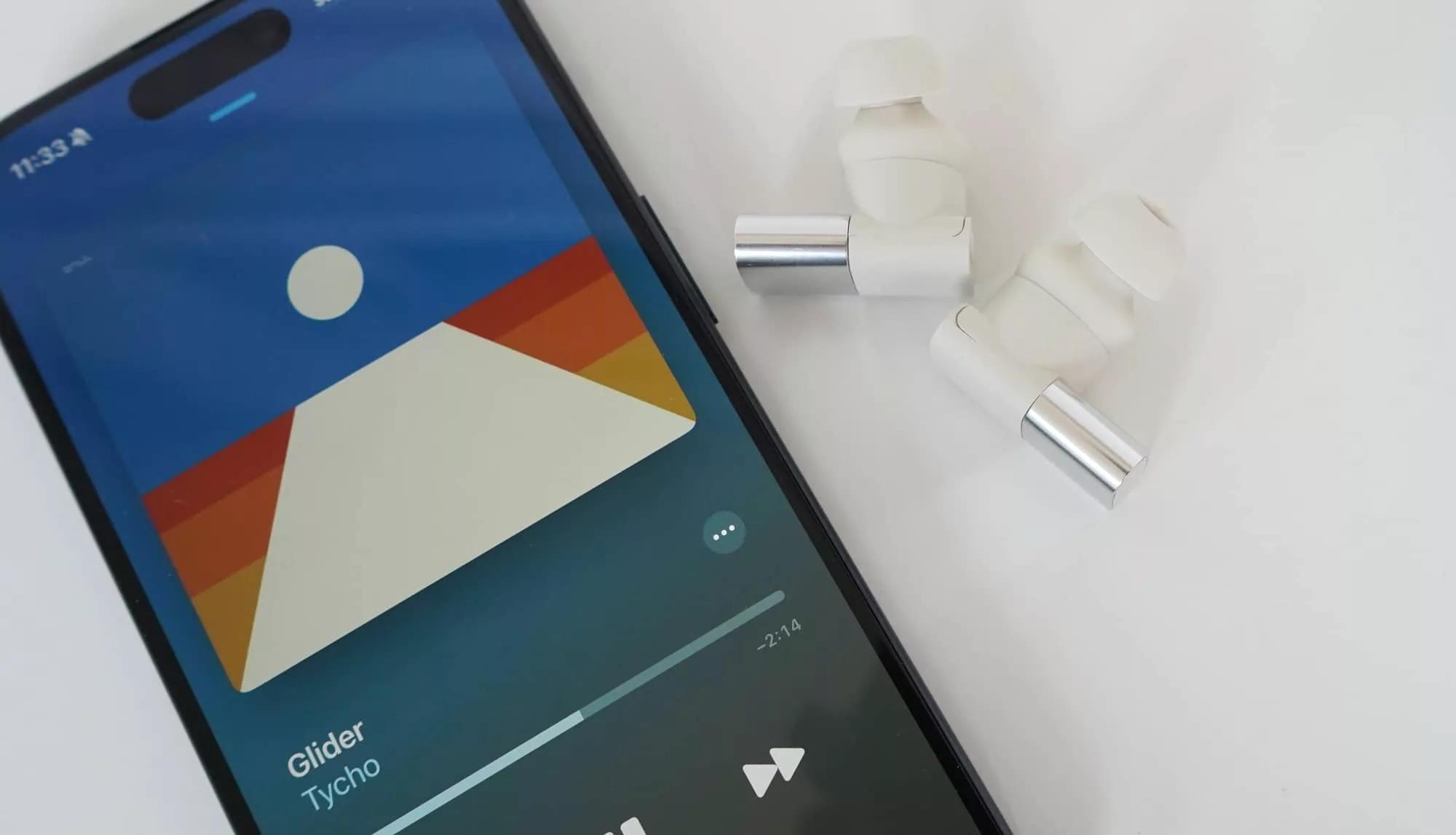 Noise cancellation
Part of the performance, the ANC is relatively unremarkable and really feels like it can let more in than it should.
At home during the rain, the bubble of isolation was clear, but out and about, we felt the 3ANC didn't quite deliver on the request. Whereas pretty much every other noise cancelling earphones doesn't struggle to cut back on the repeatable hum from a train, the Between 3 ANC delivered that sound in spades. We heard it fine alongside our music, undermining the whole process.
Jumping between the active noise cancellation and transparency modes, it's clear the ANC feature on the earphones is doing something. The problem is it feels like a light reduction by comparison, dulling the sound as opposed to cancelling it altogether.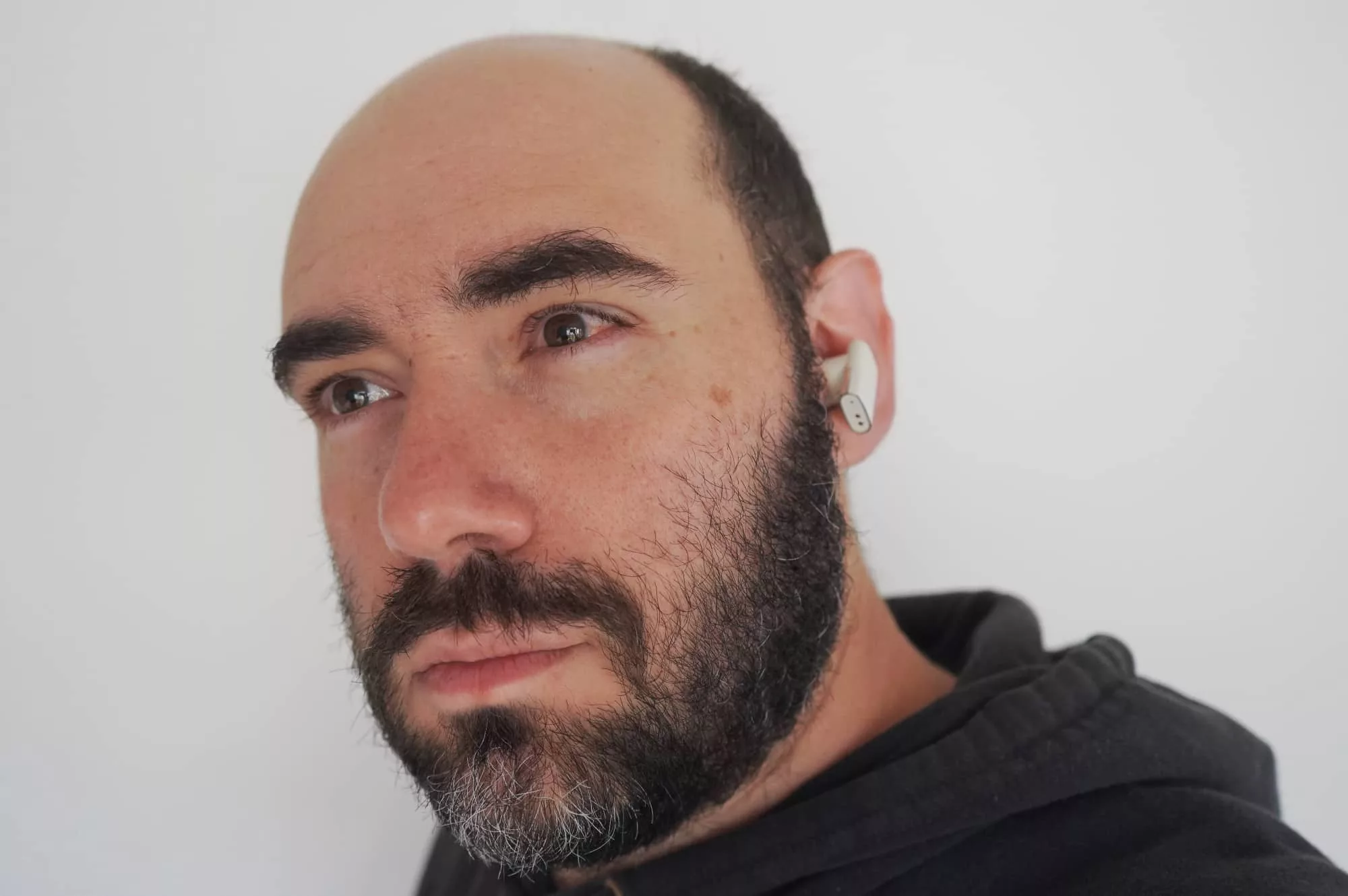 It's just not a great ANC experience altogether, and really needs to be worked on, as does the software.
Noise cancelling in competitors often gives you a sense of control between just ANC and transparency mode. While not every earphone gets this right, the Between 3 ANC isn't giving you really anything to work with, and the result underwhelms.
Battery
On the other hand, the battery on the 3ANC is a solid win, giving you as much as 8 hours with noise cancellation switch on and closer to 12 if you decide to forgo the ANC tech.
That's a staggering amount of battery life for a pair of noise cancelling earphones, especially when we're used to seeing more modest runtimes of closer to 4 to 6 hours.
It's not entirely a win for the battery, with a maximum of two extra charges from the box, basically bringing it to 24-ish hours all up or a little more if you opt to go without noise cancellation. While eight hours is nice for in-use time, 24 is about normal.
You will find wireless charging in the case, however, so that's nice.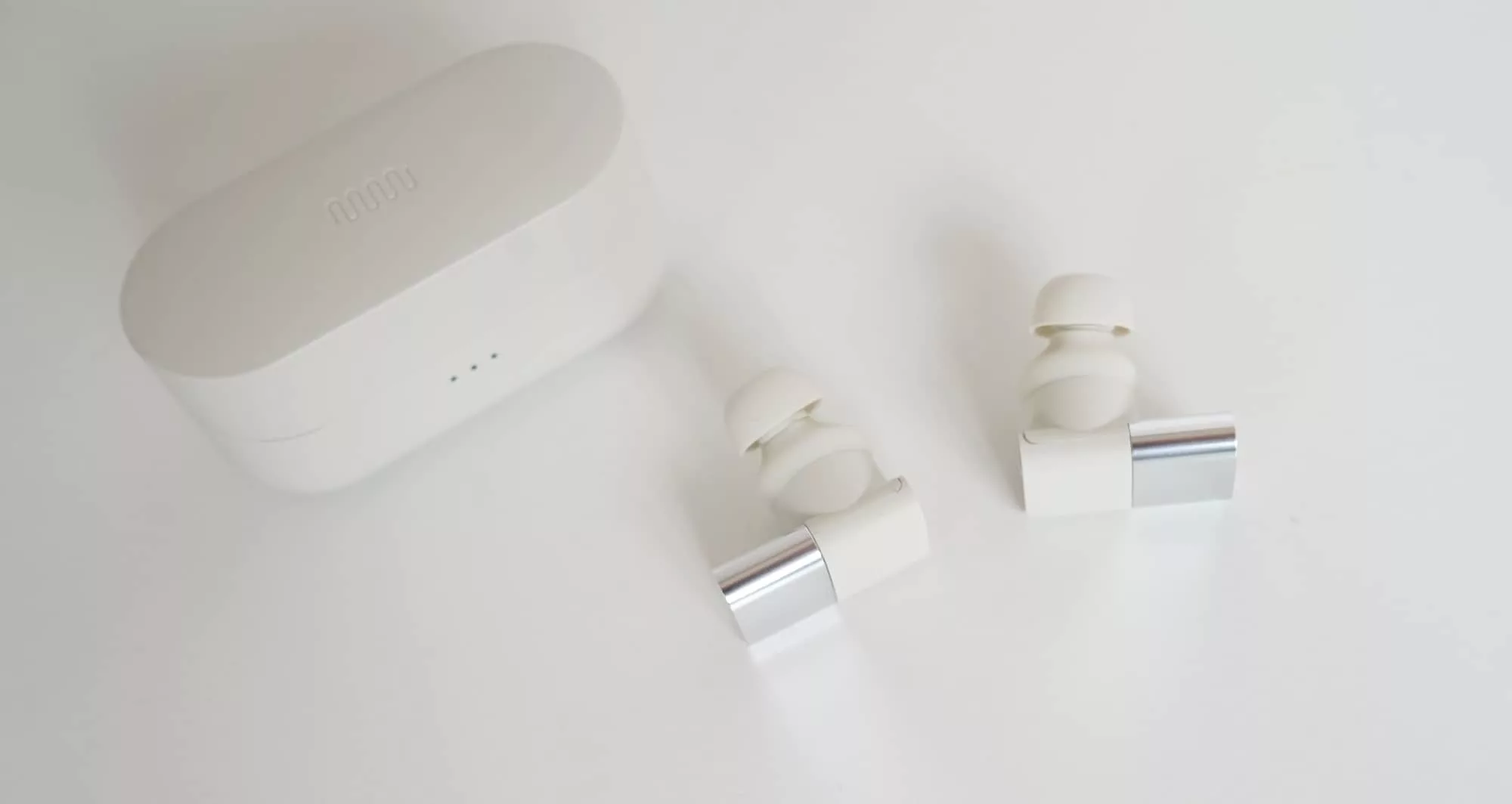 Value
The price, however, can feel a little high for what you're being given.
Yes, there are three drivers and yes, the hardware is distinct and relatively well-thought out. And the price $249 USD, which translates to just under $400 in Australia, isn't terrible, matching the AirPods Pro roughly, which is clearly the intended competitor.
But the problem is neither the sound nor the noise cancellation are on quite the same level, and so it's difficult to justify just what you're getting with thre Between 3 ANC.
At the time this review was written, the Between 3 were down to $199 USD which translates to a far more friendly $315 to $320 in Australia. Kept at this price point, there's a much better value argument for these earphones, which are good but still need some work.
What needs work?
It's that whole thing of needing work that we have to look at, though. They could improve over time with software and firmware changes, but they definitely need Status Audio to pay closer attention.
Take the noise cancellation side of the earphones, which isn't remarkable by any stretch of the imagination. It'll definitely cancel out the basics of repeatable noises, but we found the whirr of train noise getting in, and a lot of other things.
While Sony's WF-1000XM5 can cancel out so much, including low speaking voices and the frantic typing of a reviewer working on a train — including the hum of the train he's riding back and forth to the city on — the Status Between 3 ANC struggled with all of that. It may as well not have been cancelling anything out, and instead just quelling it slightly.
It's a real shame, too, because the active noise cancellation is the weakest part of the Between 3 ANC package, despite the name clearly suggesting it was important. The three drivers make a dent, and they deliver a detailed sound stage with plenty of space, but the ANC leaves something to be desired.
That's a lot like the app, which is about as basic as it gets.
Sure, at least you get an app, which is better than we can say for some earphones, but it's not a great app, and you'll basically pick whether ANC is on, off, or switched to transparency mode, and the EQ profile you're using. There's not much to work with here, and it's clear the ANC isn't quite as dynamic or playful as other ANC earphones.
Both of these things are totally salvageable, though. The ANC could see drastic improvements over firmware and the app can be changed with new software.
But we'd want both of them to improve before we'd be even close to making a recommendation.
Between 3ANC vs the competition
Part of the problem is there is so much great gear out there in the world, most of which offers just as solid a sound with better noise cancellation and more highly developed app.
Pretty much any pair in our current benchmarking list would suit, such as the Bose QuietComfort Ultra Earbuds, Apple's AirPods Pro 2nd-gen, the aforementioned Sony WF-1000XM5 or even the slightly older XM4, the recently reviewed Technics AZ80, and the Sennheiser Momentum True Wireless 3. Each of these are as good if not better in cancelling the noise and delivering great sound.
About the only place where the Between 3ANC stand out is in design, because these do stand out, but right now, they just don't deliver the whole package.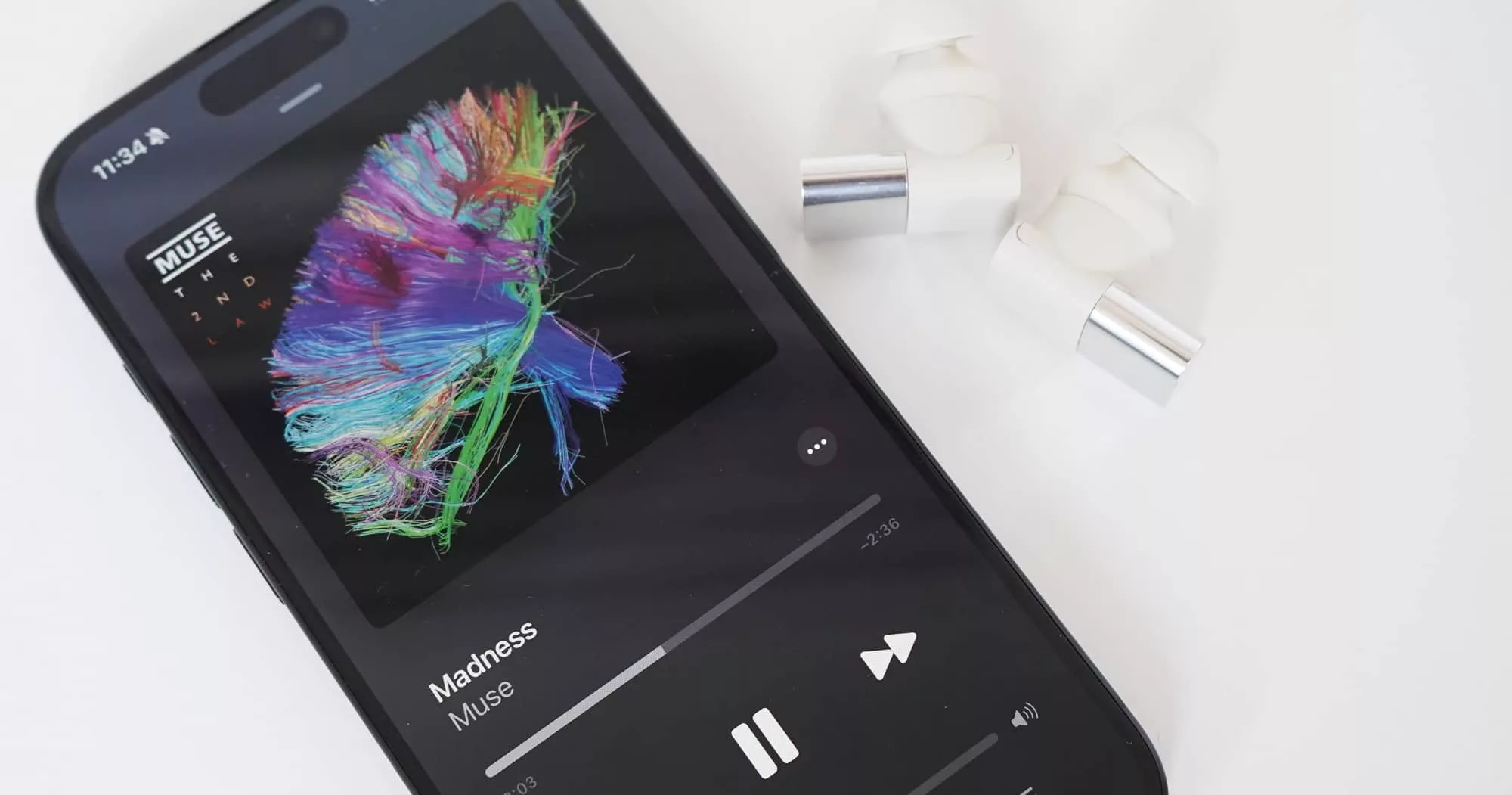 Final thoughts (TLDR)
We're always keen to see ideas that stand out, particularly from new challengers in any space.
In that regard, the entrance of Status Audio is intriguing. Not only is it a brand we've never heard of, but it's one aiming to deliver something genuinely different.
There is no other company doing this, offering three drivers in a uniquely designed earphone. That's something to be proud of.
Unfortunately, it's an idea that still needs some work and ironing out. Between controls that don't always deliver and noise cancellation that could also be better, there's the making of a great pair of earphones here, just not the finished product. That could change in time, and you should never underestimate the value of firmware and software updates. They can improve anything. Right now, though, out of the box these aren't benchmark earphones.
We're waiting for the next version when hopefully Status Audio cleans the whole thing and makes the next 3ANC even better. Who knows, it might have moved onto four drivers and improvements all around.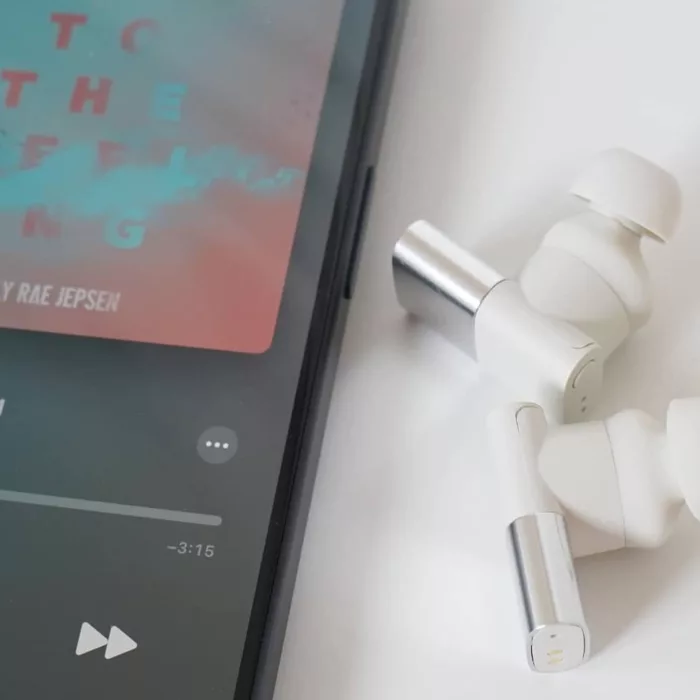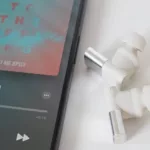 Status Audio Between 3ANC
The good
Really detailed sound
A style that stands out
Great battery life
Wireless charging
The not-so-good
ANC isn't amazing
Style won't appeal to everyone
Touch controls aren't great
App isn't tremendously useful