Quick review
Bose QuietComfort Ultra Earbuds - $449.95
The good
Excellent sound
Great fit and design
Comfortable
Superb noise cancellation
ANC recalibrates every time you listen
Head-tracked spatial works on any music service
Touchpad controls are excellent
Water resistance
The not-so-good
Battery life could be a little better
No wireless charging in the case (it's an optional extra)
No Bluetooth multipoint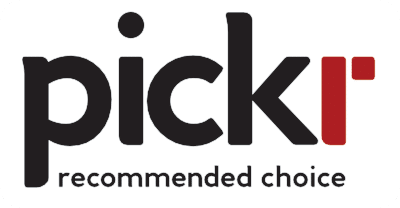 It's only been a year since we saw the last pair of Bose ANC earbuds, but the sequel looks promising. Are the Bose QuietComfort Ultra Earbuds worth the price?
Finding the right pair of earphones and headphones is hardly easy these days, what with how much to pick from. You know what doesn't make it any easier? Super fast upgrade cycles.
You kind of expect a new high-end phone from manufacturers every year, and often we'll see several. But you're probably not upgrading to them each and every year, and that's totally normal.
With headphones, updates and refreshes typically take much longer than a year to make their way out. More often than not, the release cycle is closer to two to three years, with the middle of the cycle seeing a mid-range model where some of those features trickle down.
This year, though, things are a little bit different for Bose.
Only one year after the excellent Bose QuietComfort Earbuds II were released and won a Best Pick award, Bose is ready with a follow-up. What makes the new model, the QuietComfort Ultra, so exciting, and are they worth going out and grabbing ASAP?
Design and features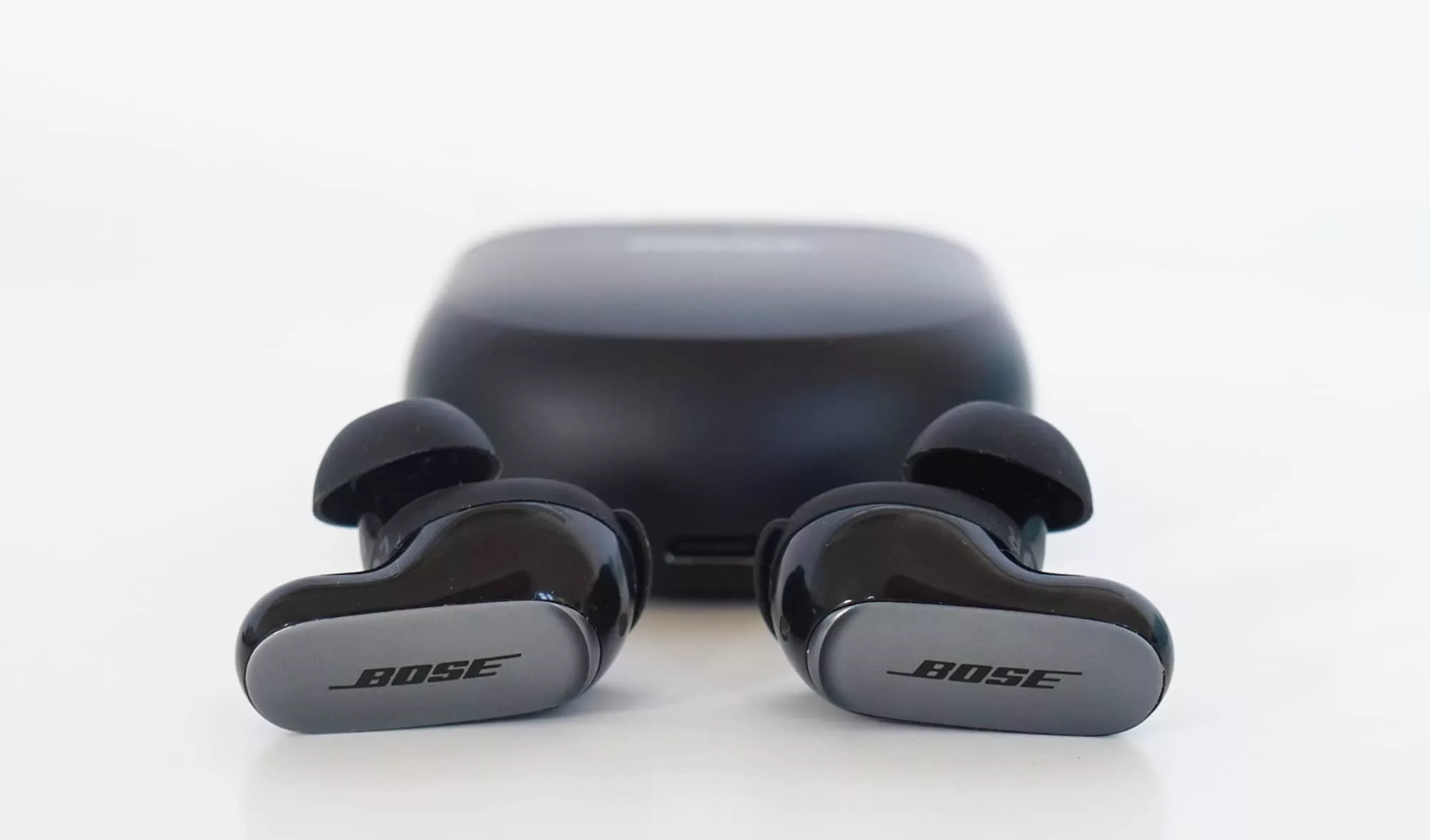 Upon first glance, it'll be difficult to tell that the new earbuds are just that because they look exactly like the old ones.
In a case of "if it ain't broke, don't fix", Bose has provided the same slightly elongated design in the QC Ultra Buds with the same case, though we found a different paint job on the pair we reviewed. They're not completely the same, but they sure look like the QC Buds II.
While the design is largely identical to the Bose QC II, complete with IPX4 water resistance, some of the hardware sees some changes under the hood.
There's a head-tracked element which is new, needed for the immersive spatial stuff. Likewise, the QC Ultra Earbuds are certified for Snapdragon Sound, meaning Android phones with a recent Qualcomm chip sporting that tech will be able to use high-res audio and low-latency sound made for gaming without the cords.
They're changes that won't affect everyone, though they're the sort of changes that you can't see.

In-use
Throw them in and you'll find they're worn in much the same way, though Bose has made a minor change here and there.
Compared to the Buds II, there's now a little notch on the stability bands to help the buds hold in place on the earphones in your ears better, and you'll get three sizes of those (small, medium, and large) as well as three sizes of ear tips.
We can see why Bose calls these "buds" compared to "earphones": they don't go in all that far, yet manage to find a more than comfortable and stable fit. Bose also includes an ear-fit test in the app should you need it.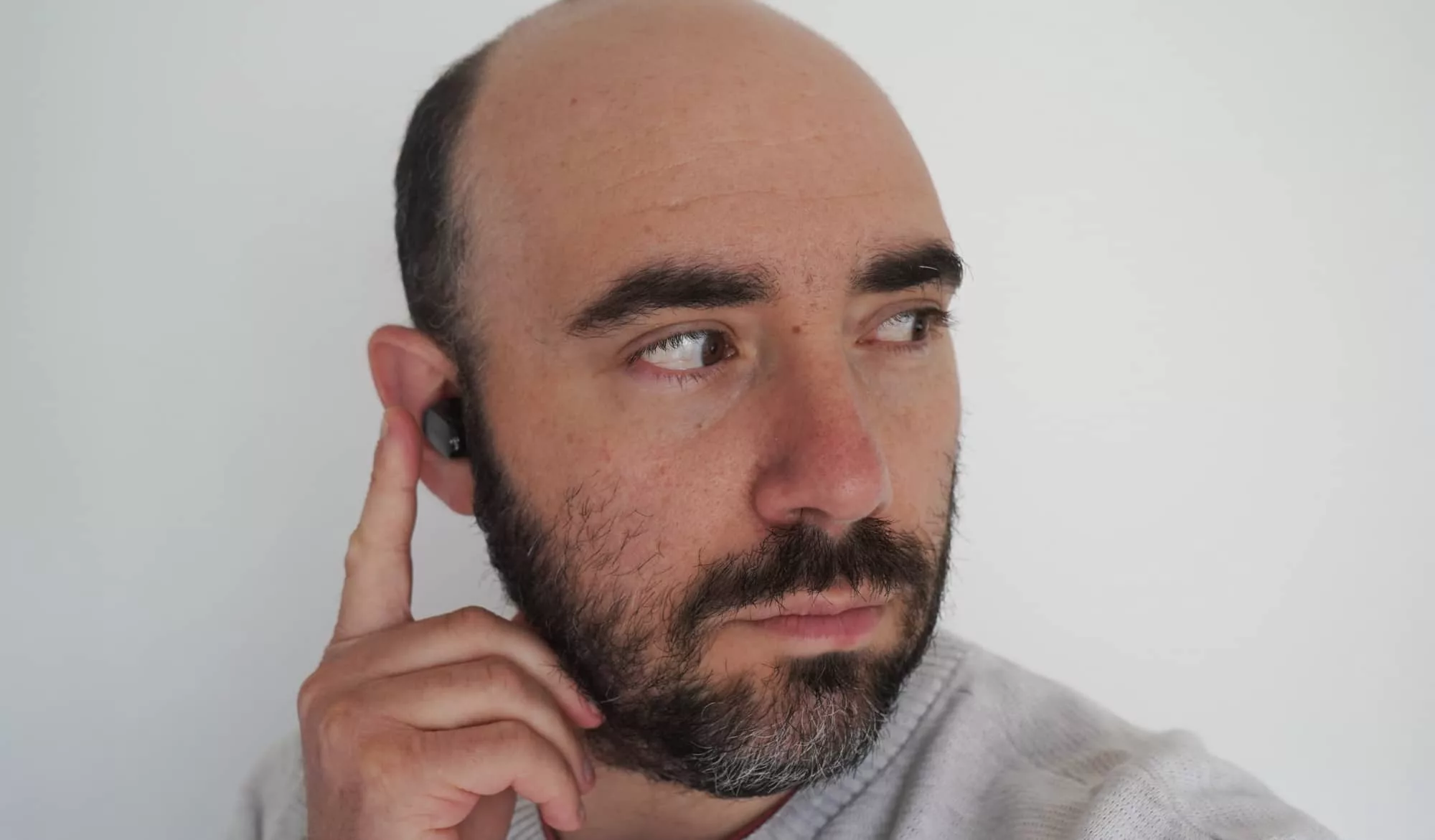 You'll also find a touchpad on each side, allowing you to swipe up and down for volume control, while a single tap will pause and play, double tap on either side will skip a track, and a triple tap will go back one (or start the one you're listening to at the beginning).
Bose has also applied custom functions in the Bose Music app to holding each side down, which we customised to trigger noise cancellation settings on the left and spatial mode changes on the right. It's a great selection of gestures and presses, and something you can easily remember.
In fact, Bose's support of spatial changes — basically, turning spatial on and off — is something we've not seen on any earphone prior. Even Apple's AirPods lack that, with the spatial controls on the iPhone found in a settings menu or via a dropdown on the phone alone. Bose's approach is far more intuitive, and lets you make a change quickly, handy if the song you're listening to just doesn't sound great in spatial.
You can even create custom noise cancellation modes with custom immersion modes, using your physical touch and hold functions to cycle through them. We love not having to reach for the phone when we don't need to. That's always a win.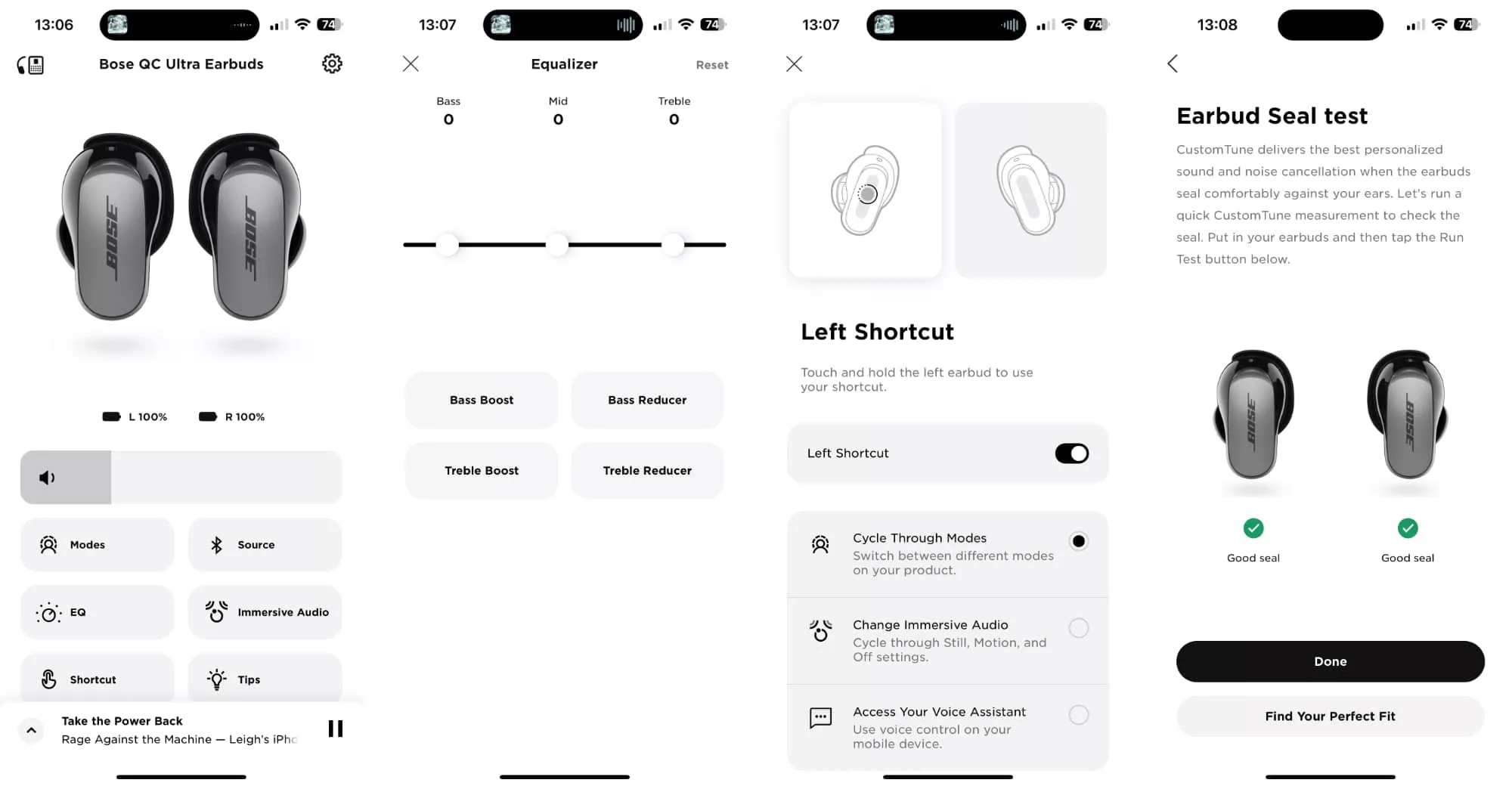 Performance
All that's really left is to give the Ultra Earbuds a good test, which brings us to performance. And as we do with all our earphone and headphone reviews, we're testing with the Pickr Sound Test, which you can listen to for yourself on Apple Music, Spotify, and YouTube Music.
For the Bose QC Ultra, that means we kick off with electronic and listening to Tycho and Daft Punk, each delivering a nice amount of bass that doesn't overshadow the highs or mids. There's definite punch here, including in the drop in Tycho's "Glider", and the sound is very reminiscent of what worked in the QC Buds II last year.
Next we head into pop and R&B, and the solid sound continues. There's a wide and excellent sound stage from Carly Rae Jepsen's "Cut To The Feeling" accompanied by a good solid thwack of the bass drum, while Mark Ronson's "Uptown Funk" punches the bass hits strong without drowning away anything else. Maroon 5 offer a great delivery, too, with a little bit of warmth that sounds as good as a loud speaker, only without the noise where you might be.
So far, so good. The Bose QuietComfort Ultra Earbuds are vibrant, punchy, strong, and balanced. They're easy to like, and it keeps going in rock.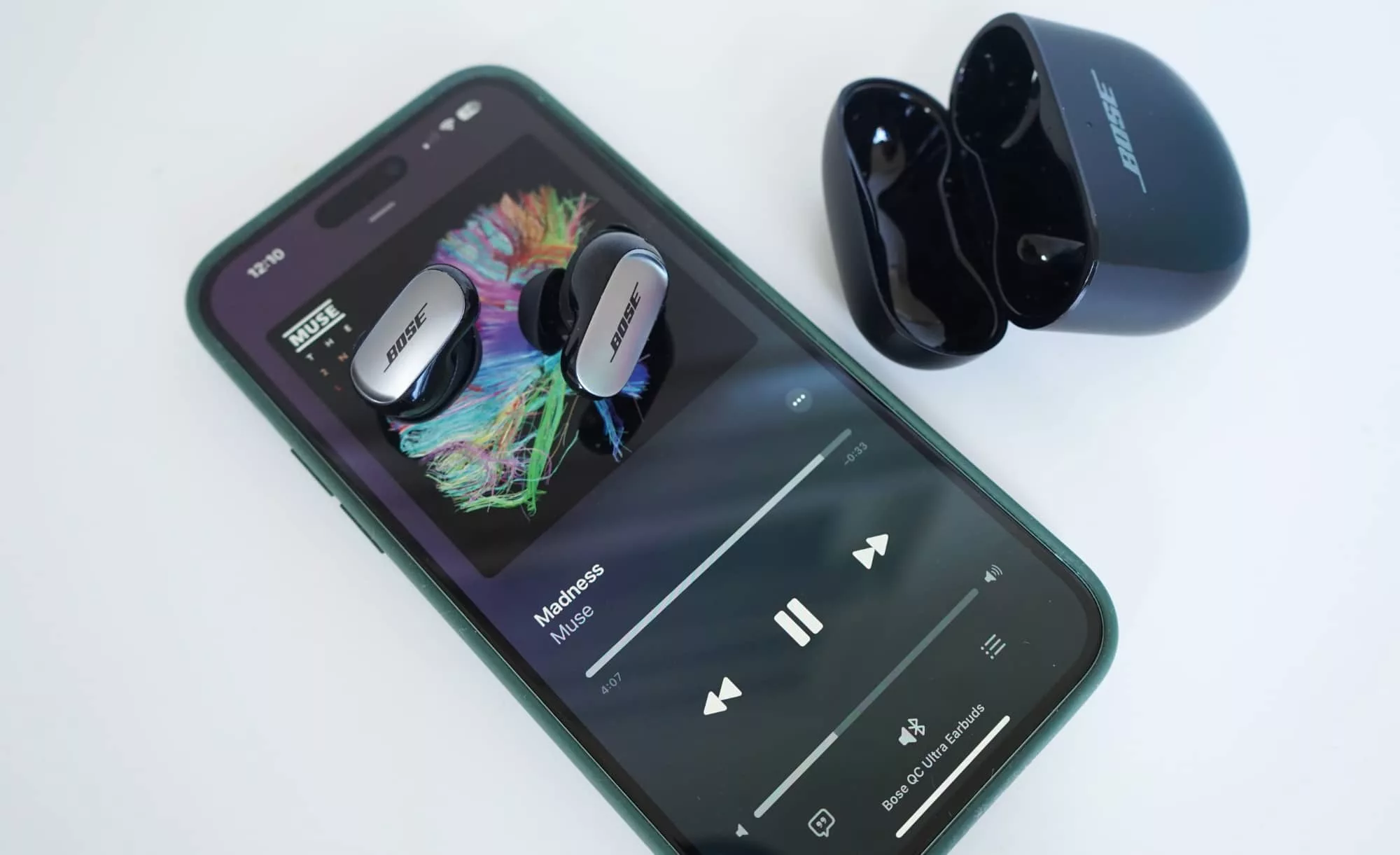 Whether you jump into the harder edge of Muse, Rage Against The Machine, or Deftones — the heavier tracks in our list — or back it up with softer rock from David Bowie and The Beatles, the delivery in the Bose QC Ultra Earbuds is top notch.
It's the same listening to jazz, with the vibrant bass-work of Christian McBride and Ray Brown shining through without an over-emphasised bottom end, and the instruments from the Dave Brubeck Quarter delivering a lovely stage with detailed delivery in "Take Five".
Whatever Bose is doing in this generation just helps the earphones stand out, from the sound test of your ears with the first ring sound testing your ears and giving you that performance made for you.
These shine in exactly the way you'd expect. The Bose QC Ultra Earbuds give you your music on a silver platter with some of the best sound possible.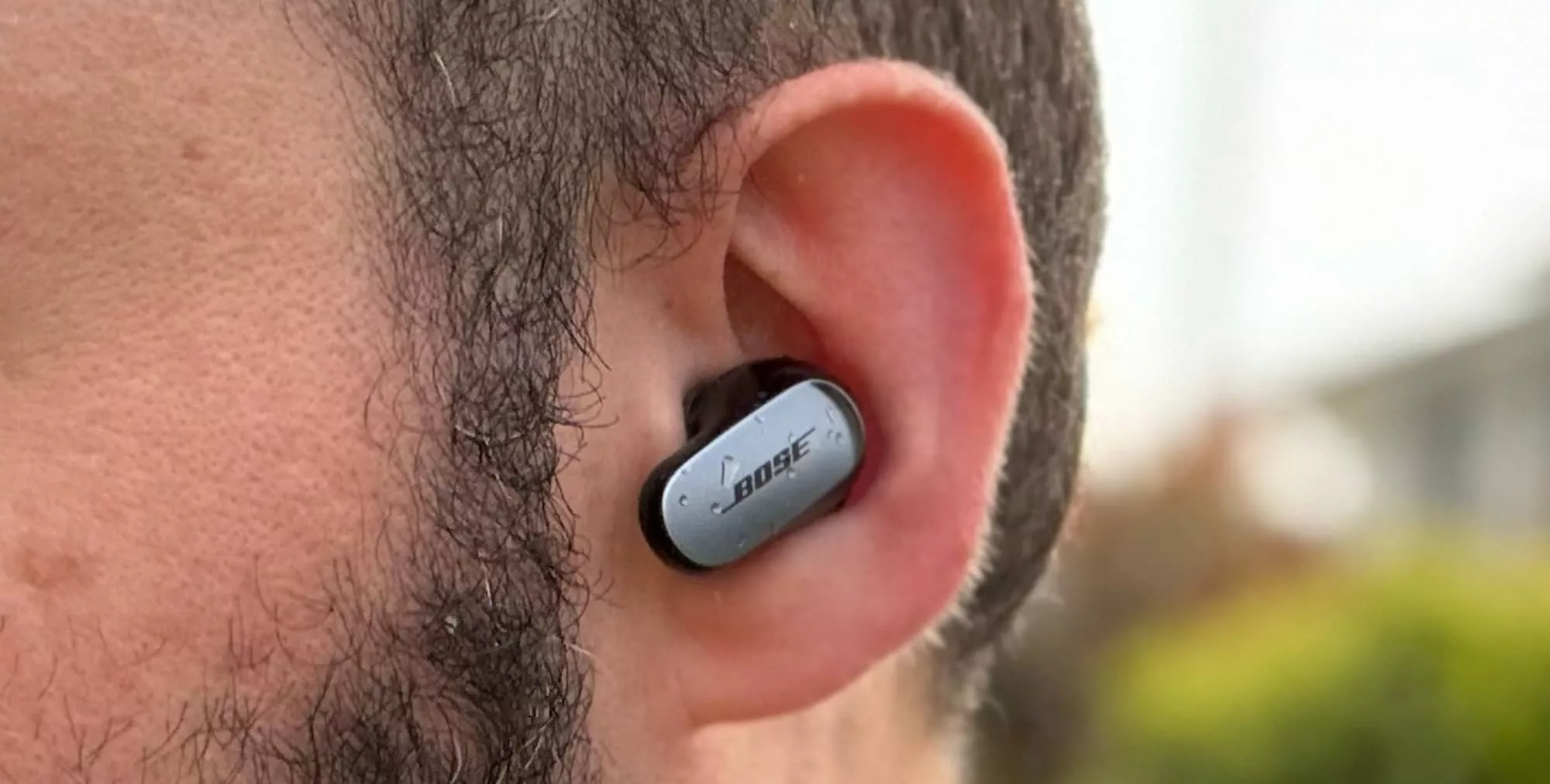 Noise cancellation
Alongside the excellent performance is equally excellent noise cancellation, something Bose has continued from last year's model.
Bose practically pioneered the field of active noise cancellation with the introduction of the first active noise reduction headset, and the QC Ultra is the company's approach to the field in top form, able to quell noise and stick you in a sound bubble the likes of which only a few companies can really truly compete with.
As we used the earbuds on the train and walking through town, barely any noise made it in, with the whirr of the train disappearing into the periphery while background sounds of humans talking only really leaked in when folks had higher pitch voices. Aircraft noise will clearly fade into nothing here, as will many other background audio that you don't want at the front of mind.
While noise cancellation doesn't cancel out all noise, Bose's ANC performance here is top notch all the same. It will cancel most of the world and let you do your thing.
Spatial performance
It's not just ANC in the Ultra Earbuds, with an immersive spatial technology provided, as well. Not strictly Dolby Atmos, Bose's execution is really interesting all the same.
We were curious about where Bose was going with spatial in the previous generation, and last year the company told Pickr it was looking into it. A year later, we have spatial, and it may not be what you're expecting because it works so well.
That might seem like a curious thing to say, since products released with features should work, but they clearly don't always deliver. LG offered spatial support in its Tone T90, and you sure got that, but the experience arrived with bugs. More recently, Jabra's Elite 10 did a better job, cleaning up some of those head-tracking bugs, but the result still wasn't quite on par with the Apple AirPods Pro or the Apple-owned Beats Fit Pro. Meanwhile Sony's WF-1000XM5 offered a version of head-tracked spatial that only worked with a handful of music services.
As you can see, spatial on anything not made by Apple is very hit and miss. But on the Bose QuietComfort Ultra Earbuds, it's a hit in the best way possible.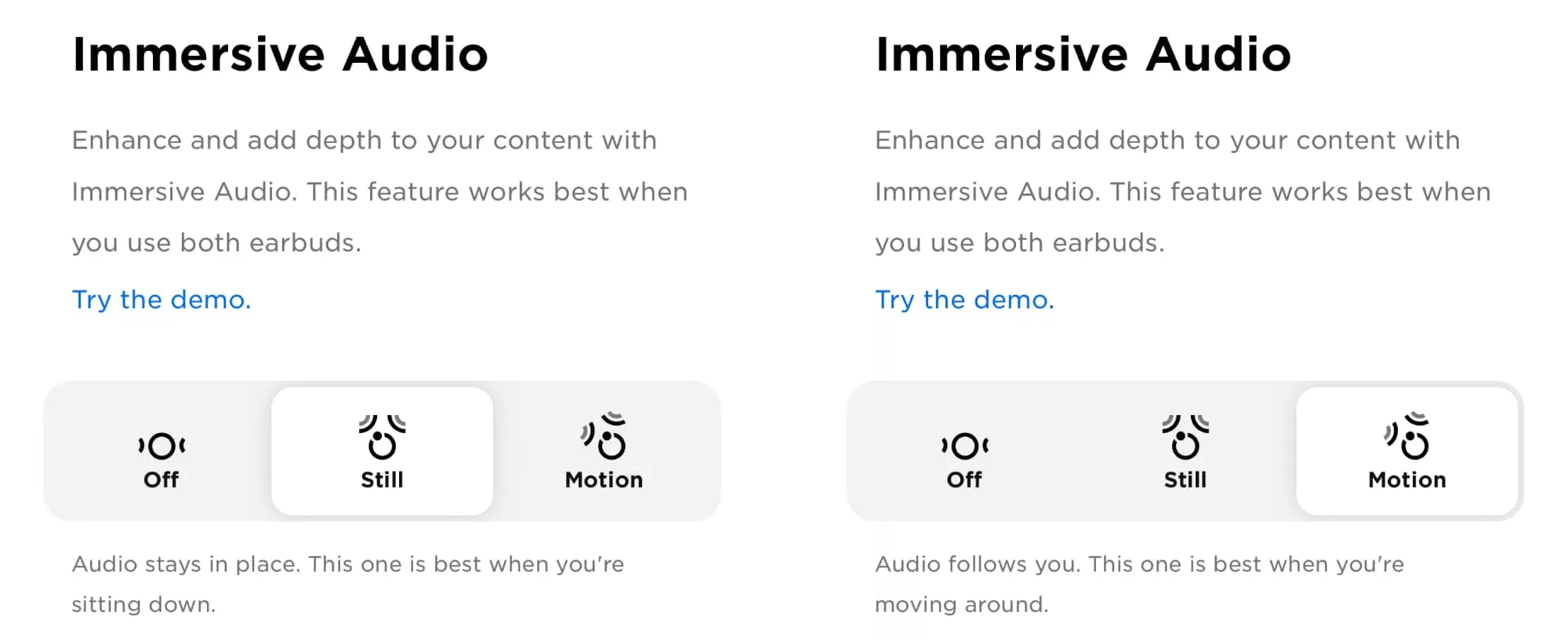 Spatial comes in two flavours for the Bose Buds Ultra, with the "Still" mode tracking your head's position as it travels between left and right similar to how it works via Apple, while "Motion" mode essentially tracks both head and body position, something Bose says is better if you're moving. It's not called "spatial" either, but rather "immersive", which basically means the same thing.
The combination of two types of immersive sound experiences gives you what is essentially the best of both worlds, offering an experience that can change based on what you're listening to.
Most of what we played sounded great in the multi-tracked "Motion" mode, but sometimes we preferred the simplicity of "Still", where our head was just moving between left and right speakers in stereo quite easily. And other times, we preferred spatial off in standard stereo, something you can do with the physical controls of the Buds Ultra very easily.
Worth noting is that Bose's spatial mode doesn't actually use a proper Dolby Atmos soundtrack. Testing on Apple Music on the iPhone showed the Dolby Atmos versions of tracks never loaded when they were in use. Instead, you received a Bose spatial track mix from the earbuds themselves, without any of the specific Dolby Atmos mixed and mastered elements available on Apple Music.
This is curious for two reasons:
It sounds like spatial, but you're not technically listening to a spatial mix, and
It means spatial on the Bose Buds Ultra will work on any music service (it's true: we tested both Spotify and Apple Music).
And it works brilliantly. This is how spatial should be, working on any service on any phone or platform.
There's the occasional head-tracking glitch we found, but outside of these, spatial on the Bose Quiet Comfort Buds Ultra is so good and reliable, it doesn't matter that your experience isn't real Atmos.
They really offer spatial for everyone. Android or iPhone, you can have a sense of immersive sound regardless of what you use.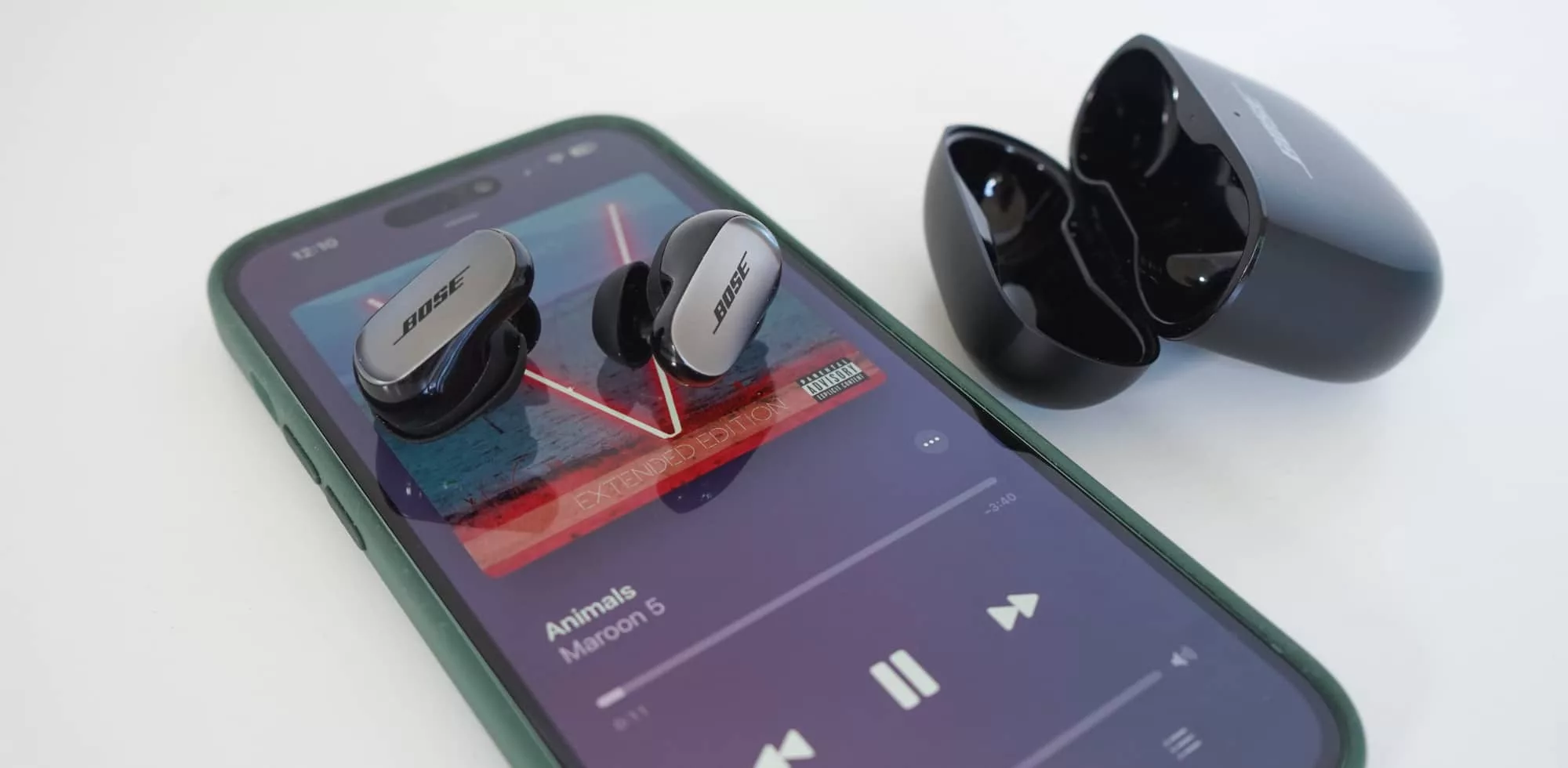 Battery
Granted, spatial will make a dent on your battery, reducing the life a little in the process. Extra hardware will drive more battery power, so expect some to diminish in the process from what is essentially a slightly lower battery life than the competition in the first place.
Without immersive audio, you can find up to 6 hours of battery life with an extra three charges in the case, giving you a total of 24 hours of life. That's fine, but not amazing for the category.
Turn immersive audio on and the battery life pulls back to around 3 to 4, telling you that you'll get around 14 to 16 hours roughly all up, which is noticeably less fantastic.
Recharging the case is easy using USB Type C, the standard for everything these days, so we have no qualms here, but we'd like just a little more life out of these if we could.
One thing we are surprised about is the lack of wireless charging. While it shouldn't be a deal breaker for anyone, Bose doesn't include wireless charging in the standard charging case, and you'll need to pay an extra $80 for the wireless charging cover.
With wireless charging the standard for pretty much every pair of earphones that competes, this is a little bit of a sour point.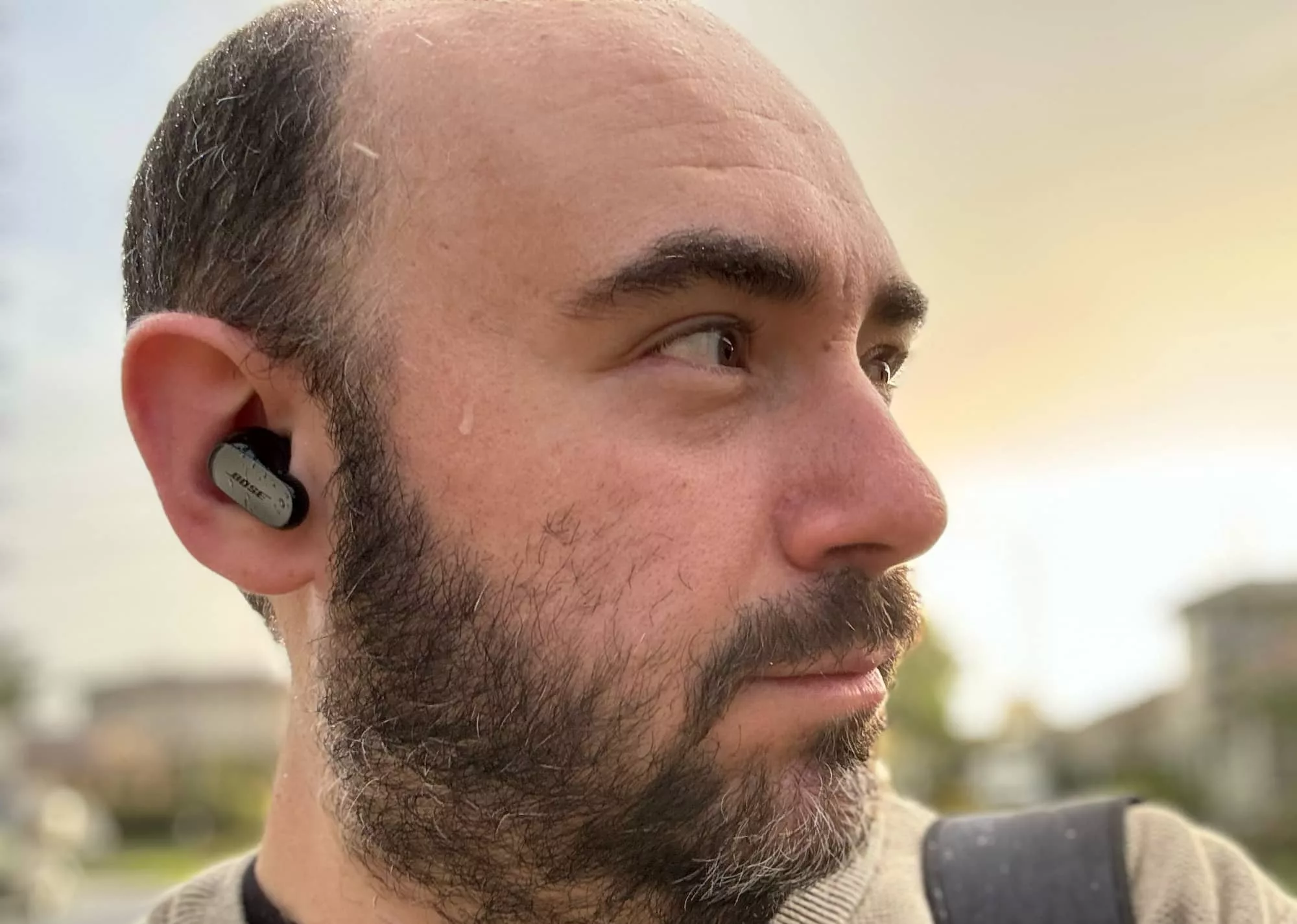 Value
At least the price is fine, which sees this year's generation the same price as last year's.
We were totally fine with the Bose QC Earbuds II costing $449.95 last year, which was in the regular $399 to $450 spot where we expect high-end active noise cancelling earphones to be.
This year, Bose appears to have lowered the price of the Earbuds II and kept them in range, making that a win for customers who don't need or want spatial, while making the new Ultra earbuds take on the same $449.95 recommended retail price tag in Australia.
Given that you're getting some of the best noise cancelling tech, a comfortable design, and support for spatial on pretty much everything, we'd say that's value.
What needs work?
And short of the wireless charging case not being a part of the feature set, we have very little negative to say about the Bose QC Ultra earbuds. They are just such a great package.
The battery life could be a little better, though given Bose is doing a lot of spatial processing in the immersive mode, we're not that surprised to see that drop a tad.
You won't find Bluetooth Multipoint as part of the package from what we could see, meaning no obvious connection to two devices, or even three as we found in the Technics AZ80. That may not matter for many people, especially folks only connecting to their phone.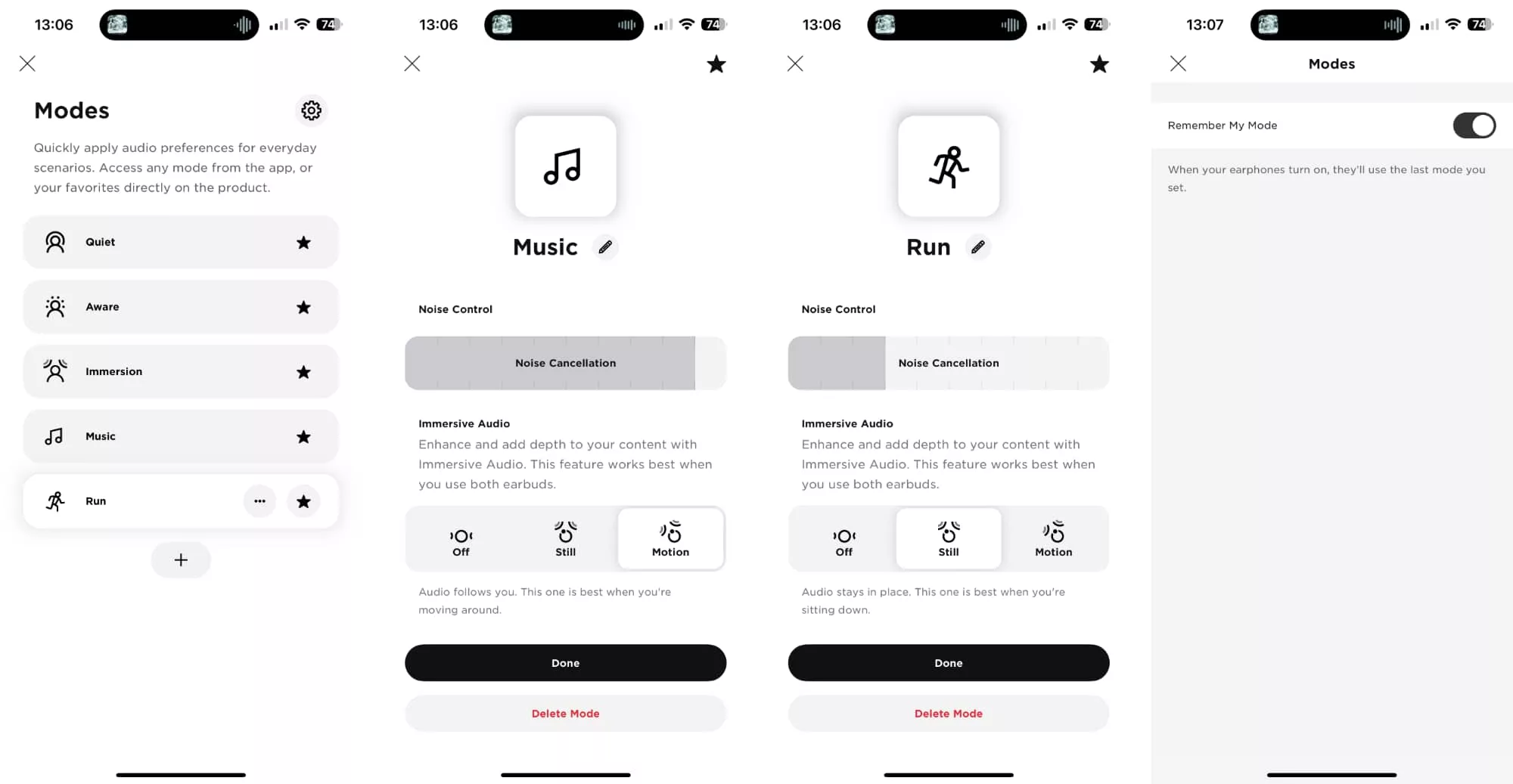 Bose Quiet Comfort Buds Ultra vs the competition
In terms of competition, the Bose QC Buds Ultra are in a great place, especially since so few pairs do what Bose is doing as well. We're not sure really any do.
Take the immersive sound out of the comparison, and there are a lot of great options to consider. The recently launched $419 WF-1000XM5 from Sony deliver as good sound in a slightly more compact form, while the $399 Apple AirPods Pro still deliver the best true Dolby Atmos experience on an iPhone, provided you're subscribed to Apple Music.
Compared to both of these, the Bose QC Ultra Earbuds cost a little more, with the $449.95 Australian RRP adding a few dollar-bucks to the mix.
Throw the immersive spatial audio back in, and Bose suddenly begins to make sense. The $399 LG Tone Free T90 offers head-tracked spatial with bugs, while the $379 Jabra Elite 10 is a little less buggy in tracking. Both at least offer spatial mixes for every music service, not just Apple Music on the iPhone. In fact, neither support Apple Music's Dolby Atmos incarnation, which only works with AirPods 3, AirPods Pro 1st-gen and newer 2nd-gen, AirPods Max, Beats Fit Pro, and Beats Studio Pro headphones provided you're using Apple Music on an iPhone, iPad, or Mac. Confusing, right?
Bose's take on immersive audio is more of the variety where it just works on anything. We tested on Spotify, YouTube Music, and Apple Music across Android and iOS, and it worked everywhere. It just works.
They're the only spatial earphones that deliver a truly fantastic platform agnostic experience. It's a compatibility miracle.
Final thoughts (TLDR)
We didn't technically need a new generation of Bose ANC earbuds, having only seen a new pair last year. An update within the space of a year is a very short time for earphones.
But we're glad Bose did. The package is just so solid, so good. These may well be some of the best earbuds around.
It's not just because they're great ANC earbuds. That's true, too. They're compact, comfortable, and offer great sound. But Bose goes further, democratising spatial so that it works for everyone on anything.
Owners of the previous generation probably don't need to upgrade, but folks considering a new pair will definitely want to have the Quiet Comfort Ultra on their list. They're a new benchmark for sure. Highly recommended.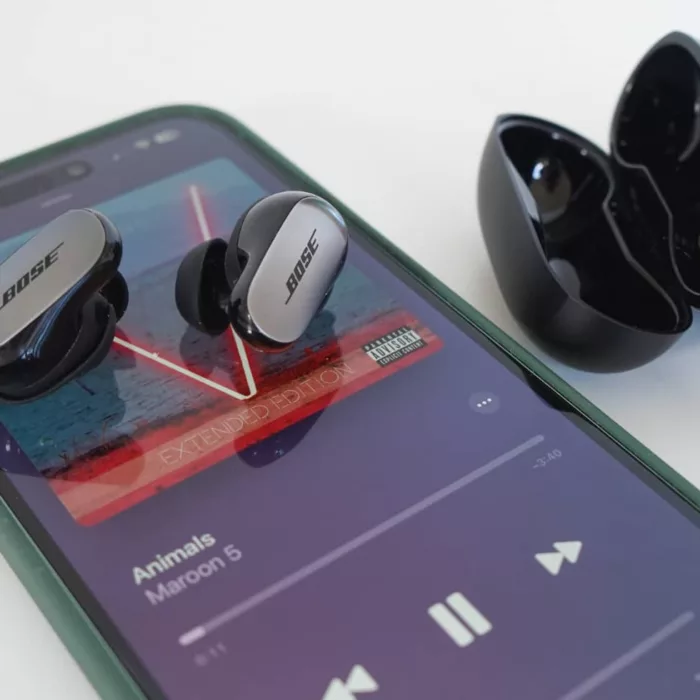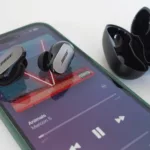 Bose QuietComfort Ultra Earbuds
The good
Excellent sound
Great fit and design
Comfortable
Superb noise cancellation
ANC recalibrates every time you listen
Head-tracked spatial works on any music service
Touchpad controls are excellent
Water resistance
The not-so-good
Battery life could be a little better
No wireless charging in the case (it's an optional extra)
No Bluetooth multipoint