Quick review
Sony WF-1000XM5
The good
Fantastic sound
Superb noise cancellation
Easier to wear than last generation
More comfortable than the WF-1000XM4, too
Smaller and more compact
Technically supports head-tracked spatial audio
The not-so-good
Head-tracked spatial audio is limited to Android and 360 Reality Audio (and it's still not great)
Controls are uninspired
Expensive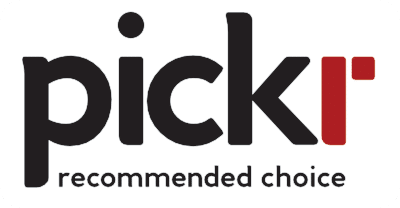 The battle for the best noise cancellation earphone is getting tighter, and with the Sony WF-1000XM5, we'll see a new advanced player take the field.
Walking around and listening to music has never been the same since truly wireless married with active noise cancellation, and now we can all stay isolated in a seemingly sonic bubble free from cords and wires. It's exciting and a great experience, as noise cancellation transcends its original reason for existing, moving beyond aircraft engine sounds and applying to every day life.
Remarkably, earphone makers manage to not only pack this technology down into smaller sizes, but also do it without needing a cord or cable stretched between each ear.
And with each passing year, the technology seems to be getting better and better. Again and again, manufacturers show us just what they can do, with the flagship acting as the battlefield for truly wireless ANC brilliance.
We've seen Sony fight and win that space year after year, but in 2023, the competition is getting tighter. Not only are there more players, but the technology is becoming more democratised overall.
Now we're up to version five of the famed Sony "WF" in-ear ANC earphones. Are the Sony WF-1000XM5 earphones the best of the bunch, or are there better pairs out there?
Design and features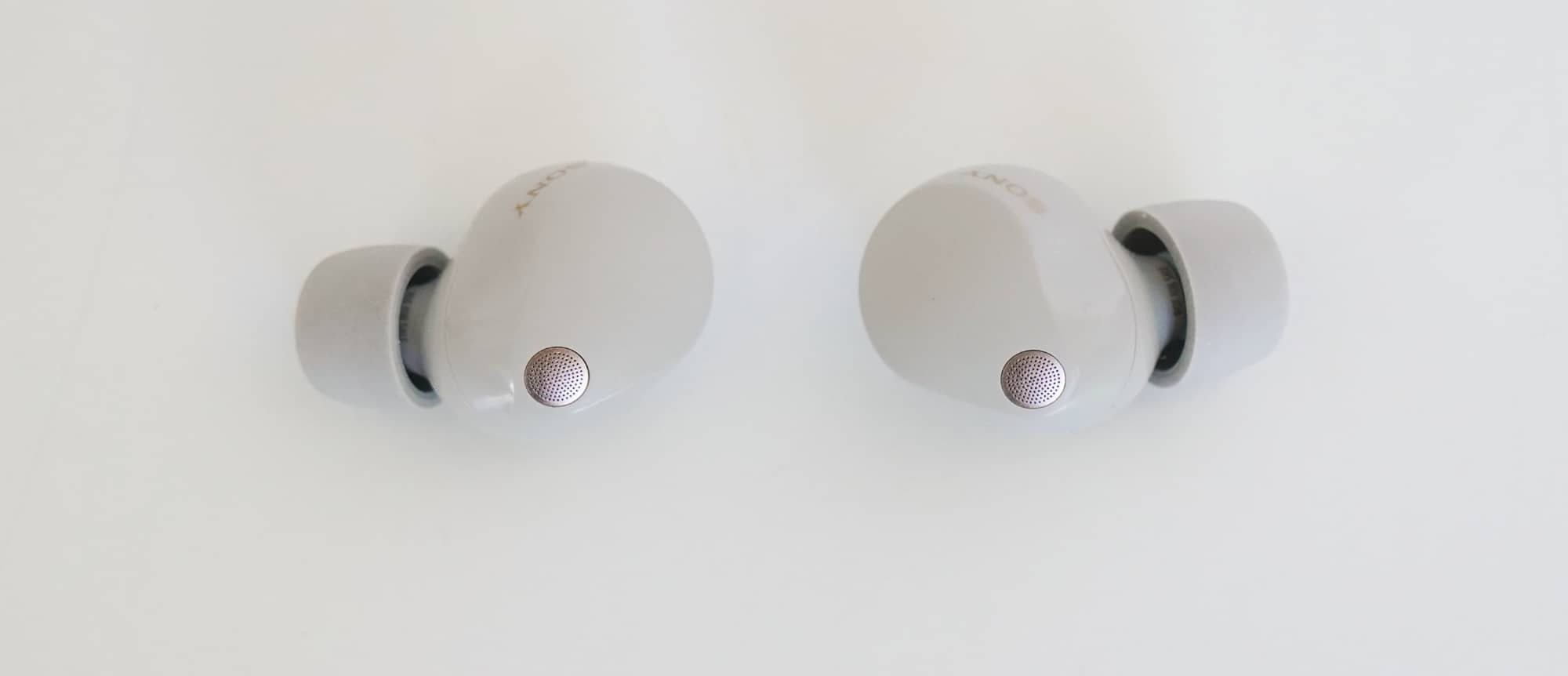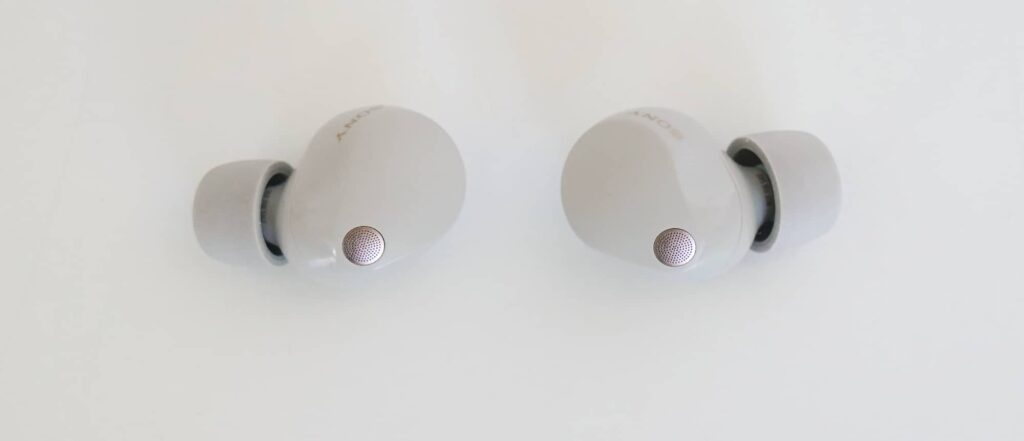 Compact and made to go, the latest in Sony's flagship WF earphones sees a slight design change from the last generation.
Slightly smaller and with less obvious design accents, upon first glance they look like they'd fit more ears and feel better because of it.
While we didn't mind the WF XM4 all that much, they were definitely on the tight side, and could feel like they wore your ears down really quickly. As such, they weren't for everyone.
These feel better, as if Sony had finally found the balance between microphone placement and design with a shape that is more ovular than circular and finds the right angle to nestle in your ears.
Comparing the models, Sony hasn't changed the design all that much, but the tweak it has made seem to be in a very Goldilocks just right space, and they just look that much easier to connect with.
Inside, there's an 8.4mm driver, the Dynamic Driver X, which works with the Sony V2 integrated processor and Sony QN2e noise cancellation processor, all of which comes together for LDAC, DSEE Extreme, 24-bit high-res audio, and even spatial audio via Sony 360 Reality Audio.
Three microphones on each earbud work to deliver the active noise cancellation (ANC) side of things, measuring sound both on the inside and outside of the earphones so you can stay focused on the sound from the ear-pieces themselves, and less from the real world. Which is kind of the point.
They're also IPX4 water resistant, something of a bit of a norm for Sony's earphones which hasn't change too much this time around.
In-use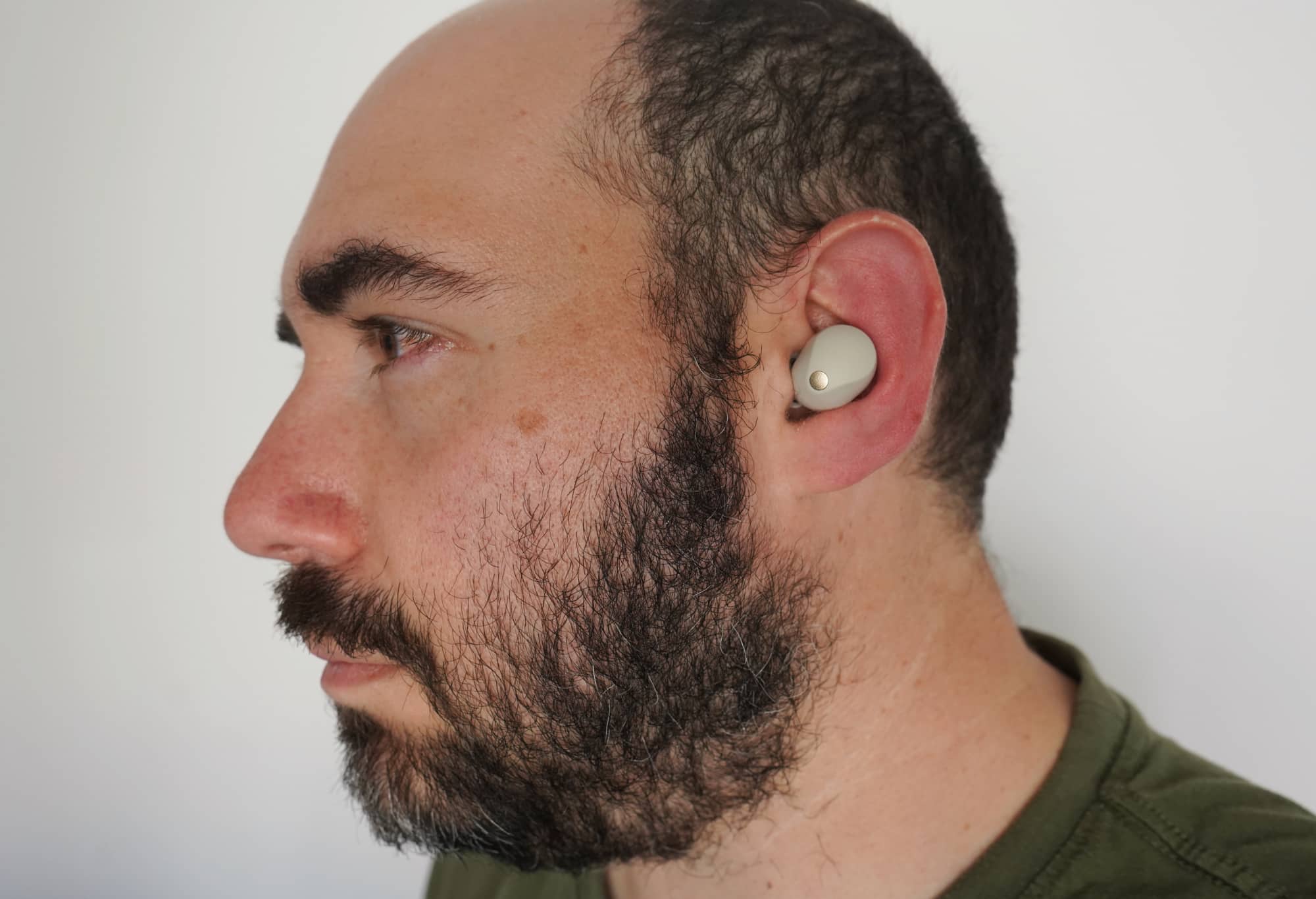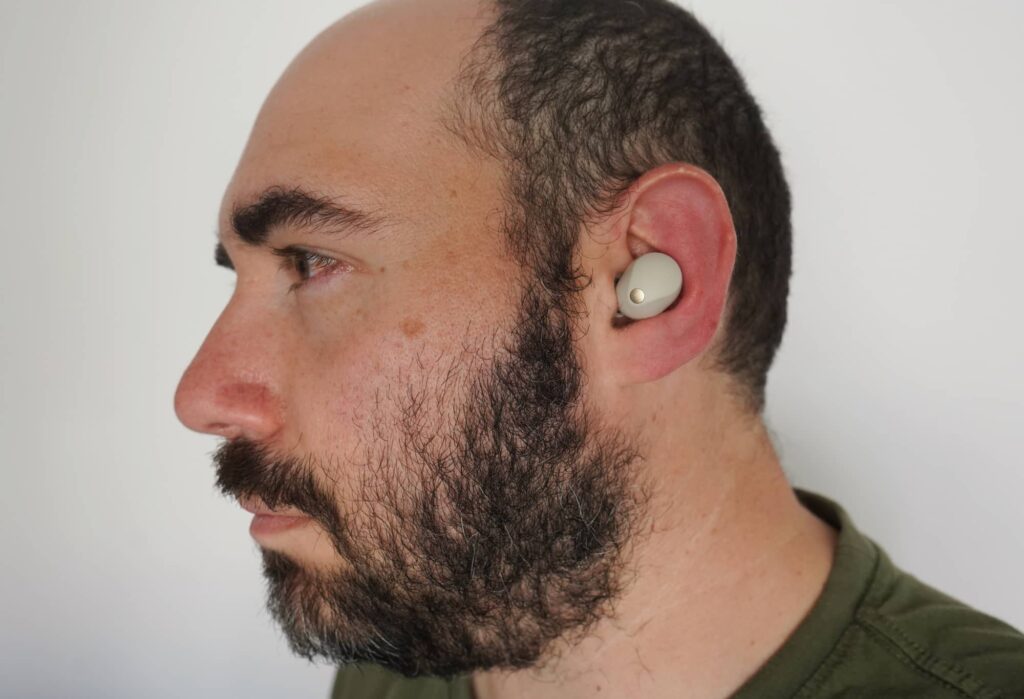 It's similar to the controls, which sees Sony leaving things much the same, albeit less intuitive than some of the competition.
While players such as Apple and Bose have ventured into touch and swipe controls on their touch panels, Sony is leaving it at basic taps: tap once for pause and play (or noise cancellation switching), twice for a next song, and so on.
It works but it's uninspired, especially as other players are dabbling with swipes for volume alongside squeezing and touching. Remembering a system of taps is unlikely for most people, and an app helps out there with customisation. But this is all very much same-same for Sony, which this sticking around since last time.
It's not the only usability feature that has stuck around from the XM4. You'll also find an app to let you control things using the phone and tweak others, as well as the tips Sony uses. A combination of silicone and foam materials, these now come in four sizes — extra small, small, medium, and large — and are just as comfy as before, if not more comfortable because the shape is better overall.
Performance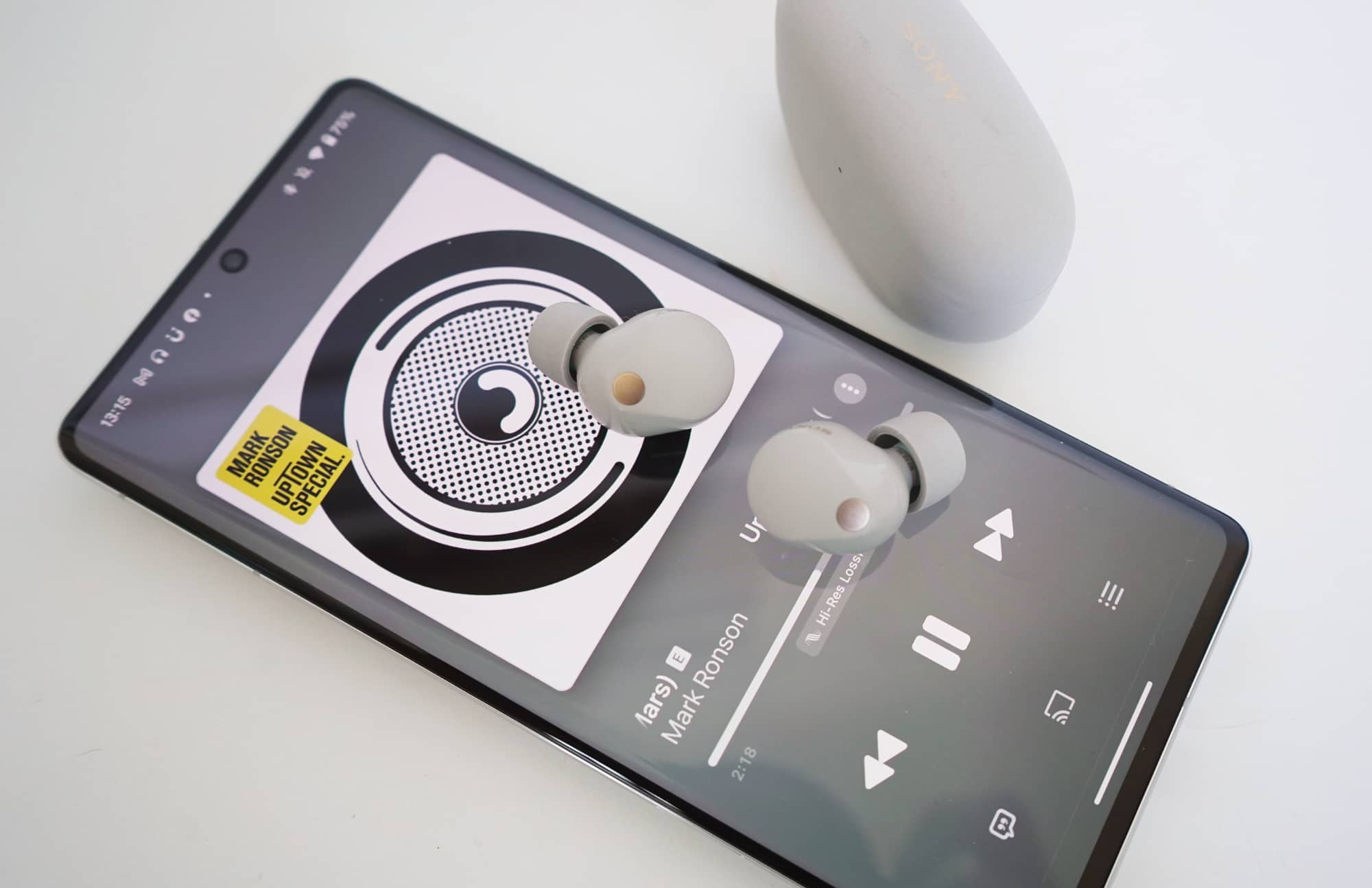 With an improved shape and size, we're hoping Sony will keep the earphones bouncing along with great audio, which is something the company has become well known for.
As usual, we'll do this using the Pickr Sound Test, which you can listen to for yourself using Spotify or Apple Music, and starts with electronic via Tycho and Daft Punk, delivering a good sense of balance and warm sound, giving some oomph to the bass without blowing out what works.
It's that typical Sony sense of warmth imitating how a nice loudspeaker would deliver, and it continues impressively in other genres. In Mark Ronson's "Uptown Funk", there's a solid snap of the bass with a delightful rounded tonality applied, which is similar to the soft yet confident sound of the vocals in Marvin Gaye's "Ain't No Mountain".
Folks who like an earthy sound will find it, too. The guttural bass in FKA Twigs' "Two Weeks" was there and pronounced, but it wasn't ear shattering or distorting. It was the hefty bass we sometimes like to hear, you know, when the track demands it, and you get that same punch in Rage Against The Machine's "Take The Power Back".
In fact, every track we experienced with the Sony WF-1000XM5 delivered a sound we appreciated. They're a great pair to listen to music to, and to isolate yourself from the world with.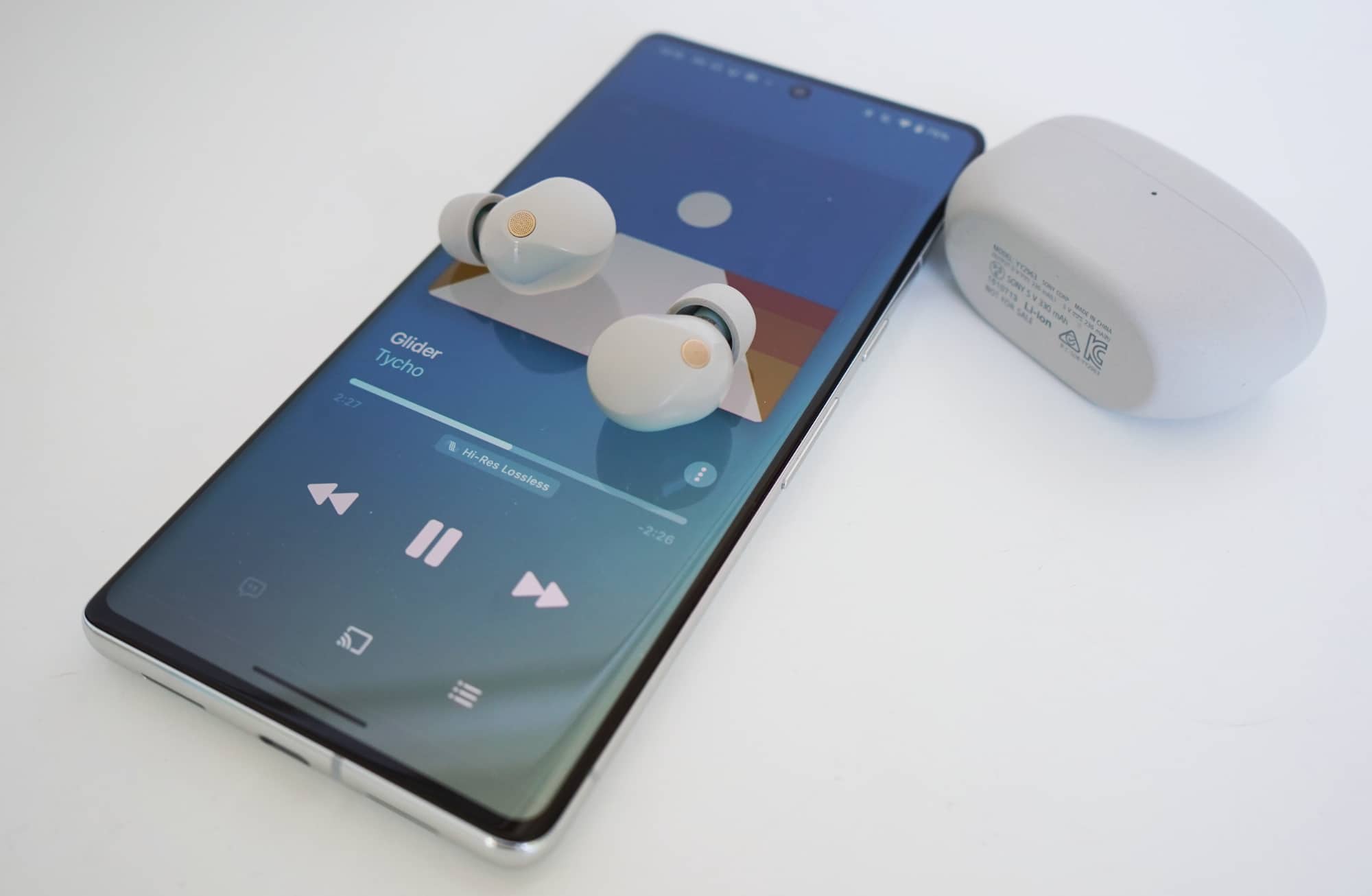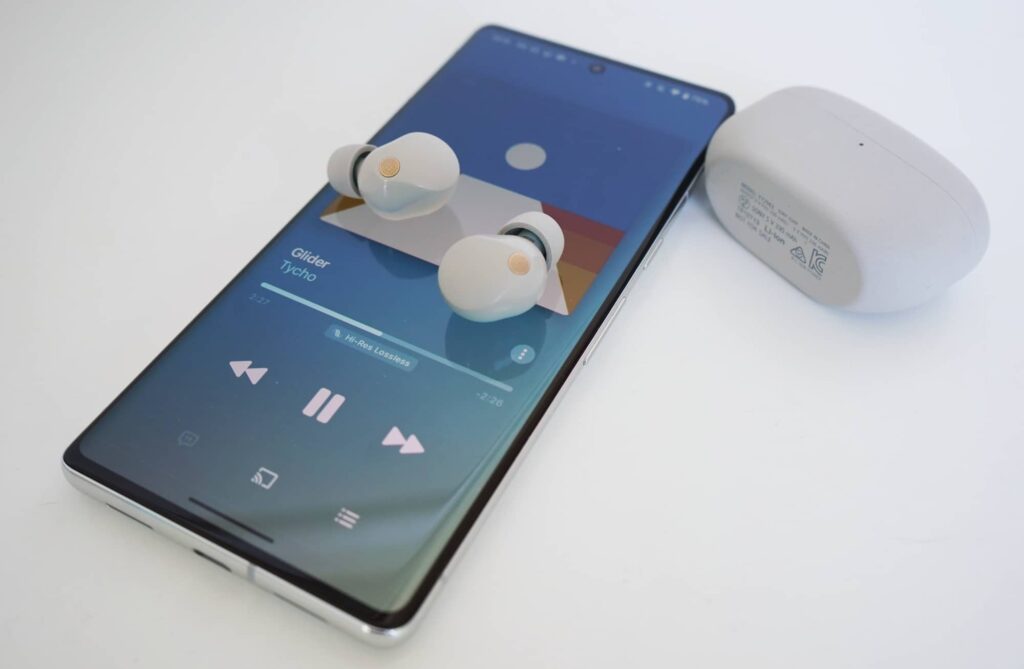 Noise cancellation
Your isolation is thanks to Sony's excellent active noise cancellation, which uses a dedicated processor to make short work of repeating sounds and spectrums, keeping it out of your ears. The QN2e processor is that system, and it's best described as an adaptive cancellation bit of kit, listening for sounds it needs to remove through the various mics on each ear.
Placing the earphones on and having ANC switched on is like walking into your own bubble, with outside noises mostly disappearing. The whirr of the train was impossibly silent, as were cars cruising along when traffic was absent. Try not to walk into the roads without realising it when wearing these.
Sony says the XM5 offer "unbeatable noise cancellation", and it's not far from it, delivering some of the best ANC we've heard.
You'll be able to tweak the transparency mode, too, giving you a grade of 1 to 20, though the noise cancellation is just on and off. But the transparency hear-through mode is good: let the earphones switch the mics on to hear through the earphones, and the XM5 sound more or less like your ears would.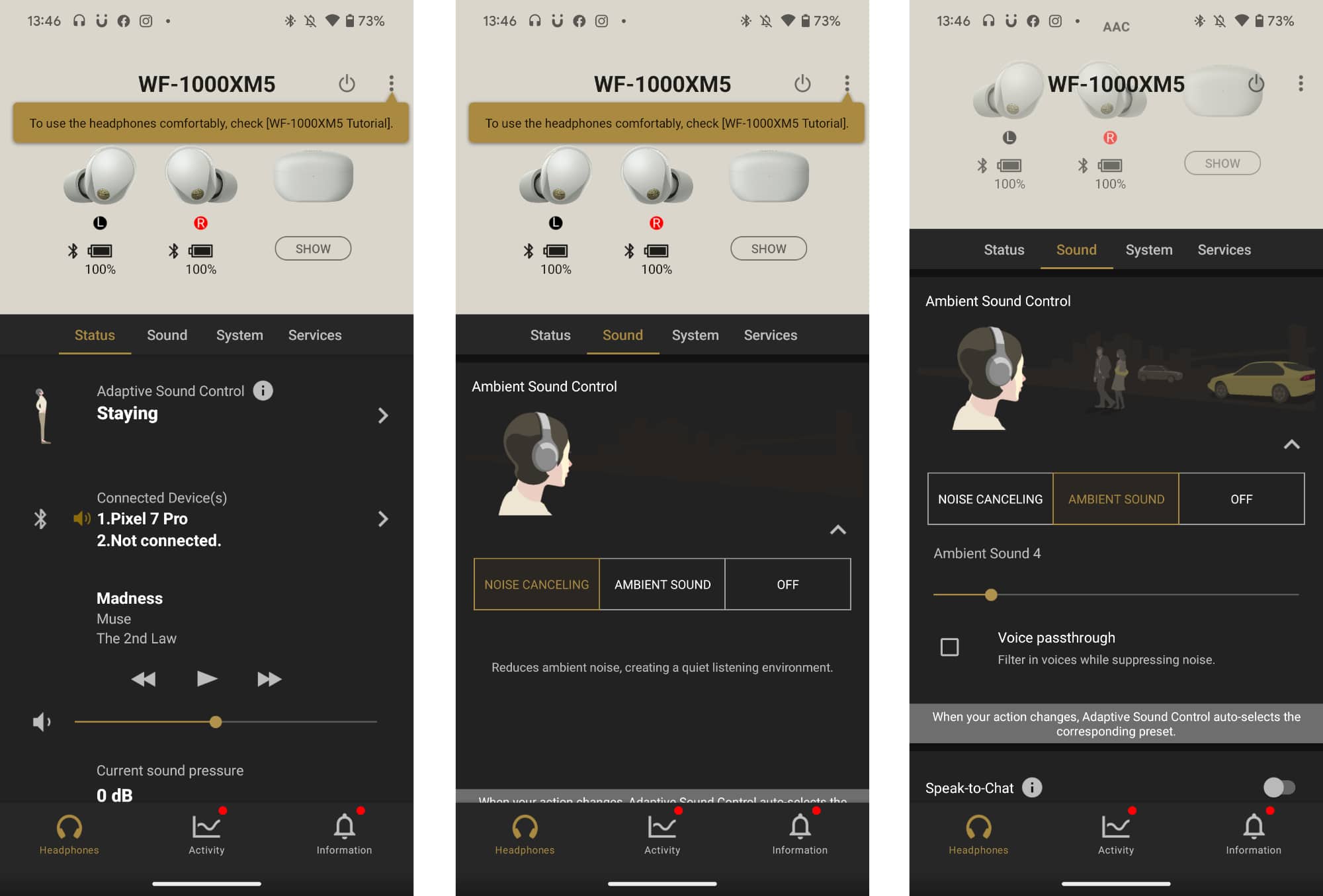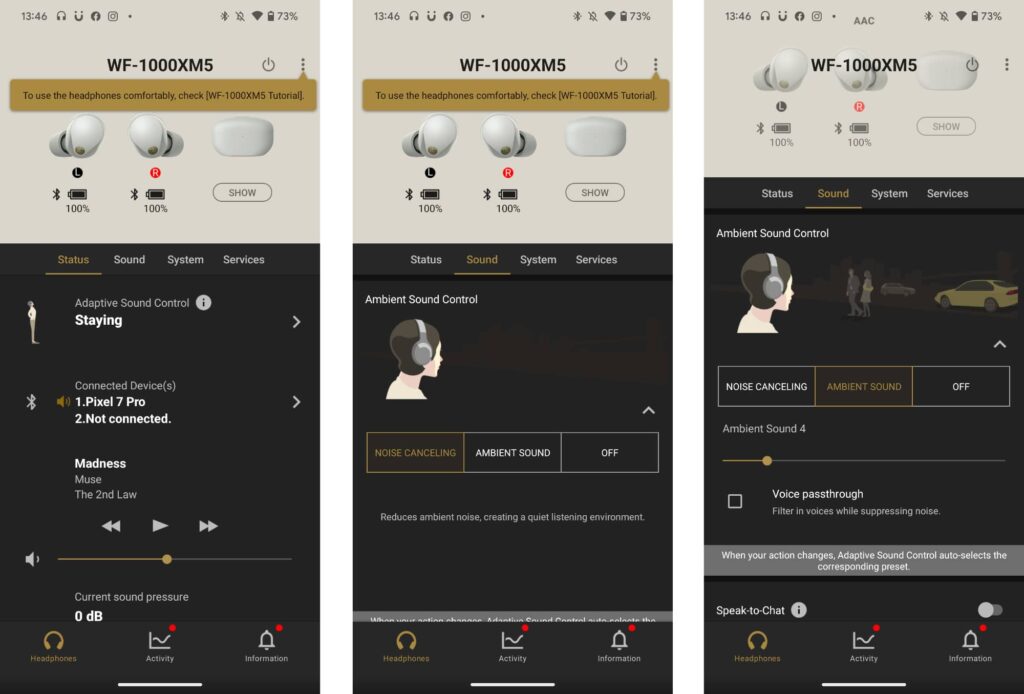 Spatial audio
Another aspect of the performance worth checking out is Sony's support for spatial audio because it is a feature, though we're not sure it's one worth singing about. It's certainly not like the experience using spatial on an iPhone, that's for sure.
To start with, you need a compatible service on Android. While Apple Music supports spatial, it only plays the 360 degree tracks on iOS, not on Google's mobile operating system, leaving you with Amazon Music Unlimited and Tidal. Amazon is the least expensive of the two, while Tidal's 360 service is a touch expensive these days, so we went with the former.
Weirdly, that supports 360 Reality Audio, but the headphones app doesn't optimise itself for it. Nevermind that, though, because the headphones app includes a spatial setup procedure that has you moving your head up and down and left and right, all to calibrate the spatial settings.
So does it work?
Kinda sorta, though like with the iPhone, you need to have a rather specific setup. Audio enthusiasts can claim that Apple's requirement of needing Apple Music and a pair of compatible Apple earphones or headphones (or some made by Beats) makes Atmos more complex, but it's not dramatically different on Sony's pair.
Testing the WF-1000XM5 with both iOS and Android, you won't find they support spatial on iPhone, so just throw that idea out. On Android, you not only need the right music service, but seemingly the right phone.
For instance, we tested the XM5 with the Samsung Galaxy Z Fold 5 we've been reviewing, and while it should be able to support spatial audio, the settings Sony looks for in Bluetooth weren't there. Neither spatial audio nor head-tracking were found, even if the Sony Headphones app showed the spatial support as enabled. That's a brand new phone and it doesn't support the tech.
Meanwhile, last year's Google Pixel 7 Pro did support it, so we were able to test spatial on the WF-1000XM5.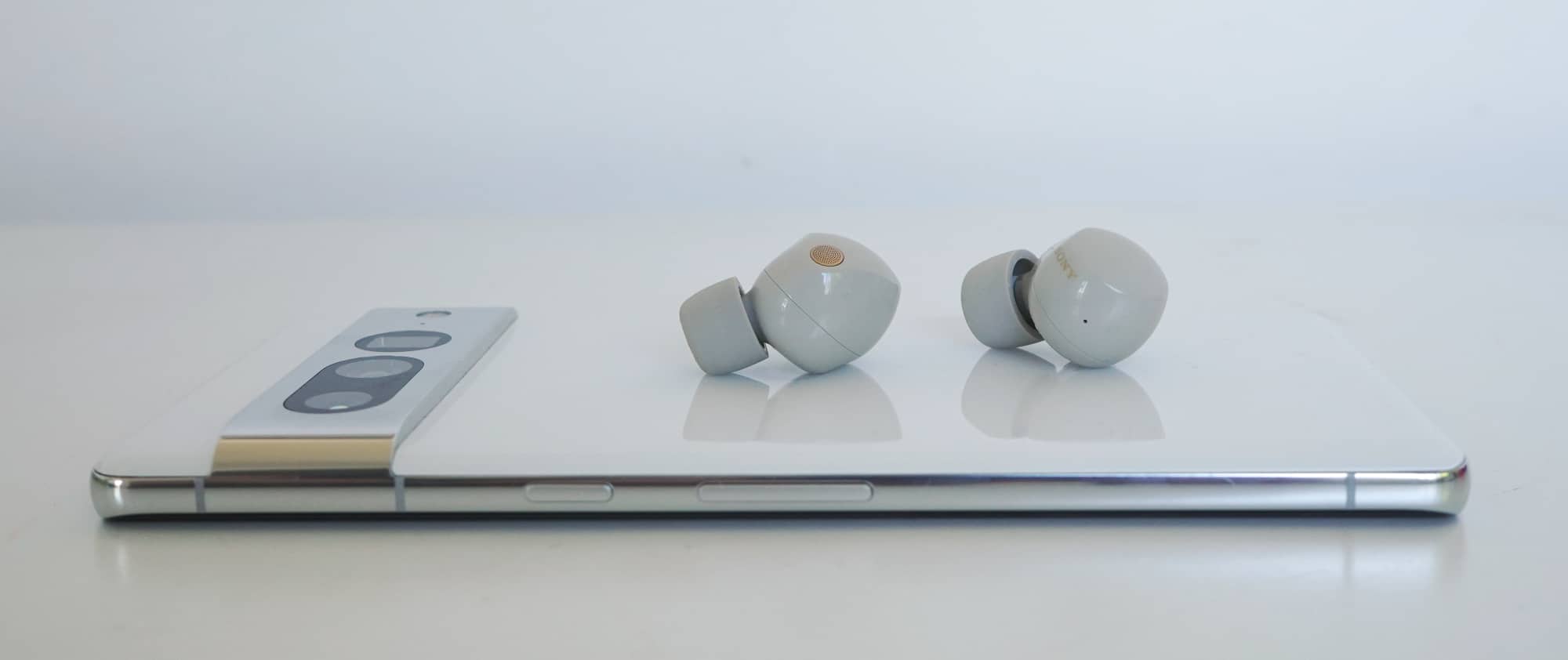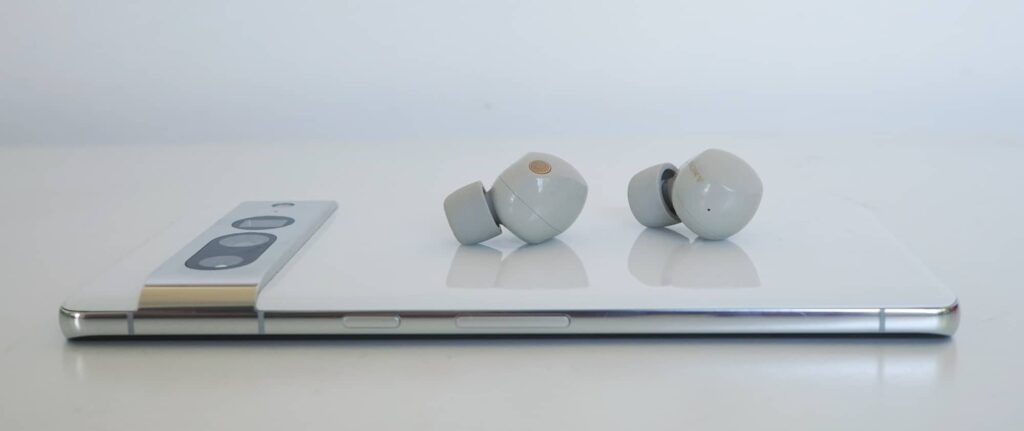 To do that, we needed a music service that supported Sony 360 Reality Audio, opting for Amazon Music for that. However the music catalogue for 360 Reality Audio is much, much smaller than Atmos, and it seems to be the only spatial that properly works on these earphones.
Sufficed to say, you not only need the right earphones, but you also need the right phone and the right music service, and that's all before you run out of music that supports all of these things.
Spatial may be new, but Sony's insistence on these specifics makes its endorsement of 360 Reality Audio over Atmos kind of like embracing HD-DVD over Blu-ray: it doesn't even matter if the other format is technically better, because the catalogue selection is better on the winning side.
It's a real shame, because when spatial works on the WF-1000XM5, the quality is excellent. Like the AirPods Pro, the tracking is excellent and doesn't seem to run into tracking problems with other earphones, such as the LG T90.
The problem is that all of this is just a bit too much to get through for regular users. It's difficult to suggest these earphones for spatial because Sony's implementation of spatial is more arduous than it should be, and won't end up being a feature you need to think about.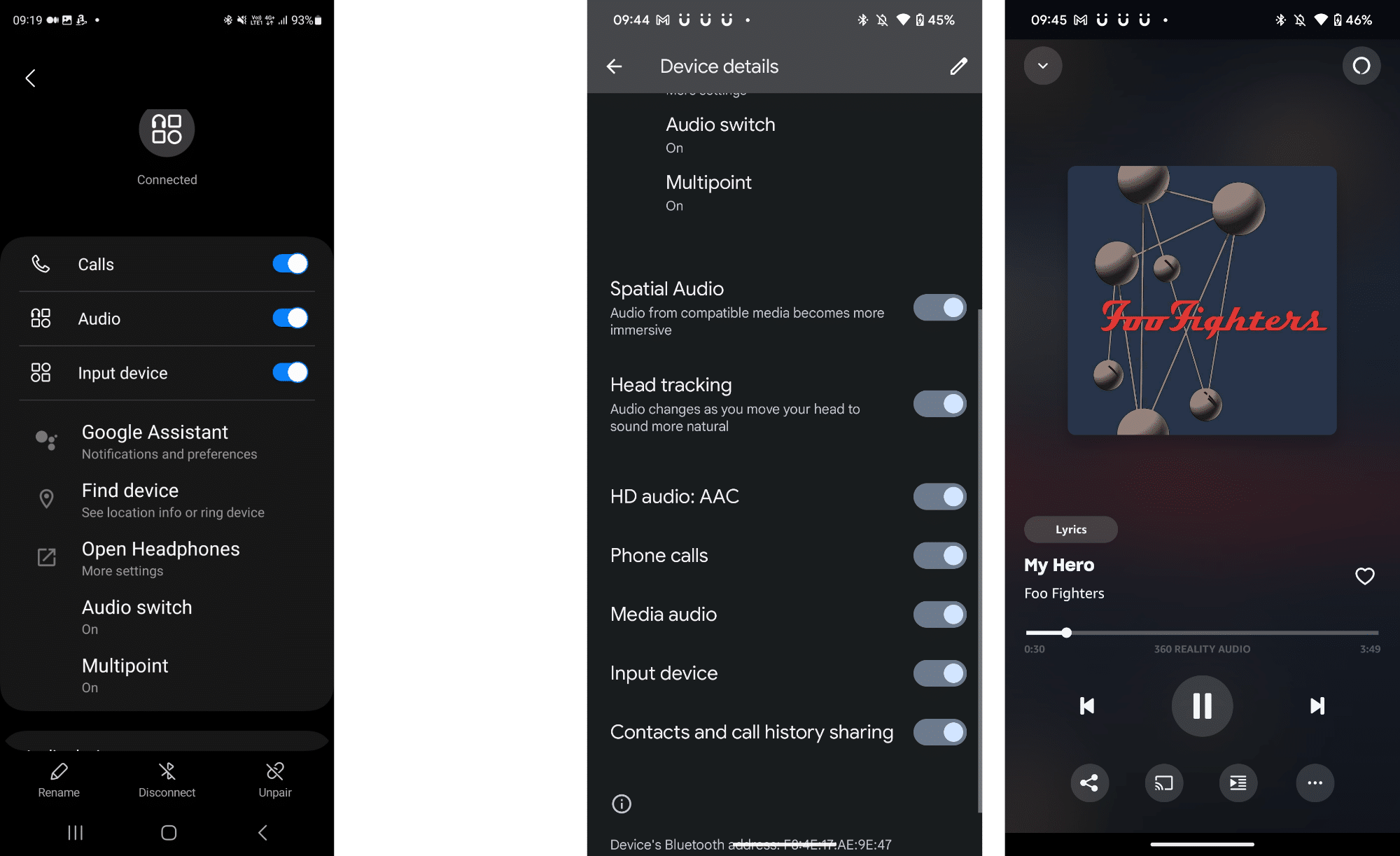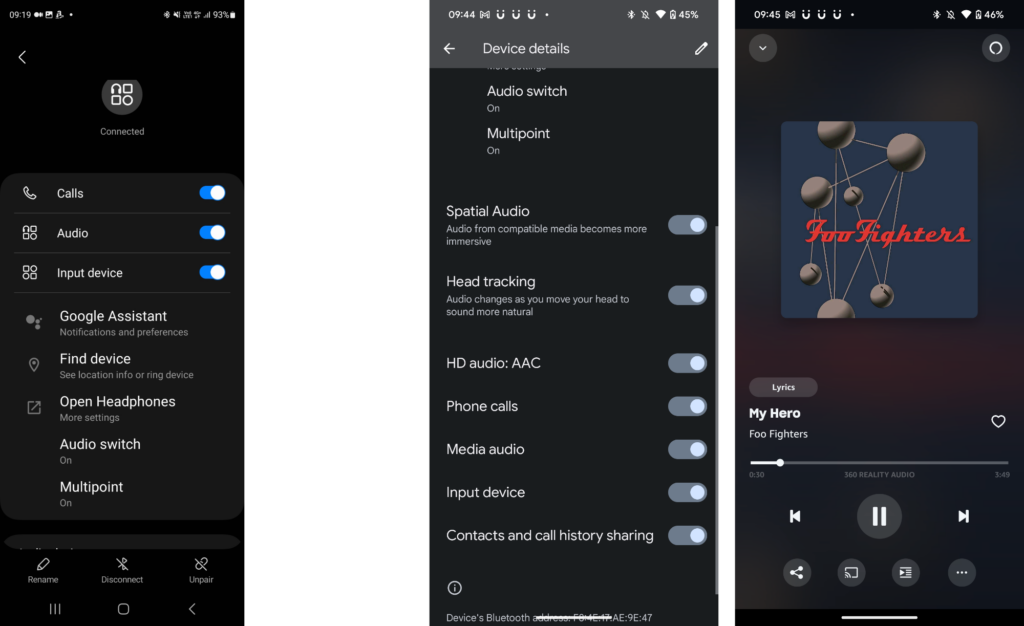 Battery
At least the battery is better off, but it's also very much the same as last time, offering up to 8 hours of life per charge with ANC switched on and two more charges in the box, maxing for a total of 24.
That is pretty normal as far as flagship ANC earphones go, so we're not going to be too severe. There's only so much you can get out of advanced processors and small batteries, it seems.
Value
Where things start to go really awry for Sony's WF-1000XM5 is the price, because at $499 in Australia, it can feel like these are being pushed too high.
Around the $400-450 mark, the competition for truly wireless in-ears is pretty steep already. Apple's excellent AirPods Pro 2nd-gen plays in the $399 space, while the also-excellent Bose QC Earbuds 2 manage a little bit more at $430, though you can typically find them for less at street price. And there are a whole heap of other players that charge a much lower price overall.
At over a hundred more, Sony's WF-1000XM5 seems like it's pitching too high, and we're not sure they're necessarily a huge step better than the competition.
It's also entirely possible that Sony is entirely aware that the RRP for the WF-1000XM5 is overshooting the mark ridiculously. While the earphone announcement stated the aforementioned $499 price tag, Sony's product page now states it at $419 in Australia.
At $419, the value is much, much better, and it feels as if Sony is playing more aggressively. Almost as if the company realised after launch that yeah, pricing yourself over a hundred past excellent competitors probably wasn't such a great idea.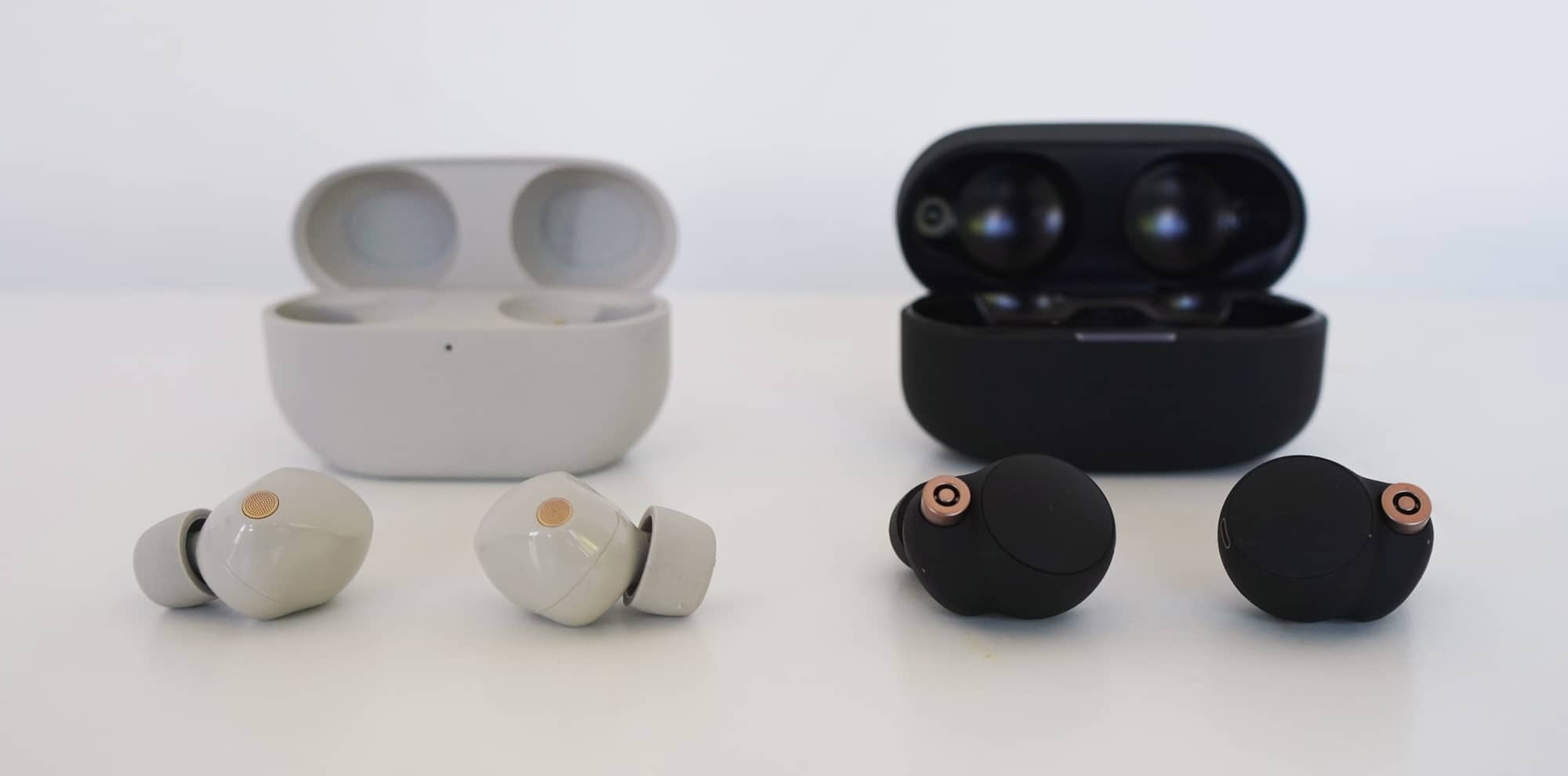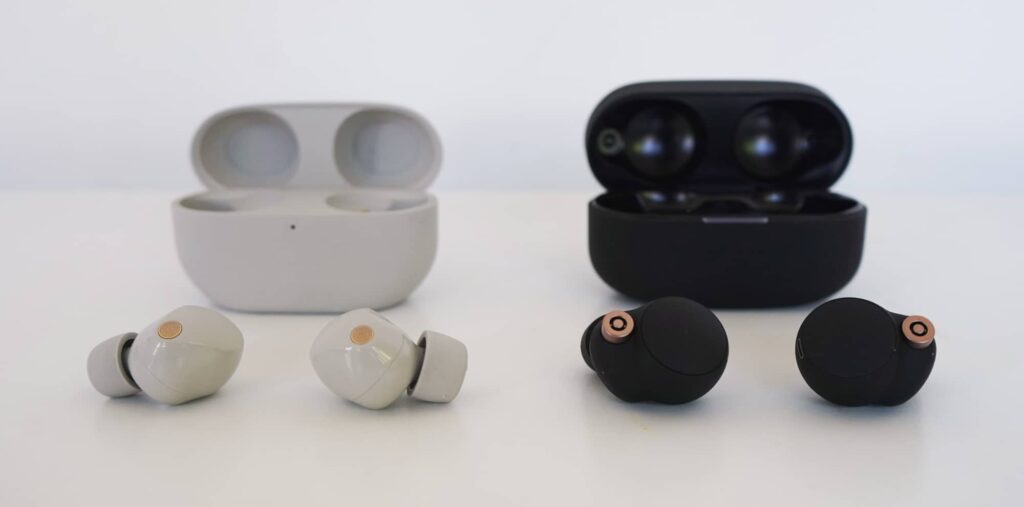 What needs work?
It's not the only place that doesn't feel like Sony has had the best idea. In fact, in some areas, the WF-1000XM5 can actually feel like they've gone the other way, and rather than improving the hardware, Sony has backtracked slightly.
Rather than opt for swipes and such, you only get taps on the WF-1000XM5. A tap to play on the right side or a tap to trigger the ANC mode on the left. Then maybe two taps for a track change and four taps for a volume switch. And let's just say, this whole approach of memorising multiple taps is just silly for a pair of high-end truly wireless earphones, especially when other companies are doing it better.
Add to that the fact that spatial feels like a half-measure and hardly complete, and we're at a loss to explain why you'd pick the Sony XM5 over the competition. They are good, yes, and they certainly compete, but we're not quite sure they compete with as much gusto as they once did.
If Sony keeps the $419 price on its site or pushes even lower, the XM5 earphones actually have value. But at their $499 RRP, we'd definitely be suggesting to look around.
Sony's WF-1000XM5 versus the competition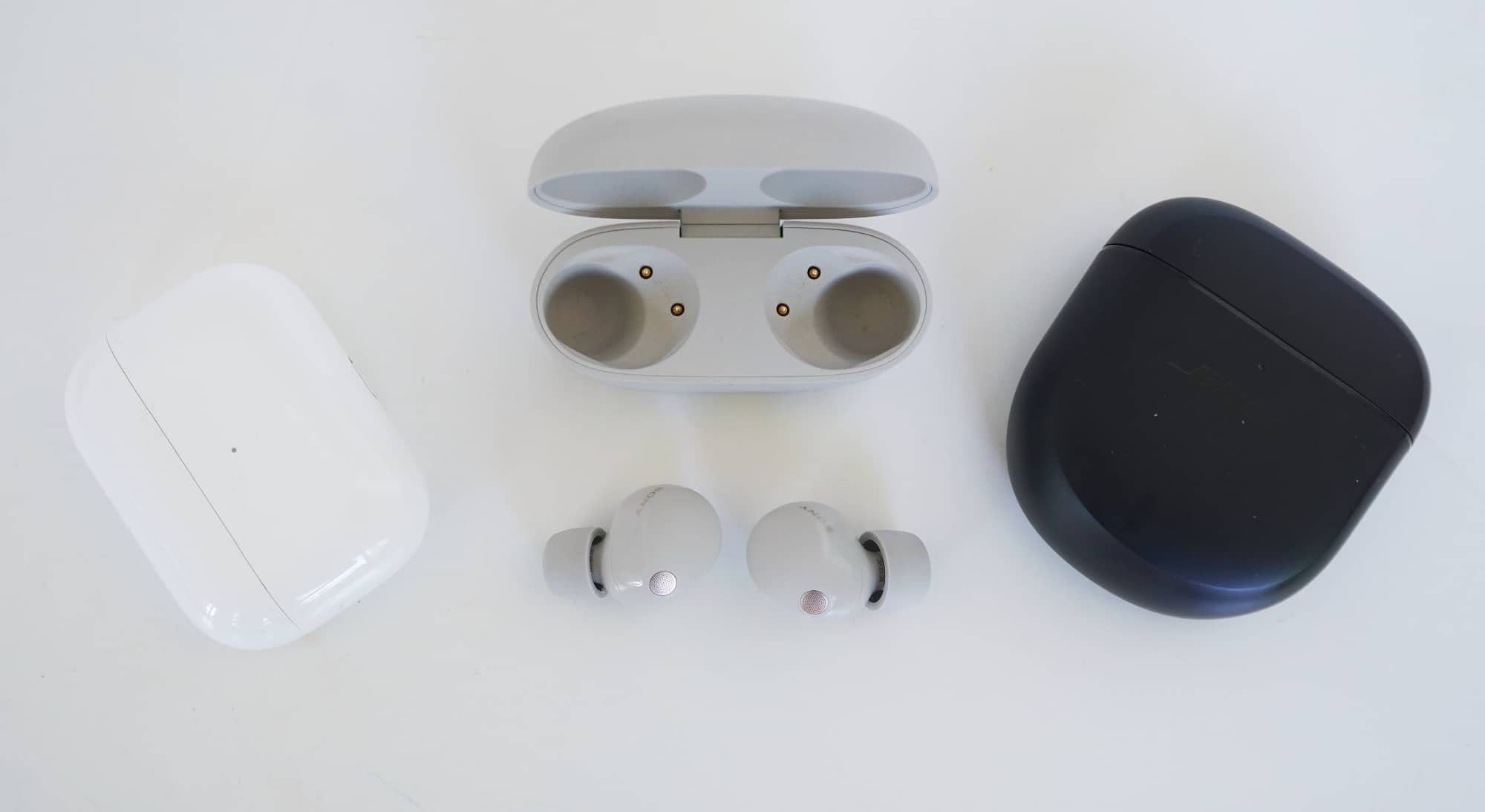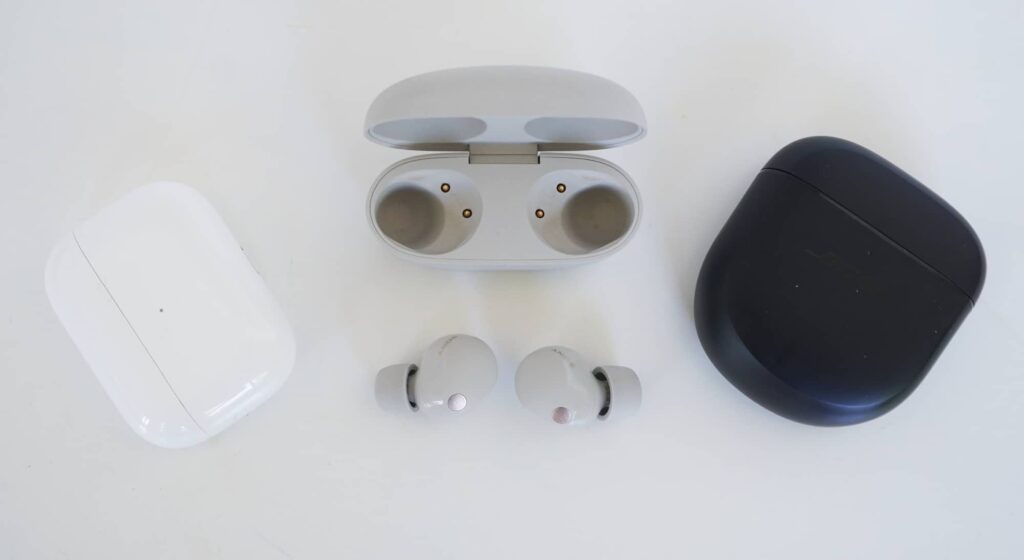 We'll go with the $419 price for this review, because at the time of publishing, it seemed more legitimately right than the price Sony quoted at the time of release. It doesn't seem to take Sony long to lower its prices, and its headphone and earphone prices seem to vary quite a lot in short spaces of time.
At $419, they're a lot more competitive overall, though we're still not sure if they have the edge they once did.
The Bose QC EarBuds II are roughly $10 more and deliver just as great sound and noise cancellation, and offer more inspired touch controls overall.
Meanwhile, the Apple AirPods Pro 2nd-gen deliver just as great sound and noise cancellation, and offer more inspired touch controls for less, arriving at $399. Also, Apple's AirPods Pro get spatial right on iPhones using Apple Music. Sony hasn't even managed to get spatial perfect using its 360 Reality Audio, an audio format that sees very limited support overall.
In terms of flagship competition, Sony might not have the edge it once did.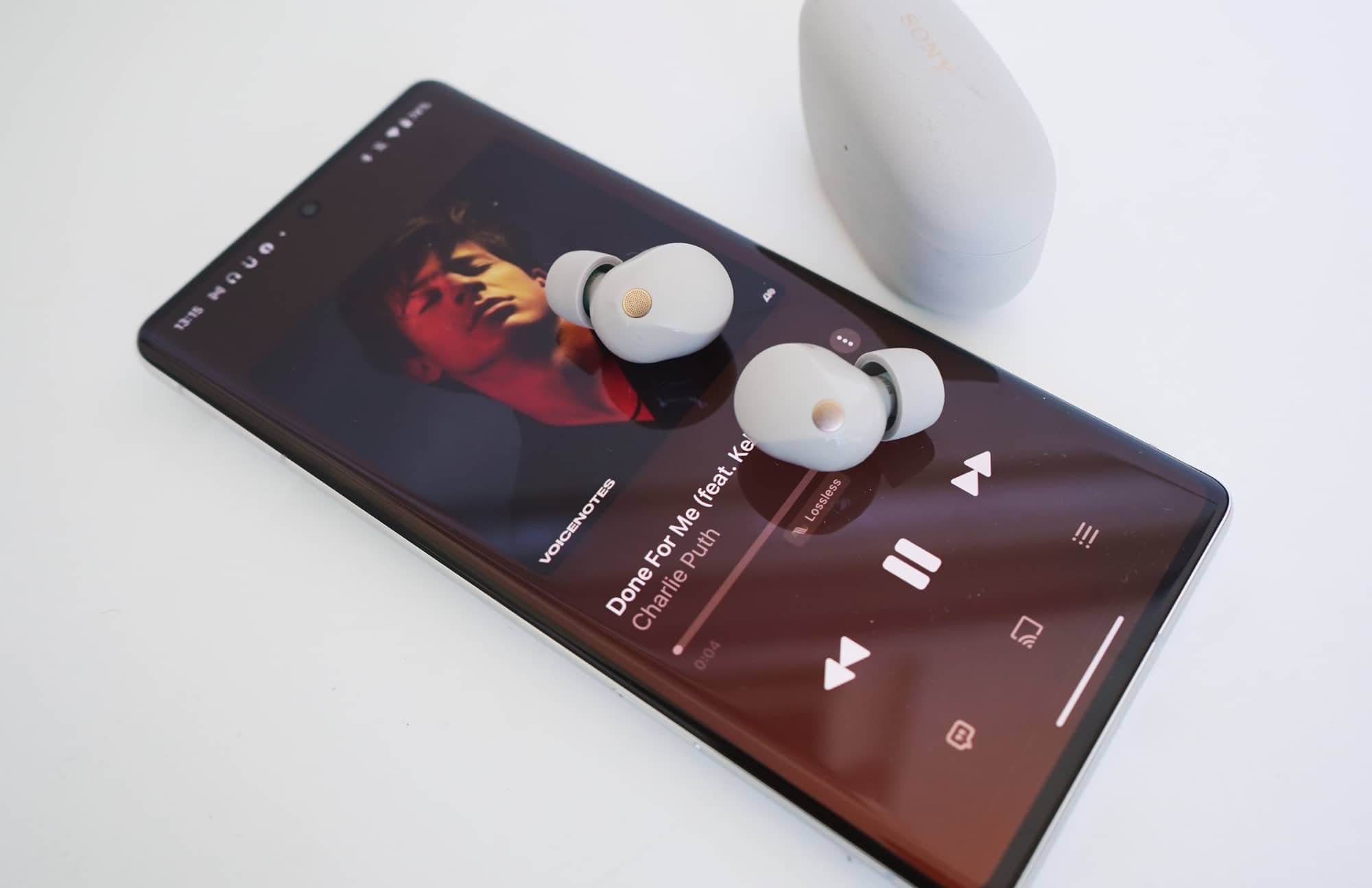 Final thoughts (TLDR)
In previous years, Sony's earphones were a leap ahead of the competition. In fact, that has largely been the case for almost a decade.
Ever since the MDR-1000X burst onto the scene in 2016, Sony has shown that it has the tech to take on the best, giving Bose, the pioneers of active noise cancellation, something to fear and tremble about. Sony's headphones have been something special, and its earphones have followed suit.
Even though Sony skipped a number (because there didn't seem to be a WF-1000XM2), Sony's earphones have been largely at the forefront, winning accolades repeatedly. The WF-1000XM3 were one of our favourite pairs two years running, and even though the WF-1000XM4 divided in design, they were still winners.
In 2023, the competition is much more stiff. Players have caught up and are giving it their all. Apple and Bose are doing tremendously great gear, and that's coming from last year's tech, while Panasonic's Technics brand is also showing promise, as well as tech from other players. Essentially Sony has more competition.
With the WF-1000XM5, we're not sure Sony has managed to outpace its competition this time around. For the most part, they've all caught up.
Make no mistake, the Sony WF-1000XM5 are a great option offering some brilliant sound, size, and lovely noise cancellation, and at $419 they're pretty solid value, too. They're true fighters you're sure to love for stereo sound.
But as good as these are, we'd still look around. There is so much great portable audio gear around, and as much as we love the WF-1000XM5, it's not the only pair that feels like it gets the formula right. In fact, some nail it even better.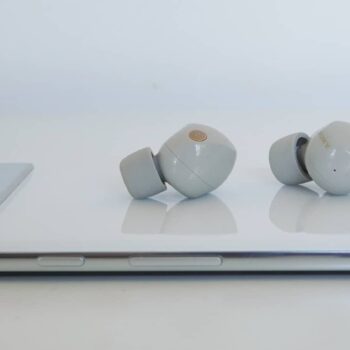 Sony WF-1000XM5
The good
Fantastic sound
Superb noise cancellation
Easier to wear than last generation
More comfortable than the WF-1000XM4, too
Smaller and more compact
Technically supports head-tracked spatial audio
The not-so-good
Head-tracked spatial audio is limited to Android and 360 Reality Audio (and it's still not great)
Controls are uninspired
Expensive