Quick review
Sonos Move 2
The good
Great sound
Can get loud
Auto TruePlay keeps the sound balanced for where you take it
Lasts a good 24 hours of battery
Touch controls are easy to use
Supports smart assistants
Works over Bluetooth
Easy to carry
Water resistance
Supports line-in
The not-so-good
Huge and heavy
Bass can lack nuance
Can't stereo pair to first-gen Move units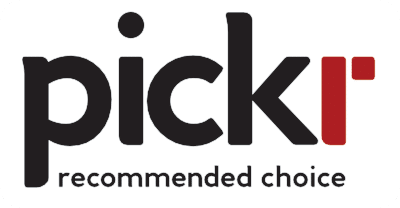 Portable speakers tend to be same-same capsules of sound, but the bucket-like design of the Sonos Move 2 delivers enough for rooms and the outside.
If it seems like everyone has several Bluetooth speakers, you wouldn't be alone. Every manufacturer has several, as every player delivers a speaker of every different size. There's small and compact, slightly bigger, bigger again, and sometimes outwardly huge to the point where you cannot move it without having a car and some relatively big muscles.
There are so many sizes wireless and cordless speakers at so many price points that these days, we just largely expect that everyone has something for when they need it. Sound on the go has never been more portable, even if finding the right time to play that sound loud is still a question of when it's appropriate.
But you know when it's almost always appropriate? When it's in your home, or even specifically just outside of it. When you're in the front or back yard of your home, or even nearby in a social gathering and you want the sound to carry, be it from the inside already or just with a big sound outside, that's when it's fine. Noise pollution isn't so much a thing when we're all enjoying the music, and not just looking daggers at who brought the sound in a space to share.
That is roughly the point of the Sonos Move 2, an updated portable speaker made to share the sound. In the latest take, Sonos is boosting the Move with new guts, a new battery, and even a new feature here and there. Is it just the dose of new to make sound at home and out of it truly the experience each are meant to be?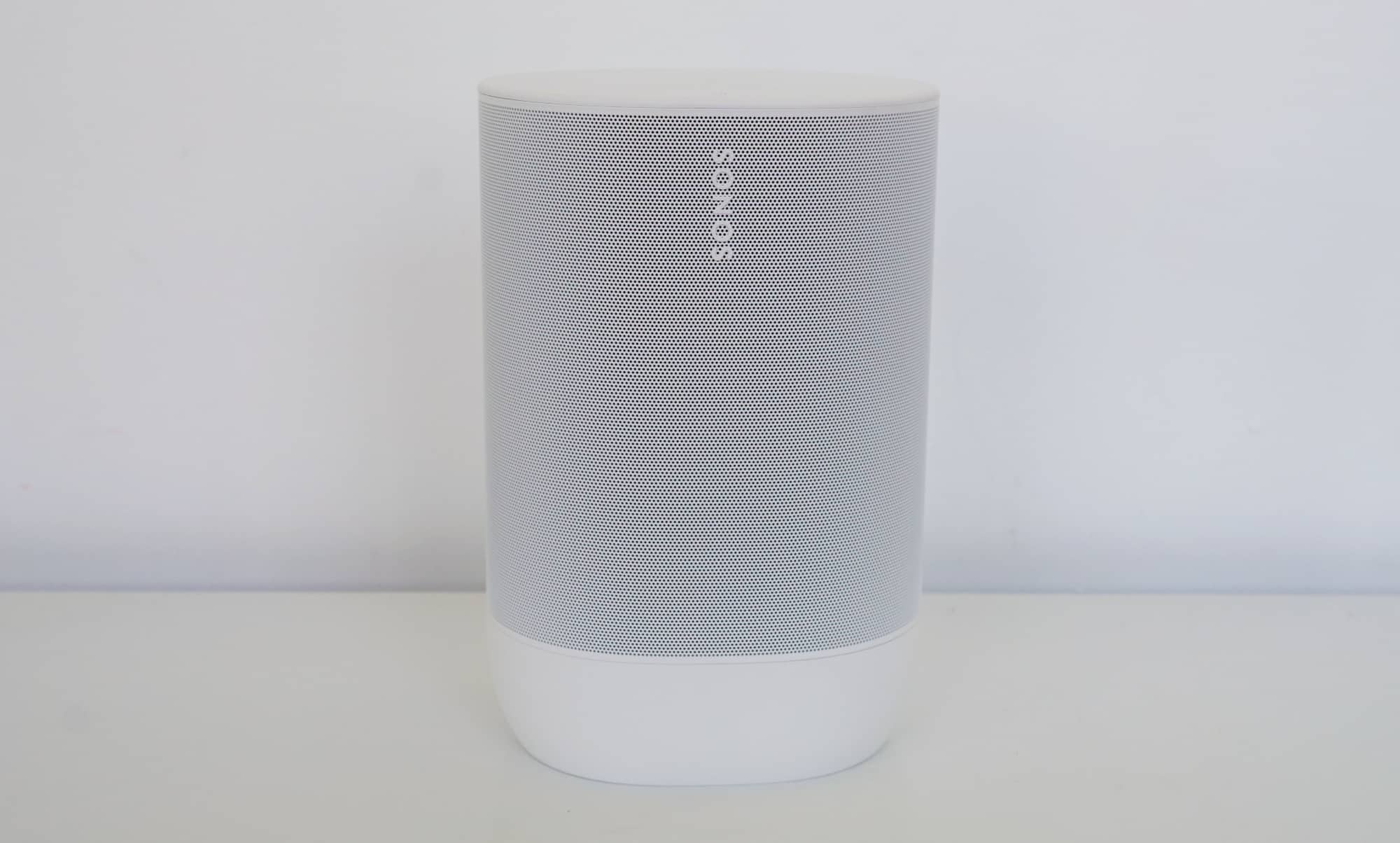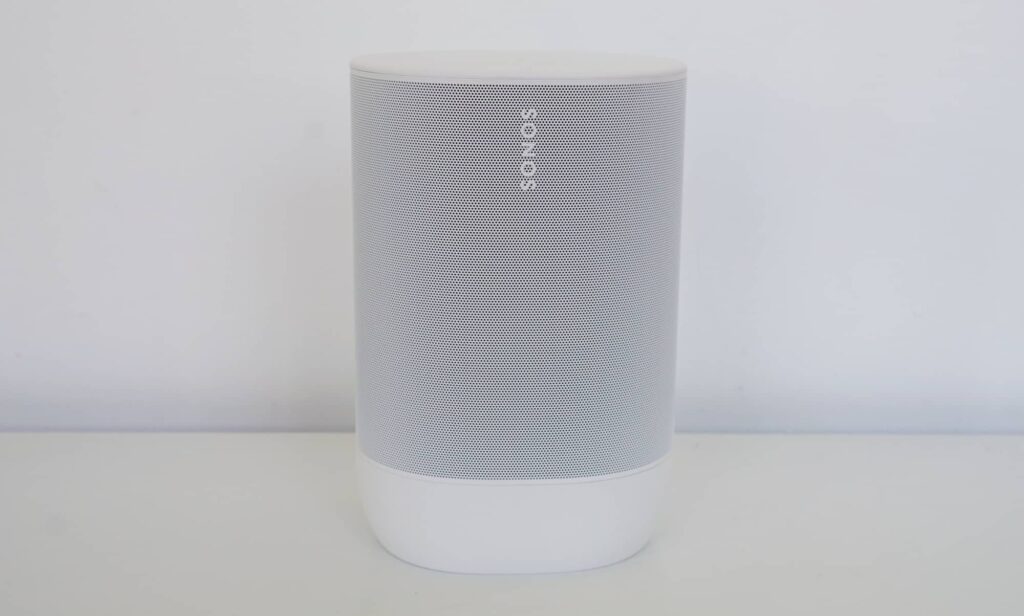 Design and features
The new generation of the Sonos Move may be all new, but glance at the models and it'll seem like very little has changed.
The top shows a difference, but you won't find that change just about any other place, with the same bucket-y design, tall and easy to grip thanks to a built-in handle at the back.
It includes the rubber bottom and obvious speaker grill, all of which encases a new stereo architecture on the inside distinct from the mono of the original.
Even comparing the Move 2 to the original Move just on looks, the two speakers look the same, offering much the same aesthetics.
The Move 2 is still water resistant, offering IP56 resistance to the elements, which means splashes of water and such, less sprays and drops, but it should survive pool parties just and outside sprinkler days in the summer, just like its original Move sibling.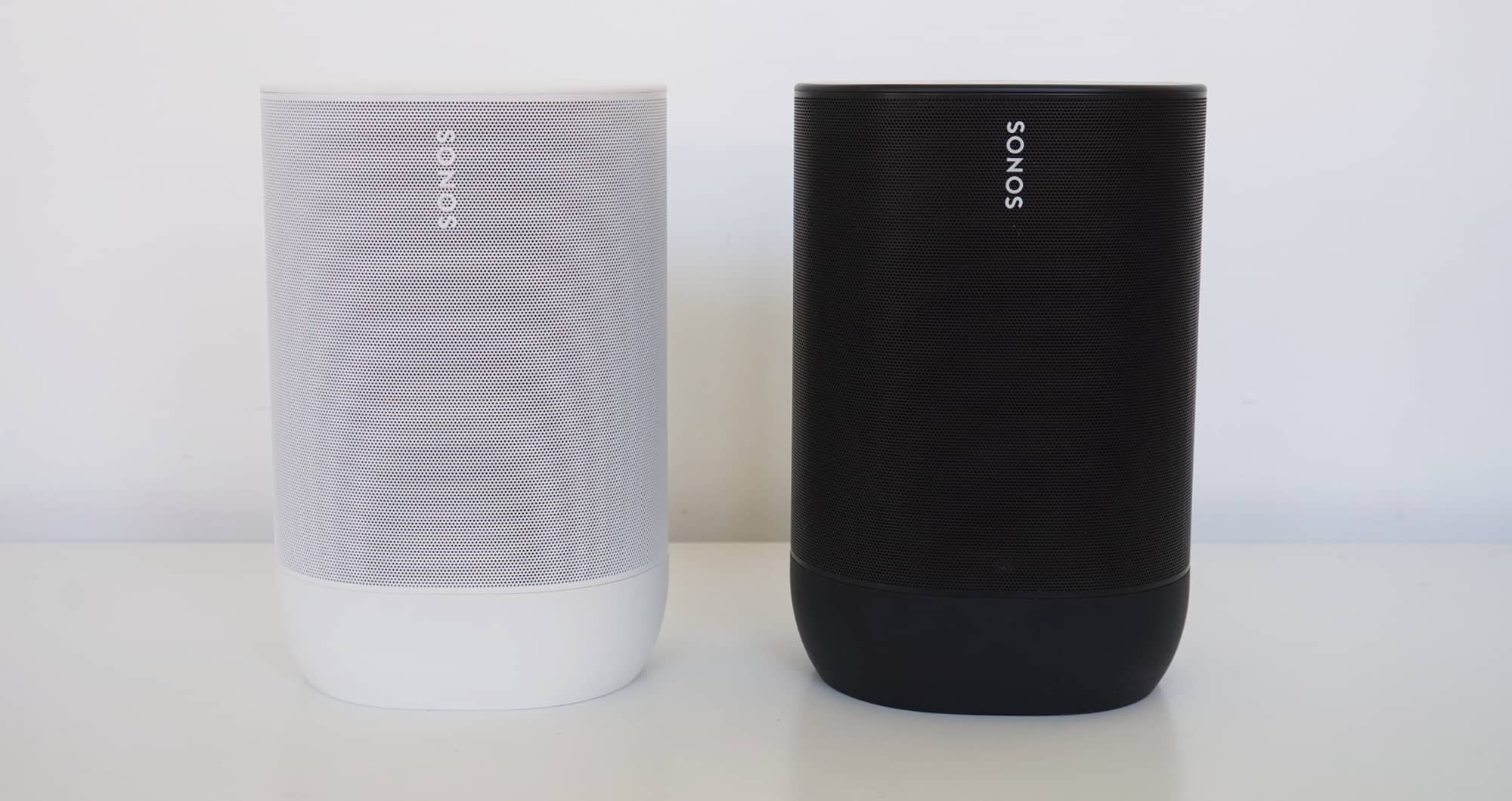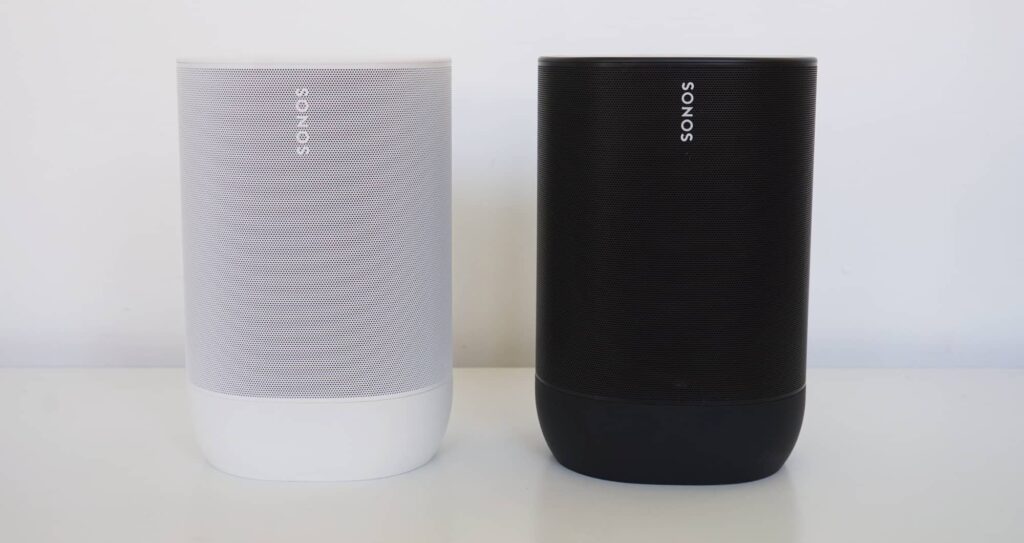 In-use
Touch controls have changed, and you now get a volume slider plus some easier to manage controls up top for pause, track skip, voice assistant, and such. They're so easy, the six year old was skipping tracks like a DJ without trying.
Fortunately, you can also turn off those touch controls from the Sonos app, which is just as good as you remember it.
Like all Sonos speakers including those that IKEA sells, the Sonos Move 2 will talk to your app as the one main hub for where your sounds are delivered, playing nicely with more or less every music service, and even letting you browse files on your network if you have a drive or server mapped.
We mostly relied on Apple Music, Spotify, and YouTube Music for our time reviewing the Move 2, but the Sonos app was seeing our drives, as well. Handy.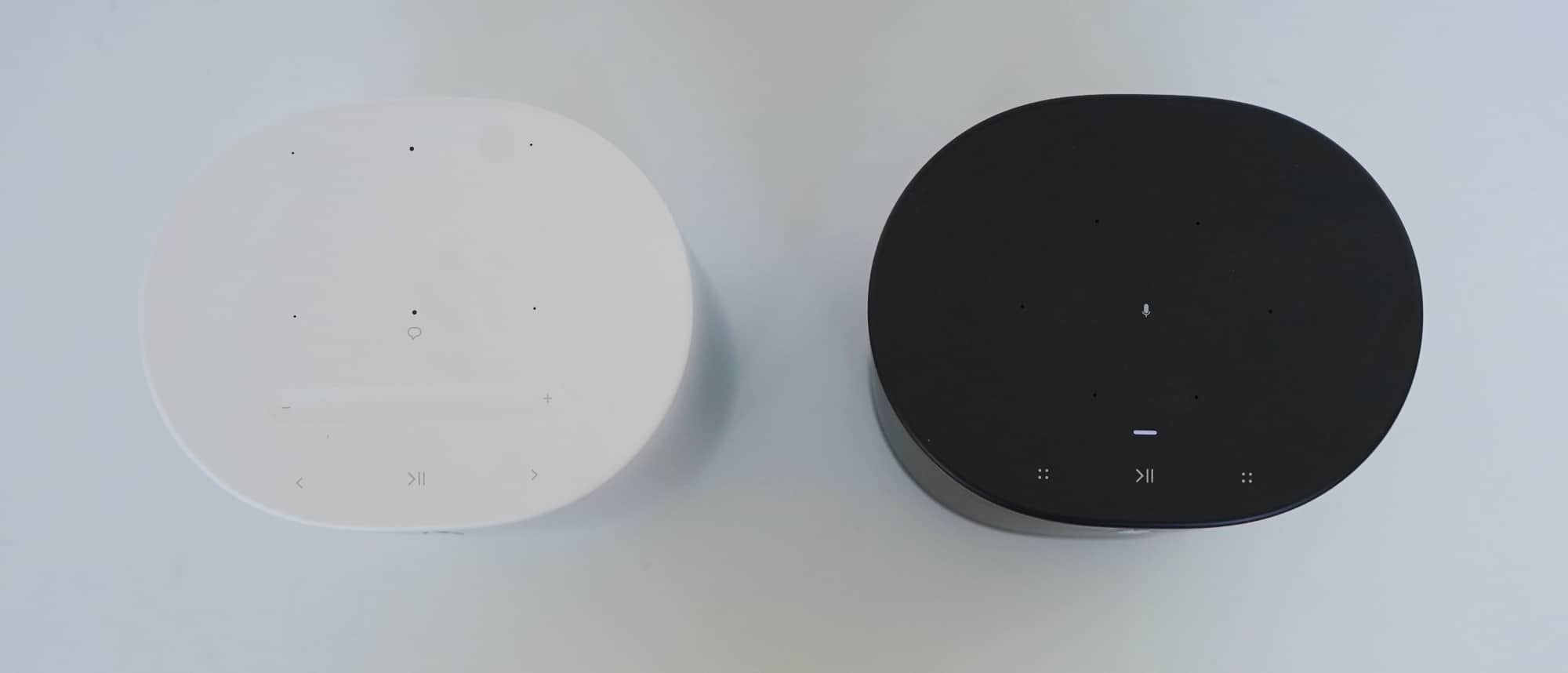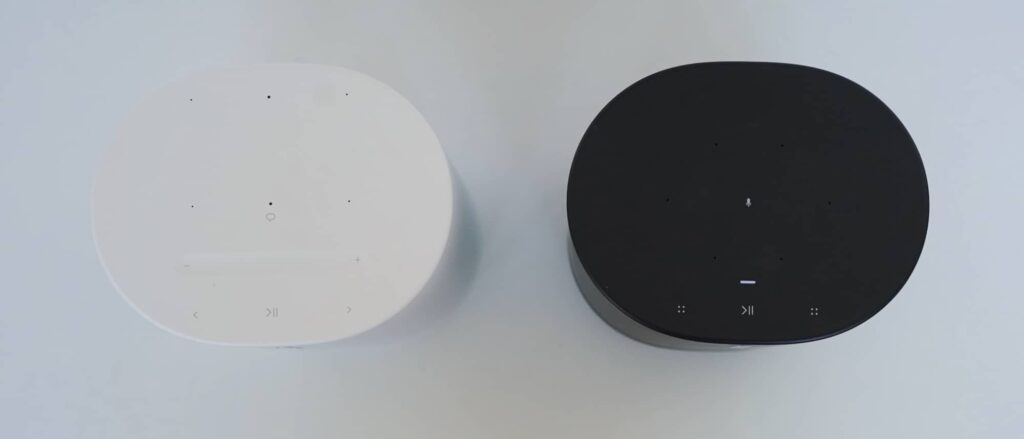 While those with an established Sonos system will use the Sonos app for most things — because they're used to it and can group speakers together — there's also support for Bluetooth sound on the Move 2 directly from your phone, with the trigger occurring on the back of the speaker by way of a button.
Press that and the Move 2 will jump into a Bluetooth mode, where it takes direction from Bluetooth devices such as your phone or tablet, and works just like any other conventional Bluetooth speaker, except bigger.
When in Bluetooth mode, you can even use the Sonos app if you want, though your phone's media player or streaming service will likely look better. We liked that the touch controls for volume and track skipping still worked, which was certainly handy. Less handy was knowing that if you have touch controls turned off on the Move 2, the physical button for Bluetooth won't work at all, so make sure touch controls are enabled or there's no Bluetooth sound on your Move 2 speaker.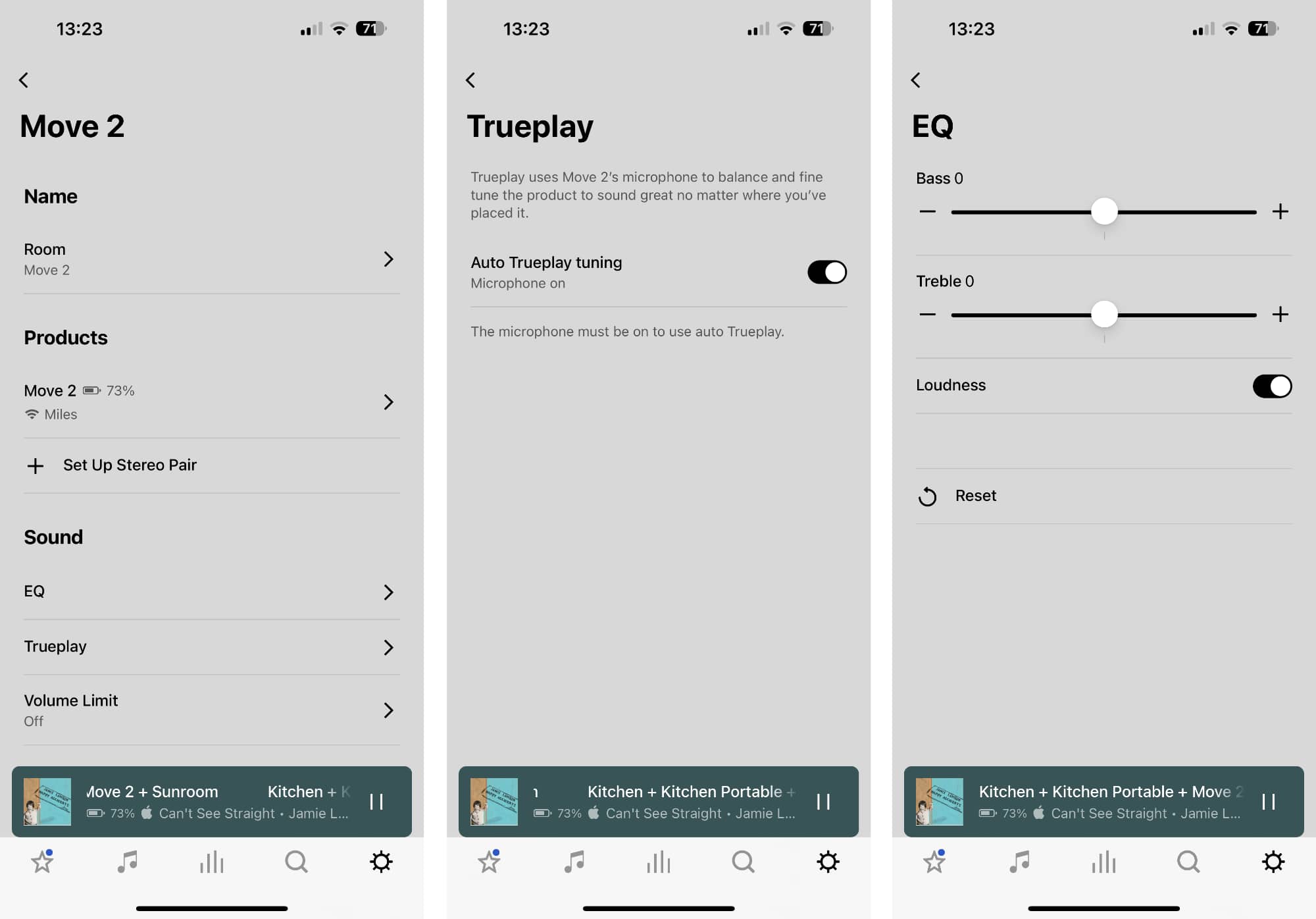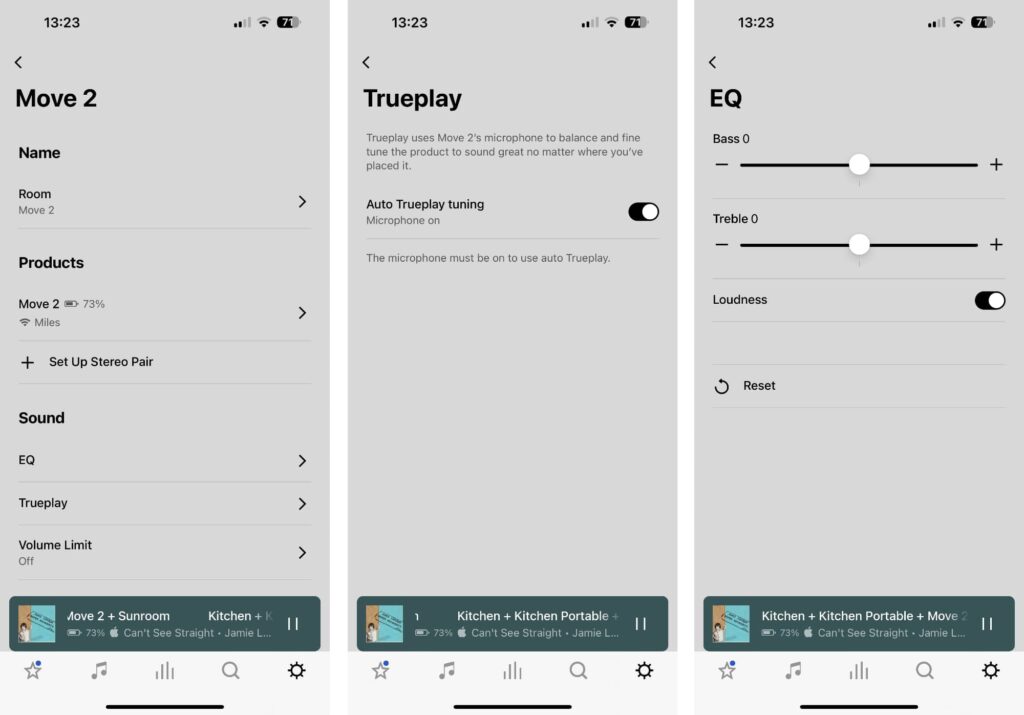 There's also a switch on the back for turning off the microphone, in case you don't need assistants of any kind, and a power button to switch things off.
You could also connect it with a Bluetooth-equipped projector if you wanted, though the Move 2 has one extra trick for input: support for the Sonos USB Type C line-in plug.
It's distinct from most USB to 3.5mm converters, so you'll likely need the Sonos one, but you can actually use the Move 2 as a speaker for another source, such as a record player heading out to a 3.5mm cable, if you so choose.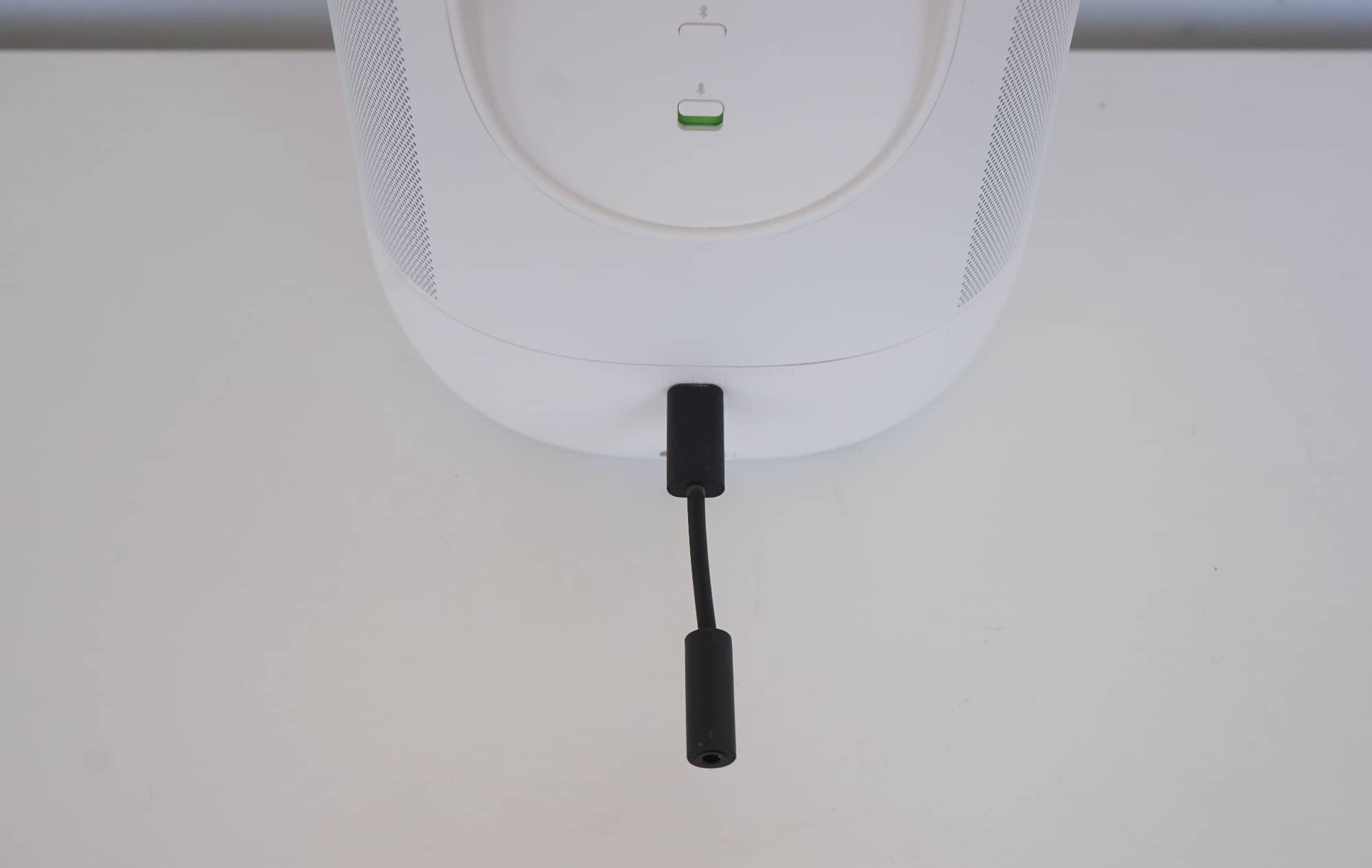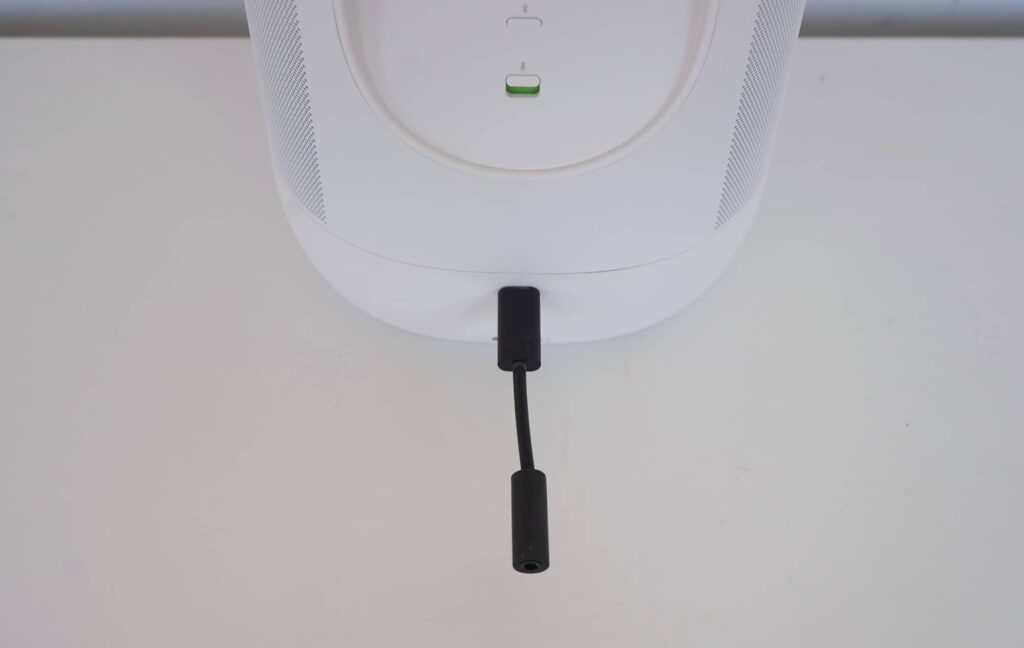 Performance
Forget the line-in right now, though, because it's time we get stuck into how the speaker sounds, testing it with the Pickr Sound Test, which you can listen to for yourself.
That starts with electronic, which for Tycho and Daft Punk delivers a clear sound with more space than a single speaker typically delivers. There's a big punch of bass and it gets loud. Quite loud.
At one point, our six year old daughter turned around because we'd turned the sound up to see how far we could push it. The room-filling sound filled the office of Pickr and then some, and we were only halfway up the volume scale.
Sufficed to say, her look told us to turn it down, but we knew how solid a sound we would get outside, which is largely the point.
And good thing, too: the sound delivers in nearly every genre much the same.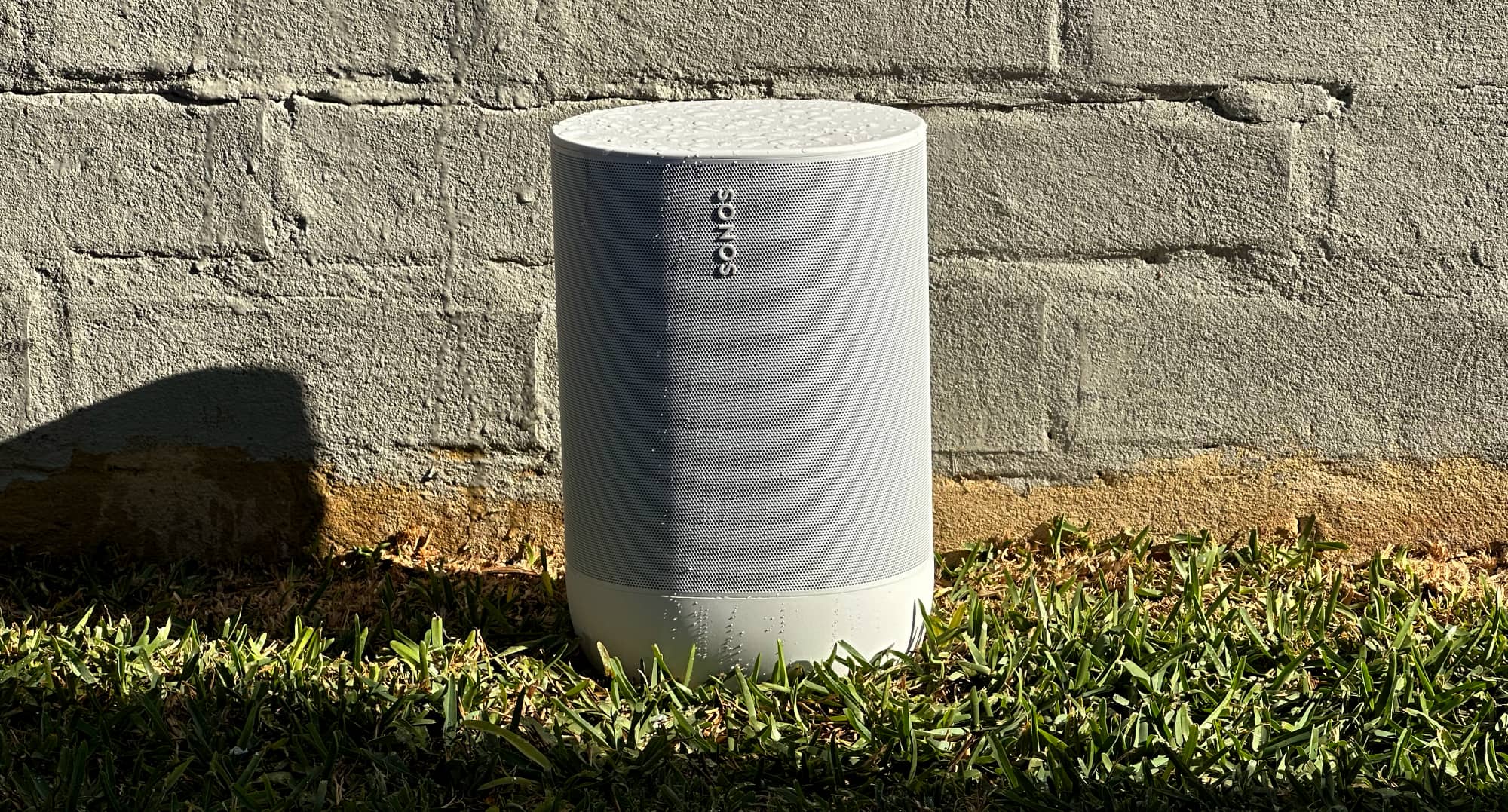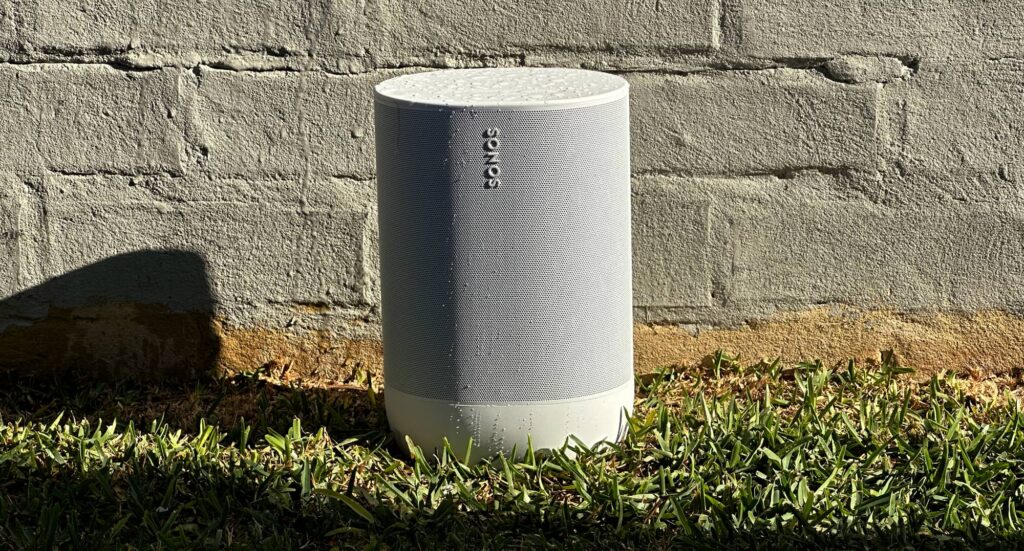 Take the pop sound of Carly Rae Jepsen's "Cut To The Feeling", which is punchy and bright, the vocals of Carly bouncing out over everything nicely, while the drums and bass line punch, as well.
This is a clean sound offering push from the bass reflex, even if at times the lows can feel less nuanced. You'll get bass, but it won't always be as rounded, such as what we heard in Ariana Grande's "Into You".
Interestingly, it was the less overly mixed music that delivered a better sound, we thought. That typically meant older sounds — soul, jazz, classical, and rock — hitting the balance with stride. Marvin Gaye's "Ain't No Mountain" was clean and firm, while tracks from David Bowie, Paul Simon, The Beatles, Dave Brubeck, and Miles Davis delivered much the same. Highs, mids, and an acceptable bass sound for where you need it.
All throughout this, we left Sonos' automatic adaptive TruePlay technology doing its thing, the microphones regularly testing the spaces you leave your speaker, and allowing the hardware to change how it sounds.
We're not entirely sure it necessarily affected the outcome in a big way, but it does mean that the speaker is attempting to account for obstacles and walls, which is more than you can say for other speakers made to take with you.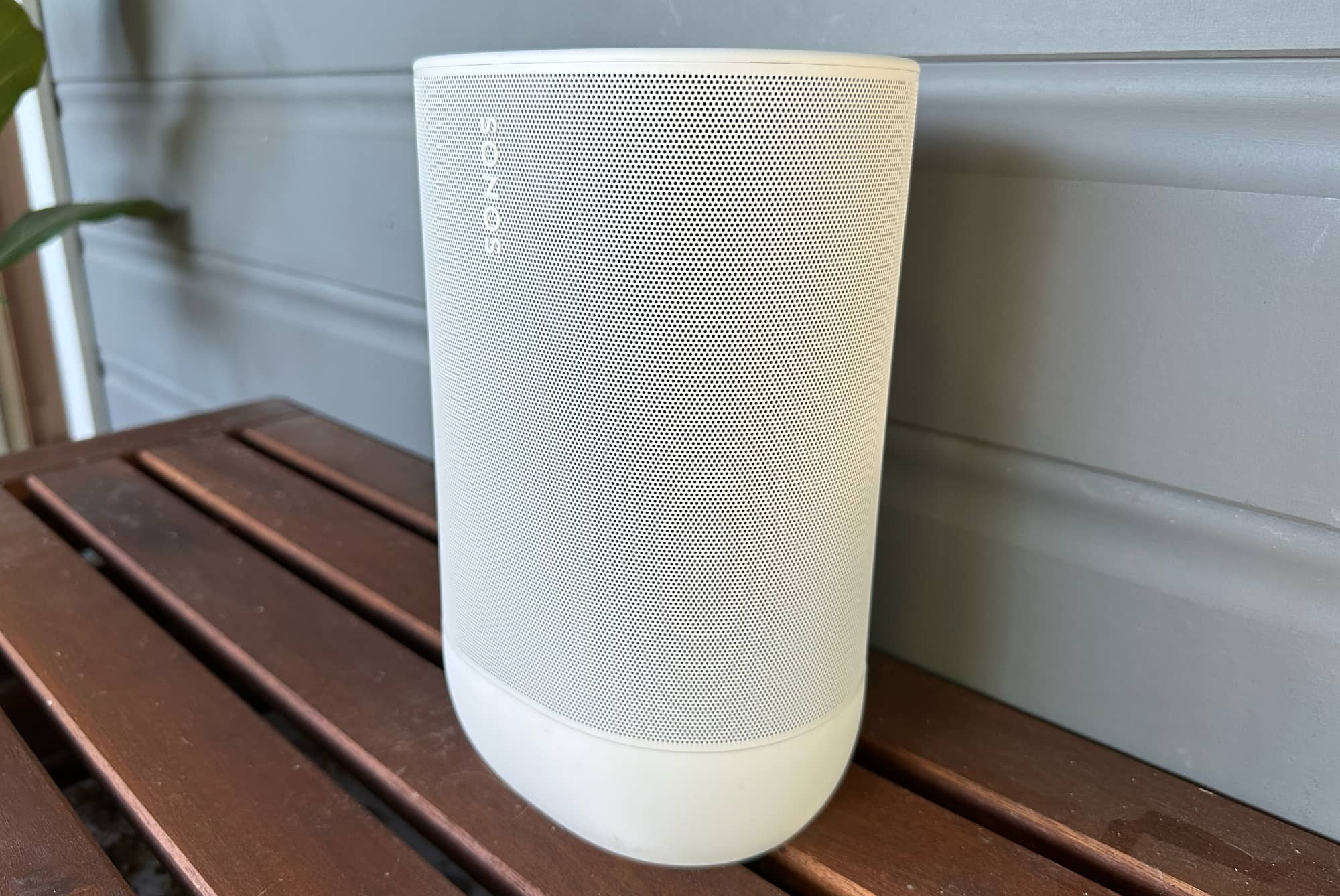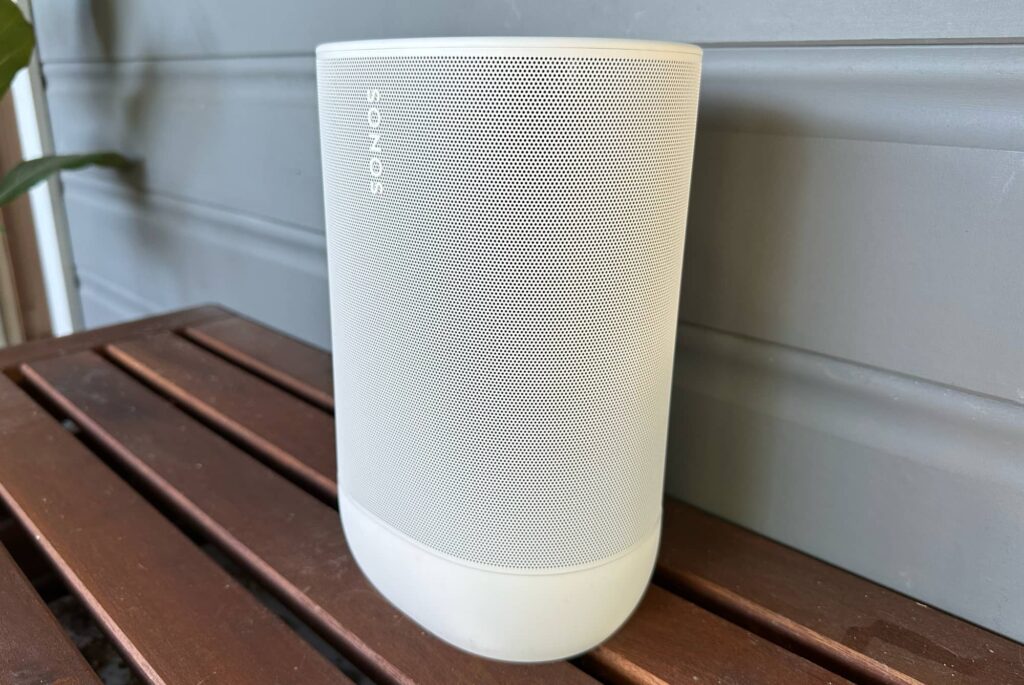 Battery
Battery life is one of the other ways Sonos is trying to make its Move 2 different from other speakers, or at least as updated as others. One of the obvious updates, the battery has been upgraded between Move generations.
A not insignificant update, the Move's 11 hour maximum battery life is closer to a 24 hour battery life on the Sonos Move 2, more than doubling the outcome all while offering the same wireless charging ring.
You don't need to charge using the special ring adaptor, though it is included in the box. Rather, you can opt to use a Type C charger if you choose, but hopefully with the 24 hour battery maximum, you shouldn't need to as often.
Testing the Move 2 over the course of several days including a weekend, we can say the 24 hour suggested max runtime isn't far off the mark.
In our case, it meant not needing to charge the Move 2 at all over a weekend, despite using the speaker for a good six to eight hours each day. By our calculation, we should have had at least eight more to go, and the battery showing 40-odd percent was a pretty good indication that Sonos' suggested total life isn't far off the mark.
That's not too shabby at all, particularly for something measuring roughly the same size as last time. Not bad.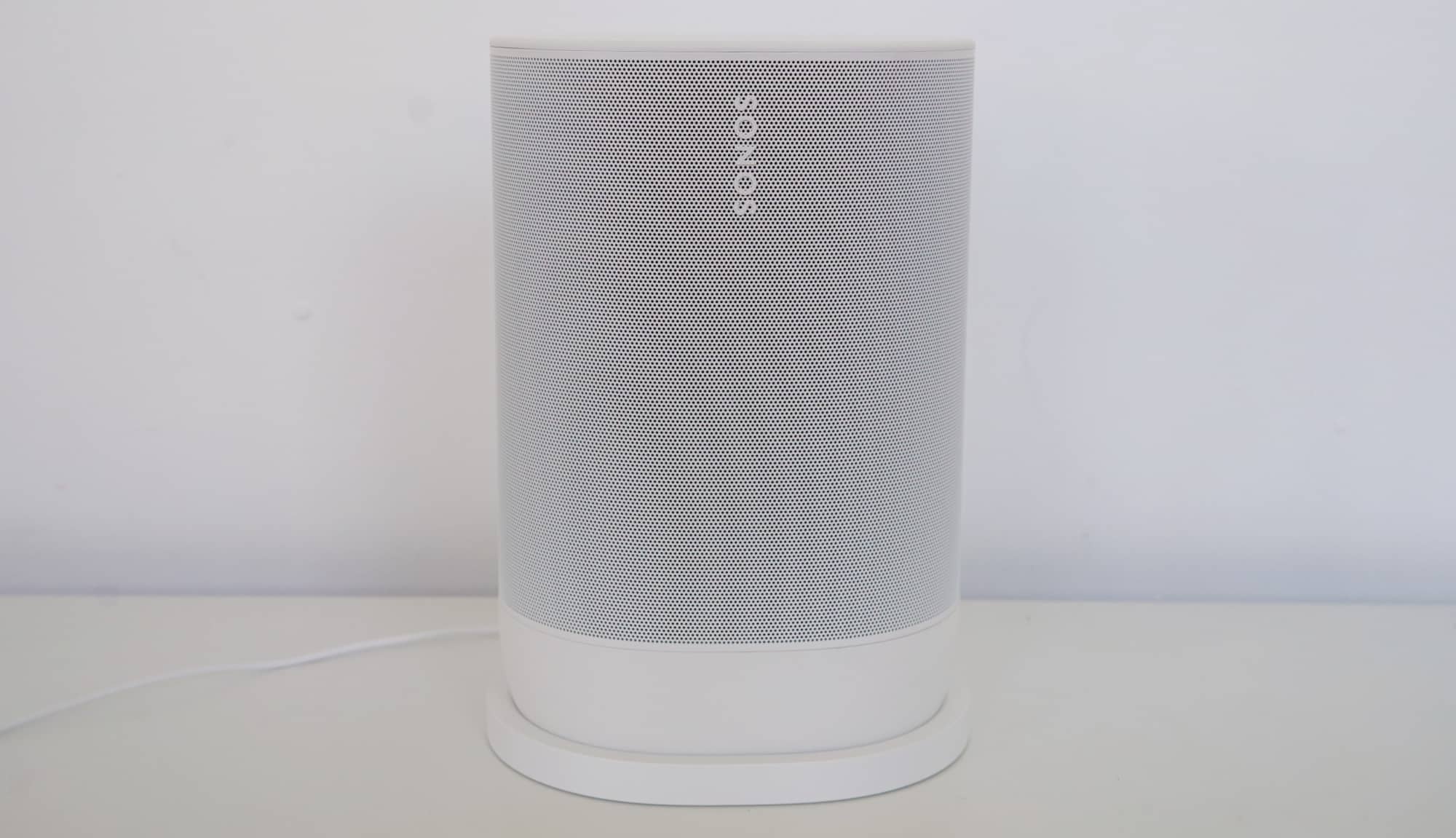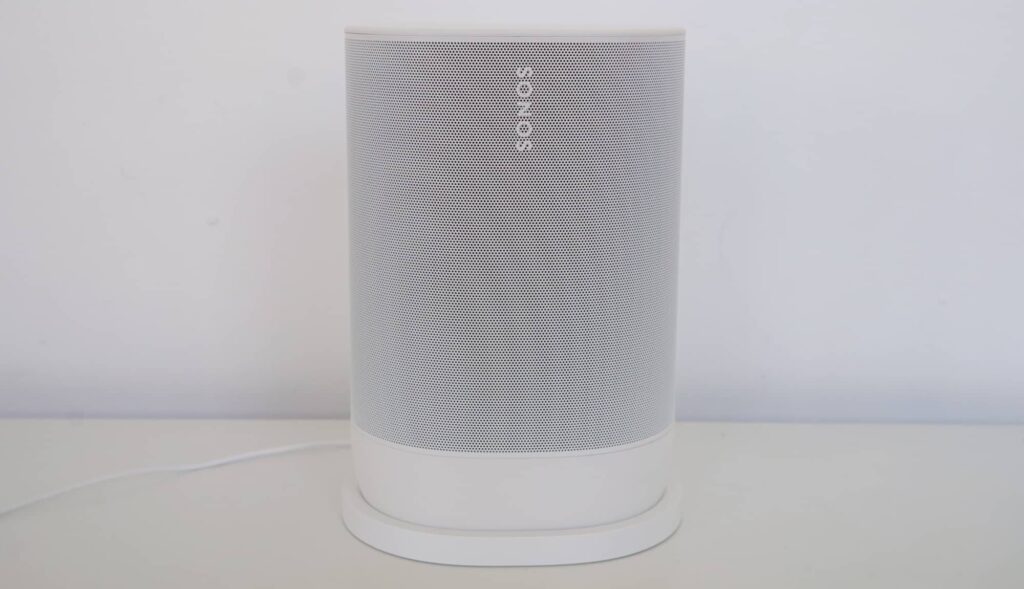 Value
It's priced a little higher than the original Move, though, costing $799 in Australia and fetching a good one hundred more at launch than the original $699 Move.
There are notable differences for that price, including touch controls, a bigger battery offering twice the life, support for a USB C line-in using the official Sonos adaptor, and a different stereo architecture, making the Move 2 quite different and hardly just the cosmetic change you might expect. The Move 2 is a genuine sequel, giving it guts.
However, it can also seem very similar to the Sonos Era 100 matched to a battery, yet somehow making it twice the price. The Era 100 lacks portability and water resistance, going for $399 in Australia. Meanwhile, the Sonos Move 2 comes with a battery and water resistance, but costs twice that at $799. They're similar, for sure, and could make you question what you want.
If you yearn for great stereo sound that you can take with you, the Move 2 is what you want. We wish Sonos had kept the $699 price point, though, because at $799, the speaker can feel a little overpriced.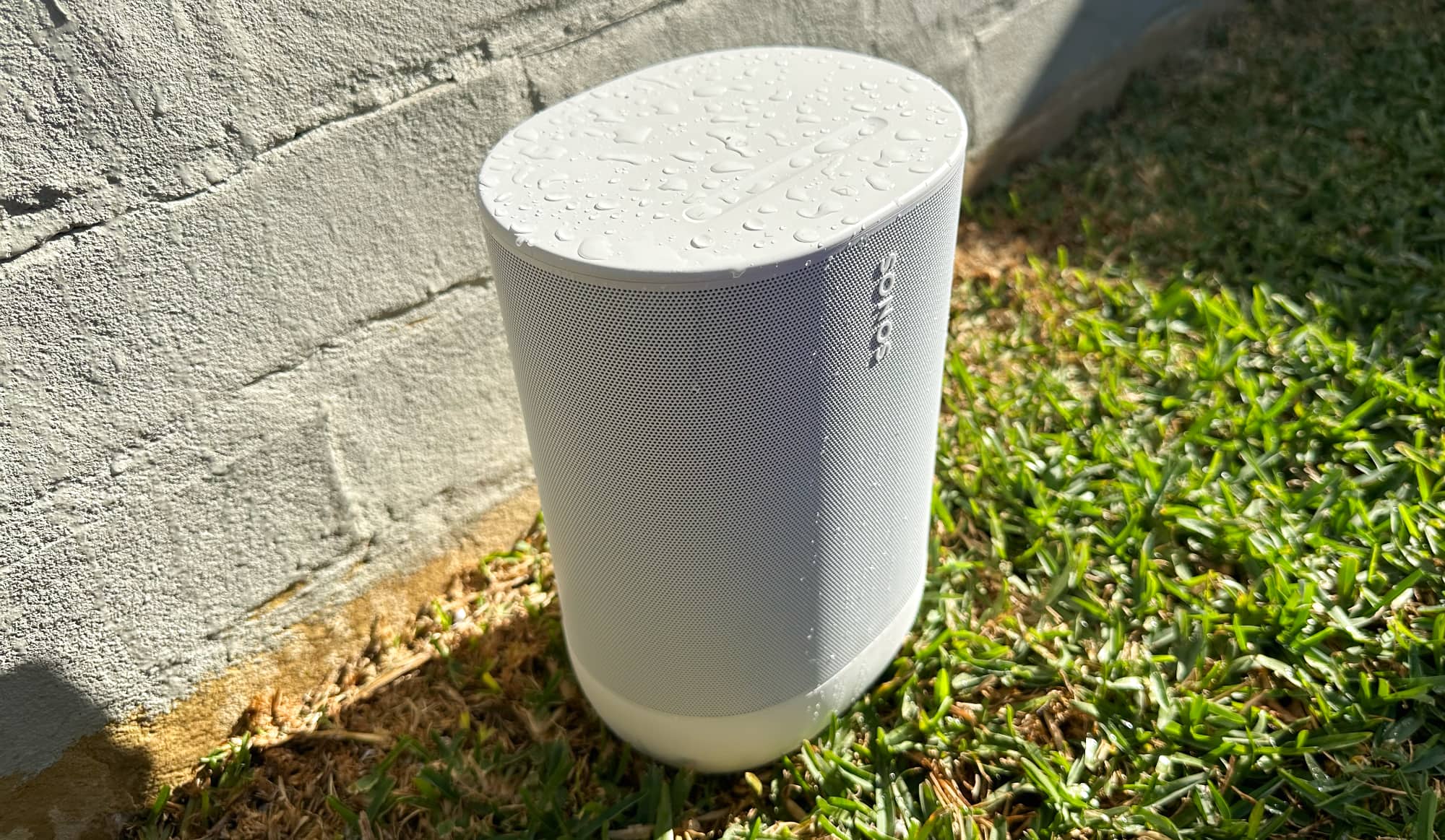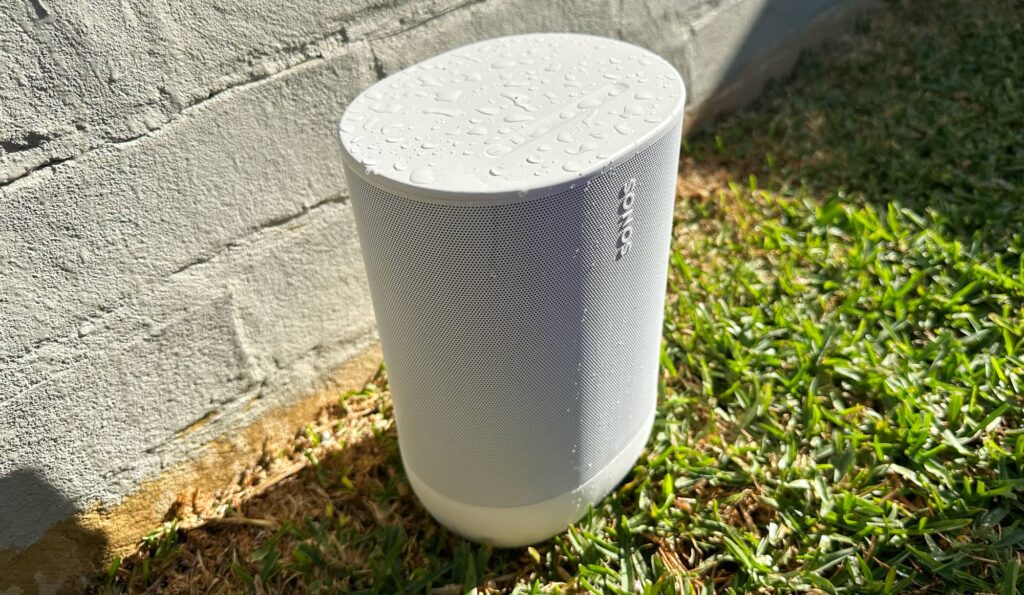 What needs work?
One area we were surprised about was the bass, which like the Era 300 felt like it was lacking just that little bit.
It'll be fine for most people, and the rumble is certainly there, but the depth of bass can feel like it's lacking in nuance just that little bit. You'll get punch for sure, but it almost takes a backseat to the highs, and in some tracks, that can make the speaker seem a touch bright at times.
Compatibility is also a potential problem, or more a lack of compatibility with the original Move. You can group the Move 2 with an original Move like you can any Sonos speaker, but you cannot use a Move and Move 2 in stereo pairing because they have totally different speaker architectures.
That may be a problem if you already own a Sonos Move and think to yourself, maybe you'd like a Move 2 for stereo pairing the two together. Unfortunately, you cannot stereo pair the Move to a Move 2, and either need two original Move speakers or two Move 2 models.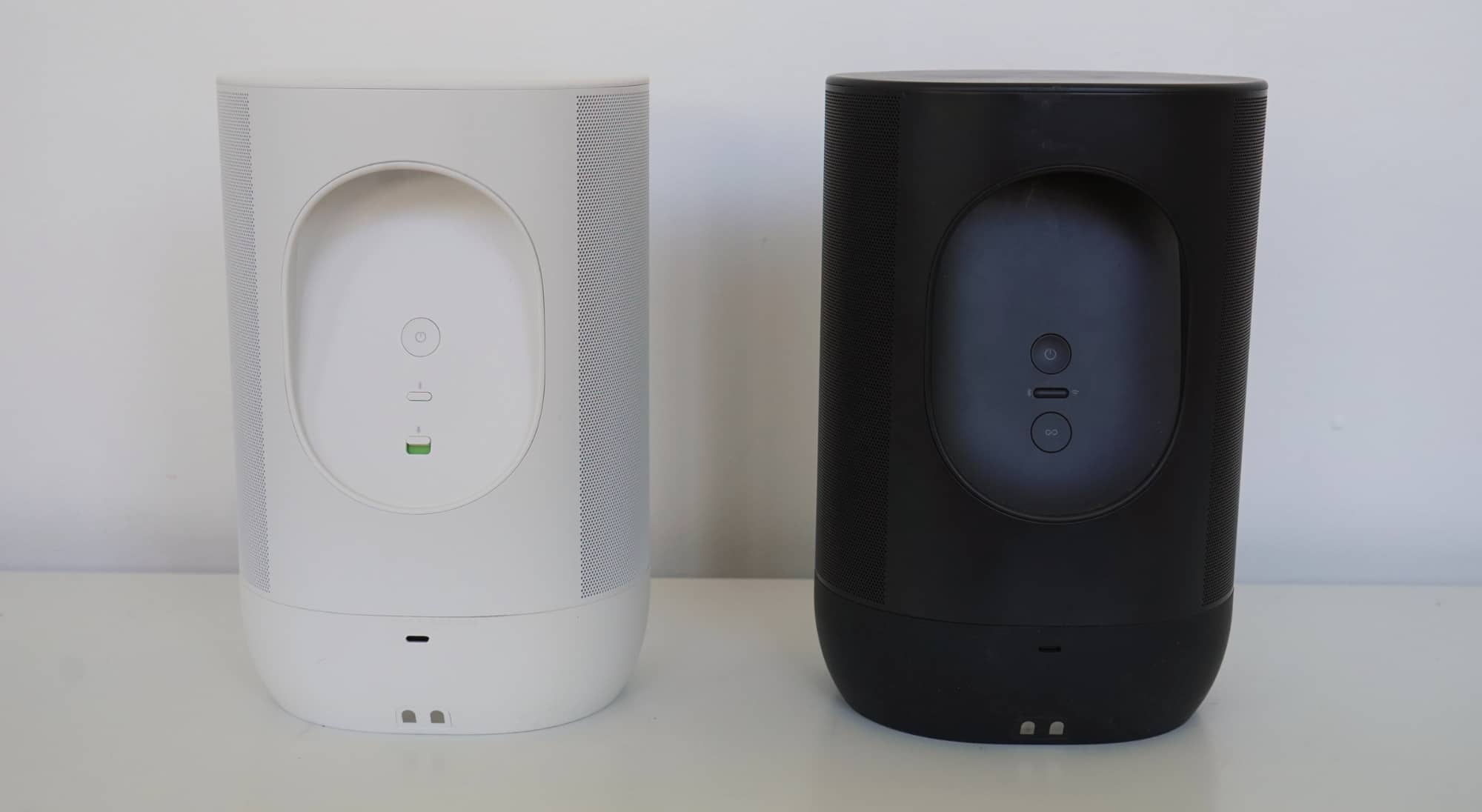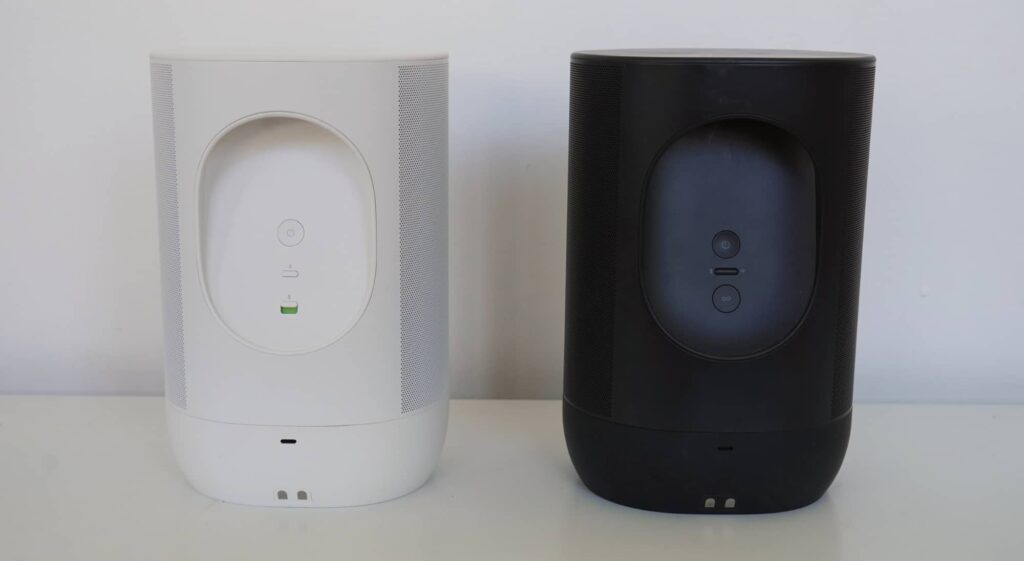 They can still be grouped, so that's a slight win, but with the Move 2 replacing the original Move, if you want the classic Move in stereo, you might want to look for one used or upgrade entirely.
This isn't a flaw at all, mind you; all Sonos speakers come with this logic of needing the same speaker for stereo separation. It's just more of an inconvenience, and one you'll be glad we tested for you ahead of time, especially since Sonos confirmed to Pickr that the Move 2 would be replacing the original Move as stock of the older speaker disappeared.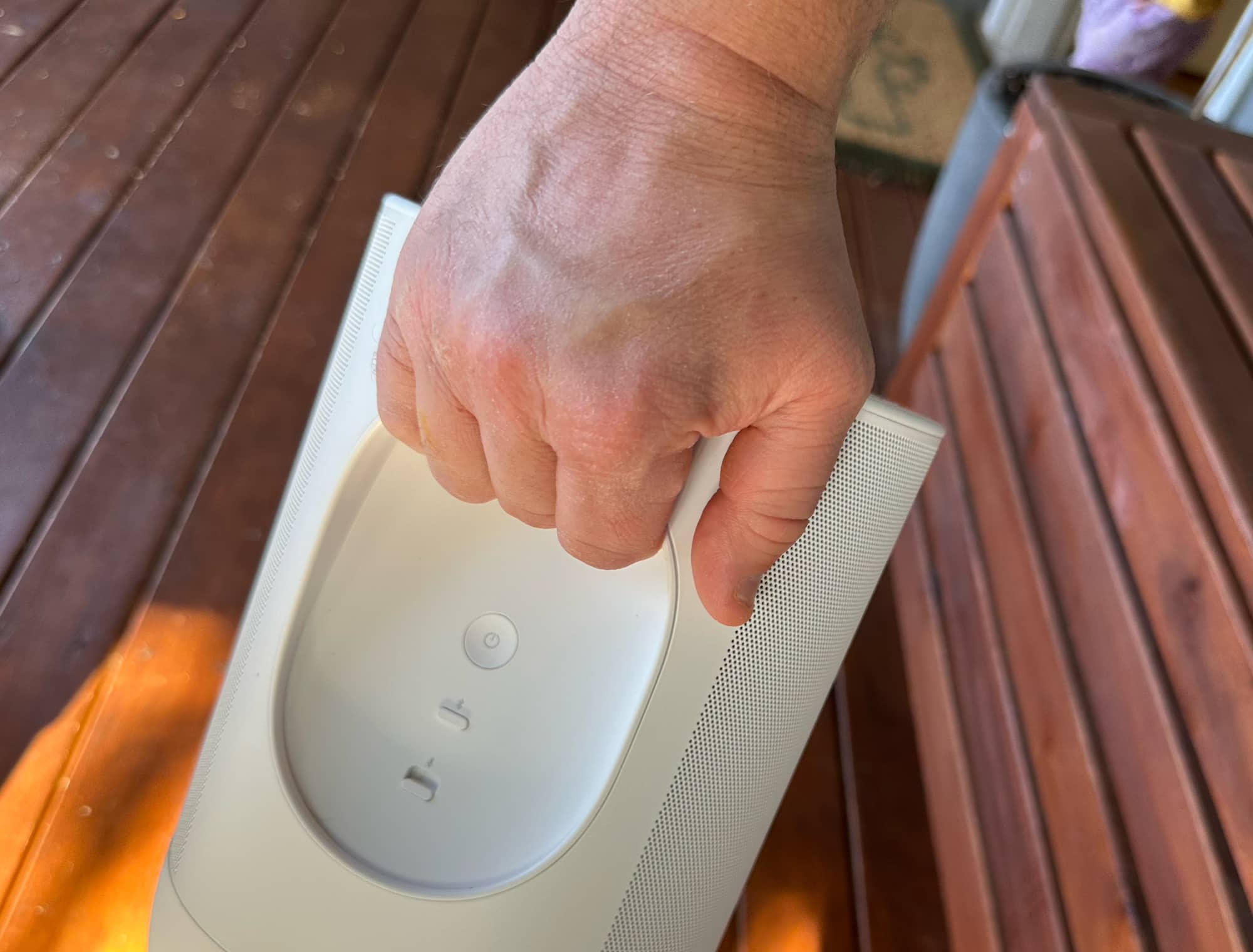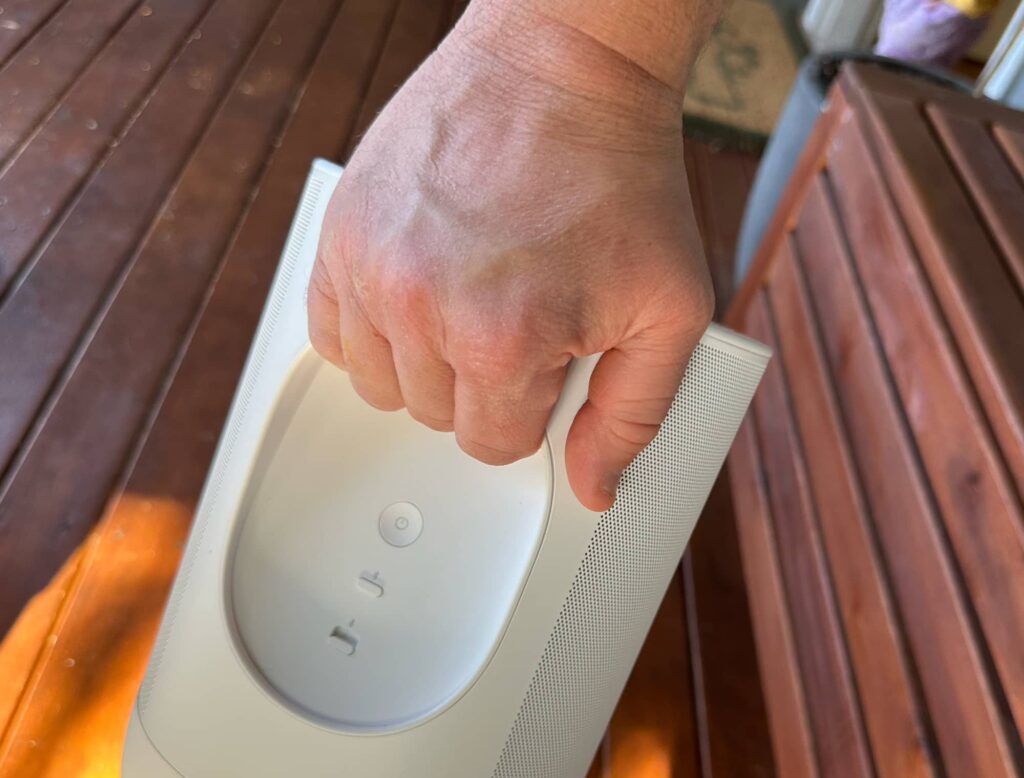 The size is also a critical issue, partly because the Move 2 is one the biggest portable speakers you've ever come across and not an easy traveller.
Yes, you can definitely take it outside. Unwired and easy to move around the house thanks to its design, the Move 2 is the obvious choice when you're heading outside for a BBQ or jumping in the pool for a dip, and need some tunes to accompany your experience at home.
Taking the speaker to go? That's less likely. Weighing 3kg, the Move 2 is one of the heaviest portable speakers out there, and really needs a special bag (which Sonos makes) or a car to move it. You're not going to be walking around with this portable speaker like you are with the Sonos Roam.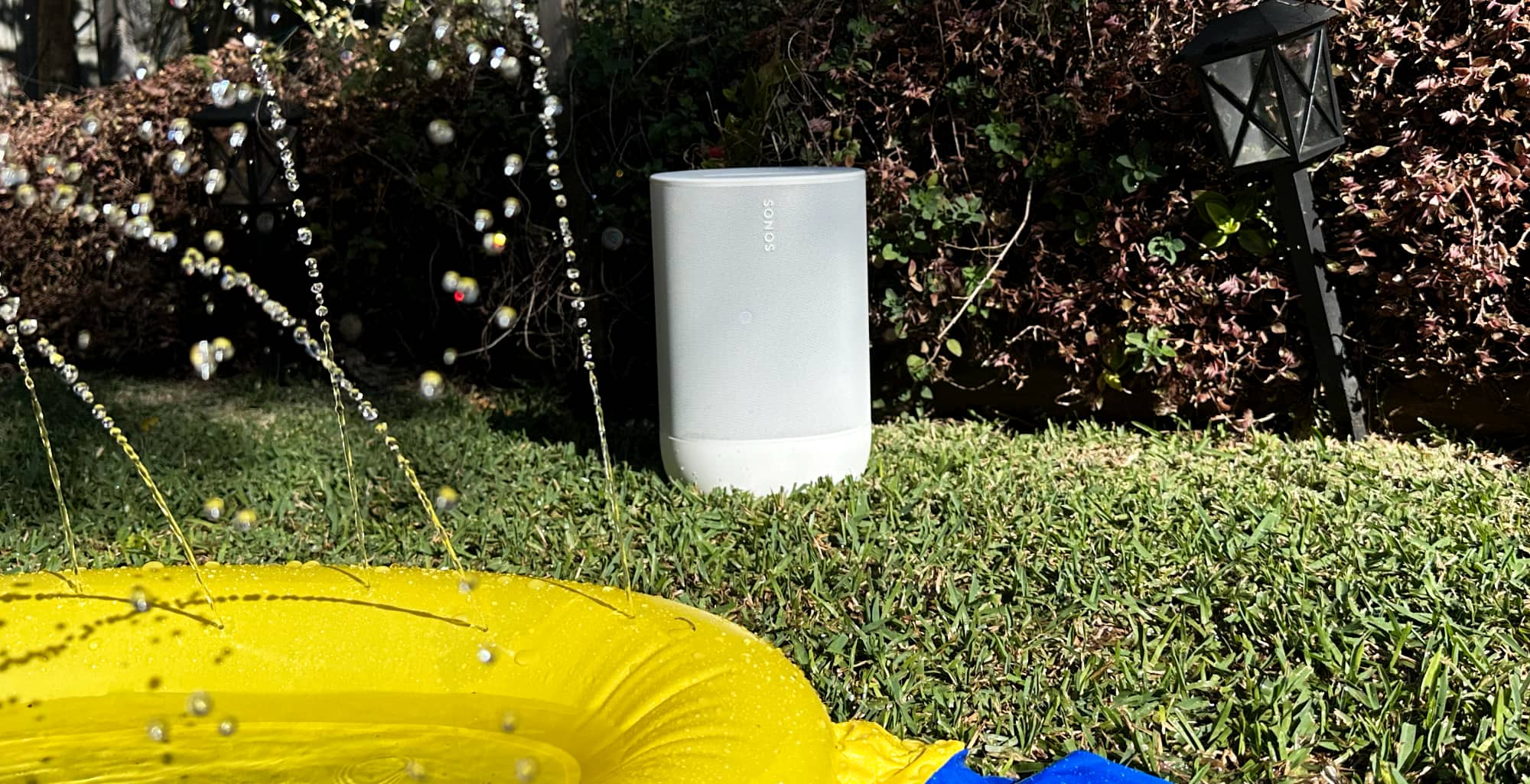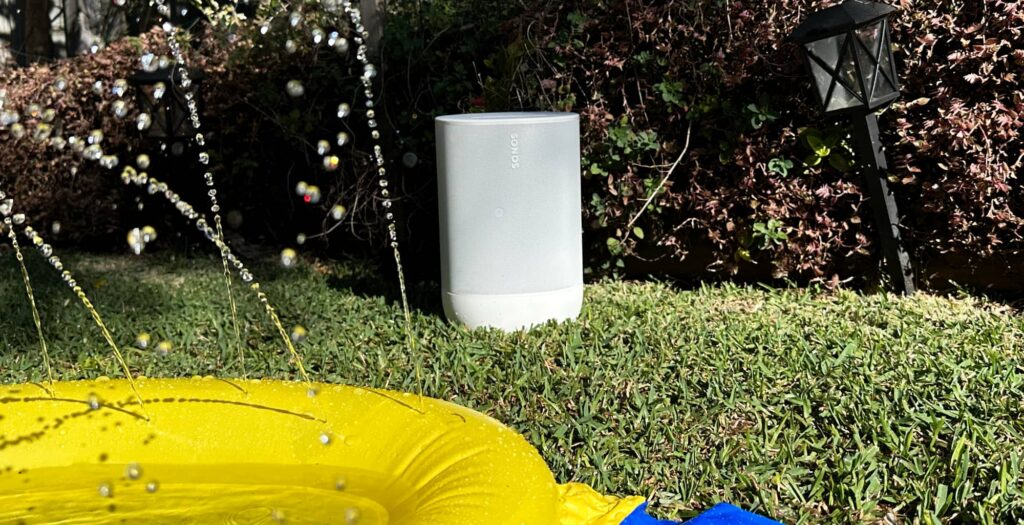 Sonos Move vs the competition
And that brings up another point: the competition. Which is also an awkward point, because the Move 2 is in a bit of a weird spot for Sonos.
It's a portable speaker made for homes, because Sonos already makes a portable speaker made to be portable in the Roam.
Even with a high-ish price, compared to what's out there, the Sonos Move 2 still feels like it's hitting a solid price point for what you get, competing with a limited number of large cordless speakers and even some made for the home.
It'll push against the recently launched $499 Ultimate Ears Epicboom and the fairly established $599 Ultimate Ears Hyperboom, both of which are a little less, but lack the WiFi integration and service support on an app. Technically, both can be grouped with other UE speakers using PartyUp, but none of those are stationary in your home, so it's not quite the same.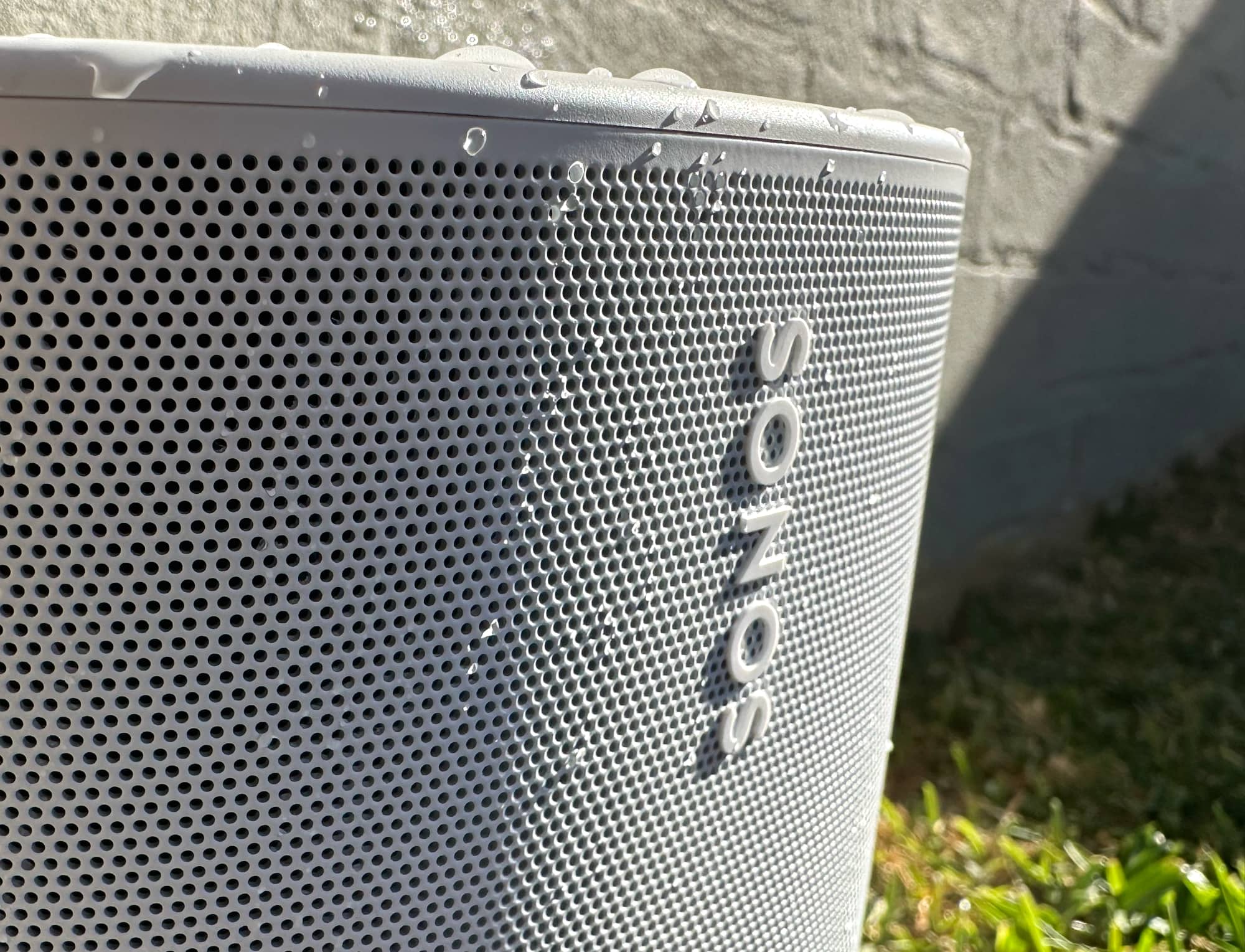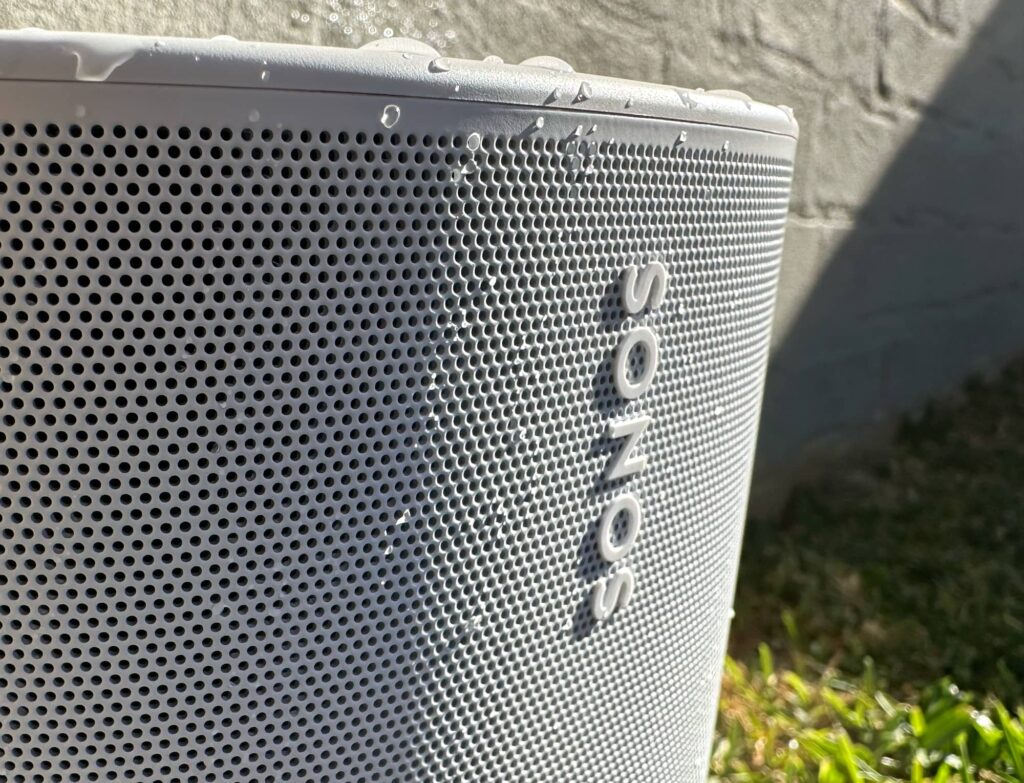 The Sonos difference isn't just a brand name, but that its portable speakers integrate so well with its other speakers that inside the home, so you can have another Sonos or maybe one of the IKEA Symfonisk picture frame speakers playing music in your kitchen, and then decide to share it with the Move 2, and literally keep the sound spread to more than one place at a time.
It's liberating, it's freeing. We're not sure if anyone else really has that: room sound that can be extended elsewhere.
Well, no one else except for maybe Bose, which has a Music Share feature in its Bose Connect app, allowing some of its gear to play nicely. The company does offer a meaty portable Bluetooth speaker in the S1 Pro models, but they're also pricier than what's offered by Sonos, still leaving its speakers largely in a league of its own.
The biggest problem for the Move 2 isn't really competition from outside, but rather within, facing off against the positively small, friendly and very capable Sonos Roam.
The Move 2 wins out on size and volume at home, but the Roam is for actual portability and home. In many ways, the Roam makes more sense, but if you need a room-filling speaker that you sometimes want outside at home, the Sonos Move 2 is your logical choice. Kinda sorta.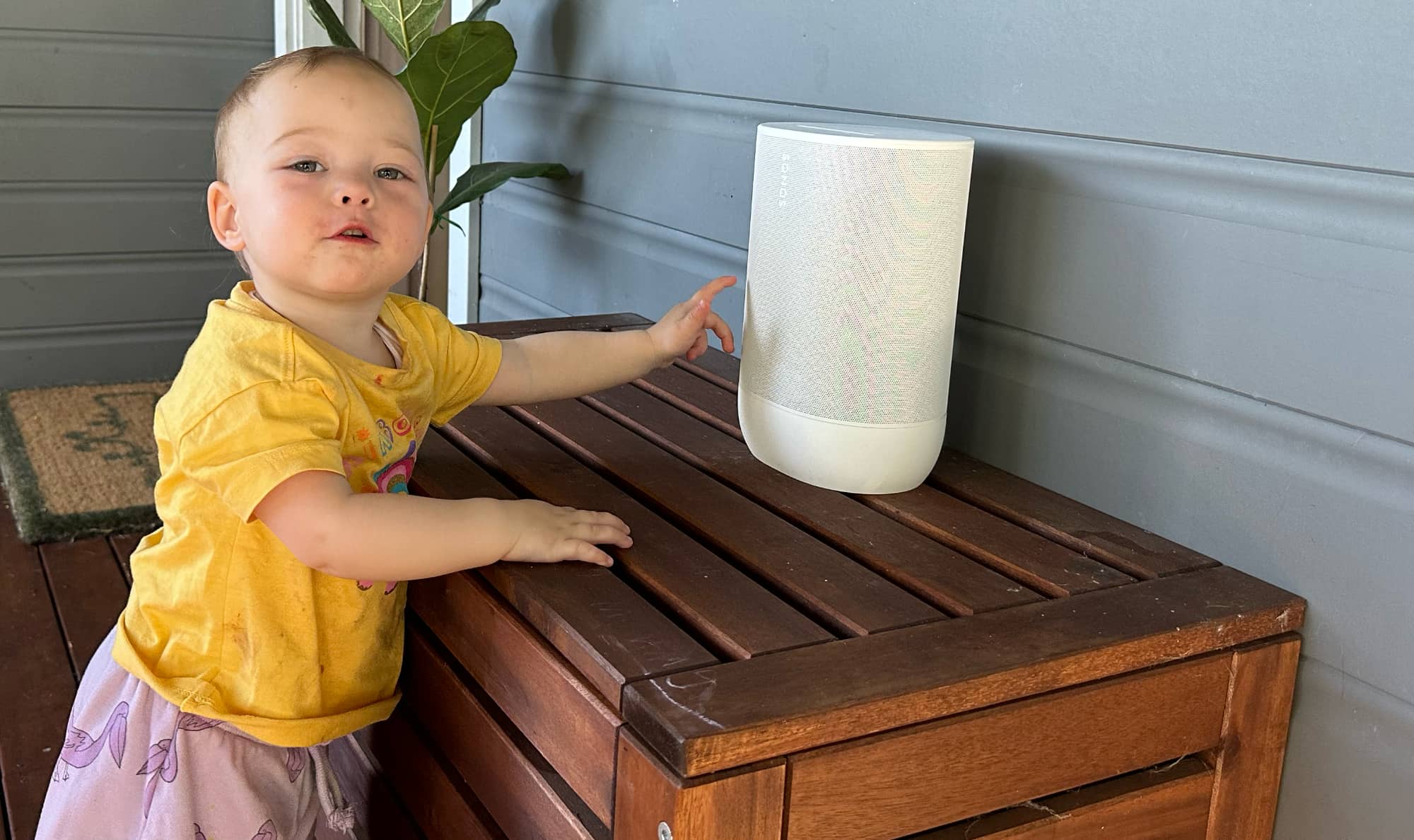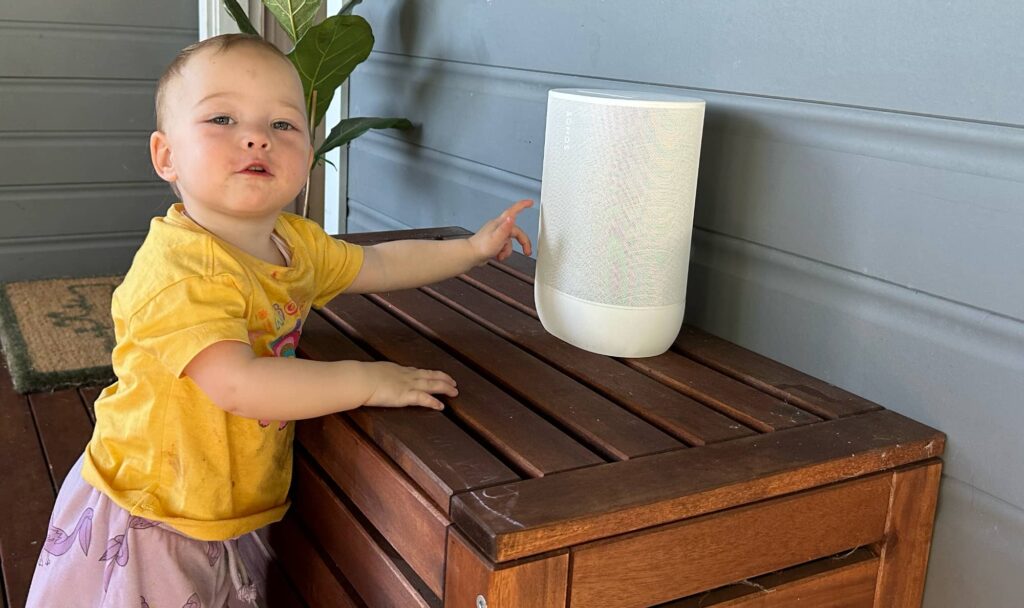 Final thoughts (TLDR)
Several years into a portable Sonos, it's still intriguing that few players have jumped onto what Sonos offers: a connected music experience for inside and outside the home. It makes sense.
A few years on from the introduction of the Move, the update of the Move 2 brings some much needed changes: improved sound architecture, better battery life, and support for an input line, handy if you ever decide to grab a portable record player for an awkward vinyl picnic. Numark makes one, and we can almost feel our back bursting from the future backpack we yearn to carry.
The size is part of the problem of the Move 2, much as it was with the original Move. Three kilograms is not a friendly speaker size for portability, and the Sonos Move 2 is not going to be an automatic choice for all with sound to go. It's just too heavy for that.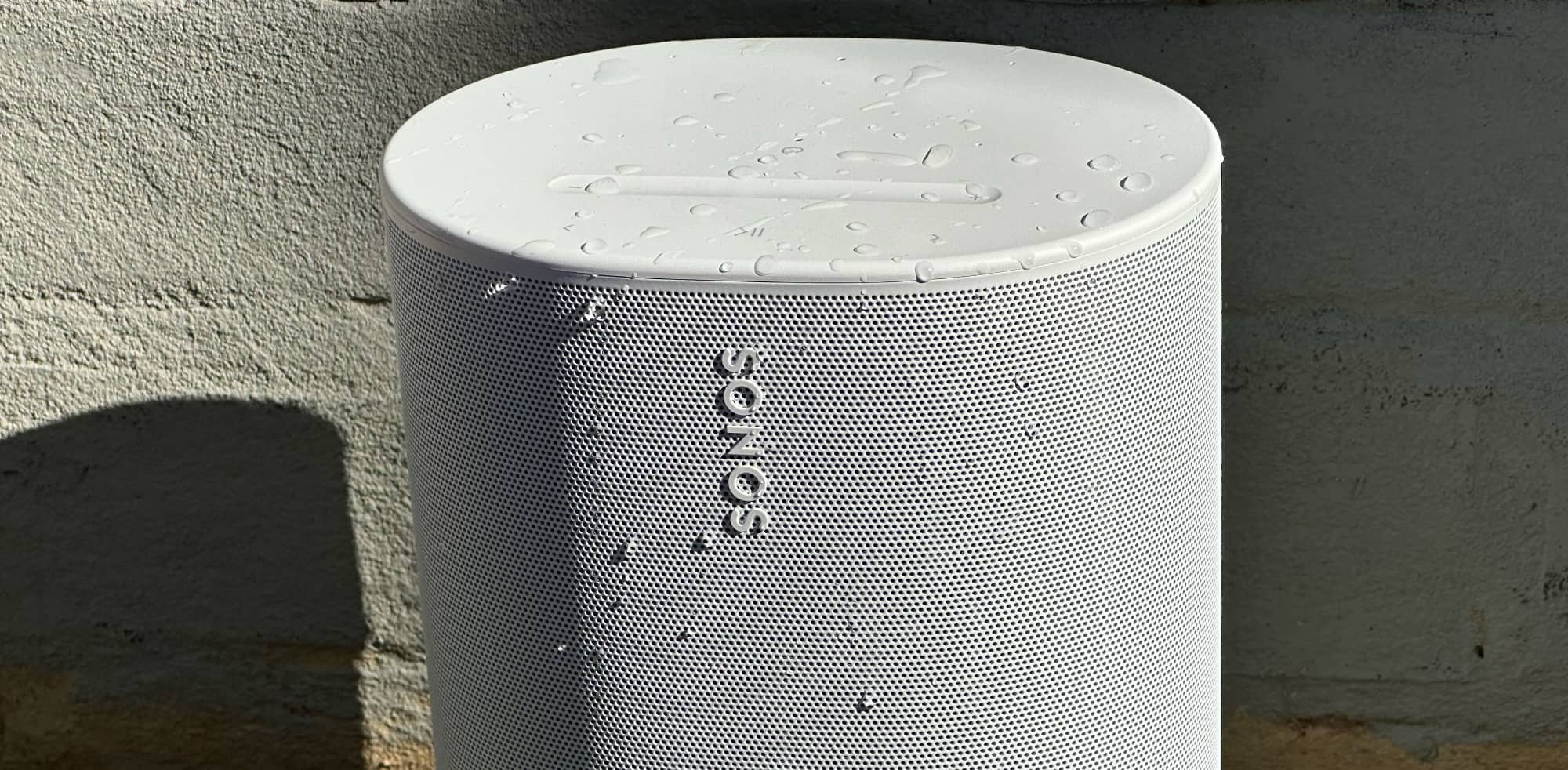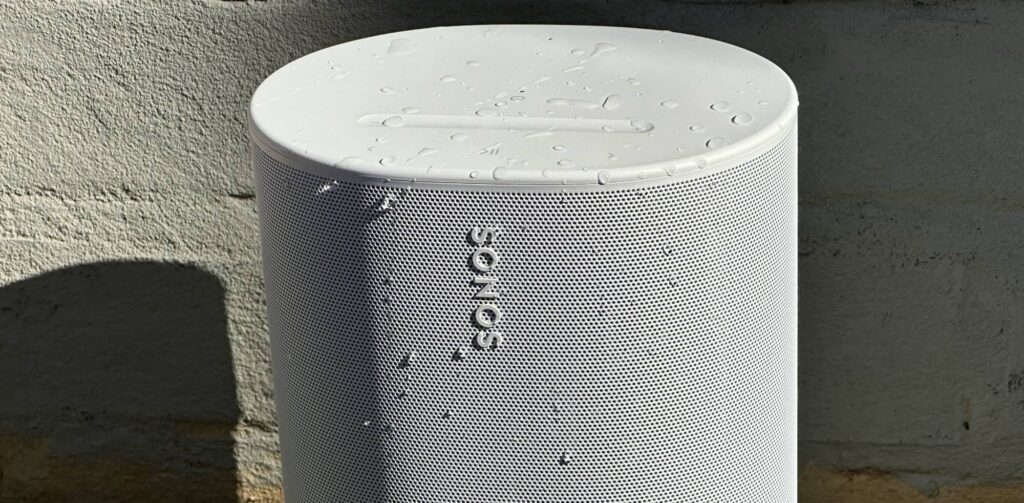 But at home, it changes.
At home the hardware delivers, offering a big sound that can be taken outside and keep the music going. Not just extending the music, but with a battery that won't quit. This weekend warrior keeps the party going.
At the end of our days with the Move 2, we found we liked the speaker because of what it offered at home. While the size meant portability wasn't as easy as smaller speakers, it was freeing to take such a loud and proud sound outside, and still bring it back in the home for room-filling sound you could rely on.
And that's largely what the Sonos Move 2 is: room-filling sound you can rely on inside and outside the home. It's big, sure, but it packs a punch. Recommended.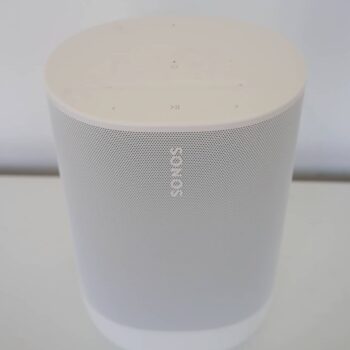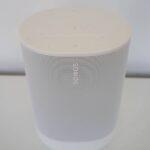 Sonos Move 2
The good
Great sound
Can get loud
Auto TruePlay keeps the sound balanced for where you take it
Lasts a good 24 hours of battery
Touch controls are easy to use
Supports smart assistants
Works over Bluetooth
Easy to carry
Water resistance
Supports line-in
The not-so-good
Huge and heavy
Bass can lack nuance
Can't stereo pair to first-gen Move units