Quick review
Sonos Era 300
The good
Excellent sound
Supports Dolby Atmos spatial audio
Spatial sound from one speaker sounds as good as some two speaker systems
Controls up the top are easy
Supports Bluetooth and WiFi
Supports a line-in over Type C (but is an optional extra)
Offers both a built-in TruePlay for all and an advanced version for iPhone owners
The not-so-good
Bass feels restrained at times
Expensive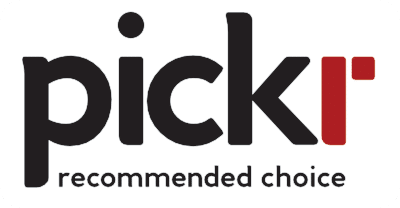 Sonos is no stranger to spatial, what with its Arc and Beam, but the Sonos Era 300 is different again, and brings Dolby Atmos to more than movies.
Music is changing, and you only need to look to the latest headphones and streaming music services to see how. While Spotify lags behind in upgrades to its sound and makes everyone wait for a lossless option, Apple Music, Amazon Music, and Tidal have all pushed ahead with support for something that is picking up steam: spatial sound.
The idea of spatial is pretty easy to explain, offering mixes of sound that are built similarly to movie soundtracks, and able to be positioned not just in front or behind you, but also around you. Up in the air with height elements, and in positions that make sound all around you, rather than simply at the front left and right, which is what stereo delivers.
Headphones are beginning to support the technology by using head-tracking to help simulate that position, with Apple going all-in with the AirPods, AirPods Pro, and AirPods Max, plus Beats along for the ride in the Fit Pro. LG has the first pair of Android-friendly spatial earphones with Dolby Atmos on-board, and more are on the way.
Personal audio is largely being taken care of, so what about a wider experience offered from a speaker?
For that, Apple offers the HomePod, and you can always use an Atmos-compatible soundbar such as the Sonos Arc or Sennheiser Ambeo to deliver 3D sound through a compatible device, such as an Apple TV 4K.
But Sonos has been working on another solution: a speaker built for its multiroom system that can play spatial tracks natively.
Grab one of the Sonos Era 300 speakers and access to a compatible service, and you can stream spatial sound in your room. That's the main feature of this new Sonos speaker, though it's not the only one.
Bigger than you might expect, the Sonos Era 300 could just be one of the most intriguing products to ever come out of the Sonos design team.
Design and features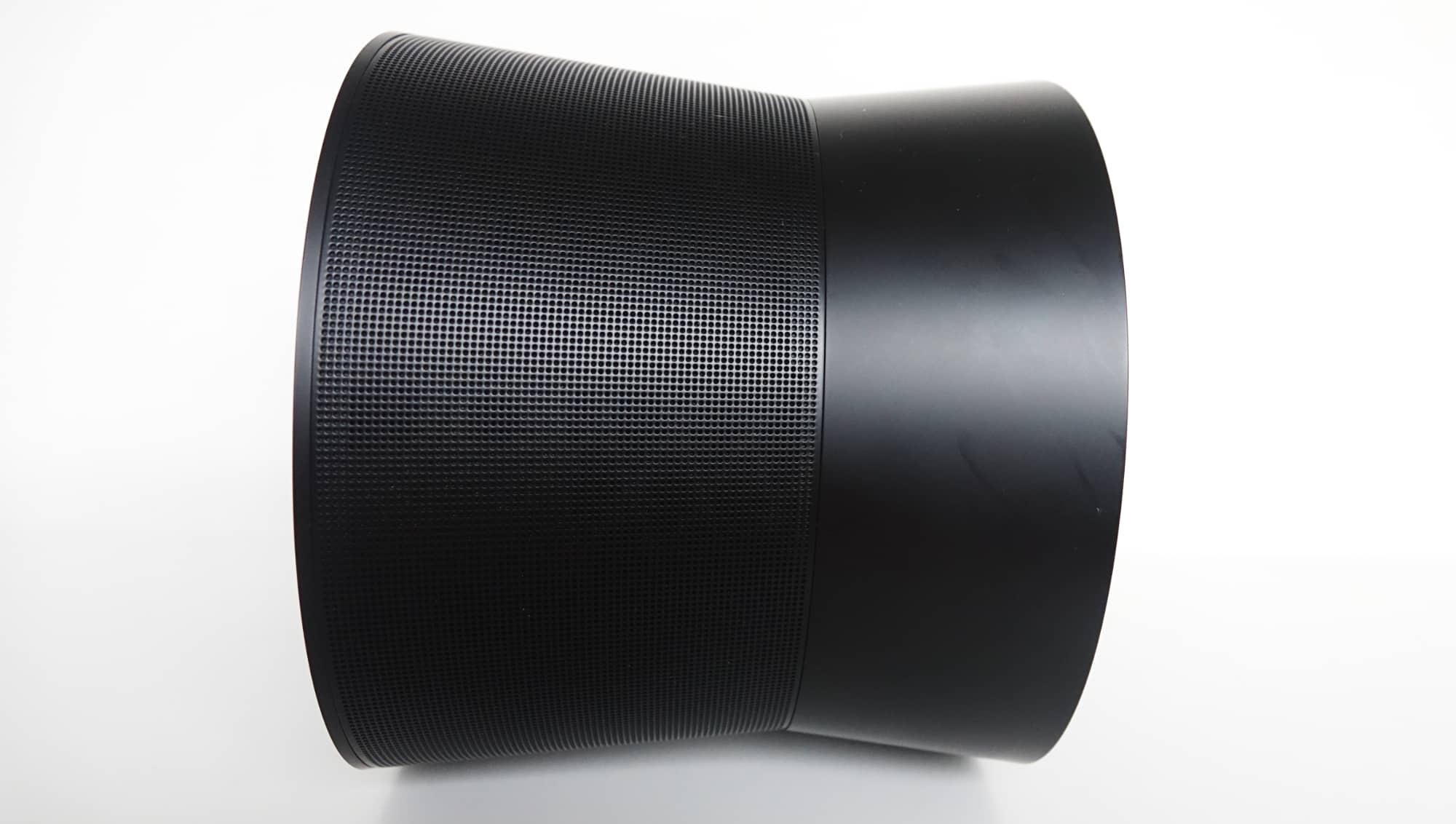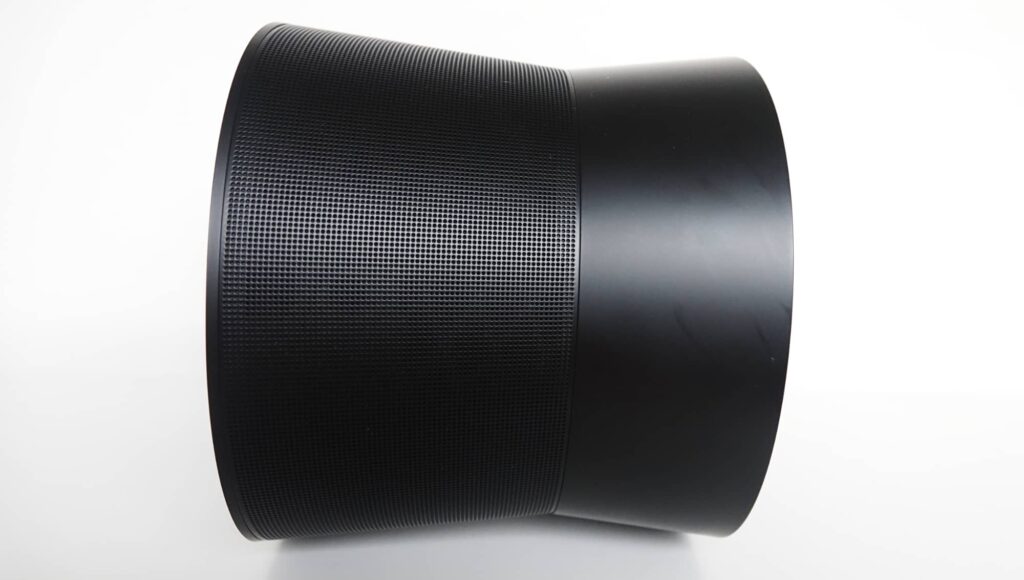 Designed a little like an hourglass fallen on its side, the Era 300 looks little like anything else out there, and certainly not like Sonos' other products. It's different from the cylinder-ish speaker that is the Era 100 and Sonos One, and different from the softened rectangular boxes that the Five is.
There's no mistaking this box for anything else, but also no way to have it do anything other than lie down, thanks to the speakers inside.
While Sonos can design a speaker that works in both vertical and horizontal configurations — such as the Sonos Five — the Era 300 needs to be lying down thanks to where the tweeters are. You'll find one in front, two on the sides, and one up top, alongside two woofers angled at both the left and right to deliver some mids and bass.
There are also six Class-D digital amps on the inside to drive things, while a far-field microphone system uses beamforming to pick up on your voice.
Unlike the Sonos Roam, this is one speaker you'll need to keep plugged in to work, but it can work as a pair if you have two, or even delivering sound enough for one room with the one. For the purposes of this review, we're reviewing the Era 300 as a single speaker solution.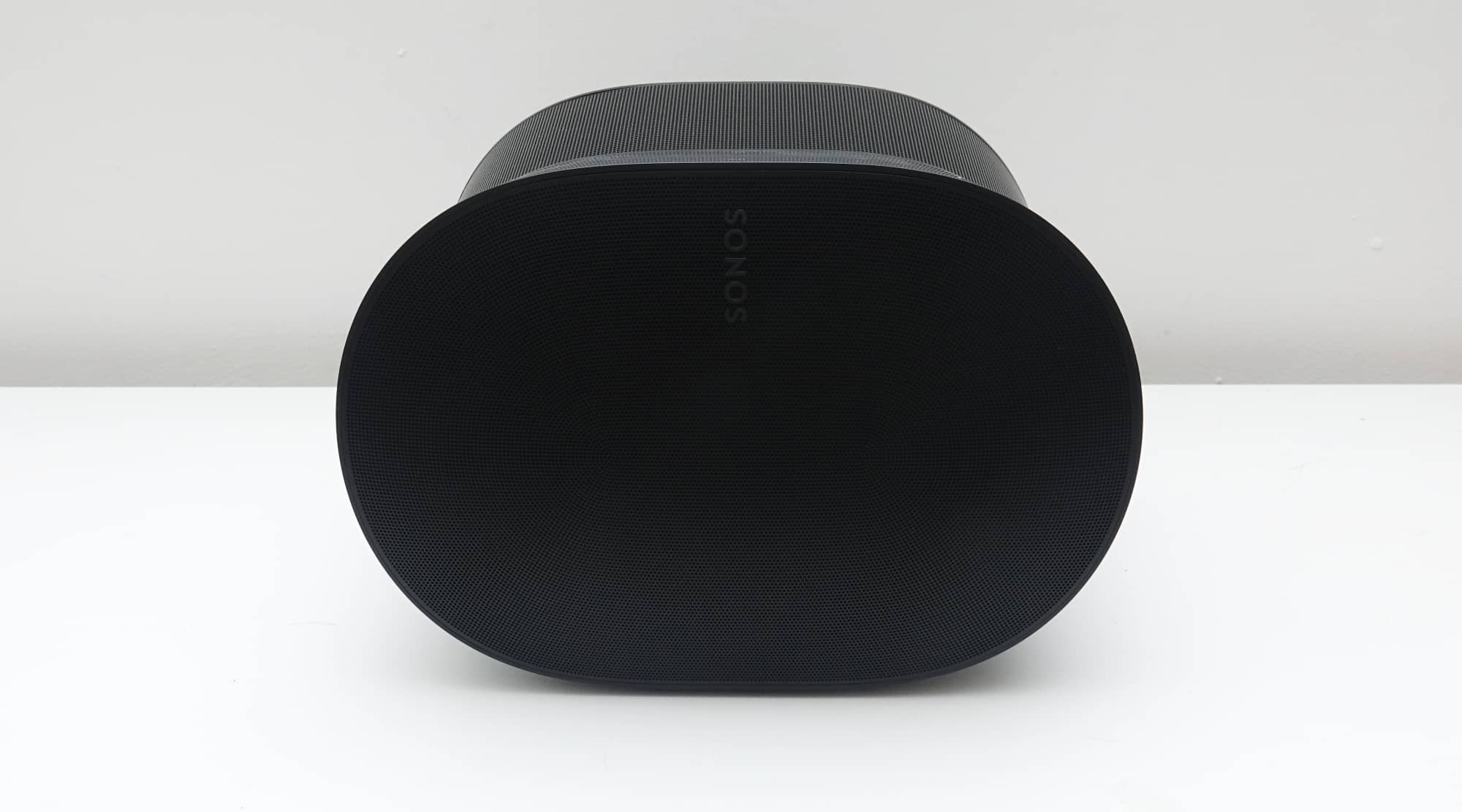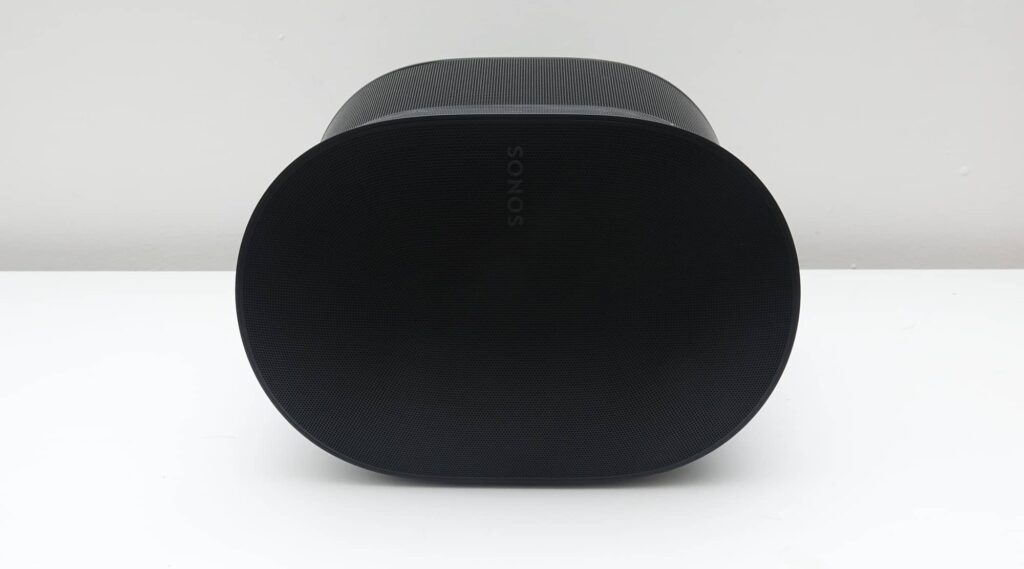 In-use
The new look also shows up in the controls, which have changed slightly. There's a rather obvious pause and play button, as well as left and right chevrons for media playback. However, Sonos has added a neat volume slider this time around, rolling it out as a slick touchpad indented in the design that's easy to use.
There are also things on the back, with a figure-eight power port at the rear, a Type C port to plug a line-in (a $35 optional extra from Sonos), a button to kick the speaker into Bluetooth pairing mode (because it supports Bluetooth and WiFi), and then a simple switch for turning off the microphone.
If you don't want to get confused talking to the speaker, you don't have to, and can turn the mic off. Easy.
Clearly, the top mounted controls are the most useful as far as physical controls go, but the app has all the power. Add services, choose music, search across songs, albums, artists, and playlists. Play music how you like it and stream directly to the Sonos Era 300 as a singular speaker, or even as a group.
When you play music in stereo, it'll just appear as any other in the app, while Atmos tracks will appear with a "Dolby Atmos" label under the album art.
The app is where most of the action is with any speaker in the Sonos system, and the Era 300 is no different.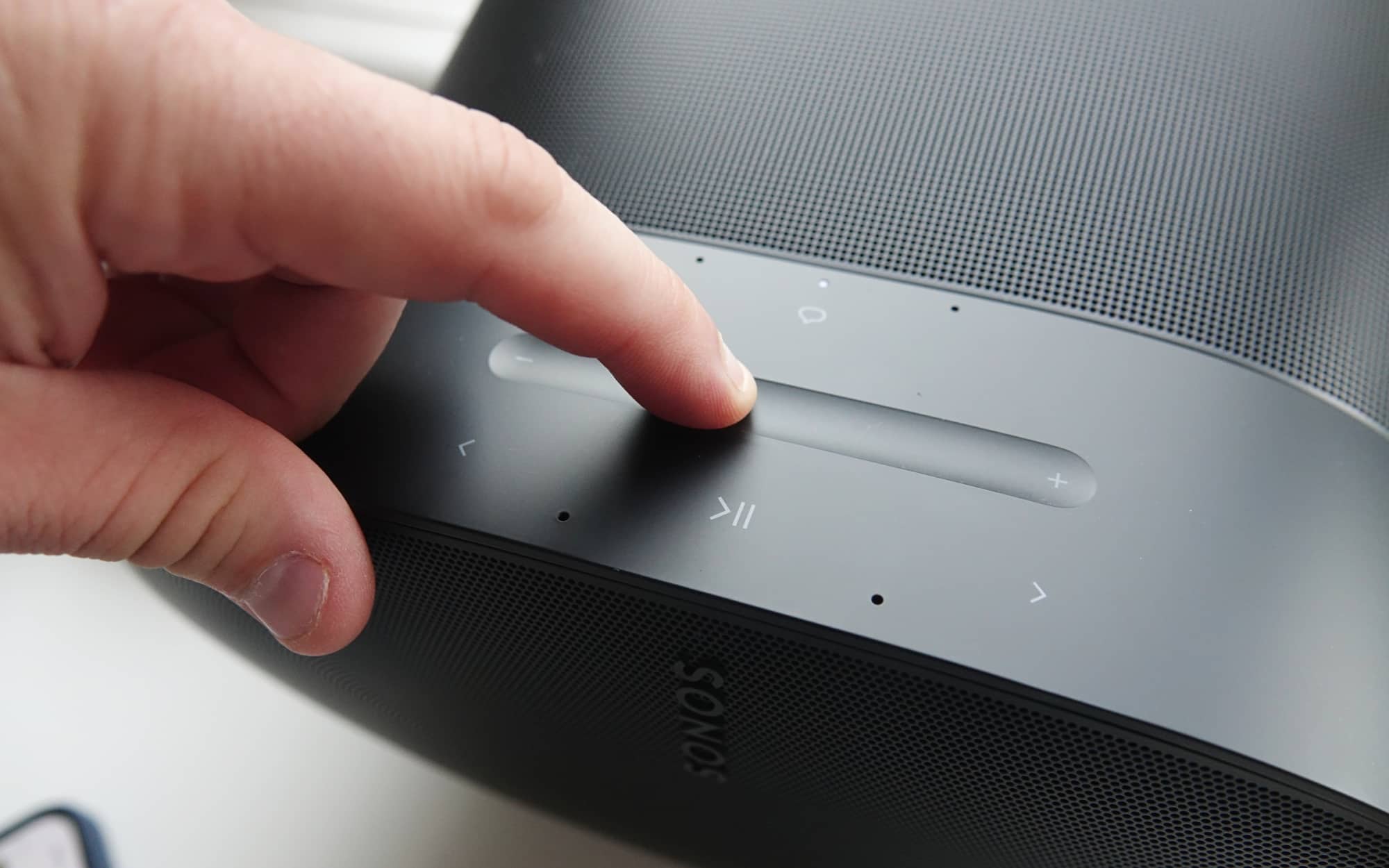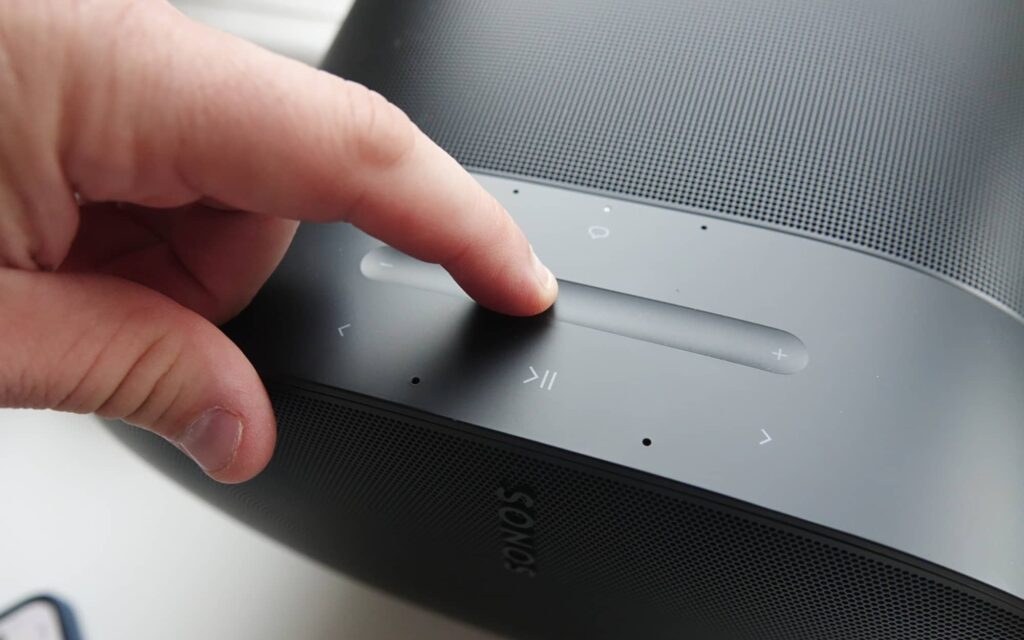 The voice of Sonos
Another aspect worth touching on is something Sonos announced last year, but that hasn't really been talked about en masse for most people: a Sonos-made voice assistant built in.
And it is none other than Breaking Bad's Gus, also known as the actor Giancarlo Esposito.
Like other smart speakers, you'll be able to ask Sonos to skip tracks, raise and lower the volume, and even tell you what's being played, all coming back to you in Esposito's voice. If you're a fan of Breaking Bad or Better Call Saul, the sound of Gus talking to you from your speaker can be a little unnerving, as if you've done something you shouldn't have.
In terms of functionality, possibly the best use is the grouping system, which is both useful and useless at times. It's useful in that you can group speakers easily enough, but unless because sometimes Sonos doesn't do the right thing, and pauses or plays on speakers that it shouldn't have.
You also have support for Amazon Alexa to control the Era 300 if you choose, so there are two assistants to choose from, while Google Assistant goes away in this generation, possibly because of that lawsuit between Sonos and Google some time ago.
Neither virtual assistant is perfect, and every smart assistant has positives and negatives — Google Assistant can be incredibly useless at times, while Alexa sometimes pays too much attention — but ultimately we found using the Sonos app was a better approach than relying on talking to Gus alone.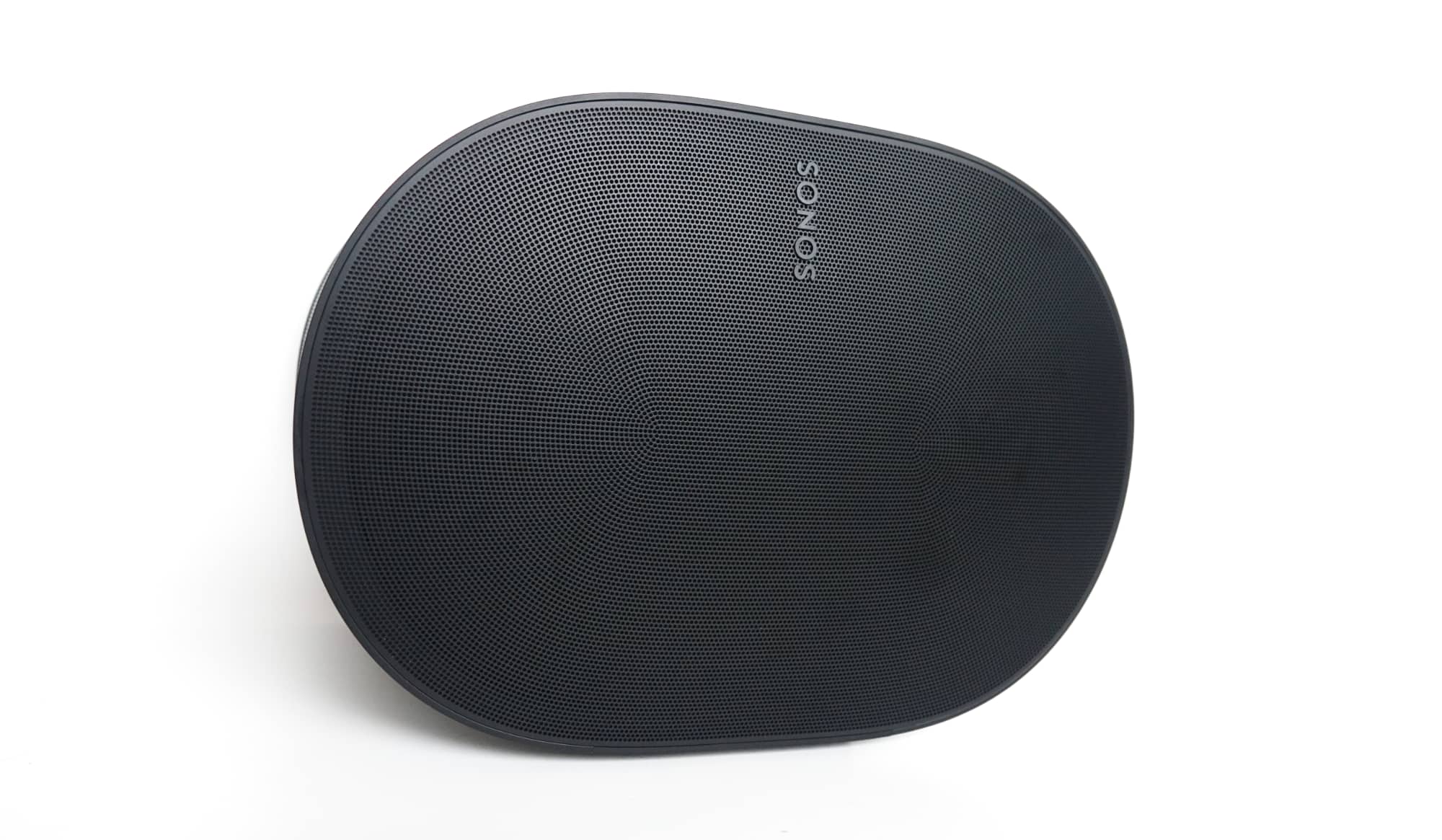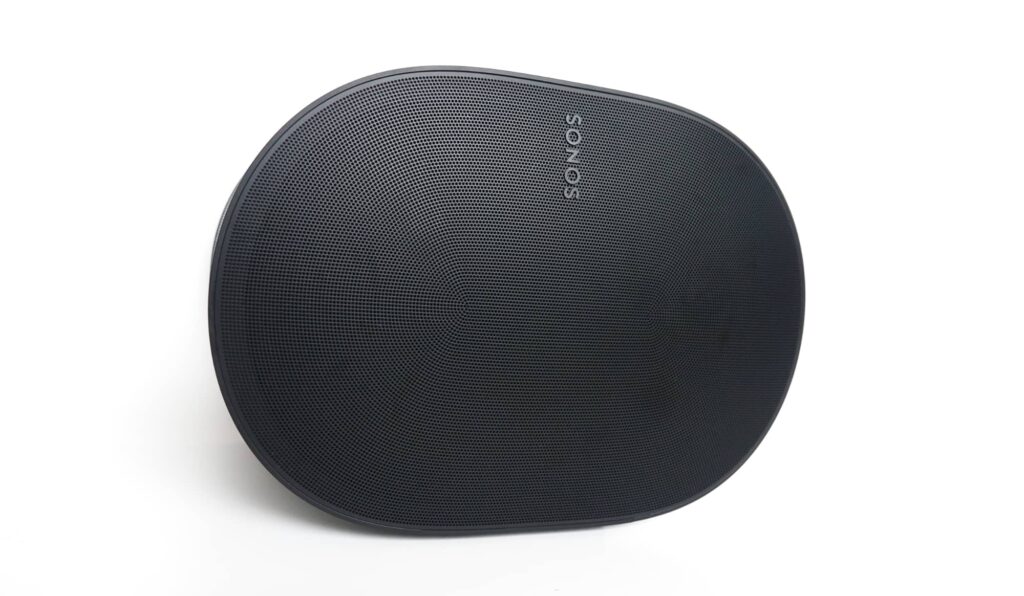 Quick TruePlay versus Advanced TruePlay
One of the ways the new Sonos experience has changed is how you trigger the "TruePlay" concept, an adaptive system that allows you to customise the sound of the speaker to match your room.
Previous generations of TruePlay were iOS specific, meaning you needing an iPhone to try it. You'd grab your iPhone, flip it upside down, and wave the phone around the place while your Sonos speakers played unusual sounds. This would create a model and customise your speakers to the model, improving the sound for your environment.
But it was iOS only, and that's a problem given not everyone uses an iPhone.
So with the new era of Sonos Era speakers, there are two ways to build a profile: quick and advanced.
In Quick TruePlay, the process is largely app-less. Sonos speakers will play the same sounds used in a regular TruePlay test, but the speaker will listen to them using microphones and adapt the sound to a pre-made model. It's a basic version of TruePlay that works for every phone, and does a pretty solid job in small rooms, we found.
If you still have an iPhone, you'll find Advanced TruePlay is available, and that's the regular TruePlay from before, where you wave your iPhone around the room while the sounds play, creating a model of your room to match the speaker. It's the better option of the two, but in a small room, it might not matter, because now anyone can set up TruePlay which is a great thing to say.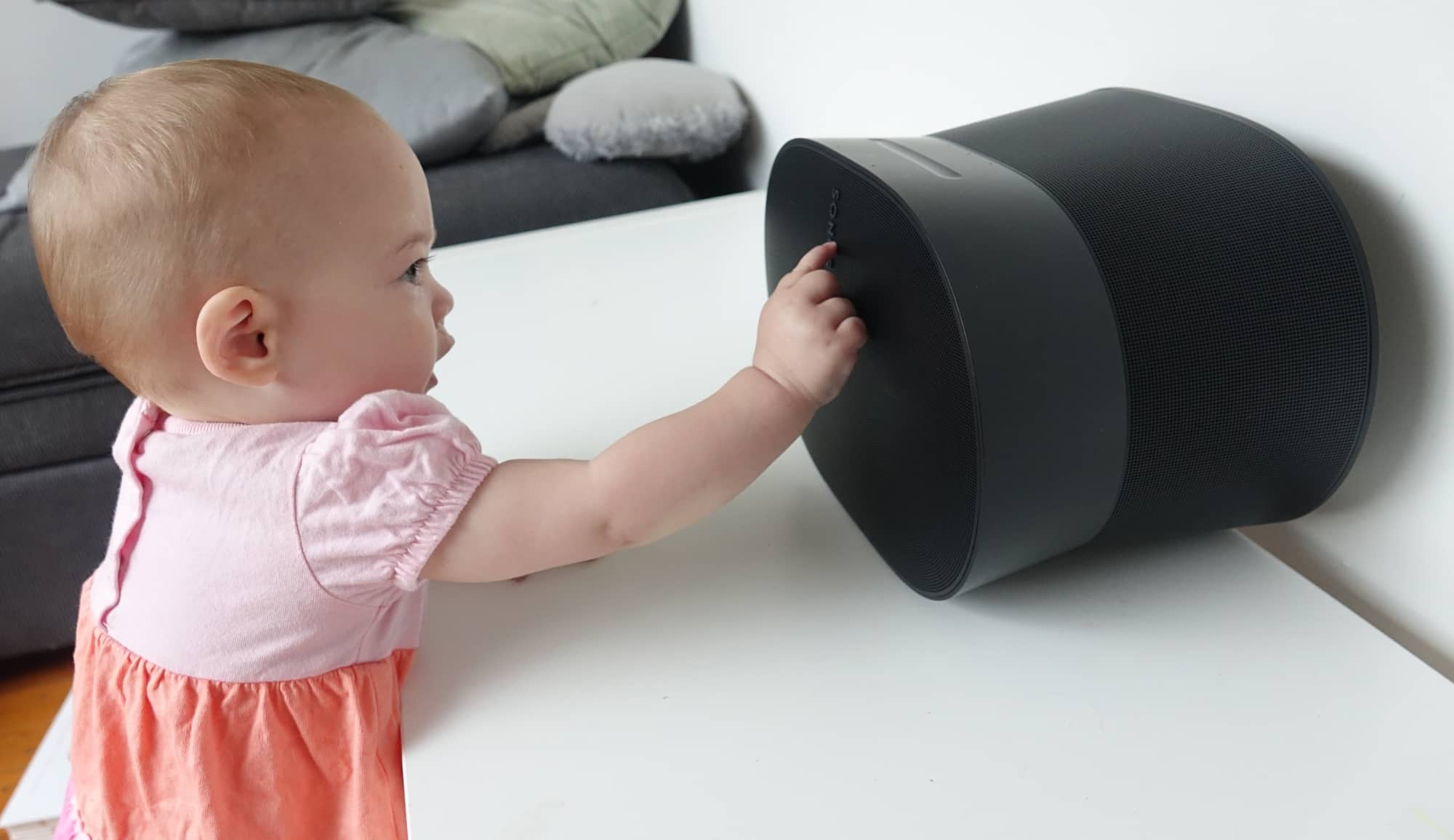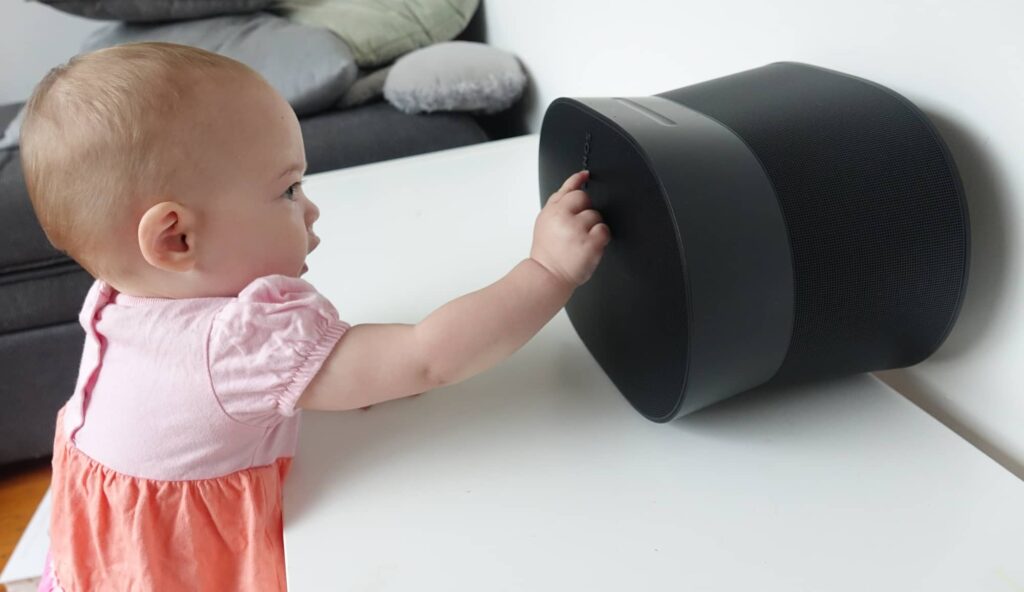 Performance
With or without TruePlay, there's a pretty solid sound experience awaiting, something we're testing using the Pickr Sound Test.
It starts with electronic, as our stereo playlist kicks into gear the sounds of Tycho and Daft Punk, distinctly different artists that each offer crystal renditions with immaculate separation. Outside of a deep bass drop, the audio is balanced and clear, delivering a great sound, albeit one a touch soft on the back end.
It's a similar sound in the pop of Carly Rae Jepson and Ariana Grande, though there's a touch more oomph in the latter of these, even if it's not as heavy.
You won't lose anything in the hard rock of Muse or the Deftones, and there was plenty of detail to be had in tracks from Dave Brubeck, Nigel Kennedy, David Bowie, Paul Simon, The Beatles, and The Who.
The Sonos Era 300 gives so much out for a singular speaker. It's big and powerful and delivers a solid thwack. All the way through, the sound is clear and detailed. No matter what we listened to, pop or rock or soul or jazz, the stereo delivery was mostly balanced and detailed, offering plenty of the sound for your ears to get stuck into.
The bigger spatial sound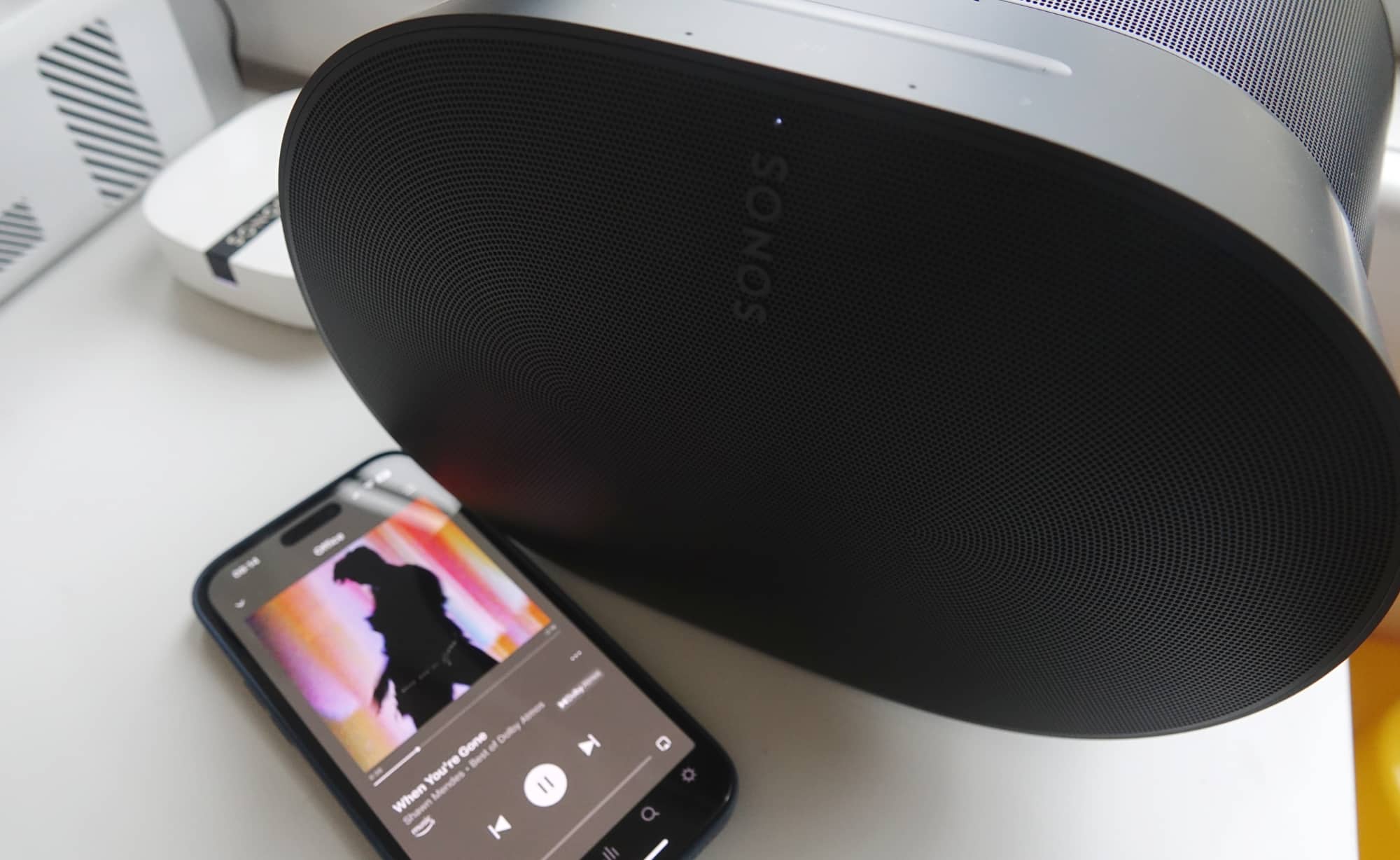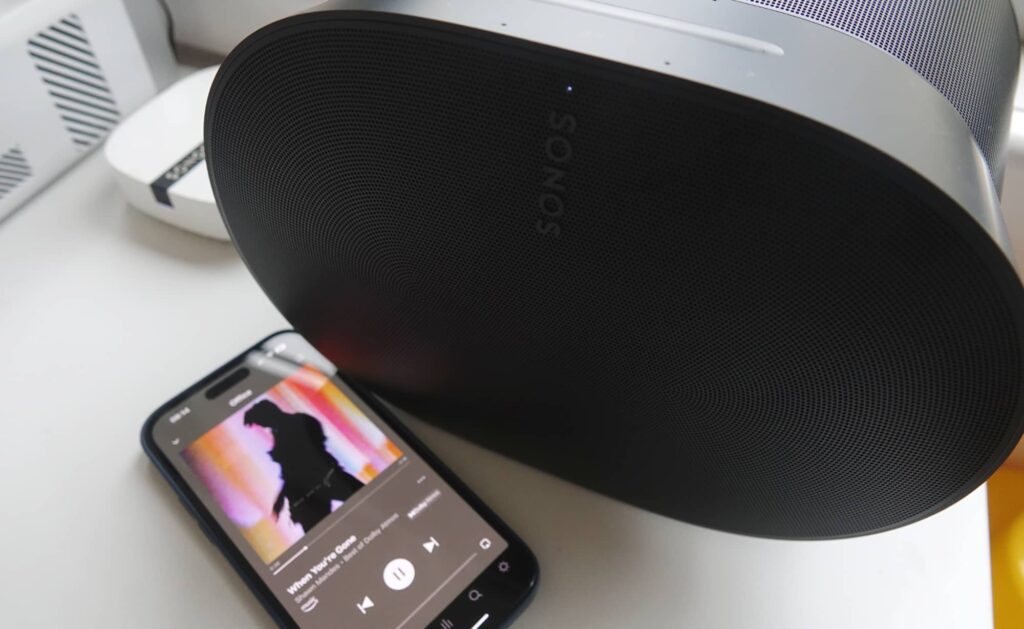 While stereo sounds good, spatial can sound even better.
Take The Weeknd's "Gasoline", which delivers a deep soundstage spaced wider than the speaker should be. Your Era 300 could be in the front of you, but the sound will feel as if it arrives from the corners of your room, delivering a stage that is clearly more vast than you'll expect in stereo.
A newly mastered mix from Alanis Morissette's "You Oughta Know" is both gutsy and sparse, even if it feels the guitar overshadows the vocals through the chorus. Clearly not every engineer is going to get this right, but some do, so your experience with spatial may vary. By contrast, Charlie Puth's "Light Switch" offers a wide and expansive sound from all corners of the room that's balanced throughout, as does Shawn Mendes' "When You're Gone".
And in music made up of minimal mixing, the delivery is downright intimate by comparison. An Atmos master of The Rolling Stones' "Angie" offers not just incredibly clarity, but a focus that begs you to close your eyes and convince yourself Mick and co aren't right in front of you, and the same goes for Diana Krall's "Like Someone In Love".
Using the combination of outward speakers inside a single Era 300, spatial feels bigger than any stereo track before it. Your room can light up as if the music was live, and it's an experience that's hard to go back from.
All of this from just one speaker. Wow.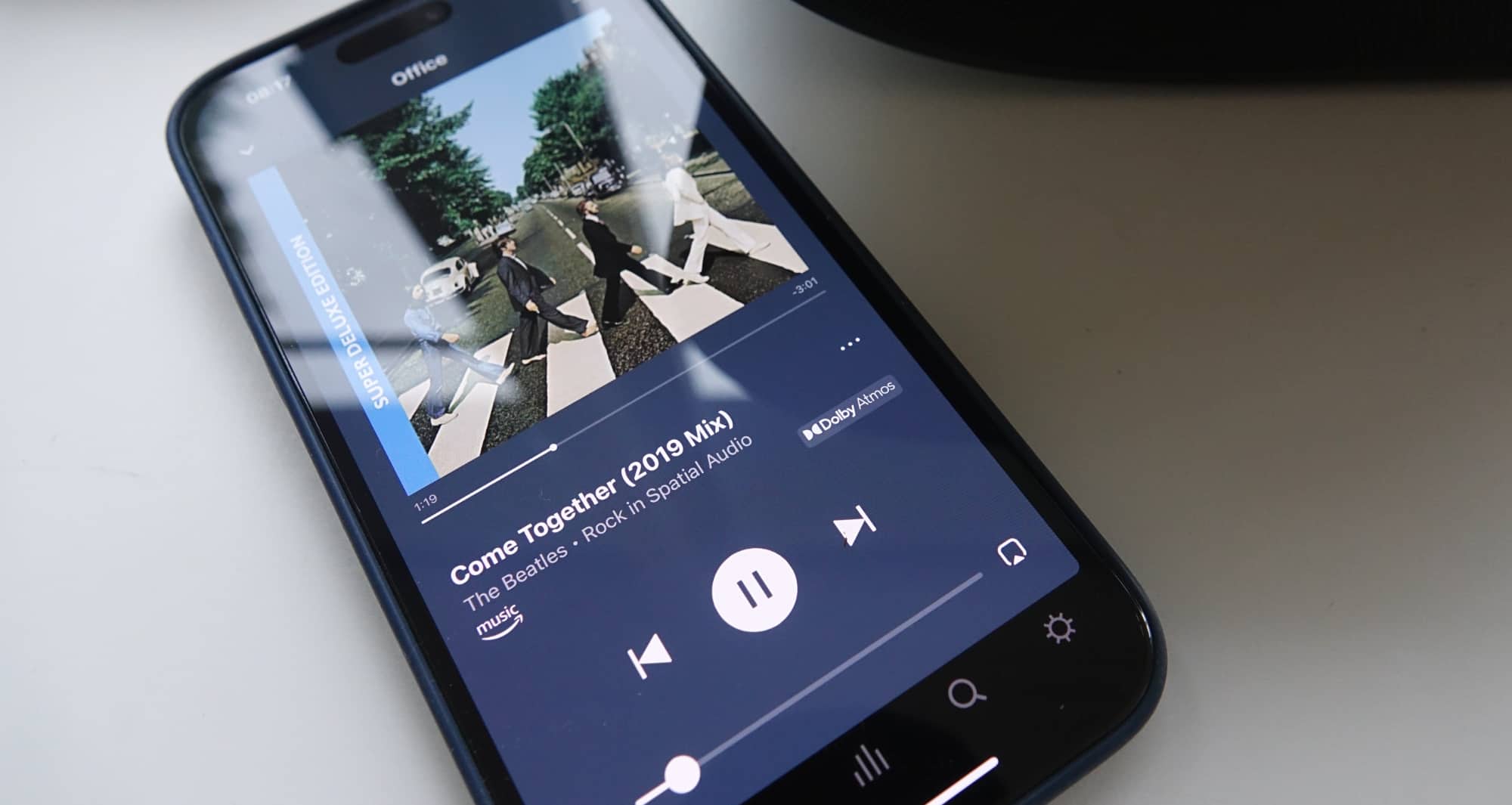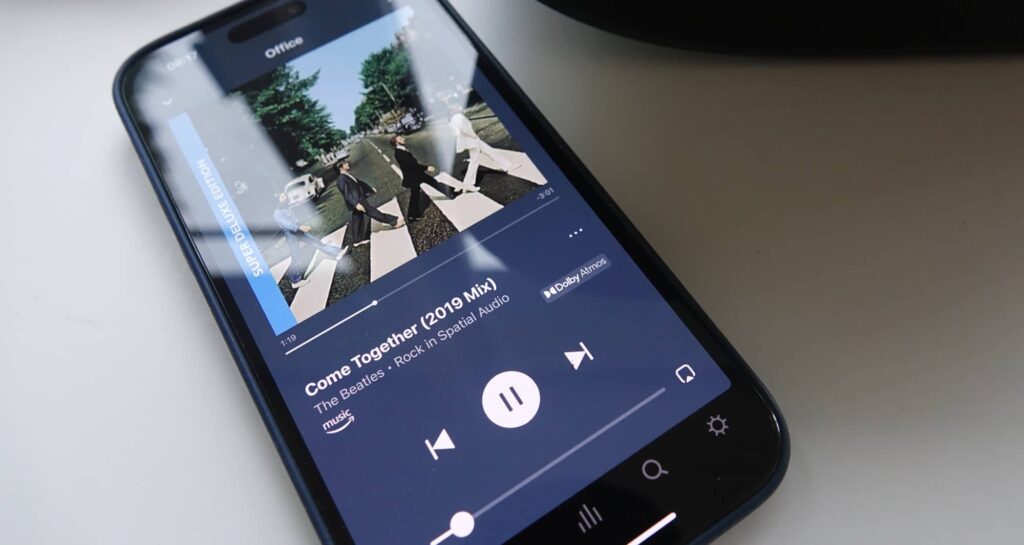 Atmos only, no 360 Reality
One point worth noting is that the Era 300 supports the dominant spatial format, but not the less dominant one. At least not yet.
While Apple Music's support for Atmos wasn't available as we were reviewing the Era 300, Amazon Music's was, and it provided an interesting experience simply because Amazon offers spatial across both Dolby Atmos and Sony 360 Reality Audio.
You can find both on Amazon Music, but the Sonos Era 300 will only support Atmos, and that mightn't always deliver "spatial" to your speaker. If you check out a spatial playlist on Amazon, you'll find a mixture of tracks mastered in both Dolby Atmos and Sony 360 Reality Audio, but the Era 300 will only play the former in spatial, while tracks in the latter come out as stereo.
Sony 360 Reality Audio isn't widely supported yet, and its conversion to stereo isn't necessarily a bad thing as music sounds great on this speaker regardless of whether it's stereo or spatial. However, it's something to be aware of, because Sonos is covering one of the spatial platforms, but not all of them. Sony 360 Reality Audio isn't supported even though the Sony RA3000 does, though that could change later on.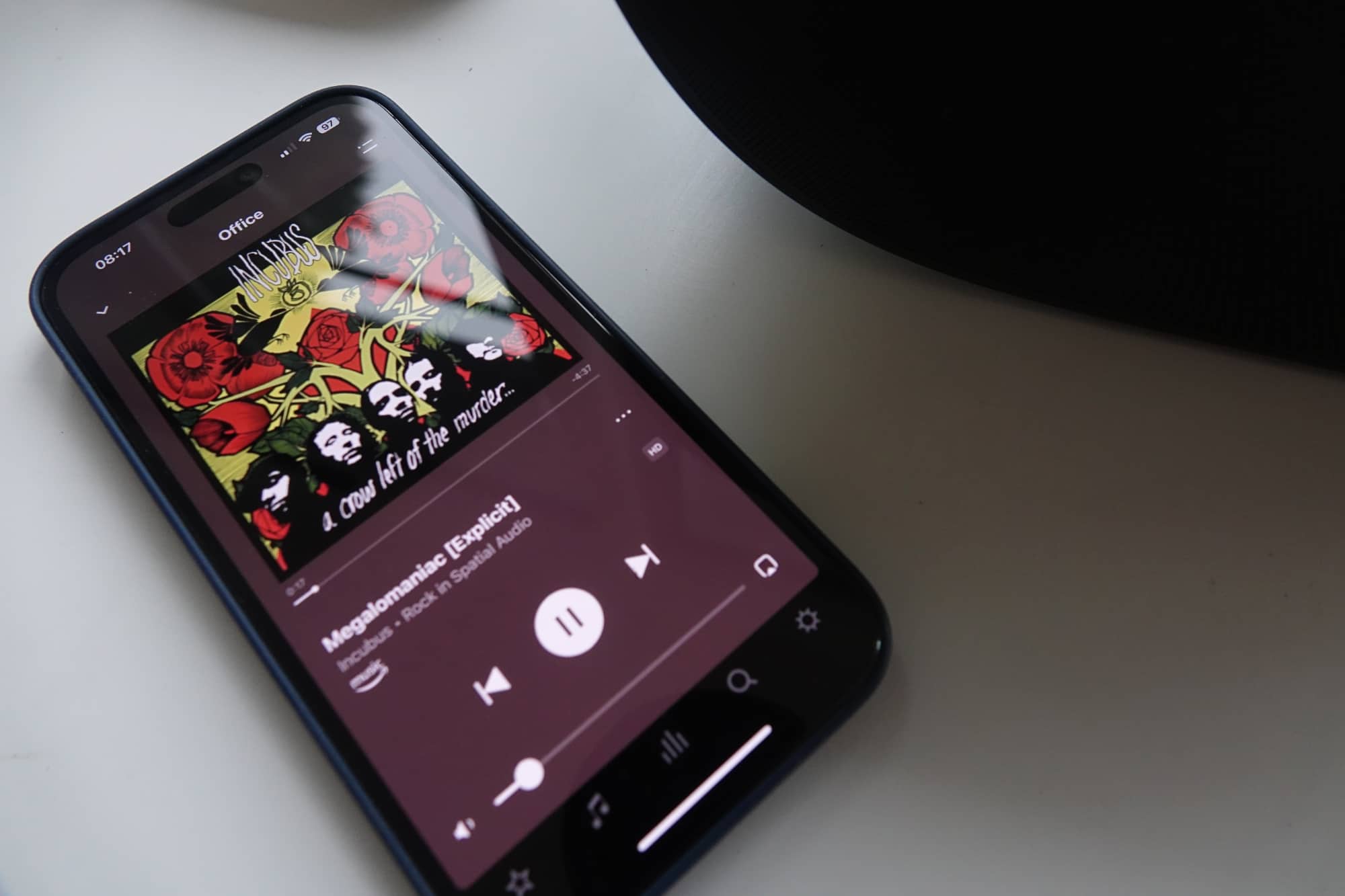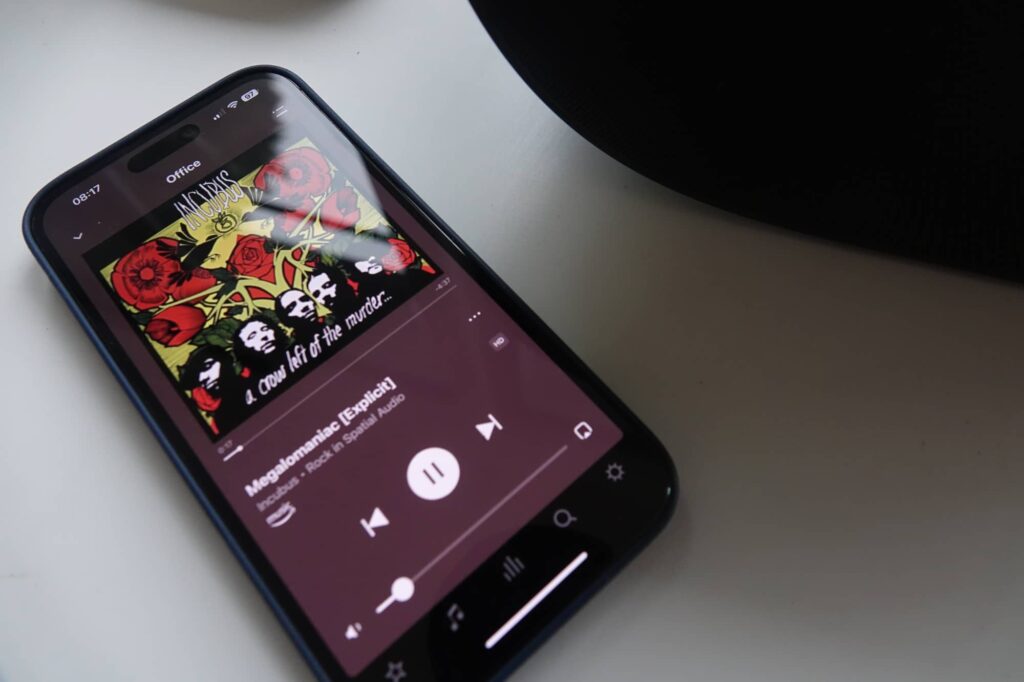 Value
Regardless of what you play, stereo or spatial, the sound is great, wide, and expansive. It's good, but at $749 in Australia, it certainly isn't cheap.
In fact, the Sonos Era 300 is priced not far from its big brother in the $899 Sonos Five. That model will be sticking around, Sonos confirmed to Pickr, while this one is pitched slightly differently.
Both are loud speakers, and both can be used in either a stereo system or as two rear speakers for a Sonos soundbar. They can both be used with a line-in source, albeit using a 3.5mm on the Sonos Five and an optional Type C line-in cable on the Era 300.
They're both so similar, but they're also very different.
If you're someone jumping into the world of spatial, the ability for the Era 300 to fire sound both out and up makes it incredibly compelling. Meanwhile, the Sonos Five offers more in the low-end with its extra woofers, providing a deeper sound for folks who love stereo, and who might want to plug a record player in directly rather than fork out for an optional cable.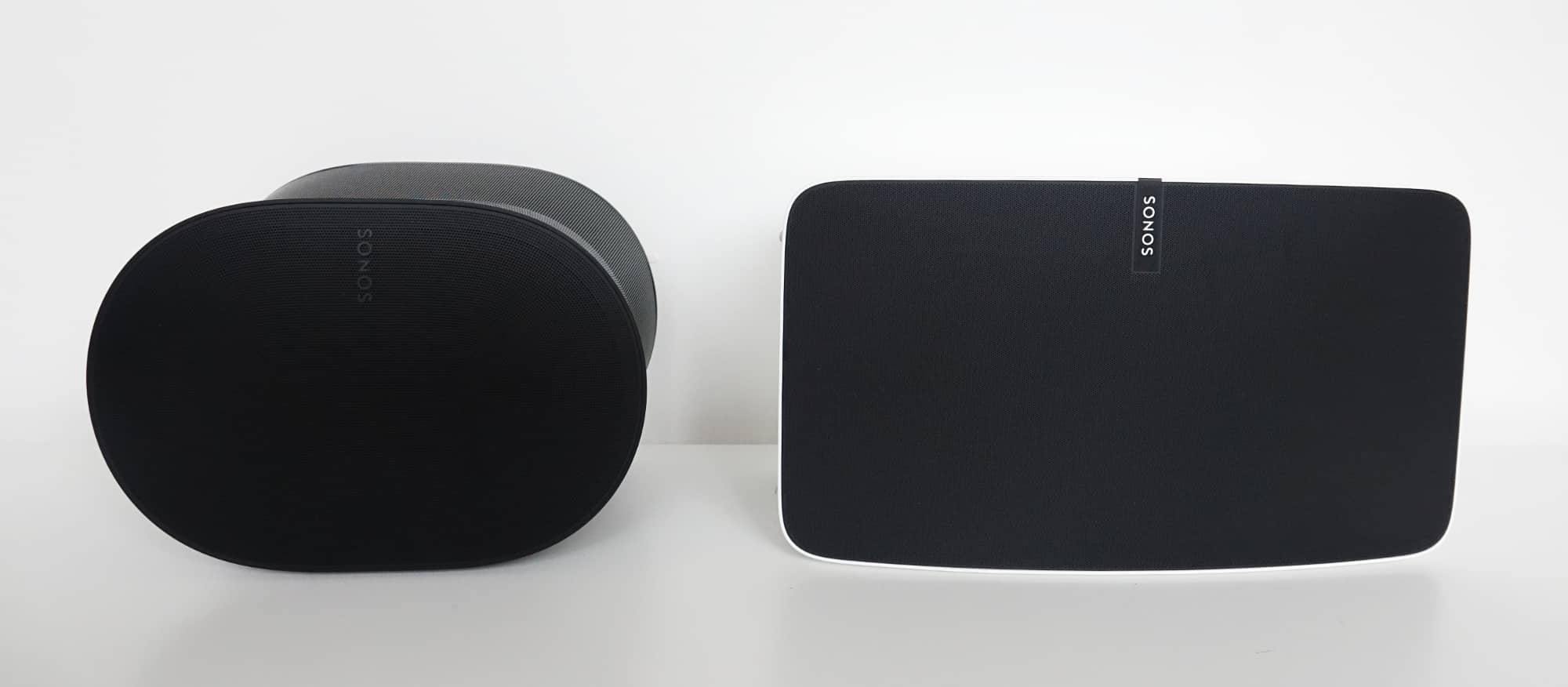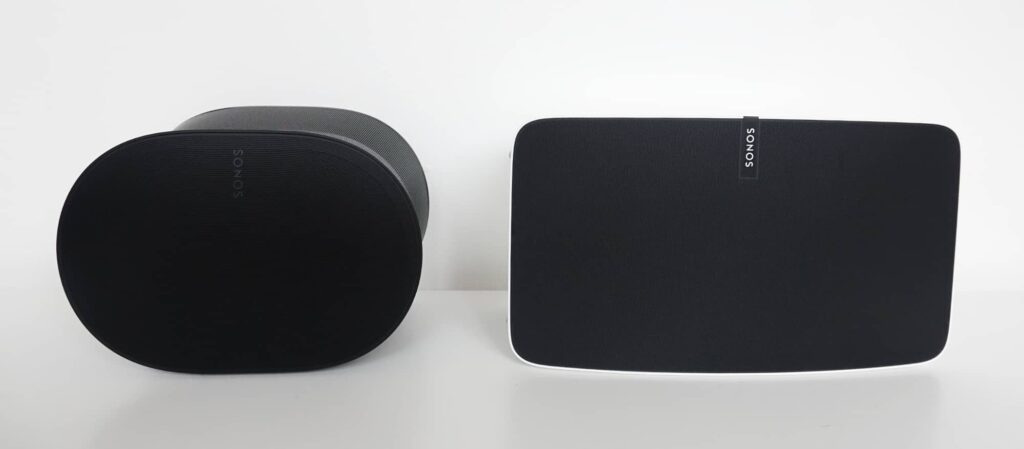 What needs work?
In fact, it's this difference in the low-end depth that points out one of the few things that needs work on the Era 300: bass.
While the sound is quite balanced, and the spatial easy to listen to and genuinely atmospheric, the bass can feel a little lacking, at least when compared to the size of the speaker.
It should be better, but the bottom end of the Era 300 feels restrained and capped. It's as if Sonos can make the speaker do more, but held back because it has the Sub and Sub Mini that you can choose from to make it better overall.
No matter what we listened to during our time reviewing the Era 300, the bass was the one thing that felt like it could be a touch more dramatic, at least natively.
Like all Sonos speakers, you can tweak the treble and the bass by upping the values on a slider, which means you can up the bass slightly if need be. But it still doesn't feel enough.
In stereo tracks on our playlist, the bass lacked the roundness and strength we've come to expect. It wasn't bad, but it certainly wasn't as full as we wanted, and lacked the oomph offered by competitors such as the 2023 Apple HomePod.
Plug in a Sonos subwoofer such as the Sub Mini and these qualms go away, but that's an expensive addition not everyone will want to opt for.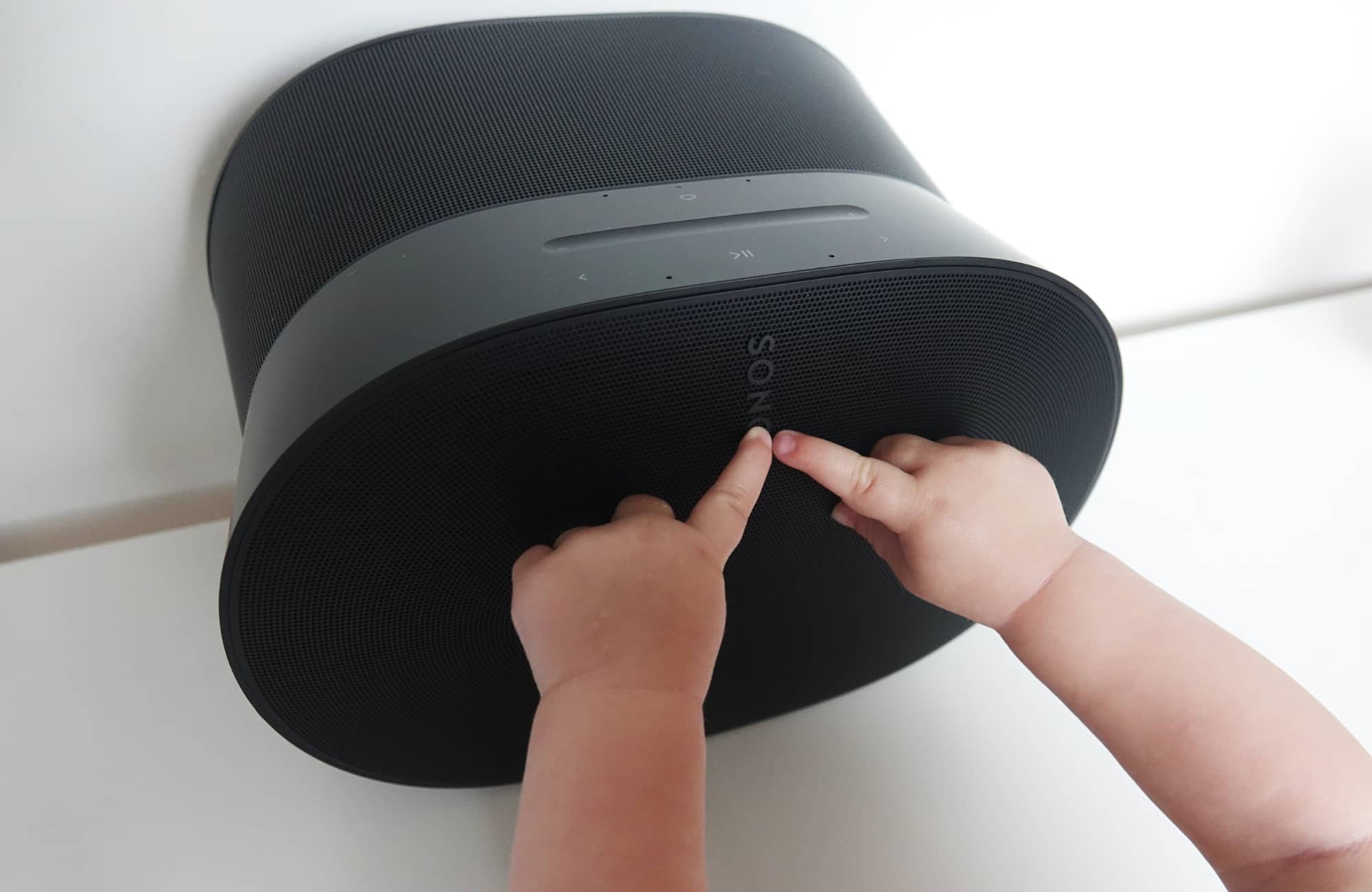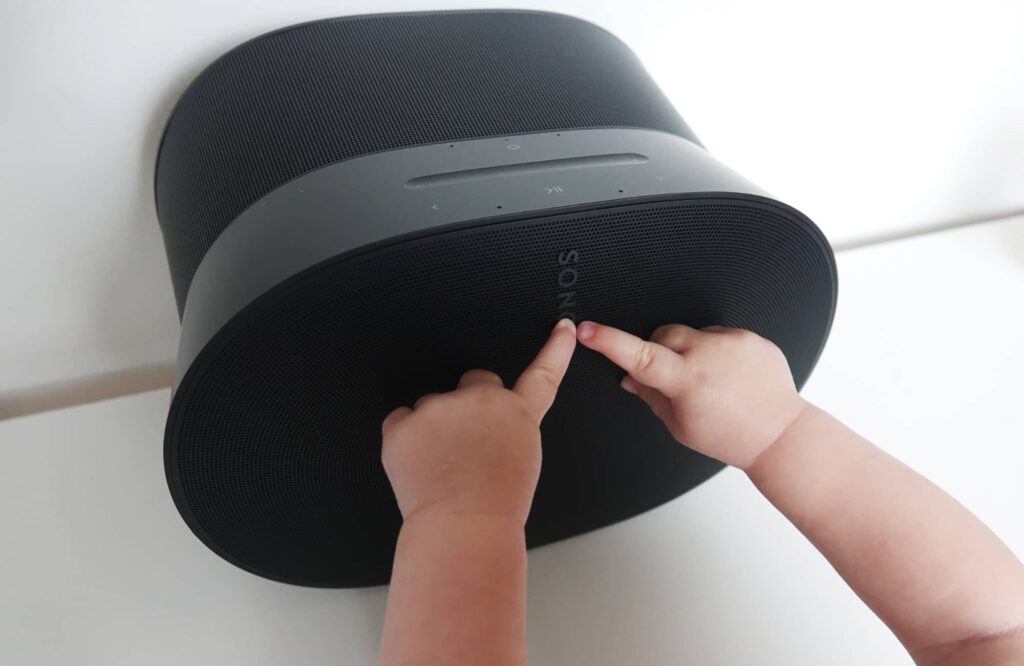 Final thoughts (TLDR)
The price may throw people, but the sound definitely won't, with Sonos delivering one of the best speakers you can find.
Capable of delivering spatial in all the best ways, Sonos has a brilliant speaker that's hard to go back from. Once you hear spatial this way, you'll want it everywhere.
All that spatial sound from just one speaker. Amazing.
Mind you, with only one speaker, we've not been able to test how Sonos will deliver an extra two channels from a Sonos Arc system, something we'll look to test later. Right now, it's pretty clear Sonos delivers one of the best single speaker spatial sounds you can find.
If you've already dived into spatial and want to experience it without headphones, the Sonos Era 300 delivers. You could call it Atmos-pheric and you wouldn't be far off. Recommended.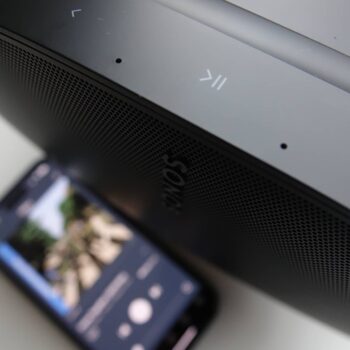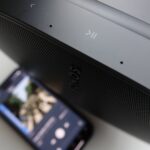 Sonos Era 300
The good
Excellent sound
Supports Dolby Atmos spatial audio
Spatial sound from one speaker sounds as good as some two speaker systems
Controls up the top are easy
Supports Bluetooth and WiFi
Supports a line-in over Type C (but is an optional extra)
Offers both a built-in TruePlay for all and an advanced version for iPhone owners
The not-so-good
Bass feels restrained at times
Expensive