Quick review
LG Tone Free T90Q
The good
Cute design
Compact
Nice sounding earphones with the right EQ setting (though you don't have a choice about using one)
Support for Dolby Atmos with head-tracking
Can be plugged into another source (such as in-flight sound)
IPX4 water resistant
Wireless charging
The not-so-good
A natural sound profile is next to impossible to find
Head-tracking is hit and miss, and sometimes delayed
Won't play nicely with Apple Music on iPhone, not like Apple or Beats earphones
App isn't great
UV cleaning only kicks in when charging, not in your pocket
Packing in a small size, UV cleaning, noise cancellation, and the extra special feature of Dolby Atmos with head-tracked spatial, the LG Tone Free T90 aim to impress. Do they pull it off?
Making a pair of earphones that stands out these days isn't easy, but credit goes to companies giving the category a good solid thwack.
Every company and its mascot dog is making something made for music for the ears, and while most just riff on the formula Apple has made popular — wireless and cordless stereo earphones with stems — some try to do something a little bit different.
You can build a stereo earphone — and most do — or you can try to push things into where music is going now, jumping into the dimensional world of spatial audio. There are some beautifully mixed and remastered albums in Dolby Atmos, but you need the right gear to experience it. Apple was there for earphones first, but more companies are striding into the category, and LG is joining Apple there, too.
Its first push comes in the form of the Tone Free T90Q, a pair of earphones that may look like a darker version of a pair of AirPods, but there's more going on. Are these worth checking out for people not into what Apple is pitching?
Design and features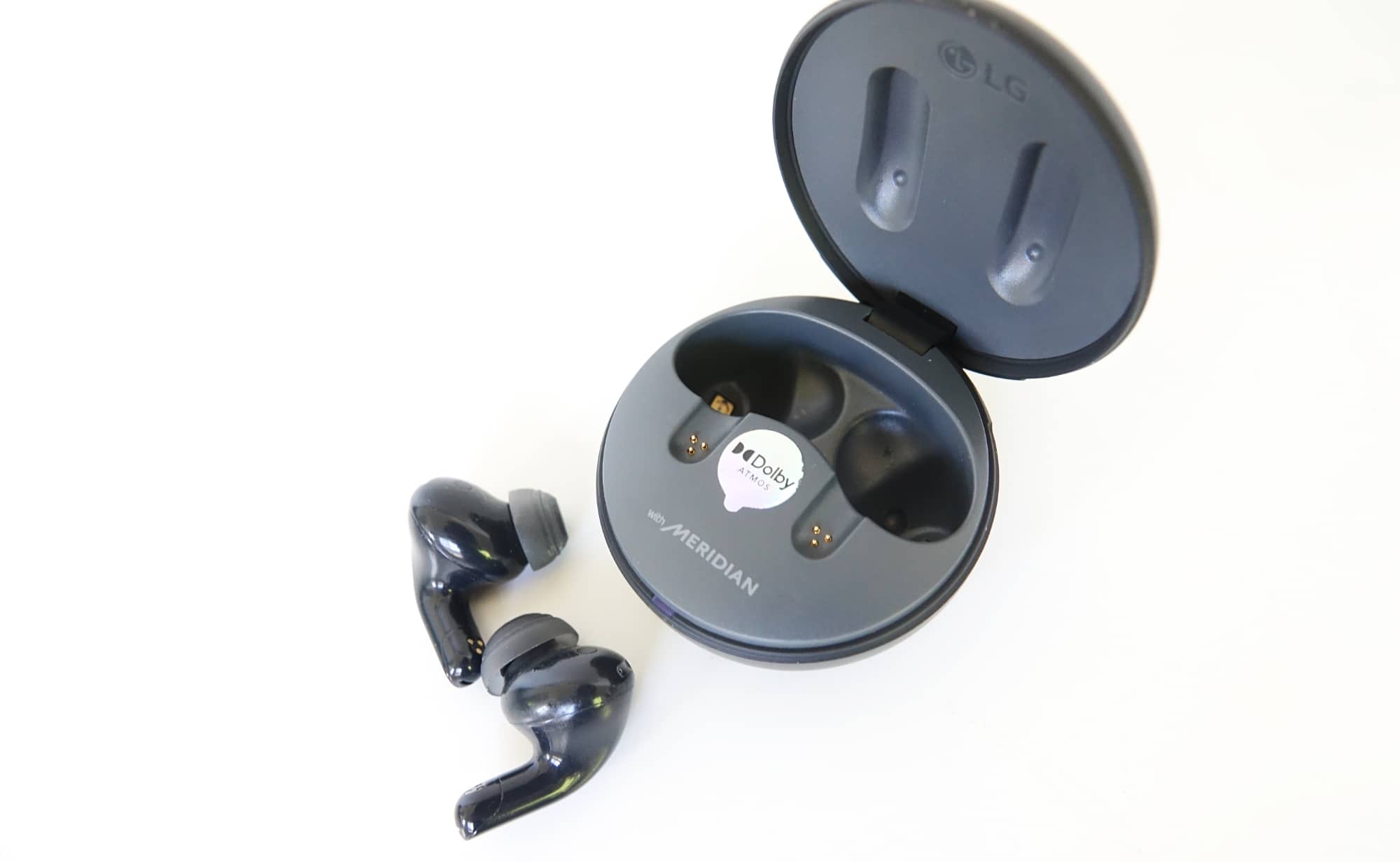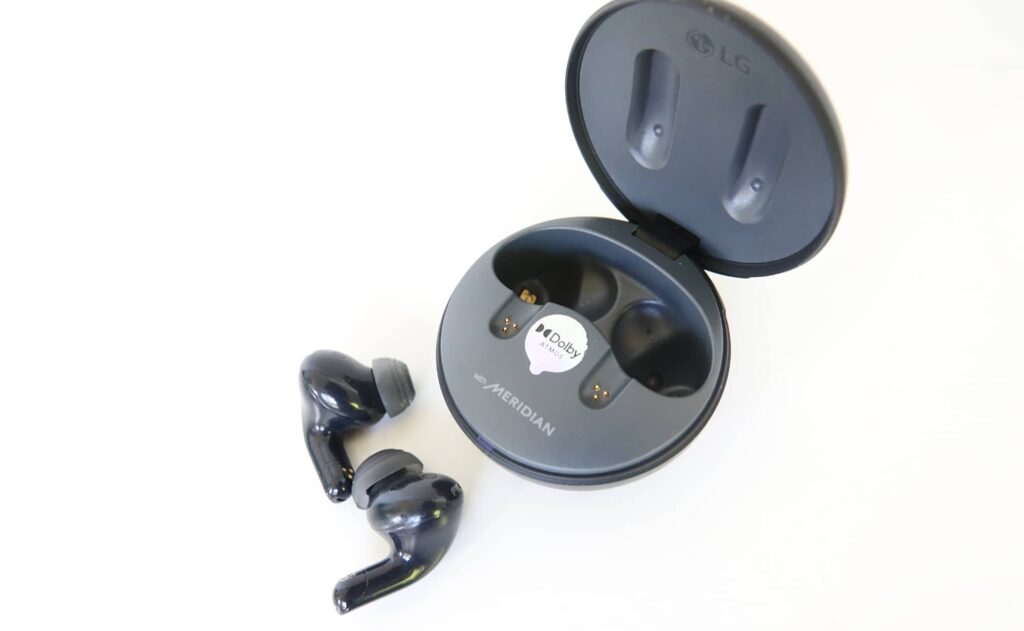 Sporting a design a little like shorter and stubbier AirPods, the LG T90Q won't win awards for originality, but these days what really does in the earphone world?
The answer is very little, so we're not going to be harsh judges here, but the LG Tone Free T90 don't look dramatically different from AirPods, albeit in dark grey. You'll find a short stem on the earpiece, a small touchpad, and earphone tips on the underside.
There's more going on here than just the design, with a graphene driver, head-tracking sensor, microphones for both inside you ear and to analyse the noise outside, plus some neat features on the case.
Yes, just like LG's first pair of truly wireless earphones, you'll find a circular case with its "UVnano+" feature, a technology that shines an ultraviolet light on your ear-tips to remove bacteria. We've seen this on a pair of LG's earphones before, and officially LG says that this process take 10 minutes, reducing bacteria by 99.9% as the earphones charge, though it won't clean them of all the gunk from your ears, just some of the bacteria found on each. Kinda sorta.
The "kinda sorta" part worth thinking about is that the ultraviolet cleaning only works when the T90Q charging case is plugged into a power cable, so you can't just clean your ear-tips when by throwing the earphones in the case and chucking the case in your pocket. The case needs to be plugged in for at least ten minutes for the UV cleaning LED to switch on and cleanse the tips, noted with a blue LED at the front of the case when closed.
While that might limit some of the neato features on the case, LG has one other worth paying attention to: you can use the case with an input cable.
You might baulk at the idea, but it has merit, and we hack one specific thing in mind: in-flight entertainment.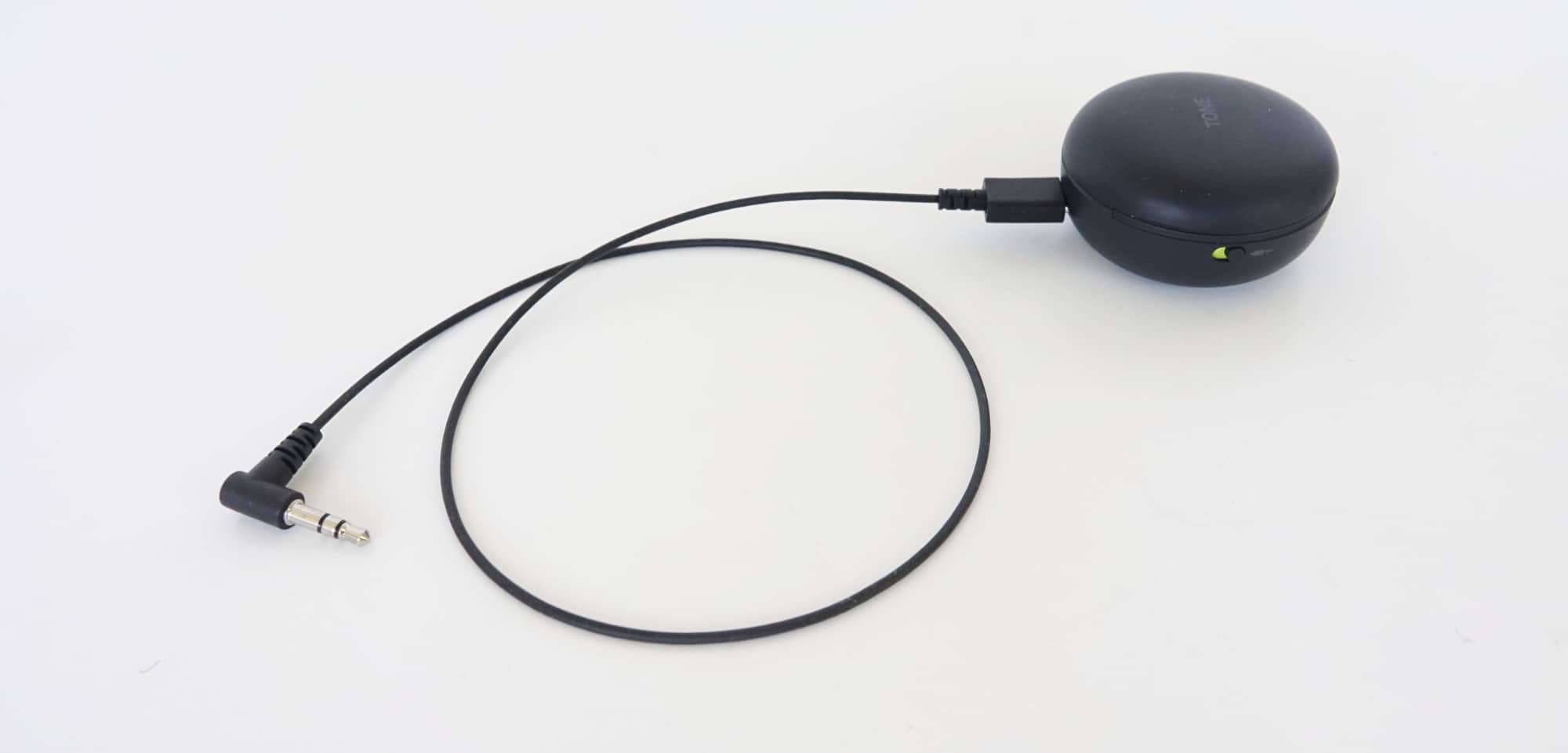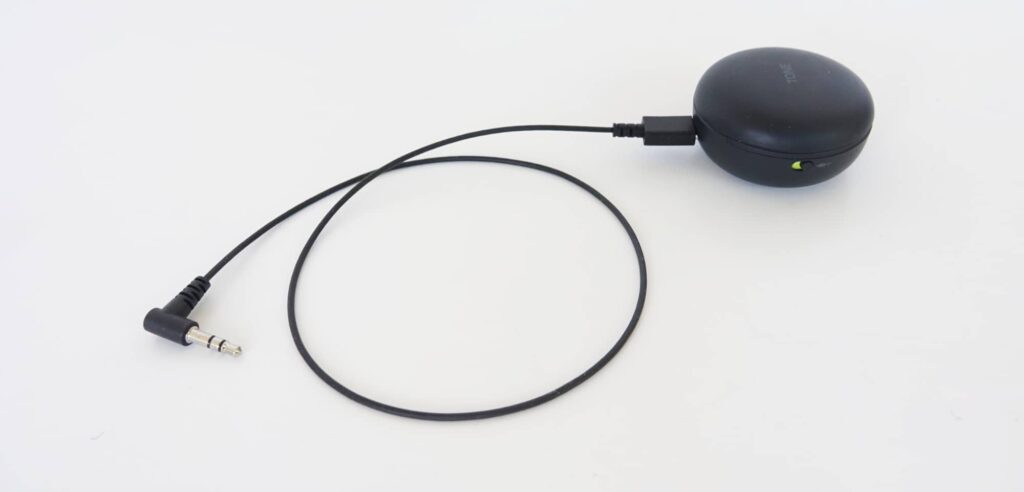 Rather than need to switch to a pair of headphones with a 3.5mm jack, LG's T90Q supports a Type C to 3.5mm cable that will let you turn the case into a transmitter of sorts for the earphones. It means you can use these earphones to listen to an in-flight service, provided you plug in the case using the Type C to 3.5mm cable it comes with.
We've not tested the idea with a flight — random trips aren't exactly on the Pickr reviews budget at the moment — but we did test it using another input source, relying on a high-res media player to stream to the earphones. And it worked rather easily.
Simply plug in the source and flip the switch on the side, and once you take the LG Tone Free T90 out, you just need to tap the touchpad on a side to make the connection. With that, the connection is made, and it'll work.
You won't have volume controls on the earphones (that we could experience), with the source device being the controller, but it's super easy, and grants in-flight and external media support to a pair of truly wireless earphones. Super cool.
In-use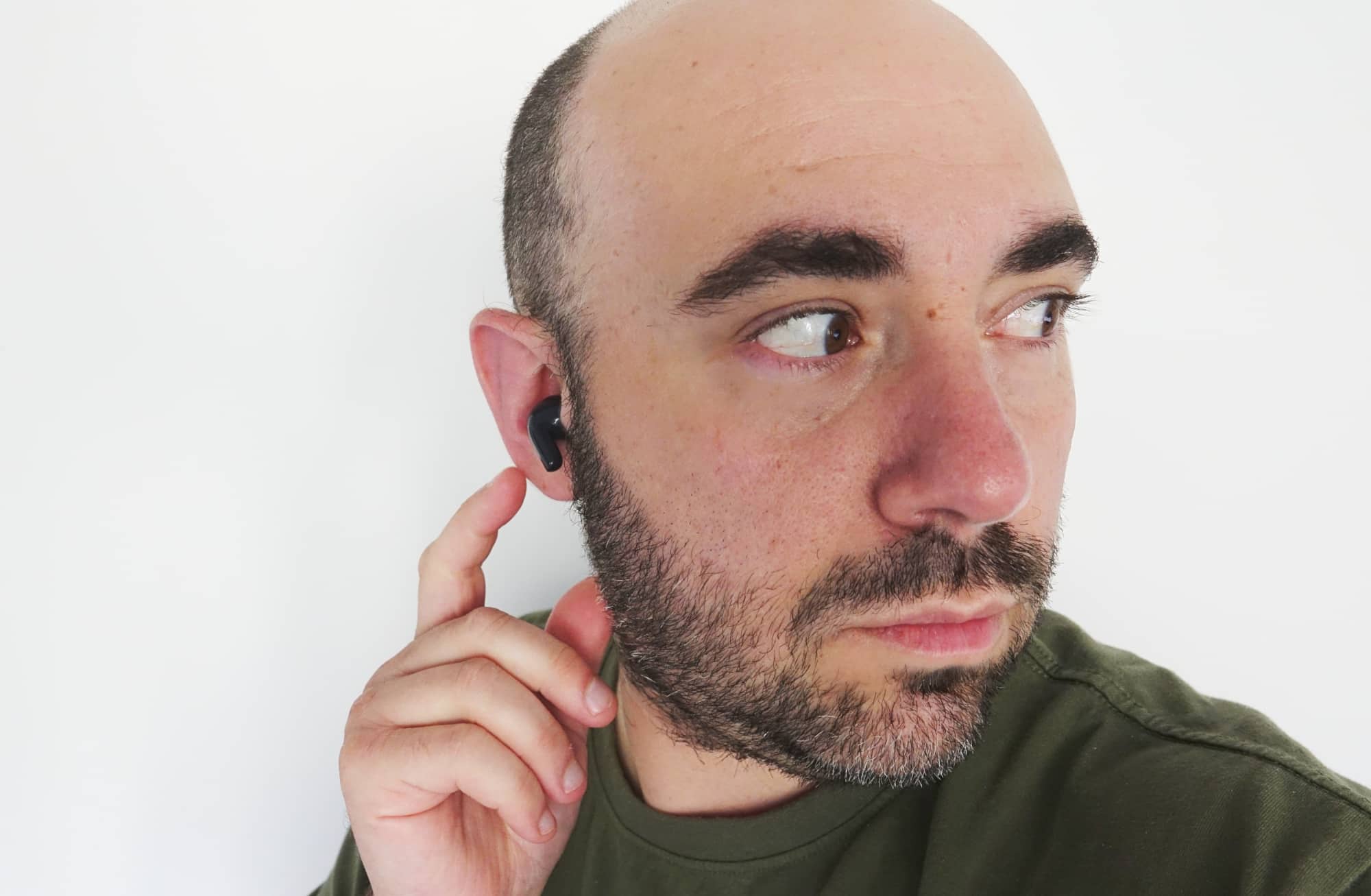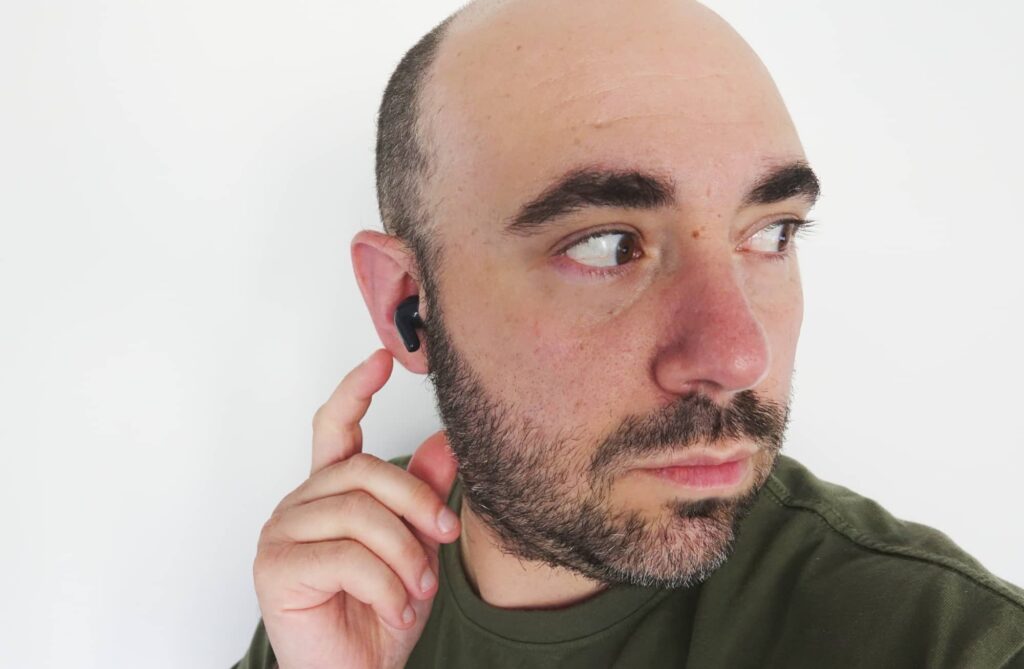 That input capability gives you one way to control the LG T90, but there are others, of course.
There's a touchpad on the top of the stems, and that'll see you control the T90 based on taps rather than slides (it's really more of a tap-pad than a full touchpad). LG also makes an app, which is handy, even if the design of the app will leave you wanting. It certainly did within us.
To LG's credit, the earphones are at least quite comfortable, and while the tip selection is fairly meh — small, medium, large, as per normal, arriving in a little baggy — the light weight of the earbuds and the design make the T90 that much easier to wear.
We're not entirely sure the controls are perfect, but you can at least customise aspects if you like, and the comfort is definitely there.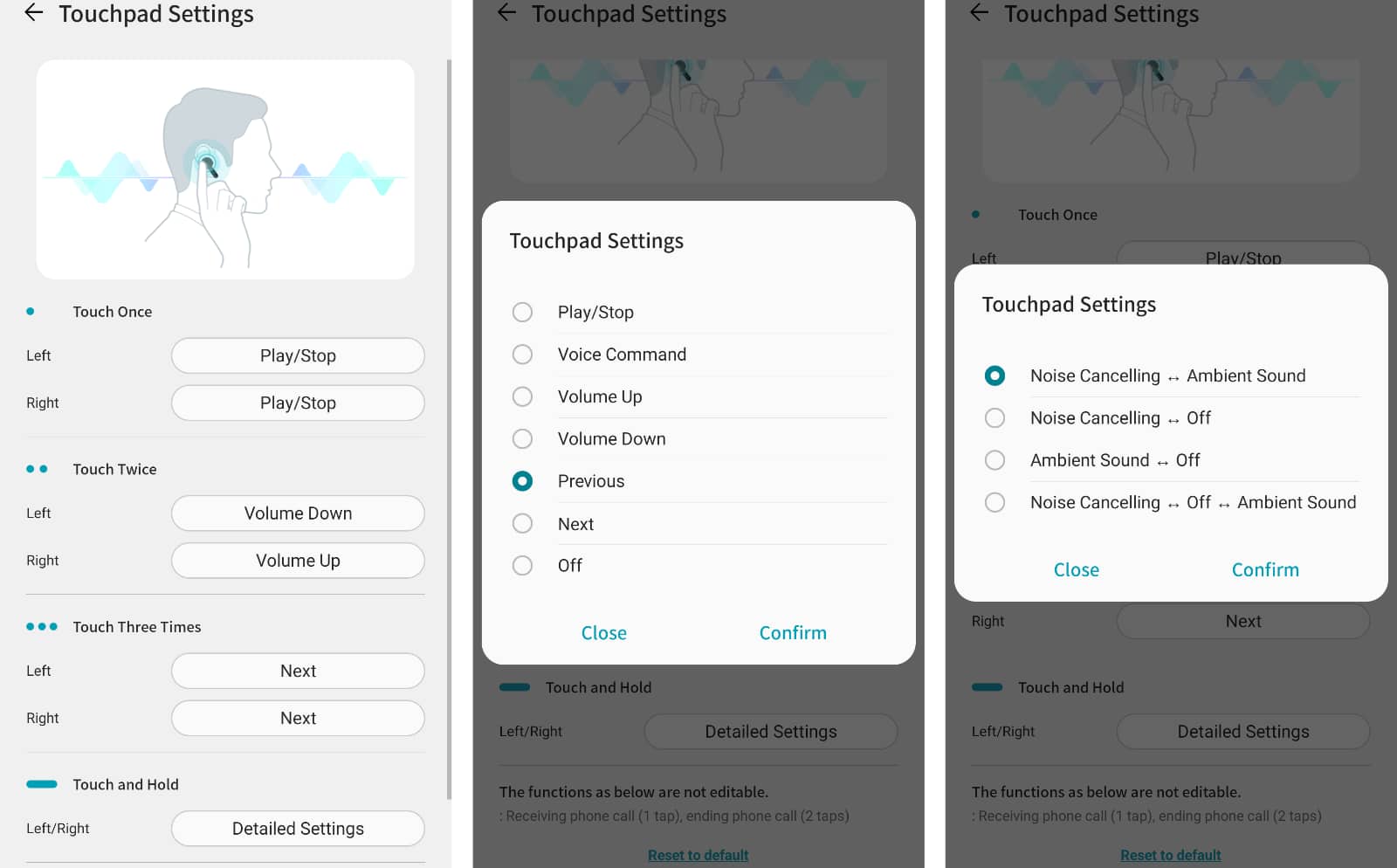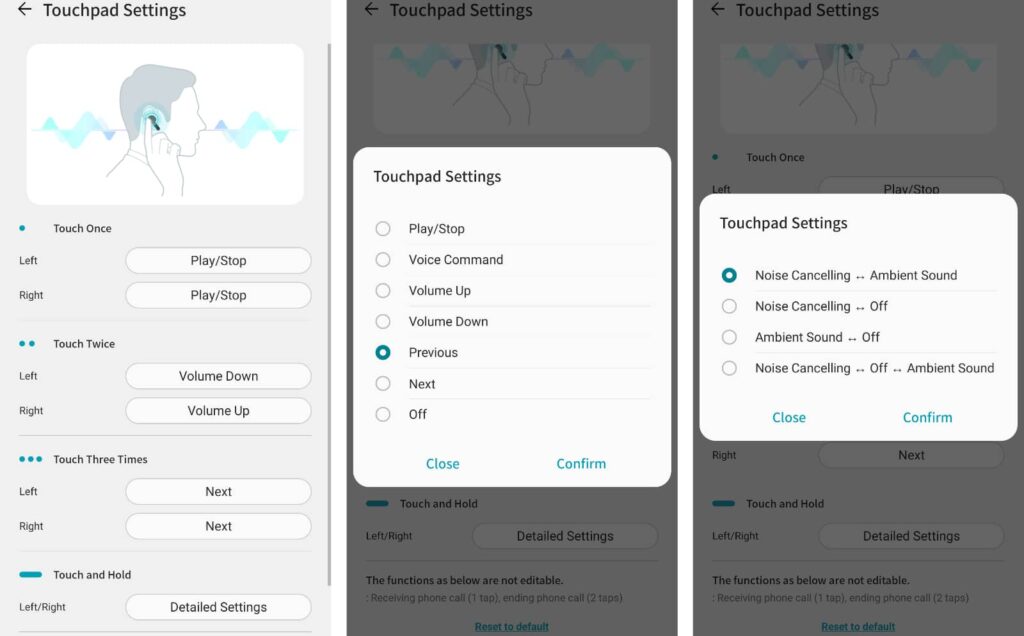 Performance
Of course, earphone comfort is nothing without decent performance, so let's look at that, tested as usual with the Pickr Sound Test, which you can test for yourself on Apple Music and Spotify, to name a few.
For this review, we need to consider a two part sound test, because the Tone Free T90 have another trick up their sleeves: they can play spatial audio with head-tracking, something no other Android-compatible earphone can do right now. That makes these earphones special.
We'll start with the basic sound test, though, which actually saw us jumping through yet another feature on the earphones: its app.
It's not unusual for a pair of earphones to support different profiles for sound, but it's usually a choice to have it on or off, with "off" being the default natural sound on the earphones or headphones. Not in this pair.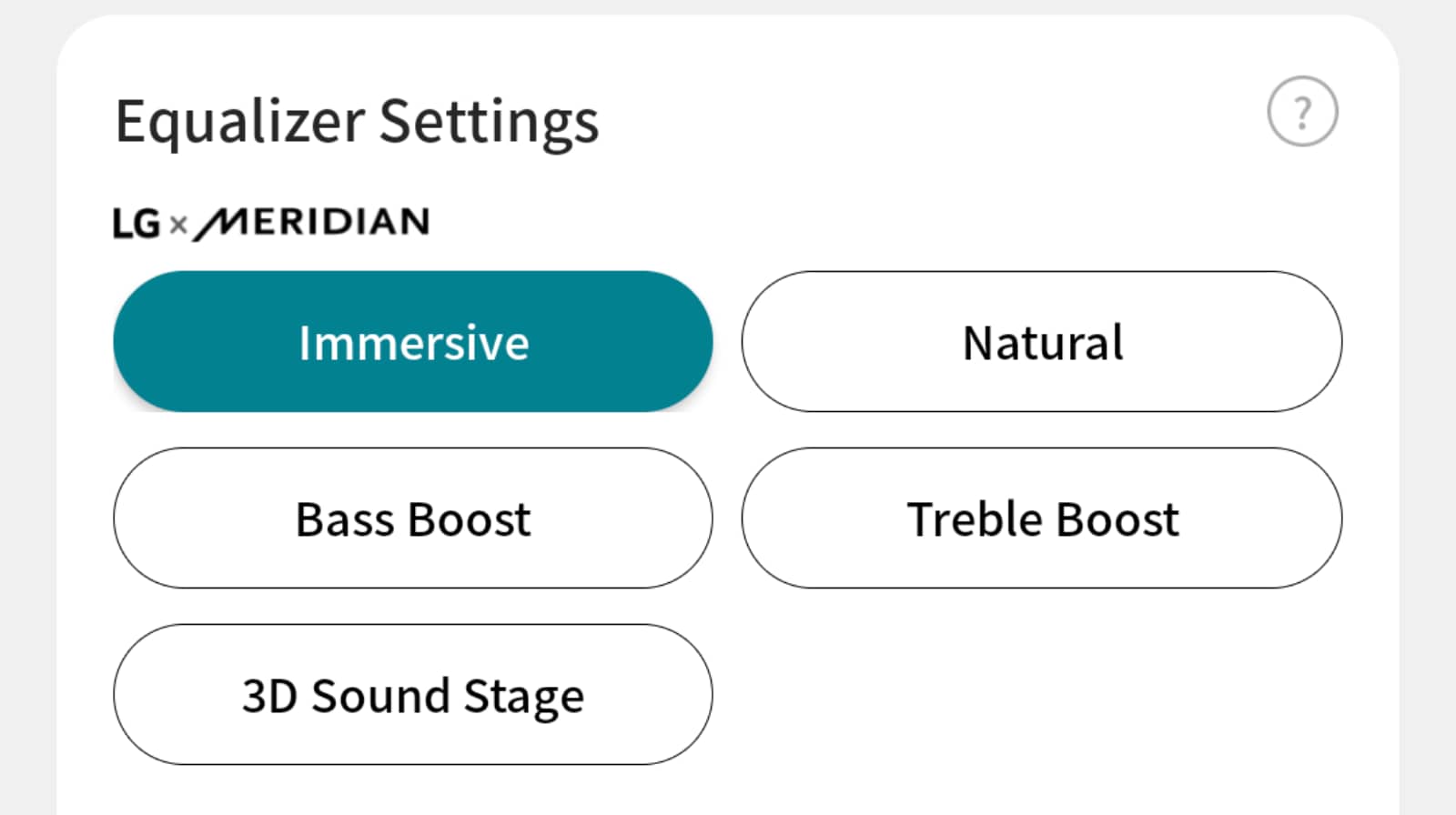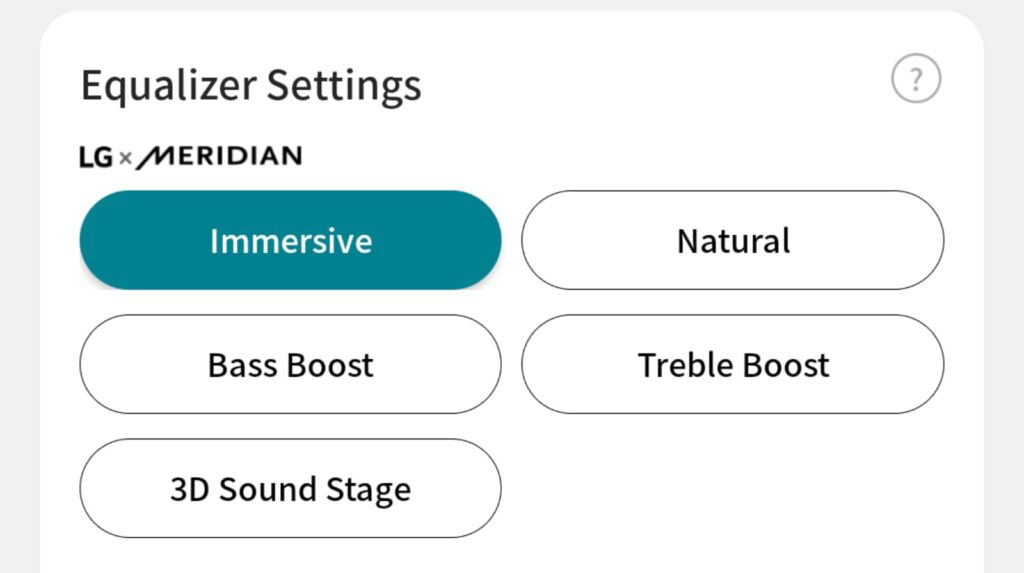 In the Tone Free T90, "natural" is a choice, as is "immersive", and there's really no natural sound.
Throughout the T90 review, we jumped around trying to find whatever the T90's natural sound was, and ironically found that immersive may well be it.
For instance, in the Natural setting, the electronic of Tycho and Daft Punk is reasonably balanced, with deep and punchy bass that can often be too heavy, though the pop of Carly Rae Jepsen explains why: these earphones are trying to be warm, leaving the lows a little too heavy handed.
We jumped to Immersive for other tracks, such as in Ariana Grande and Mark Ronson, which spreads the lows more clearly and balances the sound better overall. There's a good soundstage and a nice sense of space in immersive, and it almost feels like this is the default position for the T90 earphones, even if LG hasn't come out and said it.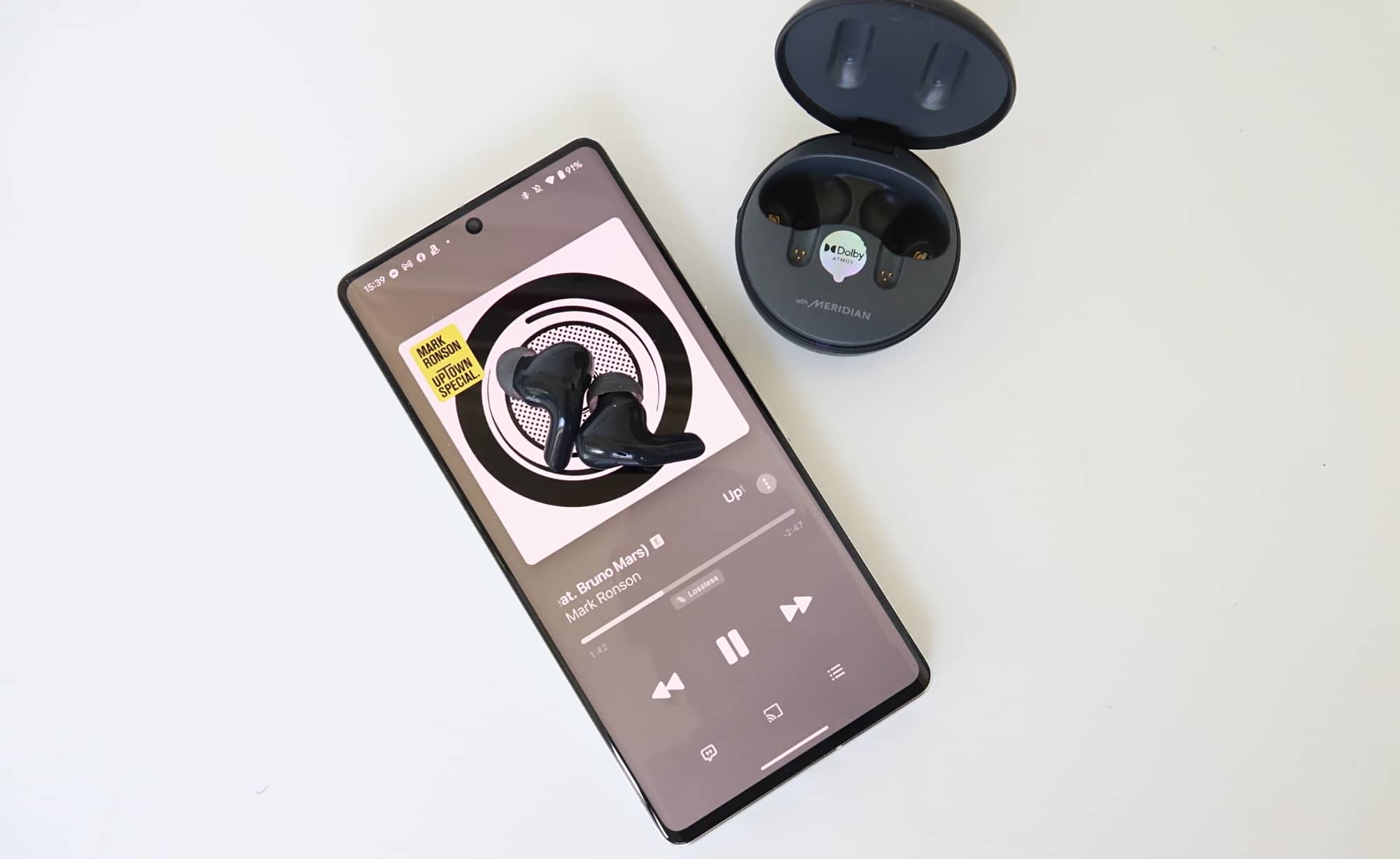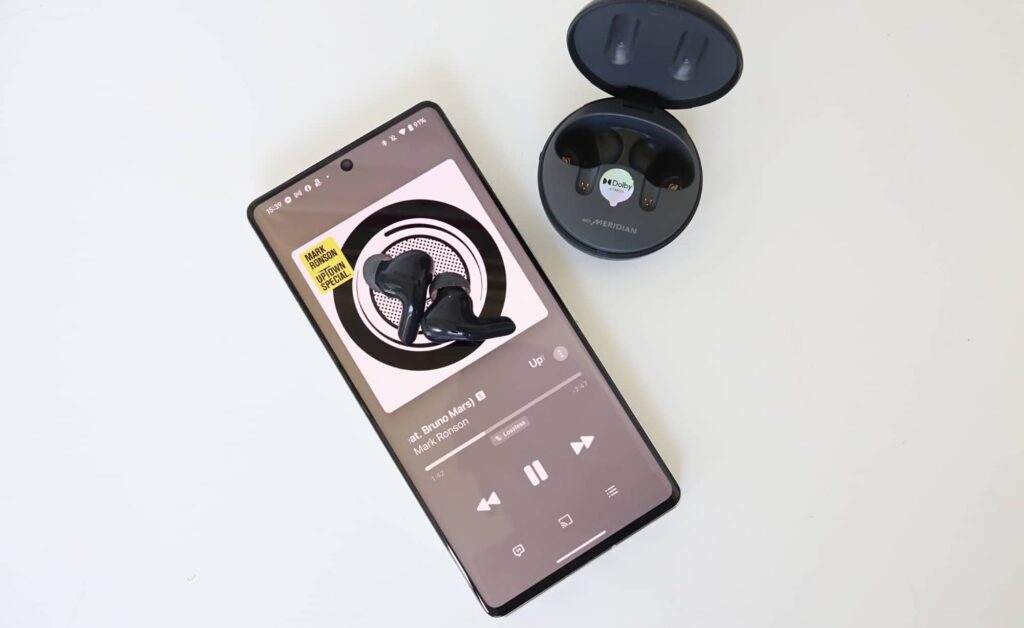 Listening to the likes of Charlie Puth, Maroon 5, Muse, Rage Against The Machine, and the Deftones, the Immersive setting sounds immediately more impressive and balanced overall, delivering a wider sense of space than you may expect, and a sound that just works.
Songs lacking that modern approach to overdoing things — such as the mixing in David Bowie, The Beatles, and jazz and classical — sound warm and friendly, with lovely detail, too.
Set to Immersive, the LG Tone Free T90 are just delightful, while Natural feels less like its namesake overall. We're not sure why you'd pick that setting, but you have others designed to boost the treble and bass if need be.
Head-tracked spatial is another setting you can use, and it'll change the sound profile of the earphones, as well.
Flip into that mode, and you better hope that:
Your phone supports the spatial technology, and
Your choice of music streaming service does, as well.
When it's one over the other, you may find some bugs, such as how the spatial is conveyed, or even what the earphones do.
However, throughout the playback of Atmos, the sound is very much the vibe of LG's "immersive" EQ setting, except with more dimensionality, some of which can be tracked. More on that in a moment.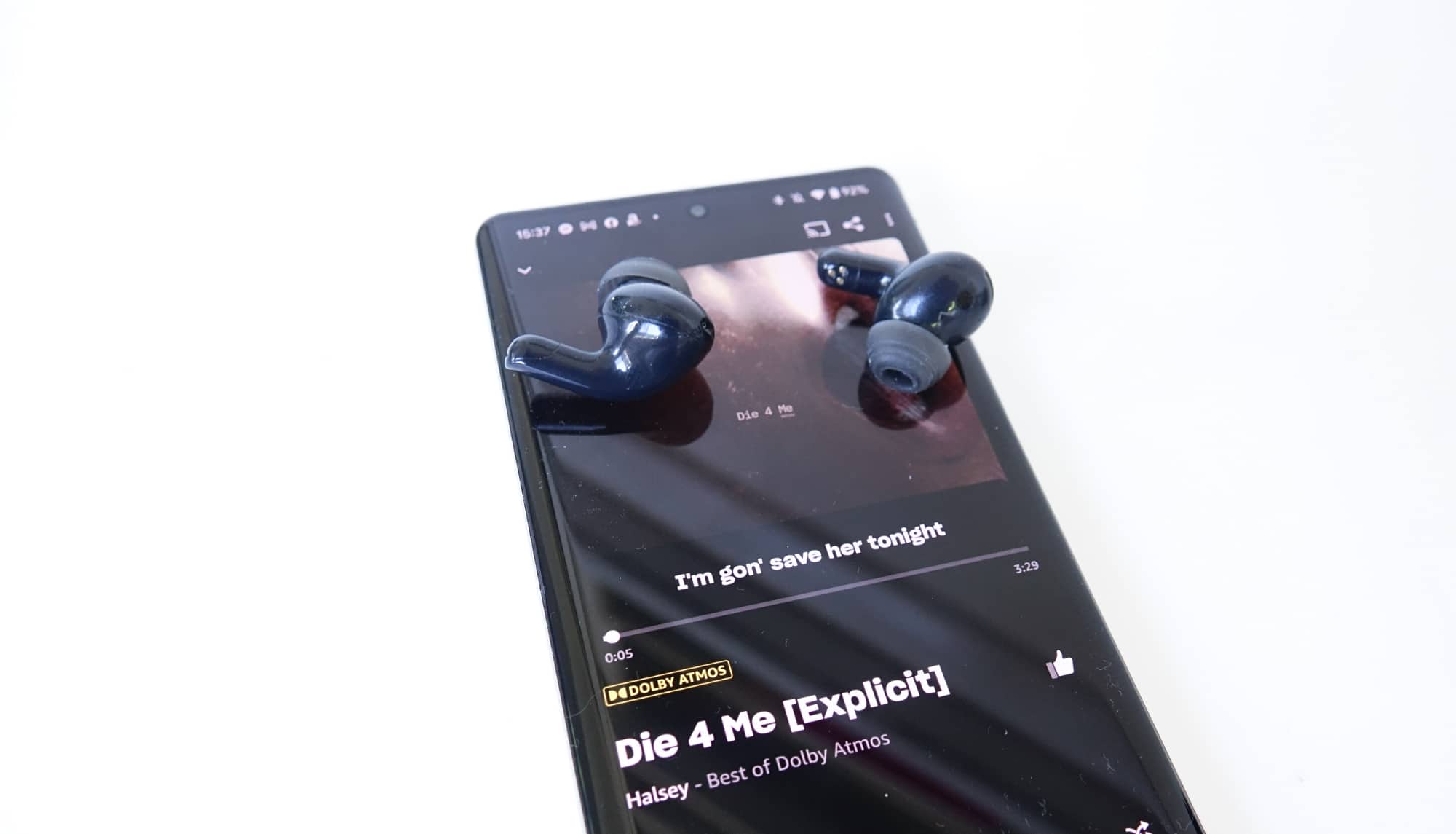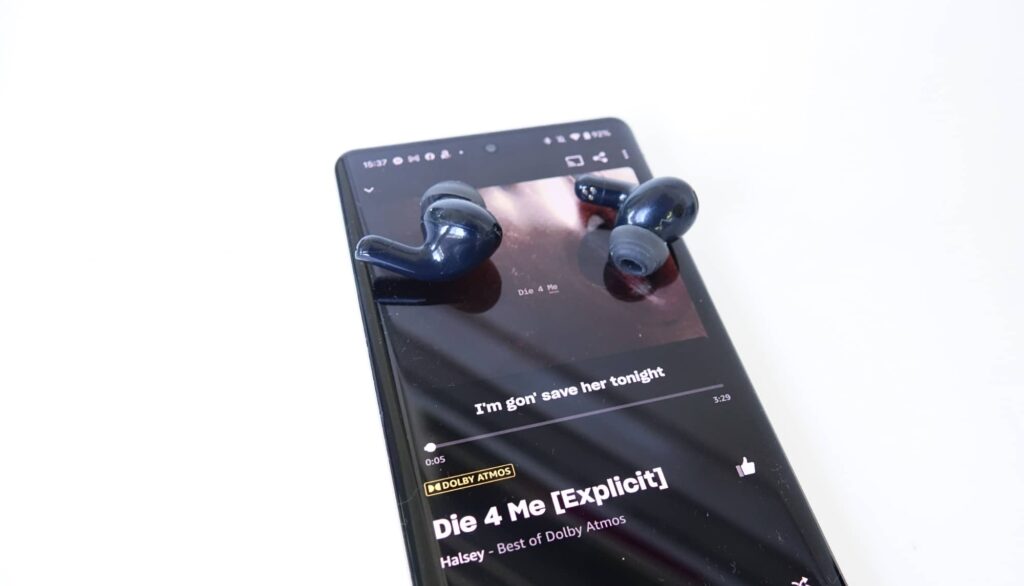 Battery
Before we get to the spatial playback, let's talk about battery life, and that's not too awkward, though not necessarily the best in class.
LG talks up 9 hours of playback being possible from the T90, but that's only with ANC off, and really, these are ANC earphones, so that's not exactly a metric we're going to mess with. Who buys noise cancelling earphones to not use the noise cancellation feature?
With ANC switched on, the LG Tone Free T90Q become roughly 5 hour earphones, which is just shy of the 5.5 Apple's 2nd-gen AirPods Pro can get, the 6 of the Bose QC EarBuds II, or the maximum runtime of 8 hours on the Sony WF-1000XM4.
Doable, for sure, but not the best, and certainly not for the price LG is pitching these at, we'd say.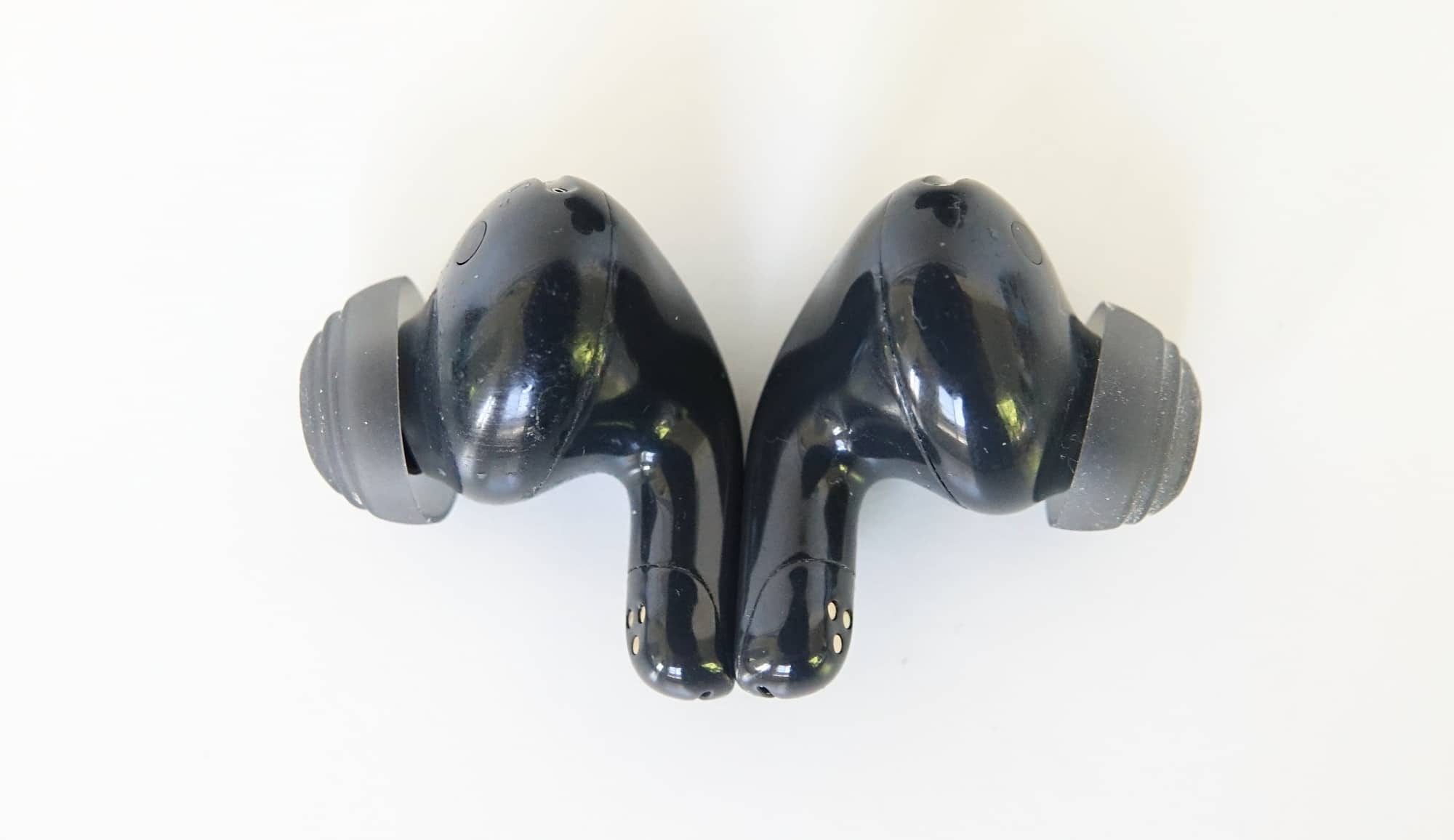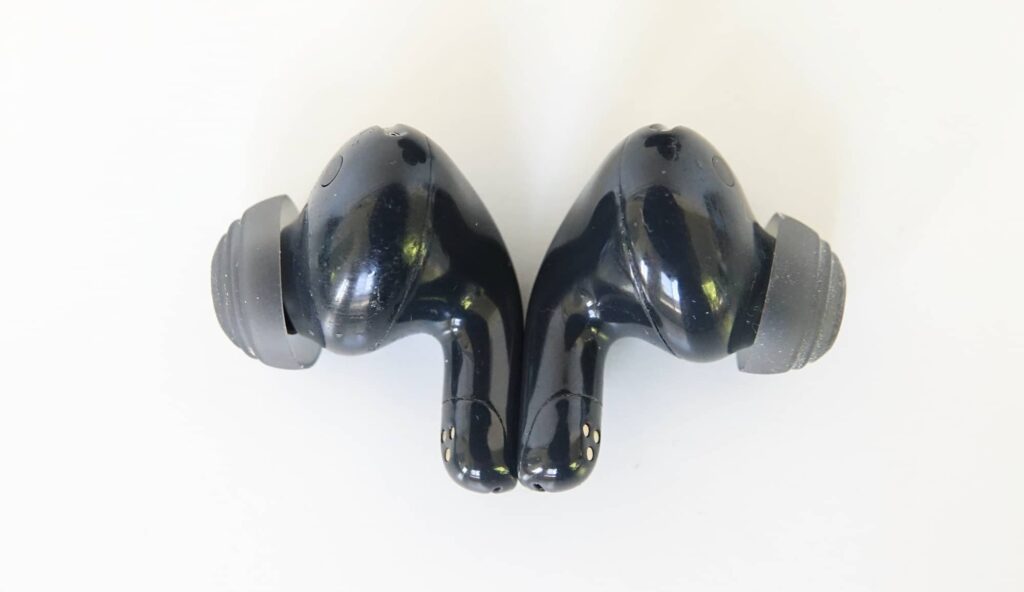 Value
In terms of pricing, LG is going straight for Apple with its $399 pricing which is the same as what Apple charges for the AirPods Pro 2nd-gen, and indeed the first-gen before them.
We can kind of see why LG has pitched this price point, given the features and size make them similar, at least on spec and paper. However, we're not sure they work as well as what Apple offers, and feel these are a little over-valued comparatively.
What needs work?
The app is one area that could be improved, as could finding the natural sound of the earphones, but they're not the only areas that need work on the LG Tone T90 this year.
Take the noise cancellation, which does the job for some of what you'll find in the background, but doesn't seem to quite match the T90's high price.
While the benchmarks of Bose and Apple seem to silence the world almost too easily, we didn't find the multi-microphone approach helped get the Tone Free T90 into flagship territory.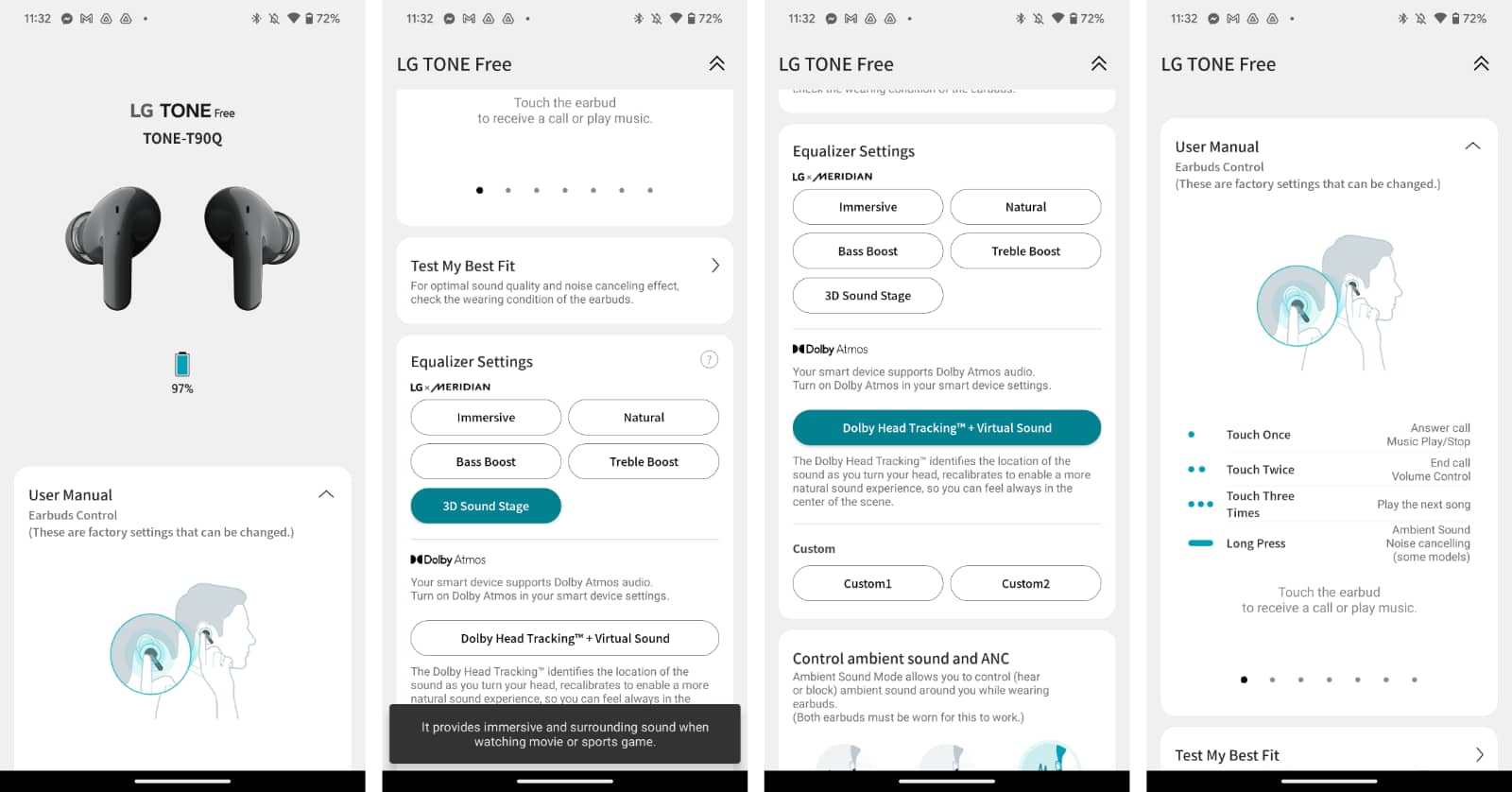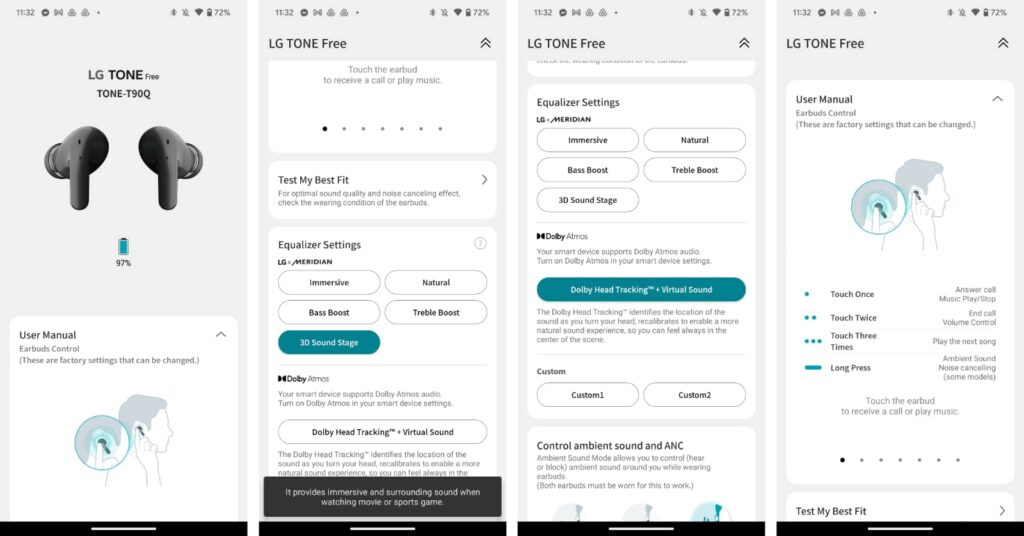 Meanwhile that mediocre app may need improvements, but you also don't really have a choice except download it if you want to make the earphones work properly. Without the app, the head tracking is slow, yet with it, the Atmos often feels properly responsive in the right app.
When it's downloaded, it can be kind of weird watching it work, because once you've experienced head-tracked spatial in headphones the way Apple does it, you've kind of seen the gold standard, and LG isn't quite at the same level. Rather, it's more of a bronze, but a decent stab all the same.
In the LG equivalent, your head moving side to side will see you moving through a spatial track in Amazon Music on Android, and even Amazon Music on the iPhone, but only with the right audio.
If you have head-tracking switched on for stereo and/or your service doesn't send spatial to the earphones — such as is the case with Apple Music on Android — the experience is quite different.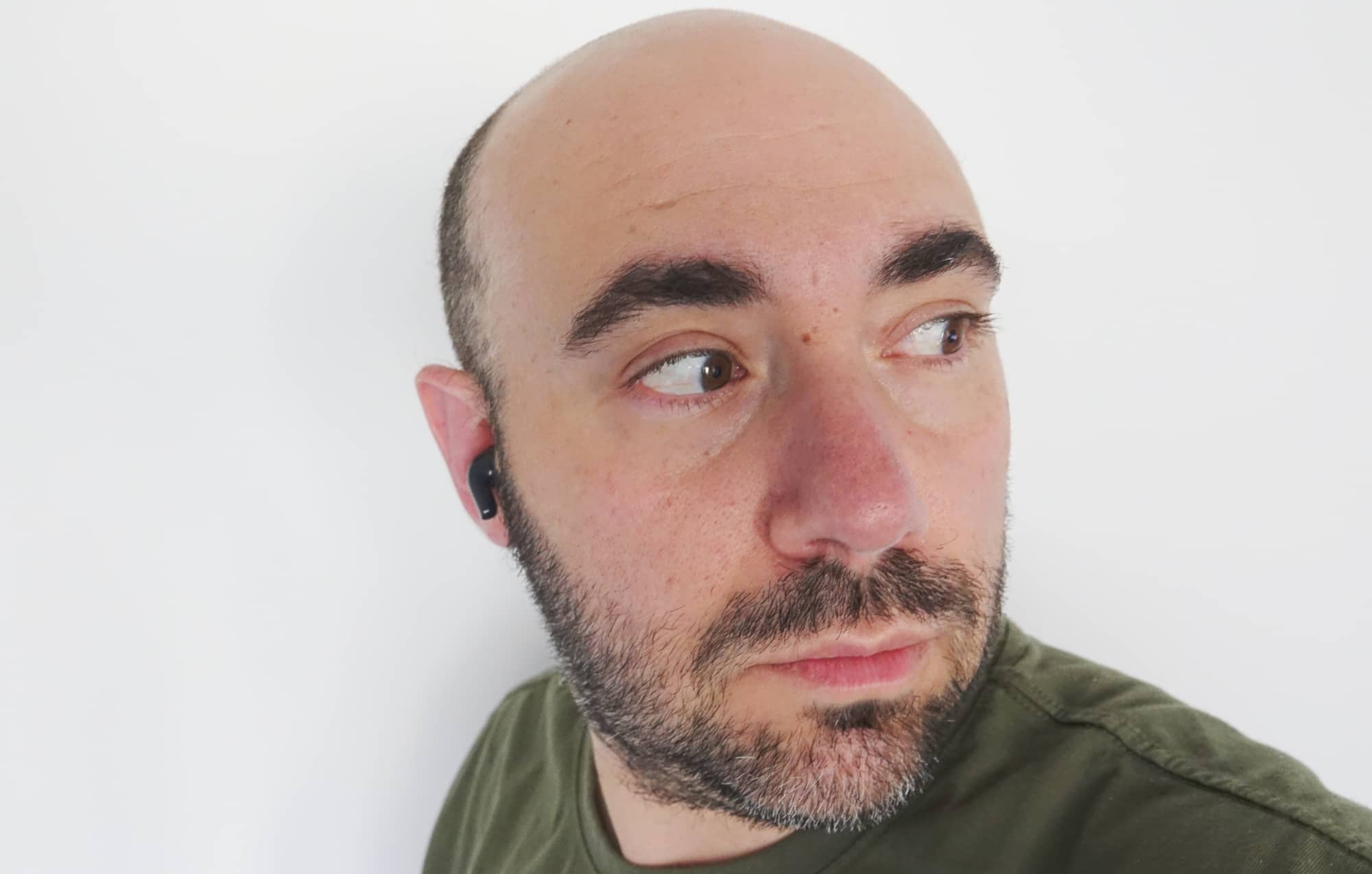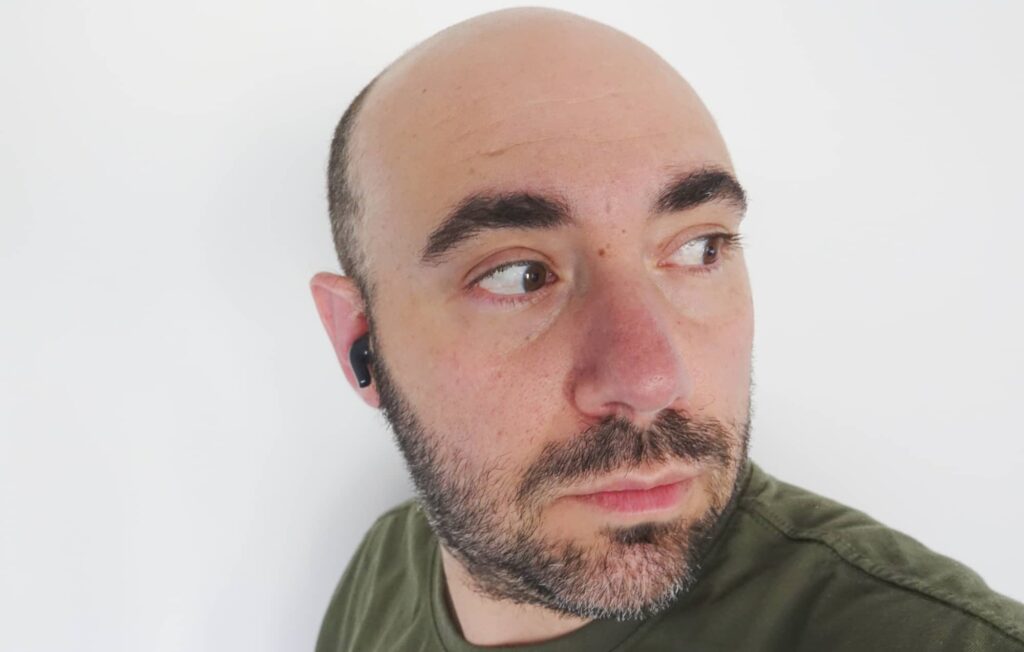 With stereo tracks on an iPhone, Apple Music creates a virtual spatial mix for its spatial-friendly headphones and earphones. Over on Android, that's not happening.
The sound isn't virtualised like it is for Apple Music's stereo tracks, but rather sees your head moving from a left channel to a right one, and it's a weird experience. You'll hear parts of the track and muffled sections of others, as if you could only experience the music in one channel, and that's all. It can work, but often doesn't do it well, and that's not the only problem.
With Dolby Atmos head-tracking engaged, you can find even with the right type of audio, the earphones lag in use.
When you turn your head, sometimes you're waiting for the head-tracking to catch up properly, while other times it will lock to an angle. We found we needed to shake our head at times as a form of reset, because there were times when looking at 11 o'clock or 3 o'clock were being rendered as "front", rather than the side.
It's a totally different experience to how Apple does it, which just works without fail every time.
For LG, head-tracked spatial works without fail maybe 50 percent of the time, and doesn't feel like a true competitor to Apple's perfect rendering on the AirPods Pro. You can basically bop along to the music and near head-bang wearing Apple's head-tracked gadgets, but you definitely can't do that here. They're even lacking to the reliability of the first-gen AirPods Pro in this category, and given they were released in 2019 feels just a touch crazy.
The platform compatibility is another factor, because there isn't much of that. This isn't technically LG's problem, but it is a problem all the same.
You can use the LG T90 with any Bluetooth device, but the head-tracking requires a pretty recent phone, and in our tests, only works with services that offer Dolby Atmos that aren't Apple Music. The latter doesn't send Atmos on Android at all, but does on iOS and just isn't supported here. Meanwhile, Atmos is supported on both Amazon Music and Tidal, and we tested the first, but not the second.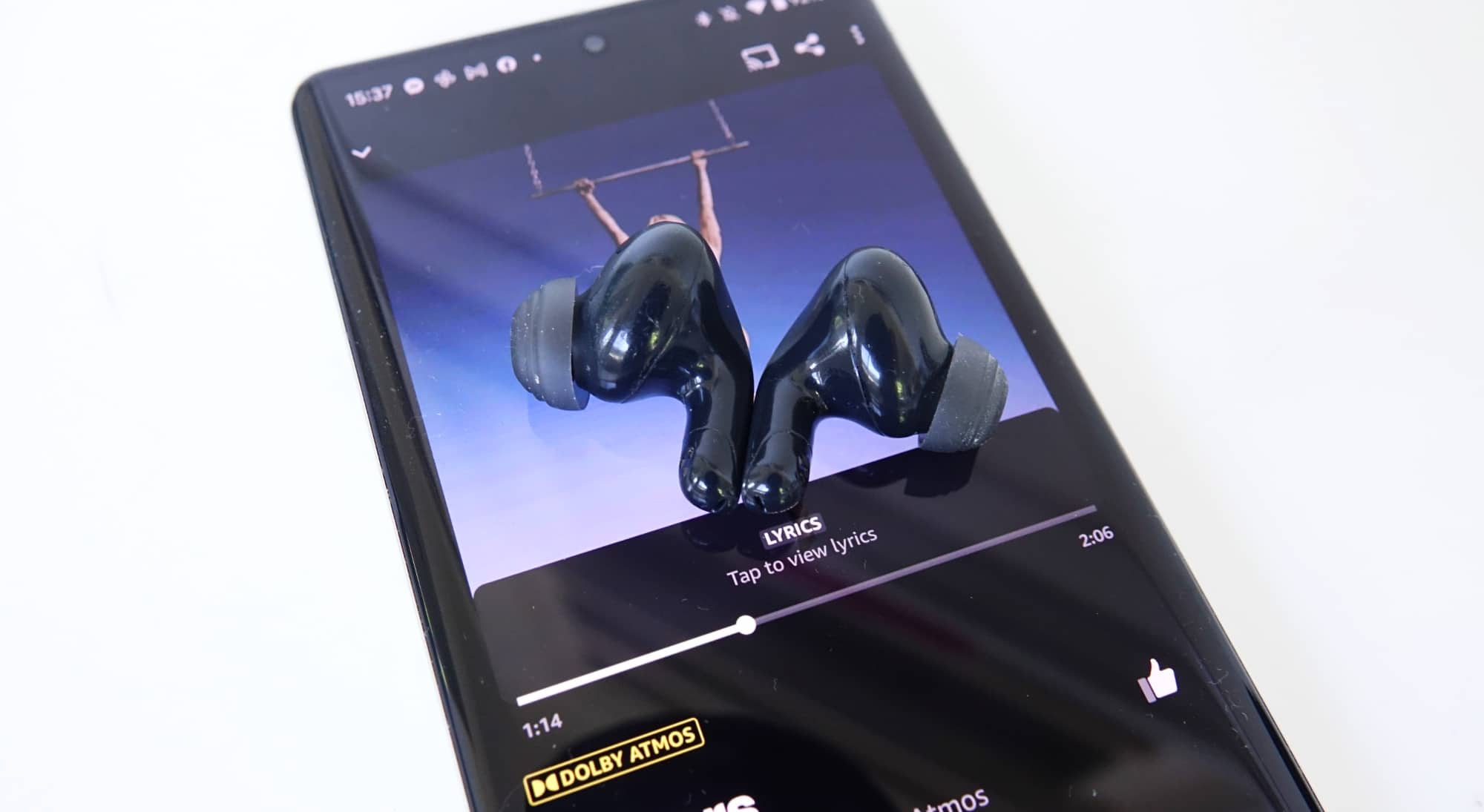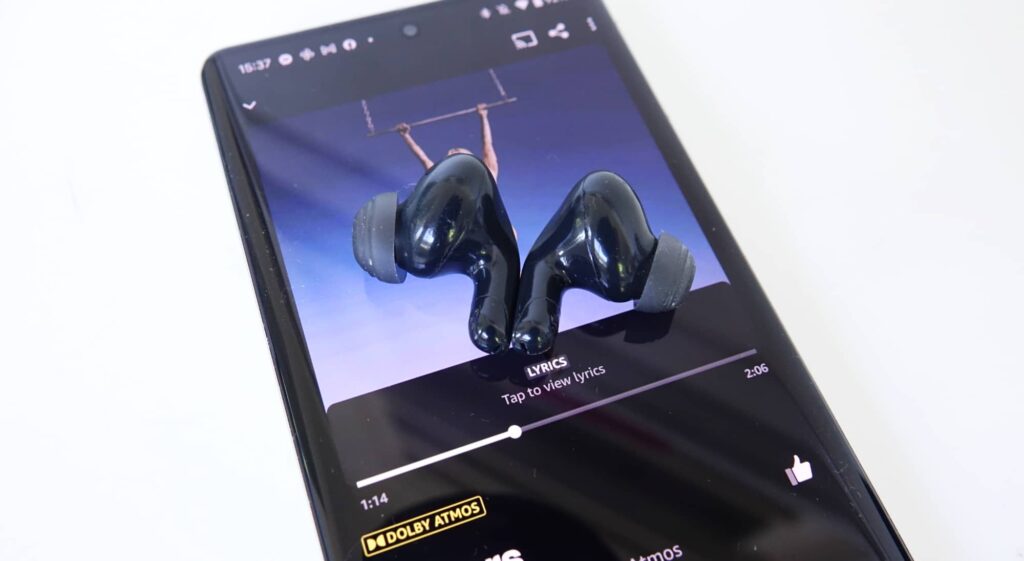 Basically, if you're using Spotify, you won't get any of the extra benefits of the LG T90Q. There's no real head-tracking for spatial sound, but more the weird one that moves your head through left and right channels, and tends to make your music sound pretty awful. Keep head-tracking turned off if you use Spotify and the T90.
And hey, there's nothing wrong with mono music, but if music is recorded, mixed, and mastered in stereo, you're probably going to prefer listening to it that way, rather than just one channel.
Unfortunately, the LG T90Q can leave you stuck listening to one channel if the audio isn't really spatial, and not everything is yet.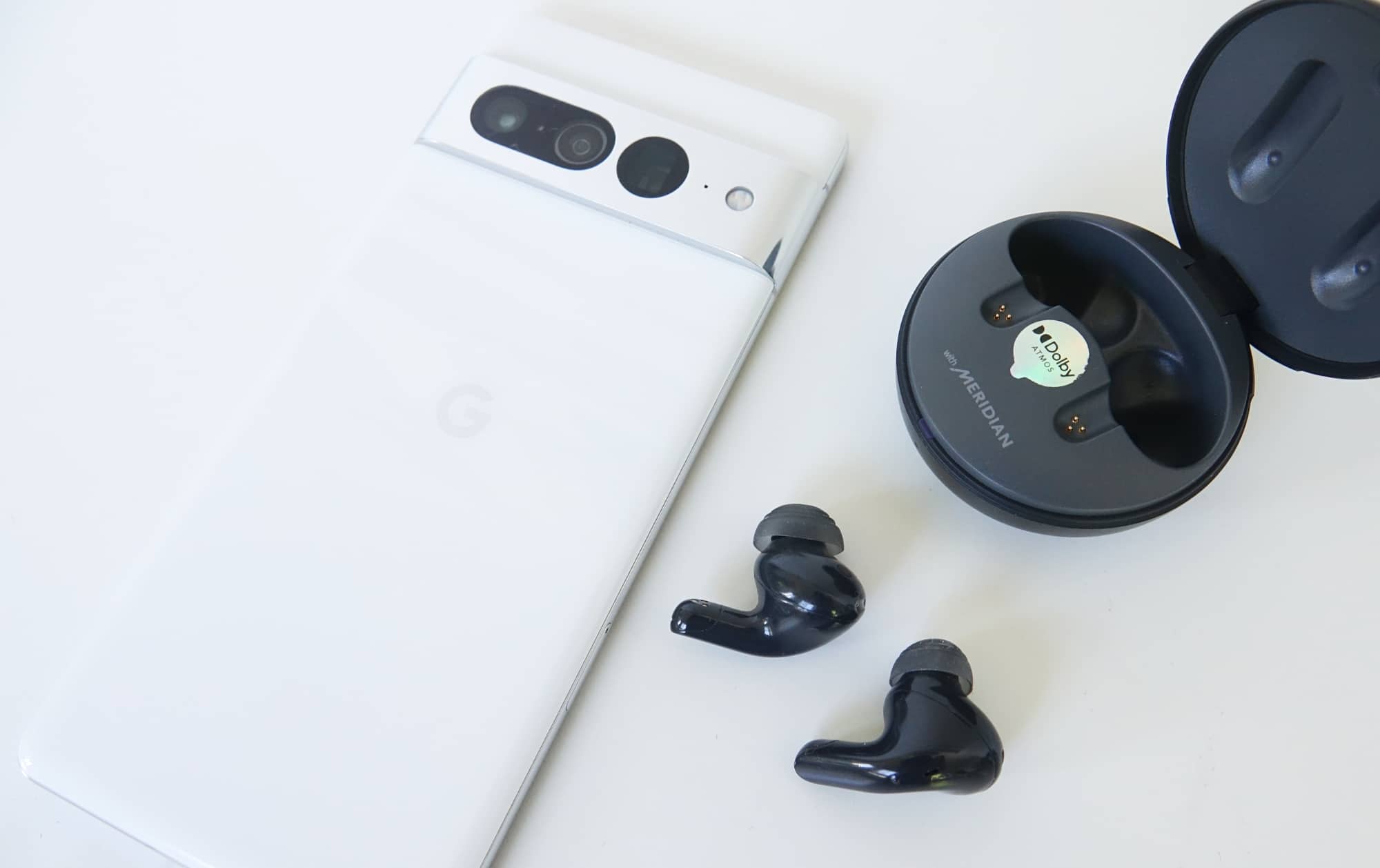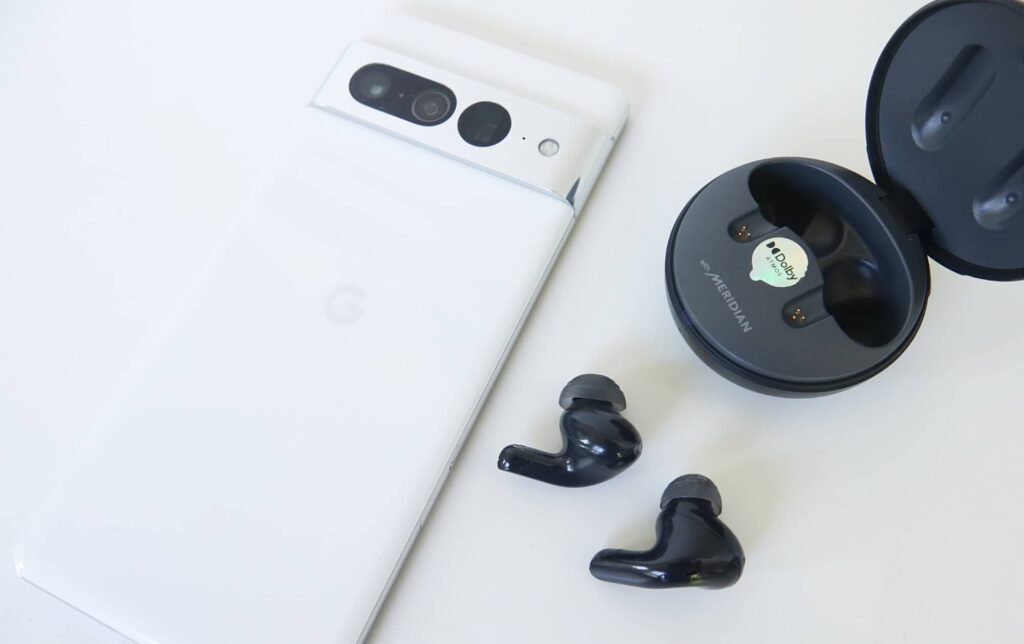 Final thoughts (TLDR)
The spatial quirks makes us question whether spatial is even ready on the Android side of things. Some of these issues are things LG needs to iron out, such as the speed of tracking. We suspect some firmware updates could fix things here, though it could even be improved hardware later down the line.
Other aspects aren't LG's problem at all.
For instance, it's not LG's fault that the state of spatial audio on Android is so mediocre. Amazon Music does it, as does Tidal, but the catalogues aren't nearly as impressive as what Apple Music brings, and Apple has yet to support spatial on Android.
This lack of support leaves the spatial-capable LG Tone T90 in a rather curious position: they support the technology, but the platform is missing a lot of what makes that technology valuable.
In many ways, this can make the LG Tone T90 seem like a bit of a future investment for Android owners, affording them a chance to play with spatial earphones that just aren't quite ready yet.
When Spotify finally wakes up to the promise of lossless audio, something it has been hinting at for long enough, maybe it'll also have spatial working alongside, too, just like Apple did when it launched both simultaneously. And when that happens, LG's Tone T90 will make a lot more sense, hopefully because it will have also received some firmware updates to refine and fix the tracking issues.
Right now, the LG Tone T90Q are mainly a decent AirPods Pro competitor provided you keep spatial tracking switched off, and if you do that, the very thing that makes them that much different loses its shine. There are so many excellent competitors that can match or beat LG's earphones without spatial, it's difficult to recommend them based on ANC and sound profile alone.
The Bose QC EarBuds II sound much better and yet don't cost a whole lot more, and it's largely the same with Sony's WF-1000XM4 which are likely about to be replaced in the not-too-distant future, as well. And that's before mentioning some of the many other options available today in truly wireless ANC earphones, including the Nothing Ear (2), which lack spatial and undercut LG in a big way.
Without spatial, the LG Tone T90Q ANC earphones don't quite match the price being suggested, yet with it, the earphones don't yet work as well as they should. It's a complex situation.
If you don't mind taking a gamble that LG and services alike will get better at this, the T90 is worth checking out and could be a good bet. But this hit and miss spatial makes the T90 difficult to completely recommend, while iPhone users would be best to steer clear entirely, as the spatial here doesn't work with Apple Music or Spotify, and head-tracking will just give you that weird stereo channel mix.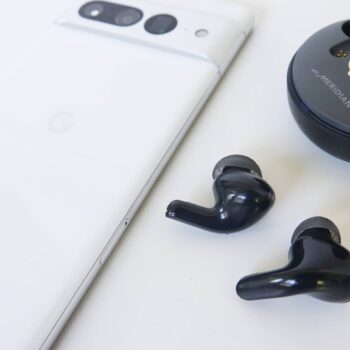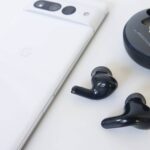 LG Tone Free T90Q
The good
Cute design
Compact
Nice sounding earphones with the right EQ setting (though you don't have a choice about using one)
Support for Dolby Atmos with head-tracking
Can be plugged into another source (such as in-flight sound)
IPX4 water resistant
Wireless charging
The not-so-good
A natural sound profile is next to impossible to find
Head-tracking is hit and miss, and sometimes delayed
Won't play nicely with Apple Music on iPhone, not like Apple or Beats earphones
App isn't great
UV cleaning only kicks in when charging, not in your pocket