Quick review
Apple HomePod (2nd-generation, 2023)
The good
Excellent sound
Virtually no distortion or buzzing
Dolby Atmos tracks sound superb
Works as a spatial sound system for Apple TV
Your phone or computer can talk to it via AirPlay (which is how Spotify works on the HomePod)
Lovely design
Plug is removable (a figure-eight cable)
The not-so-good
Tracks can sometimes sound a little high-heavy
Really needs an Apple Music subscription to make the most out of it
Other music services still aren't super friendly with it
Still needs an iPhone for setup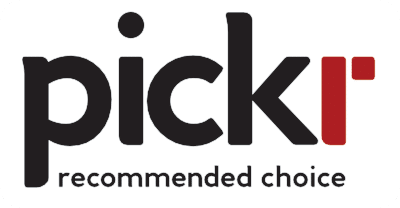 If you love your music and subscribe to Apple Music (or plan to), the reworked 2023 HomePod is all about spoiling you with excellent sound.
It's been five years since Apple first released its "HomePod" and a lot has changed.
Apple's product back then was an intriguing take at how the company could handle sound, blending audio expertise with system smarts, and interpreting sound from its music service that delivered. While it was decent in one and great in pairs, the result was one that delivered, though really in a stereo capacity, and something Apple could recreate in the smaller HomePod Mini.
As good as stereo is, though, there's more than just the sound of left and right.
That's an area Apple has been working in, as well, and while it isn't the only company trying to improve on sound, you can see its hand in one of the evolutions of listening to audio through its products.
The development is spatial sound, an area that expands how we listen and makes a soundtrack wider and more immersive. It's distinct to standard stereo because spatial audio is mixed differently, though it's something Apple puts into so many products.
Recent MacBooks support spatial audio, headphones such as the AirPods Pro and AirPods Max support head-tracking as a way of letting you feel like your head's position makes an impact, and you can even engineer spatial tracks from within Logic Pro, Apple's audio editing software.
If you ever needed to know just how Apple is betting big and doubling down on spatial audio, you really just need to look at its products, especially its latest speaker.
Five years on from the original HomePod, Apple has another model ready, and while stereo is a part just like on the original model, the 2023 HomePod has that whole spatial thing down. Does it deliver?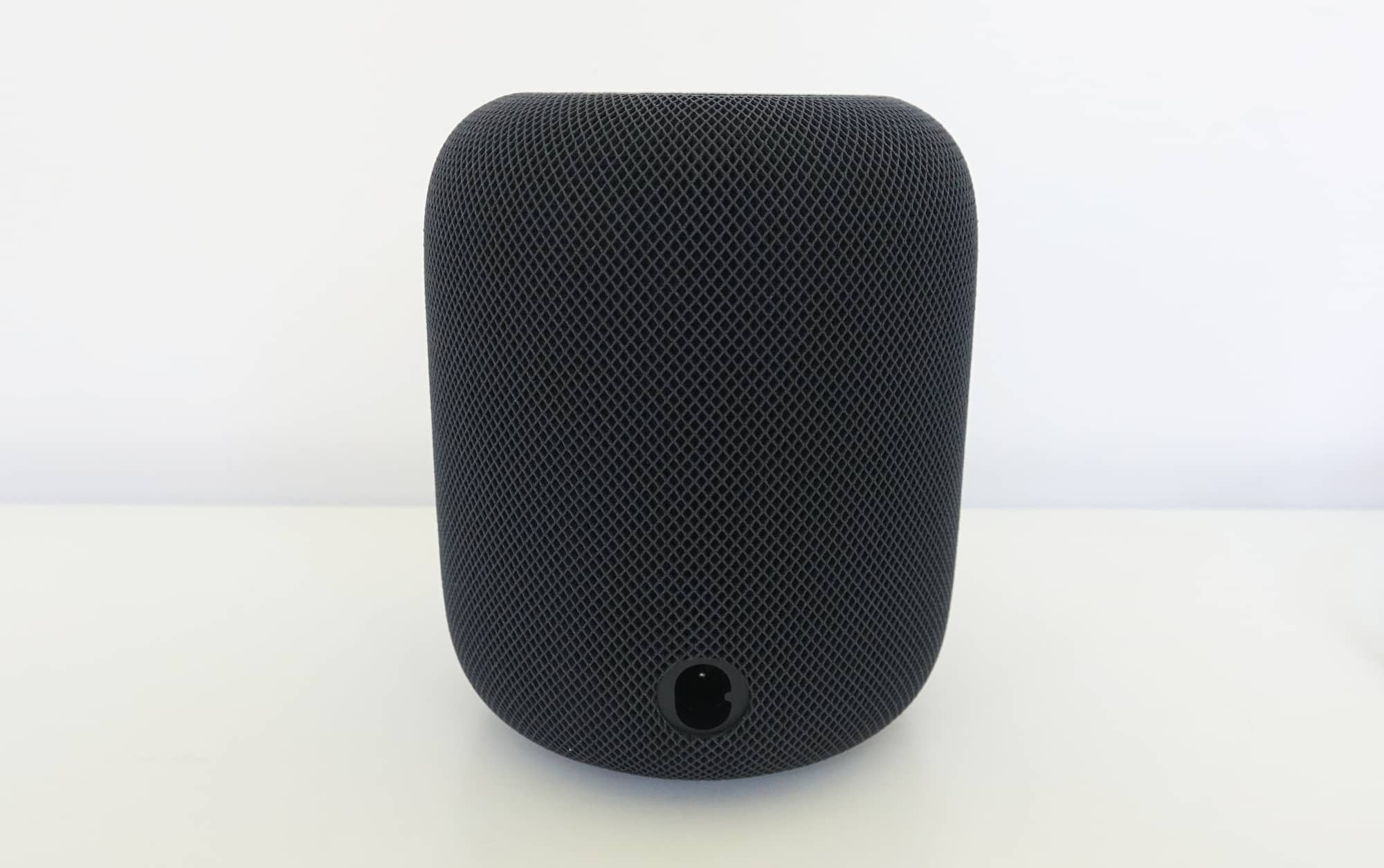 Design and features
If you've heard that Apple announced a new HomePod to go alongside its much smaller HomePod Mini sibling, you might be expecting a new look. And if you are, you will also come away from it going "is that it?"
The answer is yes, as the second-gen HomePod looks exactly like the first, mesh fabric on a cylindrical speaker and all. Up top is a touchscreen controller that lights up just like it used to, though it seems to cover a slightly larger area, and seems to look better overall.
On the outside, there's once change you can see if you know what to look for, with the plug now removable. At the back, Apple has opted for a figure-eight cable that can be removed, compared to the fixed plug the company used in the first generation.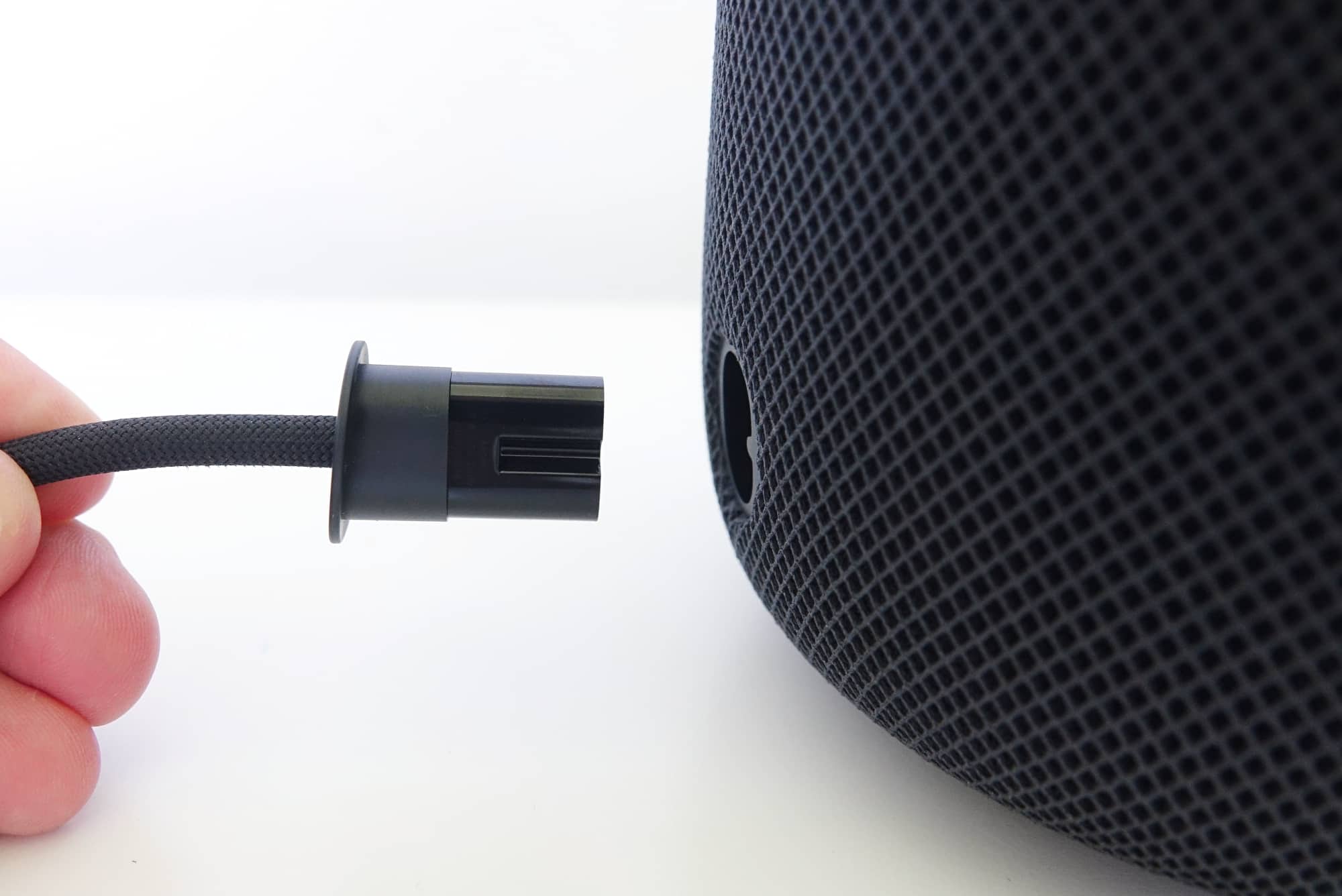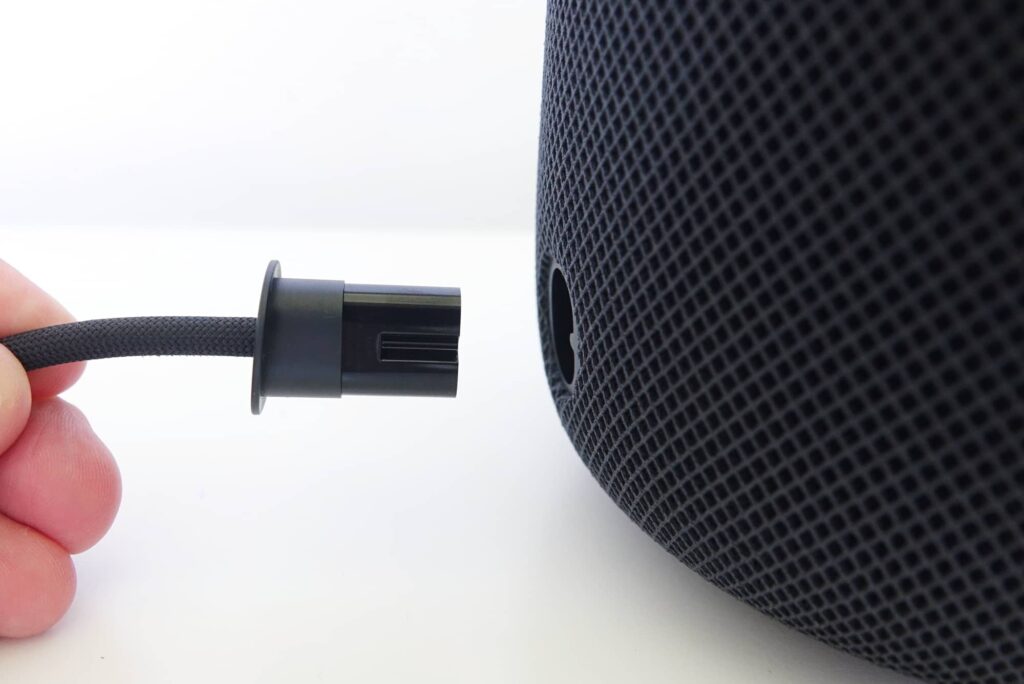 So there's one change on the outside, and there are others on the inside, sporting five tweeters at the bottom angled up, while the top sees a 20mm woofer.
An array of four microphones is used to optimise the audio as it plays (as well as listen out for someone talking to the speaker), while a fifth microphone sits inside listening to the bass from within, equalising the sound to account for internal pressure.
Driving all of this technology is the same chip that was in the Apple Watch Series 7, the aptly-named Apple S7, which allows the HomePod to adjust its sounds in real-time, and works to understand what's going on form within the speaker.
It's not all about the sound, either, with a temperature and humidity sensor on the HomePod, allowing you to ask the speaker what the temperature is right now and have it give you an answer for where you are, not just what a weather service is telling you.
It will also work as a smart hub, playing nicely with HomeKit gadgets and devices built for Matter, though a speaker is the primary purpose, and it's one you can use in a few different ways.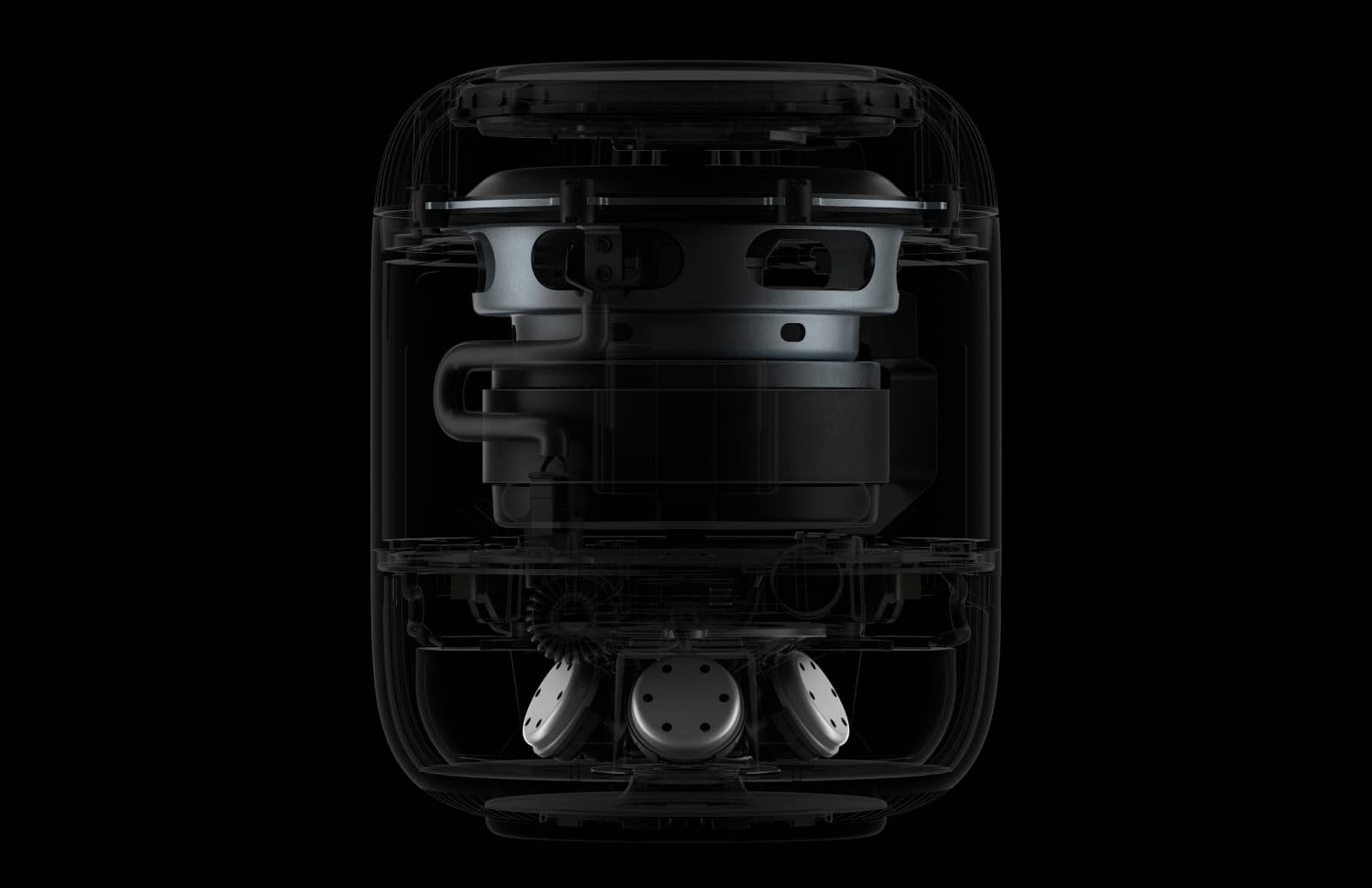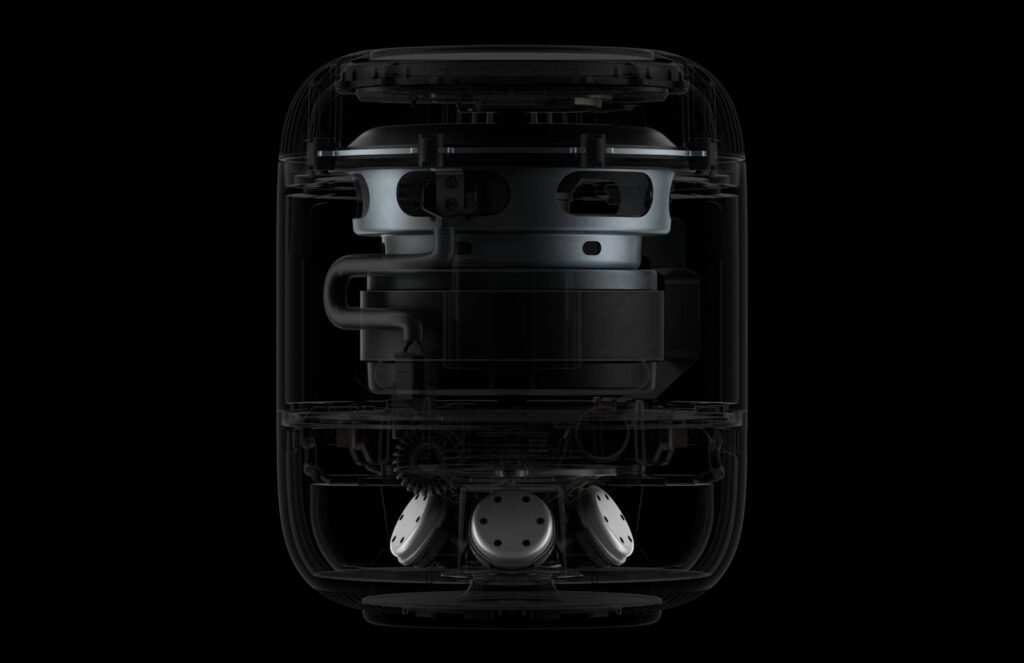 In-use
Folks living in the Apple ecosystem with an iPhone or a Mac can AirPlay directly to one, or if you have an iPhone, you can also hold it near the HomePod to transfer what you're listening to directly to the speaker. It's about as easy as it gets, and feels like a solid jumping off point.
You do seem to need an iPhone to set up the HomePod, so it's clear Apple is playing to an audience already familiar with the Apple ecosystem, but an iPhone isn't the only way to control the thing.
The other main way of controlling a HomePod is to talk to it, and for that, you'll find Siri at your disposal. If you're already used to talking to Siri on an iPhone, an iPad, or a Mac, you'll already know how to do that, and can ask Siri to do things, such as play music for you, play albums or individual tracks, or even a podcast you listen to. Hey Siri, play The Wrap – Australia's fastest technology roundup, that sort of thing.
If you have other HomePod speakers around the home, you can also link them up thanks to multiroom support, handy if you have a HomePod Mini here and there, while owners of a Mac may even be able to use AirPlay to stream to several speakers at once, including a HomePod.
That's more of a Mac thing that works from Apple Music specifically, but it means we were able to stream to both HomePod and Sonos units in our home. Because overkill and decadence can be fun.


Performance
Once you've worked out how you'll control the HomePod, it's time to play some music, some podcasts, or even play some TV, because this time around, it supports that, too.
Podcasts are easy, and the HomePod has no problem playing voices clearly, but TV is kind of a new trick.
Back when the first model came out, we felt a little like pioneers trying to force sound out of the originals and using the first-gen HomePod like a soundbar. A few years ago, it was an idea that didn't quite work as well as a real one, though times do change.
This time around, a couple of HomePods can be used as a soundbar-of-sorts through an Apple TV, recreating dimensional audio via Apple's media device. It definitely works and delivers a nice spatial experience with a Dolby Atmos movie and TV soundtrack, but your mileage may vary. Some shows and films will sound better than others, but it's definitely an experience that works.
Then there's music, and unsurprisingly, this is what most HomePod owners will likely end up using their HomePods for.
Music is where we spend most of our time reviewing headphones and speakers, and we review a lot of them. It's no wonder we have the Pickr Sound Test, our regularly relied on list of tracks to push through every audio gadget review, and this one is no different.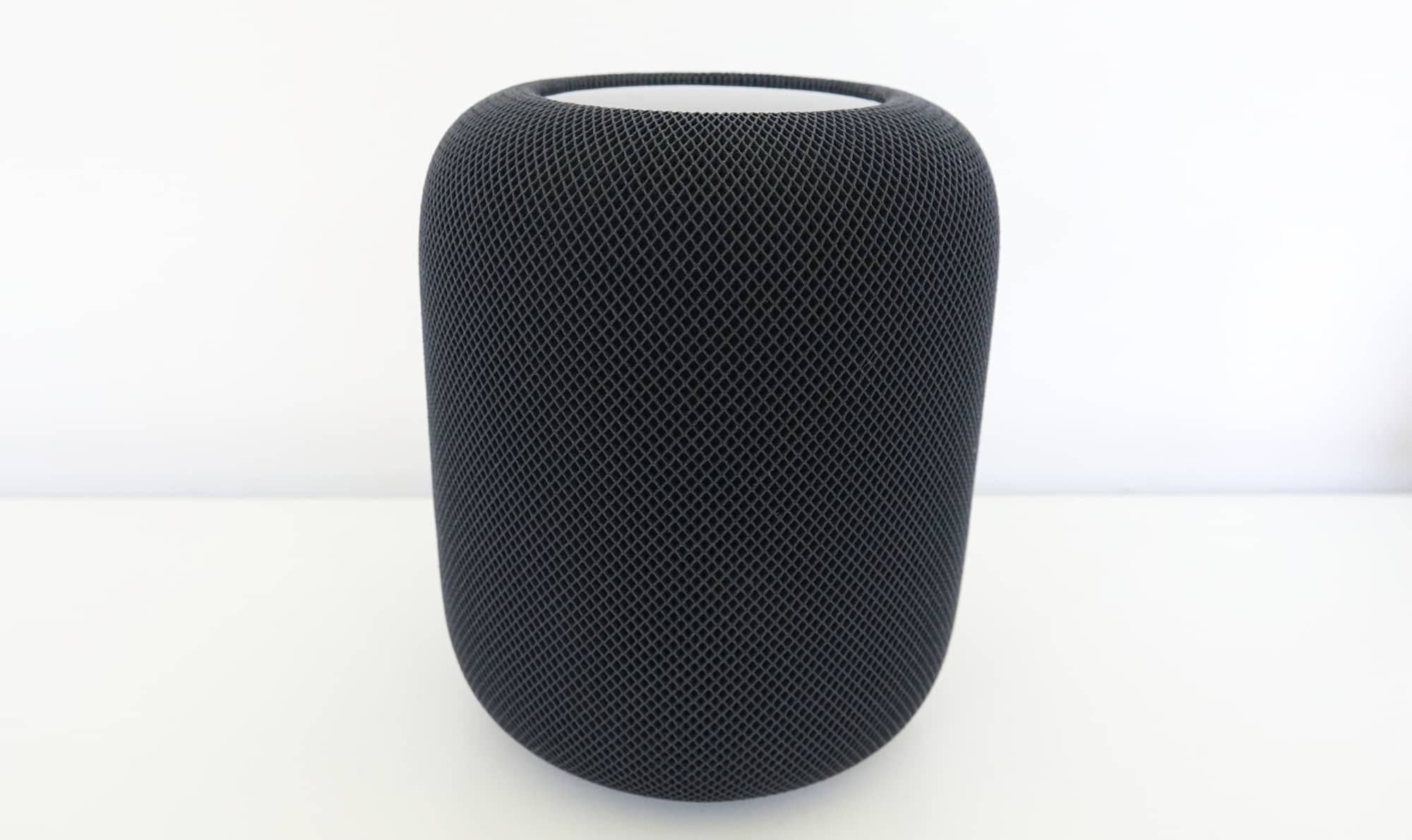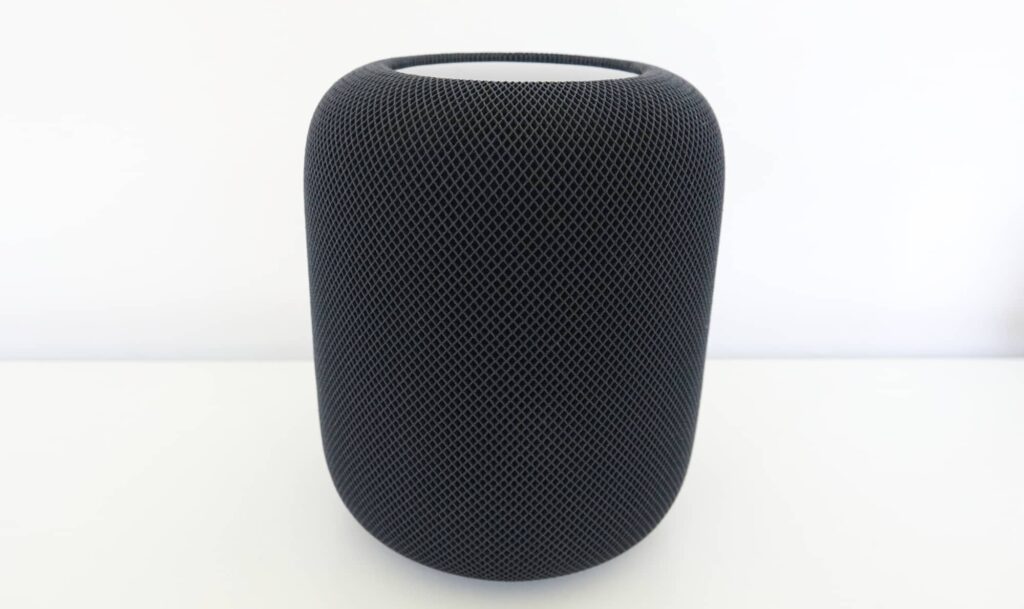 That starts with a test in single-speaker, before jumping over to two, which will likely bolster the sound.
In the single speaker category, we start with electronic, where we get a noticeable bump in the bass, but a slightly higher sound overall. The electronic sounds of Tycho come off with great separation and distinct sound, but the bass is definitely pumping under the highs, while Daft Punk renders more balance overall.
Over to pop, and Carly Rae Jepson and Ariana Grande both deliver much the same, with a vocal punch and some solid bass chops. It's a nice sound, though, definitely plays to highs of vocals as a singular speaker.
At this point, we decided to pair the two speakers together, and the difference becomes more noticeable. The balance is clearer, the speaker feels louder, and overall the result is better and more impactful.
Even in those same test tracks, the sound delivered just that little bit more, and we started to notice how the HomePod's ability to account for speaker positioning changed.
When the HomePod sat next to another gadget and essentially changed the way the speaker conveyed sound, the audio came across a little shallow, likely because the system was account for the extra surface. Both speakers changed to account for it, and when it was moved away, both speakers changed to fix it.
If you have no idea quite what the Apple S7 chip is doing inside, the answer is clear: it's analysing the sound alongside a bunch of variables to deliver a fantastic rendition of what you're listening to.
Not everything is perfect, but much of what we played certainly delivered an experience.
In Mark Ronson's "Uptown Funk", the bass snapped beautifully, while the sound almost felt like it was changing from verse to chorus back to verse again. The vocals were tight alongside the somewhat sparse mids in the verses, and when it all came together in the middle, the bass became more impactful overall.
The balance was clearer in tracks from Charlie Puth, Maroon 5, Muse, snd the Deftones, delivering a welcome and wide soundstage, making for a space that worked a treat.
Tracks without excess engineering such as classical and jazz were close to appearing live, with newly released Atmos variations nailing that feeling better than anything else.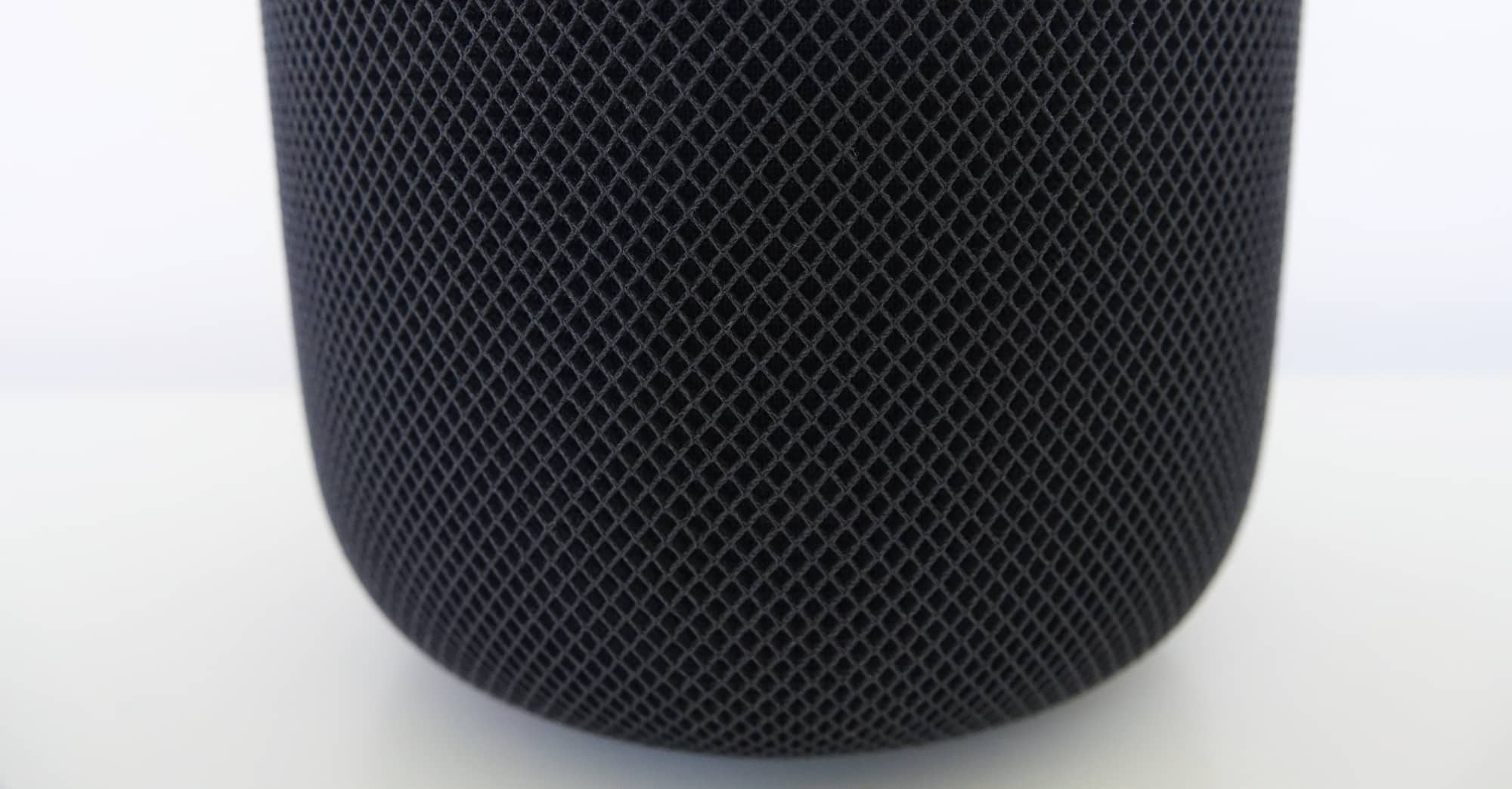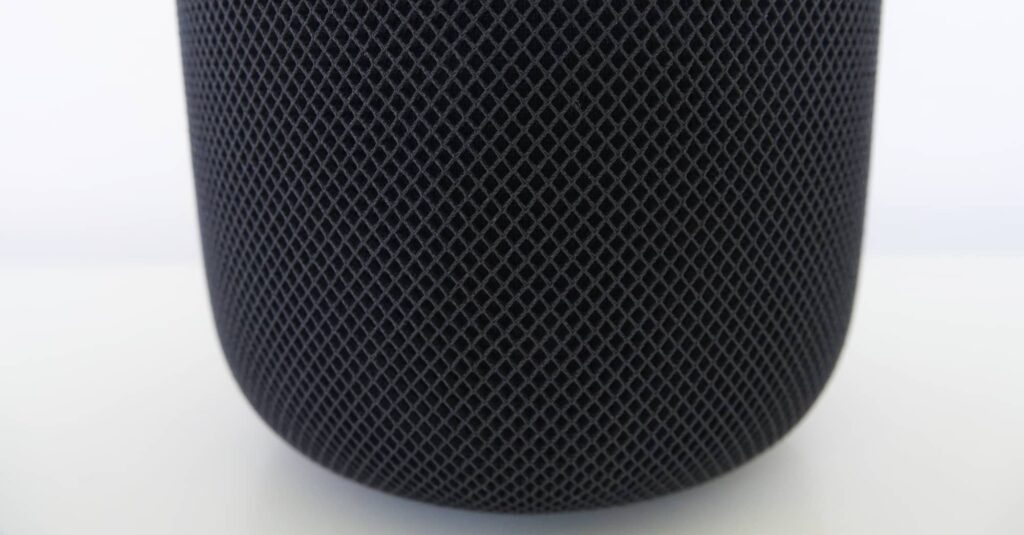 And that's not all, because we also need to talk about the volume.
We don't typically run our speakers past half volume, as that's usually plenty for what we listen to, and it won't wake the baby if she's sleeping.
But if you dare to push the speakers to another level and raise that volume significantly, you may find the 2023 HomePod just isn't bothered by loud, or what you call "loud".
Turn the sound up and look for vibration and fuzz. Apple almost dares you, because it is very hard to find. This year's revision of the HomePod may look exactly like the old model, but it performs differently, giving you so much headroom and flexibility. It is quite impressive just how far you can drive these if you really want to.
Value
Granted, you will pay for it, with one Apple HomePod costing $479 in Australia.
That's roughly three times the cost of the $169 standard Amazon Echo (4th-gen) and more than the $349 Amazon Echo Studio. It's also roughly three times the cost of the $149 Google Nest Audio, which is also due for an update any time now.
In testing the new HomePod, we think Apple's speaker sounds better than many of these, though it's pushing into territory held by the likes of Sonos, Bang & Olufsen, and Bose, all of which have speakers designed to compete.
Overall, we don't think the value of the new HomePod is too far off the mark, simply because good sound is rarely cheap, and this is just that. Pairing two HomePods will cost you close to $1000, it's true, but the result you get may actually be worth it.
Paired with the right service, the Apple HomePod just sounds that good.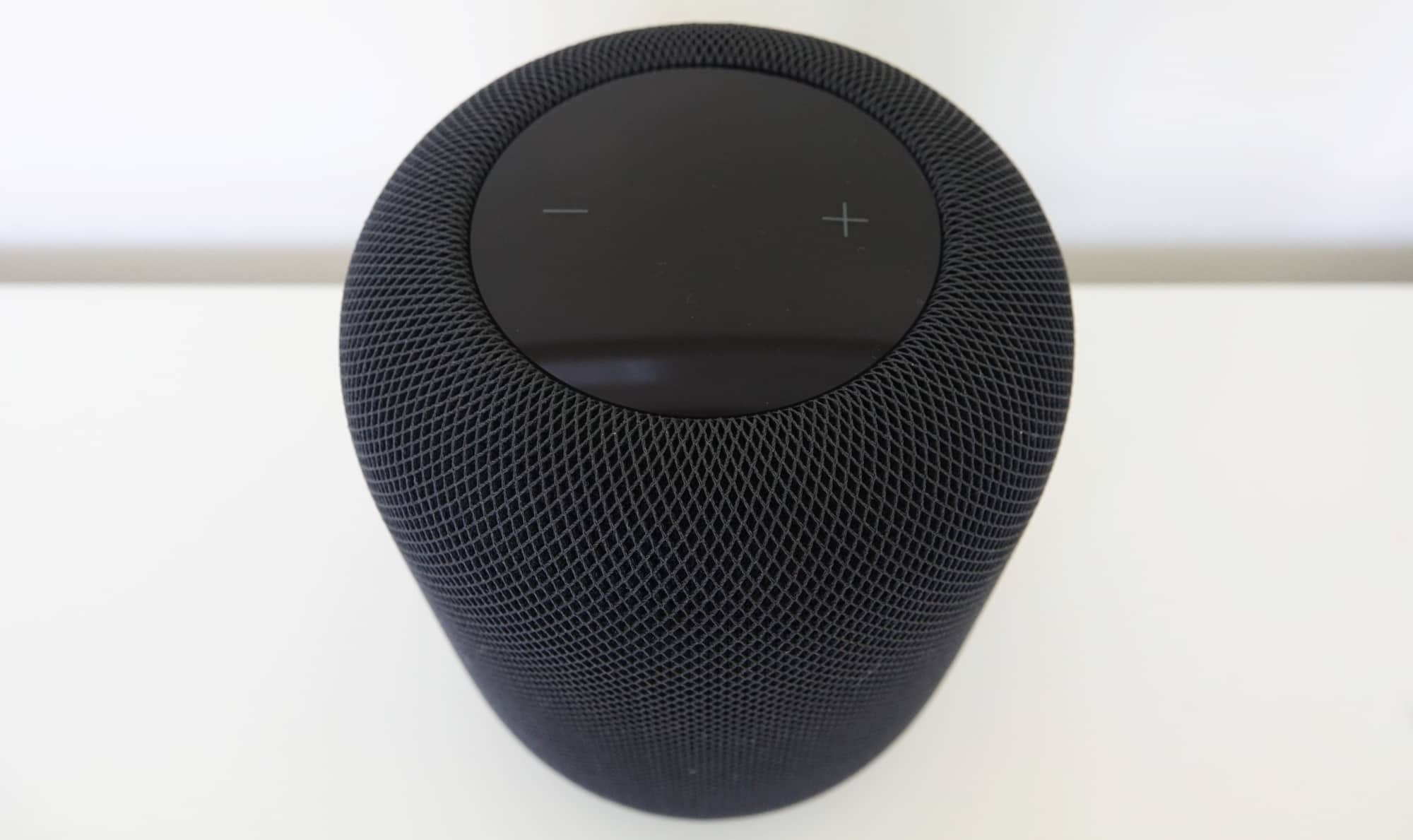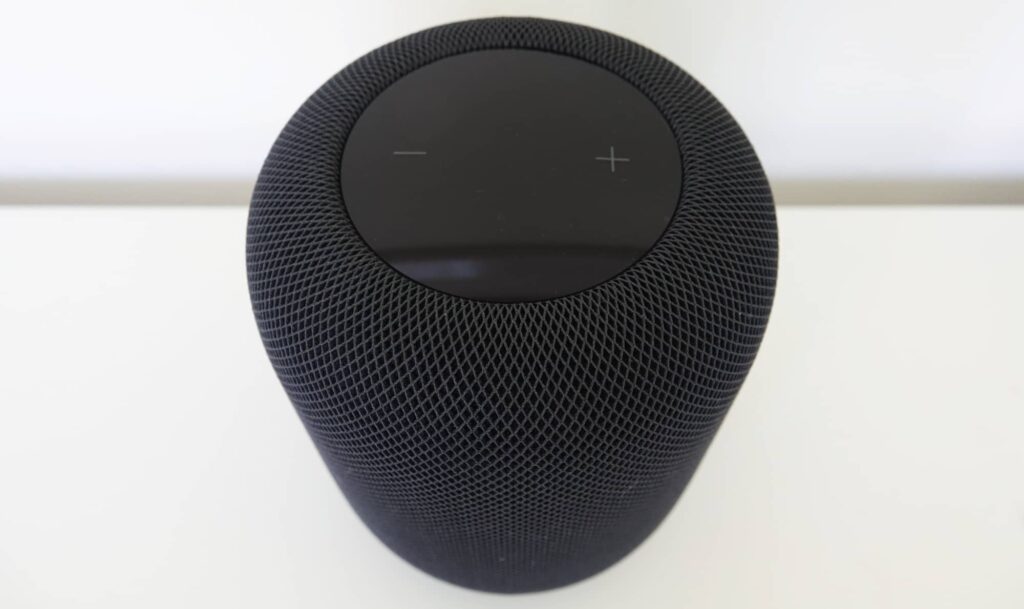 What needs work?
With a sound quality that feels greater than the sum you'll end up paying for the HomePod itself, it's hard to see what the HomePod does wrong. Indeed, if you live in the Apple ecosystem, the answer is probably not much.
If you're not a fan of either Amazon or Google, or you have some mistrust with sharing data with those companies, the HomePod as an alternative smart speaker will make sense. You don't quite get all the routine controls of its competitors, but you mightn't care.
However, building routines for the HomePod doesn't seem quite as clear or even as involved as it might be on one of those other ones, so it's less about what the HomePod does wrong and more what it's missing. Even Apple's user guide for the HomePod seems to skip the idea of customisable routines, giving you some examples of what you can ask Siri to do, though they hardly seem as complex as what you can do with either Amazon or Google. We could probably make it play Keepy Uppy, but we'd have to forgo the smart assistant telling us to get a balloon ready.
You can do some individual routines with supported HomeKit accessories, and stack them at certain times — such as getting Siri to lower the lights at a certain time — but stacking several together like you can with a competing system doesn't seem quite as flexible from our experience.
Lights can be turned on and off, music can be played, and relaxing sounds can be triggered, but you can trigger a news or weather reading. It's mostly about on and off, and what music you want played.
There's also the obvious elephant in the room with this speaker, and that's the service it's really made for: Apple Music. If you have an Apple Music account, Siri can play music from your spoken word and you'll hear music in Atmos, too.
The problem is that like the original HomePod, the 2023 model is still focused on Apple Music specifically, despite there being other music services. There's the clear major competitor in Spotify, not to mention YouTube Music, Tidal, Amazon Music, Soundcloud, Qobuz, and others, too, and the only way to play them on the HomePod is to send it via your phone. Siri on the HomePod won't play natively with anything other than Apple Music.
Simply put, if you don't subscribe to Apple Music, it's hard to recommend the HomePod, because it really caters itself to that service and that service alone.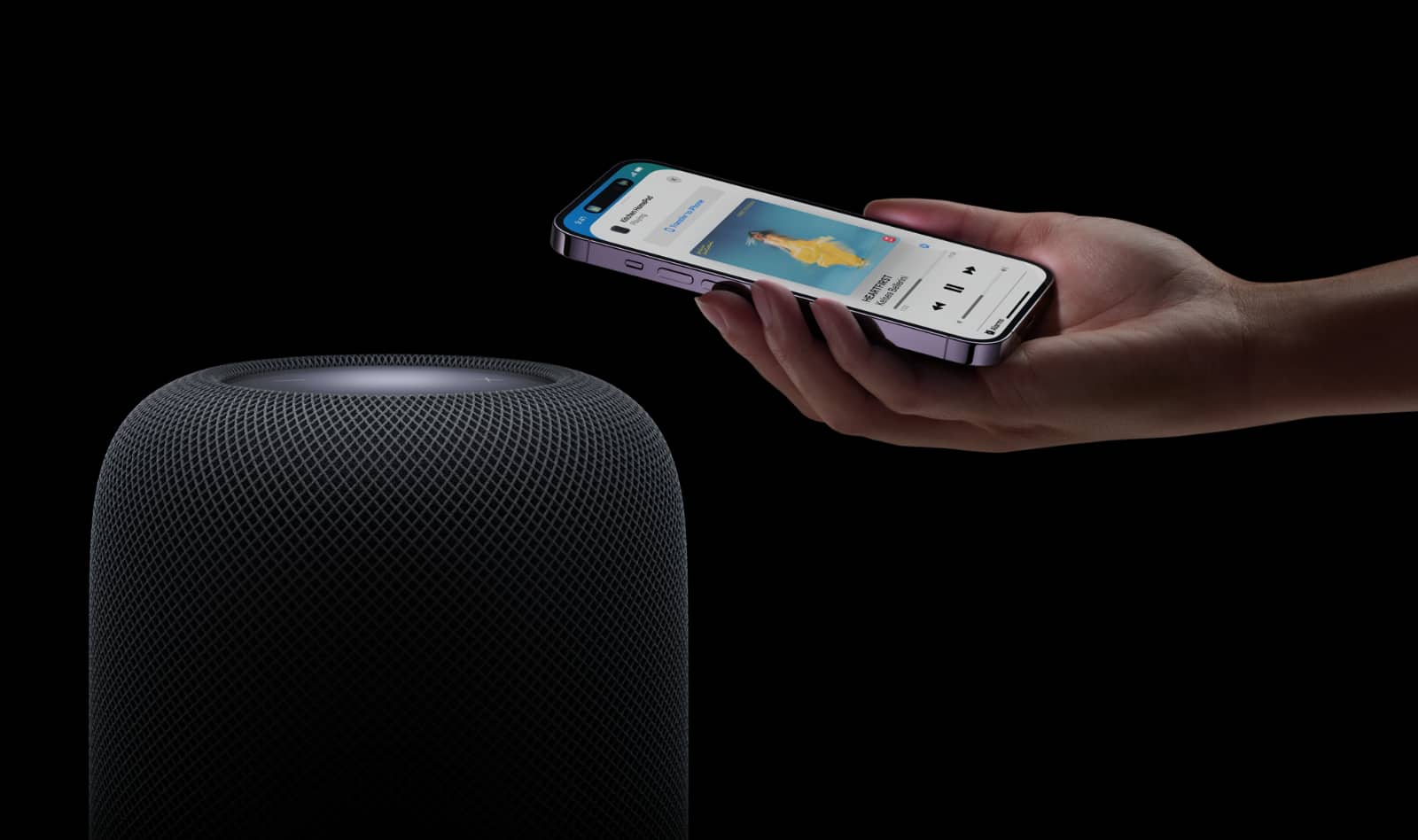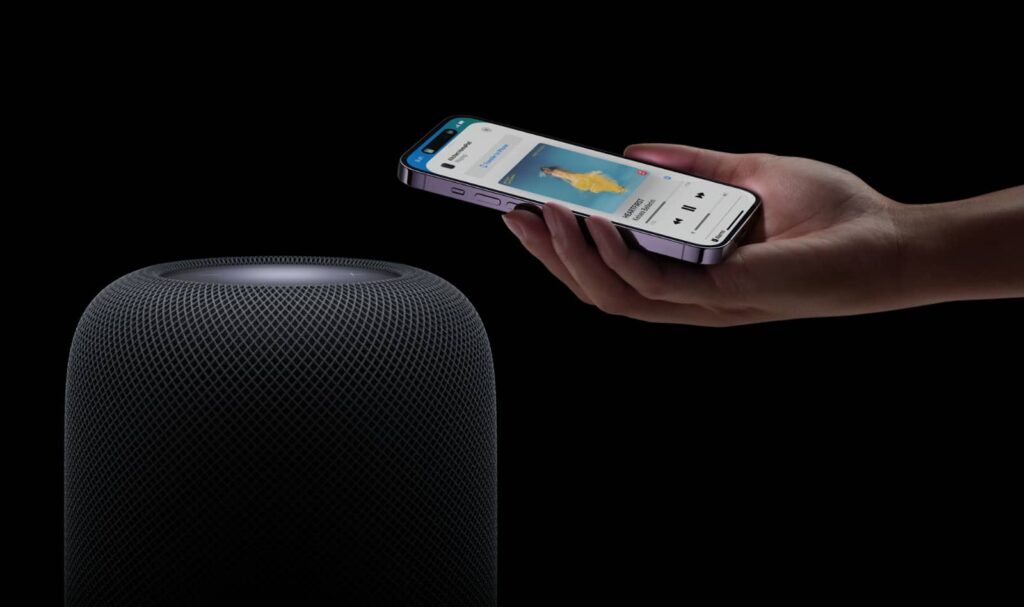 What we loved: Atmos renditions
But if you do subscribe to Apple Music, you'll find support for Dolby Atmos spatial audio, a technology that offers newly mixed and mastered tracks with a more dimensional feel, and something the 2023 HomePod has been built to take advantage of.
Thanks to the Apple S7 chip inside and a combination of microphones, Apple's system can work out how best to play to the room you're in, analysing the sound of tracks and how it echoes in your room to deliver a great sound. It'll do that with any track, but with Atmos audio, it just sounds so damn good.
We've listed ten great Atmos albums in the past, but new Atmos mixes are coming on all the time, and the HomePod loves them. Pair two together and the delivery of Atmos mixes can sound very much like you're there, something we've not quite felt from some of the stereo recordings heard in the past.
Recent Atmos releases of jazz classics, such as Miles Davis' Kind of Blue, Duke Ellington & John Coltrane's self-titled classic, Oscar Peterson's Night Train, Ella Fitzgerald and Louis Armstrong together in Ella and Louis Again, remasters of Nina Simone, plus the recent Fred Hersch & Esperanza Spalding recording Alive at the Village Vanguard are all prime examples of Atmos releases that can make you feel like you're there on the HomePod.
You can hear every little minor thing happening, every extra breath and touch, and the sound stands out. Turning up the HomePods and just being absorbed by these albums and so many others makes you feel as if you're in the presence of greatness.
These speakers really spoil you.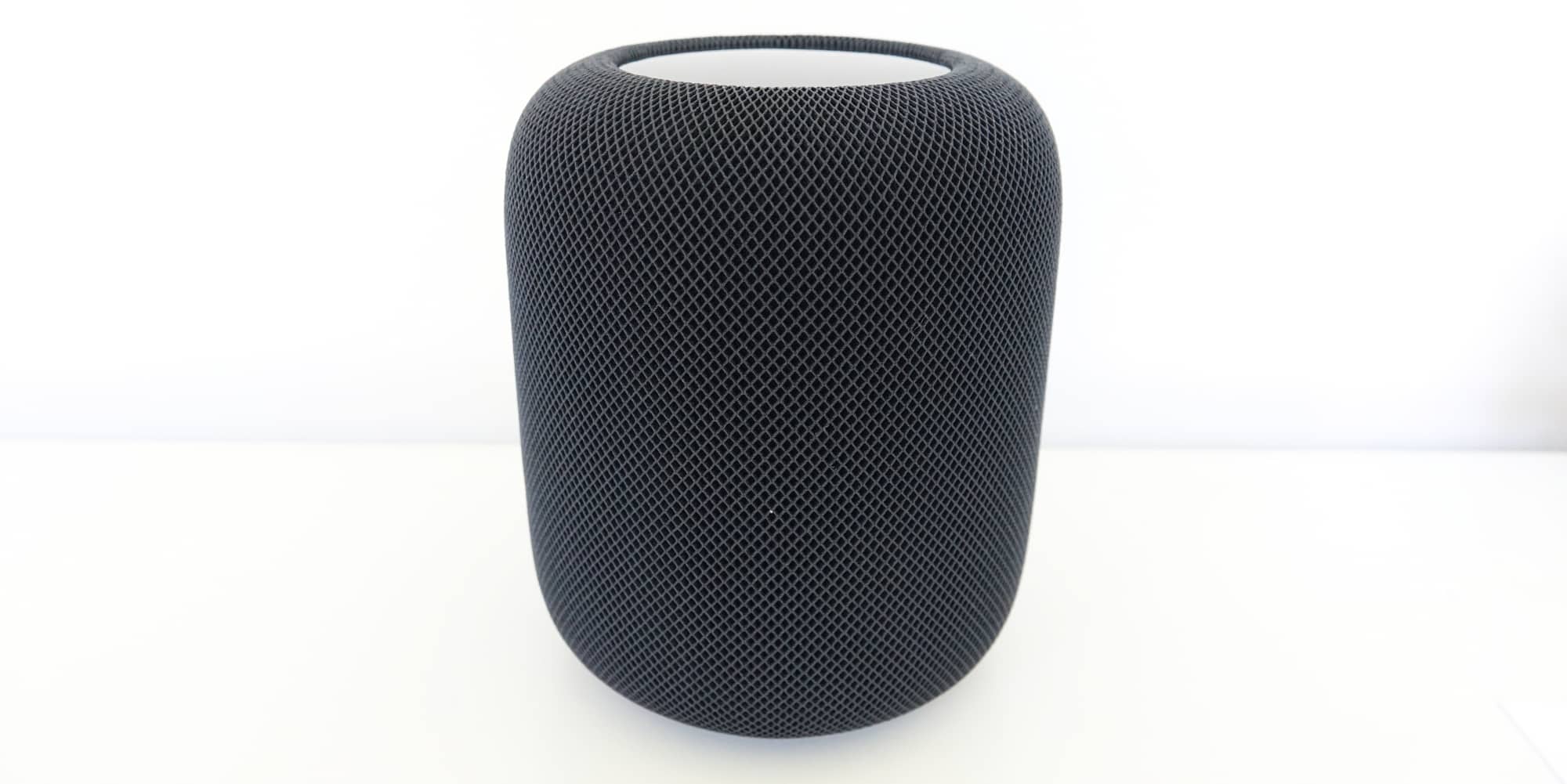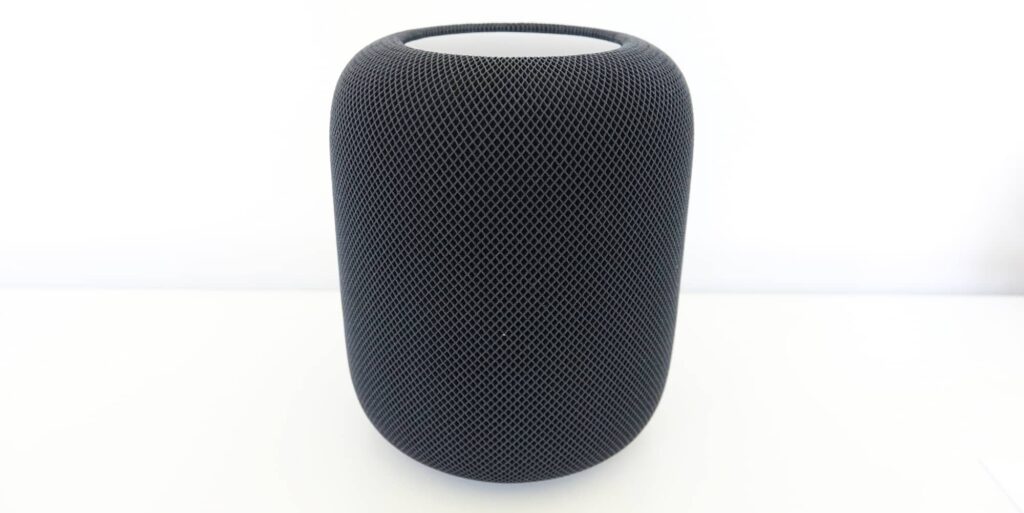 Final thoughts (TLDR)
There's a lot to like and admire about Apple's newly reinvented HomePod, and the sound is definitely it.
The new HomePod sounds awesome.
Offering plenty of volume in a relatively small package, not to mention the ability to judge and tweak the sound for your room, the HomePod wins over our office in a heart beat. Listening to music on these is a genuine treat.
What's more, they are amazing for Atmos. Apple is clearly spending a lot of time with spatial audio, and it's not the only one, with Sonos diving deep on the tech, too.
It's no surprise, either: the reinvention of music to become more dimensional changes the way we experience it.
While many might turn the volume up on their headphones to somewhat unsafe levels in the hope of making music feel like it's more intimate, spatial audio delivers that feeling without the unnecessary amplification. It works on headphones already, but in the HomePod, Apple has amped it to the next level.
Granted, you'll want to live in the Apple ecosystem to really connect with the HomePod, needing an iPhone to set the speaker up and an Apple Music account to get the most. But if you have one of those, the 2023 HomePod is a star that shines brightly.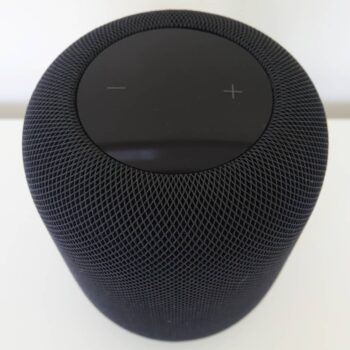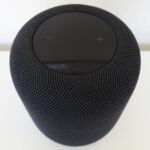 Apple HomePod (2nd-generation, 2023)
The good
Excellent sound
Virtually no distortion or buzzing
Dolby Atmos tracks sound superb
Works as a spatial sound system for Apple TV
Your phone or computer can talk to it via AirPlay (which is how Spotify works on the HomePod)
Lovely design
Plug is removable (a figure-eight cable)
The not-so-good
Tracks can sometimes sound a little high-heavy
Really needs an Apple Music subscription to make the most out of it
Other music services still aren't super friendly with it
Still needs an iPhone for setup