Quick review
Soundcore Liberty 4 NC - $170
The good
Compact
Sound will be solid and balanced for most people
Noise cancellation is pretty decent for the price
Comes with an app that supports EQ, ANC tweaking
Wireless charging case
IPX4 water resistance
Incredible value
The not-so-good
Controls aren't amazing
Touches aren't always picked up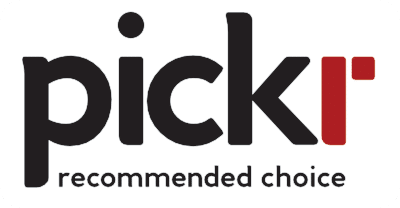 Premium noise cancelling earphones might typically cost over $300, but the Soundcore Liberty 4 NC proves you can spend nearly half for something just as good.
If there's a maxim found in truly wireless noise cancelling earphones, it's possibly that great typically isn't wallet friendly. Excellent headphones are like that in general, and the better it is — and the brand — the more you're likely to spend.
It's no wonder that the best earphones from the best brands tend to cost north of $350, commanding high price tags that not everyone has the budget for.
But what if you could get something just as good for around half, or even less. Is that even possible?
Lately Anker has been testing the waters with affordable headphones that sound great, and with its latest pair, the Soundcore Liberty 4 NC, it might have something well worth the price.
Design and features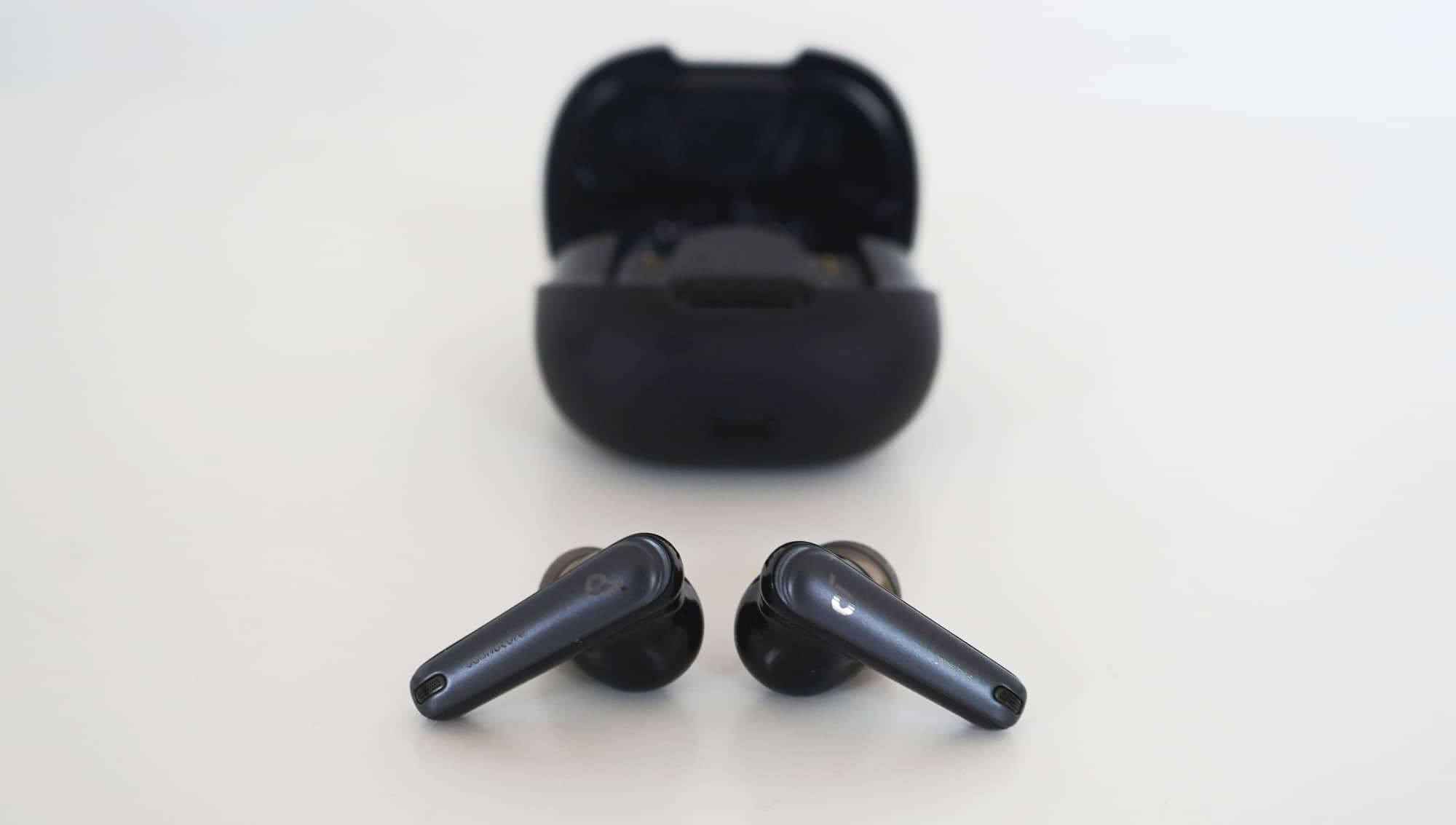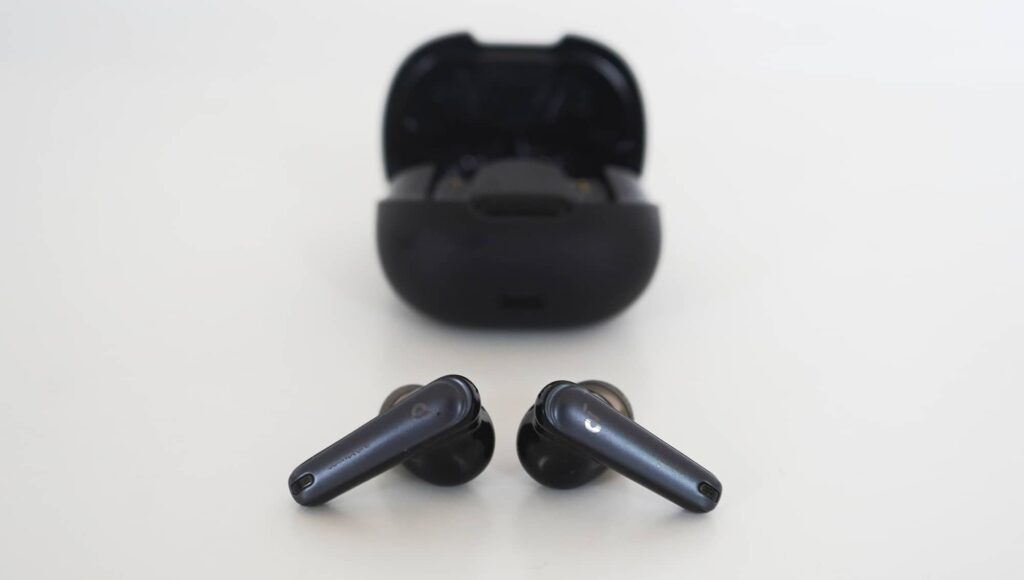 Built a little like AirPods yet not quite, the Liberty 4 NC almost look like a tapered equivalent slimming down as the stem gets to the bottom. They're softer than the EarFun Air Pro we've checked out in the past, but slightly reminiscent, and borrow from a design you've probably seen several times over.
Unlike the AirPods, these will use an in-ear tip, making them like the AirPods Pro and just about every single pair of noise cancelling earphones in the world today. While these are technically labelled as earbuds, they're basically earphones, so if you don't like an ear tip or find it too intrusive, you mightn't like this pair, either.
Soundcore tries to fix that with a great selection of tips, but there's more going on under the hood than just another earphone.
There's an 11mm driver inside, three microphones on each ear, and some AI to deal with noise, all sitting inside a pair of truly wireless earphones rated for IPX4 water resistance. That's not enough to go for a swim for, but if you're running and it starts to rain, the earphones should be totally fine.
The Liberty 4 NC arrive in a case that pops open using a neat button that also works as the pairing trigger, and the charging case supports both wired and wireless charging.
You'll also find an app for these earphones on both Android and iOS, while Bluetooth Multipoint support is built-in, meaning you can use the earphones with more than one device. Handy.
In-use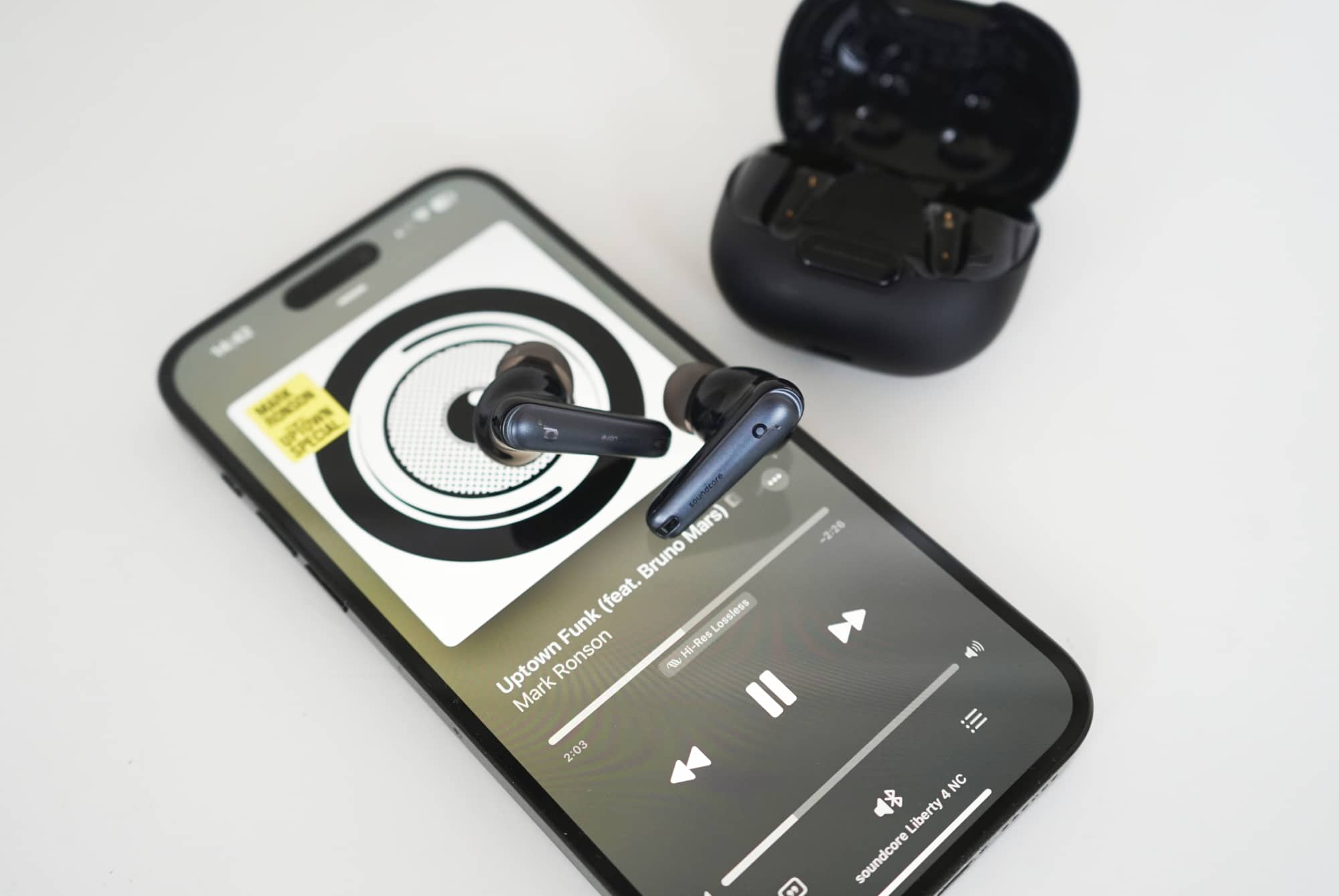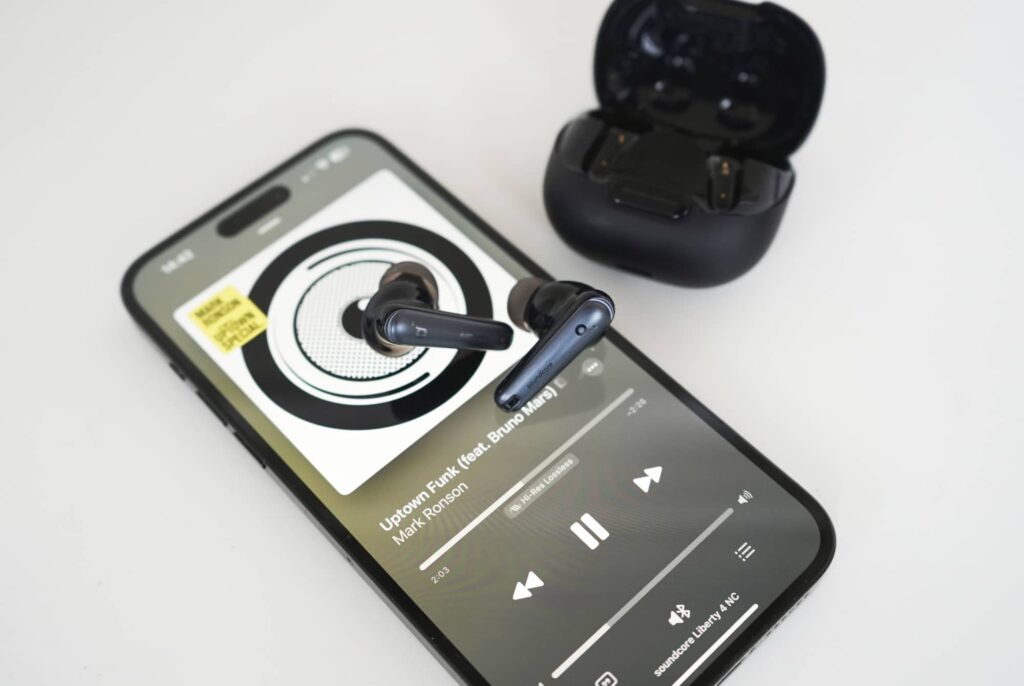 Get to using the Soundcore Liberty 4 NC and you'll find a pair that sees parts of its experience somewhat considered.
Take the ear tips themselves, which sees the medium tips (M) pre-installed, as is the case with so many earphones out there, but Soundcore has opted to include an extra small (XS) tip in the box, something you don't always see. It's normally just the trio of small (S), medium (M), and large (L). This is just that little bit extra.
Inserting the earphones is also easy, and there's even a fit test in the app to help you nail the perfect fit.
Comfort-wise, we found the Liberty 4 NC fared acceptably well most of the time. They weren't uncomfortable, but if you need a bigger tip, you might want to venture a look for foam tips, as the silicone doesn't always feel as nice as more expensive materials. Perhaps we've just been spoiled.
Controlling the earphones is where there's some difference, with Soundcore opting for a sequence of taps.
While the design of the Liberty 4 NC might feel like it borrows from the stock standard stem Apple practically pioneered in truly wireless earphones, it's not the same touch-sensitive panel as what the AirPods Pro relies on. Rather, it's more like Sony's LinkBuds S, using a series of taps, with one to three on either side or a long press.
Most of these functions call track changes, but there is an app to let you tweak things.
In fact, the Soundcore app is one of the more impressive features, delivering EQ settings, noise cancellation modes, listening tests, wind noise reduction, game modes, and more.
We've seen Anker's solid Soundcore app in the past reviewing other earphones, and it's just as much of a great feature here. Even some of the other more expensive earphone varieties don't have as polished an app as this.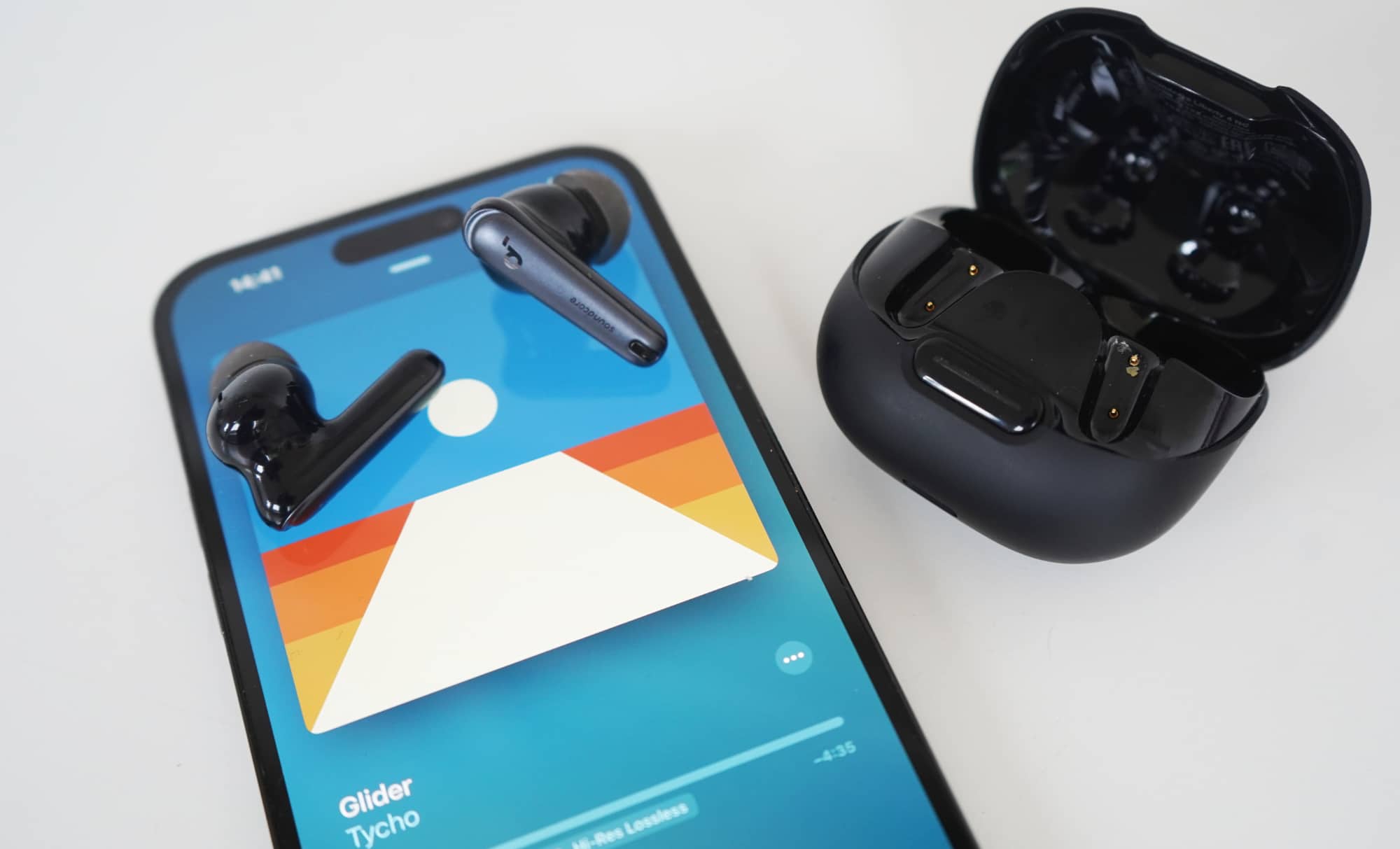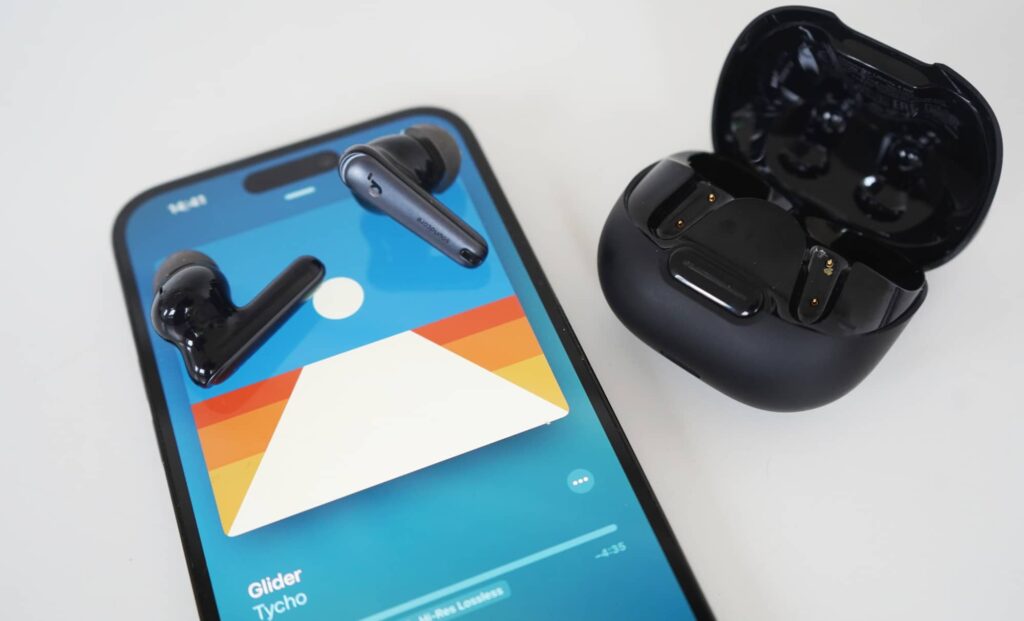 Performance
None of this means much if the earphones themselves aren't great, which means it's time for the part of a review where we test them out. And as usual, we're doing that with the Pickr Sound Test, which you can listen to for yourself.
For our test, that starts with the electronic of Tycho and Daft Punk, which delivers a surprisingly deep sound with strong balance. There's a deep drop in Tycho's "Glider" which kicks off our regular playlist, and you can feel the impact in the Liberty 4 NC. That's a surprise fresh off the bat, delivering a punch amidst good balance, and it continues.
In pop, we pick up much the same: good lows, good mids, and good highs. The high-res certification of the Liberty 4 earphones is evident, because these are surprisingly detailed, and you can hear it in rock, too.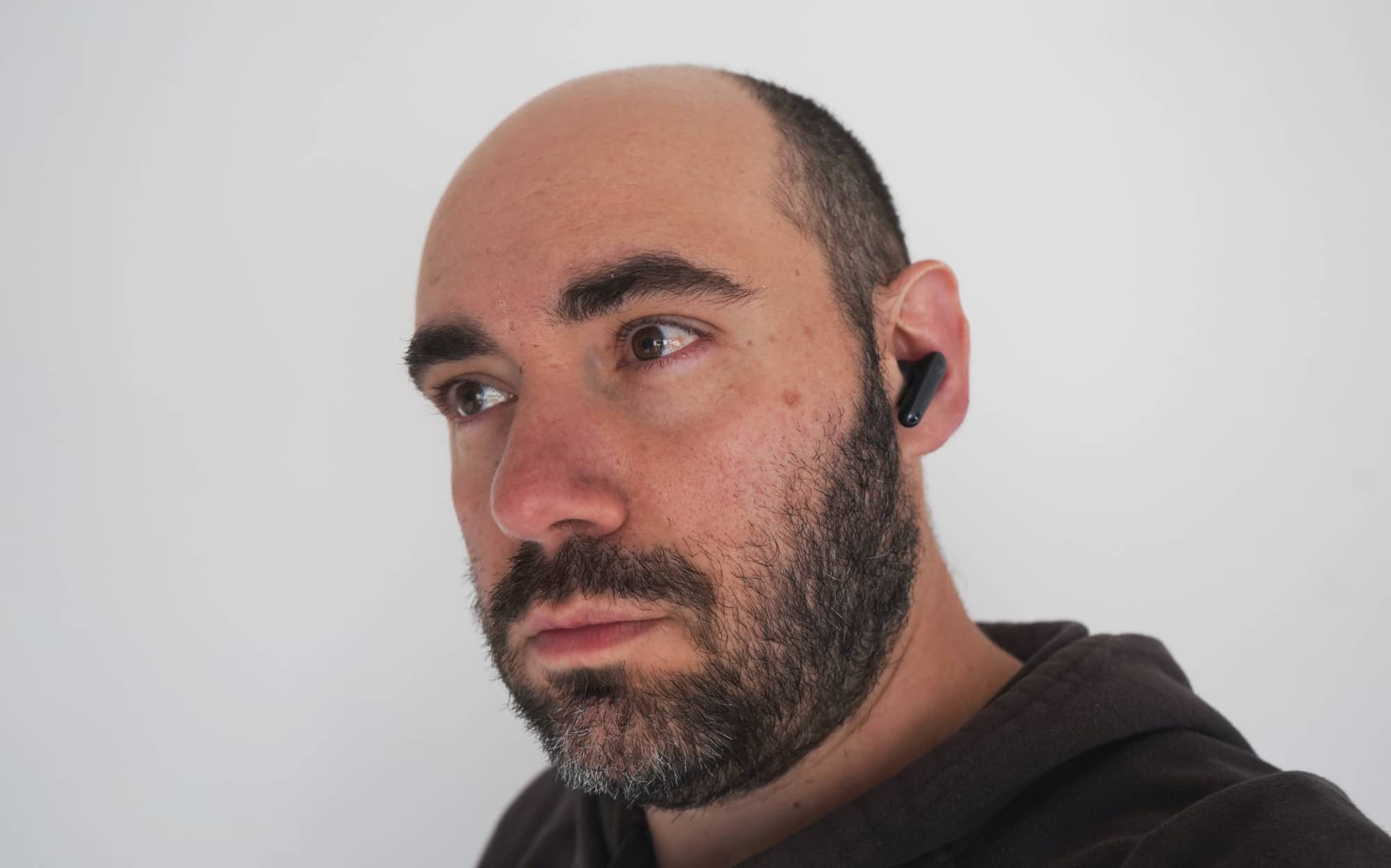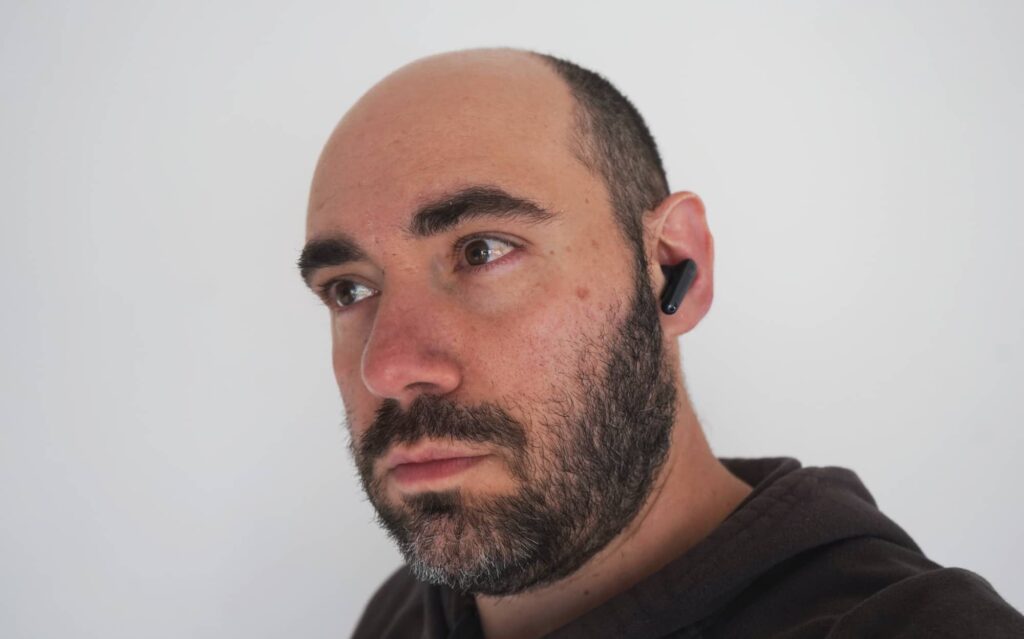 There's a great balance and lovely detail as well tune into the Deftones, Muse, David Bowie, and The Beatles, and sufficed to say, we doubt any casual listener would have any complaints with what Soundcore is delivering here. There's no overkill on bass, but the sound is definitely comfortable. Not warm, just balanced.
In jazz, that continues with a comfortable sound, though one that doesn't push the bass too much, even to its detriment. The rounded bass of Ray Brown felt a little lacking, though other instruments were fine, and the same was true listening to Dave Brubeck and Miles Davis.
For the most part, our experienced was balanced enough for most listeners, and if you want more control, Soundcore has an app to tweak the sound. You can find several profiles for tweaking the audio to your liking, something inexpensive earphones often miss out on.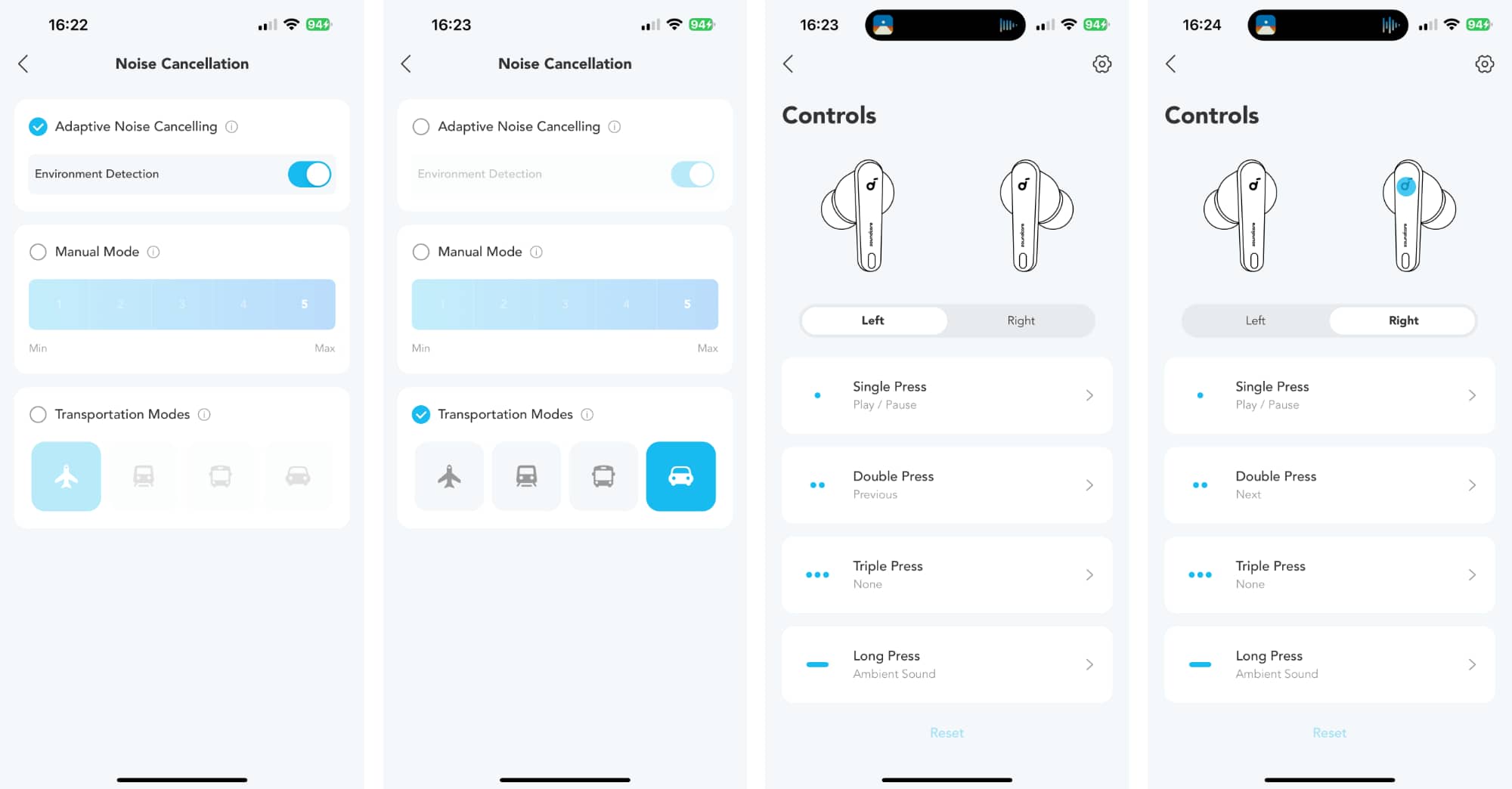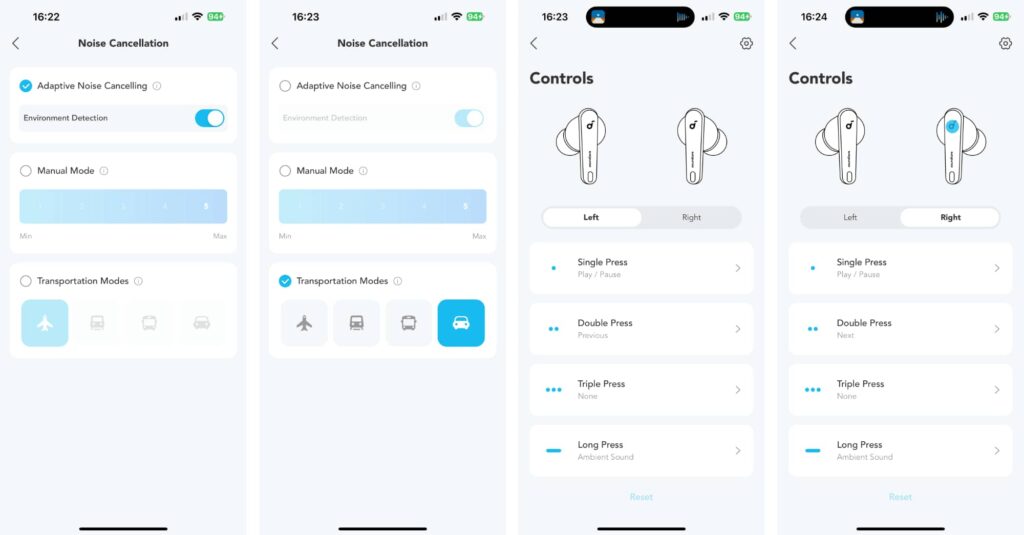 Noise cancellation
Surprisingly balanced sound is matched to also fairly solid noise cancellation, which not only offers modes inside the app, but also works quite well at its maximum setting.
You can change how  the cancellation works, jumping between preset modes for transportation types, manual grades of one through five, or let the system work it out for you.
It's not the best cancellation in the industry, and in the price range, you wouldn't expect it. But it's also a lot better than you'd expect a pair in the mid-range to be, and prevents a lot of audio from coming in. Background hums on the train were hardly existent, and while some whistle made its way back to our ears, the delivery of noise cancellation was excellent.
A note about 3D audio
There's an extra side of the performance on the Liberty 4 we feel worth touching on, partly because we write so much about it regular: spatial audio.
Yes, that's a feature Anker technically includes in this pair to cover spatial, though it's not the usual assortment of the head-tracked variety we like to rave about.
While Sony has offered a variant of that in the recently announced WF-1000XM5, Soundcore's spatial reminds us of what you get in the NuraTrue Pro, expanding the sound so that it delivers a bigger and more spacious experience.
It's not quite the same as true spatial, and in apps is written as 3D sound, but you will get that slightly expanded soundscape if you opt to turn it on in the settings, and makes it a surprising addition not every earphone gets an option of.
Battery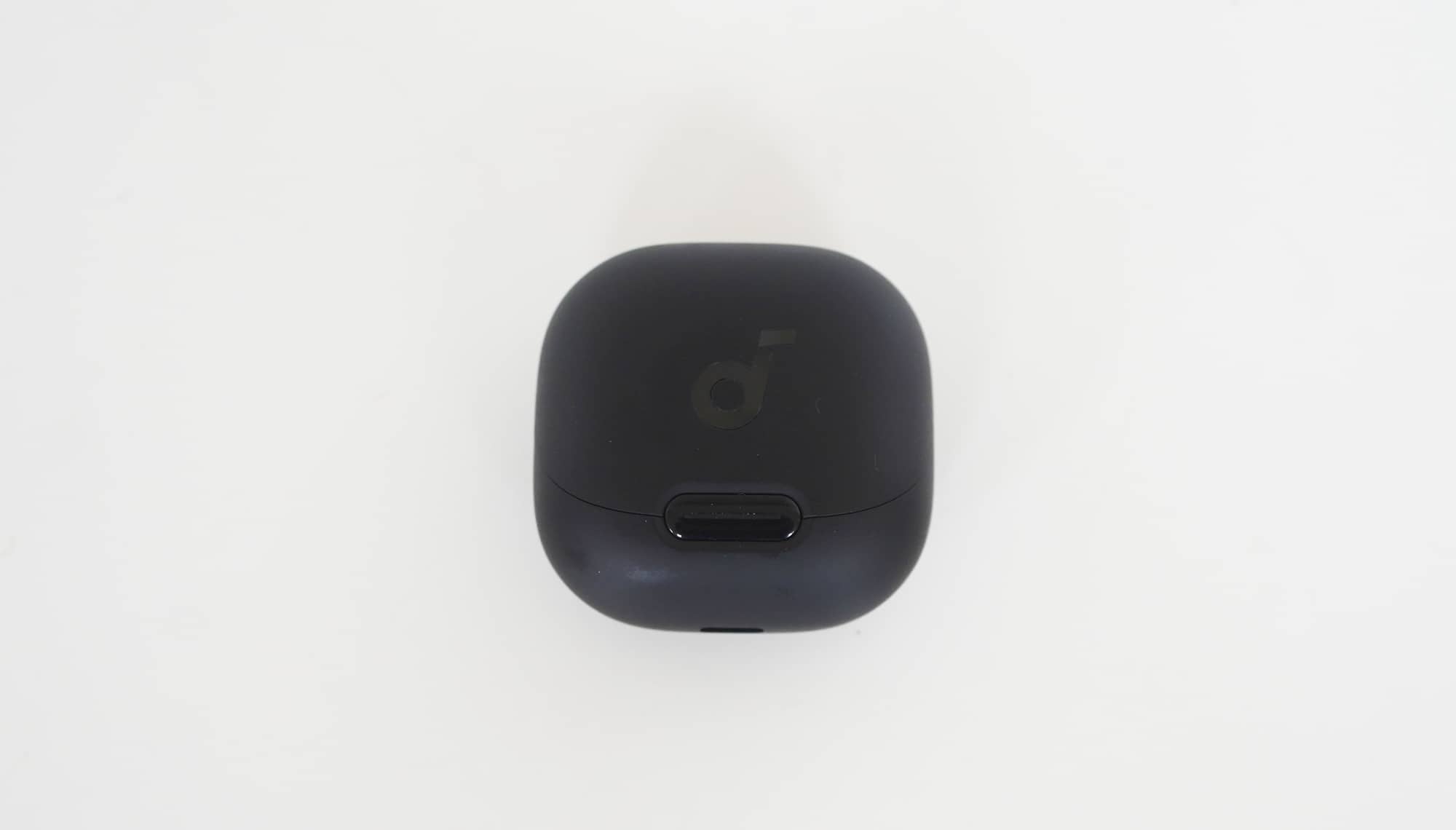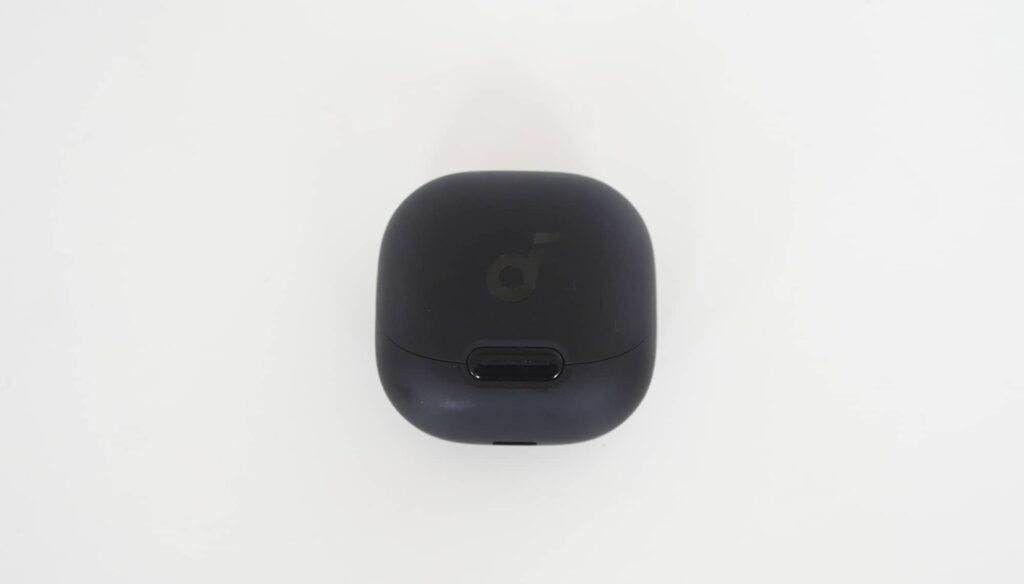 Battery life is equally surprising, boasting around 8 wearing the Liberty 4 NC with noise cancellation switched on, and an extra 32 in the case, resulting in 40 hours all up. Turn ANC off and you'll manage to squeeze a little more out, with up to 10 hours of use in the field and around 50 all up in the case.
We typically review noise cancelling earphones with noise cancellation switched on, and this pair is no different, so the 8 with 40 max is what we're grading on.
The good news, though, is that eight hours for active use on a pair of noise cancelling earphones is a pretty solid effort.
Soundcore notes you'll see substantially less if you opt to use LDAC and ANC for higher resolution audio with noise cancellation, dropping to five hours and 25 for the case, which is more in line with what we see from Sony's WF-1000 range. However, given that these earphones are less expensive, a similar result for high-res and a better battery life without high-res is worth talking about.
Value
Another area that Anker's Soundcore brand has absolutely nailed with the Liberty 4 NC is the price.
At under $200, these truly wireless earphones offer almost everything you'd normally have to spend roughly twice that much to get from pretty much any other brand.
These are just incredible value. A good thirty under $200, Soundcore's pitch for a pair of full-featured, great sounding noise cancelling earphones at $170 is just a staggering surprise.
Good luck finding anything that matches them where they are.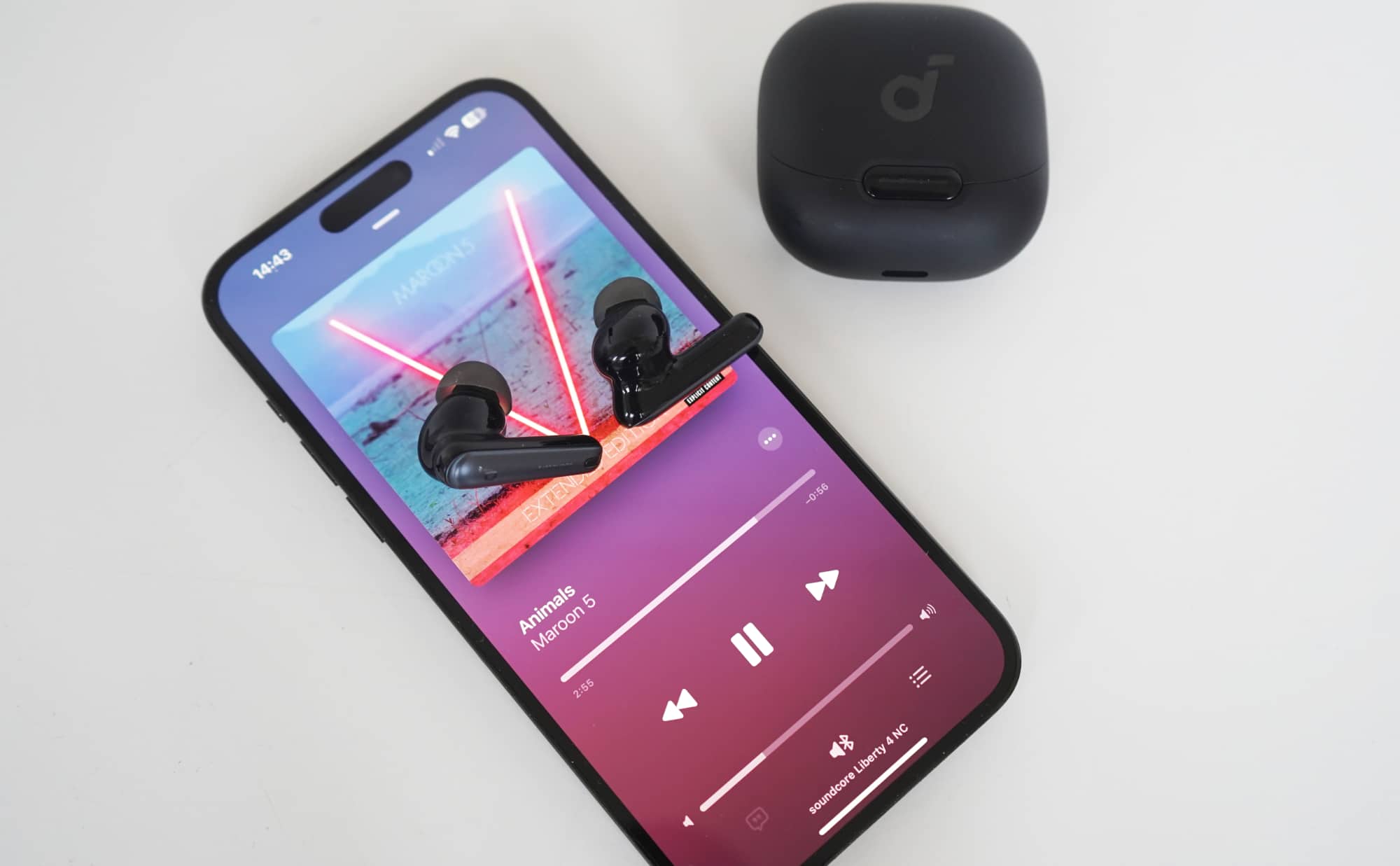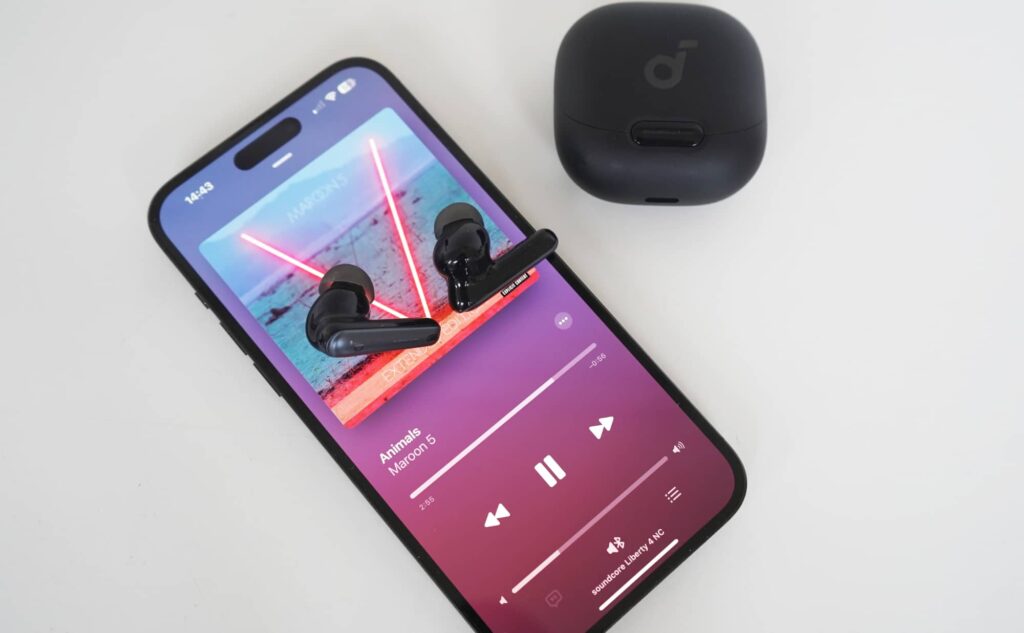 Soundcore Liberty 4 NC vs the competition
That ability to beat nearly everything on price means Soundcore's Liberty 4 NC are making competition very, very interesting.
At the $170 price point, Soundcore is essentially undercutting everything it would normally compete against, including the $179 Jabra Elite 4 Active, the $199 BlueAnt Pump Air Pro, the $229 Beats Studio Buds, and the $249 Sony LinkBuds S (which are similar to the WF-1000XM4 earphones).
You can get less expensive truly wireless ANC, such as the $139 Jabra Elite 4, but the Soundcore Liberty 4 NC sound better and deliver better value overall.
As it is, they feel like a solid competitor to earphones much more expensive. They won't quite give you the spatial tracking in the AirPods Pro (provided you use an iPhone) or the impressive noise cancellation of the Bose QuietComfort Earbuds II, but they give you just about everything else.
If you're thinking of spending below $300 on truly wireless ANC earphone, you'd do well to consider this pair. They're just stunning value.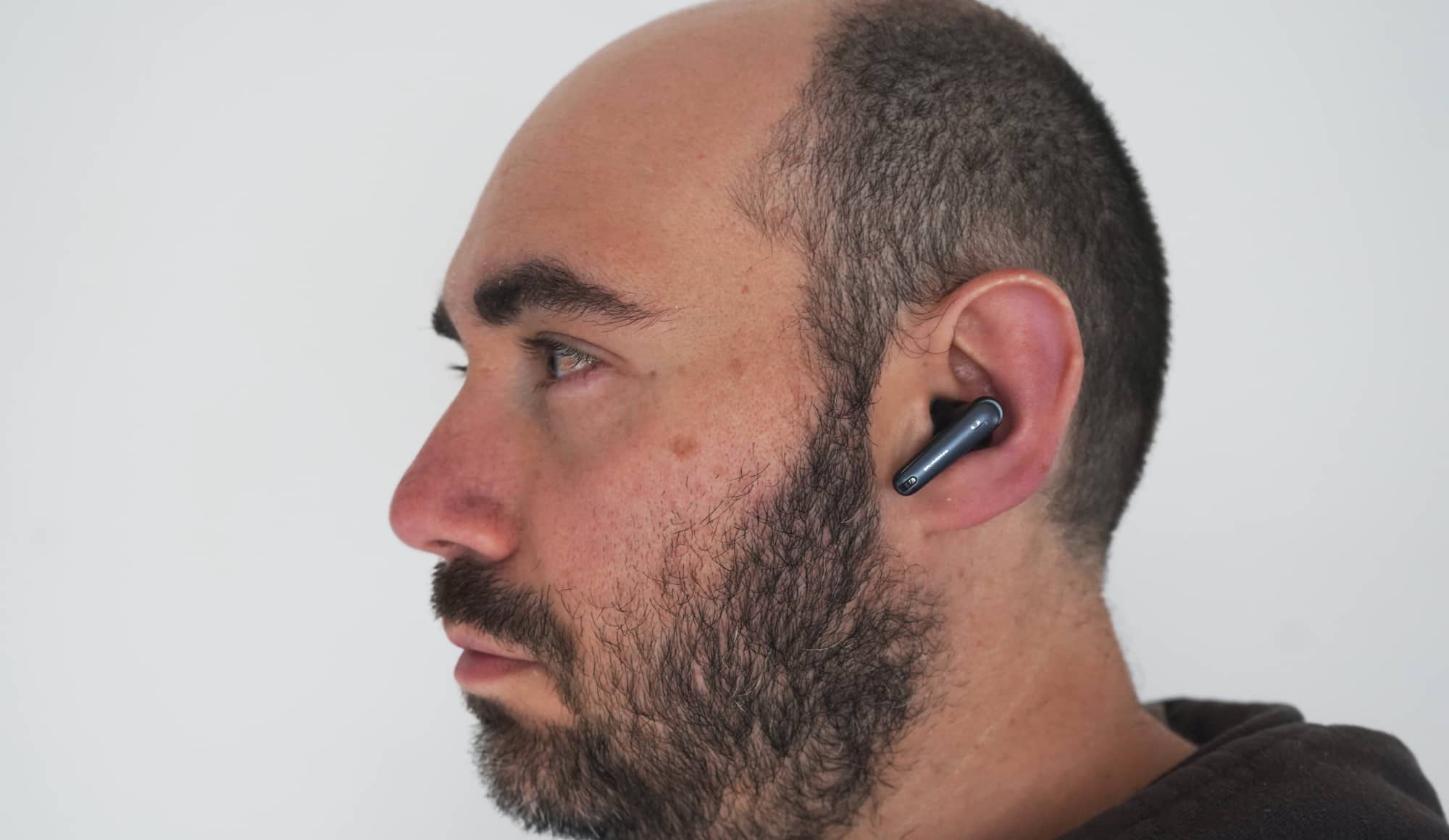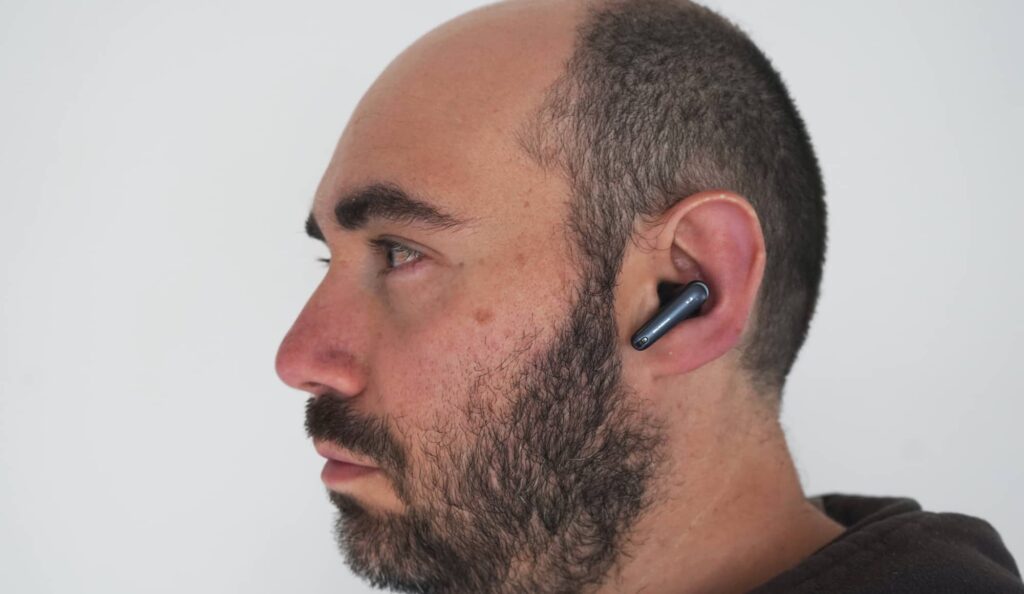 What needs work?
Where the Liberty 4 ANC needs work is on the little things.
Soundcore included a full featured app. It includes great sound. It even includes smaller in-ear tips, offering four sizes of the silicone buds against the usual three most companies provide.
What it doesn't get right are the controls, which are basically just a series of taps on a touch-sensitive stem, and it's not always sensitive enough, missing some of the taps at times.
To Soundcore's credit, you can tweak what the controls do on that aforementioned full featured app, and that helps deal with the meh controls, so at least the brand has considered that aspect. Kinda sorta.
One other point worth mentioning is the volume support, because we found some Android phones didn't quite join the volume controls properly. It's an old bug, for sure, but some Android phones we were testing provided a volume control for the earphones and another for the phone itself, meaning you never quite got the full volume control properly. Just something to be aware of.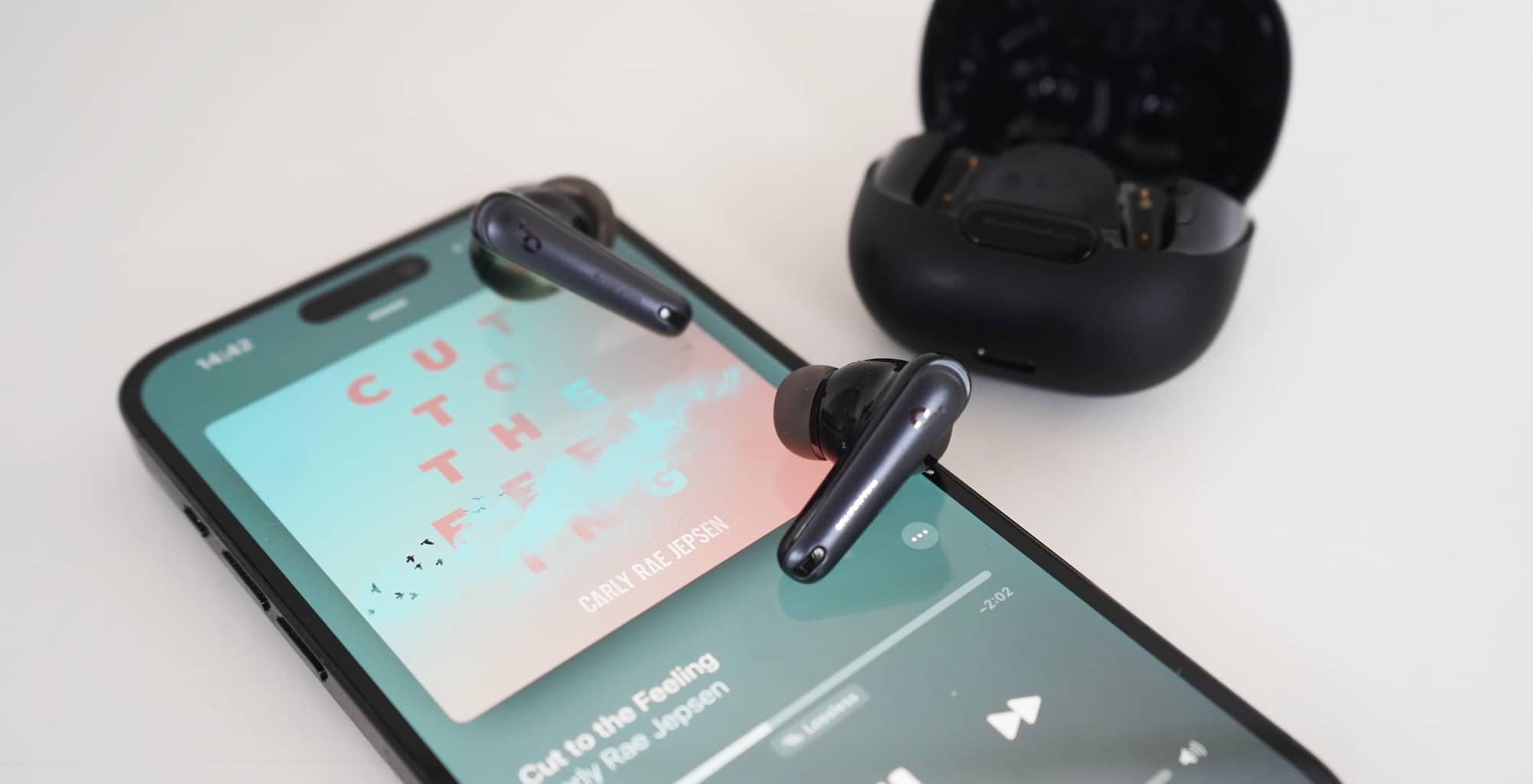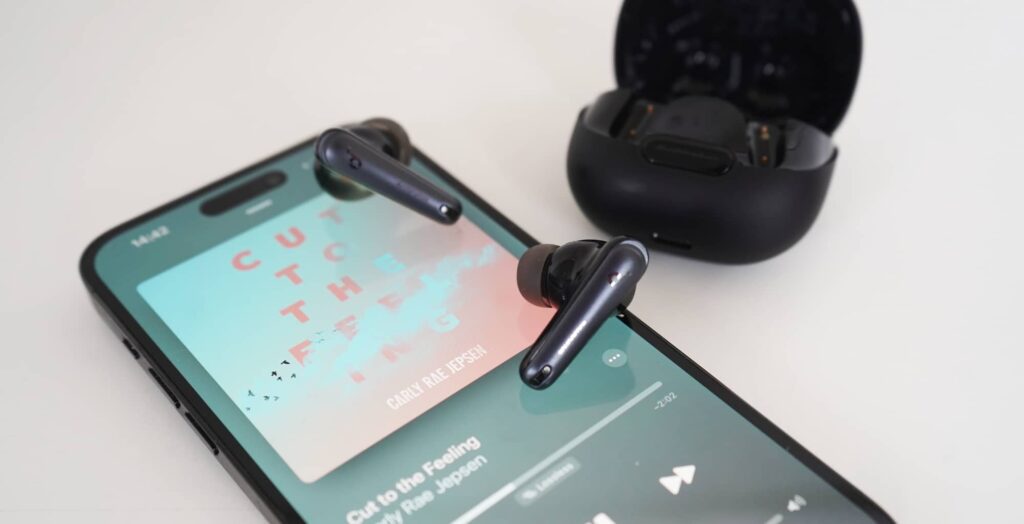 Final thoughts (TLDR)
Minor bugs and niggles aside, the Soundcore Liberty 4 NC continues what we saw with Anker's Soundcore brand last year, delivering solid value all around.
These are surprising little stunners. They come packing features and great sound, all while keeping the price down. Other brands could learn from what Soundcore has delivered here, for sure.
If you're in the market for a pair of capable wireless noise cancelling earphones, the Soundcore Liberty 4 NC are well worth a look. Recommended.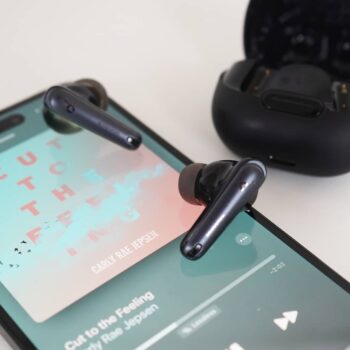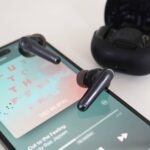 Soundcore Liberty 4 NC
The good
Compact
Sound will be solid and balanced for most people
Noise cancellation is pretty decent for the price
Comes with an app that supports EQ, ANC tweaking
Wireless charging case
IPX4 water resistance
Incredible value
The not-so-good
Controls aren't amazing
Touches aren't always picked up