Quick review
Samsung Galaxy S23 (SM-S911B)
The good
Great size
Solid design
Excellent performance
Surprisingly decent battery life
One of the last small phones (maybe)
Water resistance
The not-so-good
Last year's camera (and not the amazing 200 megapixel of the Ultra, either, or even the 108 megapixel of the older Ultra)
Minimal reason to upgrade
New compact phones aren't easy to find, but Samsung is keeping the dream of a small flagship alive. Is the Galaxy S23 a pocket-friendly pick?
When it comes to picking phones, you always have choice. There are plenty of manufacturers and plenty of models to choose from.
In the world of high-end phones, that choice keeps going. You don't just have to spend on the biggest and most expensive model, because you have choice.
There's always a smaller model with similar features and a less expensive price. That was the case with the iPhone, and it's sure the case with Samsung's Galaxy range, as well. This year, it's not just the Galaxy S23 Ultra but also the Galaxy S23 and S23+. Those last two are smaller versions that offer a similar take, though still manage to be different.
The question is how different.
Smaller and more pocket friendly, the Galaxy S23 looks like last year's Galaxy S22, but yet offers some of what this year's S23 range delivers. But has it changed, and is it worth an update? Is it even much of an update itself?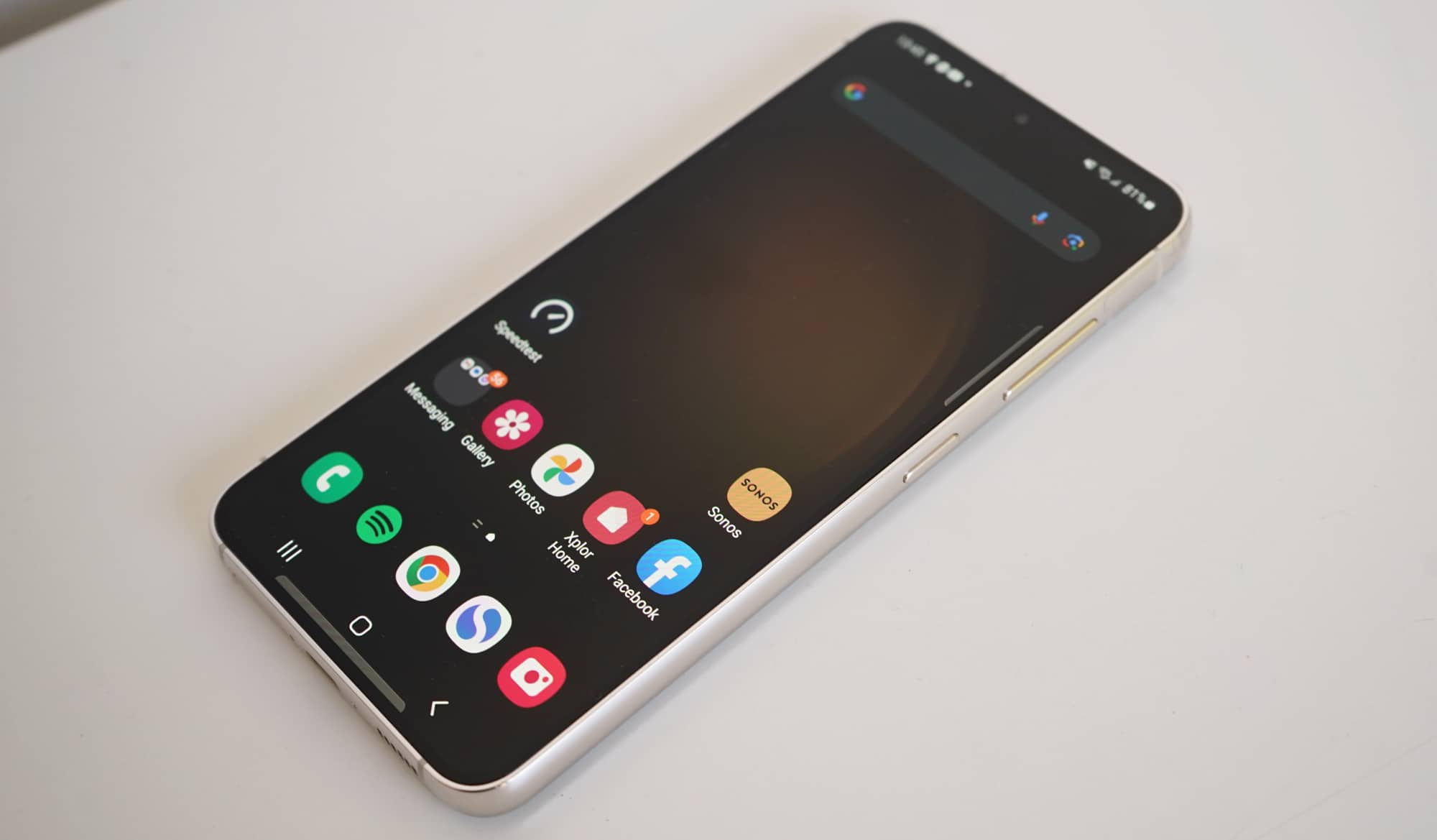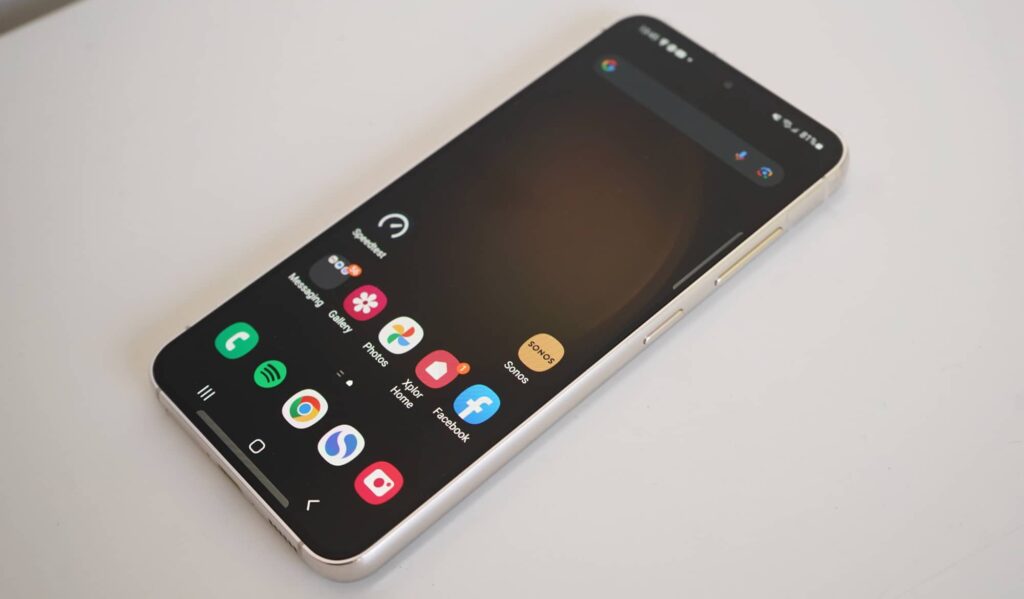 Design
Not quite the "Ultra" edition of the Galaxy S series, the S23 standard adopts a look that matches its more standard designation. You can forget about the curved screen, thin edges, and ultra-premium look that Samsung reserves for the high-end model.
Rather, this will see an aluminium frame with soft yet flat edges, a glass front and back protected by Corning's scratch-resistant Gorilla Glass Victus, and a degree of dust and water resistance applied via IP68 certification.
It's a simple look that harks back to last year's S22 range, and indeed slightly before that, with a firmer design than that of the FE range of Samsung phones we no longer get, and feels close to what would happen if Samsung made something like the iPhone 13 or iPhone 14.


Features
They're not quite the same, but you can see the same vibe, complete with another 6.1 inch screen, this time a Dynamic AMOLED supporting HDR, a 120Hz refresh rate, and a resolution of 2340×1080, a phone equivalent of Full HD+ (which can change based on the dimensions of the phone's screen).
Under this, you can expect a Qualcomm chipset, as Samsung moves on from its Exynos chips in this country entirely, it seems.
In the S23 standard, it's the same chip as what the S23 Ultra saw, offering a Qualcomm Snapdragon 8 Gen 2, an upgrade on the 8 Gen 1 we saw last year in the S22+, and paired with 8GB RAM, plus either 128GB, 256GB, or 512GB storage dependent on what you spend.
Your usual assortment of connections are there, with the one wired physical Type C port accompanied by the many wireless connections, covering 802.11a/b/g/n/ac/ax WiFi 6E, Bluetooth 5.3, GPS, Near-Field Communication (NFC) for Google Pay and Samsung Pay, and 5G over the more common Sub-6 variant of the technology. To date, the only mmWave handsets available in Australia are the Google Pixel 6 Pro and Pixel 7 Pro, and the S23 standard doesn't change that.
Samsung also doesn't change the cameras, which sees a very similar arrangement to last year's model. As such, you'll find a 50 megapixel F1.8 wide camera, a 12 megapixel F2.2 ultra-wide, and a 10 megapixel F2.4 telephoto representing 3X optical zoom, which is very much last year's camera set.
You'll also find support for wireless charging in the box, fingerprint scanning in the screen, and the battery is a 3900mAh module that can't be removed.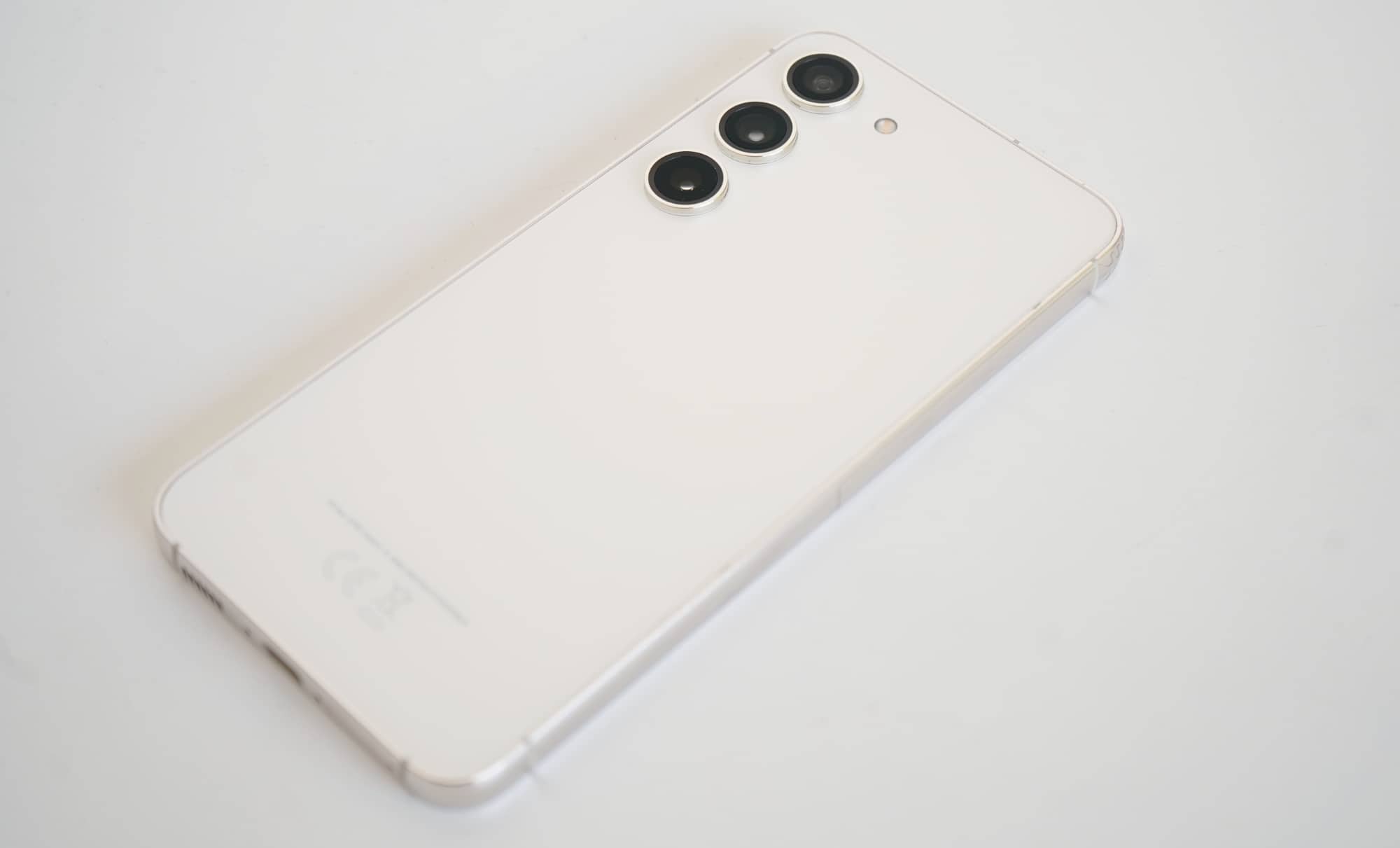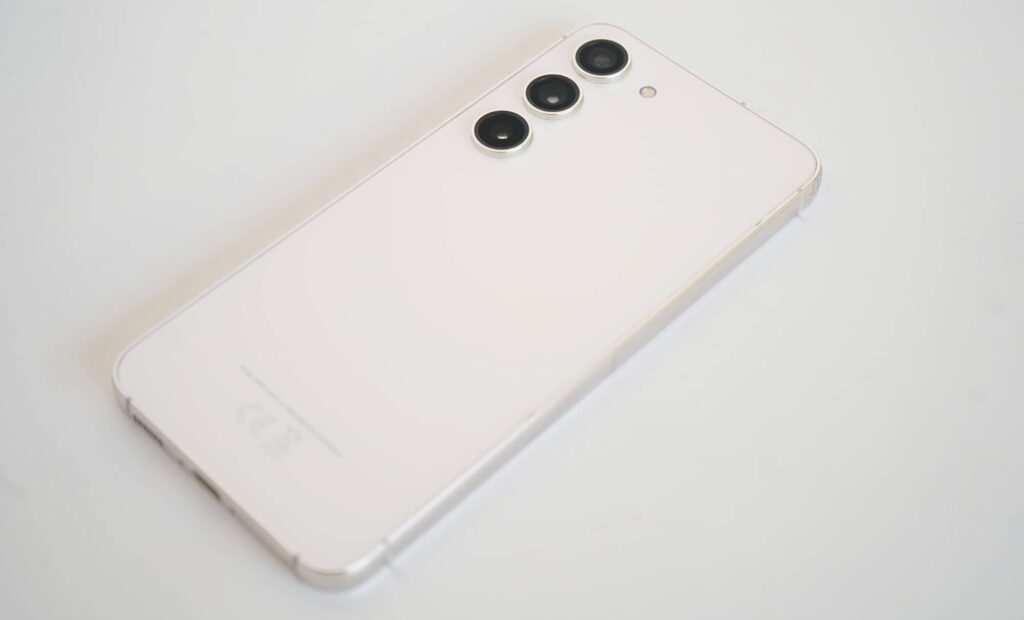 In-use
Google's Android 13 arrives on the standard S23 out of that aforementioned box, and while Samsung's One UI skin sits over the top, using this phone is very much like using every other Android phone, albeit possibly a little smaller.
The 6.1 inch screen that takes up most of the phone's design helps to make the handset feel small and hand friendly, which in turn translates to your pockets quite nicely, too.
If you fancy yourself a smaller smartphone and can't afford a foldable, the Samsung S23 is very pocket-friendly.
Using that translates nicely if you have smaller hands, but even without, the experience is basically Android the way you know it all the same: widgetised homescreens, an app menu, gestures, and a refreshable Google feed of what interests you across the web on the left most screen. It's Android the way many Android people know it, but just with some light Samsung skinning on top. Easy.
Logging into your device from standby is also easy, with two options working hand-in-hand (or even finger-in-finger) for ease of use, letting you press the screen's built-in fingerprint sensor or just letting the facial security pick you up. Tie them together and let the phone log you in based on whichever is the fastest.
Performance
That's as perfect a segue as we're going to get for performance, which is quite fast indeed.
One of the main differences between the S23 and its previous model is that chip, as the Snapdragon 8 Gen 1 makes its way to a Snapdragon 8 Gen 2 in this one, and yeah, the speed is clear.
Much like its S23 Ultra sibling, the Galaxy S23 delivers plenty of speed, offering performance to spare. Strangely, it failed aspects of our benchmarks, but still managed to show it had plenty of horsepower, which is a metric we can go by.
Synthetic benchmarks aside, we found the S23 handled pretty much every app we threw its way with minimal or imperceptible lag. You shouldn't have a problem with the hardware on this phone, and we expect it'll keep delivering for a while yet.
It's much the same in the world of 5G, which while missing out on mmWave in Australia, still achieves solid speeds provided your network is doing well.
Tested on the Telstra 5G network in Sydney, Australia by way of Mate (an MVNO), we found speeds capable of hitting speeds as high as 700Mbps, a high that eventually levelled out to between 250 and 300Mbps likely due to Mate's forced 5G bandwidth limitation of 250Mbps (which doesn't always happen it seems).
Your network speeds will vary based on several factors, but that's a good enough speed to tell you just how capable the 5G in the S23 is.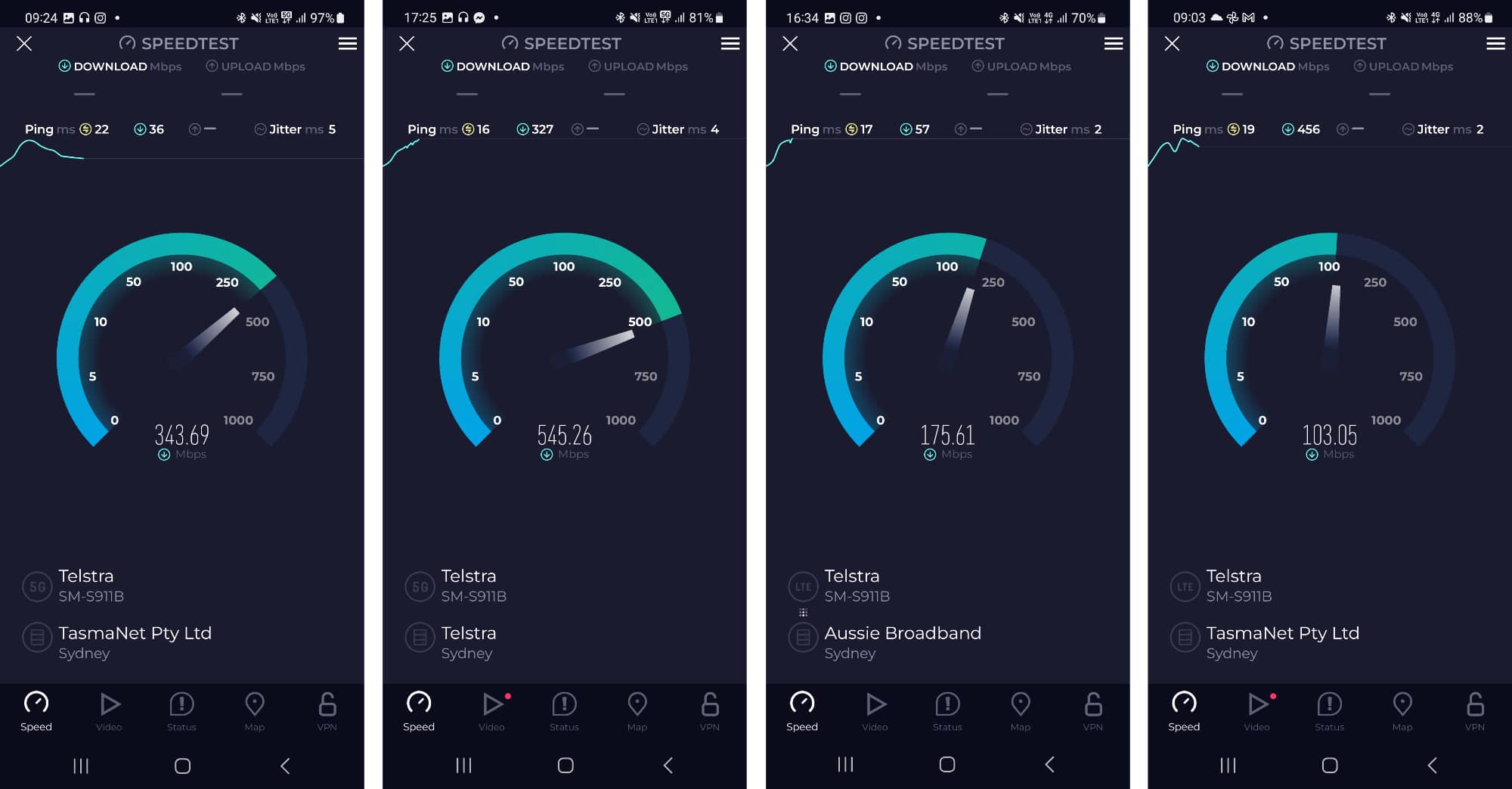 Camera
That new chip may lead to improved performance all around, but you won't be seeing a new camera in the system at all.
In a bit of a surprise, Samsung is keeping last year's camera from the Galaxy S22 around, rather than trickle down what you could find in the Galaxy S22 Ultra.
That means you'll get an ultra-wide 12 megapixel, a standard wide 50 megapixel, and a 10 megapixel 3X telephoto, giving it a little more than the ultra-wide and wide smaller flagships normally get, and letting you get in close.
It's not super-close, but with some software smarts, the theory is you can get closer. So does it work?
Not super well, no.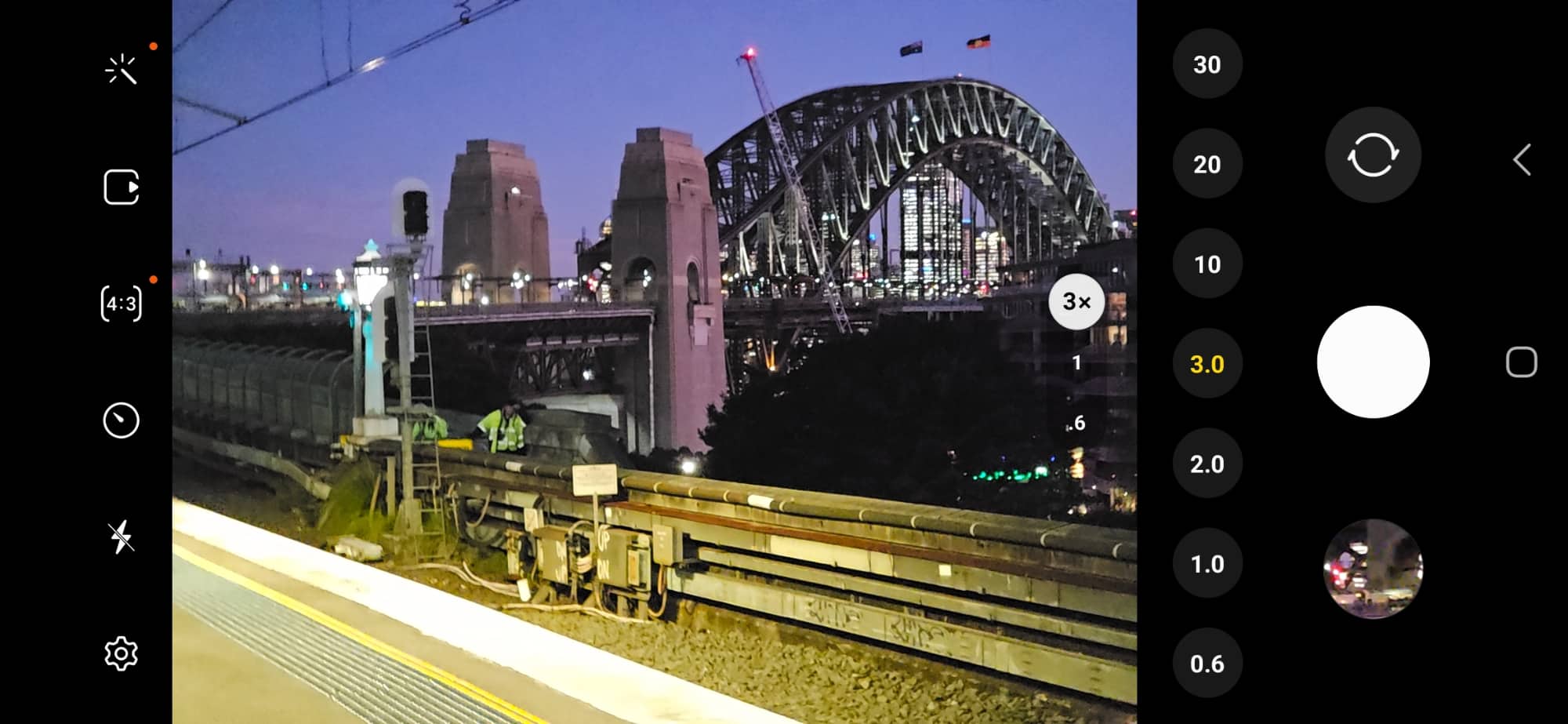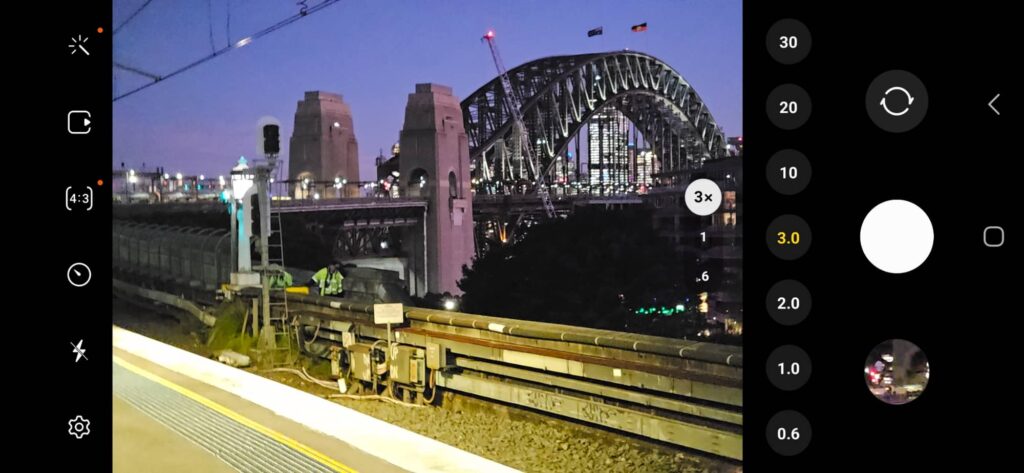 Samsung's Galaxy camera interface will give you a few choices to quickly jump between, covering the 0.6X of the ultra-wide camera, the 1X of the standard 50 megapixel wide, a 2X that uses the 50 megapixel a little tighter, the 3X of the 10 megapixel, and then a 10, 20, and 30X that just blows up pixels and looks pretty soft yet blocky.
The result isn't great, and while you might think you get an aspect of Samsung's Space Zoom from the bigger "Ultra" model, this isn't a closer picture by a long shot. It's more unusable.
So the zoom isn't thrilling or amazing, even if it gets you slightly closer.
Outside of that zoom, however, the images are capable and good looking.
Images shot in daylight are crisp and offer lovely colour, and while macros could be better, most shots will come out very nicely. The portraits are a win, as well, though some of the subject can be a touch too soft at times.
Battery
While the camera feels like it could be better, the battery surprised us greatly, managing to squeeze more life out of this compact handset than we expected.
In what is likely a combination between the new chip and the marginally bigger battery, we found the S23 could deliver a full 24 hours and then some. That may not be the best battery life ever, but in terms of flagship models, it's not bad at all.
Anyone who uses the phone and its screen more aggressively can expect to want to charge this phone nightly, but we found a good 24 to 30 hours was possible from the S23.


Value
The price is a little higher than we expect, however.
Priced at $1349 in Australia for the 128GB model and costing $1449 for the 256GB variant, the Galaxy S23 feels expensive for what you're getting, even if it's priced close to what the iPhone 14 costs.
That's its direct competition, clearly, but it doesn't feel quite as solid a value, and that's saying something given they both share old parts. In the iPhone 14, Apple recycled the chip, while the Galaxy S23, Samsung recycled the camera.
Between those, we'd probably take a recycled chip given the iPhone 14 processor is so solid all the same, and the same is true with the Galaxy S22. Both processors are excellent, but not upgrading the camera on the Galaxy makes us feel like the Samsung isn't quite nailing its value as well.
What needs work?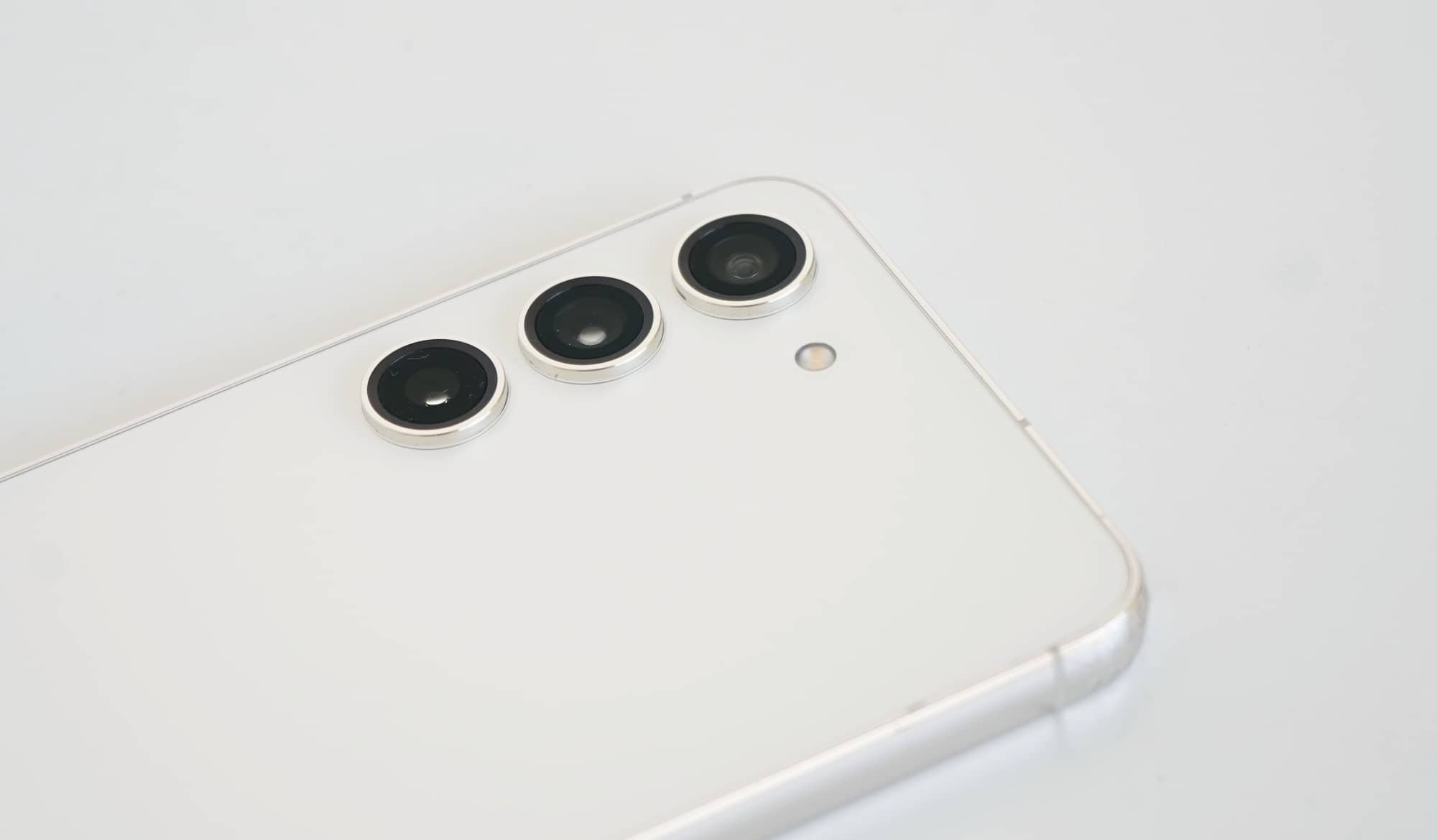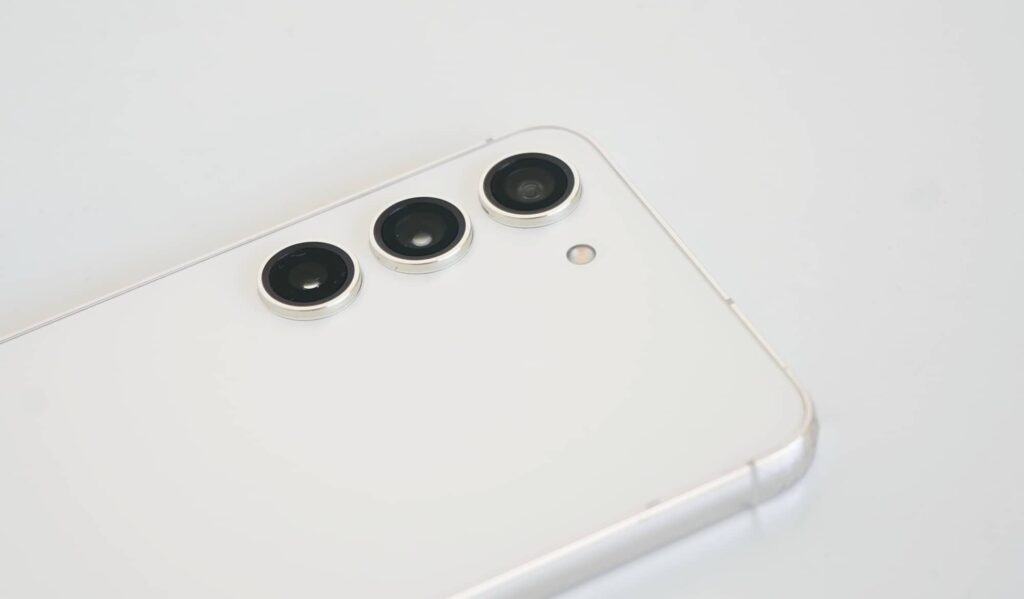 Armed with a new chip and some decent battery life, not to mention a compact size, the Galaxy S23 is a surprise that stands out. And it's one that doesn't have a lot that's necessarily wrong with its design and delivery.
But while we don't want to bang on about the same issue again and again, that camera could be better, and feels like it lets down the phone in terms of upgrades.
Make no mistake, you're basically getting last year's camera in this year's phone, a path we're surprised Samsung decided to take in this way.
It's especially jarring when you find out Samsung upgraded the S23 Ultra camera from the 108 on the previous S20, S21, and S22, giving S23 Ultra owners a more impressive 200 megapixels, but leaving the standard models with a lower 50 megapixels. At the very least, we think Samsung should have trickled the 108mp tech down to the S23 standard, rather than left what appears to be the much the same camera stack.
The other major issue with the standard S23 is the upgrade path, and we're not entirely sure what that is.
Sure, the chip has changed and the phone is nice, but if you can find last year's S22 for a better price, it makes more sense as a purchase just given how close the hardware is. The S22 and S23 are so similar, few will really be able to tell the difference.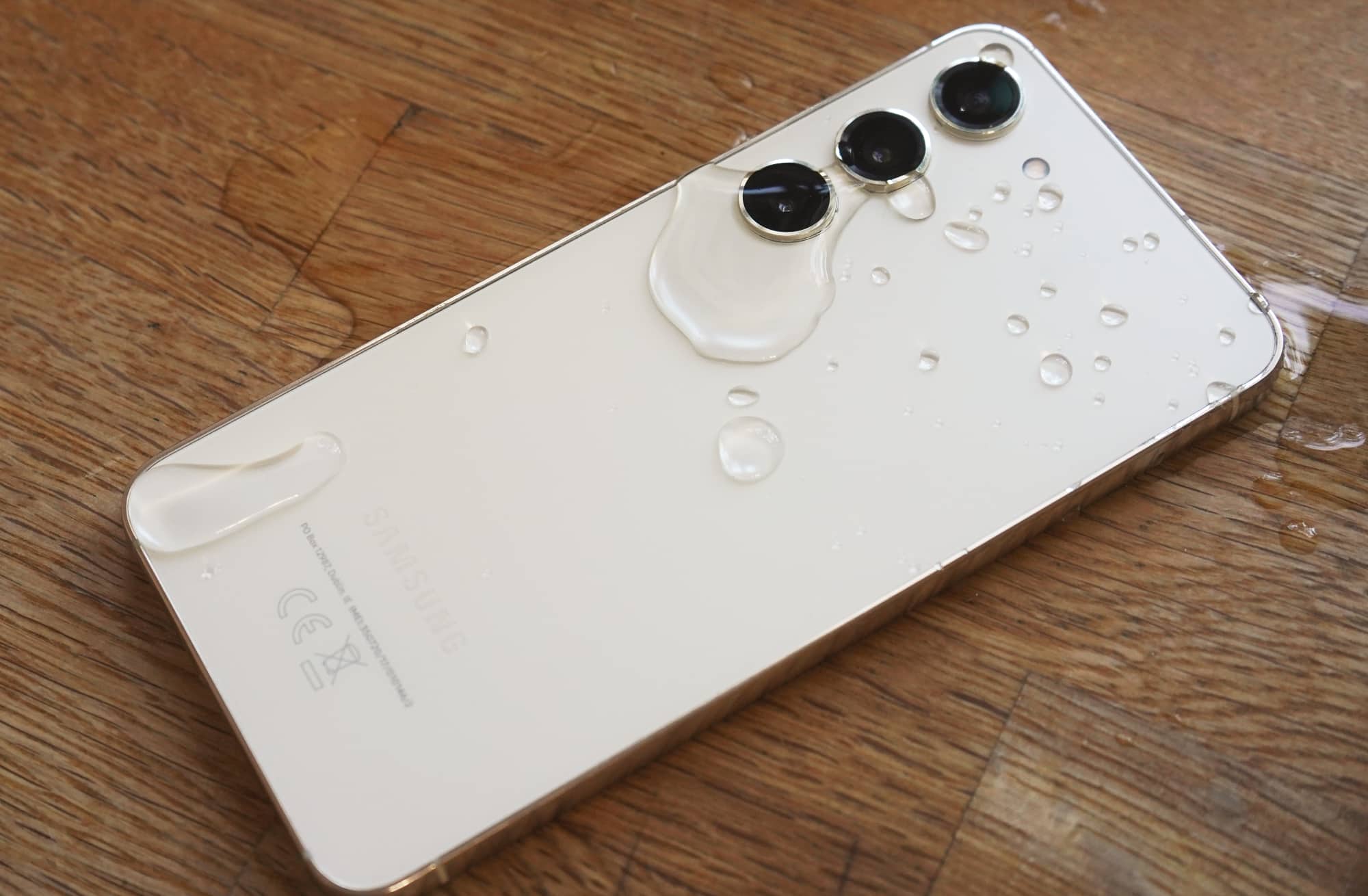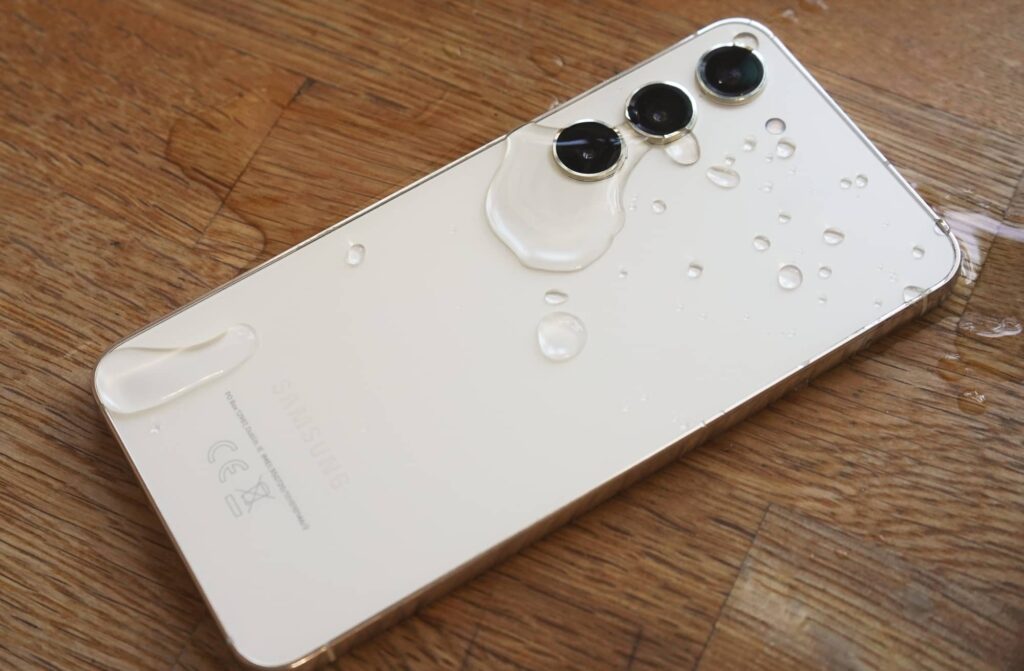 Final thoughts (TLDR)
Despite these issues, there are reasons to like the S23.
I'll be honest and say I didn't expect I'd like the S23 all that much going in. On paper, it looked like Samsung had applied the most modest of updates, with the bulk of it being the chip, and really not much else.
But while the chip is the main difference, and the camera is a bit of a let down by comparison to its S23 Ultra sibling, the standard S23 is a nice surprise, delivering a relatively compact phone that comes with something few other compact phones deliver on: a slightly closer telephoto lens and a good day minimum of battery life.
At least one of those is missed out on by the the competition, while a new competitor in the Pixel 7a — which is a compact flagship — can deliver similar tech and performance without the telephoto lens for a whole lot less.
I'm still not entirely sold on the price, simply because so little has changed this time around, and if anything, it makes the standard S22 a more compelling handset.
Despite this, Samsung does have something going for the 6.1 inch standard model S23: size. Small phones are a rarity these days, but Samsung delivers with the S23.
Compact and cheerful, it's one of the better and more feature packed pocket friendly phones this year, though we'd still probably look around, because there's much better value to be had if you look.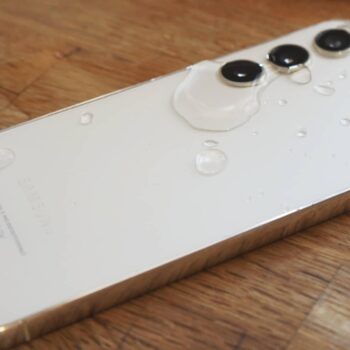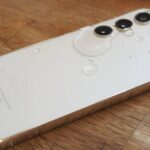 Samsung Galaxy S23 (SM-S911B)
The good
Great size
Solid design
Excellent performance
Surprisingly decent battery life
One of the last small phones (maybe)
Water resistance
The not-so-good
Last year's camera (and not the amazing 200 megapixel of the Ultra, either, or even the 108 megapixel of the older Ultra)
Minimal reason to upgrade