Quick review
Google Pixel Tablet
The good
Fast chip
Comes with a stand that's a speaker
Good volume out of the speaker
Doubles as a Nest Hub... kind of
The not-so-good
Ordinary design
Sizeable bezels
No water resistance
Expensive for what it is
Isn't really made to be portable
Doesn't charge properly
When is a tablet not just a tablet? When it's made to do something else, which may well be what Google's Pixel Tablet fits into, if it weren't for a couple of other gadgets the company makes.
You know Google for phones and you know Google for search and an operating system. There are things the "Google" brand is definitely synonymous with, and is one of the biggest makers of these things in the world.
But in the world of tablets, Google hasn't really had much of a presence.
Sure, it makes an operating system used on any tablet not running iPadOS or Windows, but Android tablets are a dime a dozen these days. They exist, but they're few and far between, and we've probably seen more foldables in the past few years running Android's phone OS than new tablets running Android's tablet OS.
That could be because Android on tablets hasn't been an exciting proposition, certainly not enough to push back against the solid work Apple has made with its iPad range. Whether you're looking at the entry-level iPad and its slightly more premium and more recent 10th-gen sibling, the smaller iPad Mini, the mid-range and mostly-pro iPad Air, or the properly professional iPad Pro, Apple has an iPad for nearly every purpose, and it's no wonder people flock to them.
The same isn't true in the world of Android, and Google hasn't offered its own take, not like it does with the excellent range of Pixel phones.
That changes in 2023, as Google releases the Pixel Tablet, a device that probably won't make you think of the Pixel phones, but rather of another gadget Google makes.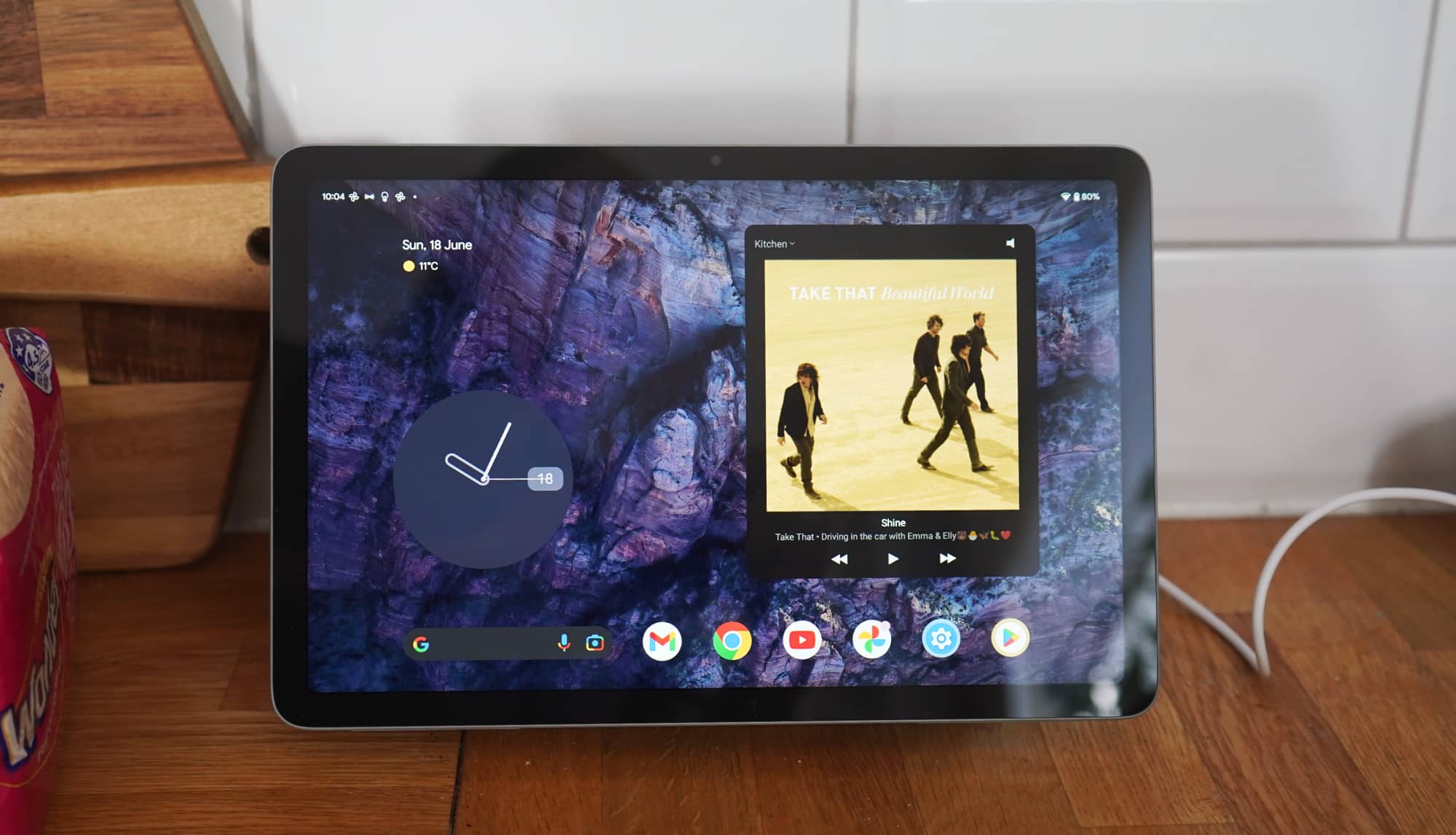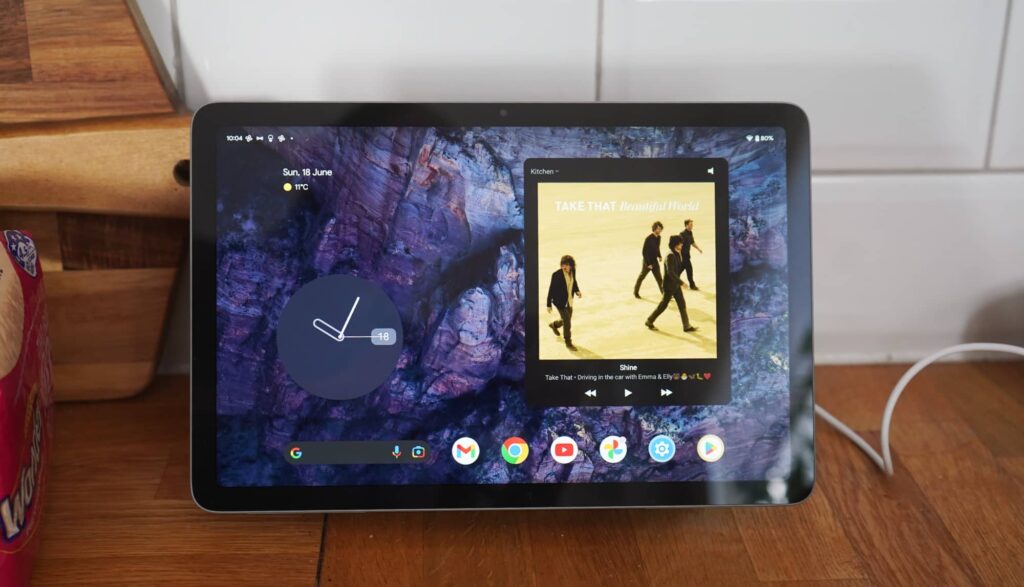 Design
Sporting a design that makes the Pixel Tablet look a whole lot like a Nest Hub, you won't confuse it for any iPad in your home, at least until Apple starts making tablet-mounted speakers (and even then, probably not).
Google's latest tablet is its first tablet in Australia, and one that lacks the design flourish you'd expect from a company that normally offers solid design in its phones.
While the Pixel phones sport a defined look with a shiny glass or plastic back and a cross bar for the camera, the Pixel Tablet has none of that. Rather, it's a plastic body with a small cut out spot for the camera, and a glass 10.95 inch screen on the front.
It's about as basic as basic gets, and a little surprising.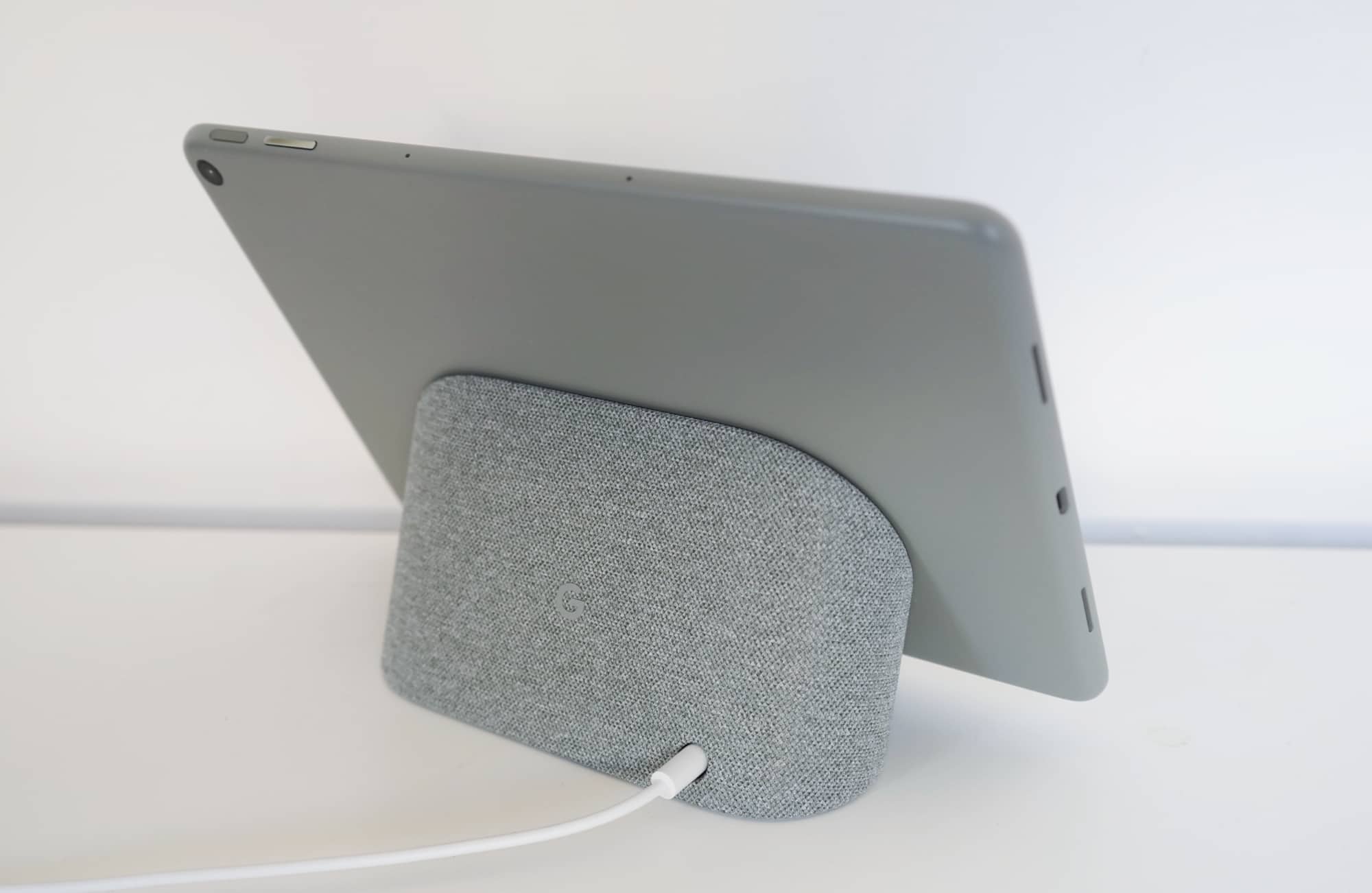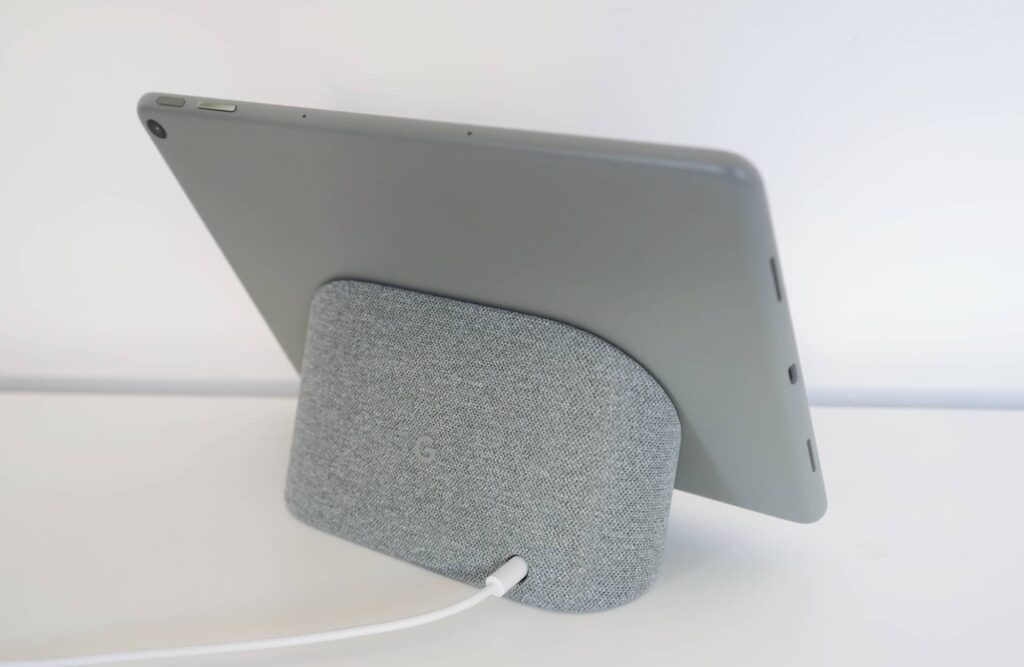 However, it's meant to come accompanied with a speaker stand, which it mounts to using magnets and charges using a three-pin Pogo connector, which will not only keep the tablet powered, but also switches it into home mode.
It is this combination that helps you realise the overly simple design of the Pixel Tablet is meant to imitate the look of Google's Nest Hub devices, which have worked brilliantly in the home for the past few years, and which this model is basically pitched as.
In short, the Google Pixel Tablet with the included speaker stand is the Nest Hub made expensive and removable, allowing you to detach that screen and use it in more places.
Features
Inside, the Pixel Tablet is basically a Pixel 7 device behind a larger screen, though the cameras, screen, battery, and connectivity options are different.
You'll find the Google Tensor G2 chip just like last year's Pixel 7 Pro and this year's Pixel 7a, and it comes alongside 8GB RAM and a choice of either 128GB or 256GB storage, as well as Android 13. Unlike the Nest Hub devices, the Pixel Tablet runs a proper version of Android you can install apps to.
There's support for wireless over WiFi 6 (802.11a/b/g/n/ac/ax), Bluetooth 5.2, ultra-wide band, and support for Google Cast so you can Chromecast directly to the screen, but unlike a phone, there's no support for mobile or GPS. This tablet isn't made to go, and lacks the mobile support of other mobile devices.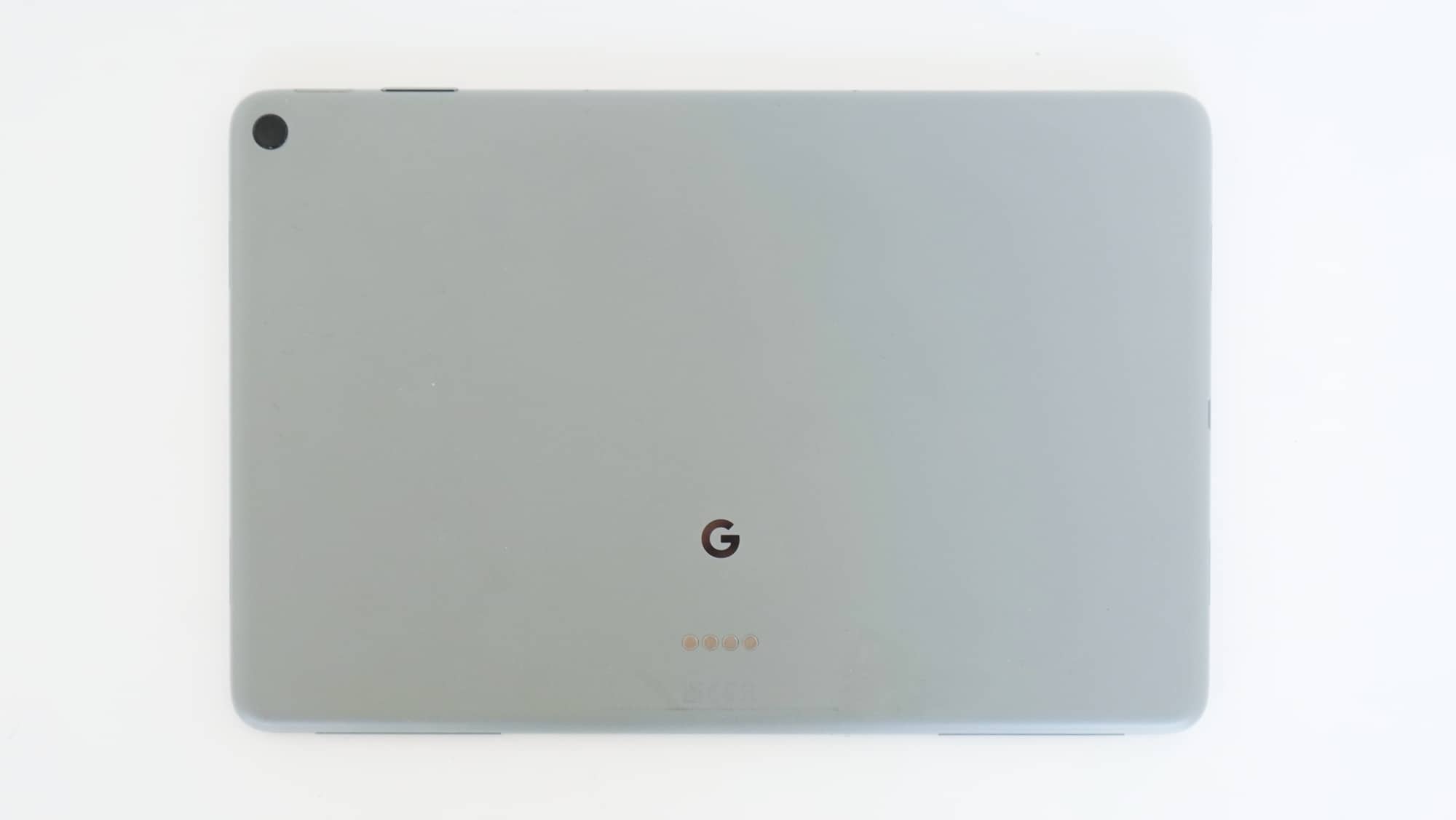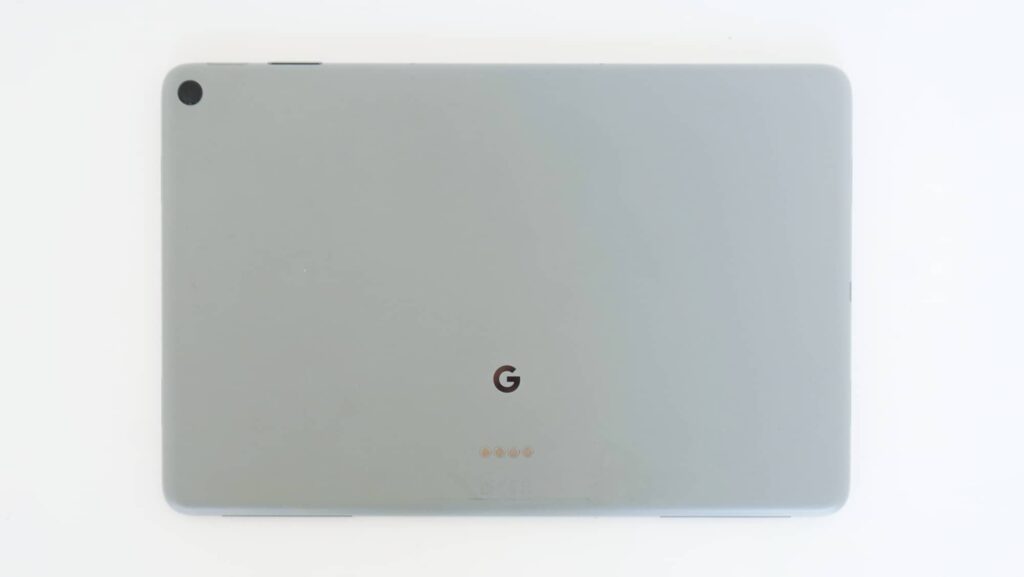 The cameras are also different, skipping the huge wide rear and the high-res front-facing cameras of modern phones, and instead opting for identical 8 megapixel F2.0 cameras on the front and back with fixed focus, none of that autofocus in the front or back.
In fact, those difference are just the tip of the iceberg, as there's no water resistance, either, even though it's apparently made for the home and the current Pixel phone range does sport it, nor is there an AMOLED or OLED display.


Display
Instead of AMOLED, you'll find a bright 10.95 inch LCD display and a respectable 2560×1600 resolution, though it's surprising to see an LCD rather than an AMOLED, which would have made the whole thing more premium.
The bezels aren't super thin, but they're also not super thick, and it gives off the feeling that the Pixel Tablet isn't as premium as its $899 price would suggest.
Still, it's a decent looking display and offers pretty much what the Nest Hub Max looks like on its included speaker stand. It's pretty easy to see just how the Pixel Tablet design team drew inspiration from the Nest Hub Max, as it's basically a 1:1 conversion.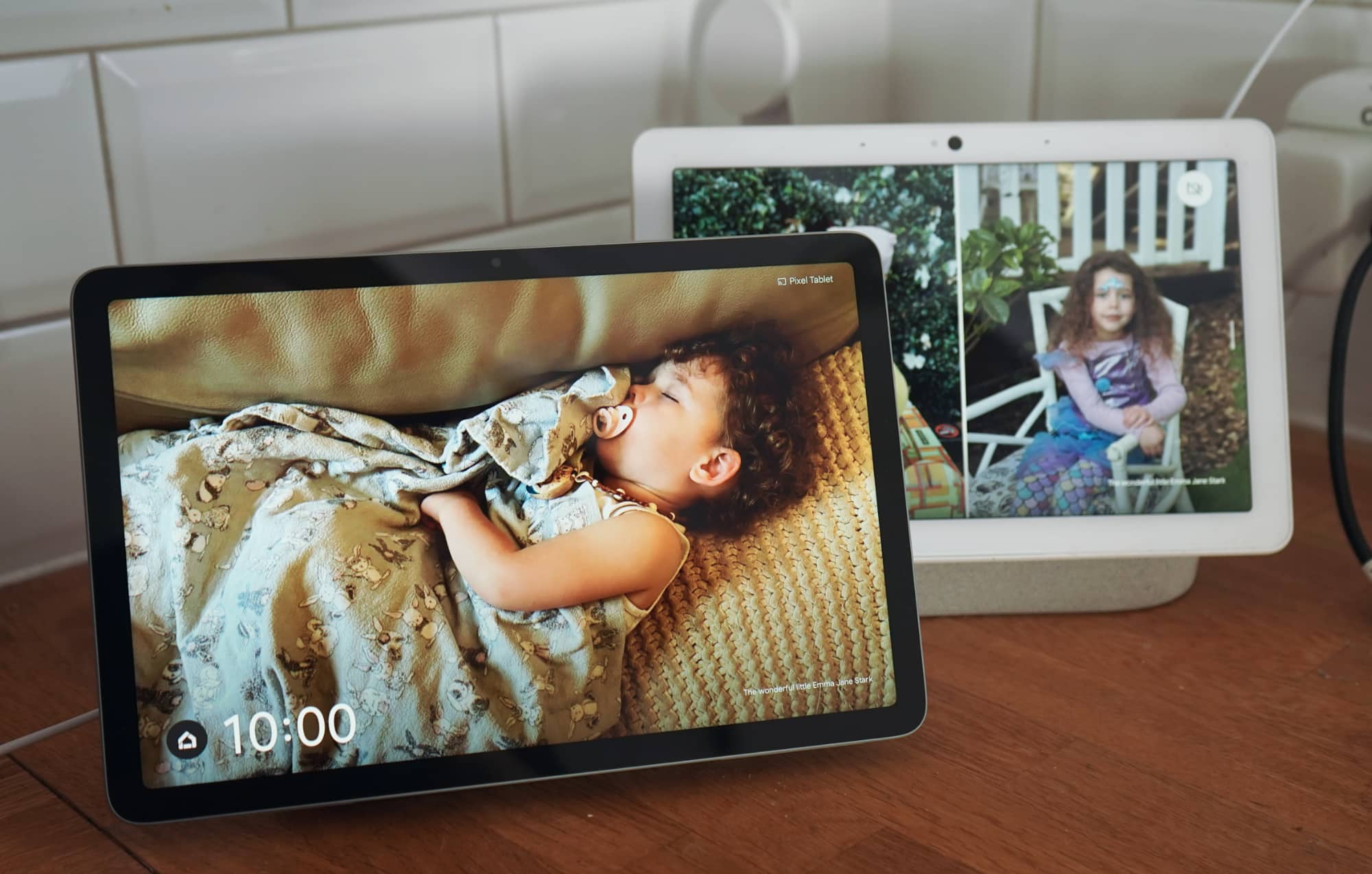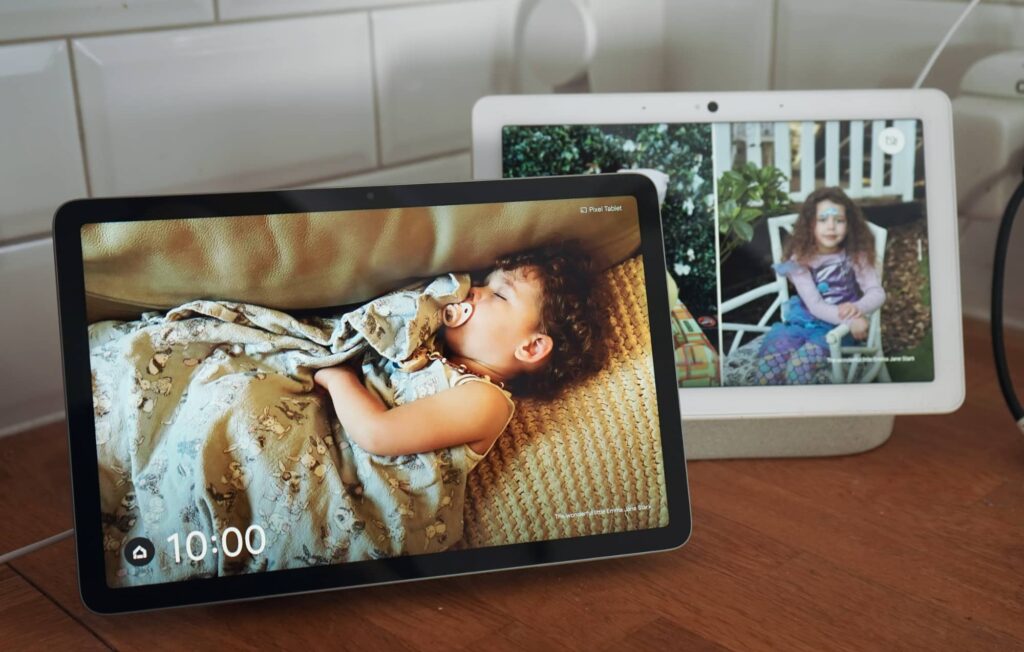 In-use
At least using the Pixel Tablet is easy enough, even if not every app loads and not every app looks great on big-screened Android.
Some apps are clearly made to expand with the roughly 11 inch screen of the Pixel Tablet, but not everything plays nicely, or as nicely as you might expect.
Outside of the occasional app incompatibility, using the Pixel Tablet is easy enough. You can touch and prod and do all the things on Android you might expect, and there's even a fingerprint sensor built into the power button up top. That's a nice touch, though set as a hub for the home, you might just decide to do away with the fingerprint button altogether.
Instead, there's your voice, and just like the Google Nest Hub Max this tablet and speaker stand has been modelled on, you can talk directly to this tablet, as well.
Doing so will let you do similar things, such as getting the news, playing audio, asking for the weather, and calling for recipes, but what you get isn't quite the same.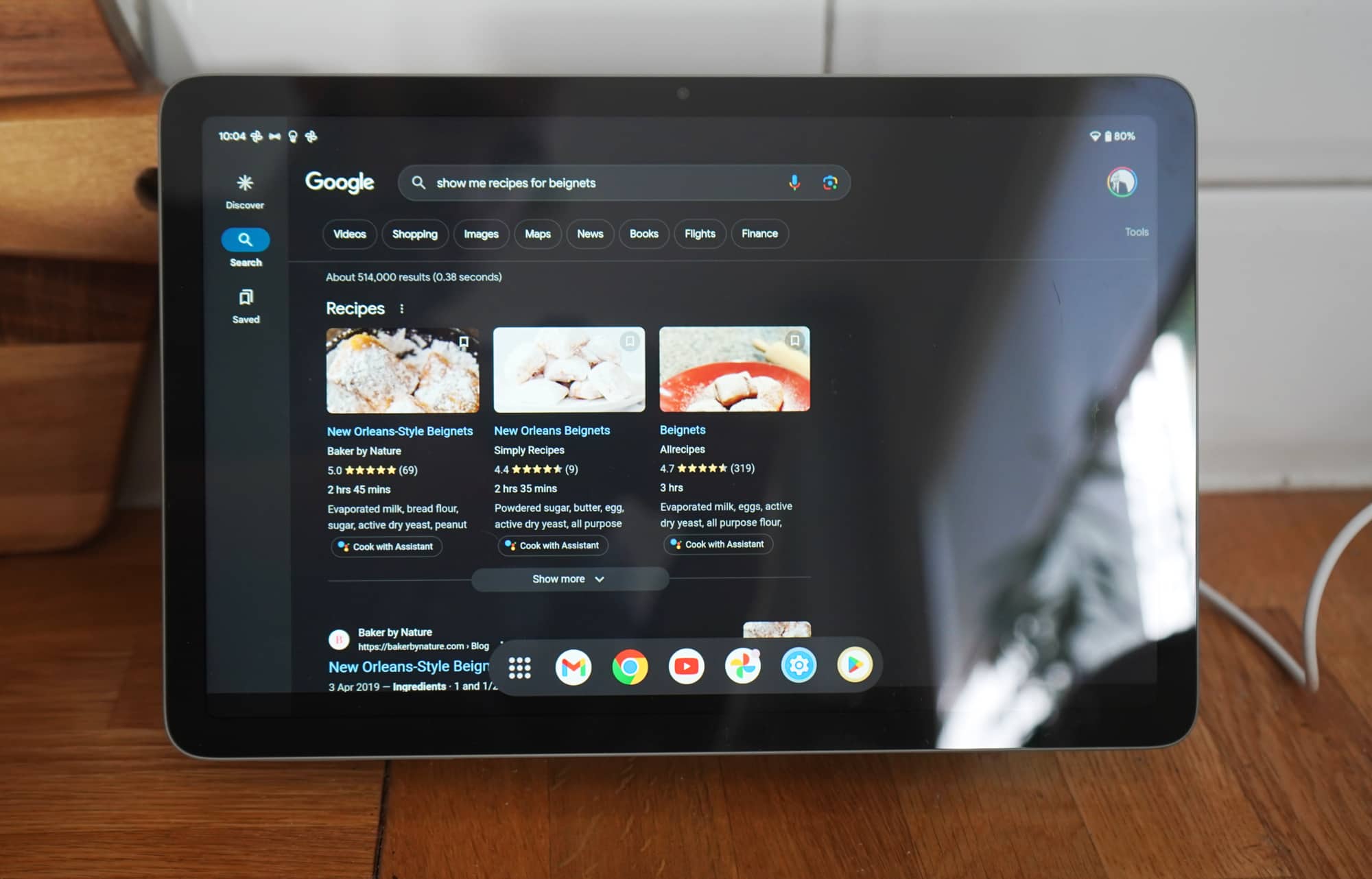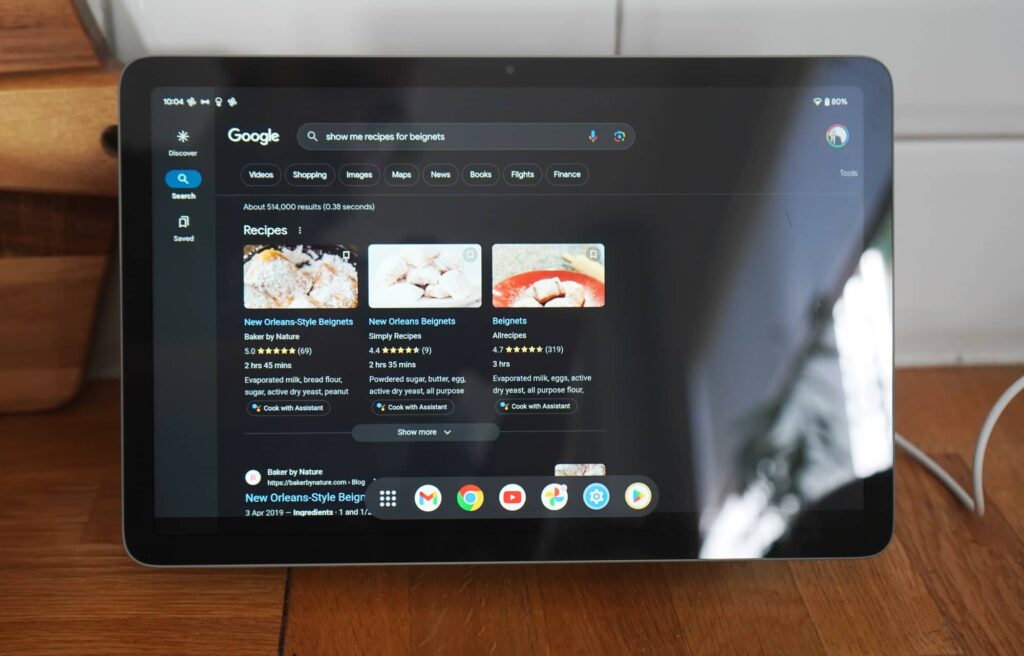 Because the Pixel Tablet is more tablet-first rather than home-hub-first, it'll read out the response normally, but the text is much smaller on the screen, lacking the big translation the Nest Hubs deliver. Asking for a recipe won't get you the step-by-step big text translation of what you need to do and basically just gives you a webpage as you'd expect on a tablet. It's not quite the same experience.
Even triggering the home functionality feels a little bolted on, often forcing you to press the screen to load up the Home shortcuts, as opposed to simply calling it out.
All up, it's not quite like using a Nest Hub, what used to be the Google Home Hub.
The Pixel Tablet is more like having a huge Android phone that can also work as a kind-of Home Hub in a pinch. It's not the same, even if it looks the same.
Performance
There's plenty of speed, though. While we couldn't load our regular benchmark testing tool on the Pixel Tablet, we found the Tensor G2 chip handled everything quite well, letting you run apps without fail.
That should come as no surprise: it's the same chip found in the Pixel 7 Pro and the Pixel 7a, both of which are fantastic phones with equally fantastic performance.
It basically means the Pixel Tablet is a Pixel phone, at least in performance, and that shouldn't surprise anyone. Armed with 8GB RAM, it's basically the same thing, but bigger.
You won't get 5G, though, and there's no chance of that. The Pixel Tablet is meant for home, using 802.11a/b/g/n/ac/ax WiFi 6, but not WiFi 6E. Home is the main focus, it seems.
Battery
And seeing as you're using it at home, you'll find a maximum of 12 hours of battery life, though given it'll likely remain on its speaker stand for most of its life, you probably won't need to hit that life.
Weirdly, you also mightn't see that full amount of battery life, and the reason could have something to do with the speaker stand.
Simply put, while the Pixel Tablet charges on its pogo-connector magnetic speaker stand, we found in our testing that the Tablet never fully hits 100 percent of charge. Rather, the percentage is always under 100, rocking between 88 and 93, and never really lasting the full amount.
Our guess is Google is doing some of the battery saving longevity stuff it does with phones, much like how the Apple Watch will typically charge to 80 percent on a stand, but not go much higher. Fewer charging to full giving you longer life, or words to that effect.
It's an approach that's surprising in the tablet, but we suspect it's pushed on by the idea that this tablet will stay at home, and really only be used at home.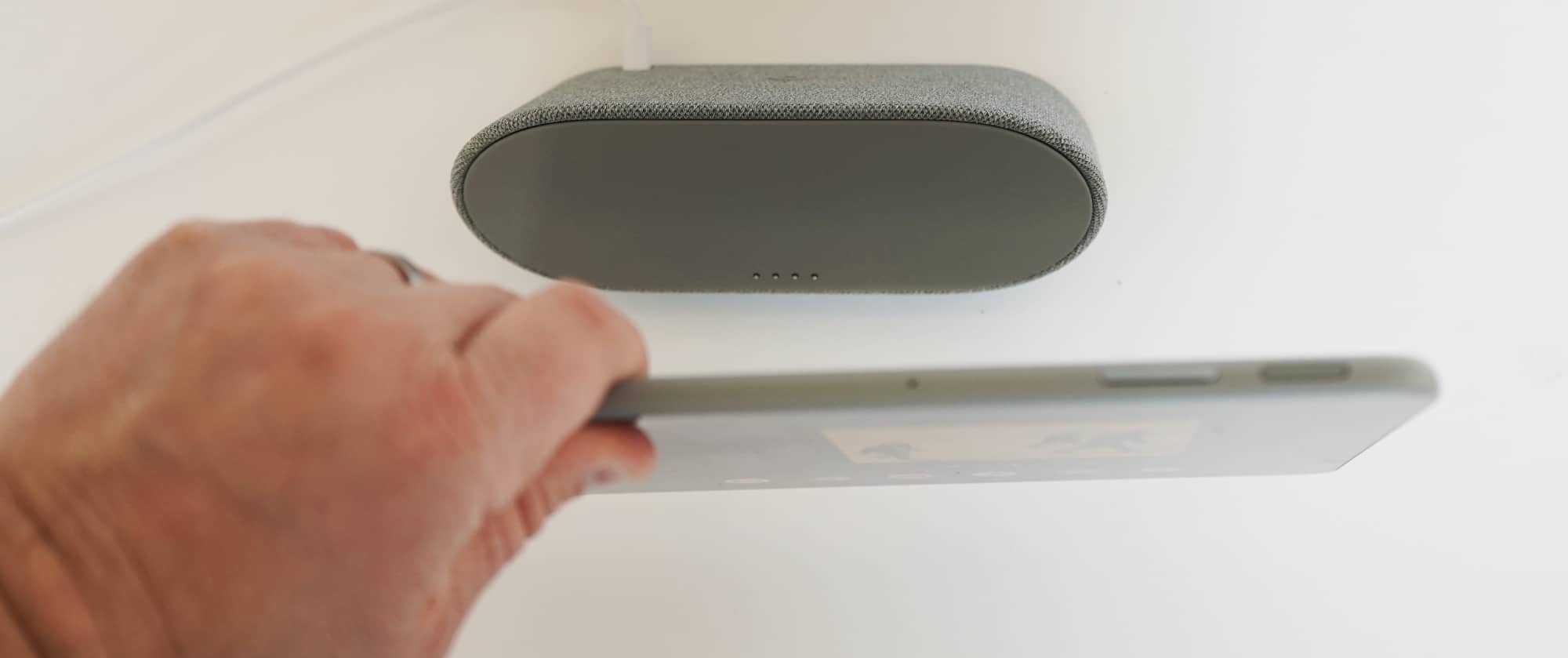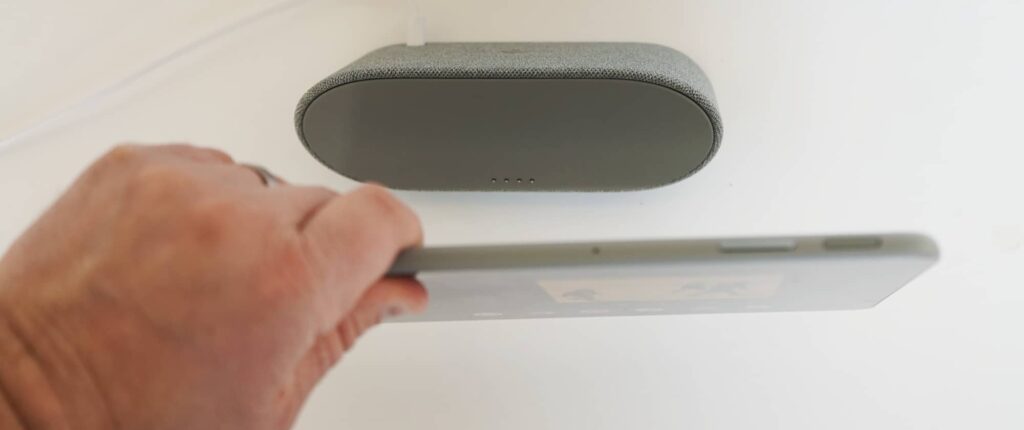 Value
You certainly get that vibe with the speaker, but that speaker is one part that can feel like it blows the price out.
In Australia, the Google Pixel Tablet will start at $899 for a 128GB tablet and speaker stand, while a 256GB model will cost $999. The speaker dock is bundled in with the tablet, but if you want to buy another, by itself the Google Charging Speaker Dock is $189.
Do the math and you'll quickly see the combination essentially makes the Pixel Tablet cost $710 while the charging speaker stand sits at $189, and we're not sure that's where the price should be.
At the most, this should be a $600 tablet with a speaker bundled in, but it's not much of a speaker given you have to use the speaker with the tablet, so it's basically just a bundled in stand.
Rather, the Pixel Tablet is probably about $300 too expensive for something that is otherwise quite ordinary, and really shouldn't be.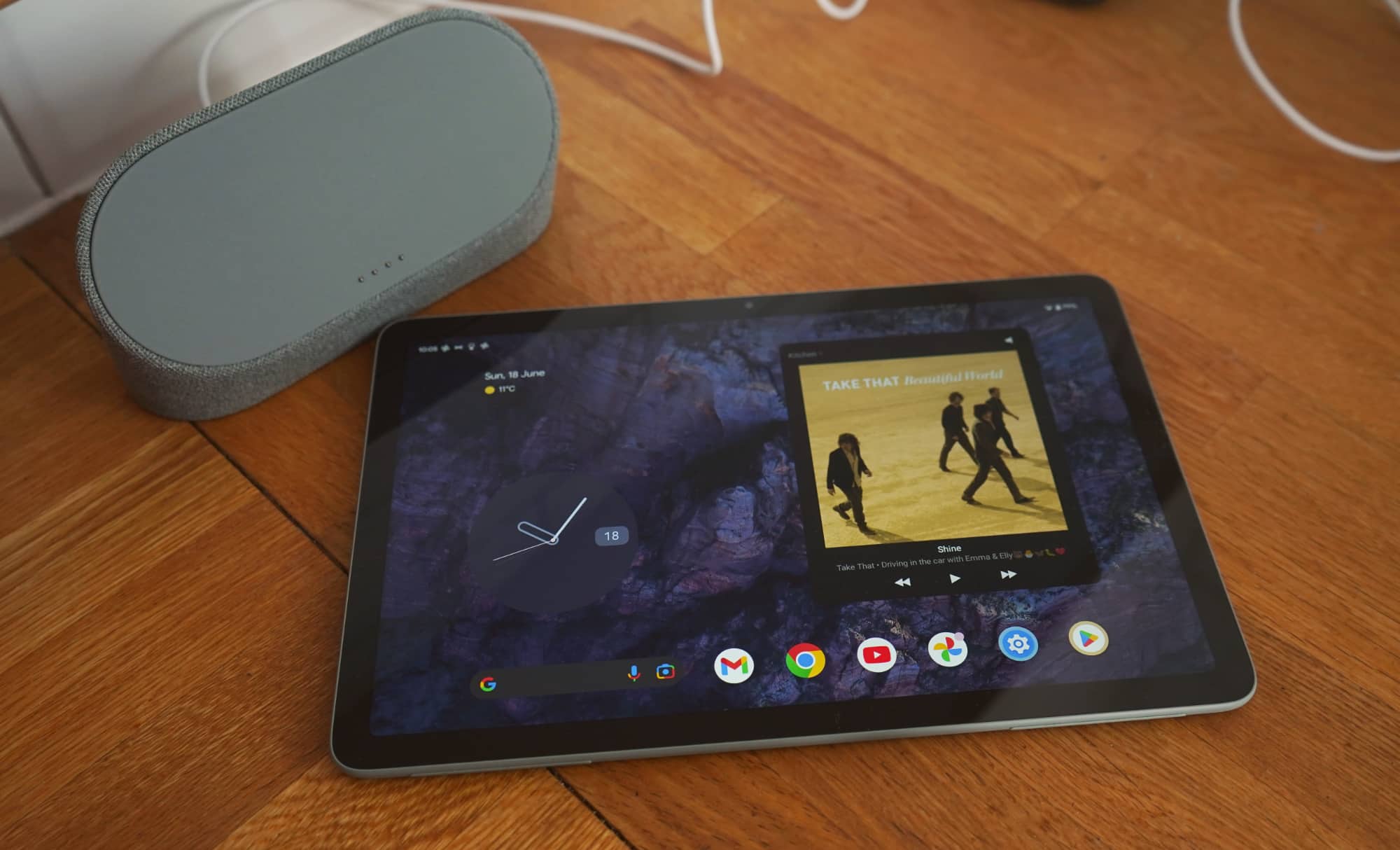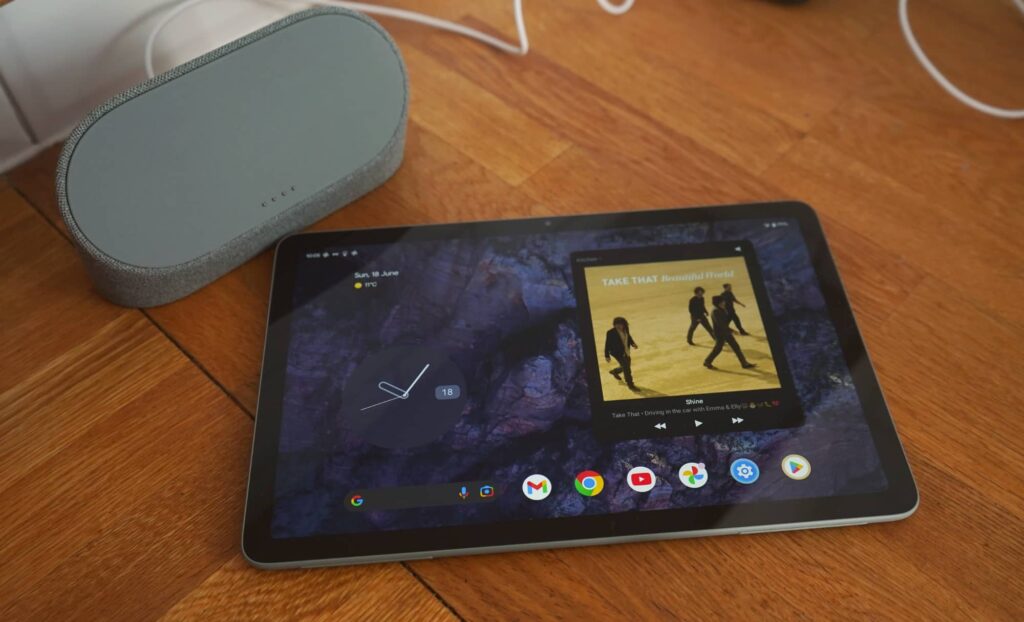 What needs work?
While the price is a little on the high side and the design is ordinary and there's no water resistance, the Pixel Tablet's reason for existing is also not remarkably clear, either. There's just not really anything else to make this tablet really stand out beyond that it's a Pixel Tablet, and we're not sure that's enough.
It's a tablet on a speaker stand, and a tablet that comes with a speaker stand, but outside of these features, the Pixel Tablet is a rather ordinary device without a lot of a purpose.
Yes, it's a high-powered tablet, but it lacks the swish and stylus of the Galaxy Tab range, and it's one that also feels more expensive than it needs to be.
We're surprised Google didn't make the design more interesting, and more useful by itself.
It could have skipped an unnecessary case that no one will buy, and just integrated the kickstand directly into the design, just like Microsoft does with its Surface Pro devices. Armed with a small built-in kickstand, the Pixel Tablet could have still mounted on a charging stand and also managed to stand up by itself on a table or bedside. Google could have made a properly home-friendly device, not just another tablet and a stand, which is really all the Pixel Tablet is.
Ultimately, the Pixel Tablet feels like an idea half-realised.
Frankly, if you're looking for a Nest Hub-style of device, we'd suggest actually getting a Nest Hub, with either the small Nest Hub model or the larger Nest Hub Max. Both of those do a better job as a smart home controller and companion than the Pixel Tablet, and may end up saving you money.
Final thoughts (TLDR)
The fact that Google is keeping its Nest Hub devices around makes placing the Pixel Tablet just that much more difficult.
When we spoke to Google for the launch of the Pixel Tablet, it told us that the Pixel Tablet was part of a different range, and the Nest Hub would be sticking around. And yet the design is the same and much of the focus is the same, even if Google tries to argue the opposite.
The Pixel Tablet is basically a Nest Hub Max that you can detach, even if it comes at a more expensive price.
There are some families that will love this, and love this.
With one move, the screen in the kitchen gains an extra ability, and you can use it for more than just reading the news, recipes, weather, photos, and more. We use our Google Hubs as a brilliant little auto-updating photo frame, but with the Pixel Tablet, that photo frame becomes handy for homework for the kids, movie trailers, and games if need be.
It's just that it feels overpriced for those needs.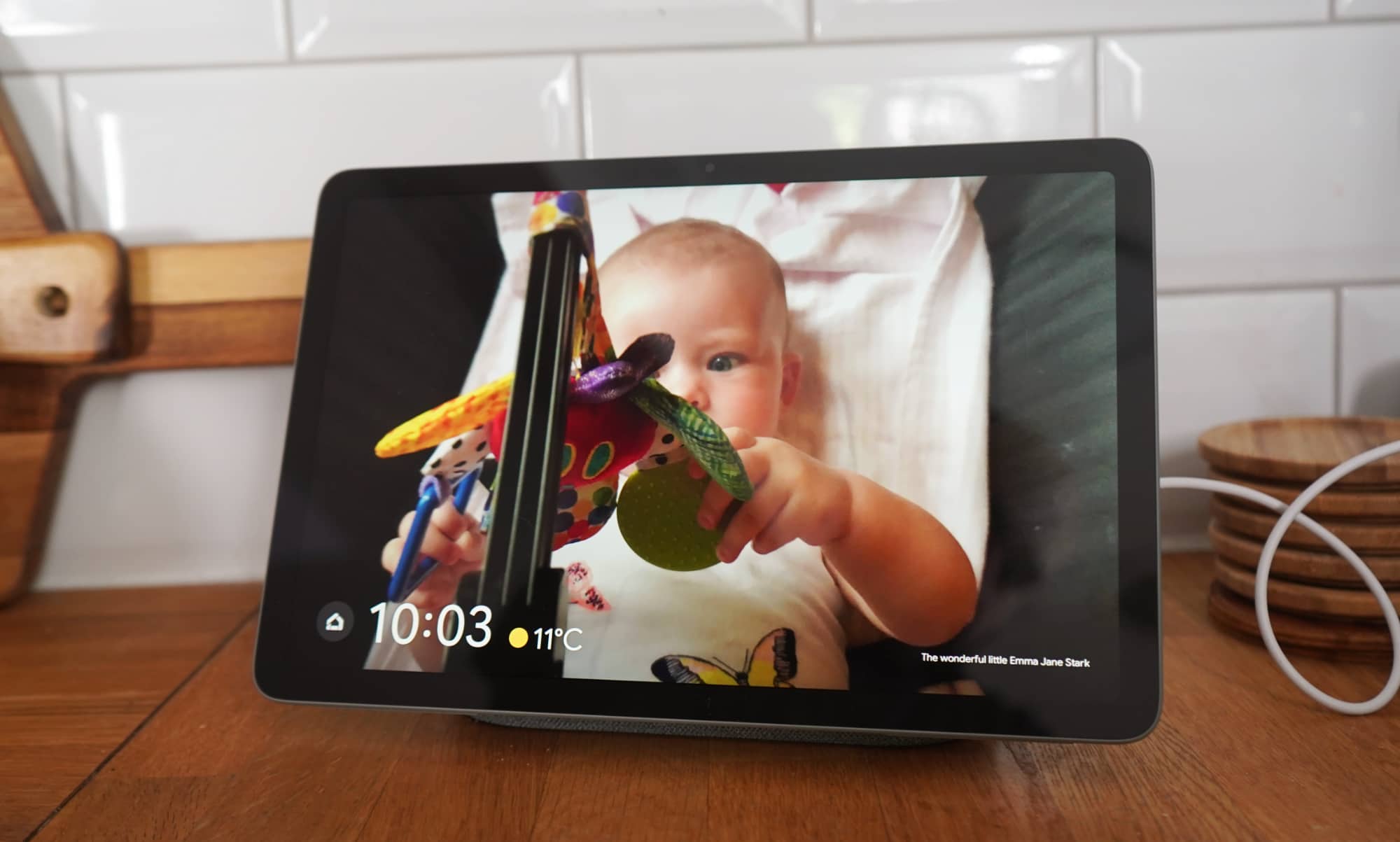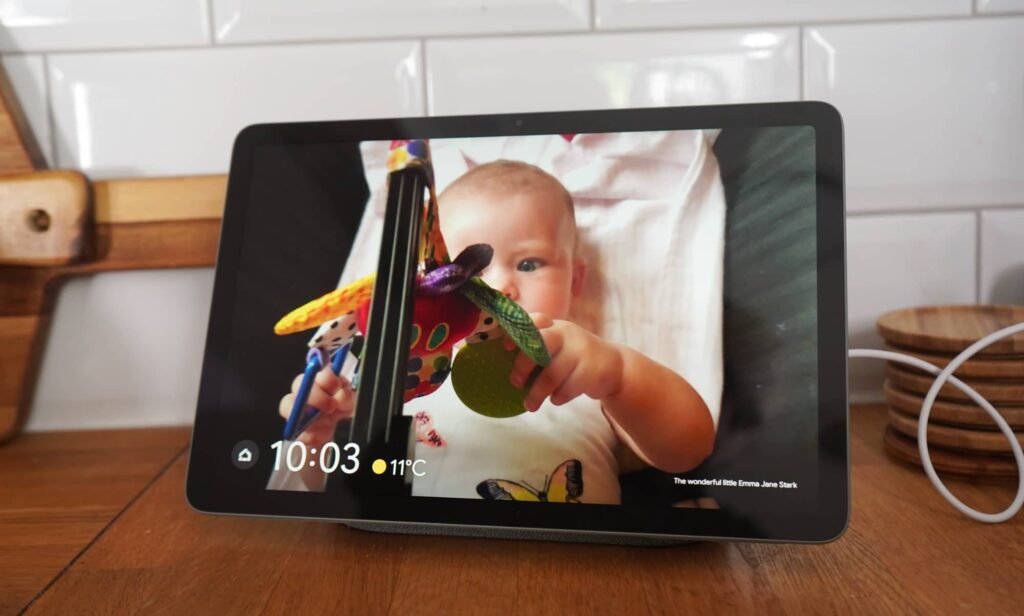 In a home like that, it's not hard to believe that everyone needing to use the tablet has a phone or an iPad already, and may use the Nest Hub as a kitchen-friendly or bedside companion. It stays put and does something else. As it is, the smaller Nest Hub can even be used to monitor your sleeping health, which the Pixel Tablet isn't equipped to do.
Back when we reviewed the 2nd-gen Nest Hub with its sleeping skills, we called it a great addition for the home, and it is. Yet in many ways, the Nest Hub range is more advanced for the home than the Pixel Tablet, which is just a tablet on a speaker stand.
If that's the sort of flexibility you crave in a device, the Pixel Tablet could be worth checking out. But just be aware this tablet doesn't do a whole lot more than big phone you may already own, and it mightn't be worth the cost Google is asking.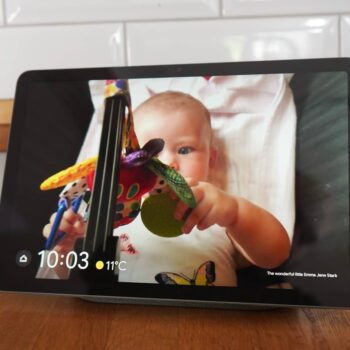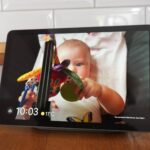 Google Pixel Tablet
The good
Fast chip
Comes with a stand that's a speaker
Good volume out of the speaker
Doubles as a Nest Hub... kind of
The not-so-good
Ordinary design
Sizeable bezels
No water resistance
Expensive for what it is
Isn't really made to be portable
Doesn't charge properly