Quick review
Jabra Elite 10
The good
Solid, balanced sound
Comfortable to wear
Spatial tracking works on iOS and Android, and all music services
Water resistance
Wireless charging
The not-so-good
Active noise cancellation could be better
Spatial tracking isn't using an actual Atmos soundtrack
Sometimes spatial tracking can get stuck
Proprietary tips mean it won't be easy to replace them
Curious what the sound of head-track spatial audio is like with ANC, but don't use an iPhone with Apple Music? The Jabra Elite 10 give a taste, even if it's not quite the same.
Call it a gimmick or something new and exciting, spatial audio is here to stay, making how you listen to music on your phone just that little bit different. It comes in two flavours: regular spatial and dynamic head-tracked spatial, with the former opening the soundscape to a new mix, while the latter tracks your head's position inside that new mix.
And yes, it's a new mix, which means it needs a service that can natively play the new format as well as a pair of headphones to take advantage of it all.
But what if you didn't? What if you could find a pair of headphones that offered spatial on any phone and platform?
That's part of what Jabra is offering in the Elite 10, a new pair of earphones armed with active noise cancellation and head-tracked spatial audio, two things that might must matter to you.
Announced only recently, we're ready with our Jabra Elite 10 review, with thoughts on what works and what doesn't. Are these your next earphones?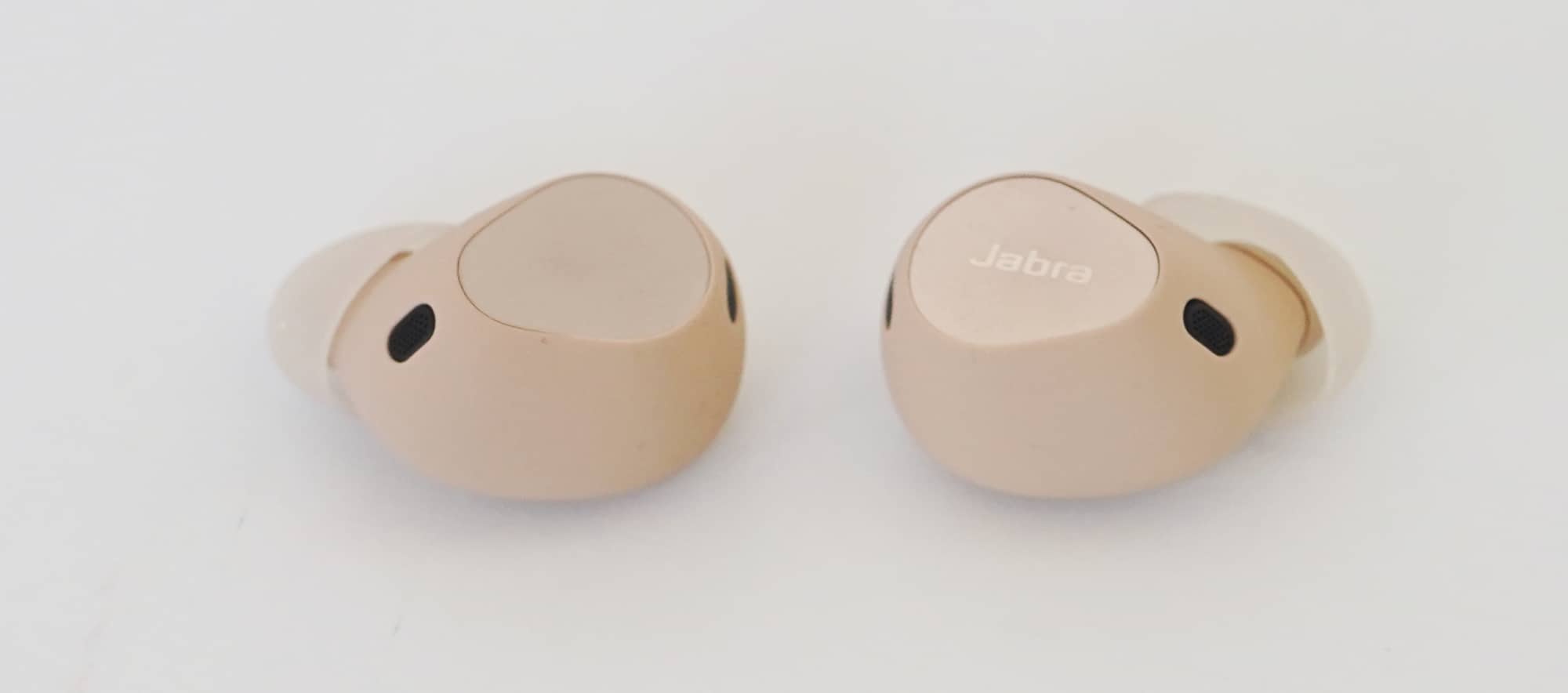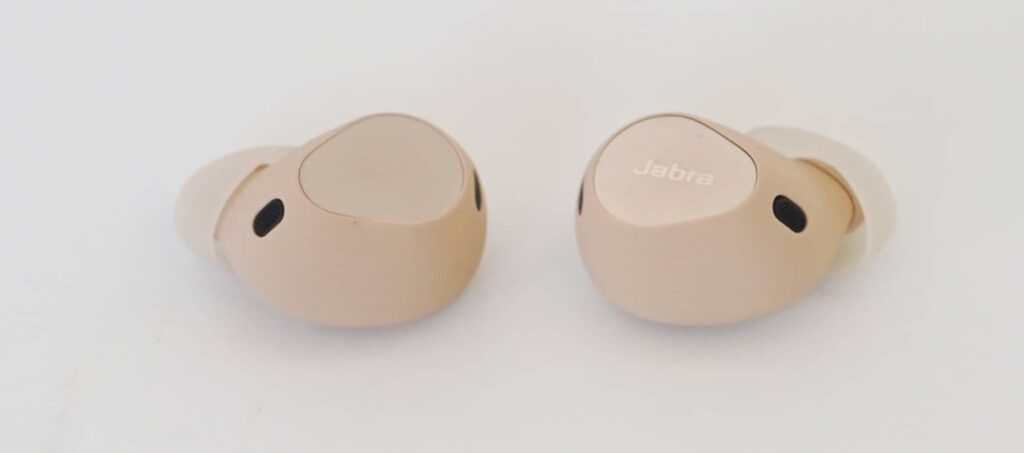 Design and features
Small earbuds with earphone tips, the Elite 10 arrive with 10mm drivers on each side and three microphones, plus a few chips here and there to process the sound, the noise cancellation, and even the Dolby Atmos head-tracking that's supported.
There's an auto-pause sensor and a semi-open design, with the earphones offering up to 6 hours of battery life with ANC switched on and extra 21 hours in the case, resulting in a max of 27 all up for the noise cancellation mode.
The case can be wirelessly charged or plugged into a Type C port, and the earphones support Bluetooth Multipoint, as well.
In-use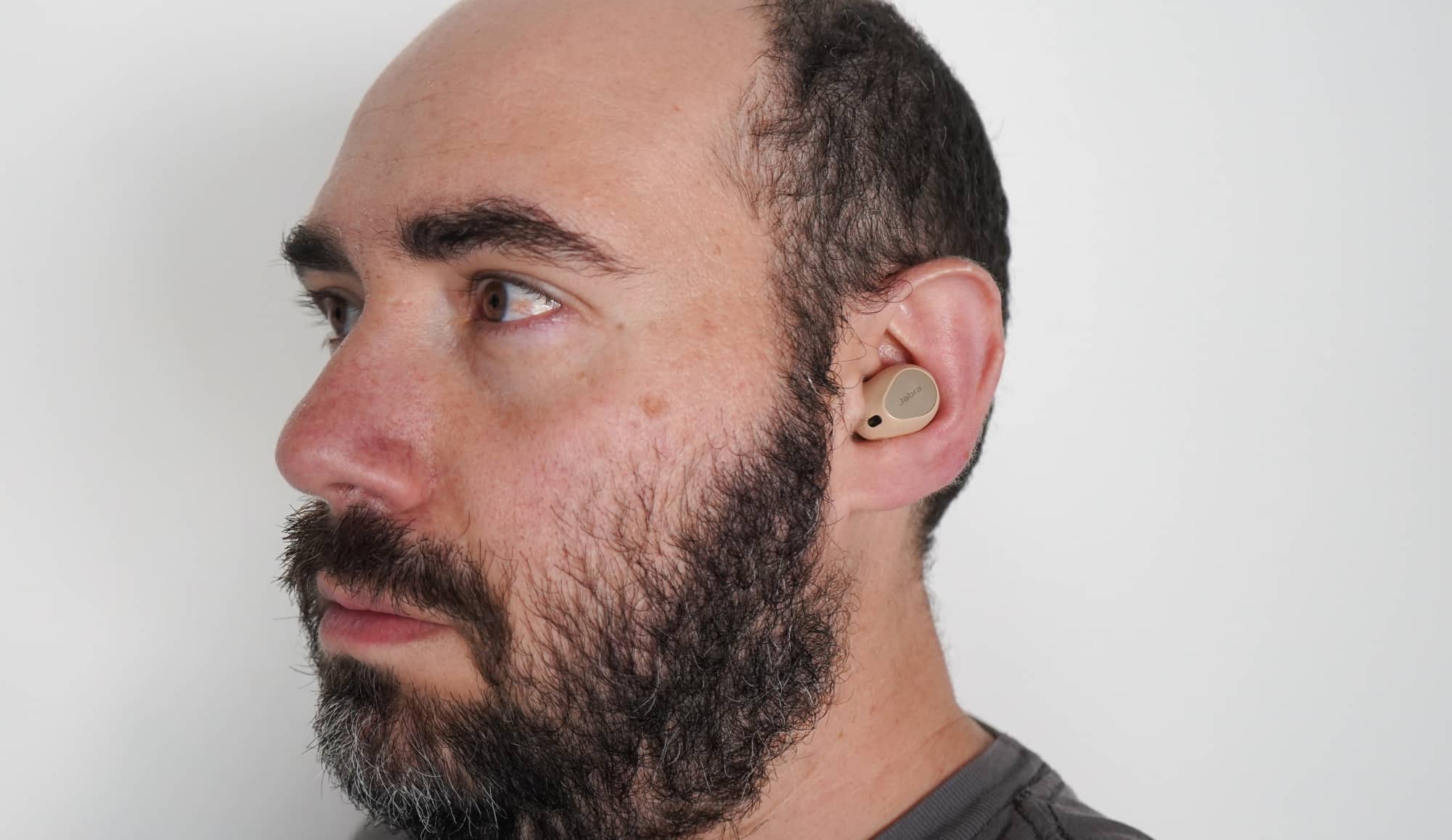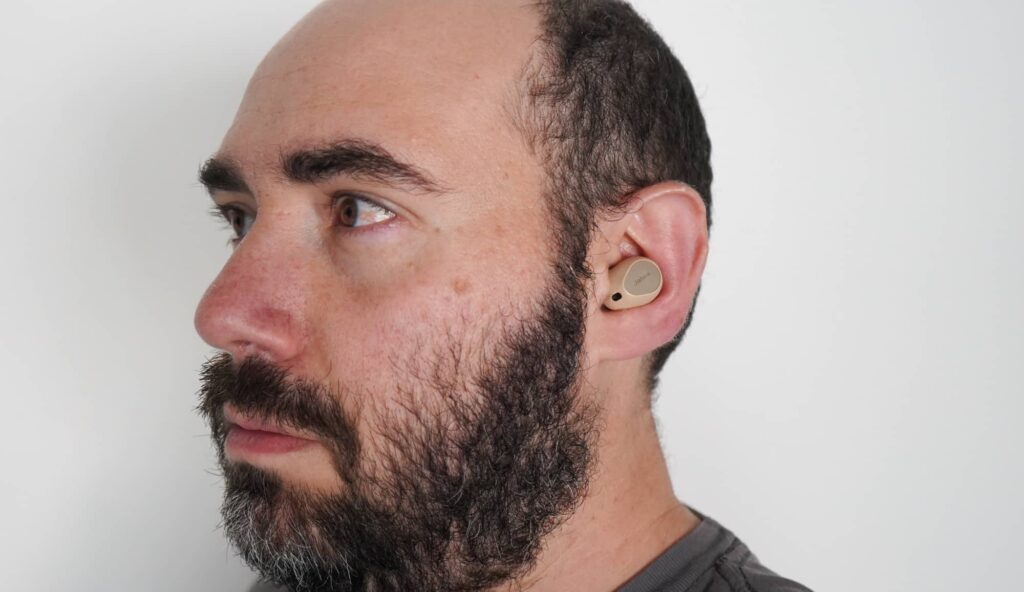 Wearing the Elite 10 is like any other earphone we've checked out, only Jabra has made a slight change to the tips: you also have stabilisation gels to load on them.
Deciding on what to arm the earphones with will mean a choice of tip size and stabilisation, which means you can put aside ten or fifteen minutes, or just find the tip you like and go for it.
In either situation, we didn't feel the fit was super tight, at least not compared with most of the noise cancelling earphones we've reviewed in the past year. They're definitely comfortable, just lacking in that tight feeling.
Controls are also a touch uninspired. There's a button to press once, twice, or three times, and an app to change what they do, but it's largely track control and ANC modes you're contending with.
Fortunately, there's an app, as Jabra keeps its Sound+ app in play, which is still as well designed as it ever was.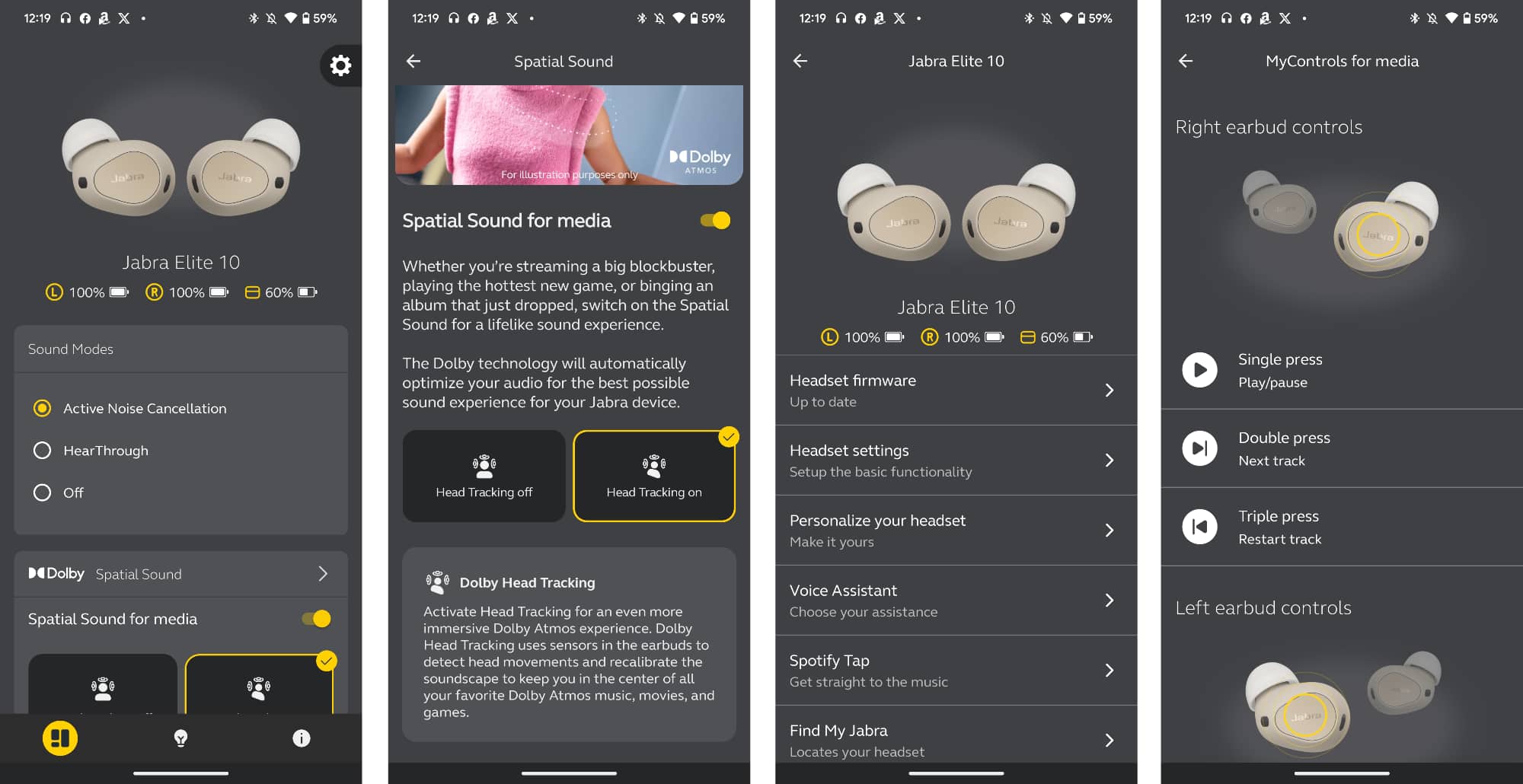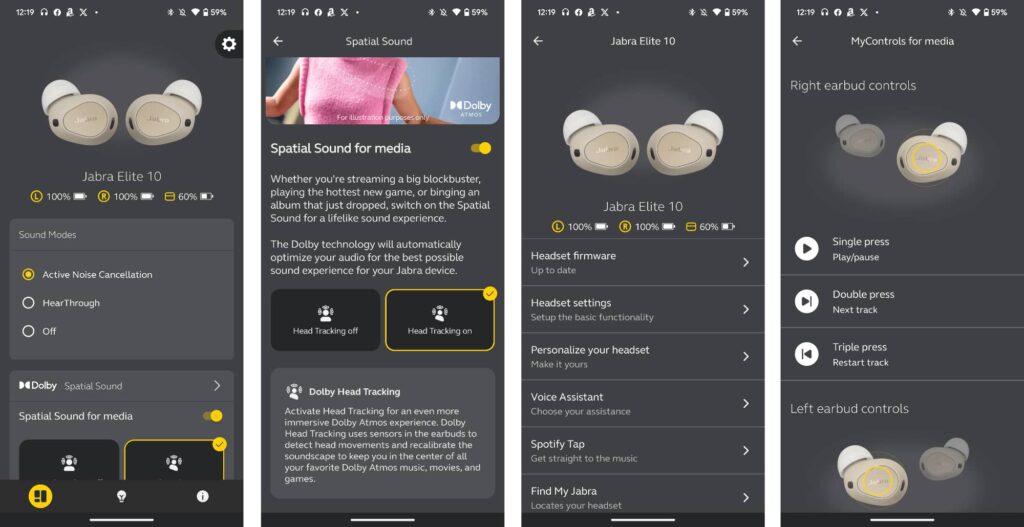 Performance
Controls aside, let's get stuck into how the Elite 10 sound, because at the end of the day, that's what matters most.
Tested with the Pickr Sound Test, we found Jabra at its typically balanced best, which is something we've grown to expect from the brand.
Take the sound in electronic tracks from Tycho and Daft Punk, both of which deliver a comfortable push of bass amidst solid mids and highs. The lows aren't so pronounced they sit over everything, and these lack the warmth of other earphones, but the balance is clear, and it's much the same in other styles.
In Mark Ronson's "Uptown Funk", the bass line snaps tightly amidst the rest of the sound, while Maroon 5's "Sugar" punches nicely and doesn't hold back.
The sound delivery in the Elite 10 is clear, and regardless of what we tuned into, the balance was definitely there. Much like how Bose just always delivers a solid balance, so too does Jabra, and the Elite 10 offers a good sound anyone is sure to appreciate.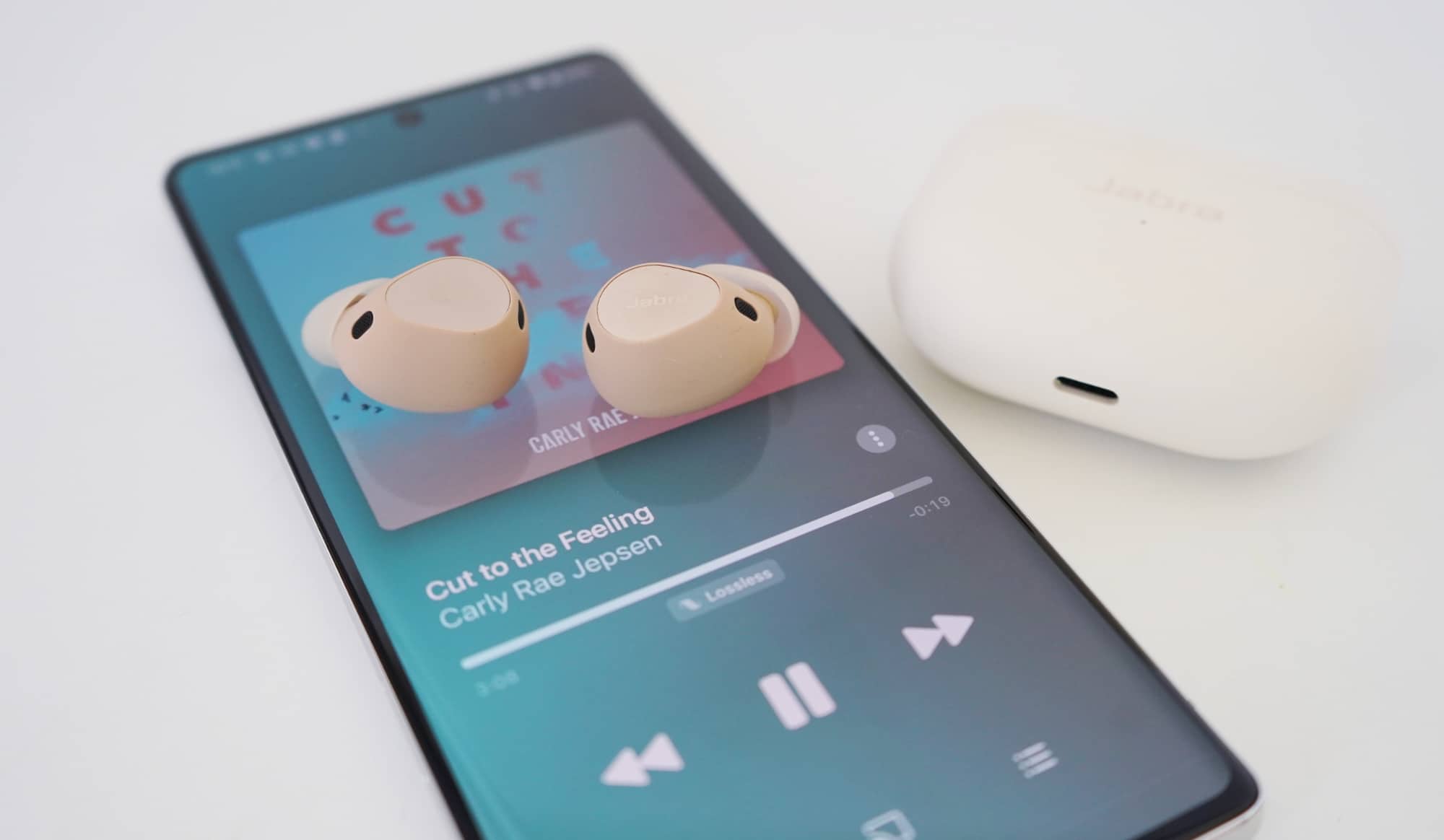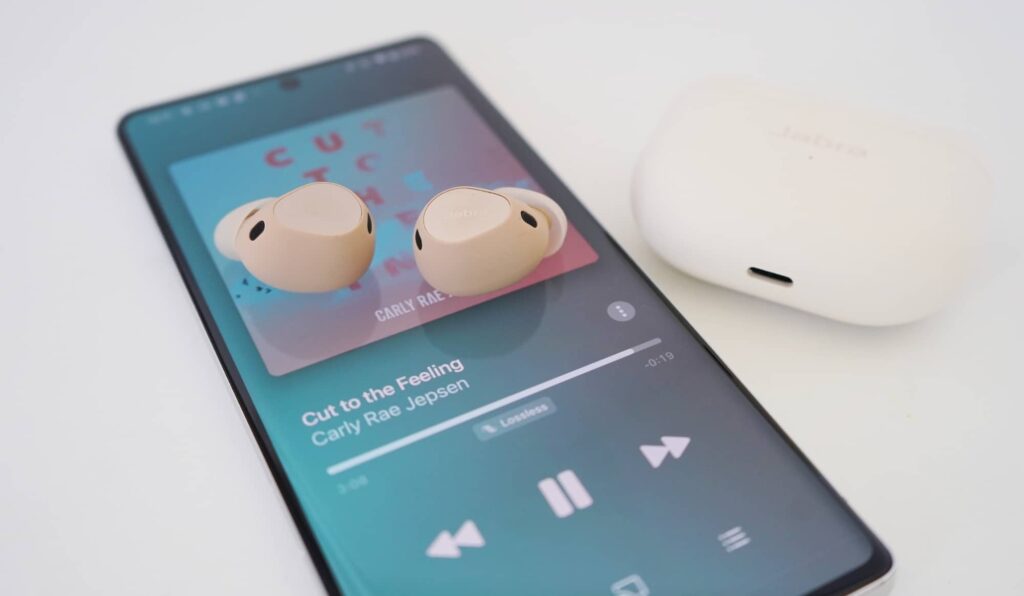 Noise cancellation
A key area for the Elite 10, noise cancellation can feel like it plays second fiddle to what's on offer. As in it's here, but Jabra's claim of an adaptive cancellation mode feels more like a choice of three: on, off, or transparent hear through. And outside of "off", neither seems like it's performing with the best of ANC.
When active noise cancellation is on, the performance is acceptable but there are better options around. You'll have a more isolated experience than without ANC, but sounds still leak in, even repeatable sounds that other earphones pull back on. The whisper and whirr of the train are one of them, as is some of the low pitched voices ANC should have no trouble defeating.
Jabra calls this an advanced noise cancellation technology, but in comparison to other ANC earphones, we're not sure the result is anywhere near as solid.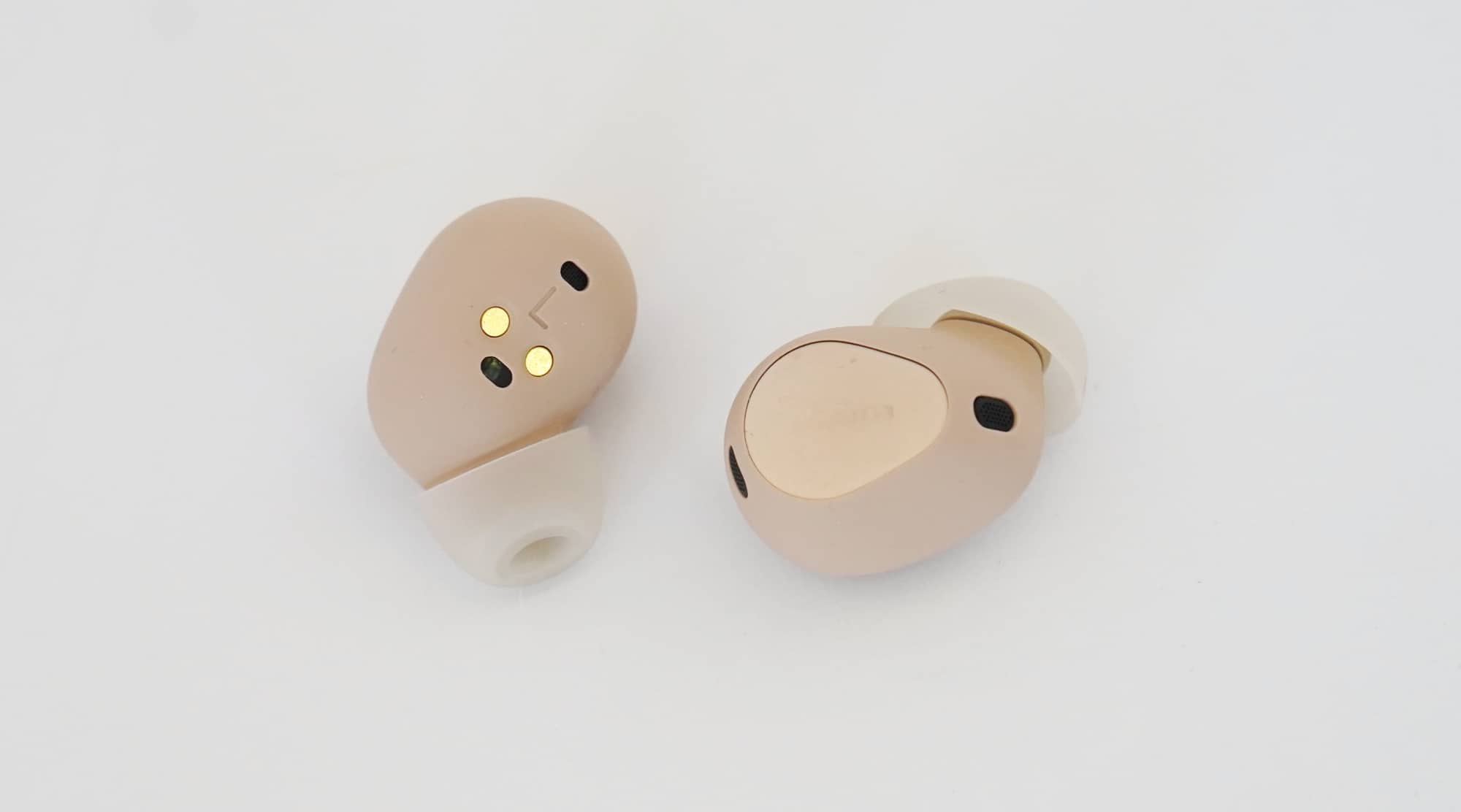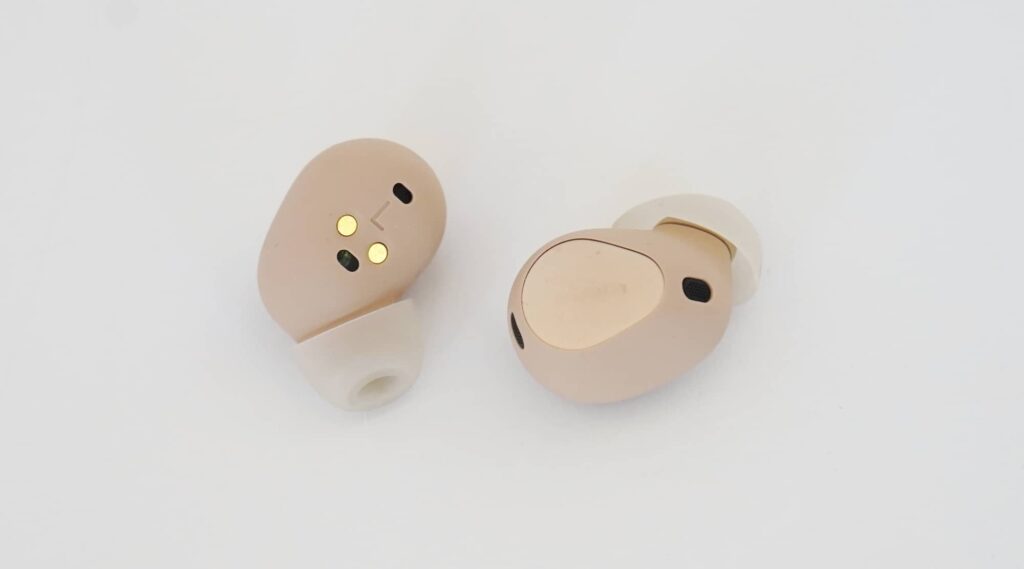 This could come down to something as simple as the tips for the Elite 10, which don't ever feel quite as secure or firm as they should. They hang comfortably outside the ear, as we've noted, but without an ear tip test in the Jabra Sound+ app, you're left wondering whether the Elite 10 are offering as much isolation as they should.
And then there's Jabra's transparent hear-through, which does let you hear through the microphones, but also seems to amp everything more than it should.
Neither is bad, mind you, but neither mode matches up to what's out there, and that's a shame. We're a good two years past the introduction of the Elite 7 Pro, but it seems as though Jabra hasn't exactly kept up with the competition.
Spatial audio
One area it has, however, is in spatial audio. In fact, it's one of only a handful of headphones that offers the functionality outside of Apple. That's intriguing alone.
For Jabra, the inclusion of spatial is interesting because it has partnered with Dolby to make it work.
Much like what we saw in the LG T90, you'll be able to switch on head-tracked spatial to move your head between the stereo sound played on your phone. It works on iOS and Android alike, and it even works regardless of the music service you subscribe to, giving Spotify subscribers a taste of head-tracked spatial if they choose.
There is a catch, though: the head-tracked spatial delivered by the Jabra Elite 10 is not an actual Atmos track. In fact, Apple Music confirms that when the Elite 10 are connected, the Atmos track switches off entirely and defaults to a stereo track.
You're not getting true Dolby Atmos with these Elite 10 earphones at all. It'll sound like spatial, but it's basically you being passed through a left and right channel without the real spatial soundtrack.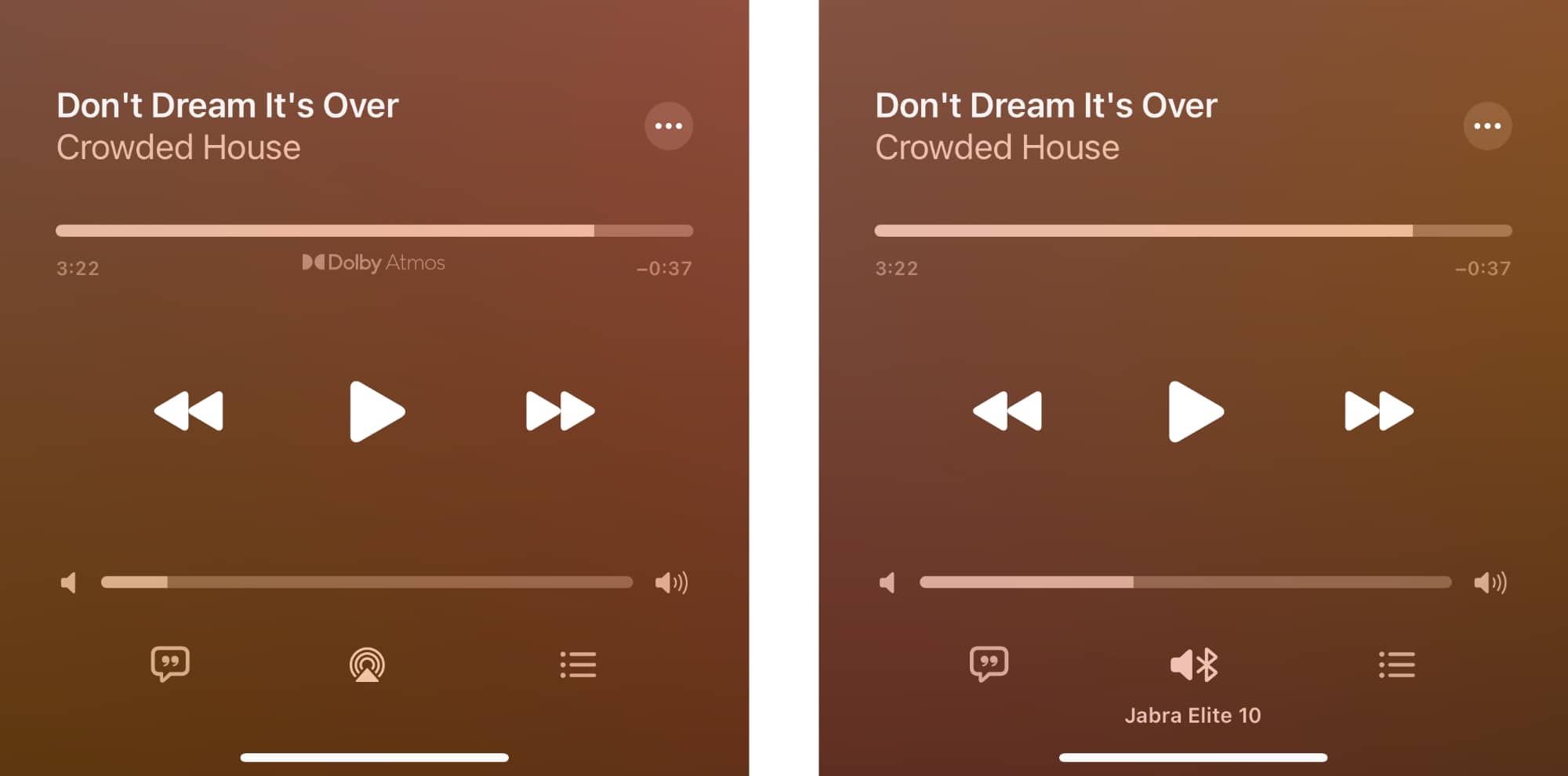 And you can hear it on some tracks. Take Coheed & Cambria's "The Liars Club" from our spatial rock playlist, which lacks the full breadth of that spatial render and sounds shallow, as does Paramore's Atmos-rendition of "This Is Why".
Some tracks don't seem to make much difference while others will, but the important thing about this we think is that most people simply won't care. The reality for Atmos is that the audience is right now somewhat limited, and really only applies to listeners of Apple Music. The Jabra Elite 10 could open that right up, allowing playback through other services, even if it's not exactly the real thing.
Mind you, plenty of people like things that aren't technically real, so we don't think it'll matter much.
In this case, the only major problem head-tracked spatial struggles with on the Elite 10 is that sometimes the tracking gets stuck, which is something we also experienced with the LG T90. That is to say your sound might get stuck in one direction, almost as if the internal compass hasn't refreshed. If that happens to you, you'll either need to wait, or turn it on and off again in the app.
Some things remain consistent, and reset switches are one of them. They're not all that frequent, but they do occur from time to time.
Battery
At least the battery can win you over, with as much as 6 hours of battery life on offer with noise cancelling switched on, and an extra three-ish charges in the case.
Your case is wirelessly charged, supporting Qi wireless chargers, but you can also use a Type C charger if need be.
For the time we spend with the Jabra Elite 10, we found that 5-ish hours was definitely possible, with the remaining time for the earphones spent in the case. The just under thirty hours Jabra talks up that's possible means you might be able to make it through several days of use without needing to touch a charging pad or cable. Handy.
Value
In terms of what it delivers, the price for the Atmos-capable Jabra Elite 10 is quite solid, getting in under the $399 where Apple prices its AirPods Pro by a good $20, which at $379 also means it happens to be less expensive than much of the competition.
Granted, we didn't find the noise cancellation to be the best in the business. Between the cancellation lacking in strength and the fit allowing sound to come in, the ANC on the Elite 10 wasn't as solid as we had hoped for.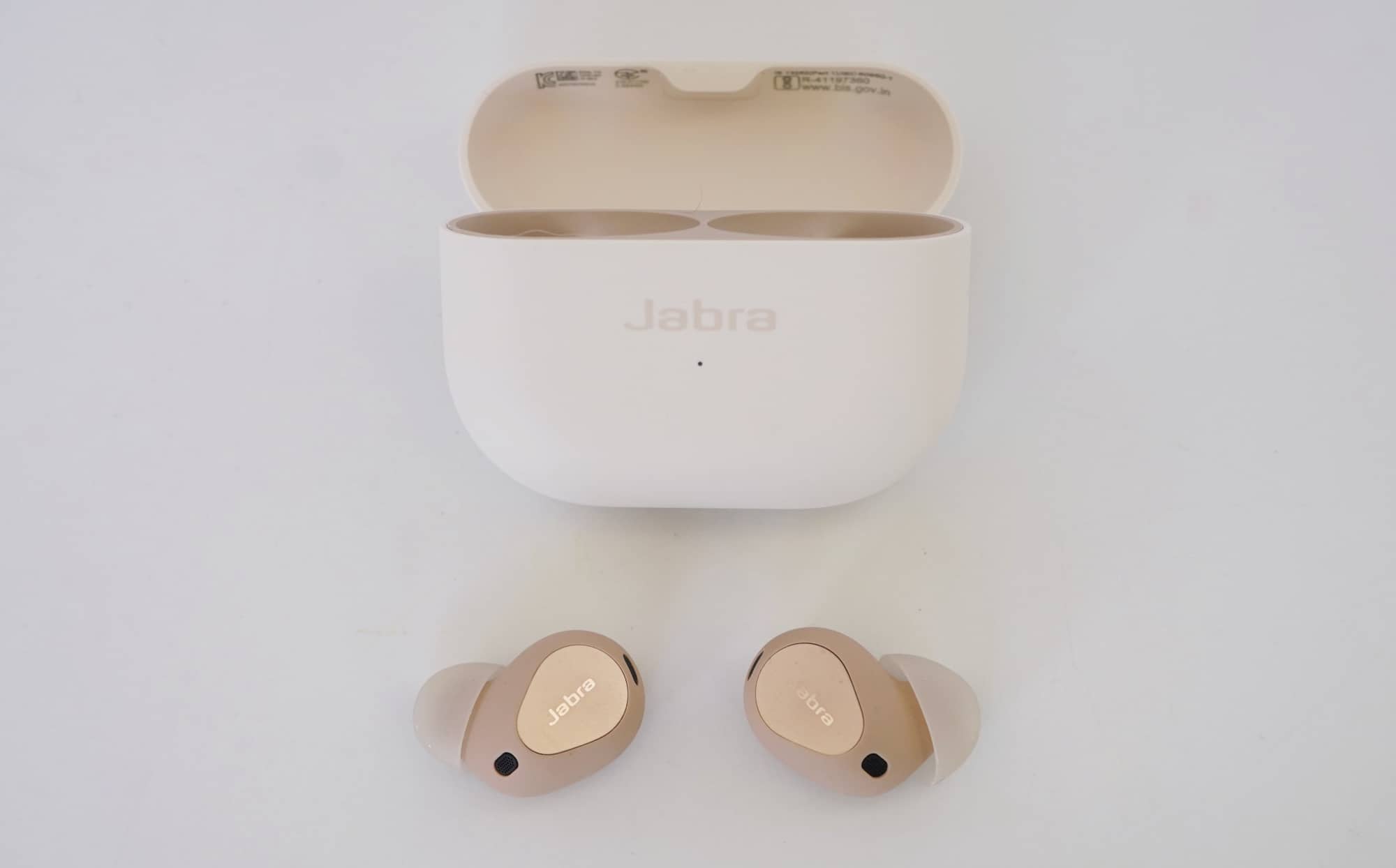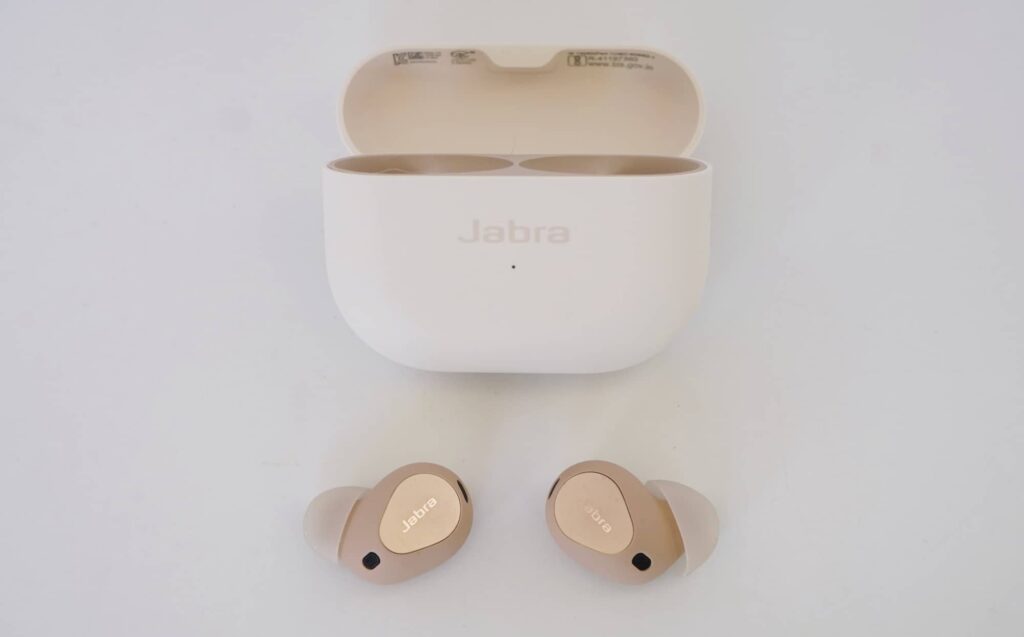 What needs work?
If we had to fix aspects, a better fit would definitely be one of the first things that matter about this pair. While Jabra offers a few tips, the design seems to lend itself to being somewhat open, almost as if Jabra is trying to bypass the vacuum effect some people feel when wearing noise cancelling earphones.
However, if this is what is indeed happening, the result feels like it's cutting the ANC's ability to be effective. The more we used the Elite 10, the more we questioned whether the fit was the primary driver behind the cancellation just not being that strong. It definitely felt like that to us.
Whether it's the fit or the processing, the ANC could definitely be stronger, and should be something Jabra works on ASAP.
Even the ear tips give us pause, with the triangular design Jabra is using just promising to make life a little more difficult if you need to buy different ear-tips later.
Let's say you want to buy some Comply foam tips for these things: the triangular port design is going to make that difficult, and force you to find something solely from Jabra. We're not huge fans of proprietary designs that could just be a standard, and we can see the tips on the Elite 10 are going to be just like that.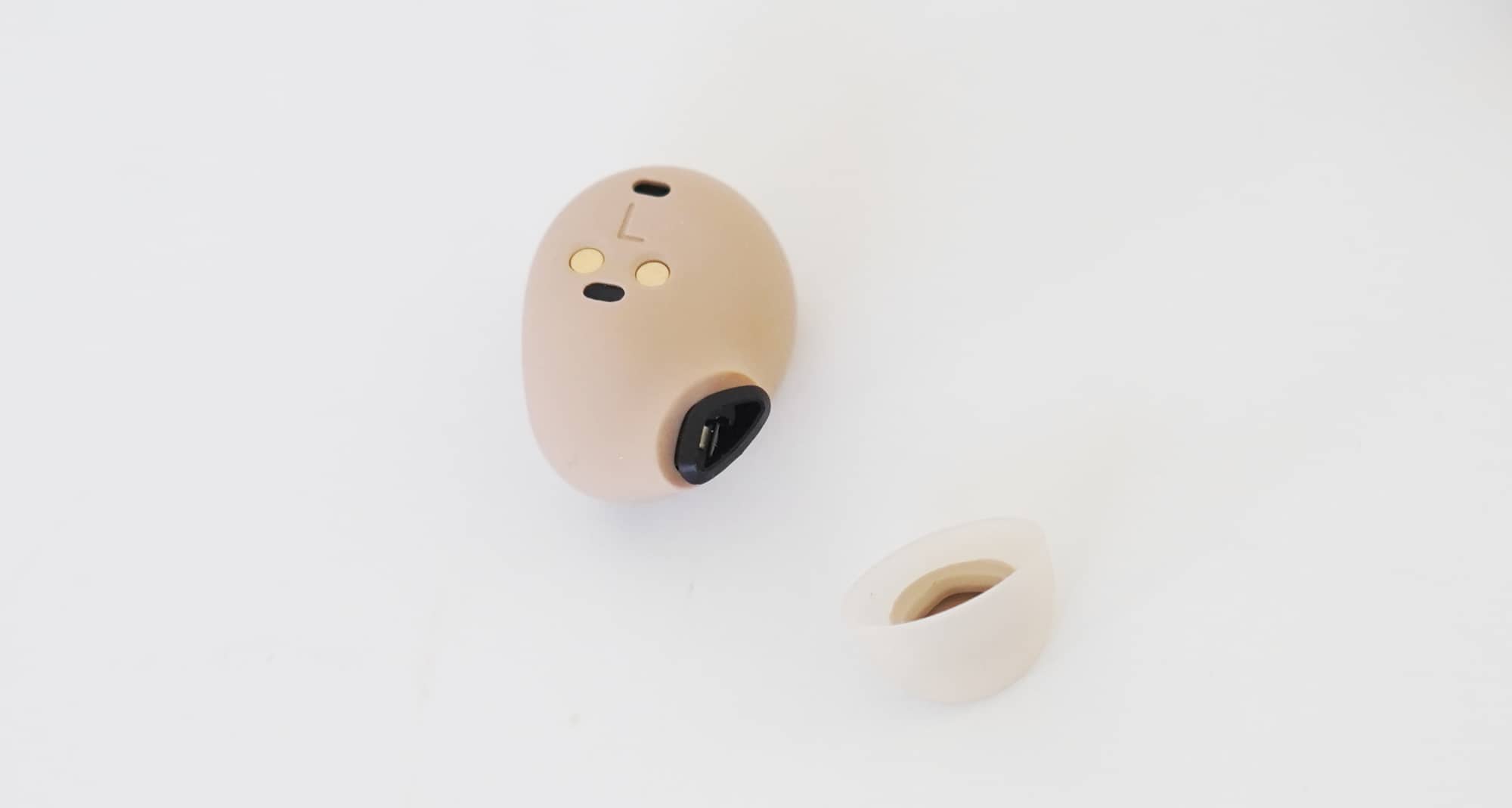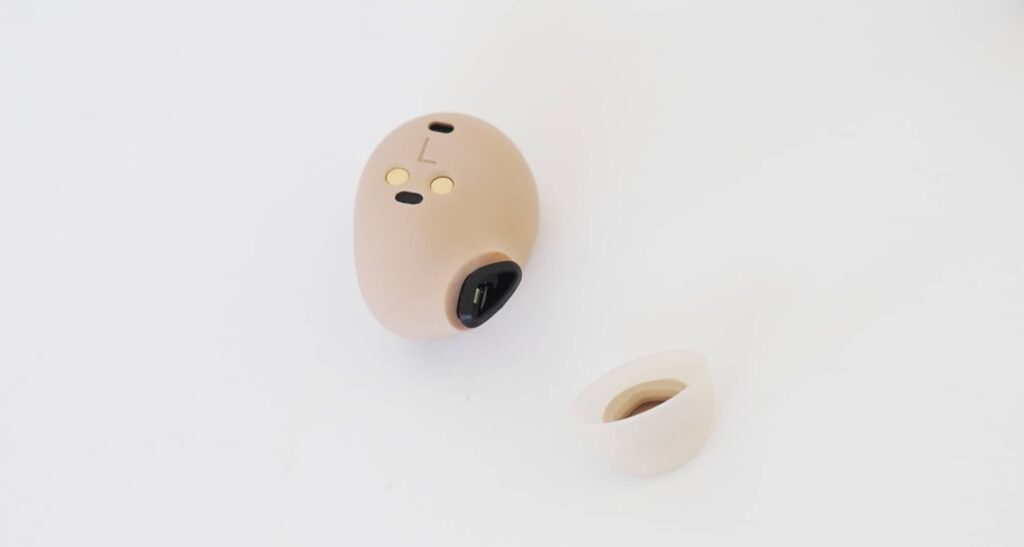 Jabra should also probably work on its spatial audio implementation, which is cool in that it works with everything (yay!), but less cool in that it doesn't seem to actually support Dolby Atmos tracks. That means you're getting the effect of head-tracking, but none of the actual real sound that Atmos is supposed to deliver.
We're not sure about this approach. On the one hand, it's great that more people will be able to experience what is essentially an interactive gimmick in audio recreation. Yet on the other, you're not getting the actual recreation that Atmos mixes and masters tend to be.
While audio enthusiasts are often quick to downplay Atmos as a gimmick — and to an extent, they're not technically wrong — it's fun and something different, and it can change how you experience music.
But the approach Jabra and Dolby are showing off doesn't appear to be playing an actual Atmos mix, even when a music service supplies it. Until that's fixed, the gimmick of Atmos on the Elite 10 — just like the noise cancellation — can feel a little hamstrung and weaker as a feature than it should be.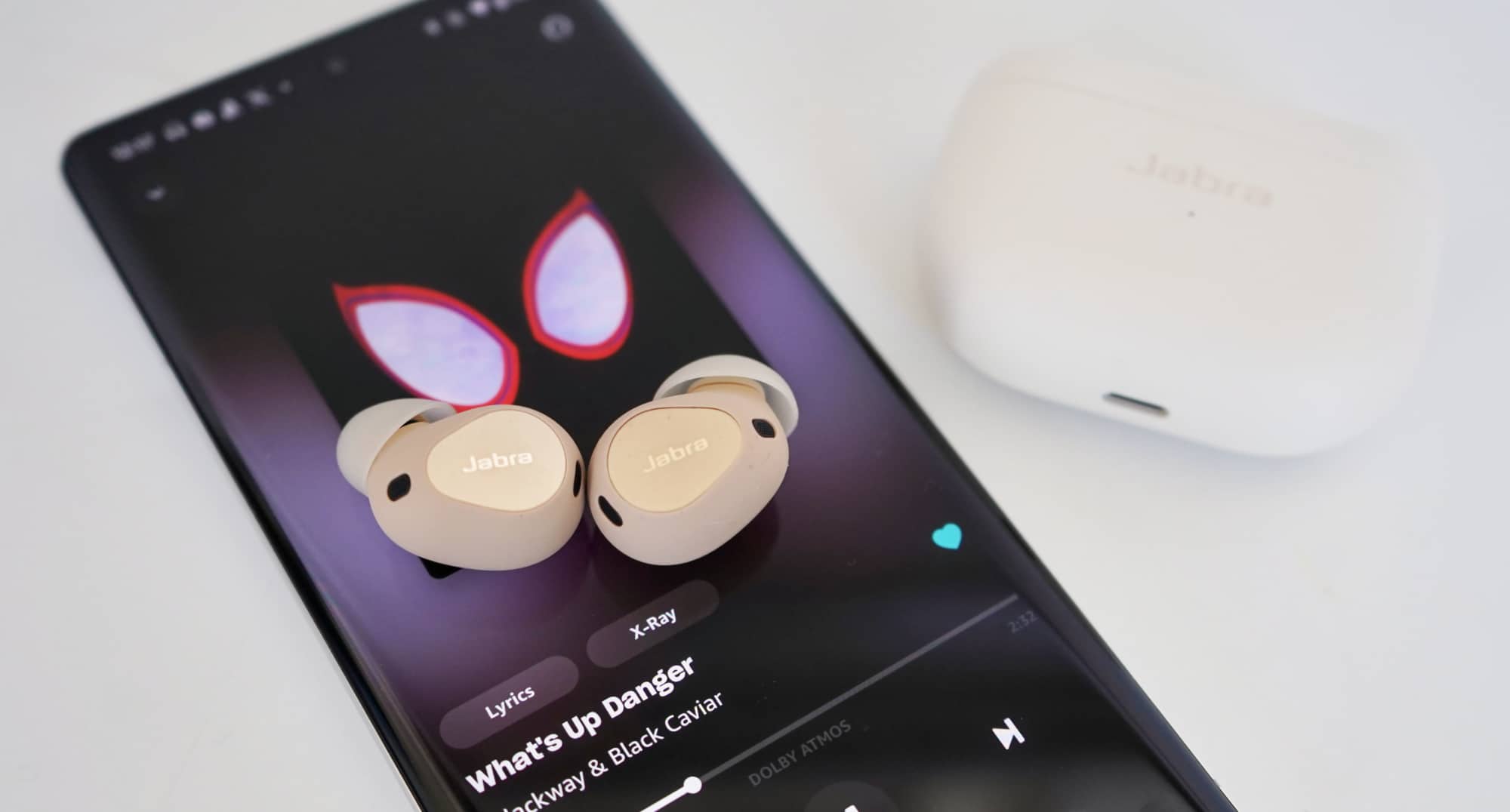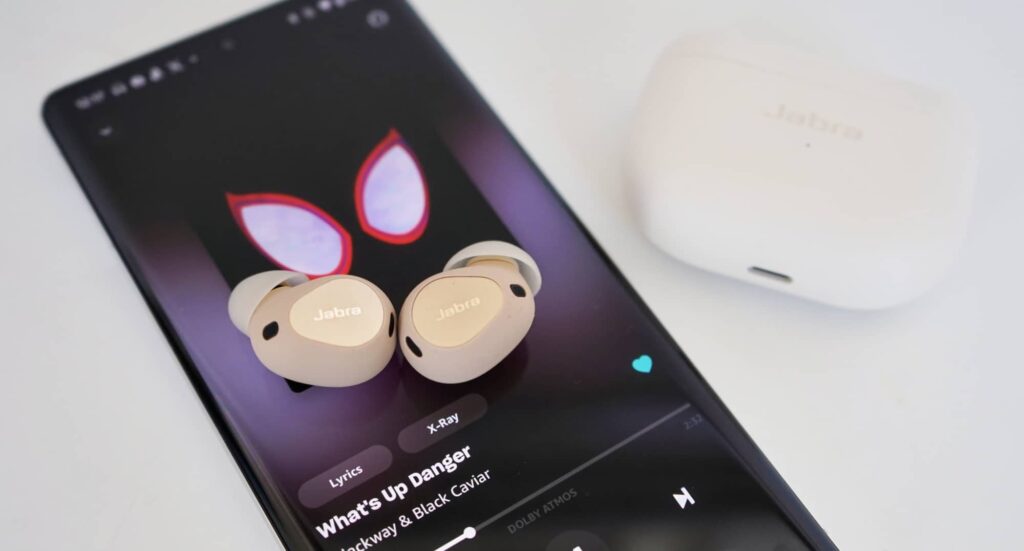 Jabra Elite 10 vs the competition
In terms of ANC, that leaves the Elite 10 in a position to be bested by some pretty close competitors.
If you're on an iPhone and use Apple Music for spatial audio, the AirPods Pro are clearly the better option, and if you don't mind spending a little more and also don't care about spatial (possibly because you use Spotify or another music platform), either the Bose QuietComfort Buds II or Sony's WF-1000XM5 are excellent options.
Where Jabra's Elite 10 seems to fight well is on price and feature set, particularly for Android owners. They'll totally work just fine on iOS, also — these are platform agnostic, don't worry — but given the $20 difference is so close to the AirPods Pro, we're not sure we could say saving the money is better on this pair.
However, if the price were to fall even more, like say around the $299 to $330 mark, Jabra's Elite 10 would have a competitive edge. Saving money is always important, and if you want all the features without them being the perfect benchmark, we could see the Elite 10 coming out ahead.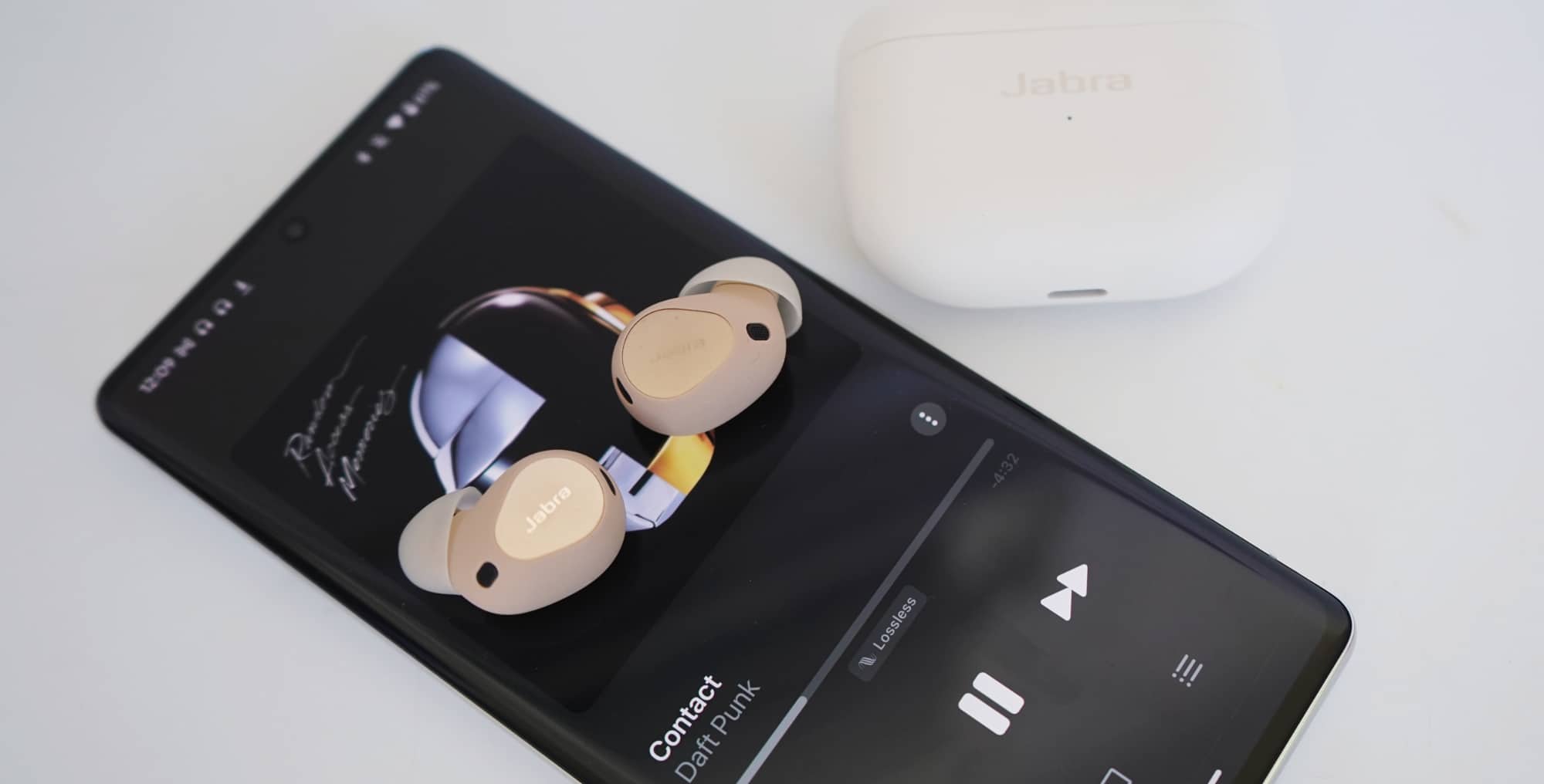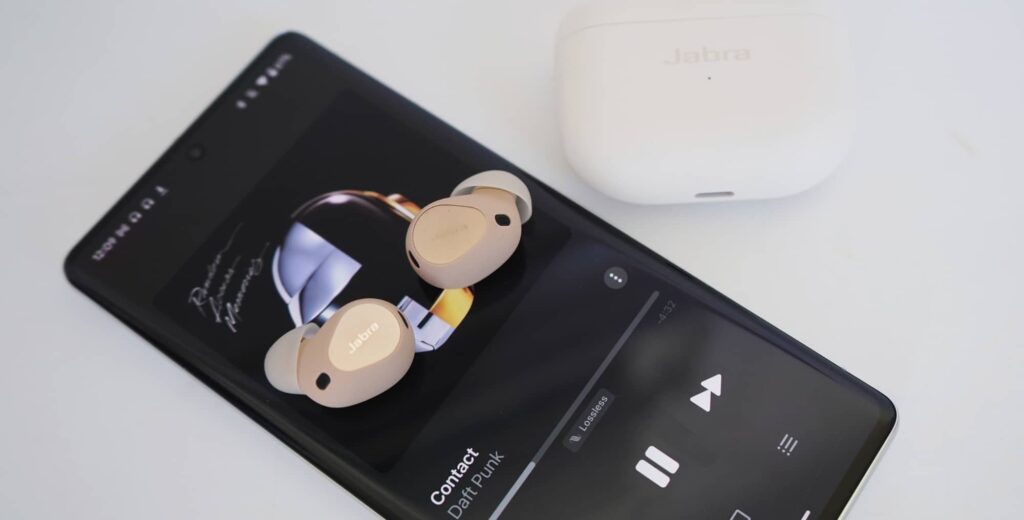 Final thoughts (TLDR)
Despite the niggles, there's something genuinely appealing about the Jabra Elite 10.
Compact and capable, the Elite 10 deliver almost spatial for all in a way no one has really managed to get right yet.
It's worth noting that in terms of the feature set Jabra is going for, LG has managed to get the closest, but we found more timing and delay issues with its T90 than were appreciated. By comparison, Jabra's pair is a lot better, and while spatial tracking can still get stuck, it certainly wasn't as often.
We definitely think there are better noise cancelling earphones out there, and given both Sony and Bose are within spitting distance, those should be considered, as well.
But if you're game to jump on the spatial bandwagon and don't want an iPhone and Apple Music, Jabra delivers.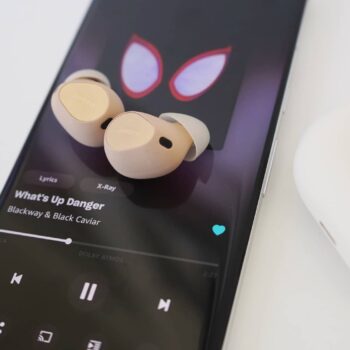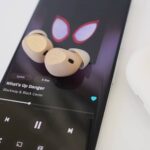 Jabra Elite 10
The good
Solid, balanced sound
Comfortable to wear
Spatial tracking works on iOS and Android, and all music services
Water resistance
Wireless charging
The not-so-good
Active noise cancellation could be better
Spatial tracking isn't using an actual Atmos soundtrack
Sometimes spatial tracking can get stuck
Proprietary tips mean it won't be easy to replace them