We're nearly at the end of the year, and that means it's time for the last of the flagships to make their way out. In time for the holidays, Google is ready with the Pixel 4 XL, a handset that might just offer enough of what you want in a flagship without the typical flagship price.
If it wasn't hard enough to make your mind up for a smartphone, Google is looking to help you make it again.
Yes, the new Pixel range is here, and while the upgrades are a little on the modest side, Google is hoping to win you over with more than just an improved camera, best in class performance, and premium materials.
While they're all going to be a part, the new big phone from the maker of Android also has something most of its flagship competition doesn't have: a price that doesn't appear to ask too much of its customers.
In an age when smartphone pricing has been thrown in the "too much" basket, is Google's compromise too much, too little, or is the Pixel 4 XL just right?
Design
Stop us if you've heard this before: glass and metal, metal and glass. That's the set of materials used on the Pixel 4 XL (and its sibling, the Pixel 4), as Google revamps and alters its design slightly, improving what's there without changing things dramatically.
The soft touch back is still very much a part of the design, but there's a metal frame encasing it, holding the glass and hardware in.
There is a very new camera bump on the back, found in a softened square with a minor extrusion in the top left corner. That design seems to be a thing at the moment, with Apple adopting a softened square for the cameras in the iPhone 11 range, albeit in a slightly different design.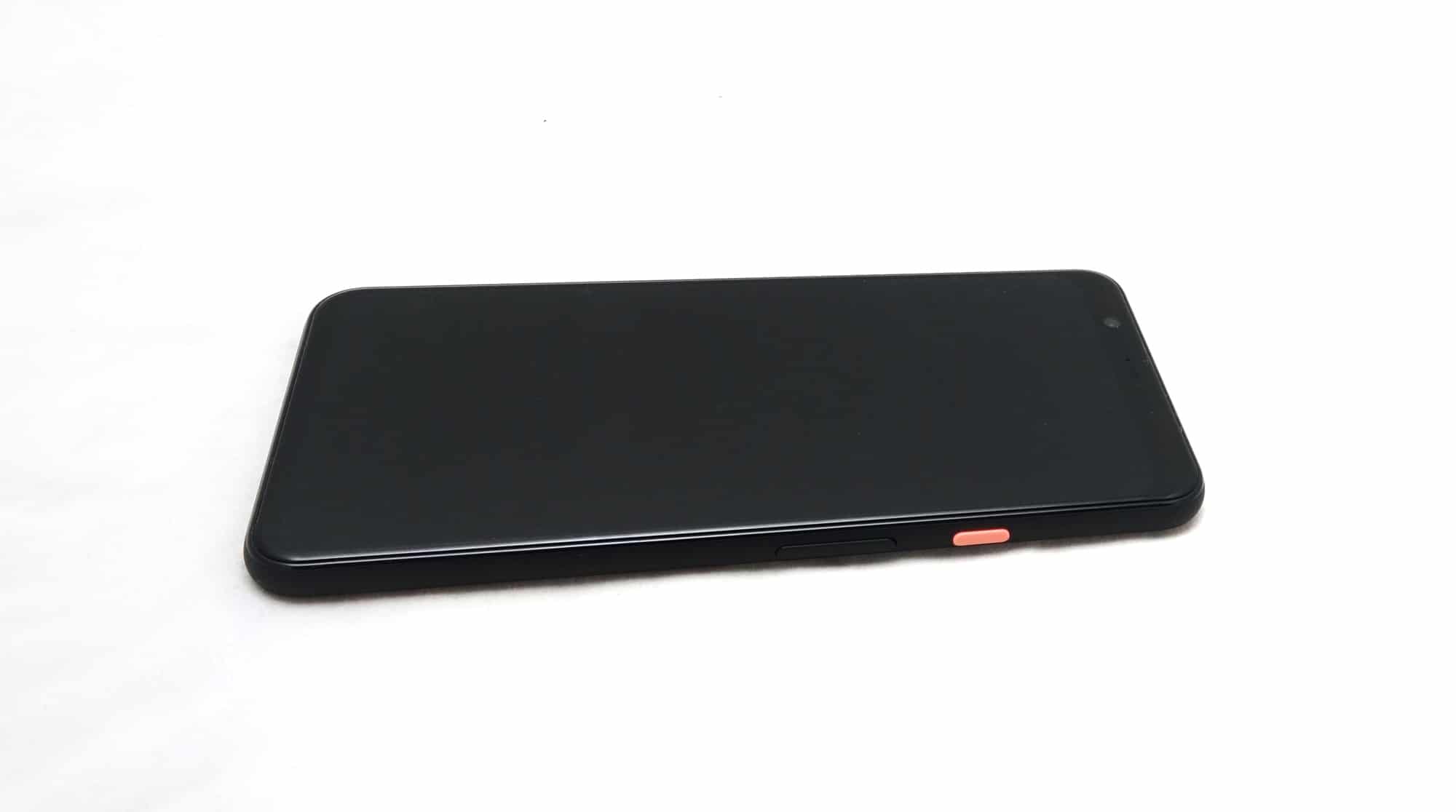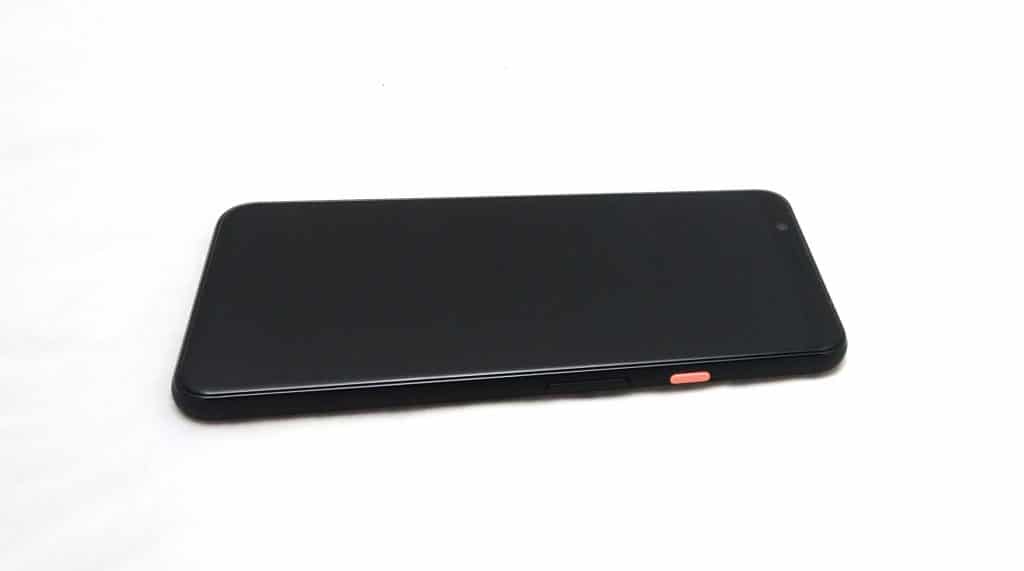 Features
Inside the Pixel 4 XL, you'll find the specs listed for a flagship phone in 2019. Qualcomm's eight-core Snapdragon 855 makes an appearance, just like it has on other phones, and there's 6GB RAM alongside either 64GB or 128GB storage. Sorry folks, there's no expandable storage here, as Google doesn't offer that in its Pixel phones. It also is the first Google phone to see Android 10 straight out of the box.
Cameras are included, too, and there's a bit of a chance for the Pixel range. Instead of one rear camera and some neat AI smarts, you now get two alongside the AI smarts, with a 12 megapixel standard sporting an aperture of F1.7 and a 2x telephoto of 16 megapixels at F2.4. Aside for 2X zoom, the smarts Google packs into the Pixel 4 XL (and Pixel 4) includes a feature called "Super Res Zoom" that is designed to overcome some of the limitations offered by a 2x lens, letting you get closer by a magnitude of up to 8x having the AI do a bit of the heavy lifting.
The rear camera combination can also handle 4K video, giving you something to work with for video, too. It will even handle Google's "Night Sight" mode, which has been improved this year, and can work for capturing a bit of astrophotography, too.
At the front camera, you'll find yourself back on one camera in the Pixel 4 XL, down from the two offered backing the Pixel 3 XL.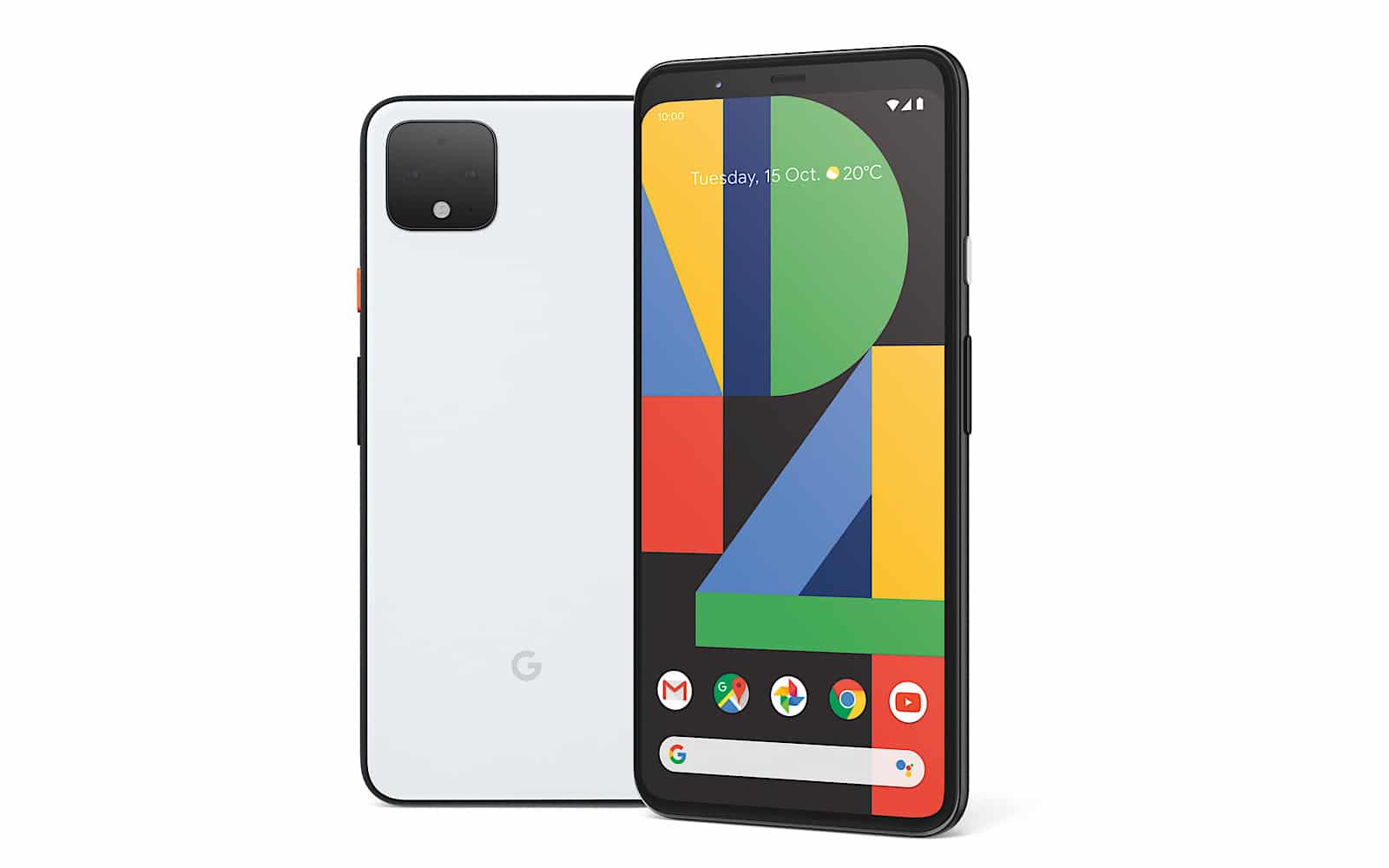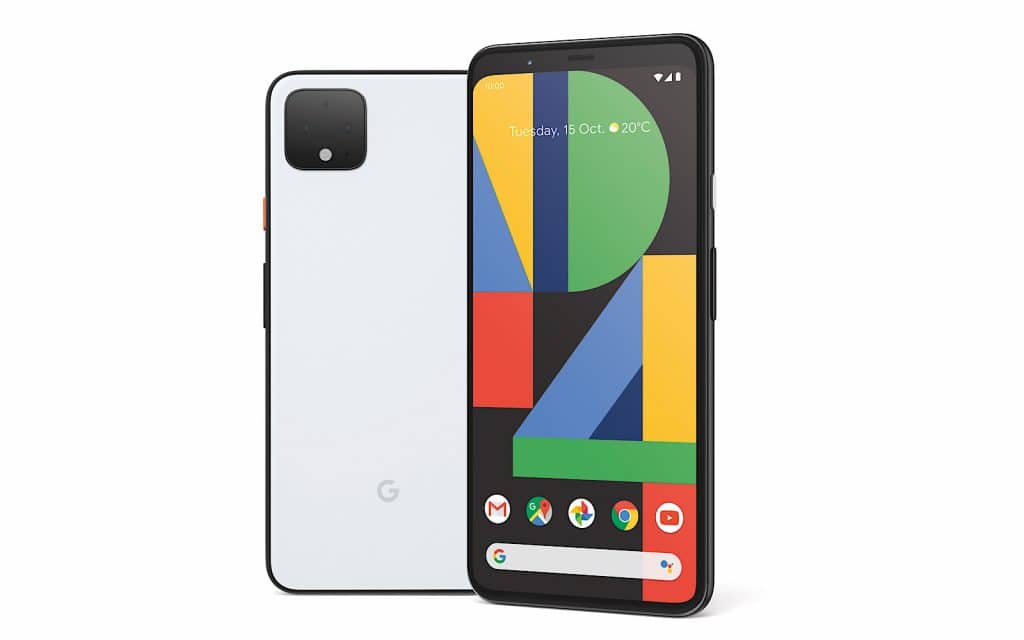 On the wireless side of things, you'll find a familiar 802.11a/b/g/n/ac WiFi — none of that WiFi 6 802.11ax here — alongside Bluetooth 5.0, NFC, GPS, and Category 18 4G LTE, offering speeds as high as 1.2Gbps down and 150Mbps up.
Physical connections will seem pretty standard for a flagship smartphone, offering only the one USB Type C port, though at least Australians get a pair of Type C earphones in the box, something not every country will see.
A few other things have changed, such as the security. What used to include a fingerprint scanner has been switched out for a facial scanner only, though there is a radar system built into the Pixel 4 XL designed to work out when you're picking it up so it's ready for you.
When it is ready, it will light up a 6.3 inch AMOLED display showing a Quad HD+ resolution of 3040×1440, a screen encased in glass and aluminium for the rest of the phone. The handset itself is a little on the heavy side, weighing 193 grams and measuring 8.2mm thick, with IP68 water resistance, too.
There are two physical buttons left on the handset, with both power and a volume rocker on the right edge, plus those squeezy sides there from the first Pixel. Google has also added a bit of radar support, too, making it able to pick up on gestures if you want to use them.
The battery on the Google Pixel 4 XL is rated at 3700mAh and is not removable, but can be charged wirelessly.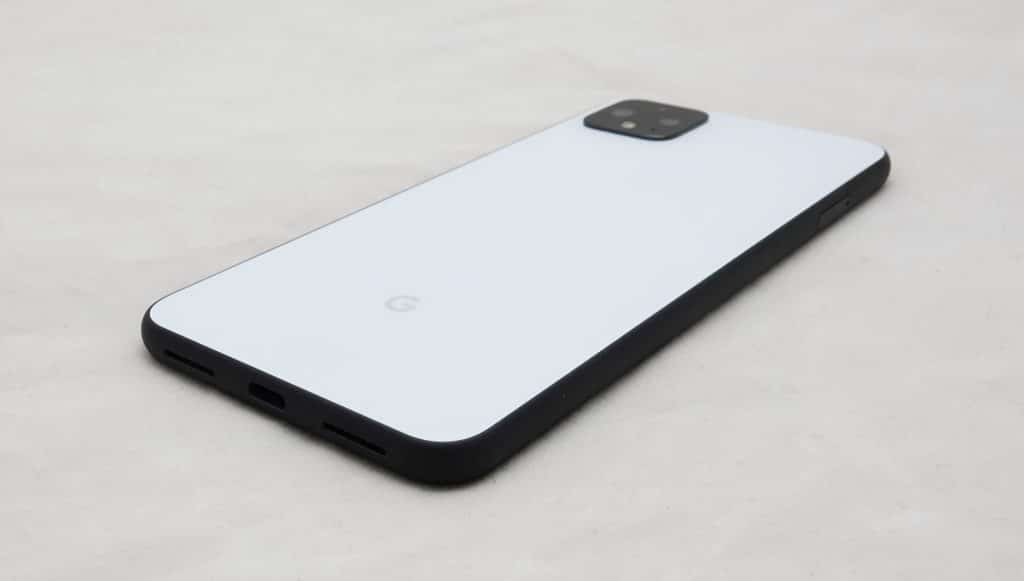 In-use
Out of the box, you'll find Google's latest version of Android, Android 10, running on the Pixel 4 and Pixel 4 XL, and it is a little bit different. If you've been used to Android for the past few years, you're probably used to on-screen buttons to let you go back, multitask, and go home, but these are absent upon first use of the Pixel 4 XL.
Instead, you're going to get used to a full screen experience, or a fuller screen experience of sorts. It's "fuller" without the on-screen buttons, and encourages you to swipe more often.
Swipe up from the bottom of the screen to go to the home screen, or swipe from the home screen to go to the menu. Swipe from the bottom to about a third to bring up the multitasking, and left to the middle of the screen to go back. That takes care of all of your regular soft buttons, though it can get a wee bit confusing to start with.
Don't worry, you're not alone, and if you need to, you can search for "buttons" in the system settings to get the three button navigation back. Easy.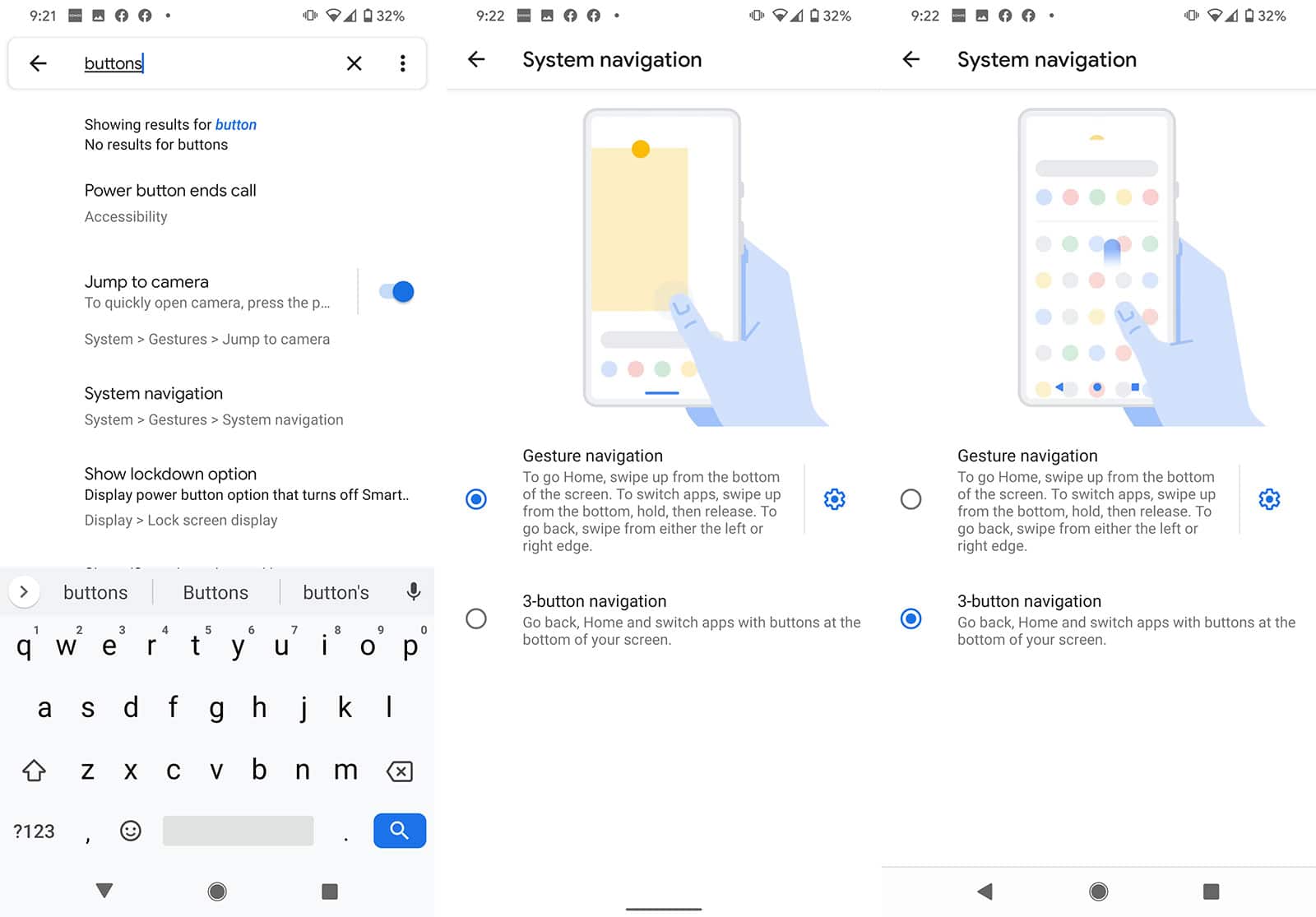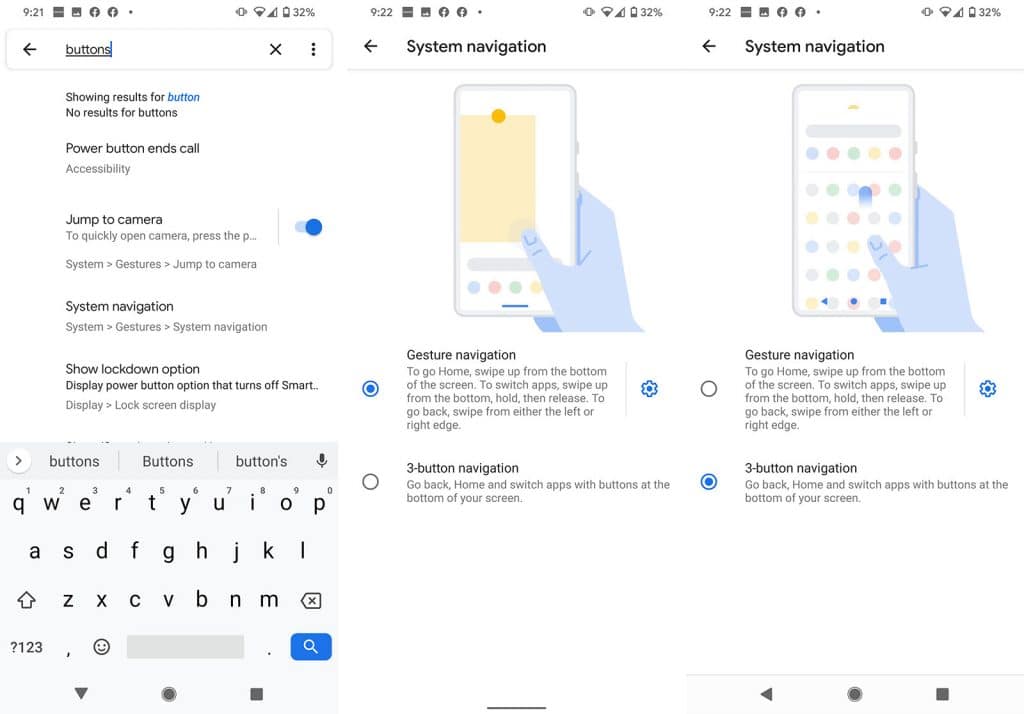 Outside of that change and choice, Android 10 is slick, easy to look at, and doesn't really get in the way of your use of the phone. You'll still find widgetised home screens available, plus a handy drop-down notification bar, so while it's cleaner and newer, if you're something who likes Google's minimalistic style, you'll be at home here.
There's also a gesture control system where you can wave at the phone to skip songs and silence alarms, and it will even switch the screen on if the always-on display mode isn't being used. You may not find this all that useful, though, and the concept still seems largely half-baked at the moment.
We're sure we'll find out about some form of motion gestures that will make smartphone usability better, but right now, it seems more like it's something that can be used in the future, kind of like the squeezable edges to trigger the Google Assistant, which are both there, whether you choose to use them or not.
At least the facial unlock works — most of the time, anyway — though we do miss the fingerprint sensor. Also as a note, the facial unlock will work while you're sleeping, so if you leave your phone out near your friends, partner, or kids and they've read this review (or practically any other), they'll also be able to unlock the phone without you being awake until Google patches it up. Fun times.
Performance
The new Android 10 operating system isn't just slick, but also fast, and together with 6GB RAM and an eight-core chip, Google has found a lovely spot to keep performance smooth.
Throughout our Google Pixel 4 XL review, we didn't run into any noticed spots of lags, and the phone is about as fast as you'd want it, with everything running nicely.
The experience is slick, and once you've become one with the gestures, the big screen of the Pixel 4 XL becomes your friend, delivering lovely crisp visuals on the AMOLED screen.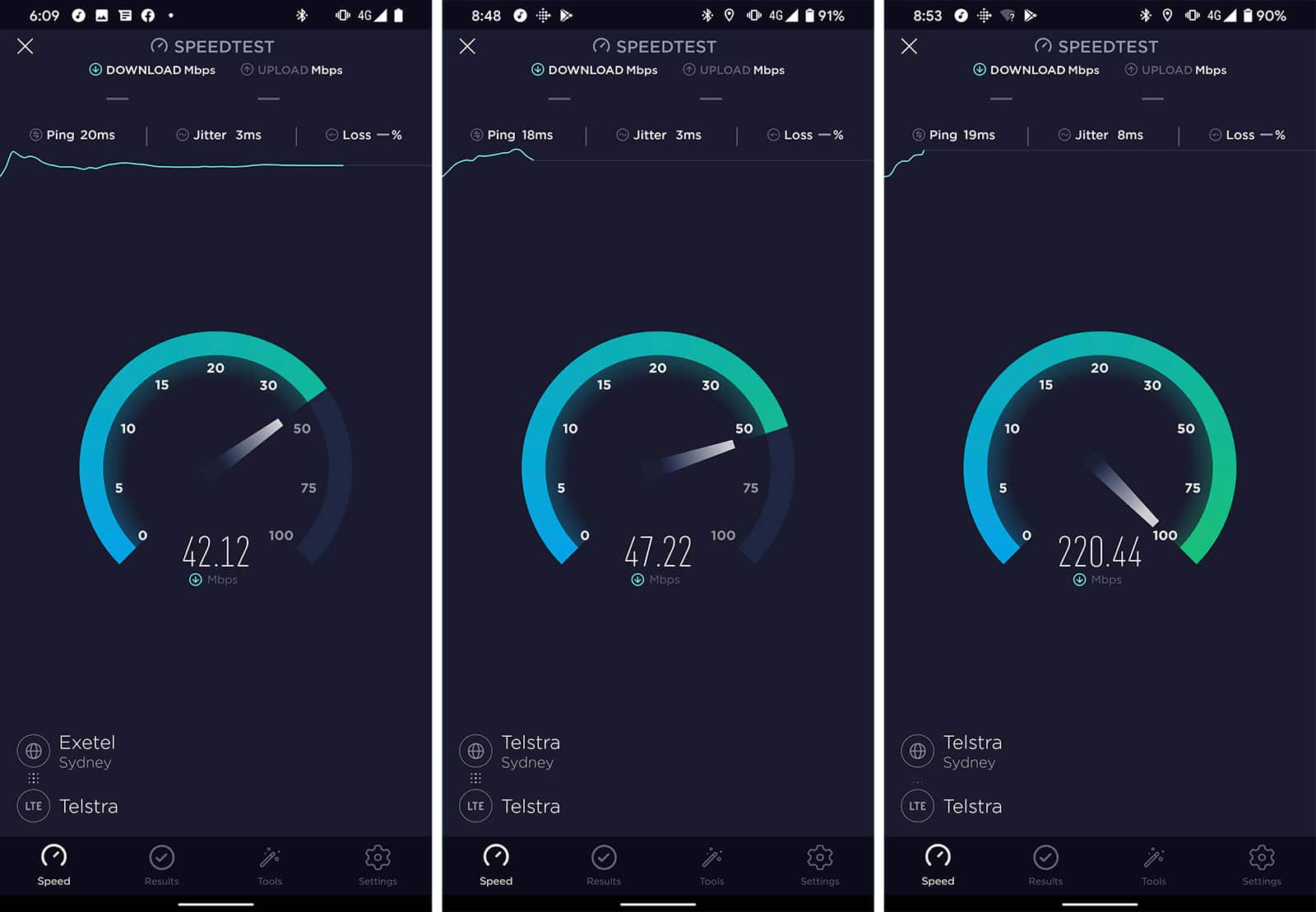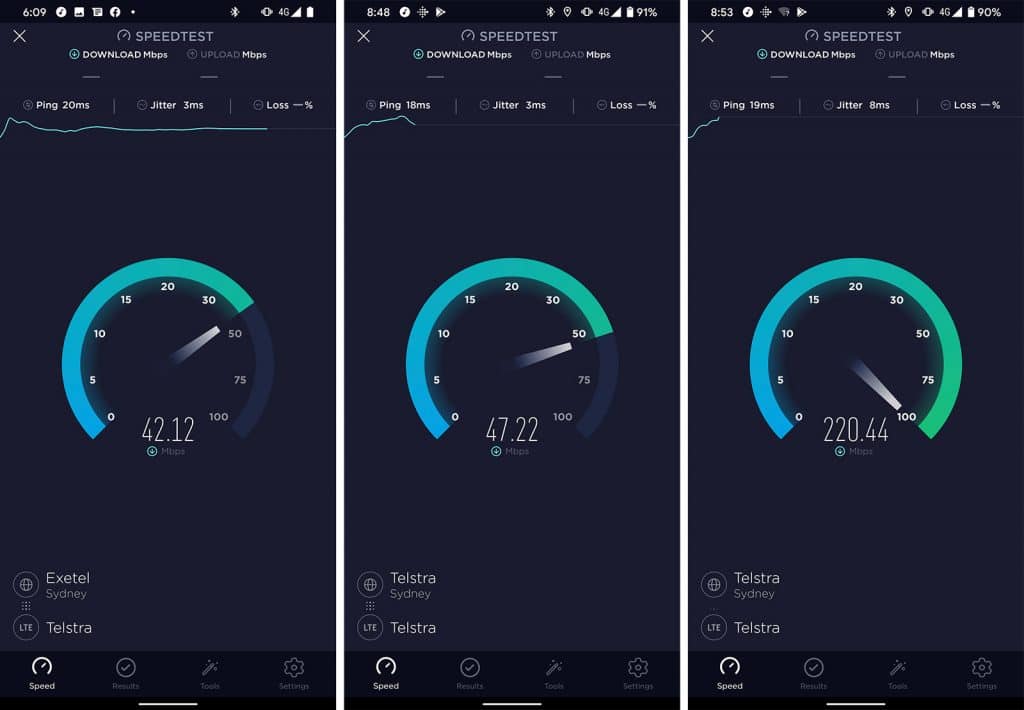 Mobile performance is equally strong, even if the Pixel 4 range hasn't been released as a 5G phone. Despite Google's reluctance to dabble in 5G this year, you'll find some high-speed 4G capabilities, with speeds as high as 220Mbps found in Sydney's CBD on the Telstra network, though this will be location, time and network dependent, of course.
Sufficed to say, there's plenty of speed if you're on a 4G network, so you can get to uploading and downloading with ease.
Extra value
One of the other inclusions affects performance, though not in the way you might expect.
Connected with Google's custom build hardware for the Pixel 4 phones, you'll find a chip that can process information away from the cloud, essentially giving you faster processing times on your device for some of the features Google normally leans on the internet for.
To start with, one of those is the new voice recorder app, aptly named "Recorder", which can capture your voice and transcribe it in real time. It's a neat concept and one that will appeal to folks who regularly attend lectures or interviews, because that will save time for their own transcribing, also known as the worst thing you can do that isn't deep-etching.
In reality and at launch, the Pixel 4 Recorder transcription isn't 100 percent accurate, working only in English and close to around 70 to 80 percent, providing a starting point that can get some of the language, but struggles with names. We suspect part of this might come down to training over time, and there's little doubt the machine learning capabilities of Google's neural technology could help with this, not to mention improve it for voices that aren't strictly American.
Australian voices are clearly not American. We both speak English, but the accents can confuse transcription systems, and even people. But this is a start, and it's one that will likely get better, even if it still needs some work.
However the addition of a transcription capability to a phone is hardly a reason to convince and commit when it comes to spending on a new phone.
Camera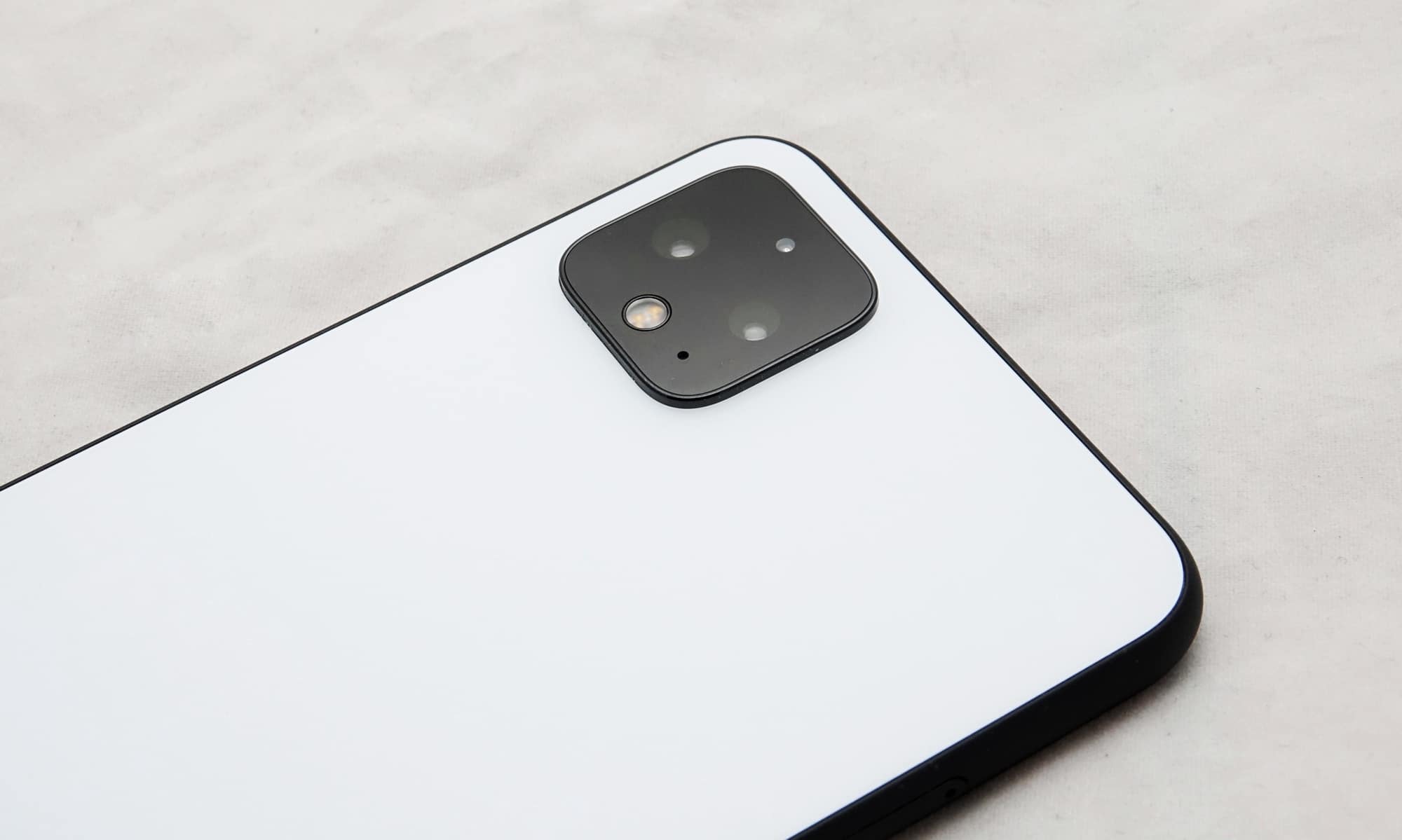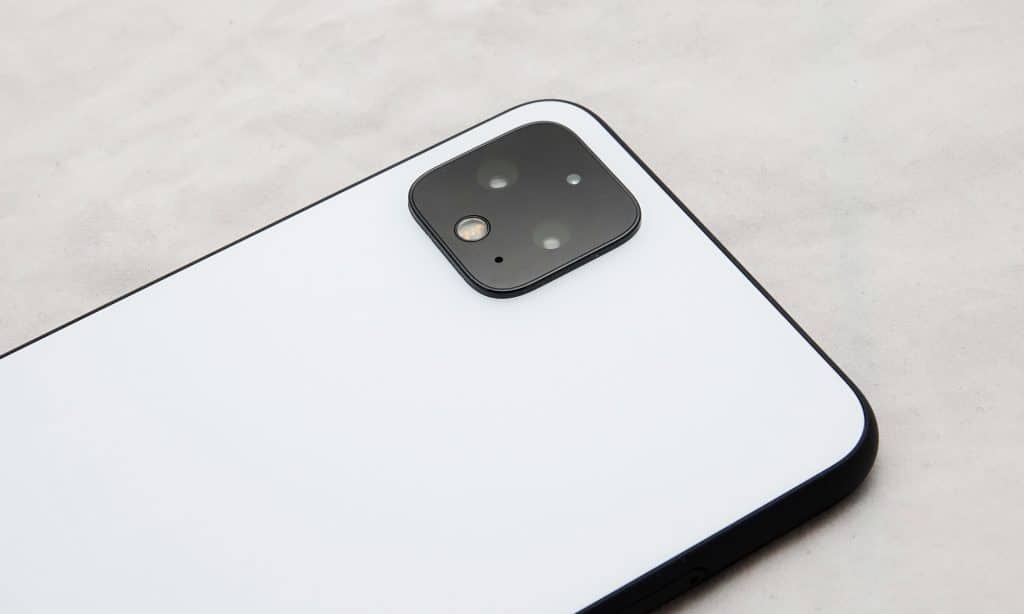 The biggest change on the Pixel 4 and Pixel 4 XL comes from the camera, which gets a secondary rear camera for the first time in a Pixel phone. For the past few generations, it's been a one-camera kinda thing, but Google has made it worth it, pushing out solid image processing and one of the most formidable night modes on any camera to date.
This year, there's a telephoto lens in the mix working with "Super Res Zoom", some smart processing that is likely Google's take on the hybrid zoom technologies we've seen of late that merges AI smarts with the telephoto lens to get you that little bit closer.
Think of it as digital zoom, but digital zoom that doesn't merely blow up pixels and is therefore not awful. And think about how close you can get, with up to 8x zoom supported.
Capturing images is certainly easy enough, and the stock Android camera helps out there, providing a simple slider to jump between camera modes.
The main camera mode can capture a live image with a bit of video, similar to what an iPhone can do, while portrait mode differs from the competition and captures two shots: one portrait with the defocused background and another without. Dealer's choice, it seems, or the owner of the phone, as the case may be.
In daylight, you probably won't be surprised to learn the Pixel 4 XL is exceptional, the HDR camera delivering beautiful and crisp images with no problems, and making images pop.
Much like last year's phone, again the Pixel handles portrait shots beautifully, showing the power of Google's camera smarts. It can still be tripped up much like Apple's portrait system can, but the results are very impressive, with softened backgrounds and sharp people in the foreground. The results are pretty special, and similar to the surprise of the zoom, the results are nothing short of lovely.
At night, the Pixel 4 XL camera can handle itself, but the low-light doesn't really come into its own until you switch over to the newest version of Night Sight, which compiles images through bracketing.
Images shot in Night Sight are rather spectacular, and can feel like they were captured in daylight, with some pretty special visuals. Your subject does need to hold still, because blur will be seen otherwise, but the results are fairly impressive. Without doubt, the Pixel 4 XL captures some of the best low light images from a phone yet.
Even the front facing camera handles itself well, though we can't help but feel the Pixel 3 XL provided more choice in this way. Back on that model, you had two selfie cameras to switch between. This year, that's dropped backed to one, and while the picture quality is still quite strong, feels like a reduction in features, rather like the removal of free full resolution backups, which was there last year but isn't in the Pixel 4 XL, either.
Battery
On the battery side of things, Google has added a little bit of capacity, though the end result isn't dramatically different.
Last year in the Pixel 3 XL, we found a life closer to a full day, and the same is roughly true on the Pixel 4 XL.
In fact, in our Pixel 4 XL review, we found a little more with a good 28 to 34 hours possible from the handset. Throughout that time, the phone was being used for emails, messaging, calls, web surfing, social networking, listening to music, and taking pictures — you know, generally using the modern smartphone.
We'd hazard a guess that most Pixel 4 XL owners will have to charge nightly, but it is possible to get a little more than a full day from Google's 2019 flagship. Not that much more, though, as that was the maximum amount.
Other days where we used the camera a little more, and the Pixel 4 XL battery life dropped back to needing a nightly charge as it was. Essentially, the more you use that lovely camera, the more likely you'll need to charge.
Basically, we'd stay in reach of a Type C charger, or even something wireless, because living in the present is so much fun.


Value
Perhaps the most intriguing aspect of the Google Pixel 4 XL is the price, because in a move rather unbecoming of flagship phones in 2019, it's relatively inexpensive.
We're not going to call the Pixel 4 XL "cheap", because it's definitely not that, but after releasing what is likely to be seen as the best mid-range offering all year in the Pixel 3a, the Pixel 4 XL is affordable in comparison to other flagships.
Take how it compares against other 6 inch big phones. While Samsung's big phones start at around the $1400, Google's starts at $1279, just $80 more than the Apple iPhone 11, the not-quite-flagship of the 2019 iPhone range.
With an AMOLED screen and a telephoto lens, the Pixel 4 XL seems more skewed to take on the iPhone 11 Pro Max, even with its three cameras, but it seems Google has pitched this more to the iPhone 11, probably because of how the value proposition seems between the models.
Google would know better than anyone how steep the competition is in phones this year, and Apple's iPhone 11 looks to do exactly what the iPhone XR did to win people over last year, so we suspect Google's Pixel 4 XL is priced to compete there. It already has many an Android flagship beaten on price, but between $1199 for a 64GB iPhone 11 or $1279 for a 64GB Pixel 4 XL, we feel the target is pretty clear.
As for value, it definitely offers that, providing a lovely screen, excellent performance, more than capable camera, and similarly flagship battery life for what is clearly below other flagship phones.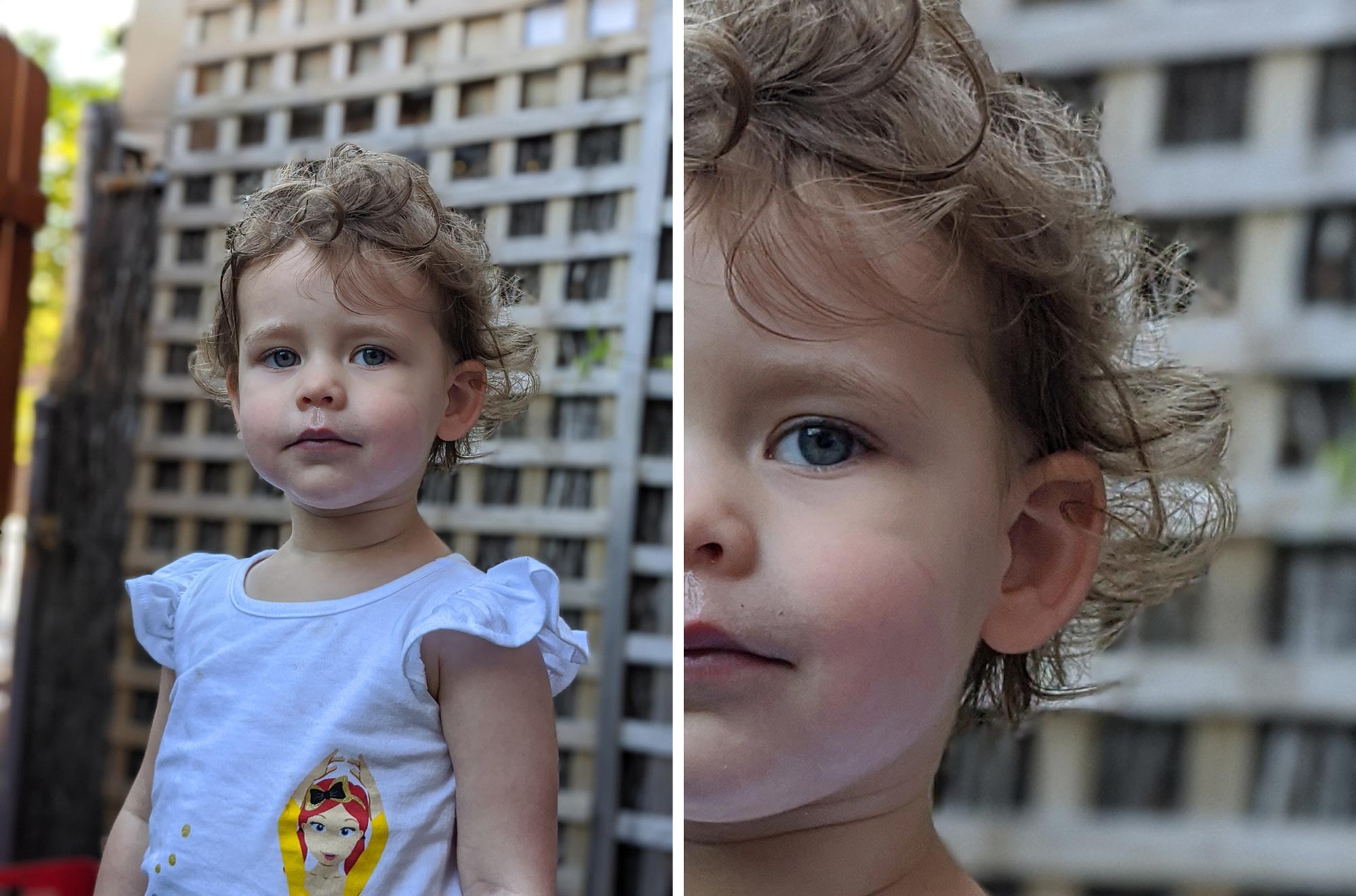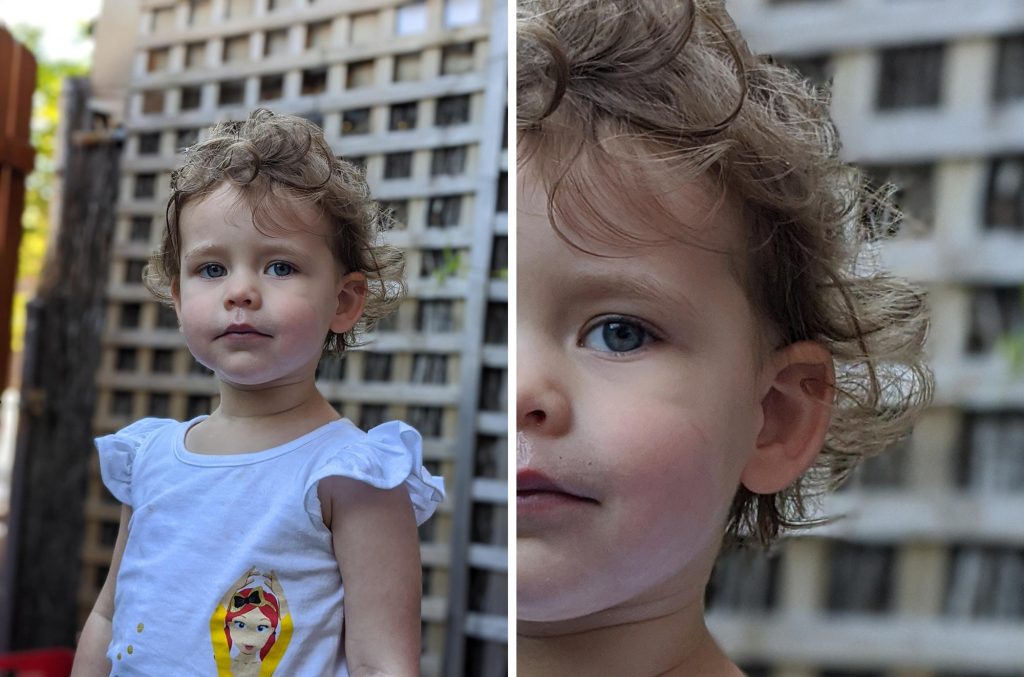 What needs work?
It's pretty clear that the Google Pixel 4 XL is a decent package, and one that carries a solid value, to boot. So what needs work in Google's latest phone?
Unfortunately, it's not so much a matter of what needs work, but rather what should be there, as the Pixel 4 XL isn't that much of an upgrade. This is a good phone, but it doesn't seem to have that thing that makes it stand out.
Not helping this is the screen, which comes with some of the largest bezels of any phone this year. They're the sort of thick edges you might expect on a mid-range or budget phone, and not the edge-to-edge goodness that has been found in almost every flagship this calendar year. It's definitely a weird look for a 2019 flagship, to be sure.
It's a shame, too, as the screen is a fast 90Hz, and is therefore really easy on the eyes, being fast and smooth. That lovely screen is let down by rather large bezels, which is a strange move given Google's screen on the Pixel 3 XL felt bigger and looked to take up more of the screen.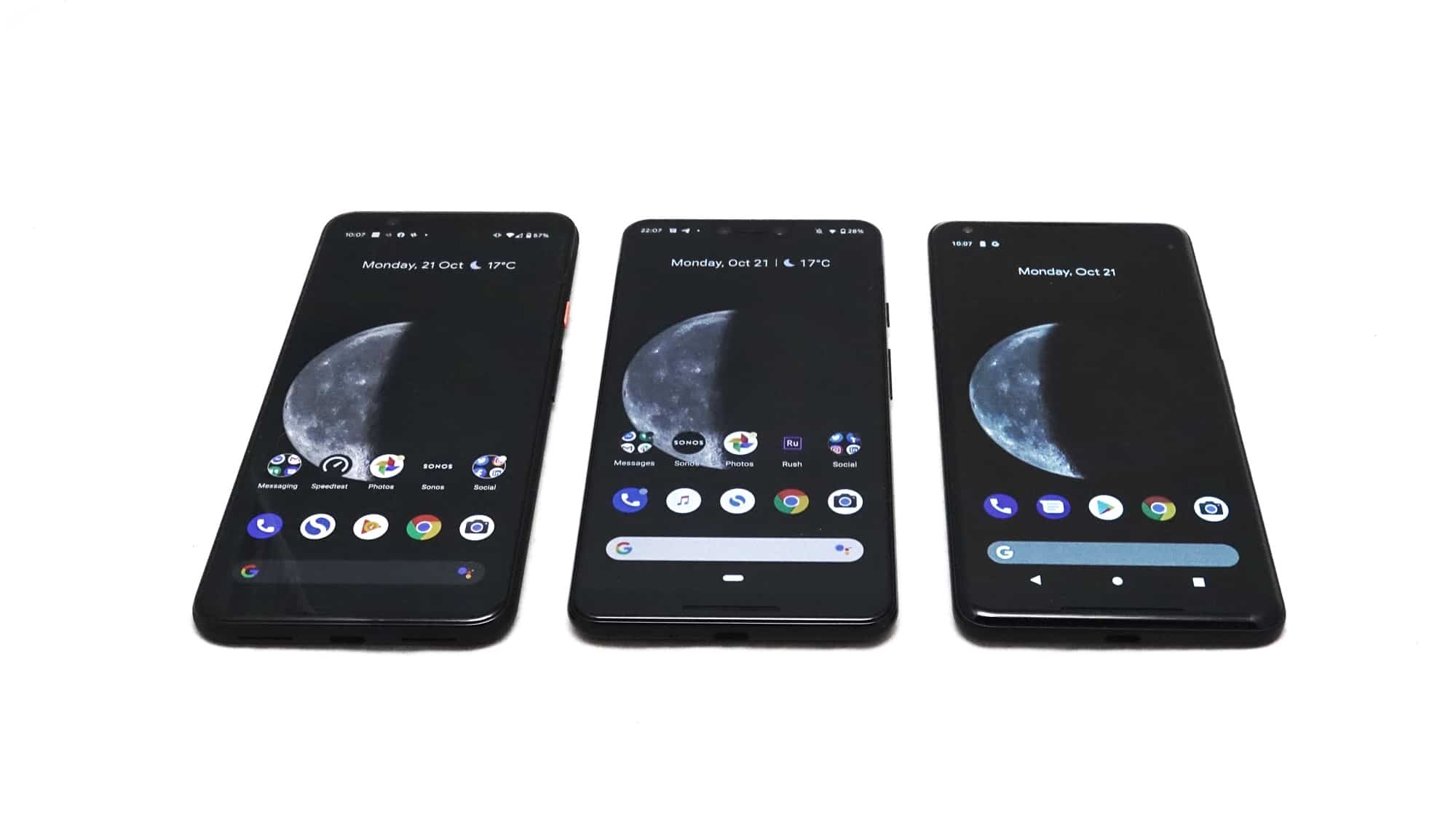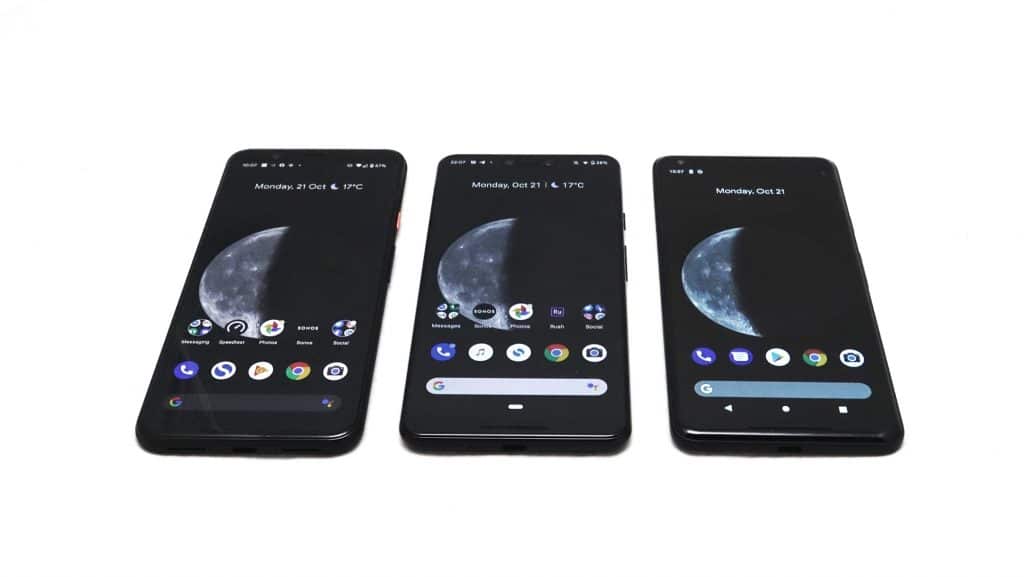 A lack of storage is also a bit of a surprise, with Google stuck on its whole max of 128GB thing. We suspect the logic here is that you're using the Pixel 4 XL with the web, so as long as you have internet access, you're covered. It's a logic, sure, but in a day and age where apps and games are getting bigger, even 128GB seems small, especially for a thousand dollar phone.
Even the loss of the wide selfie camera is a bit of a surprise, and almost a step back from Google. Samsung's flagships get a wide selfie camera alongside a standard, while Apple's is wider and crops down to get better shots. It's just a little strange to see this sort of move from Google, which is normally thinking ahead, but doesn't seem to be this year.
Final thoughts (TLDR)
Coming in as one of the least expensive of any of the flagships this year, the Pixel 4 XL offers a couple of pretty compelling reasons to check it out, mostly focusing on the price and camera prowess.
Both of those aspects alone are definitely intriguing, with a camera that really stands out and a price alongside it. It also happens to feel great in the hands and offers solid performance, water resistance, and wireless charging.
However, the price is one of the reasons you definitely look the way of the Google Pixel 4 XL, as it's just too hard to ignore. You'll want to consider the Pixel 4 XL if you're after a big flagship phone that won't break the bank. It's definitely flagship value and a relatively well-weighted Android, though it's flagship value sans excitement.
We can't help but feel it needs something else, though, and can feel a little out of sorts compared with other flagships. The bezels don't help that feeling, and neither does the piddling amount of storage or the lack of any real amazeballs feature that's brand new. Like last year, it's a good phone, but it just needs something else. Just something that gives it a bit more of a "wow" factor.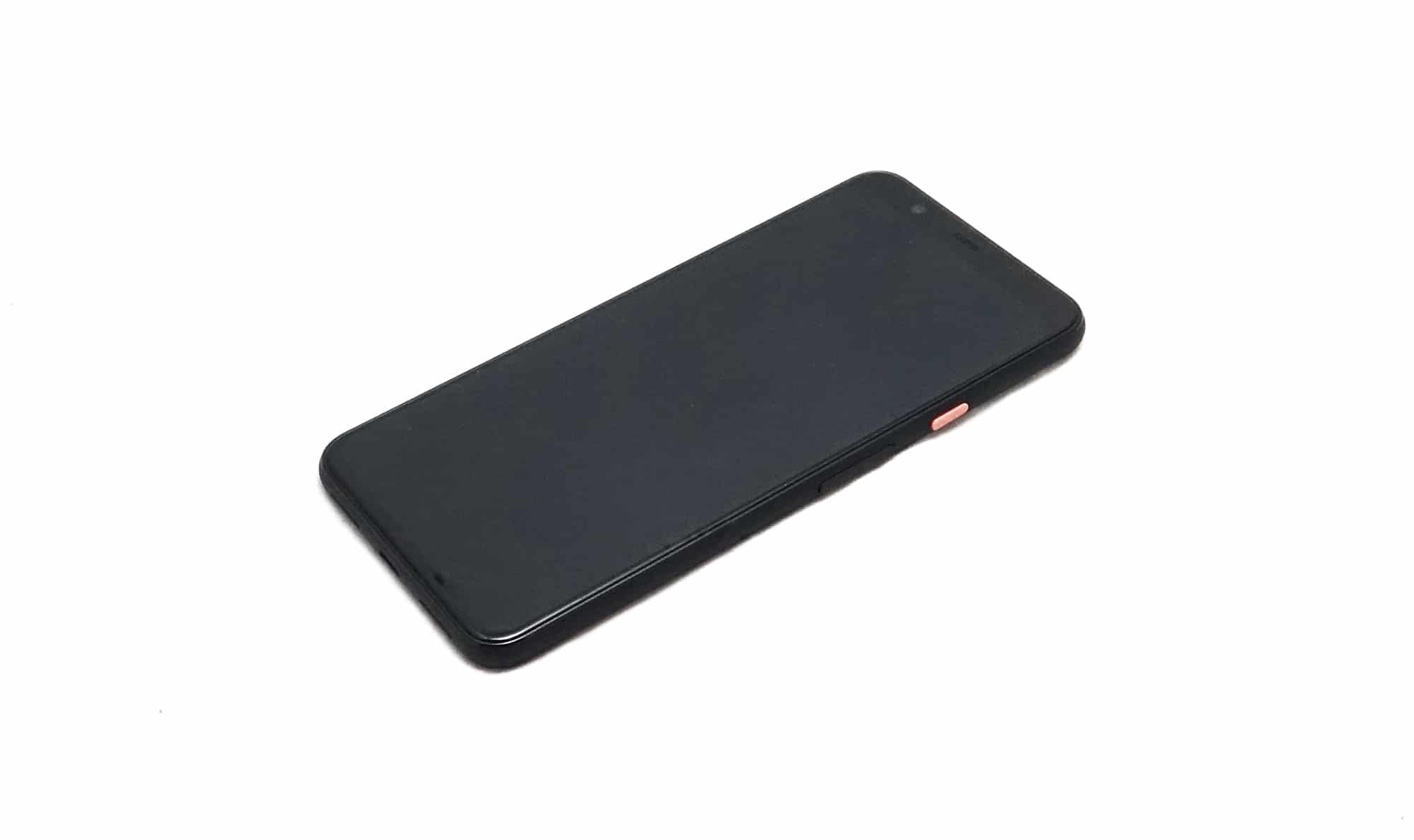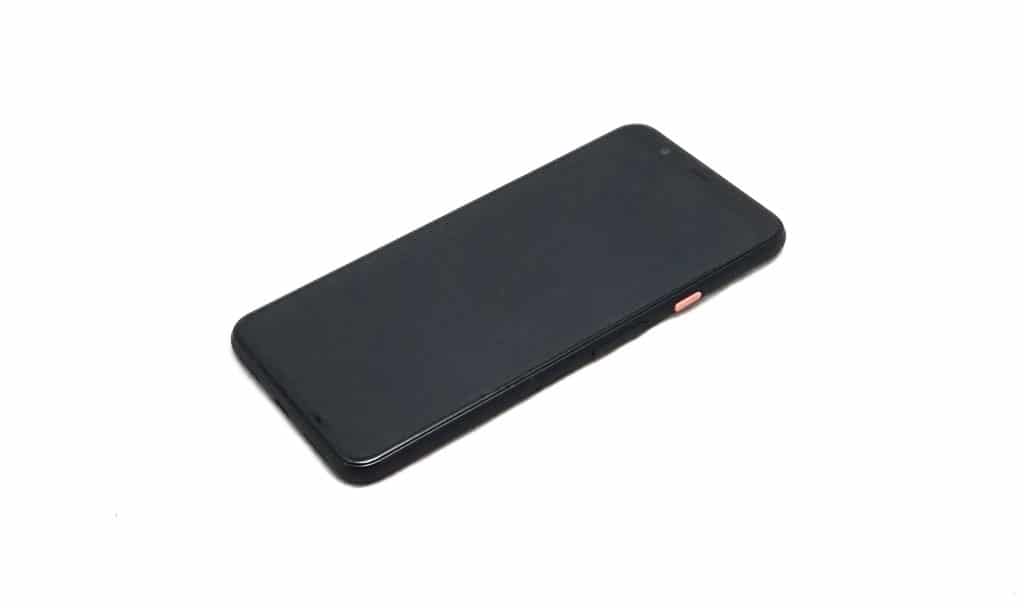 In competitors this year, "wow factors" include three or four cameras, reverse wireless charging, a pen to write on the phone and control other aspects of the phone, 5G, 802.11ax WiFi 6, an option of two screens, and screens that take up almost all of the phone.
The Pixel 4 XL has none of this, and yet is still a great phone. It comes with some great features and delivers one of the most pure Android experiences you can have, even though it omits most of those special features. You'll still likely have to charge it nightly, but it's a great phone. It's just not the best phone.
Essentially, it's still Google's Pixel formula, offering enough of what you need in a phone without overdoing things.
Frankly, we'd like to see a little more pow, but each to their own. If you don't need the excitement and just want an Android phone that performs the way Google intends, the Pixel 4 XL should hit the right note and the price point.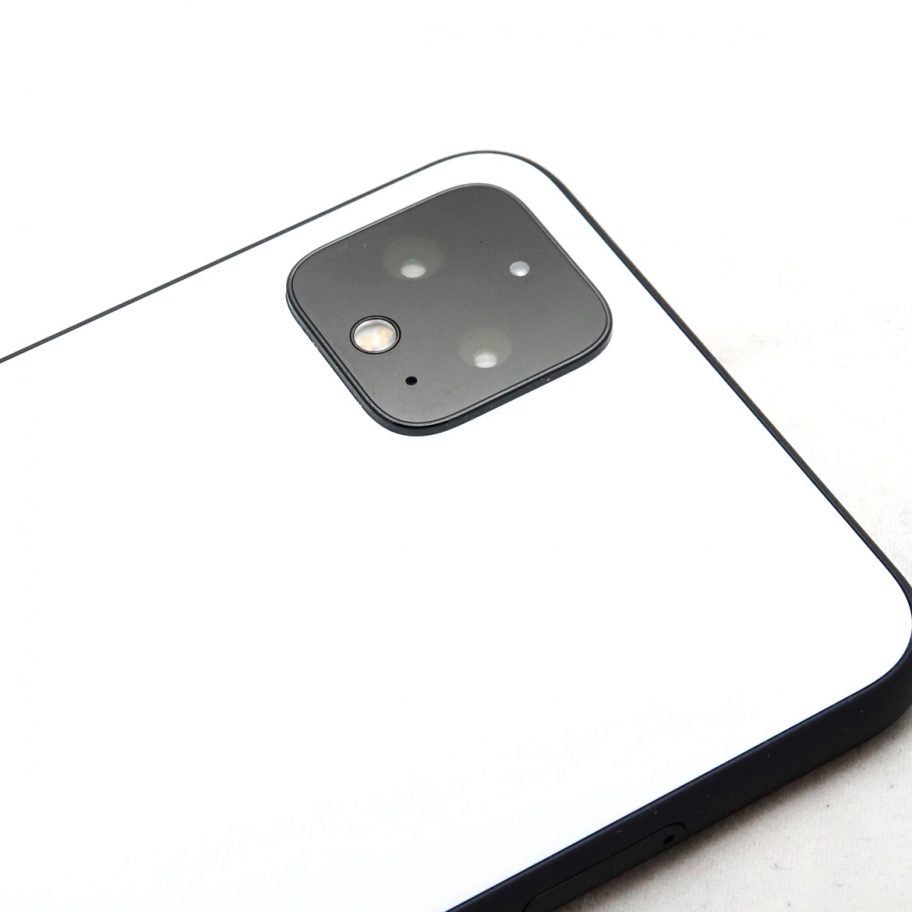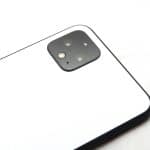 Google Pixel 4 XL
The good
Feels lovely in the hands
Performs very well
Lovely screen
Portrait mode is still one of the best
Night mode is excellent
Good value
Water resistance
Wireless charging
The not-so-good
Doesn't feel like much of an upgrade from last year
Screen has large bezels for a 2019 phone
Low amount of storage
Battery life isn't amazing
Facial security can be easily tricked
Front-facing camera isn't as versatile as last year