With speakers costing $149 and $269, the IKEA and Sonos collaboration that is IKEA Symfonisk is one of the most exciting things to come out of the store since soft serve.
IKEA isn't exactly known for speakers, but it's an area the company has been dabbling in. While the Swedish furniture giant is well known for flat-packing furniture, bundling in an Allen Key, and providing some well-priced bookshelves that are always fun to assemble, it has been playing in more electrical goods lately.
Recently, there's been a push for the smart home, as seen by IKEA's Tradfri range, with smart lightbulbs that you can control using a phone or tablet. IKEA has tried wireless charging in the past as well, and is getting into electronic blinds later on, too.
So what is IKEA looking to release next?
After working with Sonos for over a year, you're going to get some multiroom-capable speakers that are entirely compatible with the Sonos system. Not just compatible, mind you, because the IKEA Symfonisk speakers work inside the Sonos app.
That is to say, the IKEA Sonos speakers are basically Sonos speakers made by IKEA, and are one of the most intriguing and exciting developments in the speaker space, not just because of how they sound, but how they're priced.
Coming to Australia in late September, there are two of them, and it's hard to say which of the two is more interesting.
There's one shaped like a lamp, and another shaped like a book, and they each exhibit form and function just as well as they plan to deliver sound.
IKEA Symfonisk Table Lamp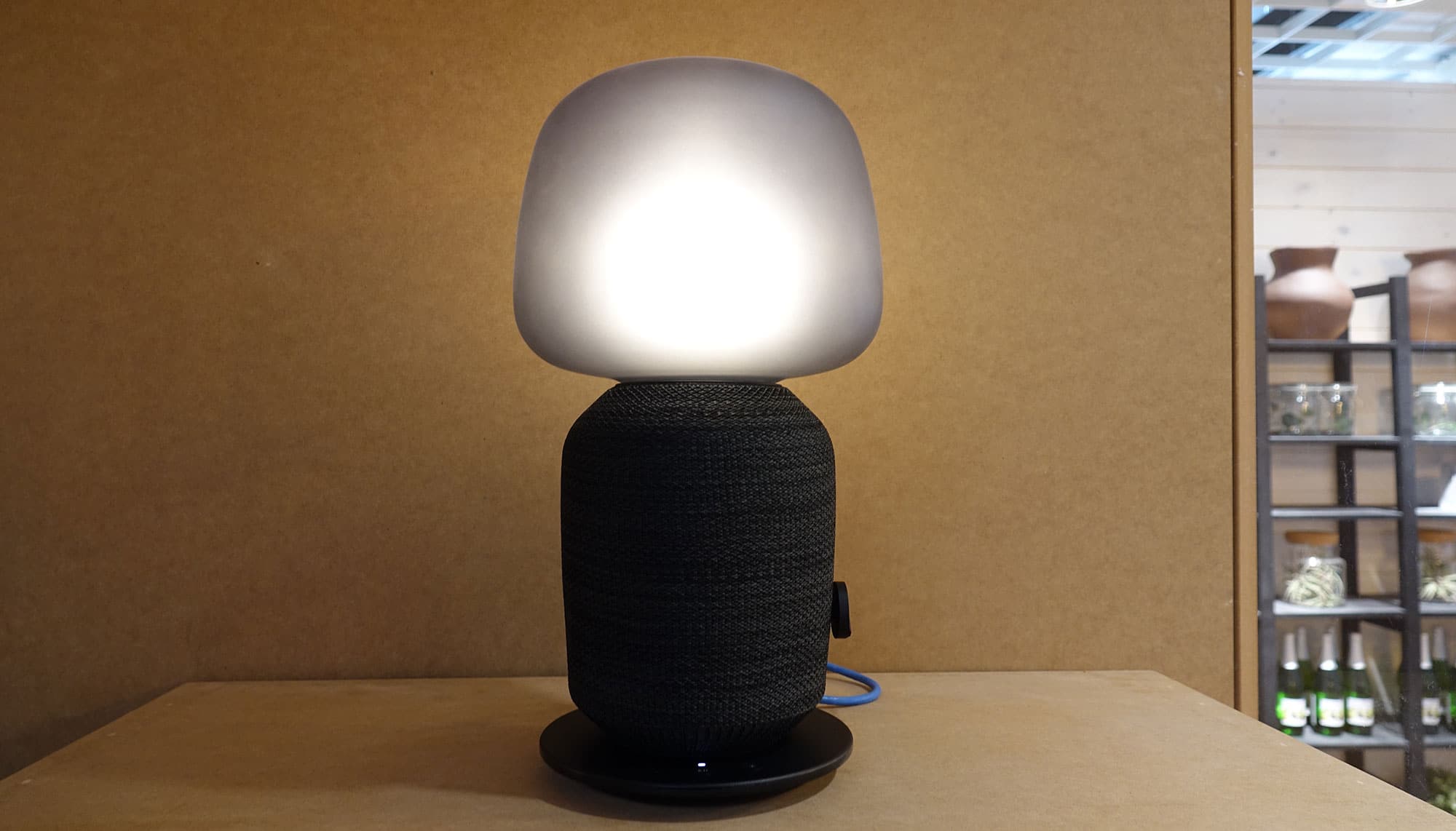 First there's the Symfonisk Table Lamp.
The Symfonisk Lamp is very cool, delivering what is clearly a combination of form and function, as opposed to the argument of form versus function.
It doesn't just look like a lamp, because, yes, it really is a lamp… and it's also a speaker. The IKEA Symfonisk Table Lamp is convergence in the best possible way, because you don't lose out on functionality. You can turn the light on when it's needed, and you can use it to play music when the lamp is either on or off. The two function independently from each other.
And it sounds excellent. The sound profile of the IKEA Symfonisk Table Lamp Speaker is reminiscent of a Sonos Play:1, at least from the small amount of testing we heard with it. That means the output is loud and clear, and there's plenty of bass to work with, as well.
Like the Play:1, there are no voice controls, nor is there a touchpad like at the top of the Sonos One, but you do get buttons on the base of the lamp, meaning pause, play, and volume controls.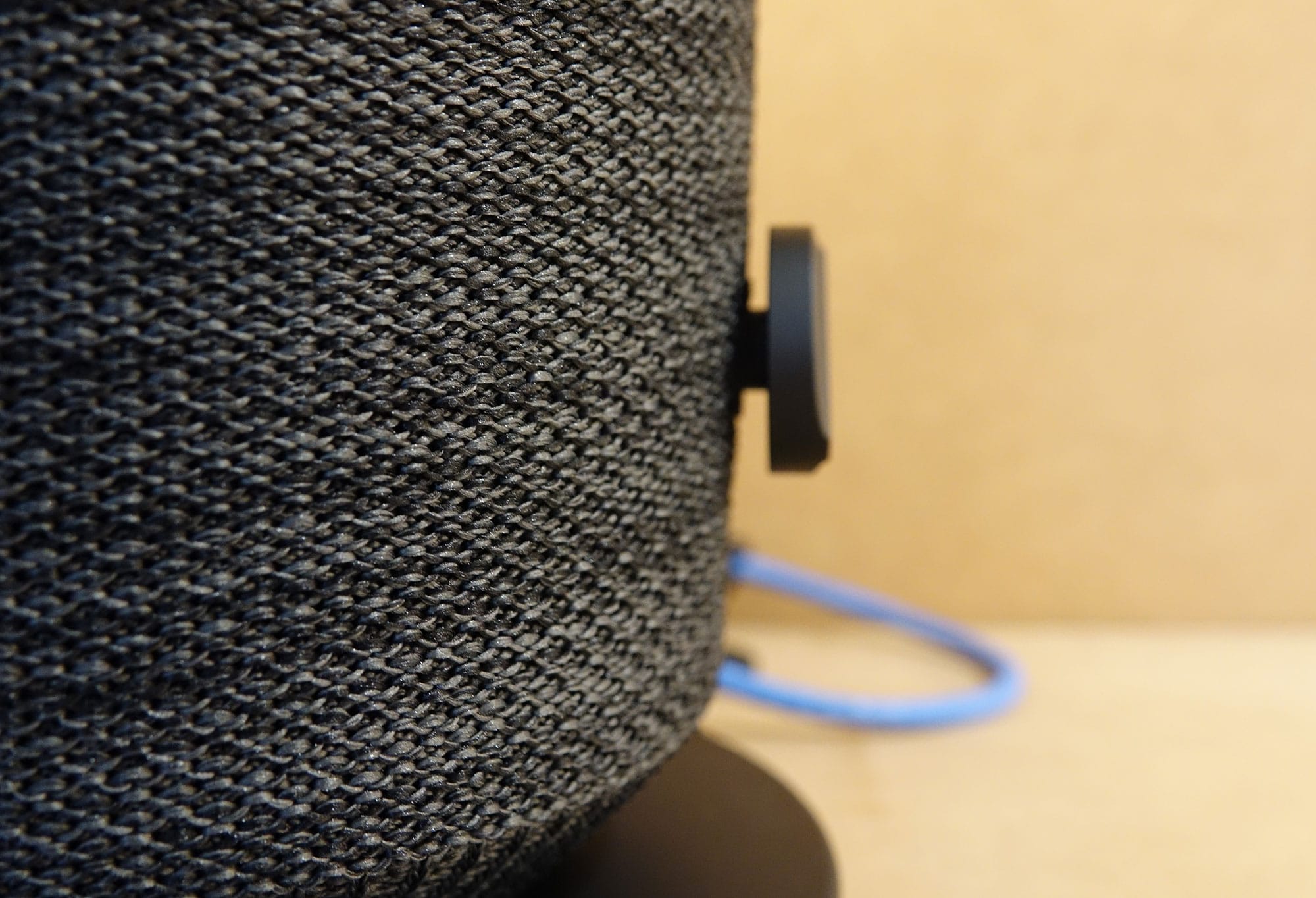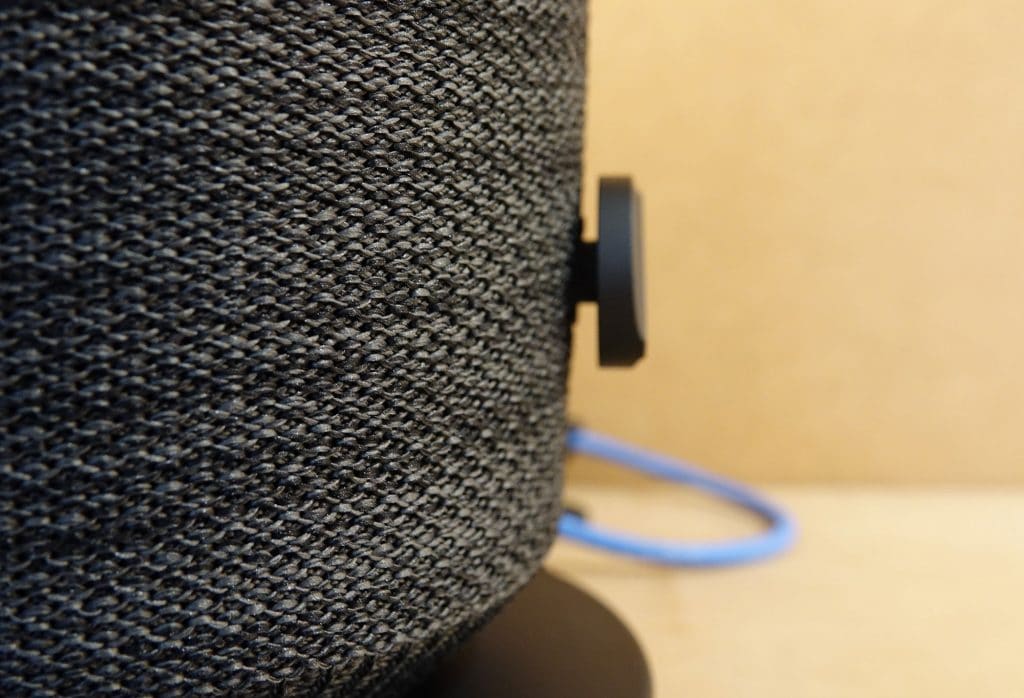 Oh, and there's a switch on the Symfonisk Table Lamp Speaker to turn the light on and off, which becomes apparent the moment you dial the circular knob on and off. It is most definitely a lamp, and even takes the smaller E14 bulb type that IKEA makes.
It's worth noting that the IKEA Symfonisk Table Lamp is not a smart lamp at all, and that light switch is merely on and off. No dimmer, just power. However, you can find smart bulbs in E14 from both IKEA's Tradfri range and that of Philips Hue, so if you wanted to make the Symfonisk Table Lamp into a smart light and a smart speaker, you'd just need to buy the bulb and leave the lamp on, controlling the smart bulb from an app or a smart speaker.
Interestingly, the mesh knit over the IKEA Symfonisk Table Lamp Speaker is replaceable, though IKEA Australia confirmed it would not stock replacement knits in stores, even if you could order them through the company.
We're guessing Symfonisk knit covers are about to become a custom market for Etsy retailers.
IKEA Symfonisk Bookshelf Speaker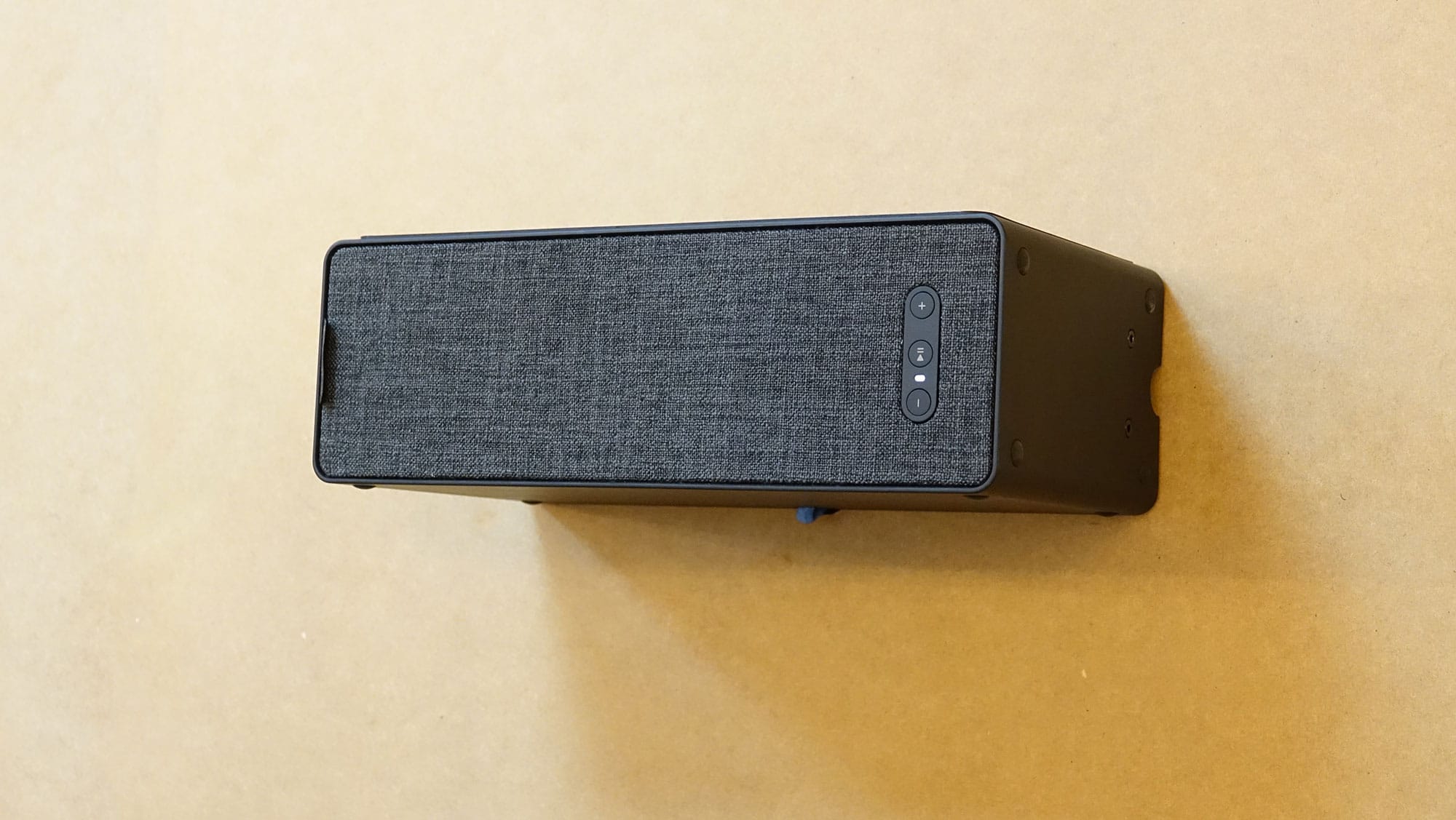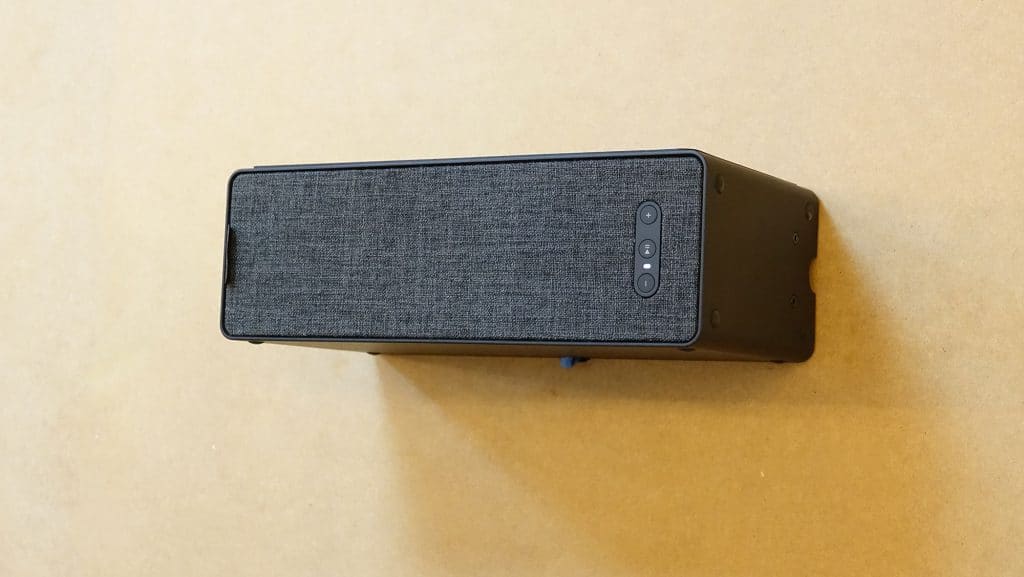 The other speaker is the IKEA Symfonisk Bookshelf Speaker, and it too celebrates form and function, though in a totally different way.
Whereas the Symfonisk Table Lamp Speaker is a lamp and a speaker, the Symfonisk Bookshelf Speaker can work as both a book-styled speaker in a shelf — a very literal take on what "bookshelf speakers" are — and also work as the shelf, as well.
We're not kidding about that, either. IKEA Australia told Pickr the Symfonisk Bookshelf Speaker could hold around 3 kilograms (3kg), though it had to be mounted to wall properly to do so. IKEA is pretty adamant about mounting furniture so it doesn't fall over, and the Symfonisk Bookshelf Speaker is no different in this way, telling us that you'd have to mount the speaker to a wall properly if you wanted it to be a shelf, and that the 3M tape or Velcro probably wouldn't cut it. If you have something that can take hooks, such as a kitchen railing, it will work there, giving renters something to pin their hopes and their speakers to.
Because of that installation kit for wall mounting, the Symfonisk Bookshelf Speaker comes with an Allen Key, and is apparently the only speaker in the range to do so. Not every IKEA product comes with the famed Allen Key, but if you've kept one around from building a Billy, a Kallax, or any other Swedish furniture item you've committed the name of to memory, you'll inherit yet another Allen Key.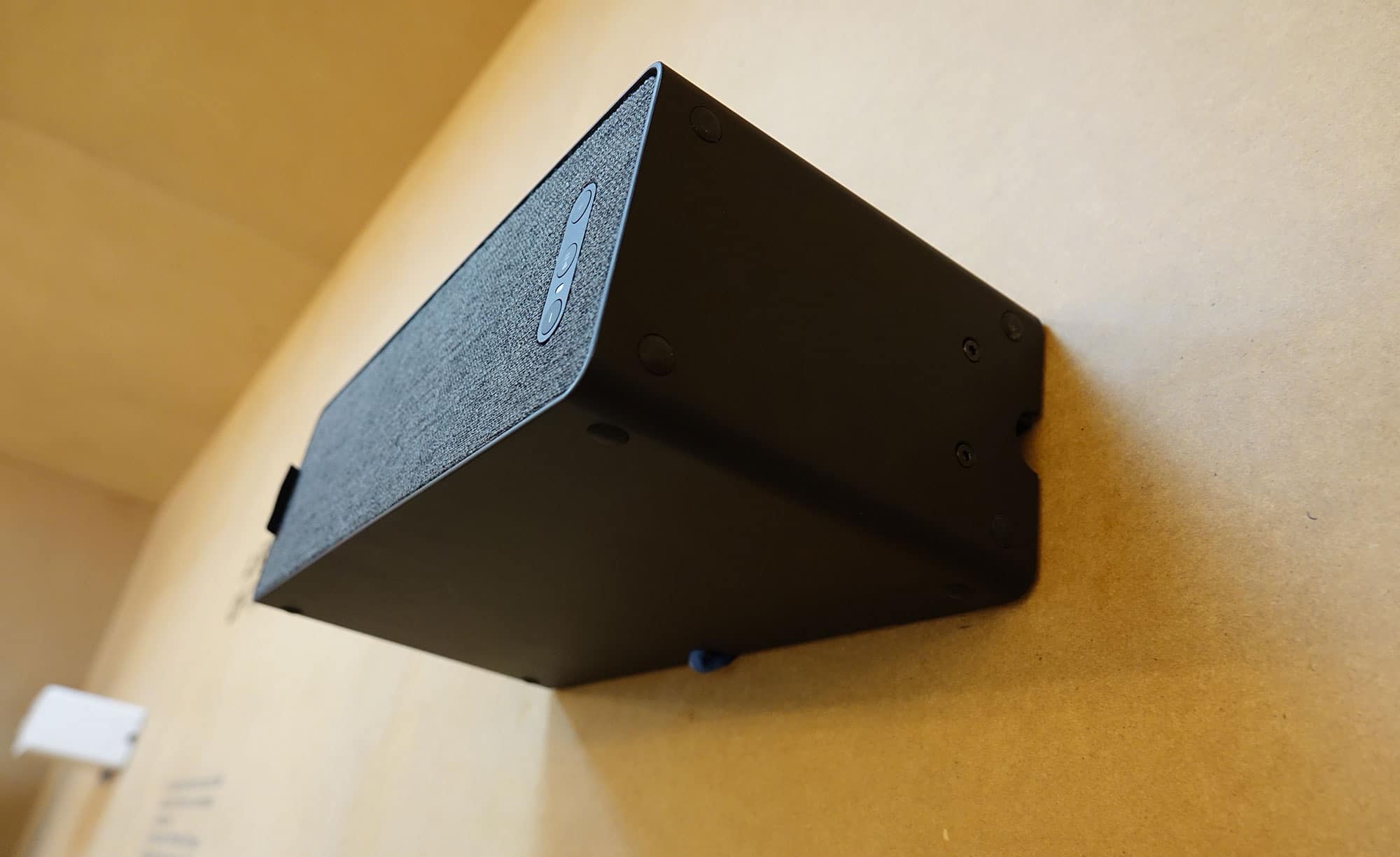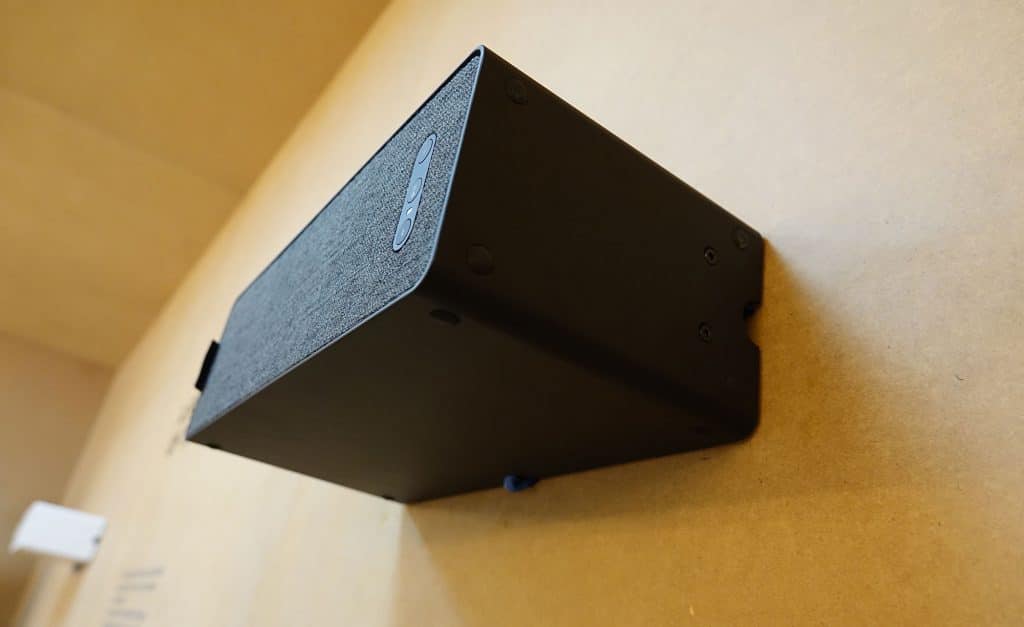 As for the sound, the IKEA Symfonisk Bookshelf speaker isn't quite like Play:1. It is still quite loud, but in the brief test we heard, sounded a little brighter all things considered.
It's definitely impactful, that much we'll say, and when set up in stereo, was providing a solid burst of sound for the small room we were in. We'll know more when we run it through our sound test for review in the coming weeks.
How much will the IKEA Sonos speakers cost?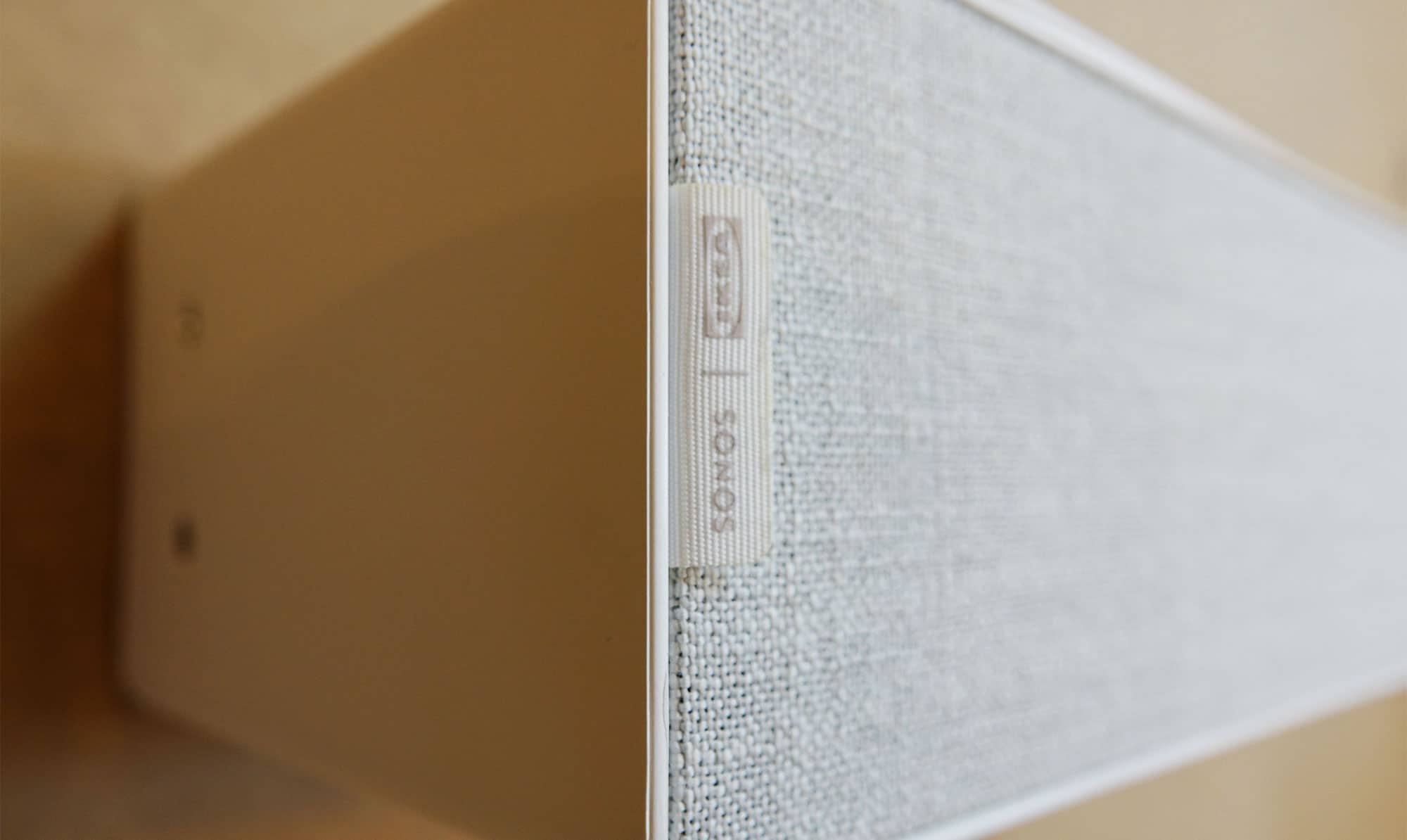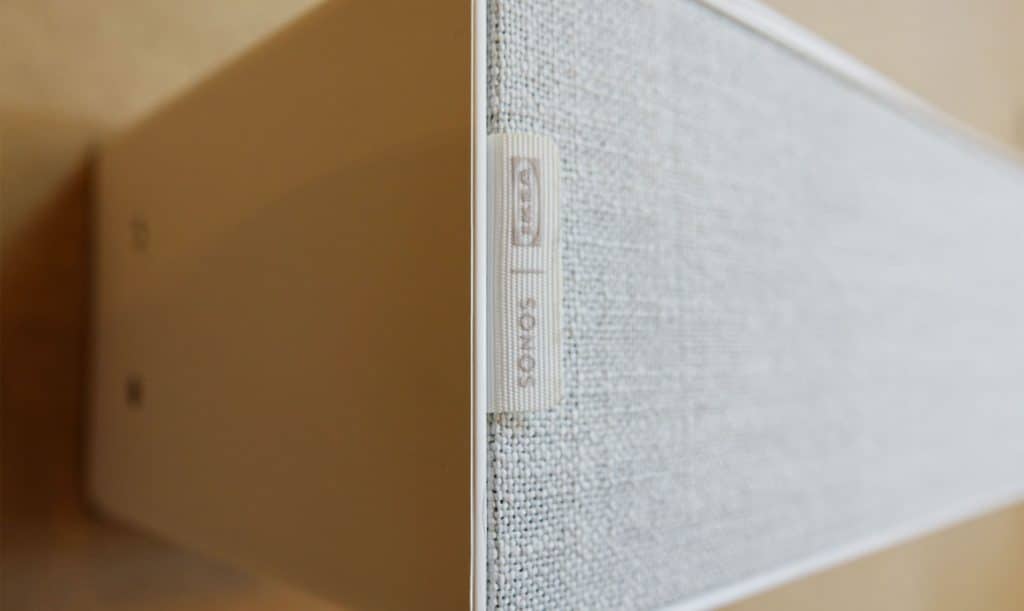 Perhaps the best part about the IKEA Sonos range is the cost, because these two speakers are inherently price friendly, almost to the point where they democratise multiroom sound and bring it to more ears.
Sonos has never been overwhelmingly unaffordable, but the collaboration with IKEA will definitely bring it to more homes and more ears.
At the moment, the least expensive price tag you can find a Sonos product for is the voice activated Sonos One, which comes in at $299 in stores.
IKEA's Sonos-based Symfonisk speakers will undercut this price tag. In fact, the IKEA Symfonisk Table Lamp Speaker — which we think is a Play:1 in a slightly different body — will cost $269 in Australia, while the IKEA Symfonisk Bookshelf Speaker will be priced even lower, costing $149 locally.
You can pick your jaw up off the floor. We did the same.
Quite seriously, that's $149 as a starting price for what is basically a small Sonos you can mount on the wall or leave in a bookshelf, and $269 for something very close to a Sonos One without the voice control.
Frankly, we'd leave the voice control and be more than happy with what's on offer for that saving, as the convergence is just utterly amazing.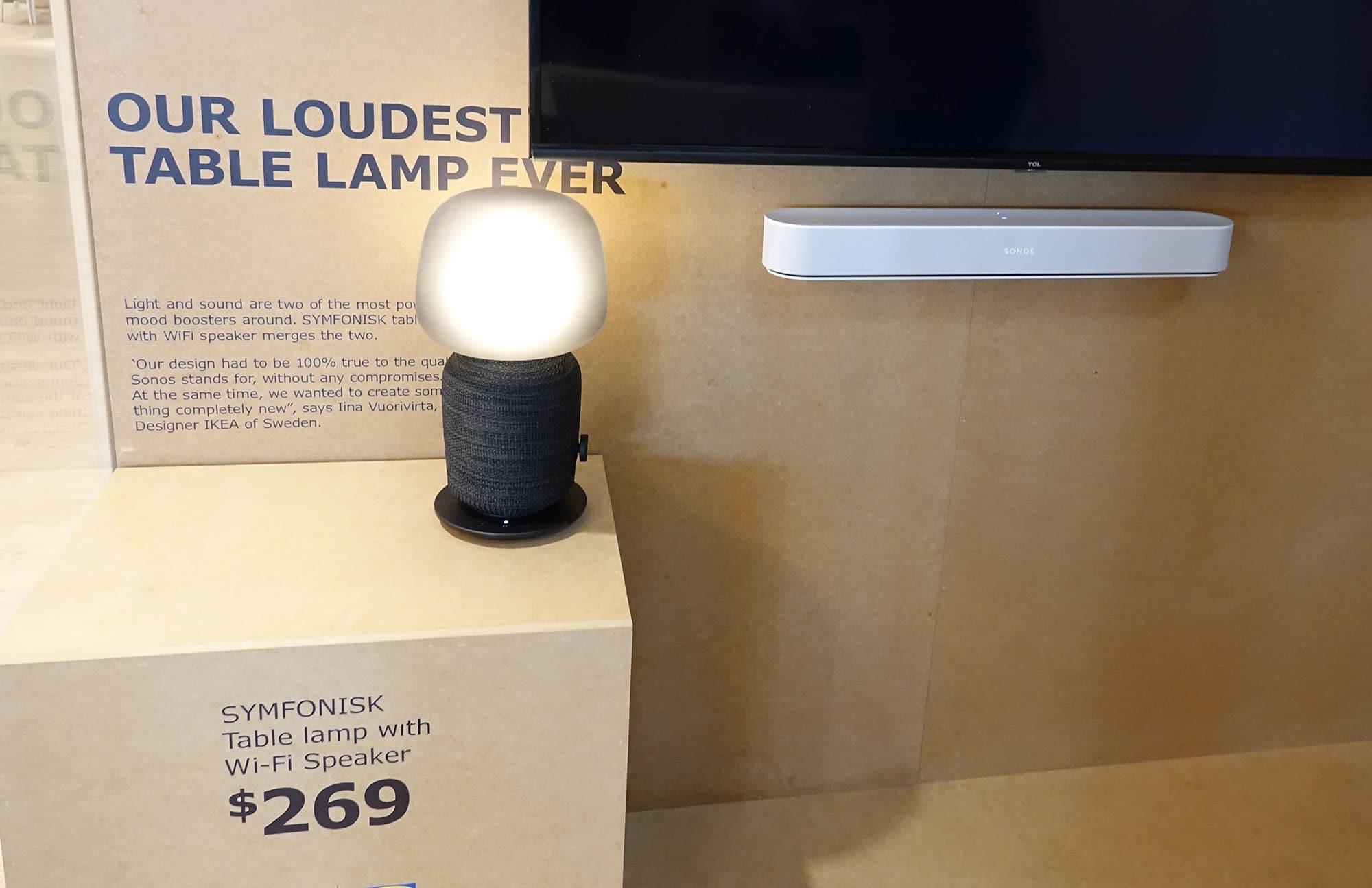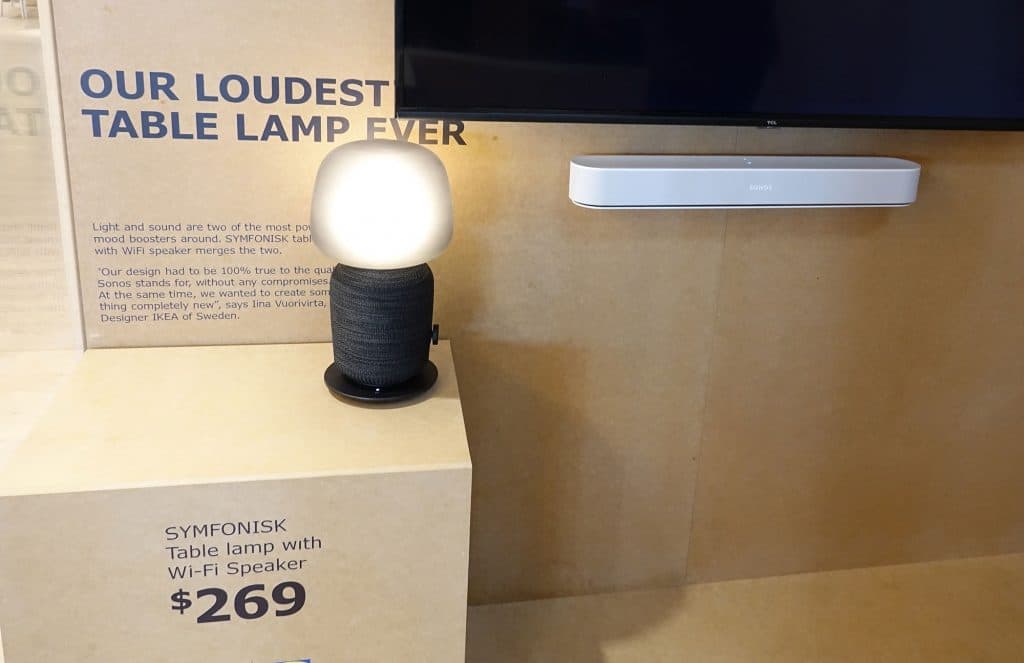 IKEA Symfonisk and the Sonos feature list
Aside for that absolutely stellar pricing, the great news is that the IKEA Symfonisk speakers will not only be compatible with other Sonos speakers, but will actually work through the Sonos app.
That's distinct from the IKEA Tradfri smart lightbulbs, which are technically compatible with the Philips Hue, but aren't necessarily easy to get connected through that ecosystem.
In comparison, the IKEA speakers will work through the Sonos app on iPhone, iPad, Android, Windows, and Mac, just like any other Sonos speaker. They'll support AirPlay 2, as well.
One feature may require iPhone and iPad to work, because just like the Sonos speakers that support True Play, the IKEA speakers will, too.
True Play is a speaker tuning technology that uses the microphones on Apple devices to tune speakers to a specific room, essentially providing a custom profile for the speakers to help balance the sound for the rooms they're in. It means that if you place a speaker in a room that uses reflective surfaces and causes the sound to echo a little, True Play can help cut back on that and deliver a better sound for that environment.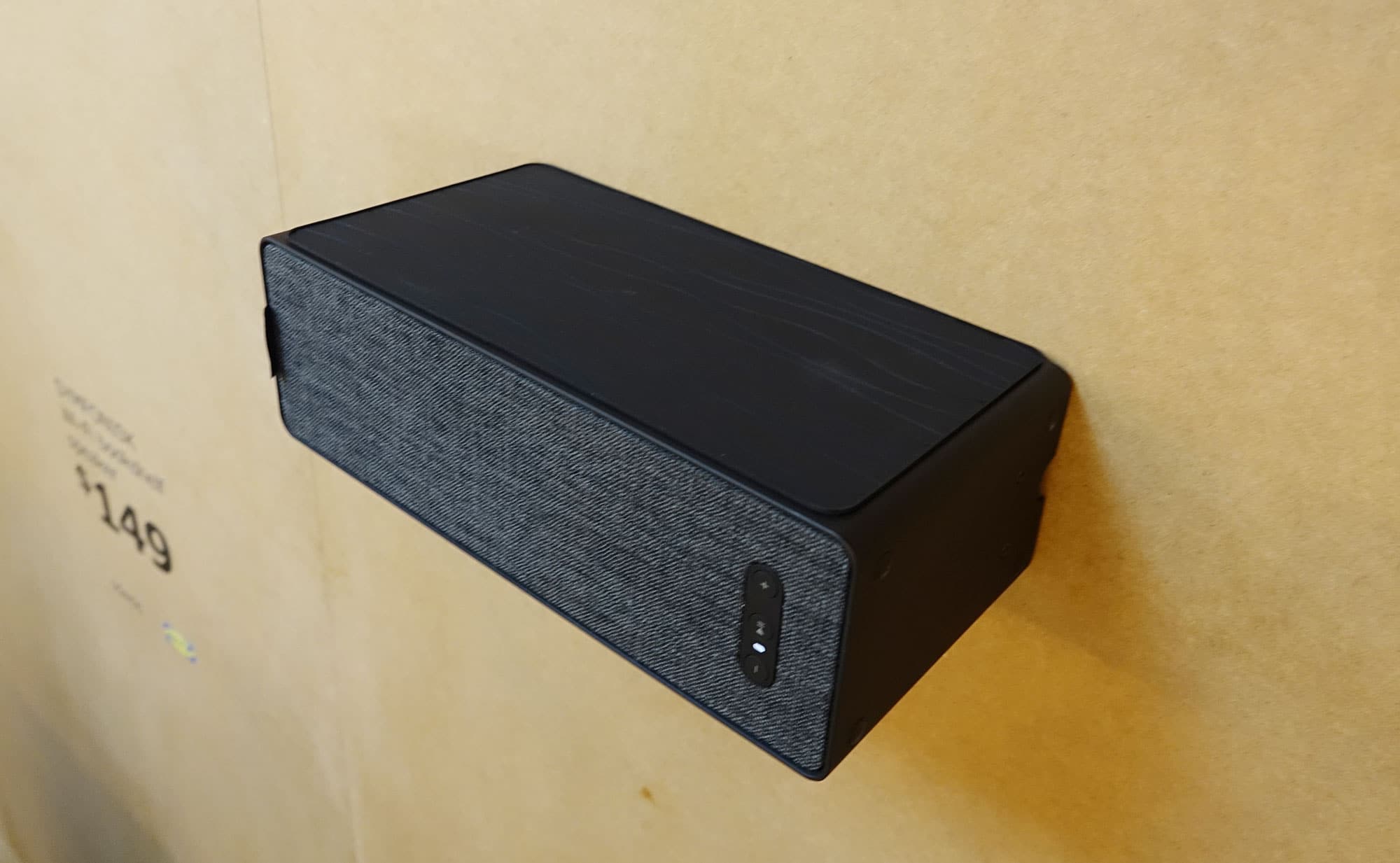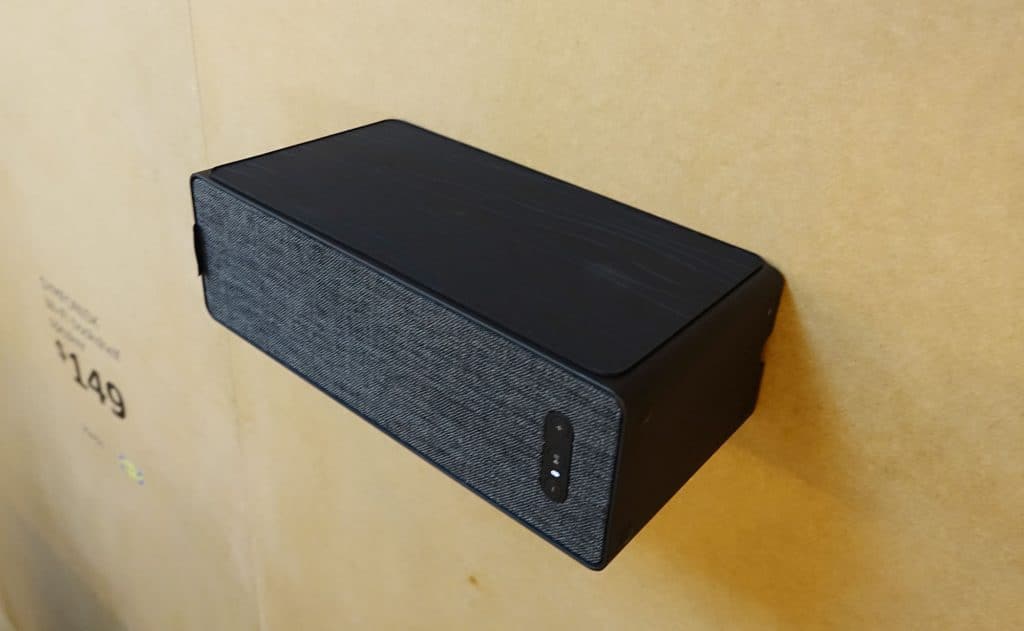 It's something Sonos speakers have, and because of this collaboration, it's something the IKEA Symfonisk speakers will get, as well.
Like their Sonos cousins, you can also pair two Symfonisk speakers together for left and right stereo sound provided they're the same speakers. That means you can pair two of the bookshelf speakers or two of the lamp speakers, but not one shelf and one lamp.
The stereo pairing of Symfonisk speakers also means you can essentially buy two $149 IKEA Bookshelf speakers and link them up with a Sonos Beam or Sonos Playbar for rear left and right speakers, cutting back on the $299+$299 minimum price tag for rear speakers in the Sonos system.
Australian availability for the IKEA Symfonisk range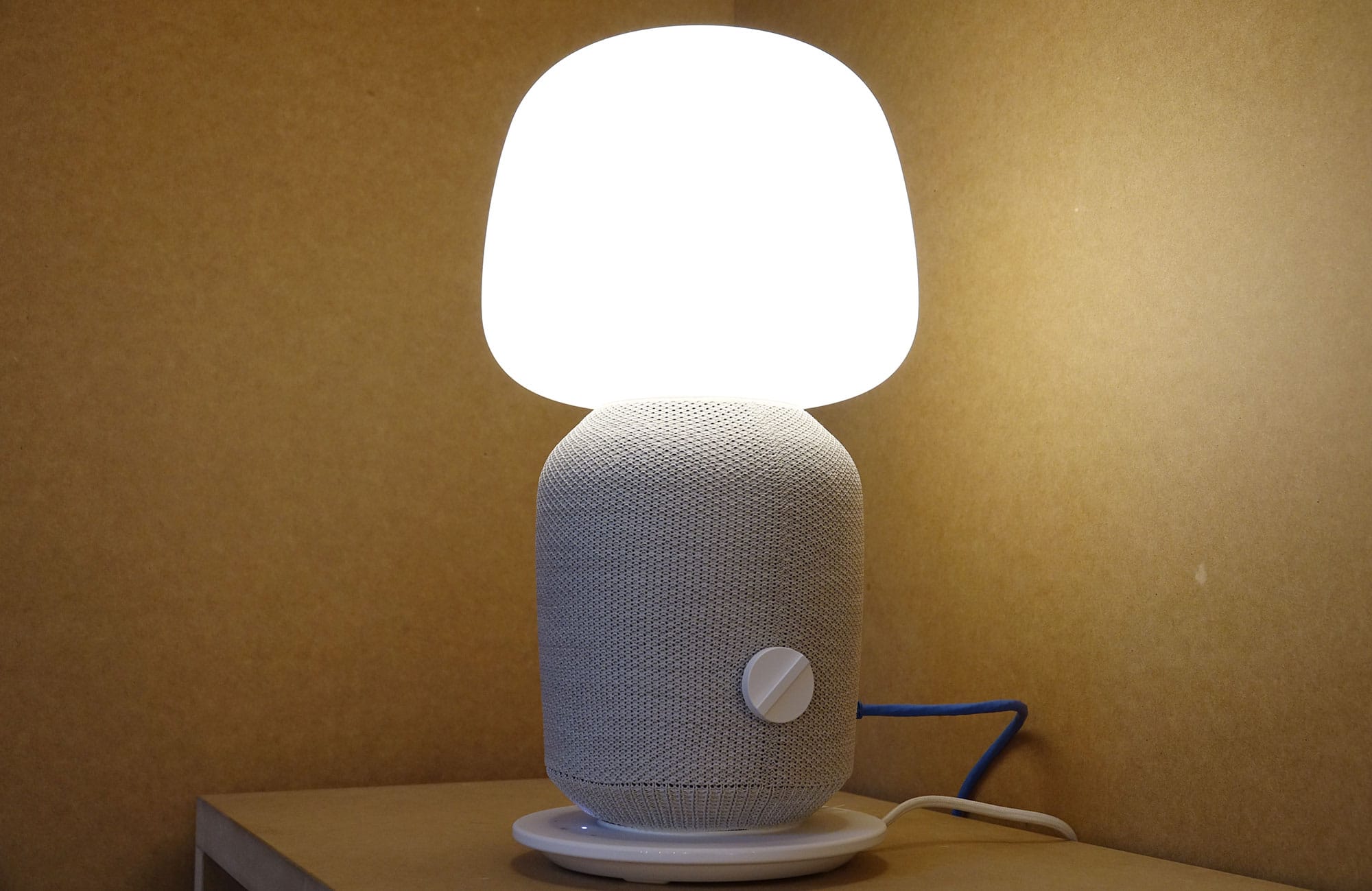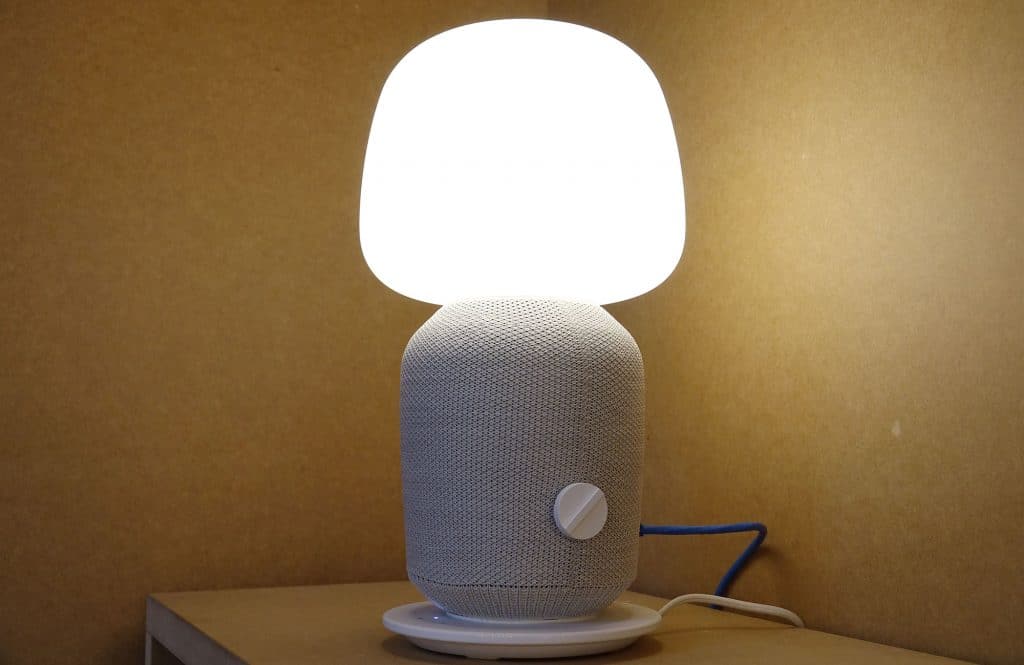 Even though this week's announcement offers pricing for the IKEA speaker range, availability isn't until the end of September, with a targeted date of September 27.
Given the price, we'd be surprised if IKEA didn't move these speakers quickly, and to that, the company told us that a lot of stock was on the way.
Those speakers will be joined by a few accessories, including a $20 wall bracket, $10 speaker hook, and a $20 remote that will let you control the Symfonisk speakers without having to touch a Sonos app on a phone or tablet.
They all land in IKEA's Australian stores from September 27, a little later than the August release date for the models in America.