Sonos doesn't make a whole lot of speakers, but the ones it does make tend to draw attention, and that's certainly true of the Beam, a tiny soundbar with a sound that is easily its polar opposite.
Design
Looking at the Beam, you'd be excused for wondering where the rest of the soundbar is, because this isn't like any soundbar we've seen.
Soundbars typically try to bring all of the speaker system needed for a TV under one long bar. Unsurprisingly, that's where the product gets its name, because a soundbar is just that: a bar of sound.
Generally, soundbars are long enough to match the width of a TV, and are often close to the length of a 42 to 47 inch television, and that's the way Sonos has made things in the past, with the Playbar offering lots of sound in its Playbar.
But in its latest model, the Beam, things have changed. In this generation, the speaker is much smaller, and sits in the dead centre at the front of a modern TV. The space on each side is very different, and it's easy to see: while the Playbar measures 90cm across, the Sonos Beam is much smaller at 65cm.
That's a staggering difference, and one that makes it look good in front of any TV, big or small.

It's also not your standard black bar, with edges that curve off to the sides as they go back, and a top that not only offers a small status light that you can turn off, but touch controls, because things are much better if you don't have to rely on your phone to do things.
Features
Your phone will be your best bet for any product in the Sonos line-up, and that's because the app is so good, allowing you to pair over 40 music services to the speakers for an easy way to tune in.
However the Sonos Beam offers other ways of getting your tunes on. For instance, while your phone will be the best way to do it, you can also call on Alexa, with voice control built in.
Inside the Beam, Sonos has delivered four woofers supporting lows through to the mids, one tweeter for the highs, and five Class-D digital amps tuned to match those speaker drivers and the architecture they sit in.
There are also three passive radiators to move air inside the Beam to help the bass, while the Sonos app supports customisable bass and treble levels for you to tweak the sound to match your preferences.
You'll also find five microphones in here, configured for beamforming and echo cancellation so you can talk to the Sonos Beam in its smart speaker capacity from around your room, and it will know you're talking to it. There's an LED on the very top of the speaker, and when it's on, the microphone is waiting for your commands. When it's off, you get privacy (and you can turn it off, if you like).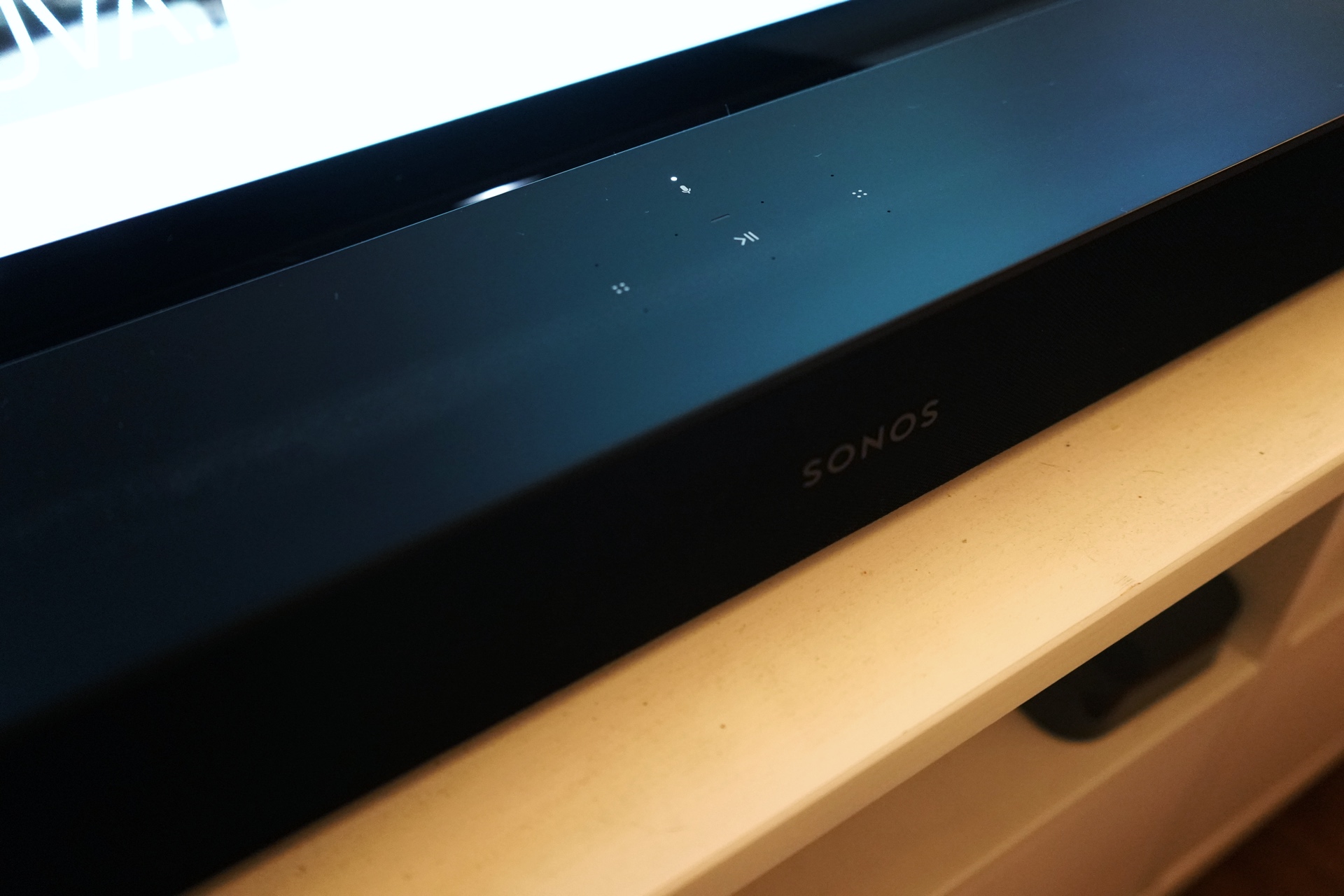 There's a 10/100 Ethernet port if you don't have WiFi, because there's also 802.11b/g WiFi included, while support for both AirPlay and AirPlay 2 are there. Bluetooth LE is also technically a part of the Sonos Beam connections, though it's only there to help you with setup (for now, anyway; if Sonos changes this, we'll let you know).
In-use
Using the Beam is just like any other soundbar, and you merely need to plug it in.
In this case, you'll be plugging it into your TV, and if your TV is recent, we'd advise picking the HDMI from its ARC port, which will give your remote the ability to control the Sonos as if it was the direct speaker on the TV.
That's great, but if you don't have an ARC port or you have no spare HDMI ports (a totally valid concern), Sonos also includes a unique HDMI to optical plug in the box, something we've not yet seen before that will get you back to using the Sonos Beam through your TV's optical port. Handy.
If you don't have either, this soundbar may not be good for you, but if you don't have either, you also may not have a very recent TV, either, so be sure to check if you have either optical or HDMI ARC.
Once you're there, however, Sonos' Beam setup is pretty easy: plug it in, and load up the app on your phone, tablet, or computer, and then get it going.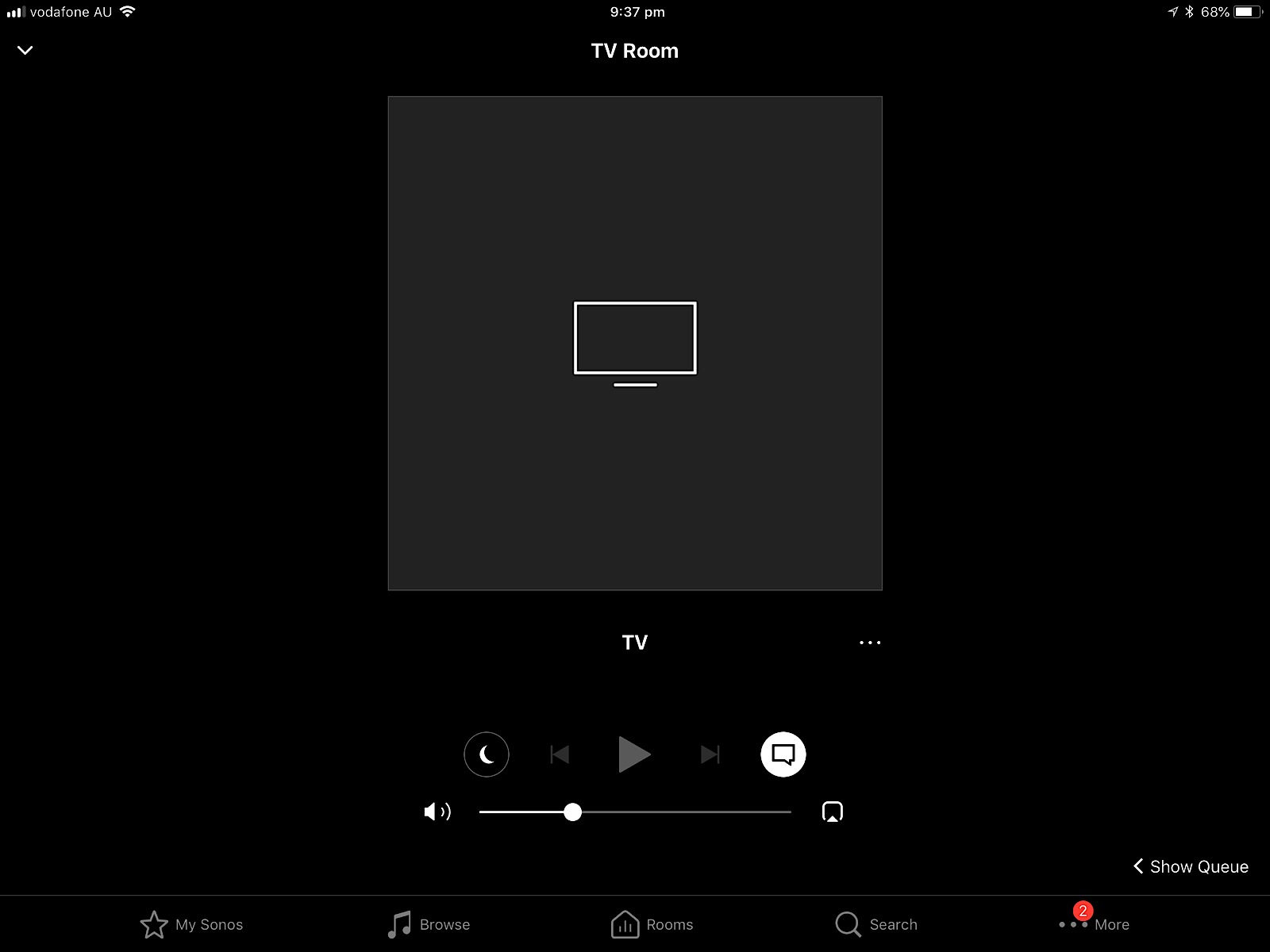 Controlling the Beam is very much like other Sonos products, with the app control providing music services to be played to it, and if you're watching TV through it, using that as the source.
You can override the TV source if you want, but the moment your TV starts making sounds, Sonos will switch back to it (unless you override it). In fact, if you have other Sonos products in your home, you can group them together and get films sending their audio all around your home, great if you don't want to miss a thing during the "I Don't Want To Miss A Thing" playback in Armageddon (or any other movie, for that matter).
There are also other ways to control the Sonos Beam, such as the touch buttons up top, either a play and pause touch-sensitive button pointed out, and two buttons to either side that act as track changes and volume controls in case your phone isn't in reach.
And then there's that microphone thing.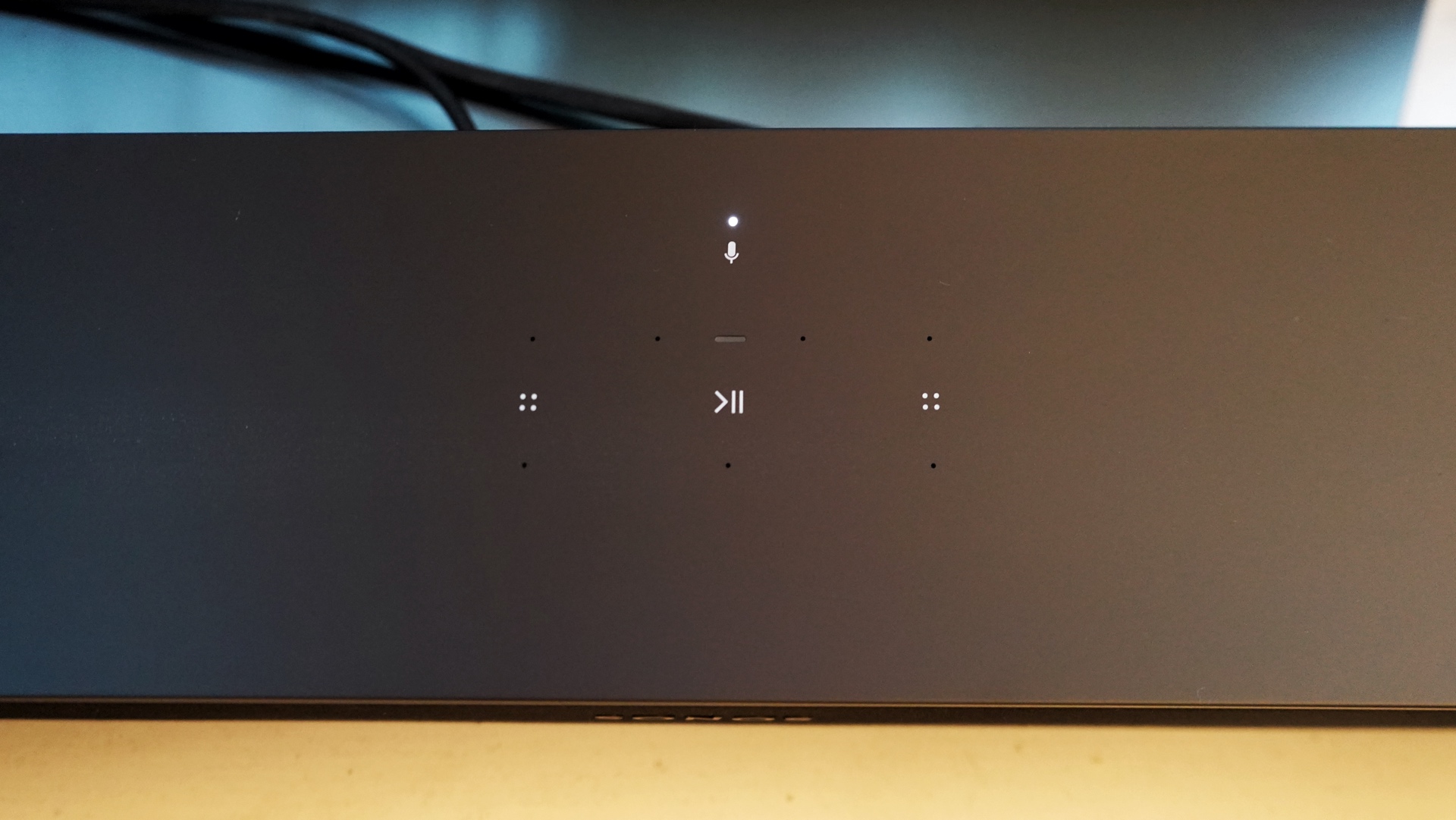 Yes, there's a microphone in the Sonos Beam, because like the Sonos One, this is a smart speaker of sorts, connecting with Amazon's Alexa service and allowing you to talk to the TV.
If you have other Amazon Echo or Alexa-enabled devices around the home, it will talk to them, and indeed other smart devices, as well.
Alexa can actually do a fair amount of things at the moment, as well, such as ordering you an Uber or ordering a pizza.
For the most part, we just used it to turn the TV on and off, because you can do that simply by saying "Hey Alexa, turn the TV off", and it will.
Ah, the future, where we don't need to reach for our phone or remotes. Amazing.
Performance
Also amazing is the performance, and while we appreciate the opportunity to never touch a remote again (imagine how it would all link together if we had a TV that operated on voice as well!), what we care most about on a soundbar is, unsurprisingly, the sound.
Fortunately, that's an area Sonos knows too well, and when it came to testing out what the Sonos Beam could do, we were delighted by the results.
After being wowed by the Beam's soundbar sibling in the Playbar for the past few years, we've seen the level of balance Sonos has managed to keep in its understanding of home theatre audio, with strong mids, highs, and even more than a semblance of bass without a dedicated subwoofer.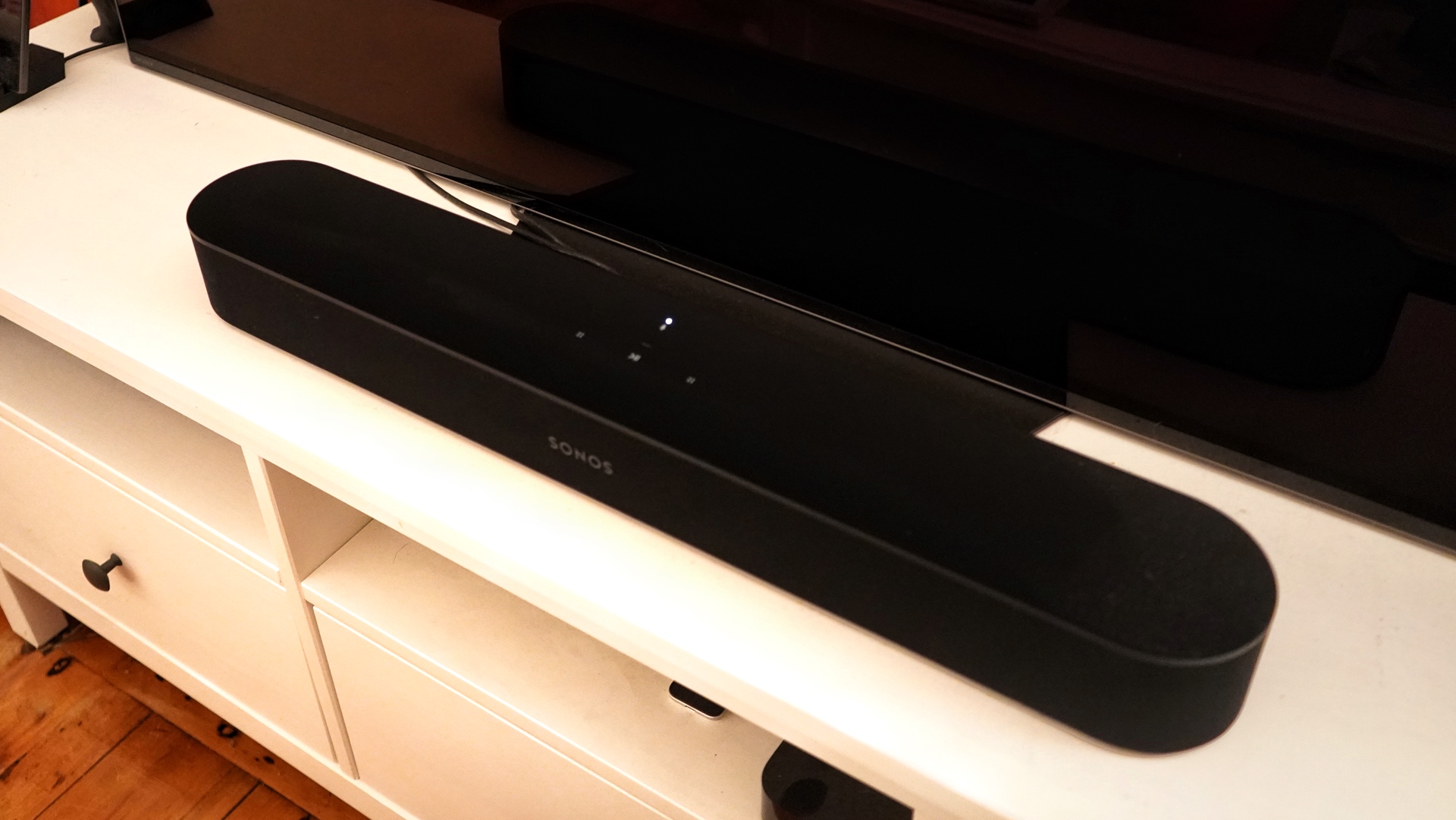 Music offered strong balance regardless of the genre we pushed through the soundbar, while in the film world, the sound delivered by the Beam isn't going to overwhelm, but it does have the ability to if you so choose.
One thing that differed from the Playbar was the amount of volume, and we found the latter of these offered more volume and sound, likely from the amount of speakers inside the Playbar compared with its newer Beam sibling.
However, the sound from the Beam still managed to be just perfect for our nice average living room, and when it came time for the little one to go to sleep we were still able to keep listening to the big blockbuster simply by switching the night mode on, which dulled some of the bassy sounds and still got the message through.
Overall, however, the sound is definitely there, with a strength few soundbars we've seen appear to nail, achieving quality in both film and music brilliantly.
Speakers tend to have their own personalities, too, and while they might achieve one of those areas beautifully, they don't always have the chops to get the other right. Apple's HomePod is still one of the best single speaker solutions you can buy, but it only works well for music, and really doesn't do remarkably well as a TV speaker.
The Sonos Beam gets it right, and achieves both types of audio, making it a soundbar that transcends its typical home theatre design, working for more than movies in a size that's hard to believe.
Value
Performance isn't the only area that nails things, because with a recommended retail price of $599, the Sonos Beam is now the least pricey of the Sonos entertainment speakers, and yet one of the most well designed and full-featured.
The Playbar is ageing quite well, but is still relatively old, and while it pumps out more sound to a larger room, the sound is still fairly spot on between the two. With the Sonos Playbar hitting a price of $999, the $400 difference is decided by room size.
However, spend less and you get Alexa support, something the Playbar lacks, raising the question: why would you spend extra on the Playbar when you could opt for the well-priced Beam?
The answer is sound volume, with the Playbar capable of more. The real answer, though, is how long the original Playbar will stick around before Sonos gives it a similar update, and that's an answer we don't have a date for, though given the strength of the Beam, suspect it won't be too long.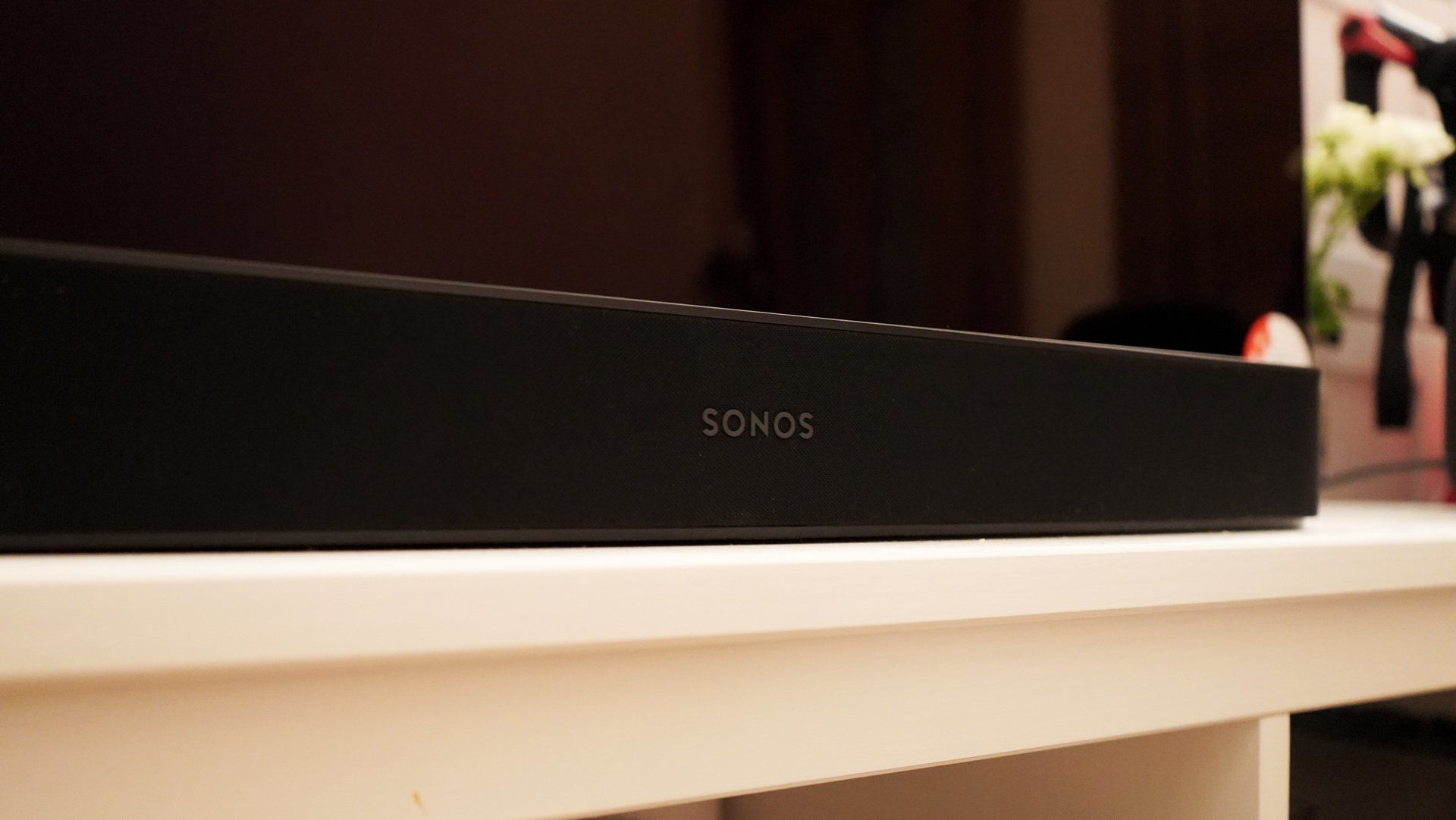 What needs work?
While the performance and price are exactly where we want them to be, the support for smart assistants is a little lower than we'd like.
Yes, you get the power of Amazon's Alexa at your disposal, but you can't switch her out for the likes of Google's Home, and while you might have a home full of Sonos speakers, this preference is going to come down to what you have in your life.
It's a little bit of a hassle, too, because while both of the major smart assistants support quite a lot of smart devices in the home, the music services they each handle aren't quite as varied as we'd like. For instance, Amazon's Alexa will talk to Spotify and Amazon's own music service, while Google will talk to Spotify and its own music service, as well.
Unfortunately, with only Alexa on-board, calling out "Hey Alexa, play "Gimme Shelter" by The Rolling Stones" will only work if you happen to have Spotify or Amazon's Music Unlimited service in an active paid subscription. If you have Google Play Music or something like Apple Music, what would normally work on a Sonos device through the app won't work with your voice here.
Frustratingly, even if you're playing a service that Sonos supports — such as Apple Music or Google Play — asking Alexa to skip the track won't actually do it. Instead, it has to be a service Alexa talks to.
It's a real shame that there's no way Sonos could make this connection work, and it means that the services you subscribe to and make use of through the Sonos may not be something you can actively talk to.
Despite these issues, you can still get the Sonos Beam to act on hardware calls, such as turning the volume up and down, and switching off the TV it's connected to.
The voice assistant disconnect and disparity isn't a deal breaker for this $599 soundbar, but something to be aware of, and means that for the moment, you're still very likely to rely on your phone as a proper remote for the Sonos Beam than your voice.
At least you can tell Alexa to turn your TV off, so that's something.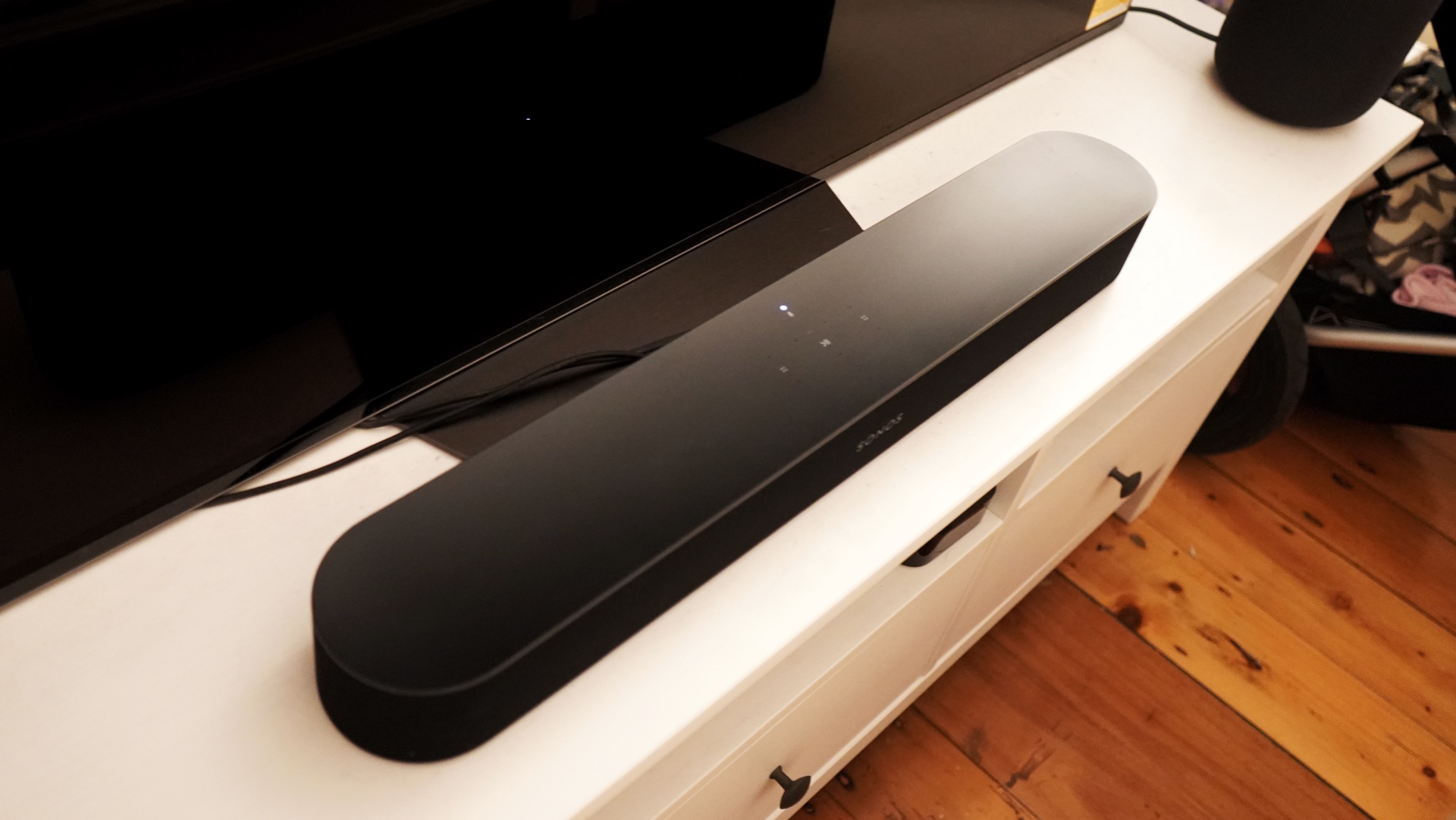 Final thoughts (TLDR)
Even without Google's smart assistant, the Sonos Beam gets so much of the smart speaker and the soundbar formula right, finding that middle ground really well.
Yes, it's an excellent soundbar with the hardware that feels like it can do no wrong, and like a great smart speaker, it's also an expandable multiroom system, as well.
That's something we haven't really touched upon in this review, but Sonos is essentially the pioneer of multiroom audio technology, and most people who have multiroom audio products probably rely on Sonos.
Interestingly, Sonos doesn't have many products out and it rarely updates its line-up, and that's because the products last for so long. You might have the original Zone devices in your home or a Play:3 from back in the day, and chances are that it will still be fine, still producing and rendering the same excellent audio from back when you bought it.
If there's one thing Sonos has shown us over the years, it's that quality is still attainable for a good price, and quality that gets better and better over time. Not every Sonos product has been updated to support the smart speaker tech, that much is true, but they can generally be grouped with one that does, and that makes upgrades to a smarter house-wide speaker system less complicated.
In the Sonos Beam, that attention to quality continues, with excellent sound first and foremost, and a package that rounds out. For its price point, we're genuinely surprised, though given who makes it, we probably shouldn't be.
About the only thing properly missing is support for 3D sound formats like Dolby Atmos, but in its size, it wouldn't make sense, and given Sonos' roots in music speakers, doubly so.
However if you love music and you want a soundbar for the TV that offers room to move and a way to grow with your home, the Sonos Beam is one of the best soundbars around. Highly recommended.
The good
Fantastic sound
Very small
Touch controls up top
Support for voice assistants
AirPlay 2 support on-board
HDMI ARC means modern TVs can control the Sonos by remote
Excellent price
The not-so-good
Needs more support for smart assistants