Last year's U11 flagship brought with it a slick design, and this year ups those credentials even more, with focus on the look and feel, and the camera as well. Can HTC's latest take on the big boys?
It's near the end of May 2018, and almost all of the first half of the year's smartphones have been announced, but one company has been lagging: HTC.
LG was before this and even it was a little late, because with new flagships announced from pretty much everyone else who typically brings flagships in the first half of the year, we're getting a close to the "mid-year" point where it's time for a new model.
But that might also herald a change for some companies, because as we approach the mid year, it might be time for some brands to say "no" to the "two or three per year" approach. That's an approach that Samsung employs when it releases the Galaxy S series in the first half of the year followed by a Galaxy Note in the latter half.
This year, HTC isn't following its competitor to several flagship phones per year. Rather, it's going with a one per year approach, something its Australian arm told Pickr this week, and it's going to start with its new flagship: the HTC U12+.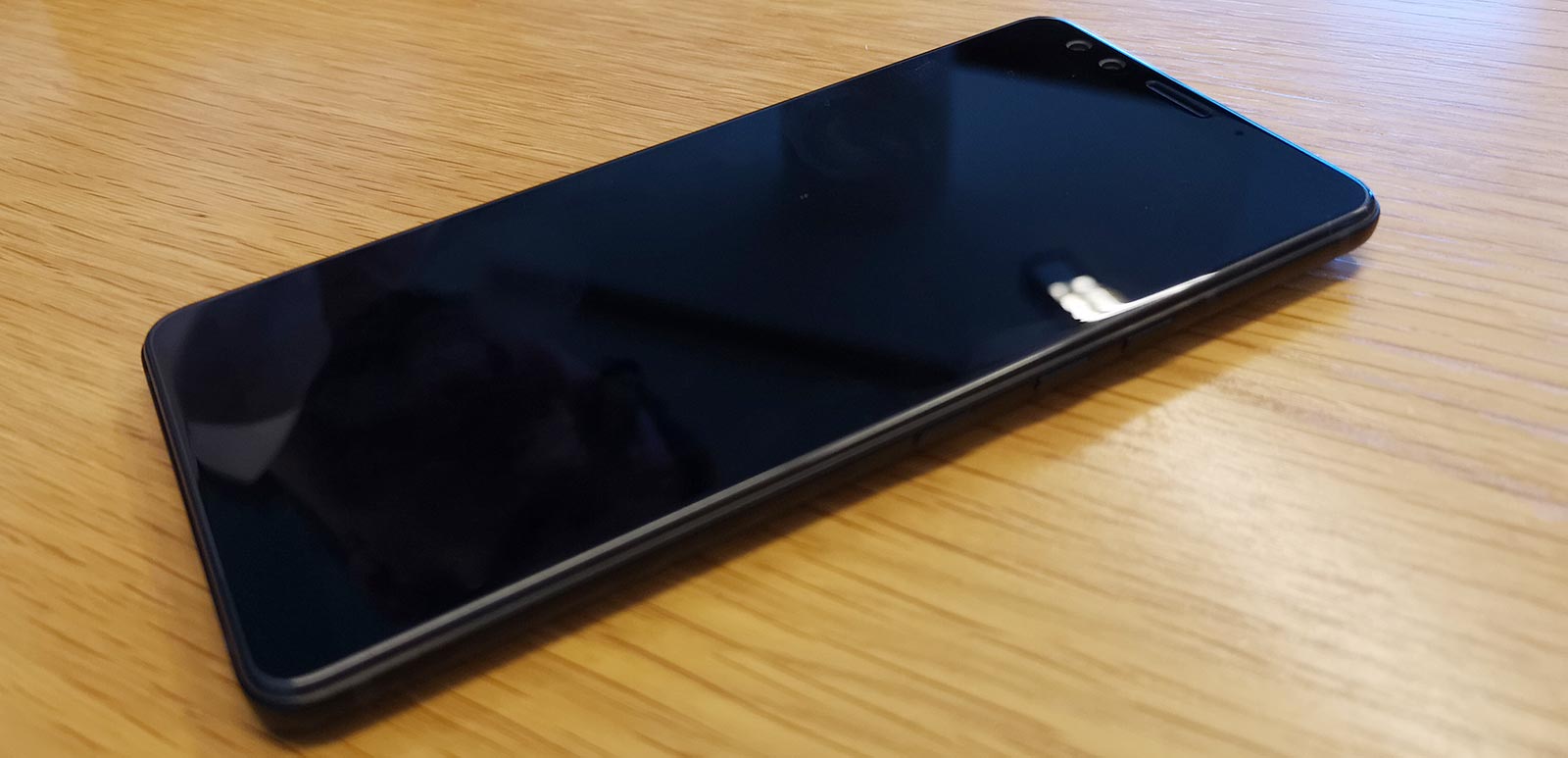 A new and improved model, it's a phone that takes what worked out of the U11 and updates it for 2018, and given so much of the U11 worked, that means that quite a few aspects have been brought over.
You'll find a slick liquid-inspired look on the back just like last time, with some smashing new finishes that are very, very pretty, including "flame gold" which looks red from some angles and gold from others, as well as the very picturesque translucent blue, allowing you to see the phone from underneath.
We wish more manufacturers gave the option for translucent colours, and it just makes the U12+ look like something out of the future, as if you were staring at the silicon itself.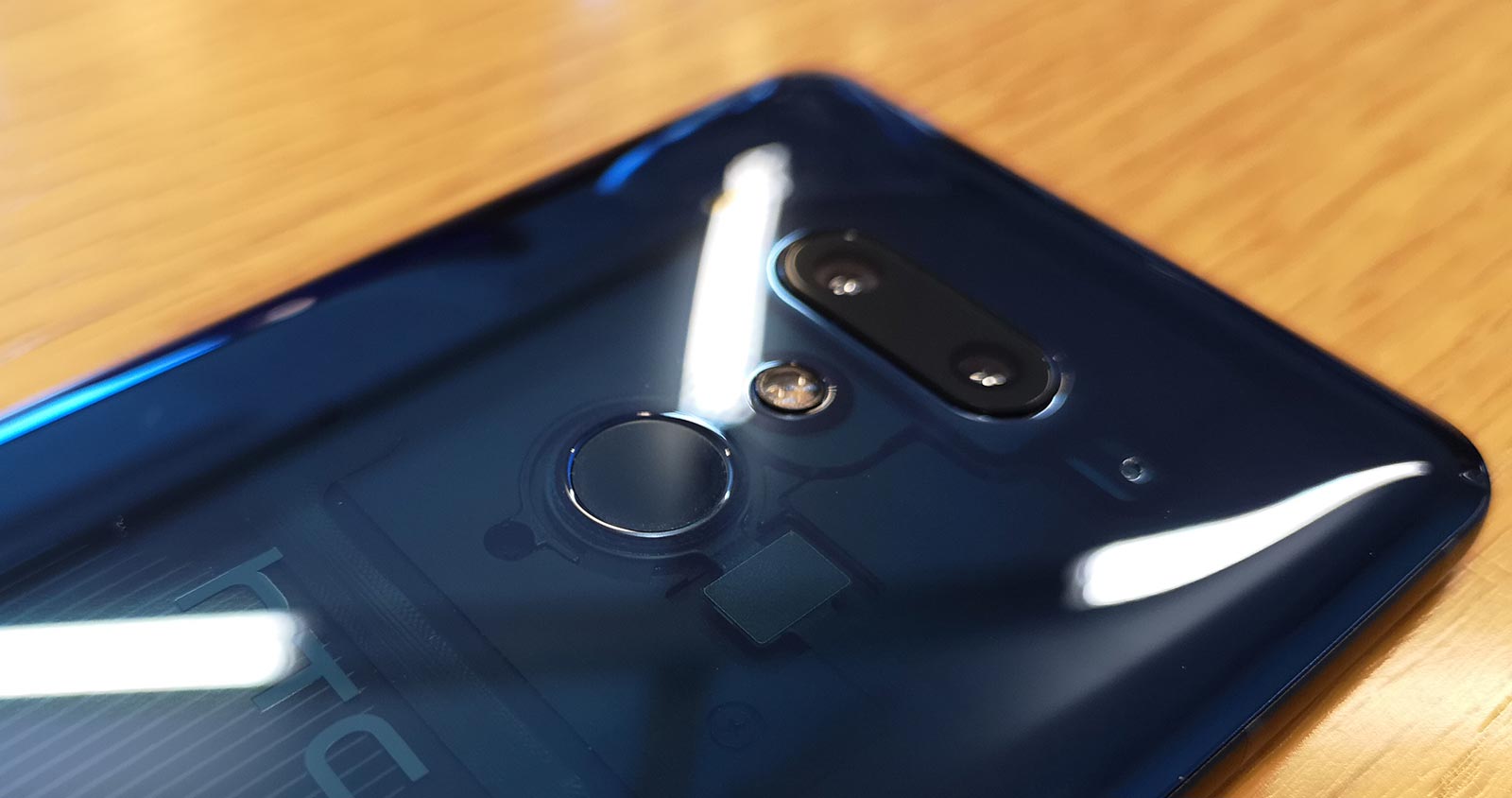 What's new on the HTC U
The phone itself aims to impress with some new hardware, and shock horror, that's a major part of what makes it tick.
You'll find the popular Qualcomm Snapdragon 845 eight-core processor ticking things along here, much like it will in the XZ2 series from Sony, with 6GB Ram and 128GB storage, with room to move thanks to a microSD expansion shared with a second SIM tray.
Android 8.0 "Oreo" runs here with an upgrade to Android P pending, though HTC was understandably tight-lipped as to when that would be given it's not yet final from Google. Android also runs with one of the lightest HTC skins we've seen in ages, as HTC Sense still appears different, though gradually making its way to Google's take.
There are also bigger speakers, with two on the front continuing that BoomSound design HTC has been using since the days of the HTC One, including a tweeter up top and a woofer down below, complete with claims that it's louder and clearer than the previous generation.
You'll also find a rear fingerprint sensor for security and facial unlock, but no special technology to make that happen, turning to the front cameras, which relies on two 8 megapixel camera.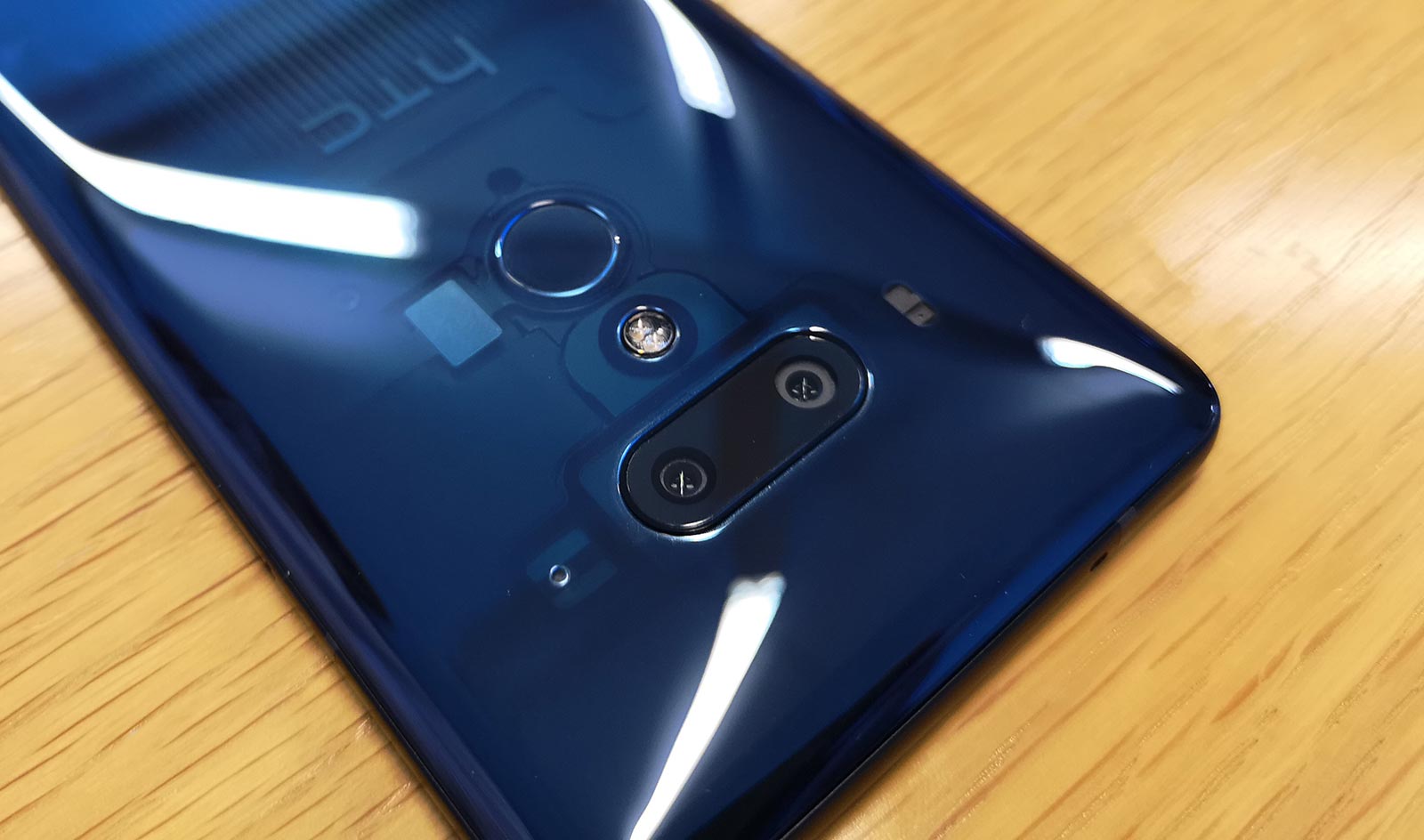 Most notable in the camera department is the rear camera, no doubt a massive battleground for mobile manufacturers this year, especially on the back of what Google showed you could do with one camera in last year's Pixel 2 XL and the gauntlet that was laid by Huawei's triple camera Leica collaboration.
In the U12+, HTC doesn't have one or three cameras there, opting for two and achieving a DxO Mark of 103 for that, which is apparently the best for a two camera setup right now. Those two cameras are yout typical assortment of a standard focal length and a telephoto, though the standard is a 12 megapixel camera running at F1.75, while the telephoto stops the light a little more with a 16 megapixel F2.6.
Improvements to the camera don't just arrive in the configuration, with improvements to HDR capture, low light, and Ultra HD's 4K video support, too, alongside audio recording which can now raise the volume being heard without having to zoom in, a technology that relies on four microphones in the U12+.
And then there's the extra feature, and it's really what makes the HTC's flagship stand out a little more: one-handed usability.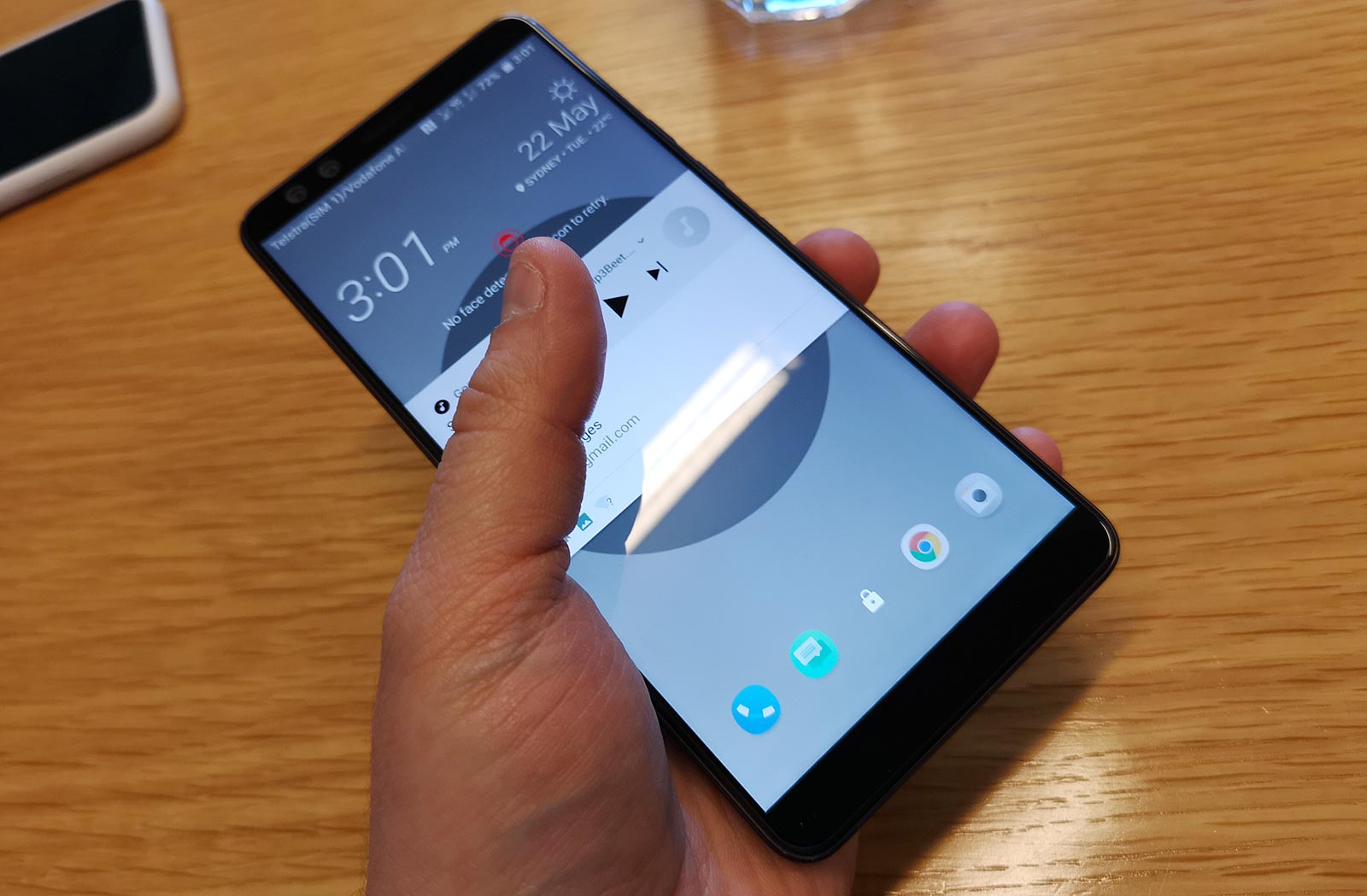 If you remember the squeeze functionality from last year's HTC U11, it's back, and even though the concept made an appearance on the Google Pixel 2 and Google Pixel 2 XL, HTC has found a way to make it a little more interesting.
In this generation, you'll be able to tap as well as squeeze, and that will bring the the usability a little closer to one-handed phone operating, something that bigger smartphones have lost the meaning of lately.
There's also water resistance, touch-sensitive buttons on the side, and support for hi-res audio with a pair of active noise cancellation earphones in the box that work through the Type C connection (no 3.5mm headset here).
WiFi and Bluetooth are both here, as is Category 18 LTE support, meaning speeds as high as 1.2Gbps if your carrier supports it (Telstra does, Vodafone is gradually adding it with support for 4.9G, and we suspect Optus will shortly, as well).
First impressions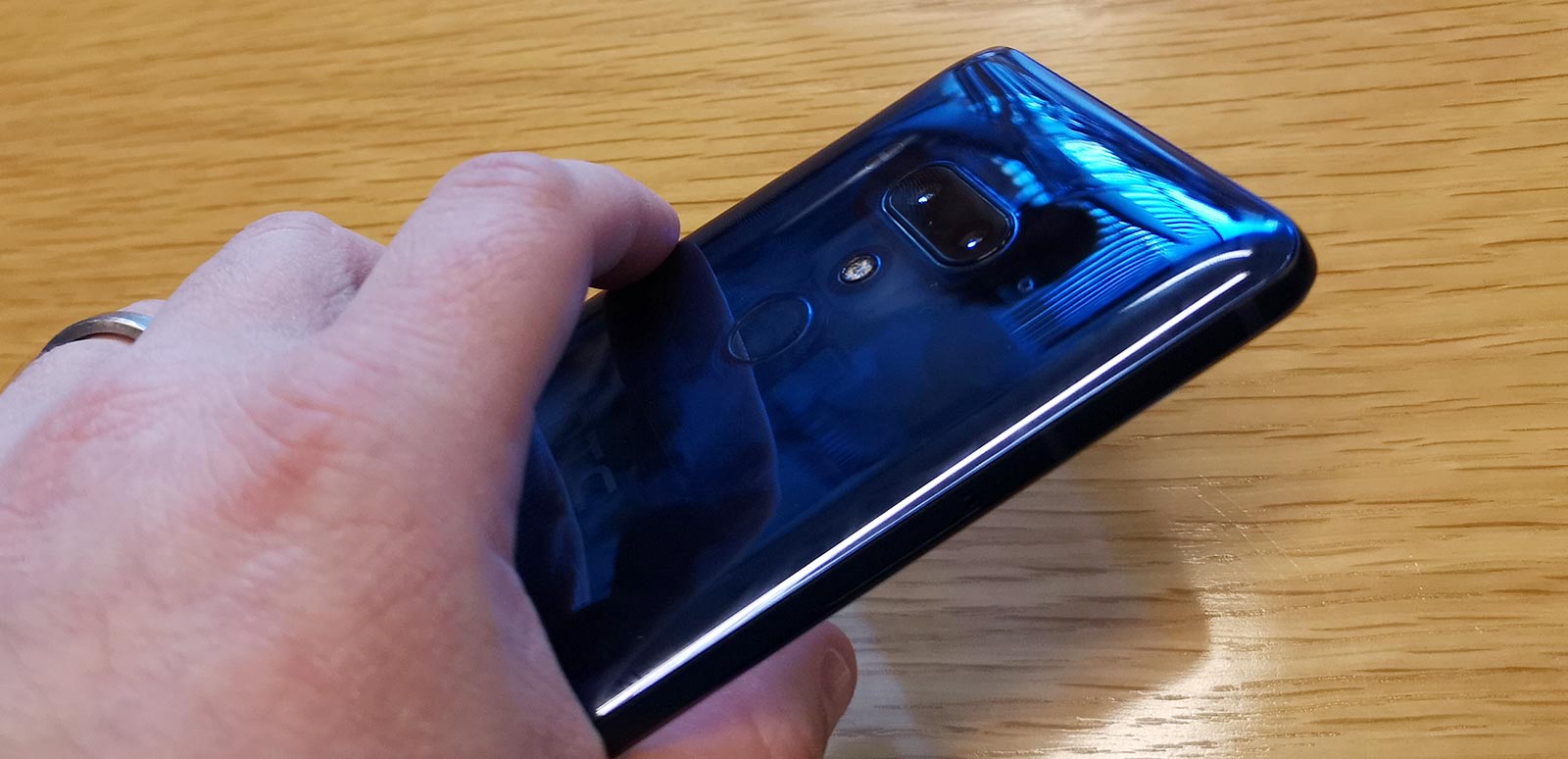 In the hands, HTC's phone felt good, though it's definitely a big phone, with that 6 inch screen still going with the slim-line bezels seen on other devices like the Galaxy S9 and Pixel 2 XL. It's not the total full screen phone we had hoped for, but it's still pretty all of them, and those overly finishes help.
A highly rated camera is also impressive, something DxO Mark says is the best dual camera around, losing ground to the triple camera in Huawei's P20 Pro. And it certainly has the multimedia chops, too, with a louder speaker from its constantly evolving BoomSound heritage.
But as good as this all looks, we come back to a general feeling this phone has: it doesn't really stand out.
At the briefing this week, a colleague from another great mobile reviewing site WhistleOut, Alex Choros, made the observation that it's hard to stand out in mobile phones this year, and asked the question "what impresses a tech journo?"
And that, indeed, is a seriously difficult question, because he's right: most phones are going for the same thing, but they need that oomph to stand out.
For the U12+, HTC's stand-out features are the colours, the camera, and the squeezy edges, but from our point of view, it's going to also have to be the price.

Pricing and availability
Unfortunately, that's something HTC isn't ready with, and it didn't have local telcos, either. So we can't tell you how much the HTC U12+ will cost, and we can't tell you which carriers will be running it.
We also can't tell you when you'll have the opportunity to buy one, because availability in Australia isn't yet known.
HTC's Australian arm wasn't very vocal about this, but it did say "later" from where we are now. Our guess is late June to early July, just to get ahead of the IFA phone announcements in late August.
We'll let you know more when we do.