Even though tablets can seem like they're dominated by Apple, there's still yet more choice out there. In fact, if you fancy an iPad Pro but don't want Apple in your life, the Samsung Galaxy Tab S6 is definitely an option.
Laptops have for the longest time been the very definition of portable computing, but they don't have to be the only definition. You can find laptops of many sizes out there, but most seem to sit in a minimum size of 13 inches, with the 10 and 11 inch models dropping off the planet in recent years.
For folks looking for true portability, this is a bit of a pain point. You might still want to work from something small, but the computer world is largely letting you down. In fact, outside of Microsoft's 12 inch Surface Pro or 10 inch Surface Go line-up, your options are a little slim.
One way of gaining that properly pint-sized sense of portability is to consider a tablet, and these definitely offer that. Most of the choice does come down to an iPad of sorts, but if you're after a little more control and something closer to Windows, Samsung's Galaxy Tab S6 with DeX gets you some of the way there.
Is it the best small portable computing experience you can find, or does it still need work?
Design
A little bit different from a computer, the Samsung Galaxy Tab S6 is more minimalist, because it's not technically a computer. It is, but it's also not, with the Tab S6 evolving the Galaxy Tab range so that it throws away a port and follows the trend of phones.
That means it has the one USB Type C port for everything, using it for a headphone jack with a converter or a power port as many devices do, and that's the way Samsung has gone mostly for size. We're sure there's also a battery reason, with the Tab S6 providing a fairly big battery, but for the most part, what you see is what you get: the Samsung Galaxy Tab S6 is a big screen beset by small bezels encased in aluminium with a big battery behind it.
It's a design distinct from the Tab S4, which left the headphone jack, was a little bit thicker, and used glass to make it look premium. Fortunately for the Tab S6, removing the glass has made it weigh a little less, and also kept it closely matched in design to the mid-range Galaxy Tab S5e.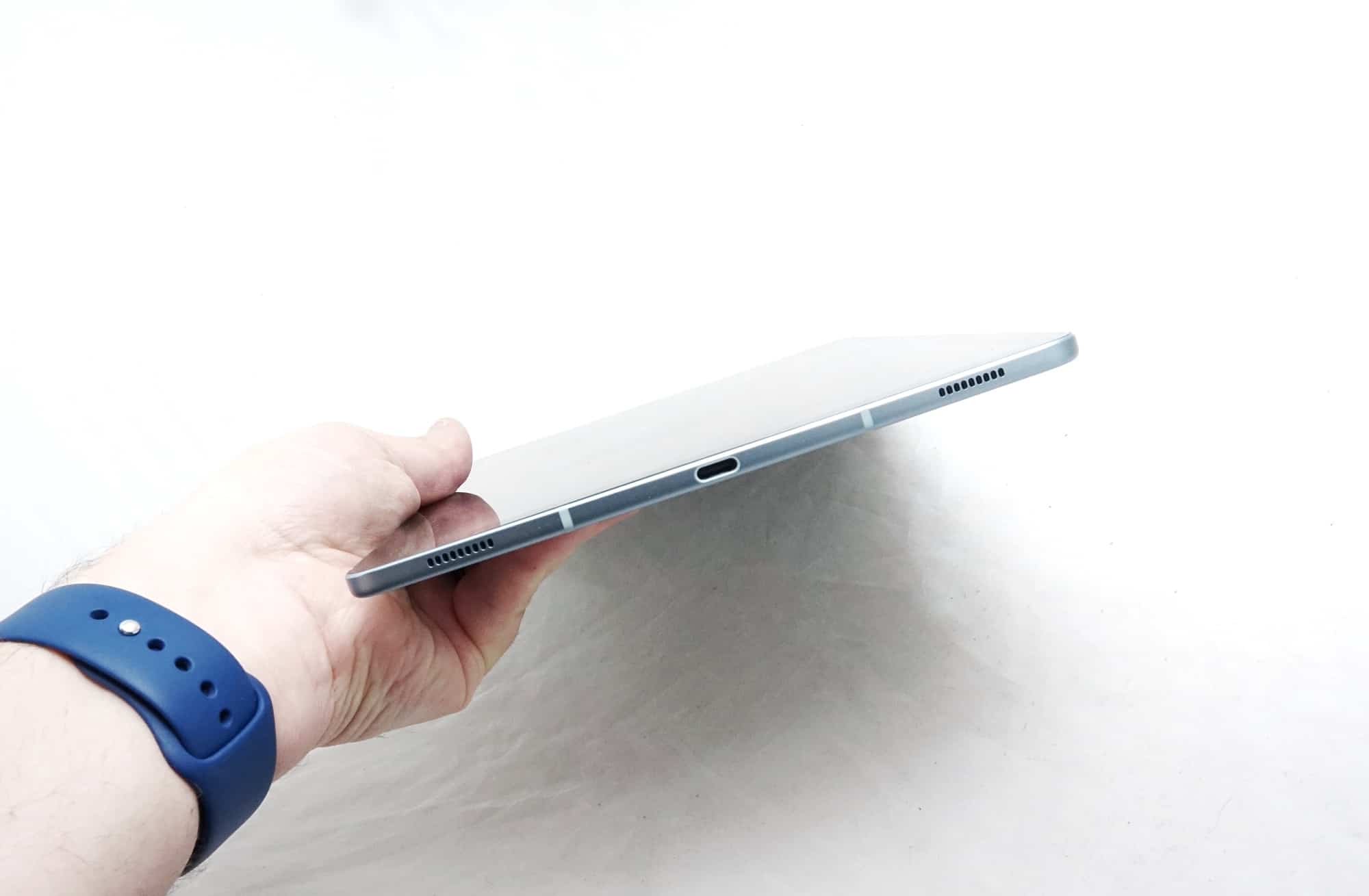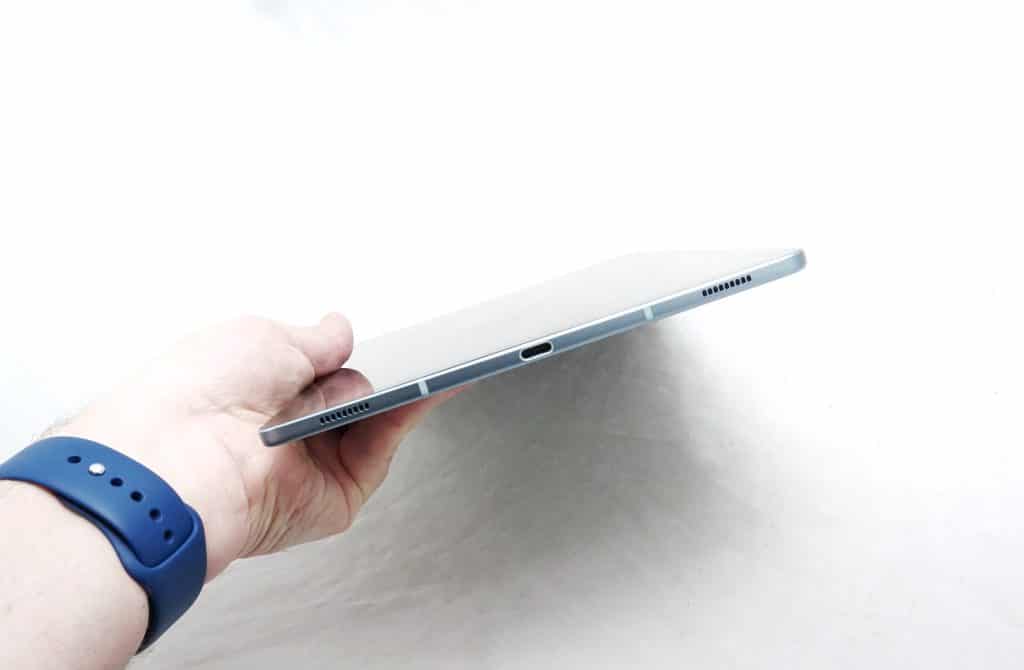 Features
Design similarities aside, the specs are a little different between the Tab S5e and the Tab S6.
There's a high-end Qualcomm Snapdragon 8150 found in the Galaxy Tab S6, and depending on the amount of storage you go for, you'll find different memory, too. If you buy the 128GB model, you'll find 6GB RAM, while the 256GB model gets 8GB.
Storage and memory are the main differences between models found in Australia, alongside the option of either WiFi and 4G or just WiFi. Beyond this, everything else is more or less the same.
You'll find a 10.5 inch Super AMOLED screen with some particularly slim bezels, running at 2560×1600. There's support on that screen for the Samsung S-Pen stylus, which this time is magnetically mounted to the back, which also recharges the S-Pen's battery for any gestures you want to use, a feature taken out of the Galaxy Note 10 range.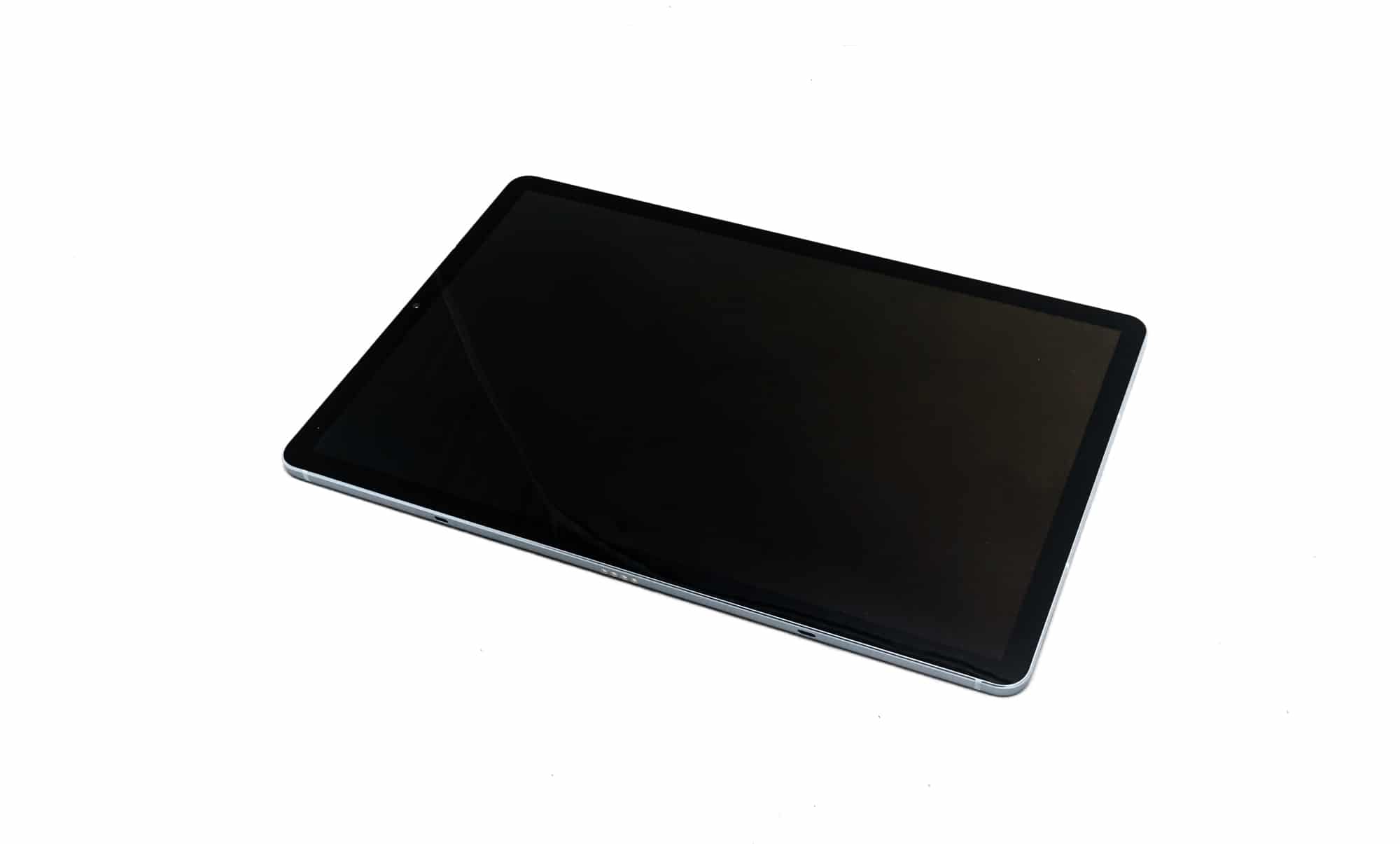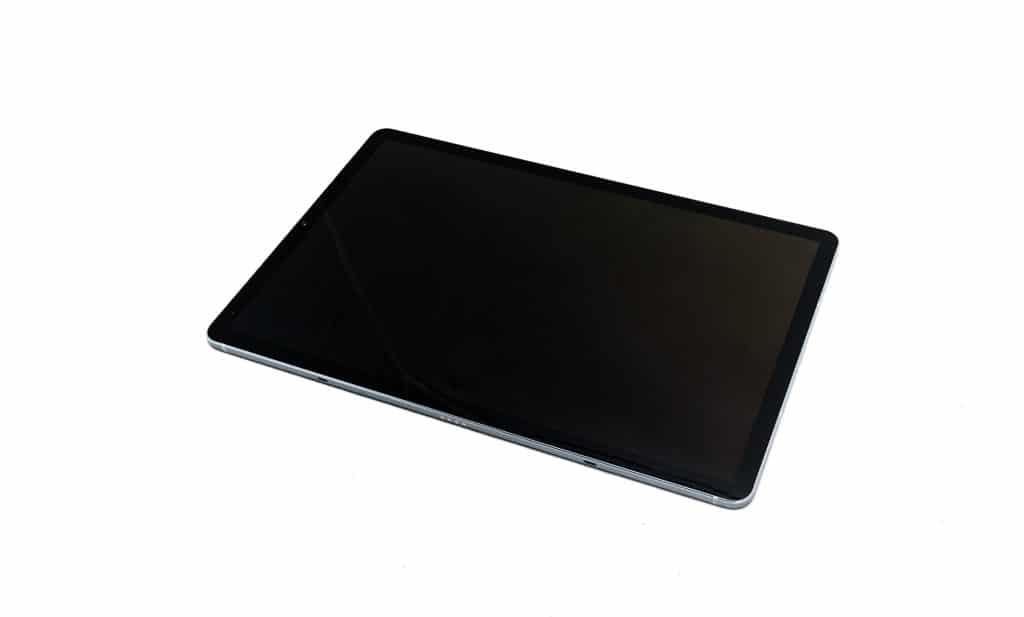 There are cameras, too, something you might use on a tablet, with a 13 megapixel and 5 megapixel combination on the back, while the front sports an 8 megapixel camera.
Expect the usual assortment of wireless technologies here, though not to the same level in Samsung's phone range. While this year's Galaxy S and Galaxy Note range featured WiFi 6 (also known as 802.11ax), the Galaxy Tab S6 does not, running 802.11a/b/g/n/ac, just about every version that isn't 802.11ax. Bluetooth 5 is included, however, as is GPS. There's also no Near-Field Communication here, so don't expect to pay for things using NFC on this tablet.
This sits in a body measuring 5.7mm thick and weighing 420 grams, which is noticeably smaller than the Tab S4's 7.1mm and 483 grams. You can likely thank the removal of glass from the design for the shedding of weight.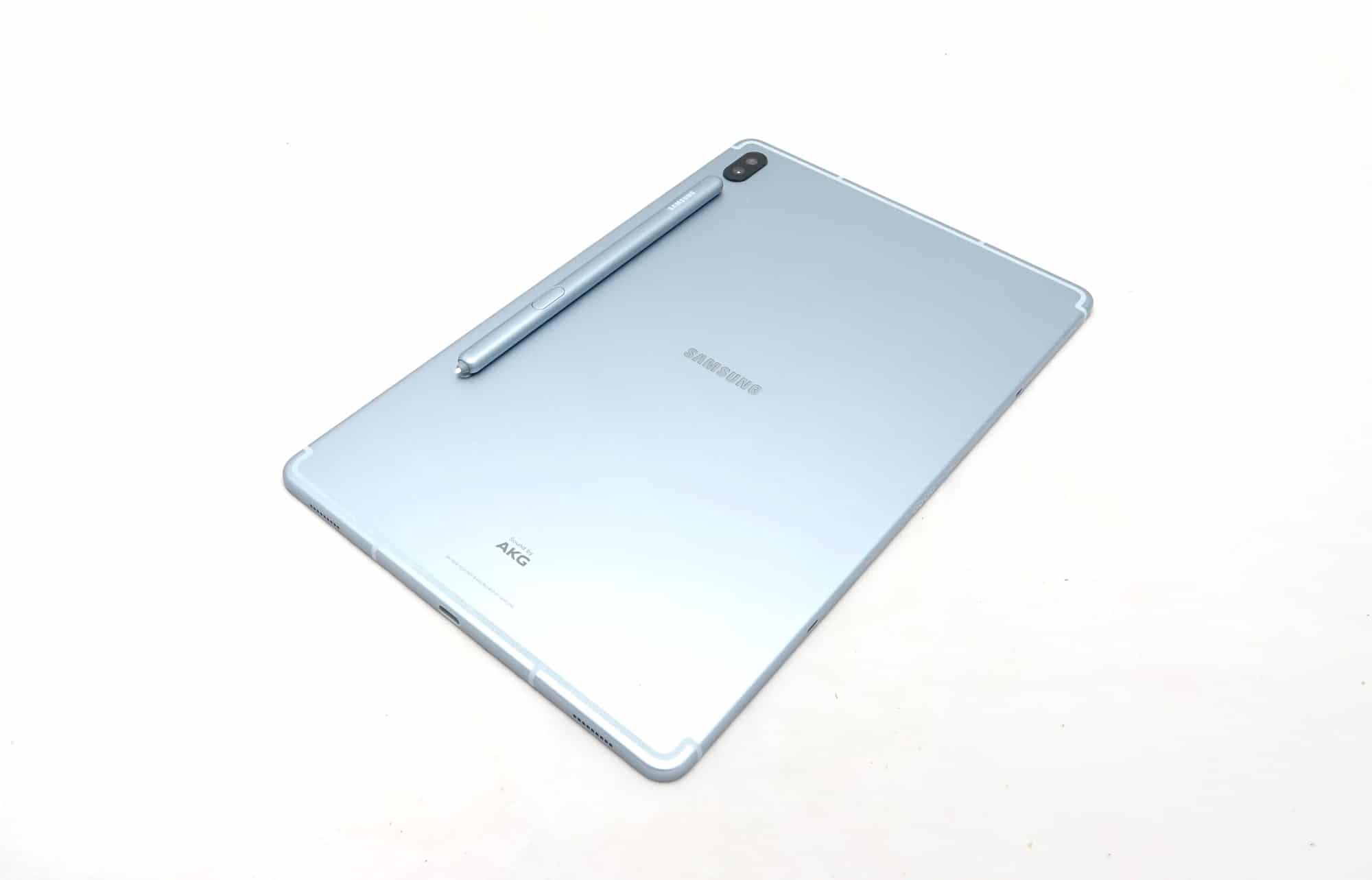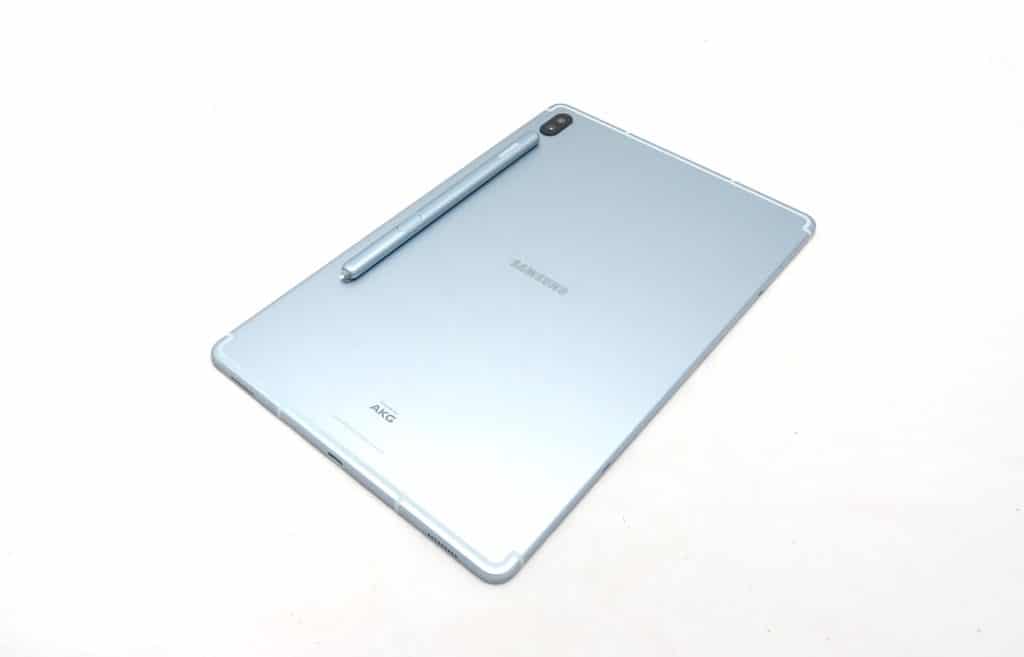 In-use
With the features out of the way, it's time to actually use the Galaxy Tab S6, and you have a few ways of doing that, thanks to Android, DeX, and the included S-Pen.
Android itself feels very close to what Samsung has been pushing forth in its phones in the past, with the One UI delivering multiple home screens and an app menu.
It's all fairly simple and easy, and if you've used a Samsung phone in the past few years, it will make sense. Even if you haven't, actually.
Then there's the other aspects of the Galaxy Tab S6.
Using the Tab S6 S-Pen
One of the key parts of the Galaxy Tab range is the S-Pen, the thing that makes or breaks the experience on the Galaxy Note, and it's a little more refined again.
Like the Galaxy Note10+, you'll find air gestures supported here, even if they're in an infancy right now. Also like the Note10+, you can store the S-Pen on the body, with a magnetic recess a new addition to the Galaxy Tab range.
Granted, it's not quite as elegant as keeping the pen attached on the edge of the tablet (like on the iPad Pro), but it's so much better than the S-Pen connector formerly found on the keyboard case of the Tab S4. One step forward, it seems, even if it's a minor one.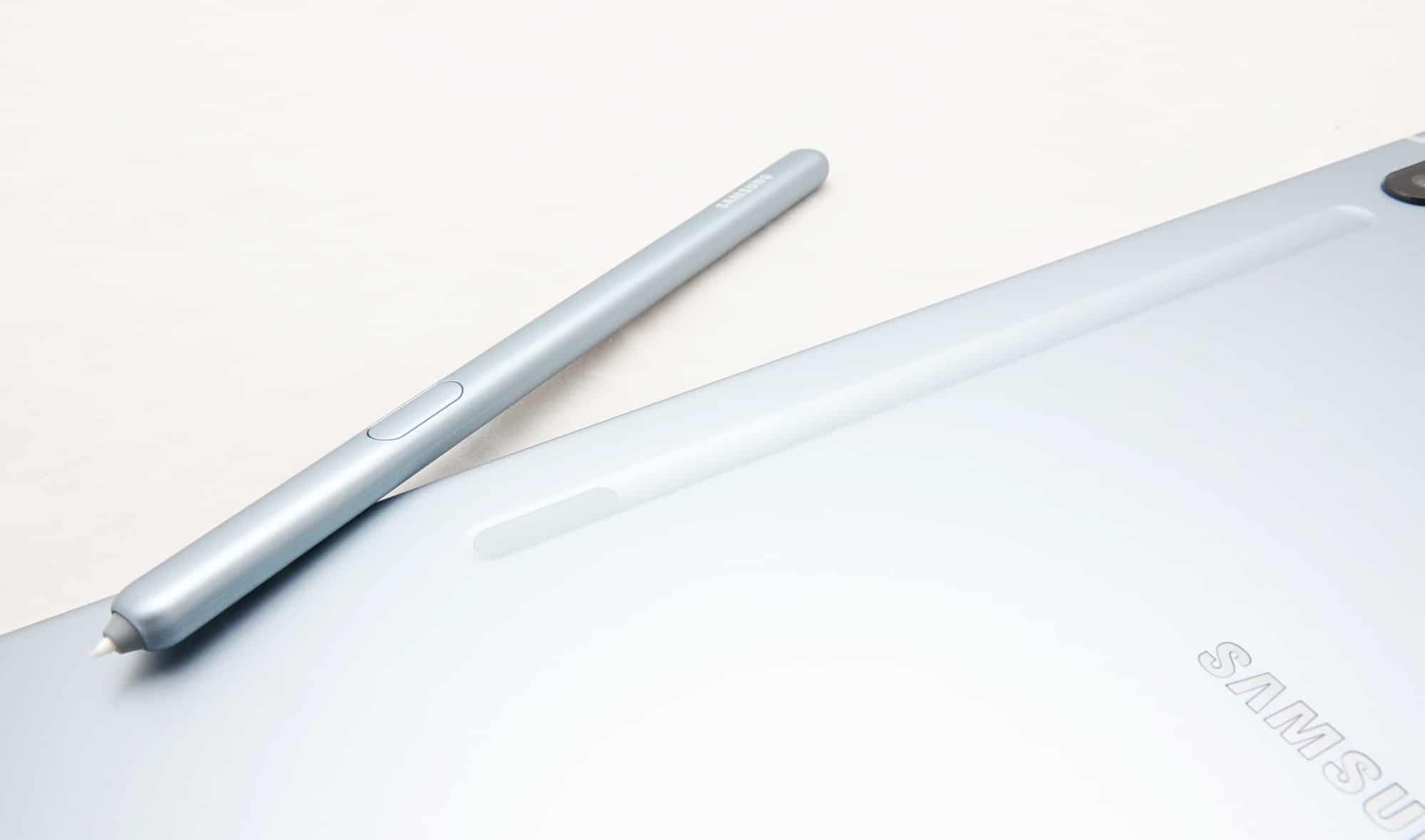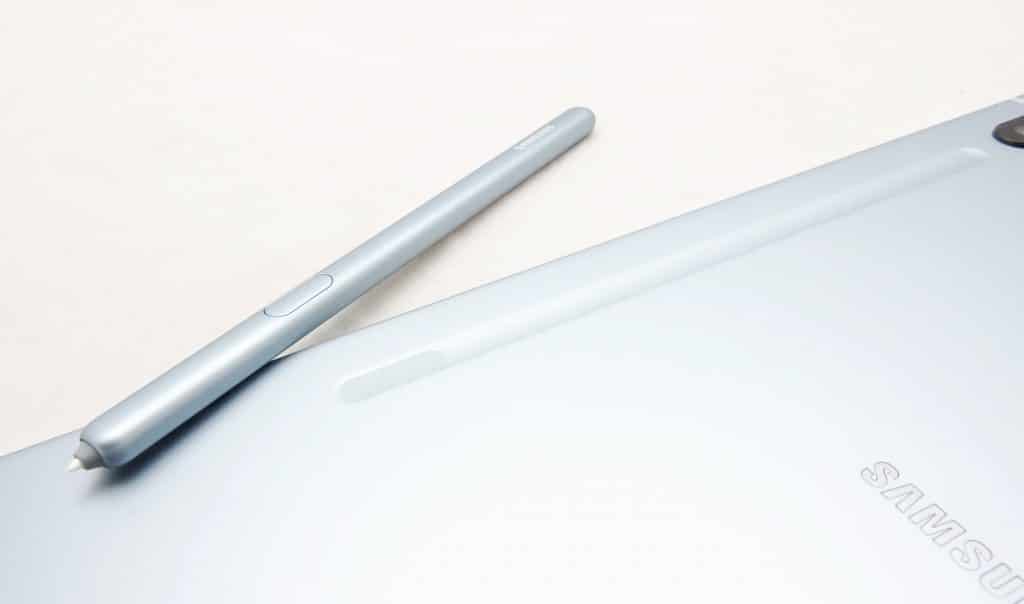 Using the S-Pen is comfortable, but it's not the nicest stylus we've tried, offering a thick rectangular pencil to write and draw with, which may not be the best you'll find. It definitely does the job, and unlike either of the writing tools offered by Microsoft in the Surface or Apple in the iPad Pro, doesnt cost extra and instead comes with the tablet.
Both of these, however, feel like they've been designed much, much better, and feel more like writing utensils than the weird misshapen utensil Samsung has provided.
Fortunately, you don't have to use it, and you don't even need to bring it with you. It's a choice, just like one other part of the Samsung Galaxy Tab S6 ecosystem.
Using the Samsung Galaxy Tab S6 Keyboard Book Cover
We liked the Tab S4 more than we expected when we reviewed it, but there was one part of the package that just didn't feel like it worked as well as Samsung expected, and that was the "book" keyboard cover, a one-piece keyboard case that encased the Galaxy Tab S4 with a protective cover and a keyboard. Like the iPad Pro, the keyboard was a departure from the typical Bluetooth keyboards, using a magnetic connector along the edge, something calls the "Pogo" connector.
But as nice an idea as it was, the keyboard was the week point, with middling traction married to a slightly awkward keyboard design that would throw some hands out of the keyboard hold they were used to.
This year, Samsung has changed its keyboard almost completely, and the Book Cover is now completely different. Has it improved?
Kinda. Sorta. Not really. Ish.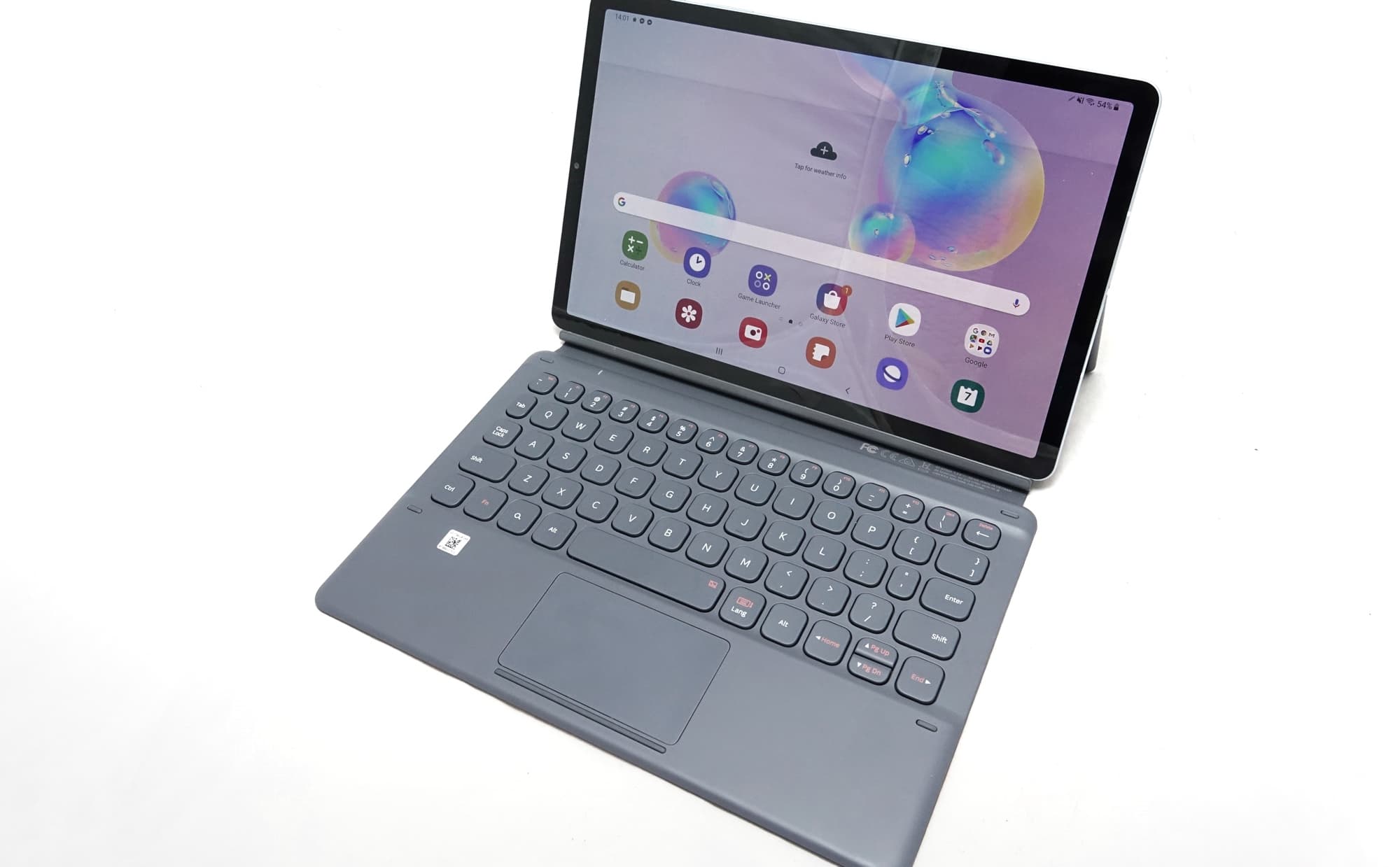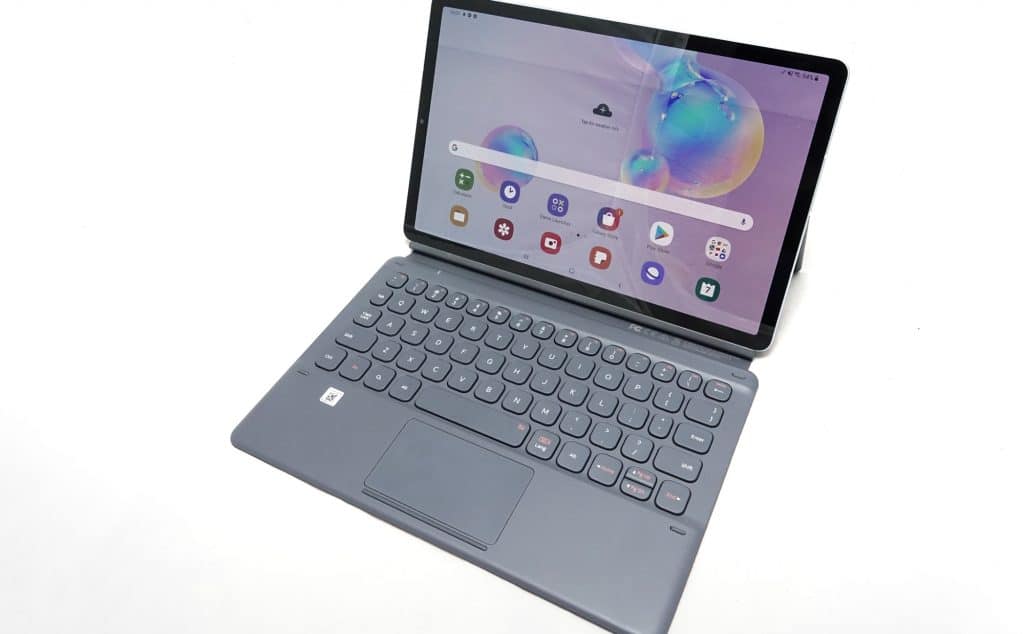 Let's start with the design, which is now a two-part approach, providing a back cover with a stand on a hinge, making it possible to shift the position of the Galaxy Tab S6 so that it angles how you want it. That's fairly easy.
The back element sticks to the back, but needs to be placed yourself. The back element holds the S-Pen in its new crevice, which is handy, but the design isn't based on magnets alone like you might expect, with micro-adhesive used, too. That means you may find the alignment doesn't quite fit immediately.
We found we needed to apply it three times before it fit perfectly, perhaps proving that this approach isn't quite perfect.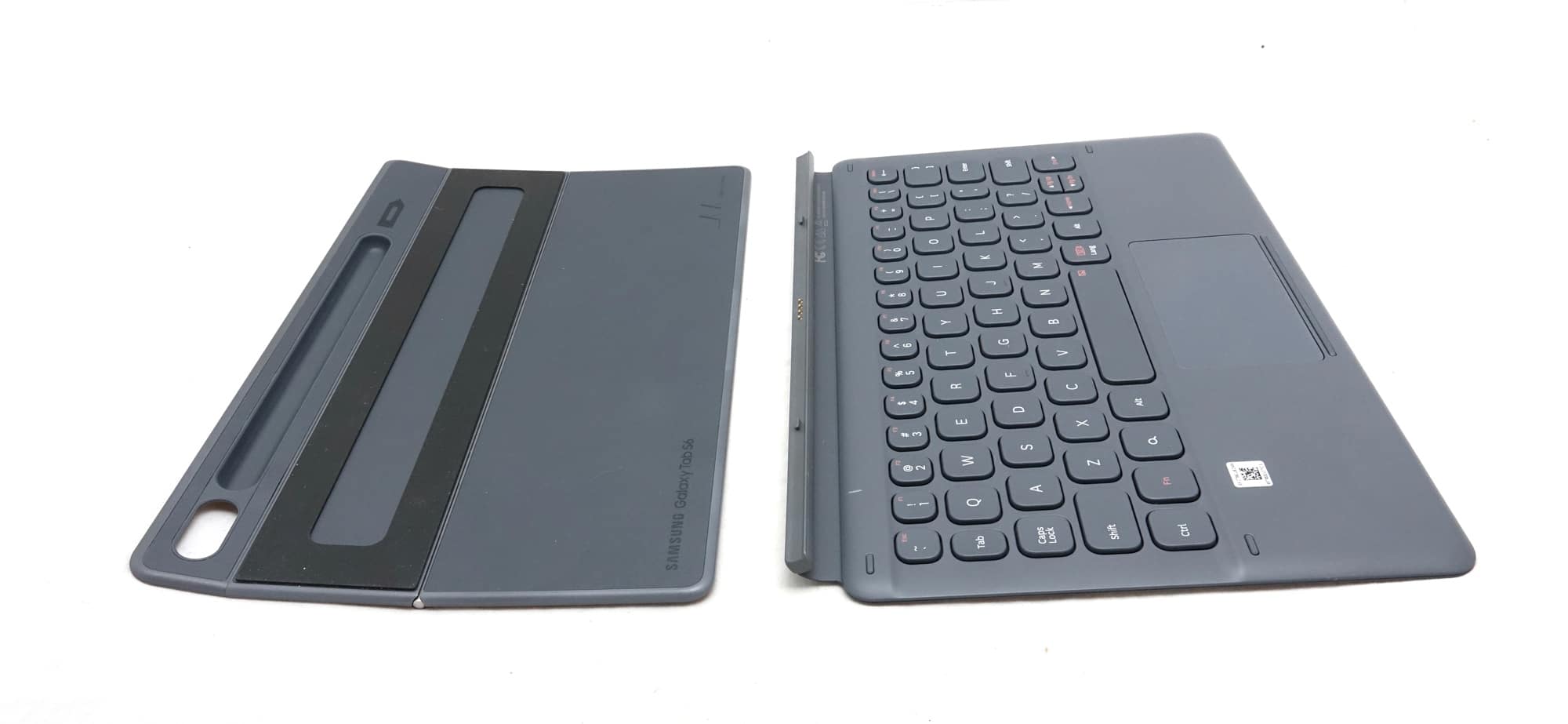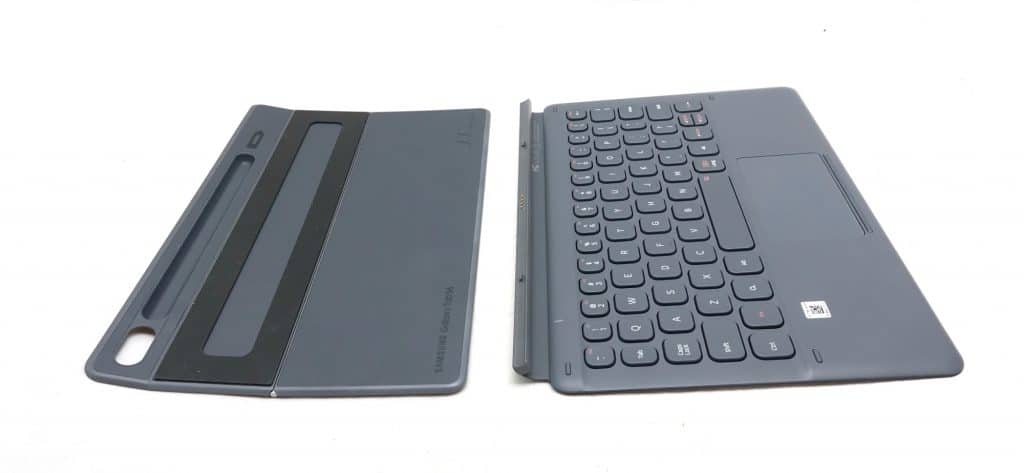 Once the back is in place, you can connect the keyboard, which does use magnets, yet lays flat, making is like an old Surface keyboard before Microsoft made the keyboard support either an elevated position using magnets or just flat. Samsung has opted for just flat, which works, but it woul have been nice to see both.
On the plus side, the keys have more traction for typing, but the layout is still a little iffy, with a slightly smaller layout that isn't necessarily going to be easy to get used to.
You also get a trackpad, which you might find useful, but that we found moving the cursor as we typed in notes.
Throwing a trackpad mouse back into the equation says a lot about Samsung's aspirations for the Galaxy Tab S6, and that in trying to make a tablet for the post-PC world, it has needed to make a PC.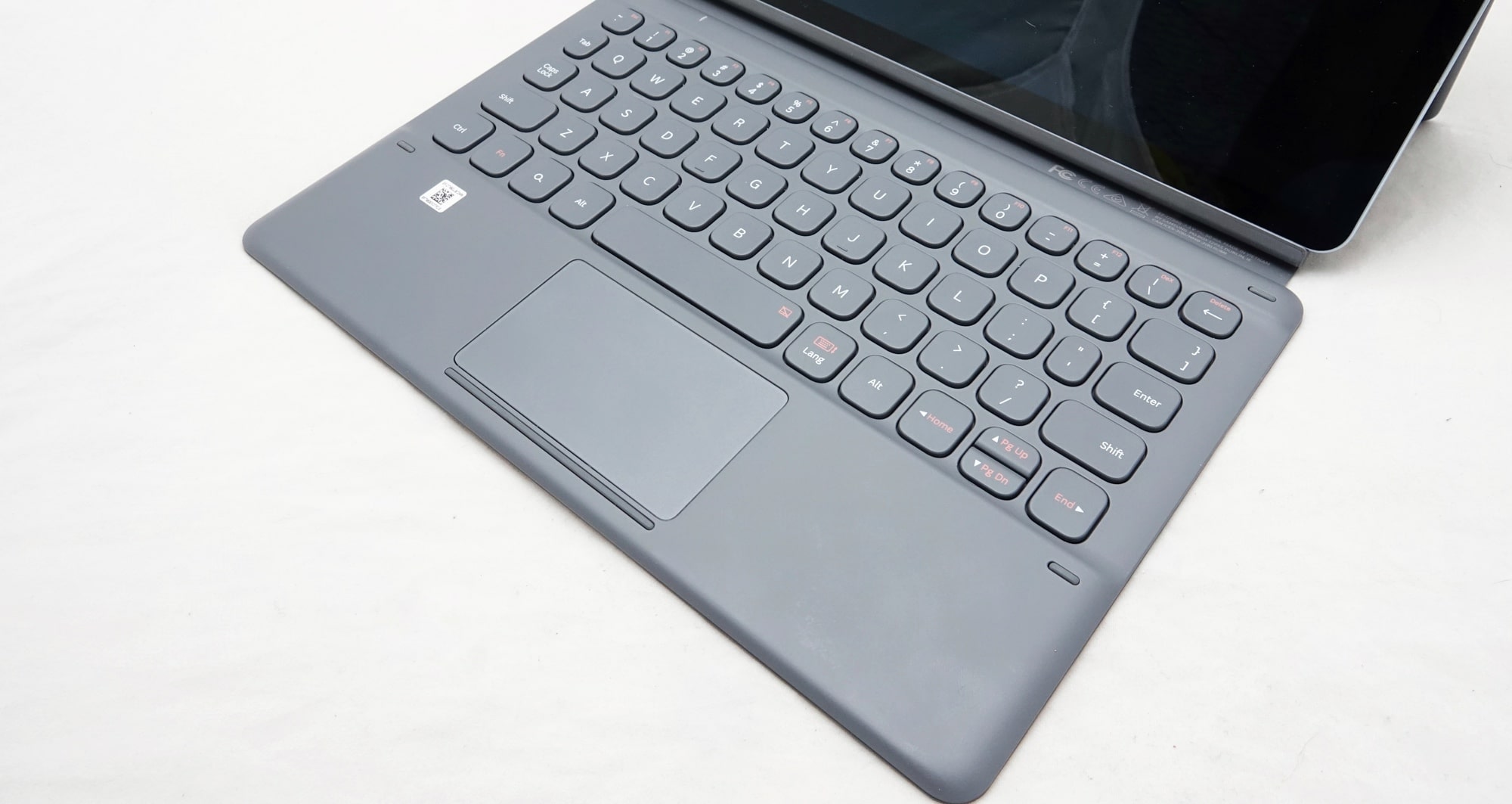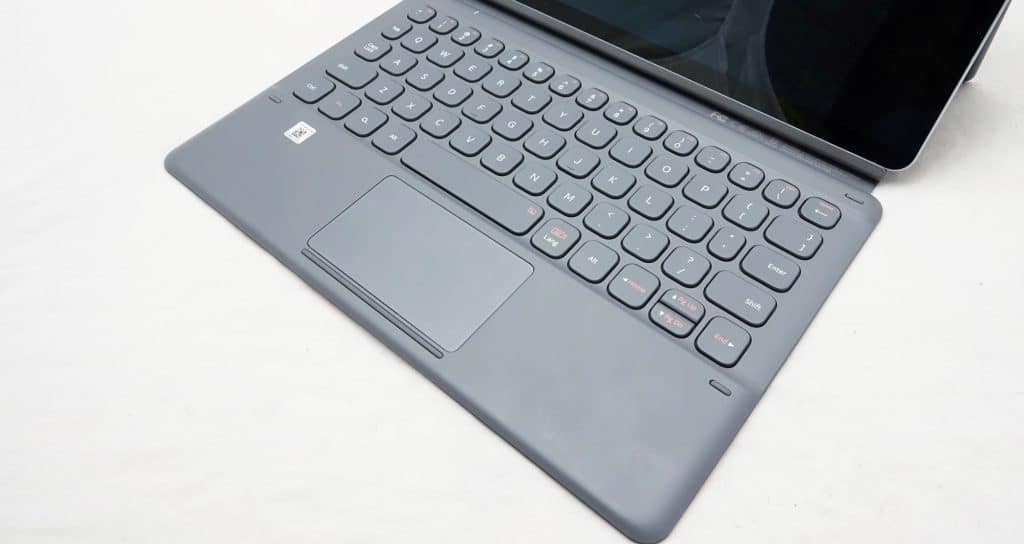 To Samsung's credit, the DeX mode does make the Tab S6 more like a laptop than any other Android tablet prior, so we get the point, we're just not sure if the trackpad adds anything to the experience. It's handy in some apps, but if you lean on it like you might for typing, it kind of just gets in the way.
At least the keyboard feels a little better, though truth be told, we're not as big a fan of it as Apple Smart Keyboard for the iPad Pro, which not only features a better keyboard design that you don't really have to adapt to, but is an all-in-one design that slips on with magnets quickly.
Performance
Whether you choose the Tab S6 keyboard or not, you'll find a tablet that handles pretty much anything you throw at it.
Armed with the same chip used in the American versions of the Galaxy S10+ and Galaxy Note10+, you'll find a Snapdragon 855 under the hood, a little different from the Exynos varieties we find locally.
Despite that difference, the Samsung Galaxy Tab S6 is all power, all capability, offering the guts to get work and play handled on the go.
You'll find a delightfully big 10.54 inch AMOLED screen that offers very minimal bezels, decent amount of memory, and that high-end Snapdragon chip, all of which work together to make apps and games shine, whether you're in the DeX desktop experience mode or just standard Android.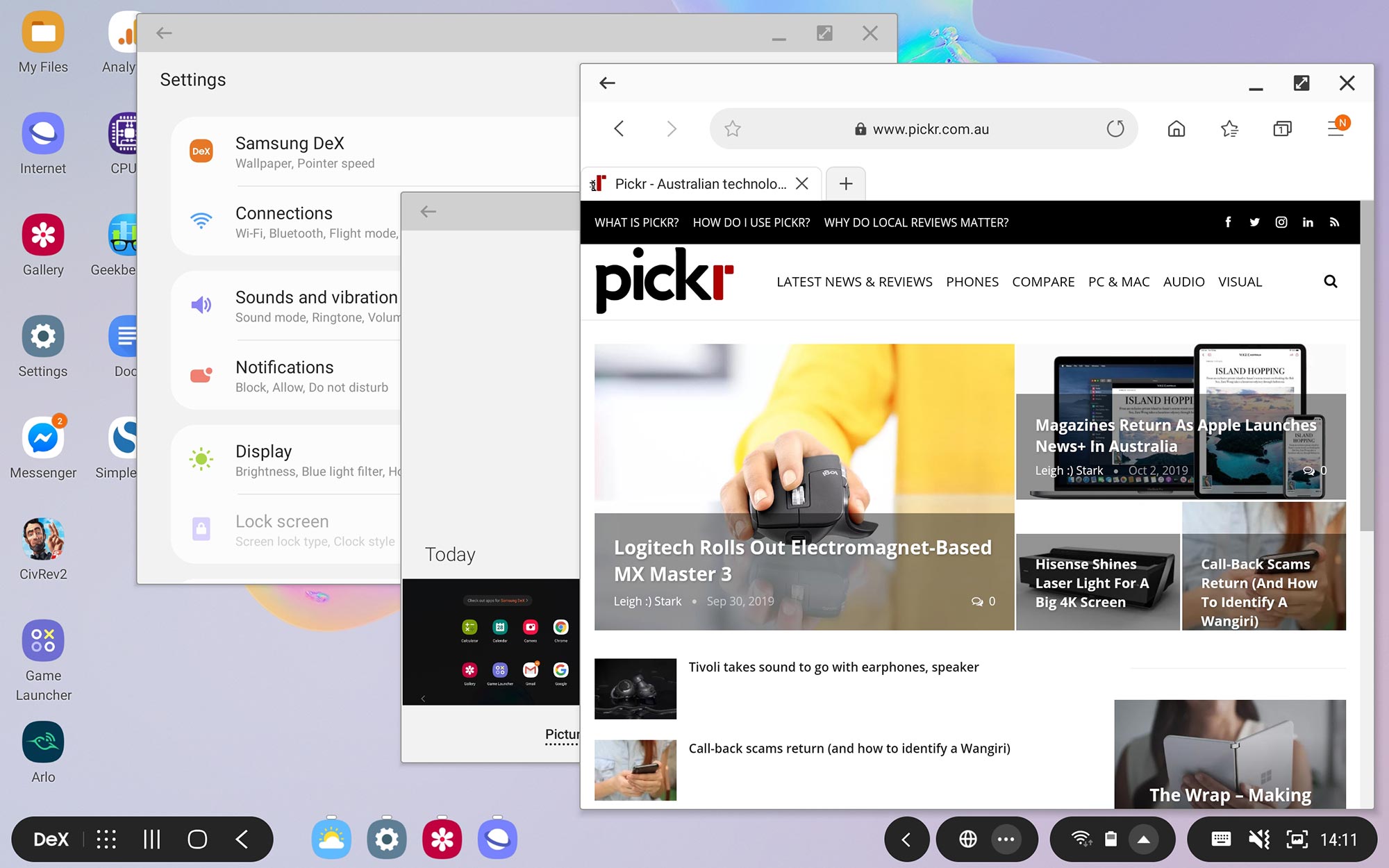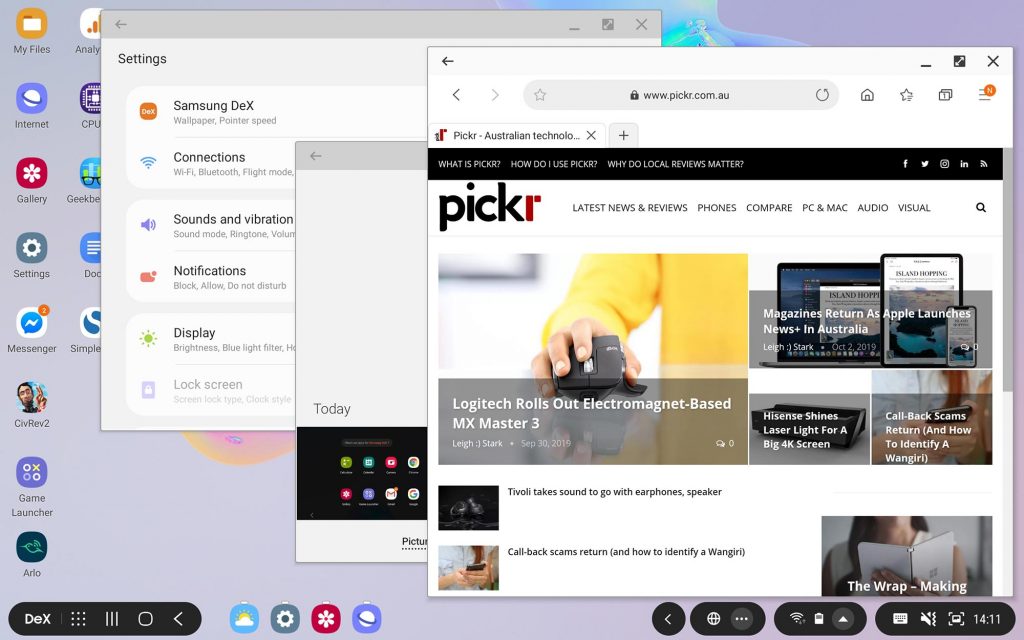 Working in the former, Samsung's use of that big Snapdragon chip means you'll be able to layer apps and windows on each other much like you would a proper laptop or desktop. It's very cool to do, and while we wish the keyboard accessory was a little better, the result means you potentially have a device that feels like a laptop and yet offers the app ecosystem of Android.
If you love your Android phone now but wish it were a laptop, Samsung's Galaxy Tab S6 offers just that.
Battery
Like a good laptop, the battery handles the day quite well, with the 7040mAh battery delivering a good day of 10 to 15 hours of life, though depending on how often you use the Galaxy Tab S6, you might not need to charge it nightly.
We typically went through two days of use before needing to plug the Tab S6 into that USB Type C port, with the tablet also supporting fast charge, as well.
There's no wireless charging on the Galaxy Tab S6, probably a good thing given you'd be hard pressed finding a charging pad big enough to support the Tab S6's 10.5 inch body, but the metal design also means wireless charging isn't possible here.
Value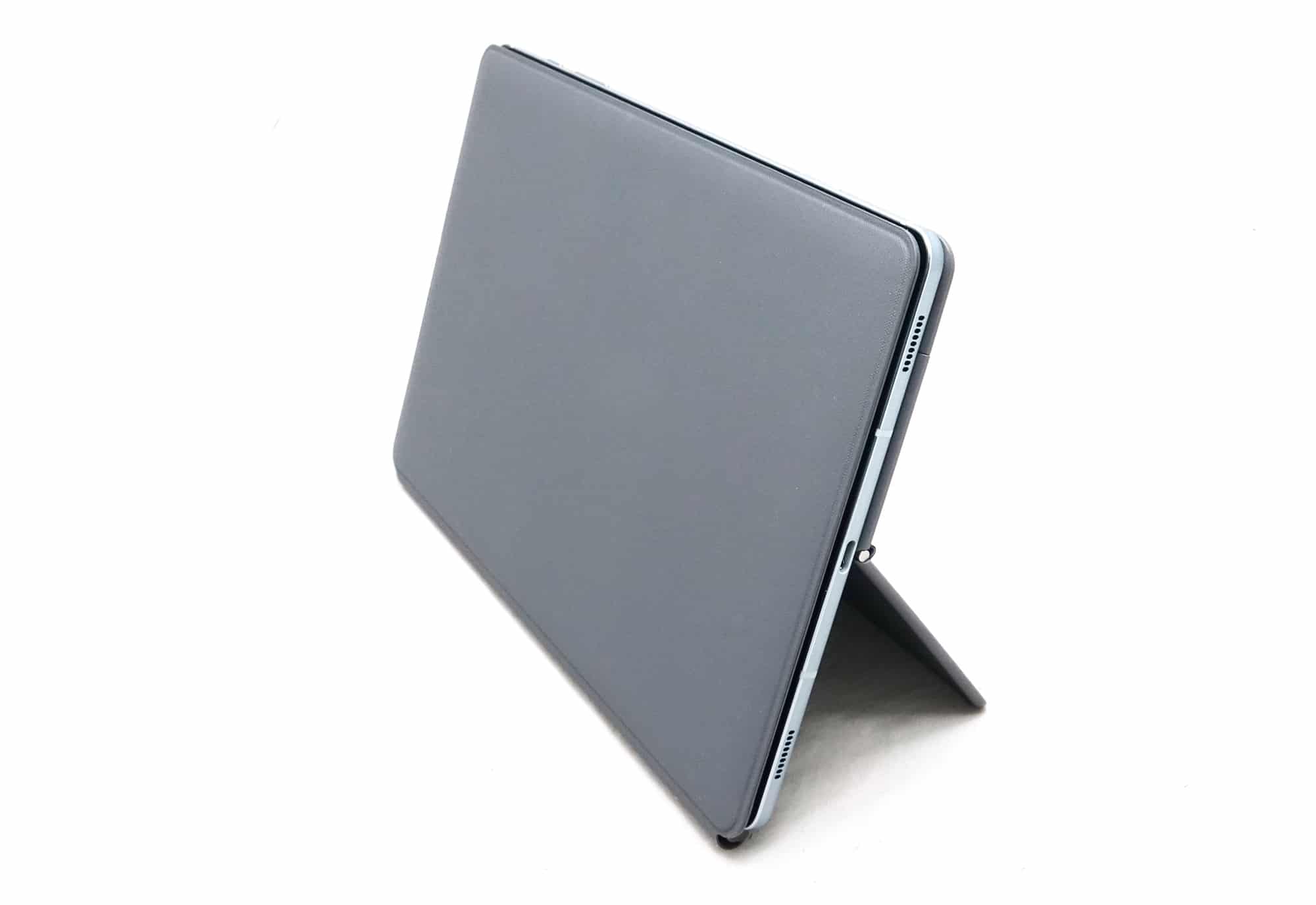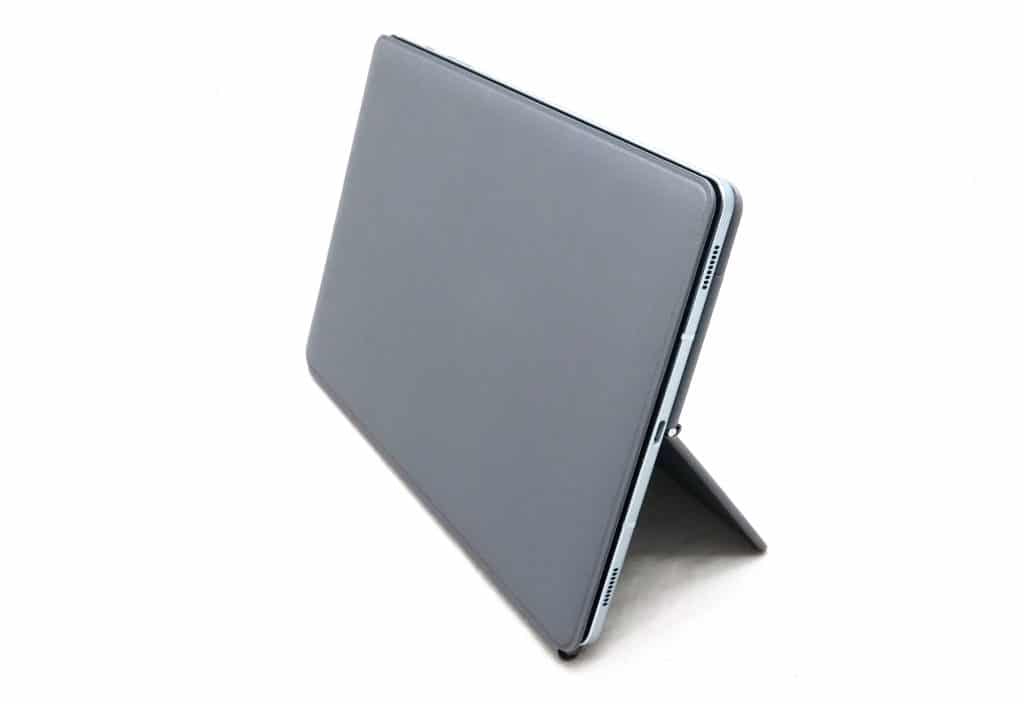 And there's also the matter of pricing, because the Galaxy Tab S6 isn't what you'd call a cheap tablet.
Samsung makes one of those, a few even. There's the Galaxy A series tablets, because the "A" series in phones refers to budget tablets as well, and there's also the mid-range Galaxy Tab S5e, which like its phone sibling in the Galaxy S10e is basically a shift in approach.
Finally, there's the Galaxy Tab S6, which is basically the Galaxy S10 transformed into a tablet, offering a big screen, thin design, and an in-screen fingerprint reader.
But it's a tablet that also incurs a $1099 minimum price, and that's for the 128GB WiFi model.
To Samsung's credit, $1099 for the 128GB Galaxy Tab S6 is still less expensive than $1229 for a 64GB iPad Pro, making it a somewhat affordable Android iPad Pro, at least in a way. In fact in many ways, that's what it is, with a pro tablet made for more on Android.
The cost definitely has value, but the problem is the upgrades don't really sell themselves.
For the most part, the Galaxy Tab S6 comes across as a thinner and lighter version of the Galaxy Tab S4, which means it's less of an upgrade for us and more of an update. There's nothing wrong with that, but while the Tab S4 introduced DeX and brought some cool features, the Tab S6 just continues on with that, slimming the design a bit.
It's hardly the design shift the 2018 iPad Pro was, though it does deliver a thickness few tablets achieve, making it one of the main improvements overall.


What needs work?
But while there are changes to the Tab design, the package still doesn't feel complete.
Take the keyboard and mouse, which are still optional, despite the major point of difference being support for those accessories. Adding the physical keyboard folio cover will incur a cost of $199, which brings the Galaxy Tab S6 up to $199, making it not exactly cheap.
Even if you grab it, the keyboard is still not the greatest, and is easily beaten by the Apple Smart Keyboard Cover in numerous ways. For one, Apple's is thinner, and it even manages to feel better when in use.
Samsung's keyboard has improved, but the layout still feels amiss, and while we enjoy typing on the Apple Smart Keyboard, we didn't with Samsung's Keyboard Book Cover.
The key travel is definitely there and the design seems to be better, but it's not much of an improvement to really take note of, that's for sure. It even adds extra bulk to the Tab S6, while the Apple option it competes with still manages to keep the iPad Pro fairly slender.
If you don't need the keyboard, there are less issues with the Tab S6, and thanks to that magnetic S-Pen, the tablet feels more complete. It's still not perfect, but the overall effort isn't bad at all if you're an Android user looking for a more impressive tablet than just a content consumption player.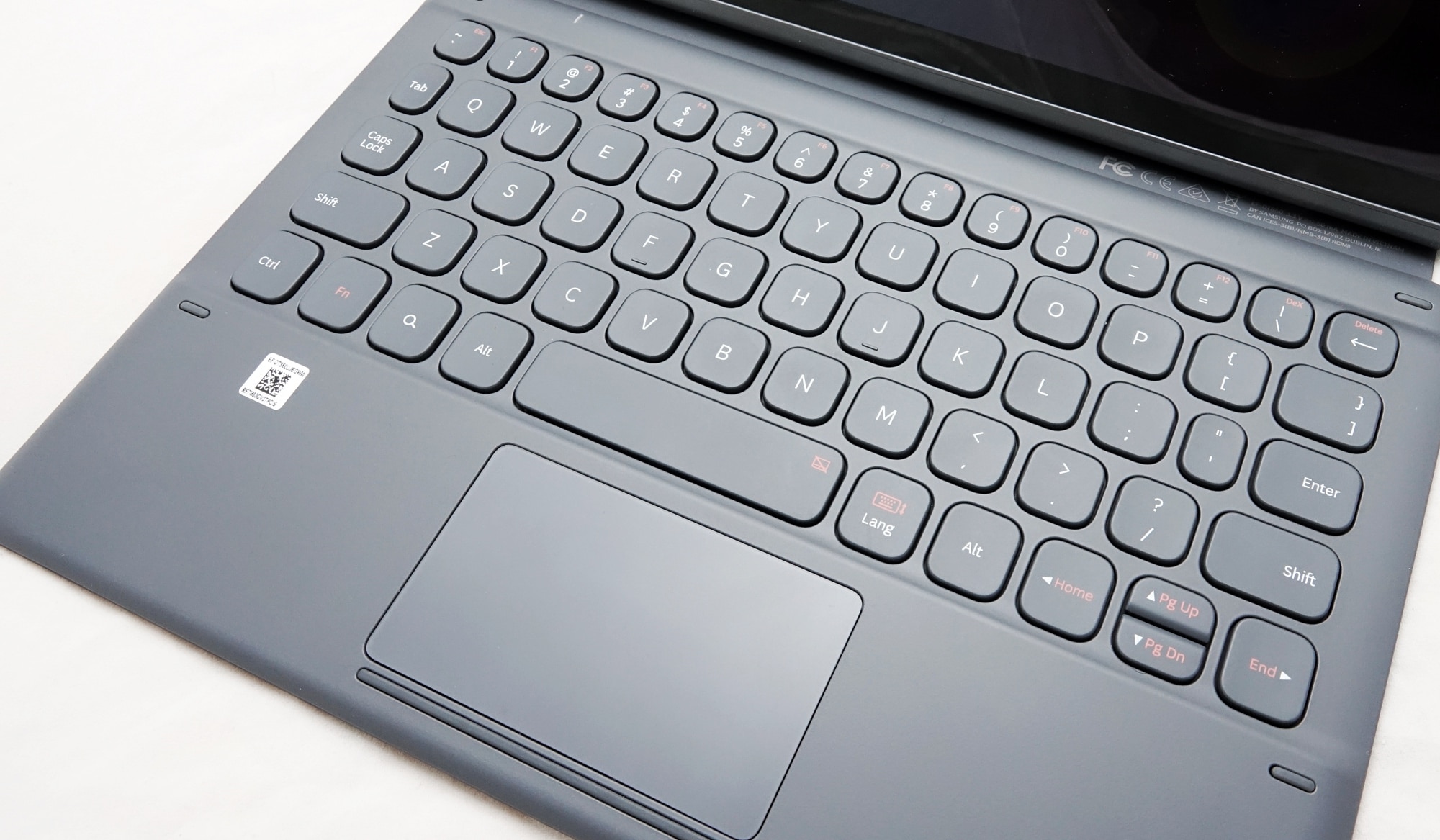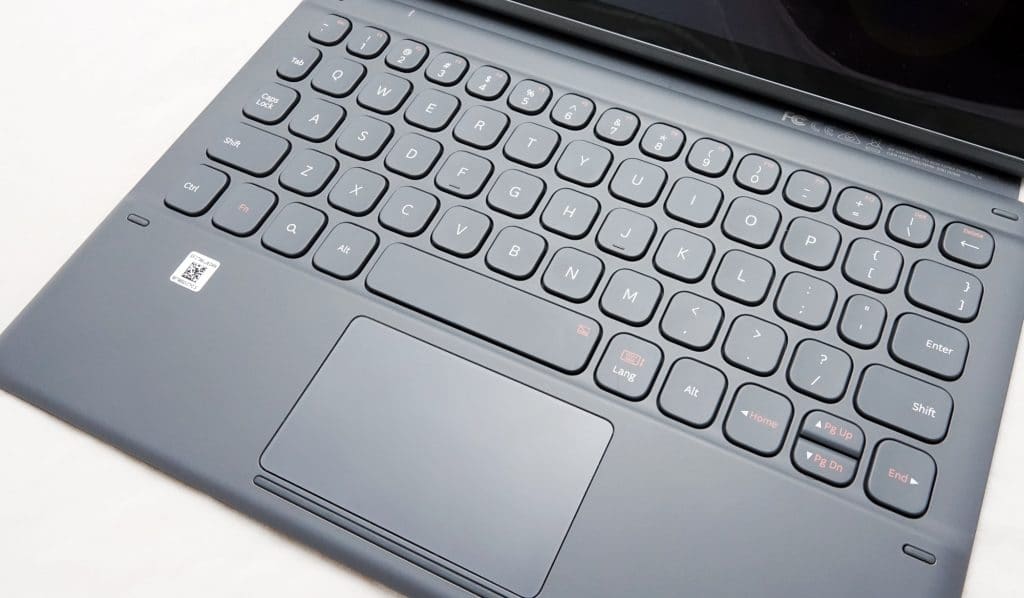 Final thoughts (TLDR)
Not everyone wants an iPad. Even though it offers some pretty clear price point choice in the tablet world, it's not going to be preferred by all. In fact, some will just prefer Android in their life.
If you have an Android phone and you want Android in a bigger experience, Android in a tablet makes sense. Unfortunately, there aren't many of those around anymore.
But Samsung still makes them, and like Apple, it provides a reasonable amount of choice for tablet range. There's the smaller Galaxy A models, the mid-range Galaxy Tab S5e, and then there's this one, the Galaxy Tab S6, which is about as close as Samsung has managed to hit the iPad Pro and a laptop. It's not quite that, mind you, but there's definitely an angle and approach that becomes pretty obvious as you use it.
That makes it one of the best Android tablets around, though one that doesn't come off feeling as strong as Apple's more expensive competitor, the iPad Pro. On the upside, it does come with a stylus, so you won't have to spend extra there, and the screen is genuinely lovely alongside the four AKG speakers for solid sound. The Tab S6 really is a beautiful way to take content with you.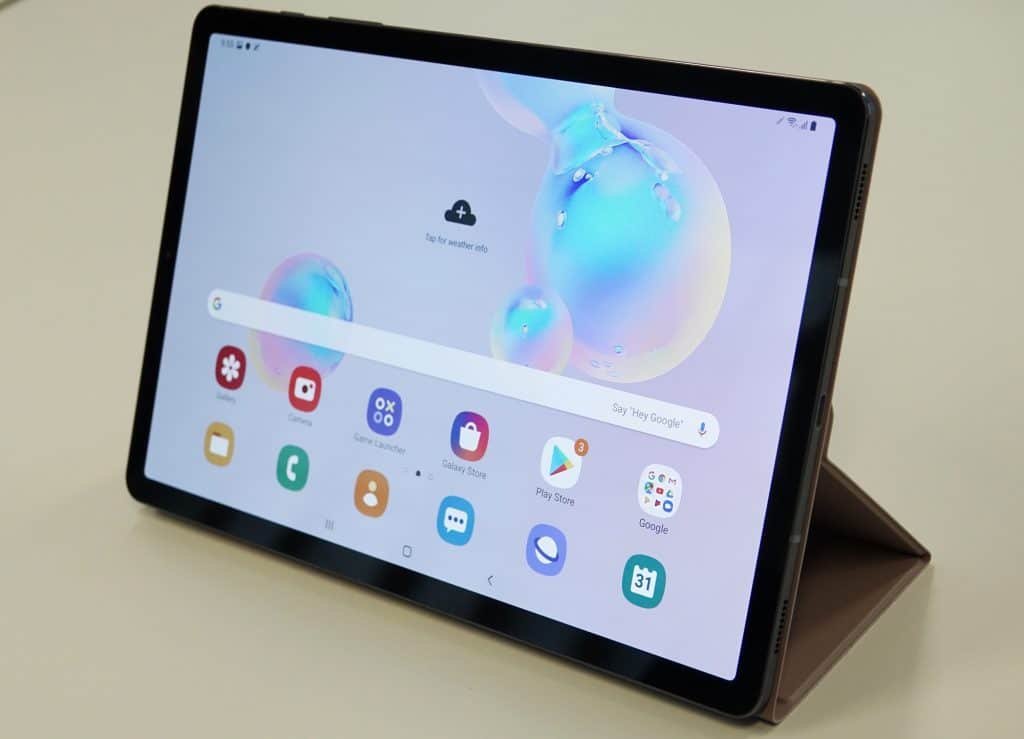 And that's really what the Tab S6 is: it's an excellent portable media device that can do a little work, too. It's not the be-all end-all for portable tablet computing, but it can help you get some work done after you've finished Netflixing on the road.
We wouldn't call it much of an upgrade on the Tab S4, mind you, so if you have one, there's little reason to update, beyond maybe it being a little lighter.
However if you're after an Android tablet worth owning, it's worth a look. If you're looking to get more work done, though, we'd probably check out something with a better keyboard, as the one option Samsung makes doesn't quite cut it.
The good
Beautiful screen
Slim and slender
Great performance
Solid battery life
S-Pen included
Tablet stores and charges the S-Pen with magnets on the back
The not-so-good
Keyboard accessory has improved, but not by much
Keyboard accessory is still optional and adds $199 to the cost
Not much of an update on the Tab S4, except in weight
Expensive