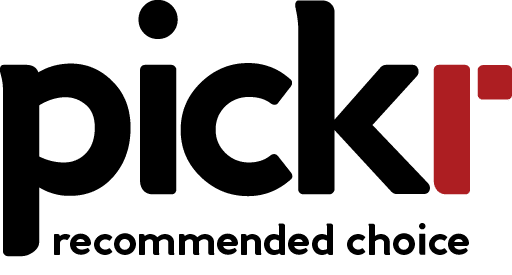 Entertainment on the go doesn't get much bigger and also lighter than the Samsung Galaxy Tab S5e, offering a big 10.5 inch screen shedding the size to spare.
Everything is getting thinner and lighter, and that isn't just your phone, but also tablets. The tablet computing world is all about getting a big screen and decent performance into a smaller design, and in the past few years, tablets have been shaving off the size.
In fact, if you're looking to keep a tablet useful, going thinner and lighter might just be the ideal way to bring big experiences with you, as made evident by Samsung's recent entry, the Tab S5e. While not technically the company's flagship, it offers a big screen without a big weight, and it might just be the best way to take big-screened entertainment to go.
What is it?
Samsung is no stranger to the tablet world, and this release takes the Android tablet with a big screen, slim bezels, and puts it on a diet. A slight diet.
The result in a tablet somewhere in the mid-range, borrowing a look similar to the slim bezels of the Tab S4 and S6 — the professional Galaxy Tab range — and making the price and performance a little closer to affordable and friendly.
We say "a little", because starting at $649, the Samsung Galaxy Tab S5e isn't what you'd necessarily call a "cheap" tablet, but just one pitched closer to the entry level for premium. Specifically, it seems aimed directly at Apple's iPad Air, though given the recent release of the iPad 10.2, could be confused there, too.
Samsung's approach, however, isn't to imitate, but to slim down its own offerings, which is what the Tab S5e really is.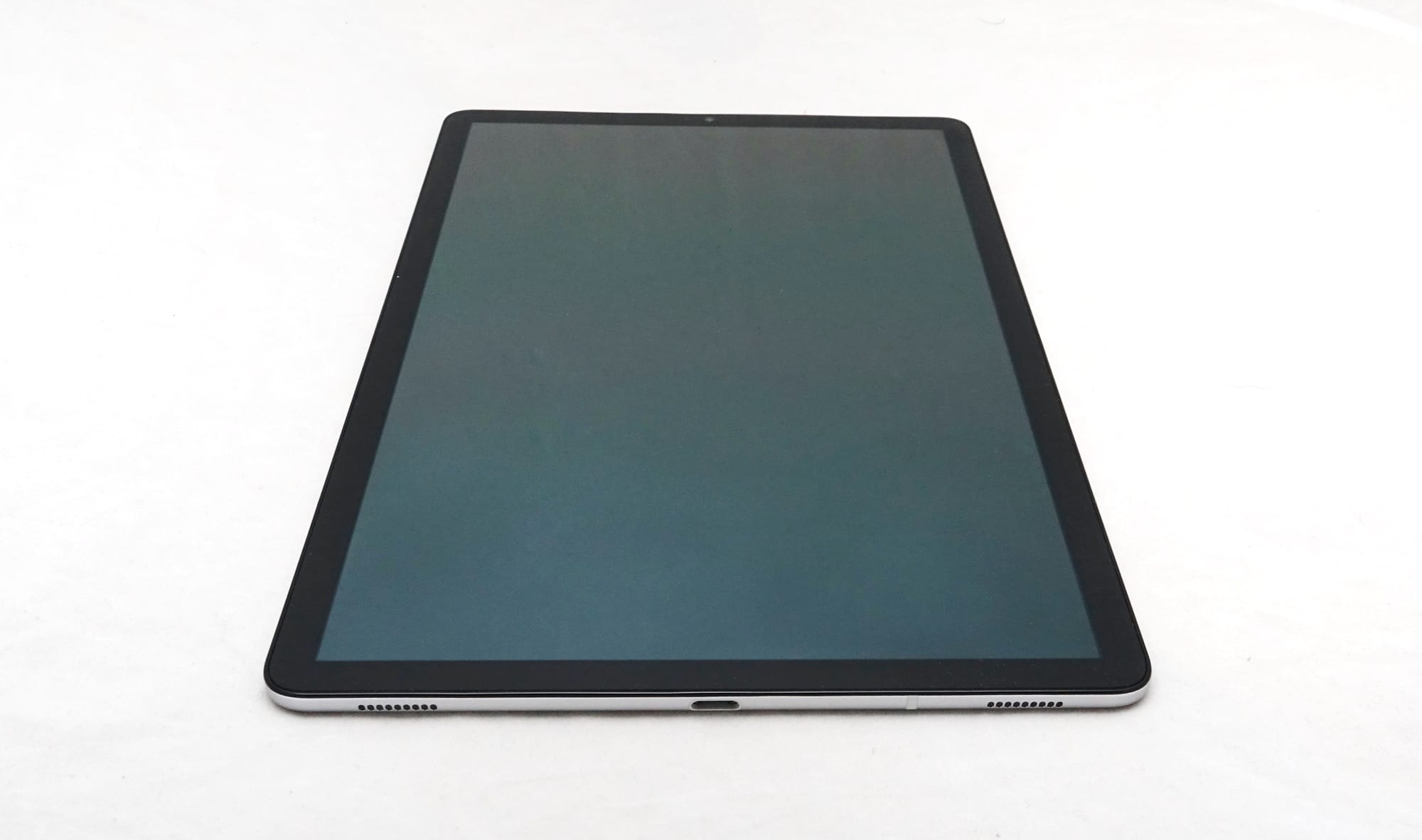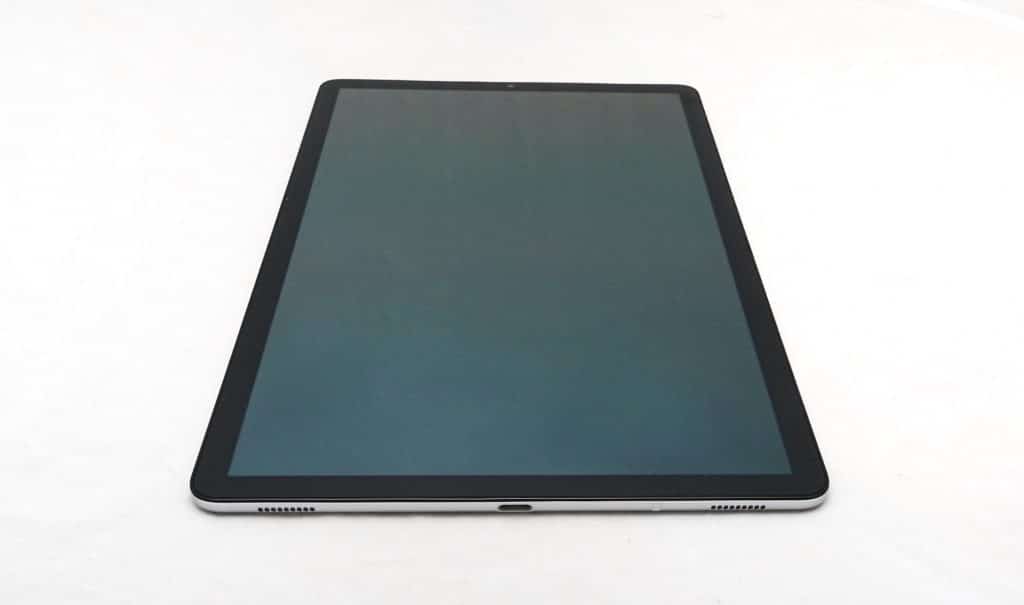 Even though there's no other Tab S5 variant — thereby confusing things with the whole "e" moniker — the Tab S5 is a wonderfully thin 5.5mm device with slim bezels surrounding a 10.5 inch screen.
That screen is one of Samsung's lovely Super AMOLED screens, and the whole thing weighs 400 grams, which is quite reasonable for the design.
There's an eight-core Qualcomm Snapdragon 670 under the hood, a departure from the typical Samsung Exynos you might expect to find on a Samsung tablet, though it's paired with a decent amount of memory at either 4 or 6GB, and either 64 or 128GB storage.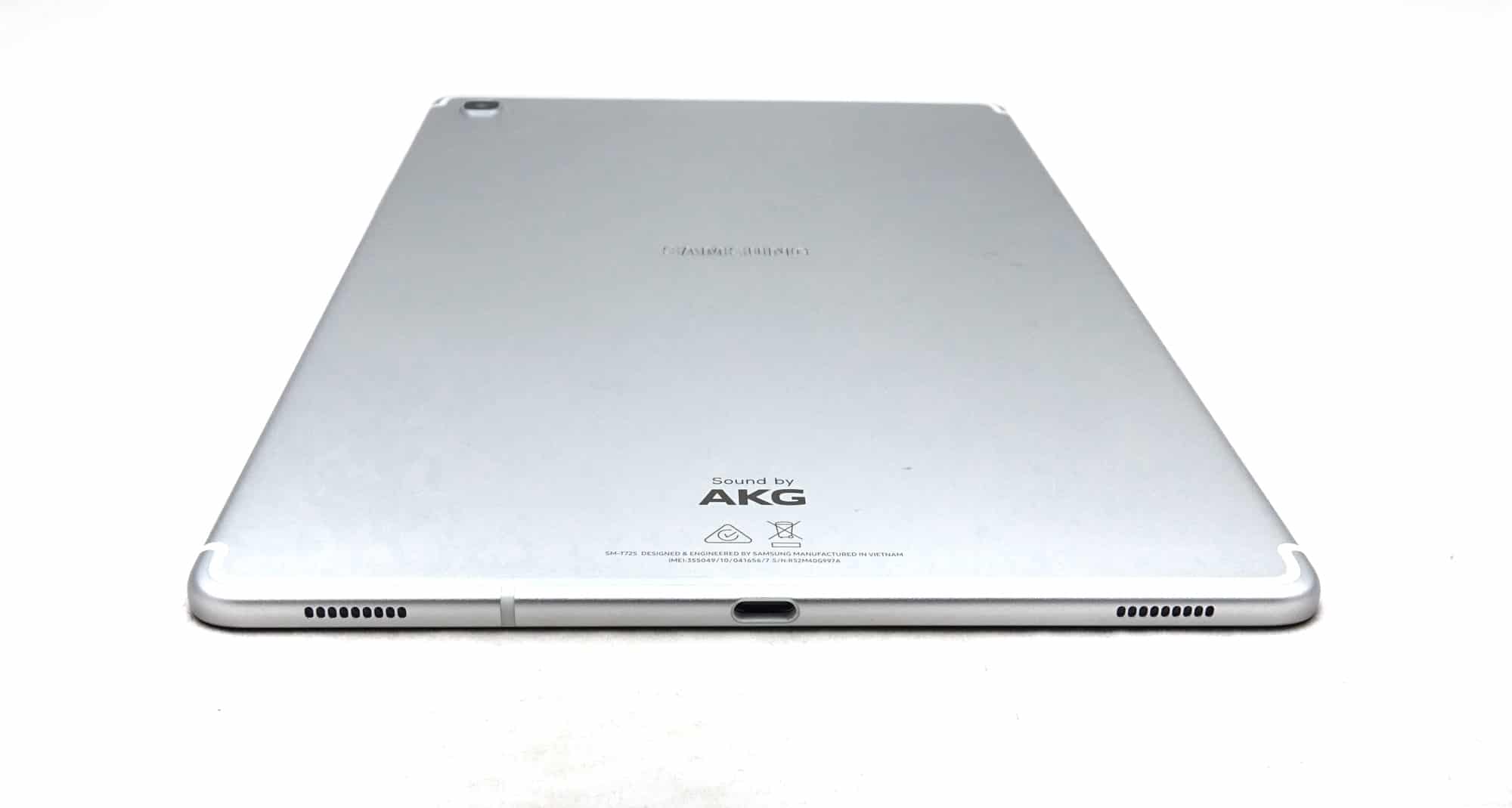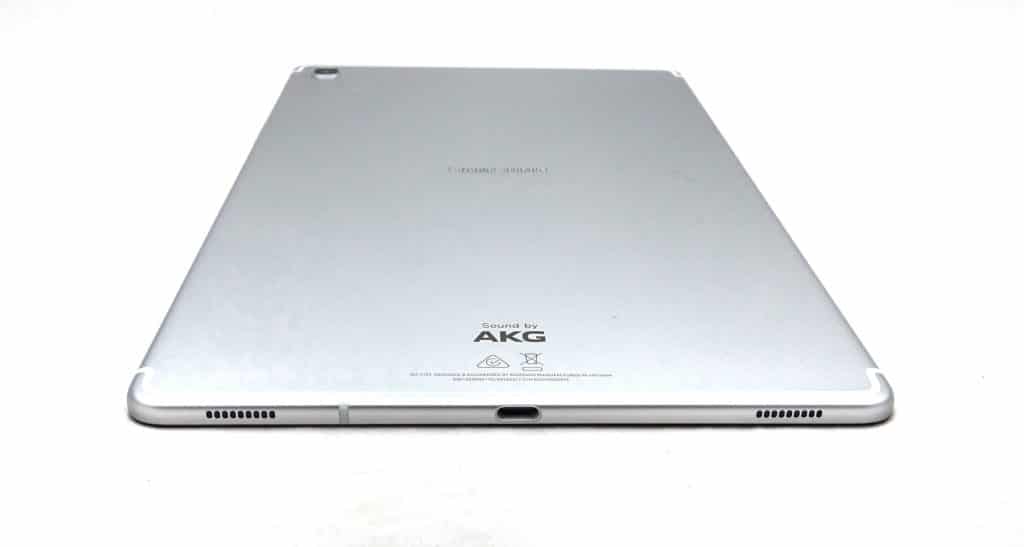 What does it do?
Like other tablets, what you can do is anything you can do on your phone, because it comes with Android 9.0, and that means games and entertainment.
You can also use some productivity apps, as well, and if you prefer a more desktop-focused Android experience, Samsung has also included DeX, its "desktop experience", making Android look a little more like Windows or Linux, or defiant a close cousin.
We didn't spend much time in here, but if you opt for the optional keyboard cover, it will certainly make more sense.
Instead, we spent time playing games, watching entertainment, and surfing the web, essentially conducting our Samsung Galaxy Tab S5e review by using the 10.5 inch tab as just a tablet. No work, no writing, just fun and the Internet. All work and no play makes reviewers something something.
But in this instance, that was perfectly suited to what the Tab S5e was designed for, because it's a thin and light tablet made for taking your entertainment and your world on the go.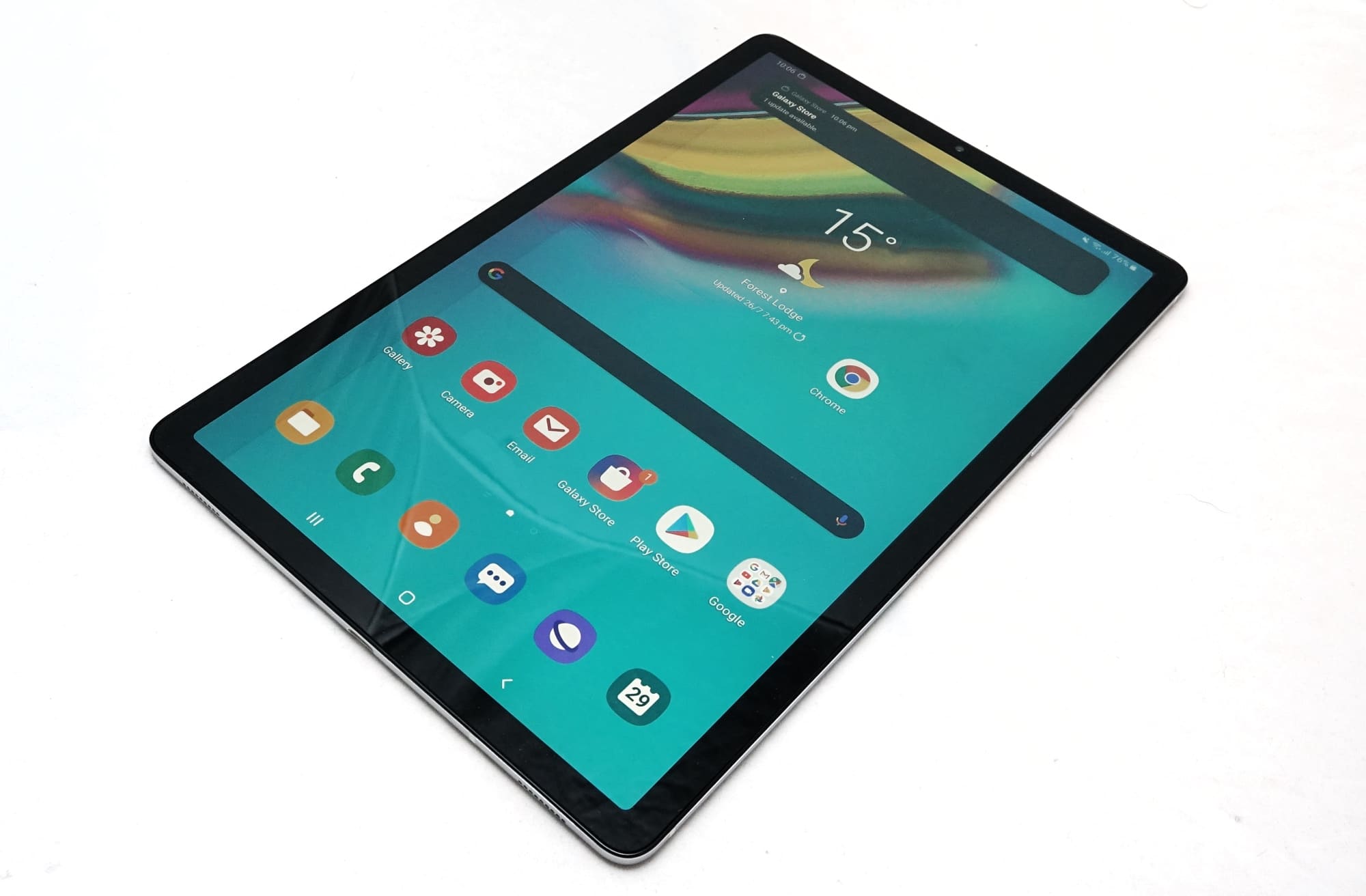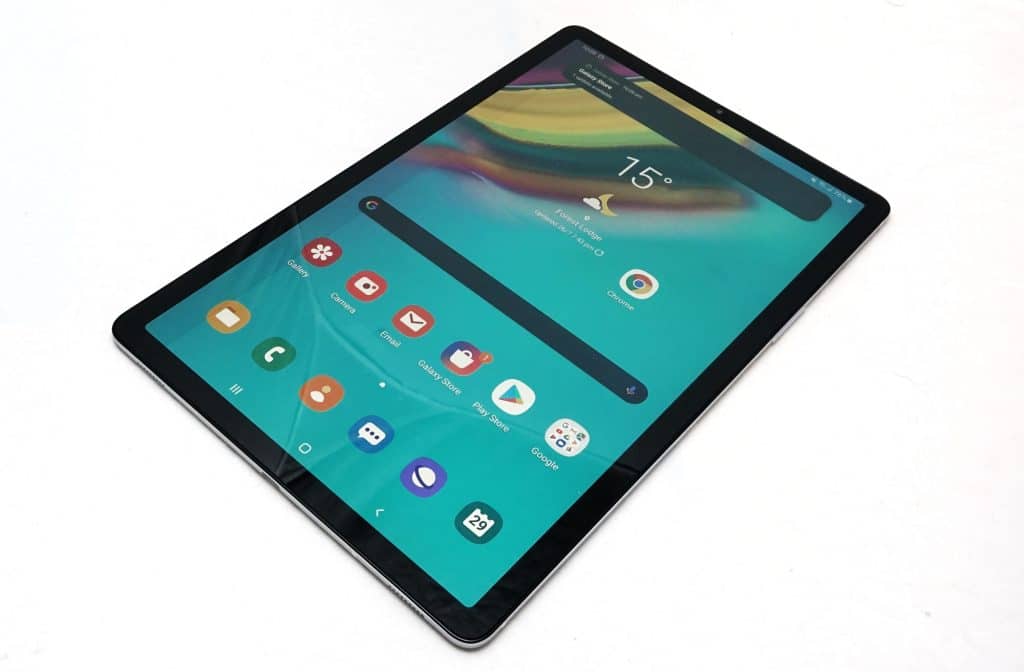 Does it do the job?
We don't normally see tablets this thin, and even the iPad can't hold a candle to the thickness Samsung has achieved. It really is a superbly slim style Samsung shows off here, and a delightful demonstration of the dieted device.
Depending on what you want the Samsung Galaxy Tab S5e for, it can and will do the job.
If you're after an entertainment device, that's offered in spades, and anything an Android phone can do can be presented on big and vivid AMOLED display. Netflix, Stan, YouTube, it's all here, only available on a bigger screen.
The same is true with Android games, which work quite well thanks to the eight core mid-range Snapdragon chip found under the hood.
There's also an optional cost in the keyboard cover if you want to get some work done, though the on-screen keyboard works too, of course. It's a little wide on a 10 inch screen, but it does the job if you need it.
For the most part, though, entertainment seems like the main go, supported by vivid colours on the screen, four speakers tuned by AKG, and support for Dolby Atmos 3D sound, albeit by a virtualised environment. We don't usually listen to movies or music with the speakers on — entertainment is generally a personal experience — but we can see how all of this can help make the Tab S5e better for entertainment overall.
Security is also catered for quite nicely, with a fingerprint sensor found underneath the power button on the side, and facial security, too. It means you can keep the tablet locked down to one person easily.
The battery life also warrants a serious nod, achieving up to 15 hours of life, but also pulling together some serious standby time. Depending on how much you use the Galaxy Tab S5e per day, you may find the tablet keeps going over into the next day or two, with its standby time just lasting. Throughout our Samsung Galaxy Tab S5e review, we found we could leave the tablet alone for hours without song seriously diminished battery life.
Given the size and thickness (or lack thereof), it's a level of battery capacity and optimisation that really manages to impress.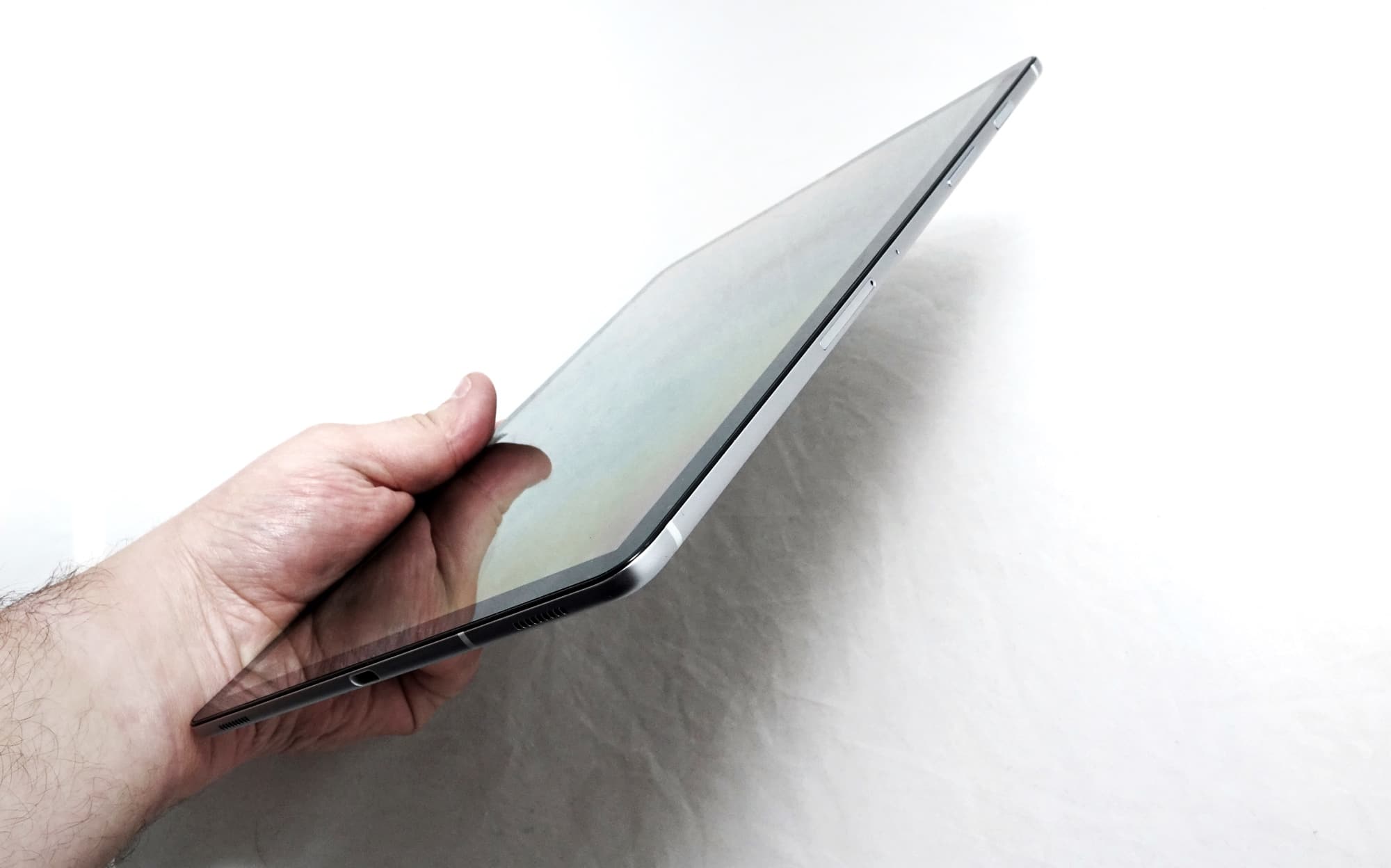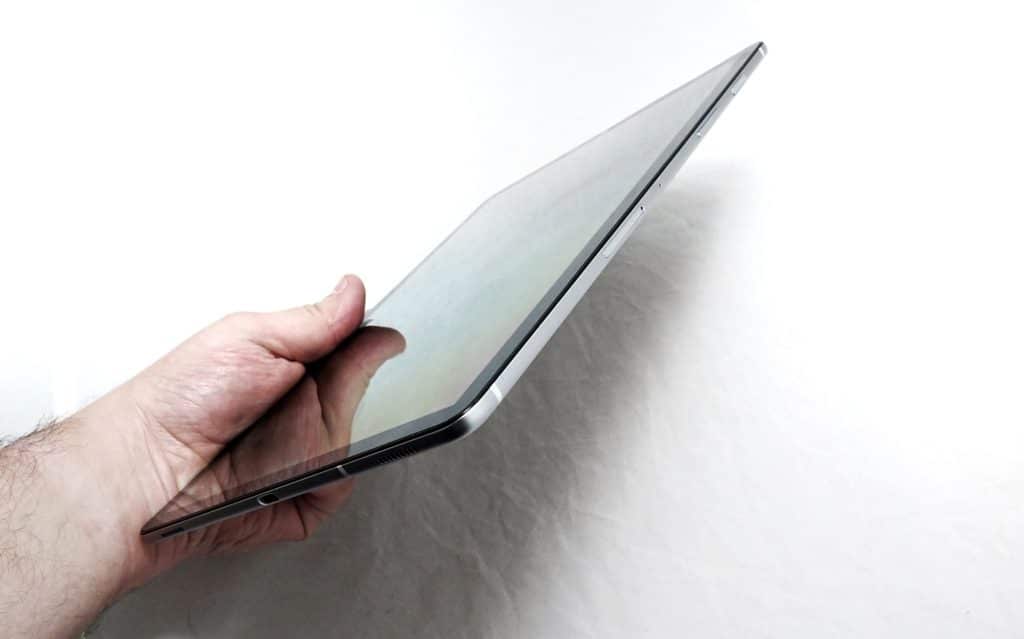 What does it need?
There's little doubting that the Galaxy Tab S5e is a beautifully thin Android tablet for folks looking for exactly that in a world where most content consumption tablets are made by Apple, but it could do with some things.
One of those is a headphone jack, because that's missing in action.
We're guessing the reason the headphone jack is gone is because of that beautifully thin design, but it means you'll want either a pair of wireless headphones or to convert your wired ones using a USB Type C converter, which is fortunately included in the box. Still, we're a little surprised to see the 3.5mm jack missing in action, as this isn't the professional tablet of the range, and its similar sibling in phones, the Galaxy S10e, still supports the headphone jack.
We'd also love to see some water resistance, something Samsung only includes in its phones and goes missing in action on tablets.
To say the Tab S5e is made for entertainment isn't wrong, but it's made for entertainment on dry land with no hope of taking it by the water, as it is not waterproof at all, or not rated for it. Even though the Samsung Galaxy Tab S5e has a lovely screen and comes with a 4G option, entertainment where ever you are needs to never be by the water, which given the design and build really is a shame.
The Pogo pin connector at the bottom is also a bit of a sour point, not because it's included, but because it's not compatible with any other pin keyboard design Samsung has made, including the one for the similarly thin Tab S6 (we tried).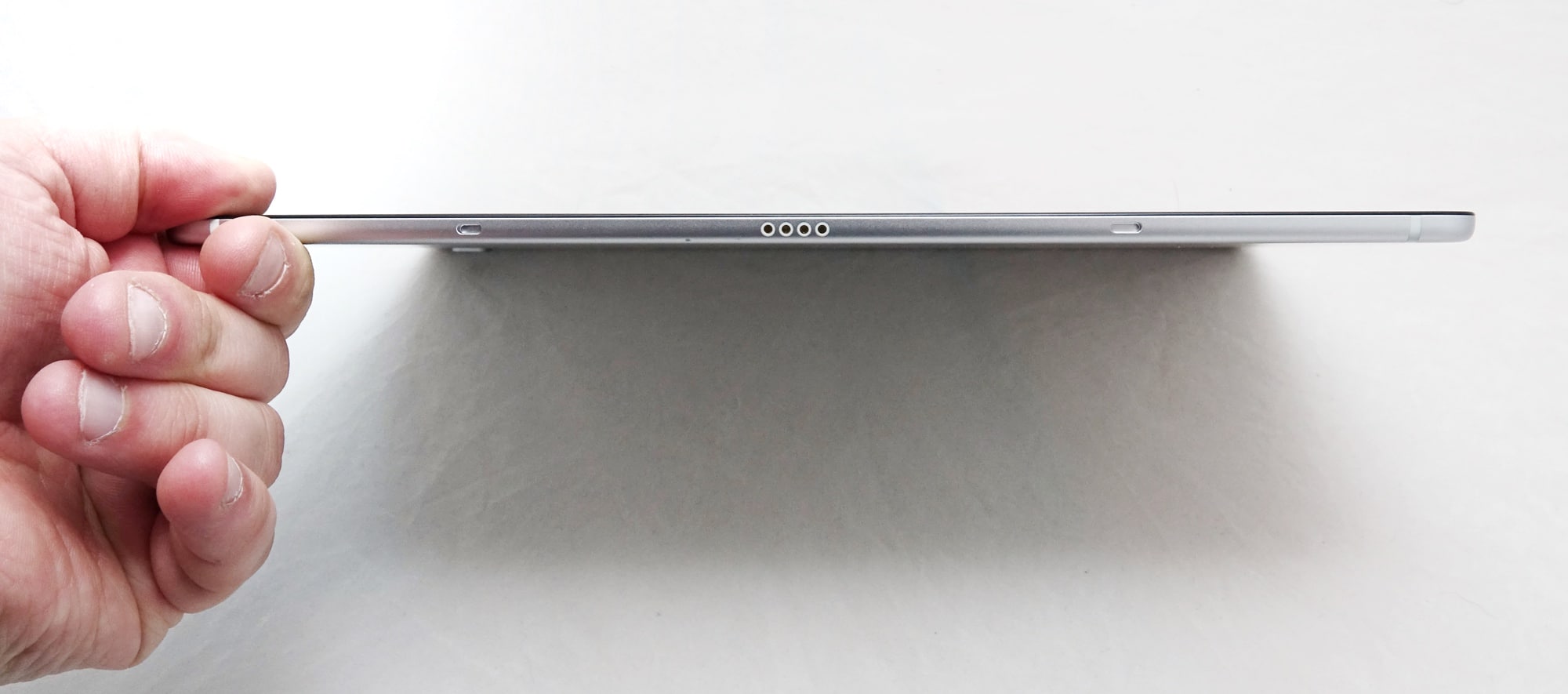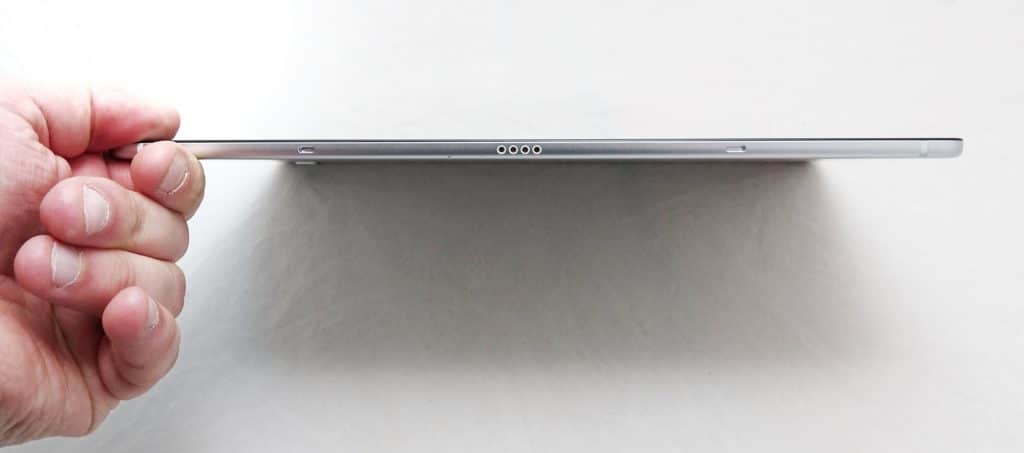 Is it worth your money?
Our other quibble is the price, because while the Tab S5e comes across like a mid-range tablet, its obvious competitor is in Apple's iPad, either the 9.7 inch model that just got replaced, or the 10.2 inch that it was replaced with. Probably more the 10.2 inch, because they both sport similar sizes, the Tab S5e sitting at 10.5.
However the starting price is more steep, with the Tab S5e starting at $649 for the 64GB WiFi model, compared to $689 for a 128GB iPad 10.2 or $529 for the 32GB take on that model. Previously, the iPad 9.7 managed to hit under the $500 mark, and it was still fairly premium, offering a similarly metal design, solid performance, and a fingerprint scanner, with the new 10.2 inch iPad sporting a keyboard connector and maintaining closer parity.
The model we actually reviewed was the 4G version, which starts at $849 for the 4G model and stretches to $949 for the 128GB, but can typically be found for a hundred less on each at street price.
Again, that's in comparison to $729 for a 32GB 4G iPad 10.2 or $889 for the 128GB 4G iPad 10.2, giving Apple a slight edge in price, granted at RRP.
The real target is probably the iPad Air, which is like the iPad 10.2, but starts at $779 for 64GB in WiFi and $979 in 4G and WiFi.
Despite this fairly aggressive pricing between Apple and Samsung, the Tab S5e does provide a beautifully thin and good looking tablet that's hard to ignore. It does come across as a little over-valued, especially given the $649 starting price, but if we found this tablet for closer to the $500 mark later in the year, we'd definitely start considering it more closely.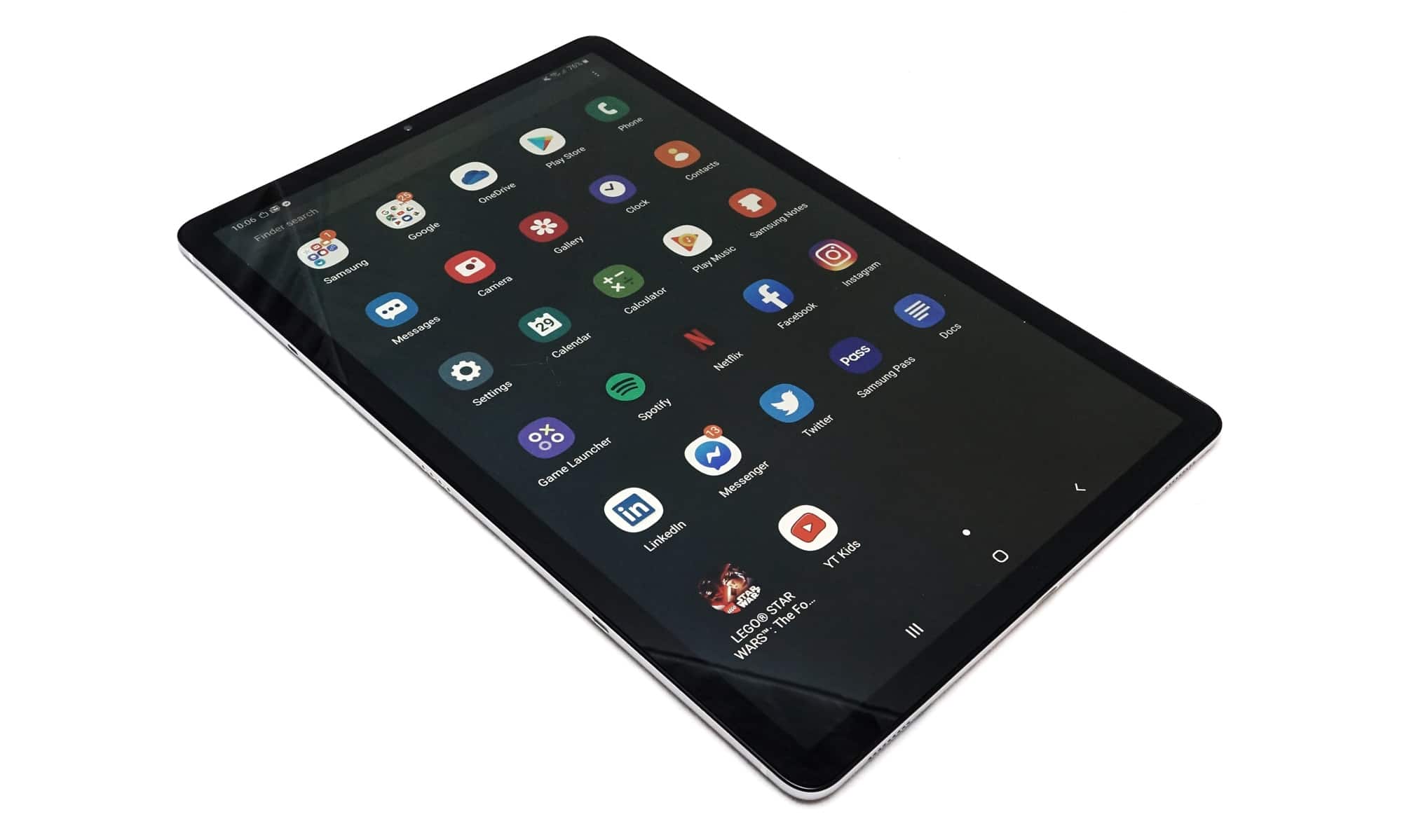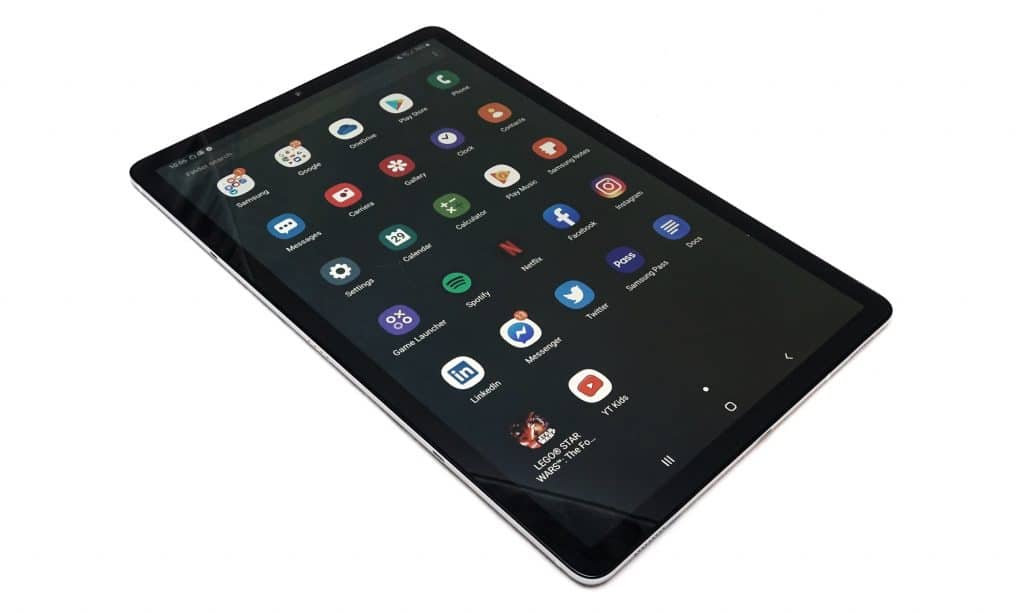 Yay or nay?
Working out what you want in the tablet world doesn't have to be complicated, because everyone has different needs.
If you need a portable computer, there are lots of options, and the Galaxy Tab S5e can work here, though we'd probably look at other options. It's also not a bath-time reader, with numerous Kindles available for that, now that the water resistant tablet world has gone with Sony's departure.
If you're after a wonderfully thin and light tablet made for entertainment, the Tab S5e is made for you. It is all of those things, and one of the nicest takes on a mobile big screen, because it's light, simple, and easy to get across.
The good
Beautifully thin
Performs very well
Nice big screen
Solid battery life
Fingerprint reader is easy to use in the power button
Supports a wired keyboard connector (Pogo pin)
The not-so-good
No headphone jack
Pogo pin keyboard connector uses a different case to the S4 and S6
Lacks water resistance
A little expensive