For the past few years, Sony has been making strides in the noise cancelling headphone world, taking on Bose, Beats, and Bang. And this year in the Sony WH-1000XM3, it has bested them all.
The fight for the best noise cancelling headphones has been pretty fierce over the past few years, as Sony signalled it was entering an arena practically dominated by the likes of Bose, which kind of started it all.
The past few years have been interesting, and there's little doubt Sony's take on what constitutes great noise cancellation mixed with wireless has resulted in some great headphones, but they're apparently even better this year.
How? We can't wait to find out.
Design and features
In the third generation of Sony's flagship noise cancelling cans, Sony has changed more than just the feature set inside, because the design is different with it.
The whole thing is now a little bit slimmer, a little bit lighter, and sports a look that doesn't try to be overly luxury with some leather accents on each pad, as has been the way things were for the past two years.
Instead, the focus is on what feels like a strong plastic with some metal in elements like the headband, and it comes together for a surprisingly strong and sturdy headphone that is more understated than specifically attention grabbing. It's a simple look, though one that is accented by some metallic touches on the logo and the microphone grills on each side.
It's an evolution on the previous generation, and one that manages to look a little more like a sleek headphone you'd want to wear.
On the inside, Sony has made changes to the cup design, which is now a little more spacious, accomodating for a circumaural (around-ear) design better than in previous models.
Even the case has been improved, with a more resistant exterior that feels like it could survive a spot of inclement weather, as well as an inside design that wants you to keep more inside of it.
While you barely had enough room for the 3.5mm cable with the flight adaptor in the previous two generations, now you have enough room for the cable, the flight adaptor, and both a Lightning to 3.5mm and a Type C to 3.5mm adaptor.
It's basically the entire kit in one small and stronger case. W00t!
In-use
Throw the Sony WH-1000XM3 on and you'll find a design that isn't just different from the outside, but also on the comfort level. While the previous two generations have been a touch bulky, the WH-1000XM3 feels downright slim in comparison, pulling back on the body and lightening things enough to let your head notice it.
The pads are also a little different, and feel more like proper circumaural pads in that they fit around the ear more comfortably. There's a nice seal going on, and while they're made from a pleather sort of material that won't exude the same luxury as leather used in other high-end headphones, they are definitely comfortable for long periods of time, something we can easily attest to.
Like last year's XM2, the buttons have been reduced to two, and they're even slimmer than before, now like little pill shaped slivers compared to the larger rectangular buttons on the old models.
You only need to worry about pressing the bottom one for power and Bluetooth pairing (hold down upon startup), while the second button above it can be used to trigger various states of noise cancellation or Google's Assistant, and the app settings will help you get that going (by default, it's noise cancellation and ambient sound mode).
There are also more touch controls on the right cup, which means that like it was in the past few years, you'll be swiping up and down when you want to make volume choices, and left and right when you're changing track. It's easy enough, and while the pads lack the leather texture of the previous two models, the XM3 feels nicer and less gimmicky with just the simple finish underneath.
It doesn't always get it right, mind you — touch controls are fussy on every headphone we've tested — but it feels closer on the XM3 than it ever has before, and once you get in the groove of the controls, it's hard to get out.
There's also still that cute little trick of holding your hand over the right ear cup to listen into the world, turning on the mics temporarily and letting you cut through the noise cancellation if someone has something important or interesting to say.
Performance
Once the announcement is done, however, it's time to get stuck into the music, and that's an area where Sony's WH-1000XM3 excels.
As usual, we're testing with Pickr's sound test, which you can tune in with and listen for yourself on Apple Music, Google Play, and Spotify, and that starts with pop and electronic, with the headphones delivering a harmony of voices from Pentatonix, and clear and distinct separation with just enough bottom end and solid clarity across the ranges. There's a nice punch there, evident even more when the electronic sounds of Ellie Goulding pump it up some more, and yet still some great highs coming out.
Over to R&B and soul, and there's a perfectly tight snap at the bottom end here, with a little more than just oomph present on Mark Ronson's "Uptown Funk", with a superbly spacious Michael Jackson in "Billie Jean".
As always, the better mixed and mastered songs will sound better, but the WH-1000XM3 headphones have a tendency to make practically anything sound great.
And that continues through rock and adult contemporary, with a surprisingly big soundscape of the sparse instrumentation in Phil Collins' "In The Air Tonight", expanding even more to Muse's "Madness". Heavier rock shows the headphones are happy to handle harsher sounds, too, with the Deftones and Nirvana delivering great separation and an awesome soundscape.
The fairly restrained instrumentation in jazz and classical (restrained in comparison to most modern musical stylings) also shows the richness of which the WH-1000XM3 can play with, and we heard the likes of Miles Davis, Dave Brubeck, and Nigel Kennedy in detail, as the headphones created a rendition of sound that felt as good as being there, with a direct feed plugged into our heads.
It's worth noting that Sony's app also helps the process, though it's not something you have to use.
Introduced in last year's WH-1000XM2, the Sony Headphones app allows you to tweak the equaliser settings, as well as change how the room sounds.
It even lets you shift the sound of the headphones so that it's closer to being directional, sending it mostly to the left, mostly to the right, or behind you.
These settings might seem like they tarnish the listening experience, but the reality is they add to it, because you know how sometimes you want some background music that isn't in your face? Sony's app lets you achieve that with your own music, blending into your own little noise isolated reality with your own tunes.
And that brings us to the other important area for the Sony WH-1000XM3 headphones.
Noise cancellation
Noise cancellation performance is the other major feature on the Sony WH-1000XM3, because what's the point of great audio if you can't listen to it?
Sony's changes to the XM series include a new chip called the HD Noise Cancelling Processor QN1″, a mouthful of a name we're just going to round down. QN1, however, is there to work with two microphones and process background sound, filtering out information.
It will still work with the adaptive noise cancellation trigger — holding down the ambient noise cancellation button (when it's not set as a Google Assistant) or triggering it with the app, allowing you to adjust the cancellation quality for what you're wearing or your altitude — but it just seems to do a slightly better job of human traffic as you're walking.
Loud people with less bass in their voices still seem to get through, and it's best to remember that noise cancellation isn't absolute; you can't kill all the noise around you, but you can get close, as collective groups turn into a band of noise you can silence and quell.
In places where that noise is a little more consistent, the Sony WH-1000XM3 headphones are fantastic at letting you have your peace and quiet, with both aircraft and train-noise practically non-existent.
We couldn't begin to tell you the amount of times someone on a flight had to nudge us because we were stuck in our own little world.
Battery
The improvements to performance may well be slight, but they're a touch more noticeable on the charging side of things.
For one, Sony has moved on from microUSB to the USB Type C connection, which means the headphones now share the same charge plug as pretty much every flagship phone not made by Apple. So that's positive.
Battery life is still where it was on the previous WH-1000XM2 headphones, sitting at 30 hours with wireless and noise cancellation both switched on, something we tested in 24 hours worth of flights plus layover time, though the recharge over Type C means you can get a few hours simply by plugging it into a charge pack relatively quickly.
Value
Price is also fairly standard, with the Sony WH-1000XM3 coming in at $499, making it priced a pretty much where the noise cancellation headphone wars normally start.
We're used to seeing noise cancelling cans for around the $449 to $499, though they can sometimes get much, much higher. Here, we feel as though the rough $500 mark is a good place to find some of the best quality, and given what we've seen lately, street pricing suggests you should be able to find them for much lower.
What needs work?
And bizarrely, there are virtually no problems with Sony's third-generation flagship noise cancelling headphones.
We say "virtually" because there's only one we can think of, but it's not enough to dampen our enthusiasm for these amazing headphones, and it's this: when you use the headphones, you may find the natural oils from your fingers can make the matte coating a little grubby.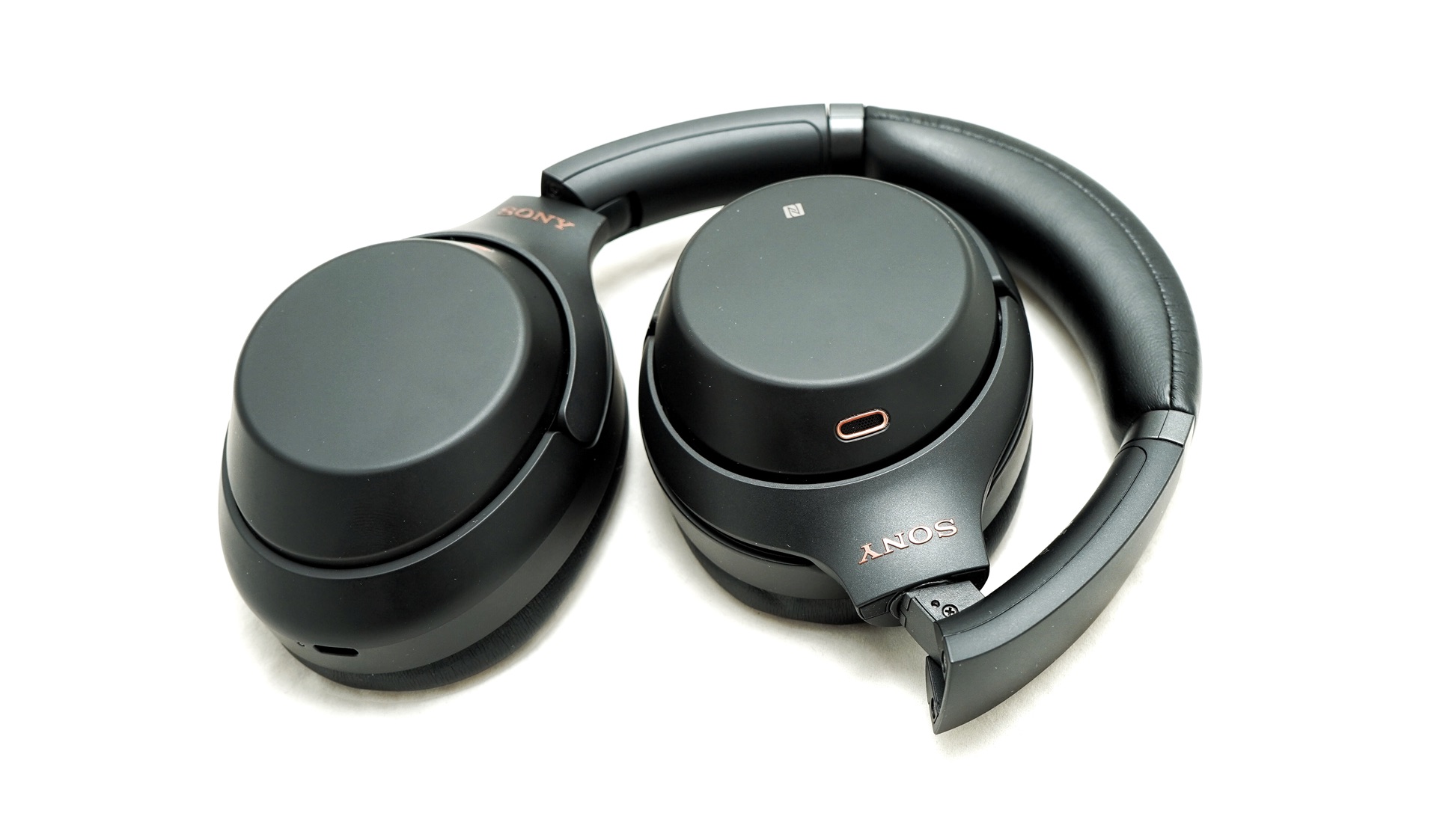 It's a minor thing. In fact, it's so damn minor an issue, it's one that can be solved quickly by a cleaning cloth or your shirt, grabbing the headphone and wiping it down quickly so that your finger marks fade away.
You also can't connect to more than one device at a time, an issue that has been on Sony's noise cancelling headphones since the beginning, though it's a minor first world problem that only really becomes an issue if you gadget hop like a journo might. We'd love to see Sony adopt multipoint technology, but it's not a big deal.
And they're the only things we have to criticise about the Sony WH-1000XM3. That's how good these headphones are.
They're just so damned good.
Final thoughts (TLDR)
If there's one way to beat the competition, it's on quality, but Sony goes above and beyond with the WH-1000XM3, as these things are just so damned good. The Sony WH-1000XM3 has it all, and while last year's XM2 were fantastic, these are even better.
We're not sure how Sony did it, but these headphones are amazing. You could say they're the new benchmark. We sure would.
Highly recommended, and this editor's choice.
Sony WH-1000XM3 wireless noise cancellation headphones
The good
Excellent sound
Beautifully balanced in audio performance
Supports various degrees of noise cancellation, and can be controlled by app or optimised on the fly
Works with Google Assistant
More comfortable pads
Lightweight, especially in comparison to previous generations
Fairly compact
Carrying case has been redesigned to fit more in
The not-so-good
Finish can get a little grubby
Only connects to one device at a time