Quick review
Apple iPad Pro 12.9 (2018)
The good
Great screen
Beautiful design
Excellent build quality
Some of the best tablet performance to date
Lovely "liquid" screen with soft corners and tiny bezels
USB Type C is a welcome inclusion, and now we want it on the iPhone, too
Facial recognition is great, even if it takes some time getting used to not pressing a home button
Pencil location is so much more logical, with a firm magnetic grip and recharge support
Apple Smart Folio Keyboard now protects the back of the case
The not-so-good
Really expensive
No water resistance
No USB Type C to 3.5mm audio converter in the box.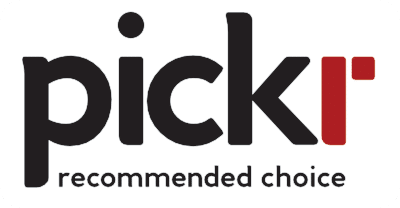 If you live and breathe creativity, and are happy with a big screen to fuel your big ideas, the 2018 iPad Pro could be just what you want. But beware the cost, because it's a significantly expensive tablet.
If you fancy yourself a creative or just someone who has to have the best of the best, there's a new tablet and it's not just a simple iteration. Evolving the iPad Pro just that much more, Apple is on a path to make the iPad more than mere content consumption device.
That has long been the place of its tablet, but in the iPad Pro, Apple aimed to change things. You could draw on it, type with it, and ultimately make things with it, too. You could also watch and consume content, but the iPad Pro was to let you do more.
And in the 2018 iPad Pro, the iPad Pro change has managed to go beyond just a mere update. It's a totally new machine, though it's one that comes with a cost. Is it the best tablet, and is it worth your money?
Design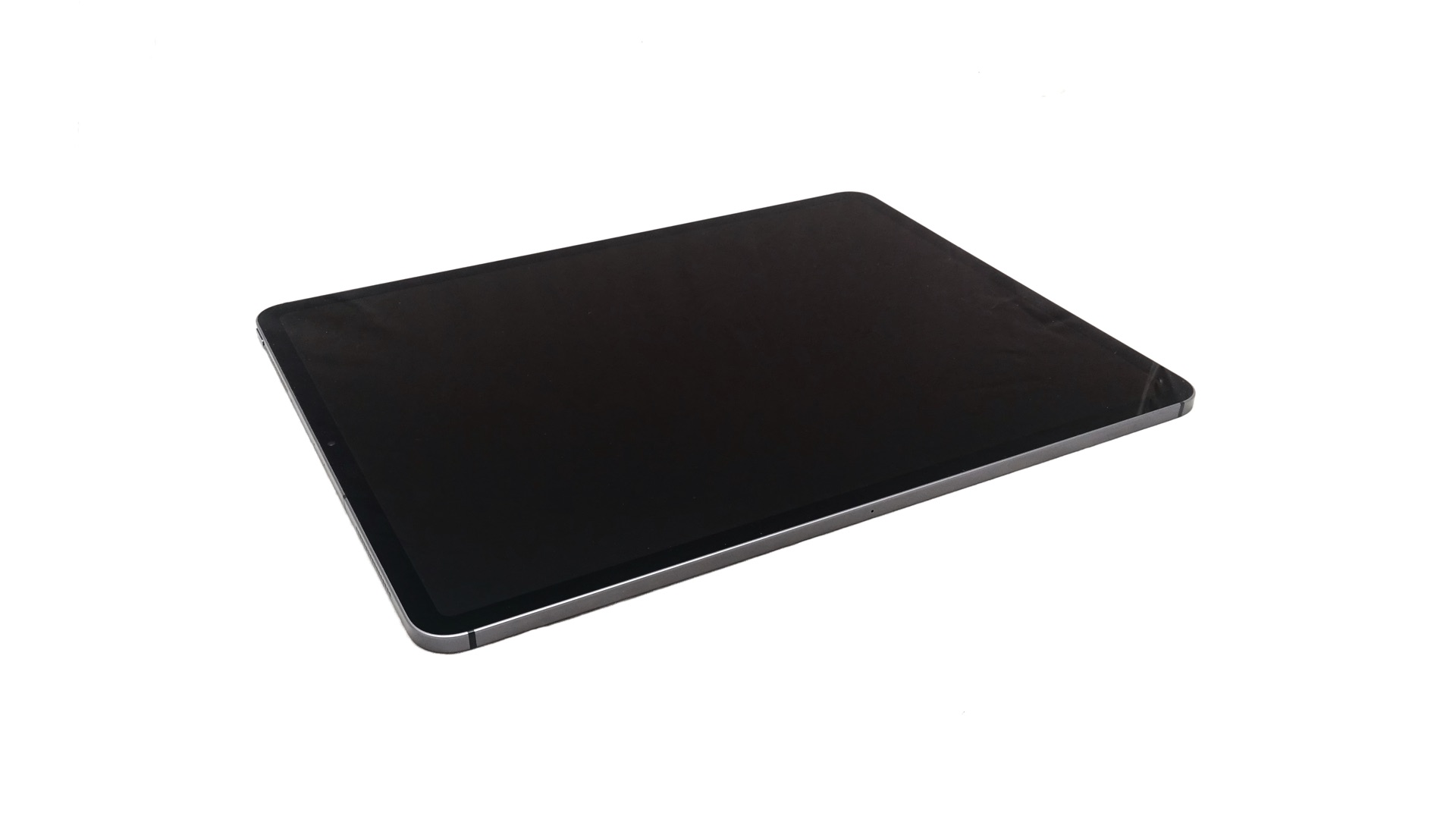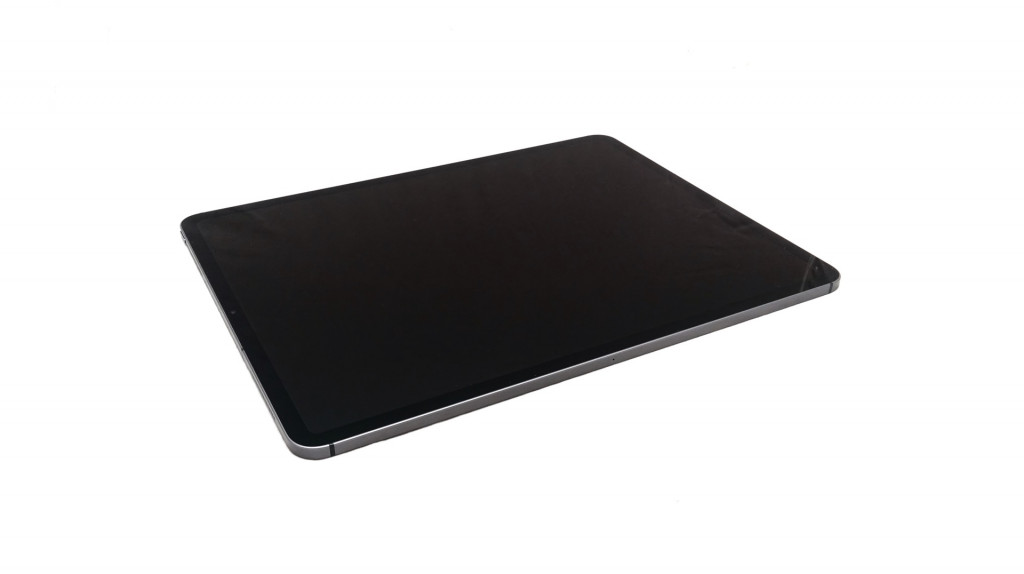 Apple's latest take on the iPad Pro isn't just about releasing a new variation of the iPad Pro for another year, because there's also a new design along for the ride. And it's a design that is both new and old.
On the one hand, the 2018 iPad Pro will look new, but if you glance back to the first iPad back in 2010, it's hard not to see a similarity. The metal design isn't soft and smooth like the way it has been for the past few years. Rather, it's like a single block of aluminium with a screen.
There are defined edges on the sides, but the corners have been smoothed to softened nubs, and the 2018 iPad Pro comes off like the way you'd expect a tablet to: it's a slick, well built, metal-reinforced slate that you could take with you.
As to whether you'd be comfortable doing it, that depends on the model you bought and how much you're comfortable carrying.
Features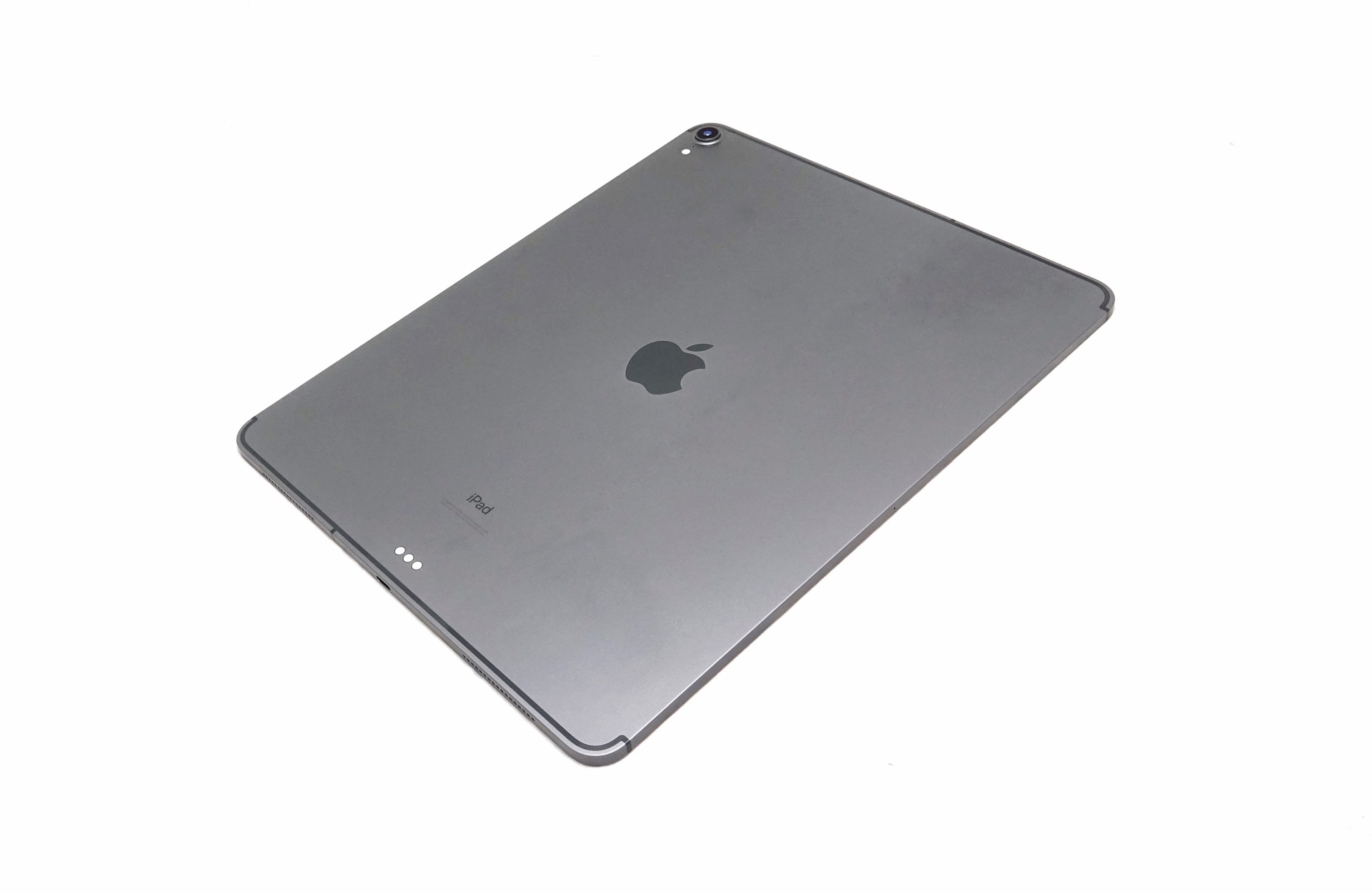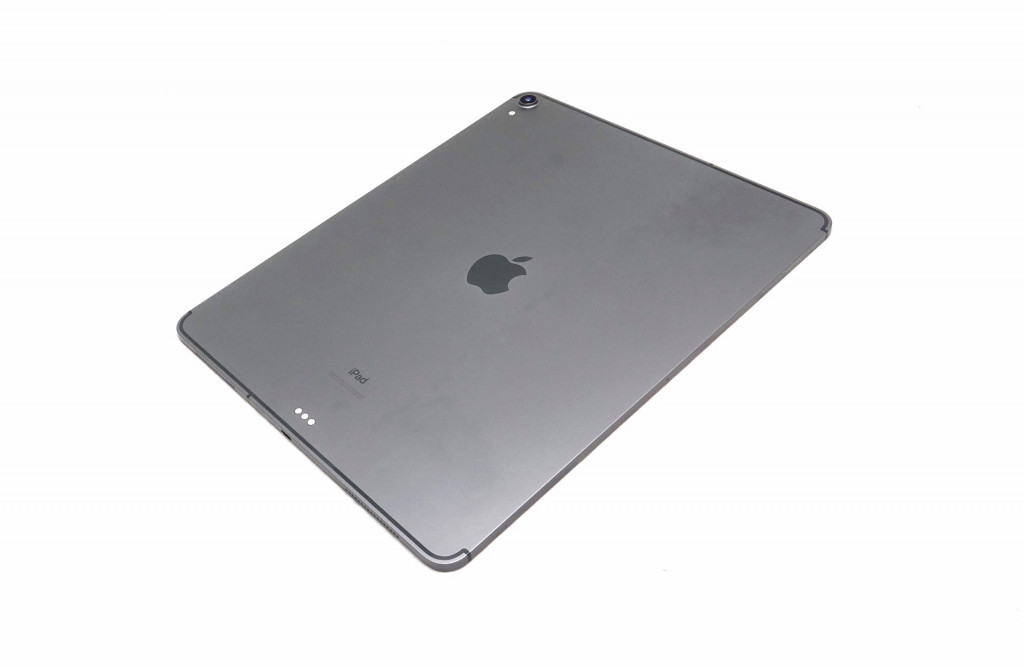 Regardless of which model you choose, the feature set is mostly the same, with the exception of the screen and battery size.
Inside is Apple's A12X chip, similar to the A12 found in the iPhone XS, iPhone XS Max, and the iPhone XR, complete with Apple's Neural Engine and its M12 coprocessor.
Storage options range include 64GB, 256GB, 512GB, and the massive 1TB, and like all Apple phones and tablets, there is no way to upgrade the memory once you've bought it, so choose wisely.
There's also a 12 megapixel camera on the back with F1.8 aperture and 4K Ultra HD video, while the front captures 7 megapixel selfies.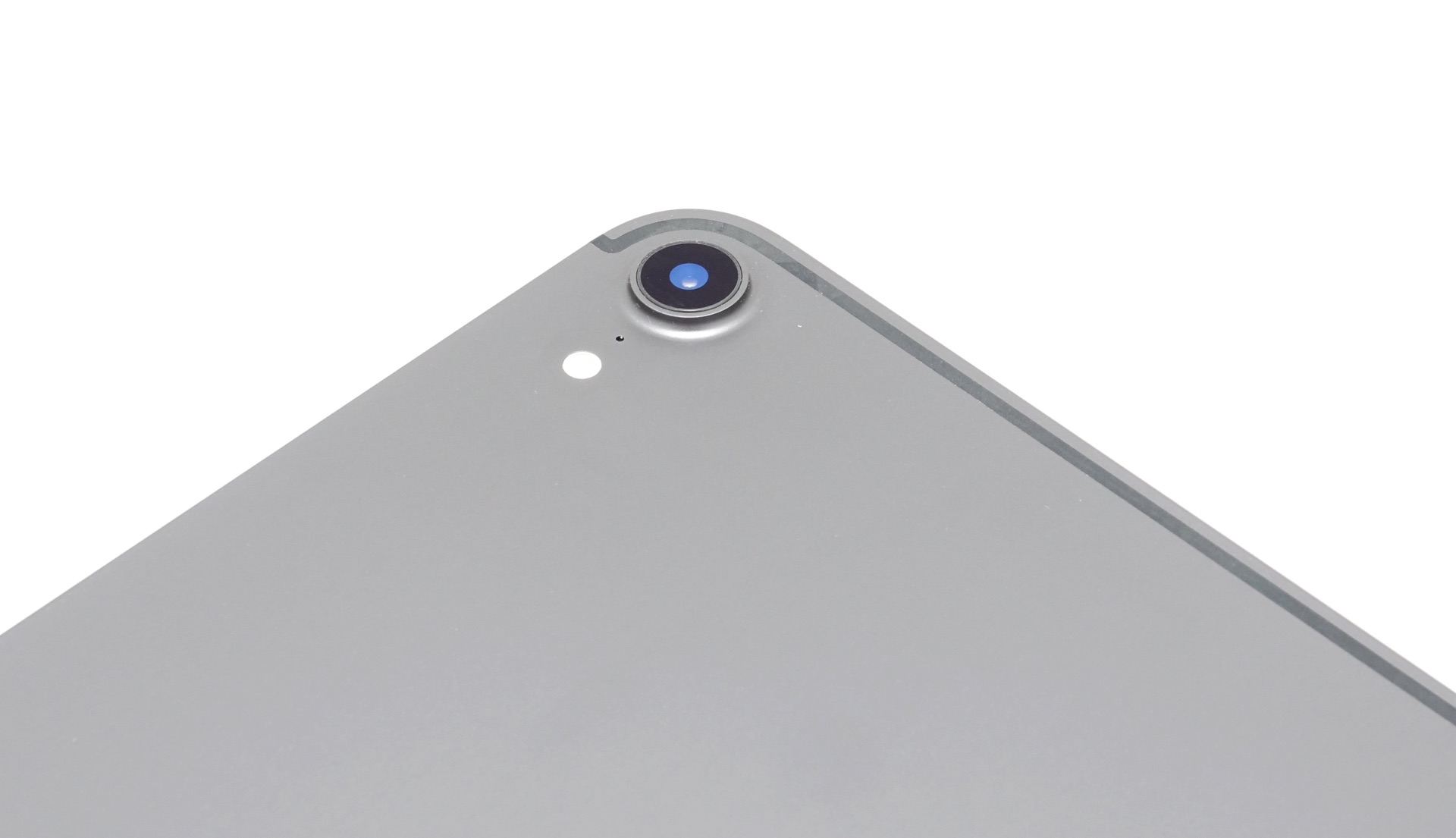 The facial camera is joined Apple's Face ID TrueDepth camera which uses infrared dots to look at your face and verify who you are, replacing the fingerprint sensor under the home button, which no longer exists on the 2018 iPad Pro range.
Connection options include Bluetooth 5.0 and 802.11a/b/g/n/ac WiFi, with the physical connections whittled down to one port for the first time on the iPad range, and it's not what you might expect (unless you know something about the 2018 iPad Pro already): USB Type C.
The ubiquitous port that works for data, audio, video, and charging — pretty much anything and everything — and appears on Mac and Windows laptops, headphones and speakers, the occasional camera, and a lot of Android phones, is now on an Apple tablet, the 2018 iPad Pro. It will handle the charging for the device, and potentially the audio out, but you'll need to buy or bring your own Type C to 3.5mm converter, because Apple doesn't include one in the box.
There are also four speakers around the body, five microphones, and a magnetic port up top for storing and charging the 2018 Apple Pencil, as well as Apple's Smart Connector, which now sits at the back and bottom of the iPad Pro, connecting the Apple Smart Keyboard Folio for keyboard usage and a bit of iPad Pro protection.
Beyond those features, though, the 2018 iPad Pro differs in models because of the size of the screen, which impacts battery life and resolution.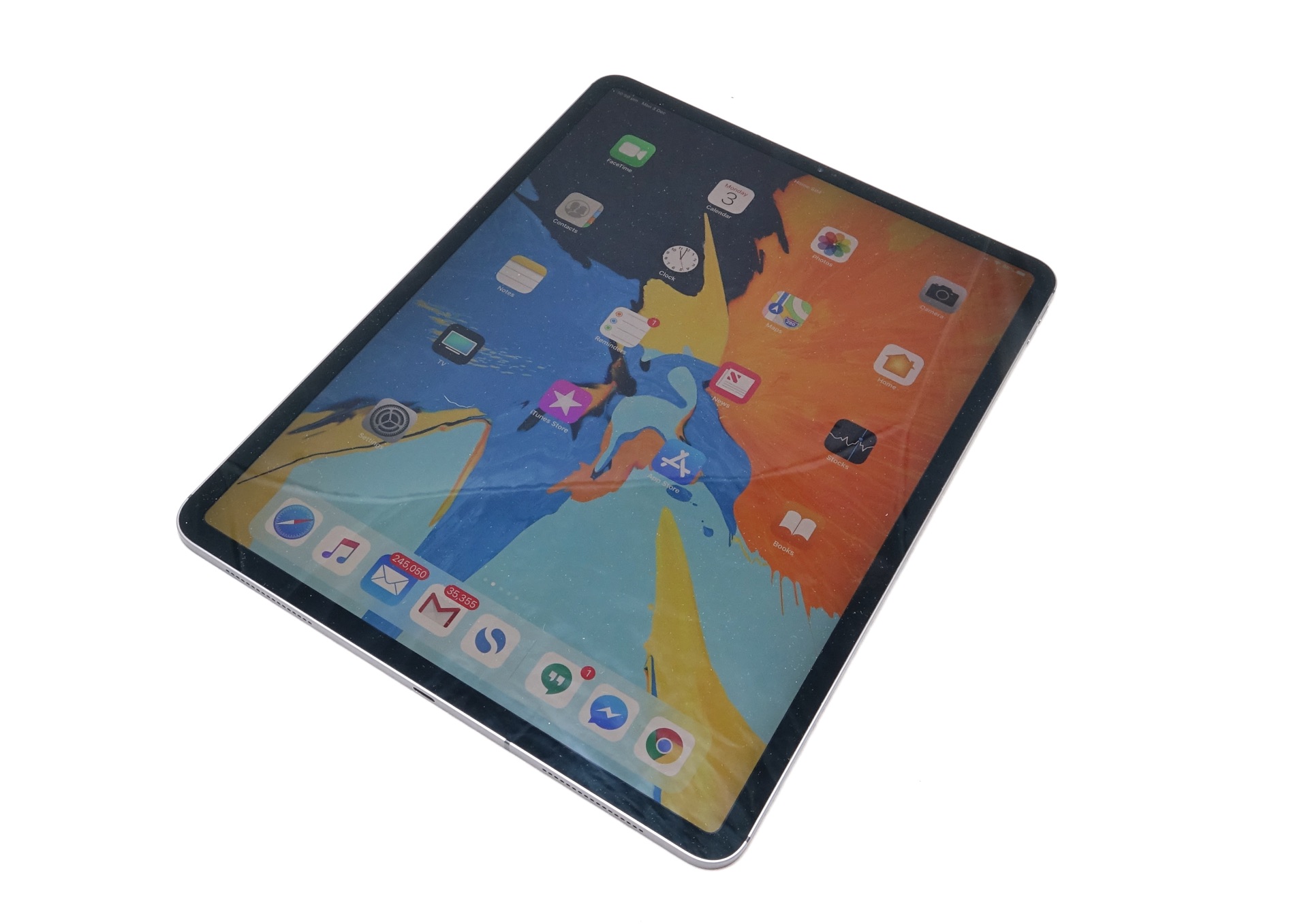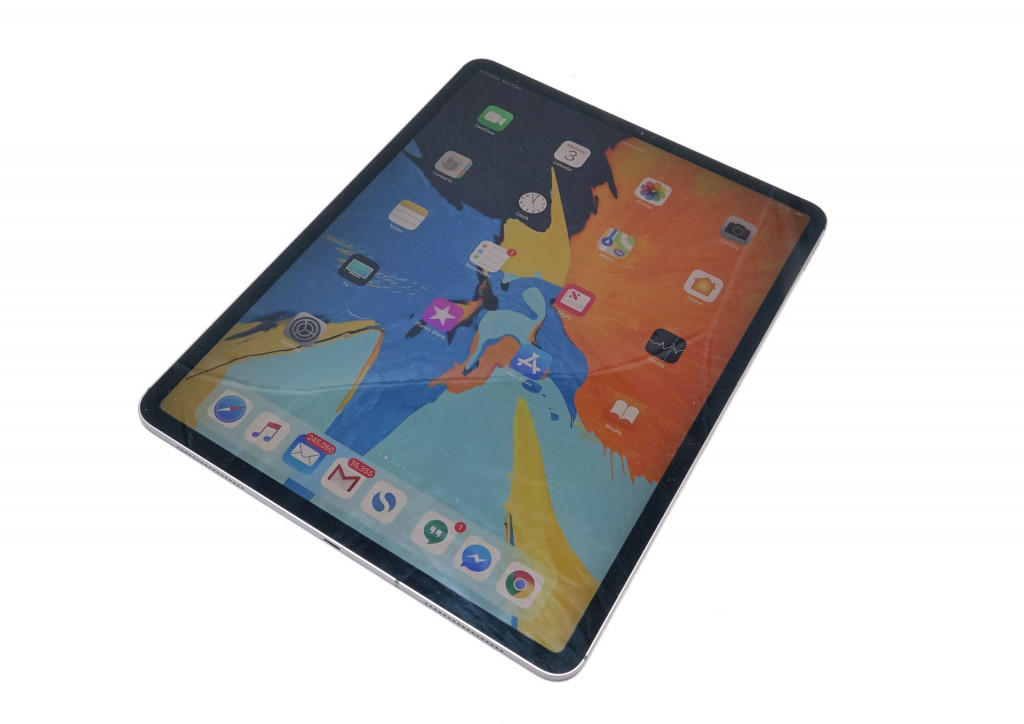 On the 2018 iPad Pro 12.9 model that we reviewed, there's a 12.9 inch IPS screen supporting a resolution of 2732×2048 and offering a pixel clarity of 264 pixels per inch.
The screen supports the P3 colour gamut and Apple's "True Tone" technology to balance the white of the screen based on the room and environment you happen to be in, and supports different refresh rates dependent on what you're doing, such as speeding up the refresh rate for when you're using the Apple Pencil.
That big screen covers up a big battery, which measures in as 36.71Wh (watt-hours), and is not removable.
In-use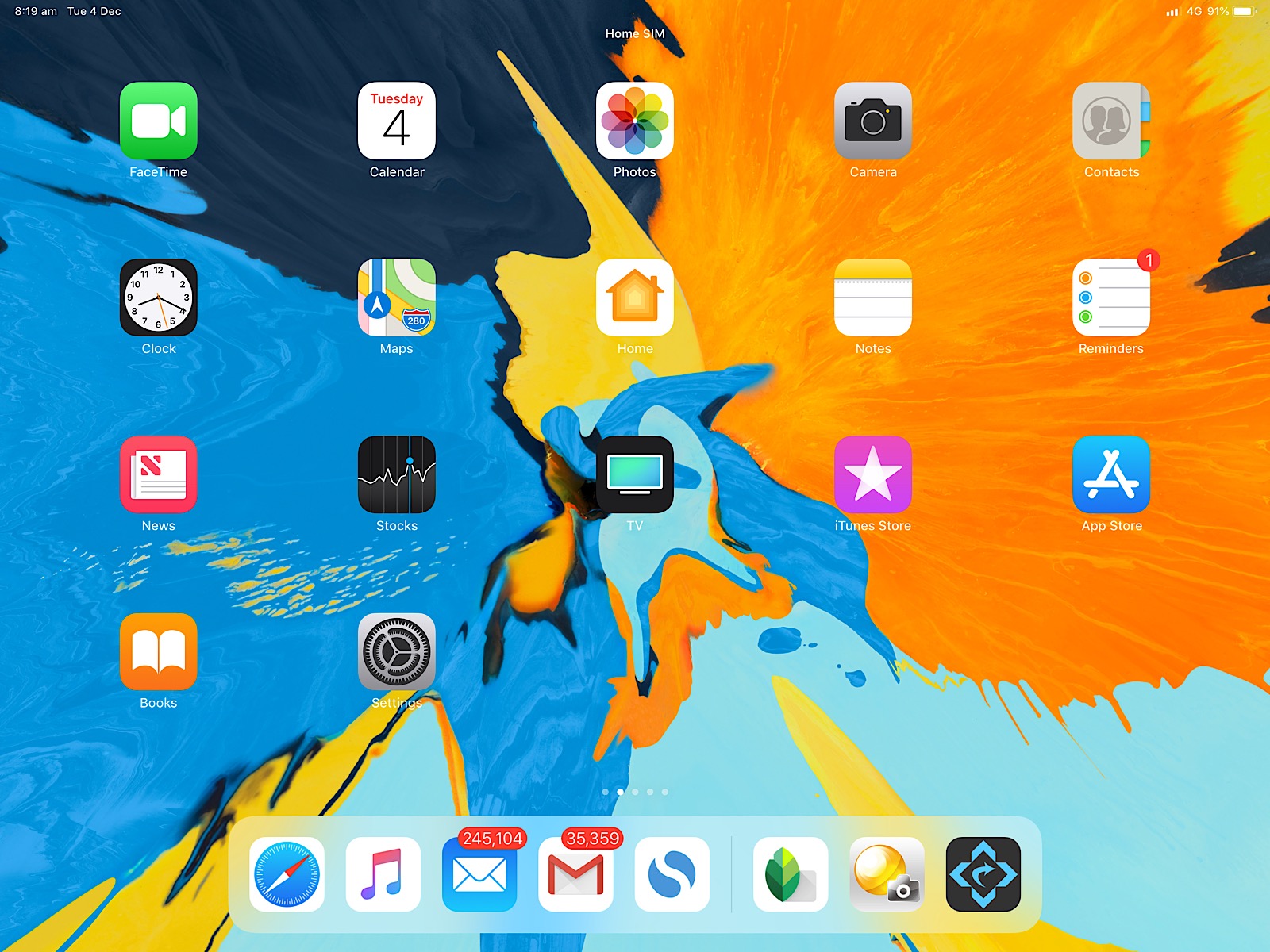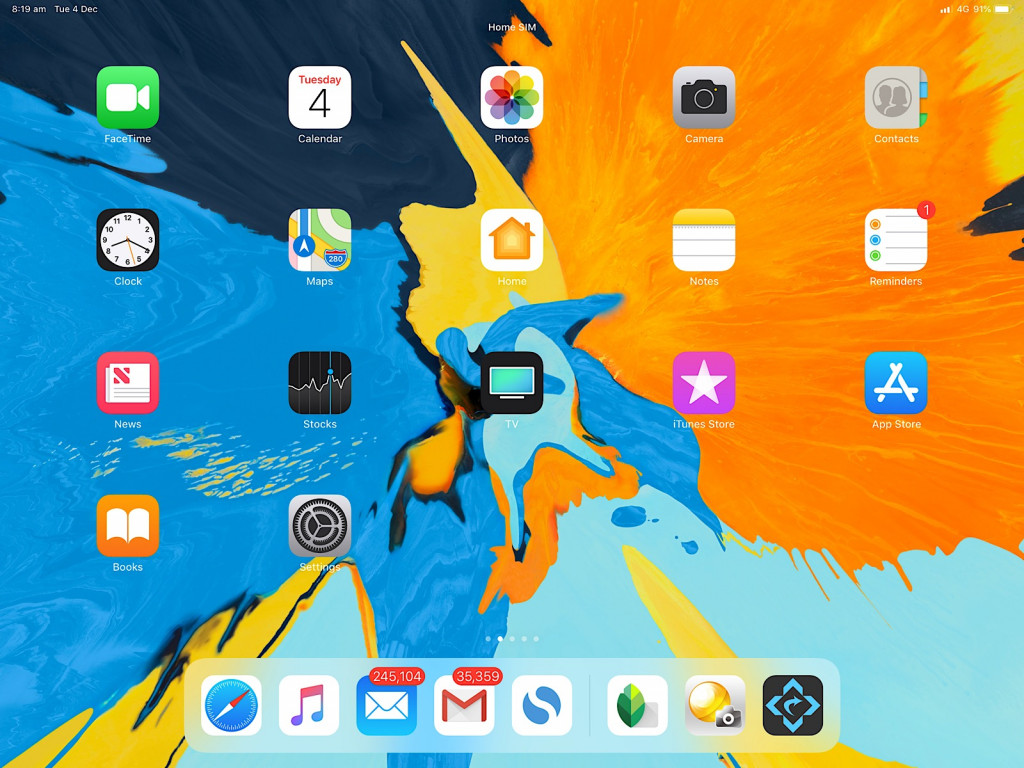 With a different design used in the 2018 iPad Pro, you may be surprised that using the iPad Pro is a little different. You see, there's no more home button anymore, so if you use the iPad Pro in portrait mode, you're no longer reaching to press the button, and if it sits on a keyboard like the Smart Keyboard Folio, you don't reach to the right to press it.
Just like how we relearned using the iPhone on the iPhone X, XS, XS Max, and XR, we're relearning the iPad Pro with it, swiping up from the bottom of the screen to load the home screen, and swiping down from the top left and top right for notifications and power control, respectively.
It's almost like you have to retrain yourself to not press the home button, knowing it's not there, but also realising that your hand will instinctively jerk forward to press the invisible button.
You get the hang of it quickly, and much like how you gradually stop pressing a button that doesn't exist on the new iPhones, you also begin to stop on the iPad Pro, as well.
Outside of this learning curve, however, the iPad Pro is all really familiar. The interface is the same thing you've known for years, evolving as Apple has improved iOS over time, and it's quite easy to get the hang of.
Except for one thing: the front-facing camera.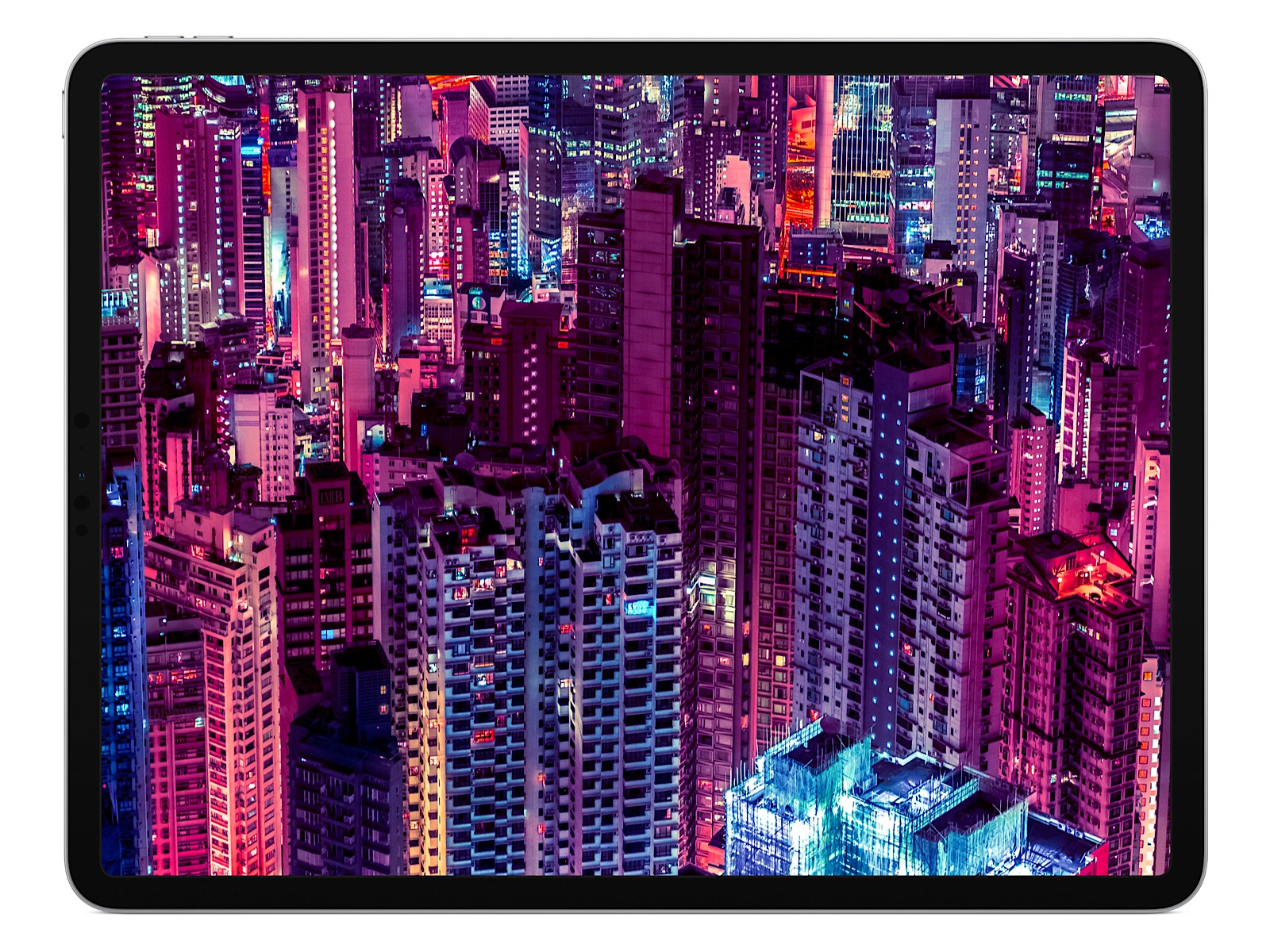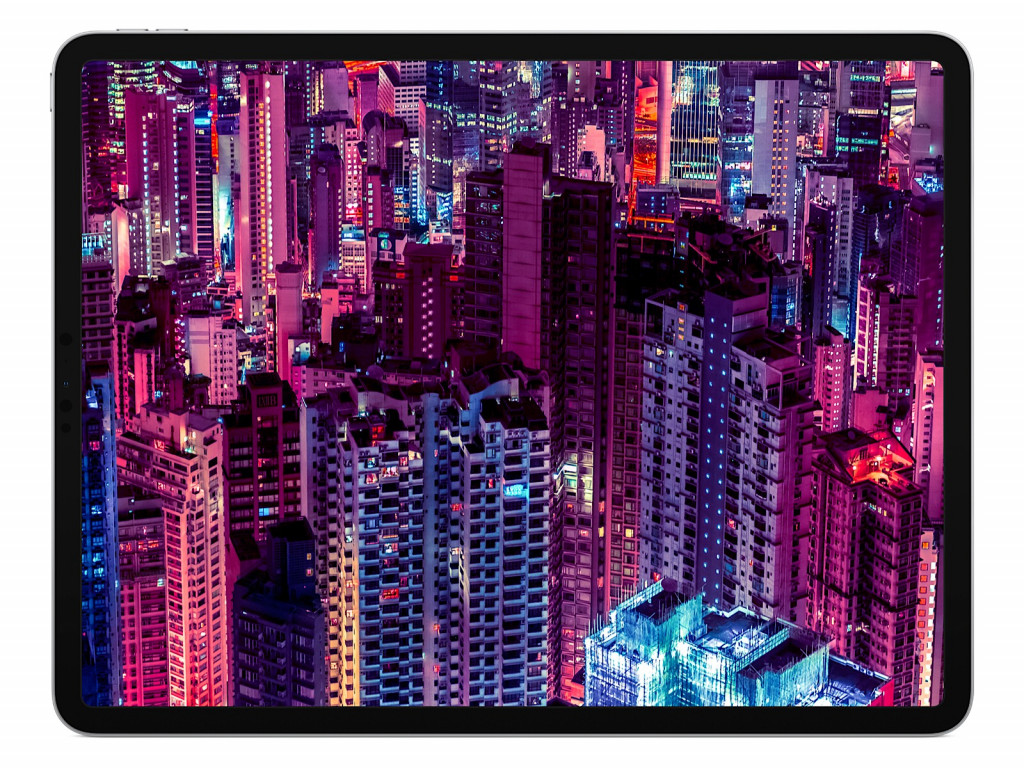 With no more home button on the front, the face camera and its infrared dot system associated with FaceID are now how you log in. It's along the top edge if you're in portrait mode, or along the left edge if you're using the Apple Smart Type Cover keyboard. That's not the issue.
The issue is realising that the 2018 iPad Pro is bigger than the new iPhones, and so you might inadvertently block the view of the FaceID system and stop it from letting you log in, possibly if your hand or finger is in the way without realising it.
Like the home button, it's an issue you get over eventually, and you learn to move your hand or finger away. Apple has also helped by informing you when the FaceID system is blocked, even pointing it out with an arrow, there as a gentle reminder to keep the view unhindered when you want to log in or use the new iPad Pro's form of security to install apps.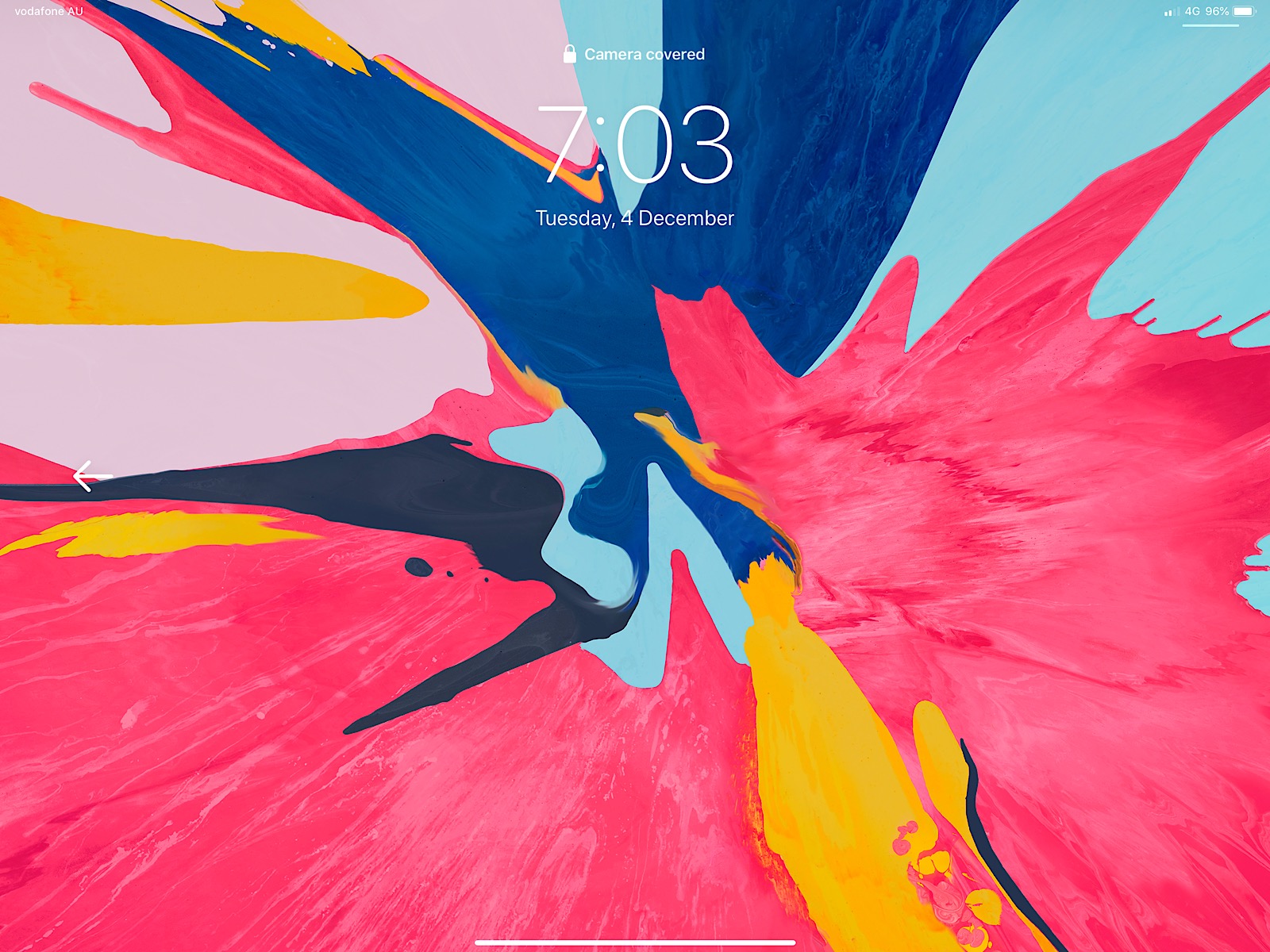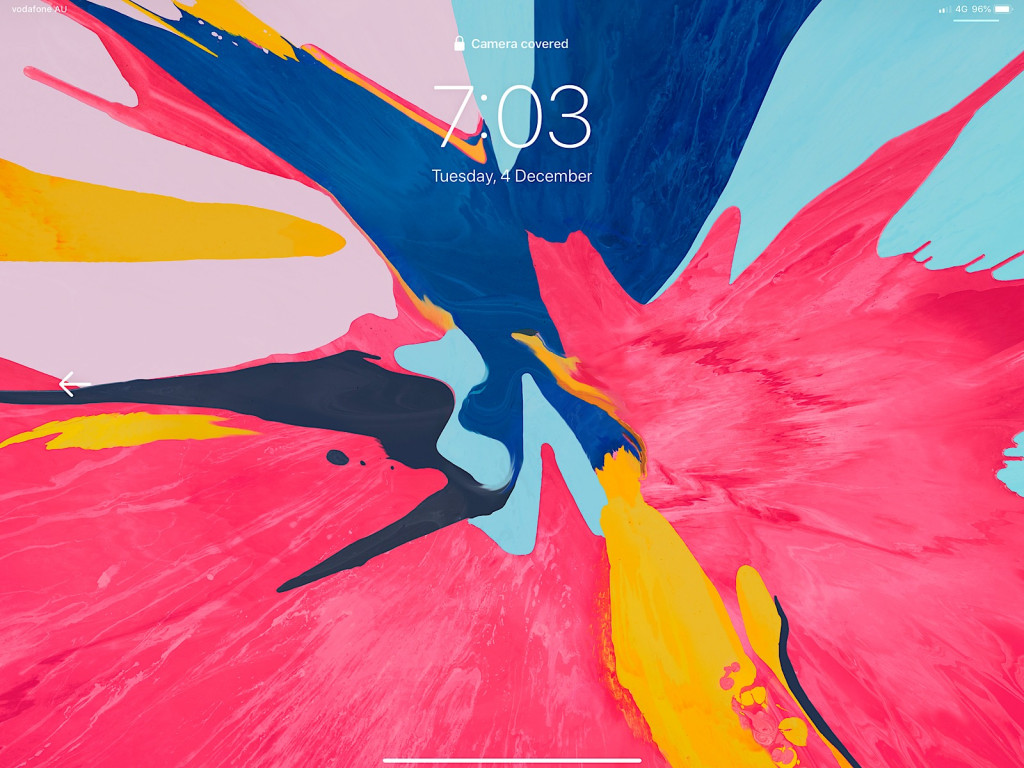 This piece of technology does help to make the 2018 iPad Pro stand out, and like how Windows Hello first blew our collective minds when it arrived on the Surface Book a few years ago, it's just one of the great features the iPad Pro arrives with from now on.
Performance
Understandably, the latest iPad Pro is decked out with the latest tech from Apple, and that goes beyond the cool hands-free visual login technology. It also means a new faster chip that has improved on last year's already excellent iPad Pro, resulting in a machine that was already fast being somehow faster.
That means together with iOS 12, you should find next to no lag as you're working, typing, drawing, and using the 2018 iPad Pro for all its worth, which is quite a bit since that chip is really capable.
We've written about how the iPad can be used as an actual work machine provided you make a compromise or two in your apps and work around iOS' limitations (generally found in file management, even to the chagrin of Apple's "Files" app), and the iPad Pro for 2018 allows you to push this even more.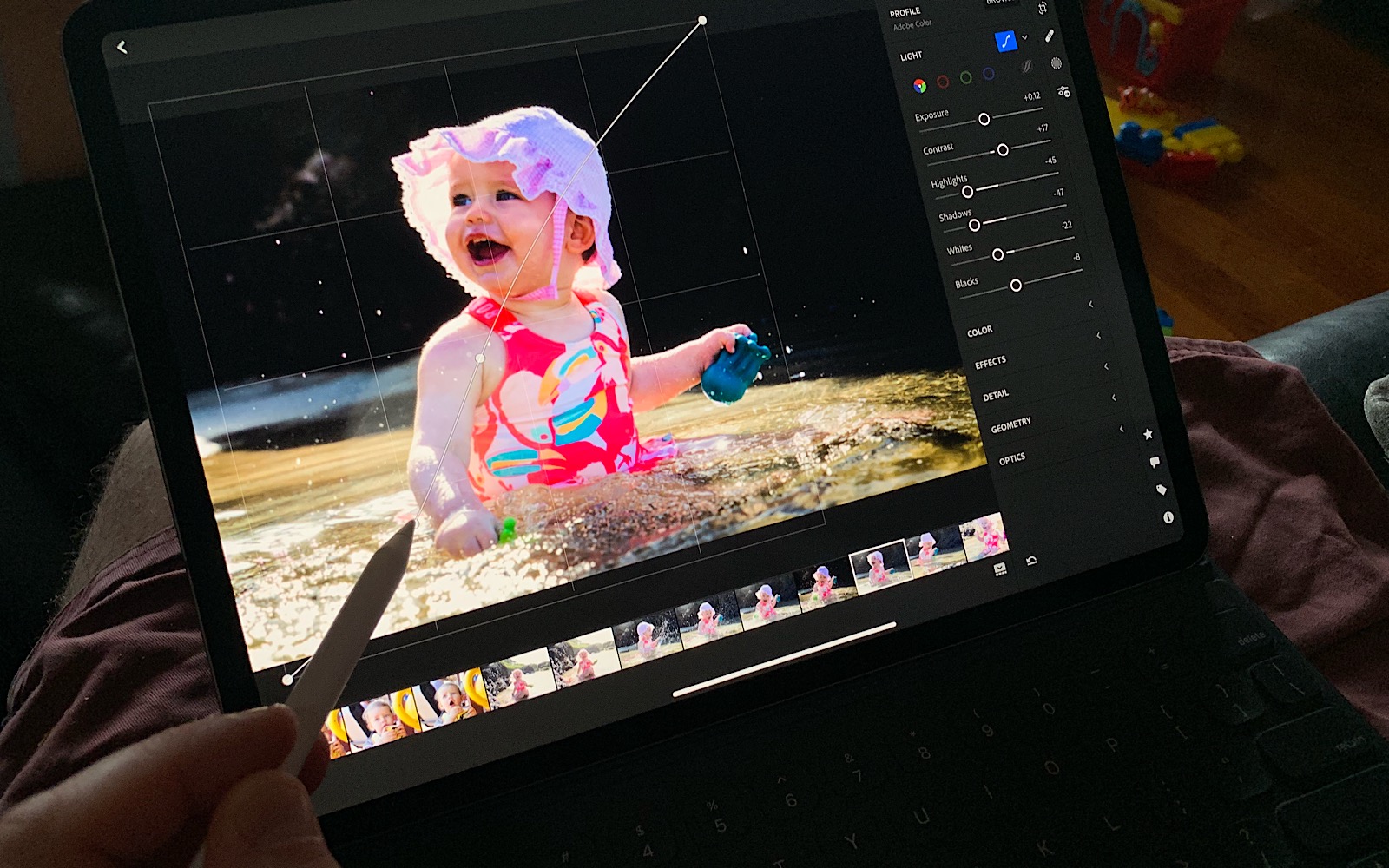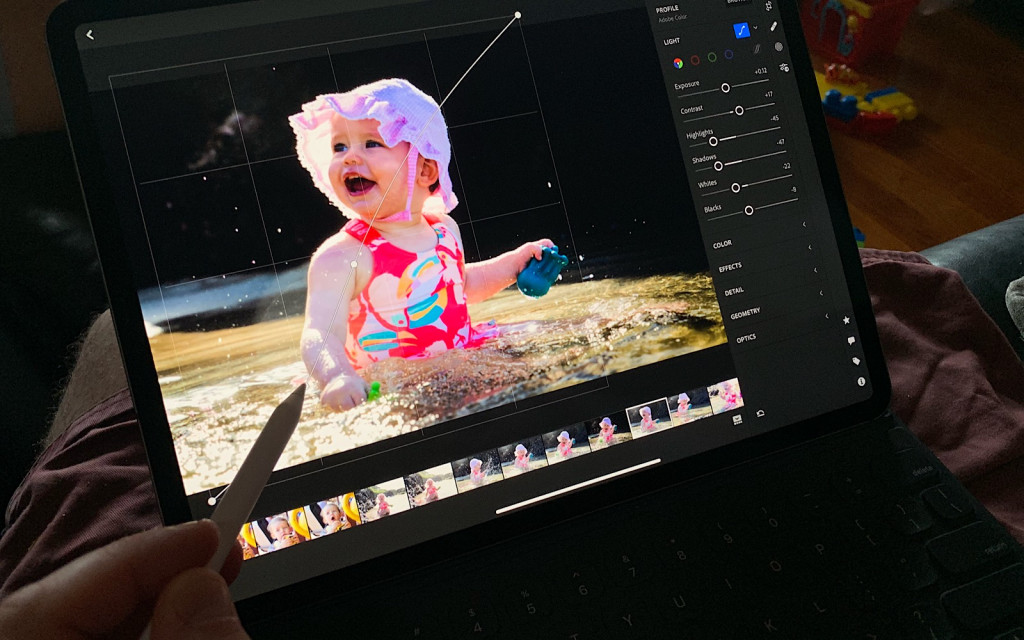 Apps run flawlessly, photos with several corrections render quickly and painlessly, and while last year's iPad Pro was certainly no slouch, this year's manages to feel even better.
Using the new Pencil, which is still optional but actually clips to the top of the screen with magnets, helps with this, and you'll find drawing on the display manages to feel even more fluid, much like sketching on the slickest paper you've ever managed to get your fingers on.
Screen
Part of that experience comes from the excellent screen, and on the 12.9 inch iPad Pro, it is of course a big screen.
It's so big that it may not be easy to take out and use in public, something we found the more we used the big iPad. Remarkably, the 2018 iPad Pro 12.9 is smaller than the 2017 iPad Pro 12.9, and that's because the screen has seen a slight redesign.
Much like the years new iPhones, not to mention the rumours, the home button has been removed from the design of the iPad Pro. Instead, it's just one giant touchscreen with Apple's FaceID system to log you in.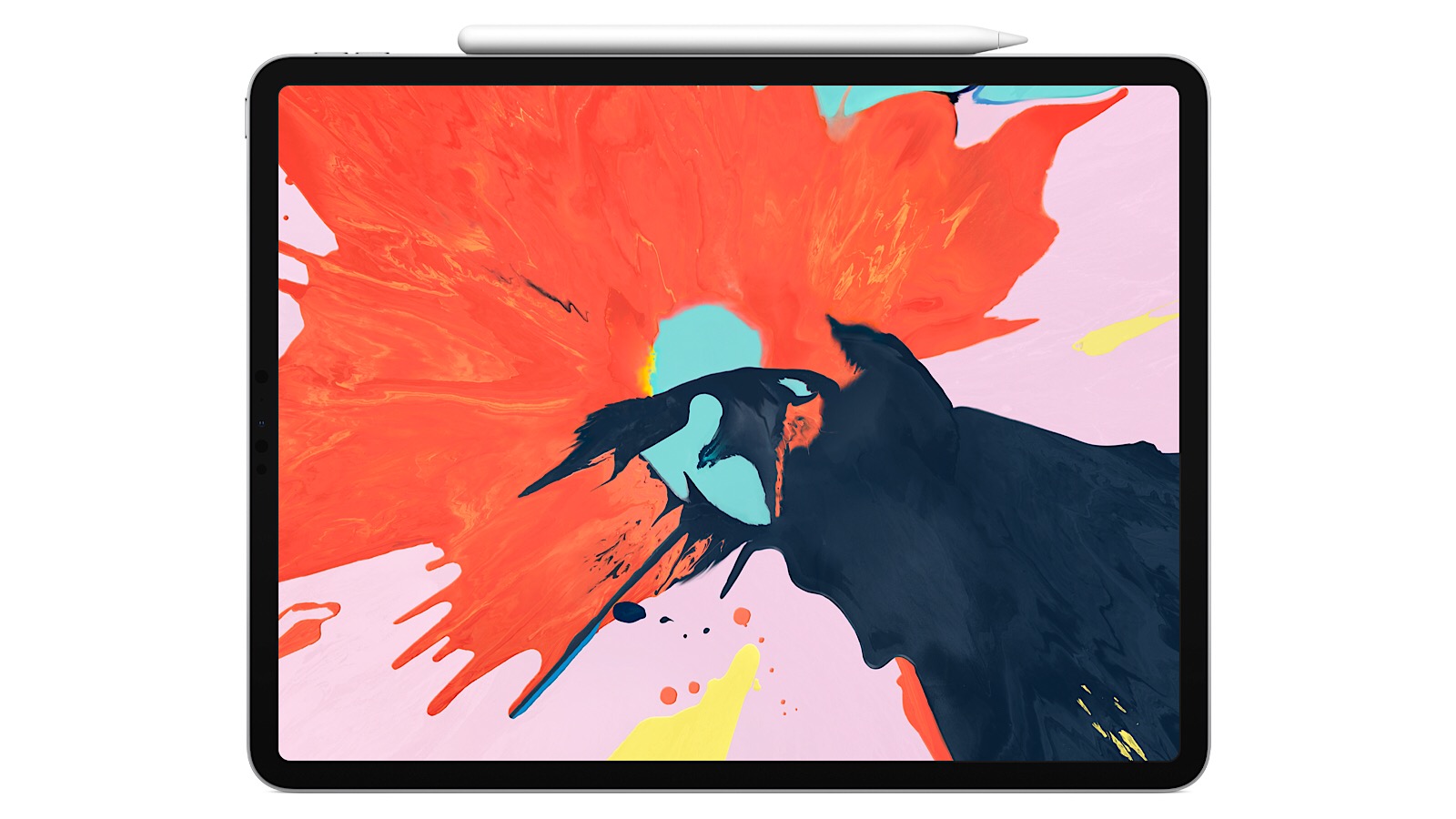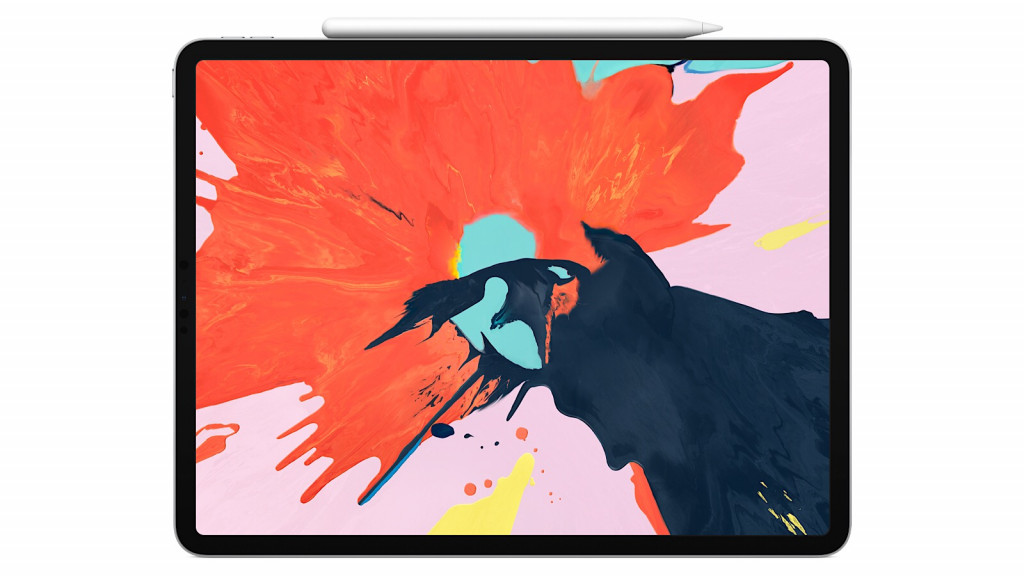 No home button means the bezels can be slimmer, and Apple's screen is also one of its "liquid" varieties, which means the corners are softened points rather than sharp corners.
Overall, it's one of the nicest screens we've seen, and while we'd love to see Apple make a shift on its tablets to AMOLED, we have no complaints on the Liquid Retina of the iPad Pro. Those bezels — or lack thereof — help to make the 2018 iPad Pro stand out, as it looks just positively modern compared to many a tablet out there, helped by the metal edges which give this year's iPad Pro an industrial design that is aesthetically pleasing and is as direct as you get.
Battery
The massive battery inside is also relatively impressive, powering such a bright screen atop an impressive performing tablet, though your use case may vary.
We had the 4G LTE variant of the 2018 iPad Pro, and left it connected to the Apple Smart Keyboard Folio the entire time, using that keyboard pretty much every day for several hours. With that usage scenario, we found the iPad Pro could hit around 8 to 10 hours of life, though as mentioned, the use case varies.
If you back off on the typing and 4G usage, you may find the 2018 iPad Pro 12.9 performs better than its ten hour suggestion of life, or you may find it performs worse.
The importance of USB Type C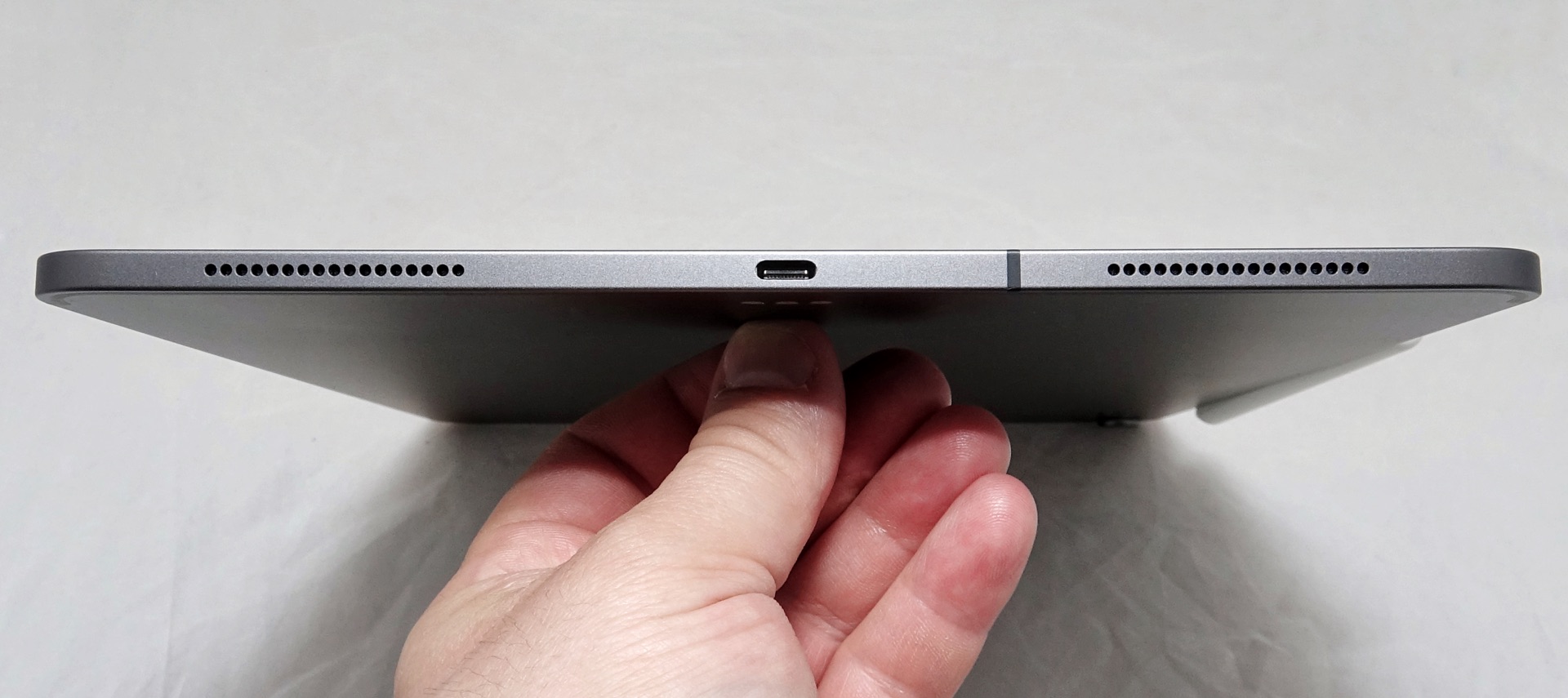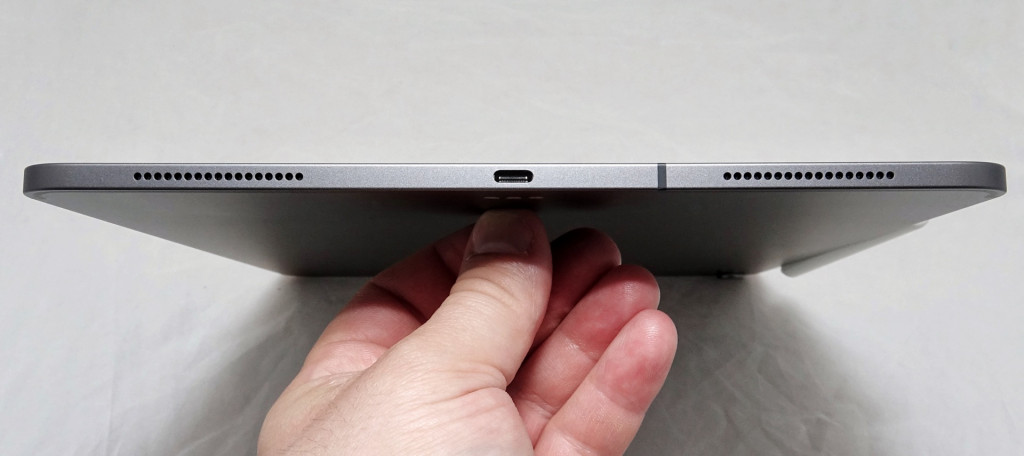 Helping that battery life positivity is the inclusion of USB Type C, a port change that will annoy the folks who have spent money on Apple's Lightning adaptors, but should be better long-term.
The reality of device ports is that we needed a universal standard, and we needed one Apple could get behind, as well. One of the few companies that tends to move away from standards and come up with its own, Apple was actually one of the first to embrace USB Type C, and used it in the super-slim MacBook. The Type C port is also used on Thunderbolt, and essentially it is now seen as today's universal port, taking over from microUSB, which Apple never got into.
You can find USB Type C on a number of devices, with its reversible connector found on Apple's MacBook, MacBook Pro, new MacBook Air, and the recent Mac Mini, not to mention a plethora of devices not made by Apple. It's on pretty much every major flagship Android phone, and on quite a few PCs that have adopted the port to let you charge the machine from.
Type C is rather flexible, taking a charge but also supplying audio, video, and data, and when devices use it, not only do they share a port that is more commonly found and therefore easy to charge if you're in a spot without your cable, they also tend to do a little more.
Need an audio port on your 3.5mm-jackless device? It can do that. Want to send your screen to a monitor or projector? Grab an adaptor.
And what about if you want to plug in a camera and get photos from one device to the other quickly? Yep, it does that, too.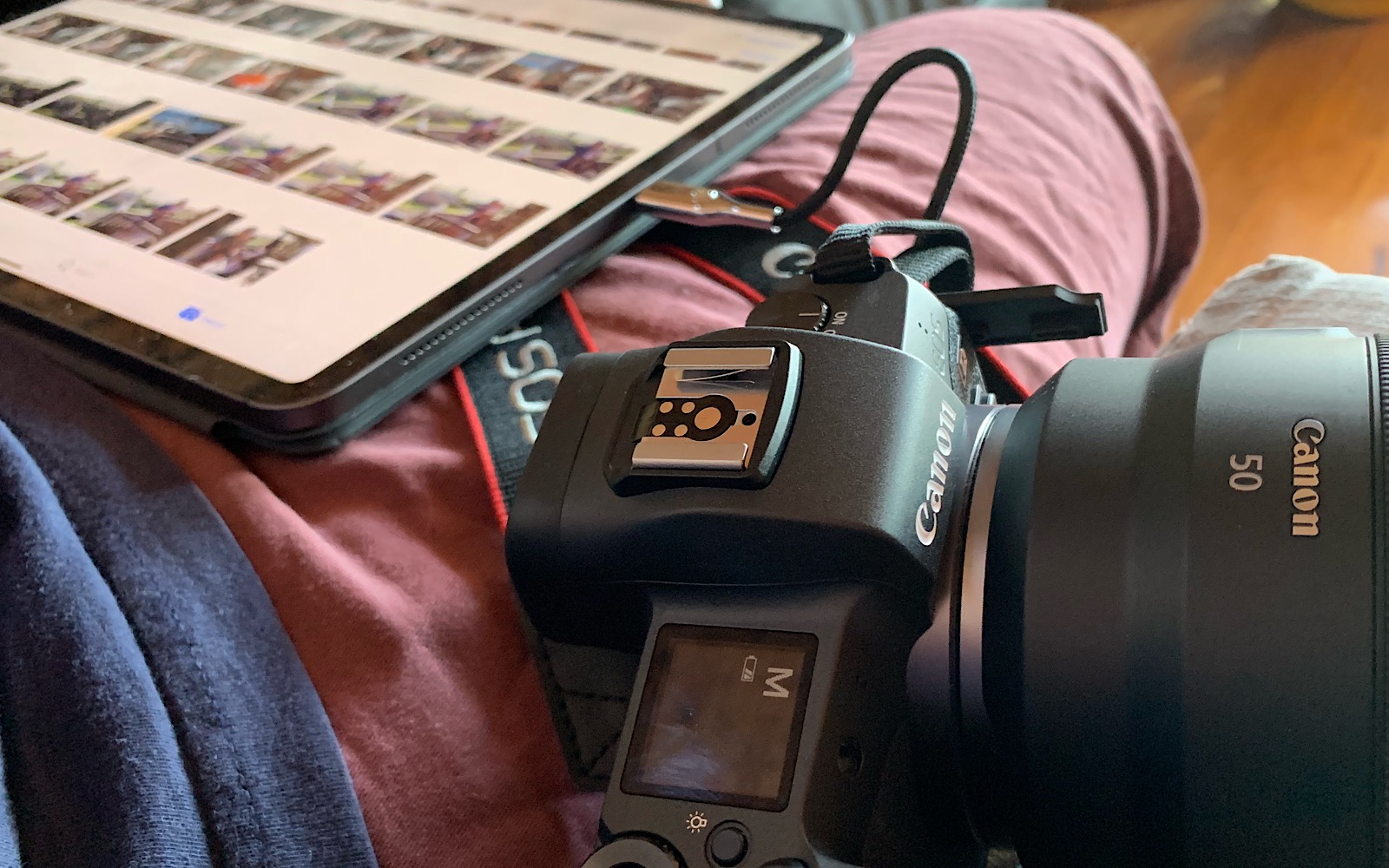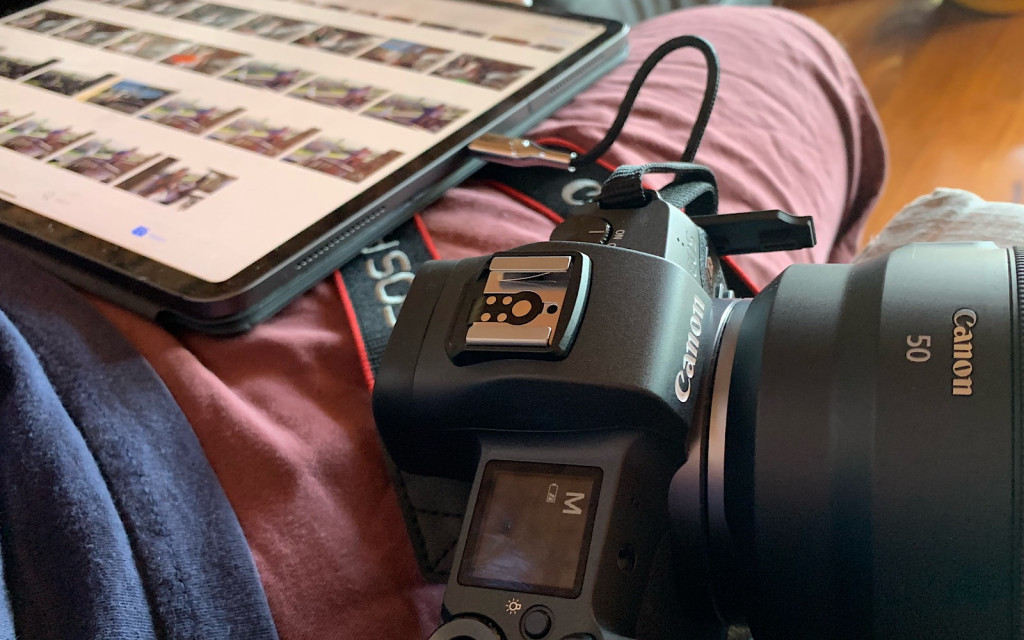 Now that Apple has replaced Lightning on the iPad Pro, the tablet is more capable and geared at professional creatives a little better, as well.
We were able to plug in the Canon EOS R we were reviewing at the time using a Type C to Type C cable, since the EOS R also supports Type C for charging and data. Using that one cable, we were able to transfer gigabytes of images and video in only a few minutes, much faster and less battery dependent than what we would have had to endure if we had opted for wireless transfer on the camera.
It's not just a charge port with a reversible connector; it's a port that allows Apple's new creative tablet to be far more flexible. Essentially, USB Type C on the iPad Pro allows the 2018 iPad Pro to do much more.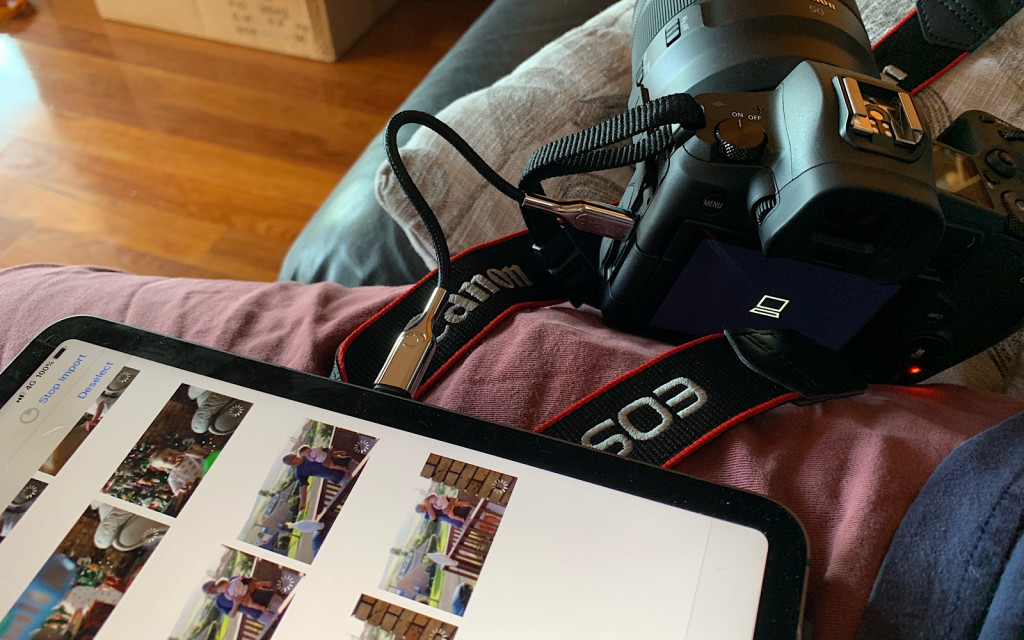 Frankly, we're just happy that it includes the USB Type C port, which is readily found in so many places, and is the new universal standard. Now we want it on Apple's iPhones. Make it happen in 2019, Apple.
Value
As good as all of the 2018 iPad Pro is, the price may be the one area that causes a struggle, because the new iPad is certainly not cheap.
In Australia, the 2018 iPad Pro 12.9 starts from $1529, and that's for the model with a piddling (and frankly limiting) 64GB of storage. To get it at a usable amount of 256GB, you'll need to spend at least $1749, and that's for the WiFi only model. Add 4G and it pushes the price $220 up to $1969. And just like that, you have a tablet that costs $1969.
You can go all out and up the storage to 1TB, and get 4G bundled into the WiFi to see the price zoom to $2869, which in the 1TB laptop world is actually affordable, but in the tablet world is very expensive.
There's also the addition of AppleCare for two years of $179, which on the iPad Pro would actually be a great idea, because the screen on the 2018 iPad Pro 12.9 will cost you $1008.95 to replace out of warranty, but only $65 under AppleCare+.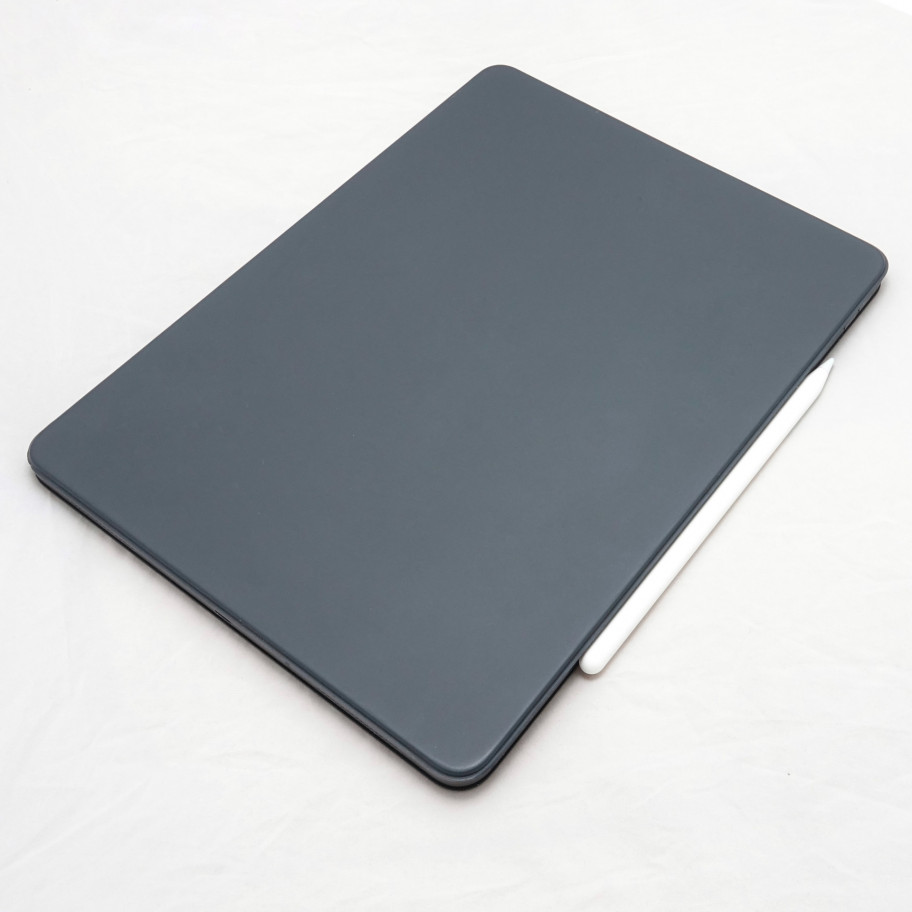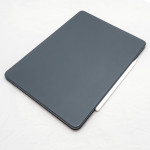 And that's without the accessories, because an Apple Pencil adds $199 while the Smart Keyboard Folio incurs an added cost of $299. In short, it is very easy to get the 2018 iPad Pro 12.9 up to around three thousand dollars.
Essentially, you need to know that the 2018 Apple iPad Pro is not a cheap machine, and that's fine, because it certainly brings the quality, but it's a fact you need to be well aware of.
What needs work?
Unfortunately, that price is one of the major things that feels like it needs work on the iPad Pro, as it really can be a cost prohibitive tablet for Apple, targeting creatives with the money, or anyone else that needs Apple's best and has that money to spend.
We get Apple's logic in a way, because this is a high-priced creative-focused tablet. If you don't need a focus on creativity, there's a perfectly great iPad-for-everyone in the iPad 9.7 from earlier in the year, which also supports the Apple Pencil and Logitech's "Crayon" variant on that creative tool, but misses out on the hardware keyboard support of the Apple Smart Keyboard port.
Frankly, we'd take the Smart Keyboard Folio support over the Apple Pencil, but that's us.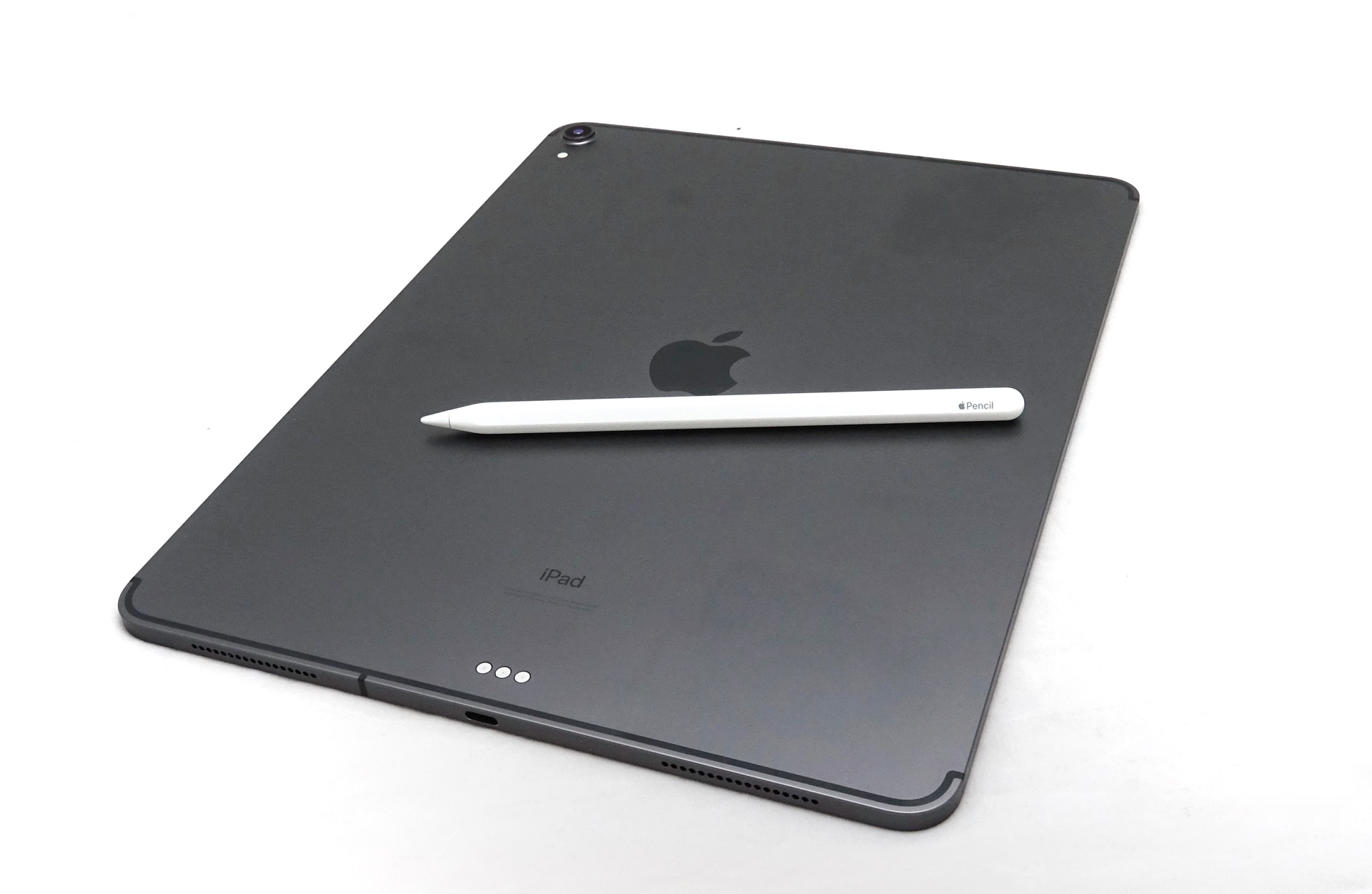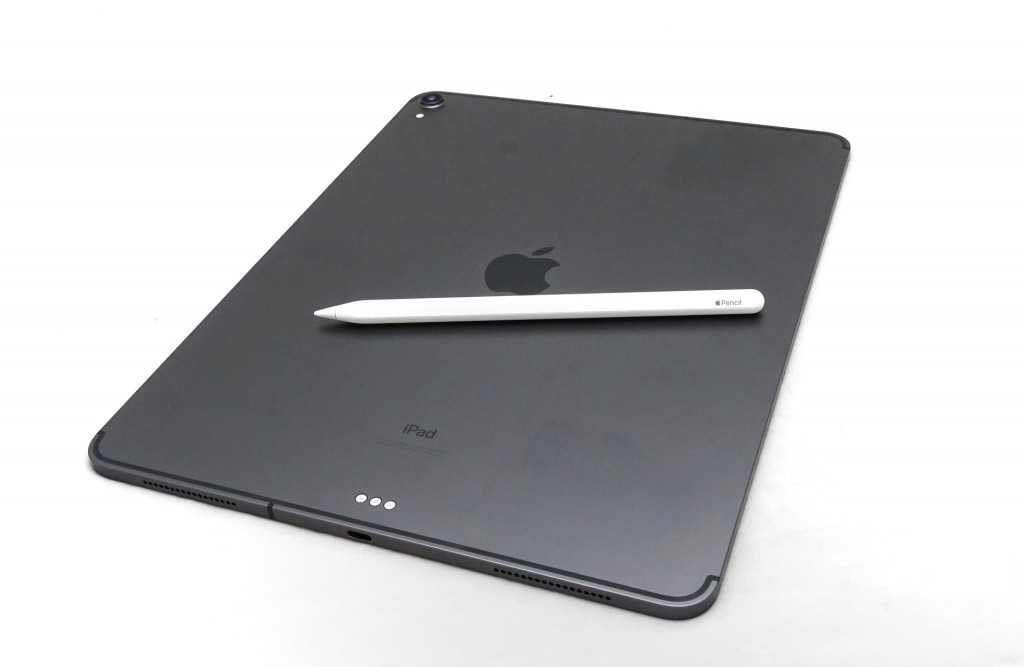 Apple also still makes last year's iPad Pro 10.5 available, which allows the iPad Pro to come down in cost just a little, even if it is last year's technology with a different version of the Pencil (because you can't charge the 2018 Apple Pencil on the 2017 iPad Pro, making for some fun fragmentation).
But if you want the best iPad, you do need to reach, and reach deep. The 11 inch 2018 iPad Pro starts at $1229, while the 12.9 inch iPad Pro for 2018 that we reviewed starts at $1529, and can hit as high as $2869 when customised to the limit.
That's a pretty tremendous price, and gets into MacBook territory quickly.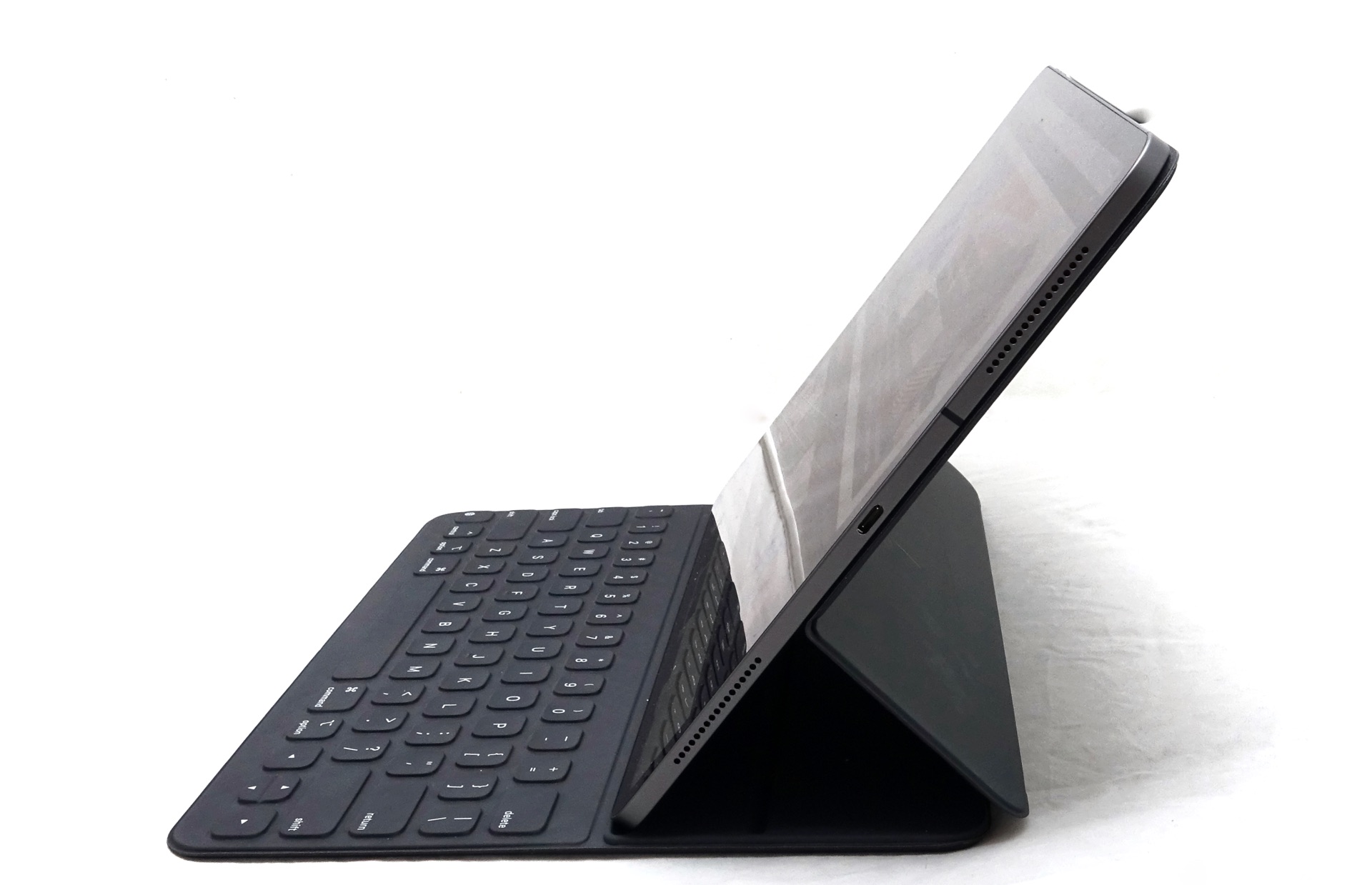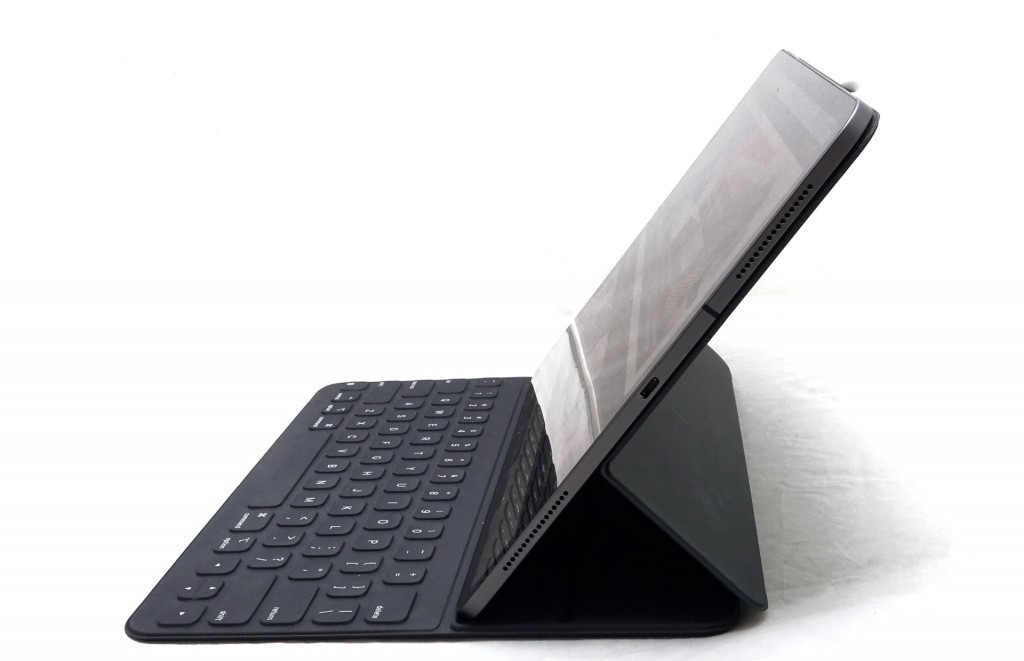 We're not going to say you can't use an iPad Pro for work, because after doing it for a year, we can tell you that you definitely can. While the apps aren't the same, the process is there and it definitely works. But wow, the price of the iPad Pro is tremendous, and it still misses out on something we wish Apple would build into its tablets: water resistance.
The iPhone has been water-resistant for three generations now, starting with the iPhone 7 and iPhone 7 Plus, and there have definitely been waterproof tablets from Sony in the past, so we know this is possible.
Apple has never really commented publicly on the idea of a waterproof tablet, possibly because it's never been a comment to us or nobody has asked, but it feels like the iPad could do with that. After all, if you can take your phone to the pool or beach, why not your tablet? It's your prerogative.
Just don't do that with the iPad Pro this year. It is definitely not made for that.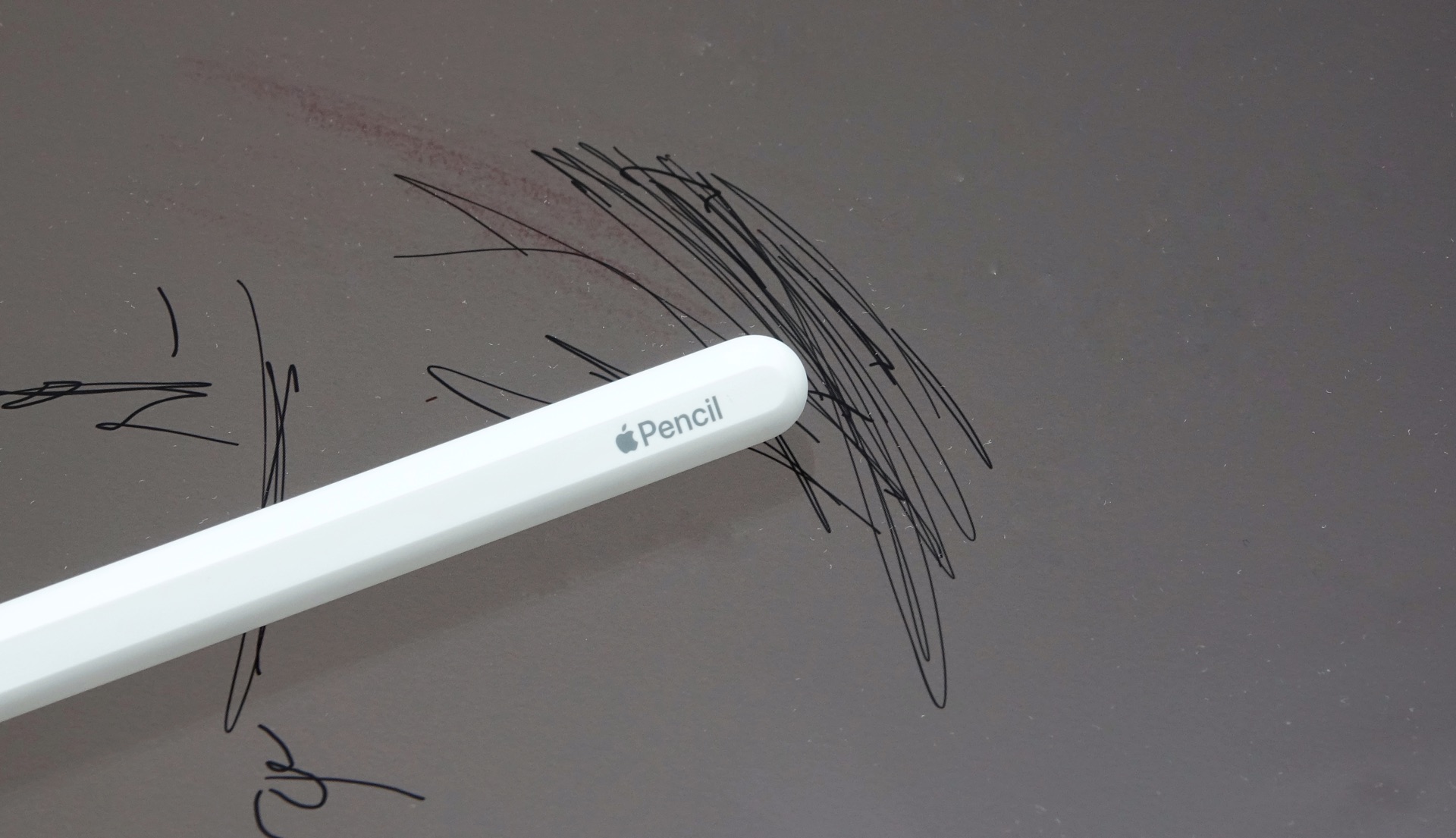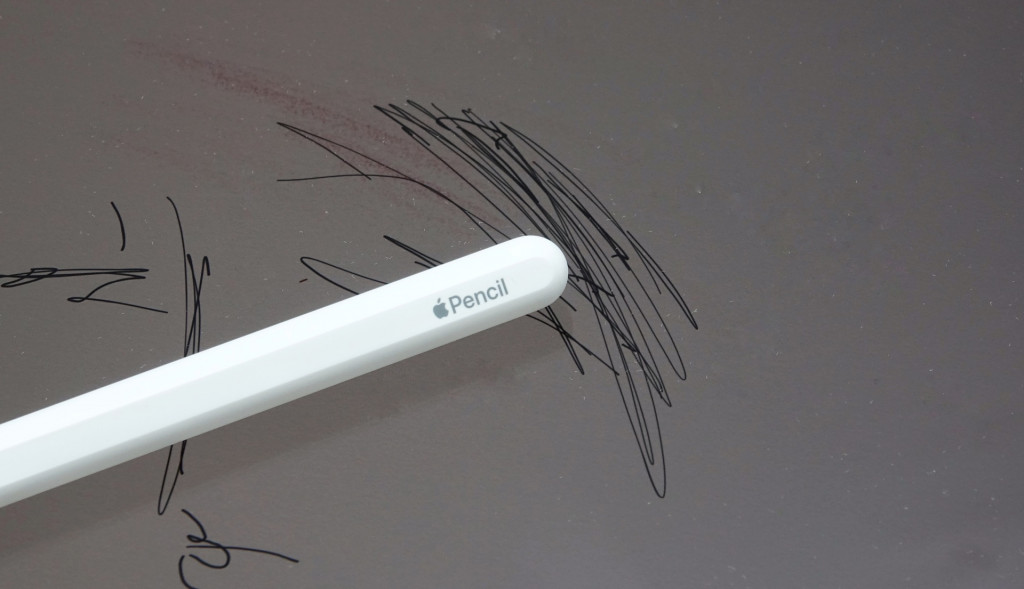 Final thoughts (TLDR)
It's hard to find things to complain about on the 2018 iPad Pro, because Apple has nailed so much of the package.
Great screen? Check.
Lovely design? Check.
Top performance? Check.
Solid security? Check.
Better design of accessories? Check.
Price? Ehhh…
If anything, the price is the one area you may find a bit of a struggle, and that is because it is clearly priced out of the reach of most.
We're at that point where not only is the iPad range a little difficult and comprising of five models, one of which hasn't been updated in ages, but the best models are clearly not made for everyone. Much like the most expensive iPhones this year, the most expensive iPads are so expensive that you'll have to make a decision based on use: do you want a computer or a tablet? Work that out, and it will be a lot easier.
Simply put, Apple's 2018 iPad Pro is exy but excellent, and definitely geared at those who either need the best tablet simply because, or are proper creatives.
In fact, if you do a lot of creative work and need a portable machine that's thin, light, and very capable, the 2018 Apple iPad Pro 12.9 is definitely worth checking out, but be aware, the hit on your wallet is pretty severe. Frankly, we'd weigh up your options carefully, because with a price that competes with laptops, you'll probably need to decide on one or the other, not both.
Highly recommended, but with a consumerist catch, because this is not a cheap device by a long shot, and you'll need to work out which category is best for your needs.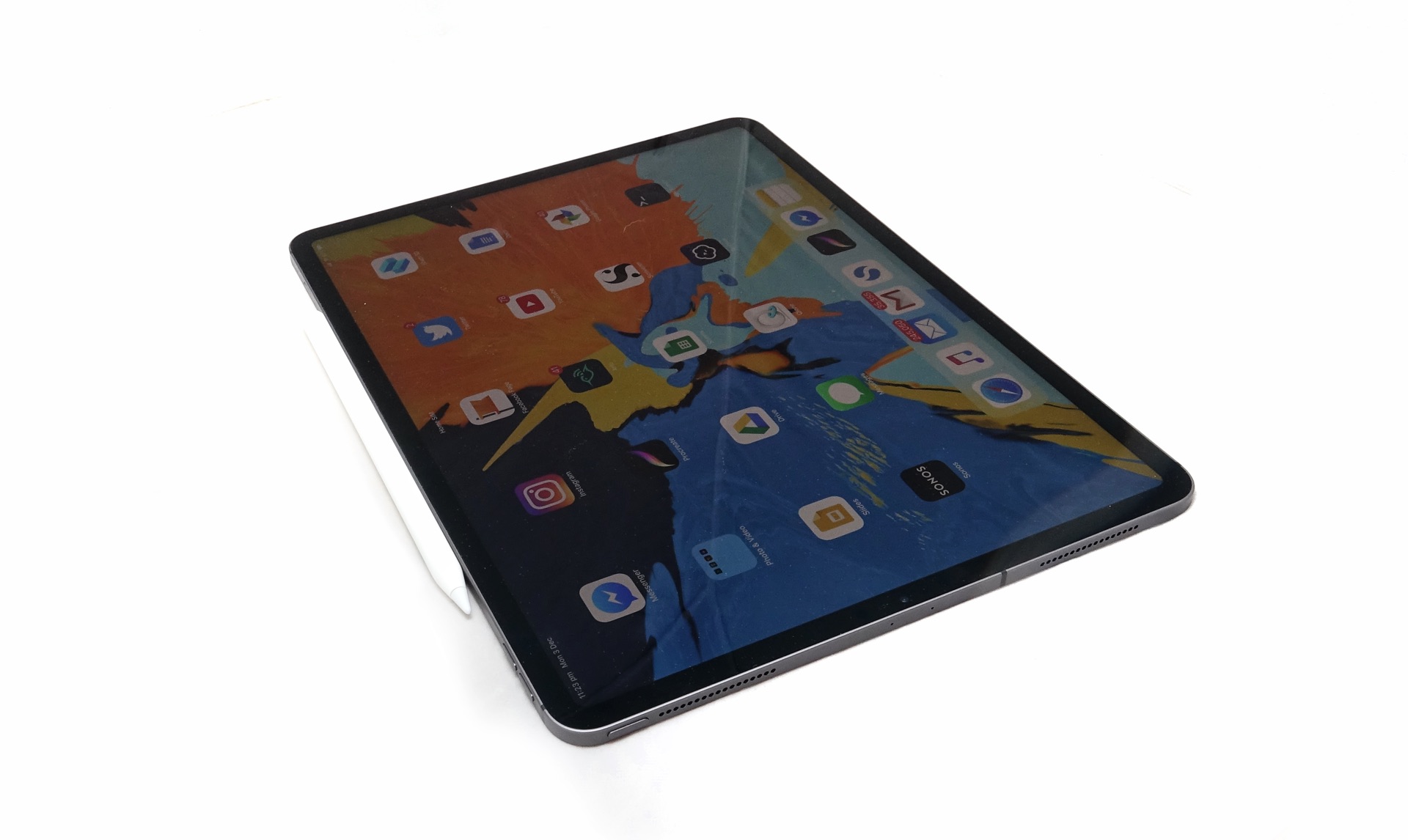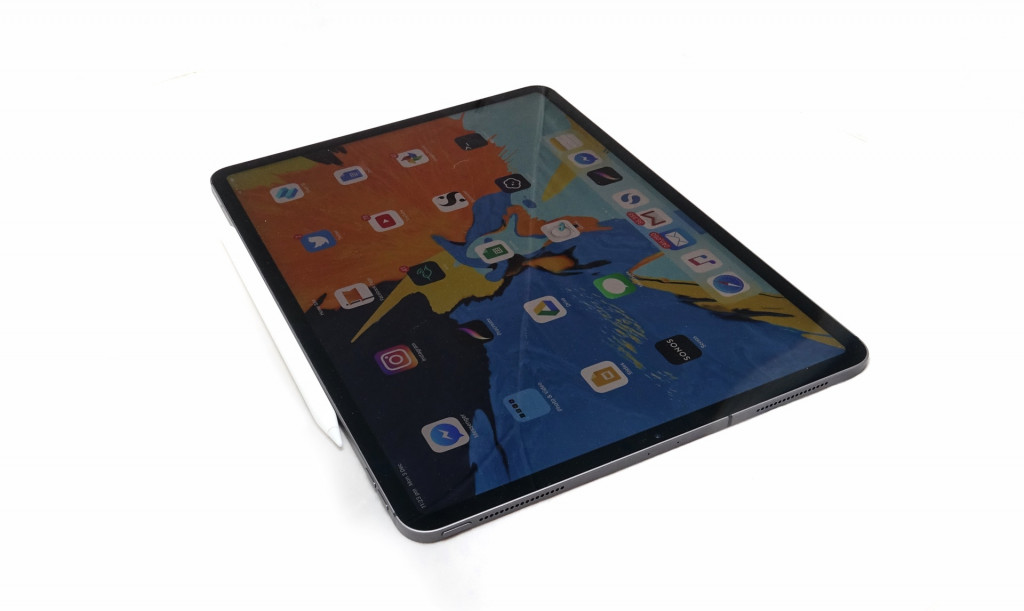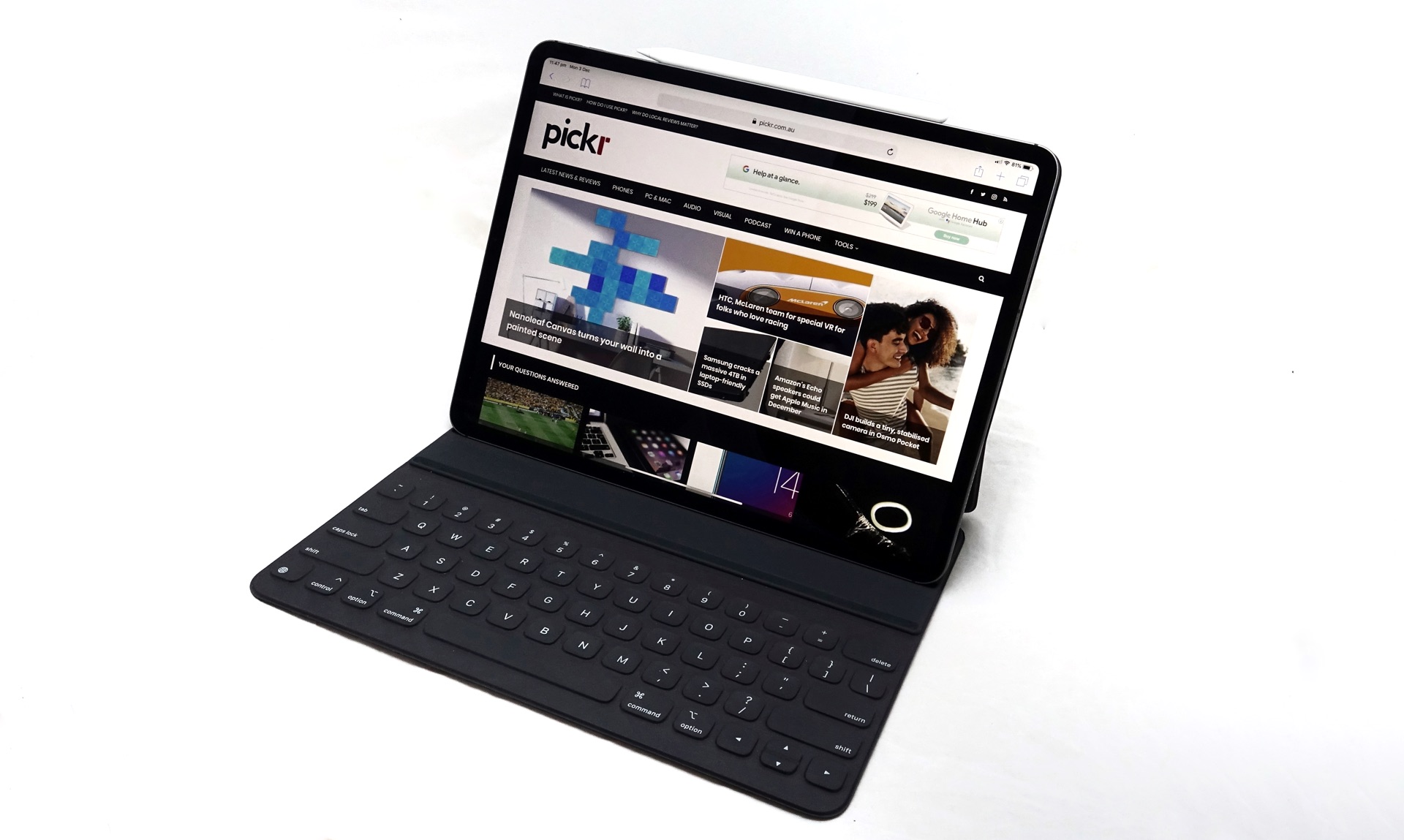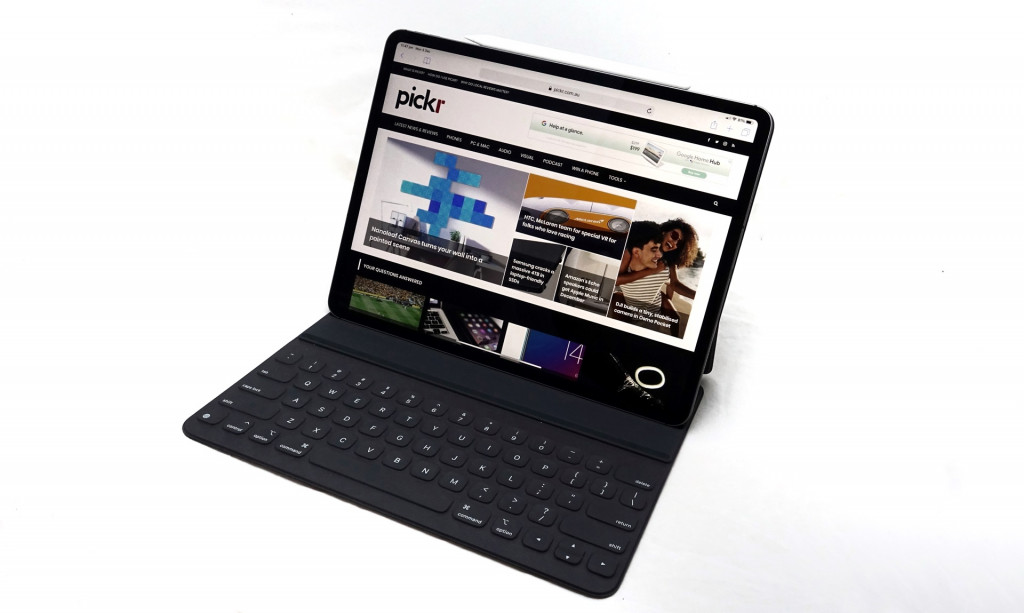 Apple iPad Pro 12.9 (2018)
The good
Great screen
Beautiful design
Excellent build quality
Some of the best tablet performance to date
Lovely "liquid" screen with soft corners and tiny bezels
USB Type C is a welcome inclusion, and now we want it on the iPhone, too
Facial recognition is great, even if it takes some time getting used to not pressing a home button
Pencil location is so much more logical, with a firm magnetic grip and recharge support
Apple Smart Folio Keyboard now protects the back of the case
The not-so-good
Really expensive
No water resistance
No USB Type C to 3.5mm audio converter in the box.