Quick review
Acer Swift Edge 16 (SFE16-43)
The good
Nice 16 inch OLED screen
Reasonable spec for the price
Plenty of ports
Under 13mm thin
Surprisingly light for a 16 inch laptop
The not-so-good
Very shiny and reflective screen
Performance can be iffy
Power hungry in charging
No Australian price
Big laptops and equally big OLED screens aren't typically price friendly, but Acer's Swift Edge 16 could achieve both. Maybe.
It's taken a few years, but the replacement of 16 inch portables for their previous 15 and 17 inch models is finally happening.
No longer is it just Apple that makes a 16 inch machine, with other makers joining them. The size delivers a handy little middle ground for people looking for the increased size and keyboard layout improvement found in a bigger 17 inch, but with something closer to the more lap- and travel-friendly 15 inch size.
When 17 is too big for people who like a larger portable, 16 is more just right, delivering a Goldilocks outcome for content creators and gamers alike. The downsides are typically price and feature set. Compromise on the latter and you'll likely see the price go down, and that can mean lower end specs and a reduction in screen quality.
Acer's latest push on that is to see if it can deliver both without a compromise, building a machine that's relatively thin, surprisingly light, and comes with a high resolution OLED screen. Does it work?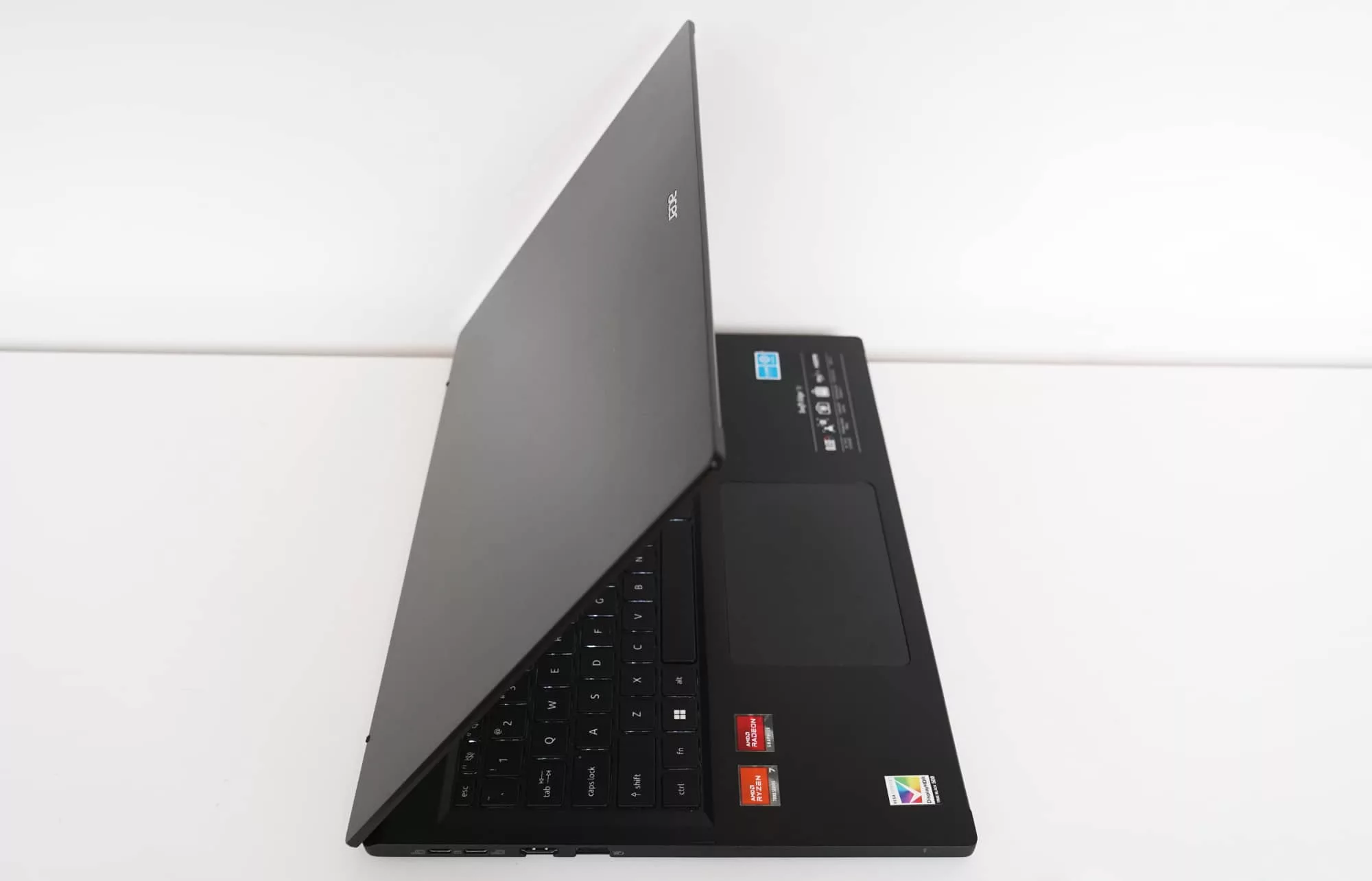 Design
A relatively thin black laptop encased in plastic, the Swift Edge 16 won't necessarily win awards for looks, but it doesn't need to.
The style is simple and inoffensive, with a basic aesthetic that doesn't go for the slick metal looks of many laptops. Rather, you get a plastic machine that feels like it, but also manages to keep the weight and size down.
Measuring just under 13mm and weighing 1.23 kilograms, the minimalist plastic aesthetic won't attract too much attention, but at least it's easy on the eyes and also to carry.
Features
Inside, Acer has equipped a reasonable amount of hardware, giving you a Windows 11 system with one of AMD's latest, the Ryzen 7 7840U, a chip set to 3.3GHz and armed with 16GB RAM and 512GB storage, plus Windows 11 Home.
That chip also features an AMD GPU, running the Radeon 780M, which should provide some graphical prowess should you need it, while the system also covers a fair amount of connection options.
WiFi 6E is onboard for a degree of future proofing as well as Bluetooth, while wired connections are quite varied, offering a lot more than one or two USB Type C ports.

As such, you'll find two USB-C, two USB-A, a single HDMI, a 3.5mm headset jack, and a microSD card slot, giving you a little more to work with and charging through the Type C connectors all found on the left edge.
There's also a fingerprint sensor found in the power button handy for Windows Hello secure logins, a camera up top, and a fairly sizeable keyboard and trackpad, with the first one being large enough to include a numeric keypad.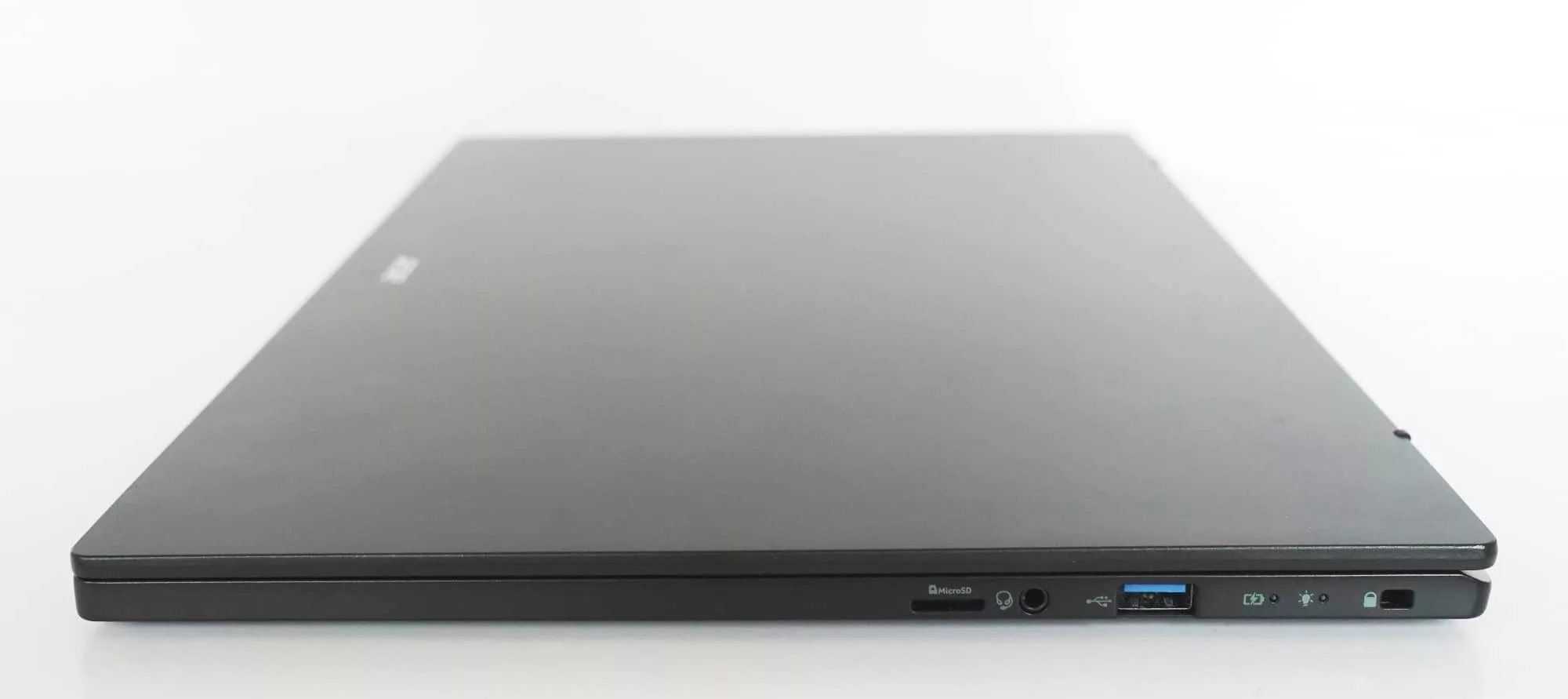 Display
Outside of the spec list, one of the key features designed to impress is the screen, with a sizeable 16 inch OLED display on offer. Not just that, it's a 3.2K screen, sporting a 3200×2000 and running at 120Hz.
It's bright, clear, and very nice, delivering solid blacks and a reasonable amount of brightness, too.
OLED may well be a premium technology, but it's one of the best features of the Swift Edge 16. It may well be where the name "Edge" comes from in this machine.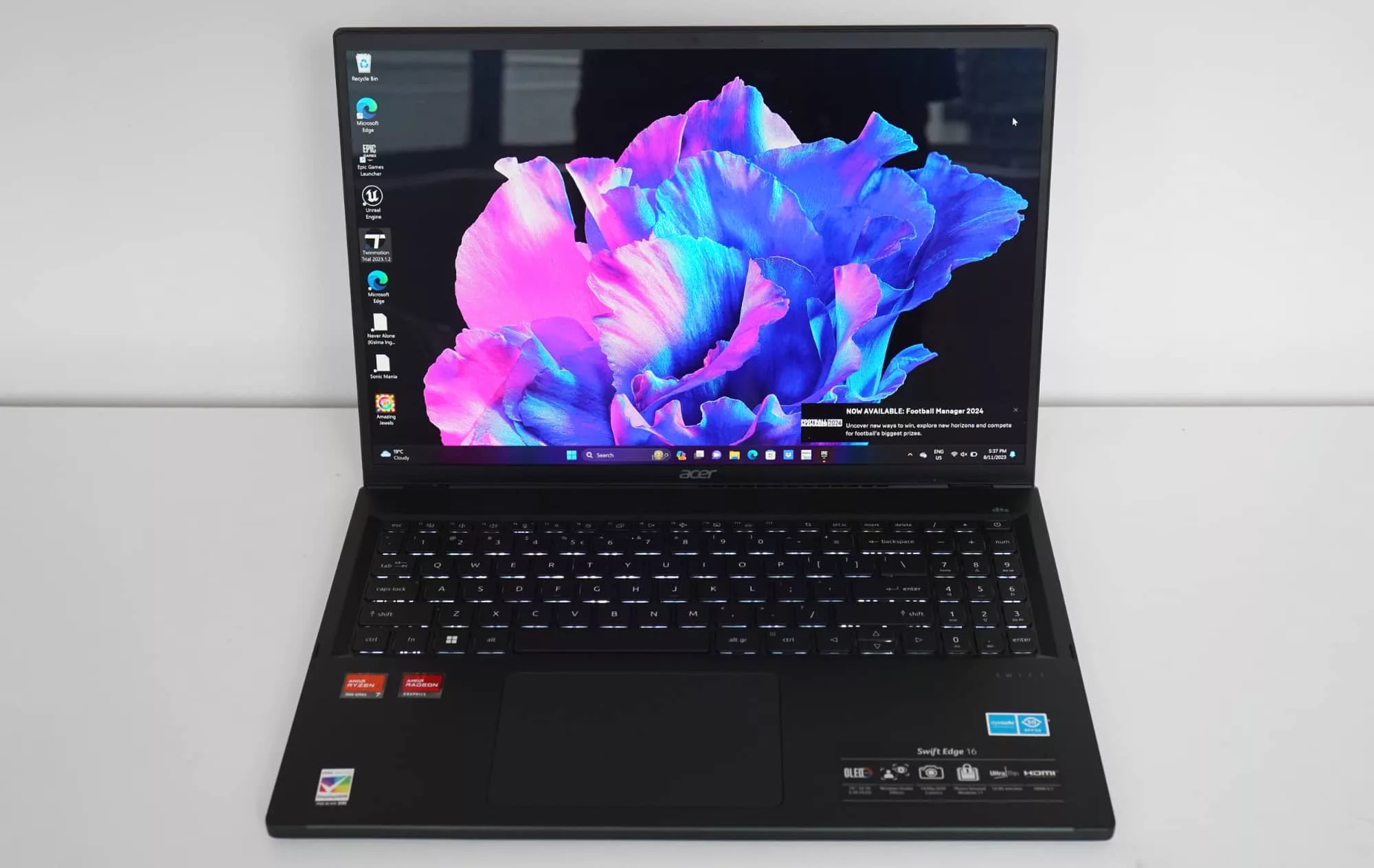 In-use
Underneath (or rather at a 90 degree angle), you'll find a big and spacious keyboard, thanks in part to that massive screen size. Laptops with a 16 inch screen typically offer more room, and the keyboard in the Edge 16 is no different, packing in both a standard and comfortable QWERTY keyboard with a slightly thinner take on a numeric keypad.
This reviewer tends to lean on the right shift key, and that key is nice and large, making the typing experience very much like using an external keyboard.
What's more, the keys offer a decent amount of travel, and while they can feel a touch plasticky at times, the keyboard is plenty comfortable to type on.
Just underneath is a trackpad, and it's one that is slick and shiny, more so than the aesthetic of the laptop itself. About the only issue you might have with the trackpad is the button, which is loud when you click, but does the job.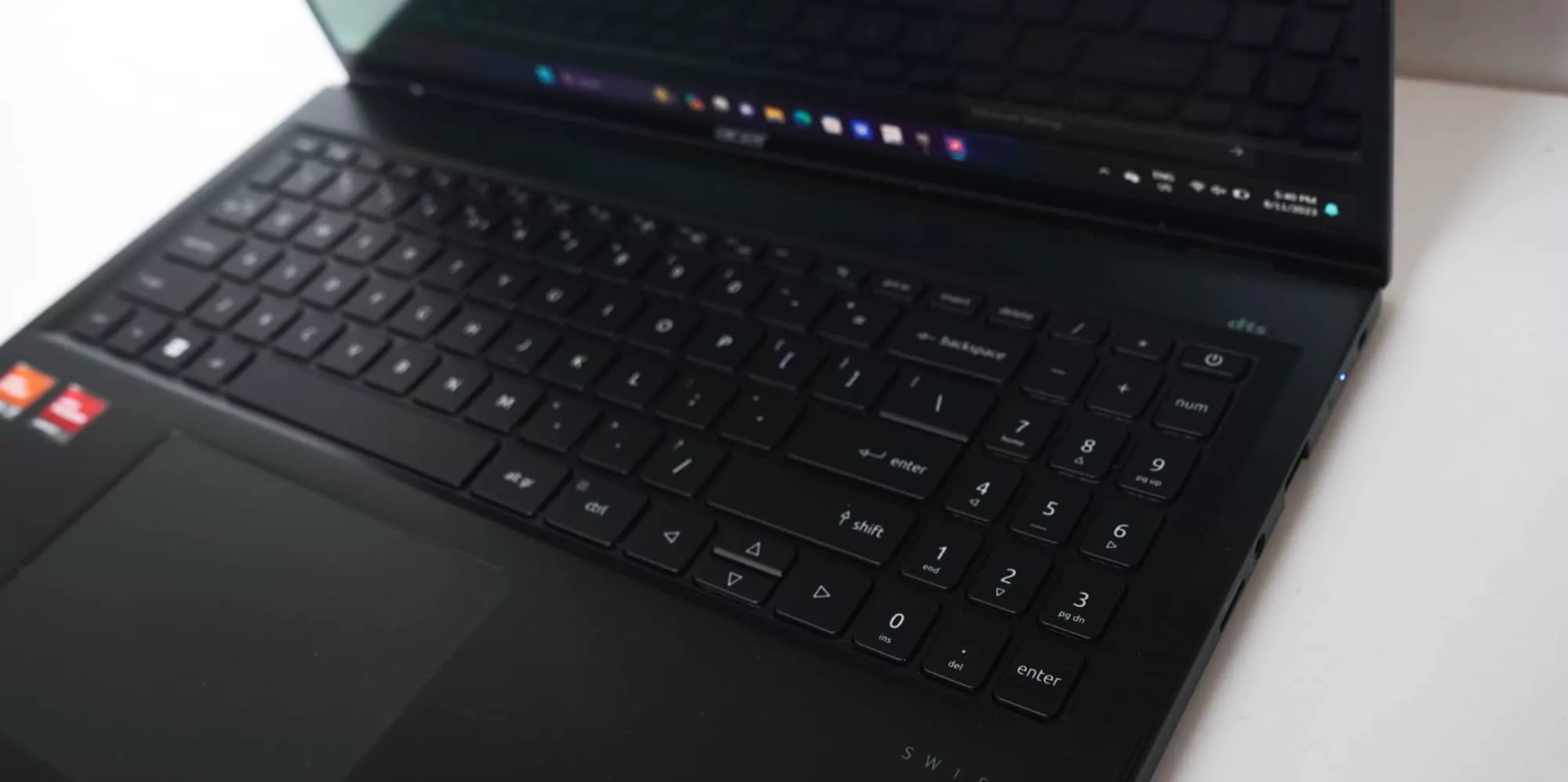 Performance
Armed with a new AMD Ryzen inside, you'll find the system also "does the job", giving you games performance with the combined CPU/GPU in the Ryzen 7 7840U, handling both system performance and graphics, as well.
Your mileage may vary depending on what you use the Swift Edge 16 for, but we found games tended to be the main focus here, with 3D workstation tech a little lacklustre at least on performance.
In synthetic benchmarks, our tests found the Ryzen in the Acer wasn't quite able to match the Ryzen Z1 in the Asus ROG Ally, a dedicated gaming system, even though they both offered AMD processors made to take graphics to go.
It gave us an idea of what to expect, particularly as we typically test meaty systems with two types of benchmark: 3D development and gaming.
Testing it with Unreal Engine projects, we quickly found the Ryzen 7 onboard wasn't quite as highly spec'd as we'd hoped, and struggled with larger projects. Smaller files opened fine and ran, and TwinMotion gave us an idea that 3D set creation for photos also mean the Swift Edge 16 is capable, just not really workstation-class.
It was our first lesson for the hardware: don't assume that because it has a spiffy new AMD CPU/GPU combo that it can easily match the workstation grade hardware of other systems.
That's fine. Moving on.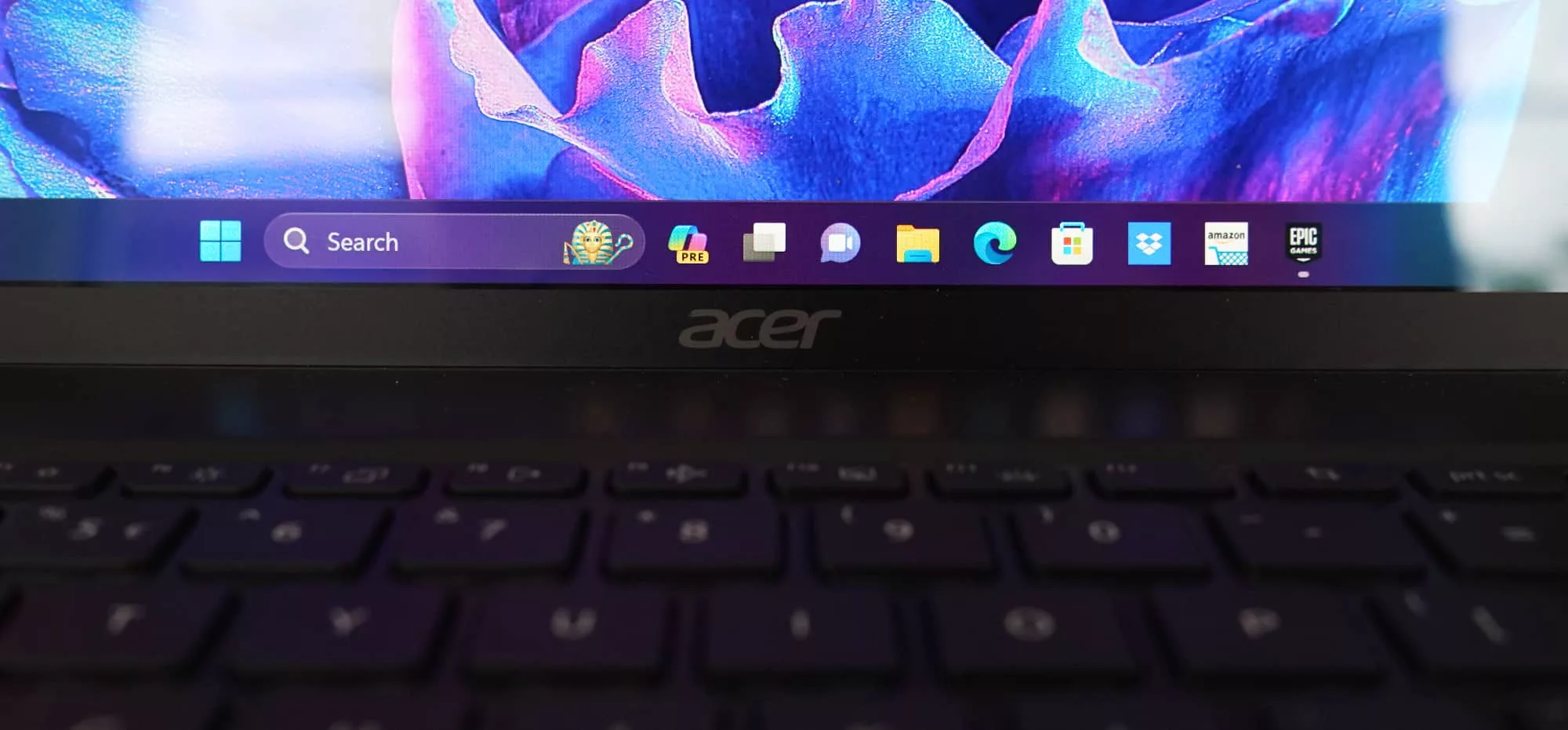 With games, it's a different story. You probably won't be able to match the 3200×2000 3.2K resolution in games with the graphical settings up, because there's not quite enough juice in the tank for that.
As it is, there's barely enough for modern games running in medium or high at 1920×1200 HD; tests of Control struggled to show more than 15 frames per second in medium at Full HD. However less hefty games should be fine, particularly if there's no requirement for a discrete or dedicated graphical system.
While there's technically an AMD Radeon chip working away here, we didn't quite see the high-end performance trickle down for everything. Some games will like it more than others, so just be aware that you may need to turn down the graphic options to play.
Battery
On the battery side of things, our time with the Swift Edge 16 found between 4 and 8 hours of battery life, with that range varying based on your needs.
Use the Swift Edge 16 for your regular work day machine, the big screen and sizeable keyboard could see 8 to 10 hours, and maybe a little more. Usage time will vary on needs, of course.
But for games, we found the battery life scaled back monumentally, hitting a max of 3 to 4 hours when playing off battery. That's not a staggering amount, but games also aren't typically friendly to performance, either.
They're power hungry and can really kill the life, so you could see more life if you don't take advantage of the graphical capabilities of the hardware and just use the Edge 16 for work and such.
Also power hungry are the USB C charge ports, which uses a luggage friendly 65W charger but for some reason won't charge from just any connection. No joke, we tried plugging in a range of Type C charge packs, several of which were compact GaN models, and the only charging block Acer's Swift Edge 16 seemed to like was either its own or the 200W model we reviewed from Satechi.
That's a frustrating point for us, because even the meatiest of MacBooks can seem to get a trickle of charge from a smaller power supply, but on here, Acer just says no.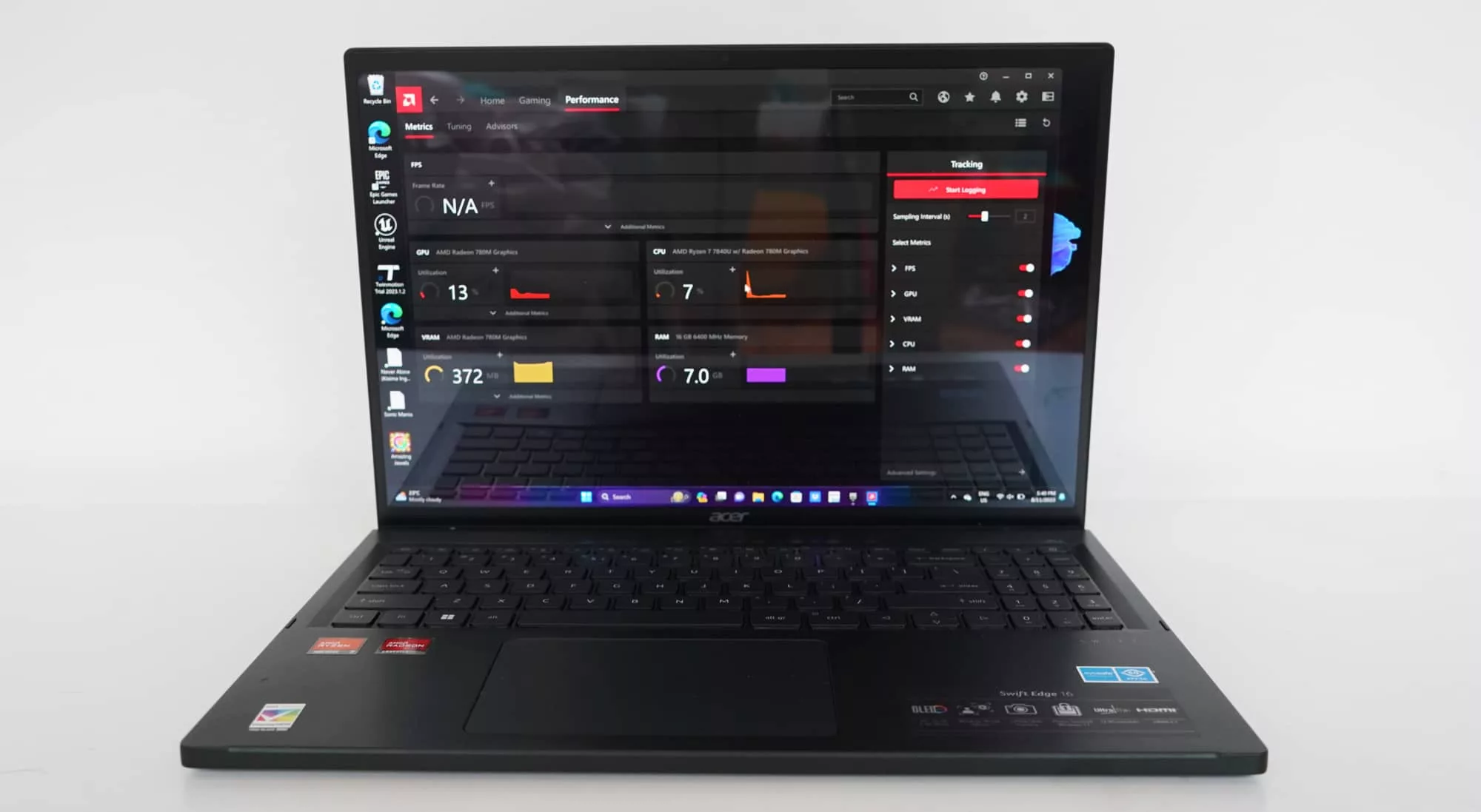 Value
The issue with needing a large power supply is part one of our issues with the machine, but so is the lack of an Australian price.
AMD supplied the Acer Swift Edge 16 for Pickr to review, and the fact that there's no Australian adaptor in the box was the first sign the RRP of this laptop would be nowhere to be found.
Overseas, it can be found for around £1300, which translated would see it hit Australia for just under $2500 locally, but the laptop is missing in action from Acer's local store website, which makes us wonder what's going on.
It's obvious competition would likely come from Asus which also builds 16 inch OLED machines with meaty chips, one of which we saw last year, the $3099 VivoBook Pro 16X OLED.
If Acer could keep the Swift Edge 16 under $2500 in Australia, it would give the company something of a definite competitor, allowing folks to save some cash on a comparable system of sorts. If it can stick to under $2K, it would be very compelling.
But without any actual price tag, it's incredibly hard to account for in a review.
What needs work?
And that's a shame, because clearly, there's a lot to be found in the Swift Edge 16 OLED, with that massive display being a big part, pun intended.
But we wish it wasn't quite as shiny and reflective, because it tends to pick up on any errant light in your life, giving you a glare the likes of which could turn your experience using the Swift into something a little too dimensional. Typing in one room with a light behind us, the glare of the lamp cast an obvious line that we couldn't look past, while our image reflected so obviously in the display.
There are matte screens and glossy screens, and sure, not every computer is made equally. However, Acer's level of reflections found on the Swift Edge 16 just screams shiny to the point where any and all glare may end up bothering you.
It's a little dampener on what is an otherwise great screen that stands out.
We'd also love to have some sort of gauge for what the special AI instructions found in this generation of AMD chip can do.
New to the AMD Ryzen 7 package, the included chip supports Ryzen AI, essentially providing some artificial intelligence to deal with extra workloads in the background. The latest version of Windows 11 can also handle AI thanks to its OpenAI Copilot feature, but we're not sure these were connected. It definitely worked on the Swift Edge 16, but from what we know, this is handled in the cloud, hardly on the system.
At this point, it's difficult to know exactly what the AI feature in the new Ryzen chip is doing, if anything at all. It just might be one of those extra features that gradually becomes useful as developers work out what to do with it. Right now, it exists and that's about it.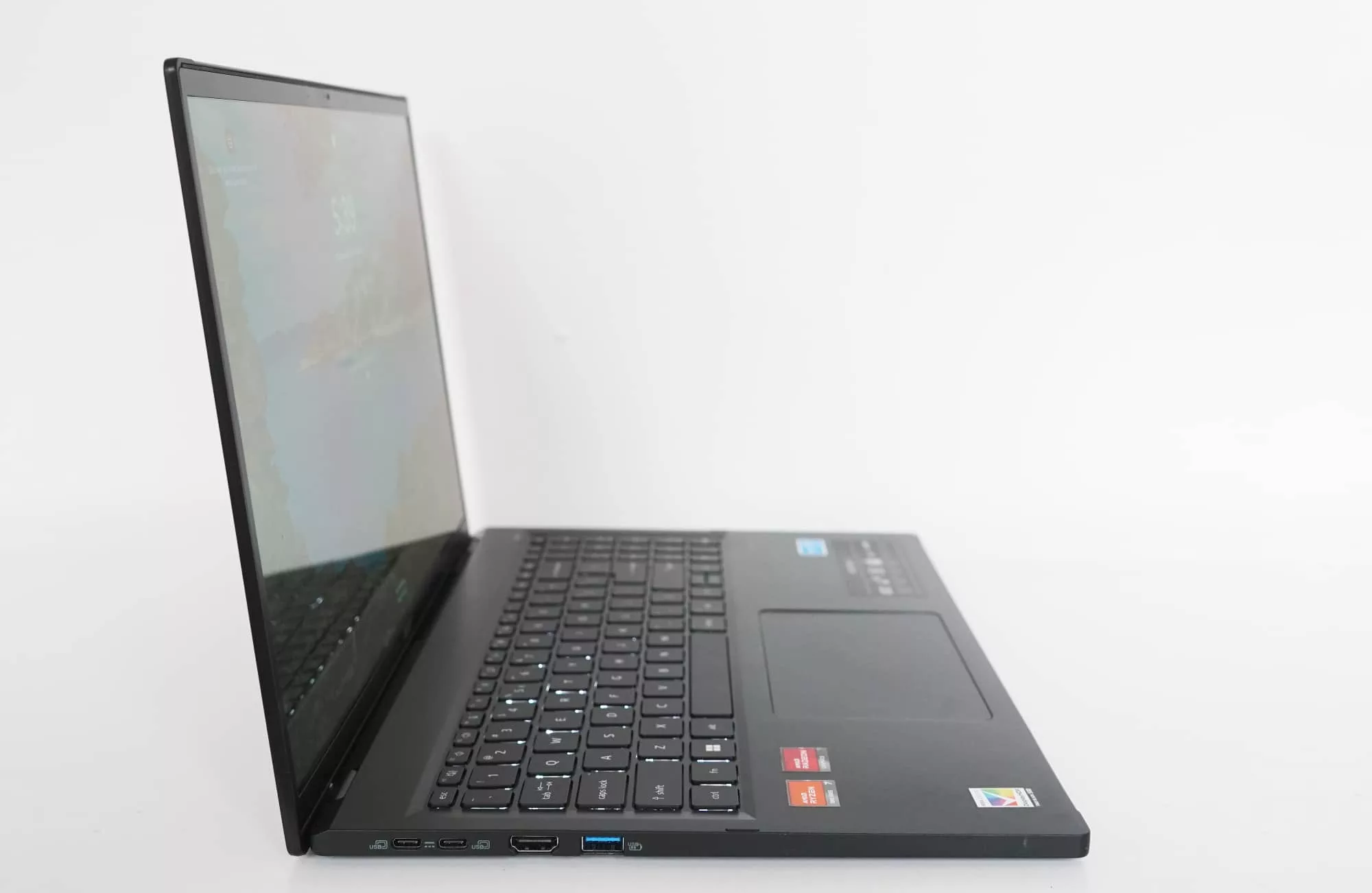 Final thoughts (TLDR)
All work and no Australian pricing makes an Australian reviewer something something, but once we get a price, the Acer Swift Edge 16 could be an interesting computer to check out. We've heard rumours of $1999, which would give Acer a very compelling 16 inch alternative if true.
Mind you, performance can be a little iffy at times, and your usage will really define whether you have an amazeballs jack-of-all-trades experience, or a question yourself with "why didn't I spend a little more for something more capable".
If you temper expectations just a bit and really just want a big computer that's thin, light, and offers a lovely OLED screen, Acer has something. We wish it had a little more power, but we guess that's what the more expensive models are for.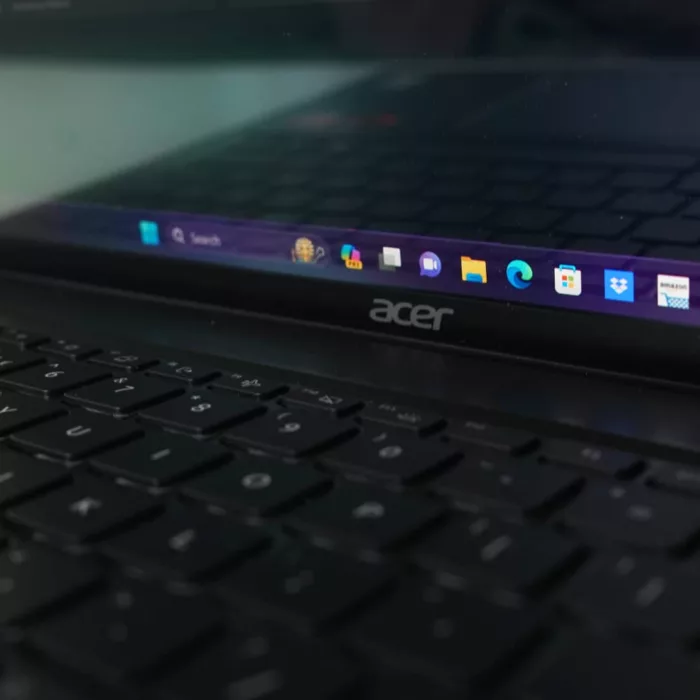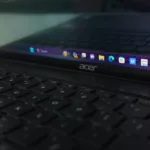 Acer Swift Edge 16 (SFE16-43)
The good
Nice 16 inch OLED screen
Reasonable spec for the price
Plenty of ports
Under 13mm thin
Surprisingly light for a 16 inch laptop
The not-so-good
Very shiny and reflective screen
Performance can be iffy
Power hungry in charging
No Australian price