Quick review
Satechi 200W USB-C 6-port GaN charger
The good
Can charge six modern gadgets all at once
Supports even the meatiest laptop needs
Surprisingly compact, though its weight can make an impact on your carry
Sits down or stands up, thanks to an included stand
The not-so-good
Heavy to carry
Charging above 140W is basically limited to plugging in one device
No USB-C cable is included in the box
Expensive
Now that USB-C is the standard of choice, charging all your devices can happen from one device, which is what the Satechi 200W GaN aims to deliver on.
We all have so many devices. So, so many devices that go with us everywhere. A phone. A watch. Headphones. Maybe a speaker. Possibly a tablet. Definitely a laptop. Maybe even the power bank to keep all of these topped up.
There are so many gadgets but thankfully one standard port to charge them from: USB C.
Now that even Apple has adopted Type C USB, this is a format that's everywhere, and makes it possible to charge practically anything from the one port. The same port.
The switch to USB-C is a positive one, but if you have a lot of gadgets, you may need a sizeable way to keep them all charged.
And that's precisely what Satechi is offering in a big power pack for the wall. Offering six ports and up to 200W, Satechi's 6-port GaN charger might be the last power pack you buy for a while. Maybe maybe.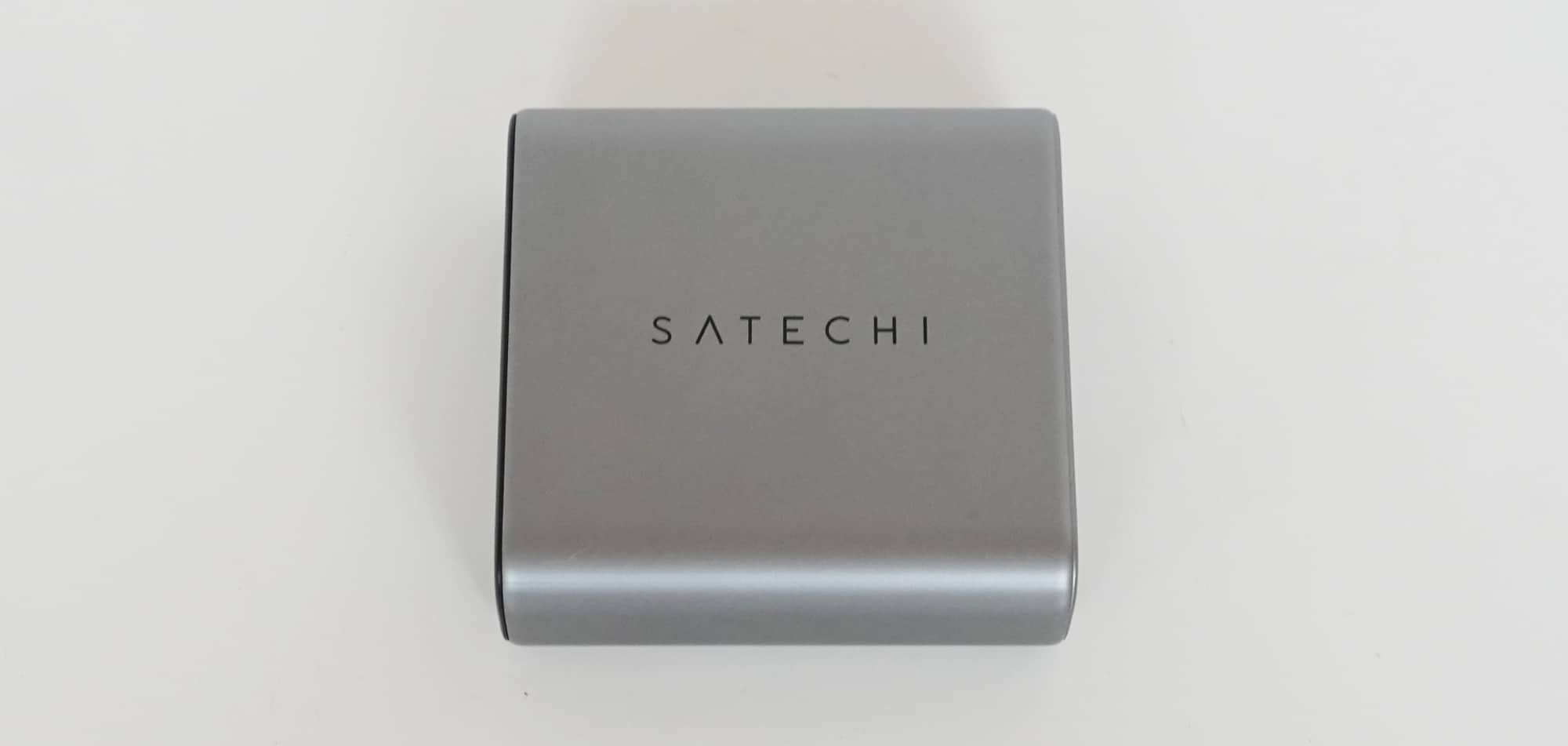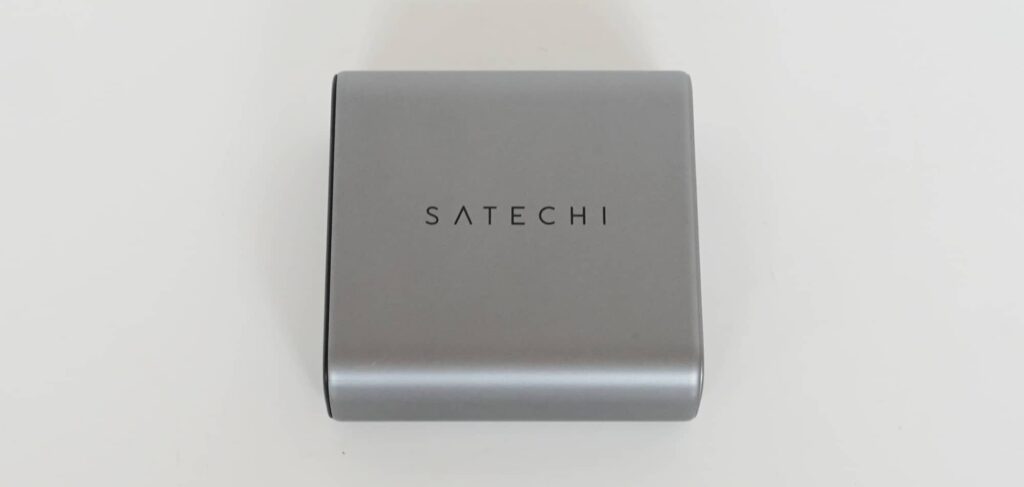 What is it?
Satechi doesn't typically mince words with its names, and in this product, everything you need to know is right there in the title: Satechi 200W USB-C 6-port GaN charger.
Specifically, it's a USB-C charging block that can dish out a maximum of 200W from its six ports, using the Gallium Nitride technology known affectionately as "GaN", and is made by Satechi. That wasn't so hard, was it.
This charger uses USB Type C ports to send out power, but it receives power using a standard three-prong plug, the likes of which you might find connecting to a laptop charger, provided it's not made by Apple (because Apple uses figure-eight plugs).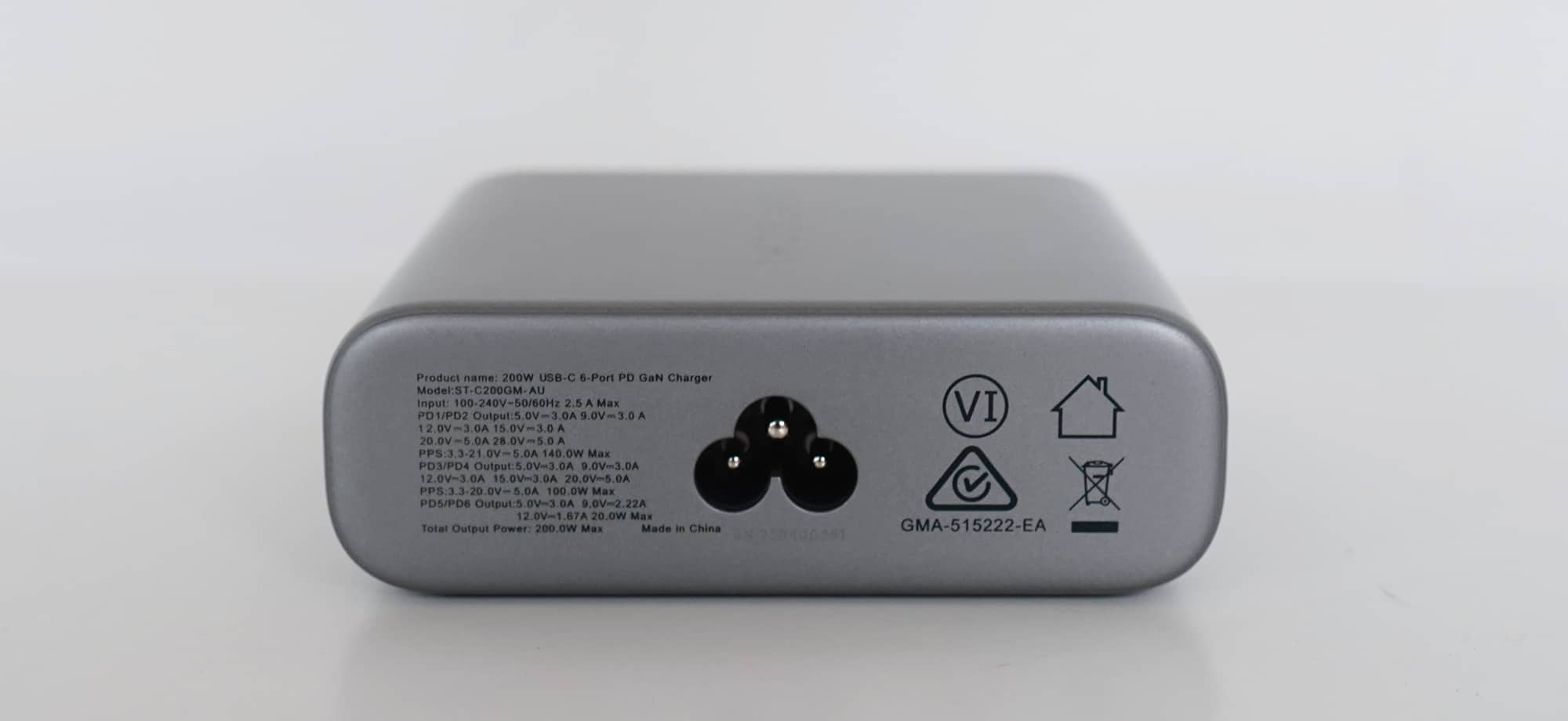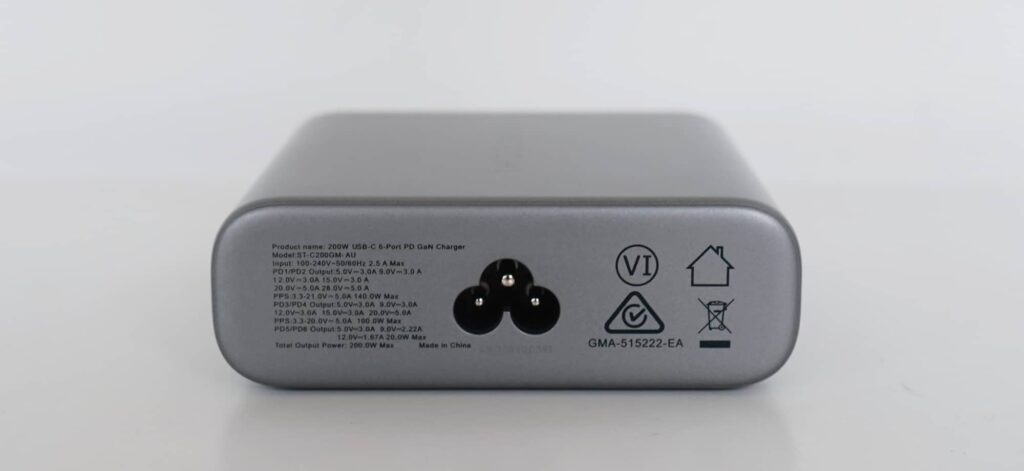 What does the Satechi 200W GaN charger do?
Plug that power plug into the wall, and you'll instantly have a way to power lots of devices with one brick of a thing.
Relatively small, the charging brick relies on GaN to get a high-power charging system into a small size.
First released into consumer tech a few years ago, GaN has gradually made its way into the power charging packs from computer makers, though has seen more appearance from peripheral companies like Mophie, Belkin, and Satechi.
The latter's play in this area isn't new, but in the 200W GaN charger, it's the biggest size we've seen yet, not just from the brand but in general.
With it, you can charge up to six USB Type C devices at once at varied power amounts or one big machine at 140W. Granted, these combinations almost never quite equal 200 watts, though it can get close. And in one combination, it should deliver 200W total.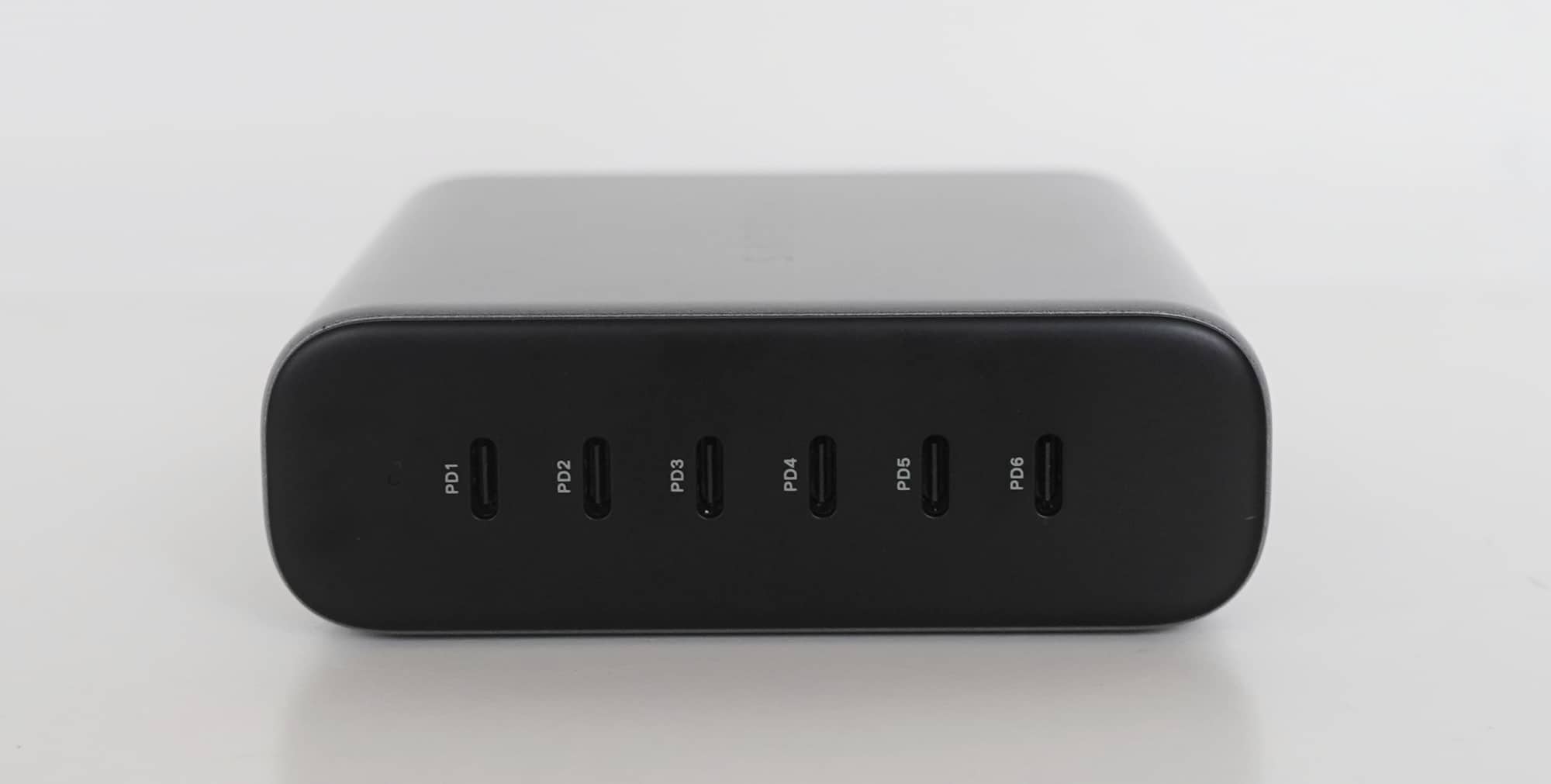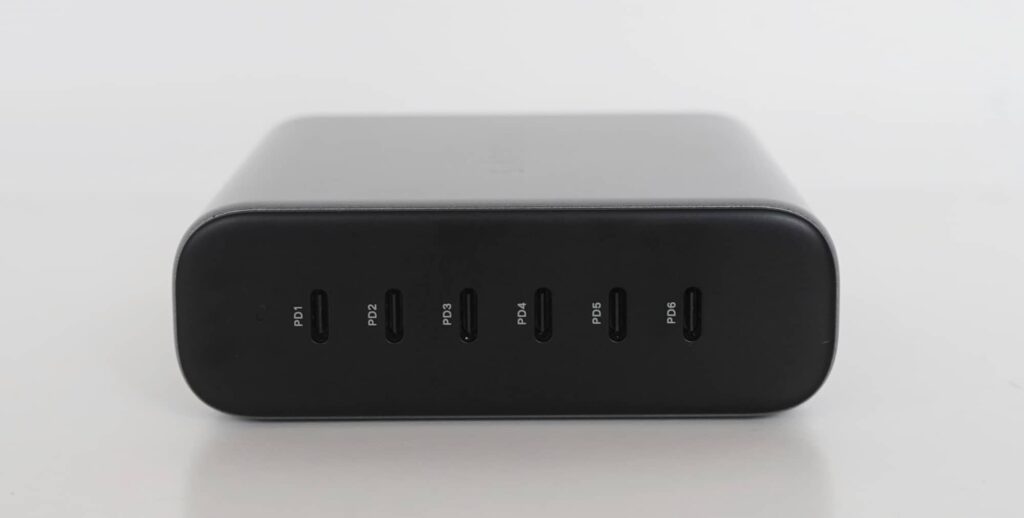 Does it do the job?
Satechi's claim to this being a 200W charger gets complex when you start to discuss your needs, because while it can do 200W of charging, it almost always never will.
For instance, the first two ports (PD1 or PD2) rated for 140W, but only when used by themselves. So if you need that 140W for your laptop, you're plugging into PD1 or PD2 and nothing else. That makes it a 140W charger.
If you want the 200W, you can use PD1 and PD2 simultaneously for 100W each, but then use no other ports. That's still not a deal breaker for most.
The reat of the ports can be run if you don't mind the first two ports charging at 65W or 45W. In fact, if you opt for using all six ports, you'll get power at:
65W on PD1
45W on PD2
20W on PD3, PD4, PD5, PD6
Even in the Apple world, the 140W charger Apple makes for its MacBook line is meant as a fast charger, which this supports. You'll need a recent laptop from 2021 onwards, with the main focus on the 16 inch MacBook Pro. Basically, the meatiest laptops can handle that 140W, which on this charger is limited to just one port at a time.
The point through all this is it may not matter. Very few laptops in our lives need more than 95W, and you probably have a scattering of other gadgets that can handle the rest. From this reviewer's point of view, the combination of power available on multiple ports in the Satechi 200W GaN makes it worthwhile.
Either way, it's a lot of power to be run through a small device, and makes it a logical choice for carrying on a trip, particularly if you normally carry lots of gadgets at once.
The fact that it relies on a standard three-port charging cable also means you can bring a simple converter or a cable made for the country you're heading to, and that'll basically give you a quick charging pack for everything at once.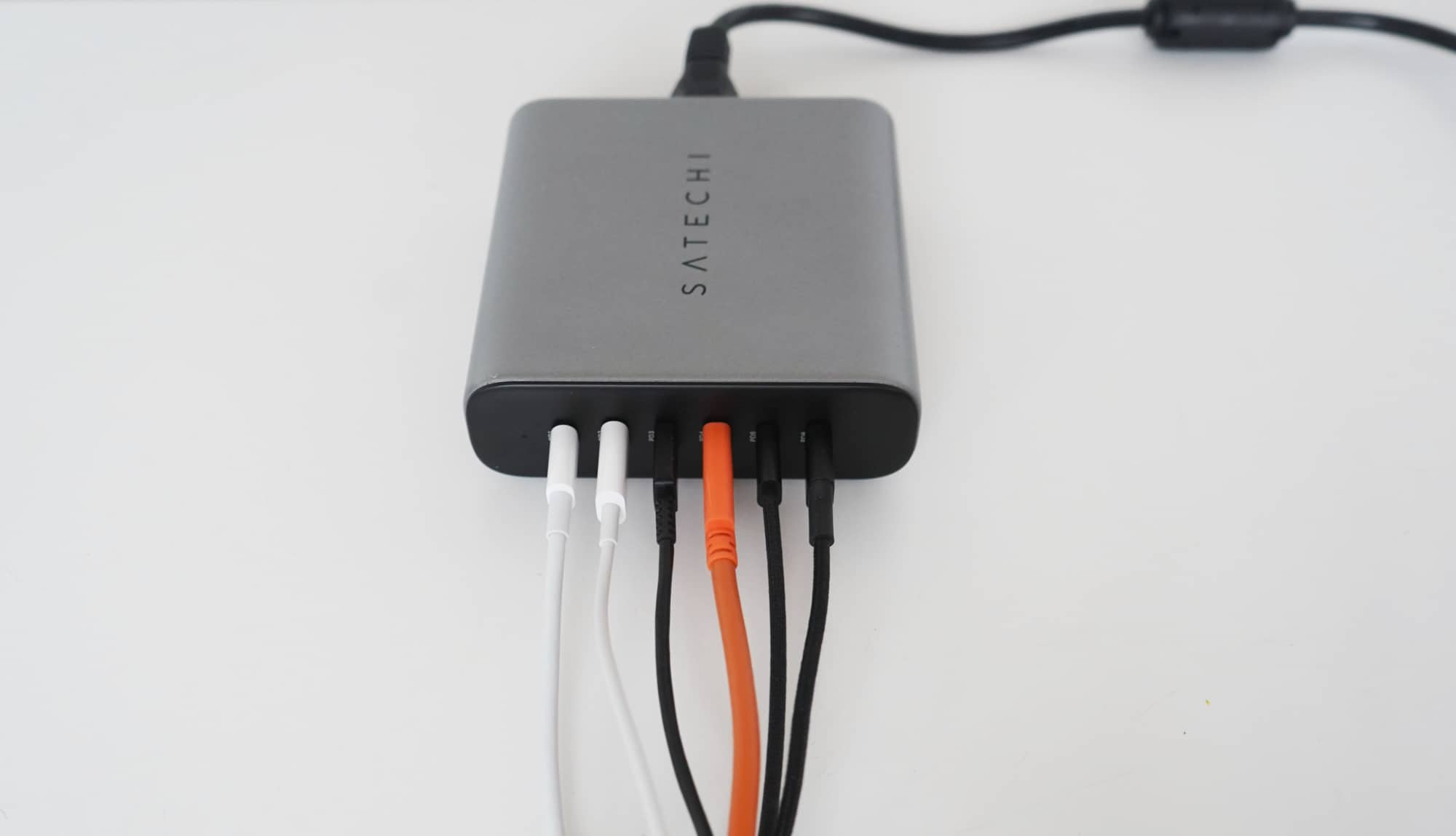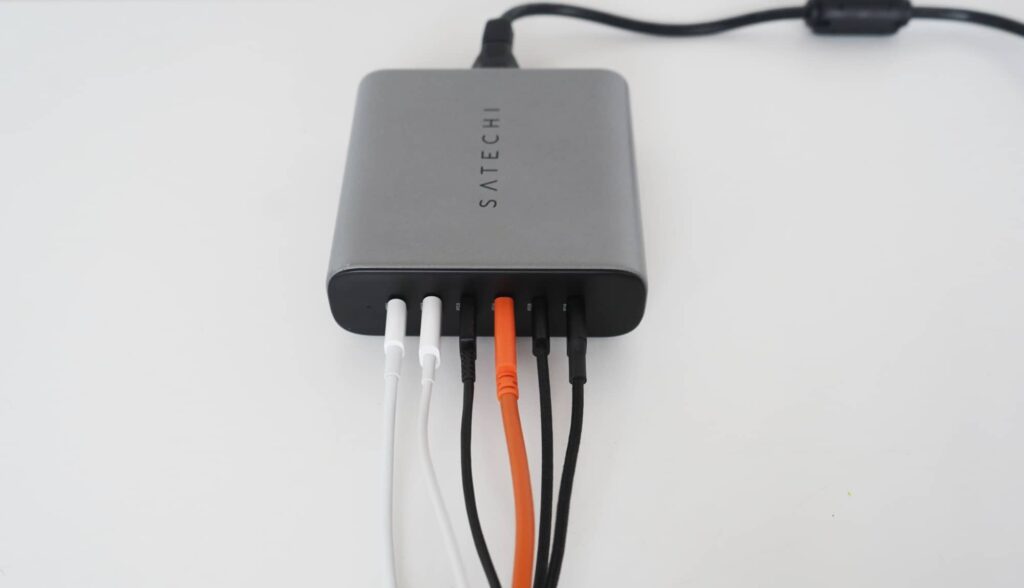 What does it need?
The downside could well be the weight, which at 622 grams is not a light power pack by any stretch of the imagination. This is a plug, by the way, and not a power bank with six ports, so you need a wall plug to use the Satechi 200W GaN charger. There's no way around it whatsoever, and it isn't like those new Belkin wall-chargers with a power bank inside, small as they are.
You're basically carrying a meaty power supply, though in fairness, it could also replace the meaty power supply some laptops come with. If you have one of those, the 622g weight may be only a little more (or a little less!) than the one you already have.
Is it worth your money?
One other point is the price: at a hair under $270 in Australia, the Satechi 200W GaN charging block isn't inexpensive. In fact, it may well be just the most pricey charging pack we've ever seen.
That's not to say the Satechi 200W GaN isn't good value — you can charge some meaty devices using this hardware, or six gadgets all up — but it's still pricey, and it doesn't even come with an extra Type C cable in the box.
At $269.99, you're paying for the charging box and its three-prong cable, and that's it. This is very much a BYO kind of affair.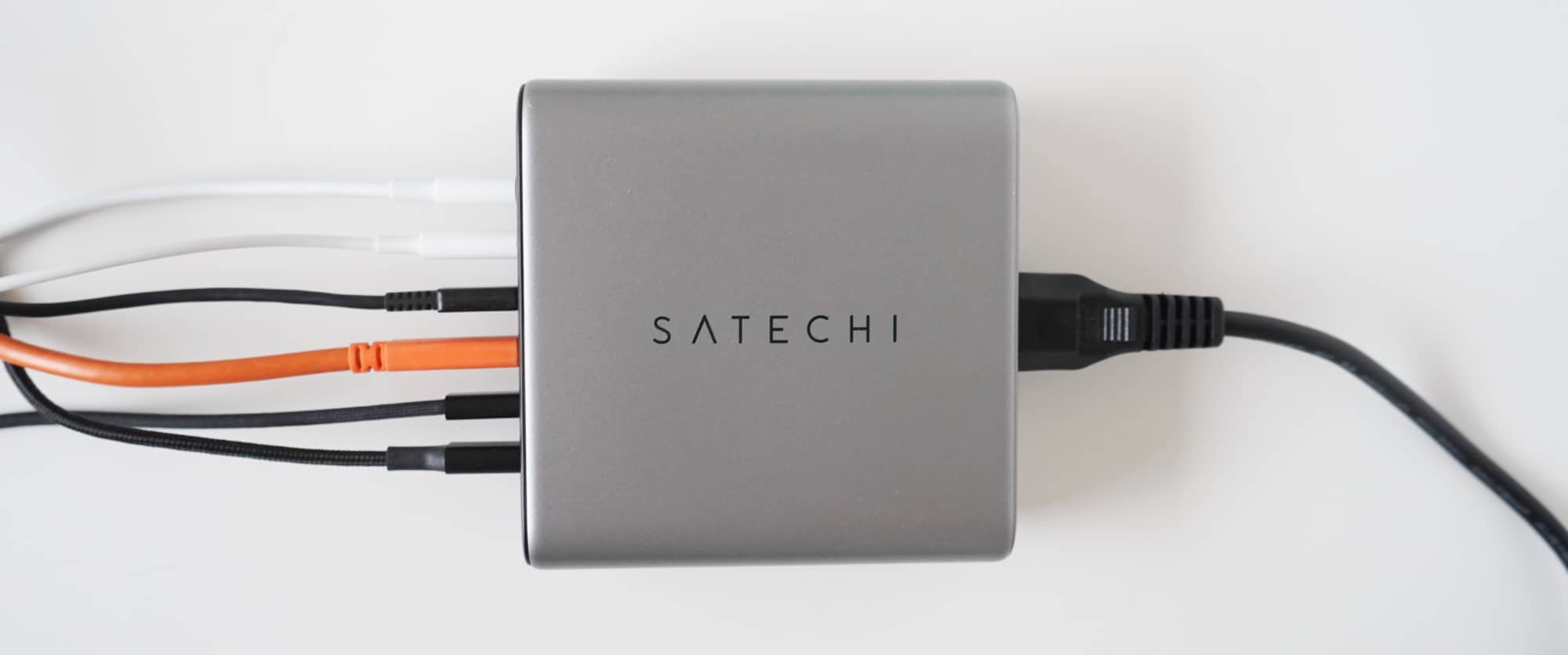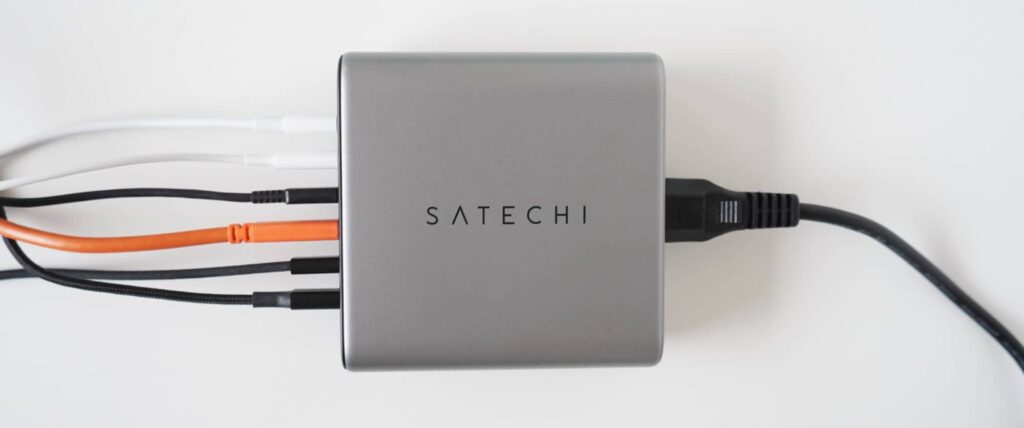 Yay or nay?
Even though it's a touch on the heavy side, there are amply reasons to consider the Satechi 200w GaN charging block, simply because of what it does: collapse several chargers into one big one.
We've been carrying it around from place to place for the past few weeks, and it's not for your everyday carry, more belonging on your desk.
Flying somewhere else, though? That we could see. Satechi's 200W GaN charger is an automatic inclusion on our next business trip. It handles everything.
It's pricey, sure, and it'd be nice if Satechi included a USB-C cable in the box, but if what you need is power, this thing delivers.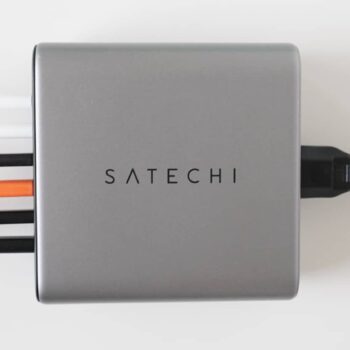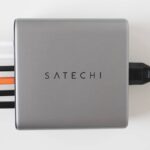 Satechi 200W USB-C 6-port GaN charger
The good
Can charge six modern gadgets all at once
Supports even the meatiest laptop needs
Surprisingly compact, though its weight can make an impact on your carry
Sits down or stands up, thanks to an included stand
The not-so-good
Heavy to carry
Charging above 140W is basically limited to plugging in one device
No USB-C cable is included in the box
Expensive