Quick review
Asus ROG Ally
The good
Solid specs: 16GB RAM and 512GB storage
Supports microSD for more space
7 inch touchscreen supports 120Hz
Includes Corning's scratch-resistant Gorilla Glass
Plenty of controls for gamers who dig buttons
Supports Steam, EA Play, and plenty of modern games
The not-so-good
Windows can make the whole thing feel buggy
Some games won't be compatible with the controls at all
Battery life is hit and miss
No stand
The Switch makes it possible to take games anywhere, but what if your game collection is on your PC? For that, the Asus ROG Ally might just be your best friend, if not for the odd bug or two.
One of the best things about being an adult is being able to buy anything you want provided you have the cash at hand. That could be a simple treat like a chocolate bar, or if you're online often, something out of a video game sale.
But while a chocolate treat can be easily eaten anytime, a game requires time to play. And one of the worst things about being an adult is that time isn't always available and you don't always have enough of it.
As a fully-functioning adult, you probably have obligations like work, living, eating, and maybe even parenting. Life an as adult is fraught with things that will inevitably eat your time and make it next to impossible to play with that little game treat you bought yourself one week because it was on sale.
The good news is that you can build up your game library for the eventuality that you have free time and you'll be able to play those games one of those days. There are plenty of places that make it possible, too, including Steam, Humble Bundle, GOG, Epic, EA Play, Itch dot io, and so on.
After spending a few bucks here and there, you can really get a library to be proud of over time. Of course, you still need at the proverbial time to speak of, and even the device.
Portable computers are changing things, though. More than the traditional portable that is the laptop, a properly portable PC modelled on a video game system can grant you the ability to play those games anywhere, even in the time you might not think you have.
Time on the train. Time on the plane. Time in places where it's essentially inconceivable to get out a laptop for a gaming session, and you'd be better off just gaming on something smaller, such as your phone with a gaming controller attached or a Nintendo Switch.
Asus has been dabbling with this concept in its ROG Ally, a portable PC modelled on a gaming system that feels like what would happen if someone else made Valve's Steam Deck, which is essentially the same thing except just for games on Steam.
Valve also hasn't released it to Australia officially, leaving PC gamers keen for something similar to look around, and that might just give Asus a bit of an edge locally. Is the Asus ROG Ally a portable worthy of any PC gamer in Australia?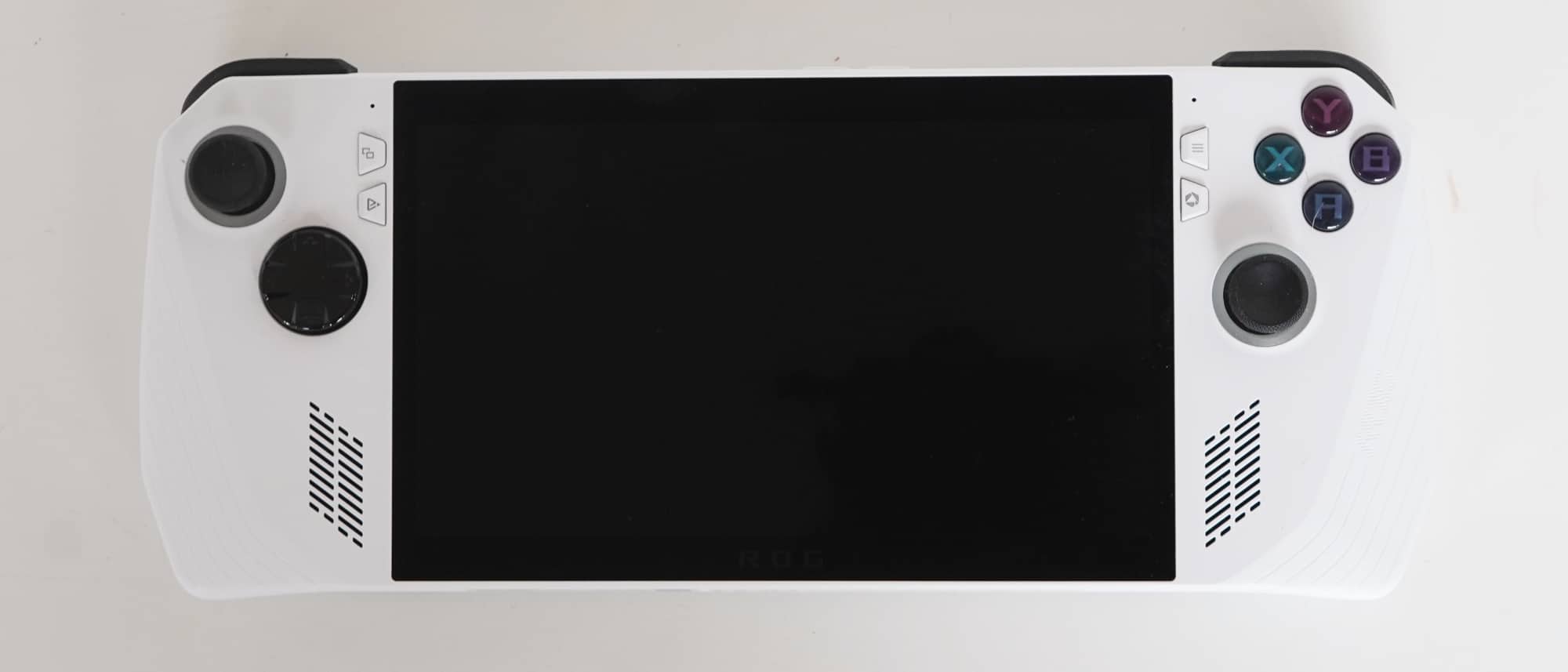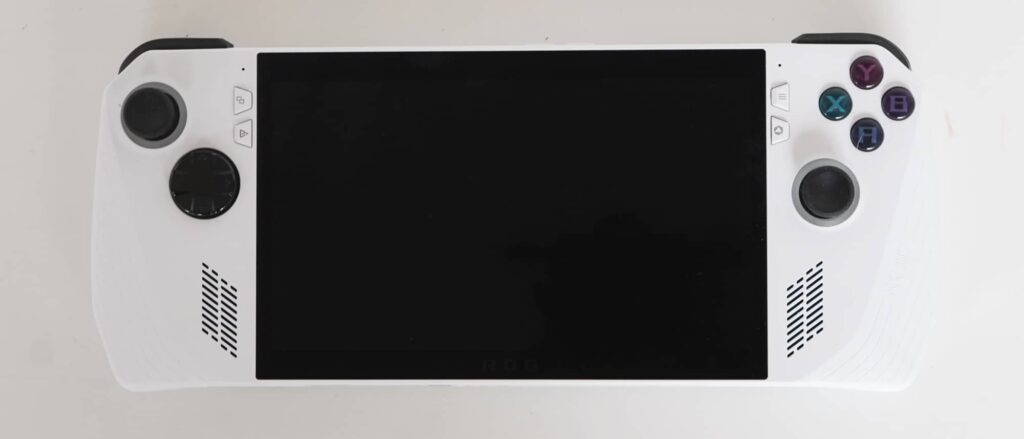 Design
Built a little like a Switch on steroids, the ROG Ally is a gaming system made to go if that gaming system was a PC. But it's not like a laptop you may already have, and it's really not like any other computer we've played with previously.
To picture this computer, think of a Nintendo Switch but make it a Windows PC made for gamers, with colourful RGB lights around the thumb sticks, extra triggers around three back, a USB Type C connection, and a casing that screams "mobile gaming".
That's what the ROG Ally looks like, and it's no wonder: it's a gaming system that beats the heart of a Windows PC made for gamers to go, evident by what's inside.


Features
The size of the ROG Ally warns you that this isn't your standard everyday PC, and the specs get there, as well.
Armed with an AMD Ryzen Z1 Extreme, one of AMD's high-end chips made for mobility with Radeon graphics onboard as well as CPU, you already get the impression that this isn't your conventional system. Add to the chip a good 16GB RAM and 512GB SSD, and there might even be more storage if you opt for a microSD card thanks to the included slot.
That's a reasonable amount of specs for such a compact device, which the ROG Ally definitely is, and there are even a few other features, small in number as they are. Asus offers a single Type C port for charging and data, part of the "ROG XG Mobile Interface" for expanding the hardware later on with a different graphics cardexpanding the hardware later on with a different graphics card, alongside a single 3.5mm headset jack. Wireless options are like a modern tablet in what they support, covering 802.11a/b/g/n/ac/ax WiFi 6E and Bluetooth 5.2, and that is largely it.
There are two speakers and support for Dolby Atmos and high-res audio, plus a microphone, but in an interesting twist for every Windows PC we've reviewed in the past decade, there's no webcam here. That means you can't login using your face on Windows Hello, though Asus has thrown a fingerprint sensor under the power button at the top edge.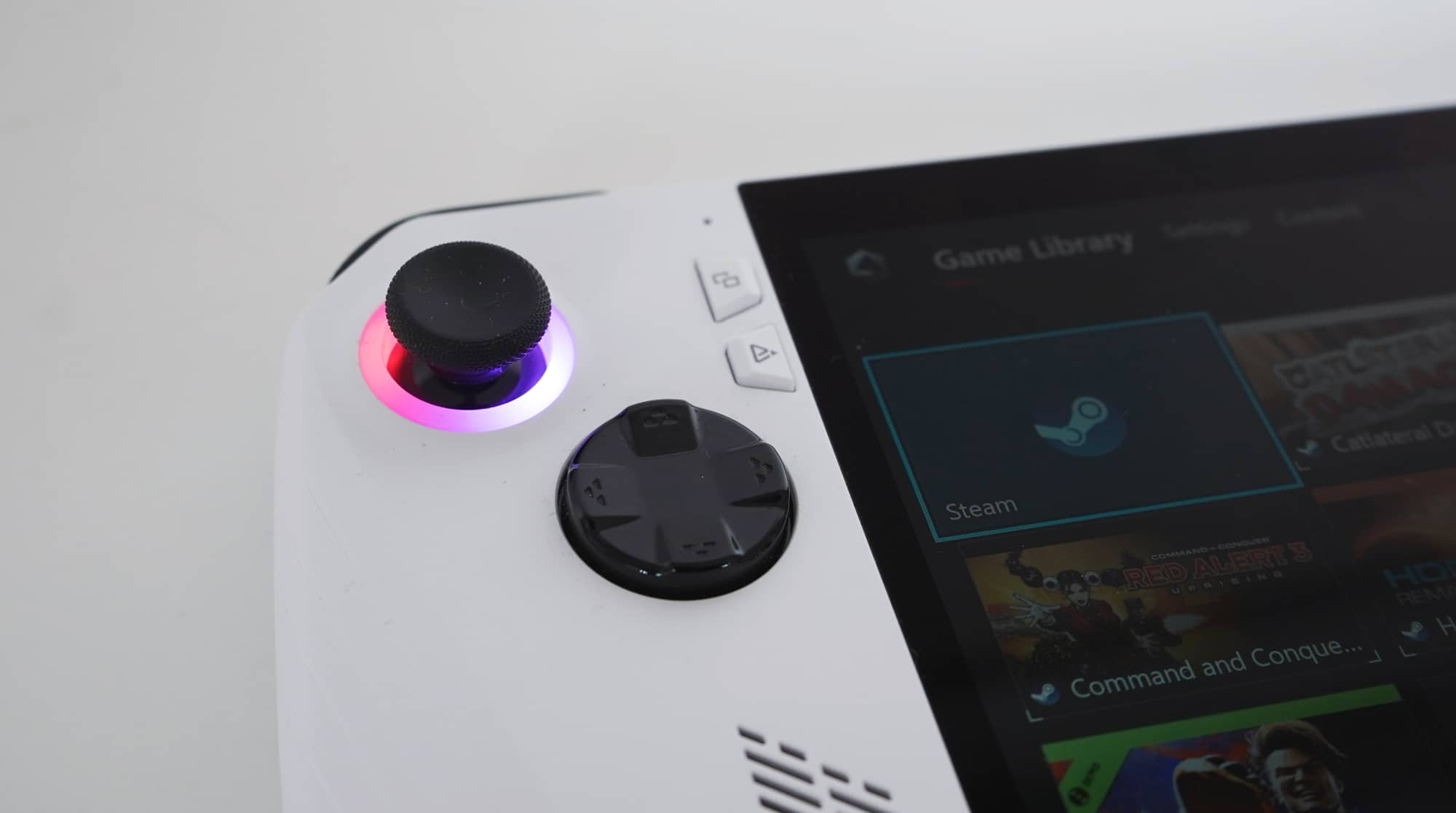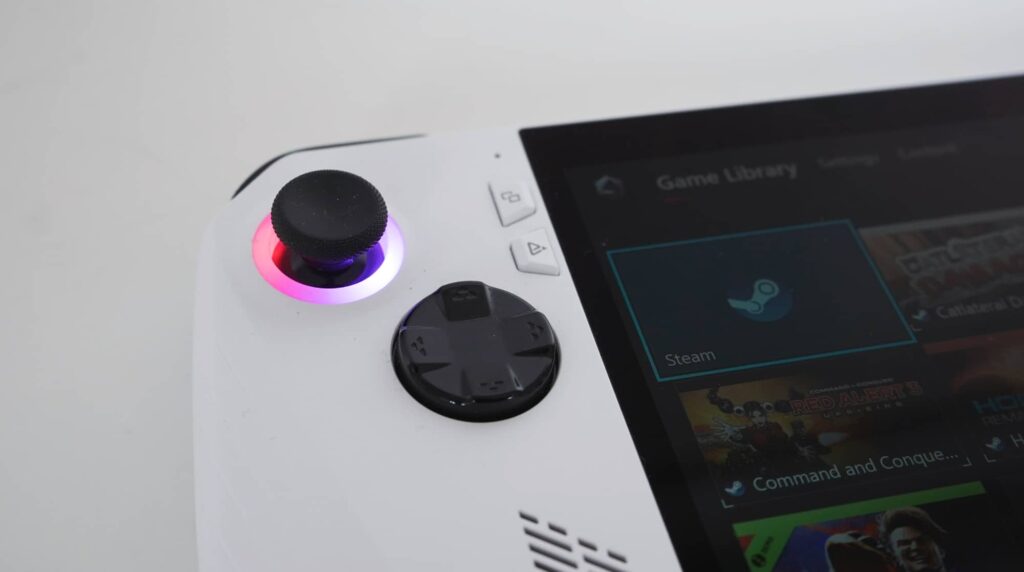 A camera may not be as useful in this computer, because gaming is the focus, and for that, you'll find lots of controls: two analog sticks, a standard old-school directional pad (d-pad), buttons under the thumb sticks, grip buttons, bumpers, triggers under your fingers, a menu button, view button, haptic feedback, and motion control support via a 6-axis gyroscope.
The controls flank the screen, which is a 7 inch Full HD In-Plane Switching (IPS) display sporting Corning's Gorilla Glass for scratch resistance, and support for a 120Hz refresh rate, handy for games, but less so for using Windows 11 Home, which is included on the device.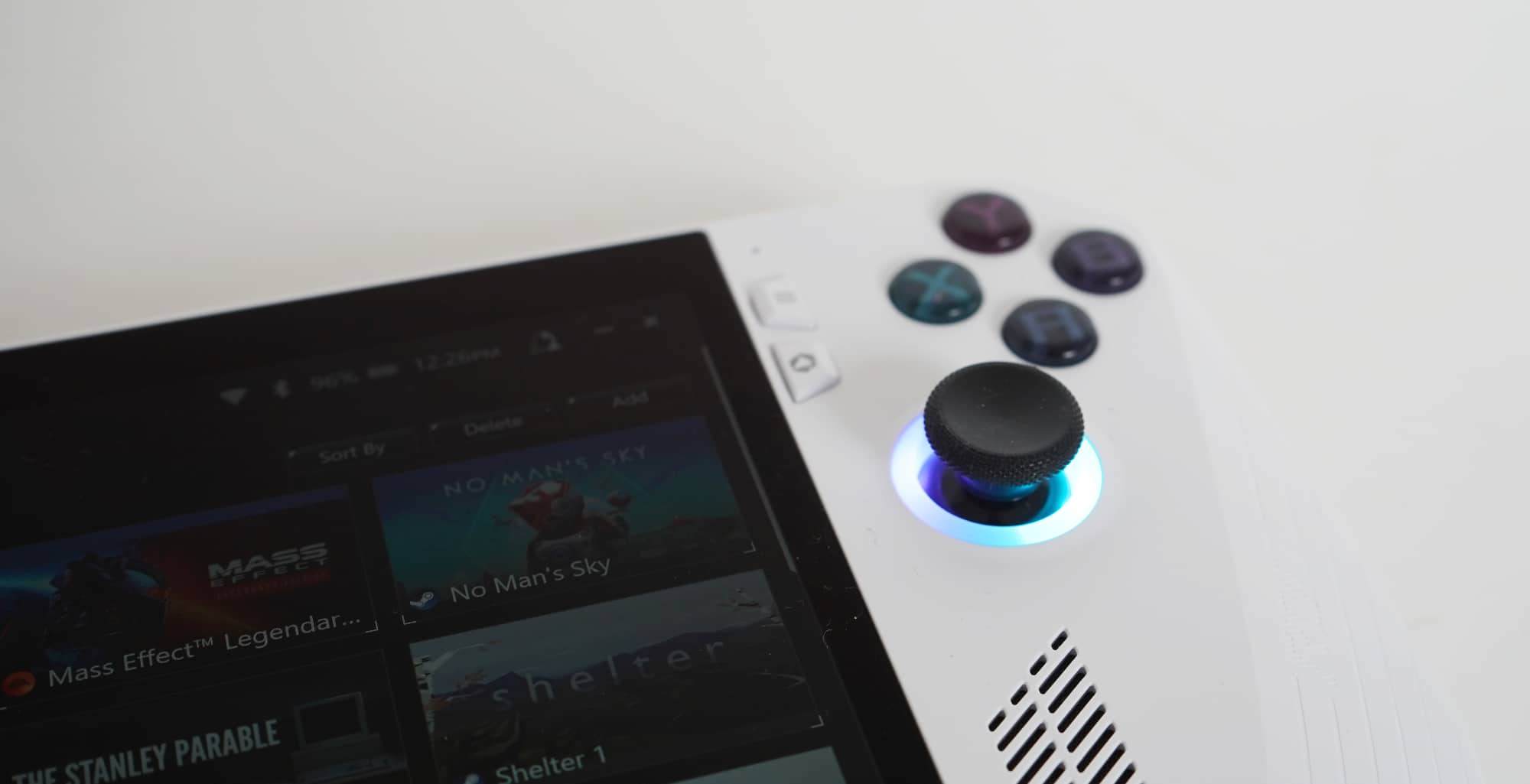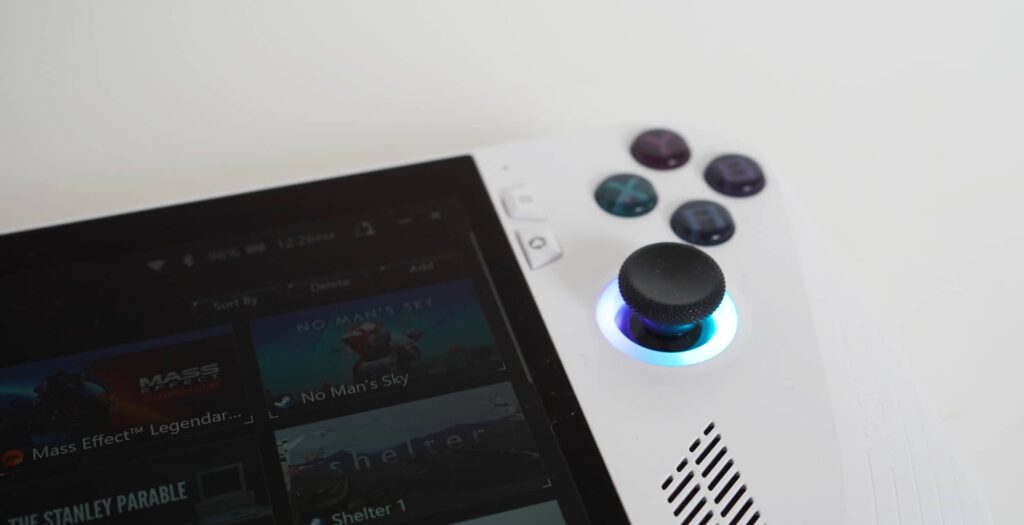 Display
In-game, the 7 inch 120Hz display is totally fine, delivering a portable TV experience for the entertainment you crave to go.
Outside of games, Windows 11 on a 7 inch screen feels flawed, and mightn't help you if the app needs to venture beyond the standard overlay Asus has made, which offers a large grid to let you jump around the installed games from a variety of platforms you might be using.
In fact, you can really see the resolution issues the moment you jump into Windows, which bugs will at one point force you to do (more on that later).
While Asus has software to help make the usability that much better on the ROG Ally, it's difficult to get past Windows being Windows, and you'll may quickly realise that even with the settings showing Windows running at 150 percent the size, some things don't fit properly. As it is, the benchmarking software we use (Geekbench 6) didn't fit entirely, as the res was just too cramped at times.
That's only an issue in Windows, though. Outside of Windows and back in games, the screen is totally fine.
The 7 inch touchscreen is ideal for games running at Full HD, for sure, but switch it back to 720p HD and they're equally fine, because 7 inches is a good enough size for that resolution, and might help you squeeze a little more power out of the ROG Ally for some heftier games.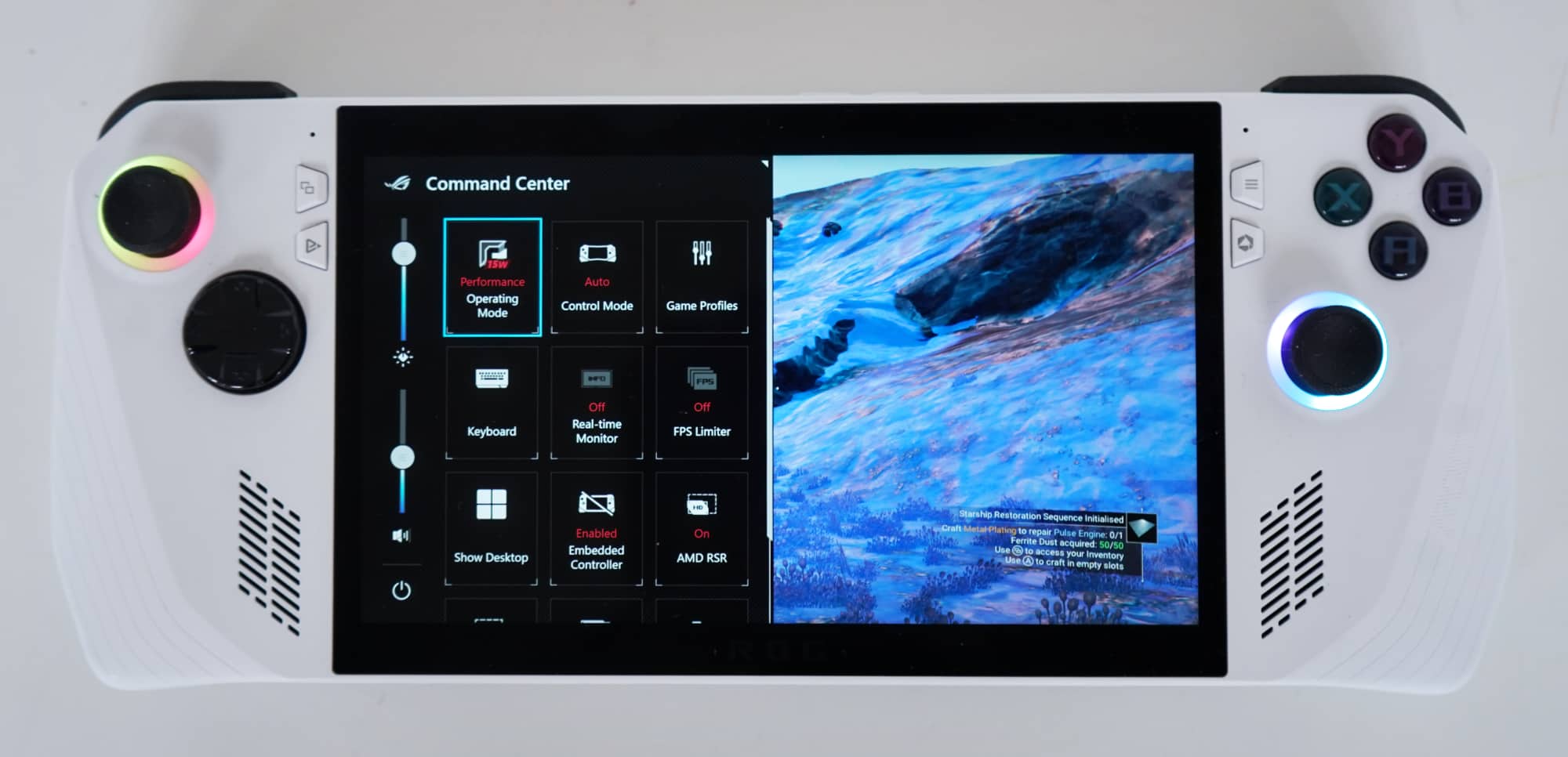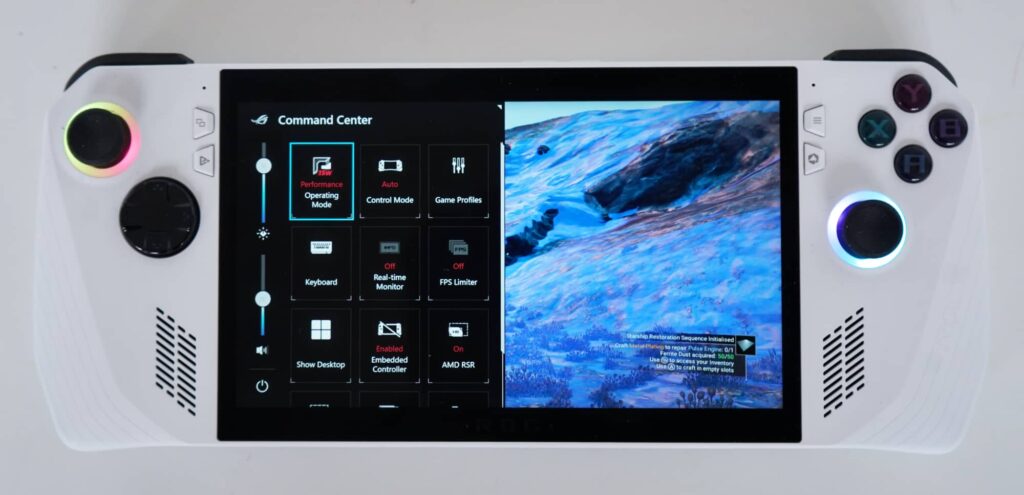 In-use
The compact touchscreen makes the ROG Ally very different from any other portable computer you've used, but so do the controls which lack a keyboard and conventional mouse, replacing all of that with joysticks and buttons.
Windows 11 will load up and works with the touchscreen better than the right joystick replacing the mouse, but fortunately Asus has an overlay called "Armory Crate" that appears not long after, giving you access to shortcuts for Steam and other gaming services and platforms you might use here.
We've already mentioned the grid of games it can show, and what Armory aims to do is give you an easier way to load and maintain the feature set of your computer without needing to touch Windows.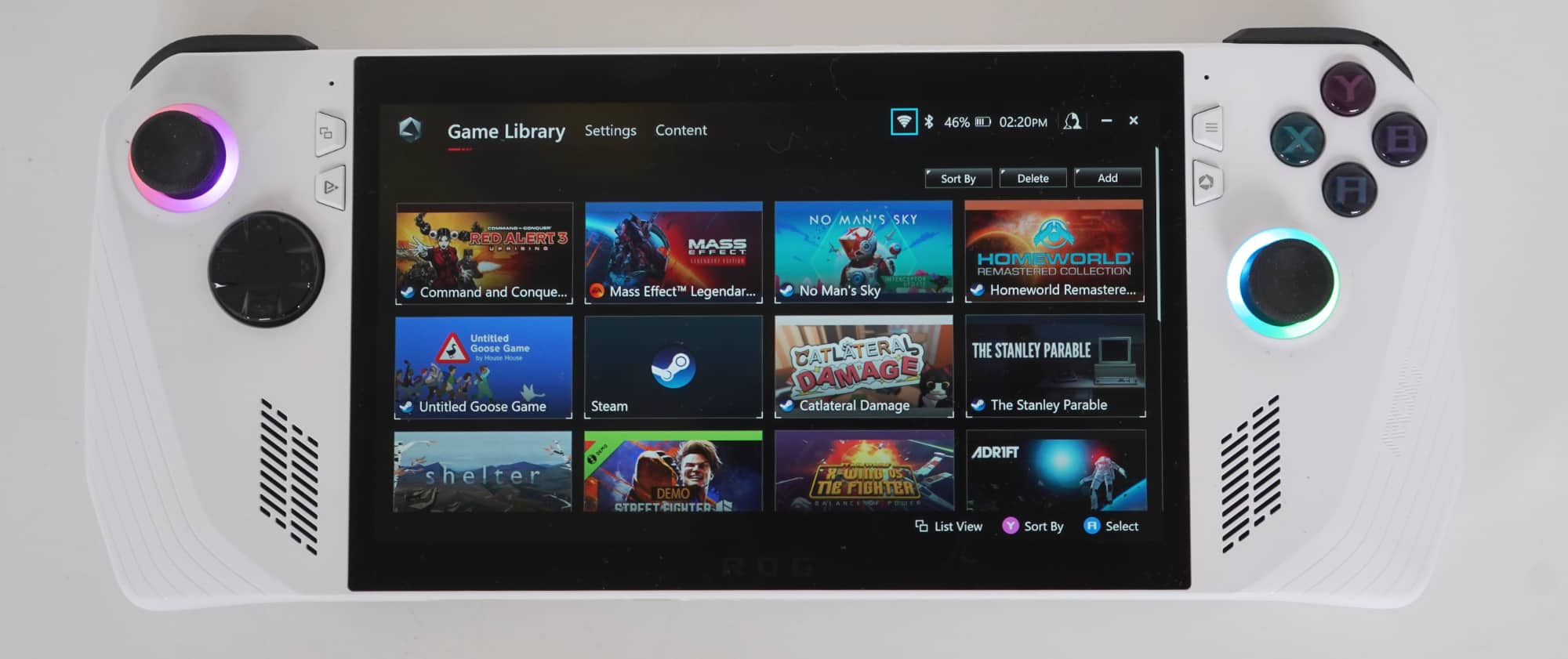 Rather than force any of Microsoft's odd hamstrung attempts at a touch interface over the years (Windows 8, anyone?), you'll get a good interface from Asus that lets you change settings, tweak colours, and jump to pre-installed gaming platforms such as Steam with its Big Picture mode and EA Play all ready to go. It helps ease the process of using Windows with such a small screen, which isn't always easy and you'll be forced to deal with at times.
Hopefully most of the time the ROG Ally will keep you in Armory Crate, but at times we found even the Asus software overlay failed, as the controls stopped working in rare instances and we were forced to force crash the app in Windows, using the tiniest version of Windows 11 on one of the tiniest PC screens ever.
And let's just be clear: using Windows on an 11 inch screen is not fun, particularly when there's no mouse. The touchscreen always works, which is great, but it's not always a replacement for a mouse or keyboard, and when Armory Crate stops working, the ROG Ally is a keyboard-less and mouse-less tablet.
If slash when it crashes, just load it up again and everything will largely be fine. Stick with the Asus software if you can, because it lets you focus on the very thing you bought the ROG Ally for: gaming.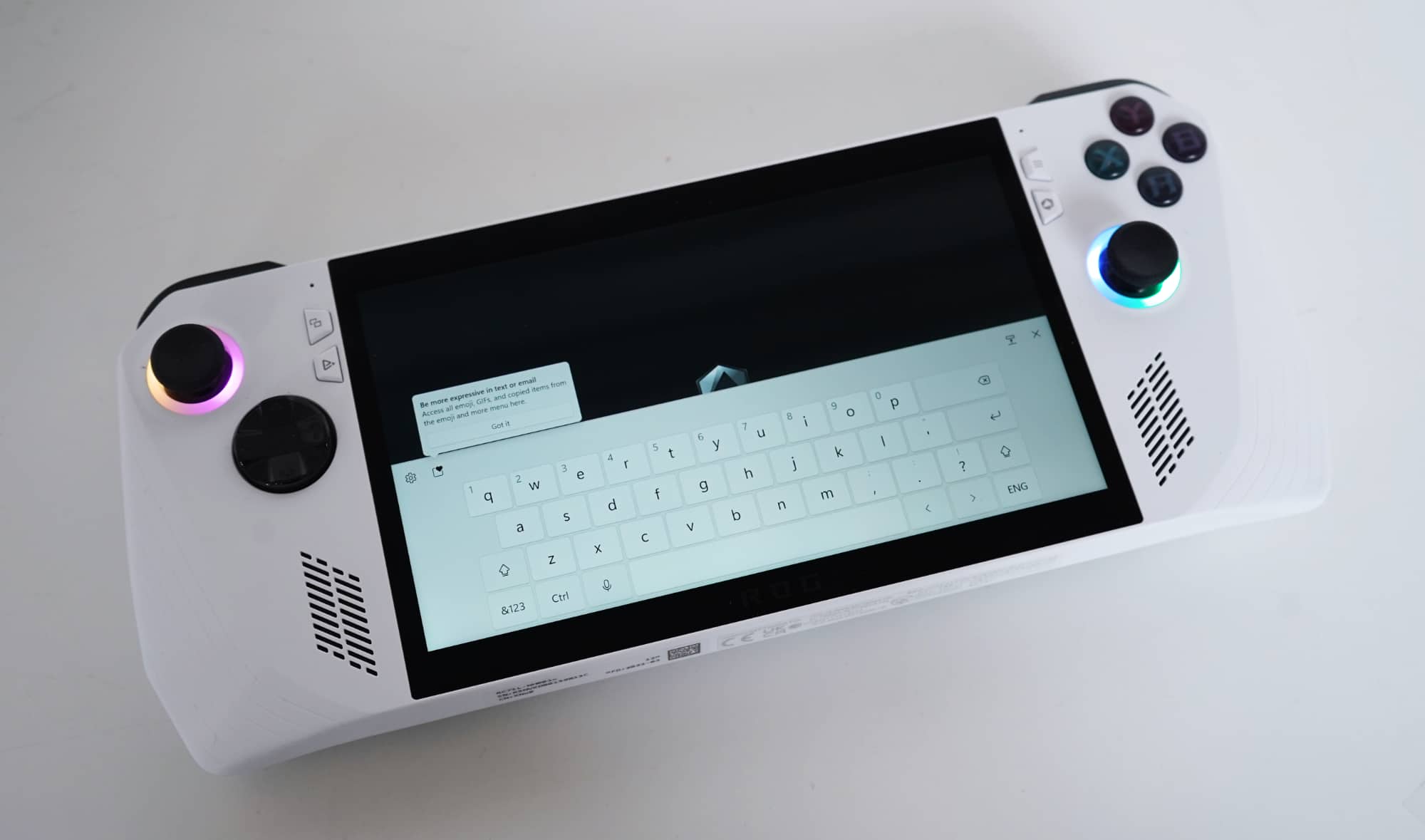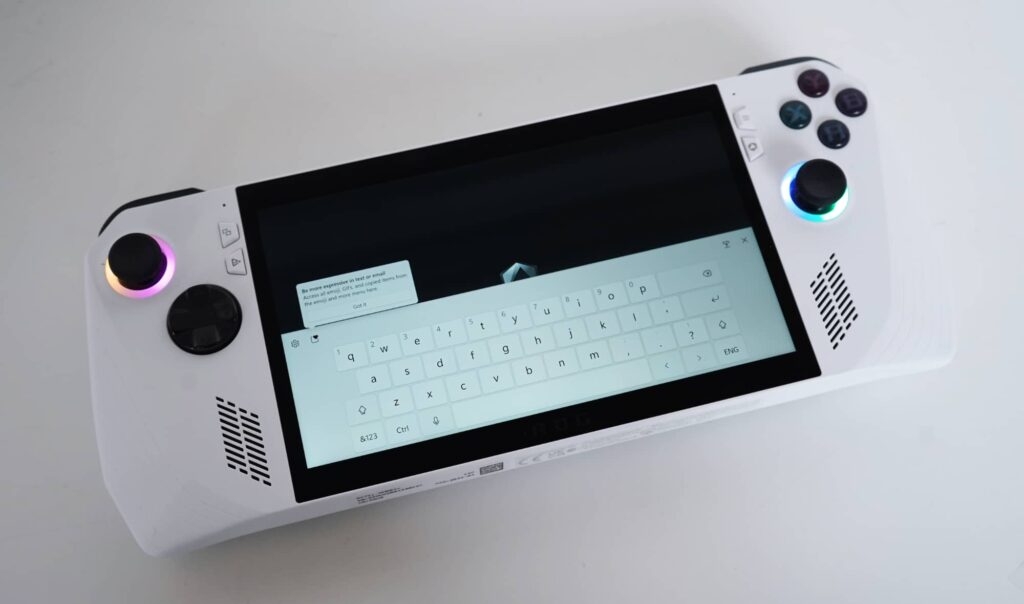 Performance
The good news is even though the ROG Ally doesn't look like a conventional laptop or desktop, the performance is more on par with one. You can thank that high end AMD Z1 chip inside, which is a great combination of processing and graphics in one high-powered place.
Benchmark-wise, the Ryzen Z1 is interesting, taking on the graphics of Apple's M2, which you can't find in a gaming portable even if you can find it in a surprisingly spacious 13 inch MacBook Air, plus an even bigger 15 inch.
To date, we've not reviewed a whole heap of portables, so don't have a lot of comparisons to make, but it's interesting to note that the Z1 is up there in processor power for the size, even if it can't quite beat them all.
Even if it can't dominate every chip for processor or graphics, such as with the Nvidia hardware we found in the Asus VivoBook Pro 16X last year, in-game is a different story, delivering some solid results even for reasonably high-end games.
Take "No Man's Sky", which ran at Full HD with everything switched on and nary a slowdown, with the same true of EA's "Mass Effect 3" recreation. Both are fairly high-end games and worked well as we sat on a train with no sign of a dedicated graphics card in sight.
Neither of these titles are on a phone yet, so we can't play them on any other device that fits in our pocket outside of Xbox Cloud Gaming, and yet we can here local on our computer. We could even play them without an internet connection, such as if we were flying somewhere. That's freeing.
Battery
While the performance is capable, the battery is very hit and miss, depending largely on the games you use.
For instance, if the games you're playing are going to flex the graphical hardware and make the system work for its money, you might expect a maximum of two, though we'd expect a little less is more likely.
Enjoying an in-transit gaming session of "Mass Effect 3" from the Legendary Collection (which we've never been able to play outside of a TV), we found the battery life matched closer to an hour and a bit with Bluetooth audio in use.
Our earphones were connected via multipoint, and from testing, we found using the on-board speakers would have given us a little more juice, but the battery regularly saw 1:00 to 1:20 as a maximum for this game, and similar choices.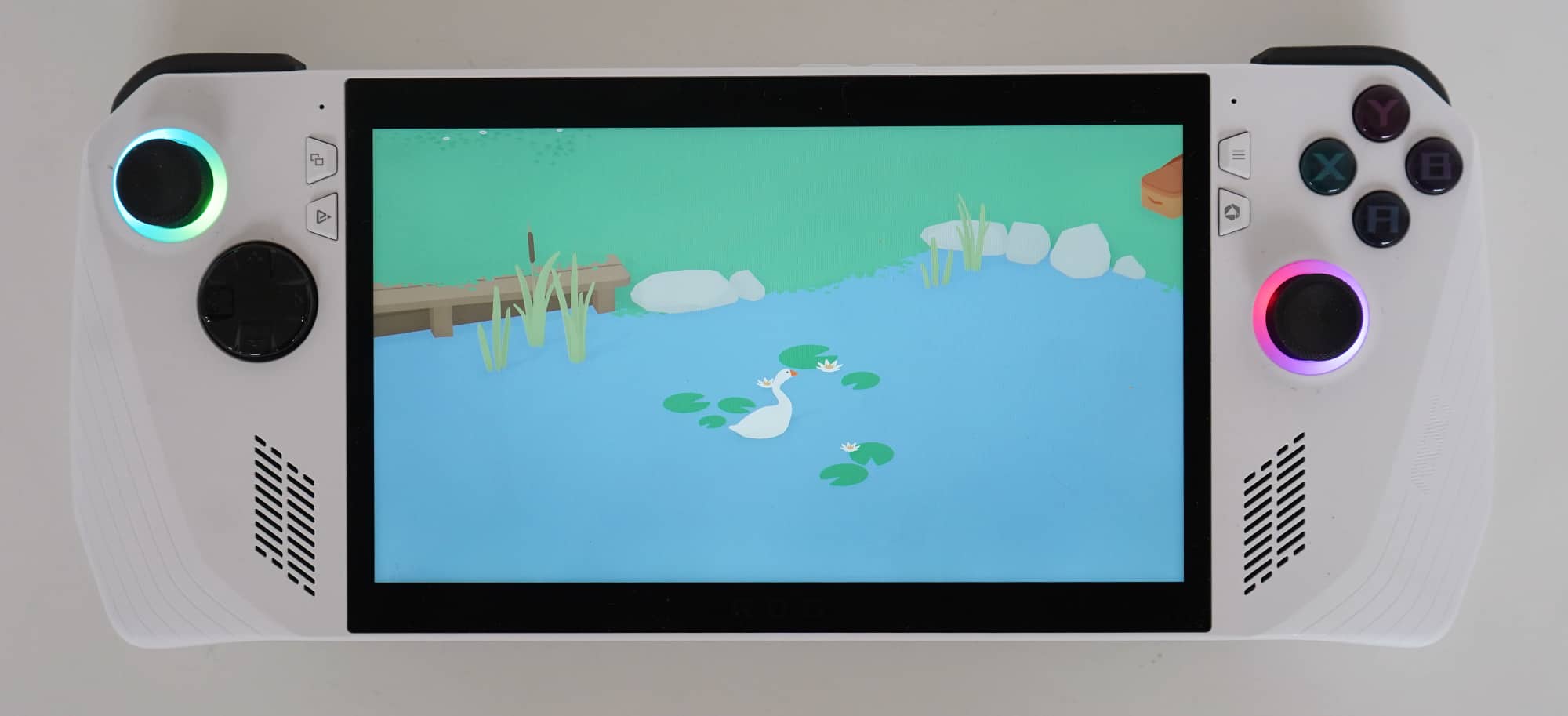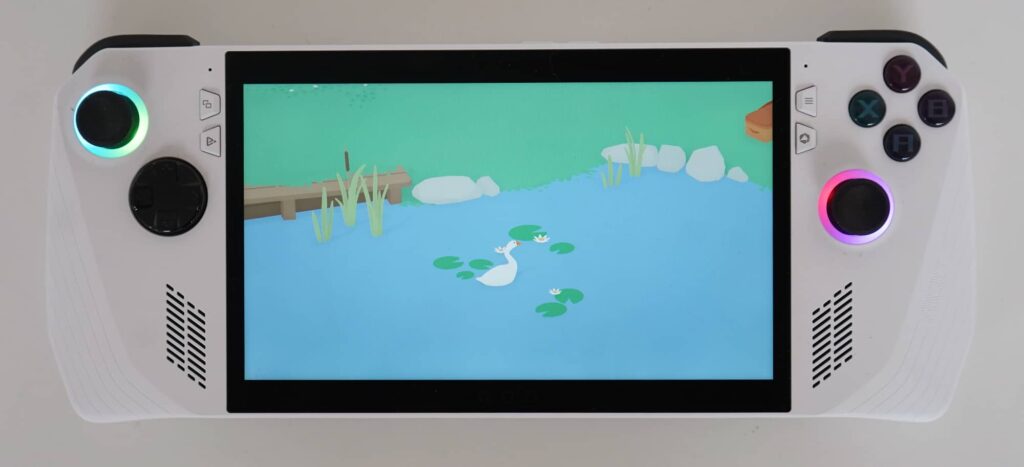 Games less hefty to the hardware performed a bit better, with closer to 3 to 4 hours as we got stuck into "Untitled Goose Game" and "Catlateral Damage" when we wanted to keep the kids entertained (honk, meow).
Mid-weight games with some graphical prowess, outdated as they were, managed around 2 to 3 max. We'd always wanted to finish "The Stanley Parable", and the ability to take this game remote and play it on the train nearly made that possible.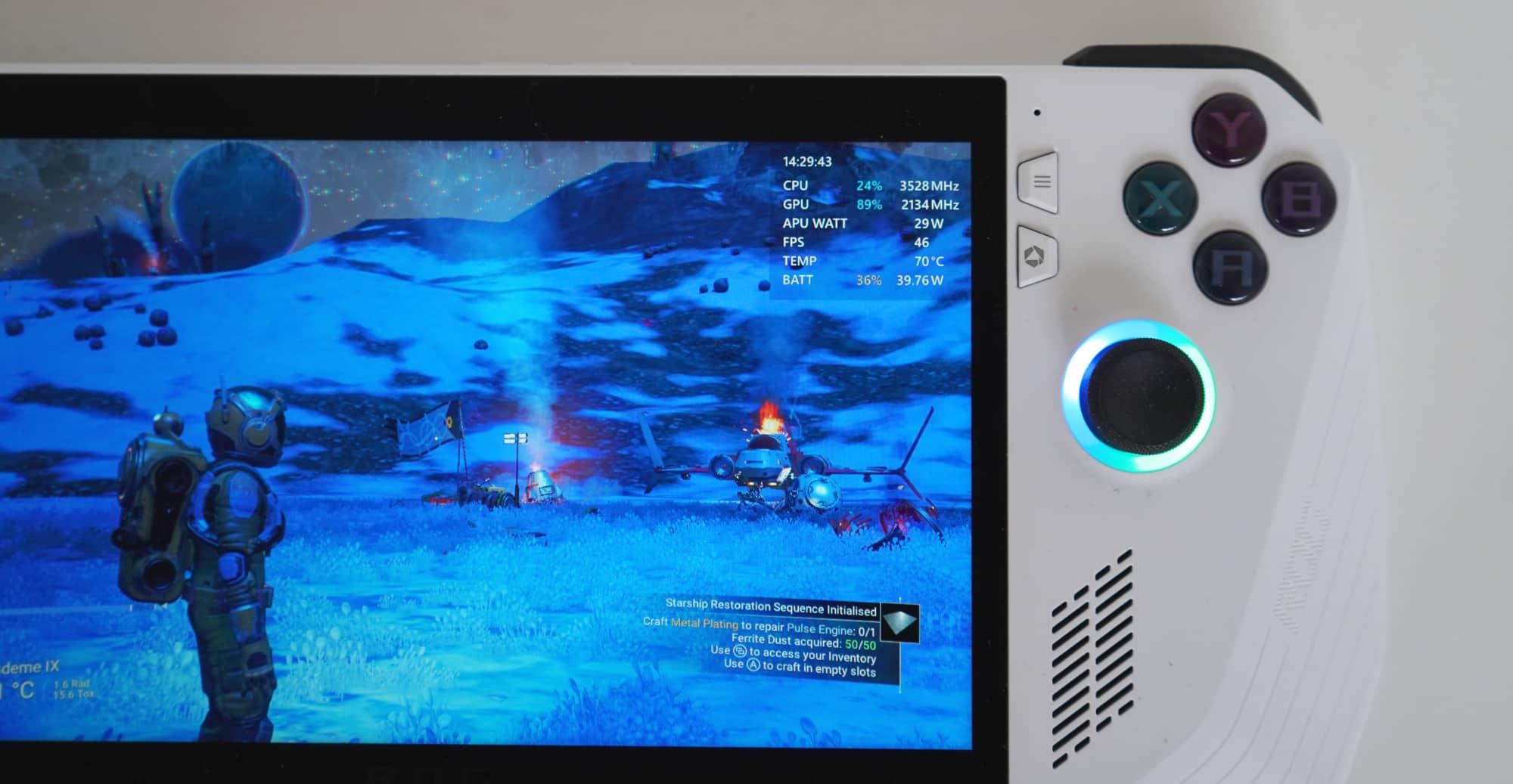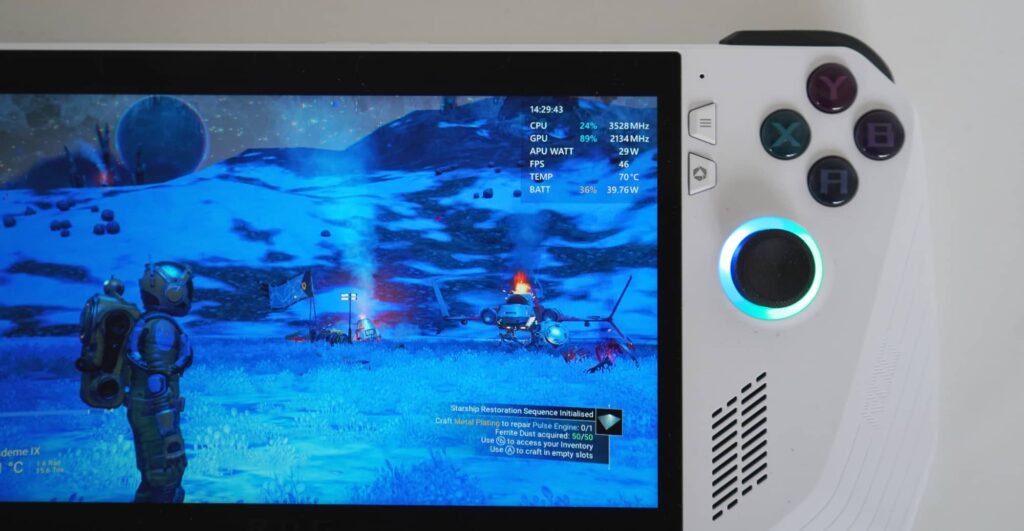 In short, the grunt your game requires, the less your battery life is going to be.
That's a problem because graphics getting better is a long term problem gamers already have to contend with. The processing capability Asus has managed with the AMD Ryzen Z1 chip isn't unimpressive, but the battery you can get out of it is.
Asus could well improve this with firmware updates over time, but a few months in, the ROG Ally isn't feeling like it's going to manage this issue particularly well, and we're not entirely sure that will change.
The power pack isn't much of a help, either, with a very bulky PC-styled design. It's a block you need a separate cable for, and just doesn't feel properly connected to the fact that this is modelled to be portable video game system, not a regular computer.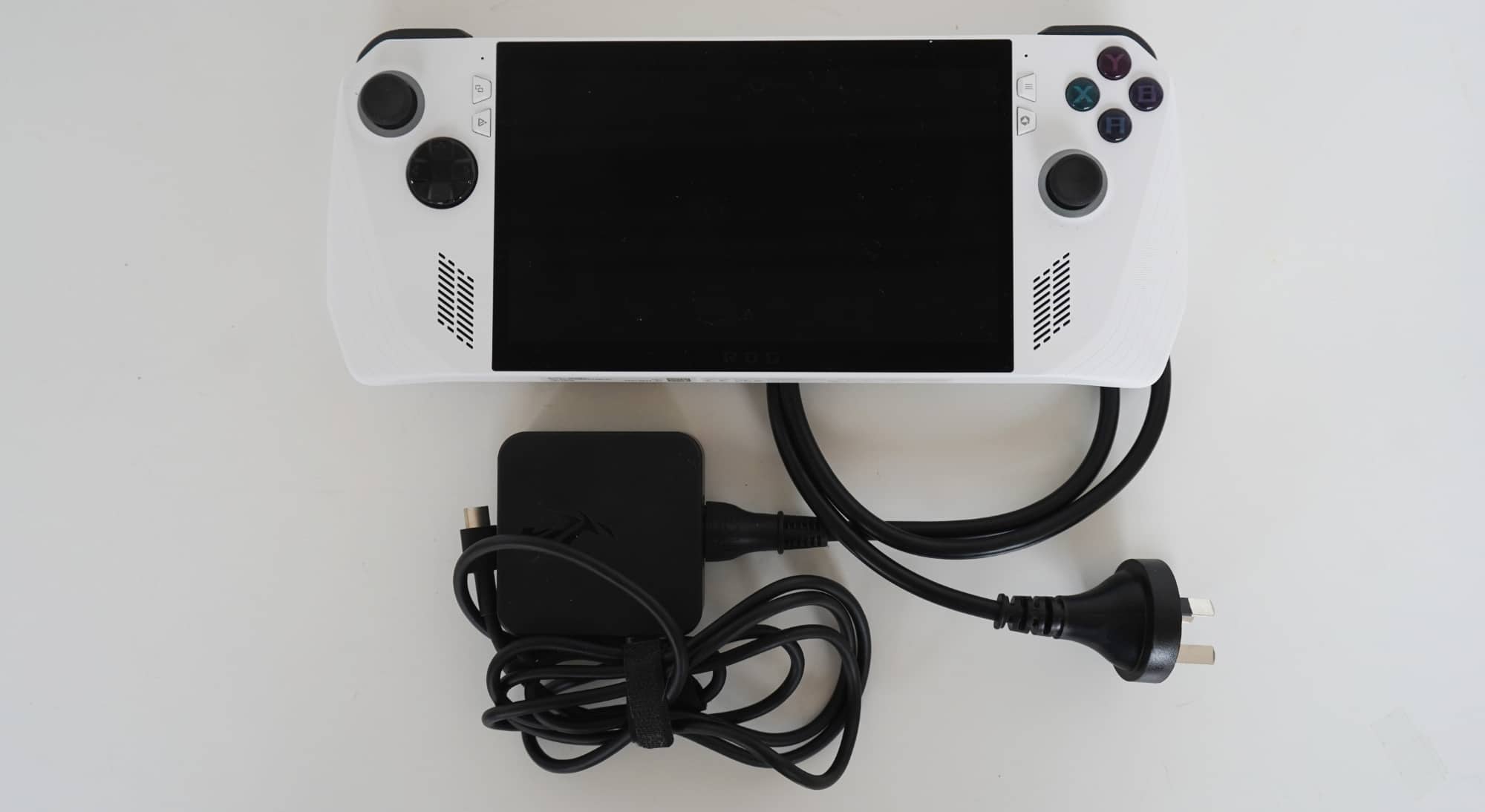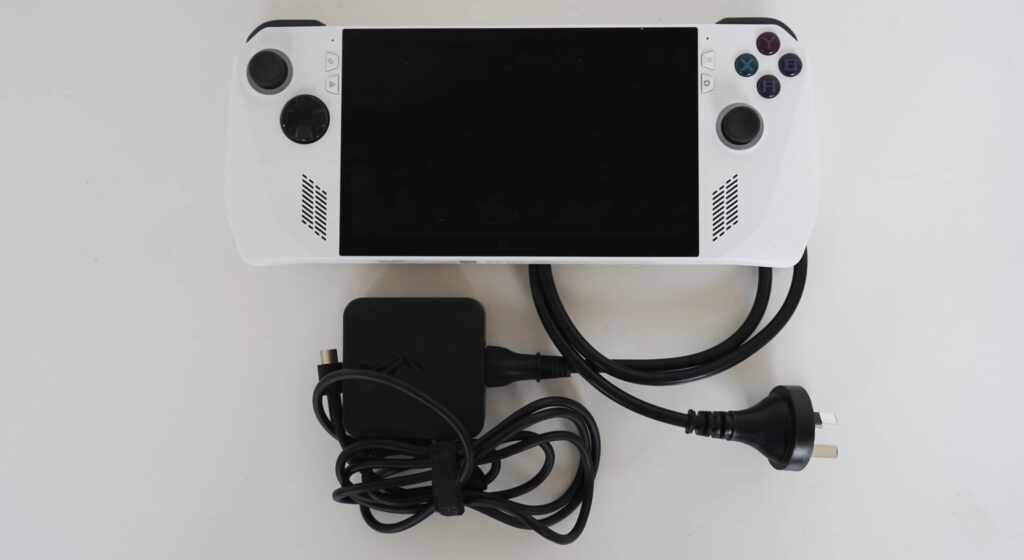 Value
It's not just the battery that can be a bit of struggle, but also the value, or the question mark that surrounds it.
Priced at $1299 in Australia, the Asus ROG Ally is not an inexpensive portable console, but it's also not technically a portable console, either; it's a portable PC that works as a console of sorts.
Instead, its pricing makes it more like an entry-level gaming laptop, though it also comes with a bit of a caveat: you can use gaming laptops for work and productivity as well as games, but not really the ROG Ally.
You theoretically could, of course, but the 7 inch screen size makes most uses outside of gaming a little crazy, bordering on ridiculous. We started writing our review on its touchscreen at times (as we write most computer reviews directly on the computer in question), but doing anything other than gaming just felt weirdly misplaced on the ROG Ally.
So rather than buy a $1299 gaming PC with the ability to do more, purchasing this gaming PC will just leave you with a portable to let you play games remotely. And based on that battery life, not for very long.
What needs work?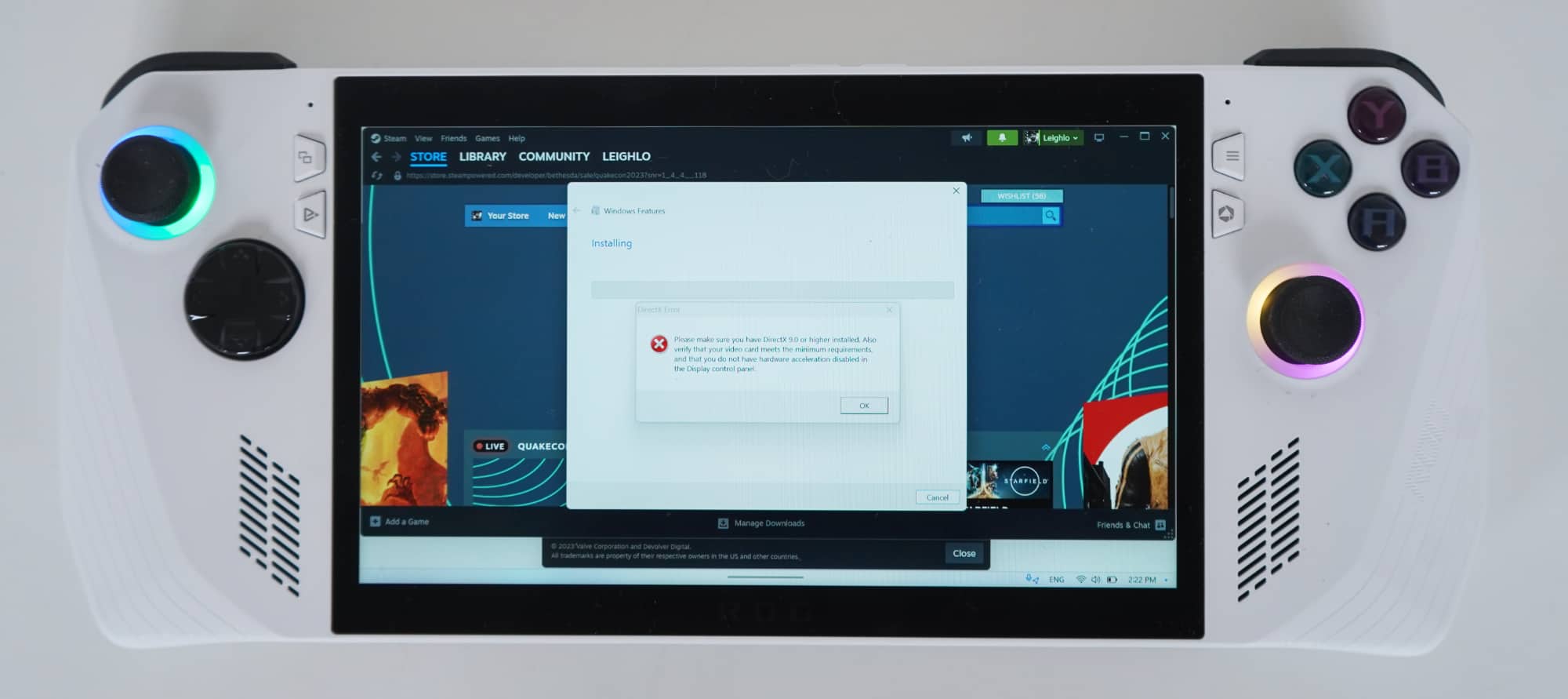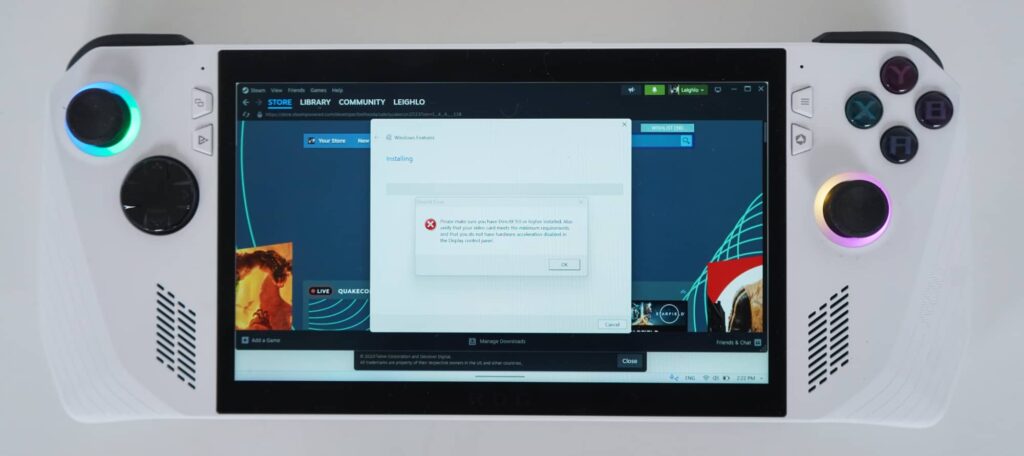 If the price and battery weren't a bit of an issue, Windows definitely presents some problems that can really get in the way.
You'll get Windows 11 out of the box preloaded with Steam and shortcuts for other gaming launches inside the Asus Armory Crate software, which can help you set up the hardware and games in a cinch. And in fairness to Asus, some of these tweaks go a long way to making the ROG Ally feel like it's made for purpose: gaming to go.
The problem is Windows really doesn't feel like it's all that accepting of a gaming system, let alone one with a tiny screen.
Control issues with Windows
Errant presses of rear buttons in game can accidentally trigger the Windows key and rocket you out of your game back to the main operating system, while others will trigger the screenshot mechanism and do something similar. It can be a little unnerving at times, and if you're not familiar with Windows for gaming from all the time you've spent using the OS, it can feel frustrating.
The frustration can be overcome if you just stay in the games and game launchers, and they help, but Windows is very much there and largely in the way. Asus Armory Crate sits over the top, but it's not a replacement, and even it loses the support for controls at times, forcing you to restart your handheld at times to get it back.
You may even find upon start up that the Ally just turns itself off, forcing you to switch it back on again repeatedly. This happened to us more than once, and surprised us each time, as if Asus expected us to turn it off the moment we'd powered it on. Crazy, right?
Control issues for RTS and old games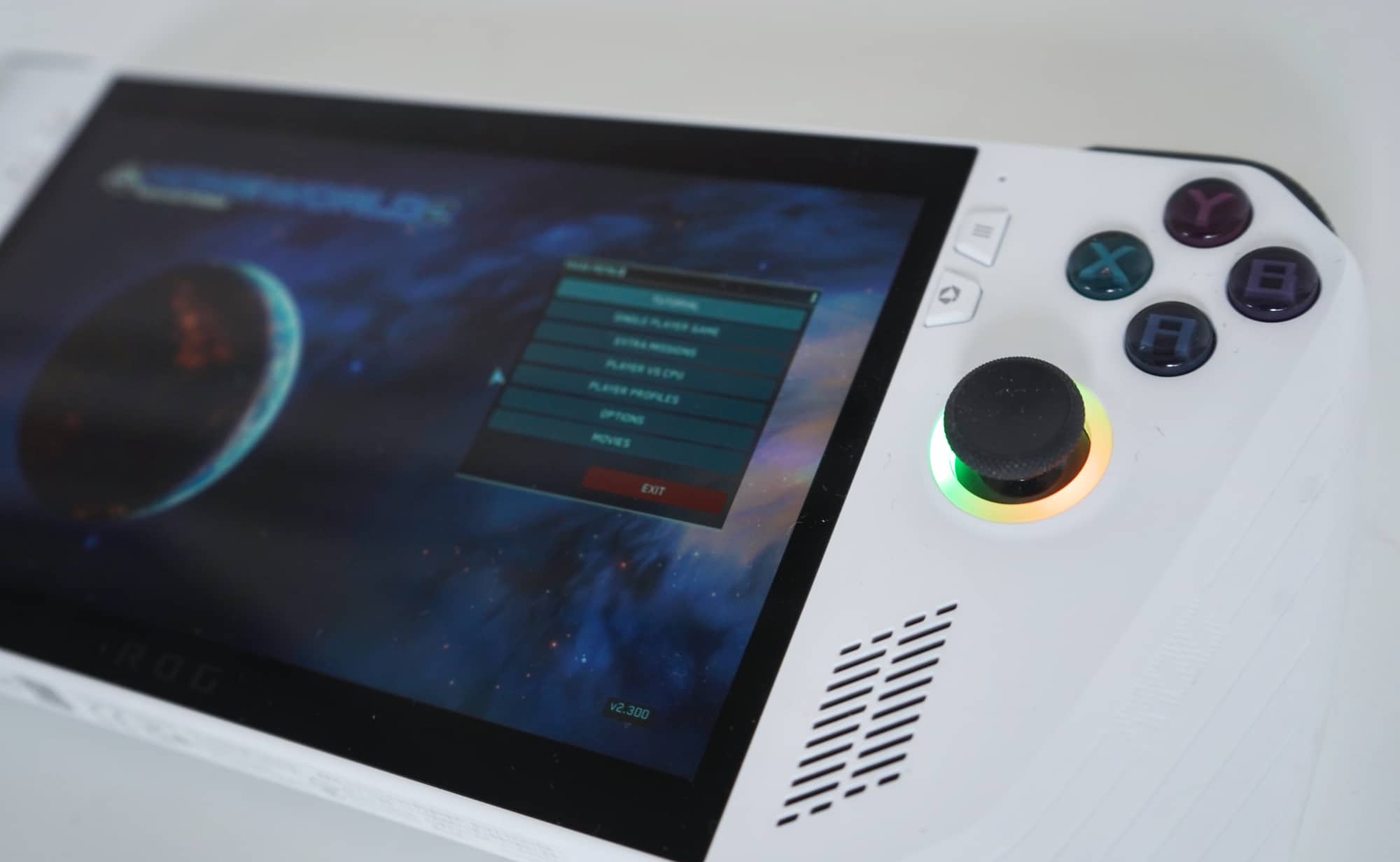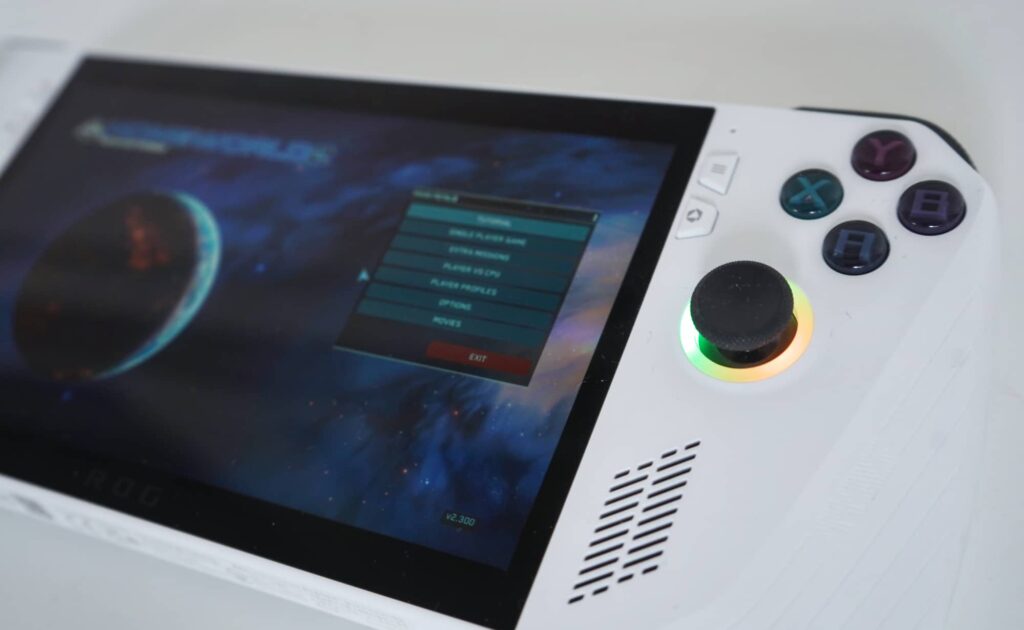 Weird bugs like this pop up, but so do control scheme issues.
Older games didn't always talk to the controls of the ROG Ally and sometimes just flake out, while mouse-specific games feel like they'd have the clunky controls you'd expect, replacing the responsiveness and speed of a mouse with a less reliable joystick or two.
The problem is so many games are made with desktop features in mind, and while a joystick can replace some of them, not every game will play nicely, and your library of several hundred games mightn't be that friendly.
Take older Lucasarts games, including X-Wing and TIE Fighter classics, where the controls simply wouldn't work. We had to force crash the game using the touchscreen and Windows just to get out of them, as the games wanted a mouse.
The same is true with mouse-driven strategy (real-time strategy) and simulation games not made for these controls. Homeworld wasn't particularly enjoyable trying to use the right stick as the mouse replacement, and getting the ROG Ally to play as easily as using a mouse just didn't hit a mark. Meanwhile Defense Grid 2 just didn't bother showing a cursor, making it difficult to get past the launcher.
Some games will be better than others, and you might get lucky and find a control scheme that matches the console-style Asus has opted for.
But unless your title is made with a controller in mind, we found the game experience on the ROG Ally wasn't always fun. In some instances, it was downright jarring.
Games made for a controller will be fine, but everything else is largely up in the air.
Up in the air is another point, because you'll largely be holding the ROG Ally, with no way to stand it up. It feels like a design point Asus could have easily solved via an integrated kickstand, handy if you wanted to watch something rather than just play games on it. But no, this thing is designed to be held and nothing else.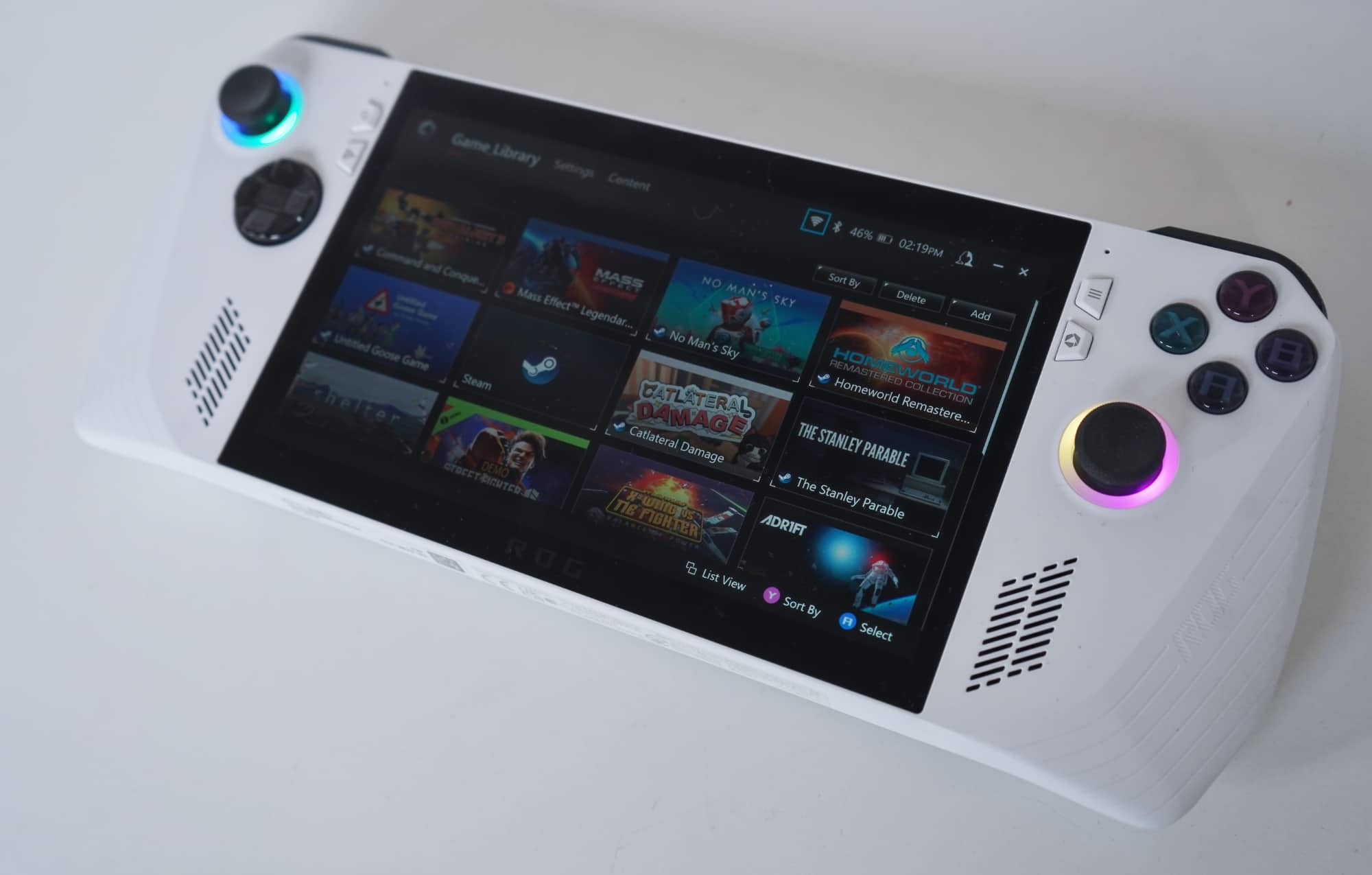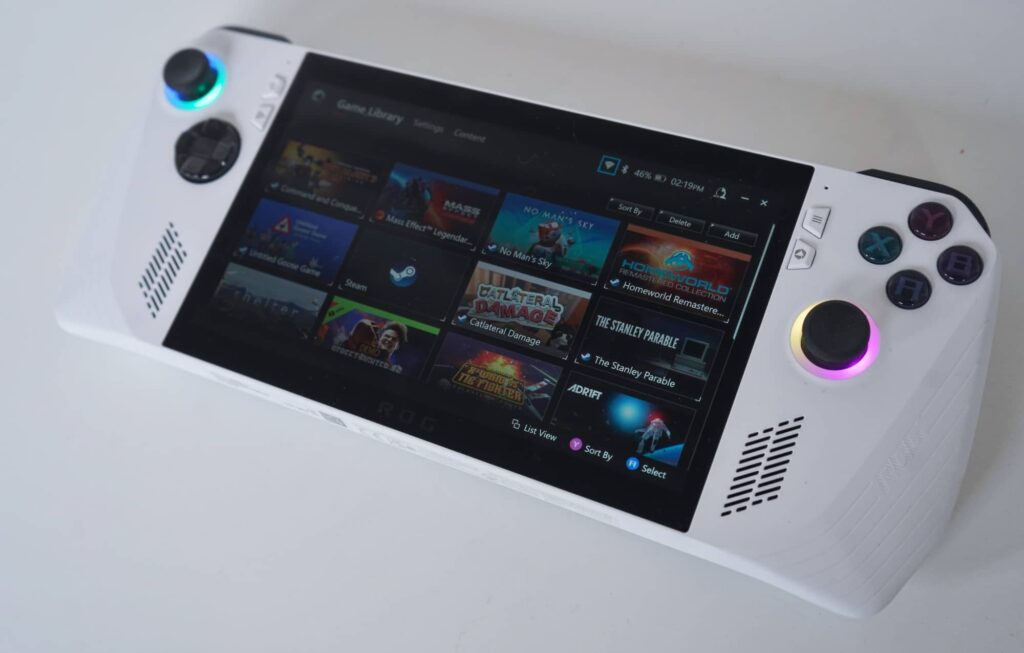 Final thoughts (TLDR)
Despite all of this, there's something about the ROG Ally I've loved. I wasn't expecting to fall for the ROG Ally the way I did, but it really surprised me.
Granted, Asus hasn't built the most powerful gaming system, and folks keen on having that should ideally look to a meatier laptop or desktop. If you need more powerful guts for games at bigger resolutions with sharper visuals at 2K and beyond, the ROG Ally isn't for you.
It can also feel a touch overpriced, especially since it only serves one purpose: gaming to go.
Who it's for, however, is anyone who wants mobile gaming well and truly sorted. If gaming to go is your deal, the ROG Ally makes a lot of sense.
In essence, Asus has built a time machine. The ROG Ally won't let you go back in time, but it will allow gamers to make more use of their time, helping to game anywhere.
There are improvements to be made, bugs to be fixed, and you may still want to carry a meaty power pack, because battery life is not the ROG Ally's best friend. But if you have a library of games you've been meaning to get through, the Ally could just be your best ally where ever you go.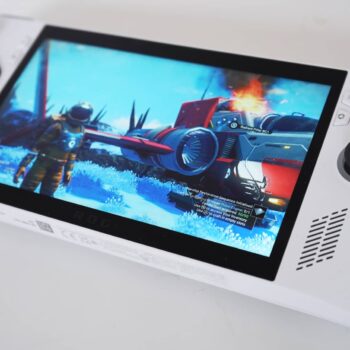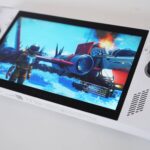 Asus ROG Ally
The good
Solid specs: 16GB RAM and 512GB storage
Supports microSD for more space
7 inch touchscreen supports 120Hz
Includes Corning's scratch-resistant Gorilla Glass
Plenty of controls for gamers who dig buttons
Supports Steam, EA Play, and plenty of modern games
The not-so-good
Windows can make the whole thing feel buggy
Some games won't be compatible with the controls at all
Battery life is hit and miss
No stand