Quick review
Motorola Moto E5
The good
Dual SIM with a microSD slot
Excellent battery life
Easy, comfortable design
Definite value
The not-so-good
Screen is a little low-res
Performance can be noticeably show
Camera needs work
Budget phones can be more than functional, and the Moto E5 proves it's possible, with a fingerprint and battery life that stand out well and truly beyond regular phones at this price point.
Design
Phones may not have changed dramatically over the past few years, but there is one thing that seems to be getting more and more popular: the full-view screen.
The step before a handsets becomes an all-screen phone, the full-view screen is no longer limited to the expensive flagship device, as it was for most of last year. Rather, it's arriving in all price points, including the $229 Motorola E5.
From a design point of view, there's not a whole lot outside of that massive screen, of which is a 5.7 inch display taking up most of the front. There's a plastic body with a matte finish, a non-removable battery, and a pin electable slot for two nanoSIMs and a microSD on the one tray.
Design-wise, it's pretty simple, with the look being a touchscreen phone and not much else, though that probably suits smartphones completely fine.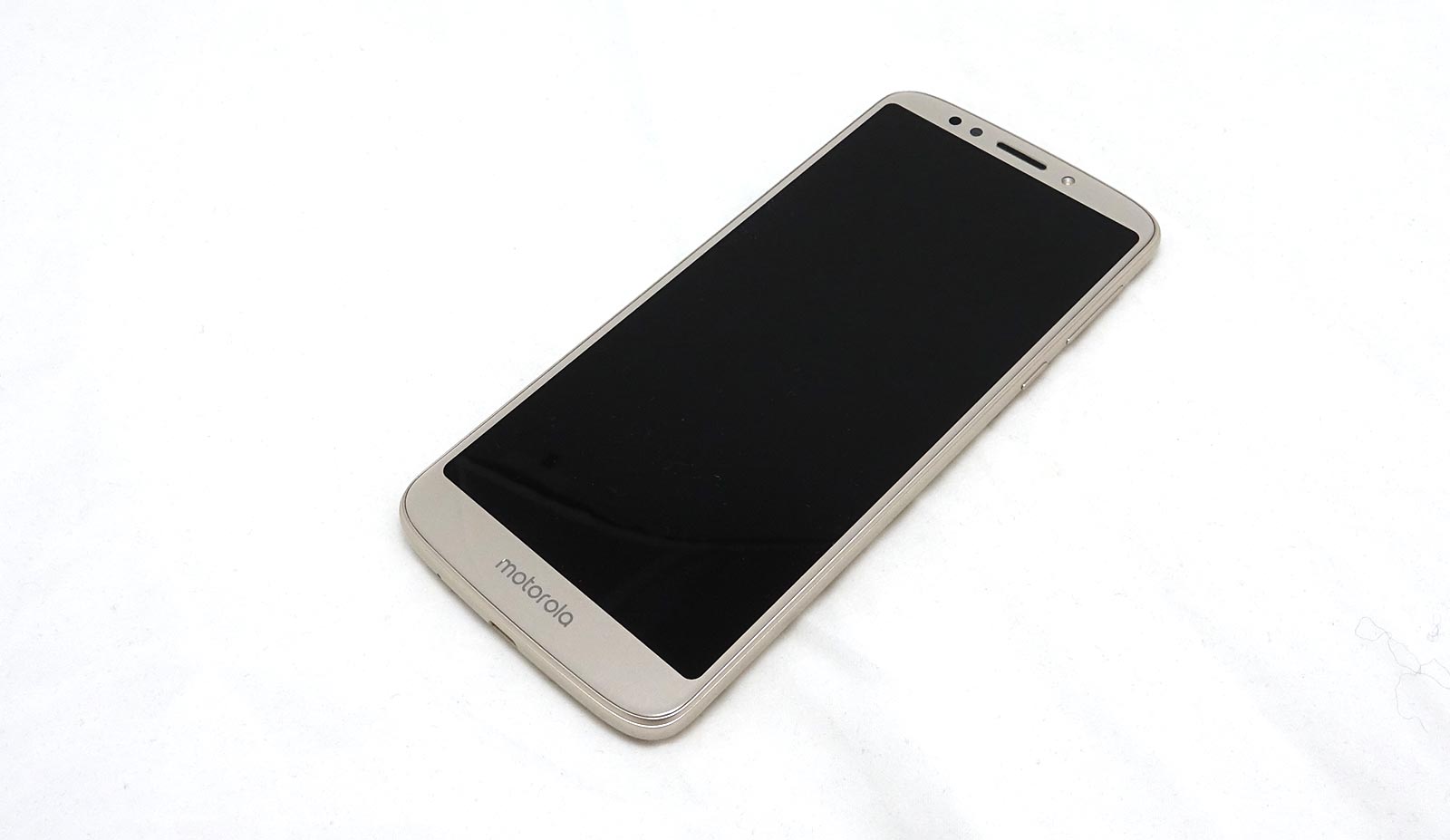 Features
That 5.7 inch screen will feel like it takes over much of the phone, and it's true, it does, but what it doesn't deliver on is resolution, supporting only a tiny 282 pixels per inch, lower than most phones receive, and certainly lower than the iPhone's Retina resolution of 326ppi.
Under that screen, Motorola has provided a Qualcomm Snapdragon 425 quad-core processor paired with 2GB RAM, 16GB storage, and room to move with a microSD slot if need be.
Google's Android 8.0 "Oreo" runs out of the box, and you have the option for two nanoSIM slots here, meaning two connections to phone, text, and data.

Wireless connections are catered for over Category 4 4G LTE maxing out at 150Mbps down and 50Mbps up, and you'll also find Bluetooth 4 and 802.11b/g/n WiFi, as well. Wired connections are marginally more varied than other smartphones these days, with a microUSB connection and a 3.5mm headset jack.
This sits atop a 4000mAh battery which is not removable.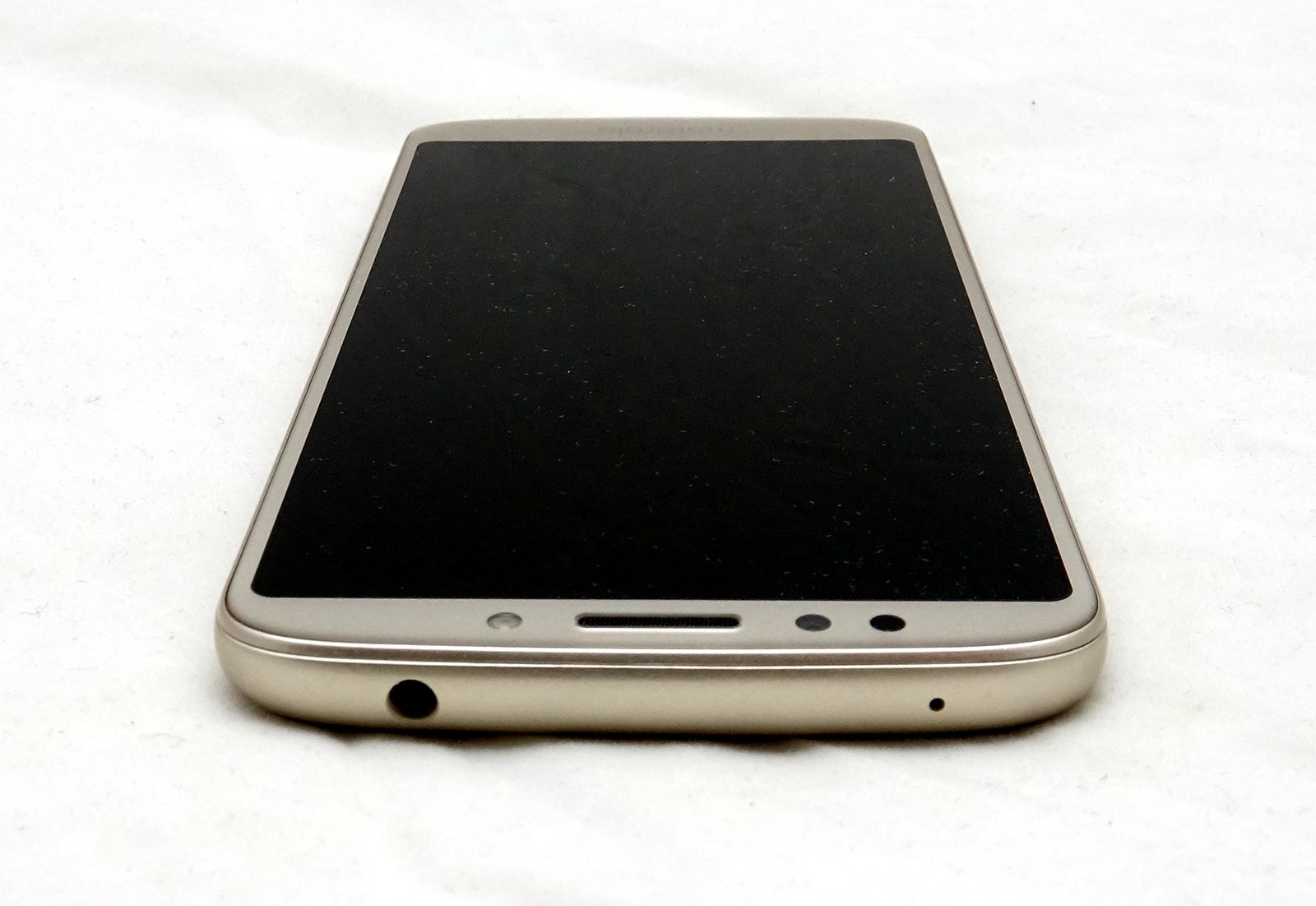 In-use
With Android 8.0 on-board and Motorola's learnings from the days when Google owned it under its belt, you'll find Android is pretty much the way Google makes it, with no extra skins or touches on top.
While the Moto E5 is certainly no Pixel, Motorola's take on Android is as close to stock as it gets, meaning it's easy to use and unmistakably Android.
And that means there are no physical buttons and only virtual buttons included at the bottom of the display. That said, you will find a fingerprint sensor in our favourite location, with the back of the phone a perfect place to rest your finger and unlock the phone, and it even sits in the Motorola logo. Now that's a nicely designed element.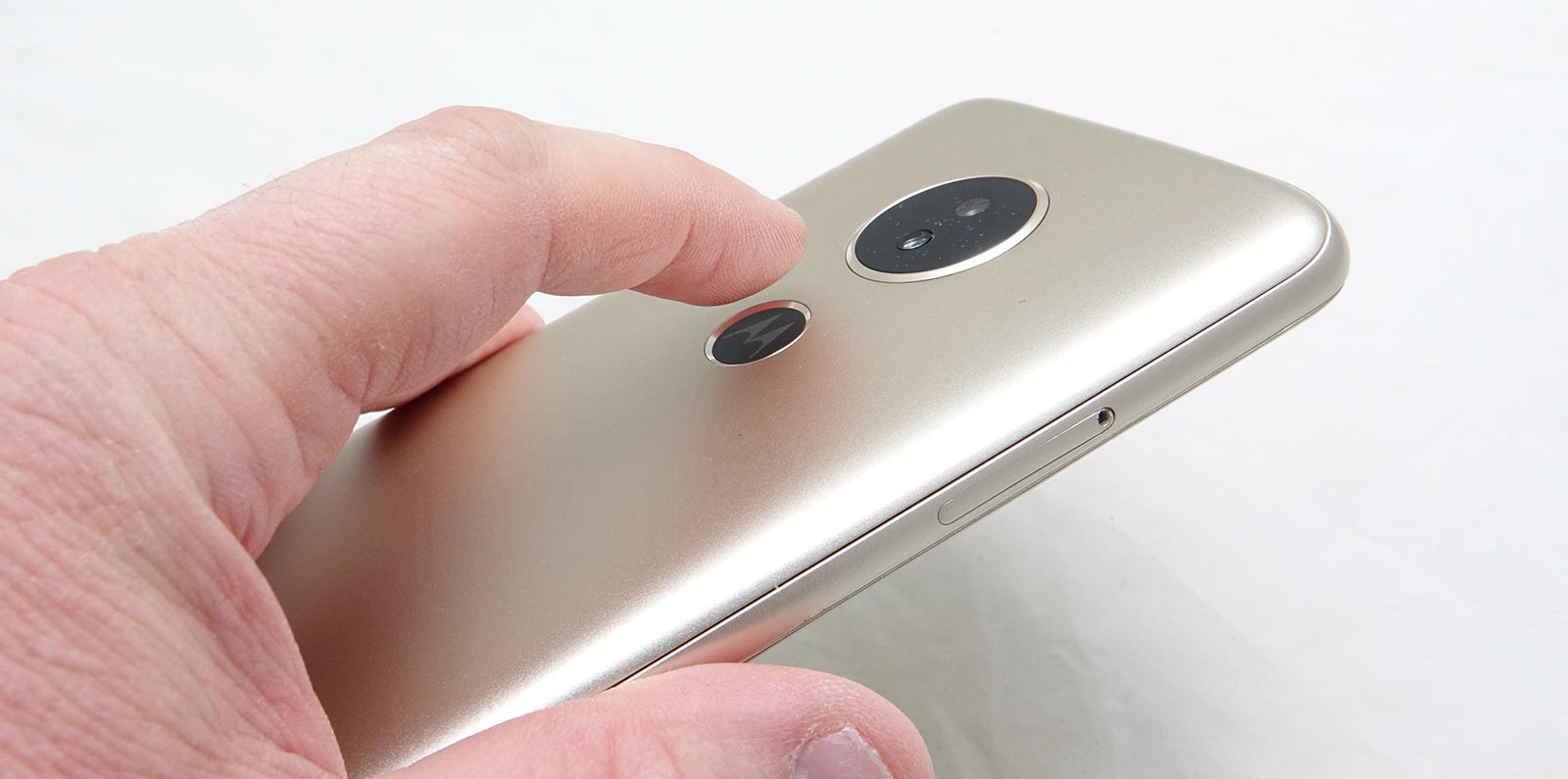 Battery
While we normally get stuck into performance first, we feel it's worth highlighting the battery first, because this is an area that totally surprises.
Technically this is a part of our review that normally comes near the end, but for this phone, we've moved it up to the top, because of the order that features seem to matter on this phone.
Yes, battery seems to be a big deal on the Moto E5, and one Motorola hasn't talked up nearly enough, with the phone capable of really pulling its own weight.

In a world where it's normal for a phone to hit a maximum of one day of life (meaning a nightly charge), the Moto E5 can handle itself much, much better than we could have ever expected, especially for the $229 price it goes for.
Dead set, 12 hours into our test, we found the Moto E5's battery ticking along at 78 percent, giving a very good indication as to what the phone would actually deliver. At two full days of life, we kept with it, only to see just how far this rabbit hole went.
And on our third work day of life, the Motorola Moto E5 battery ended its runtime at 7.29PM, producing a total run-time of a little over 60 hours, a staggering result.
That's a result where we used the phone like normal, and even kept a smartwatch linked to the phone for the entire time, using wireless headphones for around two hours daily.
We don't normally say this, but whoa.
That word is definitely deserved for the battery, because our test of the Moto E5 revealed this is a two-day phone, but three workdays were possible from the one charge. That is something very, very impressive for a smartphone today.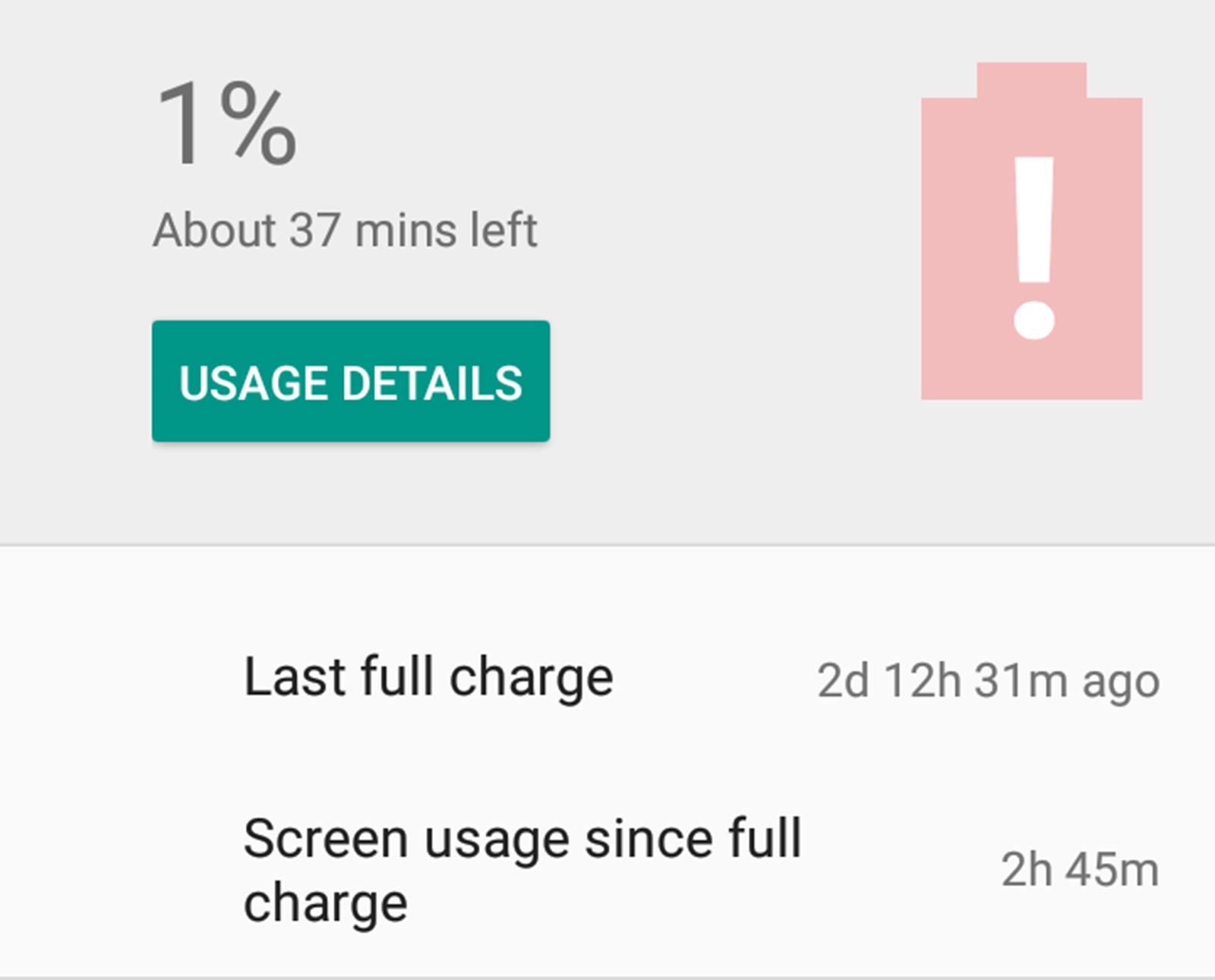 Performance
Of course, to get that battery life, Motorola has had to make some compromises, and that comes with a trade-off in performance.
Benchmarking the Motorola E5, we found a performance comparable to the sort of hardware we were seeing in smartphones a good six or seven years ago, and that's not all.
Synthetic benchmarks give an indicator of real world speed, but it's nothing compared to the actual performance, and that wasn't exactly stellar, either.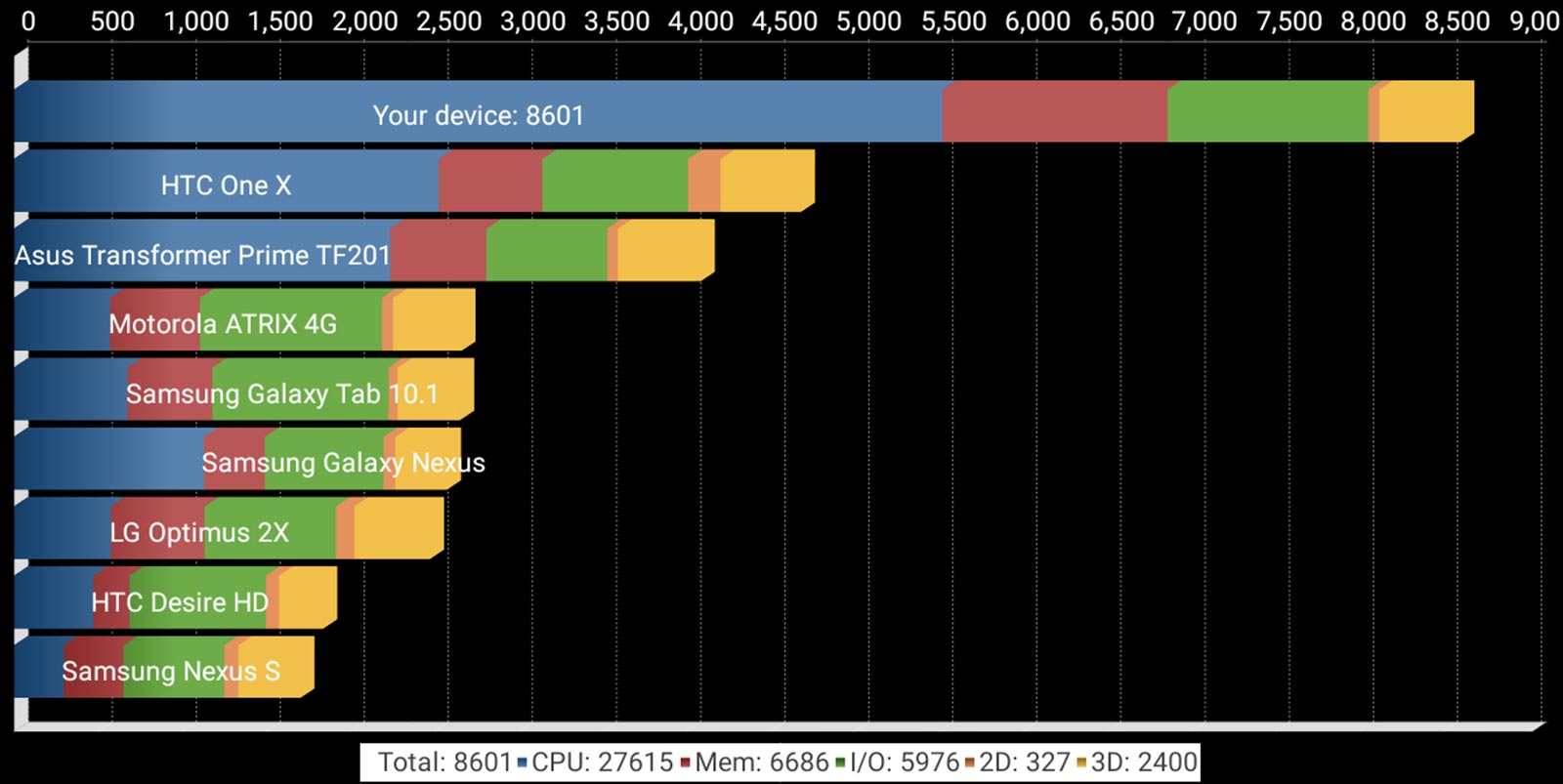 The Moto E5 isn't exactly a total slow poke, but you can definitely notice the times when the speed takes a dive, with apps taking an extra second or two to load. The camera takes at least a second to fire up and lacks the instantaneous feeling you might expect from a modern smartphone, with that feeling repeated in other apps.
In fact, while we noticed some aspects of the Moto E5 never actually faultered — gesture typing never slowed down, for instance — we found the Google stock Photos app took three seconds to load at one point, while Evernote hit a good five seconds before Android just figured it had probably crashed.
You'll find the odd slowdown when you're web browsing and the screen doesn't move as fast as you'd like, and there's even Android's penchant to rotate the screen when you don't want it to, taking a good half second in between realising you didn't want that and fixing itself.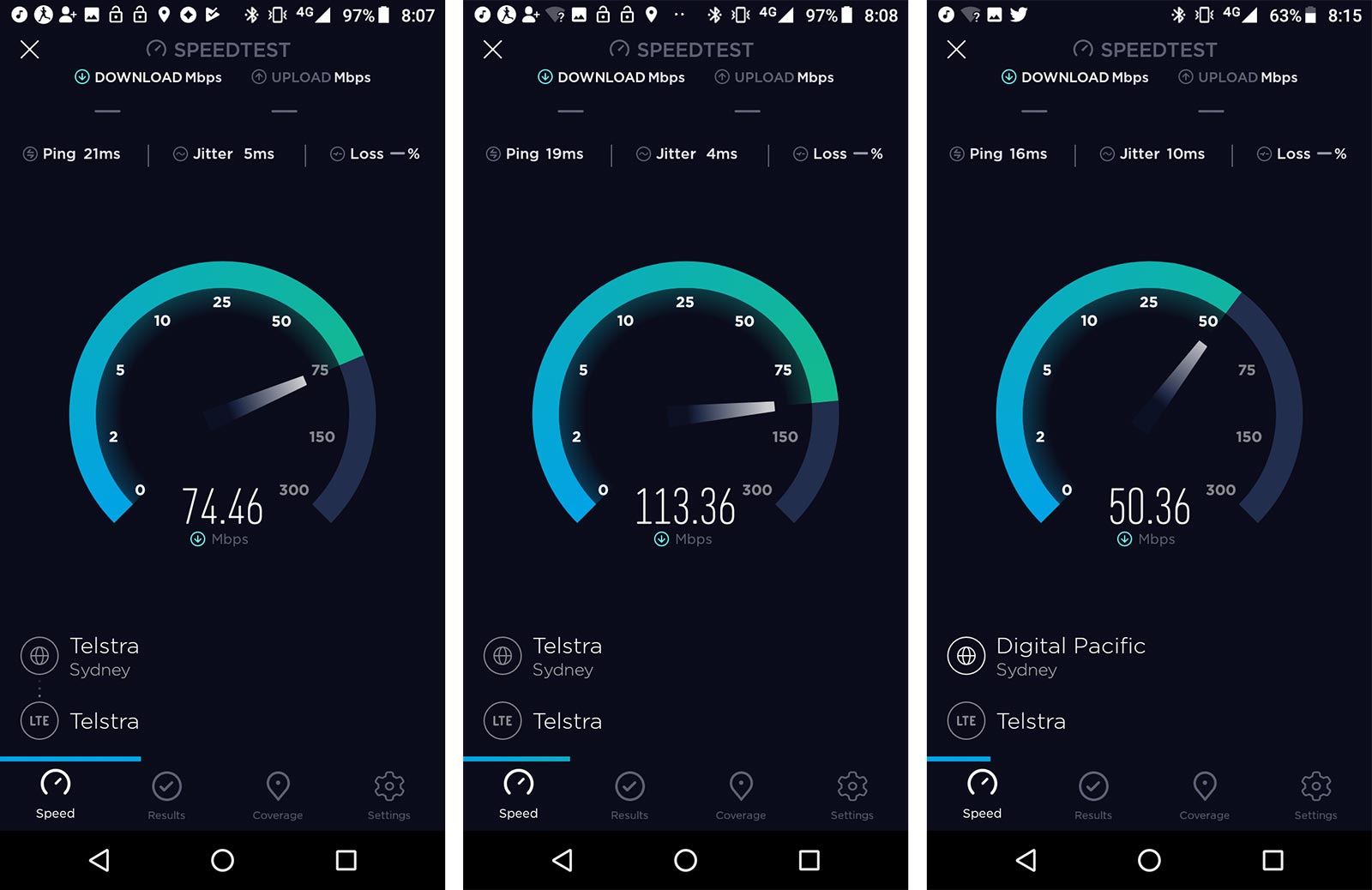 At least the 4G performance can handle its own, and while Category 4 LTE doesn't exactly boast major speed compared to its flagship siblings lately in the Category 16 to 18 1Gbps area, we found speeds between 70Mbps and 110Mbps on offer in the Motorola E5. This managed to feel like it pushed on ahead of the system performance at times, because while it didn't affect everything, it did touch upon quite a lot.
There's little doubt that the performance has been the trade off for Motorola to pull such an awe-inspiring battery life, and as you start to press on to the end of its incredible battery life, you'll see the speed drop even more, so much that once you dip to 15 percent, the phone truly struggles to the point where you'll want to desperately grab a charger just to return it to the slightly better performance it has when fully powered.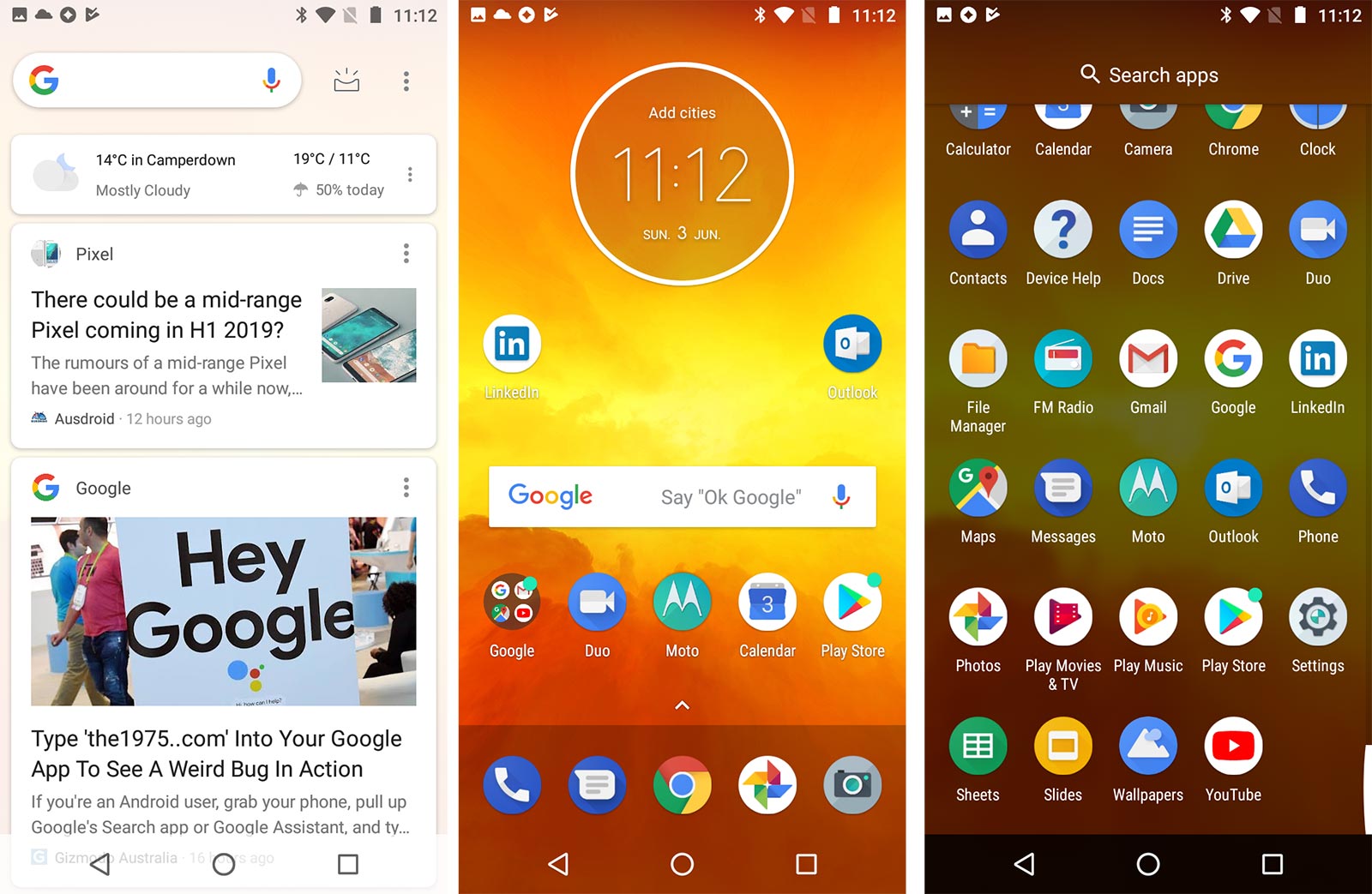 Camera
You'll find some hiccups in the performance, and you may find a few in the camera as well, with the 13 megapixel rear and 5 megapixel front offerings from the front and rear not exactly offering best in class performance.
To Motorola's credit, the 13 megapixel camera on the back isn't terrible, though in low light, you may want to switch on that flash, our least favourite part of any smartphone camera.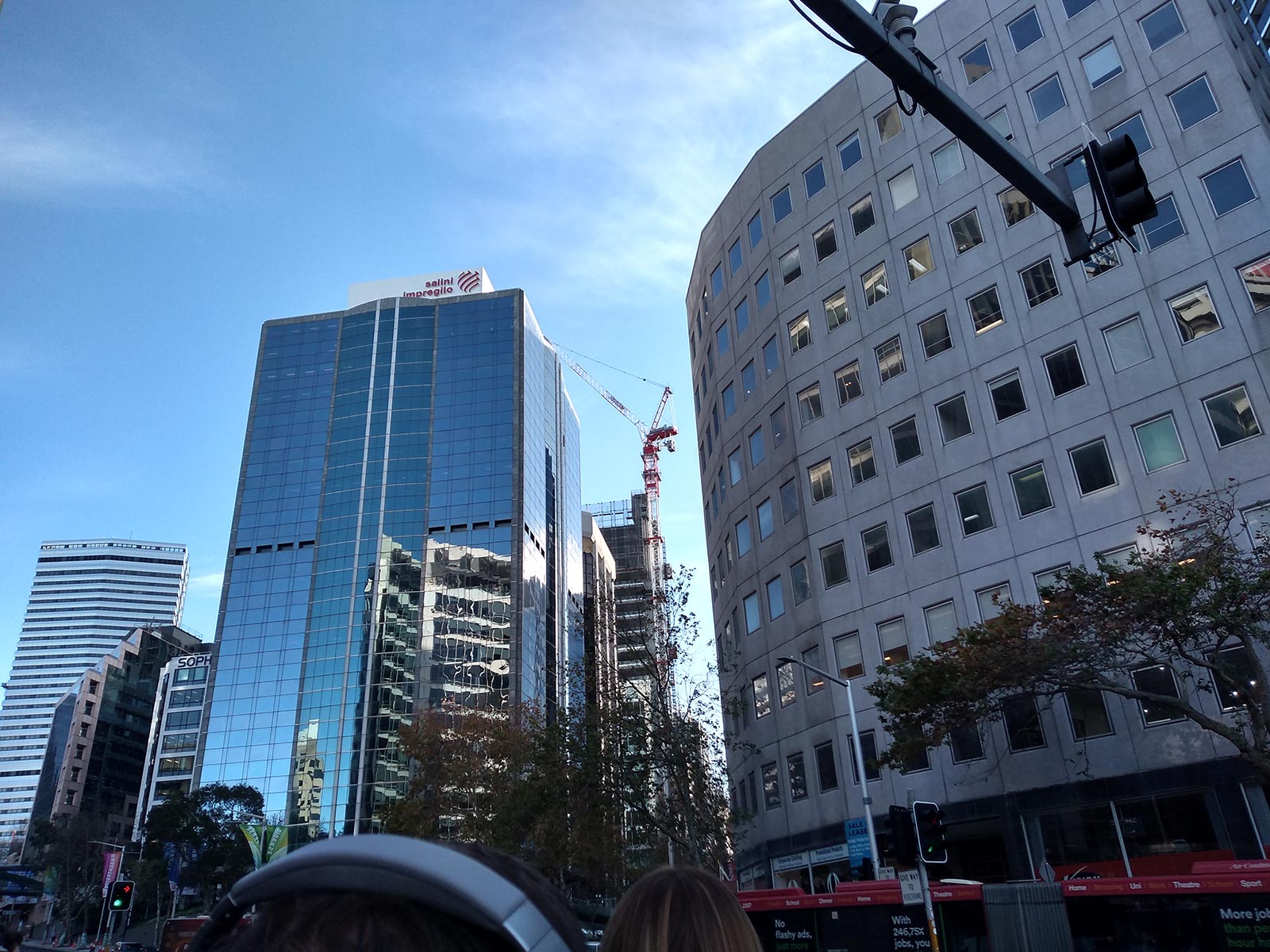 Images were acceptable enough from the Moto E5, but they won't be in line for best quality images overall, though you'll find them more than acceptable for social networking and such. As such, daylight shots were fine, though low-light imagery tended to lose to the darkness, blurring or going noisy depending on the light available.
The front facing 5 megapixel camera is a little bit different, and we found images here tended to be a little noisy, with less clarity on offer.
Perhaps one of the most unusual omissions is Motorola's legendary "twist to launch camera" feature, something that has appeared on pretty much every Motorola Android since the company rediscovered itself under a Google ownership. One of those neat little gestures, you merely had to twist the phone in order to launch the camera, allowing you to grab it from your pocket and have it ready in camera mode quickly.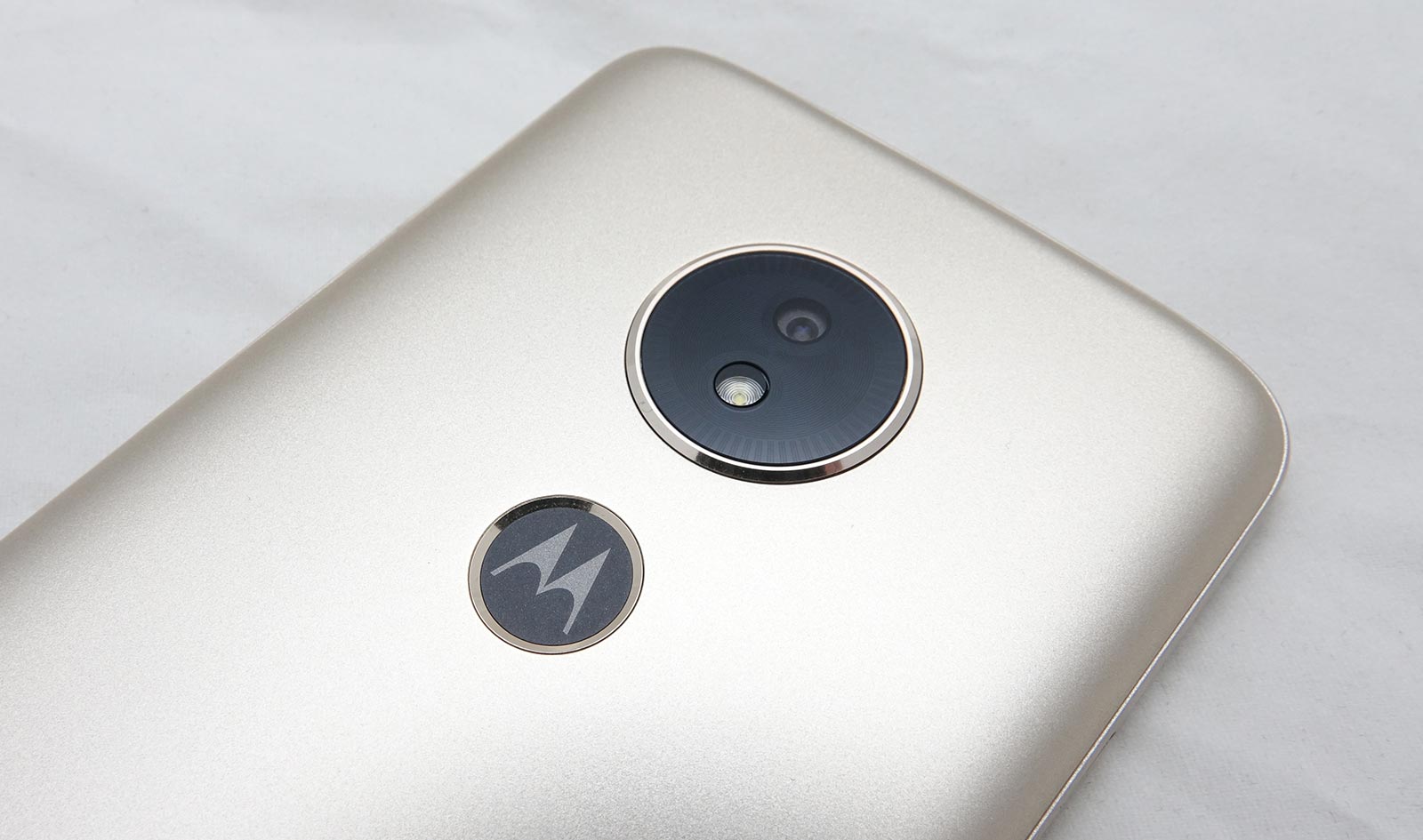 It's been there on other Motorola phones we've reviewed, including the G5 Plus and the Z series modular phones, but here on the E5, it's missing in action. Fortunately, we think we know why: performance.
Indeed, that middling performance on offer from the quad-core chip and 2GB RAM has an outcome that has meant Motorola make a few compromises, and while a decent battery is a strong benefit, the lag and slowdowns likely have meant the neat Moto gestures have been cut out as well (that's our guess, anyway, though we'll try to get confirmation from Motorola on the area).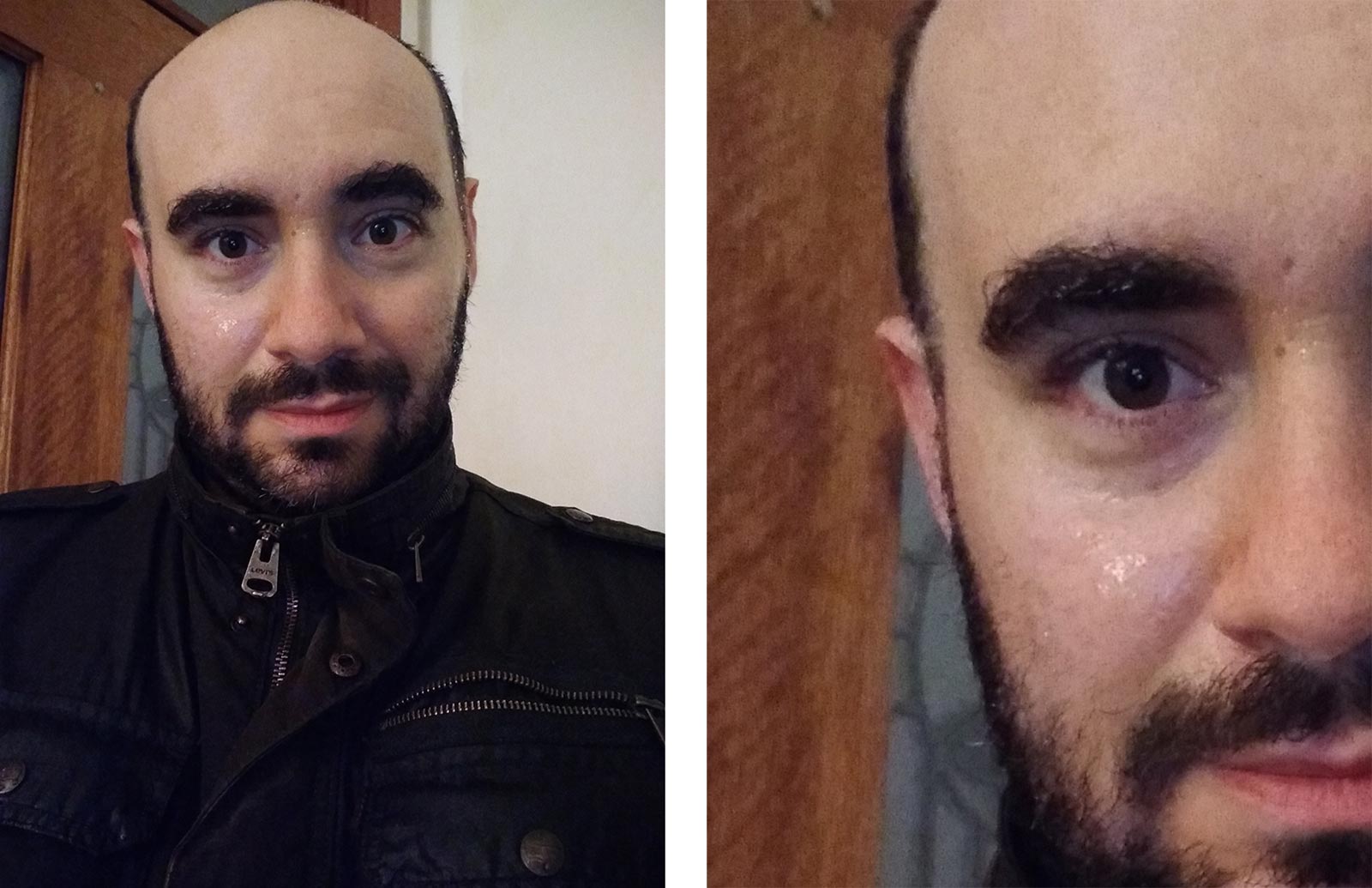 Value
At least the value is definitely there, because arriving in stores for $229, it's hard to decry and denounce the price Motorola is going for.
Sitting well in line with what constitutes as "budget" these days, $229 may not get you much performance, but it does get you a big screen and a big battery life in the Motorola E5.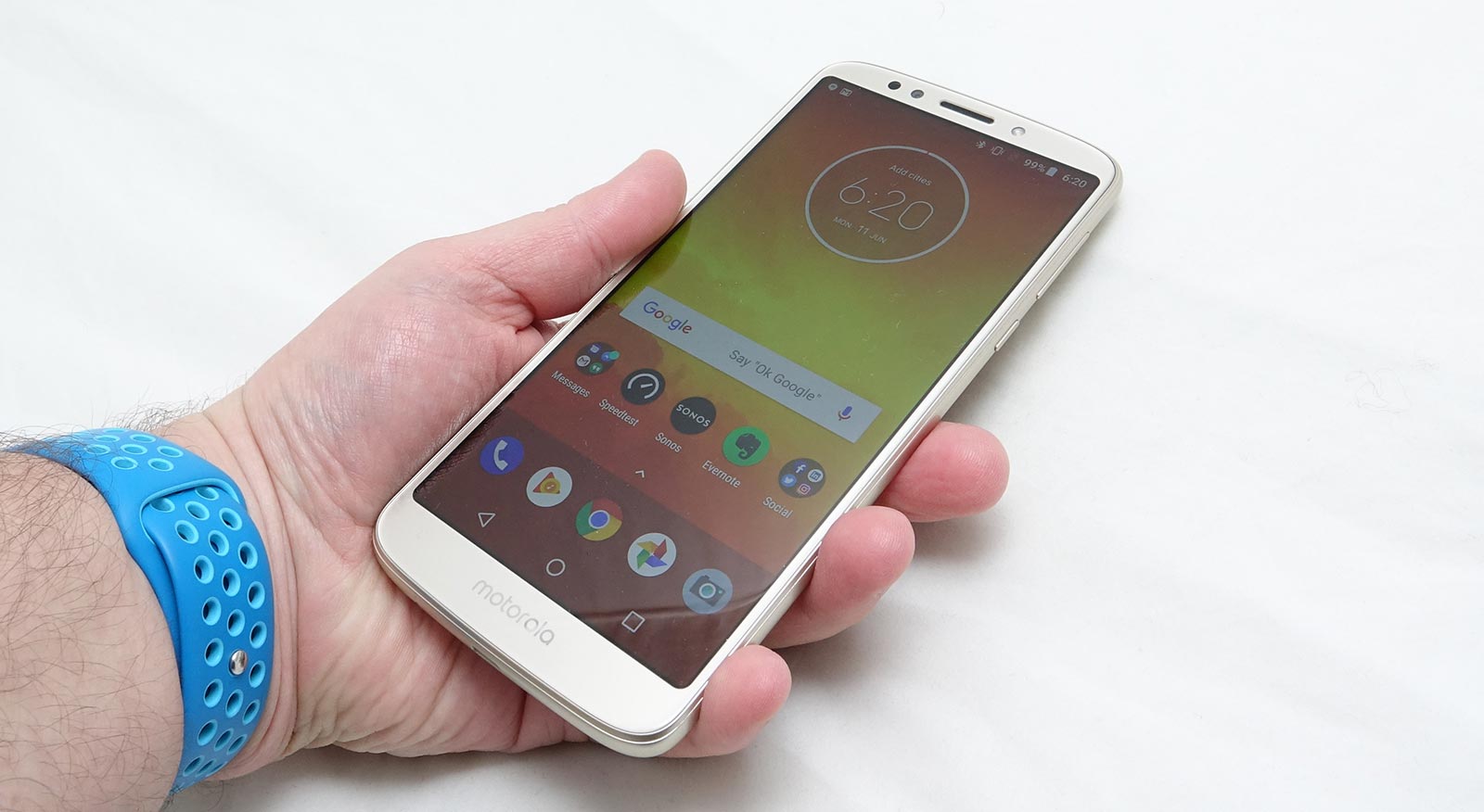 What needs work?
Aside for the middling performance, mediocre camera, and relatively low resolution screen, the Moto E5 offers a decent handset experience on a not-too-expensive budget.
That performance be a little frustrating though, especially in this day and age where we expect instantaneous everything. We can't help but think the Moto E5 has been either intentionally pulled back in performance to help that battery life (which is amazing), though suspect it comes down to the 2GB RAM.
We do also have one other complaint, because 16GB of storage just isn't enough when you only get around 8GB to play with once you turn the phone on. That means you are definitely going to want to bring your own microSD card, otherwise expect to run out of space on that phone very, very quickly.
Final thoughts (TLDR)
We don't think the Moto E5 is necessarily for everyone, and the performance niggles will grind at some people's nerves, but if you know someone looking for a phone that's big on screen, big on battery life, and big on value, and doesn't mind the occasional slow down, Motorola's E5 delivers big time.
The good
Dual SIM with a microSD slot
Excellent battery life
Easy, comfortable design
Definite value
The not-so-good
Screen is a little low-res
Performance can be noticeably show
Camera needs work