Quick review
LG SK8500 AI ThinQ LED 4K TV (55SK8500PTA)
The good
Great picture quality
Viewing angles are solid
WebOS is easy to get used to
Screensaver of artwork is a nice addition
Connection to Google Home makes for some cute controls
The not-so-good
Backlighting sometimes makes its presence known on the black
Sound could be better in the low-end
Remote won't be to everyone's liking
Stand feels a little flimsy
Looking for a big screen with bright colour but not OLED because you're trying to save money? The LG SK8500 AI ThinQ 4K Ultra HD LED-backlit TV might just do the job.
LG's commitment to OLED is obviously big, but it's not the only technology out there. Right now, OLED is the premium technology, and it's one that doesn't suit everyone.
If you don't mind spending close to three grand for a 55 inch TV, you'll find OLED waiting for you, but if you're more interested in saving a few bucks, its an LED-backlit LCD for you. A technology that isn't going away any time soon, it's one LG's SK series of Super Ultra High Definition TVs are made with, delivering 4K Ultra HD on an LED-backlit LCD.
The technology isn't past its time, either, and LG's SK8500 still shows that there's life yet in LED-backlit TVs.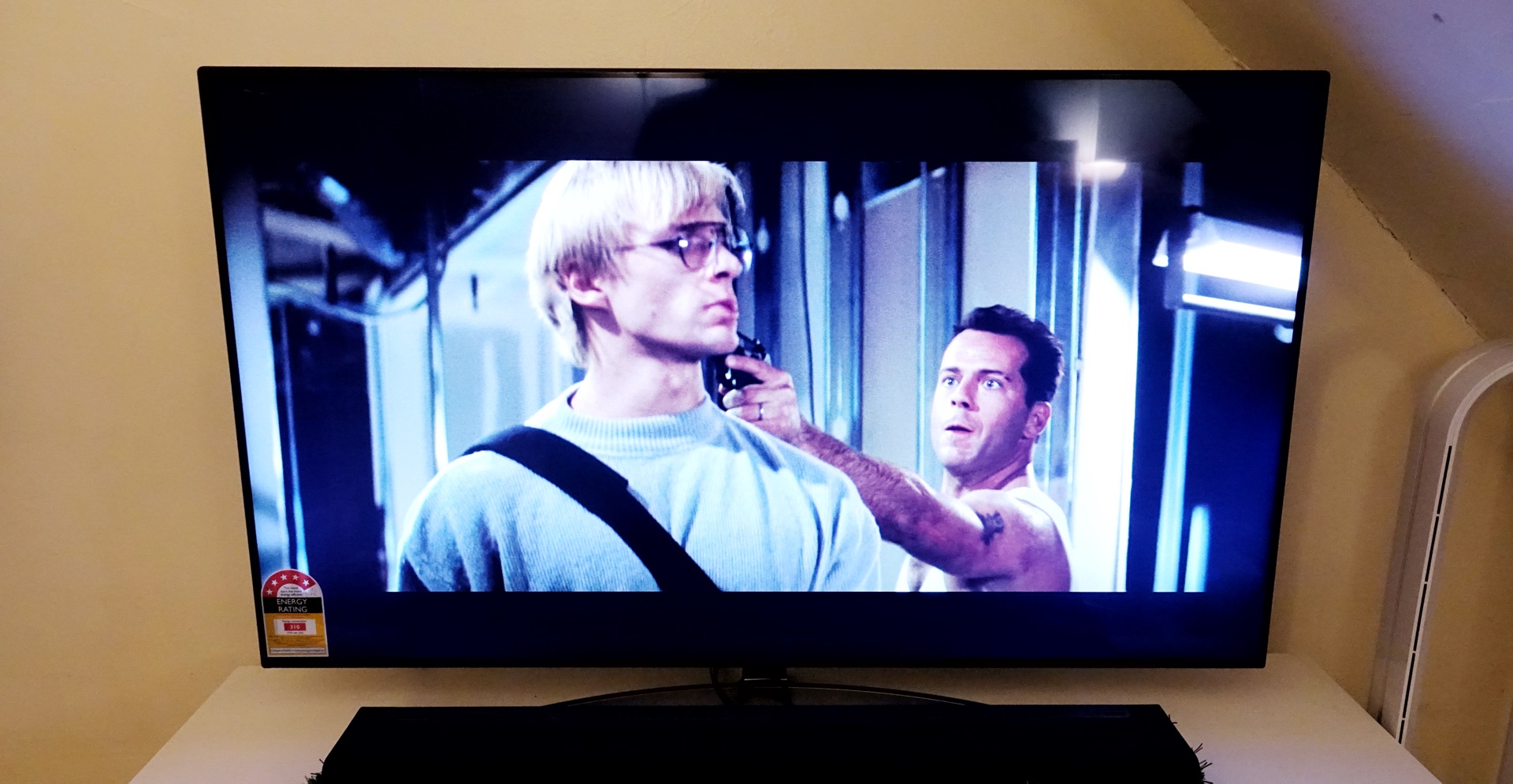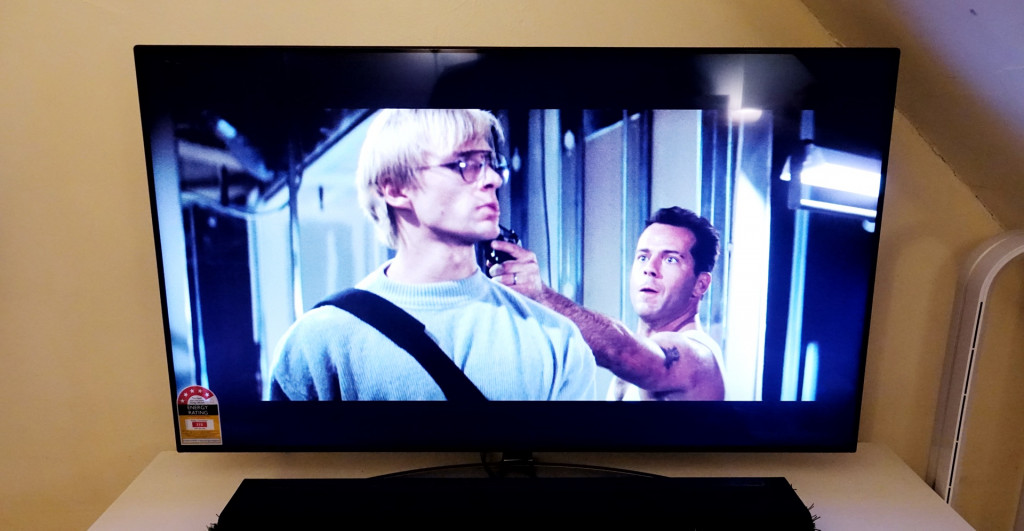 Design
Minimalism has been the key for TV designers for a few years, and minimalism is still the sticking point it seems, because that's where the LG SK8500 is in design.
Simply put, it's a screen with a very slim frame on the top, left, and right, and a slightly bigger frame (but not by much) on the bottom, connecting to a plastic stand designed to look and feel metal at the bottom, which curves out in a massive arc, and can be hidden easily by a soundbar placed in front.
It's easy on the eyes, fairly good looking, and while the TV doesn't offer the same totally diet-worn look of the OLED TVs, its a good looking simple design all the same.
Our one minor complaint is that the stand doesn't actually feel as stable as we wanted. It appears to be, but the immediate feeling you'll get is that the stand is an area where not and much attention has been paid on this TV.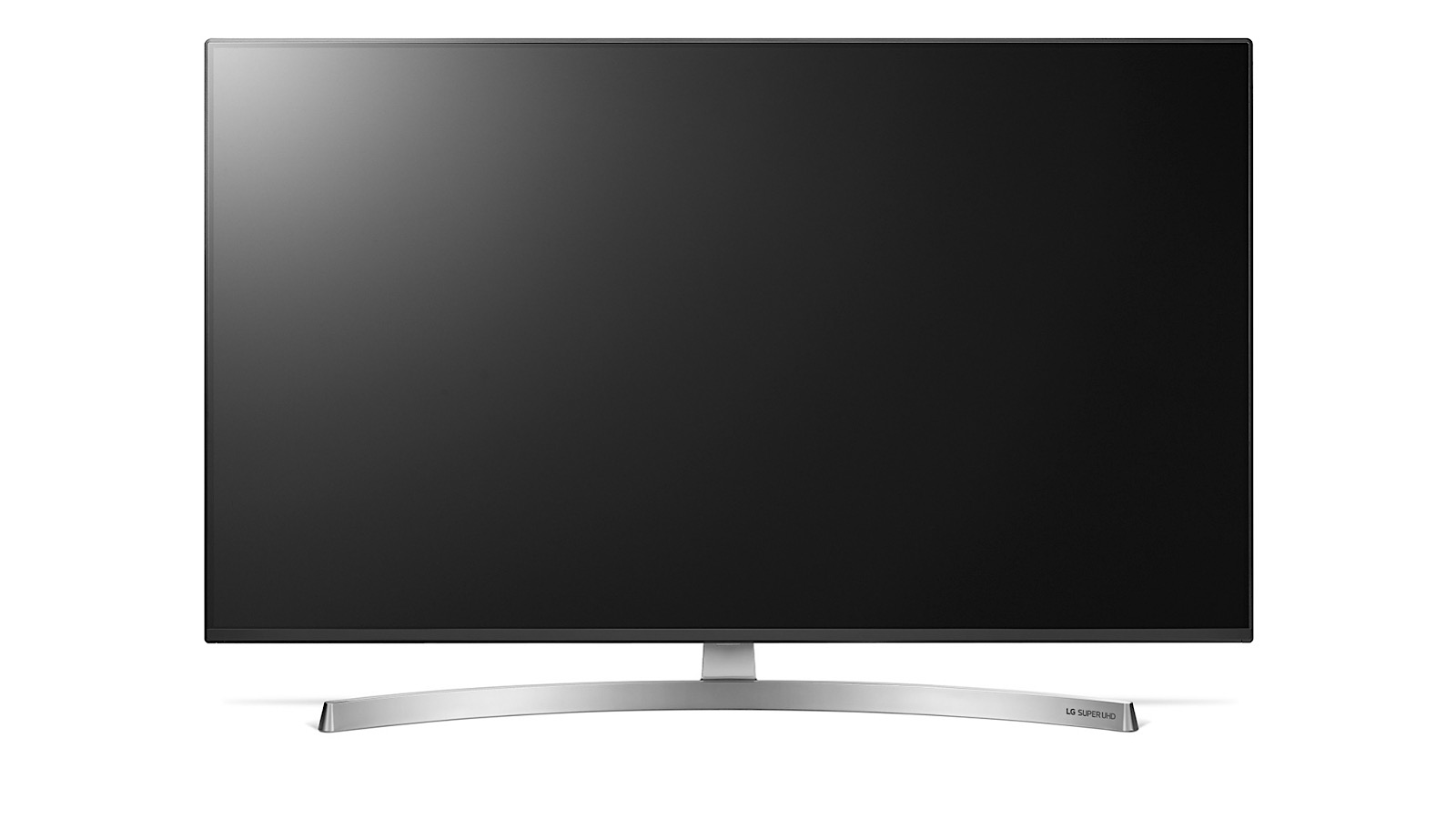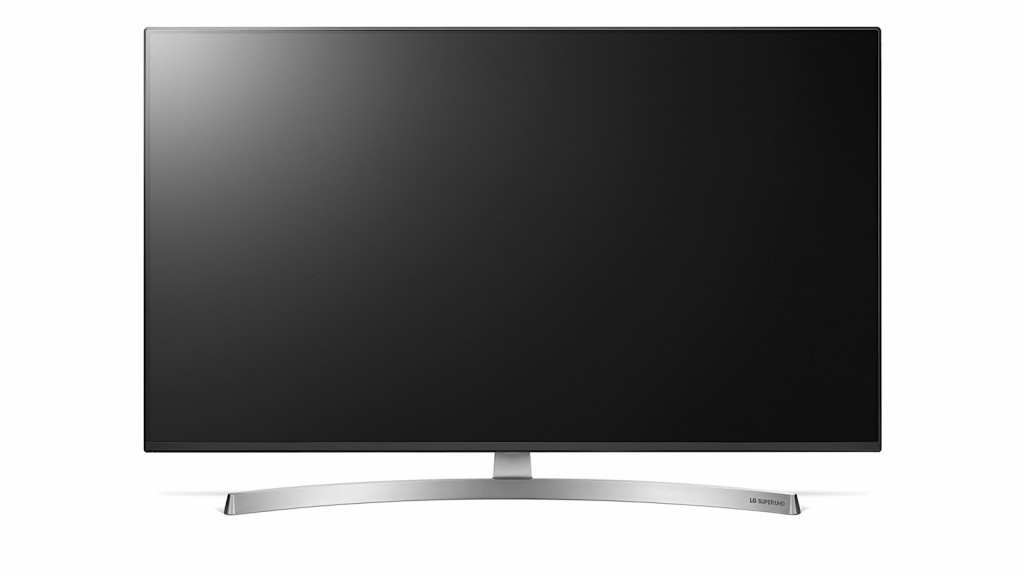 Features
The rest of the television loads up on specs, and it's not a bad system, either.
Depending on the size, you'll find either a 55 or 65 inch screen, both showing the 4K Ultra HD resolution of 3840×2160, with support for High-Dynamic Range (HDR) in in HDR10, Hybrid Log Gamma (HLG), and Dolby Vision.
The screen technology is LED-backlit LCD, and LG hard provided a Nano Cell In-Plane Switching screen, which is designed to offer strong viewing angles. Because this is an LED-backlit TV, it uses dimming, and on the LG SK8500, it's LG's Full Array Dimming.
Underneath that screen, LG is using last year's a7 processor, and that works with LG's webOS smart TV interface, which offers apps, Netflix, a connection to Google Home and support for a degree of AI thanks to LG's "ThinQ" technology, and a web browser.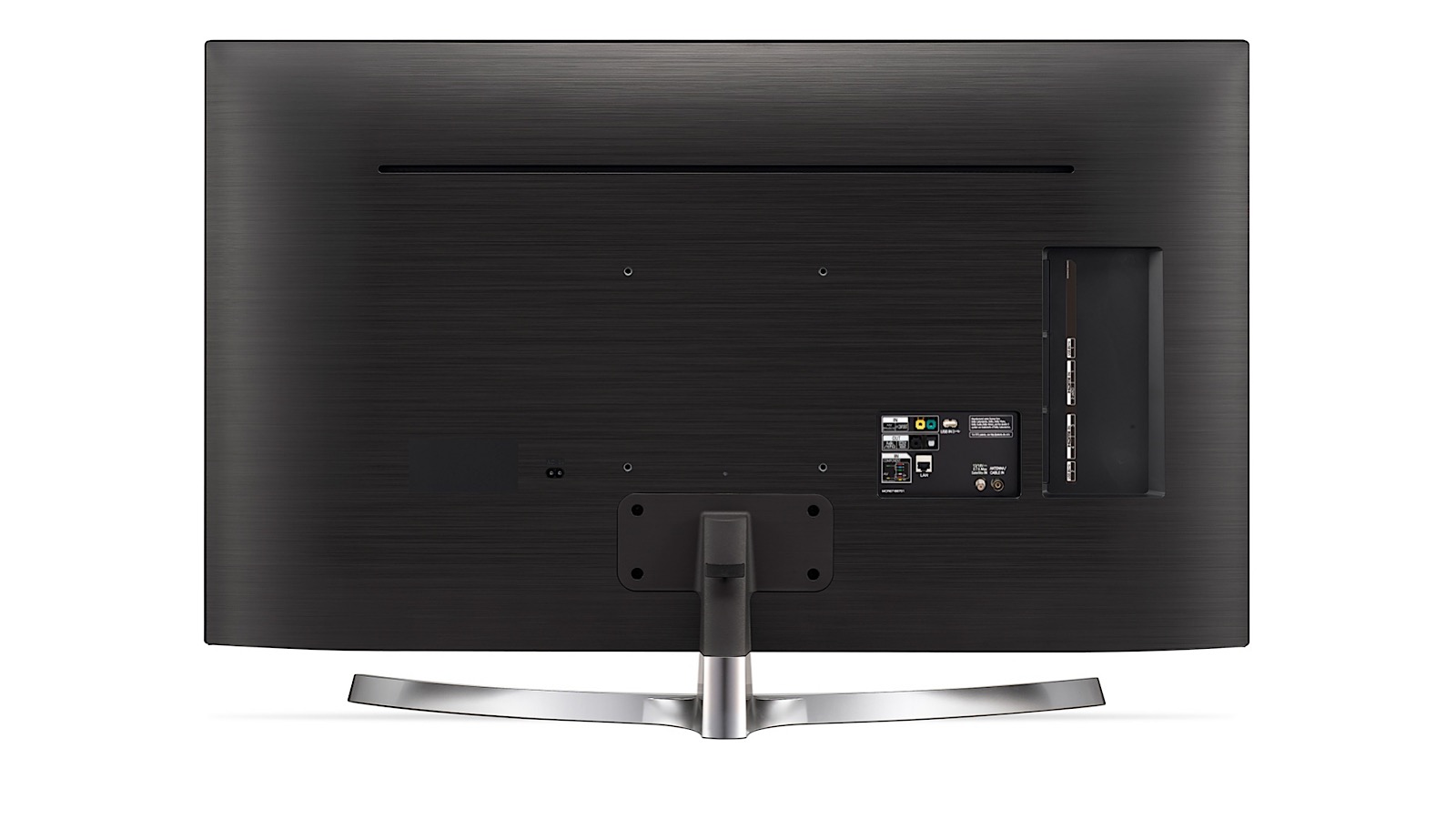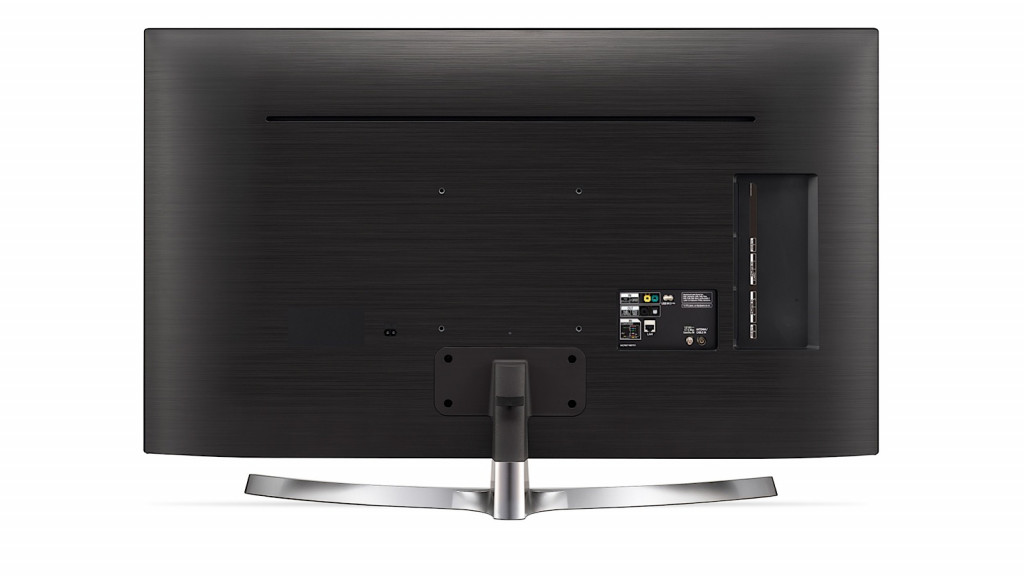 Connection options for the TV include 802.11a/b/g/n/ac WiFi as well as Bluetooth 4.2 for the wireless side, while wired is handled by four HDMI ports with HDMI 2 the ARC connector, one antenna port, three USB 2.0 ports, one wired Ethernet port, one 3.5mm headset port, a component port, and digital optical out.
While you can obviously use the optical and 3.5mm headset port for sound — not to mention that Bluetooth connection — the LG SK8500 includes a four speaker system with support for virtualised Dolby Atmos surround.
In-use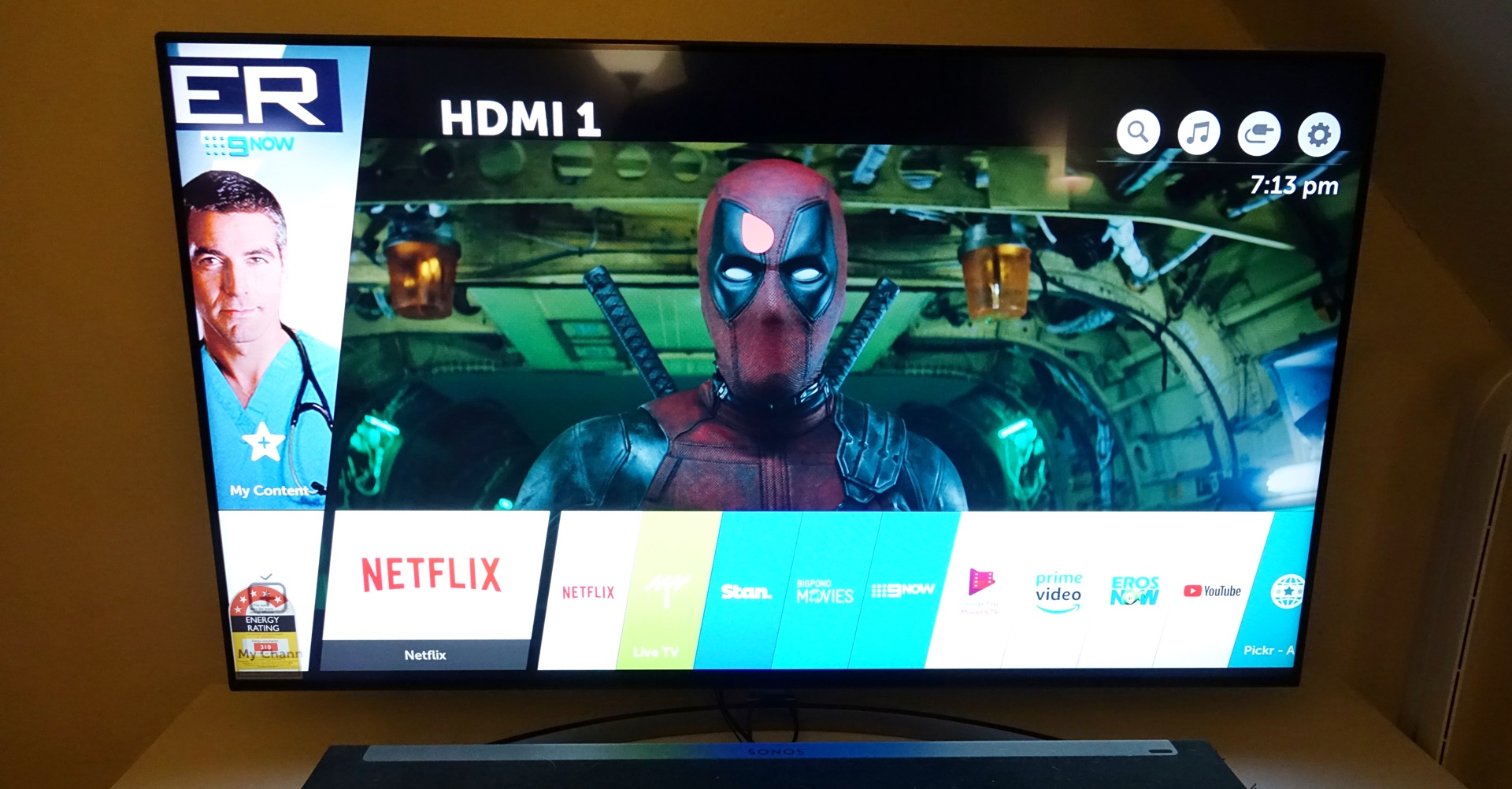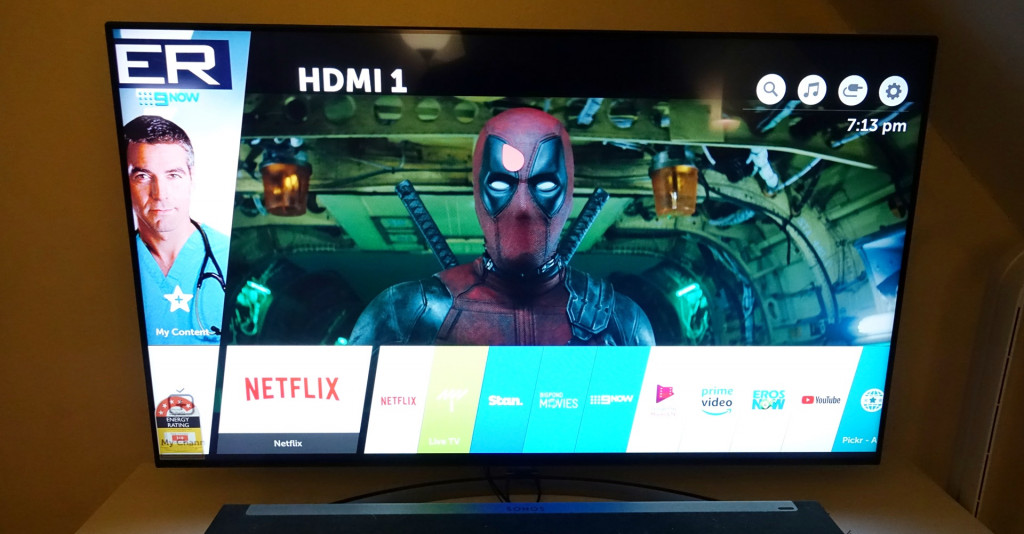 Switching on the LG SK8500, we were greeted with a bright and colourful operating system that is both familiar and playful, and yet different from what everyone else uses.
While Sony's screens are based on Android, Samsung's on Tizen, and Panasonic and Hisense each have their own, LG continues its work with webOS, a platform that it has been refining over the years and features motion controls, customisable menus, and an app ecosystem.
That means using the LG SK8500 is handled through one of LG's "magic" remotes, which basically means it's a remote with plenty of buttons, but also a microphone and a motion sensor.
The motion controller is what you'll be using most of all, and it kind of rekindles the experience of using a Wii-mote: hold the controller and wave it around the air to pick things. You don't have to entirely, with directional controls found on the inside near the scroll wheel, but the motion controls are actually faster, even if they're still a touch awkward, especially for first-time users.
Sufficed to say, waving your "magic" remote isn't a euphemism, and it's something you kind of need to do with webOS, the colourful platform that manages to feel more user-friendly than the typical basic-looking-yet-complicated-minimalist control some TVs provide.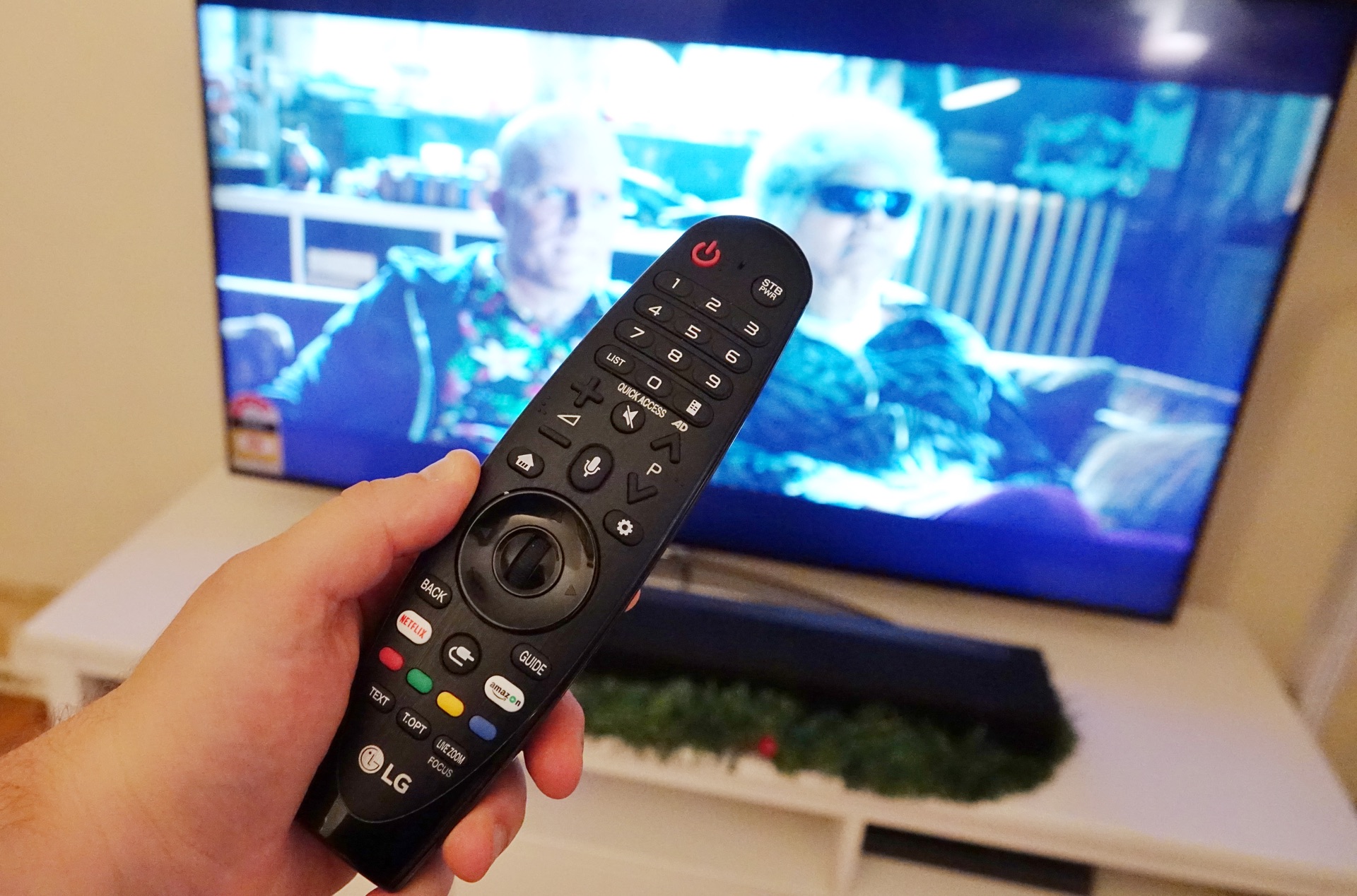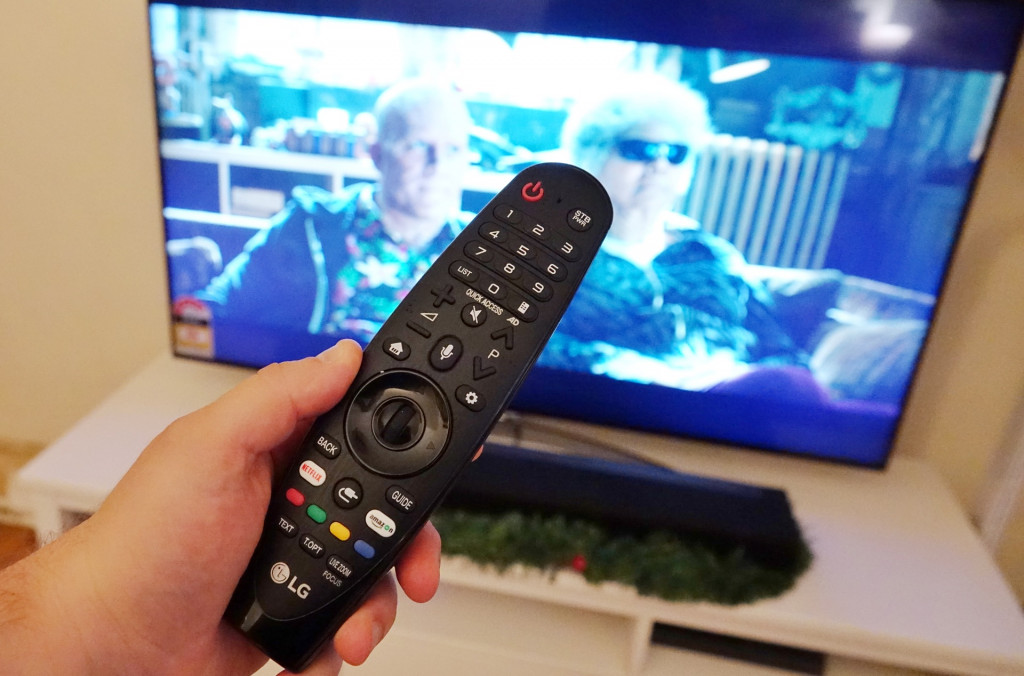 On the microphone side, you can talk to the TV and ask it to search for things online using LG's AI ThinQ technology, but its potential is really untapped until you link it to Google Assistant.
This is something you need to jump through a few steps on, grabbing a phone and registering the TV to a Google account, so you can build a link to your television.
Once that's done, any device in your home that normally talks to your Google account can be used to control the TV. If that's just your phone, that's totally fine, but if it's your phone and your Google Home speaker, you can control it directly.
The language layout is a little complicated, because you need to ask Google to talk to LG, so you end up saying something like "Hey Google, talk to LG to turn off the TV", but there are some surprisingly complex and complicated things you can do, such as setting up your home for a movie night with one command or telling the whole system to turn off and go to bed.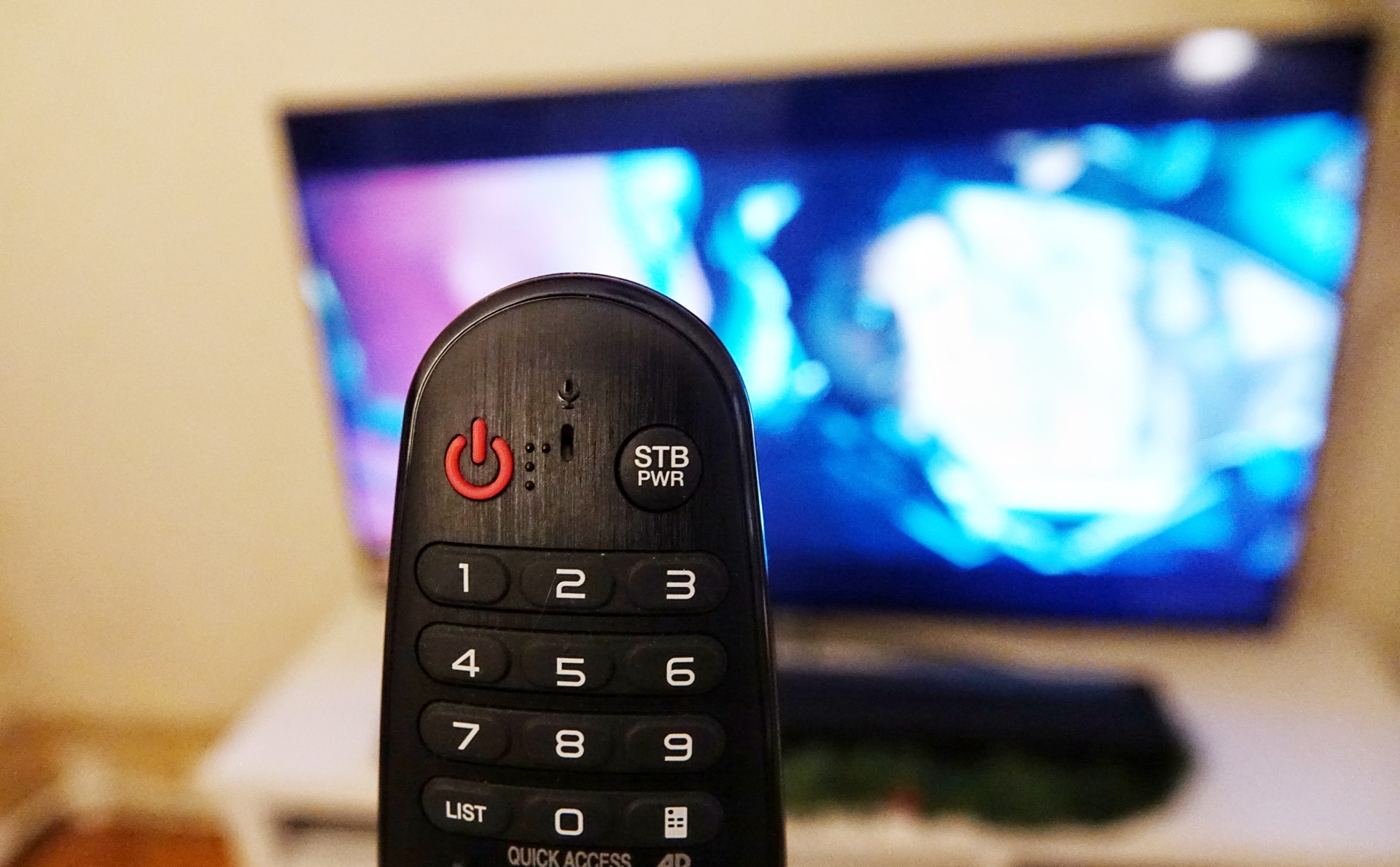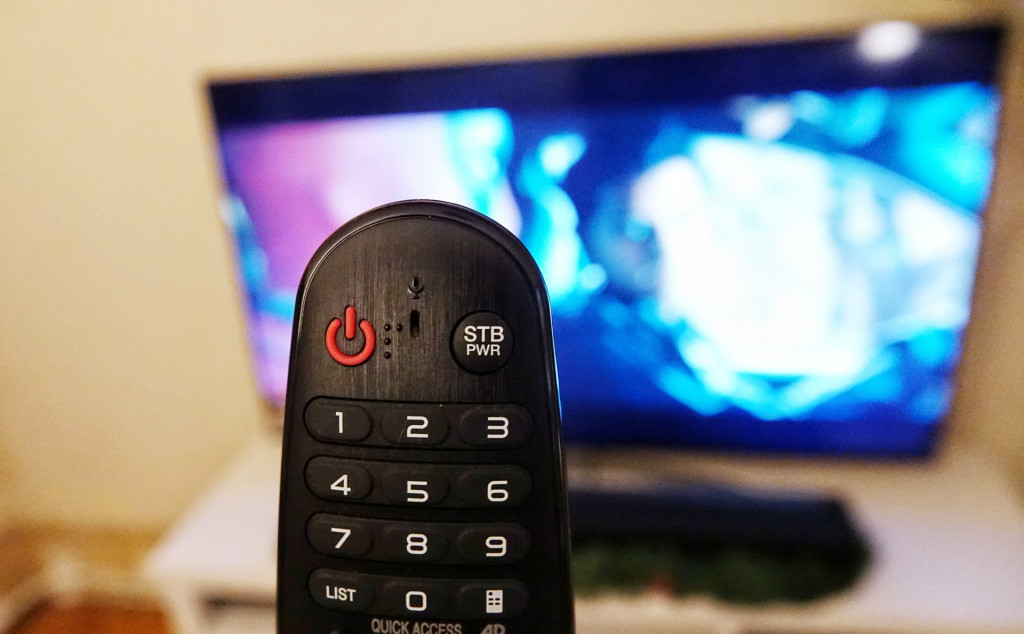 Performance
When it comes to colour and performance, the LG SK8500 handles its own, though there are some caveats here and there.
For the most part, the colour is bright yet natural, and the screen offers a look that is pleasing to the eye.
Being an LED-backlit screen, there is of course a light-based dimming system built in, lighting up sections of the screen when the picture isn't entire dark or black. As such, while blacks are obviously black, you may see a halo of brightness around parts of the image when the backlight fires, which can dent the image quality, particularly where the colour is down.
It's a backlighting system that you can see, and unlike OLED, the blacks on offer aren't pure. There's really no way they can be, mind you, but the backlighting system can be easily seen by the naked eye, sometimes in a way that makes you wonder why the dimming system isn't smaller.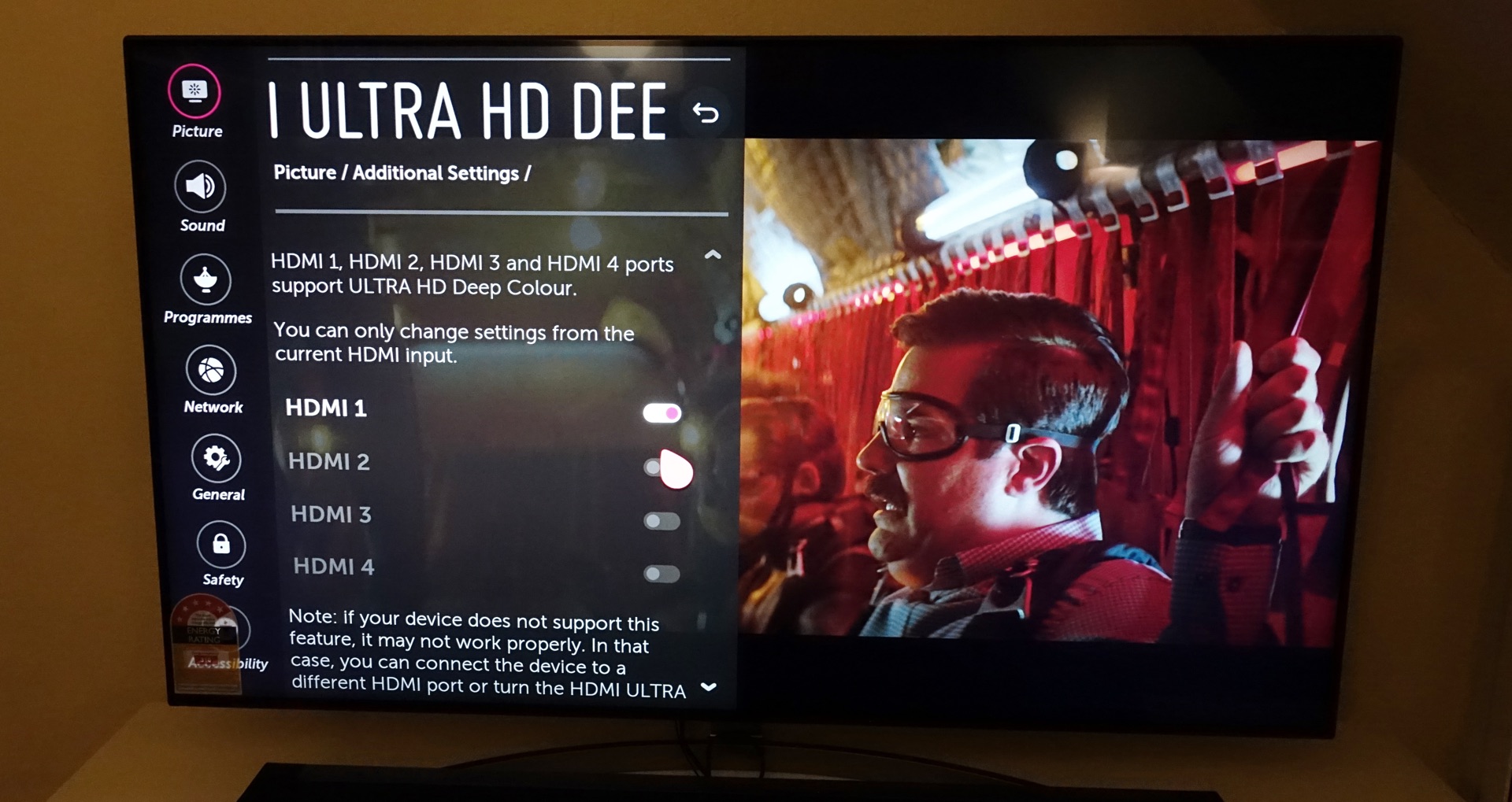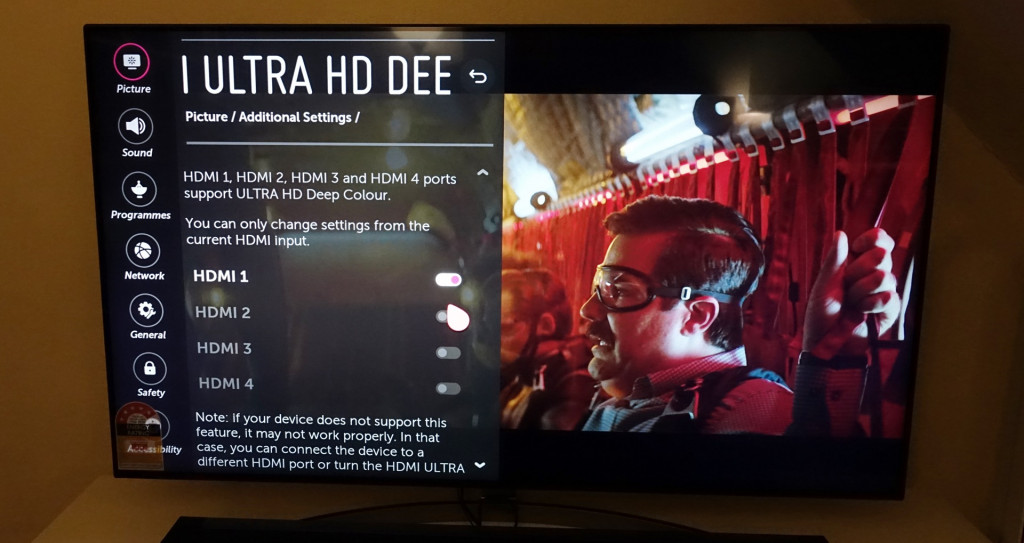 This is very different from LG's flagship technology, Organic Light Emitting Diodes, or "OLED". In OLED, blacks exist because the individual pixels turn off, making a pure black that isn't lit. LED-backlit doesn't get the same luxury, and while the blacks here aren't as black, they're still quite pleasing to the eye.
You won't lose yourself in the darkness on the LG SK8500, but the image quality is decent enough, and it's one that offers a fair amount of control, too. LG allows you to tweak the colour through various settings, some of which are predefined for you, and include motion technologies and noise reduction, all of which can be turned off and on at your leisure.
On the plus side, though, you will find pretty solid viewing angles, with an even picture from the sides, meaning even those viewers not facing dead centre will be greeted with the same image.
That's something LG attributes to its Nano Cell In-Plane Switching screen technology, which basically makes it as good as an LCD screen you could want on a TV, and one that supports High-Dynamic Range visuals, too.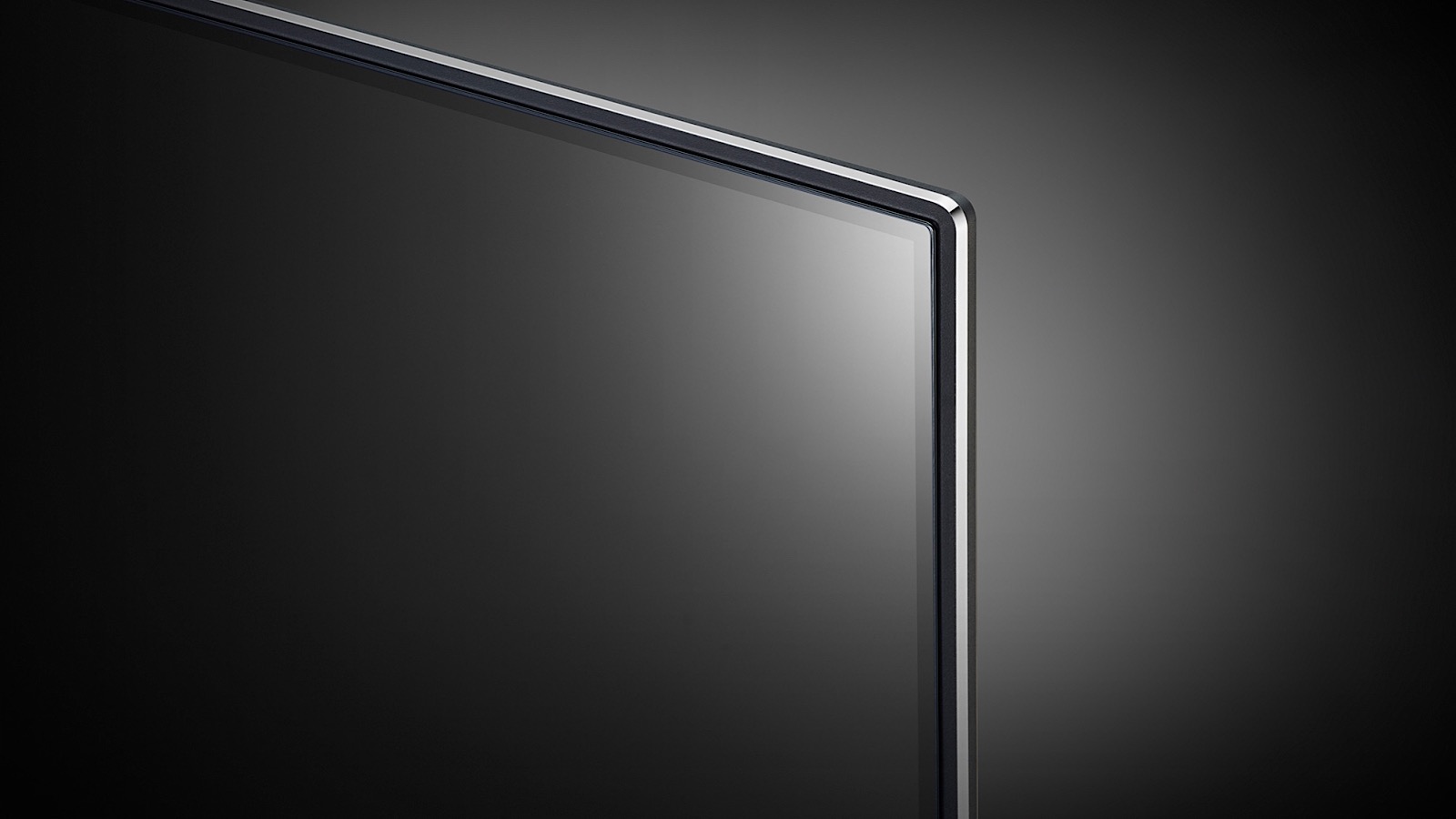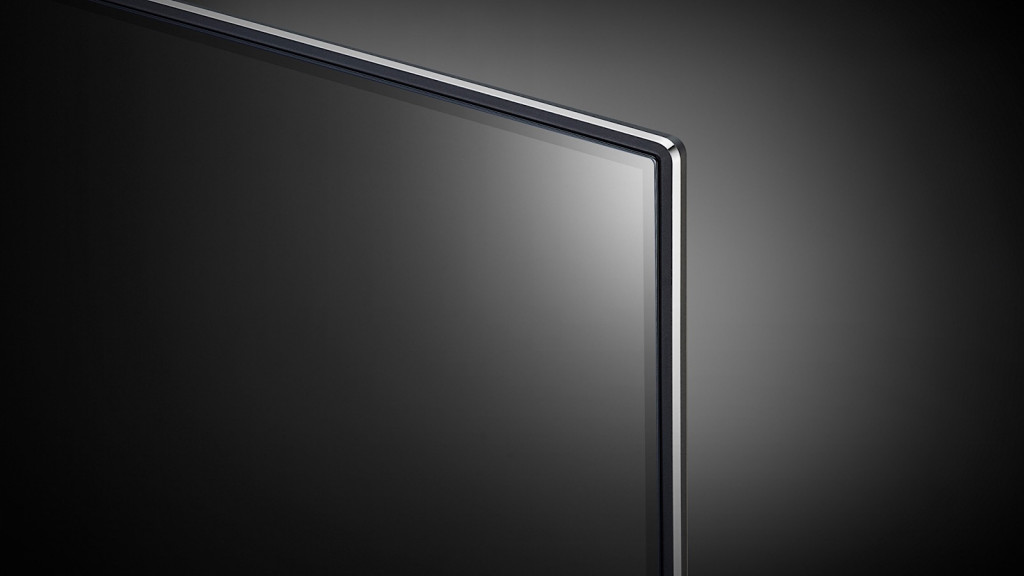 On the HDR front, the Apple TV 4K provided support for Dolby Vision, rendering our 4K Marvel films with a note at the top that we were playing in Dolby Vision, before treating our eyes with the sort of colour accuracy that felt more like cinema-grade projection.
Again, the deep blacks still provided some of that backlight bleed we noted earlier, and it's something you can pick up pretty easily when the picture is pitch black or as close as you can get.
But for the most part, we were satisfied with what the LG SK8500 Super UHD 4K TV achieved.
You even get a cute little screensaver that offers some nice paintings, though it does need a few more to shuffle through. It's no Samsung Frame, but it's something cool that adds to the package, even if you don't get much control.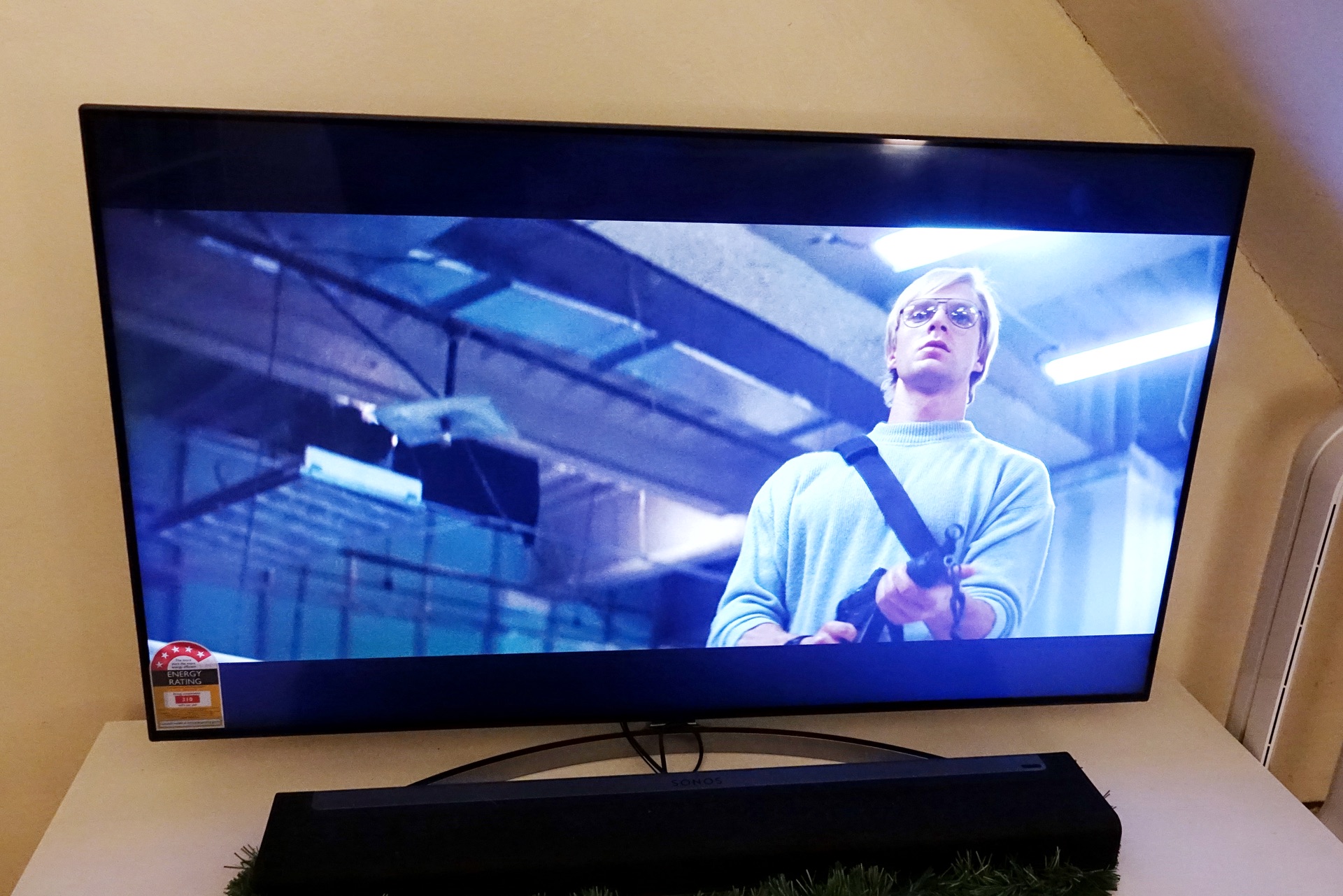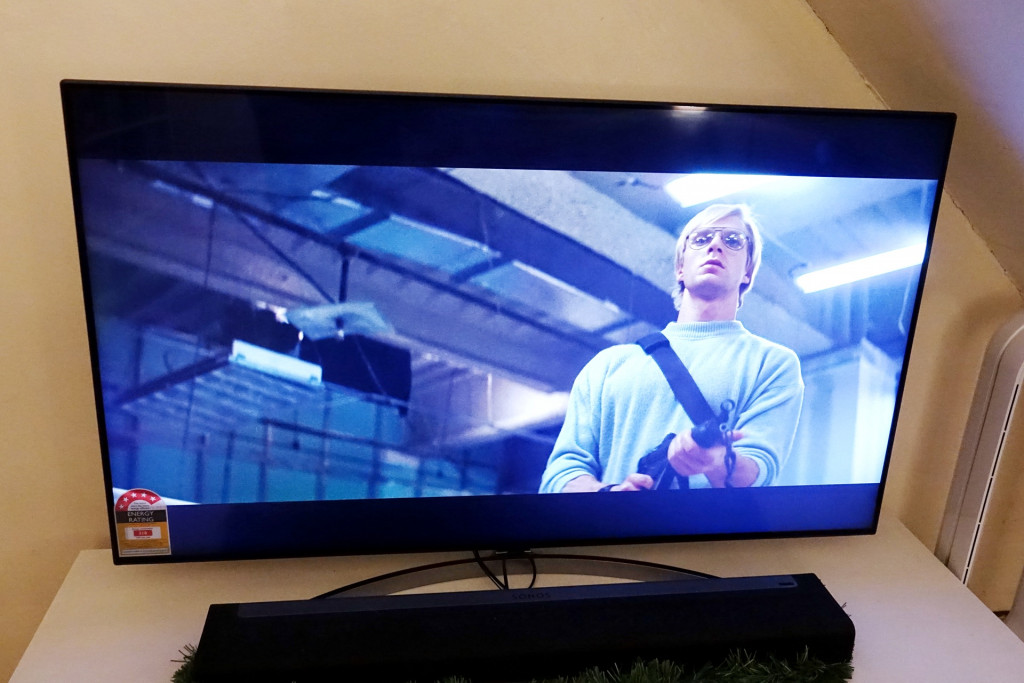 Sound
To LG's credit, the sound offers the same fairly solid strength as its colour. There's a little more depth than we expected, and a decent focus on the highs and mids, though the bass clearly needed a little more punch.
There's little doubt this isn't the soundbar-matching technology of Sony's Acoustic Surface, and LG's take appears to be speakers on the back that bounce, something the company is kind of forced to do when you have a display as slick and minimalist as this, or as much as can be with an LED-backlit TV.
However LG has provided some feeling of proper surround with Dolby Atmos, which isn't quite like being in a proper surround environment at the movies, but isn't bad either for a TV. With four speaks, it's actually not a bad result at all.
Let's just say that while we relied on our soundbar for most of our time with the LG SK8500 4K TV, if you don't have one, you won't be dissatisfied.
Value
And at a recommended price of $2299 for the 55 inch model (which is what we tested) and $3599 for the 65 inch, it could definitely save you a few bucks if you didn't want to make your way to OLED.
Granted, the blacks aren't as good, but the technology on offer isn't bad at all, and street price seems to get the TV under $2K, anyway.
What needs work?
In terms of value, it's hard to have a problem with LG's offering, and really our only complaints come from that backlight bleed, which gets noticeable with colour on black, like when the Netflix logo loads on the black screen.
You won't really notice it in most movies or shows, and few that we watched had continually dark scenes that turned the screen to darkness and required the backlight to shine on through.
However it is there, and the backlight clearly doesn't blend with the blacks and darker colours as much as you'd expect.
Outside of the backlight bleed, the sound could be better in the lows and the stand can feel a little flimsy, enough that you definitely won't want to touch or prod it once it's in position.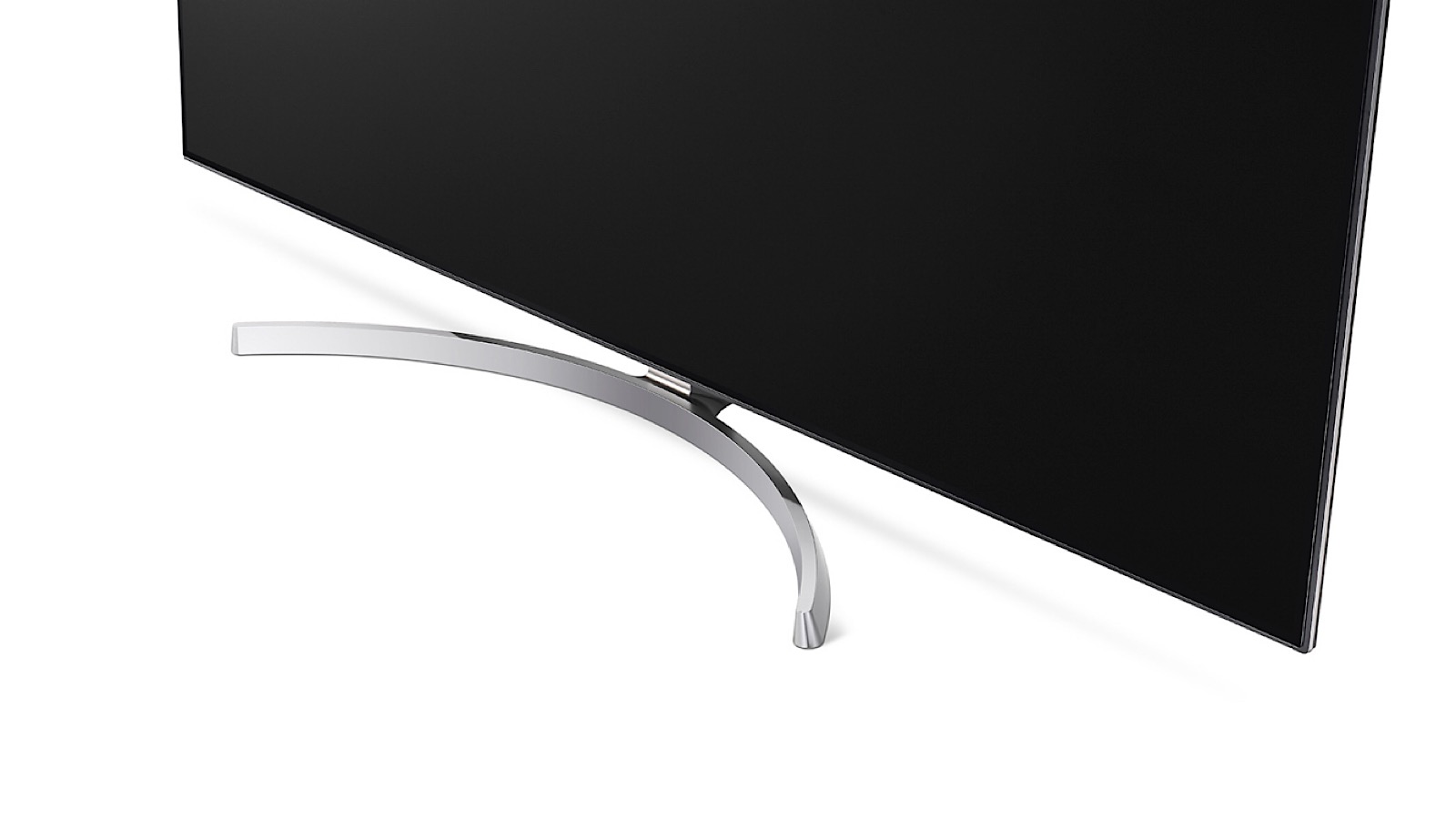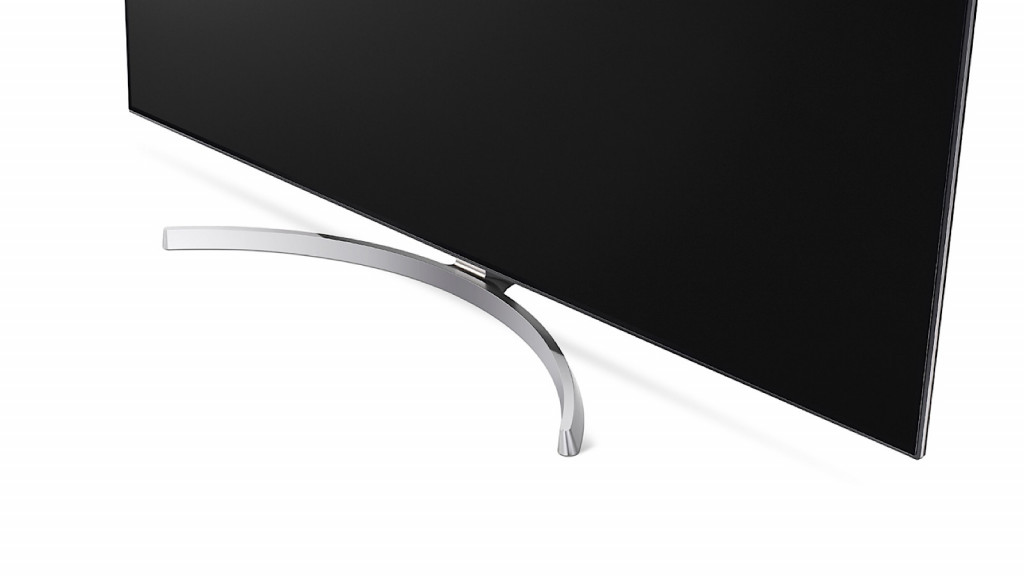 Final thoughts (TLDR)
At a little over $2K but found for less, LG's SK8500 is worth a look if you're after a 4K screen with solid colour and a connection to Google Home.
That last part alone helps make it easier to integrate in the home, especially if you've started to make the transition to a smart home early.
If you're already there with a Google Home speaker or two, the LG SK8500 will make so much sense, though if you have a little extra money to play with, we'd probably look into OLED, as it should fix the LG backlighting and colour issue overall.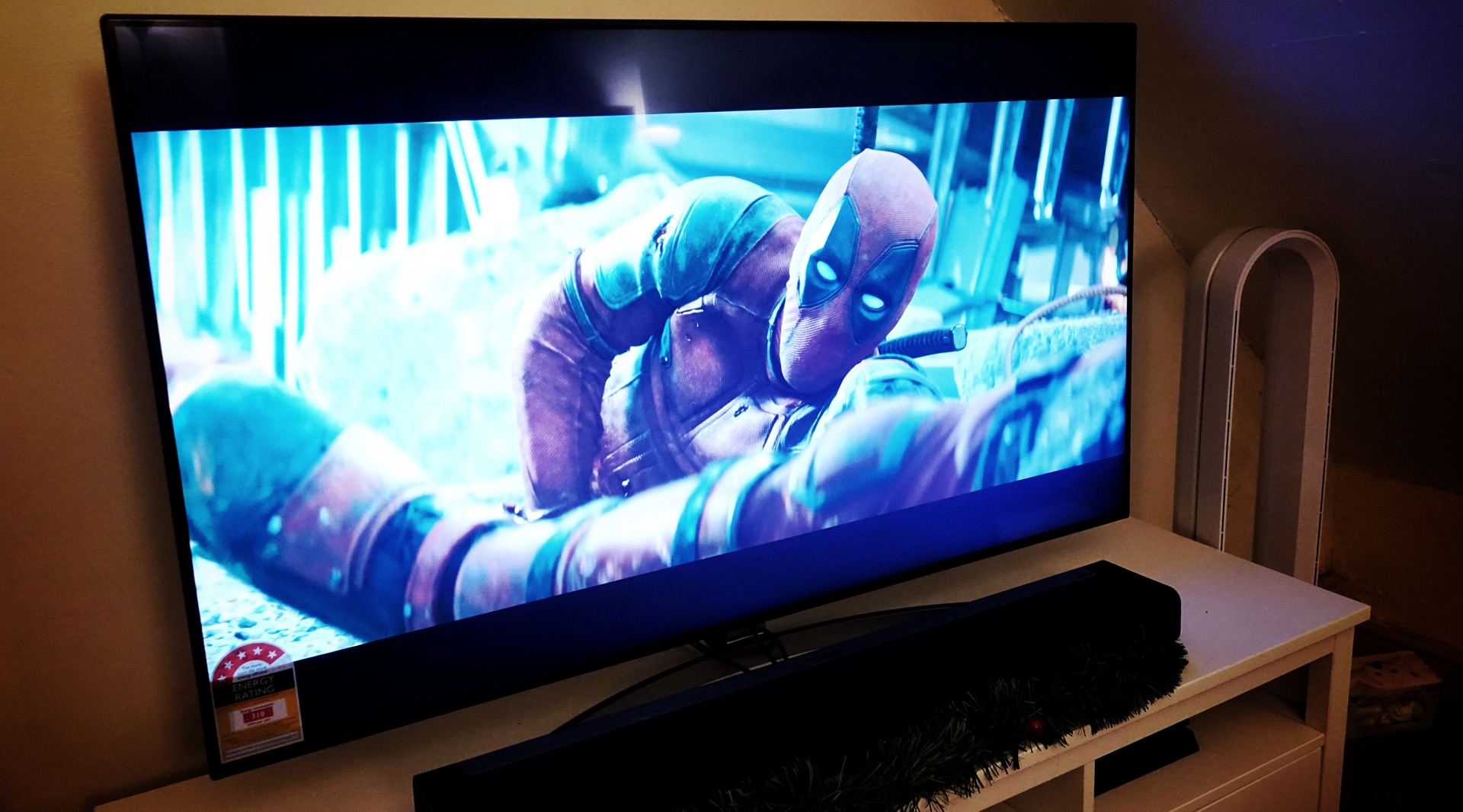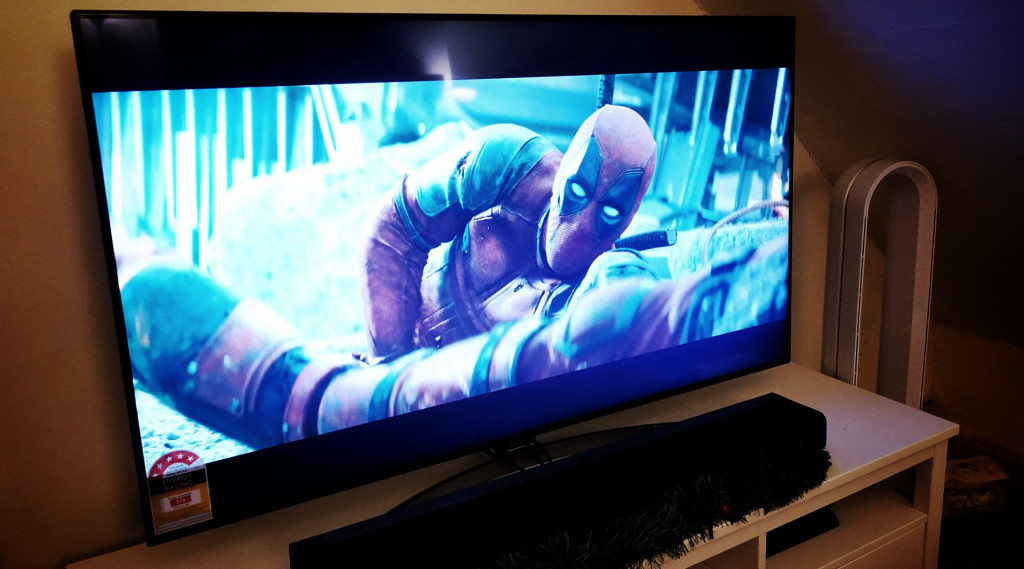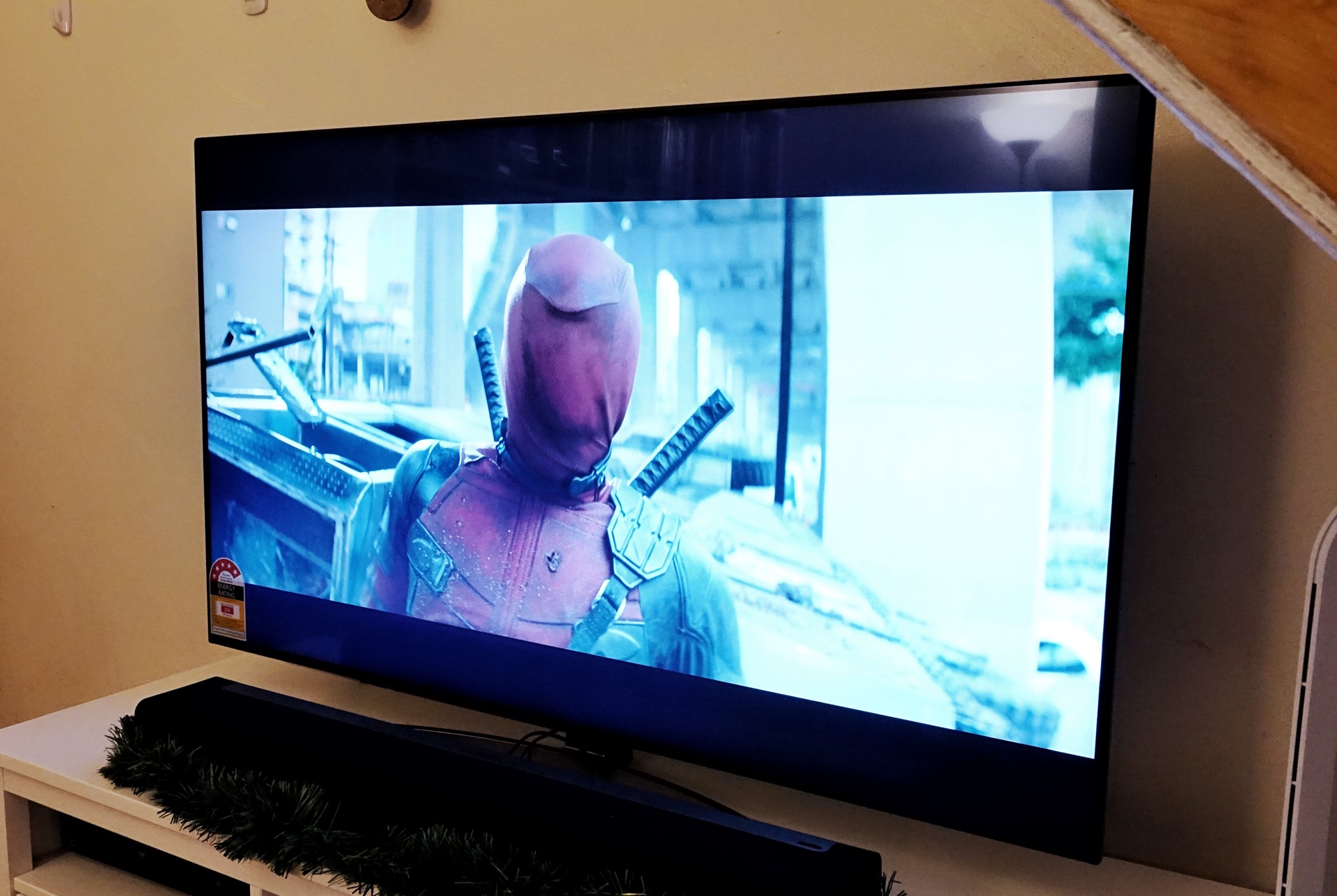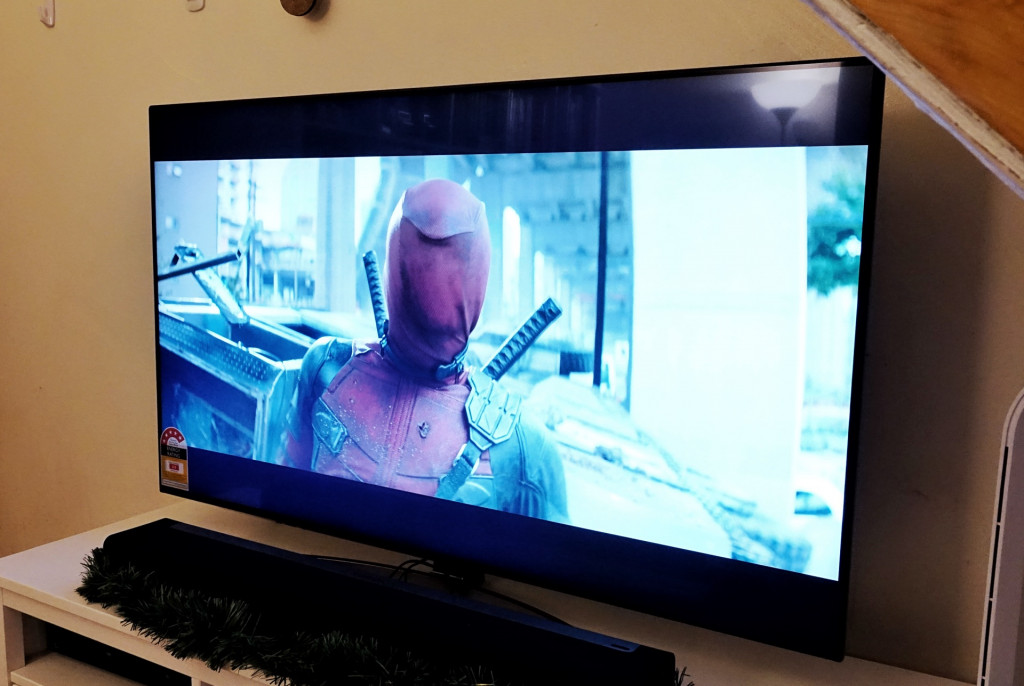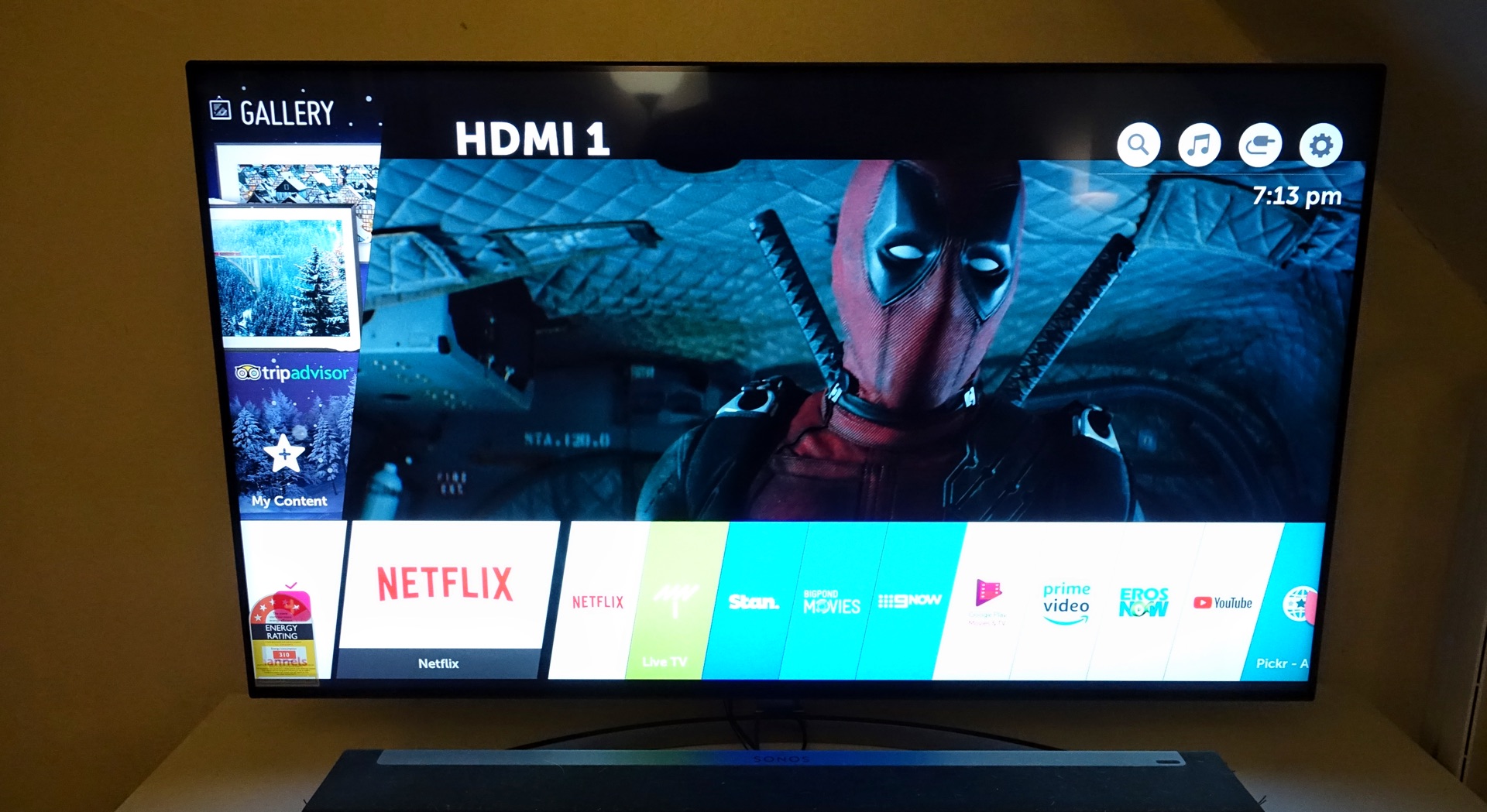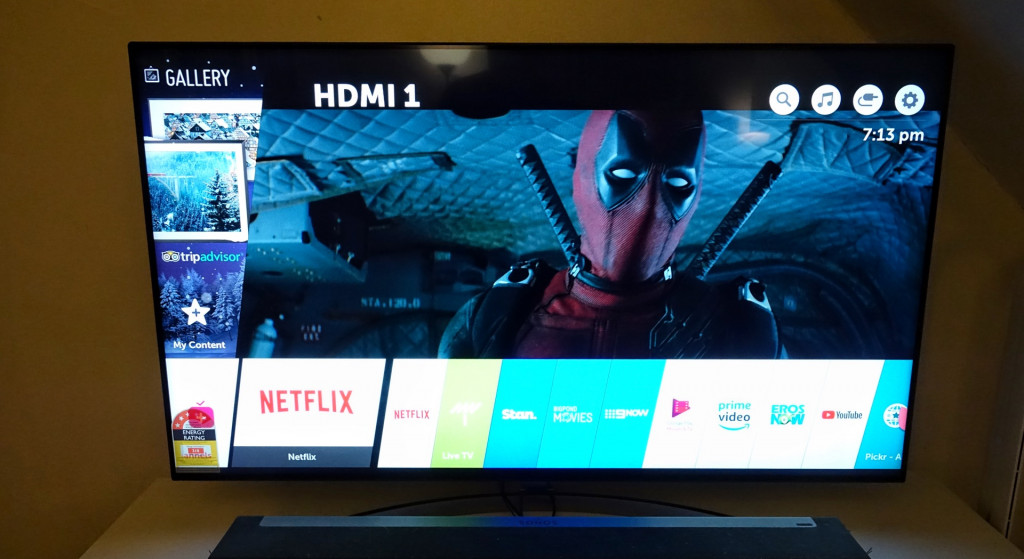 LG's SK8500 AI ThinQ TV was provided by LG for review at with the opportunity to win a prize. We just wanted to review the TV, and no suggestion of prize or competition had any outcome on our thoughts or feelings for the review.
LG SK8500 AI ThinQ LED 4K TV (55SK8500PTA)
The good
Great picture quality
Viewing angles are solid
WebOS is easy to get used to
Screensaver of artwork is a nice addition
Connection to Google Home makes for some cute controls
The not-so-good
Backlighting sometimes makes its presence known on the black
Sound could be better in the low-end
Remote won't be to everyone's liking
Stand feels a little flimsy