Quick review
Google Home Max
The good
Big sound
Six microphones do a decent job of listening out for your voice
Auto-adjusting to handle the sound of your room
Auxiliary input means it can take external sources
Can be placed horizontally or vertically
The not-so-good
It won't always pick up on your voice, particularly when the volume has been turned up
Touch controls can be finicky
Voice control is preferred, but we'd love a better app for multiroom
Smart speakers come in lots of sizes, but most are small and medium. What if you want a big sound in your home? You might want the Google Home Max.
The smart speaker revolution is delivering a lot of things, like convenience and easy of use thanks to voice control, but mostly, it seems to be bringing speakers made for pretty much any environment.
It doesn't matter how big your home is, you can probably take a Google Home Mini or an Amazon Echo Dot because they're small, and if you have a need for better sound, you can easily handle either the standard Google Home or Amazon Echo, because they're roughly the same surface area, except taller.
Smart speakers like these are typically small, and we all have a place for them, be it a countertop in the kitchen, a mantle piece in the living room, a side table somewhere, or the night stand. Small speakers are easy to place, but they also have limitations, namely the sound they push out.
So what happens if you want a bigger sound?
You turn to a bigger speaker, and if you want it to be smart, you make sure it's a bigger, smart speaker.
Google has one of those in its Google Home Max, and it competes against only a handful of massive speakers, most of which lack the smarts. Is this the smart speaker you need in your life?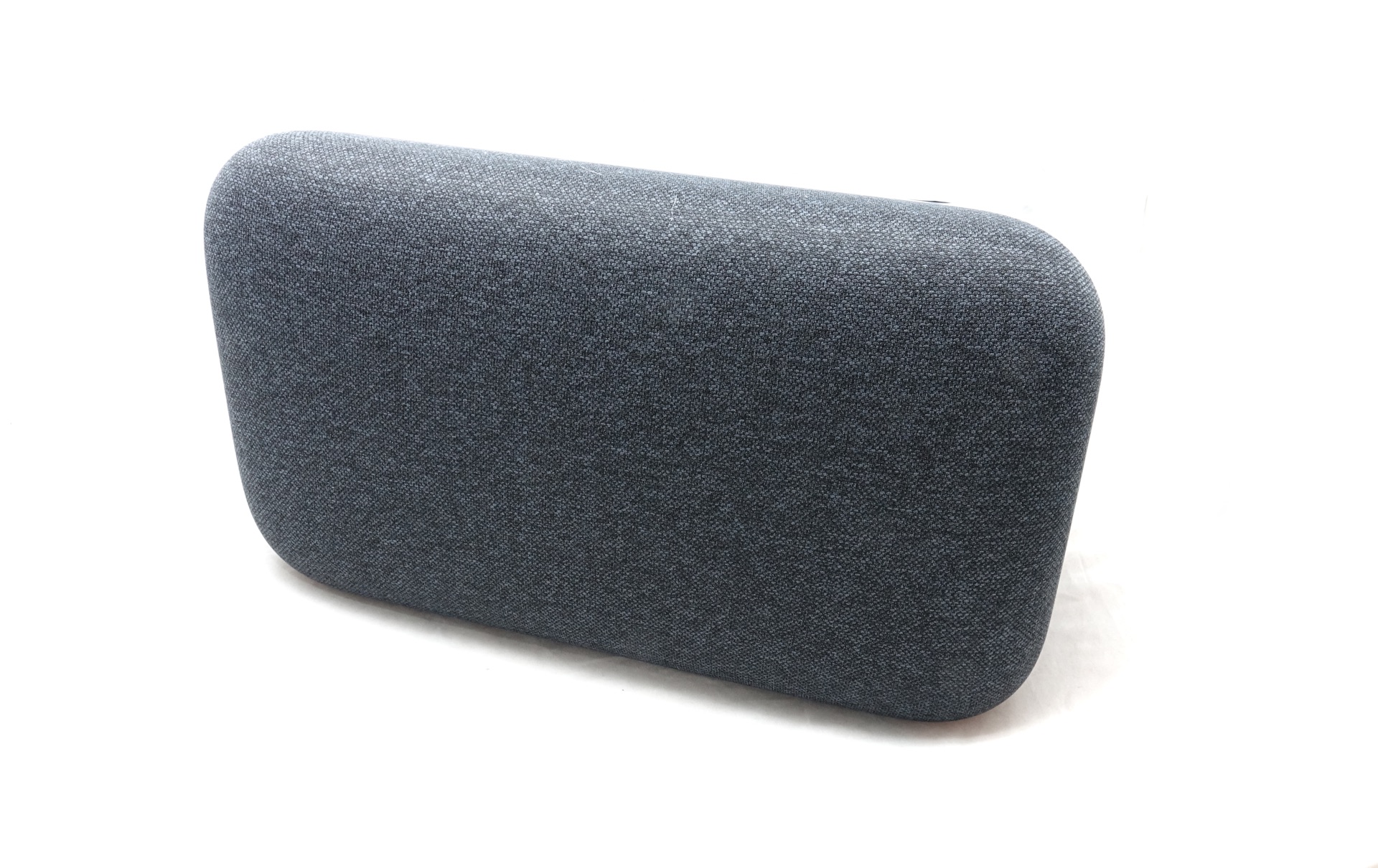 Design and features
We saw Google take on smaller speakers last year, but the Home Max is a different thing altogether. It's large, meant for shelves and tables, and is built to generate a lot of sound.
That's the first feeling you get when you open the box and see that massive speaker inside, which is about the same size as the Sonos Play:5, but has a "G" stamp on the back telling you it's not a Sonos, and is instead a Google speaker.
There's a little magnetic silicone plate for you to rest the speaker on, and the speaker can sit either horizontally or vertically, dealer's choice, with the fuzzy front hiding all the fun bits and pieces in the box.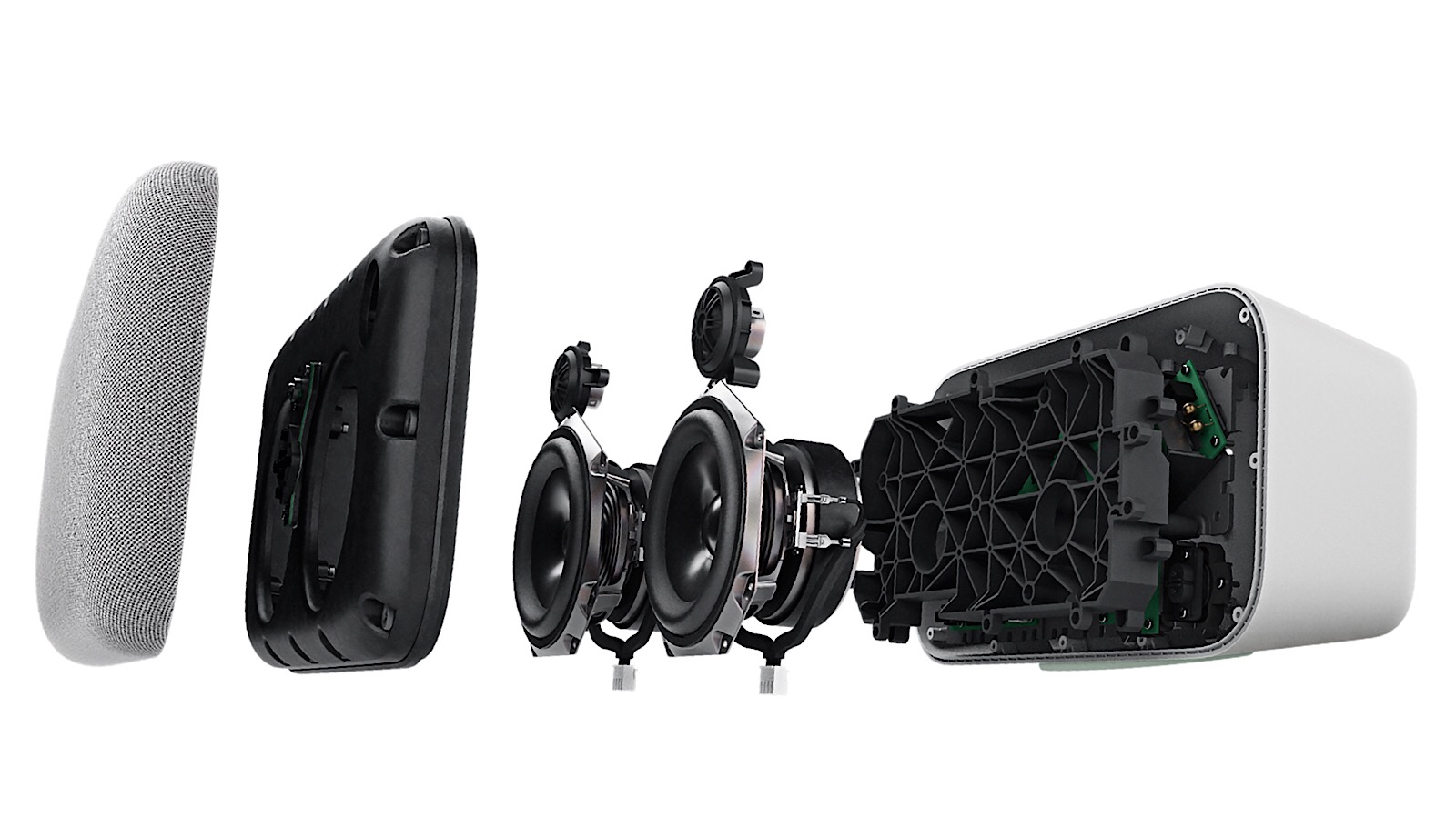 Inside this box is a processor, two massive 11cm woofers, accompanied tweeters, and there are far-field microphones on the outside as well, there to pick up on your voice, as well as the sound it makes reverberating off the inside of your home.
The logic here is that Google's speaker can self calibrate and optimise its audio based on what's being played and the surfaces of your room to make the music sound better, a similar principle to what Bang & Olufsen uses in some of its luxury speakers, and something Apple included in its HomePod.
Connecting to the speaker is handled mostly through WiFi, though the Google Home Max does offer a Bluetooth connection, as well as a 3.5mm auxiliary input jack, just in case you have another source, like a record player or a friend's phone that you don't want them connecting up to your network with.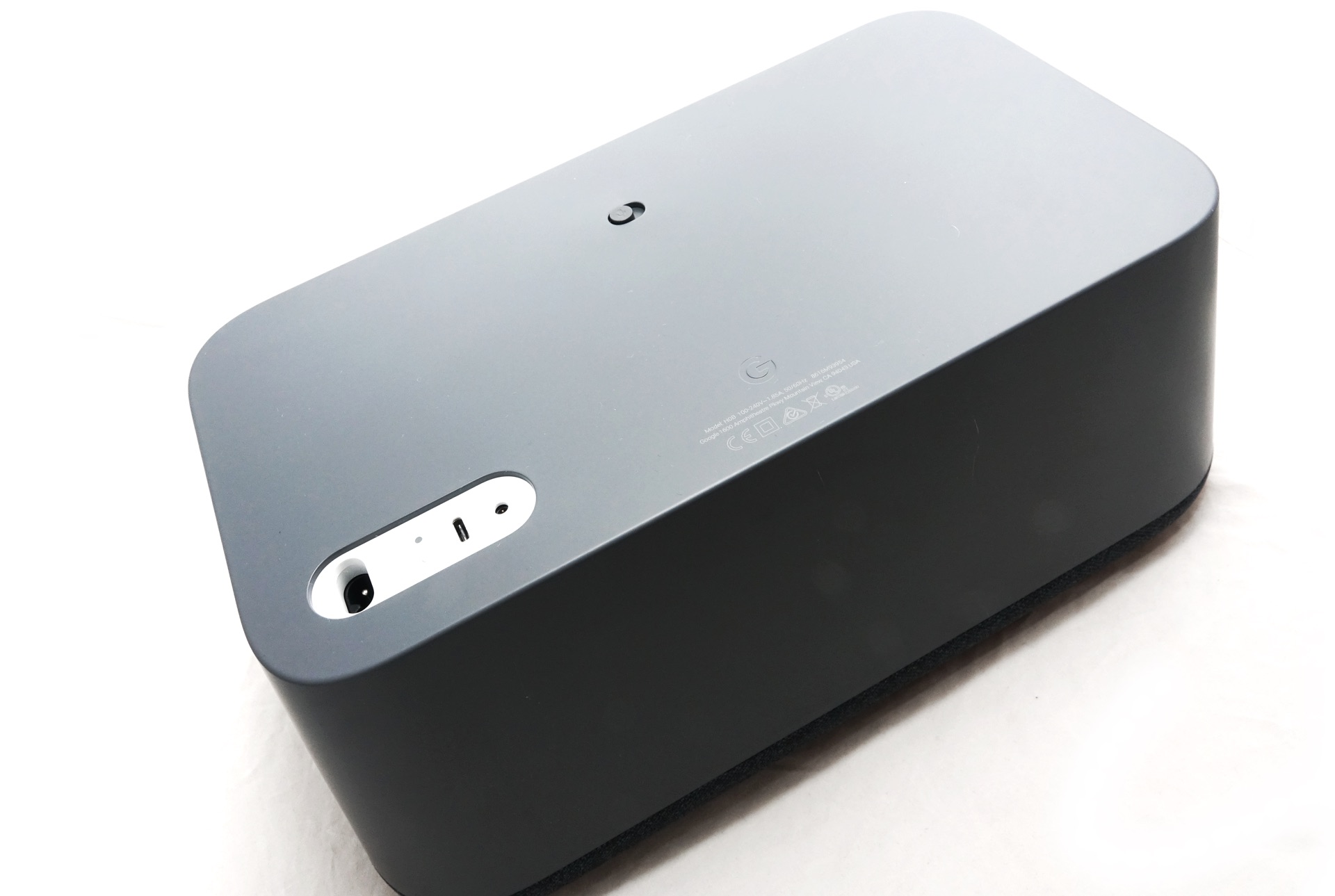 In-use
Using the Google Home Max is rather like using the Google Home, in that you're controlling the speaker mostly by talking to it.
"Hey Google, play some Dave Brubeck," you might call out, only to have your designated service find or create a list based on Dave Brubeck.
"OK Google, play "Attention" by Charlie Puth," you could then say, and it would do that.
"Hey Google, what's the weather today," you might add to the mix, and it would interrupt your music with weather information before shortly going back.
If audio control seems a little too futuristic for you, Google's Home Max (like all other Google Home products) can be controlled using the Google Home app for iOS and Android, giving you some flexibility as well.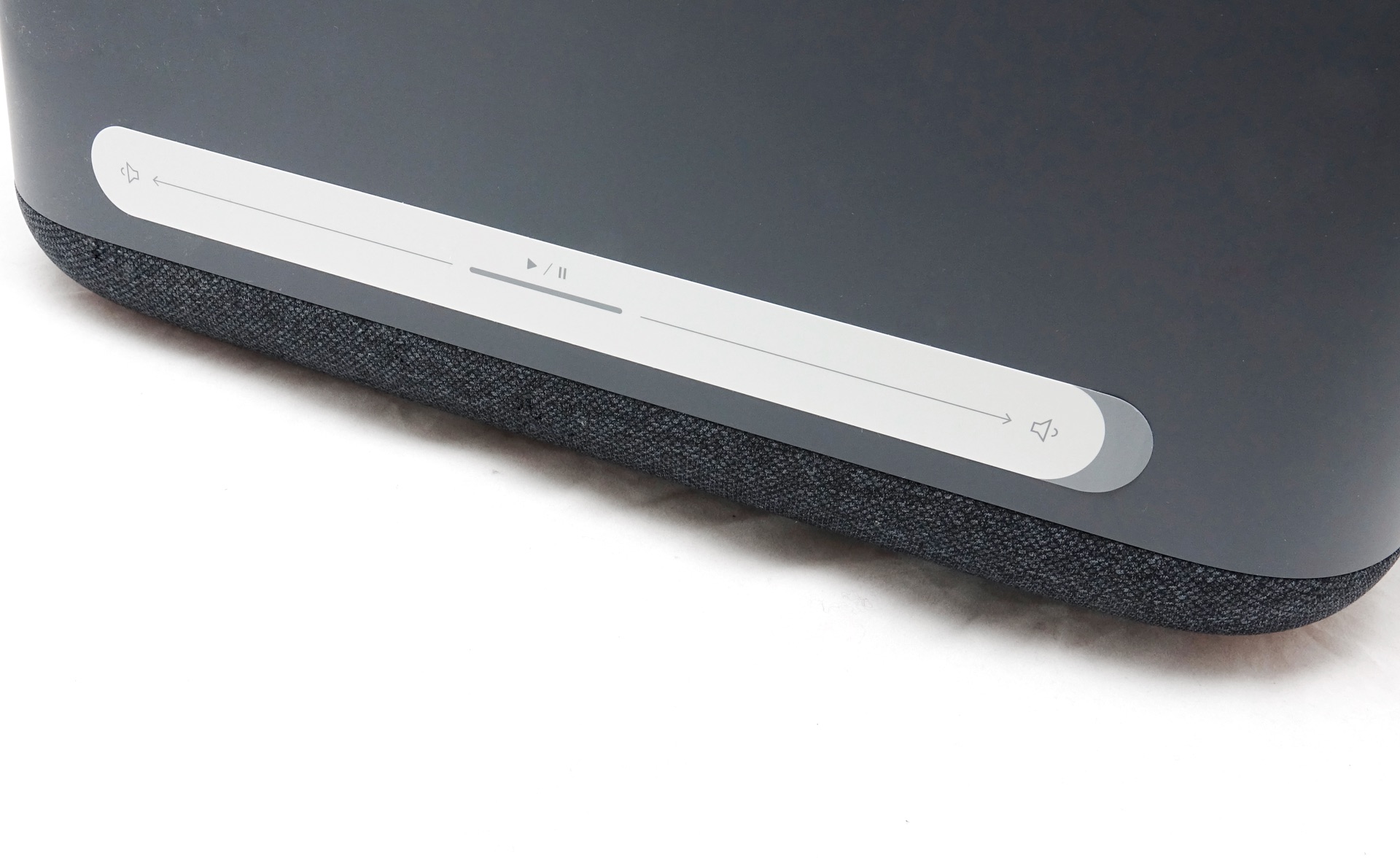 And there are also controls along the top,, allowing you to slide your finger on along the right of that top edge to turn the volume up, while the left will turn it down. You can also tap the middle to pause and play.
Google leaves a little sticker in place to help remind you of what to do, but you can remove this if you like. We left it there to remind others of house this works, because there's not a lot of indication if you don't see that sticker.
Performance
Like the other Google Home smart speakers, though, it's clear this has been built for sound first and foremost.
Offering a speaker that isn't far off the size of Sonos' massive Play:5, this is one of the largest smart speakers you can find, and a fair sight bigger than anything with we've seen thus far from Amazon in Australia.
That makes the Google Home Max massive, and its sound is on par with its size, offering a solid amount of volume that reached beyond where we needed it, and lots of bass.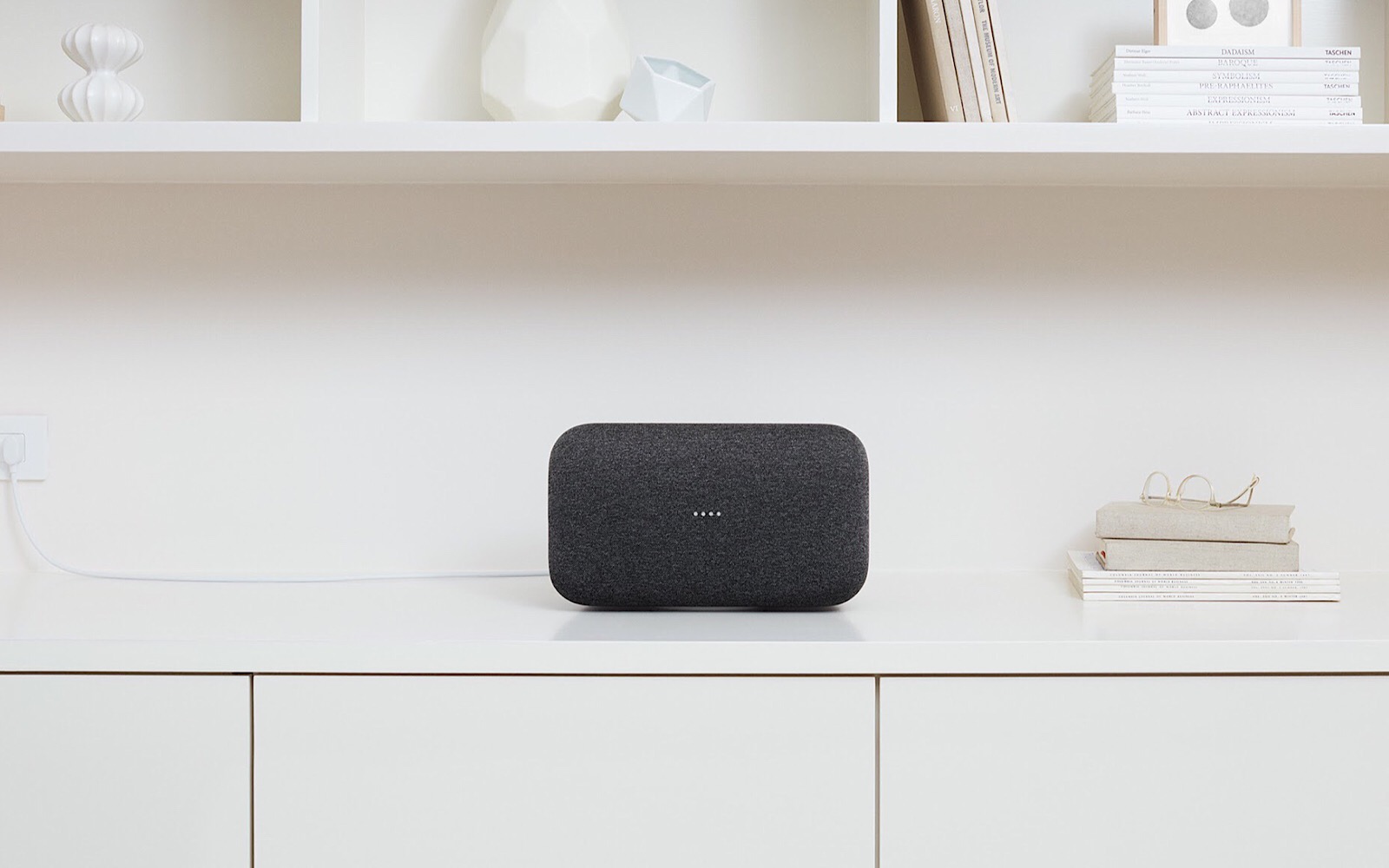 Tracks from Pickr's playlist — which you can always listen to for yourself — revealed a great punch in soul and pop, while rock and jazz both came across vibrant and deep.
The Google Home Max delivered a warmer sound than we expected, and while this is a Google Home product, it's clear that the Sonos Play:5 is clearly in its sights, with a similar sound profile on offer.
Value
Google isn't just trying to match Sonos on sound, either. It's also trying to beat the multiroom maker on price, with $200 separating the two.
Yes, Google's Home Max manages to get similar performance at a $549 price tag, lower than the Sonos Play:5's $749 price tag, which also doesn't quite offer the same smarts, either.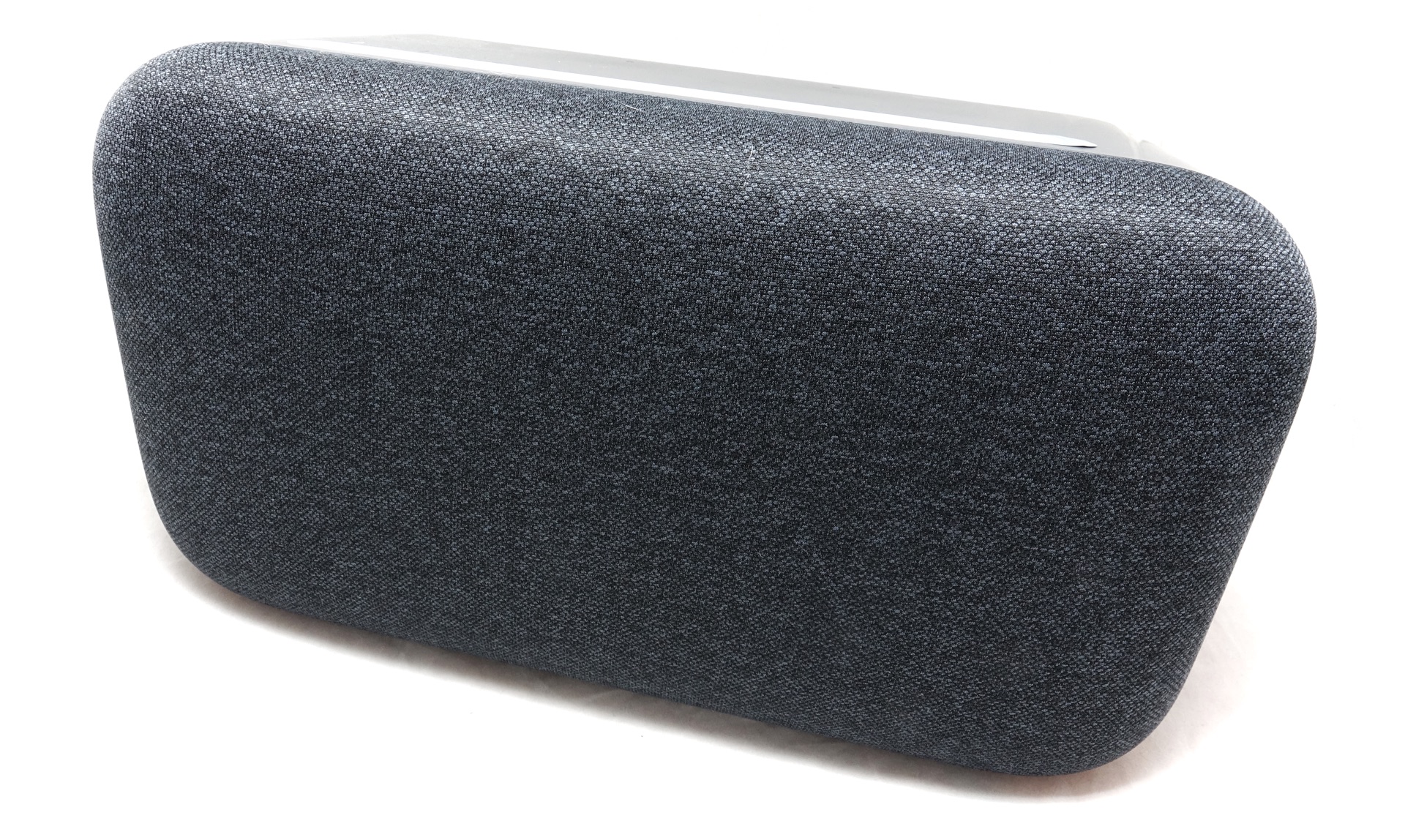 What needs work?
With all of these features, it's hard to argue against the Google Home Max, and it is easily one of the best smart speakers you can get your mitts and ears on.
That said, it's not entirely perfect, and there are things we'd look to change, either in a version two or with a firmware update, whichever Google acts on first.
The most notable is what happens with the microphones, with the far-field technology able to pick up on your voice from across the room, but not always when you're already listening to music.
Call it a #firstworldproblem, because it sure is, but if you're hearing music out of the Google Home, you may not be able to get your next track selection played, as the microphones don't always hang off your every word, and can't always hear you.
We definitely found issues with the microphones when music was turned up, and often we'd have to shout or get up to touch the Google Home Max to pause things, before telling it quietly, patiently what we wanted to play next.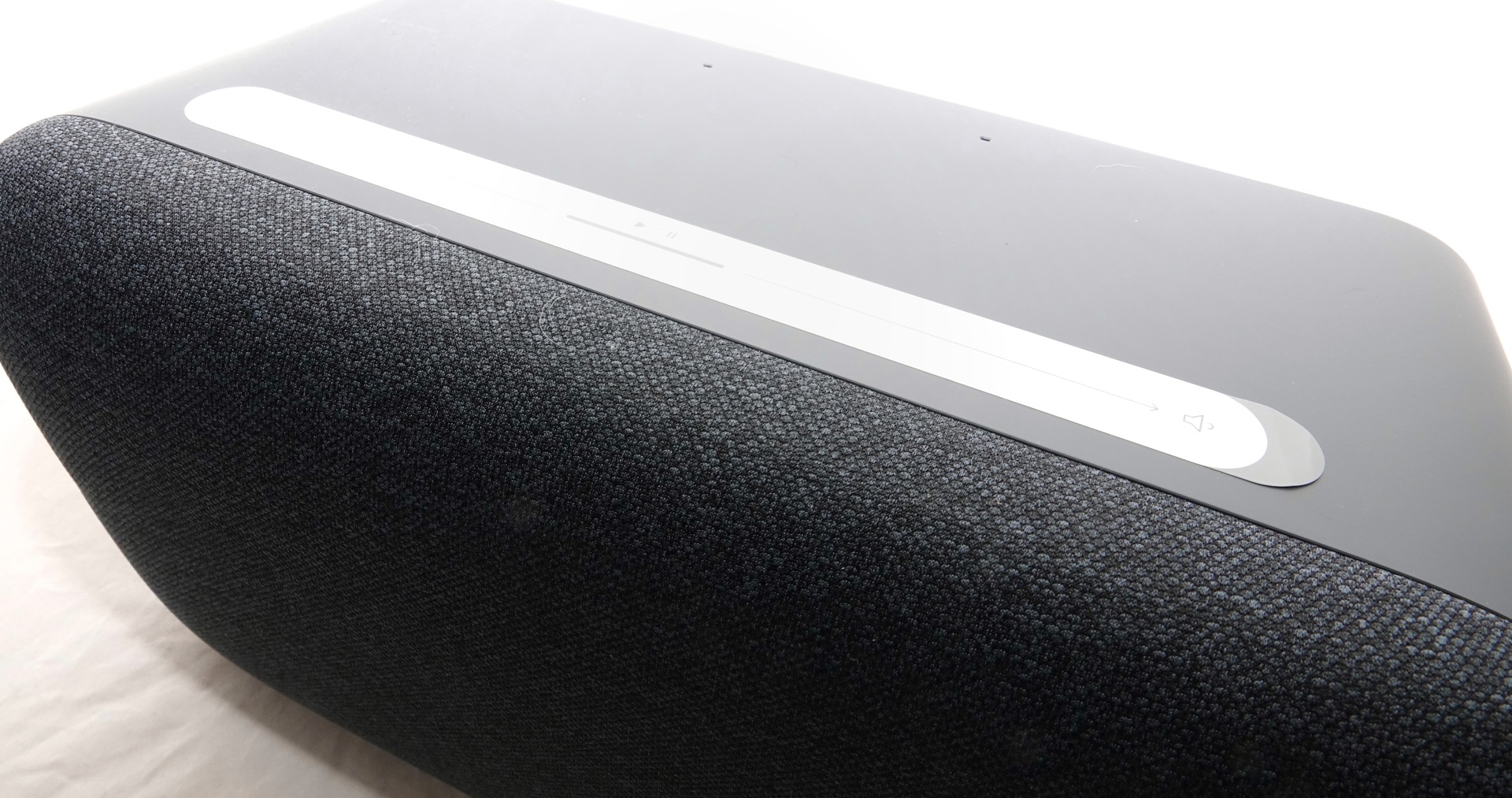 Those touch controls posed a slight issue as well. They're in a perfectly acceptable place sitting on the top surface of the Google Home Max speaker, but they don't always respond the way you want them to. Namely volume up occasionally paused, denting our terrible dancing rhythm momentarily.
It's a minor issue, but control is something that we had issues with in other ways on the Google Home Max, and we feel like it would be better if the Google Home app was made a little better. Ultimately, it's great at casting from other services on your phone, and making that link between your speaker and the internet by way of your smartphone, but we yearn for an app experience closer to what Sonos users get with their devices.
In the Sonos app, you group the speakers easily and choose the music from the same app. With Google Home, we're not only jumping in and out of other apps for music control, we're also having to create groups ahead of time, and grouping speakers when we start a piece of music.
The more time you spend with the Google Home system, the more you realise that Google has built it for voice above all, and that means talking to your speaker is about the best way of controlling it. You may feel like a bit of a crazy person for the first few times, but you'll get past it quickly, and then the music will kick in.
Final thoughts (TLDR)
Almost every smart speaker has one problem: size.
It's not that they're too small, but they're not that big, with the majority of speakers including microphones and a smart assistant missing the size made for a large room, or a small room and a massive impact.
Google's Home Max makes it happen, though, and it does it for a price point that's hard to ignore. Not only that, but the Home Max sounds great and does all the other things a Google Home speaker is designed to do.
That said, while Google's Home Max clearly takes the prize for being the the best big smart speaker yet, we still don't think it wins for best multiroom playback. That prize goes to Sonos, which still manages to form an easier setup that doesn't require you to memorise audio commands just to link things together on the fly, instead of already prepared in groups.
But if you don't care as much about multiroom — or see this as an area Google will fix later, which could well happen — Google's Home Max delivers in more ways than we expected. This ain't no clone, and that's a good thing. Recommended.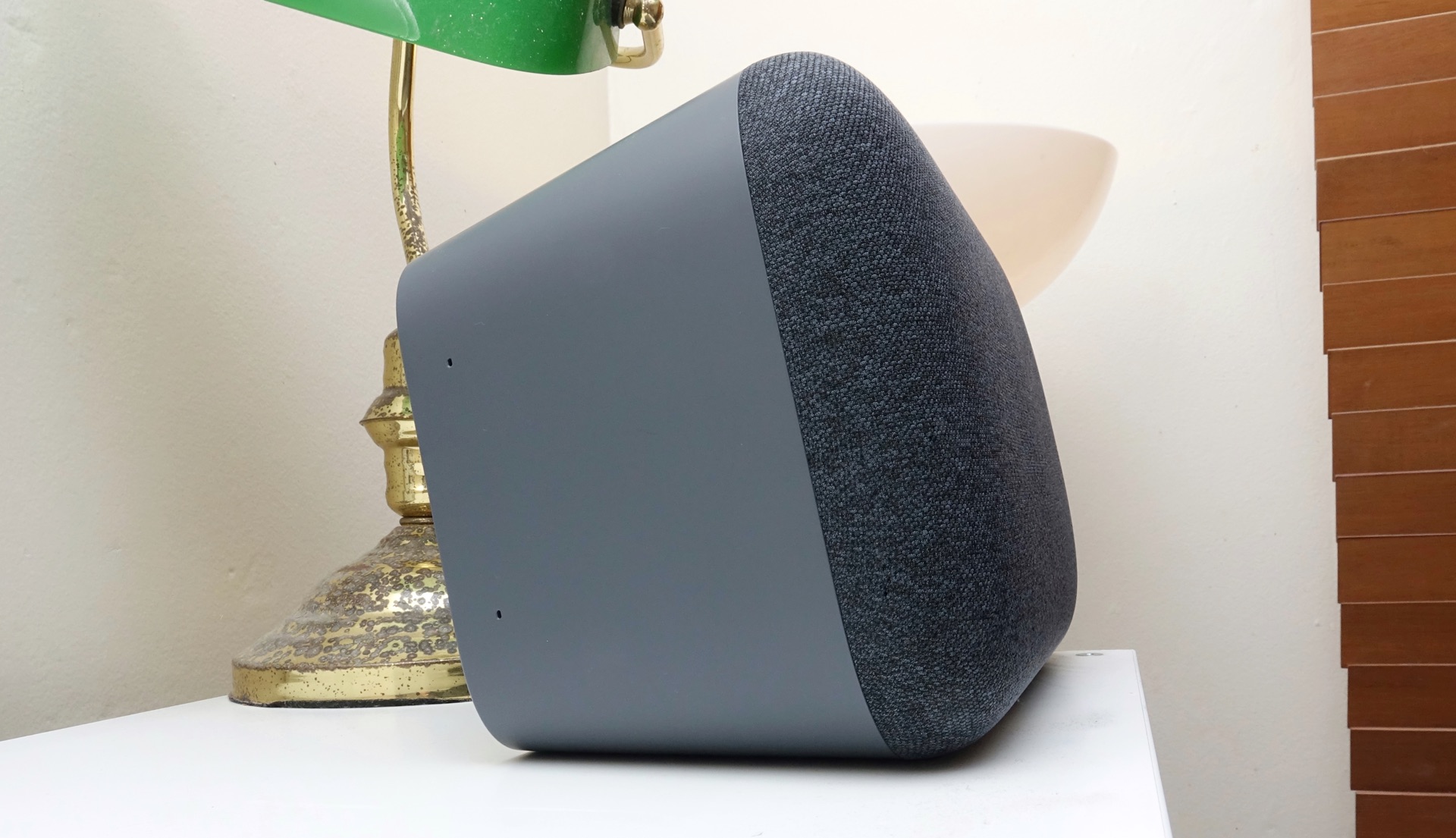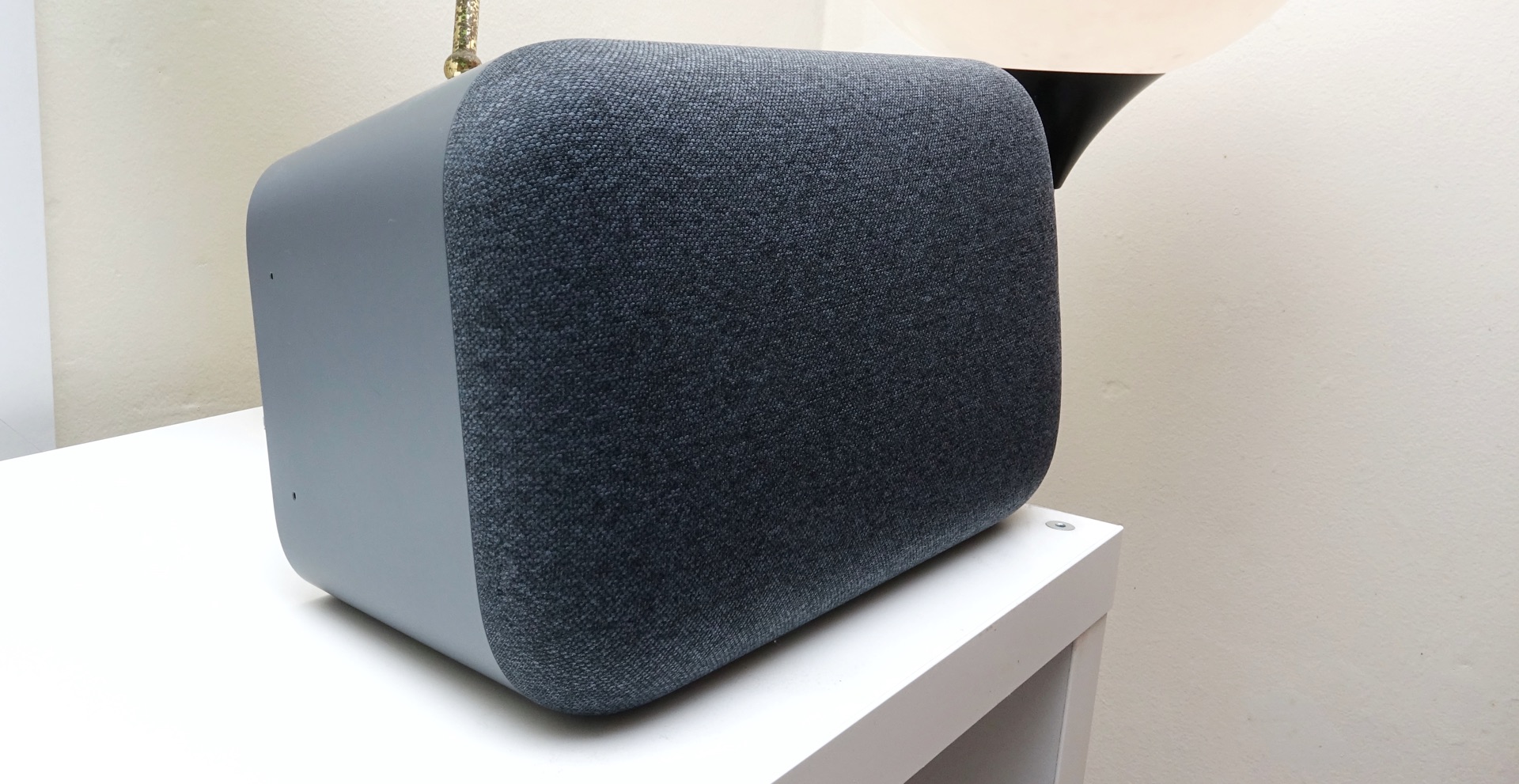 The good
Big sound
Six microphones do a decent job of listening out for your voice
Auto-adjusting to handle the sound of your room
Auxiliary input means it can take external sources
Can be placed horizontally or vertically
The not-so-good
It won't always pick up on your voice, particularly when the volume has been turned up
Touch controls can be finicky
Voice control is preferred, but we'd love a better app for multiroom