Getting earphones down to the smallest size has become the priority of all manufacturers, and now that Apple has wireless EarPods, what can other players do? If you're Jabra, the answer is go smaller.
Design
The first time you see the Jabra Elite, you're likely to squint, raise your eyebrows, and say "that's it?"
Designed to be tiny, innocuous, and inconspicuous, the earphones are amongst the smallest wireless wearables you're likely to see this year, and in an age where tiny generally means that something is futuristic, they really do represent where we're going as listeners.
Forget the cables because these don't have them, with two wireless earphones completely separated and talking over radio communications to stay in sync with each other, sending audio to each piece.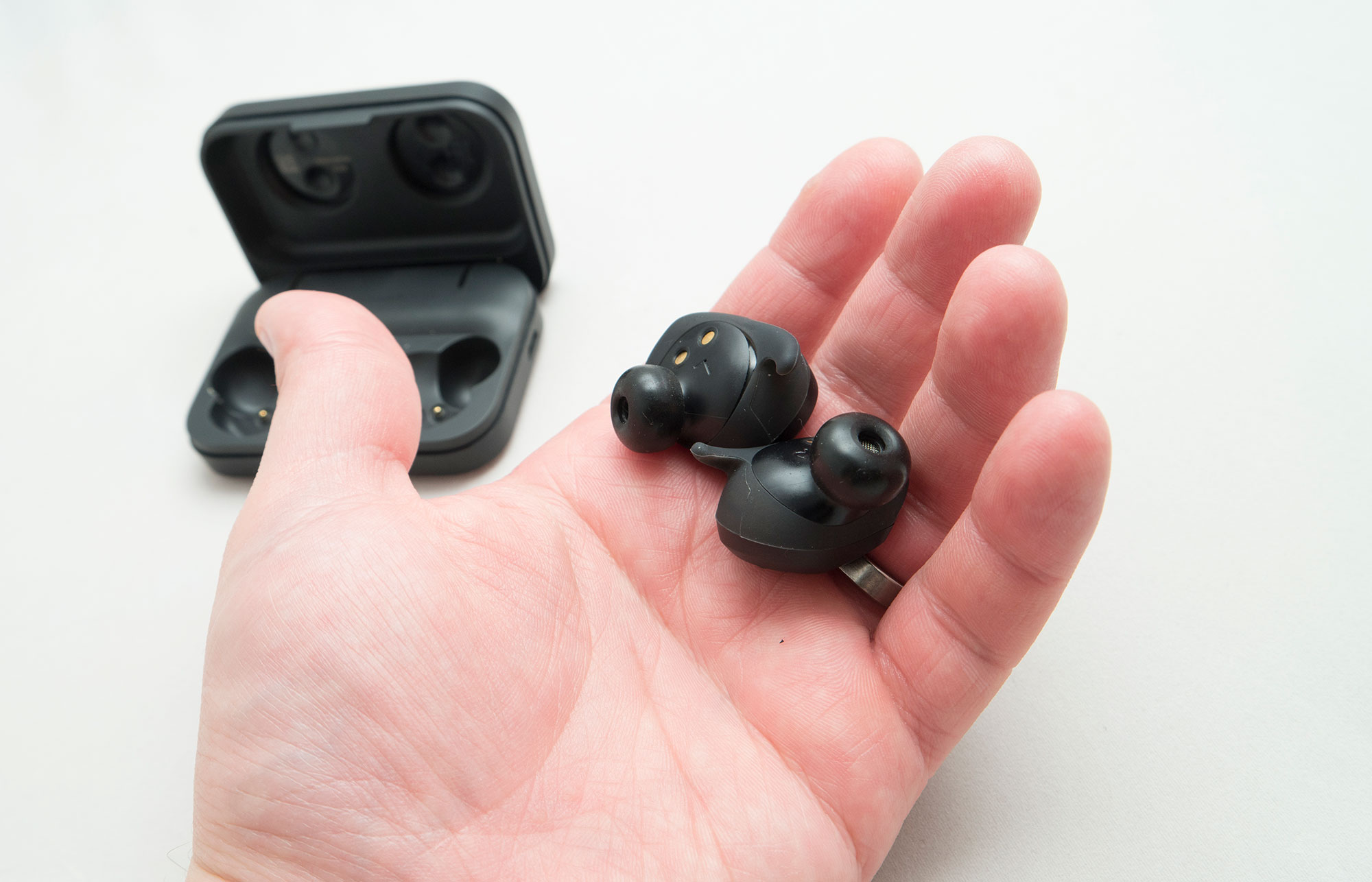 Each piece is designed for each ear, and since you only have two ears and aural cavities, you have one left and one right, with both set up for their specific shape. Don't expect to insert them in the other either, as they're just not made for it.
Both are made out of plastic with rubber around the edge, and two microphones on each, with two buttons on each side for playback controls.
You'll also need to attach the ear-tip — gel and foam are both included options — and potentially an earwing sized for your ear, the former providing a comfortable fit sized for your ears, while the latter keeps the Elite stable when you're running, jumping, and generally just walking about.
Features
The Jabra Elite Sport earphones are more than just earphones, however, and while they're that, they're also relatively feature packed.
For instance, four microphones sit inside these — two on each ear — able to cancel out elements of noise when you're in a phone call, using the microphones to hone in on your voice, making them ideal for talking.
The microphones can also be switched on for the "HearThrough" by double tapping the bottom button on the right ear, which will let you hear the outside world in an ambient mode similar to what Sony's MDR-1000X and Plantronics' BackBeat Pro 2 use.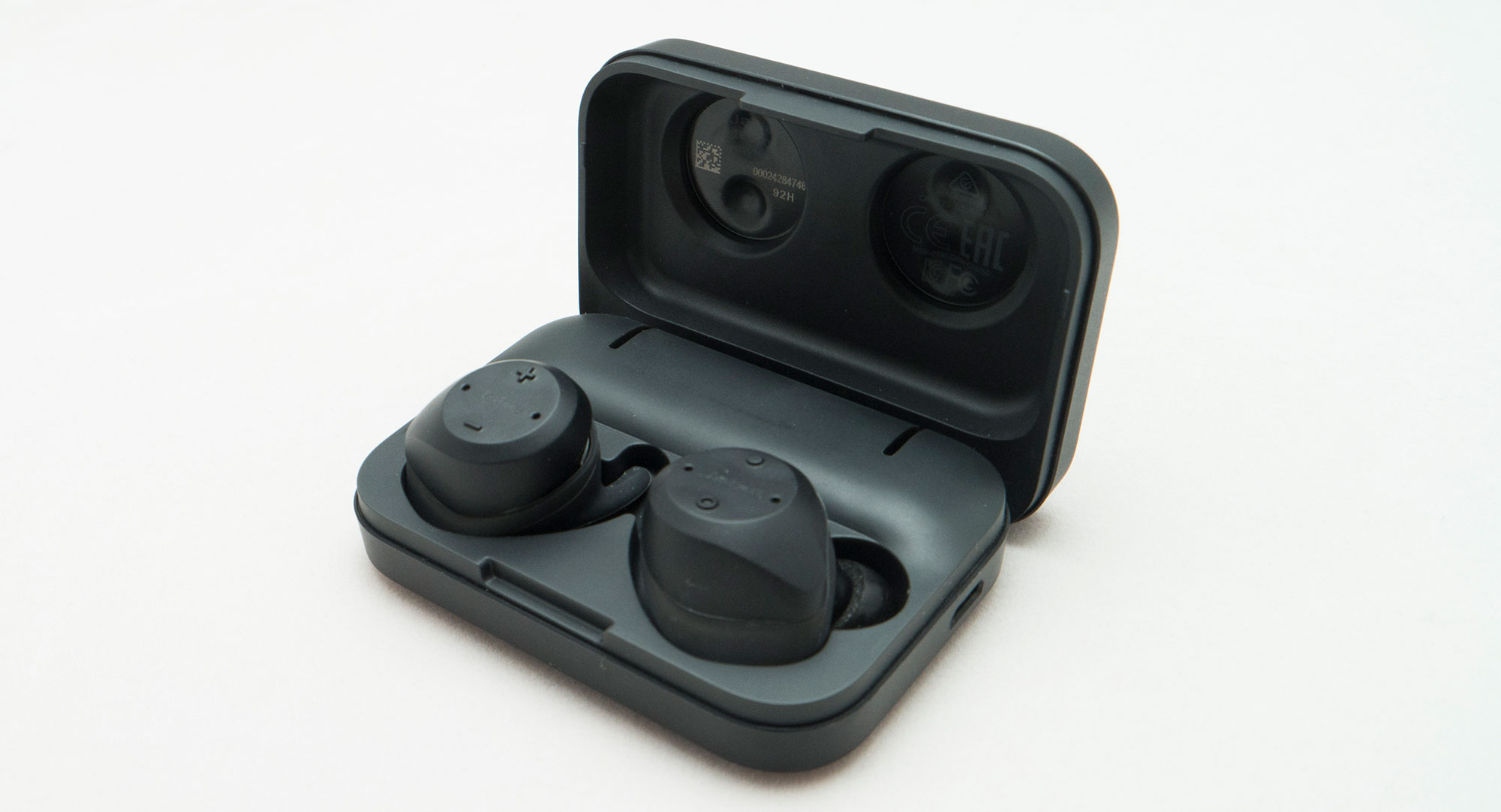 It's handy to note that while the Jabra Elite Sport aren't technically noise isolating earphones, they will block a bit of sound. The HearThrough mode just opens things up a bit by switching on the microphones and amplifying the world a little.
Also inside are features made for fitness, with an in-ear heart rate monitor capable of tracking heart rate using your blood and the Jabra Sport app, while the app is also used with a tri-axis accelerometer for step and movement tracking.
Jabra's Elite Sport earphones are rated for water resistance, too, making them ideal for running in the rain, with a rating of IP67 making them dust-tight and capable of being submerged in up to one metre of water for up to 30 minutes.
Oh, and they're wireless, so you'll need a phone or media player that works off Bluetooth. And both are wireless as in they're separate from each other, synchronising to each other and charged inside of an included battery charging case that comes with its own battery.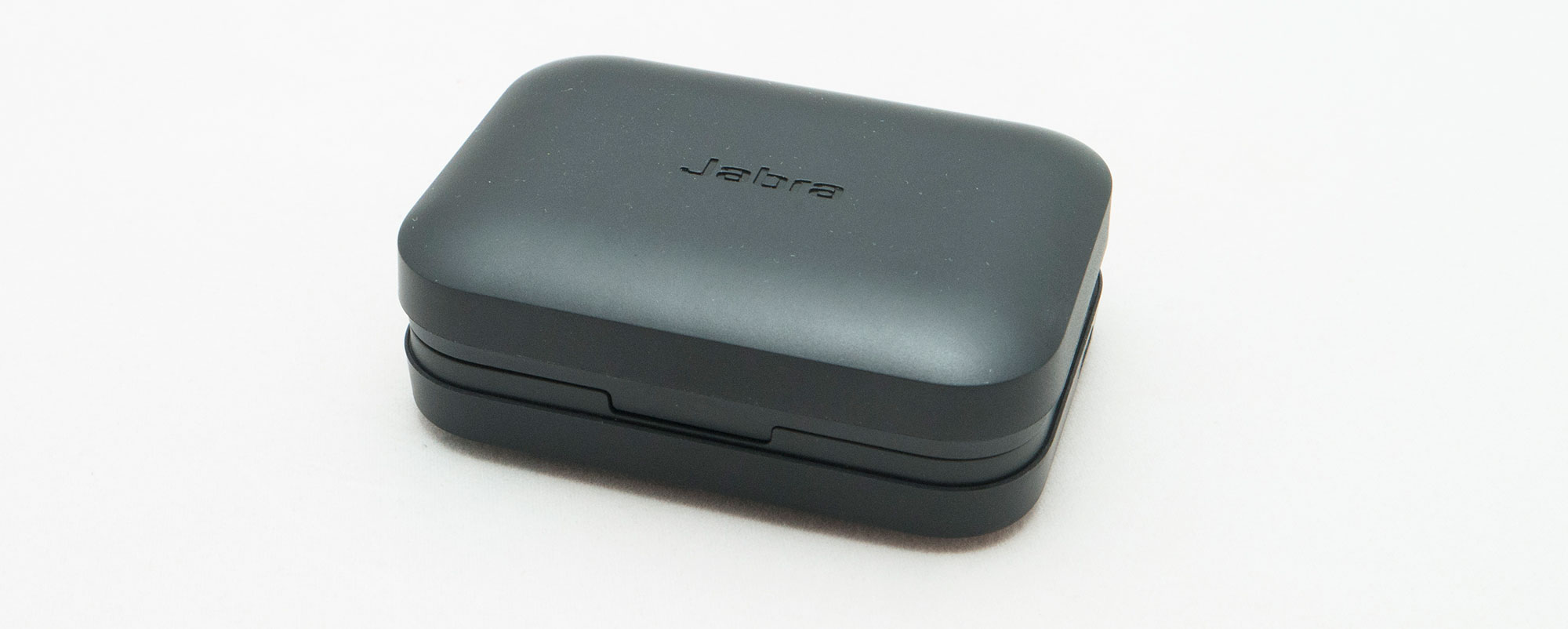 Performance
With the features out of the way, it's time to get stuck into the sound, and as usual, we're testing these with the Pickr and Listnr sound test, which can be discovered for yourself and tested alongside.
That means, however, we start with the poppier and more electronically inspired, and that means the likes of Ellie Goulding and the Propellerheads are run through our ears. In each of these cases, the highs were clear with the voices highly noticeable and distinct, with a bit of enveloping sound, almost as if the bottom end had dropped out.
Interestingly, the bass was there, but barely, setting up a scene for the type of bottom-end sounds we could expect to find with the tiny Jabra Elite Sport earphones.
It's pretty easy to see that bass is going to be a slight problem with these earphones, and that's part and parcel with the size issue, because you can only pack so much in without a lot of airflow. Despite this, we did find if you jam the earphones into place and really get them in there, the bass appears, though it's still a little lacking.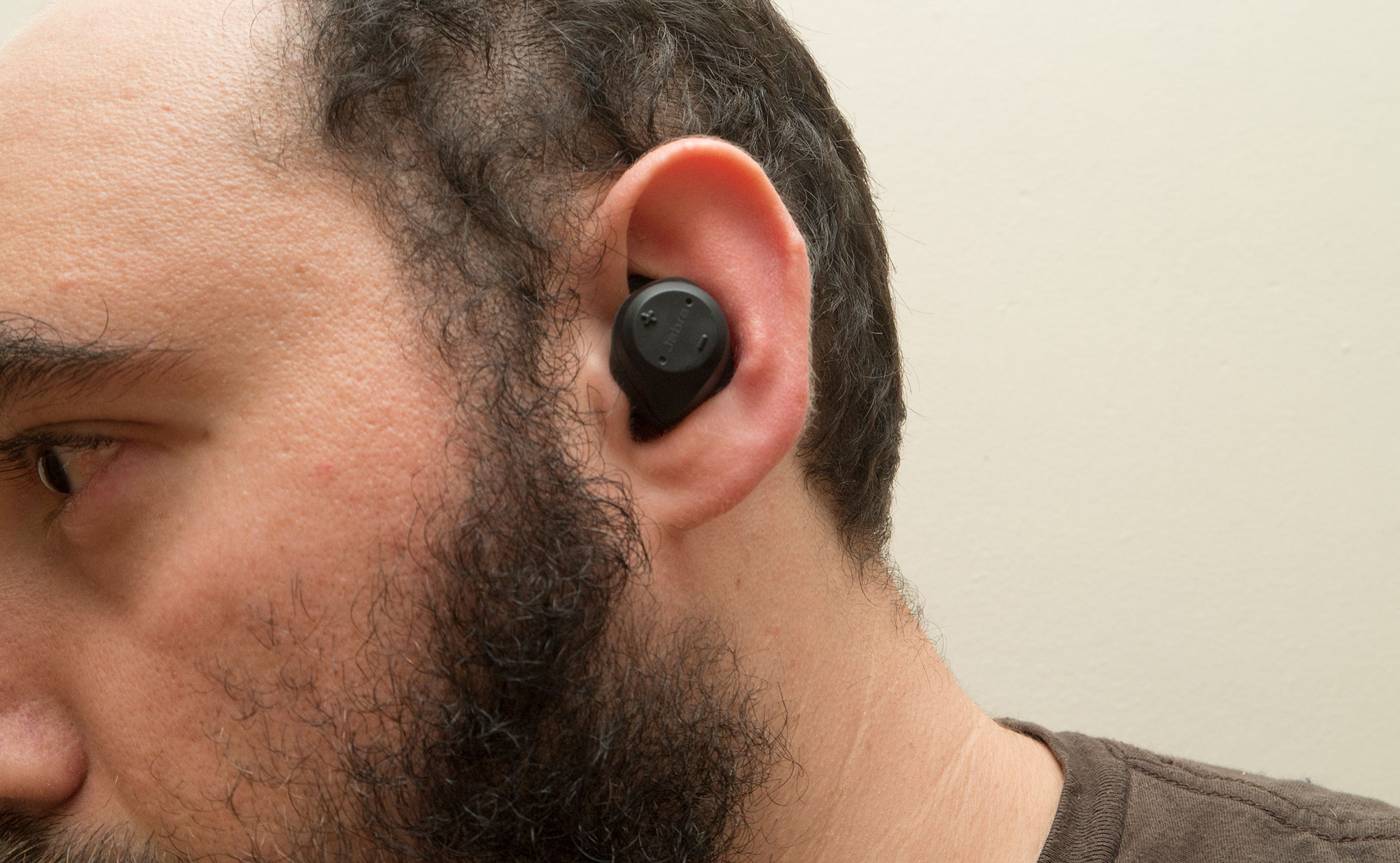 If you can really lock the earphones into place comfortably, you'll find a smidgen of bass, and that's better than the little bottom end you find when you don't.
Essentially, if you like the sound a little shallow with less bottom-end, don't try to lock the sound in, but if you do, go ahead. From the Propellerheads on, we locked the earphones into place, and the bottom end was there, subdued as it was, as Mark Ronson's "Uptown Funk" pushed that little bass we had just a little more, with a nice tight snap to what Jabra has created in the Elite Sport earphones.
While the top-end is easily more pronounced, if you're into bass thumps, provided you've locked the earphones into your ear, you'll still find the direct snap of the bottom end is easy to listen to and hear, with much the same experience in the R&B Michael Jackson's "Billie Jean" without losing any of the extra sounds.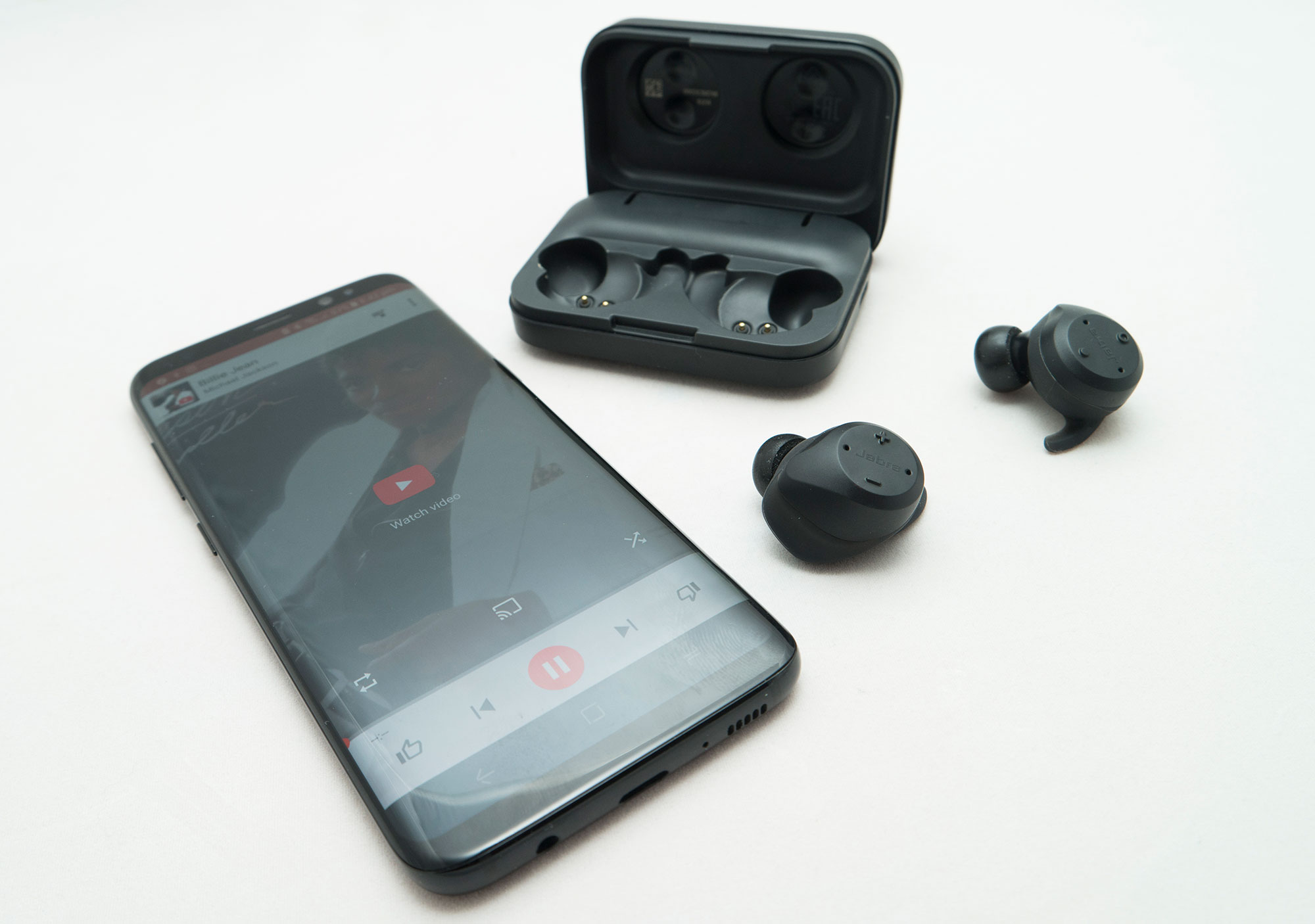 In fact, older tracks like "Billie Jean" and Marvin Gaye's "Ain't No Mountain High Enough" show the Jabra Elite Sport for the surprisingly detailed earphones that they are, with the little bits — the tambourine, the minor clicks of a snare rim, the high-hat — not lost to the background, and still found in an earphone that is as little as the details being presented for a full balance.
To rock next and with the earphones sitting properly over our aural cavities and held in place by the design, we're treated to a surprising amount of punch led by the highs and then mids.
In Beck's "Dreams" it's pretty clear the vocals sit atop everything else and the bass is punchy enough, but in rock where the bass just needs to be driven that extra step harder, they feel a little lacking, such as in Phil Collins' "In The Air Tonight".
Most tracks shouldn't be that lacking, and again we give credit to Jabra for making even the bare minimum of bass noticeable at all, it's just in tracks where the bass is more subtle, you may struggle to find it or to really feel it.
Classical and jazz sort of bring that feeling together, keeping the detail clear in the mids and highs, but lacking the drive to push the bottom end simply because most tracks in these genres haven't been engineered to push these through.
We doubt you'll be running to the sounds of Nigel Kennedy or Miles Davis, but if you do, be aware that the bottom end can sound shallow regardless of how much you push the earphones in safely, as these earphones just won't push the sound too far.
Overall, though, the audio quality on offer is better than we expected, with the bright sound we expected but more detail than you might see coming, resulting in a clarity that is actually solid, and doesn't even require too much excess volume.
In fact, our test found that we didn't need to push the volume dial too far past the middle on our phone, though you'll also find volume controls on the left earphone in case your phone or wearable isn't within reach.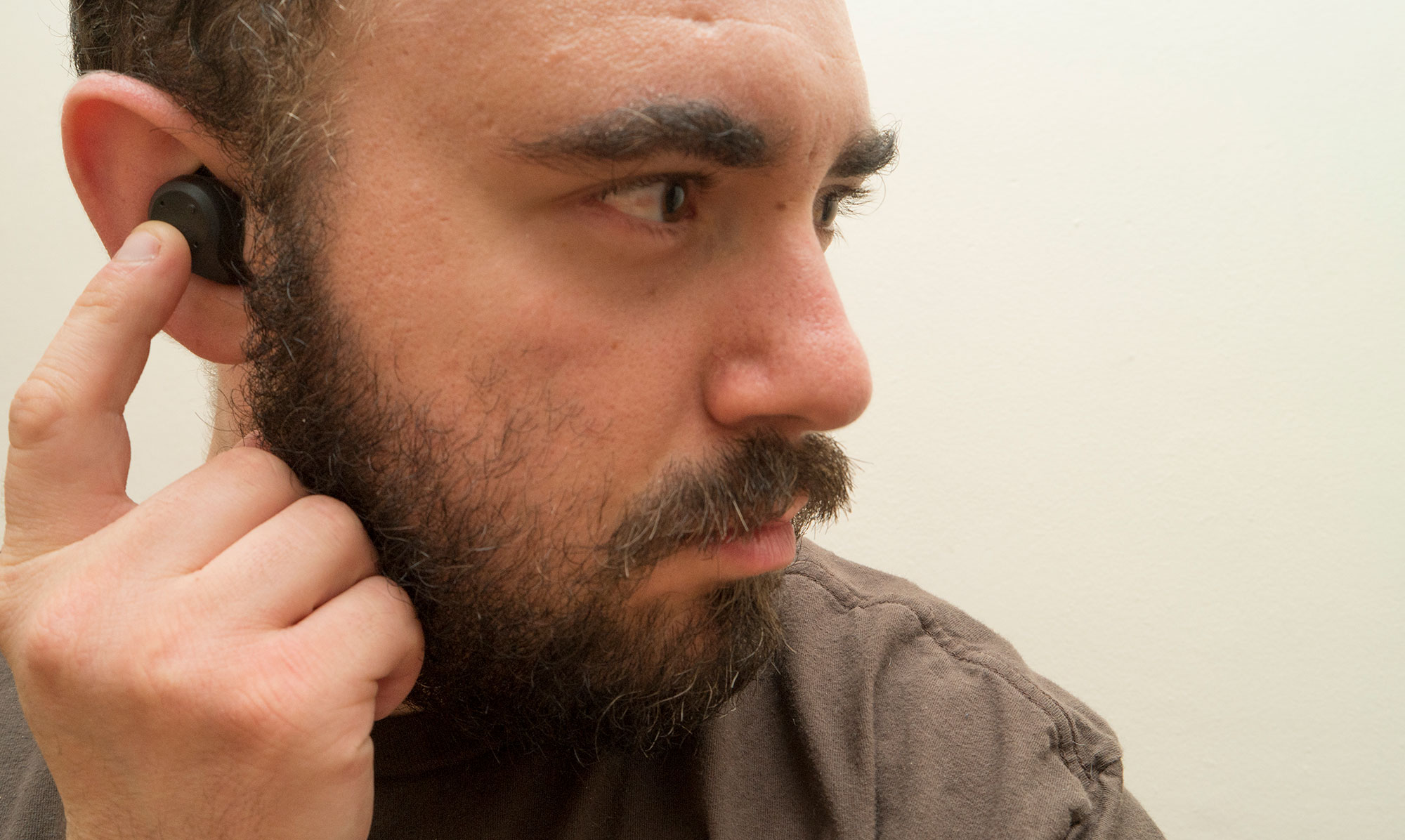 Comfort
One of the more serious aspects of earphones is comfort, which is why we've included a section on it, and Jabra's Elite Sport aren't too bad in this regard.
Like all earphones, they'll take some time getting used to, and Jabra tries to help in this way with a relatively exhaustive set of tips and earwings, offering three sizes of silicone and foam tips and three sizes of earwings, helping them to stabilise and hold in your ear as you wear them about.
We found the Jabra Elite Sport didn't need earwings in our case, a nice change from the smaller earphones, and over time our ears adapted.
The earphones are a little bigger than you might expect, and there's a fairly noticeable size here, though not nearly as big as some of the bigger earphones, like the wired KEF M200.
As such, these are more comfortable, but they can wear you down after three hours of wearing them.
Battery life
Fortunately, the battery life kicks in around the three hour mark forcing you to charge the Elite Sport earphones in the included case.
That's both good and bad: it's good because around the time your ears start to feel the pain, you'll have to charge them, giving your ears a bit of relief; it's bad, however, because if you're on a run or in the zone for longer than three hours, the earphones won't survive with you.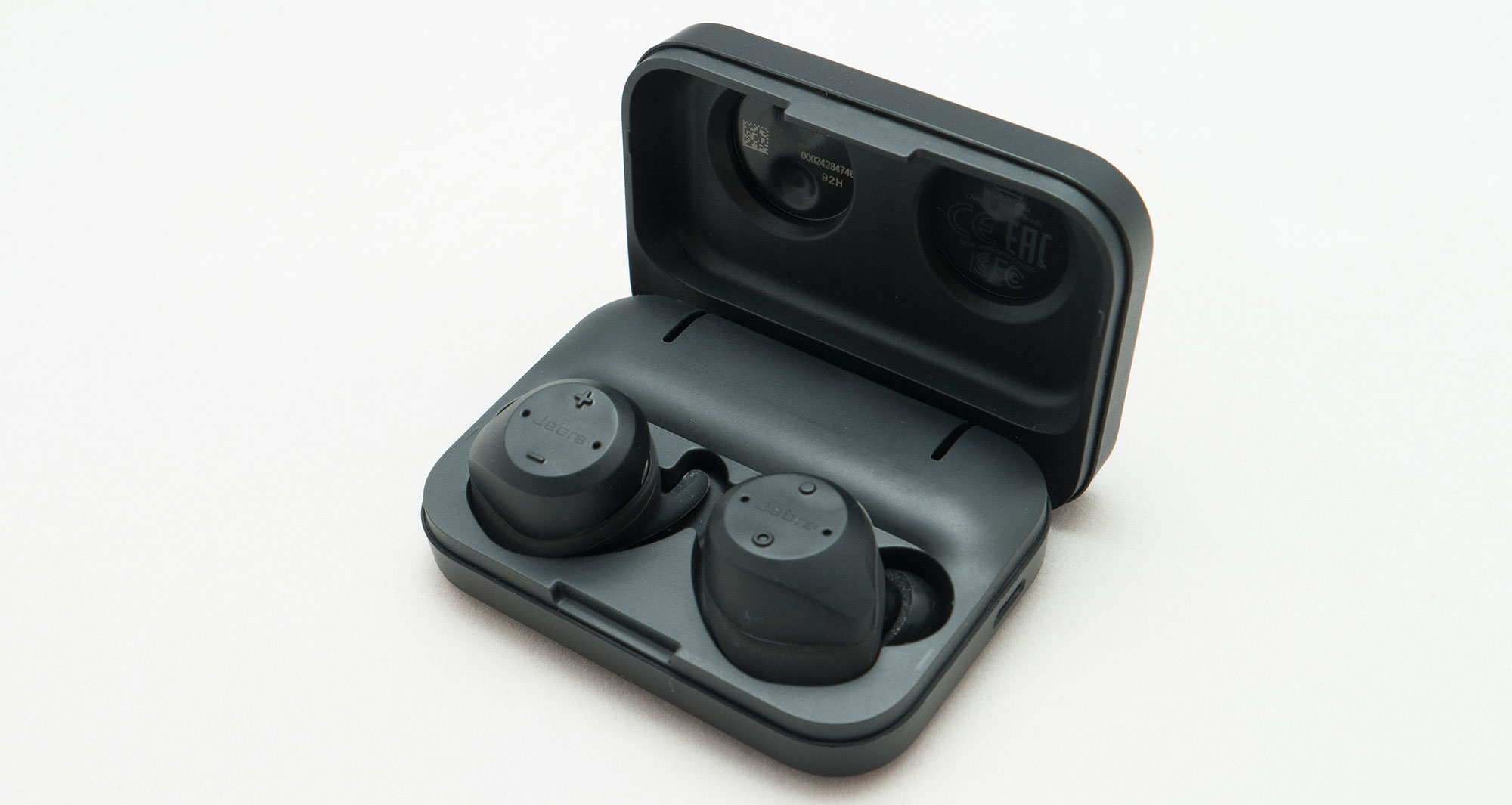 Granted, the handy charge pack is pretty solid and will recharge your earphones the moment you throw them inside, with an hour of charge arriving in the space of 20 minutes inside the case, but you only get a good two to three hours of battery life before needing to put them in the case, so use them wisely.
As a point, the case itself will last a good nine (9) hours before needing to be recharged itself, but this is fairly easy to do, using the ubiquitous and common microUSB port.
Value
At $329, Jabra's Elite Sport aren't your typical earphone purchase, and given that they include heart monitors and a motion tracker, we don't expect everyone will run out and buy them.
And yet, given some of the wireless earphones out there, they're actually a surprisingly good value, delivering better than average audio that you can easily get into amidst a feature set that is actually more fleshed out than competitors.
We need to note that we never really used the heart rate tracker. It's a cool concept, and while we're not sure monitoring the heart rate through the blood in our ears is necessarily going to be more accurate than a heart strap or the green light tracker in the smartwatch we wear, we didn't use it because we're not big sports folk, and running isn't on our regular regiment (though it should probably be, so give it a few months and we'll probably be losing weight with gadgets like everyone else).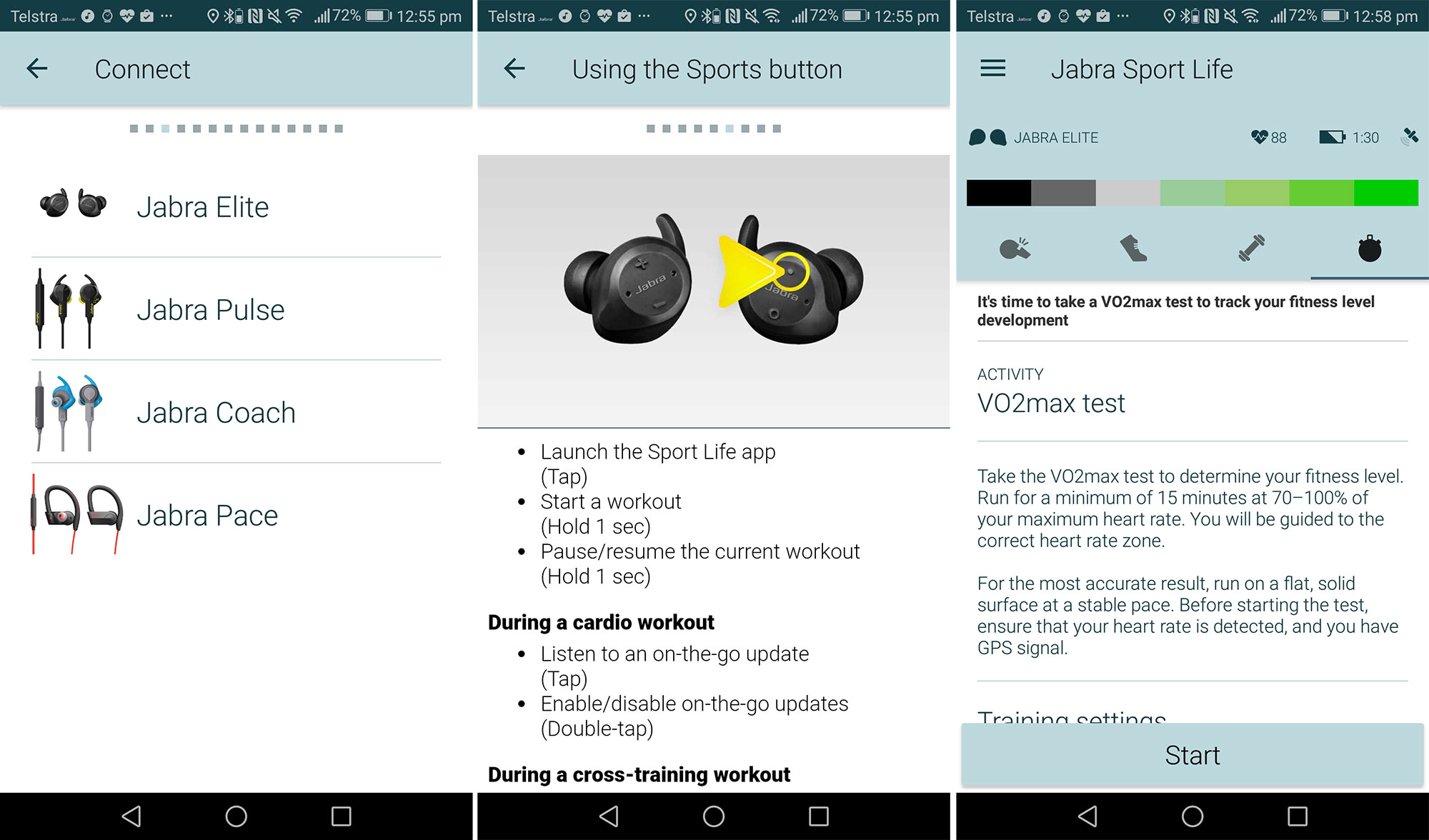 Despite our lack of use on the heart rate monitor technology, we found ourselves opting to use Jabra's Elite Sport wireless earphones simply because they were good, tiny, comfortable, and always charged and ready to go.
Even at $329, the price isn't actually too far where you'd expect them, sitting at $100 more than the AirPods with better isolation, sound, and a design that doesn't make you self-conscious.
We'd like to see them drop to under $300, but that's just us, and given how much earphones can cost, if you actually have a reason to get the heart tracking, the fitness monitoring, and take advantage of the water resistance, the Jabra Elite Sport make sense.
What needs work?
We've already made mention of the bass, which clearly needs a little more punch, but isn't bad given the size.
Really, the curious issues with the Jabra Elite Sport arise in some of the quirks.
For instance, you can actually wear one earphone and just listen, but it has to be the right ear. If you take out the left earphone and put it down, the right one can continue playing along. Do the same with the right earphone leaving the left in, and the music cuts out.
We get that there has to be a primary earphone, but find it odd that you can't choose which one that is, as not everyone is right eared.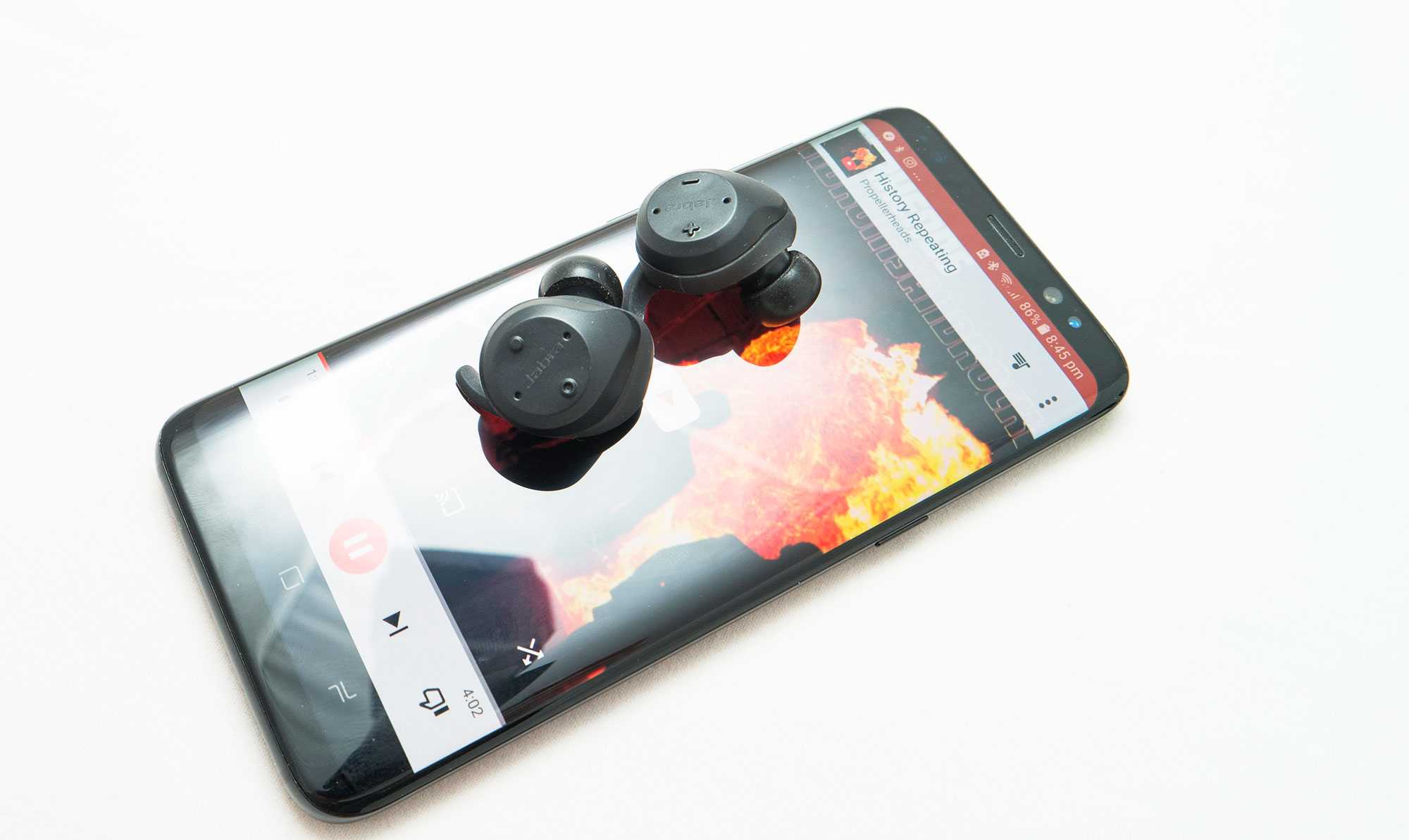 There's also slight difference in syncing between the left and the right, though you can only hear it at the beginning of a phone call or if you move the earphones out of range of each other, almost like you're jumping between worlds.
Syncing soundtracks is always going to have a bit of a delay, and Jabra has done well to make it as small as it is, but every so often you hear it more pronounced for a quarter of a second. Most will regard it as nothing, but it's just one of those odd little quirks that you'll notice.
Final thoughts (TLDR)
Despite the odd quirk or two and the lack of bass, it's very easy to fall in love with Jabra's terrifically tiny earphones, delivering a nice sharp and clear sound in a size and form-factor that is remarkably future friendly.
Seriously, these earphones are just so small and work so well, and while we wish the bass had that little extra oomph, they're still surprisingly strong and something we can definitely work with.
In fact, if you're able to tweak the sound on your phone and change the EQ, you may even be able to artificially drive them that little bit. Sure, it's not the same, but that might help you get over the one main hump of these earphones.
If that doesn't bother you, however, or the music you're listen to is relatively bassy itself, you'll find the Jabra Elite Sport are winners, and well worth going for a walk or run with. We'll probably even keep using them.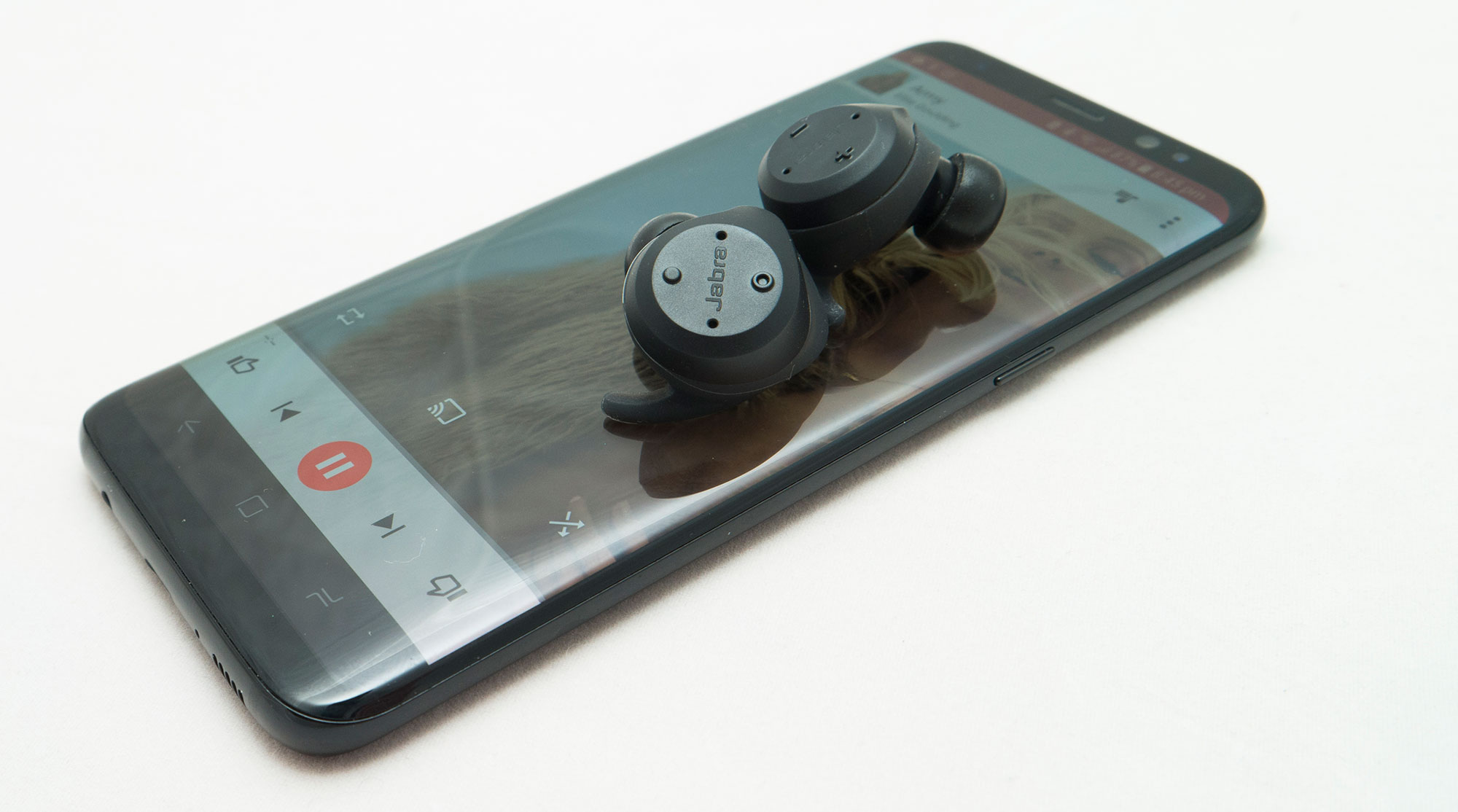 The good
Positively tiny
Last a good 2 to 3 hours of life before needing a quick recharge in the box for a total of 9 hours, ideal for a working day or fitness regime
Very easy to get used to
Detailed sound
The not-so-good
Bass can be shallow
Can hurt when worn for an extended period of time
Right earpiece has to be in at all times if you want to listen
Occasional syncing delay