Finding a great pair of earphones isn't as easy as you think. With every manufacturer imparting a different personality on headphones, on earphones — on personal sound in general — it can muddle the search for a pair of truly excellent earphones to walk around with, and if you cut the cable, it can be even more difficult.
The fact of the matter is there are some truly excellent headphones out there, and some really amazing earphones out there, but almost all of them have to be corded, and most take over the ear.
If you're looking for a pair that remain inconspicuous, don't keep you tethered, and won't fall off your person, the struggle can be real, and at the very least, a real #FirstWorldProblem.
Bang & Olufsen's H5 could just solve the dilemma, but be warned, they are definitely not cheap.
Design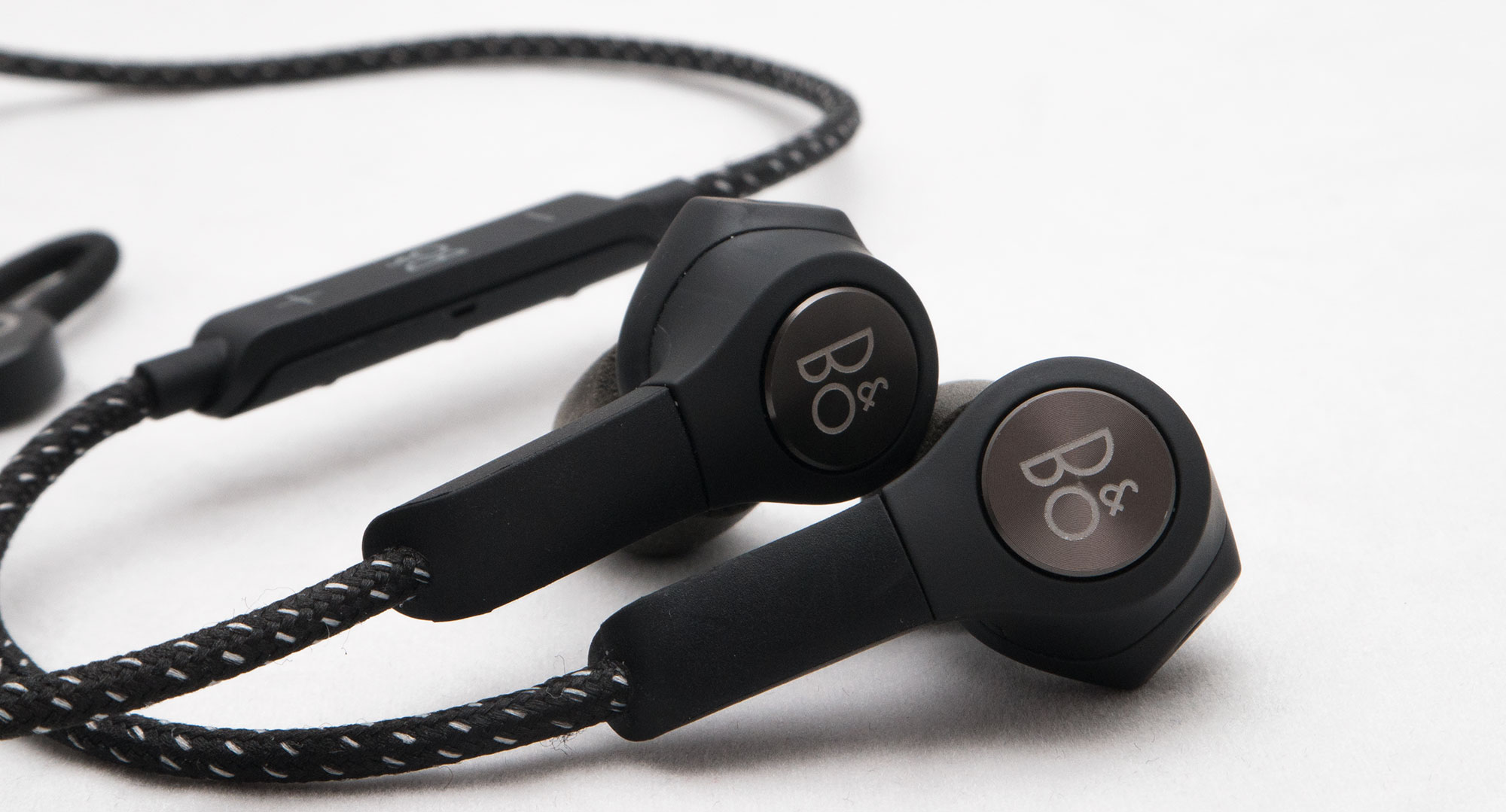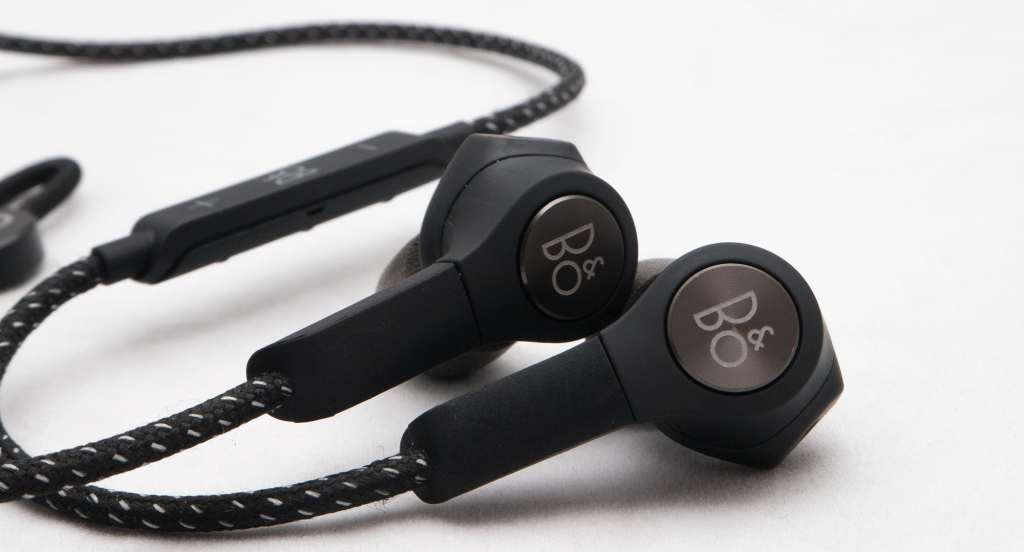 Some of the best designs in the world don't have much to them. We call this style "minimalist", and it's that which Bang & Olufsen is channelling with the look and feel of the H5 earphones, two pairs of in-earphones made from rubber, plastic, and aluminium that are connected by a textile bit of cord to keep them either around your neck or looking a little strange under it.
Really, there's not a lot to these earphones, with just the earpieces connected by a cord, though B&O has included a neat feature people should like: magnets.
Magnets are one of those things that tend to make devices more magical, something Apple appears to be more aware of than any other company, and B&O is using them here as a form of clip between the earphones, making it possible to link the earphones together when they're not in use to not only hold them in place, but also switch the earphones off.
Bang & Olufsen isn't the first company to try this, with the Jabra Rox seeing this concept first (at least from this reviewer's point of view), but it's still neat all the same, giving you a way to at least help ensure they don't go rolling off your person or flying off when you're running for that bus, and even turning off the sound when you arrive at work a little later than you probably should have.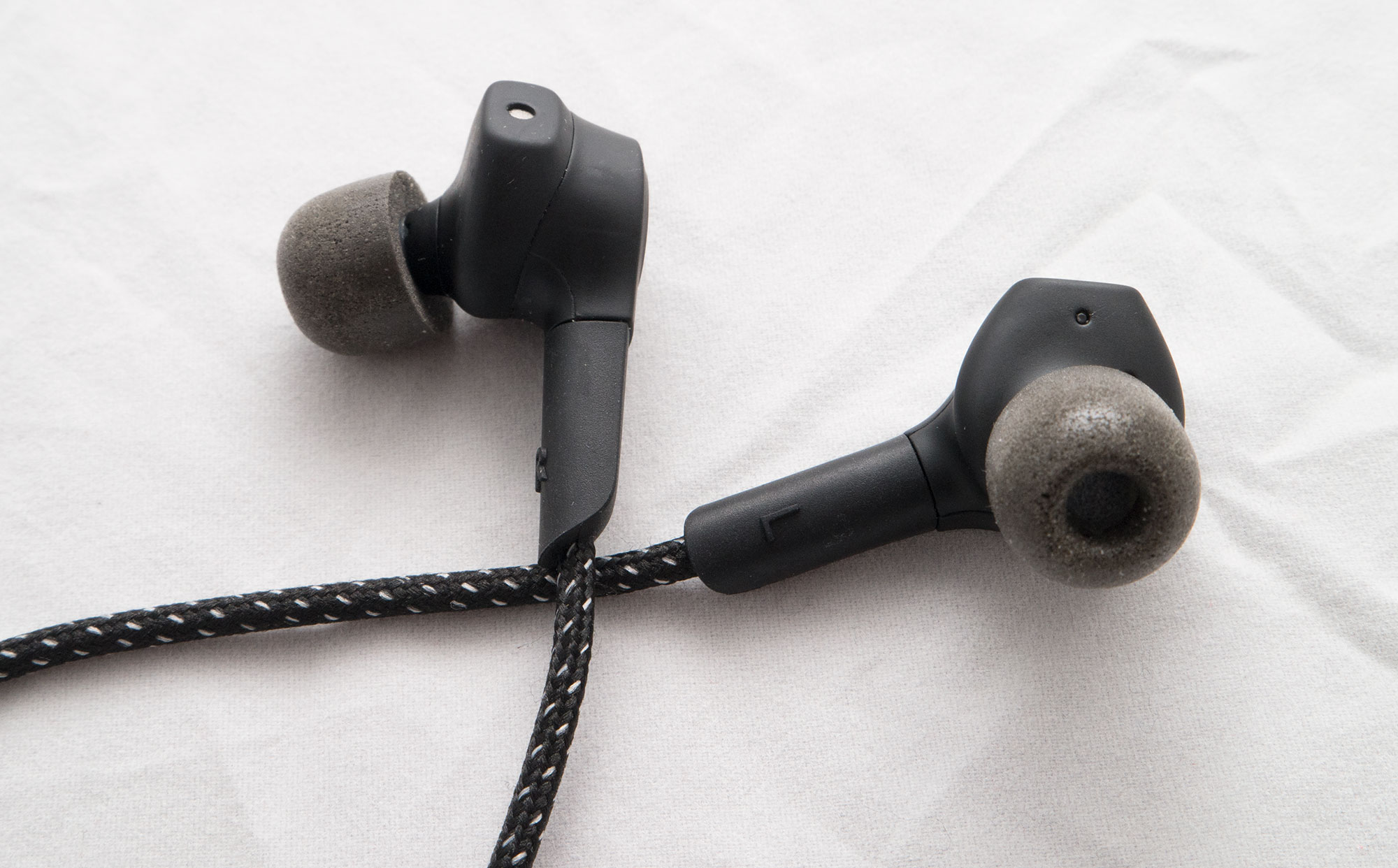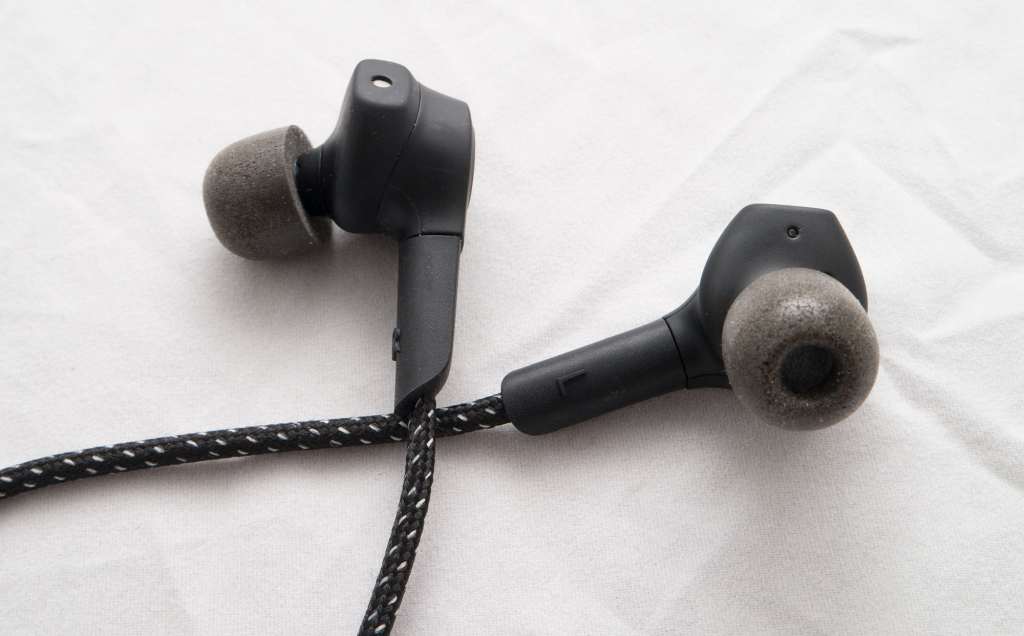 Features
Inside the earphones, B&O has gone with a 6.4mm driver for the rendering of its sound, with some neat electronics to talk to a smartphone or tablet via Bluetooth 4.2, with support for aptX included.
A small 50mAh battery sits in each of the earphones, coming together for a full 100mAh, which Bang & Olufsen suggests should provide up to five hours of battery life, while a remote will let you get all that controlling done, playing tracks, skipping and pausing tracks, controlling volume up and down, and even talking to other people who may happen to call you with the included microphone.
Bang & Olufsen has also included a soft pouch to keep everything collected.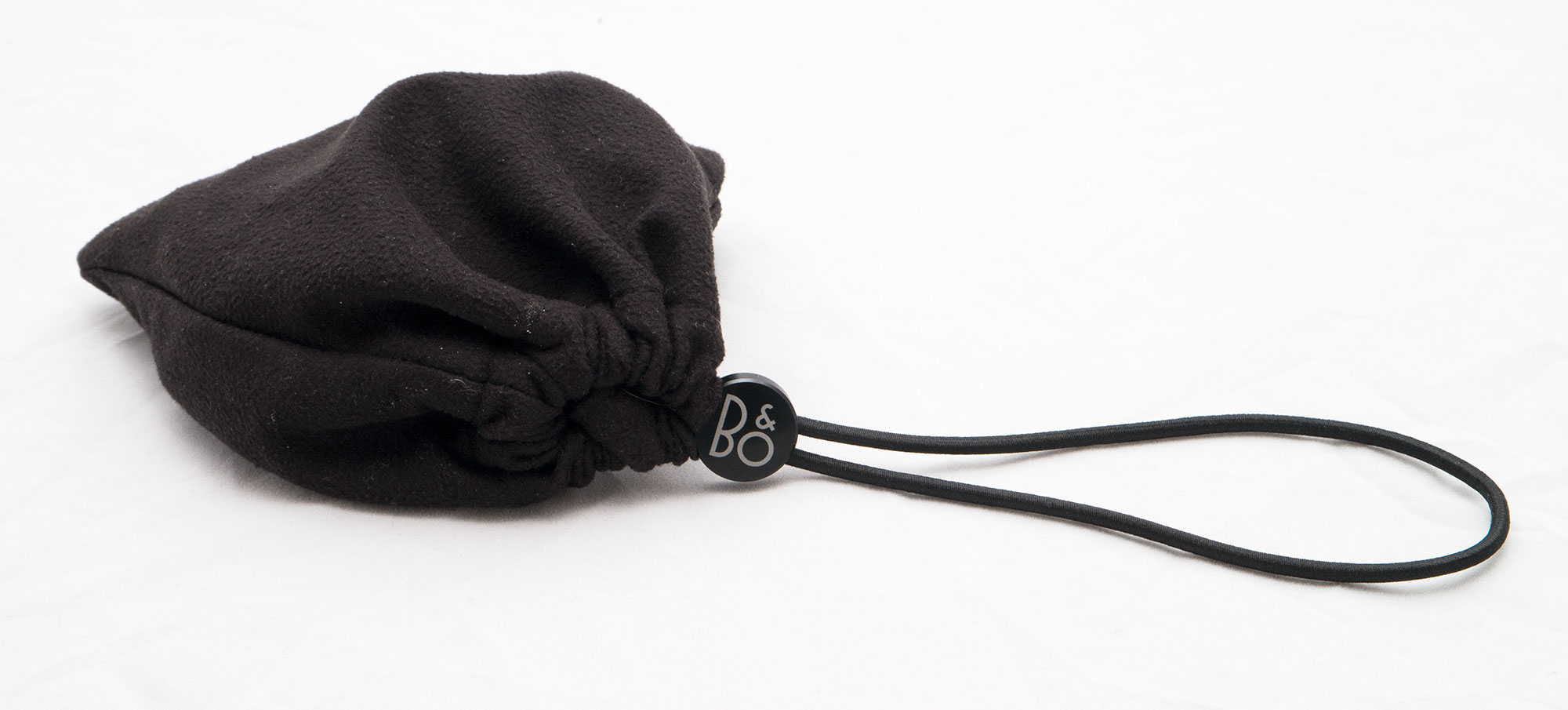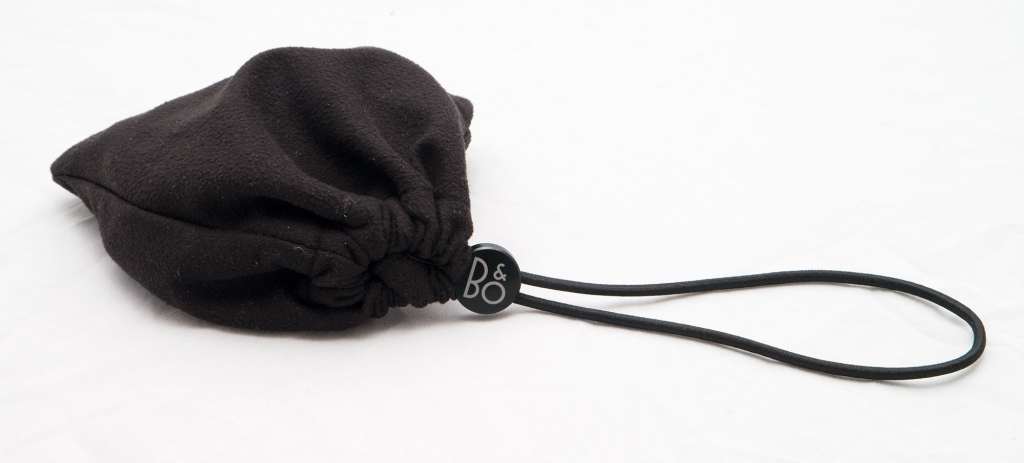 Performance
As we always do, we're getting stuck into this review analysing the strength of the earphones with the Pickr/Listnr sound test, which you can listen to for yourself, and this lets us dive into most types of music with some well-engineered tracks to see if earphones like the H5 stack up to genre jumping, because we all have our tastes, and as eclectic as ours can be, this is about as varied a test as it gets.
Electronic is what kicks this off, and the bright yet still bass-driven sound of Ellie Goulding's "Army" gives a good aural vision of what's to come, delivering a punch in the bottom end, clarity in the mids, and a pronounced set of highs that jibes well with what we like to hear. More punch bass from the Propellerheads in "History Repeating" keeps that going, as was the intention of soulful dance track, and this feeds nicely into music where instruments are key, but so is a good level of punch back to keep you dancing.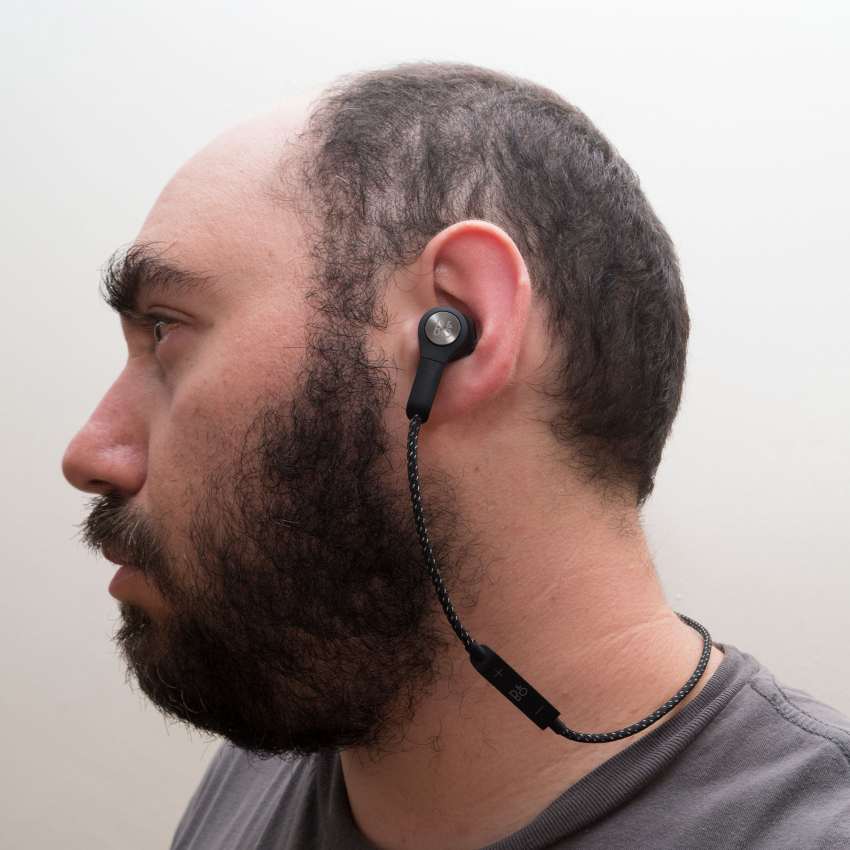 As such, the soul of Marvin Gaye and Tammi Terrell in "Ain't No Mountain High Enough" offers a pretty balanced set of mids and highs from a time when the bass didn't have to be pushed dramatically so that you could still hear the rounding of the bass strings, with the vocals and instruments overlapping nicely, and that similar balance is there in soul and R&B as a whole, evident from Michael Jackson to Mark Ronson.
Modern pop drives the bass a little harder, which has a nice sort of snap back and yet still lets you hear the sharp clarity of the instruments, which we liked in Maroon 5's "Sugar", while a deeper bass could be heard in Muse's "Madness" as the warbling sound didn't vibrate our ear drums but still let us hear the punch of the bottom end without feeling like it needed to snap our heads back in recoil amidst the minimalist vocals and instrumentation.
Heavier rock from Nirvana and the Deftones keeps the bass at more than manageable levels, not managing to blow out anything whilst still providing a level of clarity the likes of which you don't normally hear from earphones, let alone those where the cord has been cut, with guitars and vocals across the bottom-end, mid-range, and top-end not having to compete.
Despite the edginess of the sound we test with, there's a level of harmony here you don't always find with earphones, and that's normally there of headphones that are larger with bigger drivers and a more open airflow. And yet Bang & Olufsen has made the H5 earphones shine.
That sense of harmony continues in classical and jazz, where the balance is clear across a more focused attention on instruments, even though the bass doesn't feel as driven in music where it hasn't been amped up in the mixing and mastering phases.
As such, Ben Folds' "Yes Man" feels collected and clear across the symphonic playback behind Folds' vocals, but it doesn't have a heavy-handed push at the bottom end. Likewise, Nigel Kennedy's "Walk on the Ice" from his reinvented rendition of Vivaldi's "The Four Seasons" does push back a little, though you get the feeling the H5 earphones are quite literally playing the audio with the balance the track was engineered from in the first place.
Miles Davis' "Flamenco Sketches" keeps that sense of clarity without too much bassy interference, allowing you to hear the best of the double bass plucks against piano, against soft drums, and behind a trumpeter baring his soul, while a more modern soft jazz track from Kurt Elling, "Bonita Cuba", keeps the bass soft to keep you into the lull of the music as the smooth voice of Elling rings clear and true.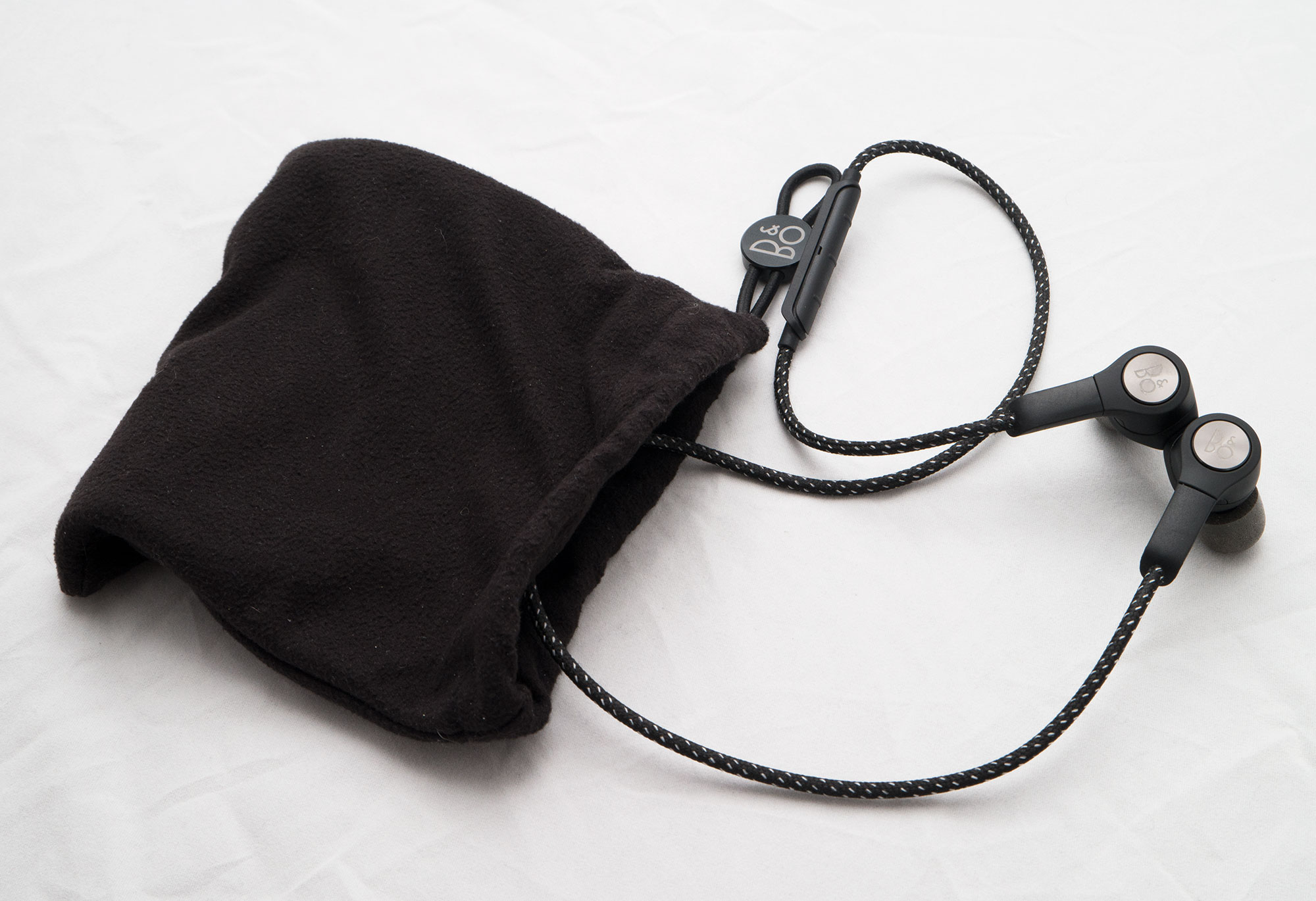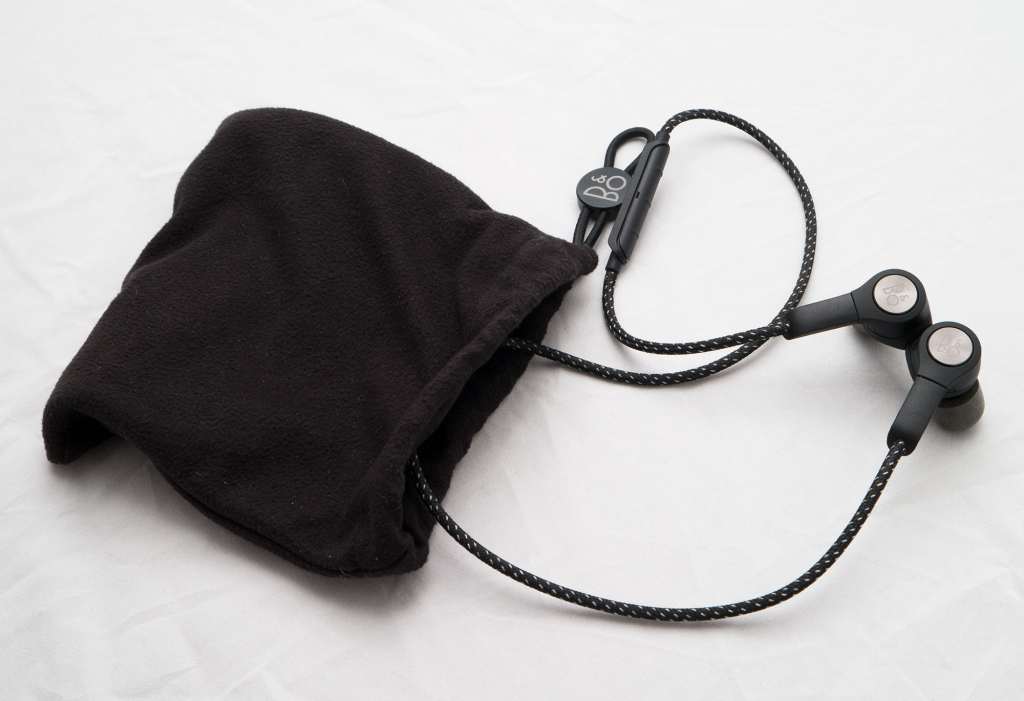 In-use
It's good to understand that as excellent as the clarity is with the B&O H5 and as strong as this balanced perception of sound is — the H5 personality, or even the B&O sound personality it always strives for — it is one that is under your control.
And that's because Bang & Olufsen has connected the H5 earphones with an app for both iOS (iPhone, iPad) and Android.
With the app installed, you can connect to your H5 earphones and change the personality slightly, making them warmer, more relaxed, brighter, or more excited, which in the B&O world basically means to either change the strength in mids, lows, or highs providing a slightly different sound dependent not just on what you're doing, but what you might be listening to.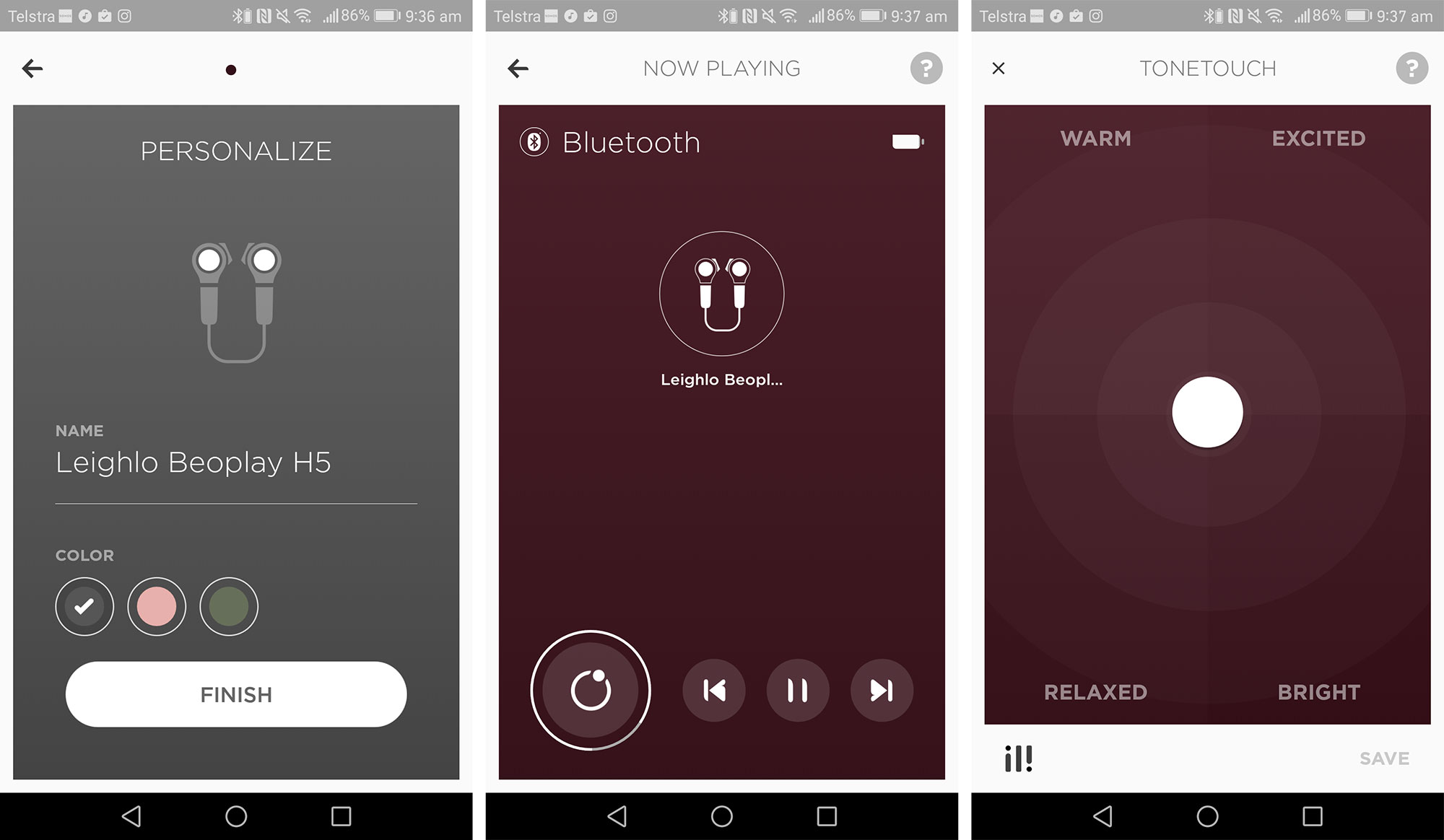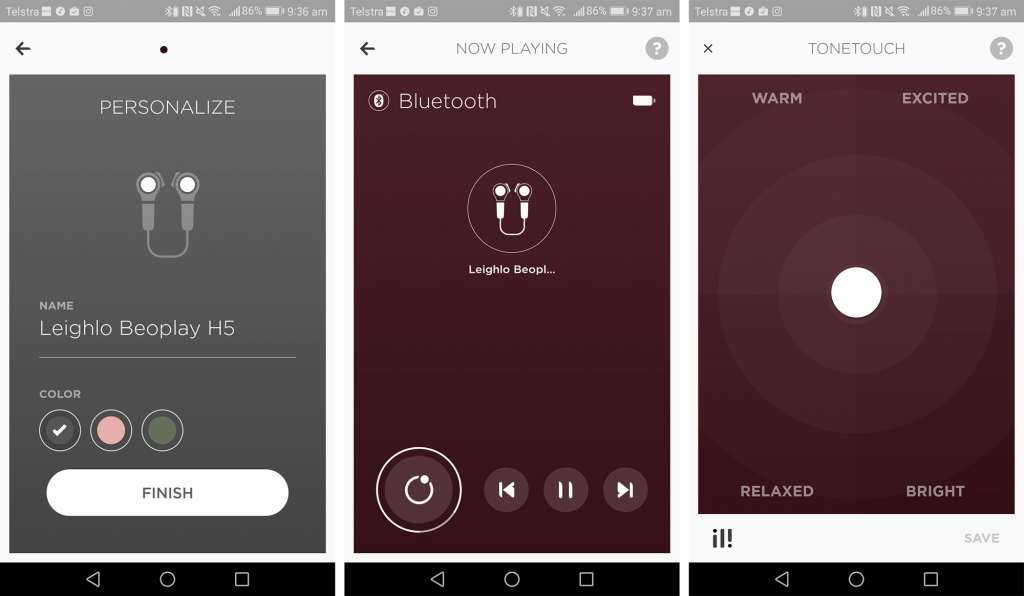 This isn't exactly like the Parrot Zik app for the equally named headphones, because they allow equaliser changes on a song-by-song basis, different sound-spaces to simulate room positioning, and noise cancellation modes (the latter of these definitely doesn't apply given there is no noise cancellation on the H5 earphones).
But it is something, and while we prefer the balance off the H5 earphones without these modes switched on, we expect there will be those keen to switch to a managed sound profile more in line with what they might be doing.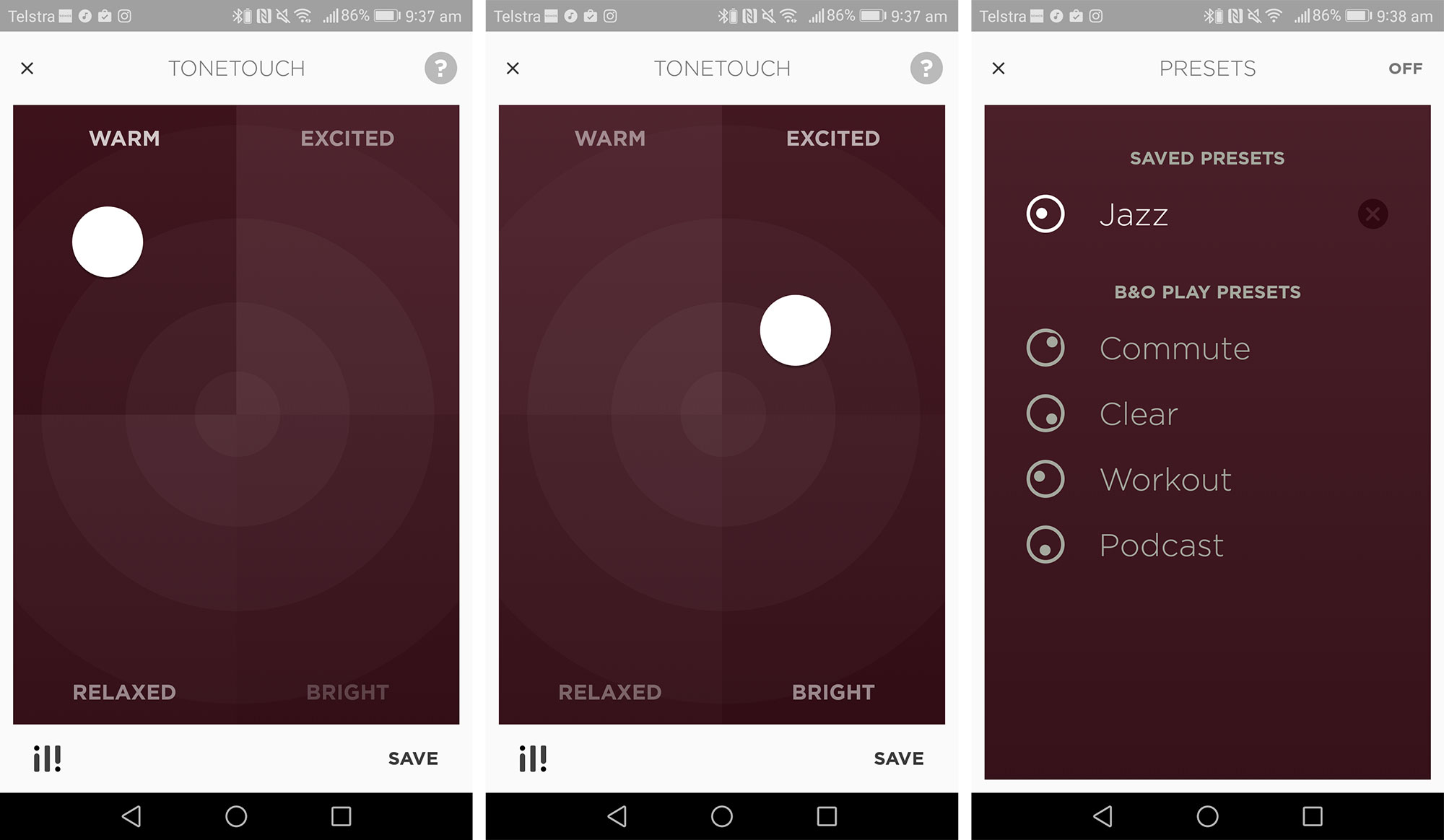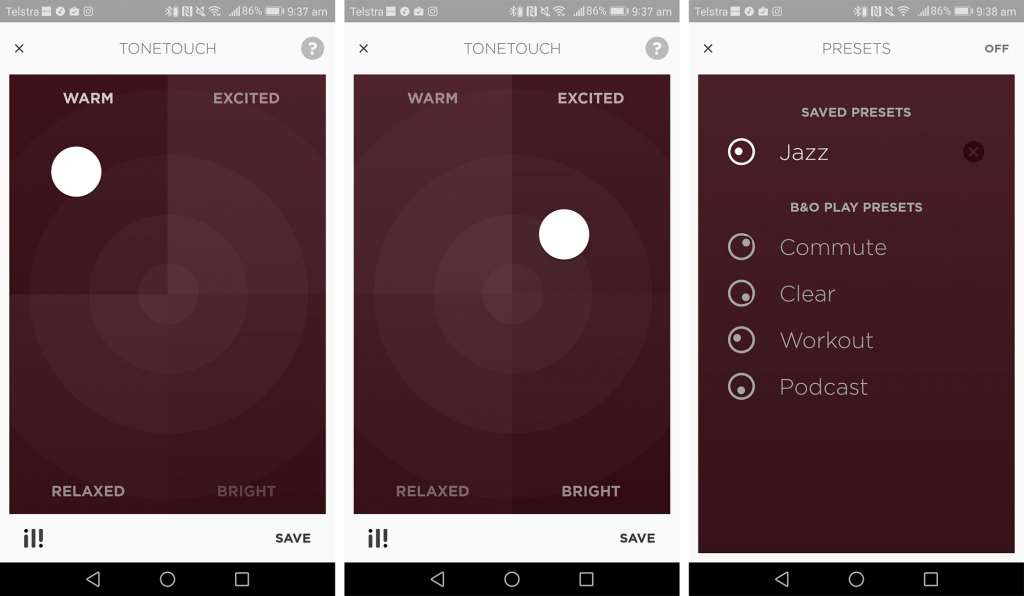 Battery life and charging
As you listen, you may be concerned about battery life, and this is one area that doesn't really pull the same weight as the rest of the earphones, with the tiny batteries in each side delivering closer to four or five hours, making it a pair you'll want to charge either nightly or every two days, dependent on how much you plan to listen to the earphones.
This battery life isn't helped by the charger, and this is the one area we draw a bit of a question mark, and that's because rather than go with the standards, Bang & Olufsen has opted for something a little more elegant, with a moulded charger designed to grab the H5 in-earphones with a magnet.
Without doubt, this is one of the more interesting and creative takes we've seen for earphone recharging yet, but it comes with one pretty solid caveat: it's proprietary.
That is to say that instead of going with a universal standard like microUSB, USB Type C, or even wireless induction charging, B&O's decision to go with a specific made-for-purpose earphone charger that is shaped only for the B&O H5 earphones means if you ever lose the charger or forget to bring it with you on a trip, you are quite literally out of luck.
There's no secret flap revealing something common here. Simply put, if you don't have the charging block, you're not listening to anything.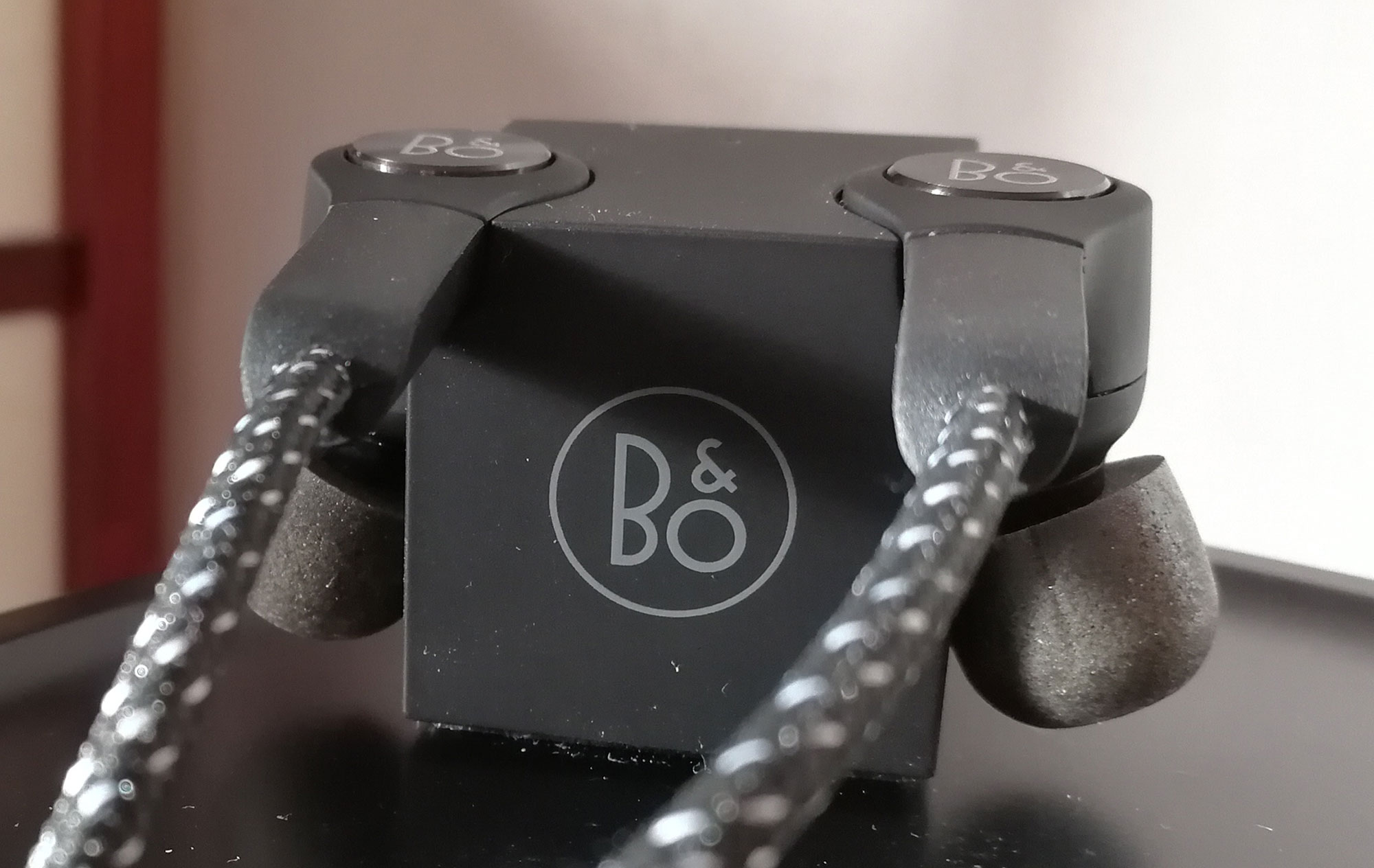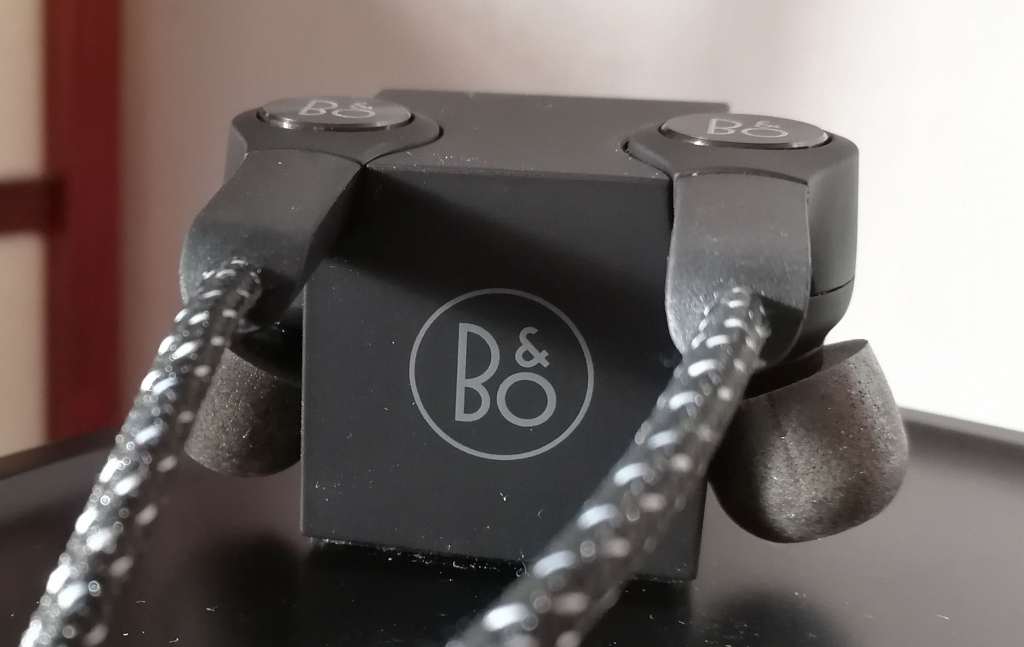 Value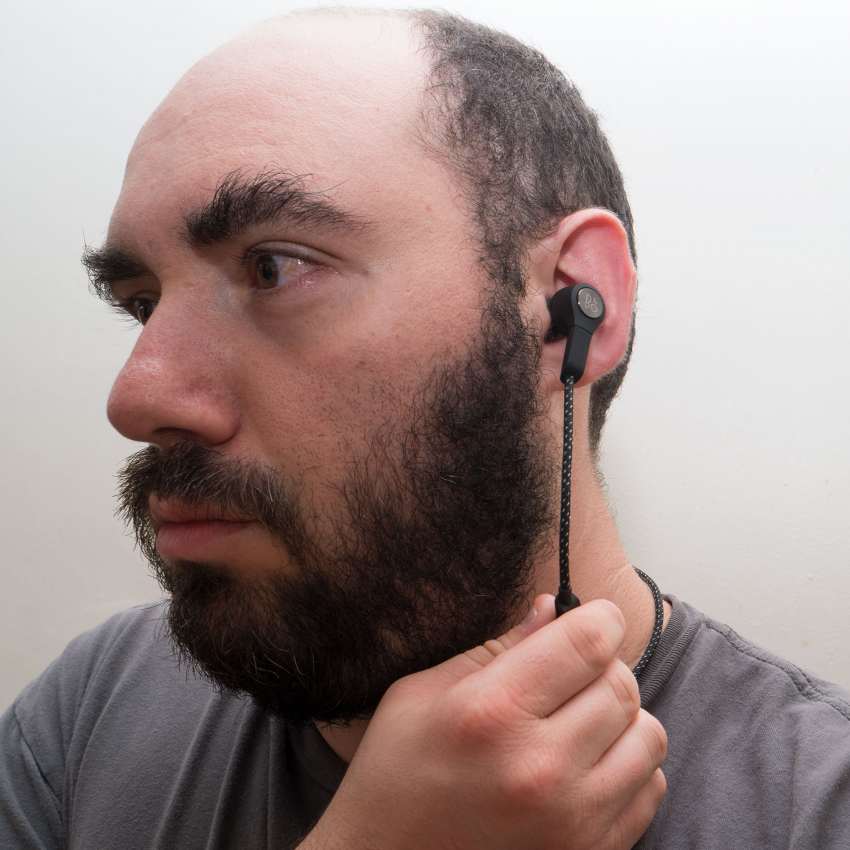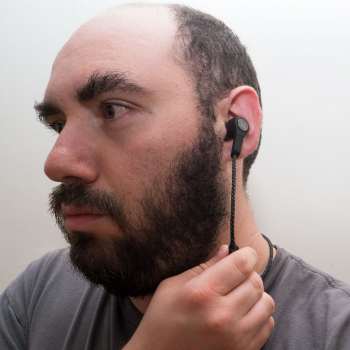 We're not huge fans of the charger, and we're also not huge fans of the price, because at $389, these are not cheap in-earphones, not by a long shot.
If you know equipment in the audio world, none of this would surprise you in the slightest, because Bang & Olufsen is rarely cheap.
Some might say that a sub-$400 price point for wireless Bang & Olufsen is a steal, because it's actually not bad given the quality of the earphones on offer.
But you still kind of want something more for the money you're paying, whether it's water-resistance or noise cancellation. Frankly, we think the latter would truly complete these earphones and make them stand out, though we can only imagine how much that would push the price up one more time.
Final thoughts (TLDR)
While both the price and the proprietary nature of how you get them juice is enough to throw people away, we still keep coming back to the Bang & Olufsen H5, and that's for one simple reason: these some of the best wireless earphones we've ever heard and absolutely worthy of your ears.
It's hard to get better than that, and if you end up owning a pair, you will get some the warmest yet also quite balanced sound you're likely to hear from your phone or tablet, and all of this in a size that weighs less than a box of sultanas and is barely noticed when worn.
And when they're not in your ears, the magnetic clip is a great way of ensuring they don't go flying off while you walk around.
Yes, the Bang & Olufsen H5 are indeed lovely, and a great pair of earphones to listen to your tunes with. You can even wear them with a hat, which is a nice bonus.
Fits very well
One of the most balanced pair of wireless in-earphones we've ever heard
Easy to control, thanks to a standard remote
Supports an app for changing the personality of the earphones
Wide assortment of tips including silicone and foam
Small soft case included
Battery life isn't a full day
Proprietary charger is a little annoying
Very expensive