Quick review
The good
A massive screen
Offers more brightness than any other TV out today
Colours are nice
Supports Netflix, Stan and SBS out of the box
The not-so-good
Judder is severely noticeable on UHD content
4K media doesn't look as good as you might expect
Smart interface offers apps, but not many
Speaker is just terrible, with too much bass and practically no depth
Remote is old school and can only control TV's interface, not external sources
Expensive
Hisense has been proving itself in TVs for a while now, and in the Hisense Series 9 4K ULED, we get to see the fruits of its labours in a massive 75 inch telly.
You already know that consumers have a lot of choice, and choice in all areas. Choice in phones, in headphones, in speakers and computers and cameras and drones and gadgets of all shapes and sizes.
There's also choice in TVs, because while there are the ones you know — Sony, Samsung, LG, Panasonic and so on — there are also the ones you might not, as challengers take the stage to show it can build a great TV for the home.
Hisense has been proving itself for the past few years, and now with several great options under its belt, not to mention some great technology on the way pushing 4K Ultra HD to the next level with 8K TVs, it's ready with something big, bright, and made to be best in class.
Is Hisense's 75 inch Series 9 4K ULED that best-in-class TV? We're excited to find out, looking beyond the massive 75 inch screen sizing, which is definitely going to draw people in, especially those keen for the biggest screen without needing to necessarily spend up a storm.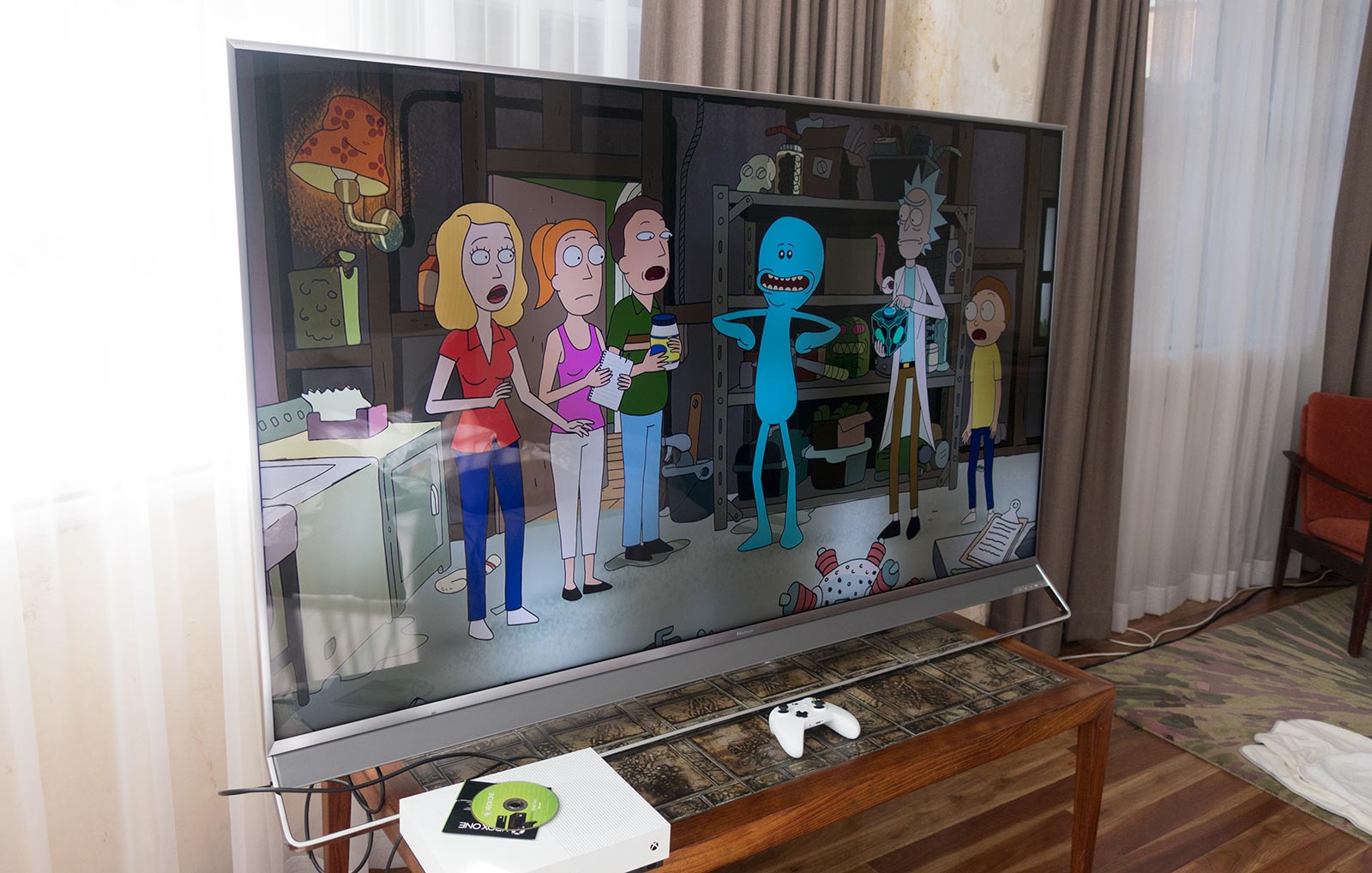 Design
So first things first: this is really big screen. Sitting at 75 inches and 75 inches only, you can't understate the size of Hisense's Series 9. Also called the "75N9" or the "NU9800", it is staggeringly, stupidly, and monstrously big. Make sure you have a space for it, because whoa momma, you definitely need it.
Aside for the big screen, the other thing that will likely attract you to the Hisense Series 9 is its design, which is much like you'd expect with a big screen, but with a cool metal stand that pushes out from the bottom of the TV as if to invite you in.
There's a long speaker along the bottom, and it sits in the same metal design as the front, but this design is distinct from the design of the back.
Rather than keep up with the metal influenced front, the back is textured grey plastic, pulling back on the sleek and minimalist design and coming off with a different design language.
It's a good thing you don't have to spend too much time back here, because the front is much, much prettier.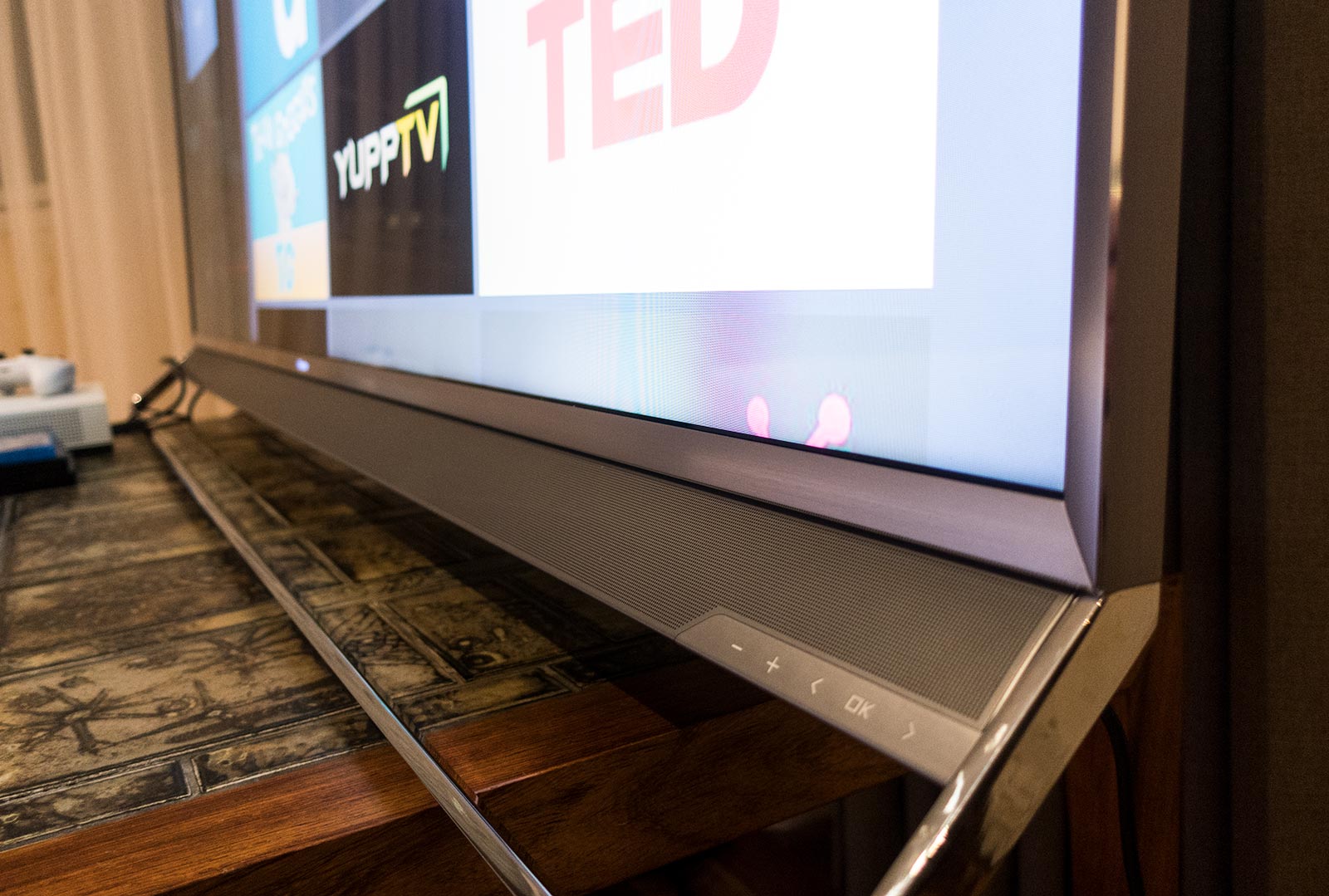 Features
You're still going to have to spend time with that back, however, because that's where all the plug ports are, and for that, Hisense is offering more or less what you'd expect a big new TV to deliver on.
As such, there are four HDMI ports here, two of which are friendly to HDMI 2.0 sources, which means only two of them let you run 4K Ultra HD sources. Specifically, that's the first two, while HDMI 3 and 4 operate at the older 1.4, leaving you to run older 1080p devices like your Apple TV and Full HD video game system.
You'll also find a few other ports, with an RF line for your TV (it's a TV, so no real surprise there), component, optical audio, headphone's 3.5mm line, and three USB ports, the latter of which only offers one capable of running at USB 3.0's speeds for 4K friendly media, while USB 2.0 is offered for the other two.
Networking is also part of the package here, and you'll finds 802.11a/b/g/n/ac WiFi and wired Ethernet in this, not to mention support for DLNA, but there's no Google Chromecast built in, sadly.
High-dynamic range will be handled by HDR10 on this TV, and there is a massive speaker here, with two tweeters, two mid-range speakers, and four woofers inside.
There's also only one option for the screen size of the Hisense 2017 Series 9, with the "75N9" arriving in only a 75 inch size, hardly unexpected given the name of the TV.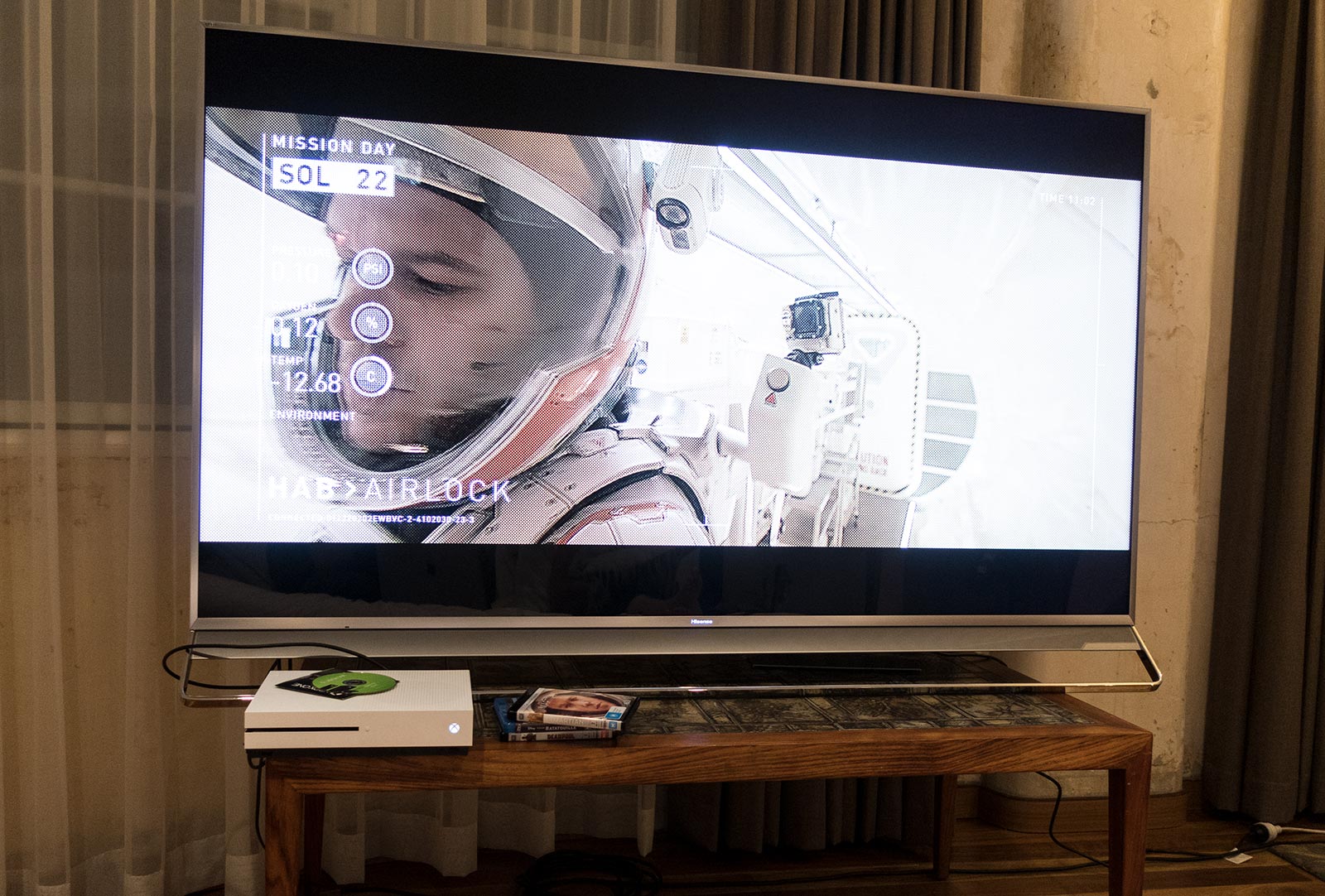 In-use
Operating the Hisense Series 9, you'll find a smart interface, but unless you've owned or used a Hisense before it, this will be completely unfamiliar.
Samsung has Tizen, LG has webOS, Sony has Android, and and Hisense gets VIDAA U, a fairly basic interface that offers a few apps that you'll want — Netflix, Stan, SBS, YouTube — and a few others you'll never have heard of that will probably be opened once and then not looked at again.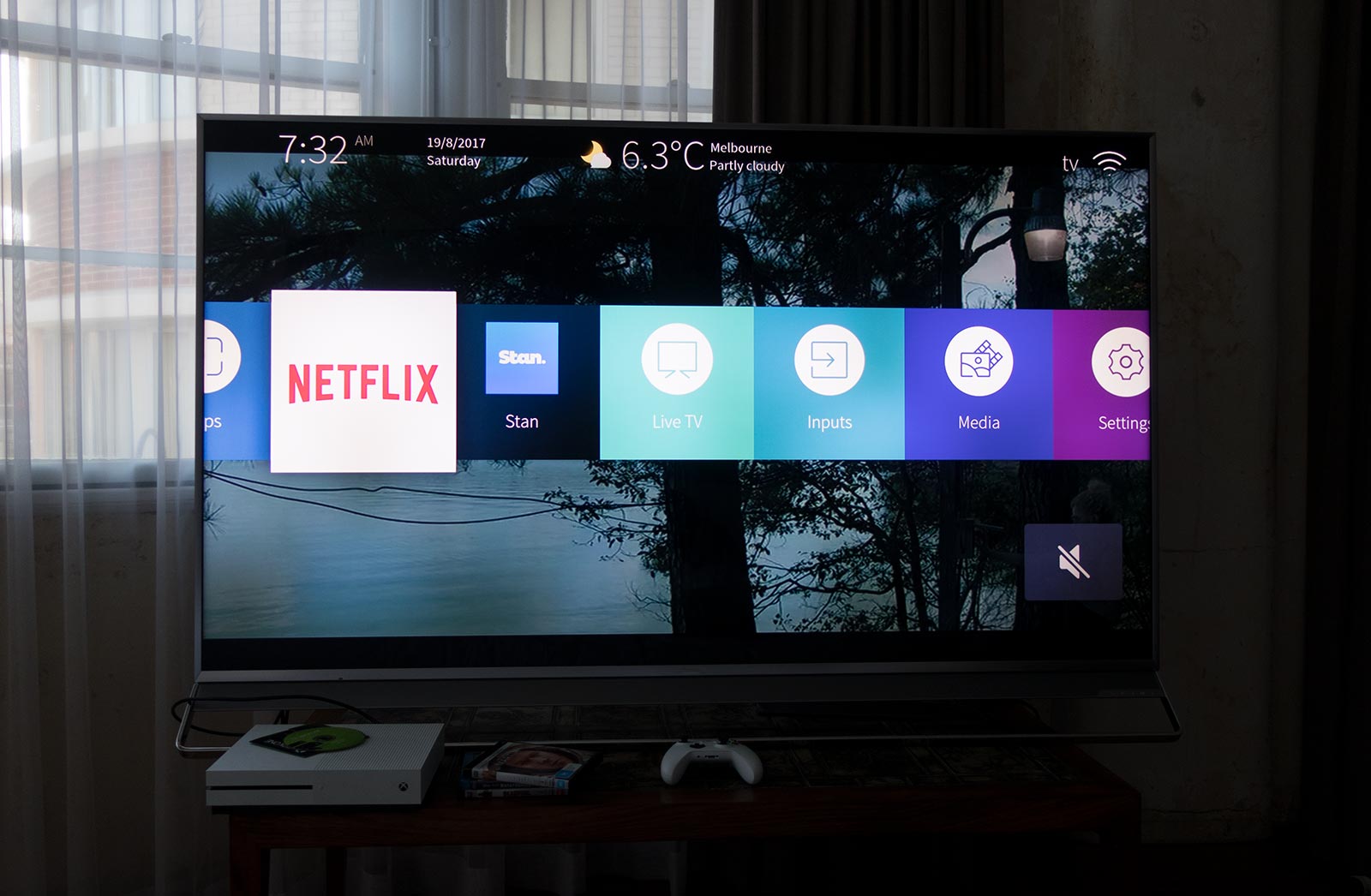 There's an AOL news app, what appears to be a movie app that speaks in Polish and English but offers movies that appear to be Dutch, and even a kids app called "Toon Goggles" that can talk with Philips Hue lights in the home. Crazy.
At least you get the ones that matter, though even they could do with a bit of work. Netflix, for instance, offered 4K films, but not a 4K section for you to choose from, suggesting the app may not be updated all that regularly.
We'd also like to see more of the ones that matter. Spotify would be nice, Google Play Movies, ABC iView, that sort of thing. Hey, Chromecast support would be awesome, too, as you only get AnyCast, and that's close, but not quite the same.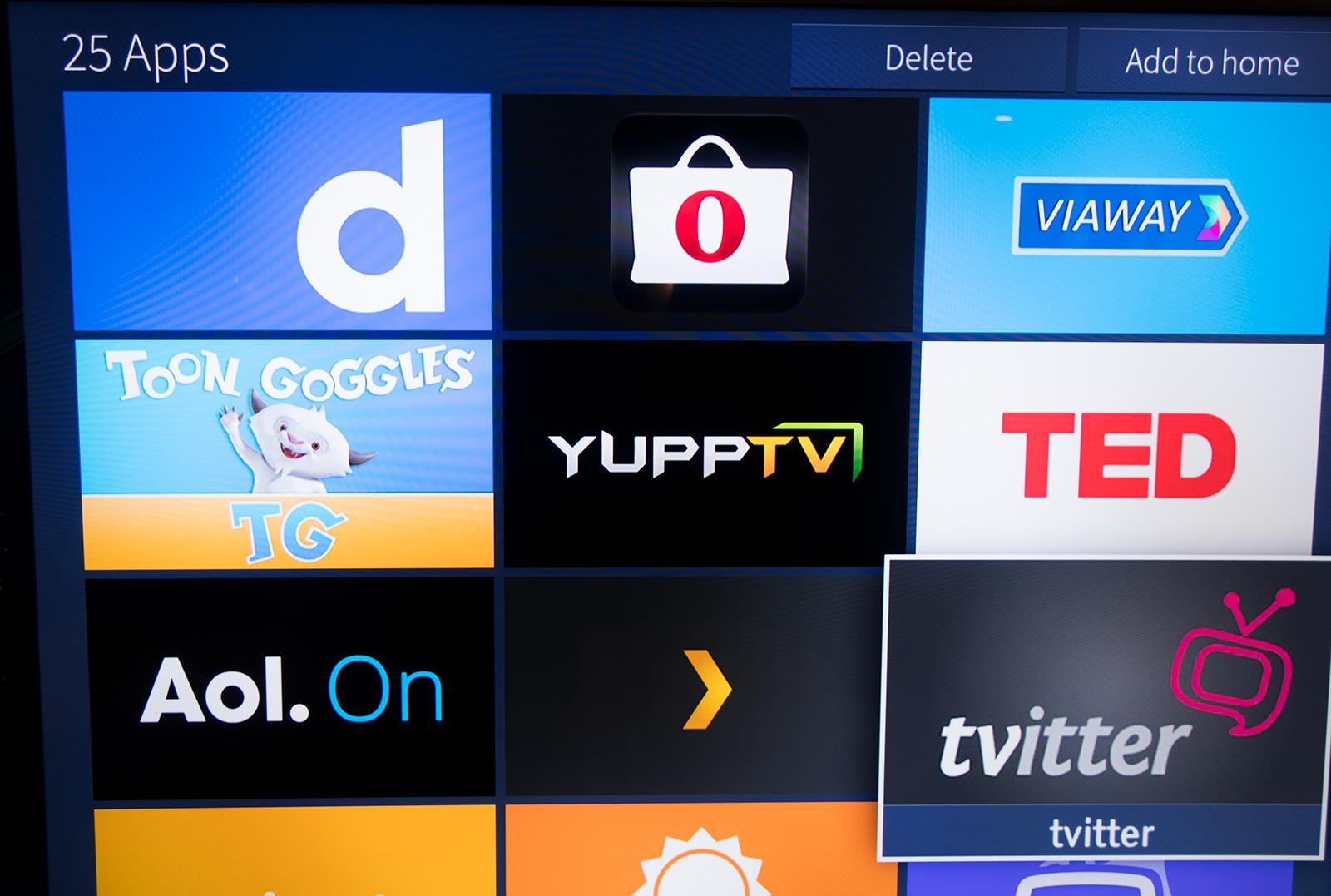 Outside of the app selection, the interface tries to be easy to use, and is basically just a grid of apps that you can map to the homescreen, and that itself is a slim line of shortcuts scrolling from left to right, with inputs available as you move up and down.
We're not going to say it's the easiest interface around, but it's not hard, just not as complete as the others.
Still, you'll get around the menus fine, you just won't get quite the level of flexibility as other smart interfaces.
We've probably been spoiled. Yeah, that's probably it.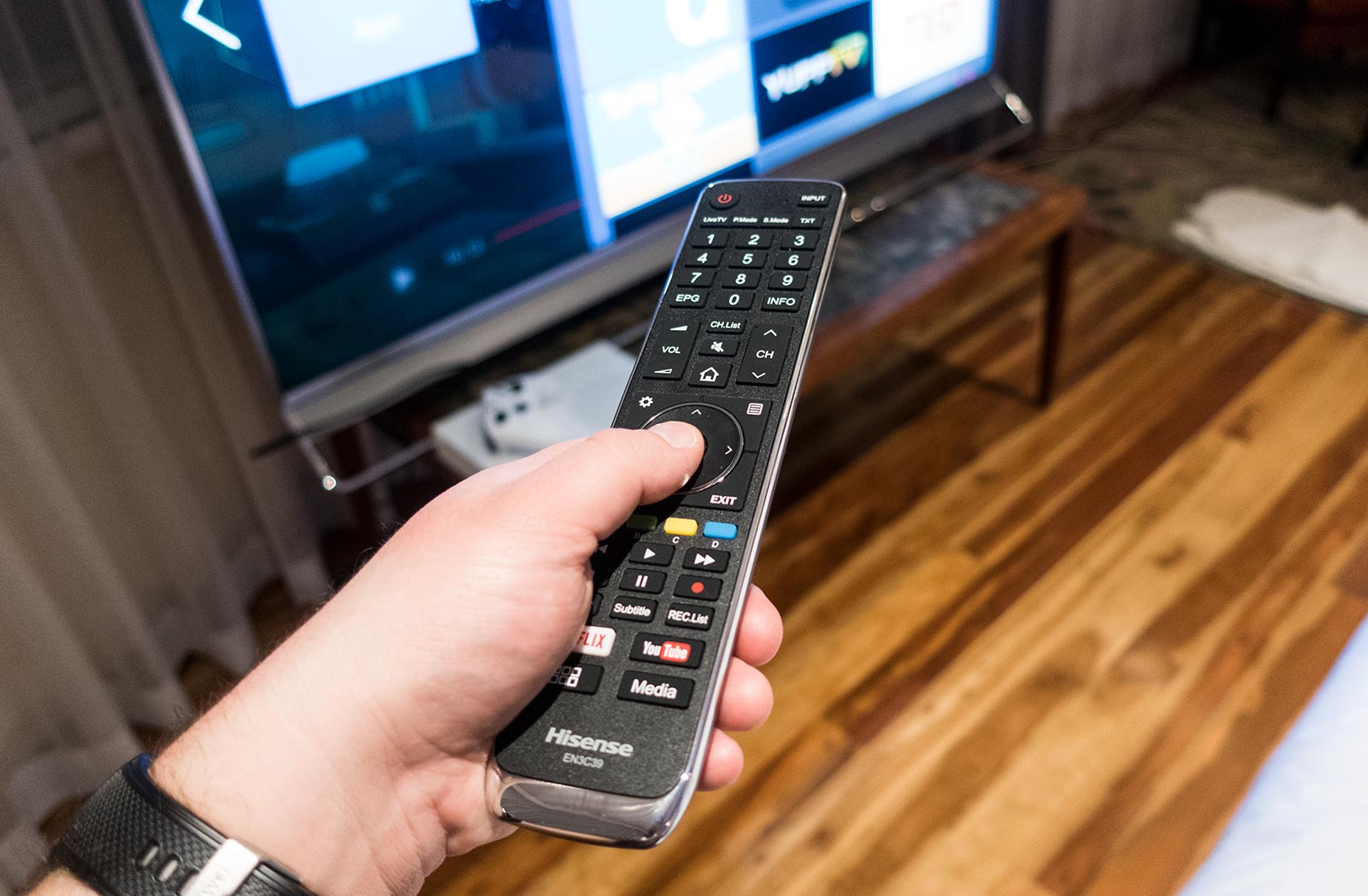 Performance
Getting stuck into the TV, Hisense's big flagship offers some of the strongest brightness you're ever likely to see from a TV, and that's both good and bad.
First the good: the massive 75 inch Hisense Series 9 is so big and so bright, it is like having a cinema in your own home. In fact, Hisense gets credit for that feature alone, with the brightest rating of any TV on the market, grabbing a solid 2200 nits.
It is hard to convey the level of brightness on offer, with more than every other manufacturer, meaning a screen that just releases light.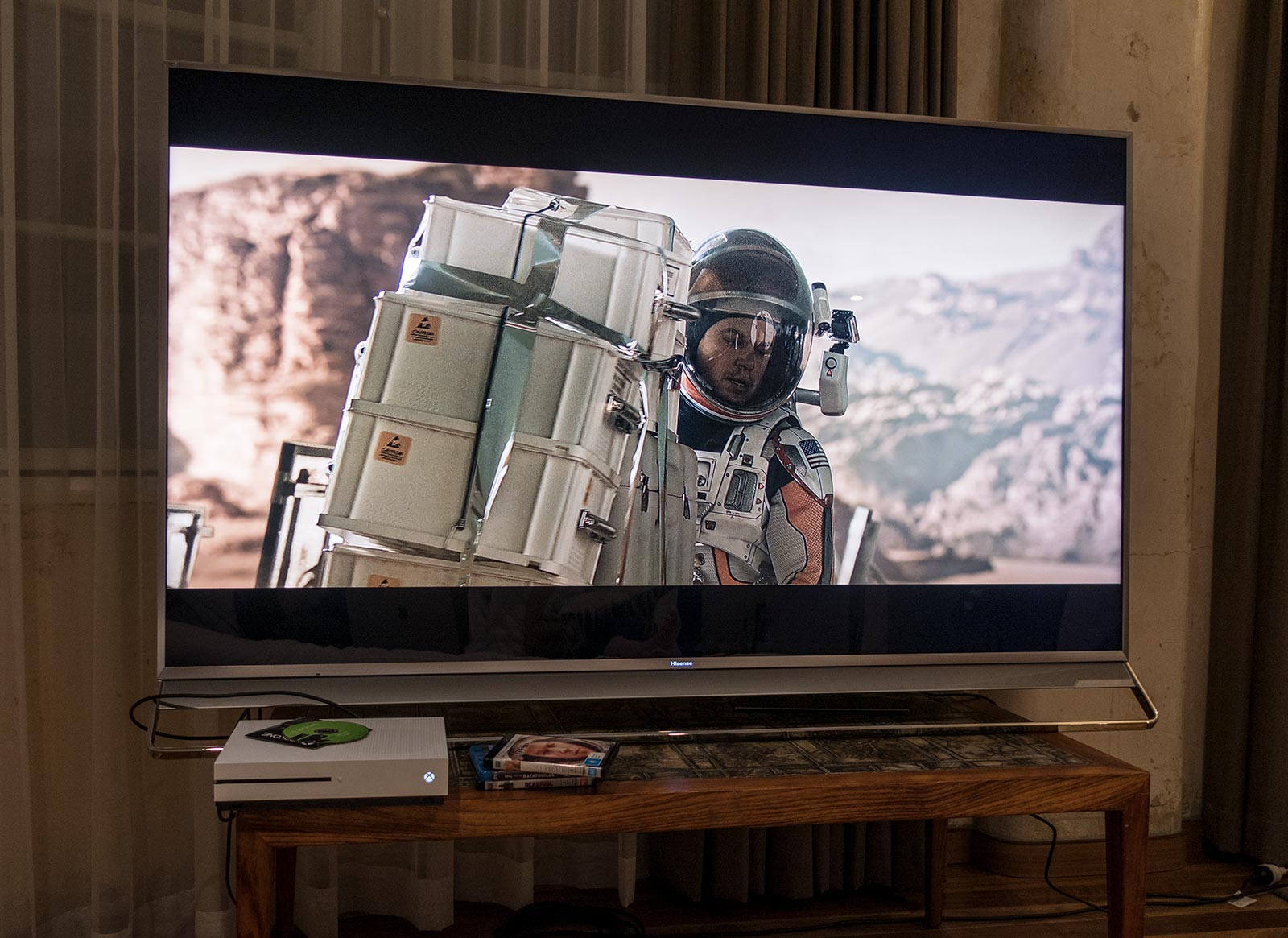 There's a bad side to this, though, because in our testing with the TV, it actually seems fairly fixed. We tried to turn the brightness down at points, and even sending it down to zero left the brightness exactly where it originally was: 50. Ironically, pushing it up to 100 also left it at the same brightness we saw on 50.
A further test revealed brightness seems to fiddle with the gamma, changing the dark levels and raising the brightness of the image, not raising or lowering the brightness of the TV itself, which it doesn't seem to touch.
So yes, the Hisense Series 9 is bright — very bright — but the engineering of the TV is also less bright, giving you all 2200 nits, but no way to pull it back just a bit.
Colour
The other side of the performance is how the picture is rendered, because that is no doubt an important part of the package.
With the power of quantum dots at it disposal, Hisense's take on 4K delivers some striking colour armed with that massive brightness level. That is apparently Hisense's "PureColour" technology at work defining the colour reproduction, rendering those oranges and reds and blues and colour to come out the way you want.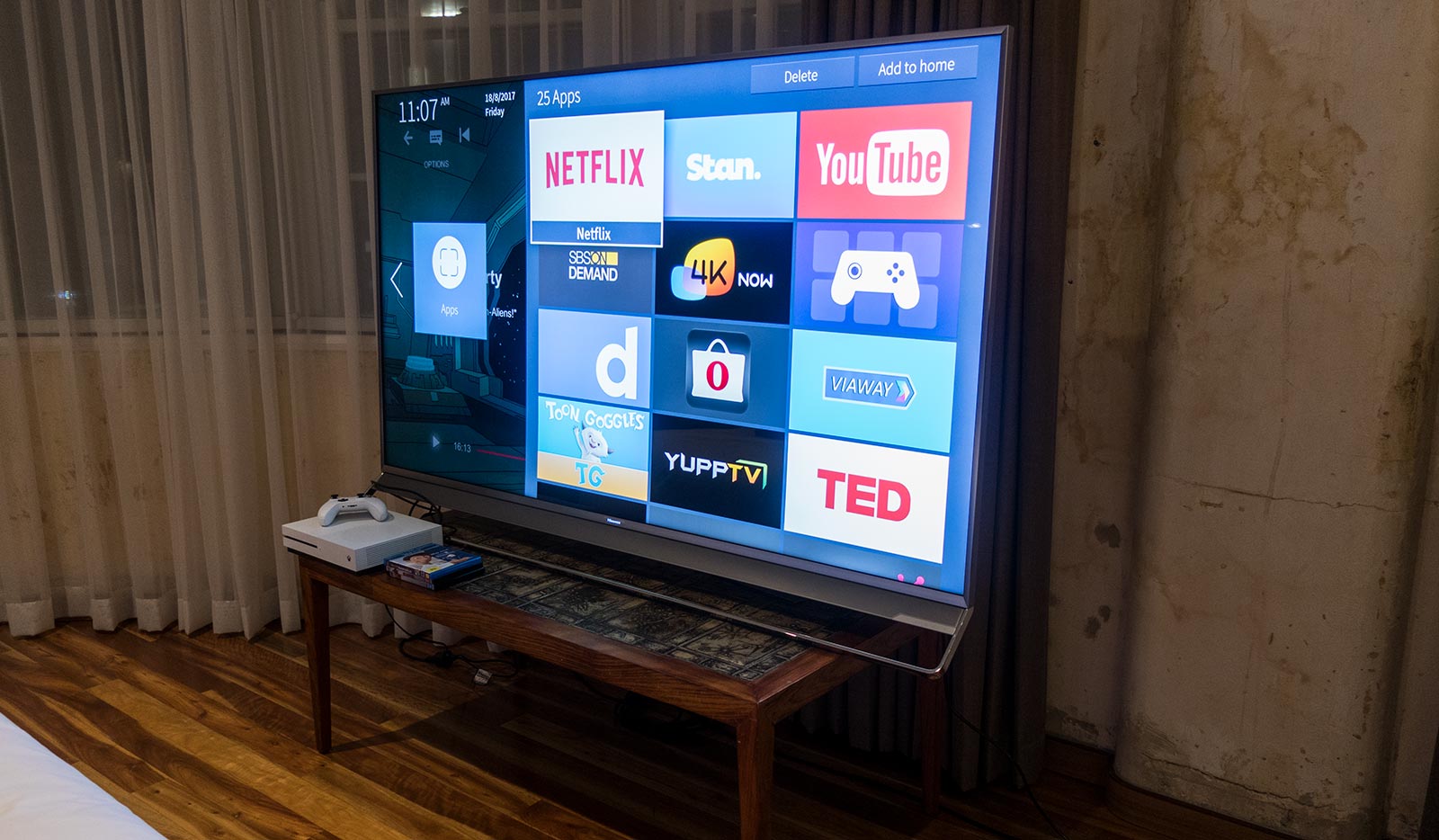 Granted, you kind of have to turn any extra features off to see 4K at its best, and testing with Ultra HD media like "The Martian" and "Deadpool" revealed great colours and some relatively solid sharpness once you turned smooth motion away from what the manufacturer suggests (it says medium, we say off), while noise reduction needs to be turned off also (it says medium, we also say off).
Not doing this causes the image to streak, with banding in the colour gradation, and to see that on a 4K TV is just a little disheartening. So switch the settings off to get the performance out of the TV, and reveal bright colours.
Sound
While the colour passes the test once you do the groundwork, the sound doesn't quite win the same accolades.
On the one hand, it's good to see such a long and simple speaker built into the design, giving you an uninhibited view at the display, which is really just a big 75 inch 4K screen with a relatively slim metal bezel around it. It even has physical buttons on one side for you to control it with.
But on the other, Hisense hasn't really surprised us with the quality of the sound on offer.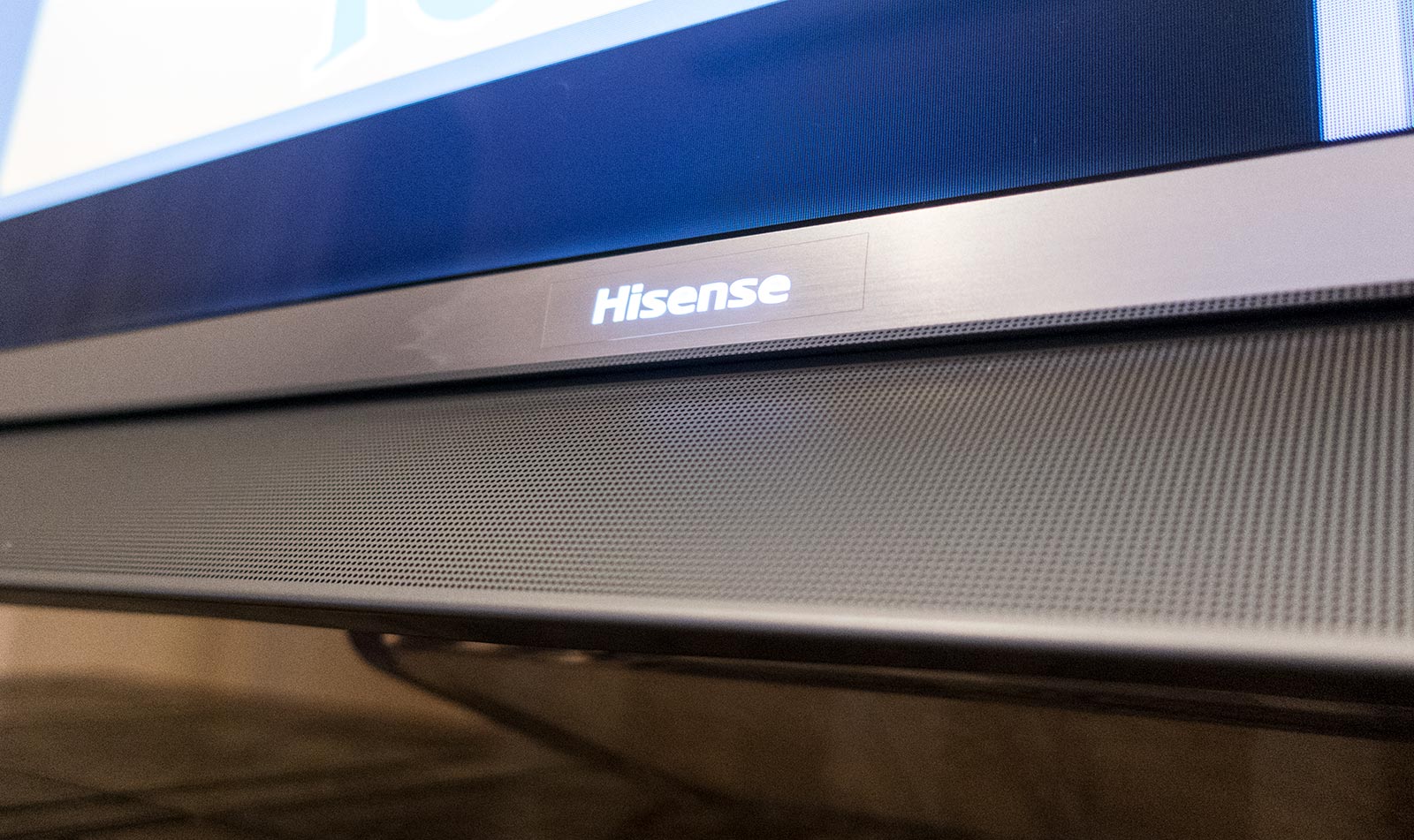 TV sound is rarely good, and the sound here follows that trend, lacking much in the way of depth, with more bass than it needs followed by the mids and highs, but lacking in depth altogether.
The cool, clear and spacious sound of "The Martian" came off like you were listening to it in an elevator, with virtually no punctuation of that beautifully sparse soundtrack. Even poppy TV came of lacking in fidelity, which was fine for some shows, but not fantastic for most.
The word we'd use is "shallow", which seems perfectly apt, though does offer a smidgen of versatility with EQ settings that either boost bass, fiddle with the surround, or up the treble for late night listening.
It's tolerable, but muddy and thin, so the first thing we'd do is replace the sound provided.
Remote
The remote is also a fairly ordinary part of the package, with a basic button-based remote that on the plus side does feature dedicated buttons for Netflix and YouTube, but keeps with the old school buttons-only design.
In absolute fairness, Hisense's remote works perfectly well with Hisense's VIDAA U interface, but it just feels like it lacks the sort of finish and premium quality of other premium televisions.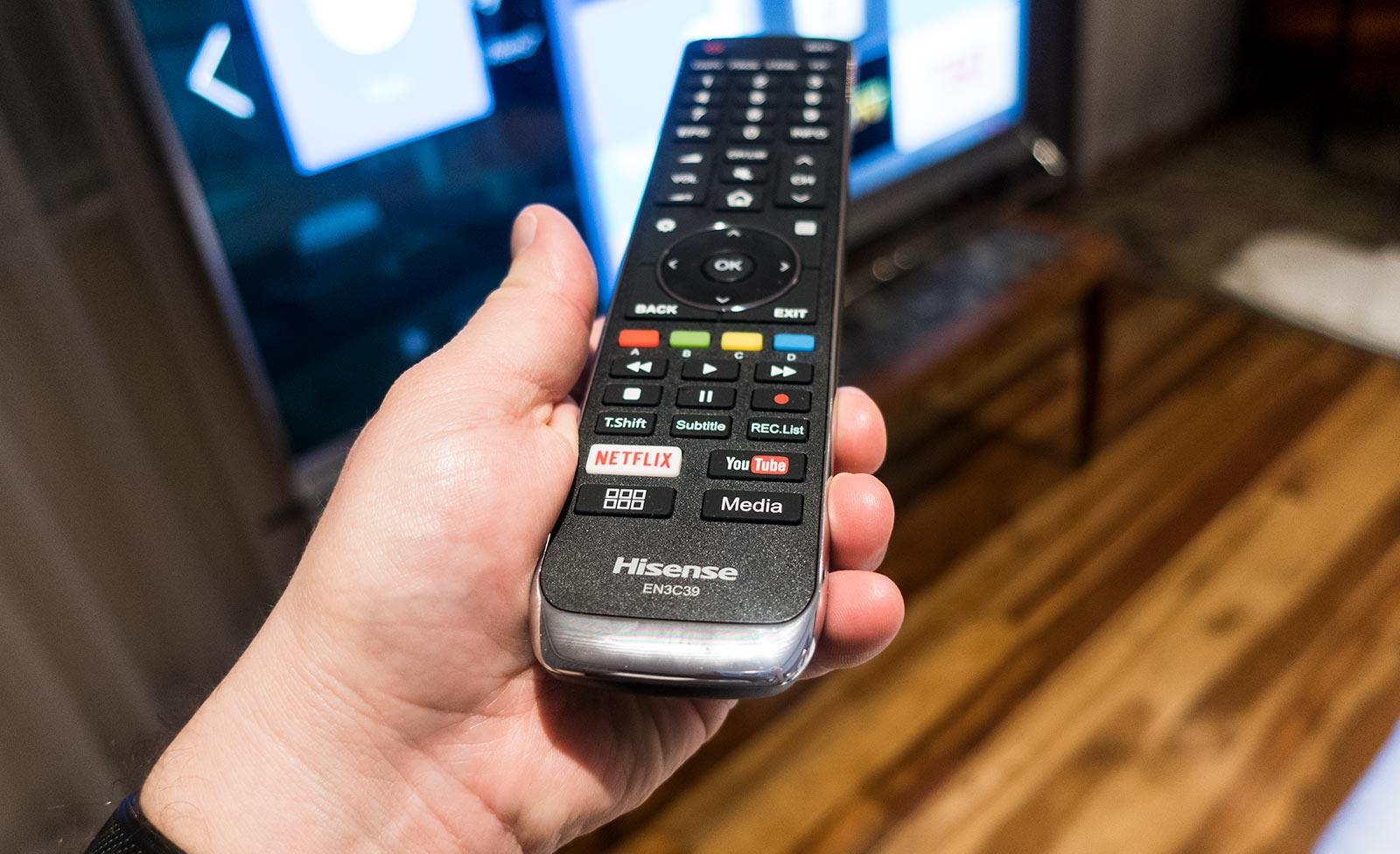 There's no motion control, no neat gestures, and the remote and TV won't turn into a controller for your Xbox much like the all-in-one controls Samsung and Sony offer.
This is a positively old school controller, which will be perfectly fine for most folks. For us, we just want a little more, and something more becoming of a TV that nets this sort of price tag.
Value
And pricing is where the Hisense Series 9 4K ULED TV gets interesting, because while its tag of $9999 comes across expensive, the street price of close to $7K makes it a relatively cost effective 4K quantum dot-based TV.
Relatively, that is.
A little bit of research, however, reveals that the $7K street price of the Hisense Series 9 4K TV isn't unusual, with 75 inch 4K televisions sitting at much the same.
That makes the Hisense Series 9 4K ULED TV seeming like it might be a little high in comparison to what's out there.
We get the feeling that if this grand 75 inch screen edged closer to the $5K mark, it would be a compelling argument for a massive 4K display, but when it sits close and practically in the same neck-line as the others — as several Samsung, Sony, and LG displays — it loses some of its steam.
What needs work?
As the energy starts to deflate about our excitement on this TV, you start to realise that as much as the Hisense Series 9 4K ULED brings to the table, it also equally needs work.
We did some testing with the Xbox One S Hisense provided for us as a 4K video, and it revealed the TV was only playing 4K at 24Hz, not touching 50 or 60Hz, which was just a little alarming. Without doubt, 24Hz is much lower than we'd like, and while the image quality was acceptable, we'd struggled with a suggestion of such a low hertz rate, especially when media is generally encoded for 50 and 60.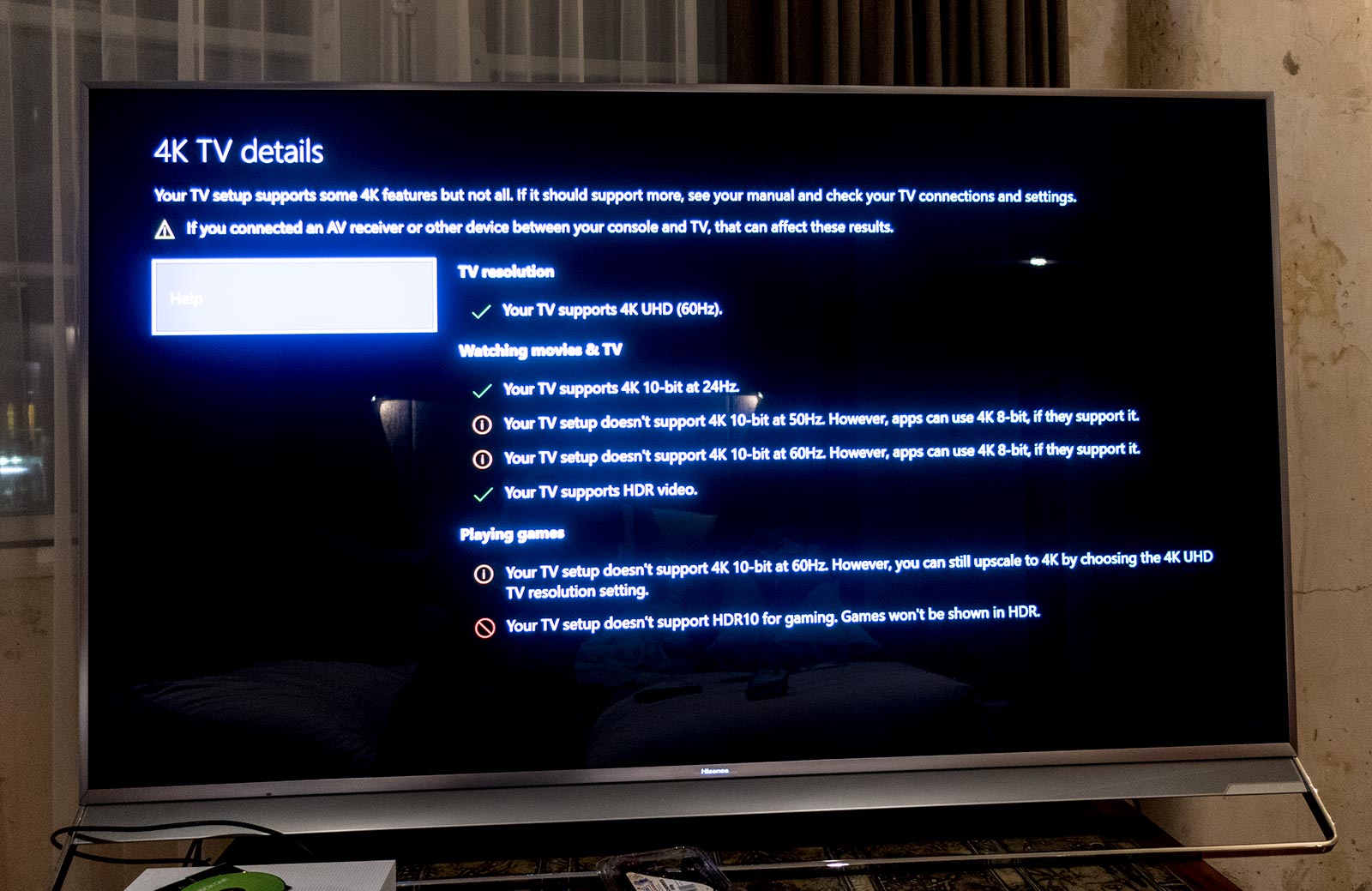 Unfortunately, some of the other issues with this TV persist.
Motion settings are get in the way of nearly every source or app, though once you've set them, you don't have to change them.
We're not sure if there's a highly engineered 4K upscaling system in place, either. We suspect there's supposed to be, but looking at media upscaled from HD, pixelation was more readily noticed even at HD and Full HD being pushed up to the 8 million pixels needed to run on this screen.
At this point, it feels as though you might do a bit better if you relied on a 4K upscaling Blu-ray player, because the technology in Hisense Series 9 4K TV just doesn't feel like it's there.
And that's probably true of most of the options for this TV the moment you go exploring.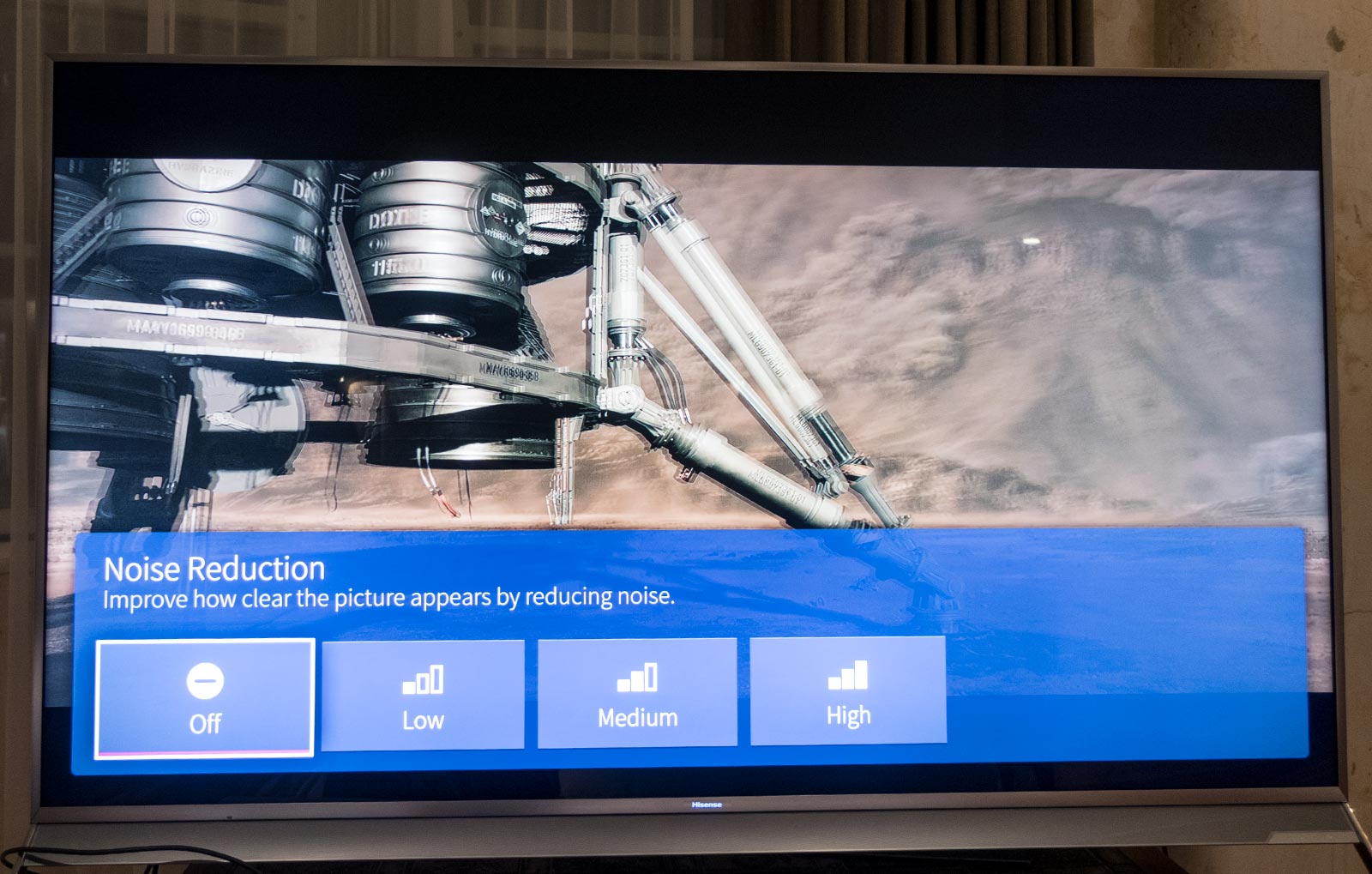 In fact, turn pretty much every setting on that comes out of the box and the TV can go on and do its thing, simply because the features of the Series 9 don't often pan out the way we suspect Hisense suggests.
Noise reduction, for instance, blurs practically everything, creating streaks in films. We've never been big fans motion, and that should be switched off ASAP, creating the Handicam-style motion that only works in sports, and doesn't work well here at all.
We're not quite sure why, but this is just the tip of the iceberg, with some video resulting in judder and streaks, while some 4K media just doesn't seem as clear.
Perhaps we were too close, but it didn't feel as if Hisense's 4K panel wanted you to remain as close in viewing distance to the screen, and that left us feel a little troubled.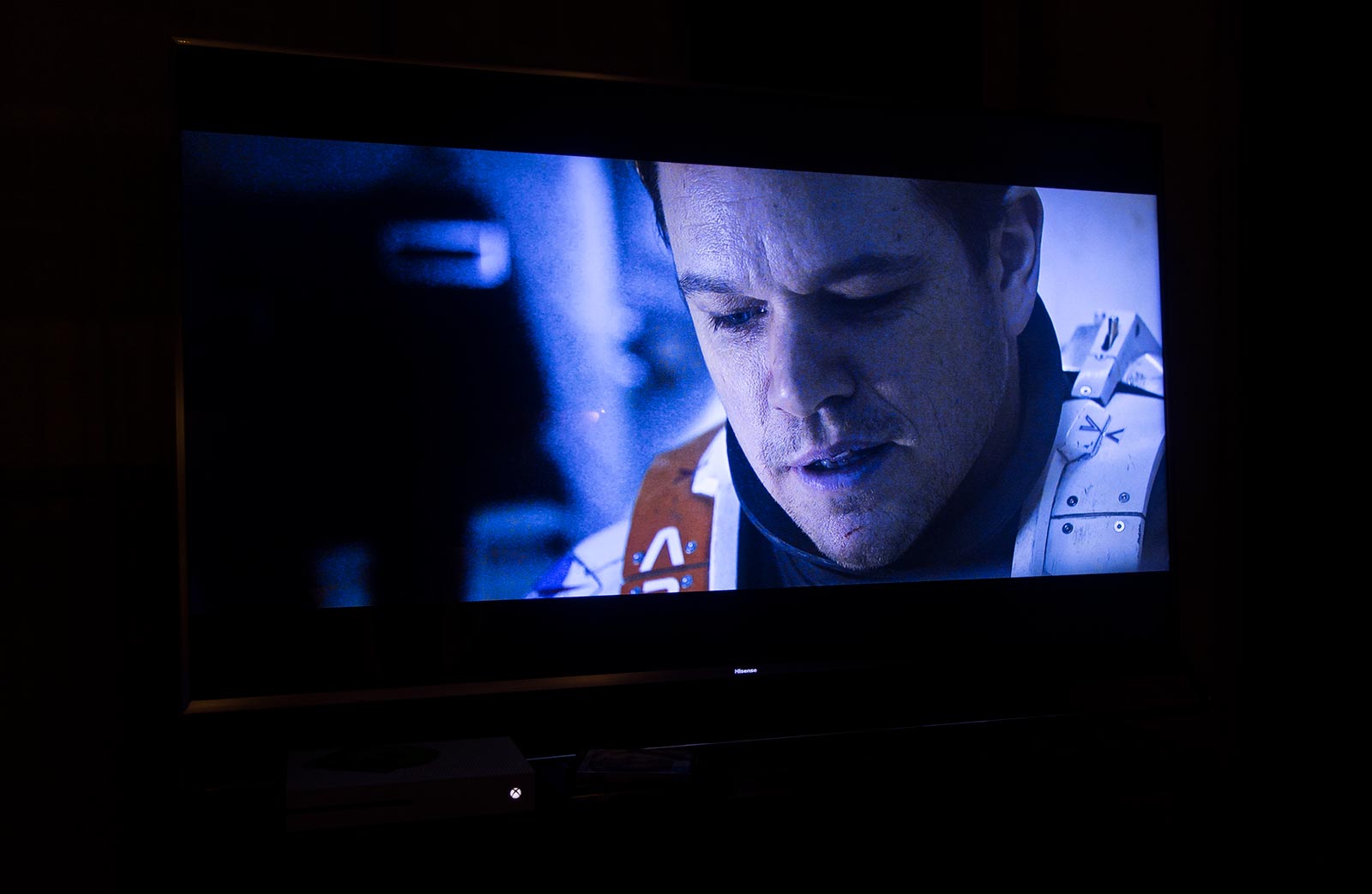 Final thoughts (TLDR)
For us, the staggering issue with Hisense's Series 9 ULED is that we've seen the quality on offer from Hisense in the past, and this has been a brand that has truly pushed out into the world to show that it can battle the big boys, taking on the likes of Samsung and Sony and LG and so on, with value-driven TVs that offer it all.
But this experience has been a touch underwhelming, getting aspects right, while also denting the overall package.
Make no mistake, the 75 inch Hisense Series 9 is one big and bright TV, and if brightness and a solid colour base is what you're after, you will be happy. But if you're looking for something more, you may be left wanting, as it just doesn't seem to come off as sharp or feature rich as other TVs in its price bracket.
If Hisense were to drop the price, the value might be driven a little higher, but right now, we'd shop around, because even if your demands are for a 75 inch screen, your choices are more varied than you might think.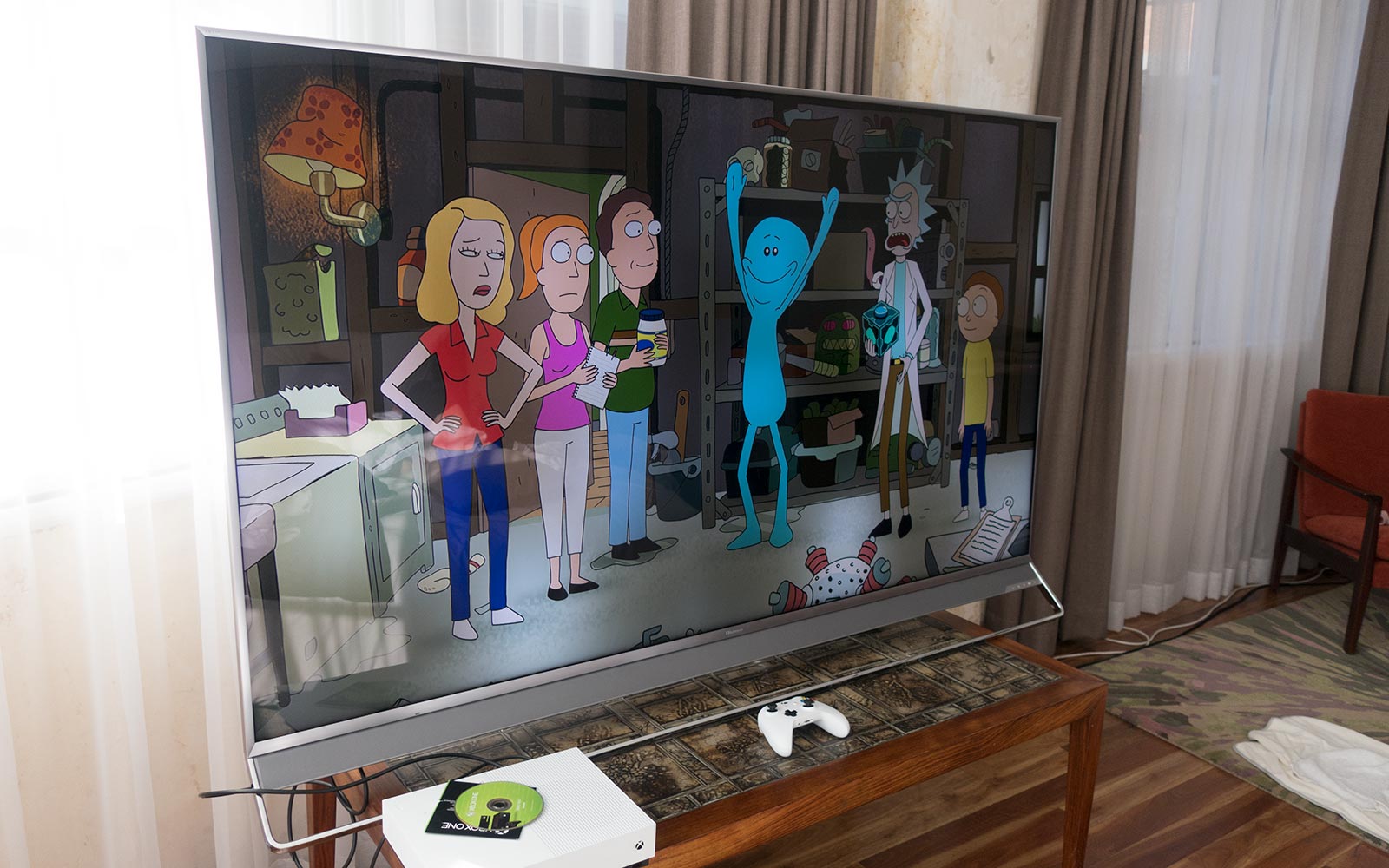 The good
A massive screen
Offers more brightness than any other TV out today
Colours are nice
Supports Netflix, Stan and SBS out of the box
The not-so-good
Judder is severely noticeable on UHD content
4K media doesn't look as good as you might expect
Smart interface offers apps, but not many
Speaker is just terrible, with too much bass and practically no depth
Remote is old school and can only control TV's interface, not external sources
Expensive