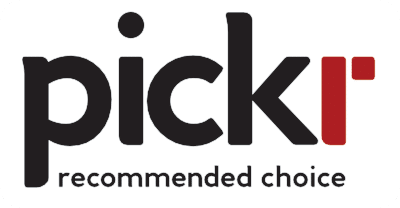 Sony has been making TVs for the longest time, but one area it hasn't released in is OLED.
A technology that has practically been dominated up to this point by LG, Sony has been dabbling for quite a while, building and perfecting behind the scenes as it embraces organic light emitting diodes and builds a TV it can be proud to call its own.
How does Sony's first organic LED TV handle itself, and it is impressive enough to take on and beat the established foothold LG has on OLED?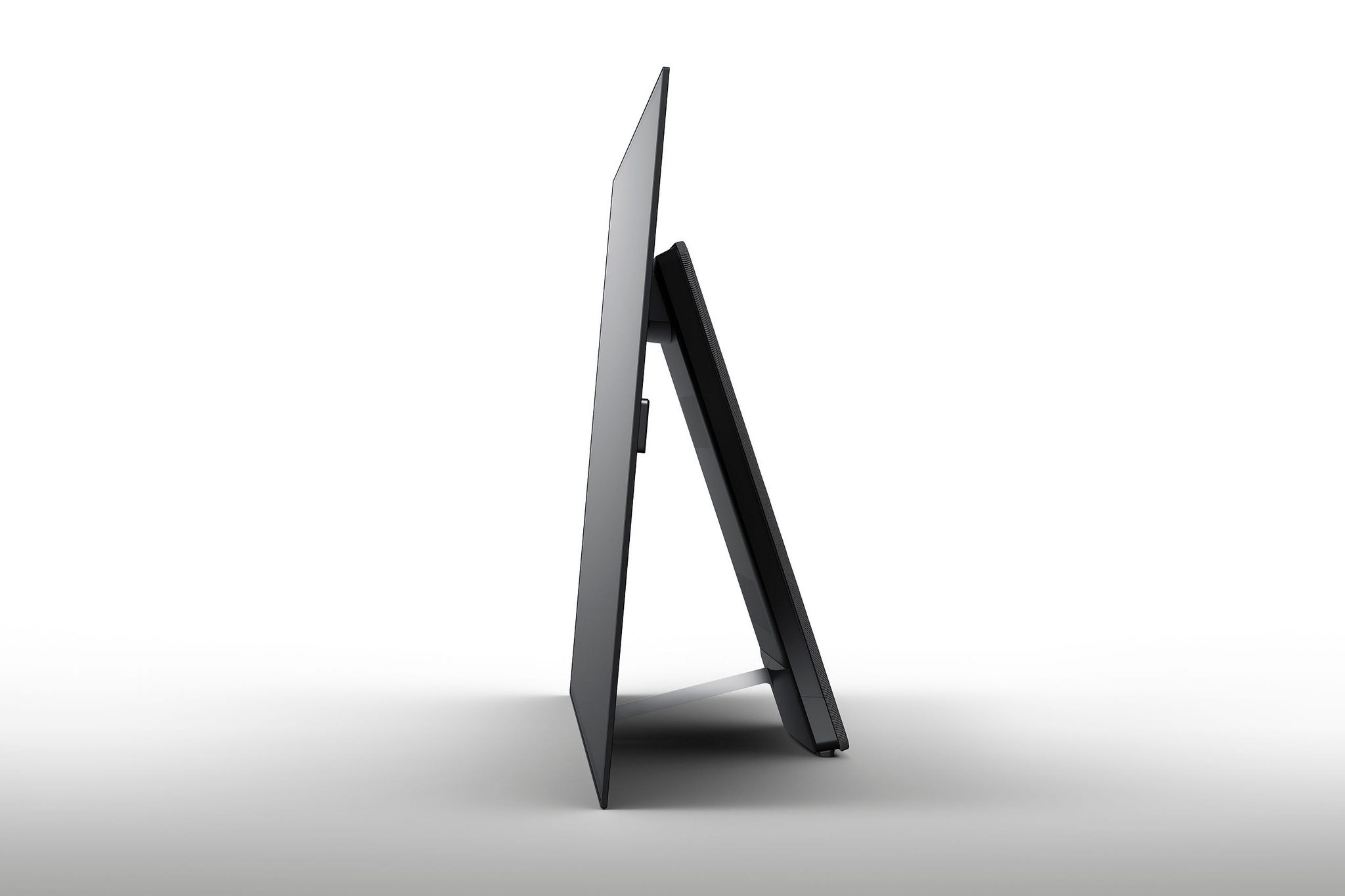 Design
For Sony's first OLED TV, the company has turned to a design we've seen at least once from the company, and to a degree still are from other products: monolithic and minimalist.
That's a style Sony's flagship BRAVIA TVs have demonstrated at least once before, and it provides an elegant minimalist style that is basically all screen encased in some of the thinnest framing you're likely to see. We've seen thicker frames on wall mounted photos, as while the A1 OLED doesn't sport the thinnest frame ever, it's still up there.
In fact, while we're sure it's possible for Sony to go completely frameless, we're glad it didn't, as it gives the massive 65 inch OLED display something to be anchored to.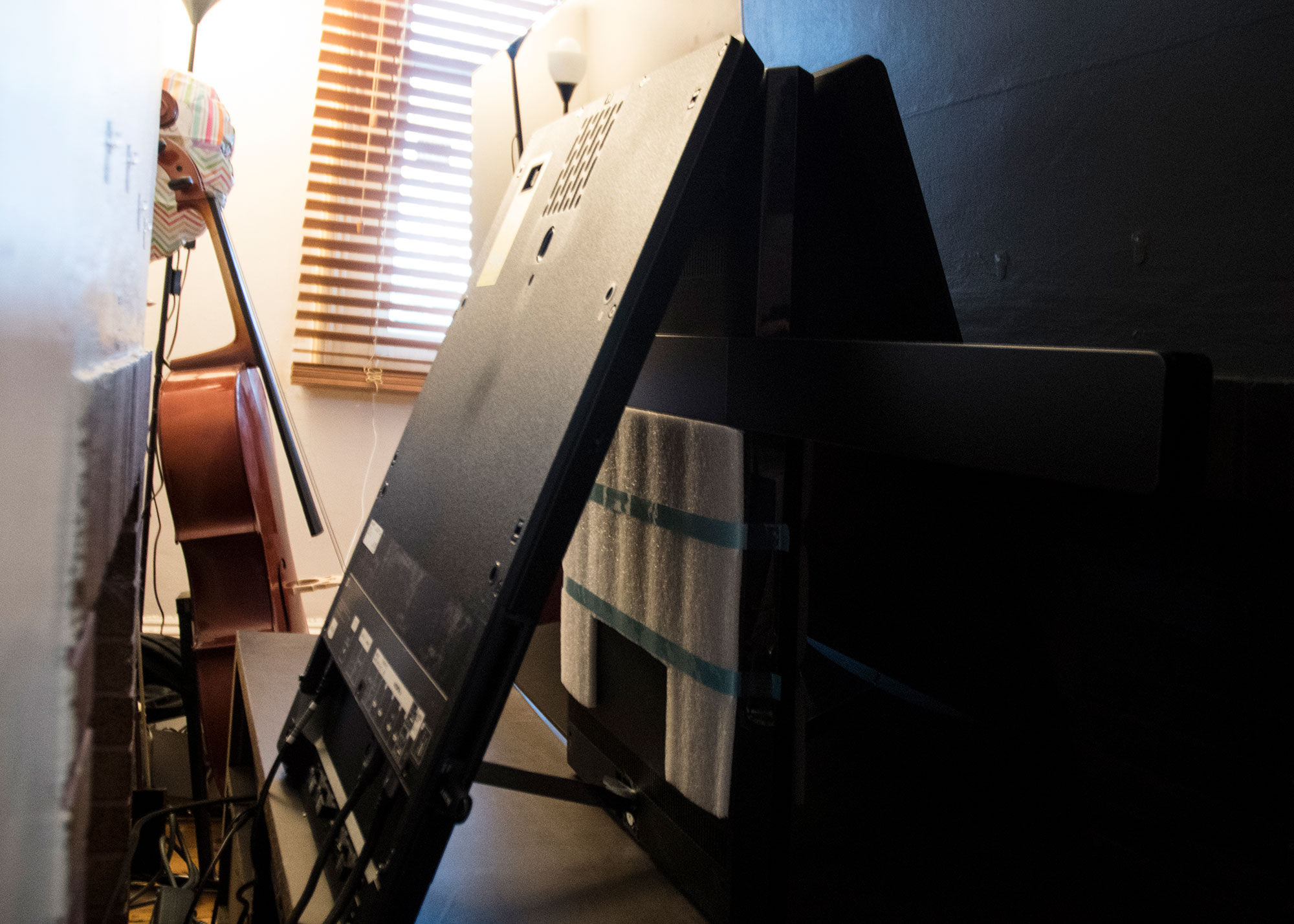 Holding the display up is basically one long kickstand, and without a doubt, it is the heaviest kickstand you're going to put your hands on. You'll know that when you try to set the thing up, as it's just so bloody hard to do without a second person there. We did it, fearing that the heavy and huge display would fall over, but fortunately it did not.
At the back, the kickstand holds itself to the screen with a metal frame, and the whole thing feels stable, even though it's a hassle to set up.
However, the back also features something interesting you may not expect: the speaker port.
There's a perfectly solid reason why there's a speaker port for the subwoofer at the very back, because while this 4K display doesn't seem like it sports a speaker system — evident from the lack of speakers on the side or bottom — the speakers are practically invisible, using the surface of the screen themselves.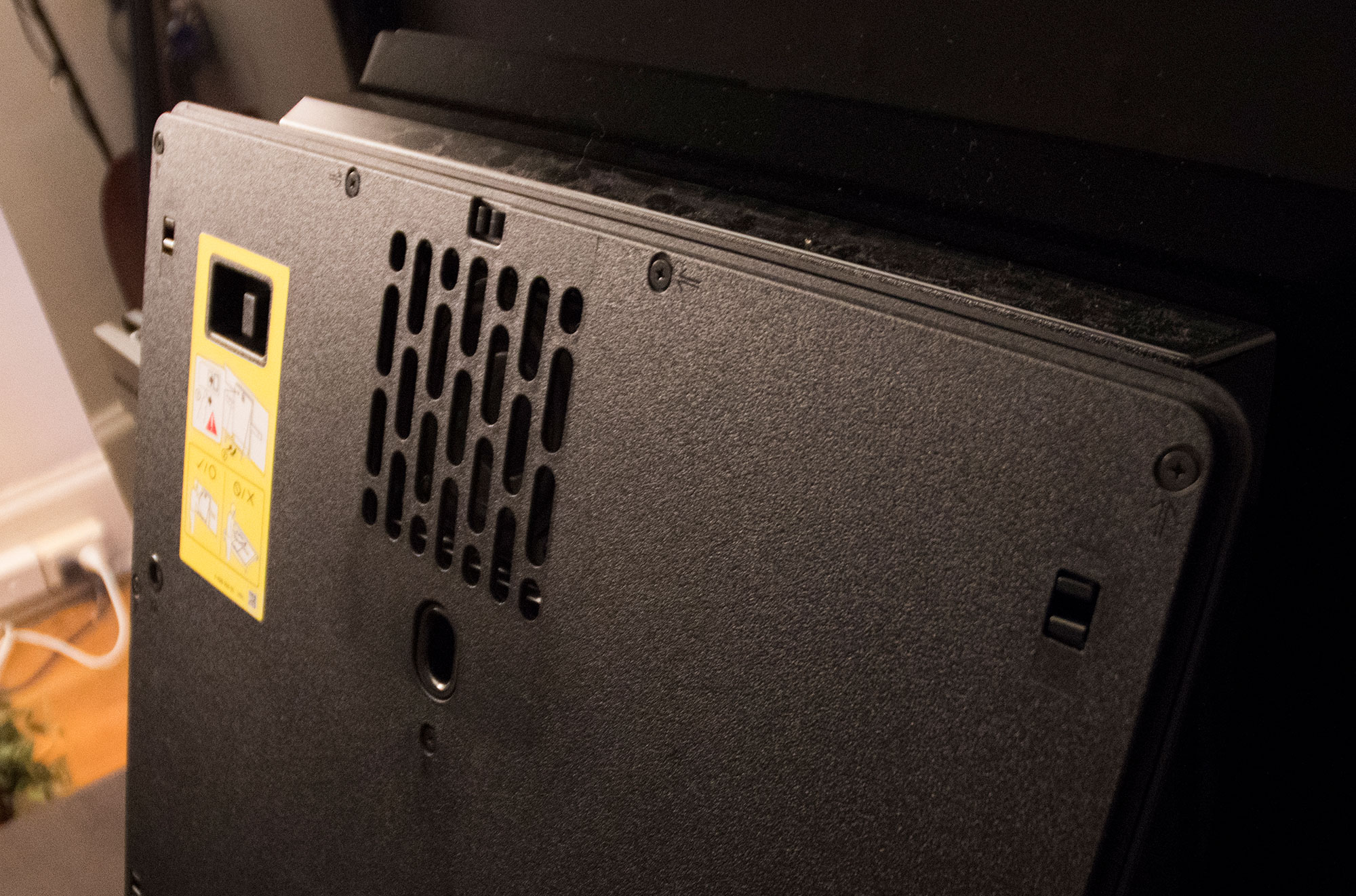 Features
The screen itself is important, and probably the most important part of the package, since it's the primary reason customers will be considering this display.
From a technology standpoint, you'll find either a 55 inch or 65 inch display sporting a good eight million pixels thanks to the 4K resolution of 3840×2160.
There's no support for 3D on this TV, but it is powered by organic light emitting diodes, also known as "OLED", complete with support for high-dynamic range or "HDR".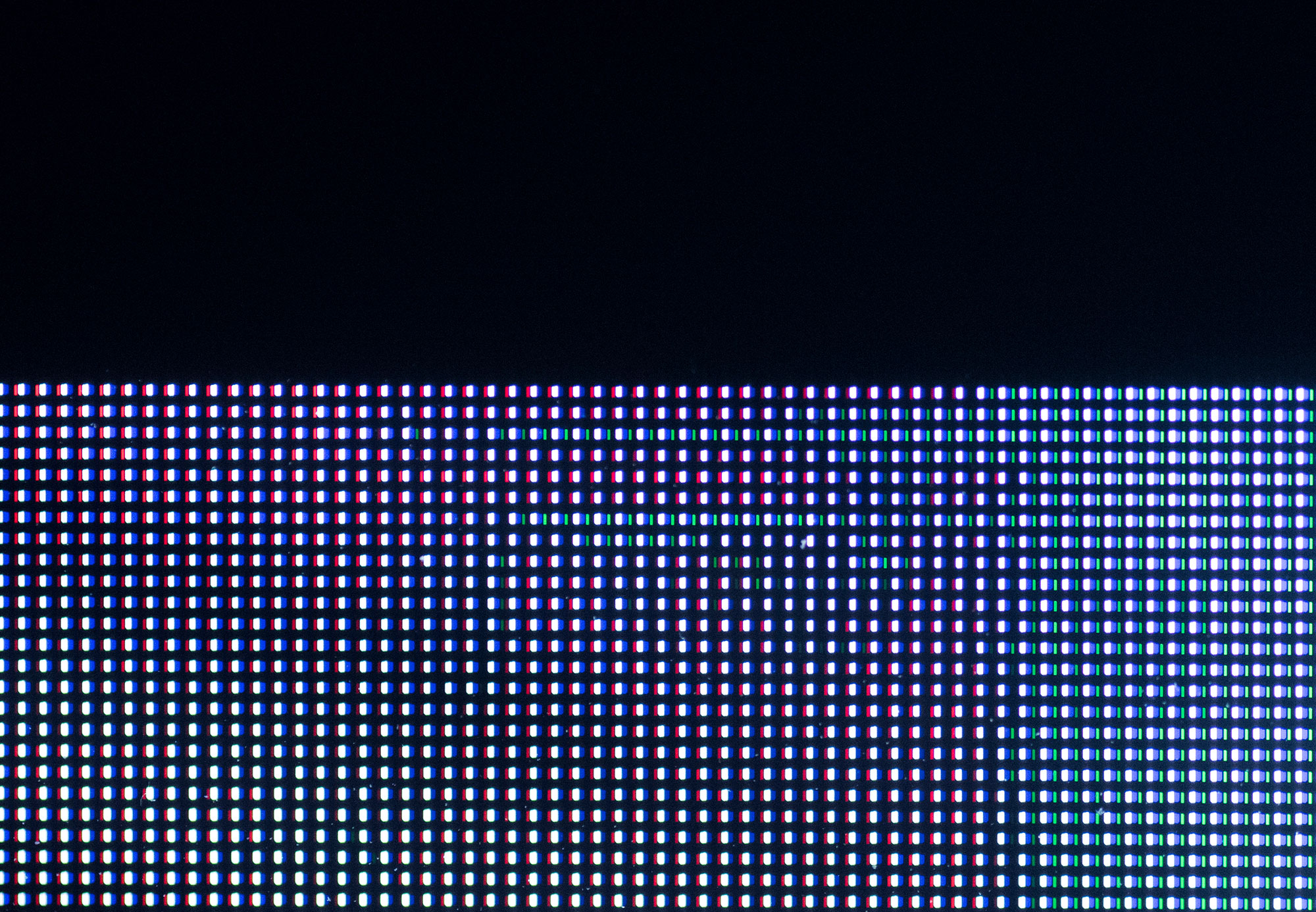 It's not just about the panel and technology inside, with Sony's 4K HDR Processor X1 Extreme handling control of the picture and individually, while the colour is tackled by an array of technologies, including colour mapping, 4K HDR bit-mapping, and support for Sony's quantum dot based Triluminos display technology. Picture quality and clarity are taken care of with Sony's proprietary 4K X-Reality Pro chip.
Combining these technologies, you'll see one of the sharpest pictures to be made available, but you'll also hear it, with a new and special proprietary technology being released with the Sony A1 OLED TV.
Called "Acoustic Surface", it's a unique take on how sound will be distributed, turning the surface of the display into a speaker and generating sound across it. It's a totally different way of transmitting sound to the viewer, and there's really nothing quite like it.
Under the screen, Sony has included support for modern wireless technologies, including 802.11a/b/g/n/ac WiFi and Bluetooth 4.1, as well as Chromecast and Miracast, while the TV can also connect to a network using an Ethernet port.
Wired ports are also varied enough for most, with support for terrestrial for standard TV viewing, one composite, four HDMI supporting the latest HDCP 2.2 standard and the 4K resolution support, as well as 3.5mm out, digital audio out, and three USB ports supporting FAT, NTFS, and exFAT. Good luck confusing this TV.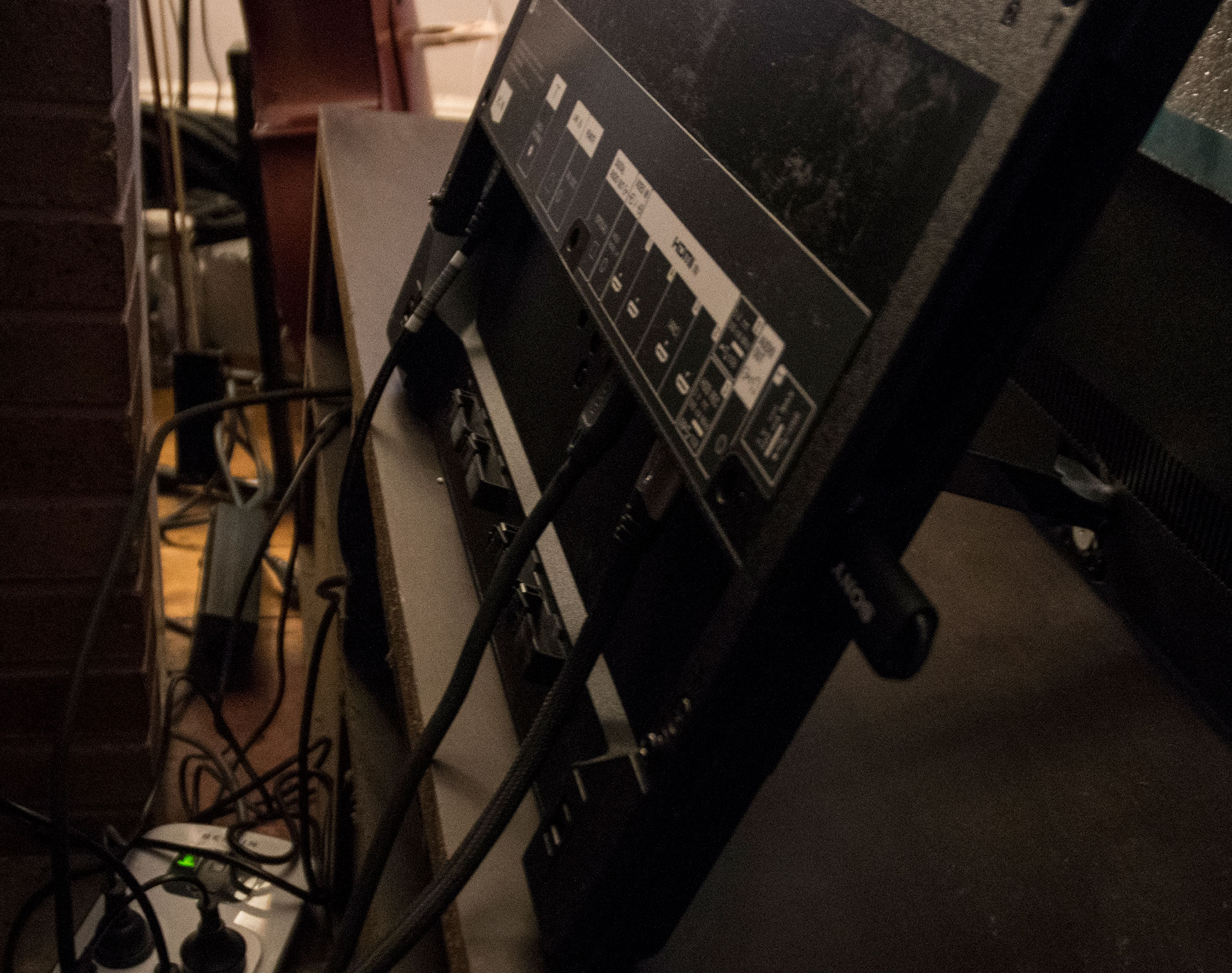 In-use
Switching the TV on, it's hard not to see the solidarity in colour Sony has built in its A1, with the first-time OLED offering some of the most vibrant and resilient colour around without pushing the contrast to mind-blowing levels of unrealism.
We'll get to that in just a moment, because before you actually get stuck into television performance, you have to set the TV up, and that comes with the now-standard Sony setup sequence reliant on Android TV.
Interestingly, if you happen to have a phone — like pretty much everyone does these days — you'll find setup is even easier, complete with an app that turns your phone into a remote, giving you something alongside the standard button remote Sony provides.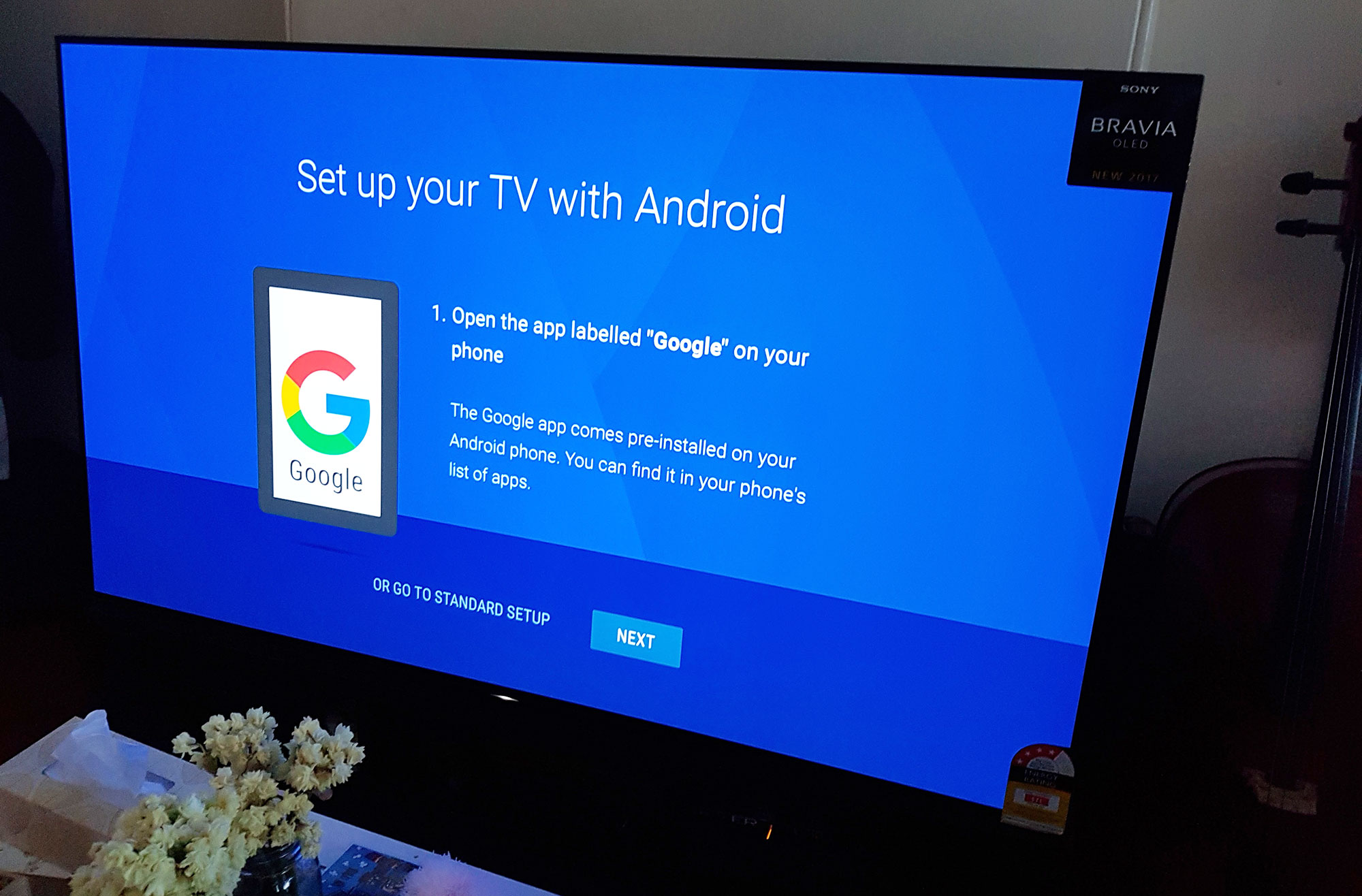 With wireless onboard, you'll find Sony's Android TV setup goes by in a few minutes, with the A1 OLED TV ready to go very quickly, great for those who want to watch their new purchase in a heartbeat.
Getting around isn't difficult with the button-based remote, as the directional pad is your friend to do all the things you'd normally want to do, though there are shortcut buttons for Google Play and Netflix at your disposal, not to mention a smidgen of voice control, too.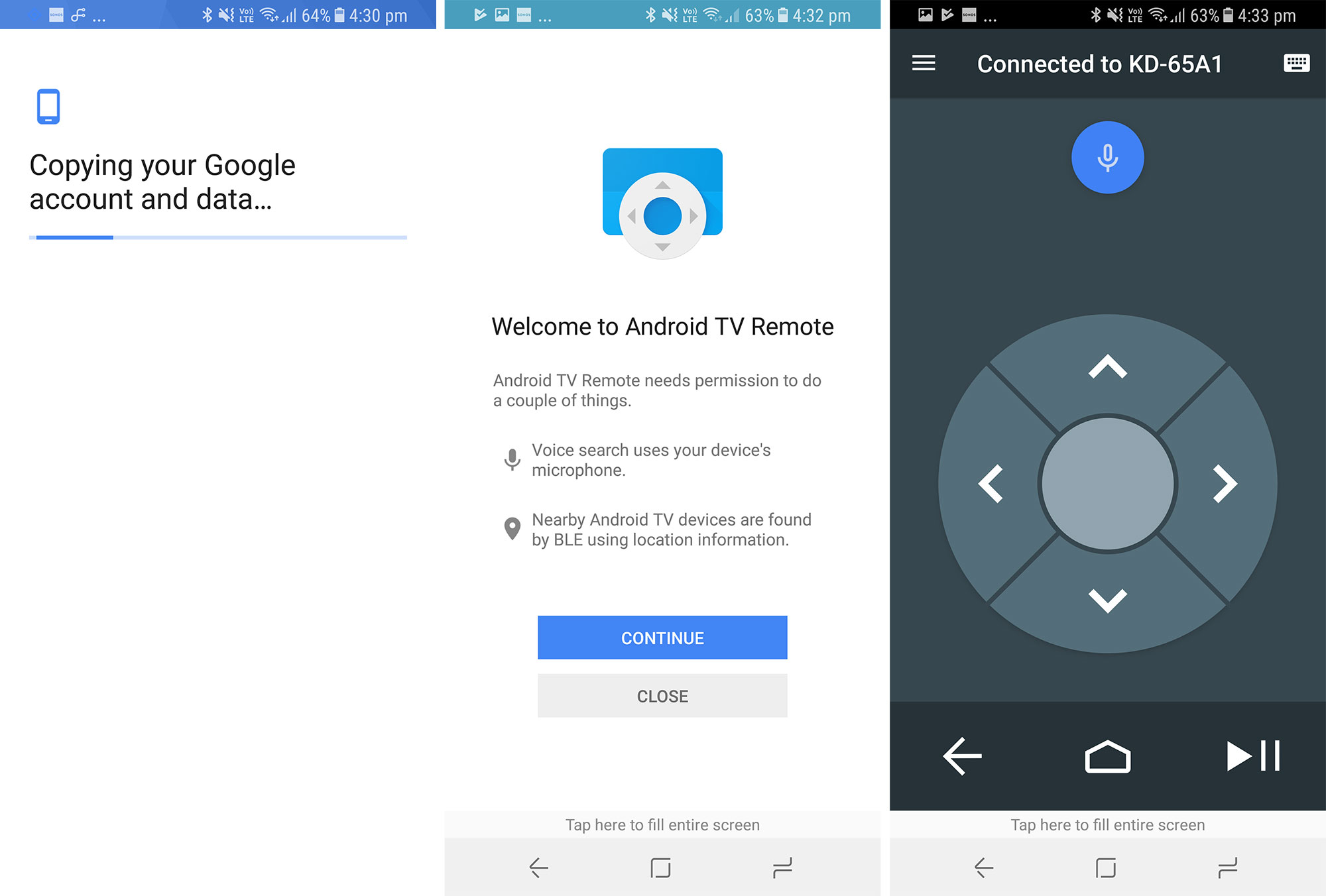 Performance
With the A1 OLED TV in full swing, you'll find the system has no trouble loading up applications from Google's Play Store on the TV, providing a few news and entertainment apps, as well as an easy way of connecting to every source.
Much like other TVs this year, Sony's A1 easily recognises the sources you have plugged in, with the remote able to control not just the Sony 4K Blu-ray player we used to review this TV with, but also the Apple TV.
So you can leave those remotes aside, because they're simply not needed here, and the A1 will take care of when they're powered up and ready for action.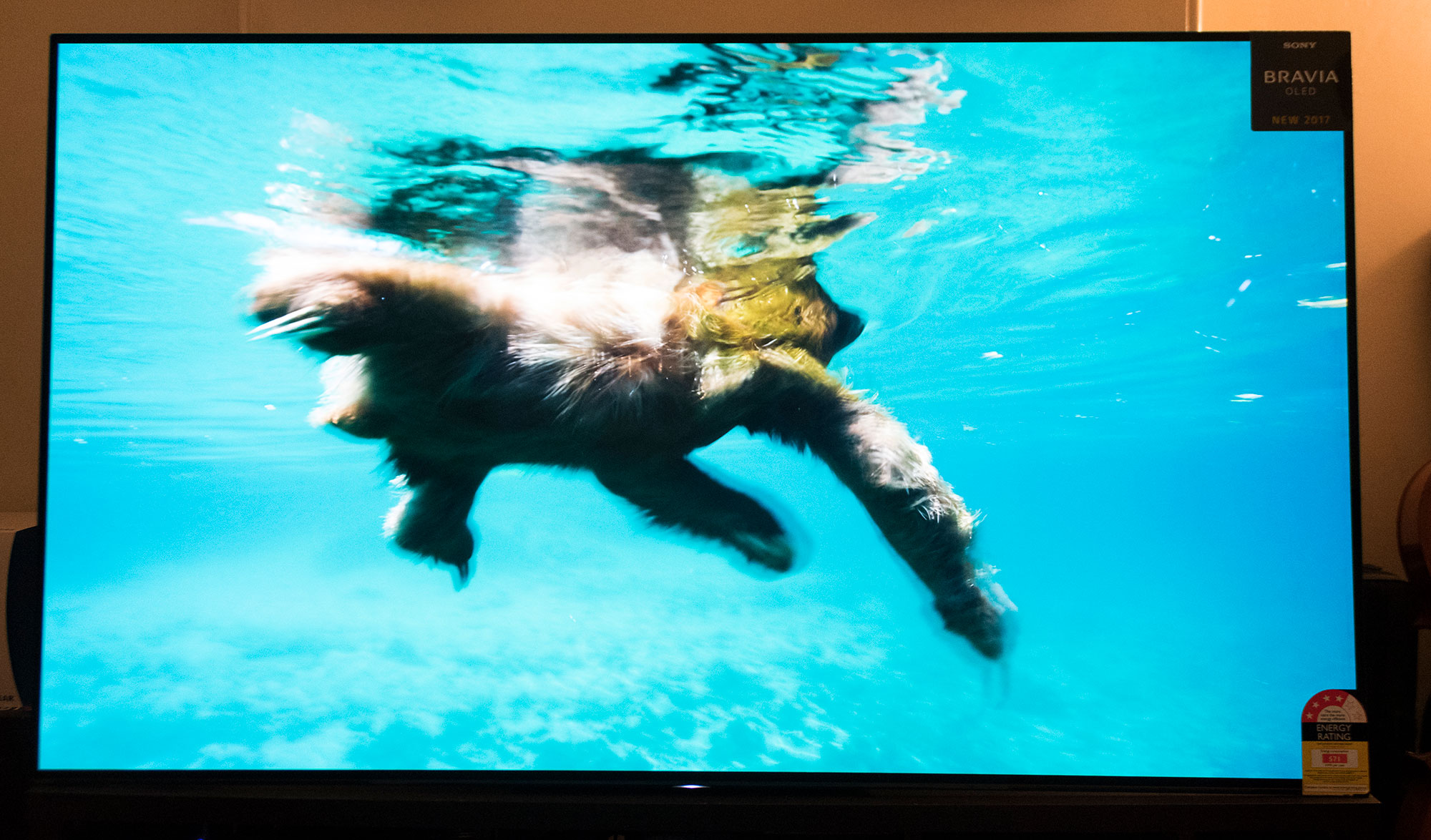 Like what we saw in the review of Sony's X9300 from this year, the A1's use of Android TV offers what has to be one of the easiest smart interfaces to get across, with the Android many phones users are used to, and then apps to jump in and out of.
The catch in this is that while you get a choice of some of the apps on Android's ecosystem, most do not appear here, and some that do don't feel like they're necessarily running at the fastest speed ever.
It's ideal to recognise that while Sony's A1 OLED is a well made television, it may not deliver the same type of goods as a top-end smartphone. In fact, we found some games felt laggy in comparison to what a phone might offer, while the app menus themselves inside Android TV could sometimes be a little delayed.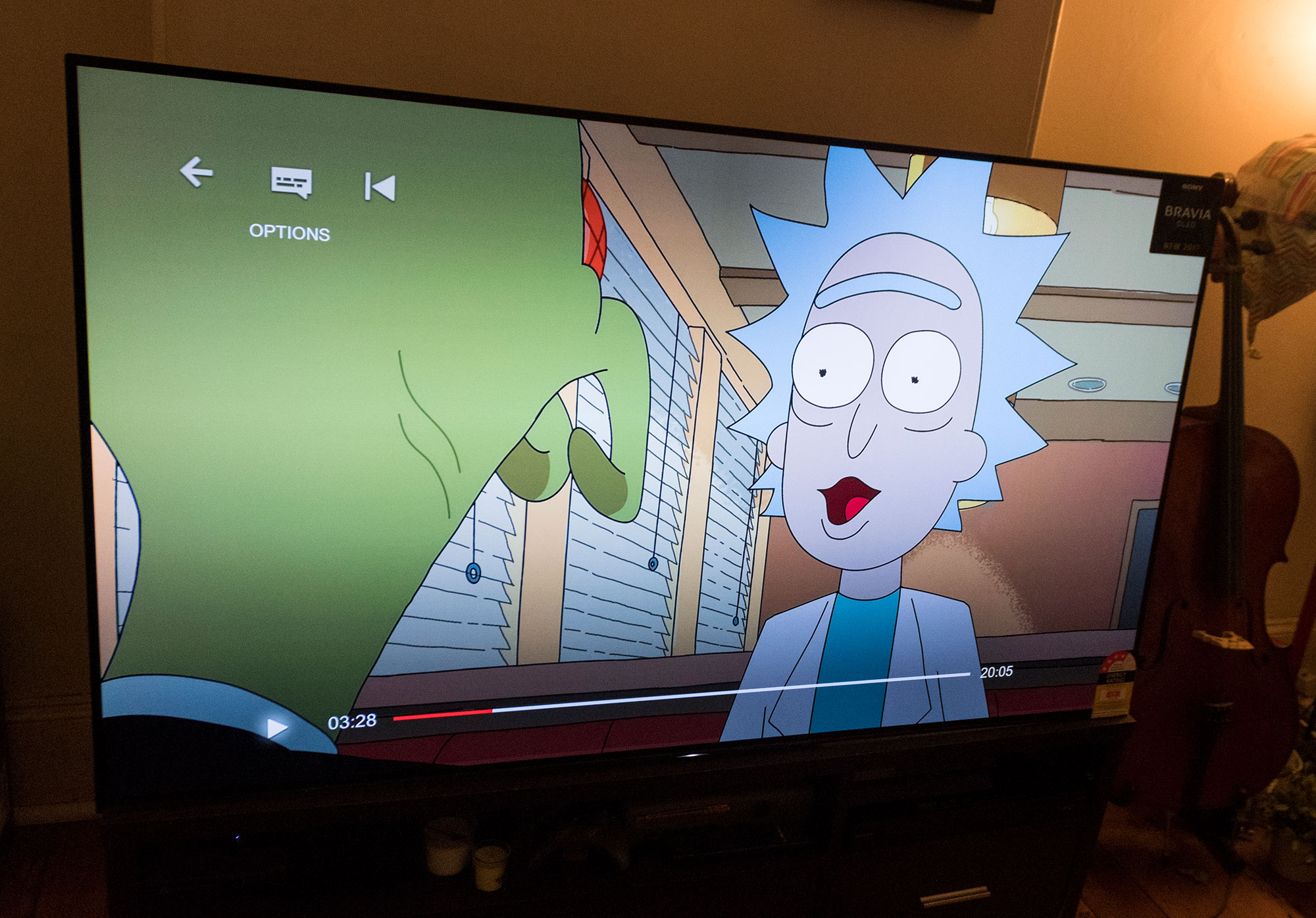 Outside of the Android interface, the Sony A1 OLED is slick, upping the resolution of media that needs it with interpolation, and provided you don't hit pause, the quality isn't bad. Full HD videos won't look 4K, but still don't look half bad, while standard definition is upscaled and can look a little floral in their massive size with softer details, but all are definitely watchable.
At least you know the upscaling engine can handle its own, and most of Sony's processing power really seems to do quite well.
Colour
Likely the most important part of the A1's performance is the colour, and that's an area Sony nails it.
Thanks to the organic component of the TV — those lovely little OLEDs we want to light up the screen — the Sony A1 OLED delivers such beautiful colour, with a sense of dynamism displaying every colour in the crisp capacity a 4K screen should.
While some manufacturers might push OLED to be overly vivid and automagically eye-popping, we found the Sony A1 to be simply glorious, with the high-dynamic range delightfully natural.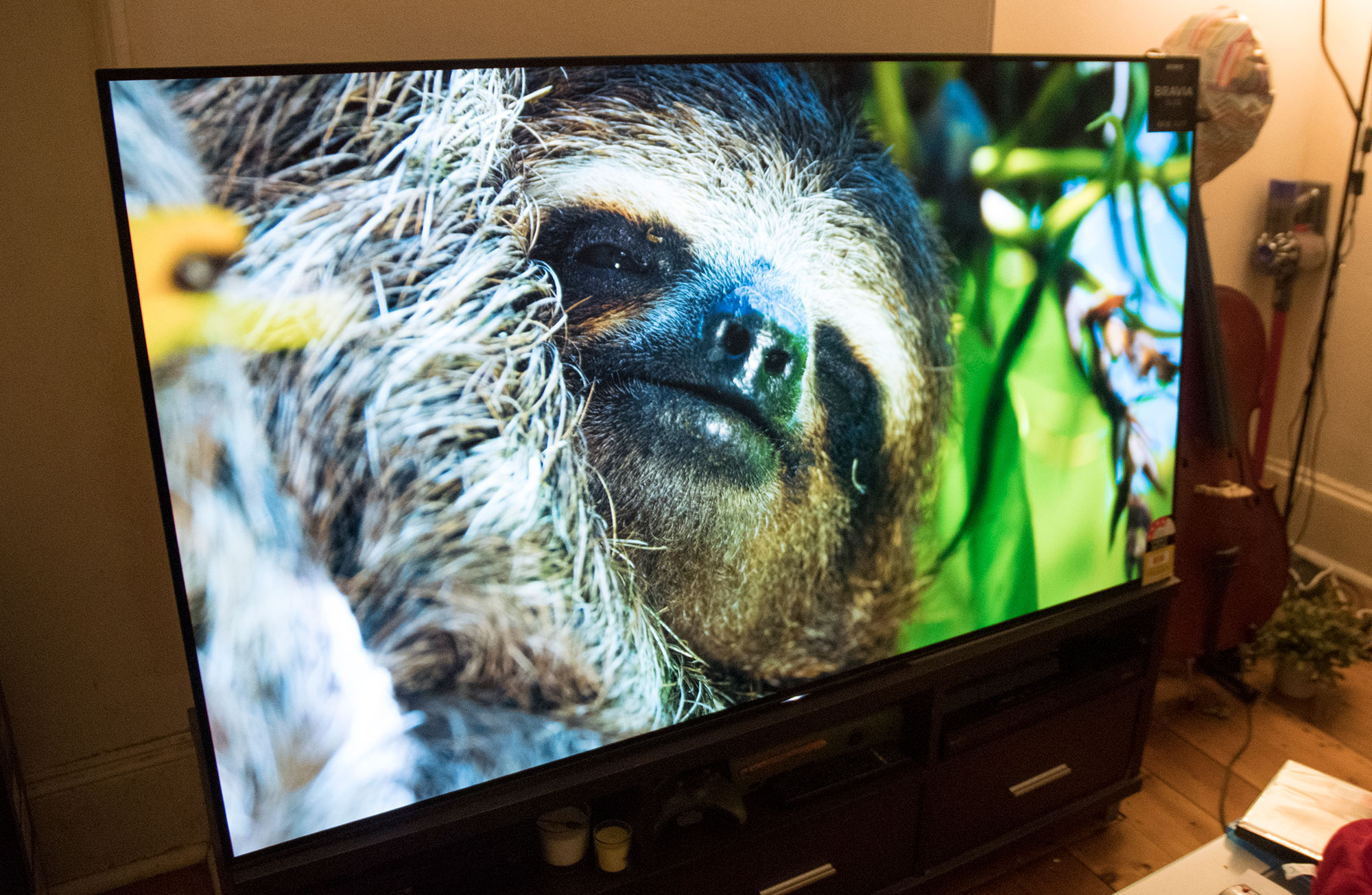 Even older material running at standard definition and Full HD looks brilliant, and while the up scaling from standard isn't as sharper as what 1080p can deliver, the colour is bang on lovely every step of the way, with some of the most natural displays you could ever hope to have.
The black is particularly special, too, and is just one of those things you have to remark on. Repeatedly. Over and over again.
Quite seriously, when these OLEDs switch off to reveal the black bars that make up letterbox in widescreen, you'll have a hard time working out whether the screen is actually properly 21:9 or whether that's just the excellence of the TV.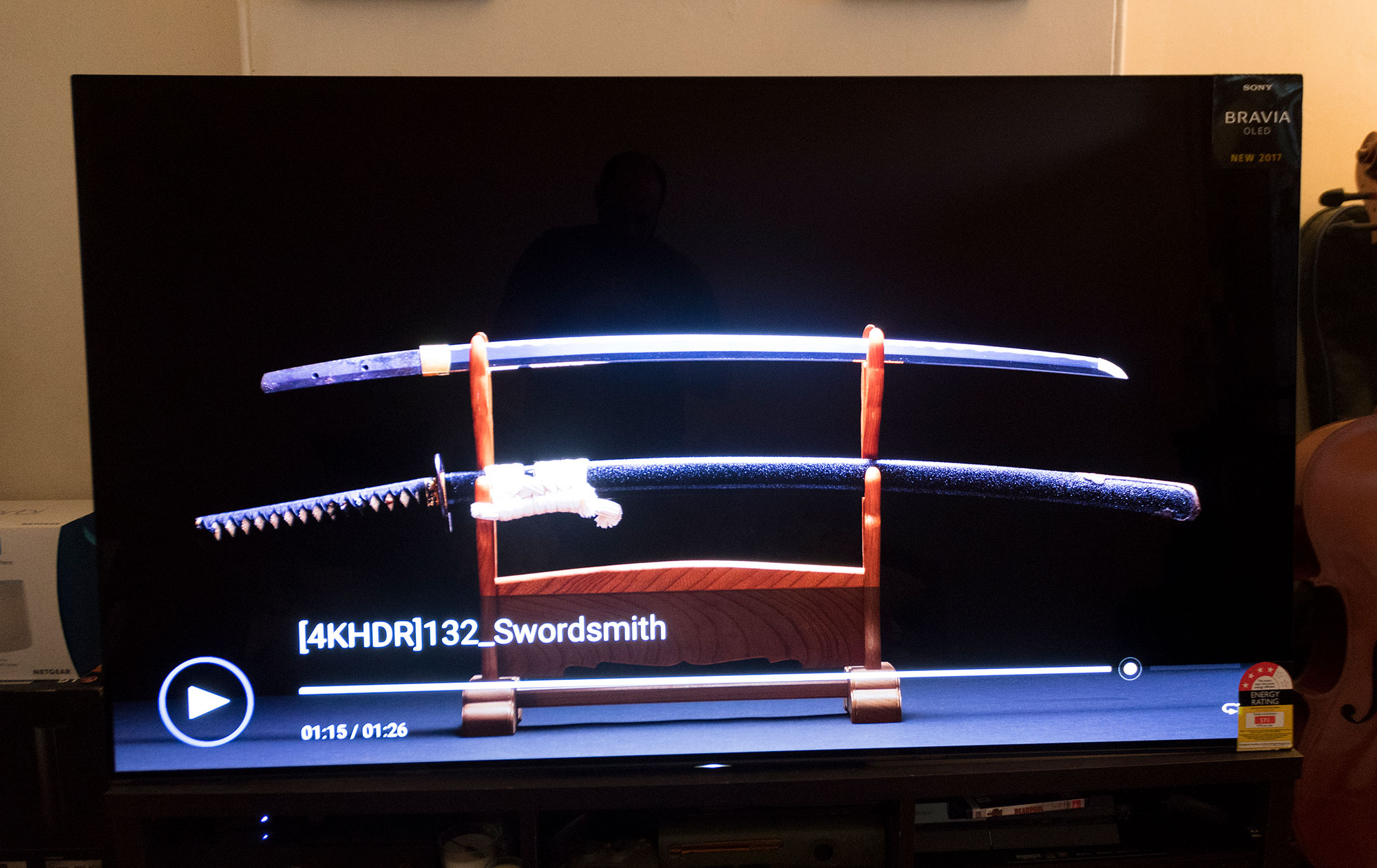 And yes, it's the latter, because the blacks are just that damn good on this screen, and you will swear that they are off. It is most excellent, and something only OLED pulls off this well.
If we're honest, given the breadth of TVs available in Australia this year, the Sony A1 OLED could be a little brighter, because while it's lovely to look at, it does feel as though Sony hasn't quite nailed the brightness on offer from Samsung's QLED range this year.
That said, there's no doubting that the Sony A1 OLED TV is an exceptional display, and plied with the right content, it just looks so good.
Ultimately, if you keep hoping that a 4K Ultra HD TV looks as good as the real thing, the colour in the Sony A1 will delight, you just need the 4K content to truly make it shine.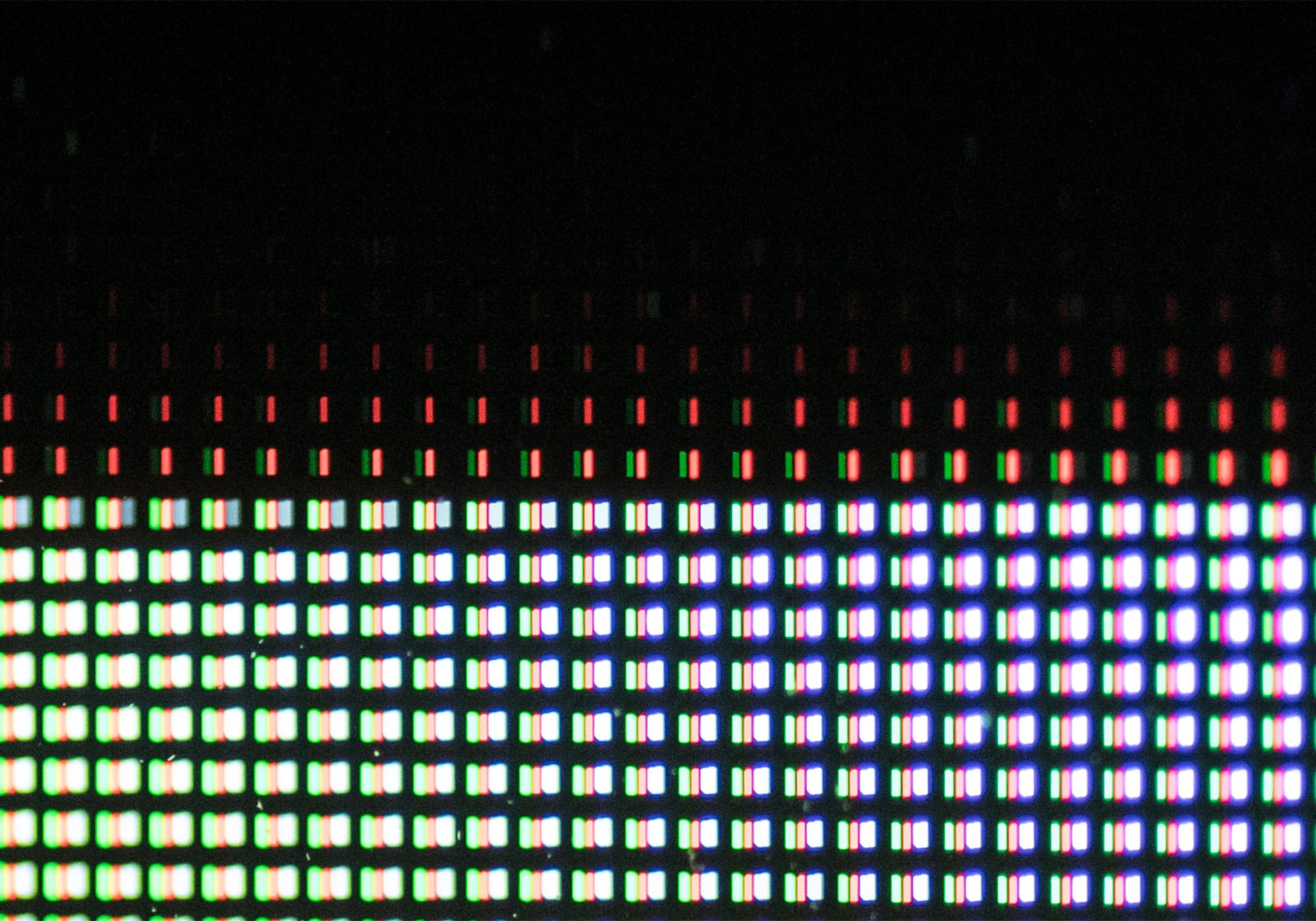 Sound
Next is sound, and the technology on offer in the A1 is a little more than what you get in your standard TV. In fact, the sound on the Sony A1 is bloody impressive.
Ever since Sony announced the A1 back in January, our biggest curiosity wasn't for the OLEDs on the screen itself, but rather for the sound system.
In typical Sony fashion, the company has reinvented the way sound was to be delivered, removing the speakers that would normally be found on the side or bottom of the screen, and instead working away behind that nice screen you'll be watching.
You see the Sony A1 OLED TV includes a technology called the "Acoustic Surface" which includes a wholly unique approach to sound, making the whole panel do something special and creating sound that can essentially be more even across the board.
The port at the back of the TV on the top of the stand acts as a subwoofer, and this all comes together to make sound quite dimensional.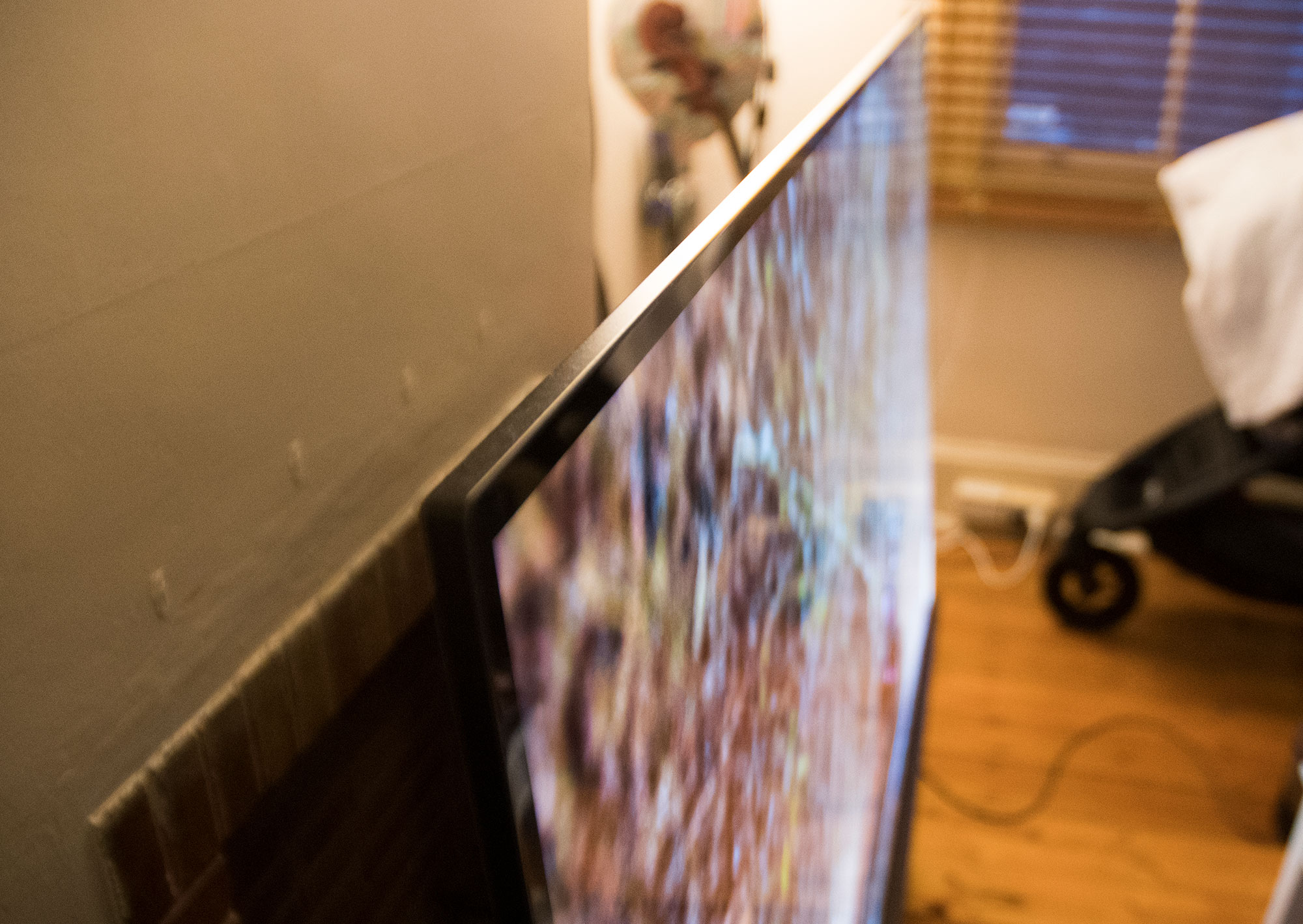 In fact, the sound isn't just good, it's very good.
The sheer size of the Sony A1 OLED TV forced us to take our Sonos soundbar off the home entertainment unit, leaving us to question if the built-in speakers would satisfy.
Boy, were we surprised.
With the entirety of the OLED screen creating sound using speakers just behind the display and working together with a subwoofer, Sony's screen-based speaker system proved not only that it was loud, but strong, too.
Music offered lovely tonality, and films delivered the sort of strength you'll come to expect out of an external sound system. In fact, Sony has coupled its Acoustic Surface technology with its ClearAudio+ processing technology and the Digital Sound Enhancement Engine or "DSEE", a bit of sound tech we've previously seen on Sony's excellent MDR-1000X headphones, and it all comes together to absolutely shine.
In films, Sony's S-Force Front Surround handles audio across left and right channels and emulates front and rear fields, truly making an impact in the way surround speakers are designed to.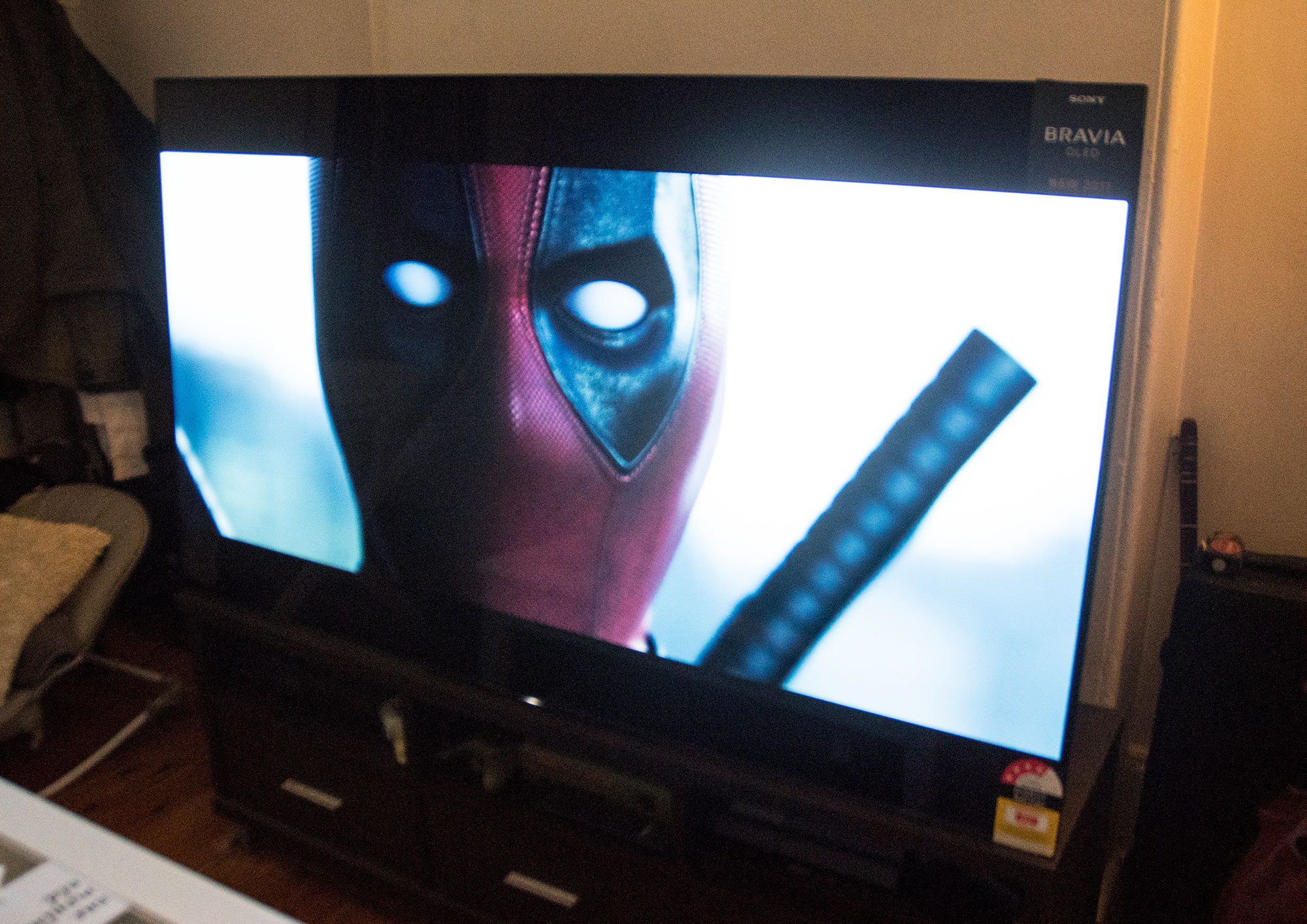 You'd never believe it, but Sony's A1 OLED TV sounds amazing, delivering volume, impact, and balance in a way that is practically invisible. In fact, the Acoustic Surface used in Sony's A1 OLED TV is so remarkable, and you won't even need a soundbar or speaker system at all. It's just that good.
We've never heard a TV sound this good. More of this from now on, please.
Remote
While the sound is amazing, the remote is not.
Just like what we experienced with the X9300 LED-backlit 4K TV from earlier in the year, Sony's 4K A1 OLED includes a button-based remote with practically zero modern design styling or gimmicky controls.
On the one hand, that's worth a cheer, but on the other, it's not what you expect from such a premium TV. There's no keypad, no motion controls, no touchpad, and no gestures; rather, it's just buttons and lots of them.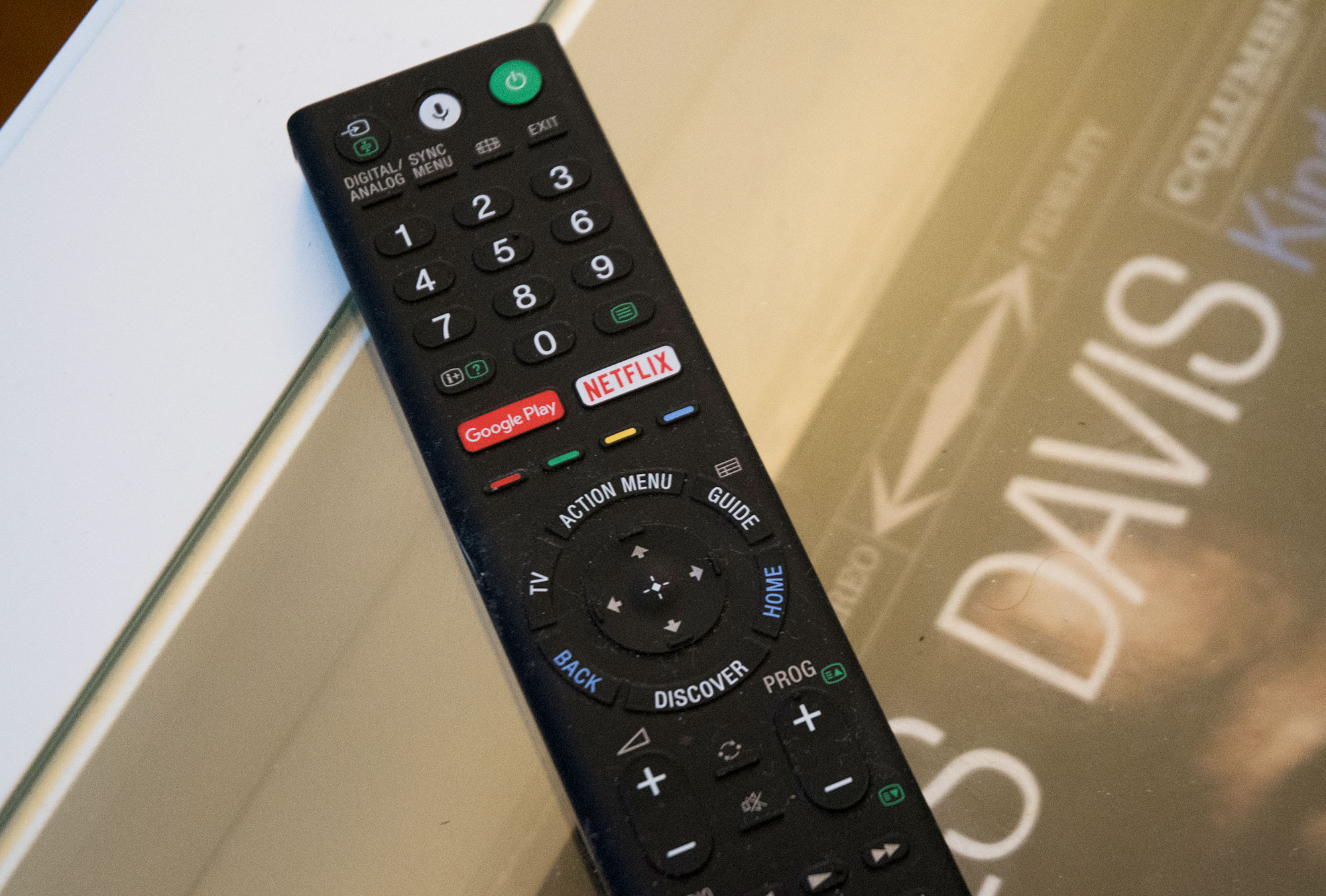 That seems to be a thing for Sony, evident across its range, though we're surprised to see such a lovely high-end TV sporting a ho-hum mediocre remote.
At least you get a Netflix button, a Google Play button, and a microphone to talk to Android TV, not to mention the ability to control all your video sources through the standard TV remote, but we just wish there was more to it.
Something as modern as the screen would have truly been appreciated, and this remote hardly looks like it goes with the futuristic screen.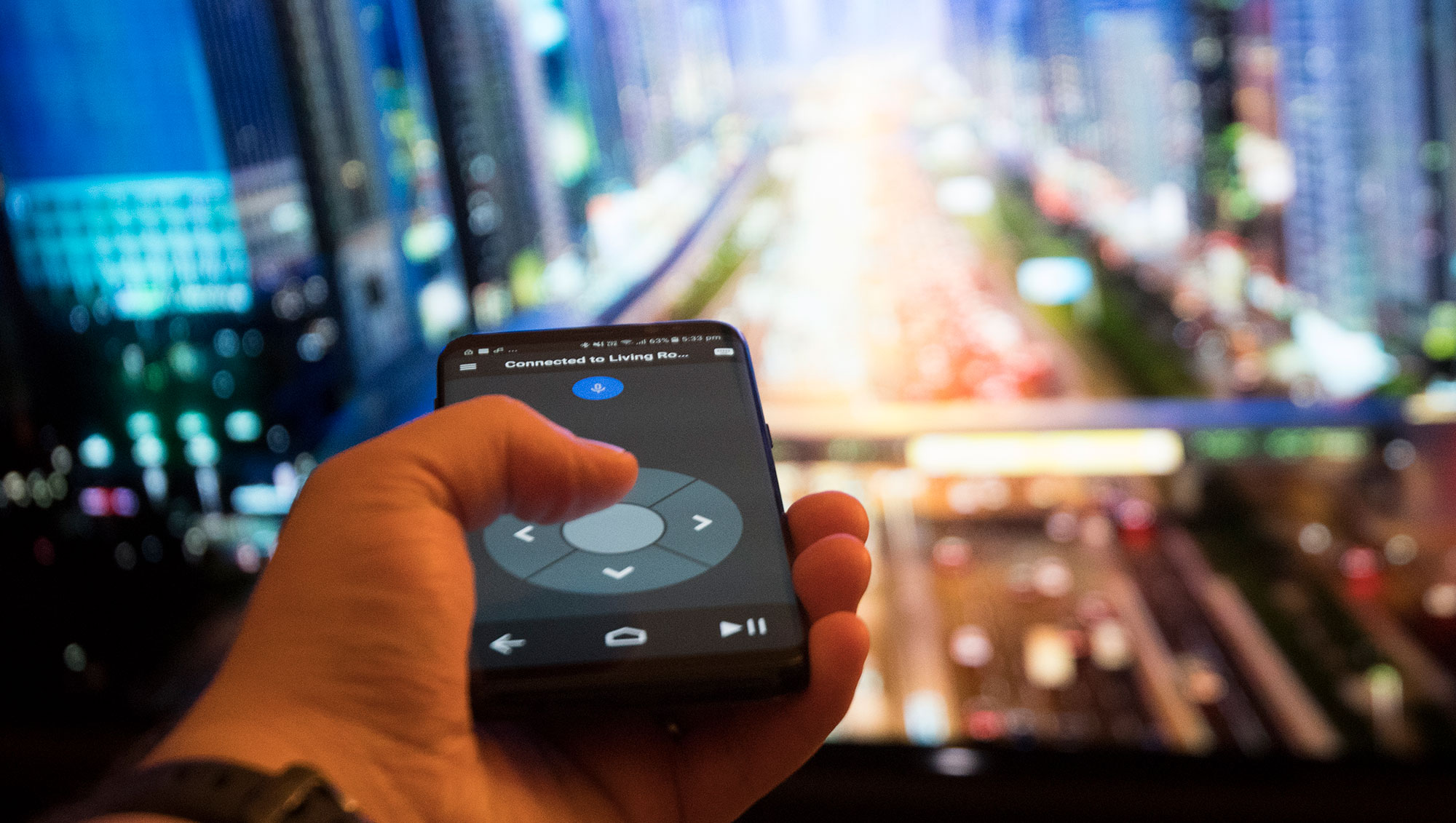 Value
One thing's for sure about Sony's first OLED: it was never going to be cheap. That generally goes part and parcel with each new generation of tellies as it is, but it's definitely true when dealing with the high-end part of the market that is OLED.
Screens using this organic technology are usually more expensive because the tech inside is much newer, and so you're paying for it with a hint of an early adopter fee.
Despite this, Sony's A1 OLED isn't priced as high as we expected. In fact you might say it is aggressively priced, giving customers something to really think about and consider Sony's first OLED.
Sitting at $4999 for the 55 inch model and $7499 for the 65 inch model we reviewed, Sony has actually struck a surprising balance, delivering a flagship in a market that normally charges between $6000 and $13000 for similar TVs.
While not a bargain, this makes the Sony A1 OLED surprisingly good value for a flagship OLED, and that's exciting.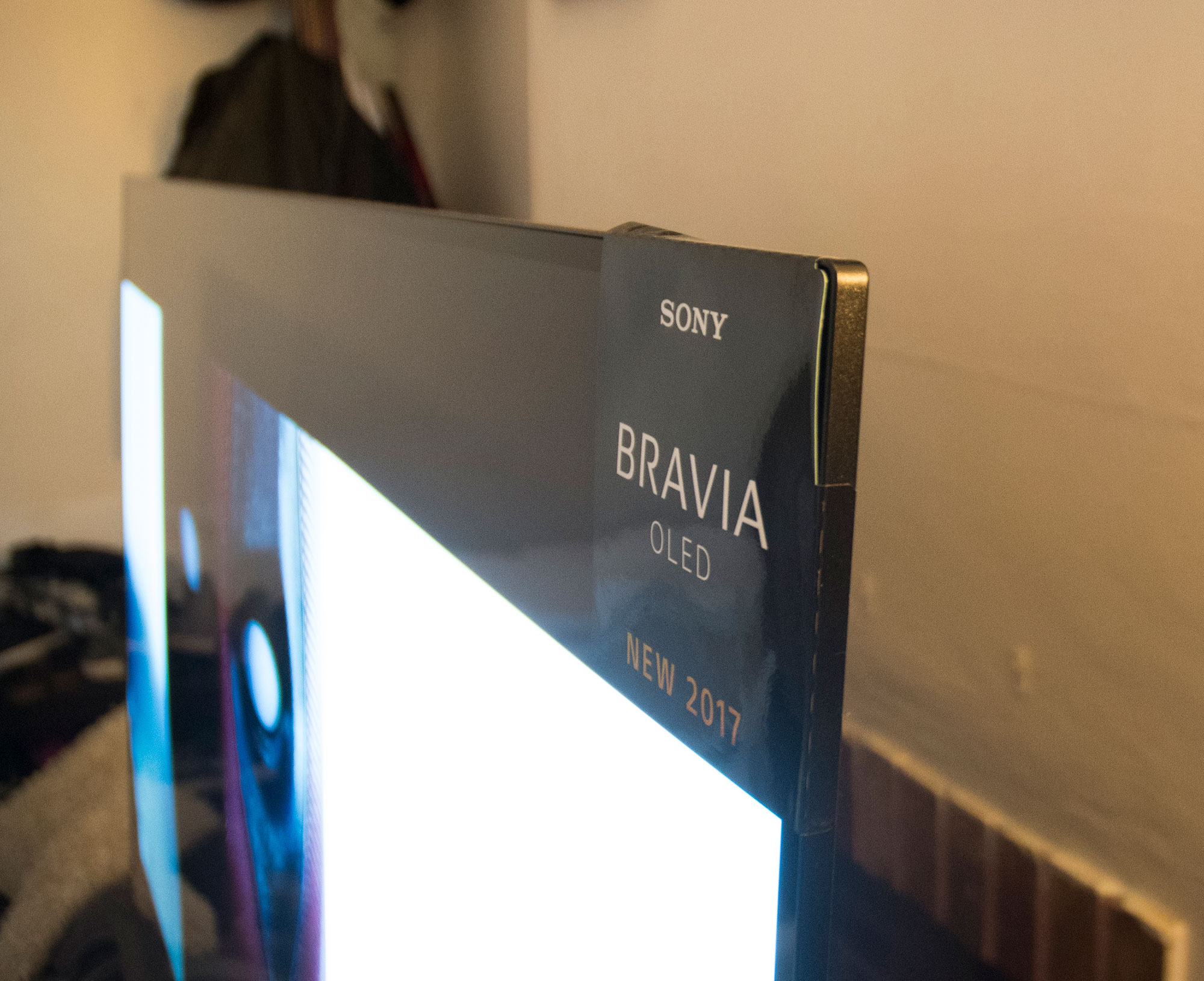 What needs work?
On the positive side, the price is better than we expected, but if we have one seriously critical complaint about the Sony A1 OLED TV, it's the stand, and good God, Sony, what were you thinking with this part?
It is without a doubt one of the mostly fussy and heavy parts, making one of the more frustrating setups that definitely requires two people.
It's big, heavy, and needs a lot of space and a pair of extra hands on standby, but when it's done, it truly looks the part, with a monolithic simple and clean TV that makes small rooms look like they're a cinema and big rooms viewing the most minimalist TV on the planet.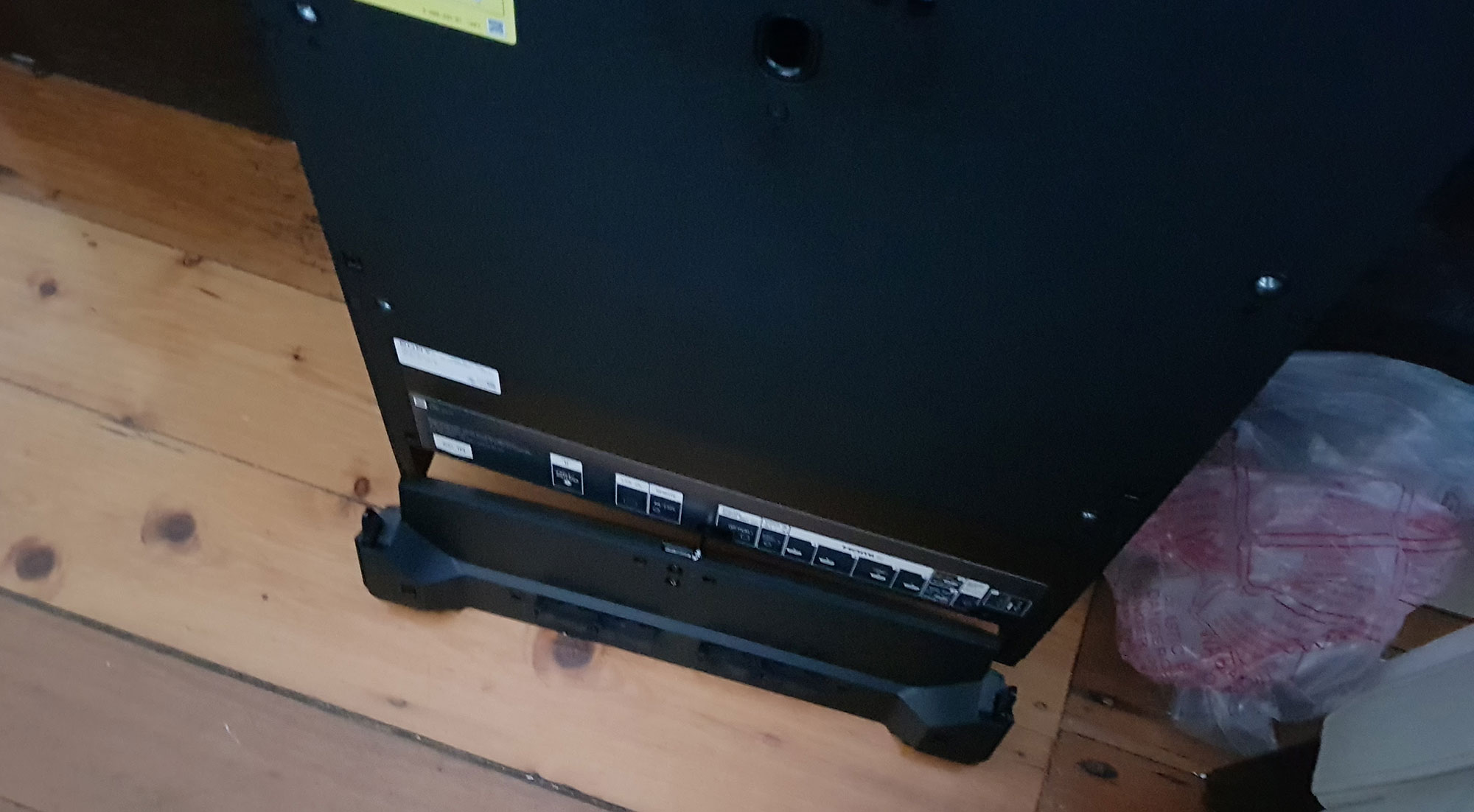 But that stand setup is just so difficult. Make sure you have a friend on standby who likes helping by holding a heavy TV into place while you setup metal rods and large chunky kickstands.
There's also another issue, but it only rears its head if you happen to have a soundbar or are keen to use a centre channel speaker.
Simply put, if you normally rely on that tiny amount of space and height to sit your front speaker or soundbar, you will be a little confused on where to place the thing, and that's because with this beautiful screen heavy design, no space has been left for your speaker.
In the House of Stark, this meant taking the regular soundbar out for the time being because nowhere was suitable. About the only place that makes sense is under the stand itself, but that would impact the sound dramatically.
Essentially, if you plan on using your regular sound system, make sure it can be set up appropriately, or just rely on the excellent internal sound of Sony's Acoustic Surface technology.
Final thoughts (TLDR)
The term "A1" is an interesting choice for Sony's first OLED TV. On the one hand, it's likely we're just seeing the first of a new breed of television for Sony, because that's certainly the case. We're not sure how long it has been since Sony first announced it was working on an OLED, but this journalist recalls it early in his career, suggesting likely 2007 or 2008.
Fast forward nearly a decade later, and we finally have that new generation of television for Sony, making a new TV, which could easily represent that name of "A1".
But "A1" also means the best of the best, it means a thoroughly excellent thing, and most importantly it means the number one choice, which Sony's A1 OLED TV definitely qualifies as.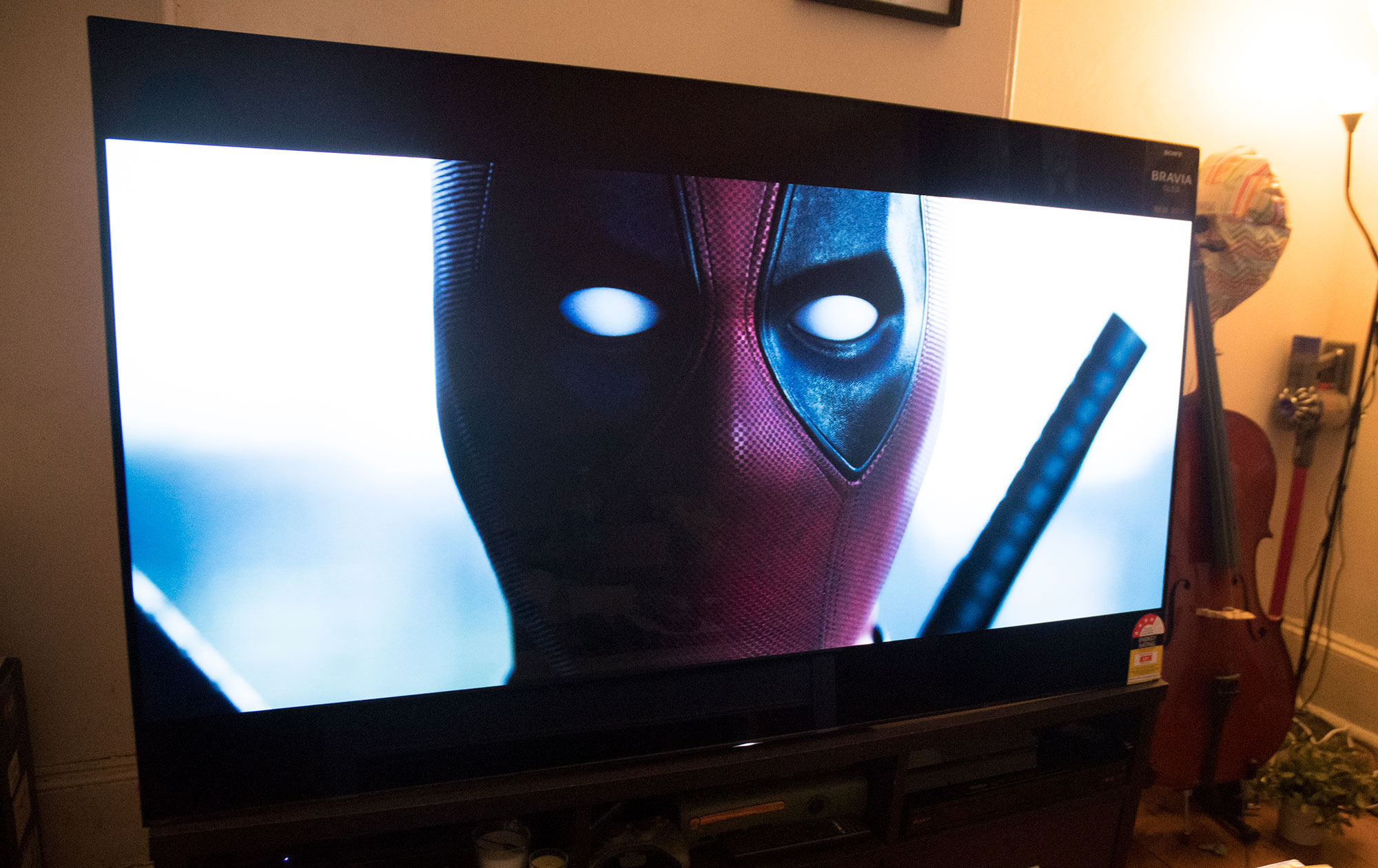 Without doubt, the Sony A1 OLED is A1 quality, no questions asked, and even though the stand is a touch maddening and the remote is positively old school, neither are enough to dampen our love for the Sony A1 OLED TV.
Simply put, Sony's first OLED TV is one of the best out there, offering beautiful colour and exceptional sound in a screen that is about as beautiful as it gets. It's simply a beautiful TV, and one you'll fall in love with.
While the brightness could be a little more impactful, we have no doubt that those who can afford this massive display will fall in love much as we did.
Set your expectations to high and leave them there. Seriously, Sony's A1 OLED is just that good.
Highly recommended.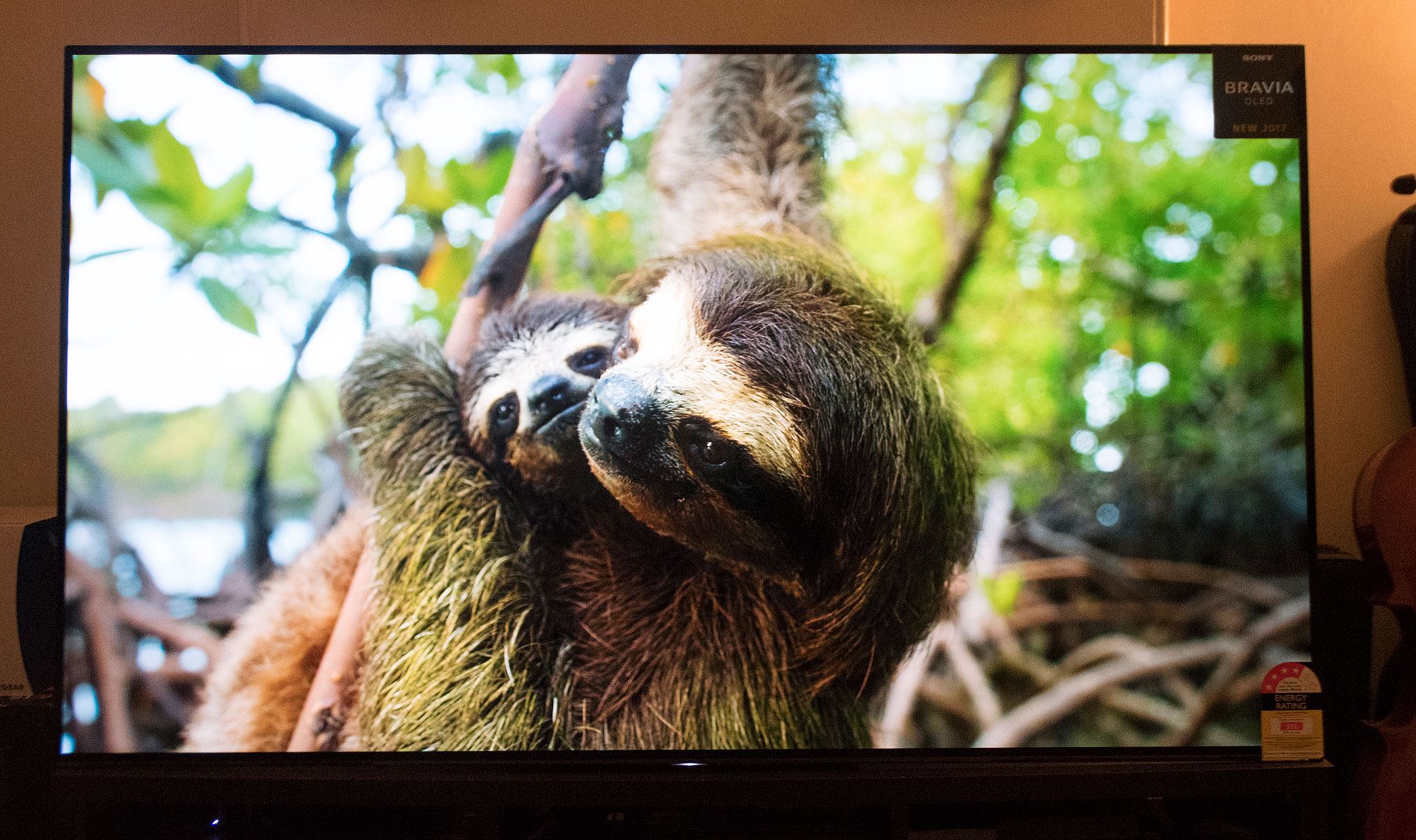 The good
Design is sleek, elegant, and totally minimalist
Colour is simply beautiful
Android TV works very well
Speakers are impossible to see, yet sound excellent
The best TV sound we've ever heard
Video sources can all be controlled using the main remote
The not-so-good
The stand is ridiculously heavy
Could be brighter
Remote is old school