The Kindle Oasis is still sticking around, but there's a new premium Kindle, and it could replace your notepad, too.
Paper is still a thing, but technology is gradually replacing it, and you only need to look at the assortment of phones, tablets, and laptop computers to see how and why.
A screen with a stylus can be just as versatile, and may offer more flexibility depending on how you use it. An iPad with an Apple Pencil makes for a great little art maker offering all the flexibility of a paint box in a small device you can take with you, and Samsung's Galaxy S22 Ultra throws that concept in your pocket.
Neither is particularly friendly on battery life, though, thanks in part to those big colour screens, and that may be why we saw devices such as the ReMarkable, what was essential an eReader with a pen for note taking. Electronic ink is typically much more friendly for battery life than colour LCD screens, measuring battery in days and weeks, rather than hours to a day or two.
In the time since, we've seen Kobo dabble with the idea, offering pen support in its Sage eReader, though less for general notes and more for notes in books, and now there's another player giving it a go, as Kindle enters the note-taking world, too.
It's coming in the Kindle Scribe, a bigger Kindle jumping from the smaller 6 and 7 inch models you might have seen before to a massive 10.2 inch model, sized more like the iPad, but using the same electronic ink screen technology as the rest of the Kindle range.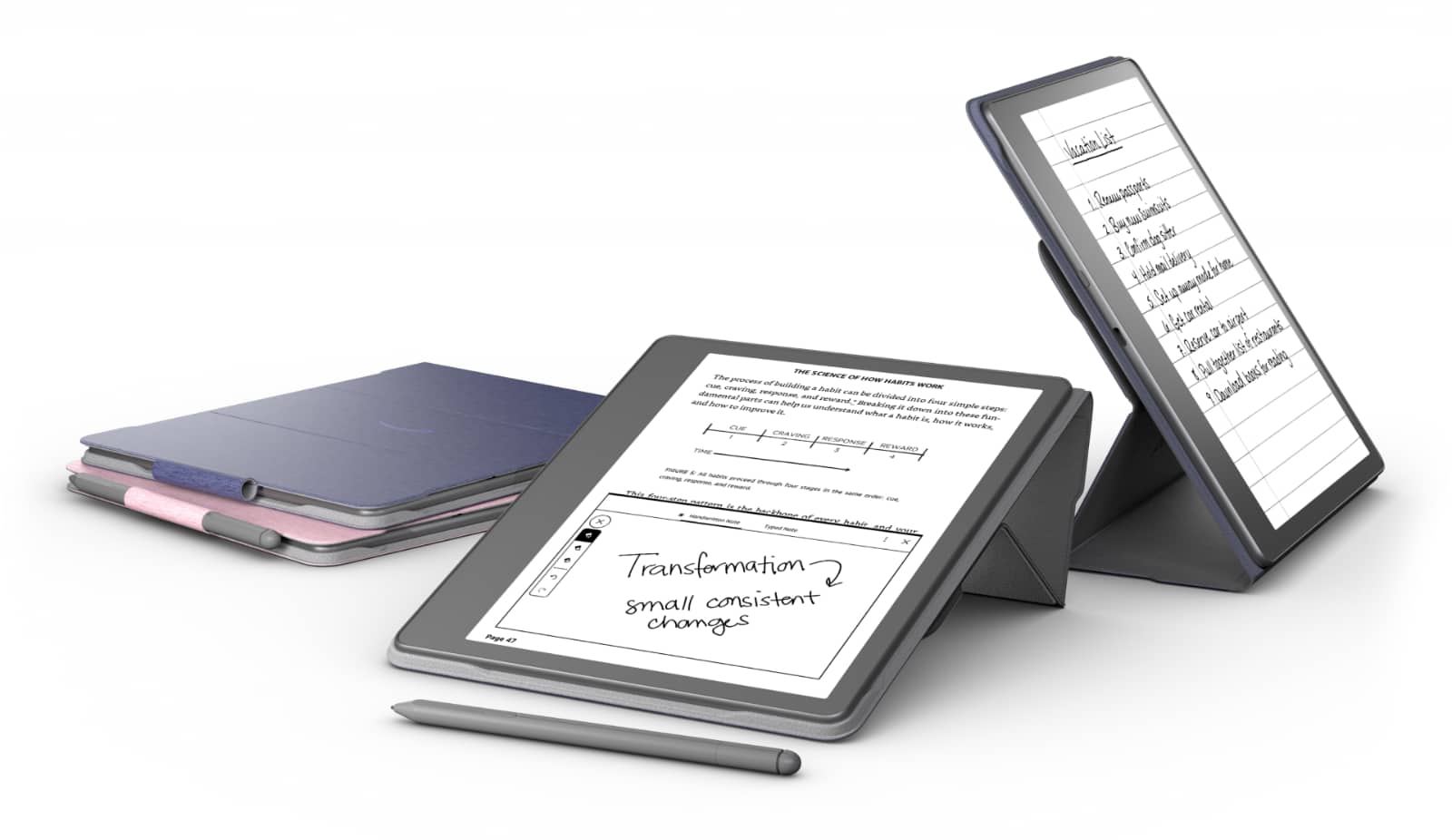 That was one of the other major announcements this week alongside the new Echo Dot and Studio for the year, plus the 2022 Ring Spotlight cameras, and it's not just a big Kindle (though it is that), but also one that supports a pen, which is even included in the box.
Measuring 5.8mm thin, the Kindle Scribe is thinner than most tablets and phones, uses an auto-adjusting front light, and supports a battery capable of being measured in months depending on what you do with it.
Read from the Scribe for a few hours per day and you might hit a couple of months of life. But if you want to get stuck in with writing notebooks, drawing scribbles, or even just adding notes in nooks, the included Basic Pen will let you do that, eating into the battery life some, though we expect days and weeks will still be the measurement here.
The screen is still black and white — colour eInk never really took off — but Kindle says you'll also be able to back up any notes and notebooks you take, with those notes set to be available in the Kindle app next year, too.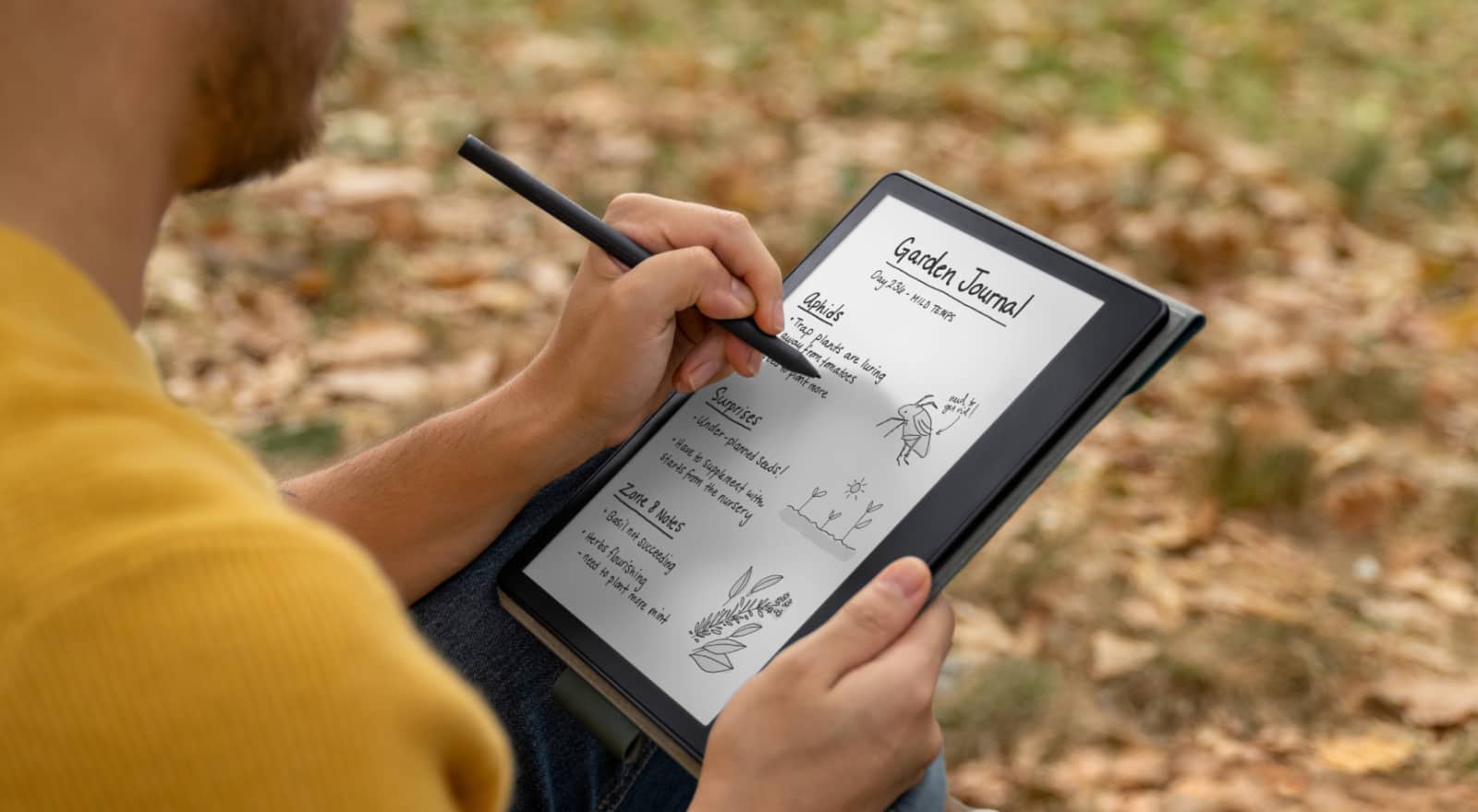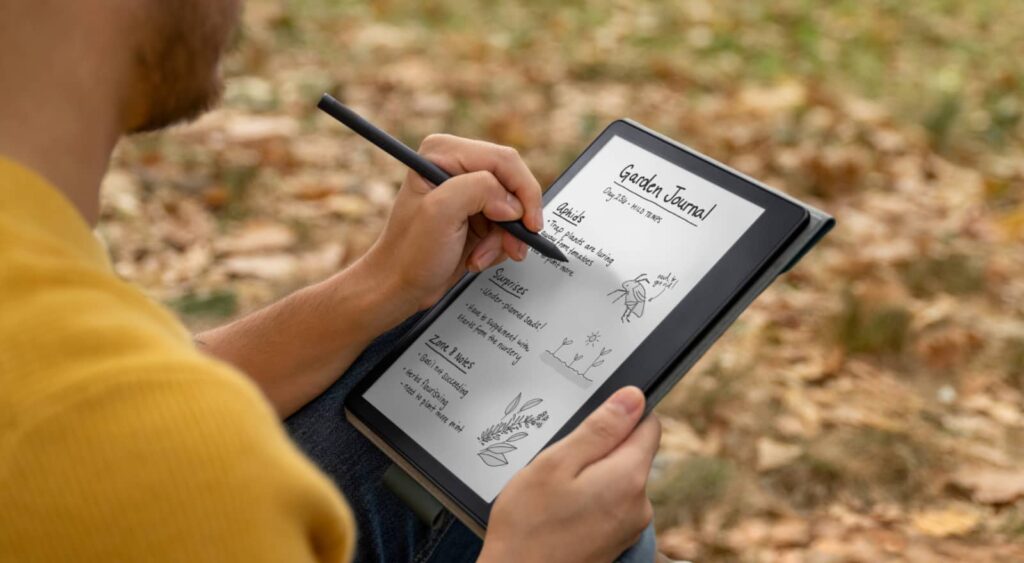 "Kindle Scribe is the best Kindle we've ever built, creating a reading and writing experience that feels like real paper," said Patrick Walker, Country Manager for Amazon Devices in Australia and New Zealand.
"It's inspired by the Kindle customers who have added billions of notes and highlights to books over the years," he said.
"It's also ideal for reviewing and marking up documents, managing your to-do list, or doodling over a big idea. Plus, it offers all the Kindle benefits customers know and love—millions of books, adjustable fonts, premium reading features, and weeks and weeks of battery life—with the benefit of a beautiful, large display."
For battery specifics, Amazon notes that a single charge will last up to 12 weeks if you only read for half an hour per day. Writing, meanwhile, can last up to three weeks based on a half hour of writing per day and wireless switched off. Based on that information, the general expectation is roughly a week of life for most people writing and reading, as we typically do both for longer than half an hour. It's worth noting, though, that the battery charges fast only if you have a high-speed charger, with a 9W USB-C charger replenishing the battery in just under 3 hours, while a regular 5W USB connection will take closer to 7.
Unlike its Paperwhite Signature sibling, there's no wireless charging option, so this one, like most Kindles, is wired only.
The other thing the Kindle Scribe shares with other Kindles is that it comes in sizes, with 16GB, 32GB, and 64GB models set to be available, starting at $549 for the 16GB, while the 32GB Scribe will cost $629 and the 64GB $679 when they're released in Australia in late November.