It's been a long time coming, but Australia's first foldable phone is about to rock up, the Galaxy Fold. And if you want one, you're going to want to spend a fair amount.
This year was supposed to be the year of the foldable phone, but it hasn't quite panned out that way. While there have been a few models announced, Australia hasn't really seen any of them, not in a readily available sort of way.
The closest one to being available was Samsung's Galaxy Fold, announced earlier in the year. However due to a few issues in build, Samsung brought it back, developed it a little more, and then released it in overseas markets only recently.
Australia wasn't on that list to begin with, but it is now, as the Galaxy Fold is set to arrive just before Halloween, on October 30. No tricks there, only a treat (if you have the money).
The phone itself is the same newly engineered Samsung Galaxy Fold, sporting two sets of screens including a 4.6 inch HD+ AMOLED display at the front and a foldable 7.3 inch AMOLED display on the inside. The front cover display is encased by some seriously large bezels, while the inside is not, providing a large tablet-style experience on the inside and a smaller display on the front.
Inside the Galaxy Fold, the hardware is largely like the Samsung's other flagships from earlier in the year, sporting an eight-core Qualcomm Snapdragon processor distinct from the typical Exynos variety we get down here (and more like the Galaxy Tab S6), paired with a staggering 12GB RAM and 512GB storage. This is a premium phone, so getting one of the largest storage capacities on-board seems to be critical.
The cameras are more like the Galaxy S10 range's high-end options found in the S10+, with a 10 megapixel selfie and 8 megapixel depth camera, while the exterior is a combination of 16 megapixel ultra-wide, 12 megapixel standard, and 12 megapixel 2X telephoto, so there's nothing new here.
Most of the focus should be instead on the foldable design, which is definitely intriguing to say the least.
Hands-on with the Samsung Galaxy Fold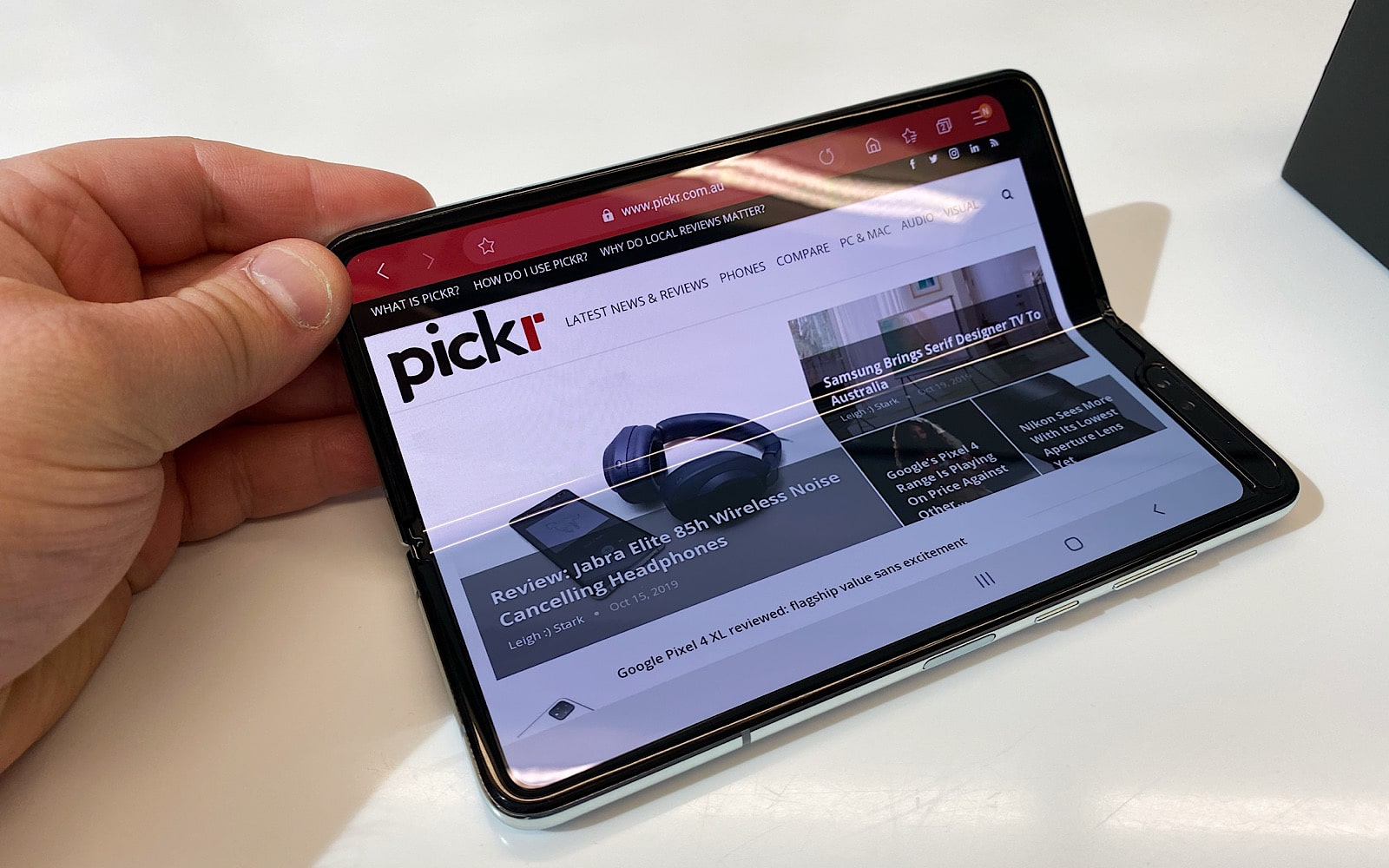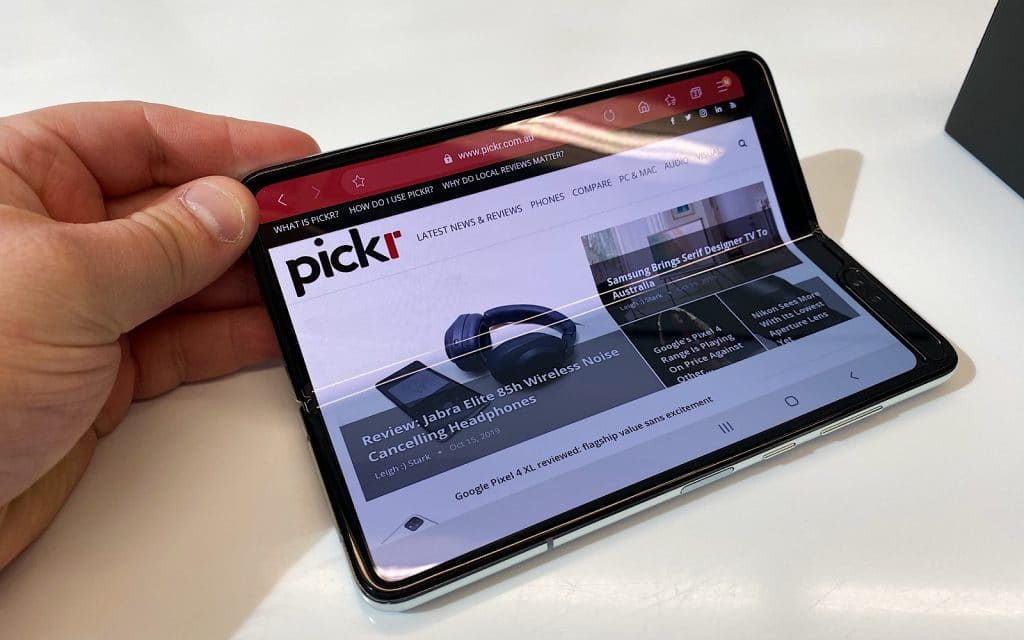 It's been a year of phones, that much we can definitely say, and while many have been largely similar, that's one accusation and point you can't throw the way of Samsung's Galaxy Fold.
This is something interesting. The Samsung Galaxy Fold is genuinely exciting. It's a breath of fresh air.
As the name suggests, there's a screen you can fold open, with the 4.6 inch display on the front opening up to reveal a 7.3 inch screen on the inside, effectively going from phone to tablet in one hit. It's a curious concept, and one that is really quite pretty to look at, keeping mobility real as you move from phone to something else all in the one device.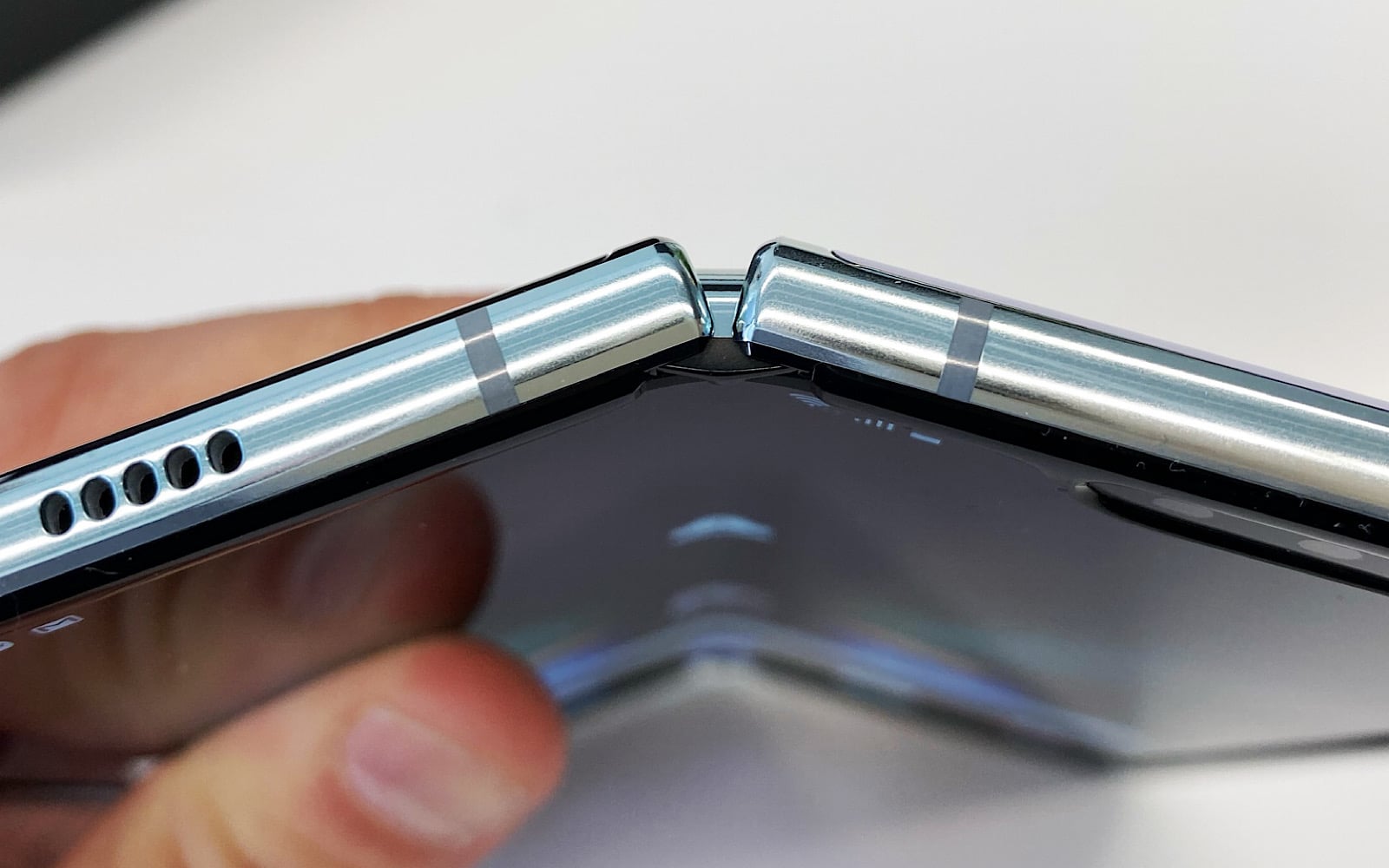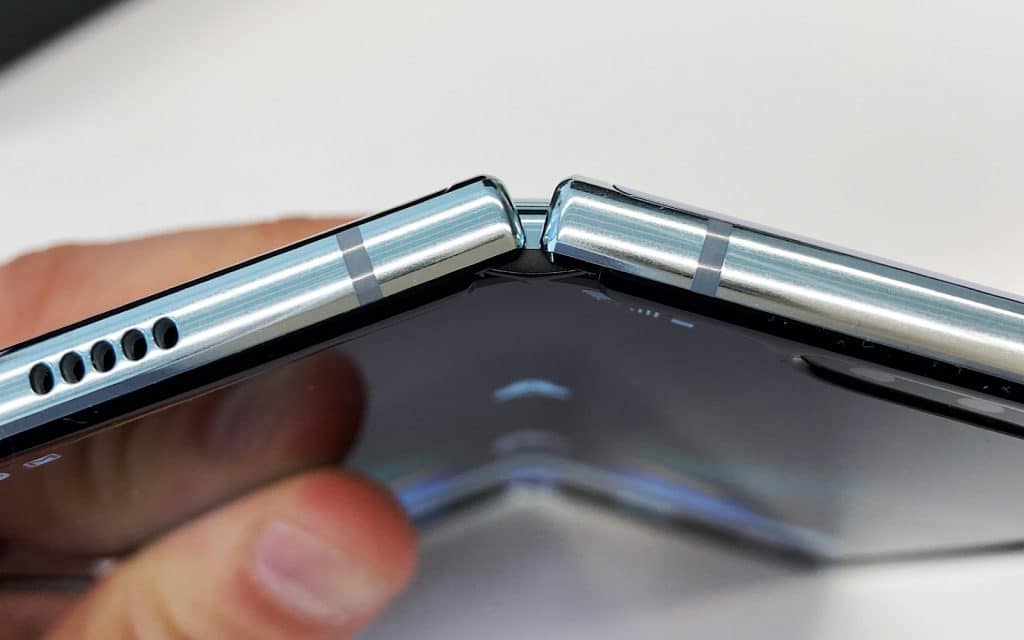 Android tablets have been pretty useful, albeit harder to find, and so solving the problem of productivity in a phone could be handled by making the phone into a tablet. That's certainly one of the aspects helped by the big phone, including devices such as the Galaxy Note 10+ and the iPhone 11 Pro Max, but this is something different altogether.
The Galaxy Fold is a tablet inside the guide of a big, long phone, and one that offers a larger typing experience with a slither of a screen to work with, too.
Playing with the Fold, it's definitely intriguing and easy to fall for, though it's a device that won't be for everyone.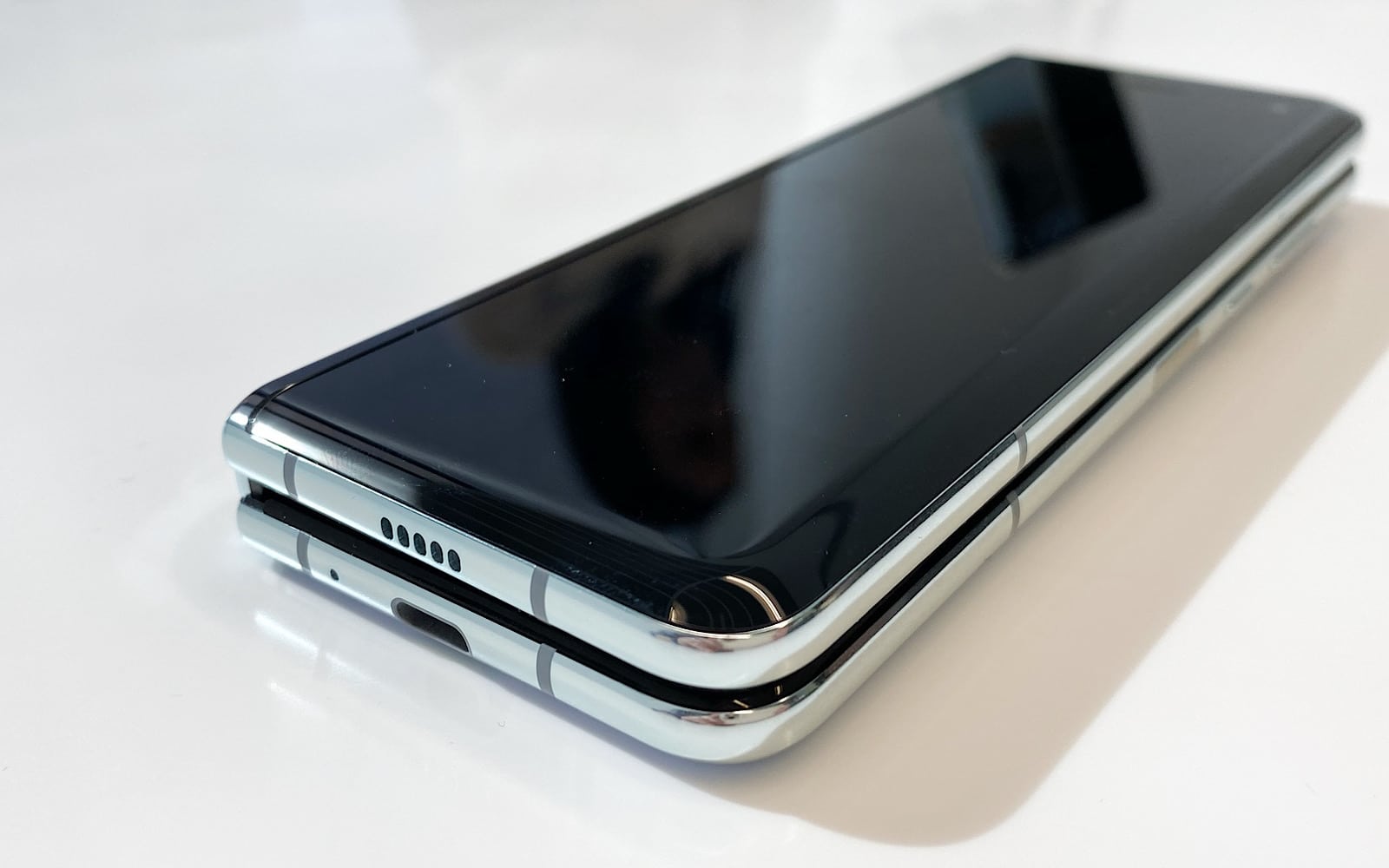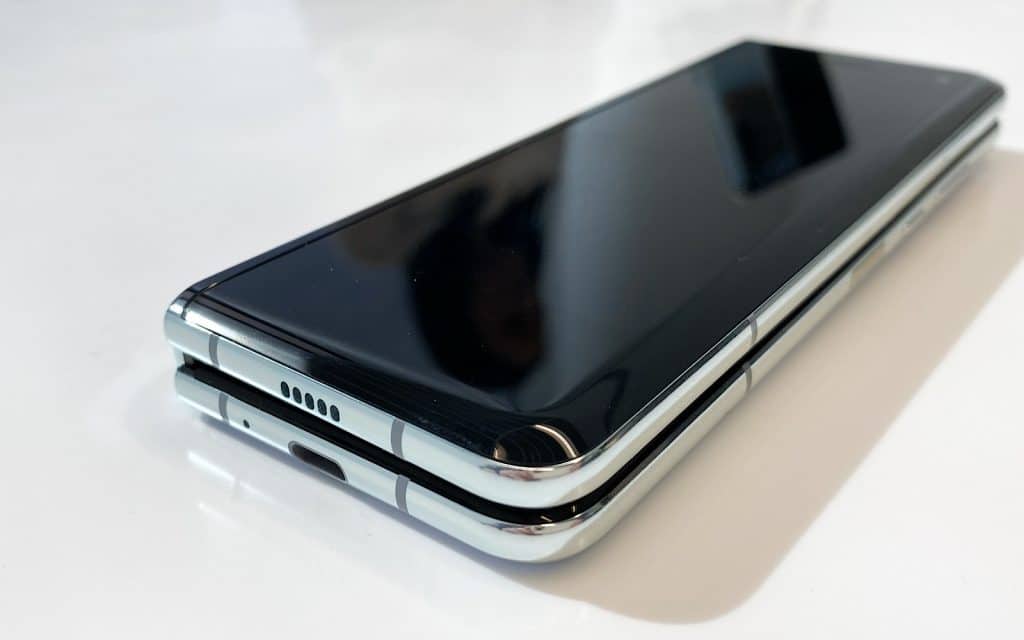 One of the first things you notice about the Samsung Galaxy Fold is that it's thick, almost like two phones smushed together. Unfolded, the phone is 7.6mm, but folded up, it's a 17.1mm phone, and weighs a staggering 276 grams.
There's a fairly noticeable dent it leaves on your pockets, too, so if you don't carry it around in a bag or your jacket pocket, you'll feel the Galaxy Fold as you walk.
Despite this, we're drawn to the phone, as it's really just something else.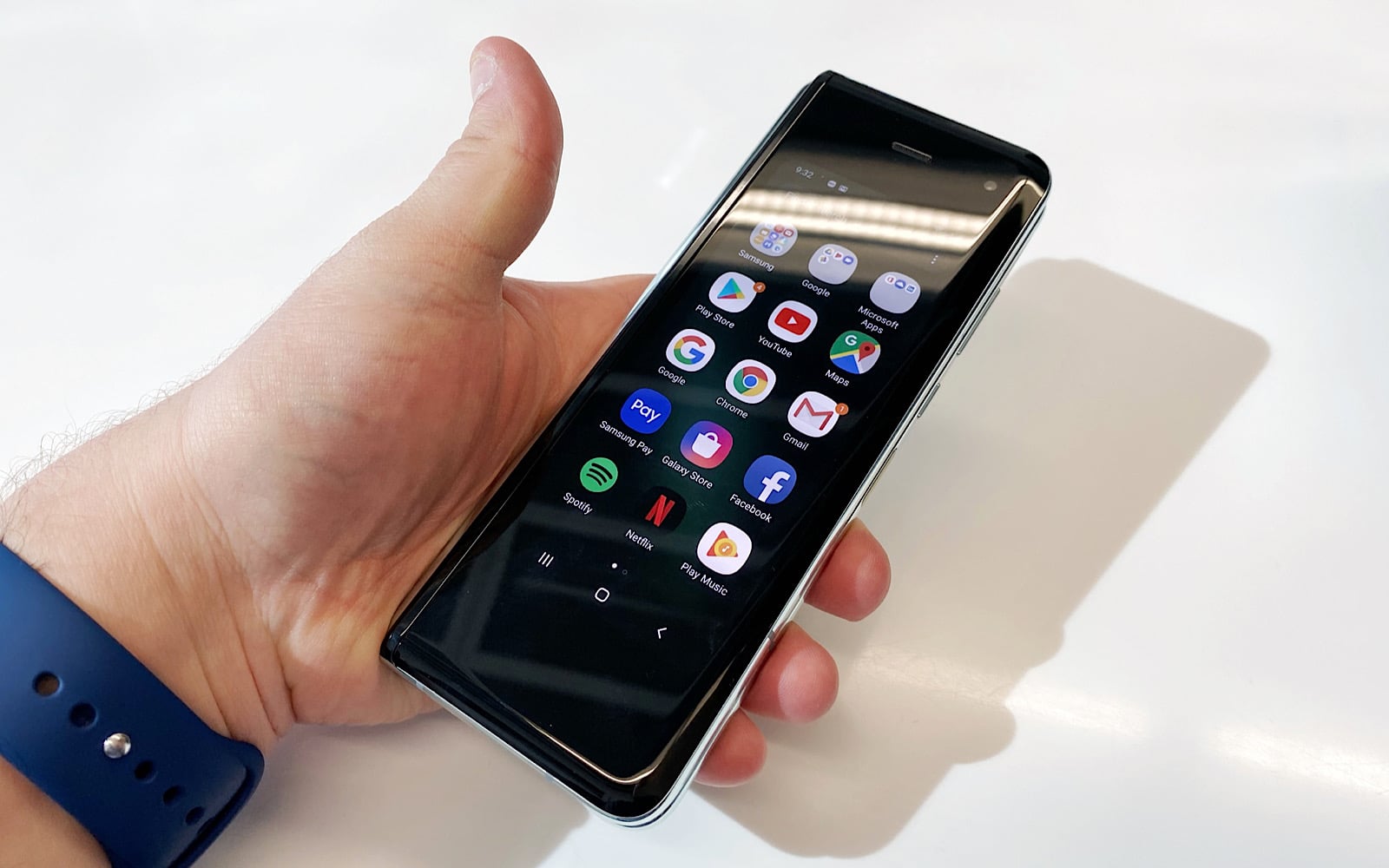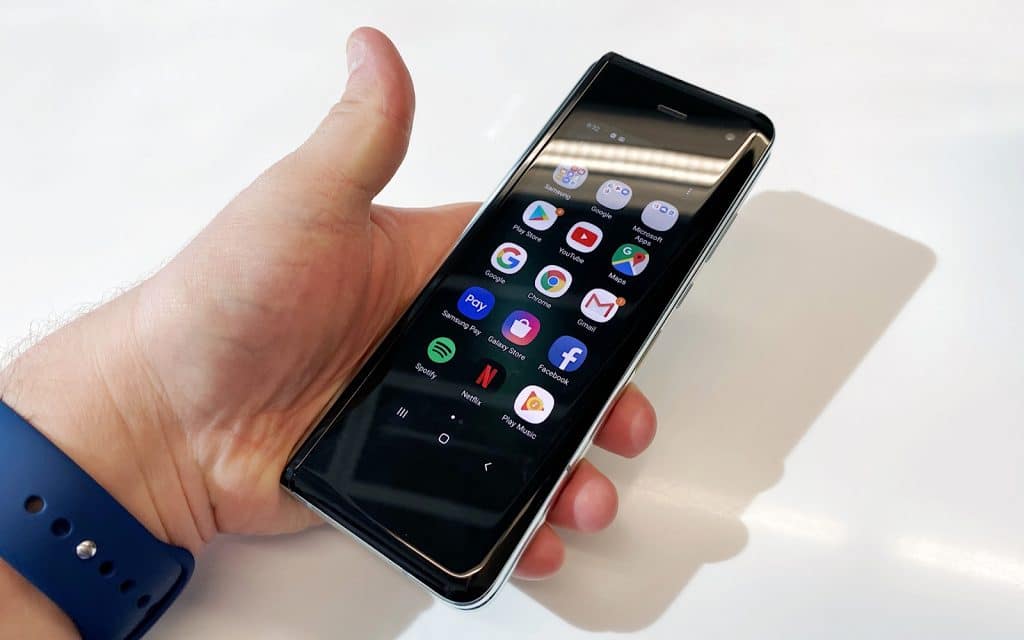 The front of the phone is very unusual, and reminiscent of older phones with a smaller screen at the front, like the old Motorola RAZR models with a small screen to tell you things encased by large bezels. You can still use the Galaxy Fold through this small 4 inch display, but it is by no means the 7 inch experience on the inside, which is kind of the point. You're being lured to use the big experience from the small experience on the outside.
Now we haven't had more than a good half hour with the phone, and that's a shame, because the brief play-through left us wanting more. It's just such an interesting device, and is new and exciting. We're not sure what battery life will be like, but with a rating of 4380mAh for two screens — one of which is very large — the initial feeling is it probably won't go beyond a day.
This doesn't dampen our excitement, though, because the Galaxy Fold is one intriguing concept.
Australian Galaxy Fold price and availability
However it's one intriguing concept that is also quite pricey, attracting a local cost of $2999 when it launches on October 30.
That's more than a bowl of ramen, and indeed higher than most other phones cost locally, outpacing even the highest configuration of the iPhone 11 Pro Max. The highest price on the 2019 iPhone will cost $2499 for a 512GB model, while the Galaxy Fold with 512GB sits at $500 more.
To sweeten the deal, Samsung has added a pair of wireless Galaxy Buds earphones in the box, as well a case. While you can use any wireless earphones with the Galaxy Fold, the included Aramid Fibre case is handy, partly because Samsung Australia couldn't cite whether anyone else was making a case for the Galaxy Fold, and means this may be the only case you'll be able to find.
Australian availability for the Samsung Galaxy Fold will see it at Samsung Stores, as well as select Australian telco stores. Interestingly, there's no online availability for this one, with the Fold relying on an in-store experience.
Clearly, that won't be for everyone, and the price alone makes that obvious. But if phones this year haven't been for you and your next phone has to be different, the Samsung Galaxy Fold is definitely looking like that, you just need the budget to accommodate.