There's a push from several TV manufacturers that OLED is the way forward, but Samsung is still holding out, driving brightness and clarity from its latest quantum dot-based "QLED" screens.
The technology worlds is filled with acronyms and initialisms, and that is no more true than in the TV world. In fact, modern TVs ask that you remember wat so much of their terms mean, that it can be difficult to know that what you're actually looking at is different technology.
Take LED-backlit LCD panels, which are liquid crystal display screens backlit with light emitting diodes, the majority of TVs out there, and any time you see an LED TV listed, that's what you're referring to. That's different from an OLED TV, an organic light emitting diode TV, where the screen is one panel made from organic light emitting diodes, and is different again from QLED.
QLED is what Samsung currently relies on in its top-end, and that is an LED-backlit LCD with the pixels honed in by quantum dots, extra crystals that focus the colour and produce more consistent vibrancy than without. It's what Samsung has been using for a few years now, and in its latest generation for 2018, the technology has been refined once more to produce strong colour and brightness across light and dark scenes, while also adding resistance to screen burn in, with the new screens offering a ten (10) year "No Screen Burn Guarantee".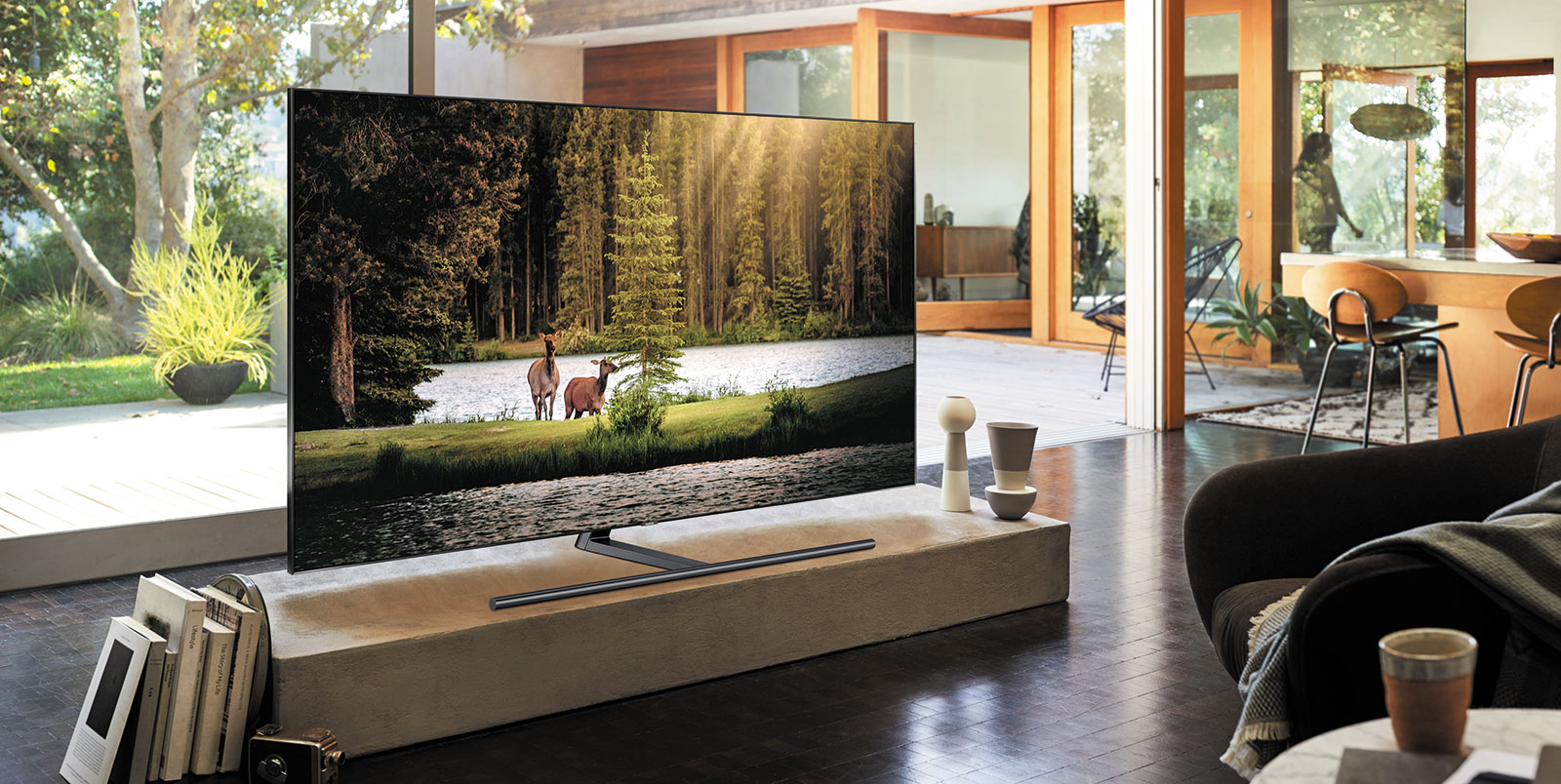 Improved colour is only one part of the picture, and Samsung has included a Direct Full Array LED system on two models in the new range to produce deep blacks and reduced screen reflection, controlling the LEDs to switch off in sections where darkness needs to be amplified, to make the blacks just that much more real.
Helping that is HDR support and a processing system able to work out when to fire, creating imagery just that much vibrant.
But vibrant imagery isn't all Samsung is going for this year. Rather, Samsung's 2018 TVs are going to try and blend into your home environment.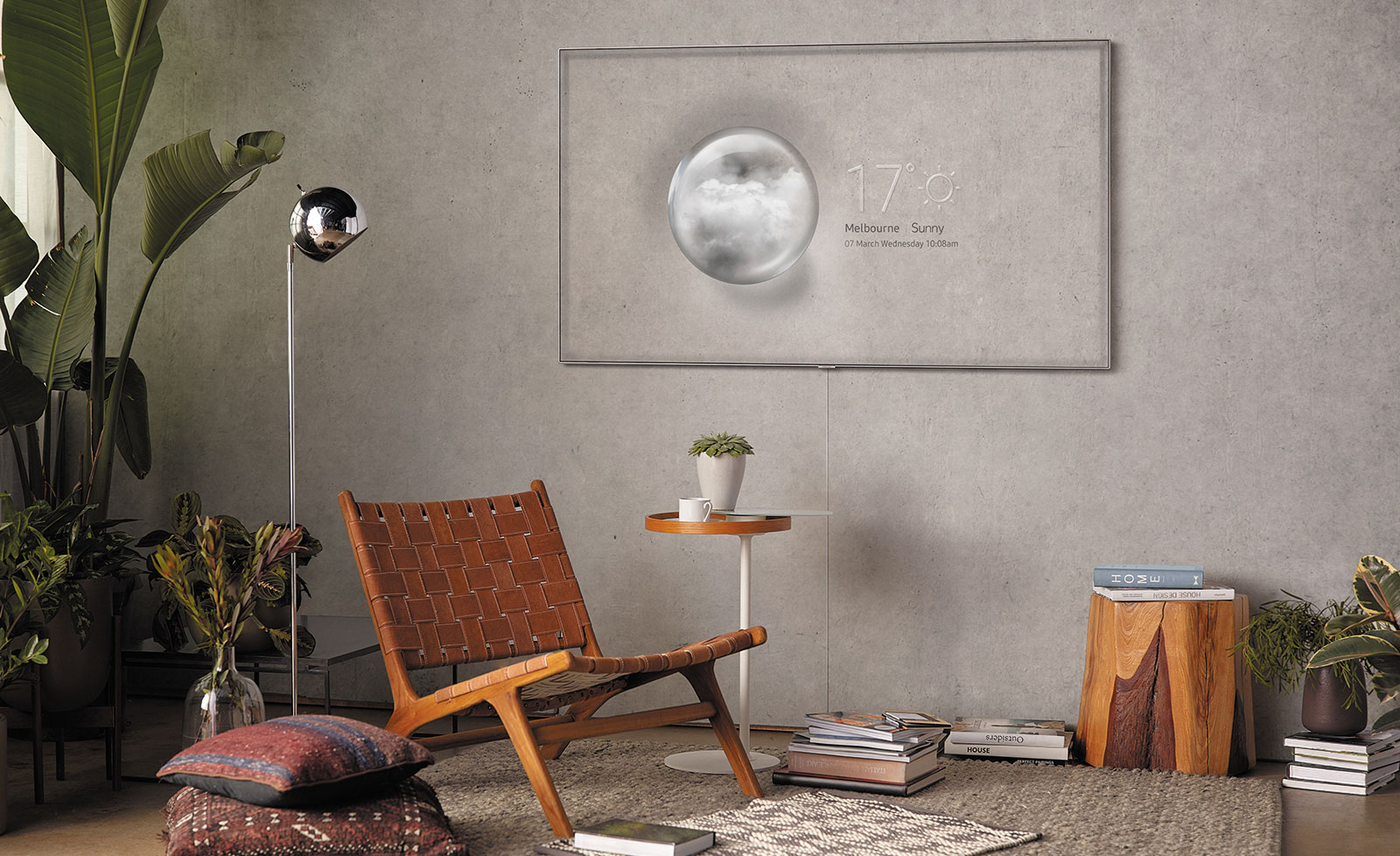 That's because this year, Samsung's QLED screens get an ambient mode, able to work with the colour or pattern of the wall using the "SmartThings" app for your phone, and matching the style of your home so the TV can sit inside better than just resemble a blank screen that's off.
In a way, it's like taking a page from the art-focused design of Samsung's The Frame TV, but shifting the focus to your home instead, making the image appear to blend in with your environment as opposed to showing art, and it's not all the ambient mode can do. It can also show information like the weather, news, and other information, and coordinate with signals sent by users of the SmartThings app, switching on and off when they're in the room, so as not to waste too much energy when no one is there.
"The 2018 range opens up new experiences that will truly change the way people think about Samsung TVs and what our home entertainment products can deliver," said Hass Mahdi, Head of AV for Samsung Electronics.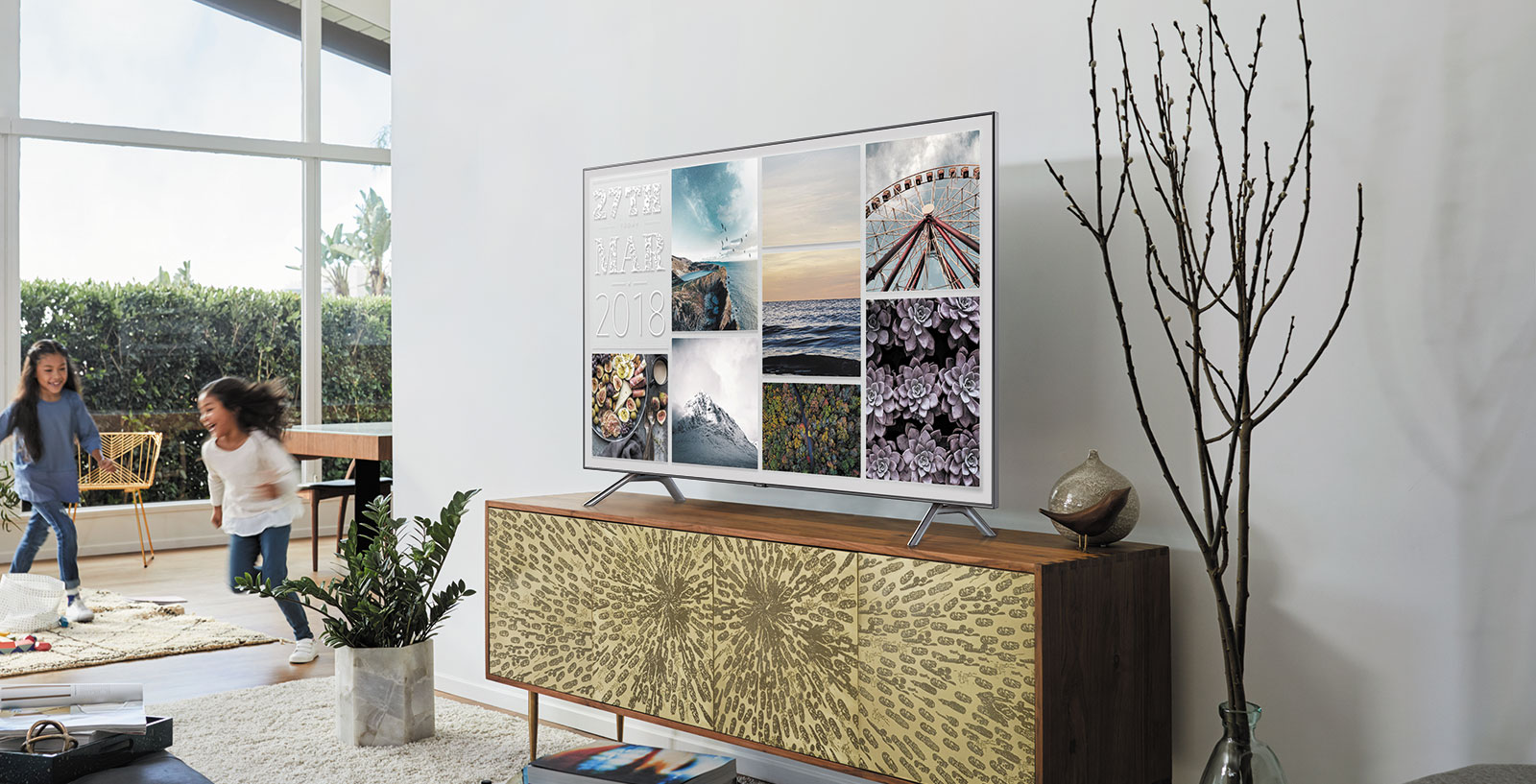 One thing we've noticed about the range is that this year, curves have more or less disappeared. Part of Samsung's focus for the past few years, the curved screen appears to have been straightened out, with an entirely flat assortment of TVs for 2018.
That means curved Samsung tellies are likely not seen as a premium concept for customers in TV world, with the technology shifted to more personal viewings over with computer monitors instead, something Samsung still uses the curve with.
Despite that obvious change, the differences between Samsung's 2018 TVs aren't still necessarily going to be easy for people to find and work out for themselves.
While the Q9F sits at the high-end, the Q8F isn't far behind, and the technology between these two are quite similar, with the crystal enhancements to colour in quantum dot found here, as well as the Direct Full Array LED system for stronger blacks. The main differences between these models appear to be brightness and stand choice, with the Q9F just a little brighter and with a slimmer stand, while the Q8F tones the brightness down just a smidge and offers a stand with points at each side.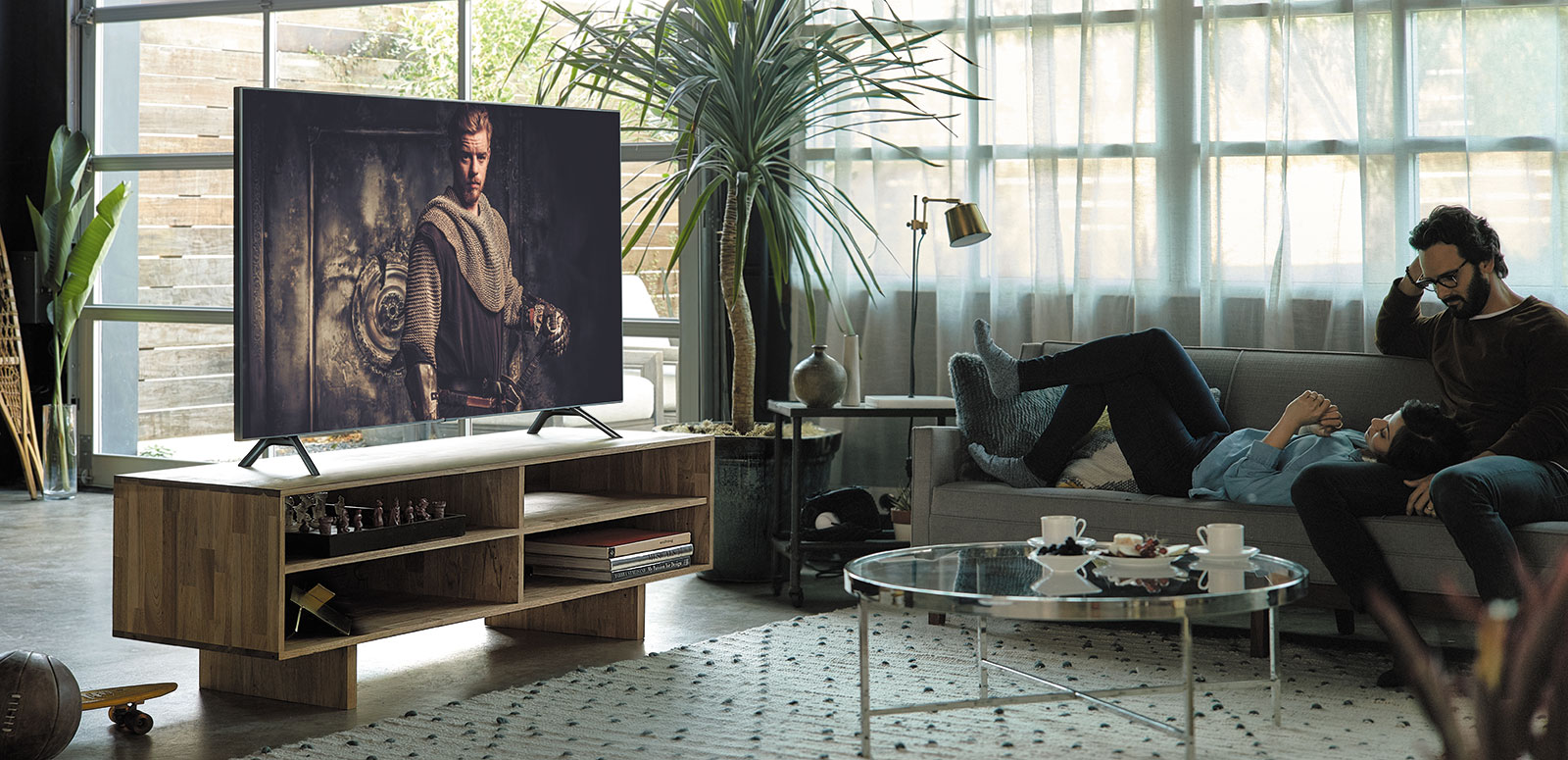 Interestingly, the Q7F appears to be a good middle ground, offering a similar stand to the Q9F, slightly less brightness again, but still the use of quantum dots.
All three screens support 200Hz panels, high-dynamic range, 4K Ultra HD resolution, and that nifty ambient mode Samsung is talking up, while they also get one remote control made to make things a little easier.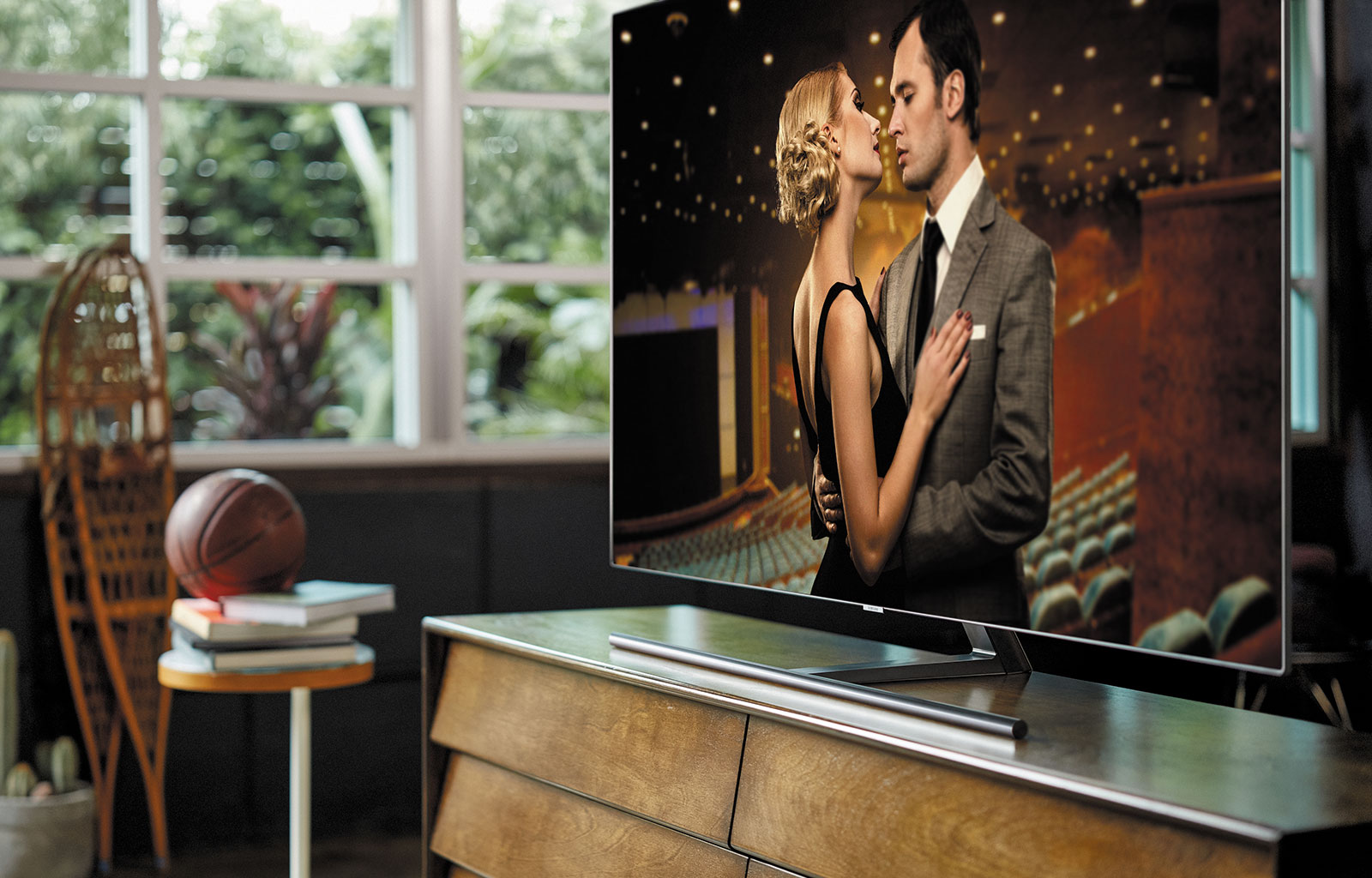 Prices start from $3699 for the Q7F's 55 inch model, with 65- and 75-inch models hitting stores for $5299 and $8199 respectively, while the higher-end Q8F offers a 55 inch screen at $4099 and a 65 inch at $5899, and the flagship Q9F sits at $6999 for 65 inches and $10499 for a 75 inch TV.
A slightly lower series will be released later on in the Q6 series, and Samsung will have models without quantum dots that push 4K and HDR for lower price points shortly, as well, found in the "NU" series, which will start at $1199 in the NU7100 and reach all the way to the NU8500's 65 inch model at $3699.
You'll find these in stores across the country soon, and we're hoping to get some reviews done soon, as well, so look for them in the next few months.