While CES held a lot of things, it did not mention much about what Samsung plans to do for TVs this year. But that doesn't mean it's doing nothing, because the company is ready with new models coming very soon.
It's March, and if you've ever followed one of our guides to the right times to buy, you know what that means: TVs are about to be changed.
Typically, in the months from March to May, and sometimes leaning into August and September, we see new TVs make their way out to shelves, as manufacturers reveal what they have in store for not just Australians, but the world.
Locally, this is the time when we begin to see the new hardware, and usually it's announced somewhere else, and that's not so different to what's happening this week, as Samsung shows off its new TVs, not at CES, but rather a launch in New York.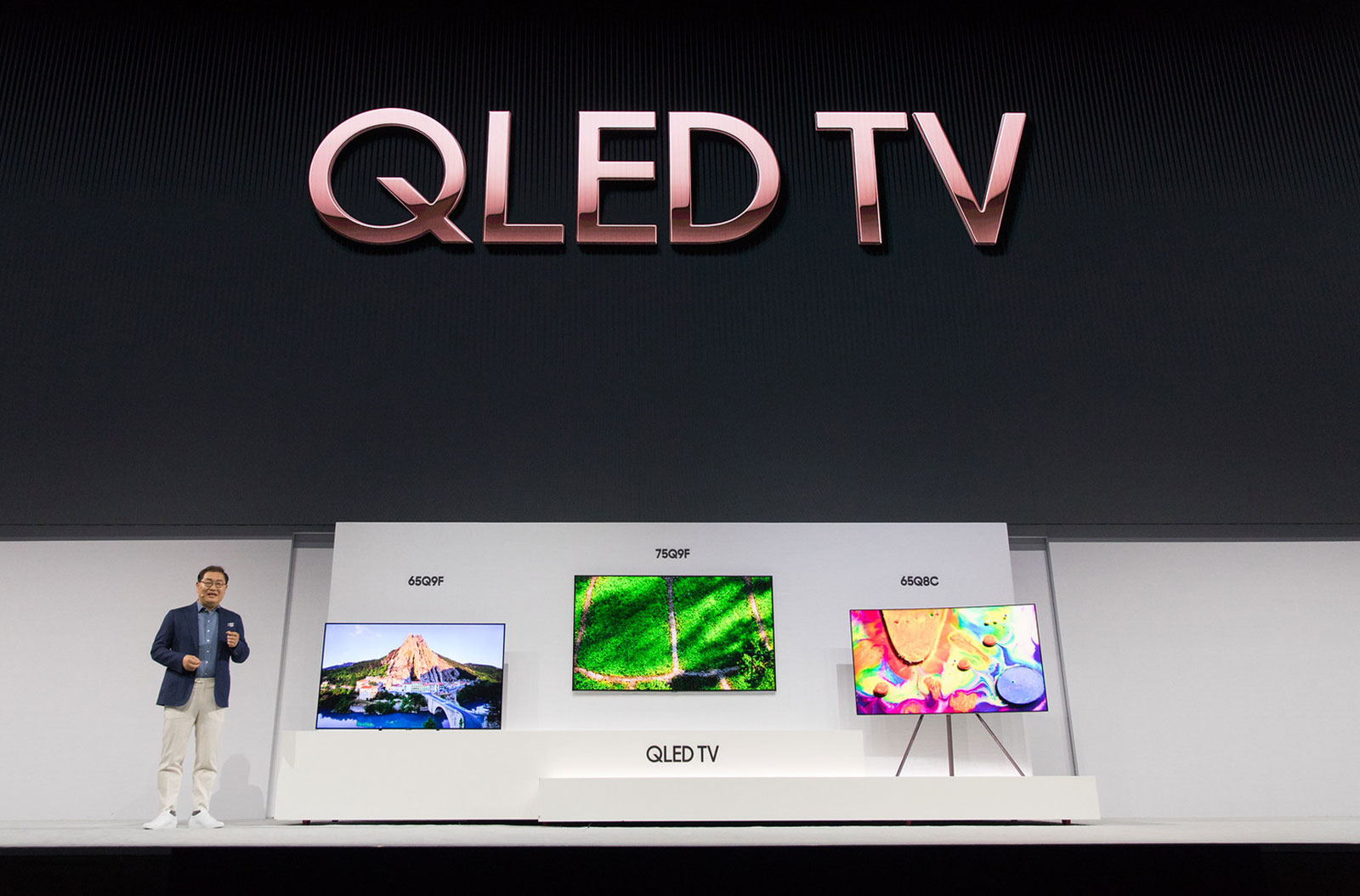 "Our 2018 QLED range is designed to bring Australians together to enjoy the best TV experience we have ever offered," said Hass Mahdi, Head of Product AV for Samsung Australia.
"The 2018 QLED ranges opens a series of new experiences and offerings that will change the way people think about Samsung TVs and what our home entertainment products can deliver," he said.
Like last year, Samsung is continuing the work it made with QLED technology, a quantum-dot refined generation of LED-backlit TVs where small crystals are used to focus and hone the colours emitted by the LED.
Different from the organic LED technology often seen as the way flagship TVs are made going forward, QLED allows Samsung to go brighter, and this year the brightness becoming more contrasty, soo, as the company incorporates "Direct Full Array" contrast technology to shape and balance the contrast produced by the QLEDs better, and means blacks should be better, too.
You'll find that new DFA technology on only the high-end models — the Q9F and Q8F — but QLED should be improved all around across the range.
In fact, Samsung hasn't said if QLED will be brighter again in 2018 — our guess is not substantially — but the focus will be on better colour and contrast rendition, delivering 4K HDR content with improved and enhanced colour and contrast across the line-up, and it's not all the models will get.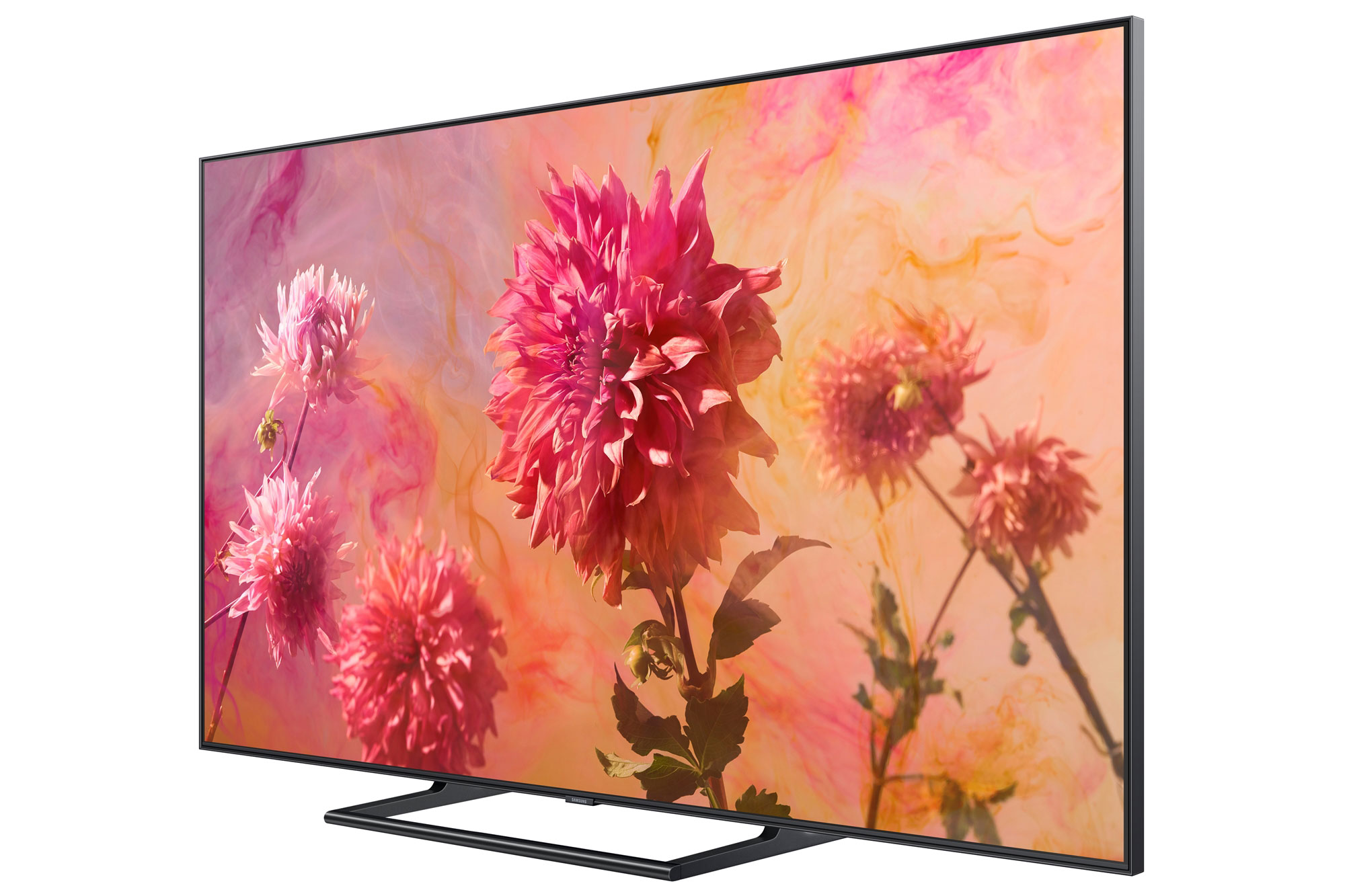 All models will see a dose of Bixby, Samsung's smart assistant that found its way to Samsung Galaxy phones last year and was probably the least used part of the phone. In fact, many tried to switch it off or change its use, partially because it just wasn't what they wanted.
In the new line of QLED TVs, Samsung Bixby will let you talk to it and will learn from your requests over time, making Bixby less an ordered assistant, and more a part of your experience that will begin to understand how you talk and what you request. Samsung says this learning will allow Bixby to look for content through the TV, though we're not quite sure how much this extends across devices. For instance, while the Apple TV can talk to a Samsung television, can Bixby talk to Apple TV's content library, or would Siri still be the way to go?
Our guess is the content library will that Bixby will have access to will be through the apps available on the platform, which means Netflix, Stan, and other apps found on the Samsung QLED TVs, and not through devices connected to it, meaning your iTunes library likely won't be picked up by Bixby, even if it will see everything you like in Netflix.
The other feature Samsung seems keen to talk about across the range is Ambient Mode, a feature that gives your TV into a sort of "active off" mode, able to detect the colour or pattern of the wall behind, switching its set to render just like it, and producing something that matches, not just a black screen. Ambient mode also acts like the ambient mode on phones, revealing news, weather, and traffic information, to turn that new bit of wallpaper the Samsung QLED TVs have become into an information source.
And if you sync the TV with your phone (likely with an app), the ambient mode will pick up on when you're there and when you're not to switch off and save power. Just don't take your phone away while the kids are watching!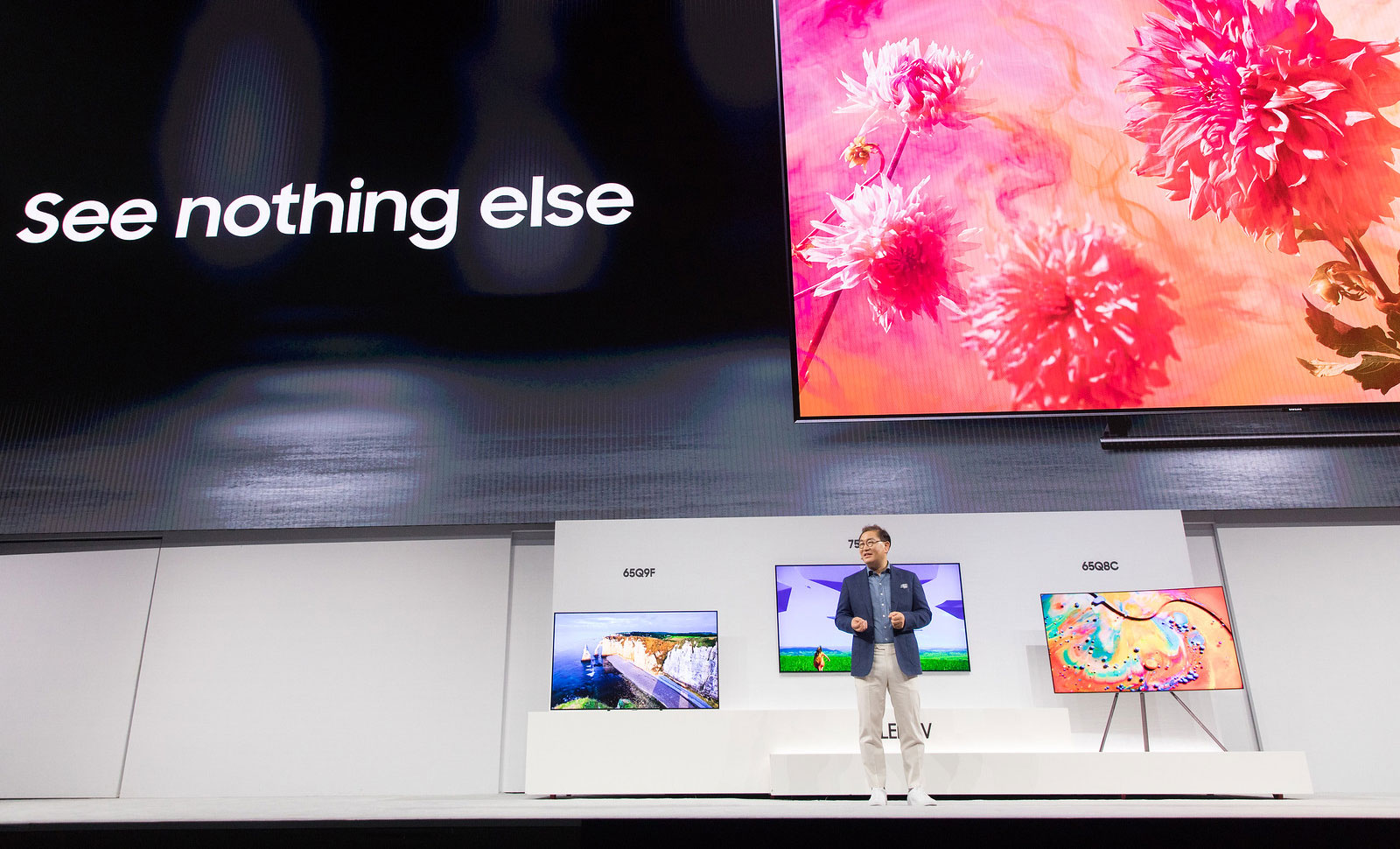 "QLED offers Samsung's best premium TV experiences, and we believe it's important to ensure that we offer a range that is accessible and relevant to Australian households regardless of home design, personal tastes, living room format, or viewing habits," said Mahdi.
"Combining pure colour, the deep blacks of Direct Full Array technology, and the brightness of Quantum Dots, our QLED range has been designed to give Australians the ultimate entertainment experience at home."
That experience will be coming, and coming soon, with the Australian models coming in April, though pricing to come later on. If you fancy the high-end, the Q9F will be available in 65, 75, and 88 inch sizes, while the second to the high-end (and the only other model with Direct Full Array contrast) will be the Q8F, with that found in 55 and 65 inch models.
Samsung's other models will drop the price a little and still keep ambient mode around, providing the Q7F and Q6F series in 55, 65, and 75 inch models for both generations.