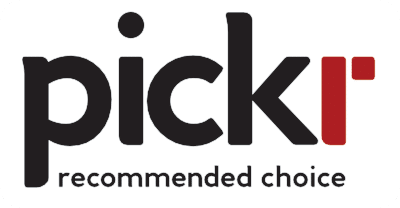 Finding the right TV is all about finding one that offers the best colour and control, and in the Panasonic EZ950U, we reckon Panasonic has struck a solid balance.
It can be difficult to find the right TV, and technology doesn't make this easy. These days, you have a choice between two major technologies, and it's generally a fight between the feature set on which of them you like more: LED-backlit LCD or OLED.
On the one hand, the older LCD technology makes a lot of sense: it's been around for ever and is beautifully bright, sharp, and can last a long time, making it an easy win.
But then there's OLED, and now that it has become the new plasma, it makes a lot of sense if you want the absolute striking picture quality you can possibly achieve from a television. You have to be prepared to spend to get it, but as we've seen from some of this year's major names, OLED is possible of some very impressive results.
And in the EZ950U, Panasonic has found a way to make everything work, offering 4K resolution and some excellent tuning in a device that goes a little bit further, even offering THX-certification.
Design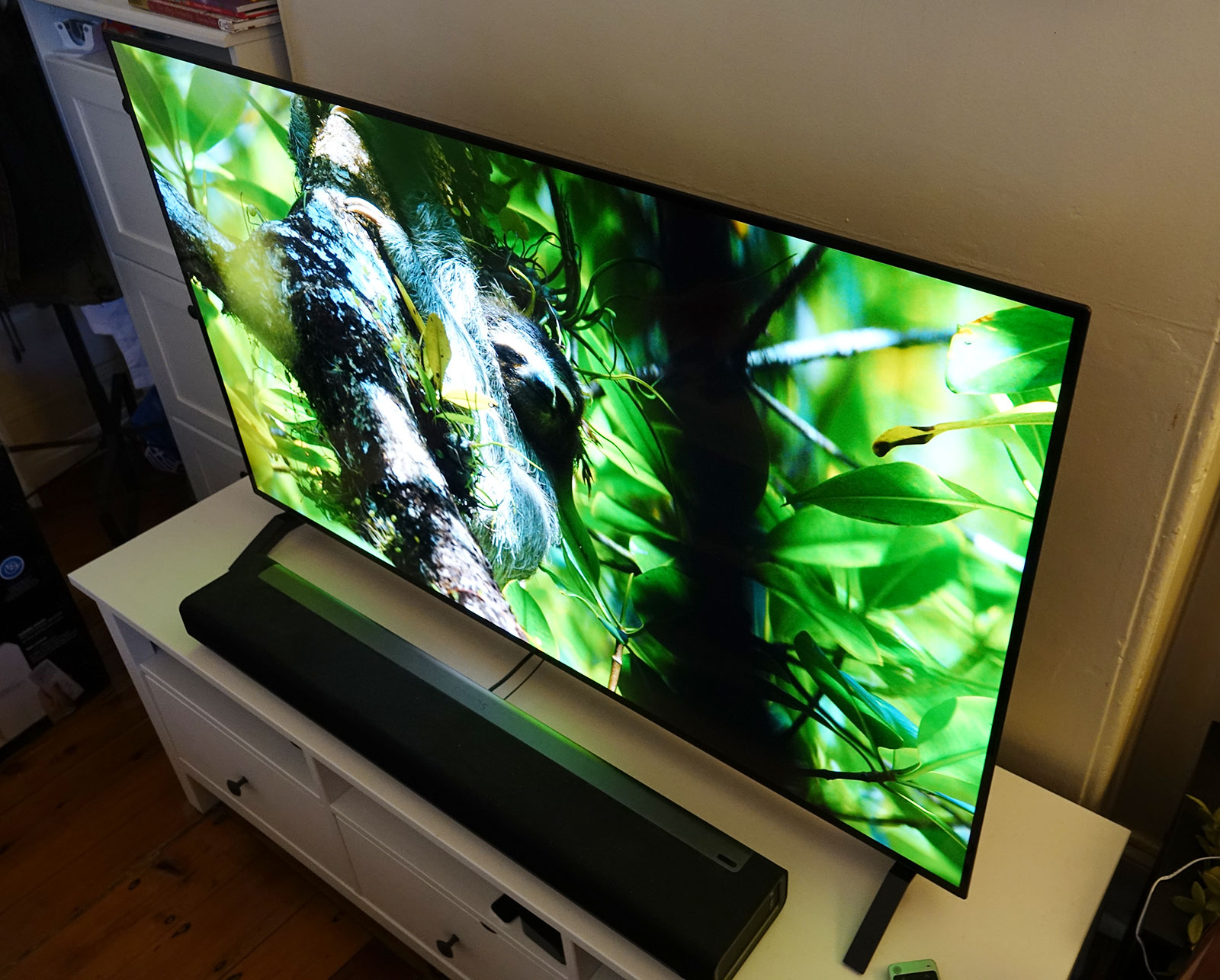 While some TVs go for a more out there design that can turn your living room's centrepiece of the television into a work of art, Panasonic's 55-inch EZ950U (55EZ950U) is a little more laid back, and it's an approach that kind of works everywhere.
Whether you like the simple things or you prefer your television to not affect the personality of your room for any season, the Panasonic EZ950U goes for the totally minimalist look, because it's just a screen encased by the slimmest of metal bezels, with two feet that hold it slightly off the ground.
In fact, it's about as minimalist as it gets without turning the TV into wallpaper, which at least one manufacturer has done, though doesn't work in places where you can't exactly mount easily, such as if you're renting.
Rather, Panasonic's design of the EZ950U makes it a TV for all seasons and all environments, because its simplicity and minimalist design helps it to work anywhere.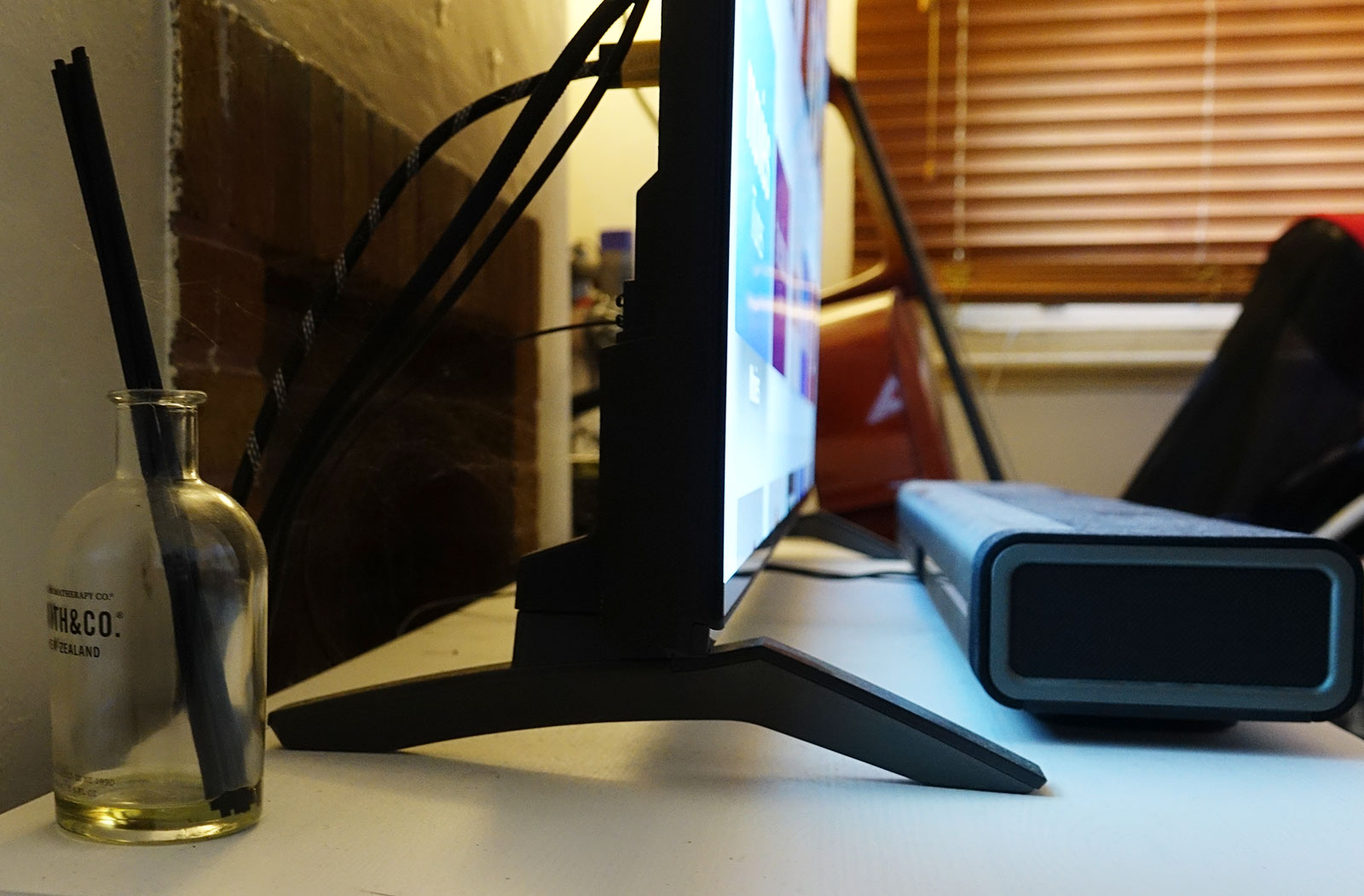 Features
Inside that design, Panasonic has thrown in the expertise it has carried over the year, delivering not just a 4K 3840×2160 screen, but some technologies to make the images pop.
So there's that screen, and while the panel on the 55 inch EZ950U has been provided by LG, the guts to drive that screen is all Panasonic. That means you'll find a few technologies at work, including the 4K Hexa Chroma Drive Pro and the Studio Colour HCX2 engines, technologies that use image processing to render colour like in a theatre, the latter of which has purportedly been tuned by a Hollywood colourist.
Support for High-Dynamic Range (HDR) imagery is also here, supporting HDR10 and Hybrid Log Gamma, meaning support for films across services and Ultra HD Blu-ray Discs, whiles the display itself has also been certified by THX. Now all you need is a THX sound system.
Sadly, the included sound system isn't THX ready, but it does include virtualised surround, emulated by two speakers and two woofers, even if they run together at a lowly 40W.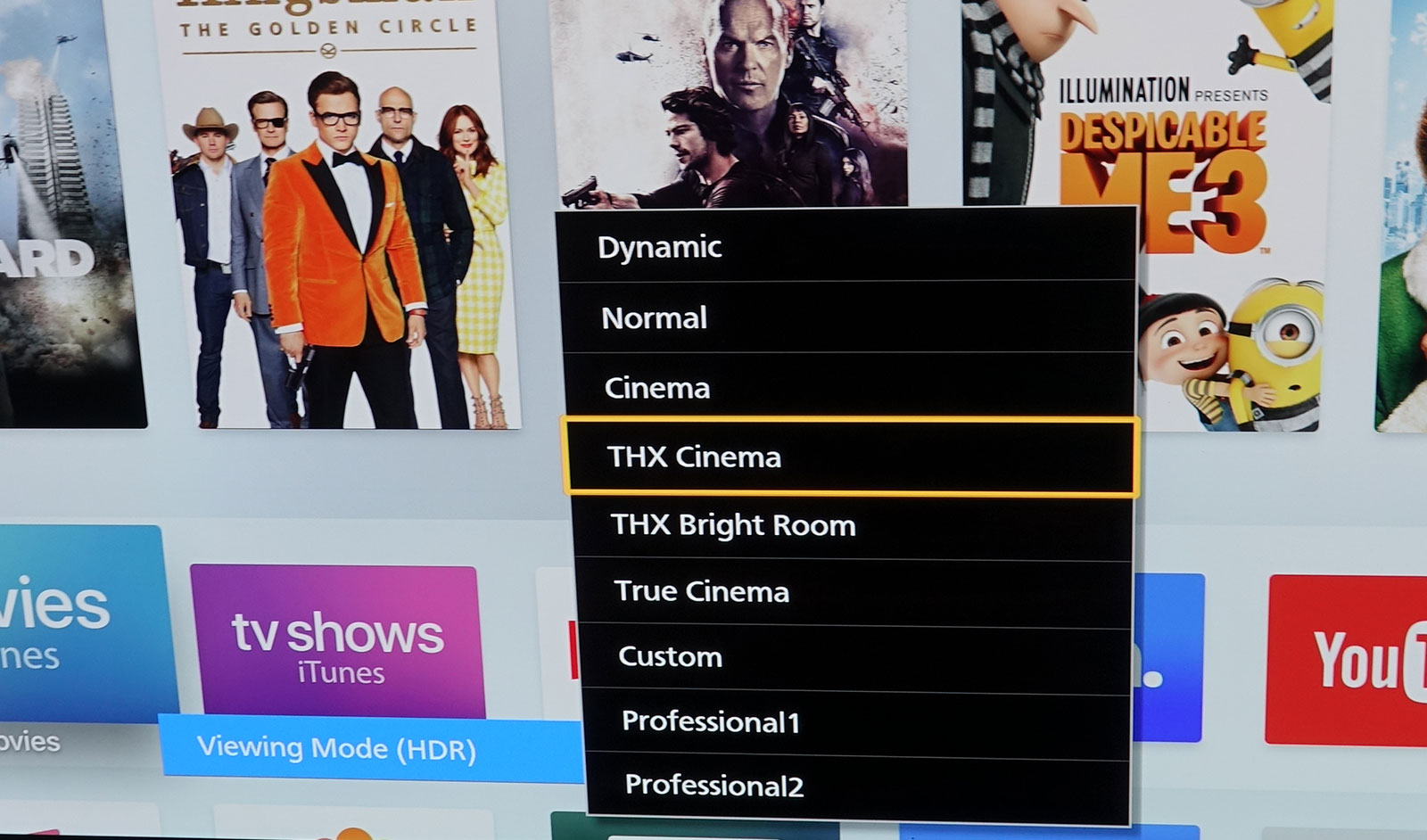 Ports for the screen are fairly strong, though, with four HDMI ports built for 4K, three USB (one of which is USB 3.0 for 4K video loading), shared component and composite video, optical audio, headphone jack, an Ethernet port, and DVB-T tuner (because it is a TV, after all).
Wireless connectivity is also included as is Bluetooth, with the smart TV interface reliant on an Panasonic's Firefox-based operating system, which is set to work with Australian services like ABC iView and Freeview out of the box.
Two remotes are also included, while the stand is fairly minimalist and relatively easy to to install.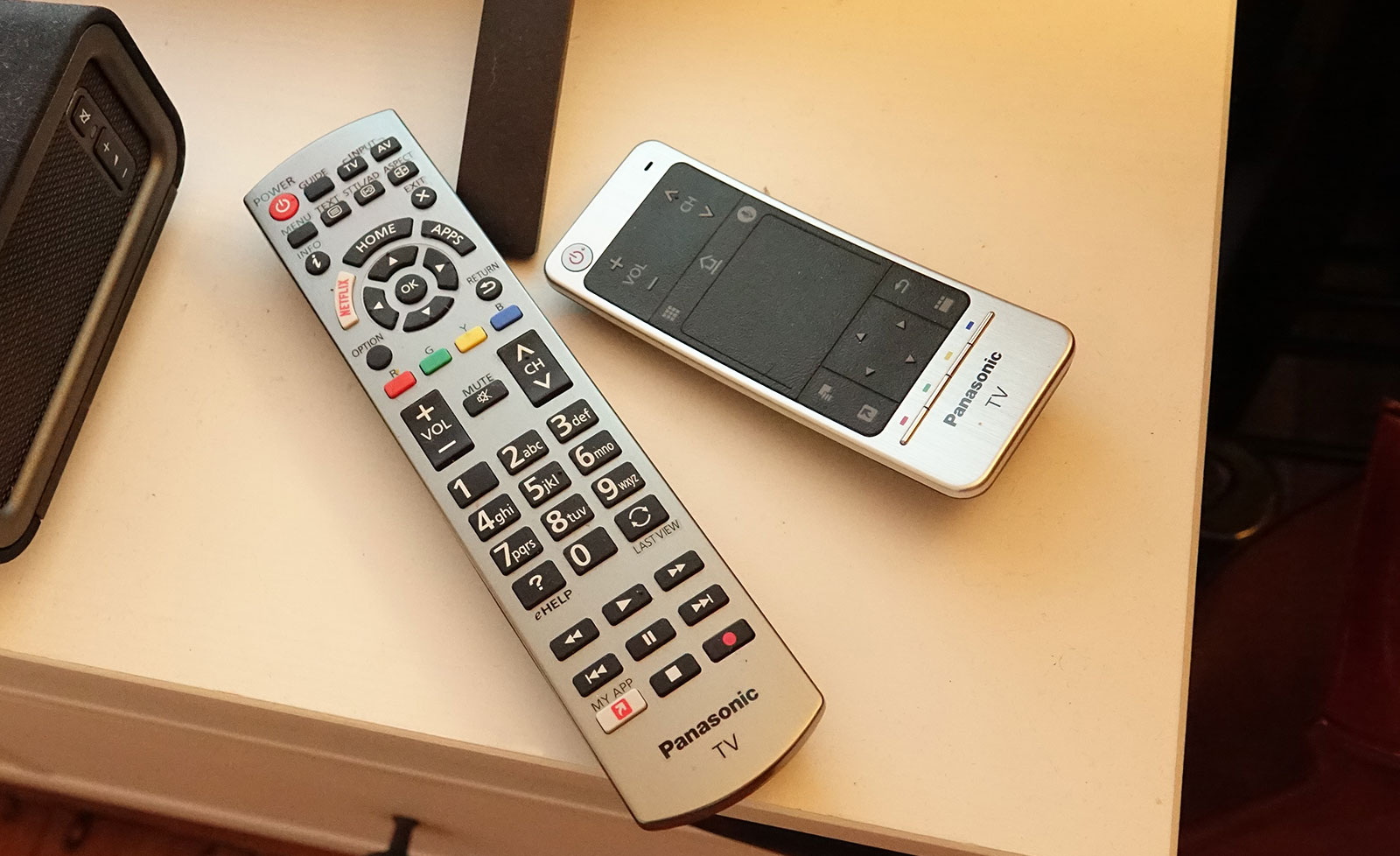 In-use
With the specs out of the way, it's time to get stuck into the TV itself, and using the EZ950U is easy provided you don't mind a button-based remote, the old school controller that has served practically every TV since, well, ever, though it's not the only trick Panasonic packs in.
Included is an extra controller, something that is a little bit fancy, offering a smaller touchpad-based controller with a surface that isn't like using your computer's touchpad or even the Apple TV remote's touchpad, but is still definitely a touch-based controller.
We'll admit it's a little awkward to use this one, and we went straight back to the button-based remote very quickly, preferring what we knew to what we were a little uncomfortable with, plus your media player remotes like for the Apple TV, for the PlayStation, for the Xbox and Foxtel box and so on and so on, are going to do a better job controlling the TV most of the time unless you need to get into the nitty gritty.
If you do need to get into that, however, there's a menu system available for you, both in the smart TV interface and in the actual menu of the TV.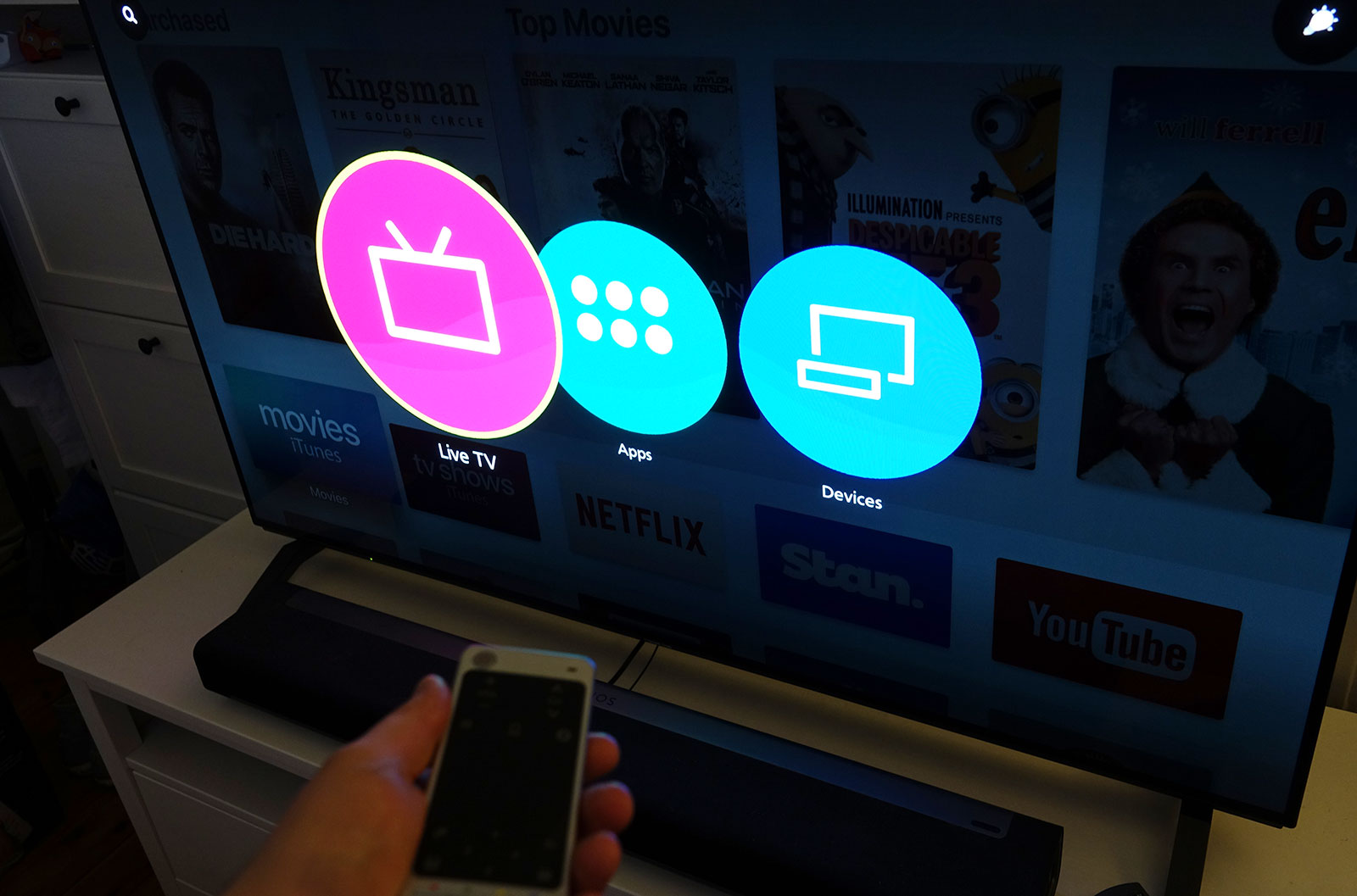 First, that smart TV interface, because while Android seems popular, Panasonic is sticking with its own smart TV system built on Mozilla's Firefox, providing a bubbly and friendly interface that offers apps and connections to devices not only connected to the TV, but also on your network.
There's no doubting that the Panasonic smart TV interface is friendly, though it might be seen as a touch too simple for our needs. We're glad we have so many other devices to depend on for connections to the web, though if you don't, you'll find Netflix, YouTube, ABC, SBS, and Amazon Prime available.
Stan is missing in action it seems, and the app market available for the TV is fairly low-grade, so while you'll be offered a few choices, these are largely independent apps, though hey, there is a Twitter app, so that's something, right?
Frankly, we skipped Panasonic's smart TV interface, though it's certainly there if you need it.
More interesting for us, however, is the menu system, which isn't dramatically different from the menu systems of other TVs, except for that Panasonic has made it into a cornucopia of video settings. Brightness, contrast, tint, colour temperature, noise reduction, and sharpness fill out the standard settings, but then there are the other bits and pieces we don't always see:
Luminance settings for the OLED panel's light intensity
Colour remastering for a different gamut
A reversal film mode
Two types of motion settings via "Intelligent Frame Creation" and "Clear Motion" used for slightly different clean-ups
HDR settings include dynamic, normal, and "THX" variations (because this is a THX-approved TV)
You name it, this TV has it, with Panasonic providing more than you might expect a TV of this kind to have, and making full use of that LG-supplied OLED panel, but with Panasonic's tweaks.
If you happen to be one of those Jerry-types that always thinks the factory tint setting is too high, the Panasonic EZ950U has your number down right, because you can make it work the way you want to.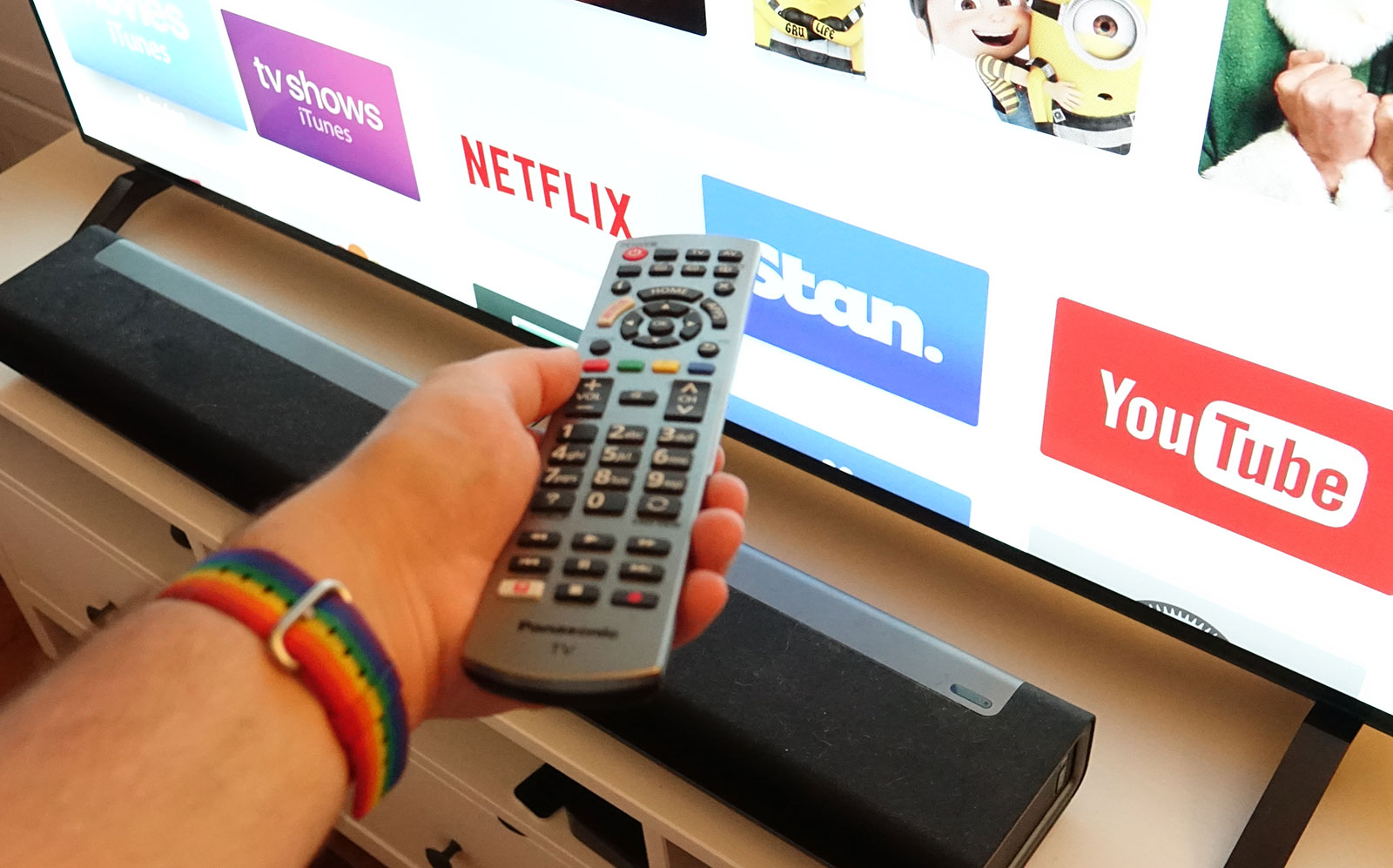 Performance
Even if you're not one of the many incarnations of Jerry and need to fiddle with those settings, you'll find Panasonic's take on OLED to be a solid product worthy of your attention.
We probably need to say it once more, though, because it remains one of those things worth mentioning: the panel in the EZ950U is not built by Panasonic, but LG, with tweaks and customisation added to EZ950U, not actually built into the panel itself. In fact, the LG panel used here is likely the same as the 55 inch variant of the Sony A1 we saw earlier in the year.
So Sony and Panasonic both rely on LG's panels, and that's completely fine. This isn't about the panel, but rather how the companies use them, and after seeing the success Sony has with its first consumer-facing OLED TV, we're not shocked to see Panasonic able to replicate the results.
Regardless of what we tested in the Panasonic EZ950U's 4K display, we were treated to an ultra sharp, ultra high definition set of visuals that were easily a feast for the eyes, with OLED's main staple of blacks so deeply black you would literally have trouble picking the difference between on and off.
The blacks are quite seriously that good, and the colours are just as good, too, as OLED puts on the show and makes colours pop if you want them to, or pulls down the drama if you prefer a natural look.
That is totally your choice, as the HDR viewing mode provides options in the form of the colder whites of dynamic and normal modes, while the THX modes warm up the white substantial, making the rendering more like that of paper or on a screen. This while the colour temperature allows you to tweak things further.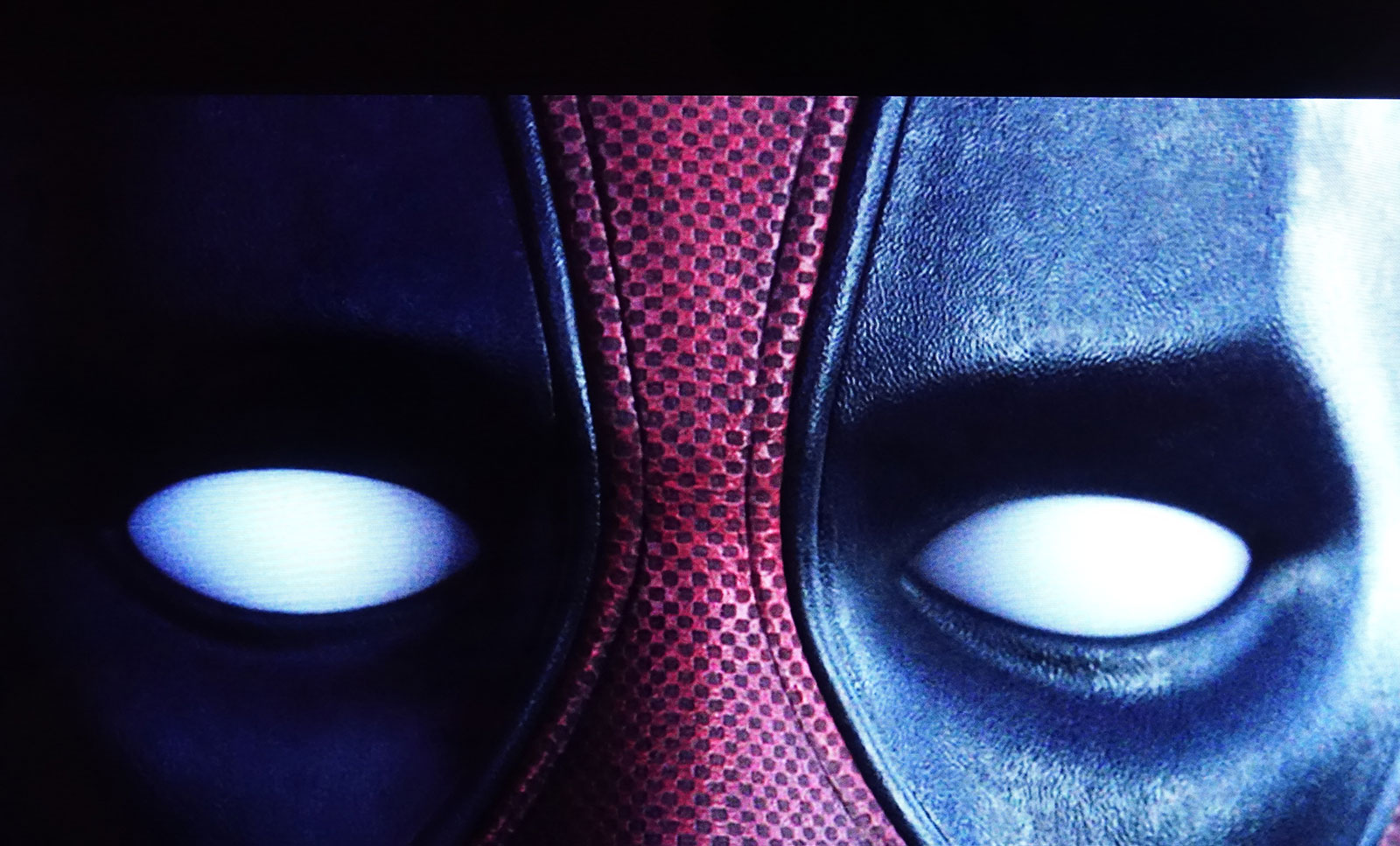 Essentially, it's a set of performance settings for displaying the colour not only the way an organic light emitting diode panel should, but the way you believe it should, making it well-thought out and developed for those of us who know our colour and love it to be as accurate as possible.
In the good ol' days, we'd probably call those people plasma owners, but plasma is a dead technology, so if you need something to replace that plasma, you're looking at it (and reading a review on it).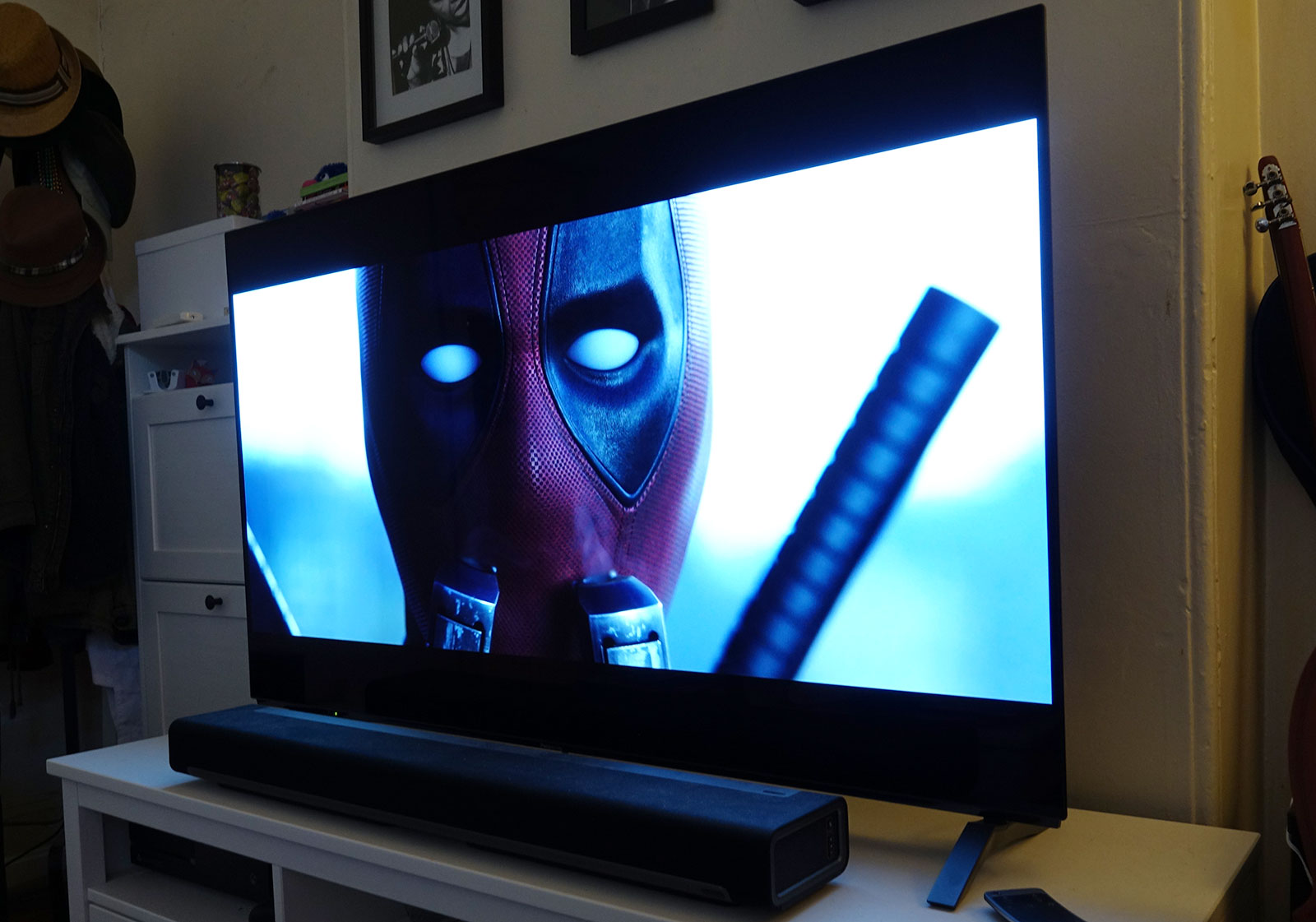 Value
Plasma tended to be quite pricey, however, and so we're not thoroughly surprised to see Panasonic's 55 inch EZ950U to hit an RRP of $3999.
That might seem a little on the exy side for a 55 inch, but Panasonic's delivery of colour, quality, and sharpness really helps to achieve a result that makes it not far off.
Granted, LG is more competitive in this area, and that's hardly surprising given how many OLED TVs it makes, especially since it makes the panels for Panasonic's own TV. However, the EZ950U is an exceptional TV, and while its price is a little high, its quality more than justifies the price tag. If you find it for even less at street prices, bonus.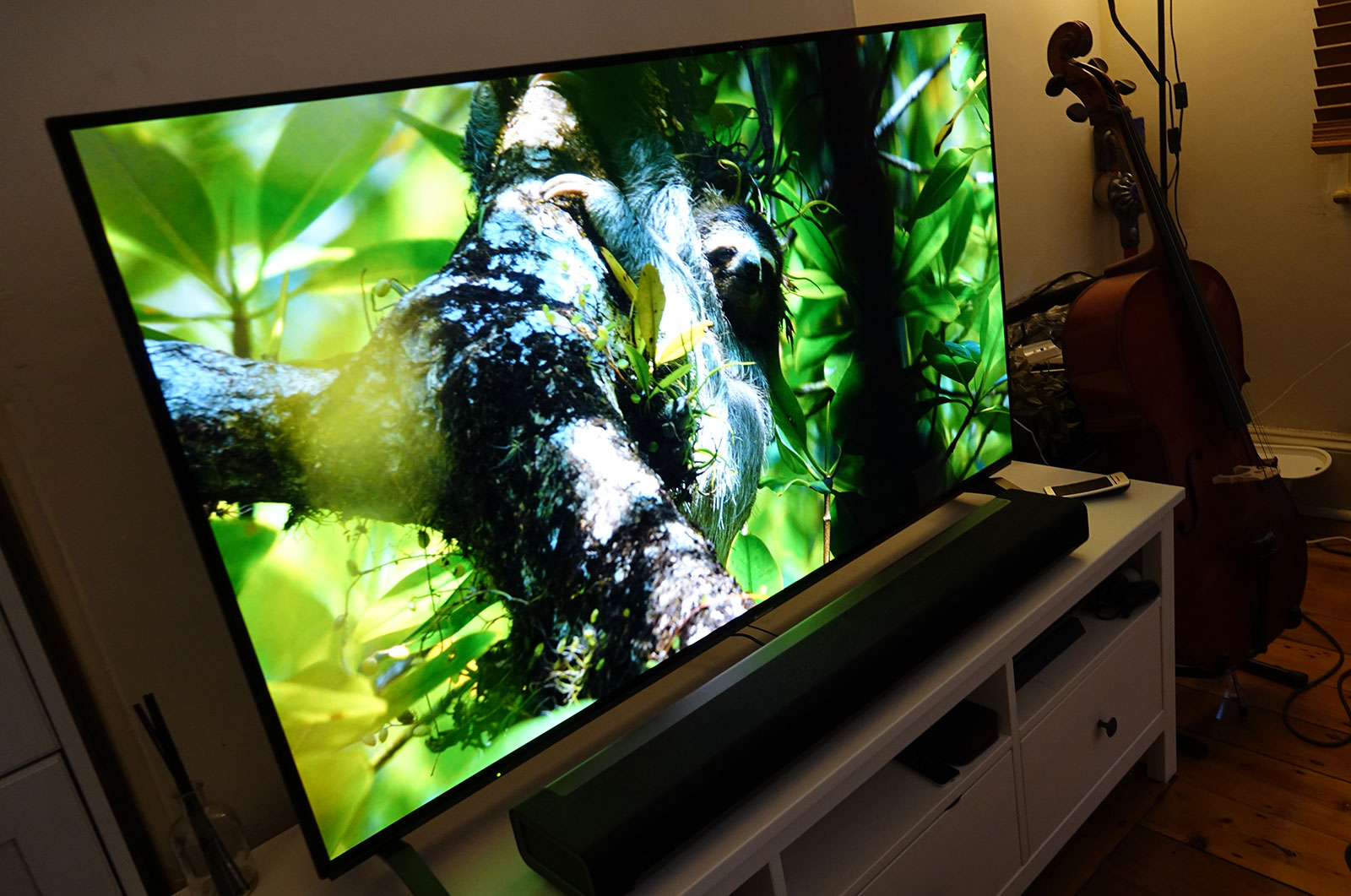 What needs work?
It's hard to find things that we'd be so concerned with on the EZ950 to prevent us from saying "go out and buy", but we found two that were obvious.
One we've already mentioned, with a less than impressive smart TV operating system that lacks the finesse of Panasonic's competitors, but the other is more random, and definitely started to grind at us as time went on: bugs.
Simply put, Panasonic's menu and interface pops up with the more than occasional bug, leaving the input source on screen some of the time no matter what you do, while the TV itself occasionally couldn't find the source that was on.
As we said, random would be the phrase we'd use, though the on-screen source information was one that would bug us at least once a week, and we're not entirely sure why it pops up in that way.
It could be teething issues, sure, but you kind of hope Panasonic has a firmware update it can send out over the air, and more than a month in our review, we haven't seen it yet.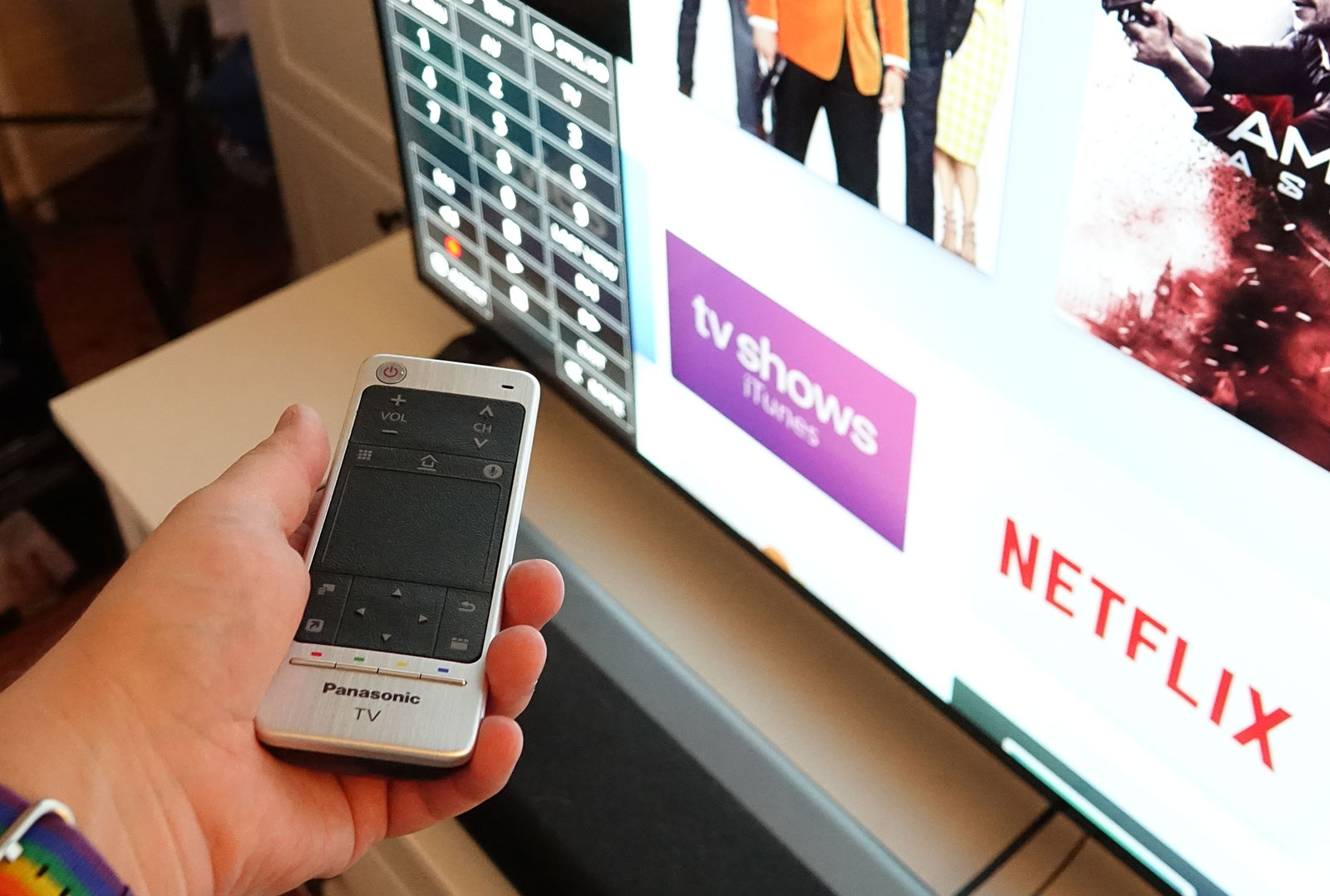 Final thoughts (TLDR)
Fortunately, the bugs are few in number and the smart TV operating system can be ignored, the former resulting with a quick power on and off, while the latter just needs one of the many media devices you probably have stacked up in your home entertainment unit.
We can forgive these minor issues quite easily because that's what they are: minor issues. In fact, the EZ950's minor issues barely result in anything more than an inconvenience, and once you know the solutions, you can move past them and get stuck into what really matters: the performance of this excellent TV.
Because that's what the Panasonic EZ950U is: an excellent TV and a brilliantly minimalist display offering exactly what you need if you love a good picture and a lot of solid blacks, not to mention a design that works and doesn't lock you into any features you may not want. You're not forced to stick with the sound in this TV, either, and can go in and add your own soundbar to the system, making it a solid option if you already have a system you like and don't want to give it up for the sake of a TV's design.
LG may practically control the OLED space, but allowing Panasonic to use its OLED panels provides Australian buyers with something that is utterly exceptional, boasting brilliant blacks, illustrious colours, and a clarity that has to be seen with your own eyes.
We'd be happy with one of these in our home, and you don't even need a special stand for it, making it just that much easier to take home no matter where you live. Highly recommended.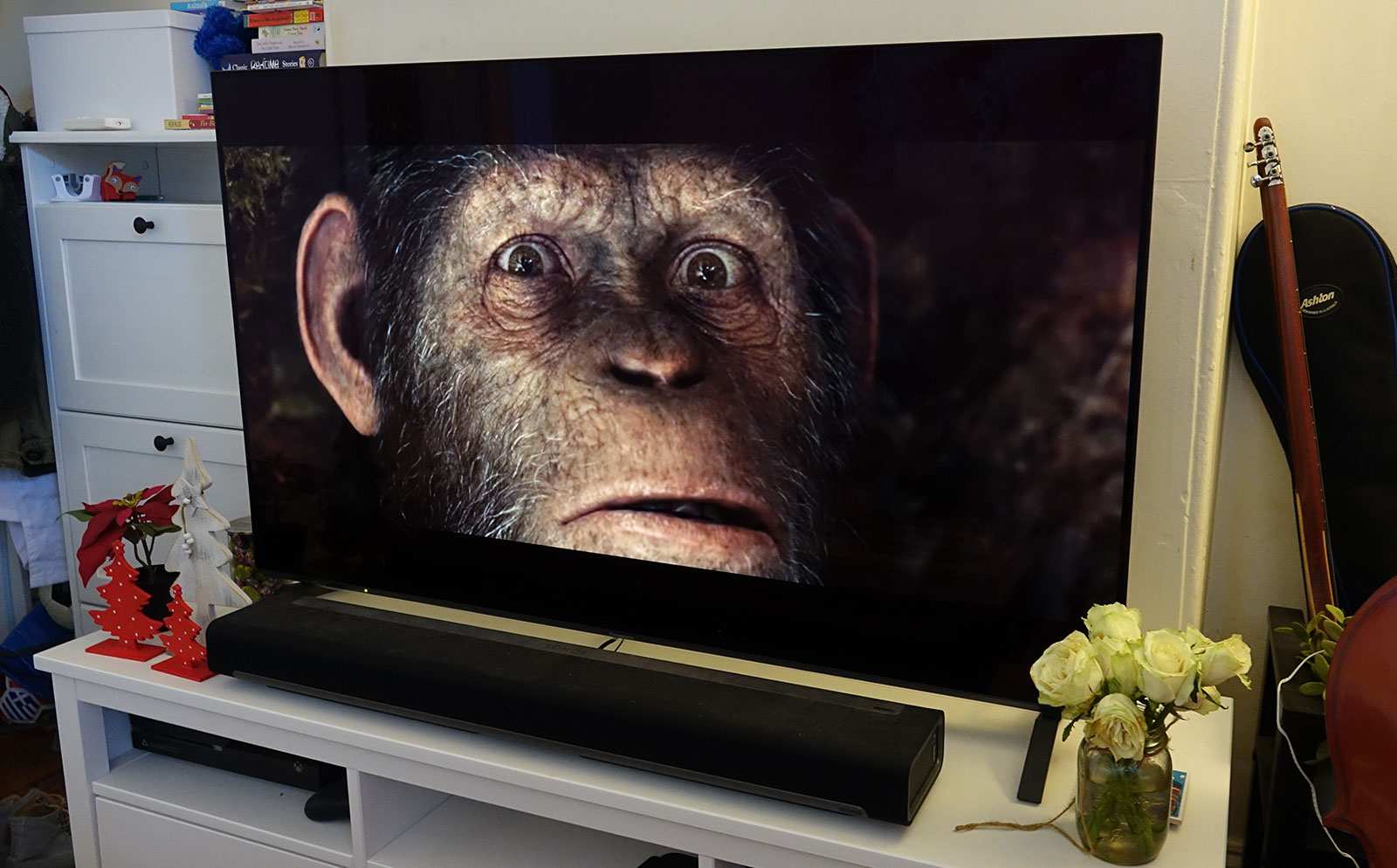 Panasonic 55 inch EZ950 4K OLED TV (55EZ950)
The good
Insanely thin
Minimalist design
Some of the best picture quality you're ever likely to see
Very good and fairly comprehensive technical menu system
Two types of remotes: old school buttons and a touchpad
Stand is easy to set up, especially in comparison to other OLED TVs
The not-so-good
Smart TV operating system feels a little old school
Occasional bugs