Quick review
Motorola ThinkPhone
The good
Solid performance
Fast 144Hz Full HD OLED screen
Premium looks with carbon fibre
Premium build complete with water resistance and MIL-STD durability
Excellent two day battery life
WiFi 6E support
Software made for Windows laptop owners
The not-so-good
Cameras could be better
Software isn't for Mac users: they just have the standard Android-Mac app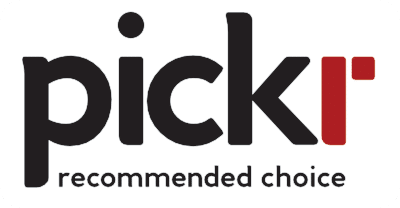 Outside of the iPhone and Macs, mobiles don't always play nicely with the computers in our lives. It's a known issue, but one Motorola is looking to fix with its work-focused ThinkPhone.
Phones and laptops have already had a bit of a tenuous relationship. Phones aren't laptops, but many of the functions and feature sets are shared.
You can surf the web, email, and handle some light productivity from a phone, albeit with a smaller keyboard, while laptops can be used to make phone calls and send messages with the number of apps and services out there. Neither device truly replaces the other, though some of us lean more on one than the other.
And yet there are also those of us who wish their mobile was designed to complement their computer, to add features and functions to it, and allow the two to work beautifully.
Mac users with an iPhone can typically see this with the way iMessage and phone calls all link up, allowing you to send and receive on a computer, while recent Apple Silicon Macs can even run the apps made for the phones. And let's not forget how recent Mac OS installs can also use the camera from recent iPhones. There's a lot of neat shared features there.
It's not the same between Windows and Android, which typically needs a specific device from a specific brand to make this work.
Motorola could be changing things, though, and with the recent arrival of its ThinkPhone, there's not only a device worth checking out, but an integration that'll work with most Windows users, too, regardless of whether they have the "Think" branded Lenovo computer Motorola is tying to the name.
Design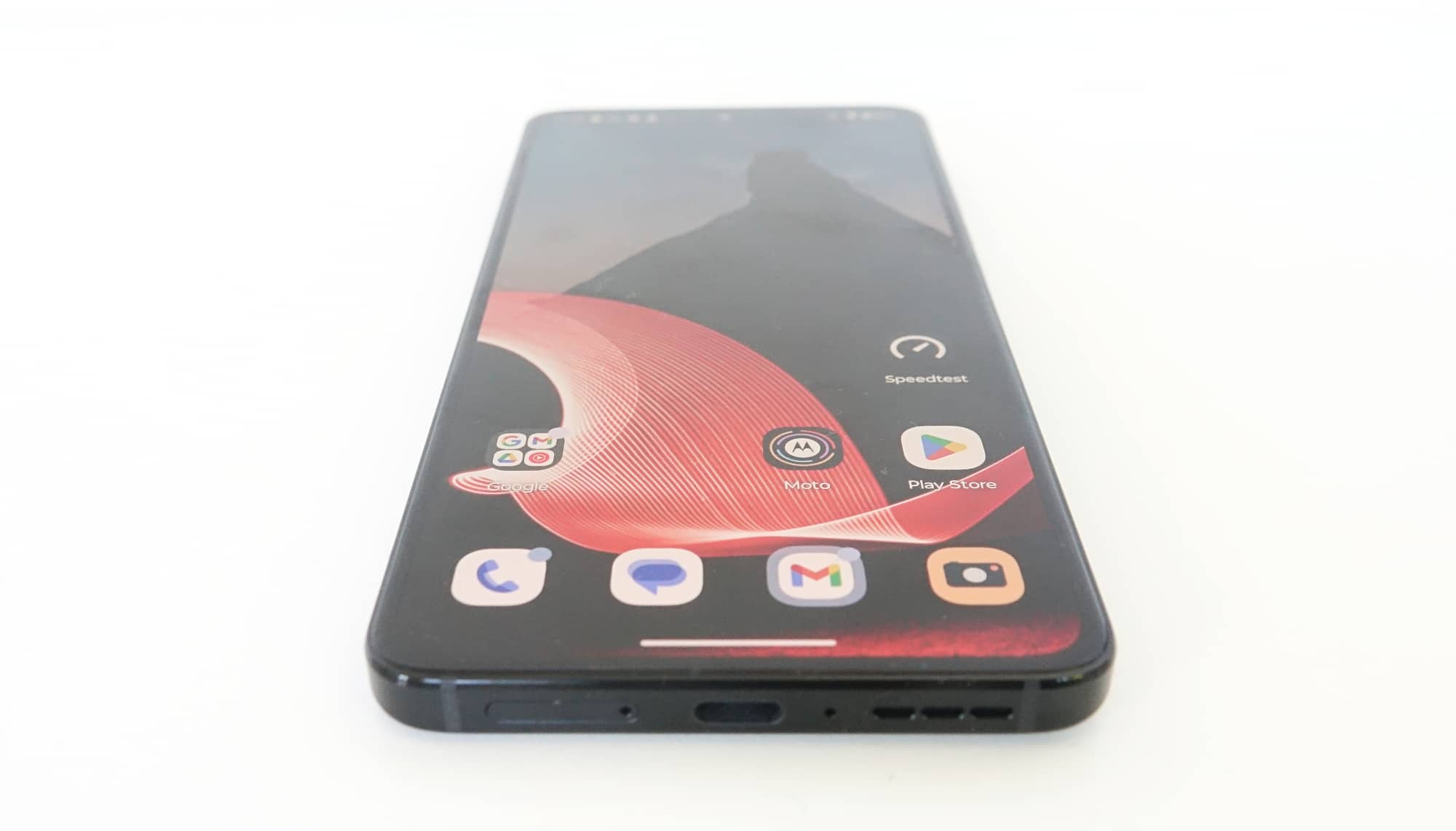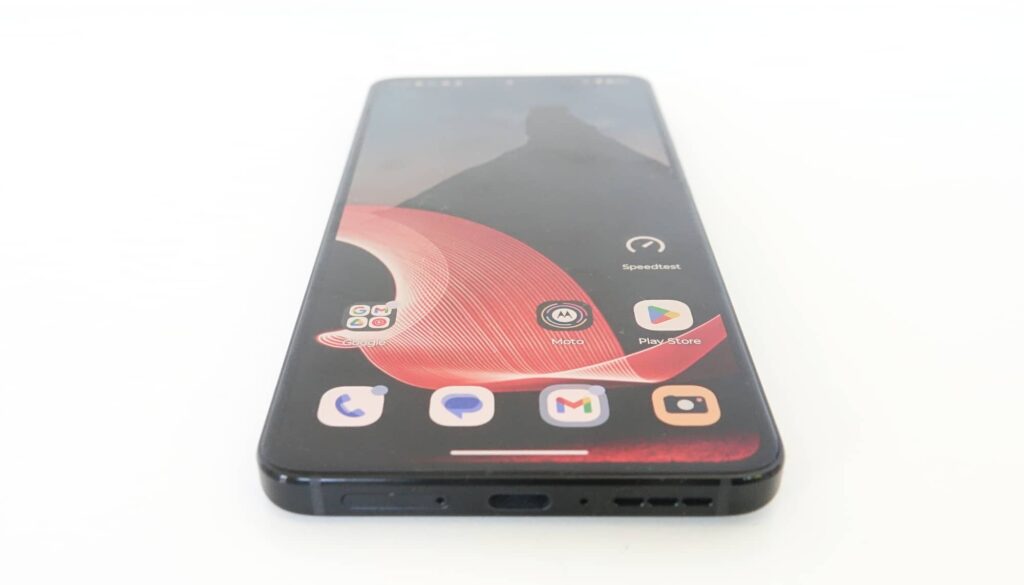 Glance at the ThinkPhone, and while you mightn't think the phone has changed from many a smartphone out there, Motorola has imparted some design traits worthy of ThinkPad owners.
It's the little things, such as the slick minimalist design with an aluminium frame, the carbon fibre finish and its soft back, oh and that little red button on the side which not only harks back to the red nub of the old ThinkPad mice, but also acts as an extra button for custom functions.
That design is also proofed to be IP68 water resistant and fairly durable, spec'd to MIL STD 810H, which basically means friendly to splashes and drops alike, though we wouldn't go out of our way to make a dent if we had the choice.
The little things make the Motorola ThinkPhone — or the Lenovo ThinkPhone by Motorola, depending on how you word it — just that little bit nicer than yet another all-screen Android phone, which this definitely is.
Features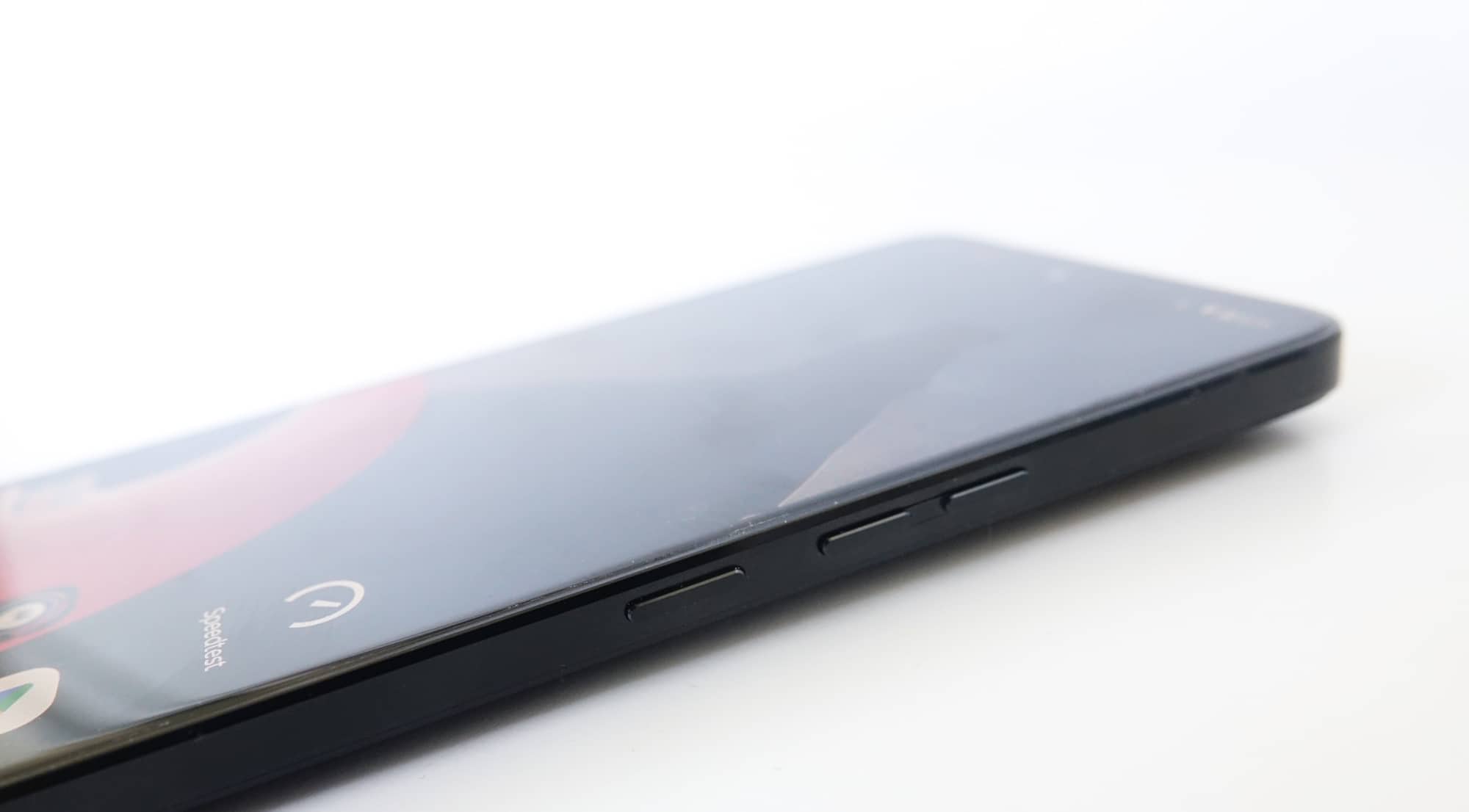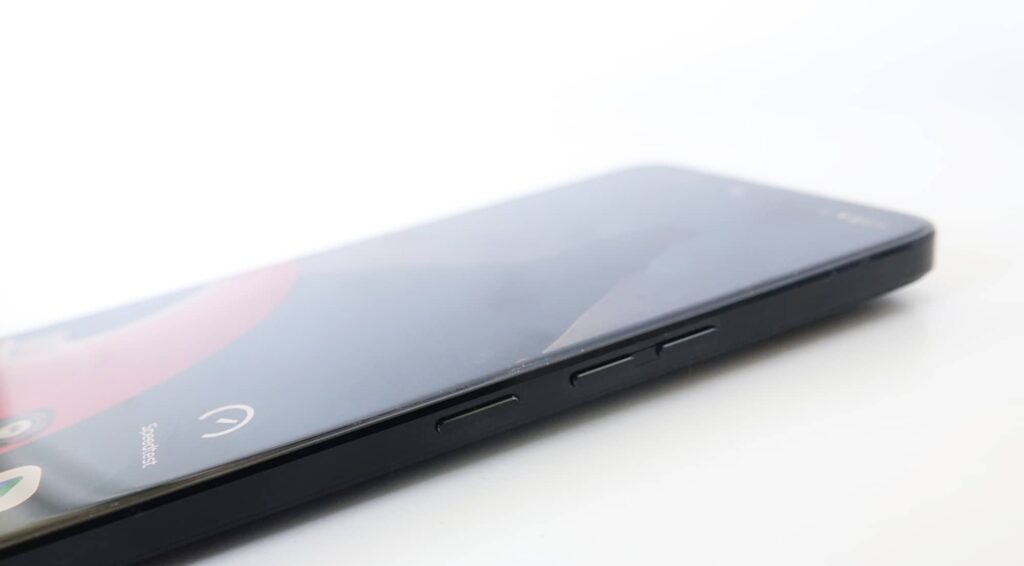 Inside, it's a fairly solid spec, covering Qualcomm's Snapdragon 8+ Gen 1, 8GB RAM, and 256GB, though that last one is set and can't be upgraded.
You'll find Android 13 on the phone out of the box, plus support for the standard connection options offered by a phone these days, covering Type C USB, 5G, 802.11ax WiFi 6E, NFC, Bluetooth, and GPS.
On the back, you'll find the cameras, covering a 50 megapixel F1.8 standard wide camera, a 13 megapixel F2.2 ultra-wide with macro, and a depth sensor there solely for the portrait camera to do its thing. The front has a camera too, sporting a 32 megapixel F2.45 camera, handy if you like big selfies.
All of this sits under a sizeable 6.55 inch OLED display with a 2400×1080 Full HD+ resolution, capable of running at 144Hz and protected by Corning's Gorilla Glass Victus, which matches the IP68 and MIL STD 810H ratings nicely.
Beyond this, you can expect wireless charging, fast charging over Type C USB, and a 5000mAh battery that you can't remove.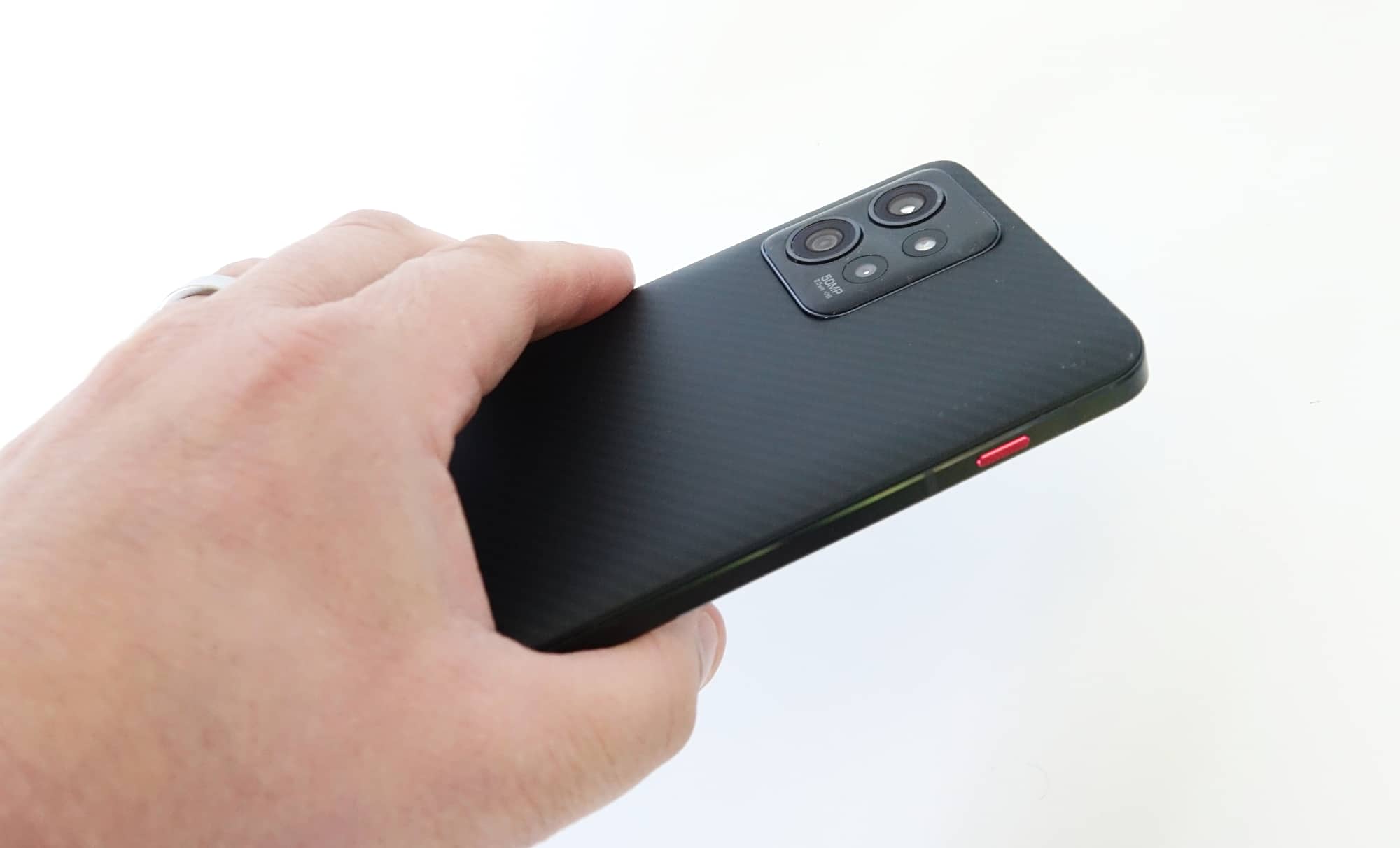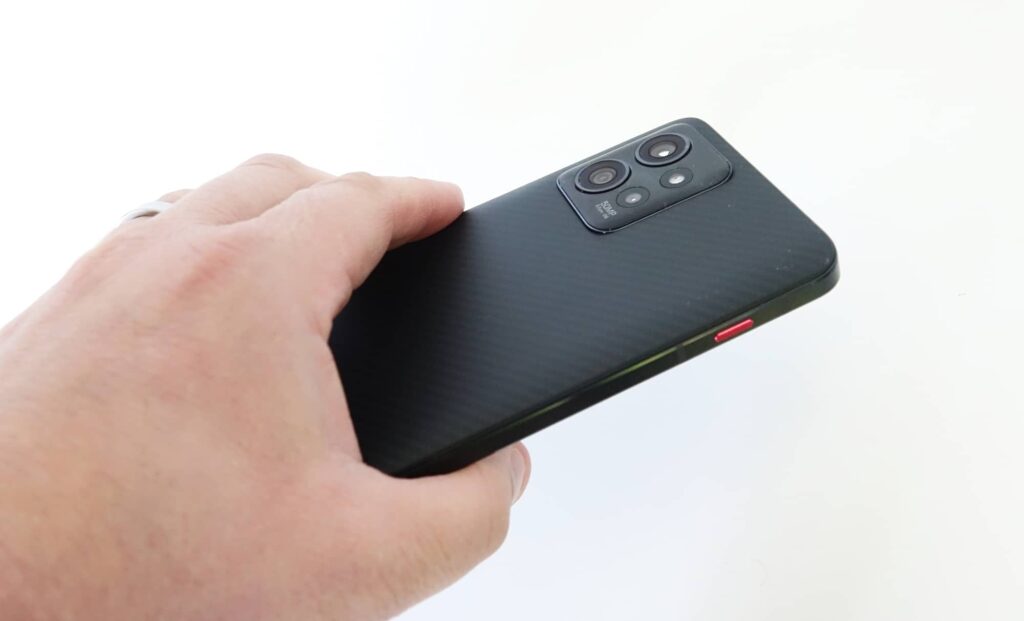 In-use
With the features out of the way, it's time to jump into the phone itself, and like any other Android phone, the Motorola ThinkPhone is used by holding it and choosing whether you'd like to use gestures — swipe up, swipe left — or on-screen buttons. It's dealer's choice, but we like the gestures lately, as it just works with everything else.
There's also a fingerprint sensor in the screen, plus a facial security system to let you login in either way, and a fairly fast 144Hz screen to make those animations look swanky, but there's also an extra button on the side in the trademark ThinkPad red, plus some software to talk to the phone from a PC.
Specifically, it's called Lenovo "Ready to Assist", and it's a Windows-only affair. If you're having trouble finding it, the phone can help, or you can , cementing its Windows-only deal. In fact at the briefing, Motorola was pretty aware of this, and noted that Lenovo's ThinkPhone software was geared for Windows primarily, with Mac users directed to the standard Android app.
It's pretty clear Lenovo users are the primary focus here — the phone is designed to accompany a ThinkPad — but really any Windows PC user could find a connection here. We loaded the software up on an older Dell Precision laptop running Windows 10, and everything connected fine.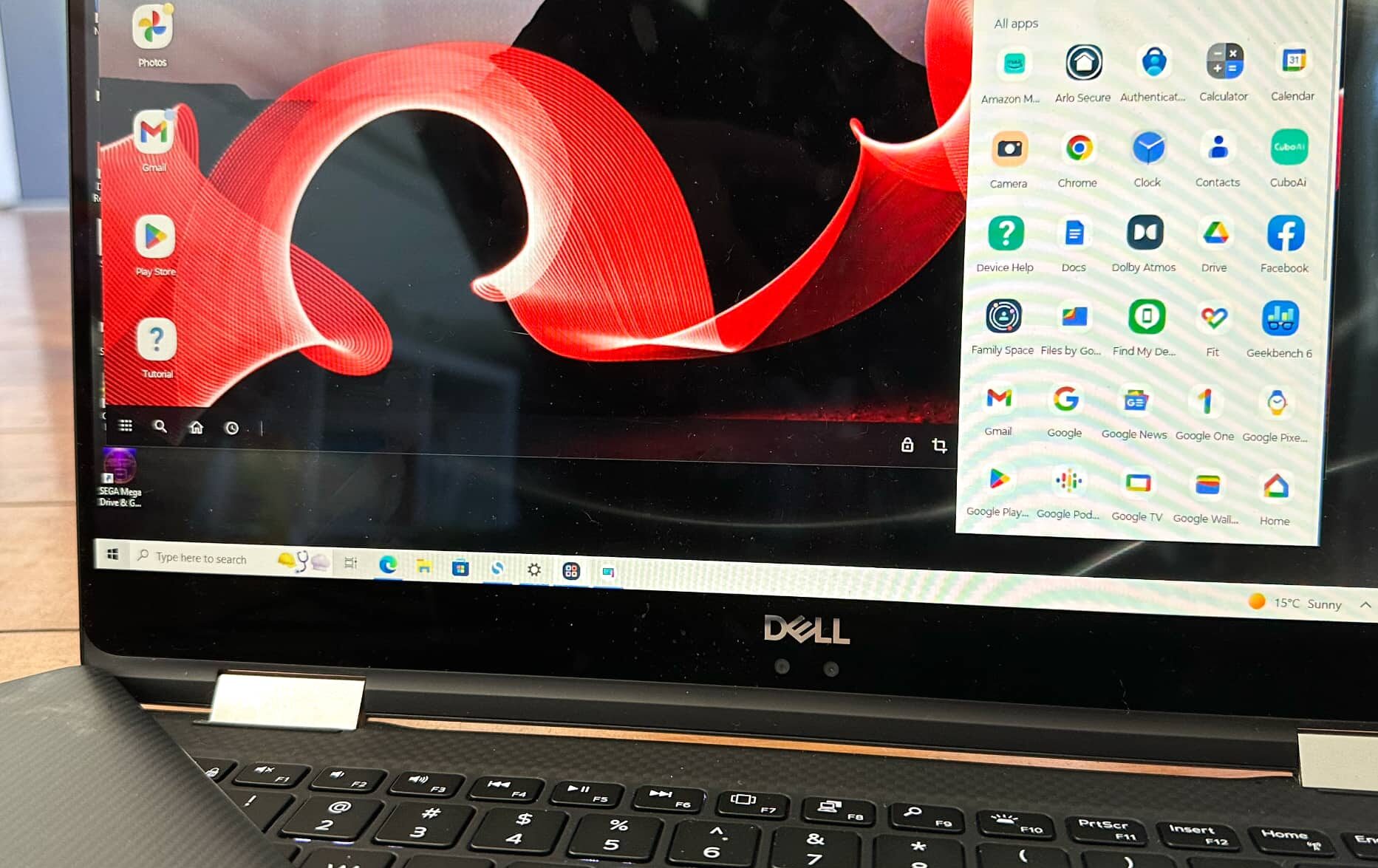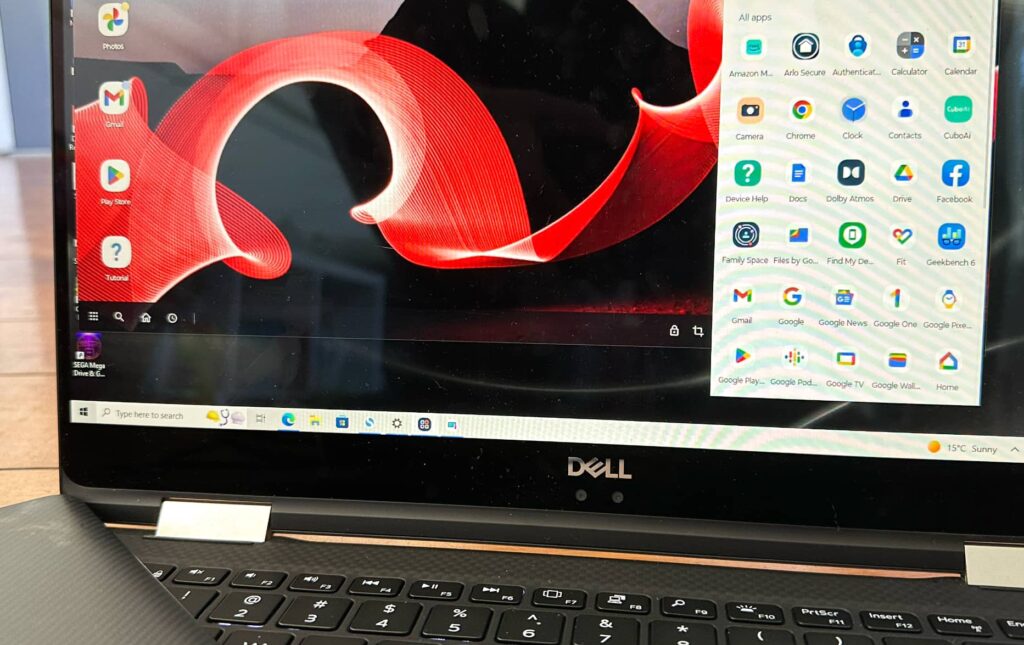 The software covers a security layer, synced notifications, app streaming to the desktop, file dropping from phone to computer, and even turning the ThinkPhone's rear camera into a webcam of sorts if your PC's webcam is garbage. If you have a recent ThinkPad, we'd hope that not be the case, but you know how these things can be.
Overall, it's a bit of a software side Android phones have never really delivered. Apple's iPhone offers these capabilities to owners of a Mac, for sure, but Android typically misses out on this level of integration. With the Motorola ThinkPhone, it's available not just to ThinkPad customers, but also Windows users in general.
That alone makes the ThinkPhone that little bit more interesting than a standard Android phone, and gives Moto a slight edge in terms of compatibility. It just does something else, and that's great news for PC owners.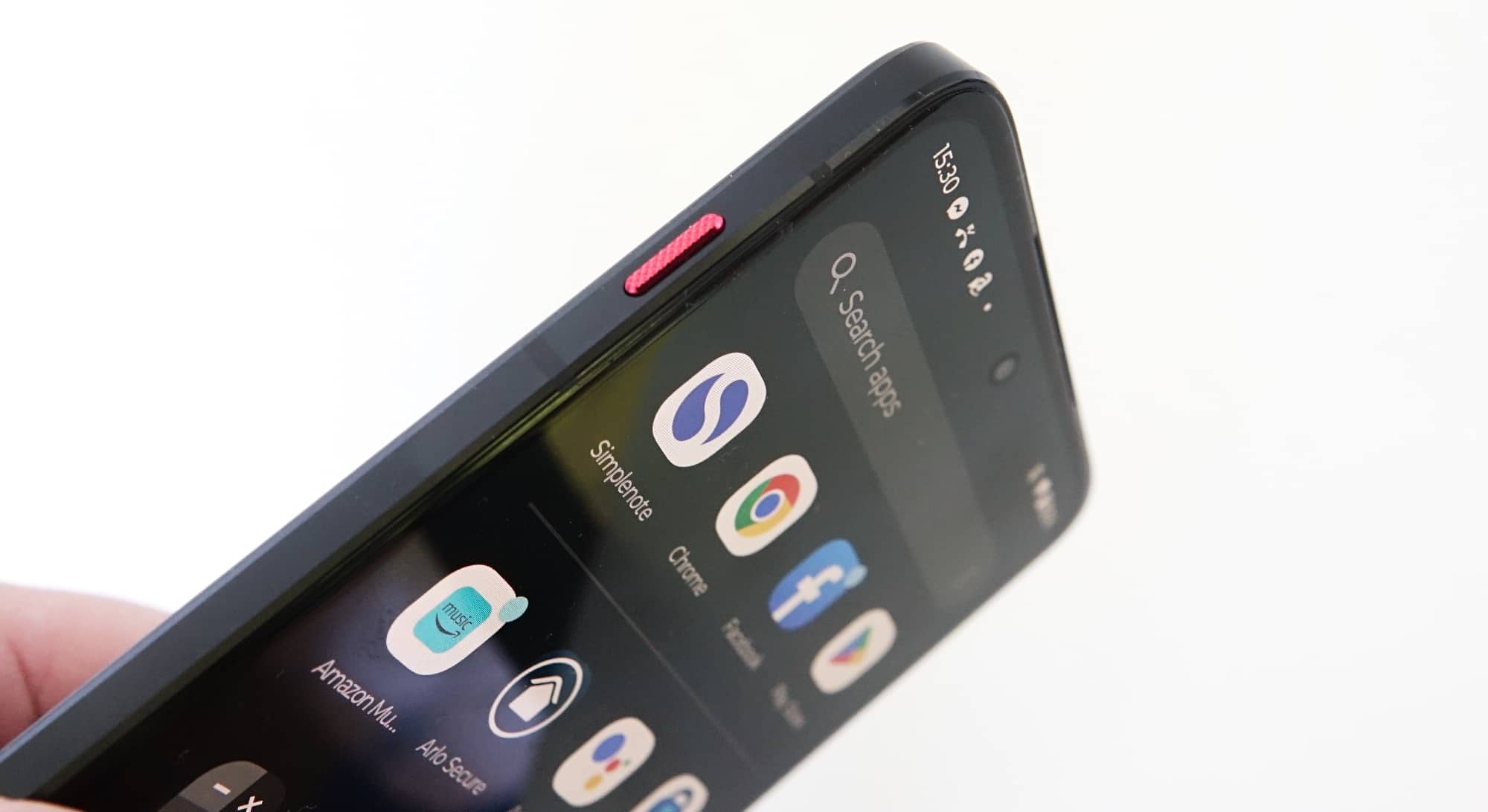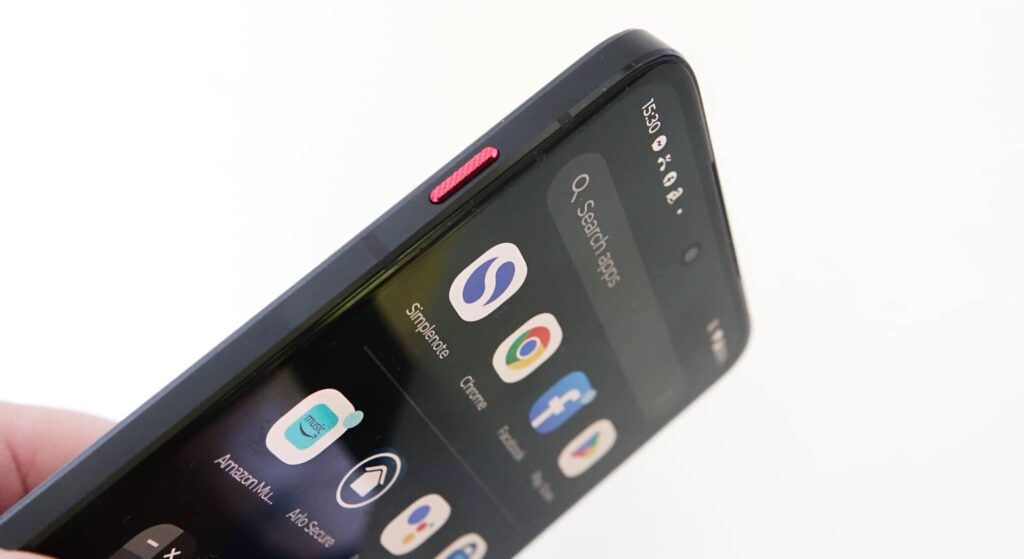 Performance
The performance is also a winner, thanks in part to last year's high-end chip, the Qualcomm Snapdragon 8+ Gen 1.
Granted, the chip of choice for this phone was the flagship chip for the back half of 2022 and isn't the shinier Snapdragon 8 Gen 2 to start this year. But there isn't a heap of difference to be found for most users, and that'll be good news to folks who like performance and saving money.
Rather than paying for the latest chip, the Snapdragon 8+ Gen 1 delivers solid results in benchmarks and system performance across the board, helped along by the 8GB RAM found on our ThinkPhone review model. It's a very similar spec to the Moto Razr, and delivers much the same performance, out performing the 2022 Galaxy S22 Ultra, while not quite besting this year's S23 Ultra.
Australians will only find a ThinkPhone with 8GB RAM in this country -- no 12GB option here, sadly -- but that should be enough for Android, and there's more going on here, too.
Testing the ThinkPhone on the Telstra 5G network by way of Mate, we found speeds hitting as fast as 248Mbps in our tests.
While the 250Mbps maximum is set by our telco, it shows the 5G ThinkPhone has no problem delivering 5G speeds, and your only limitation will be where you are and what your telco is giving you.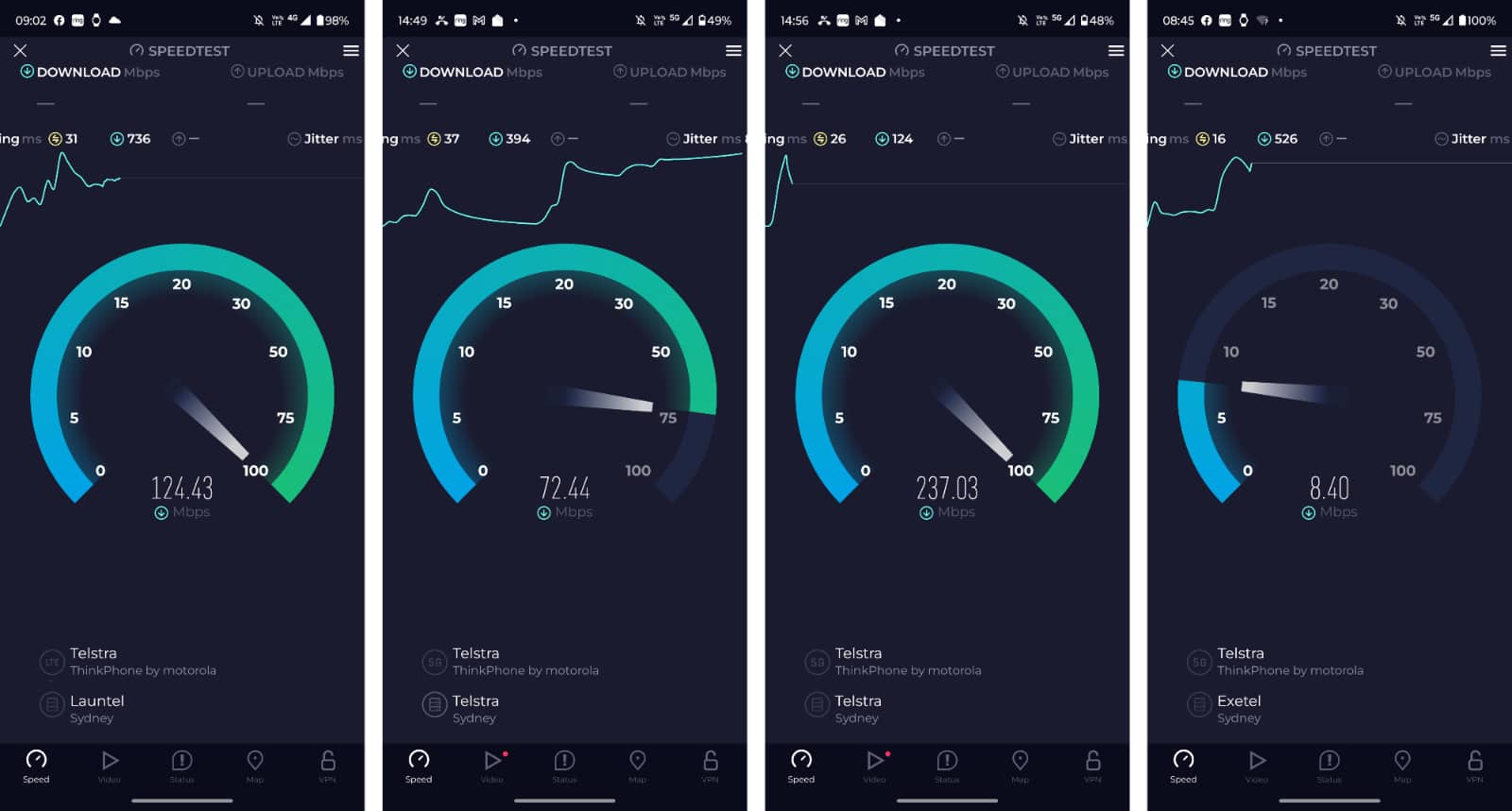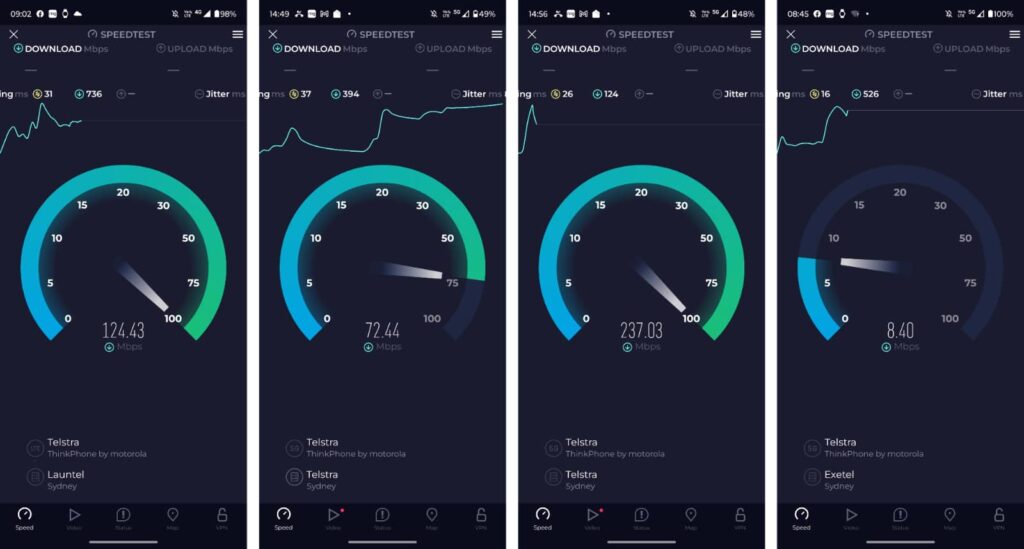 There's also support for WiFi 6E in the ThinkPhone, handy if you have one of the few WiFi 6E routers appearing about the place. Similar to WiFi 6's 802.11ax, WiFi 6E adds an extra band to for high-speed devices, which this phone supports, as do plenty of other recent flagship Android phones.
Camera
And like other flagship Android phones, there are also a couple of cameras here, as well, covering three on the back and one on the front.
On the back, you'll find a 50 megapixel camera supporting F1.8, a 13 megapixel F2.2 ultra-wide camera with support for macros up close, and a depth sensor that isn't a real camera for you to make use of beyond the portrait mode, which basically just takes a picture to be blurry in the background of portrait images.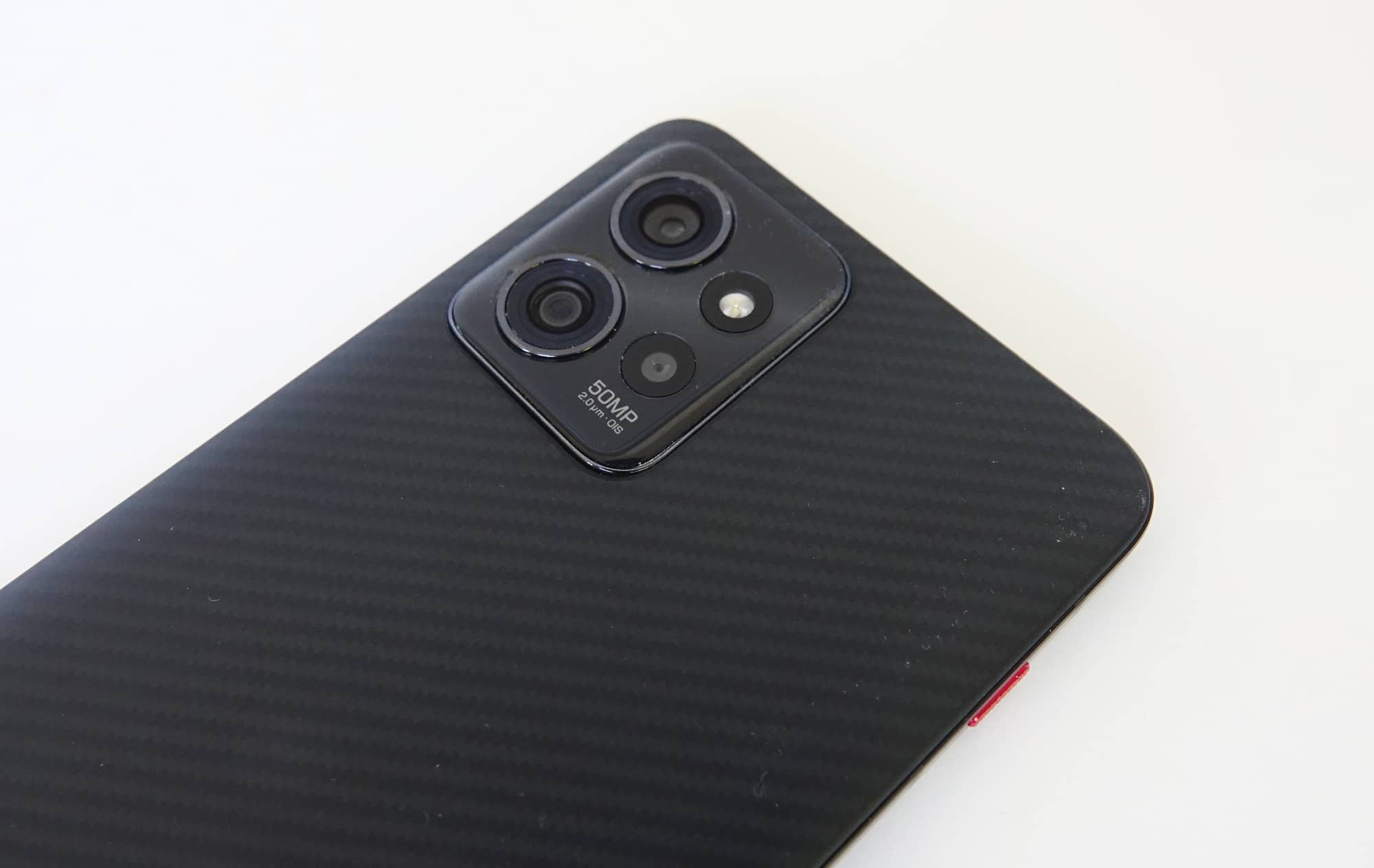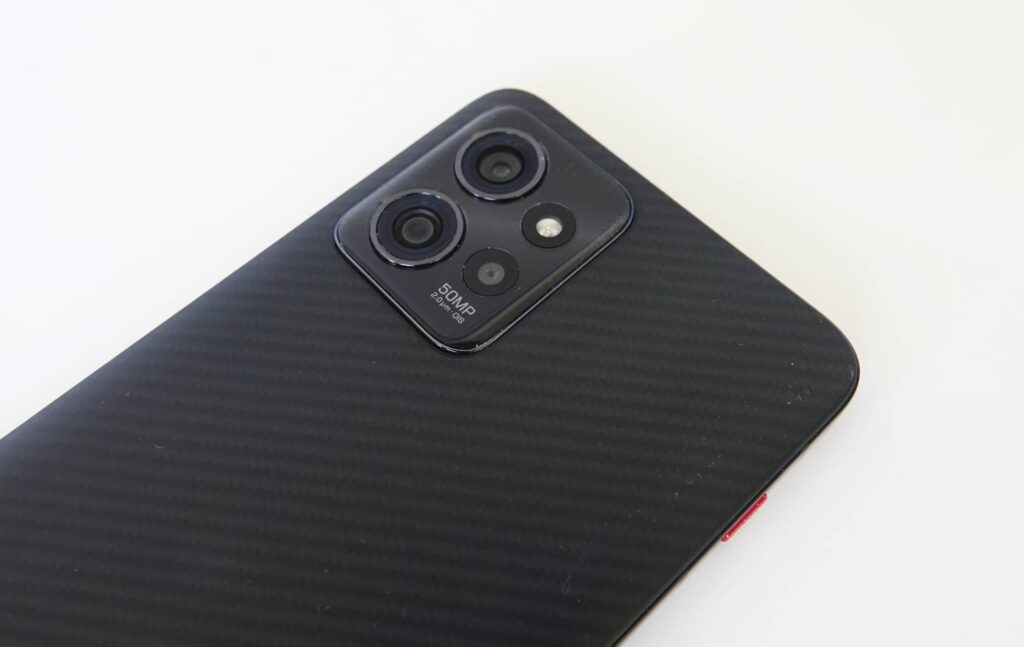 It's all pretty standard stuff, and the sort of camera set up you might expect in a mid-range phone or the very beginning of the flagship, which is kind of where Moto has placed this phone.
The main camera can deliver some crisp shots with great colours and detail in daylight, but really needs more support for light. Motorola's ultra wide gives you a little extra space to work with in terms of view, plus the detail in the macro is a nice touch, but neither camera feels like it's flexing particularly well.
Overall, the camera does an acceptable job, but we're not capturing with the flagship capability of an iPhone 14 Pro here, and it doesn't stack up to the similar megapixels of the Pixel 7 Pro, either.
What we do like that Moto has brought over is the support for the twist function, because like other Motorola phones, you can quickly twist your hand and it'll launch the camera.
We don't say this enough, but this sort of gesture is very much appreciated, as are some of the visual improvements to Moto's camera, which jumps between angles by showing you an equivalent focal length.
Battery
While the cameras feel like they could be a touch more flagship, the battery handles itself better than most flagship phones, and that can only be a good thing.
Testing the Motorola ThinkPhone throughout a week-long period showed two days of life was possible through semi-regular use, while more heavy users would be able to hit a full day with no problems but would likely want to charge overnight to bring the phone back to full for the next day.
The very fact that you can hit two days on this phone is quite impressive, and a feat not all flagship phones can pull off comfortable. Normally, it's a maximum of a day, but this one handles just that little bit more.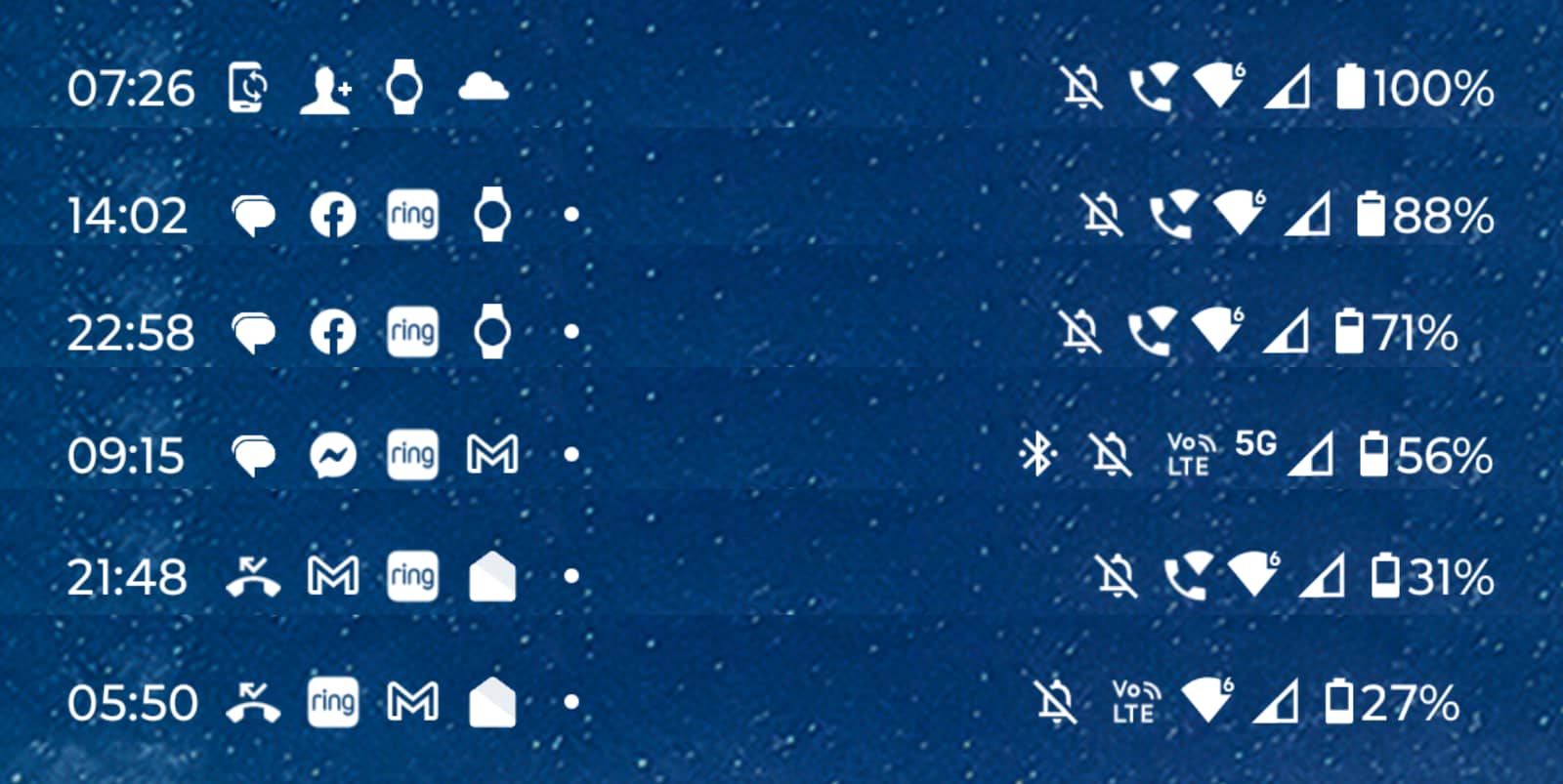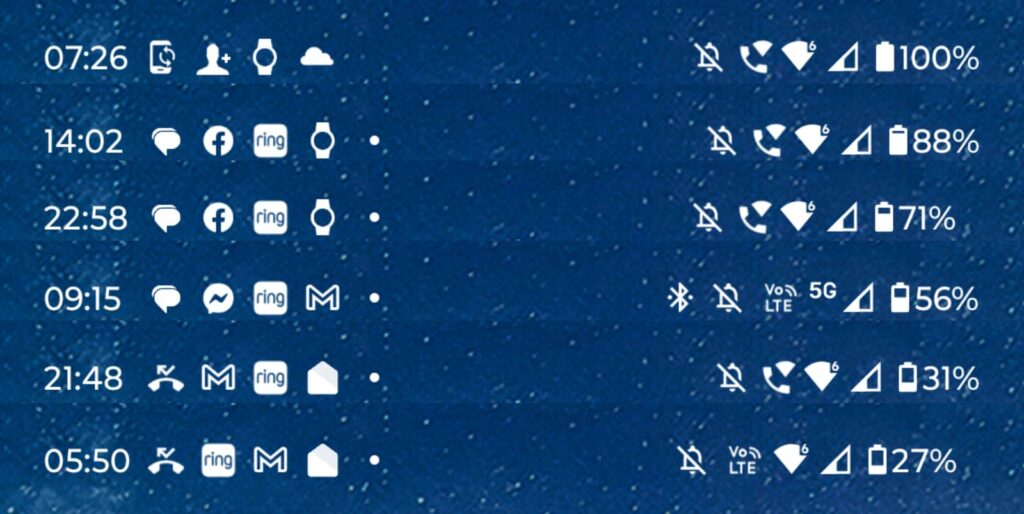 Our two-day test found two days was possible from around four to five hours of screen use through the day, which if you're more reliant on your laptop may see you doing. A further test showed that four hour screen usage could see you hitting a little past a day, so getting the best battery from the ThinkPhone will really depend on how often you glance at the screen.
You'll also find some wireless charging in the design, handy if you have a wireless charger you'd like to use, not to mention some rapid charging from a powerful Type C port.
Given the intended focus on Lenovo ThinkPad customers, that last one makes a lot of sense.
Most laptops these days rely on Type C charging in some way or another, and that means owners of recent ThinkPad models already have a super quick rapid charger at their disposal: their laptop's Type C charging pack. Plug that straight into the ThinkPhone, and it'll recharge super-fast, making it an ideal accessory that ThinkPad owners already have. That might make a luggage pack that much easier for the next trip.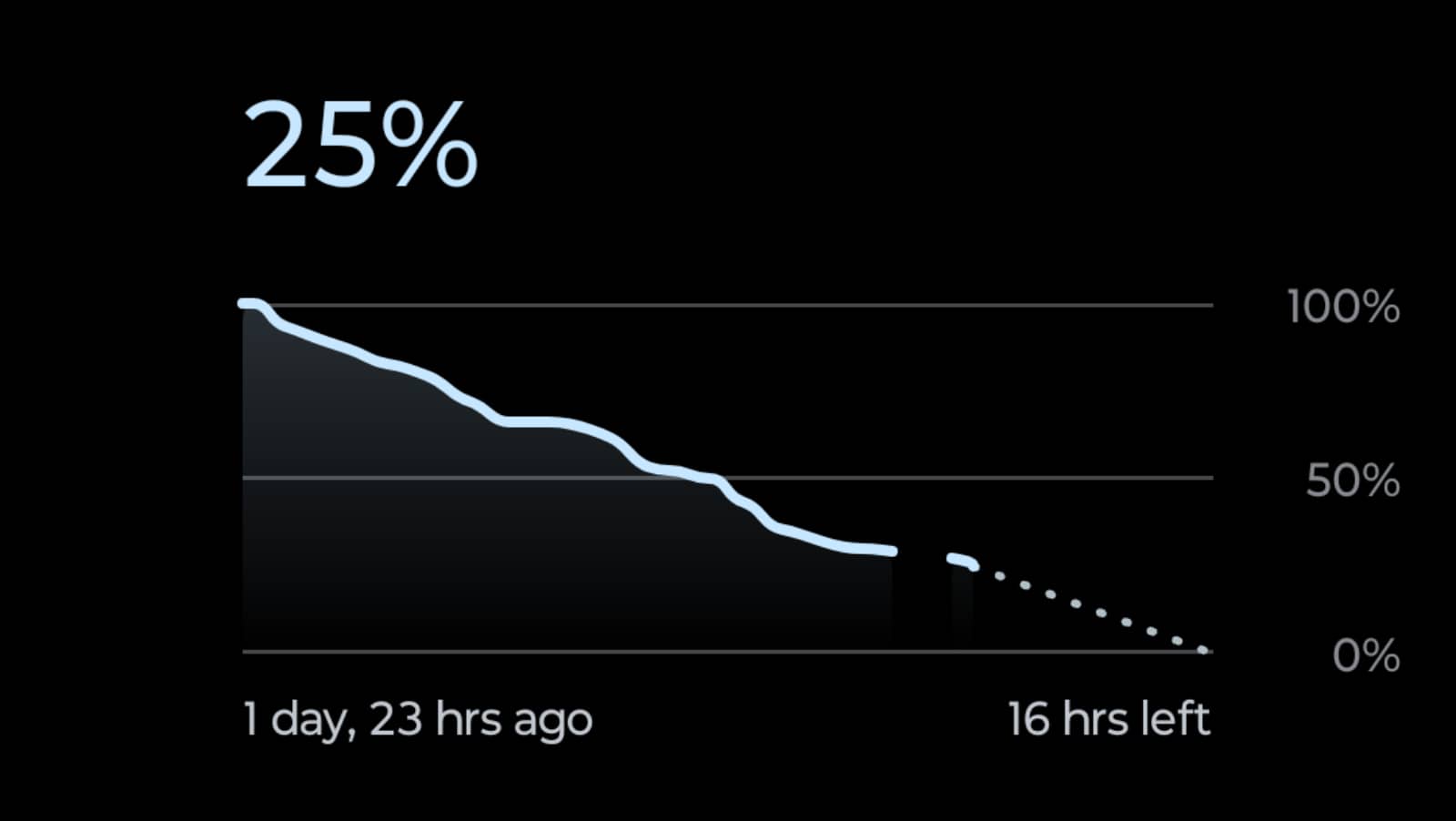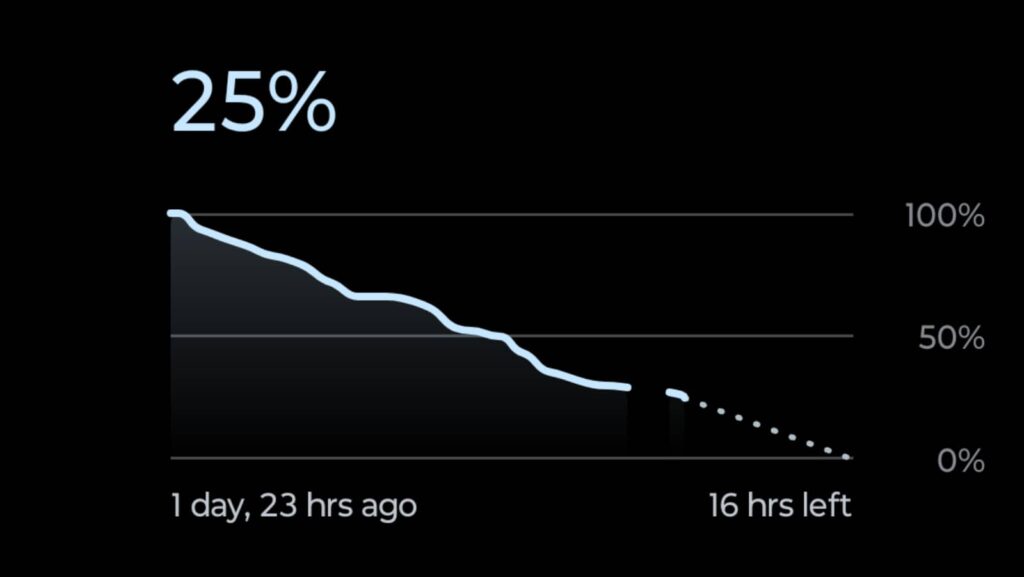 Value
Another area Motorola has nailed is the price, which sees the ThinkPhone listed as a premium phone, but not so premium it needs to hit over a thousand dollars to land in typical flagship phone territory.
It's hard to find fault with the $999 price, because while the camera isn't quite as flagship, most of the phone delivers an experience very much like it.
These days, a thousand bucks isn't expensive for a phone. One and a half to twice the cost is where the premium phones are, and we feel Moto has delivered quite a bit for the price.
There's value here in what is a mostly premium Android phone.
What needs work?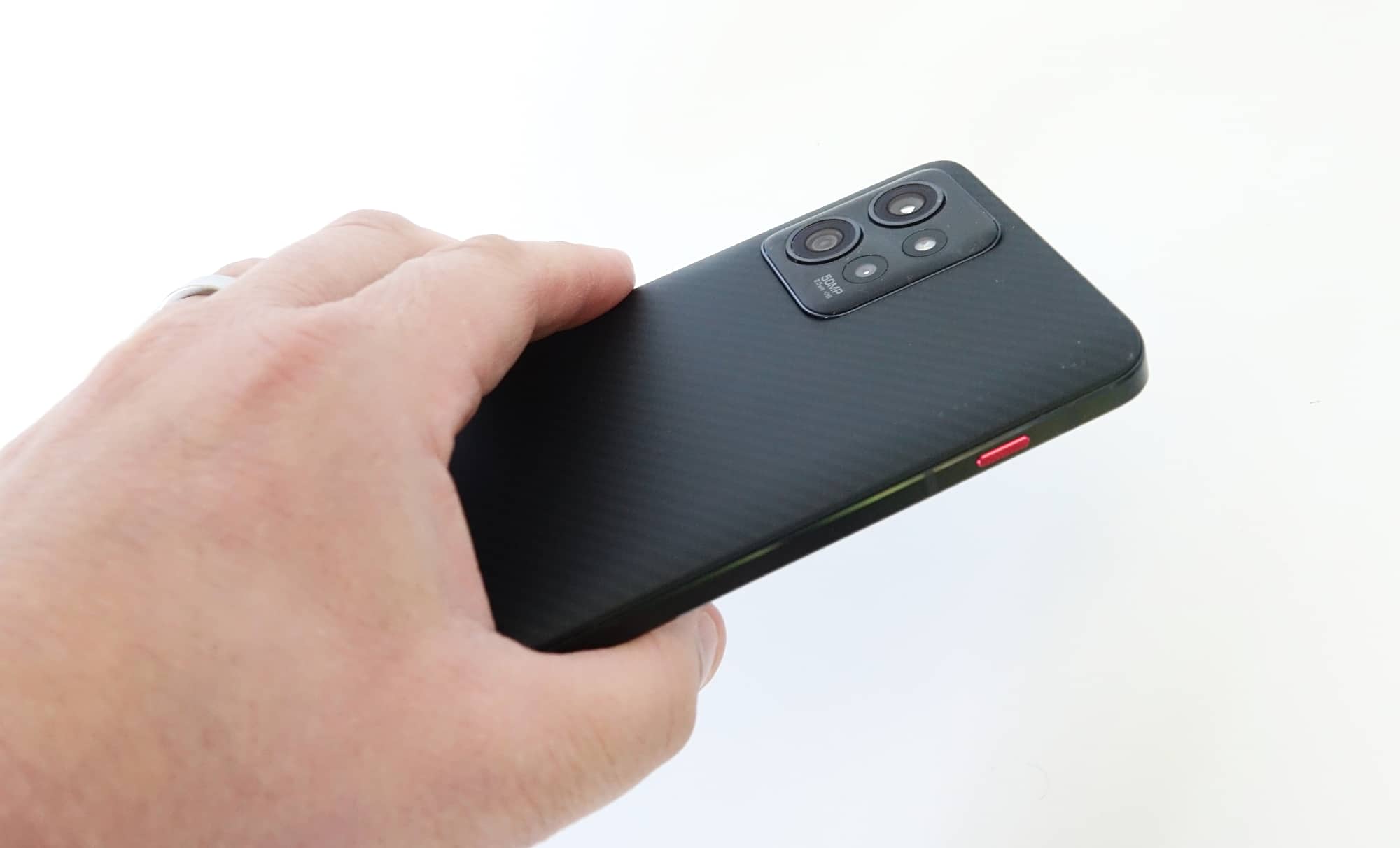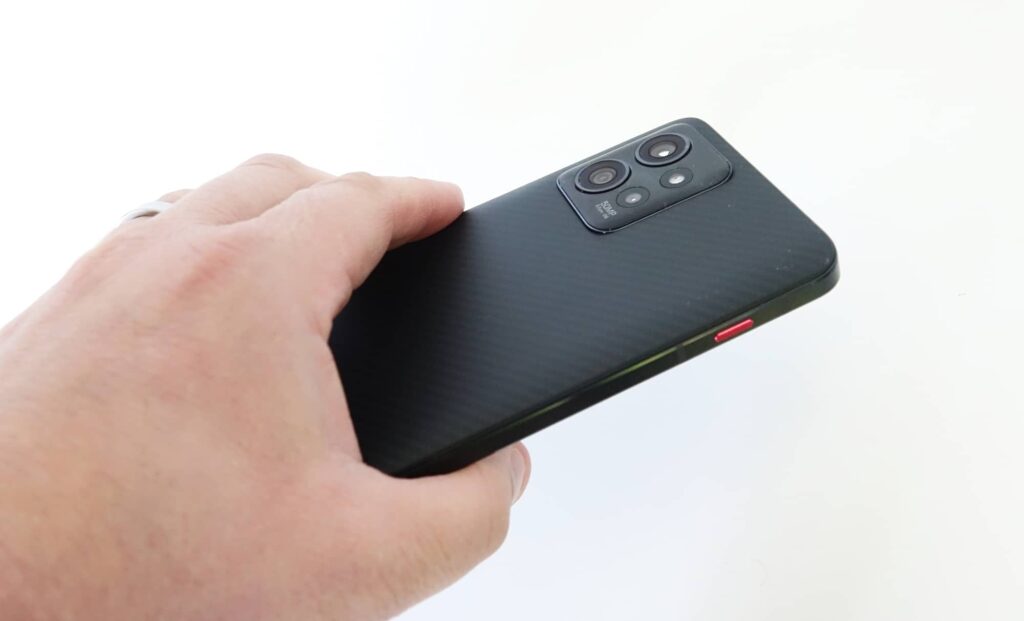 There are a lot of things Motorola has nailed in this phone, and price is clearly one of them, alongside that excellent level of durability which sits in the military spec level.
The camera is not, which feels a little underwhelming for a phone nearing flagship territory.
We've seen the 50 megapixel camera enough times, and we've seen an ultra-wide with macro support, too. That third camera is just a depth sensor for portrait shots, so it may as well not be a camera, either. While it looks like you have three cameras to work with on the ThinkPhone, you kind of only have two, and what this needs is a touch of optical zoom or something like it.
There's also the matter of specs, and while this could be a specifically Australian issue with the ThinkPhone given its release locally.
While there are different configurations of the ThinkPhone around the world, buyers of the Motorola ThinkPhone (or the Lenovo ThinkPhone by Motorola, depending on how you word it) will only find a version with 8GB RAM and 256GB storage locally, and that mightn't be enough.
We can live with the 8GB RAM -- that's a decent amount, even if it's not necessarily flagship territory -- but the 256GB storage leaves us wanting a little more as a maximum. Sadly, there's no microSD slot on the phone to expand, something that's becoming a bit of a norm for high-end Android phones, as they join Apple's iPhone in supporting no expandable storage.
The thing is this phone is targeted at computer owners, and they might want to hold onto their phones a little longer than others. The maximum of 256GB locally is just a little surprising, and one of those small tidbits we'd like to see improved. MicroSD would do that, but a 512GB option would have been better for a long-term phone.
We typically advise buying laptops with a view to owning for at least two or three years minimum, and the same should be true with a phone, especially one made to pair with a ThinkPad laptop, what is normally a premium machine. It's a minor point, but one worth mentioning, especially if you upgrade your phone on an extended schedule much like a laptop.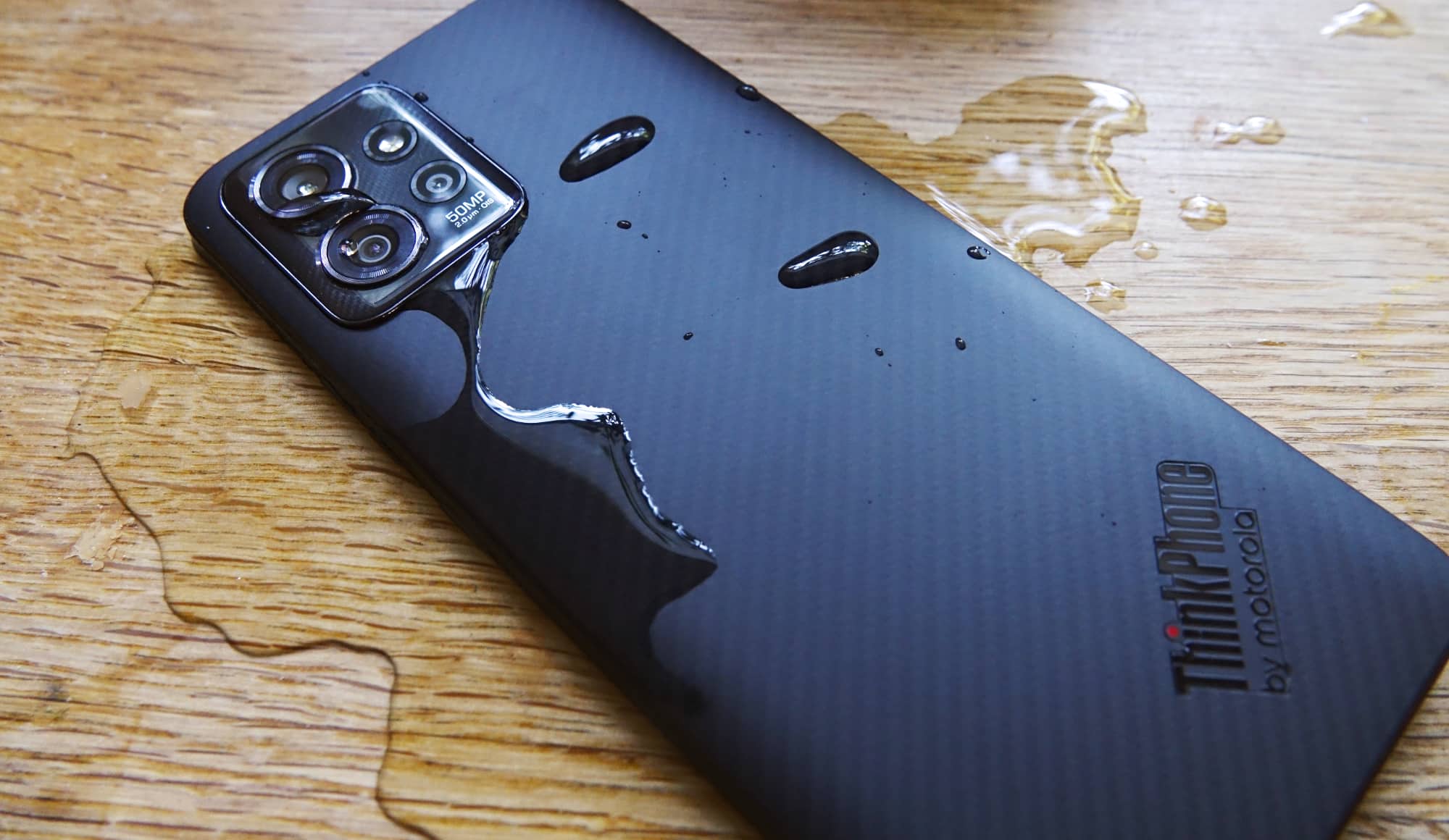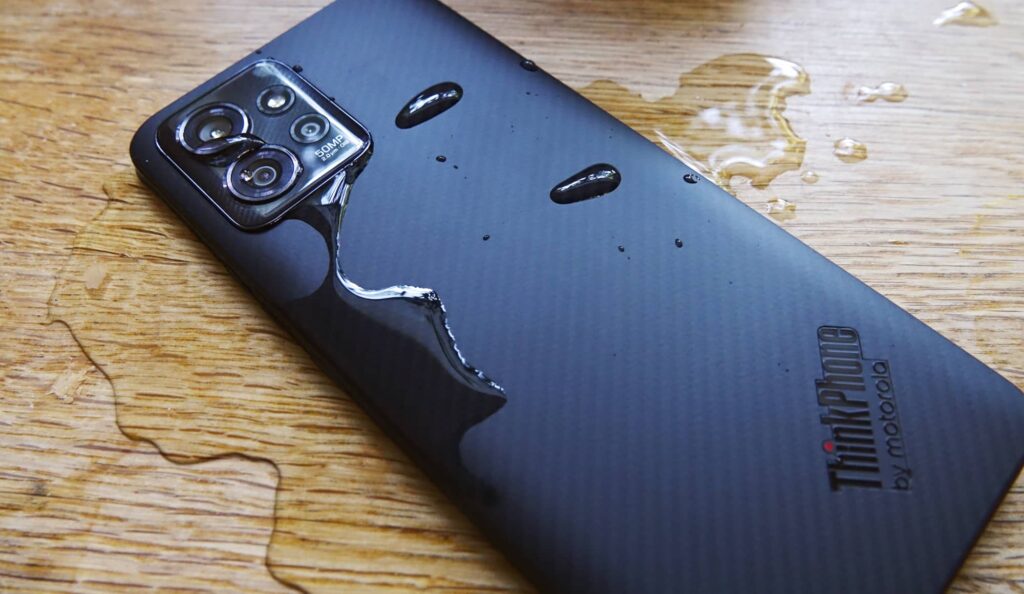 Final thoughts (TLDR)
While the cameras could be a little better, there are a lot of great reasons to consider the Motorola ThinkPhone, as it's just a stellar little professional package.
This mostly premium Android is all work and some play, delivering much of the flagship package and a software side Android users haven't always seen.
If you're into your Windows world are are a little envious of what Mac users get with an iPhone, the ThinkPhone is well worth a think and maybe even a buy. Recommended.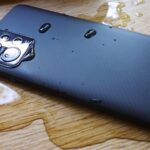 Motorola ThinkPhone
The good
Solid performance
Fast 144Hz Full HD OLED screen
Premium looks with carbon fibre
Premium build complete with water resistance and MIL-STD durability
Excellent two day battery life
WiFi 6E support
Software made for Windows laptop owners
The not-so-good
Cameras could be better
Software isn't for Mac users: they just have the standard Android-Mac app