Quick review
Logitech Pop Keys Wireless Mechanical Keyboard
The good
It's a mechanical keyboard
Customisable keys are a nice touch
App supports more than just emoji
Emoji keys are interchangeable
The not-so-good
Not altogether accurate to type on, and the circular keys may be to blame
It's mechanical, sure, but it's also super loud
Needs AAA batteries rather than uses Type C charging
A compact take on the loud and clacky mechanical keyboards for gamers, the Logitech Pop Keys is a little different, focusing on the work and home crowd with some keys that stand out for today's social folks.
What is the Logitech Pop Keys keyboard?
If you need a new keyboard, there's a good chance you've considered the re-emergence of mechanical keyboards. Once the only style of keyboard, these disappeared many years ago as hardware became thinner and flatter, but were revived for gamers a good decade or so ago.
Mechanical keyboards tend to offer solid travel, a great sound, and more importantly, their keys can be replaced when they jam or break, which does happen. They're one way to deal with key lag — which matters in games — and can feel more like you're using a keyboard made for productivity, which also matters to some.
In recent years, we've seen hardware makers working on mechanical keyboards outside of the gaming space where they normally sit, with Razer building less colourful equivalents of their mechanical keyboards, and Logitech doing much the same.
And in the Logitech Pop Keys, that's part of what the effort is. This compact office keyboard has the mechanical action and sound you might be looking for, but that's just one side of the feature set.
The other part of what makes the Pop Keys interesting can be found on the right edge, with five keys and replaceable key-caps that represent emoji and are preconfigured to automatically type in emoji for a modern world. So if you use a love heart, a burst of fire, a happy face, or even a thumbs up in your regular writing, you can have a key on your keyboard specifically for that.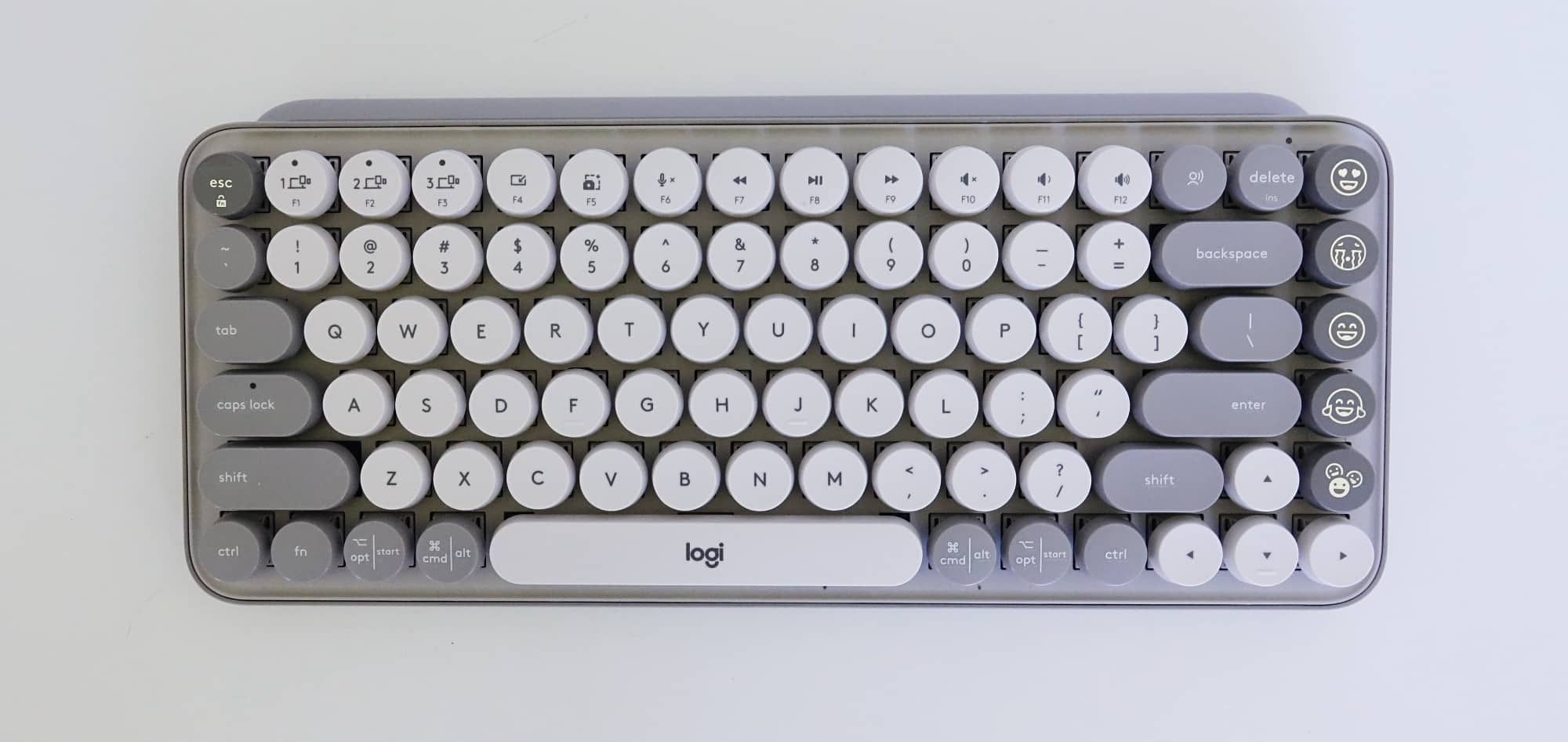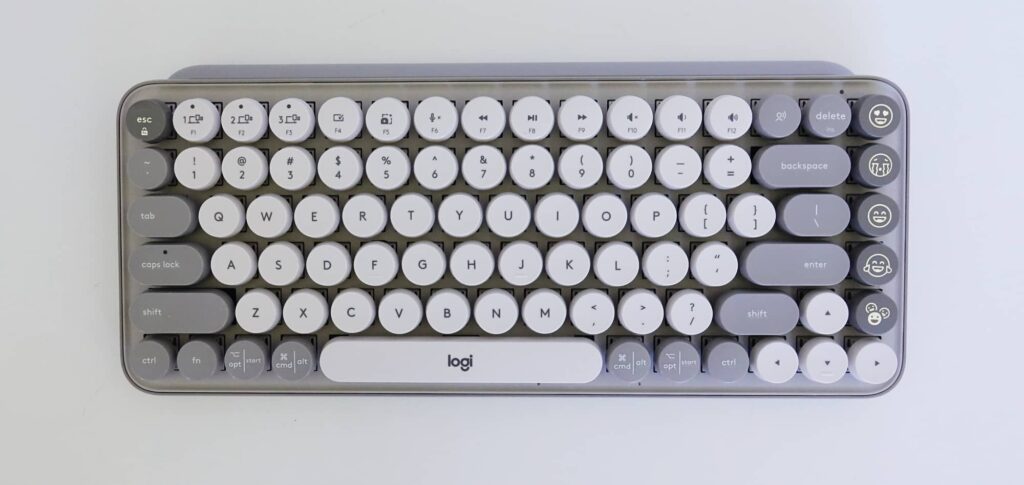 What does it do differently?
Being able to automatically enter those characters is largely what the Logitech Pop Keys does differently.
It's not that each key cap is automatically matched to an emoji, but more that the software is preconfigured to handle the emoji at each spot using the Logi Options software, the same stuff you can use for the MX Master mice and Flow, which transfers an MX Master mouse and keyboard across one computer to another.
You can use either Bluetooth or Logitech's included "Bolt" receiver to connect the keyboard, and there's support for a maximum of three devices, something that has become a bit of a thing, though you will need that software to make it do something extra.
In Logi Options, you can configure the keys on the Pop Keys to trigger a specific emoji, but you can also go deeper, and match that key to another shortcut, making it more useful.
For folks who want the emoji key, it's a basic shortcut and macro that you're mapping, but for anyone else who wants to map a different shortcut, the Pop Keys becomes a lot more powerful.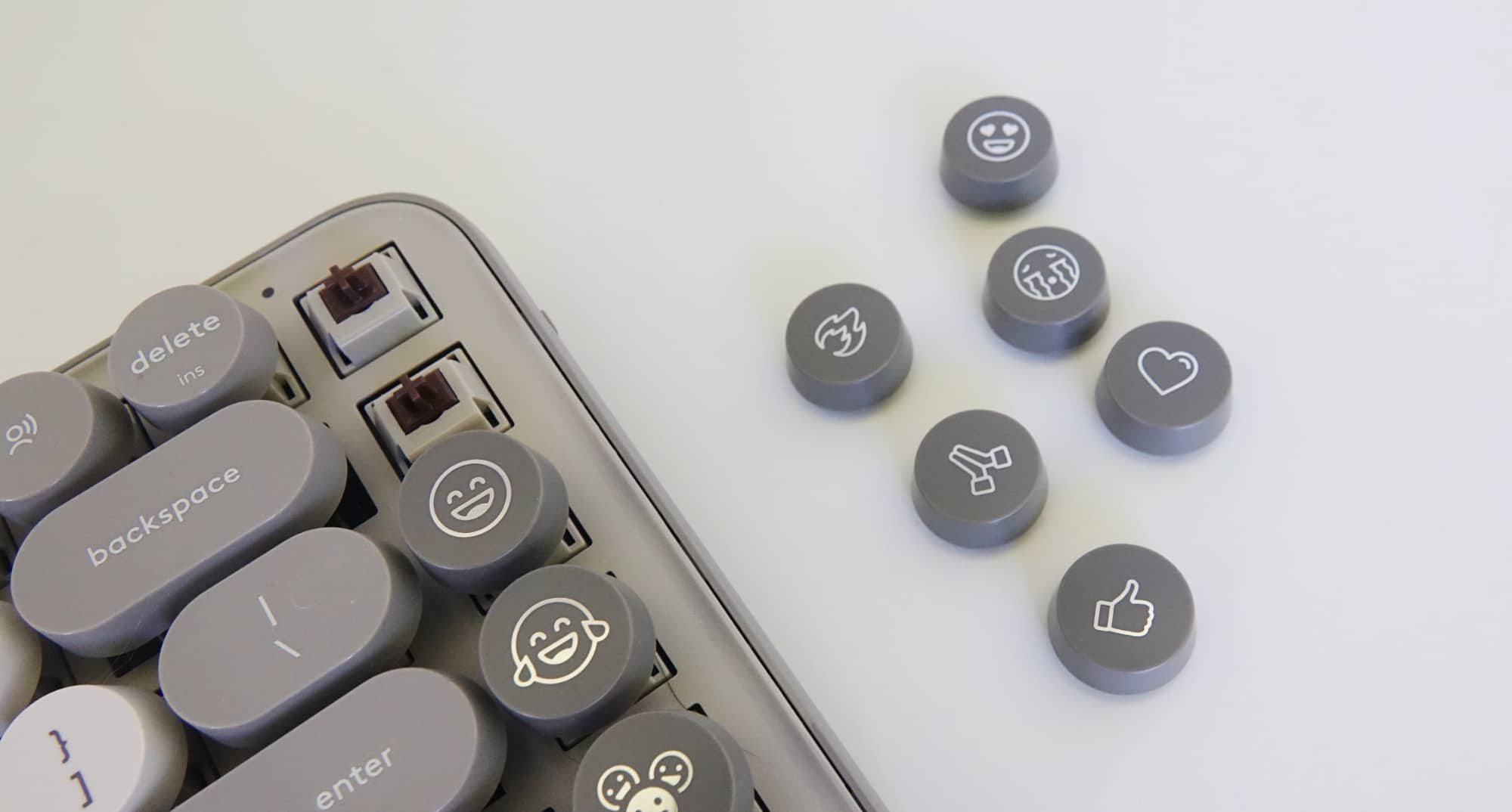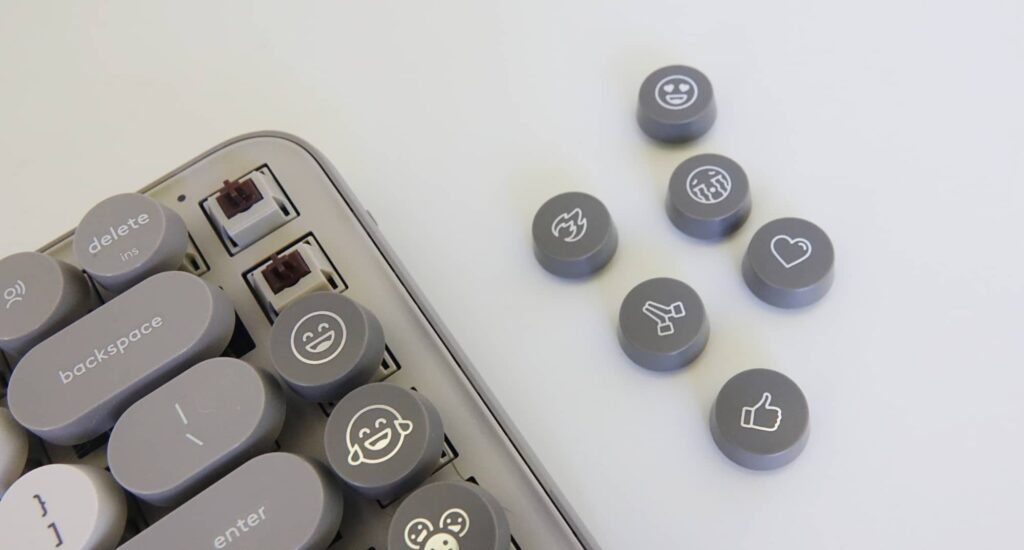 Does it do the job?
You have five mappable keys on the right side of the Pop Keys keyboard, and that means you can turn any one of those keys into another shortcut.
For instance, you could turn one into copy and another into paste, cutting back on keystrokes, or even change them into other shortcuts inside specific apps.
It's the sort of change that could shift how you use apps, increasing the speed with which you do things because you're not forced to recall what each key combination represents.
Helping the Pop Keys is the compatibility for both macOS and Windows, something you can see in the control keys on the bottom of the keyboard, which clearly use the respective terminology for each one, and is in the software available for both.
That being said, the circular shape of the keys can make you miss the right keys at times, partly because they don't feel quite as well shaped as a standard square or softened square design.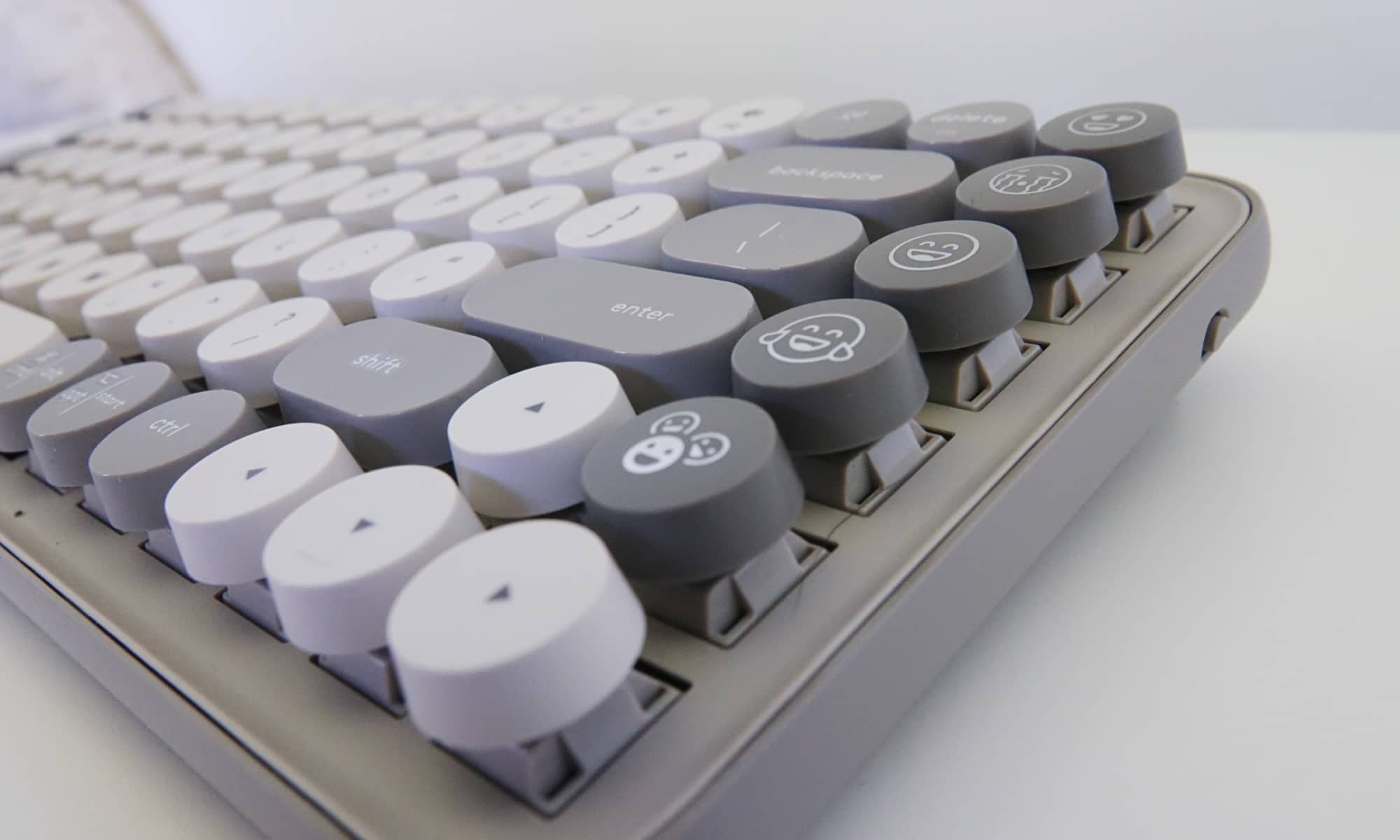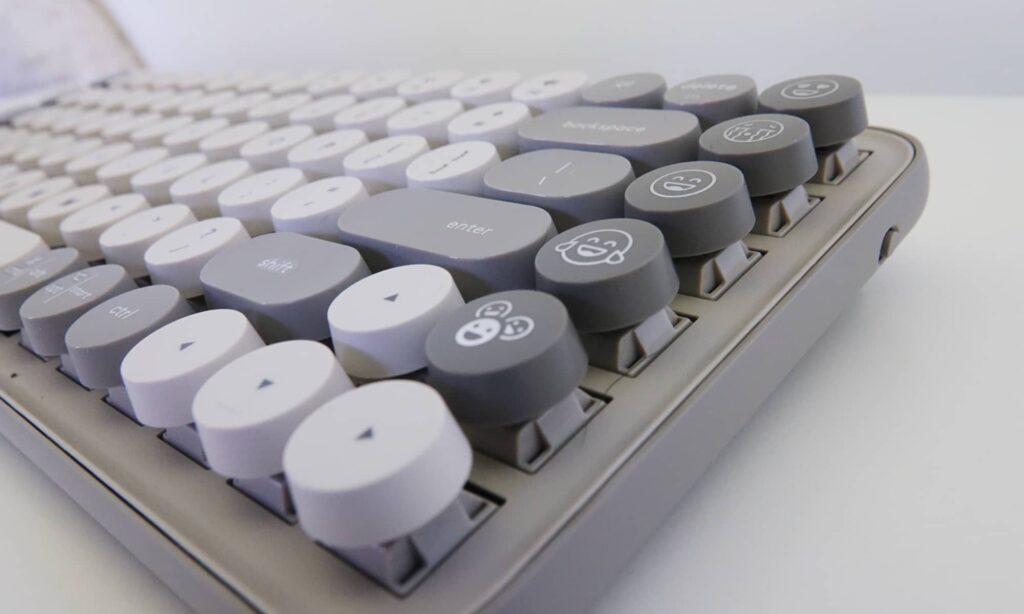 What does it need?
It's also an incredibly loud keyboard, something that tends to go part and parcel with a mechanical keyboard, and the Pop Keys is certainly no exception.
Throughout our time reviewing this keyboard, this writer's significant other complained from another room repeatedly just from how loud the thing was. Every keystroke could be heard as the key travelled down and smashed the plastic underneath. This keyboard certainly isn't subtle about anything.
We'd also appreciate it if Logitech moved on from replaceable batteries and adopted a built-in battery with Type C charging, because you'll get neither here. The Pop Keys requires a couple of AAA batteries and has a power switch on the side, so make sure you have a couple spare when it comes time to replace them.
The good news is that won't be for at least a good year or two, with up to three years of battery life found here. We're not sure we'd be using this slightly awkward and very loud keyboard for that long, but if you do, the requirement of physical batteries at least keeps you going.
It's a similar situation with the Pop Mouse, which is a small model made for travelling and requires batteries, as well.
We weren't super enamoured by the Pop Mouse, largely because it felt a touch too small. In fairness, we've been spoiled by the Logitech MX Master 3, so a jump from one to the other was always going to feel weird, but if you want a single programmable macro in your mouse, the familiar accessory to accompany this keyboard has that feature built in, as well.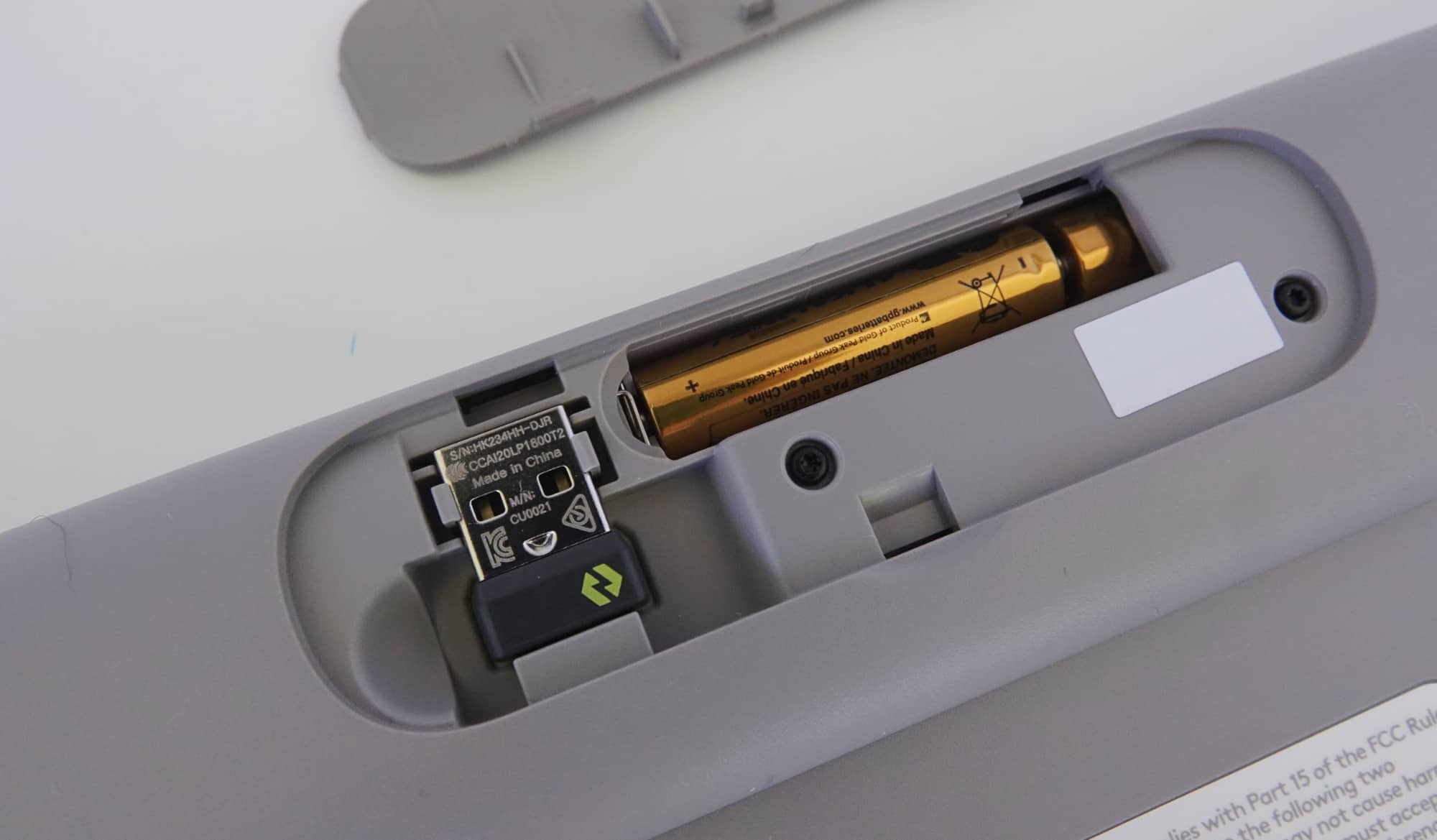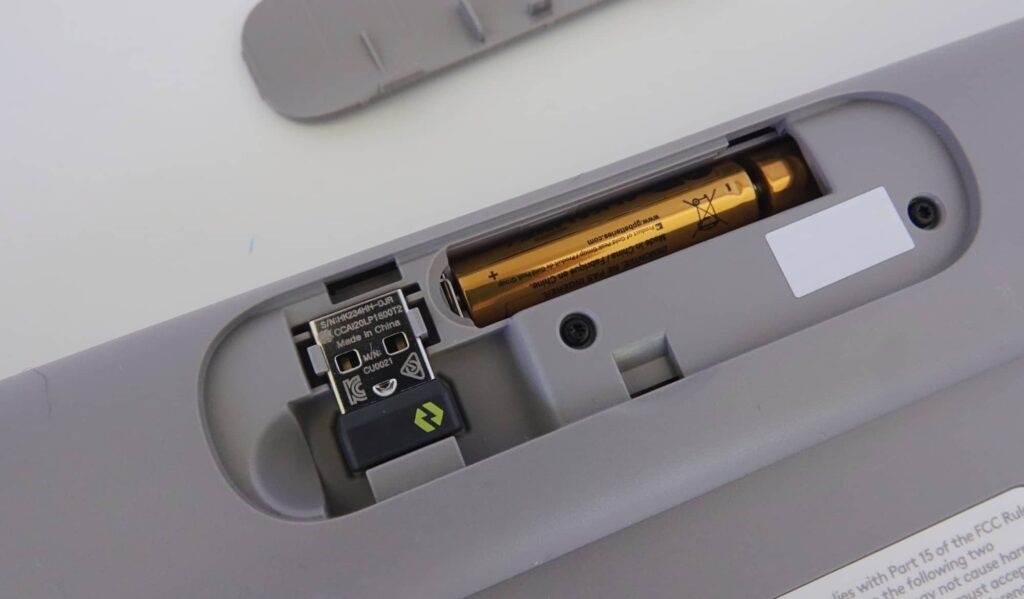 Is it worth your money?
Available in Australia for around $129 ever so slightly down from its $149 recommended retail price, the Logitech Pop Keys Wireless Mechanical isn't a bad keyboard, even if it's one that will end up bugging anyone living with you.
Loud and proud, it's a taste of something different and feels made quite well, arriving with some extra programmable features that could be handy for the highly social, or even the folks who might have another use: streaming.
Five programmable emoji buttons are one choice, sure, but with the software allowing you to make them to be for anything, it means the Pop Keys keyboard could also be a sort of Stream Deck of sorts, handy for macros of all kinds. We started mapping them for Logic Pro X and Final Cut Pro, as you do.
In one way, that versatility kind of makes up for the comfort and accuracy, which both could be a little better overall.


Yay or nay?
But if versatility is what you're after, not to mention something that makes your presence known, Logitech's wireless mechanical Pop Keys can definitely deliver.
You probably won't make friends in your workplace using it, but if your goal is to let people know the importance of what you're doing with every key stroke — or you live alone, or even have a very soundproof door — we could see where the Pop Keys would make sense. Kinda sorta.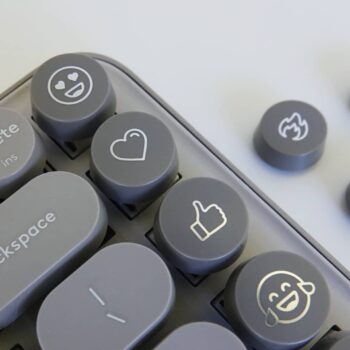 Logitech Pop Keys Wireless Mechanical Keyboard
The good
It's a mechanical keyboard
Customisable keys are a nice touch
App supports more than just emoji
Emoji keys are interchangeable
The not-so-good
Not altogether accurate to type on, and the circular keys may be to blame
It's mechanical, sure, but it's also super loud
Needs AAA batteries rather than uses Type C charging