Quick review
Apple MacBook Air (M2, mid-2022)
The good
Beautifully designed
Lovely screen
Screen packs in more size in the 13 inch form factor
Stunning performance
The return of MagSafe means you don't need to sacrifice a Type C port for power
Excellent keyboard
Brilliant battery life
Comes with a smaller battery pack with GaN
The not-so-good
You probably won't notice the speed difference or make use of the hardware
One of the world's most relied upon laptops is getting an update, and it's a big one. New design, new screen, new chip, and more. Is the M2 MacBook Air a winner?
There's a new generation of MacBook, and it's not just a simple refresh as we've seen in the past. Borrowing from the current generation of high-end MacBook Pro, the 2022 MacBook Air comes with a new set of specs and a totally new style. And that's not all.
Design
One of the first things you'll see is the design, and it's something that's changed in this version.
Clearly obvious from the look, the angular look of the previous generations has been replaced, switched out for something flatter and more like a thinner incarnation of the MacBook Pro.


Gone is the whole "thinnest point" rhetoric with the older sloped design, which measured 0.41cm at its thinnest but 1.61cm at the thickest, and Apple has adopted a simple approach that keeps the design 1.13cm across it all.
It's a good compromise and a clearly slick design, though one that not only shows up in look with straight edges, but also remarkably with less weight. Perhaps unbelievably, there's actually less weight in this new Air, going from 1.29kg on the 2020 Air to 1.24kg on the 2022.
Thin and light is the name of the design game, it seems, all while keeping the lovely aluminium build in tact, and offering a couple of new colours. We're particularly enamoured by the midnight, but our MacBook Air review model was starlight, which was a surprising style of gold that we grew to like more than we expected.


Features
There is more than a design change, though, because Apple has changed much of what's going on under the hood.
For starters, the latest Apple Silicon is here, the M2, following on from the M1 launched in the MacBook Air, the MacBook Pro 13, and the Mac Mini. Only one of those hasn't been updated yet, with the M1 still found inside the Mac Mini, but the MacBook Pro recently saw an update to the M2 with solid performance.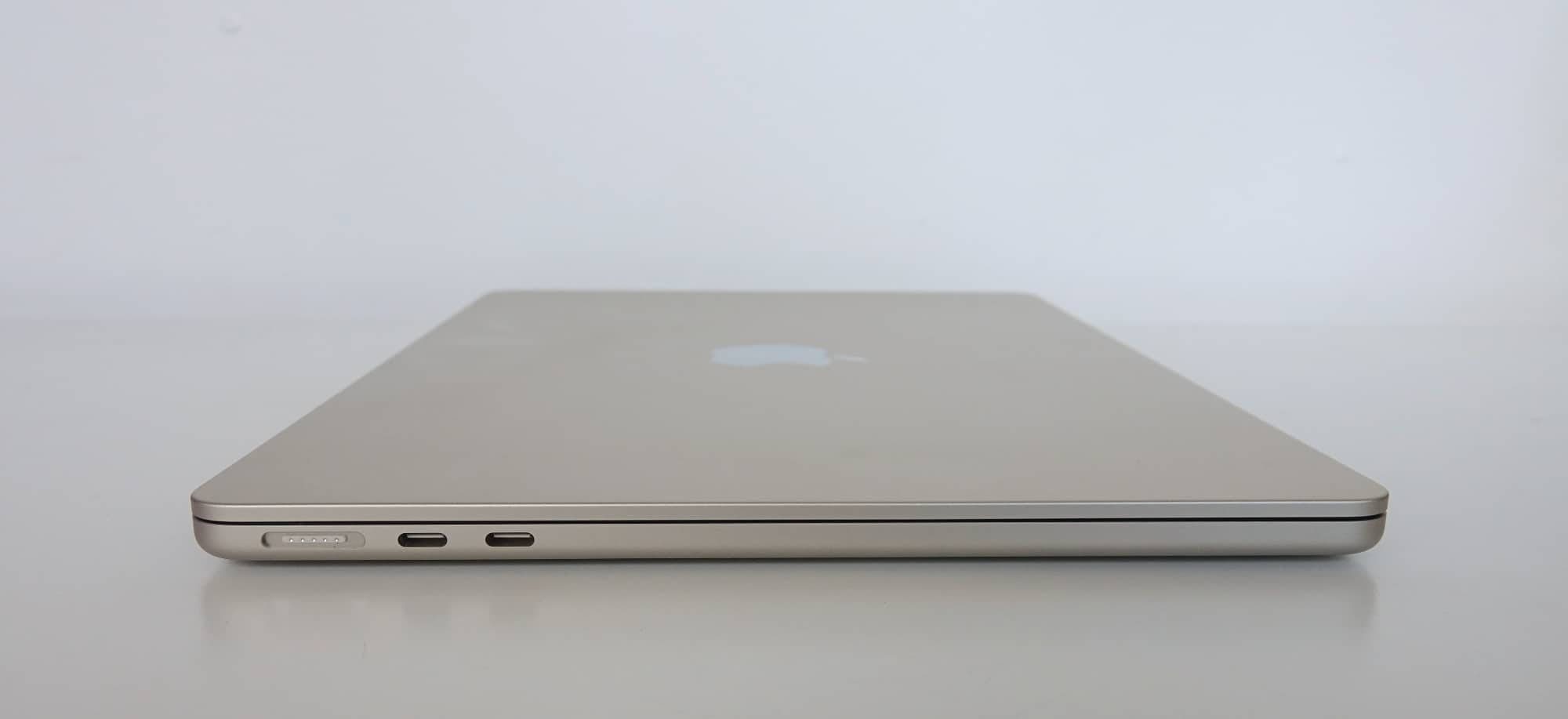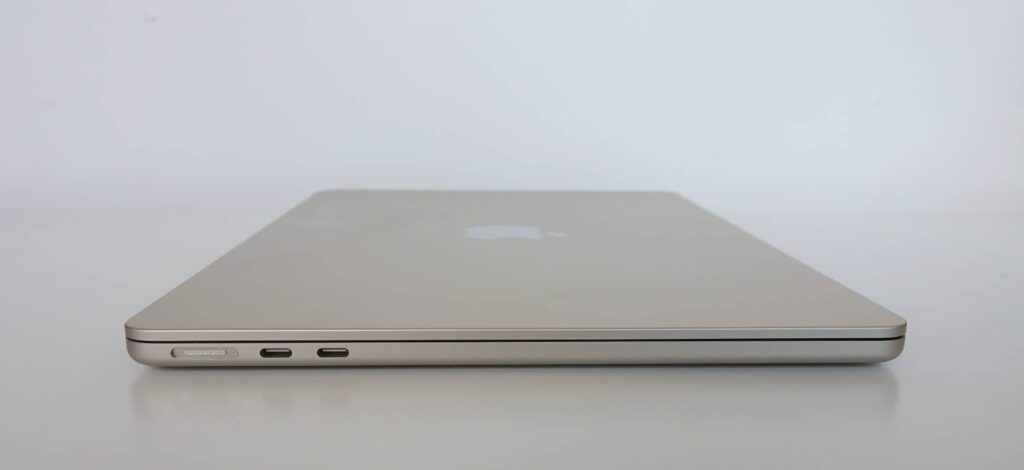 That chip is here in the 2022 MacBook Air, supporting 8 cores of CPU performance and either an 8-core or 10-core graphics chip (GPU), with 16 cores of Neural processing alongside, and that's not all. There's also a minimum of 8GB RAM able to be configured to 16GB or 24GB, with a minimum of 256GB storage but can be configured for up to 1TB.
You'll find wireless connections covering 802.11a/b/g/n/ac/ax WiFi 6 and Bluetooth 5.0, while wired is handled over two Type C USB ports with Thunderbolt 4, alongside a MagSafe charging connector and a 3.5mm headset jack.
There's also a new webcam in the screen, offering Full HD 1080p updating the 720p of the older Air, while the speakers are updated, too, with two speakers becoming four and covering Dolby Atmos spatial audio.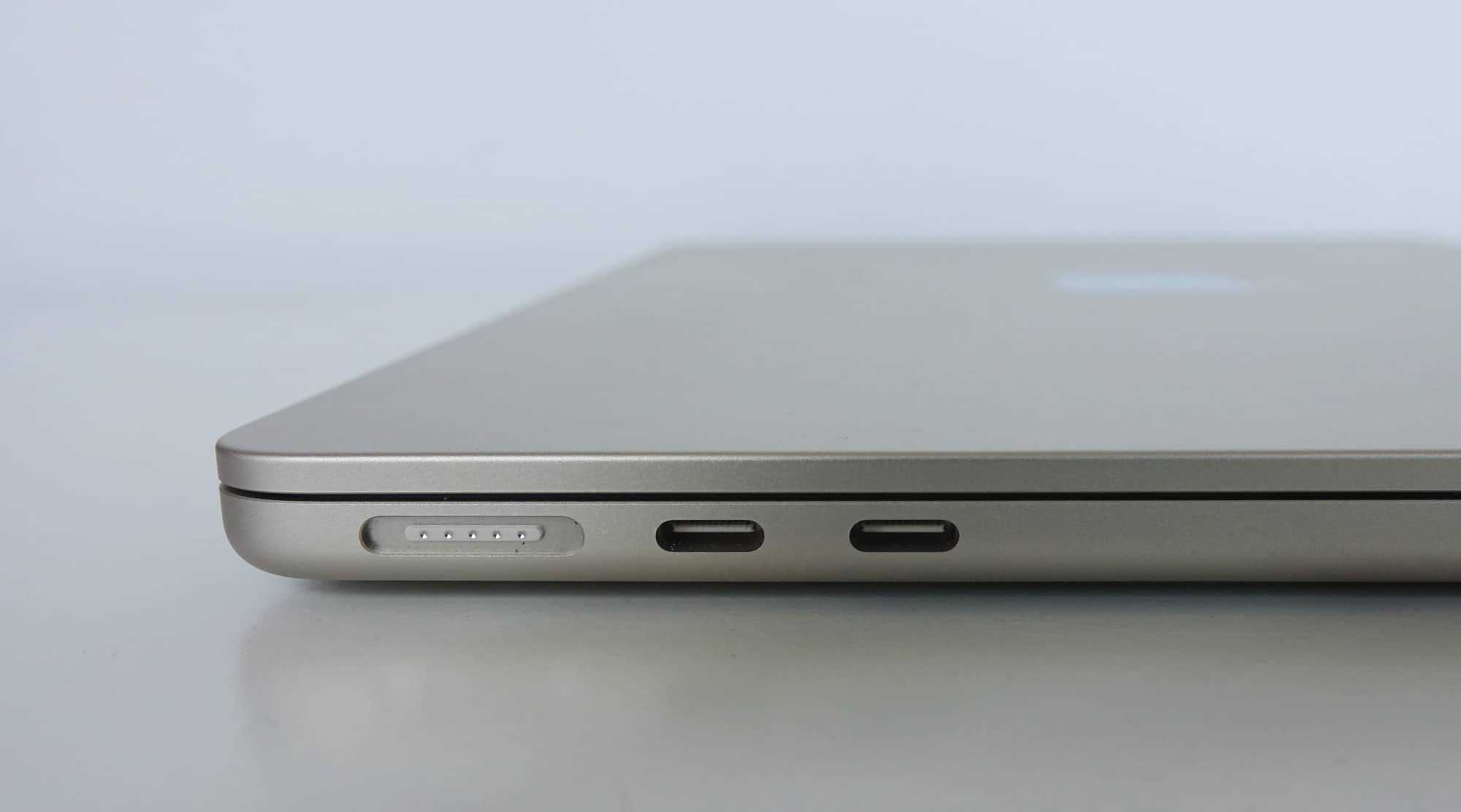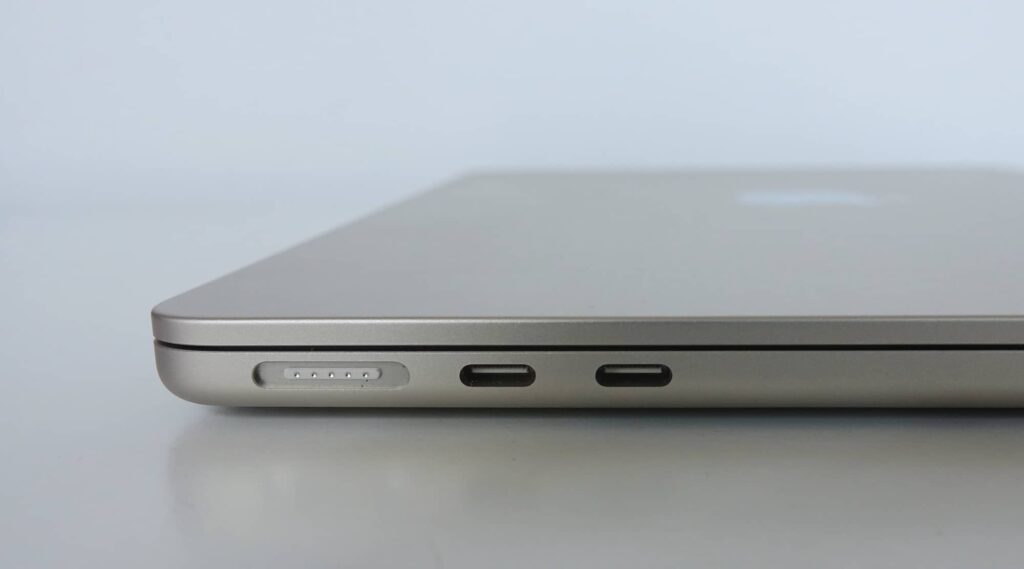 Most of the rest of the MacBook Air is about what you'd expect, though the keyboard is a little larger, the fingerprint sensor found in a bigger key on the keyboard, the battery is marginally larger (49.9 watt-hour in the M1 Air versus 52.6 watt-hour in the M2 Air), and depending on the model you buy, there are two USB Type C ports on the charging brick which also offers up the newer and more heat-friendly Gallium Nitride tech.
Oh, and there's one more thing: the display.
Display
Alongside that new chip and slick new look, there's also a new screen, as Apple works to deliver a bigger screen in a small package.
The approach here isn't dramatically different from what Dell does in slimming the bezels and making a bigger screen appear in its Dell XPS 13 models, but it's definitely one that's welcome, as the 13.3 inch MacBook Air screen becomes a 13.6 inch. That's a fraction bigger with slimmer bezels, while the screen itself supports a resolution of 2560×1664 displaying 224 pixels per inch.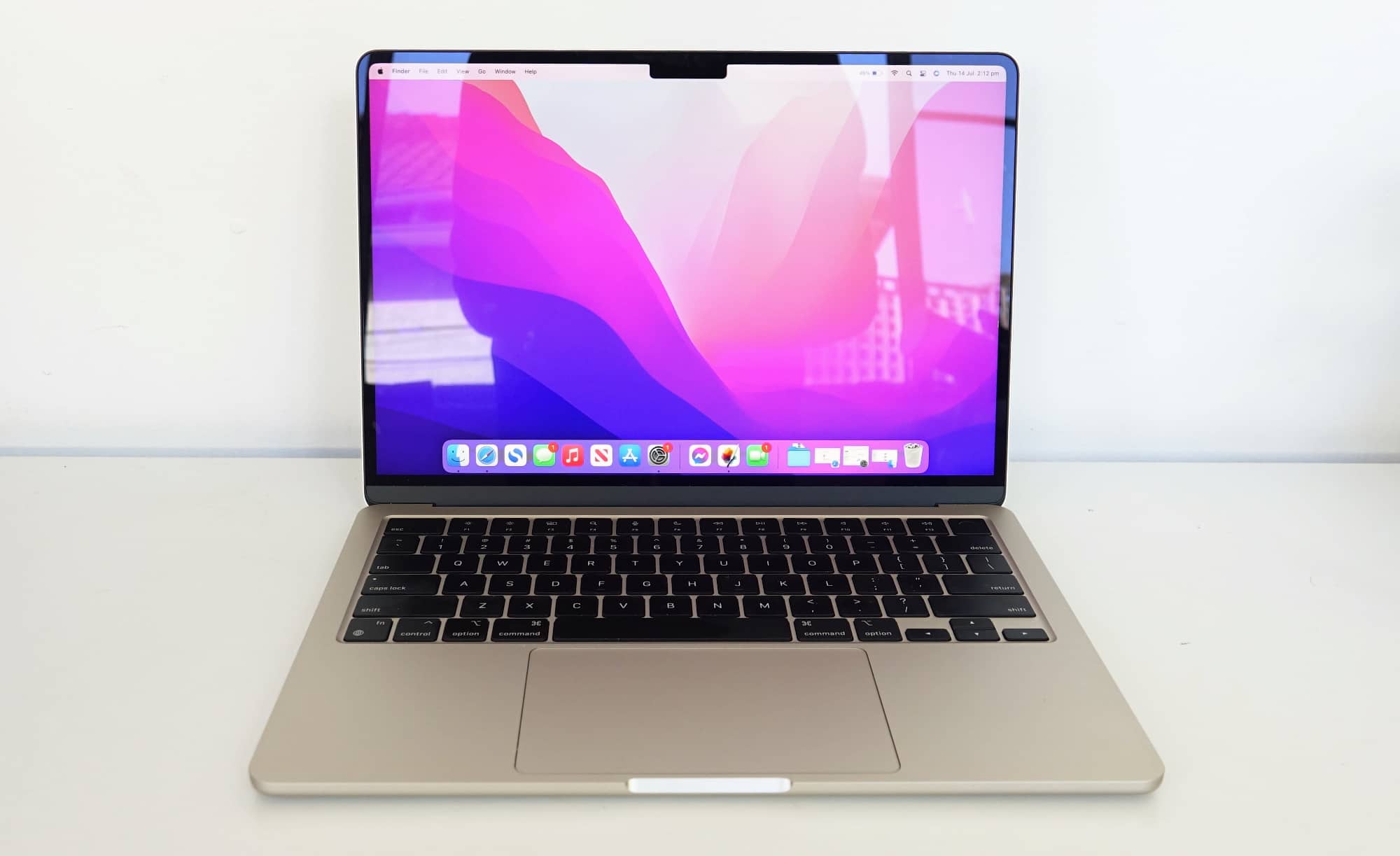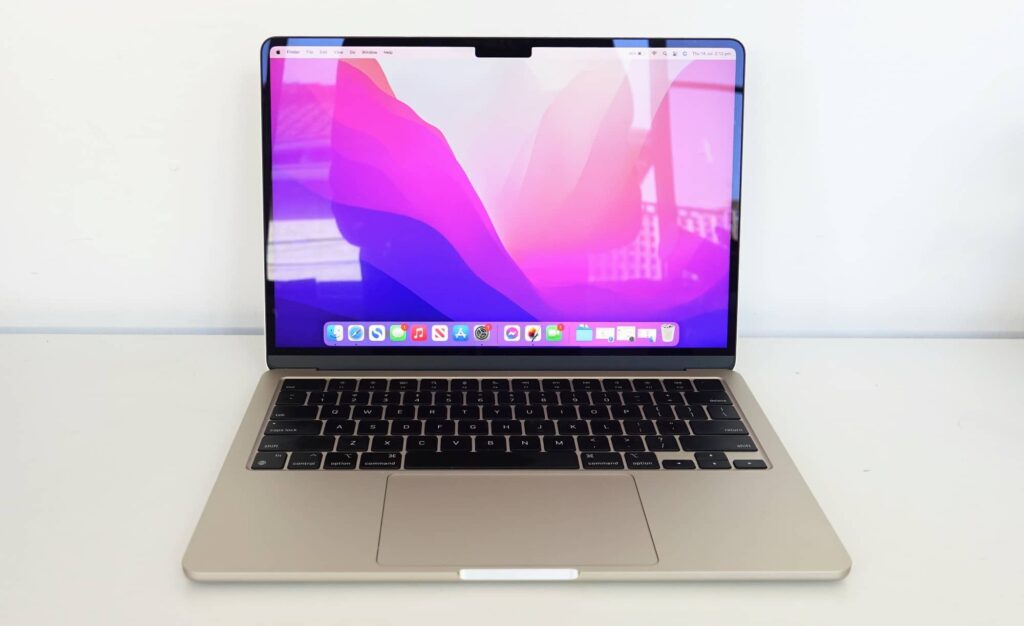 Apple is also borrowing from the style shown in the recent MacBook Pro in how this screen shows, with a notch carved out at the top and allowing more of the screen showing up in the display.
It's a bright and colourful display, and one that looks great, even if it lacks the cool Liquid Retina XDR tech found in last year's MacBook Pro that uses mini-LED technology. You won't get that here, but you might not care, and given the price difference, the look is still nice all the same.
In-use
So the hardware and design has changed, but that doesn't mean using the MacBook Air has at all. This is the Mac you've used in the past, but a little lighter and clearer.
You still have a sizeable keyboard and mouse, with a fingerprint sensor that's on a key sized to be a little bigger, and interestingly, so is the keyboard. It's a slightly refreshed look that works well, and offers a great typing experience.
The keyboard on the M2 MacBook Air is actually so good, we spent a weekend writing a book on it.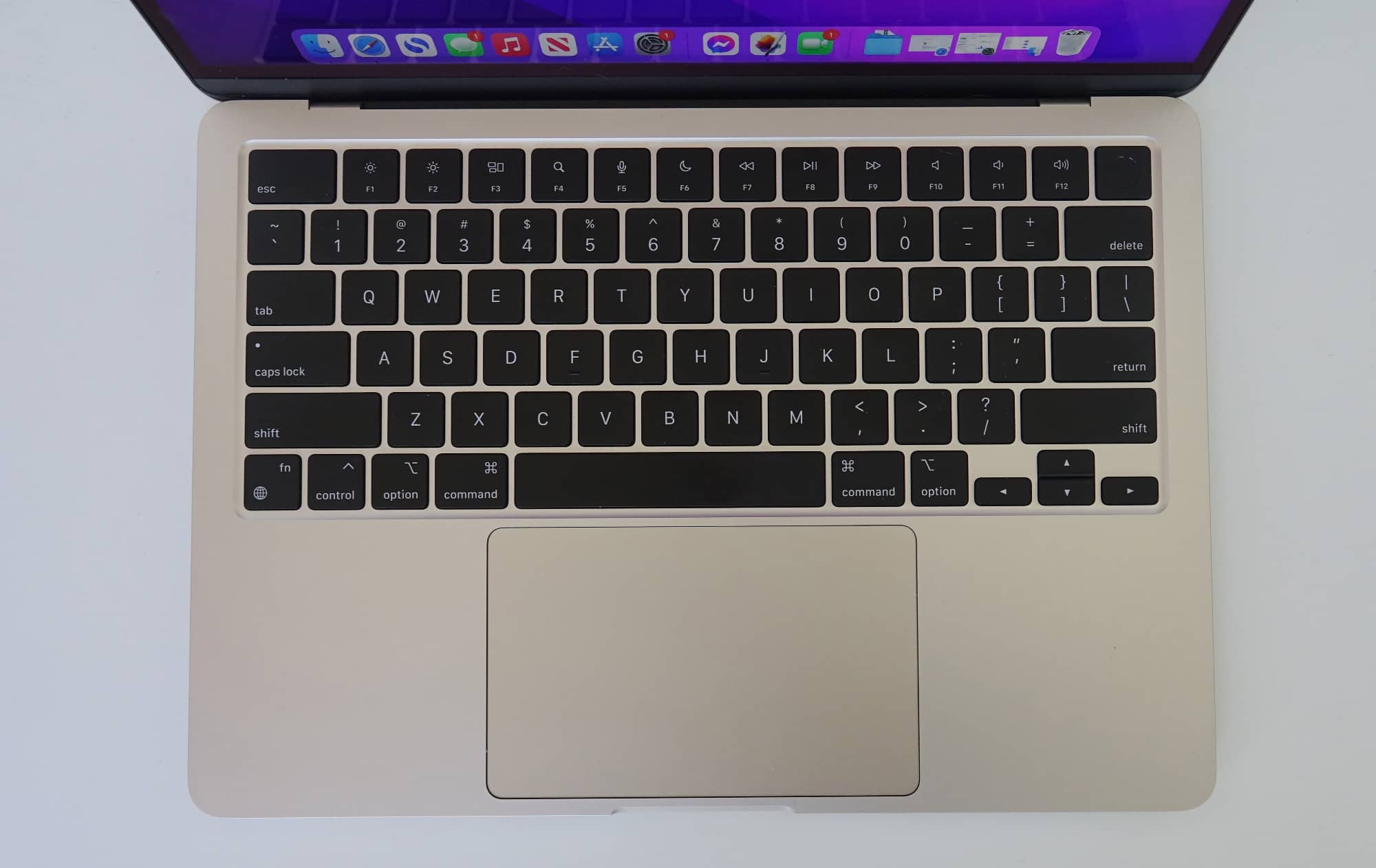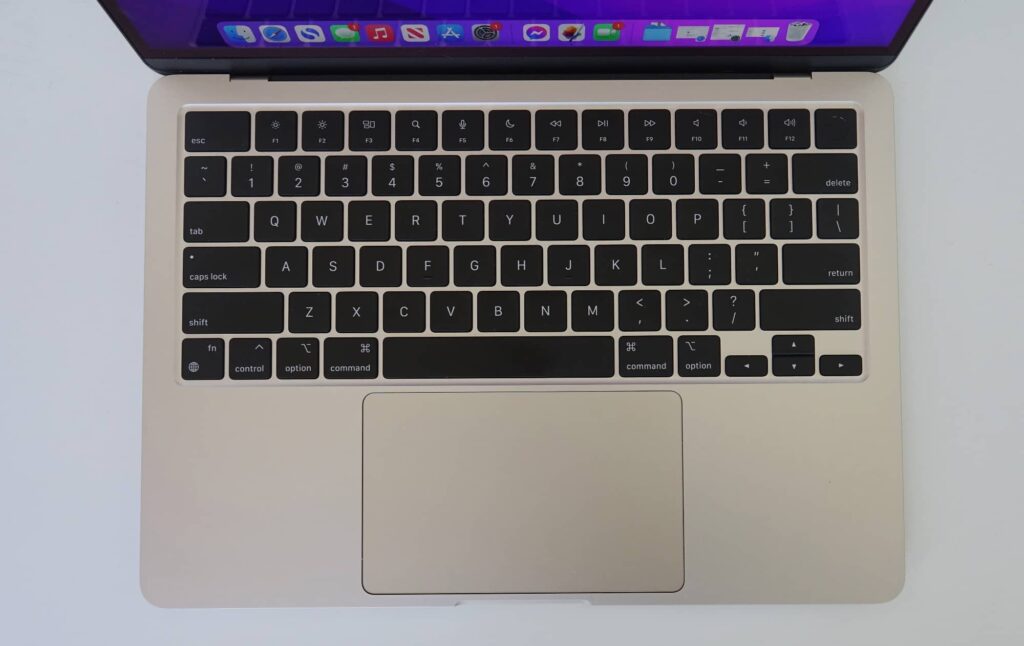 There are improvements to other areas you might get a lot of use out, especially if you're still doing a lot of work from home, and even if you're not.
For instance, the web cam has improved, jumping from 720p HD to a clearer 1080p Full HD, and it looks very nice, while the sound for listening to anything is now a four speaker system, not just two for stereo. That speaker change isn't just going to help with your Zoom calls, as music is improved, thanks to support for Dolby Atmos, something Apple delivers on its Apple Music platform, while spatial audio exists through Netflix and over movie services, as well.
It all adds up to an improved Air, which is saying something given it didn't need all that much in the way of improvements as it was.
Performance
We didn't think Apple needed really any improvements to performance or speed, but here we are with the next generation of Apple Silicon. And my, is it impressive.
Armed with that latest chip, you'll find performance on offer for practically anything.
Our M2 MacBook Air review unit was armed with some pretty formidable specs, and rather than the base model, we tested the more impressive variant, arriving with the 8-core CPU, 10-core GPU, 16GB RAM, and a 1TB solid state storage. That's not the base-level specs, but it does show a great example of how you can ramp up the tech in this portable.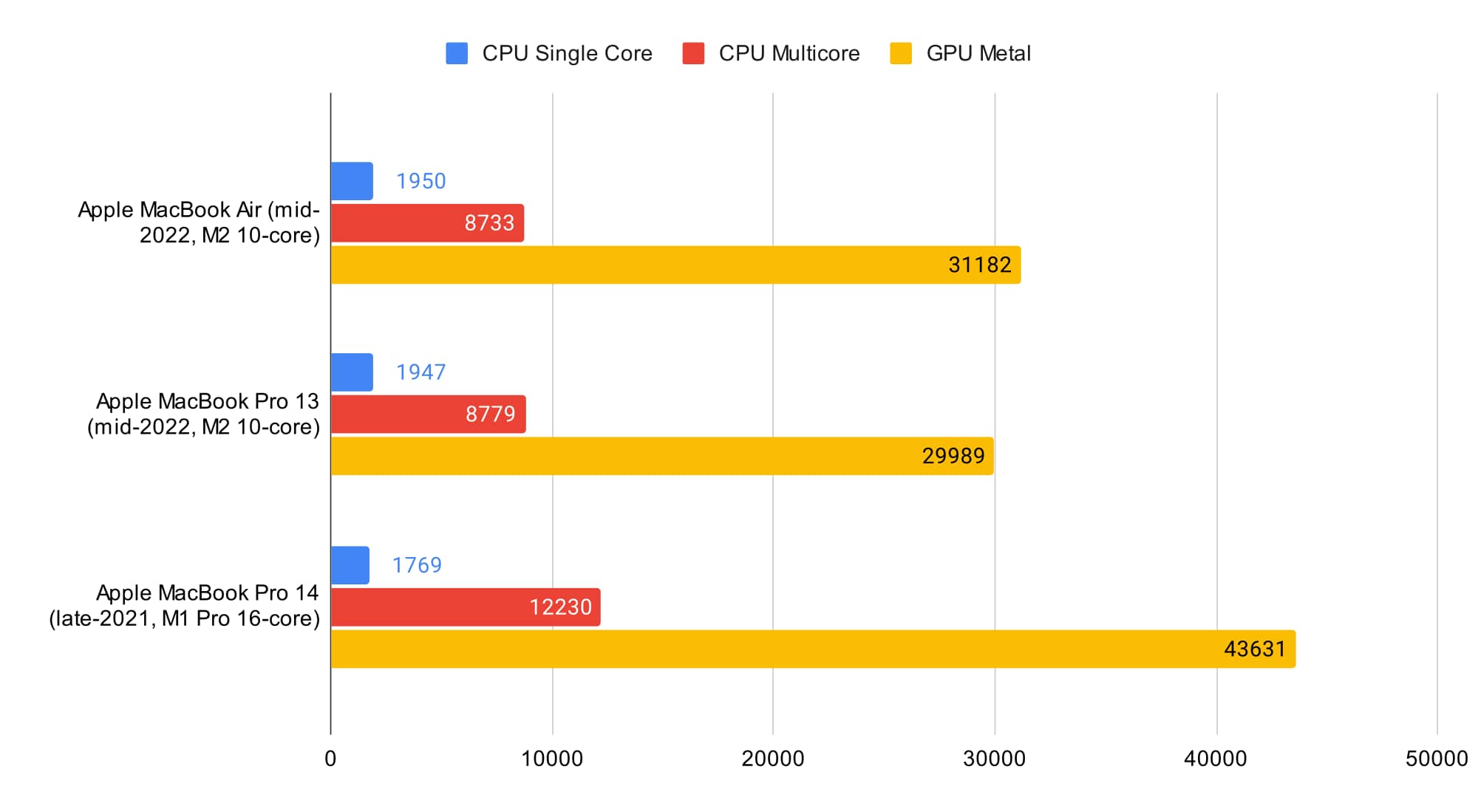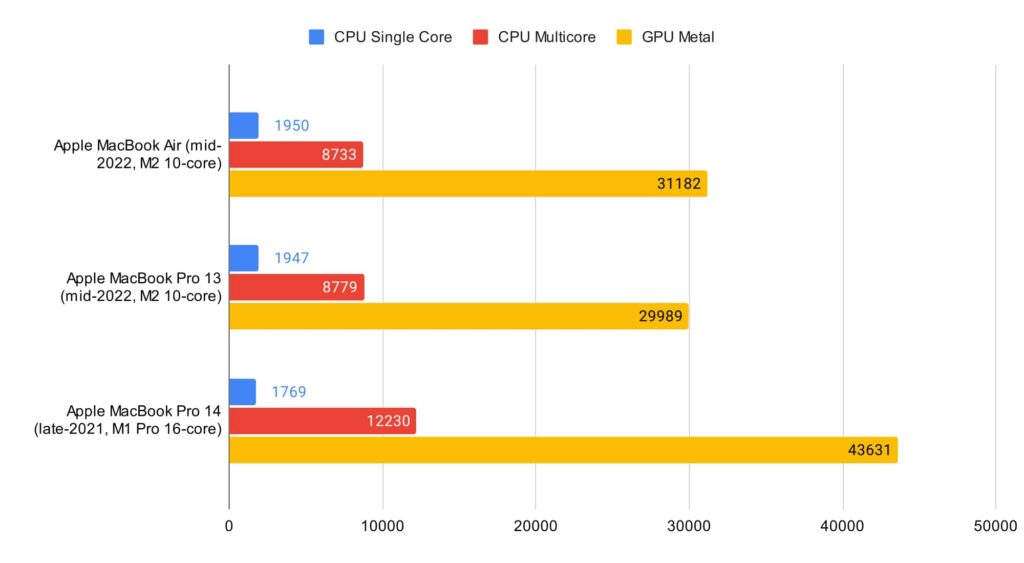 With all of that tech, the system spec managed to impress greatly, beating the recently launched M2 MacBook Pro 13, even though the specs are quite similar.
Our guess is the benchmarks show the Air beating the Pro because of the differences in memory in our review units — 16GB on the M2 Air, while our M2 MBP 13 has 8GB — and that could be enough to cite the differences between the two models, beyond an improved cooling system and a slightly larger battery in the 2022 Pro 13.
It's a whole different story when you compare Air models over the years, looking from an Intel Air to the M1 Air, and now to the latest M2 Air. There is literally no competition, as the latest variation charges to the head of the pack and takes out the victory.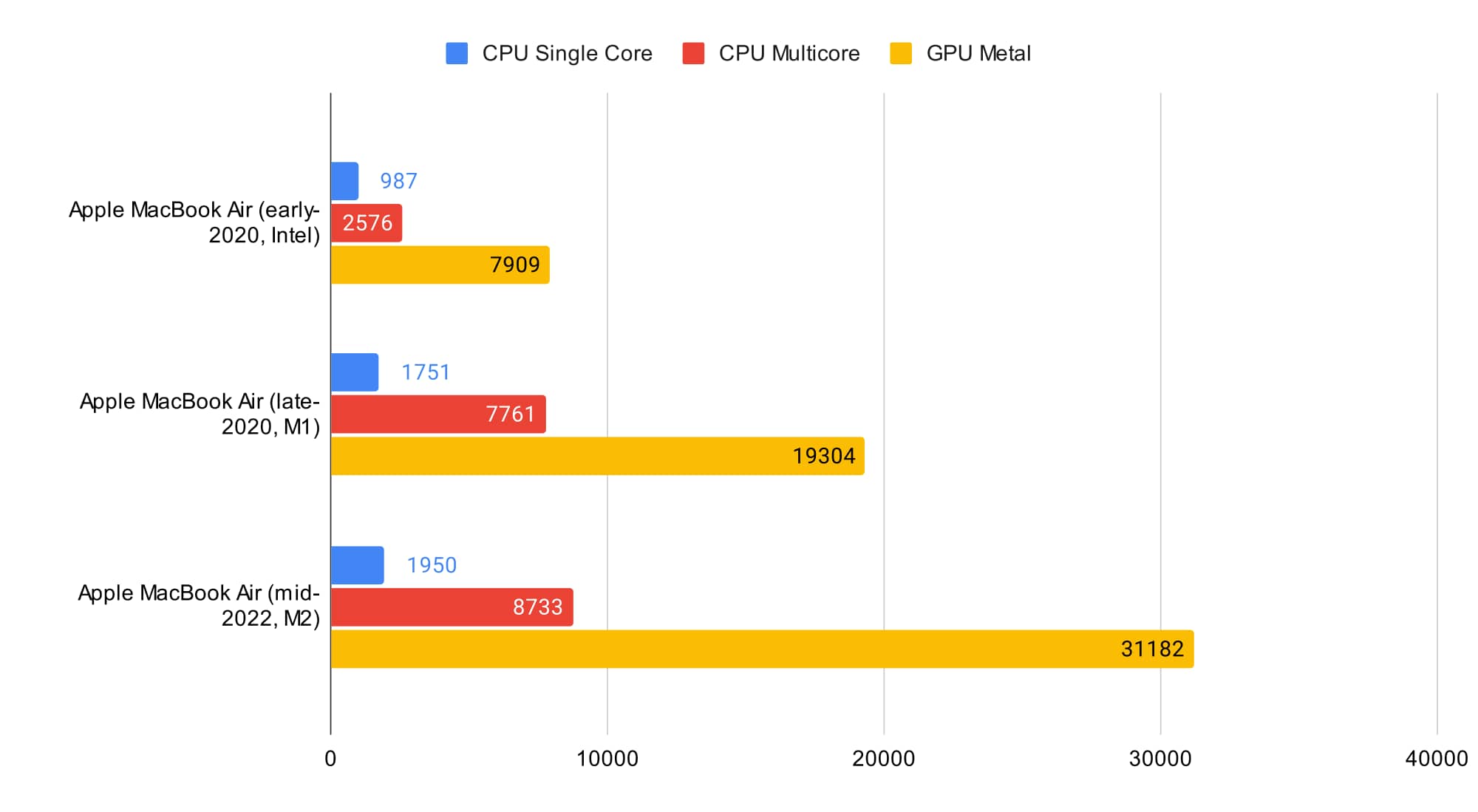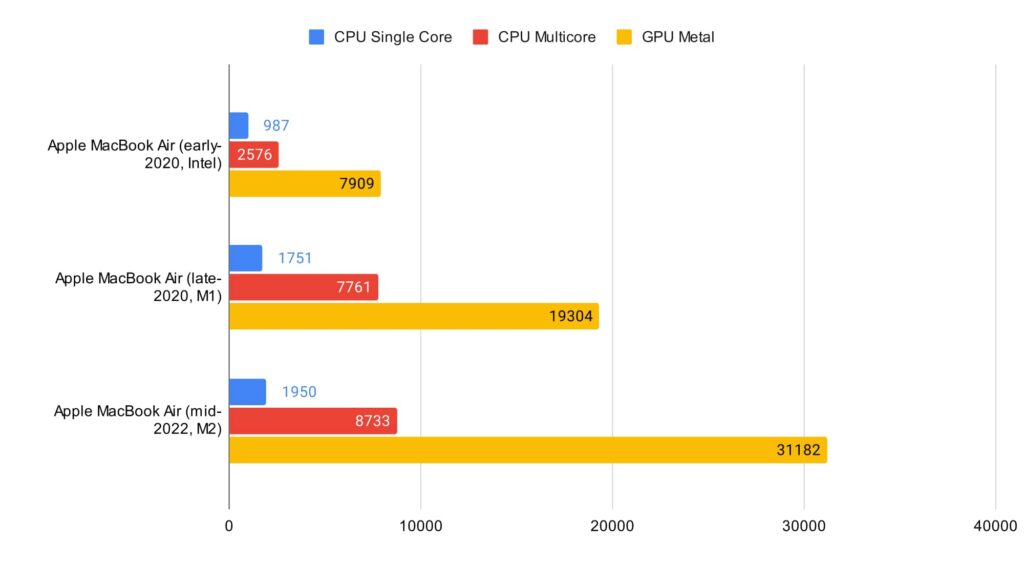 Synthetic benchmarks aside, you shouldn't find anything for the Air to really struggle with.
While you can opt for higher render speeds with different variations of the M1 Pro, Max, and Ultra on Apple's more high-end machines, devices like the Mac Studio and 2022 MacBook Pro are entirely different. They'll come packing the power, while this Air is all about the portability without sacrificing an amount of power that you can take to do.
It's impressive what Apple has been able to get right in the M2 MacBook Air. It's just that damned good.
Battery
While the chip has changed, and nearly everything else, the battery has not, but that's actually ok. The M1 Air already delivered an impressive 12 hours, and as much as 18 was theoretically possible with video, while web browsing and productivity pulled that to 15 hours.
Our tests using the M2 Air veered almost entirely to productivity, and we found roughly 10 to 12 hours when using Chrome as the main browser of choice alongside our regular writing app, while Safari bumped that up to around 13 to 15 hours.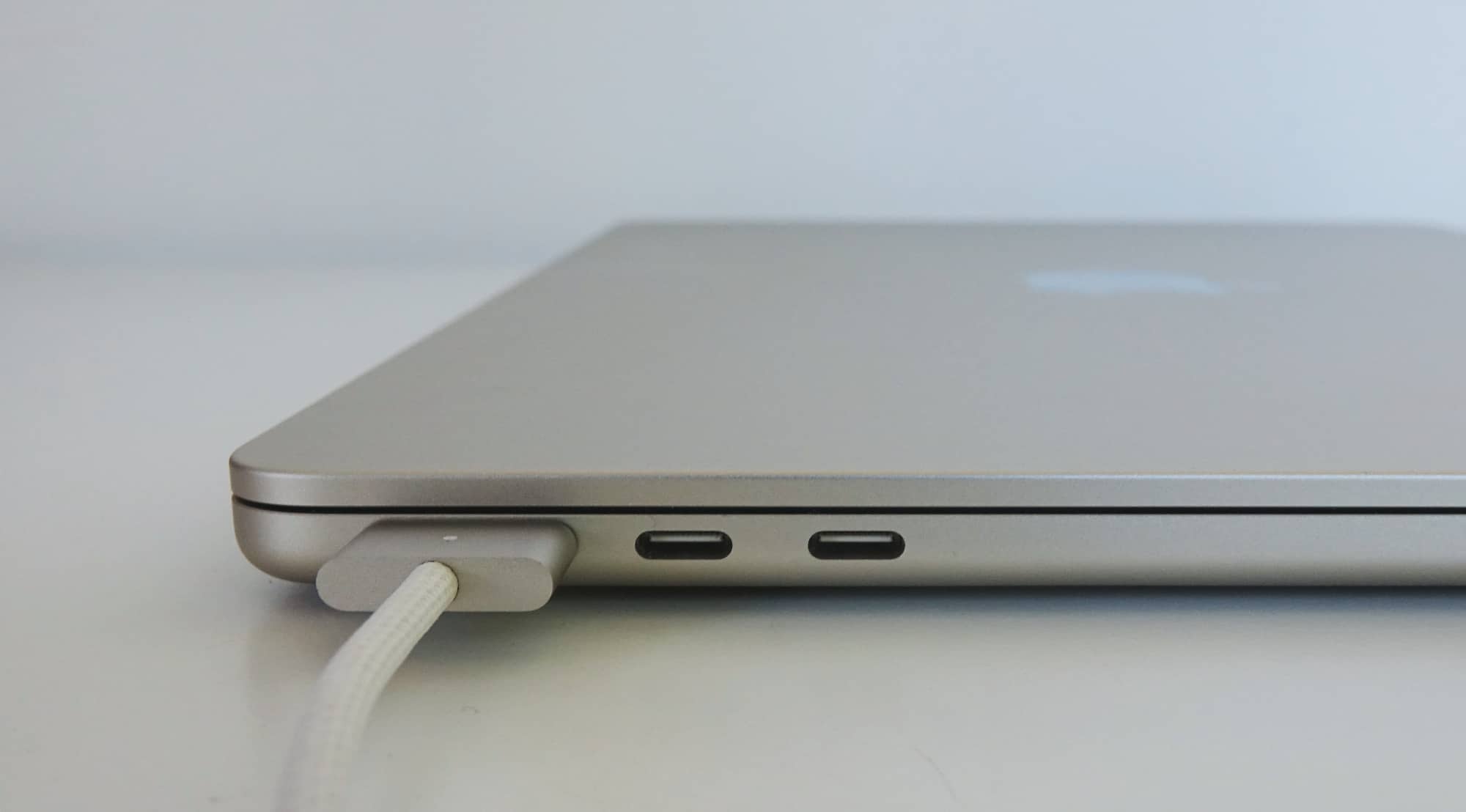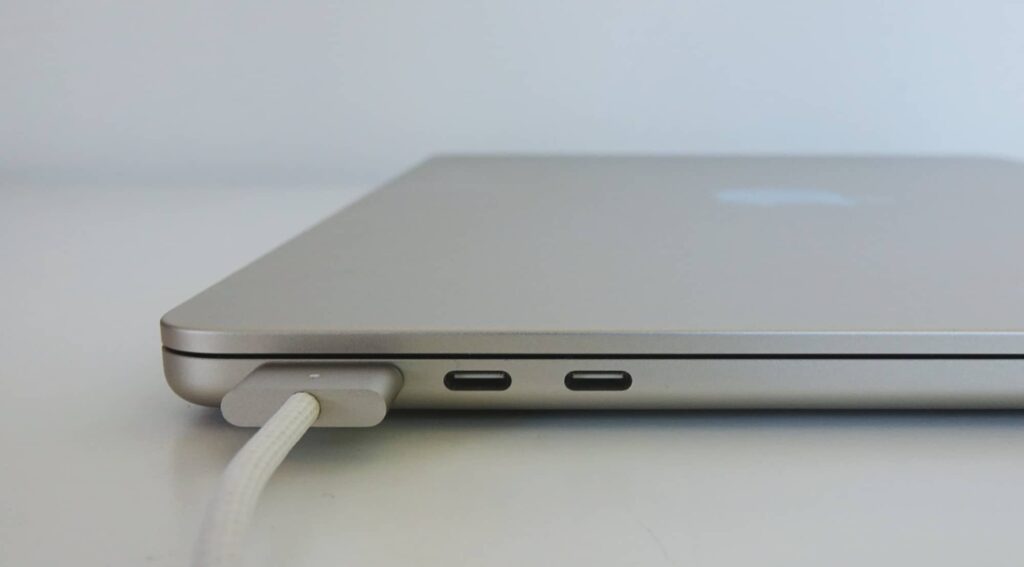 Judging the battery performance on what the system was telling us, 10 percent of the battery can be chewed up in the space of 1.5 hours, so we can see how Apple's suggestion of 15 hours battery life is actually achievable, because it's actually achievable.
Our tests have shown you can hit 15 hours on the M2 MacBook Air. You'll probably get in a little under that, but that impressive battery life means you can kind of go the entire weekend without needing a charge, and may even be able to leave the charging brick at home on your day to day at work.
The charging brick has changed, as well, with Apple using Gallium Nitride or "GaN" in its new Air charging block, meaning you get a smaller charger in the box, or even one with two USB Type C ports, depending on how much you spend.
Either way, it's good news for your luggage, because you can always skip the charger if you don't need more than a day's life, or bring with the smaller charger already included in the box if you do.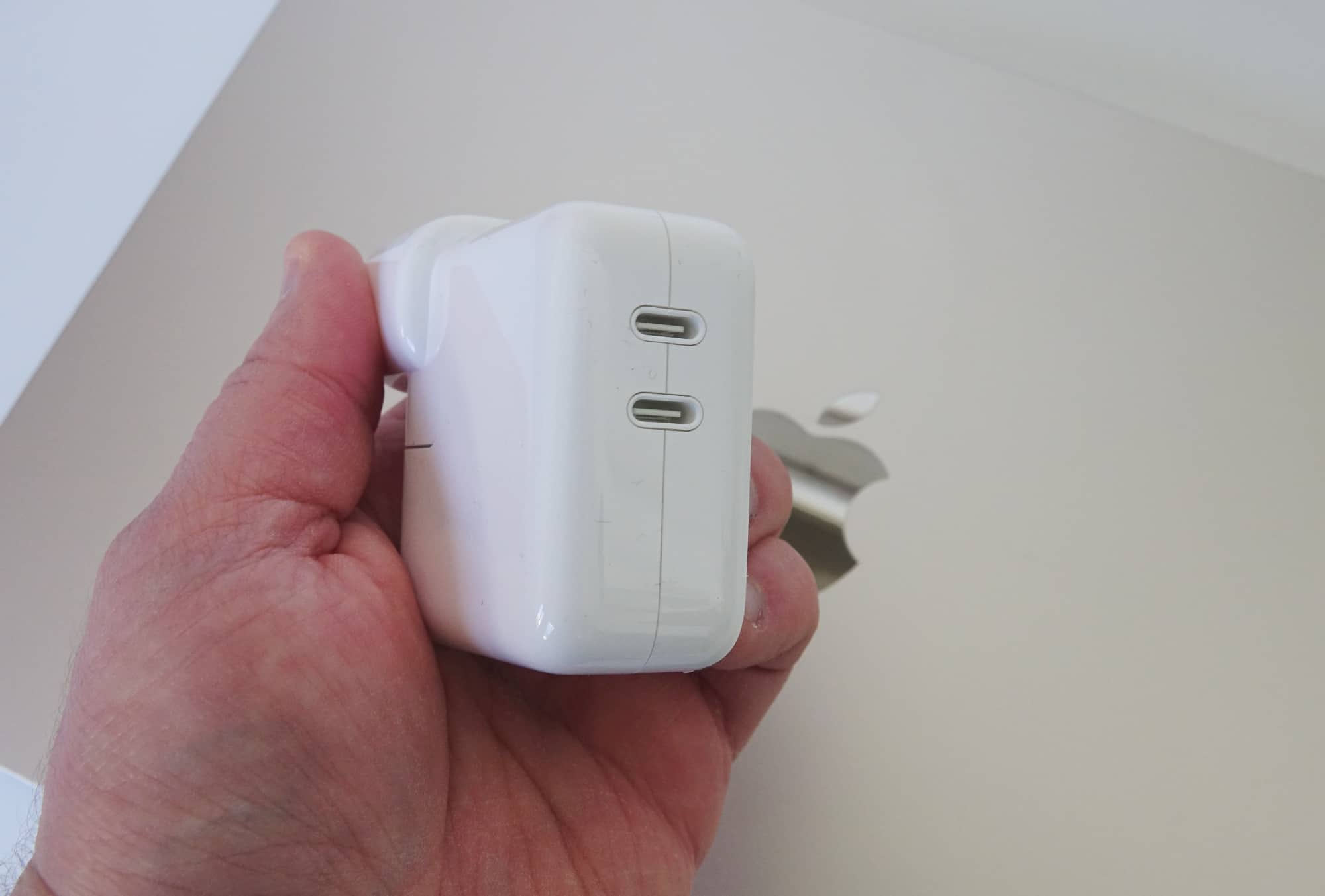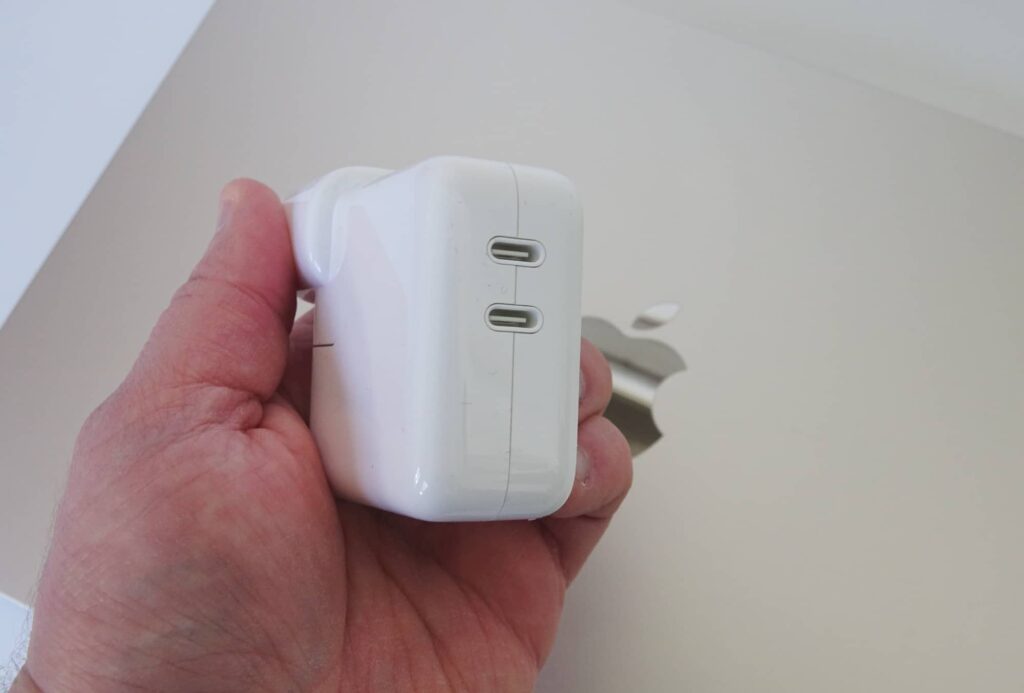 Value
The price is also right for what Apple is delivering in the M2 Air, with the $1899 starting price a little more than what the M1 Air offers at $400 less, but not a substantial cost for the improvements.
There's more screen real estate, a better speaker system, an updated and better webcam, an extra port for charging, a new charging brick, oh and that smashing new chip. And sure, you probably won't really see the benefits of that chip, but that's not the point.
For $400 more than the M1 MacBook Air, Apple's improvements don't feel like a waste of money. Hell, the design is new and actually manages to be lighter overall.
Seriously, there are genuinely excellent reasons to consider the M2 MacBook Air over its M1 sibling.
What needs work?
Strangely, Apple's improvements to the MacBook Air formula are so good, it can be really difficult to work out anything particularly flawed about the system. It's just so damned good.
One of the only major issues we found during our time reviewing the M2 MacBook Air was the fact that you probably won't find a way to push the chip, and so it nothing warrant an upgrade from the original M1, which is still really good.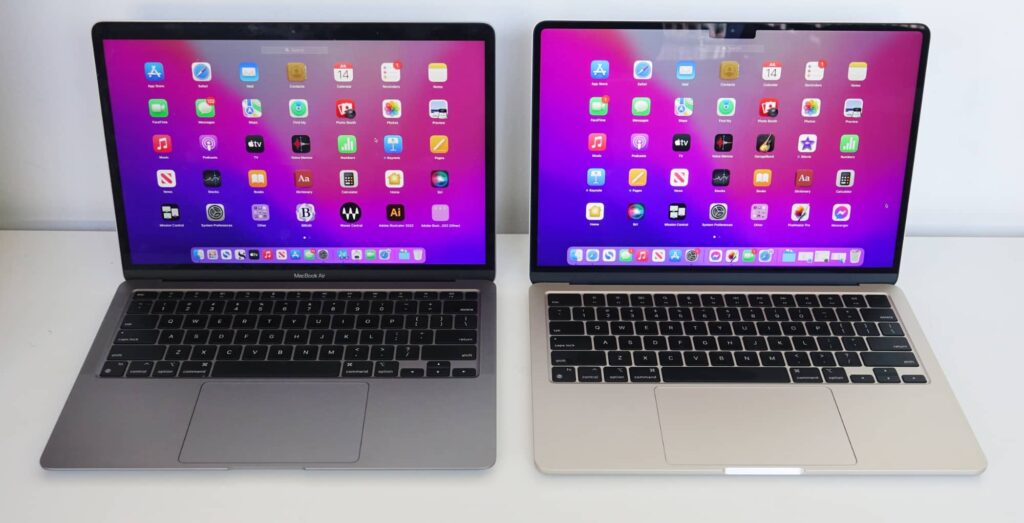 If you need more than one monitor to plug into, you may find yourself wading into the only other issue of importance on the M2 Air, but that's also no different to a problem on the M1 Air. It seems that standard models of Apple Silicon — namely, the Apple M1 and Apple M2 — only support one external monitor at a time. Folks who want to plug into two or more screens will need to spend up on the Pro, Max, and Ultra chips, at least at this time.
However, outside of those two niggles, the M2 is an amazing choice. Sure, the M1 is still around, complete with both of those issues, but it too is a great choice if you're keen on saving some money.
Final thoughts (TLDR)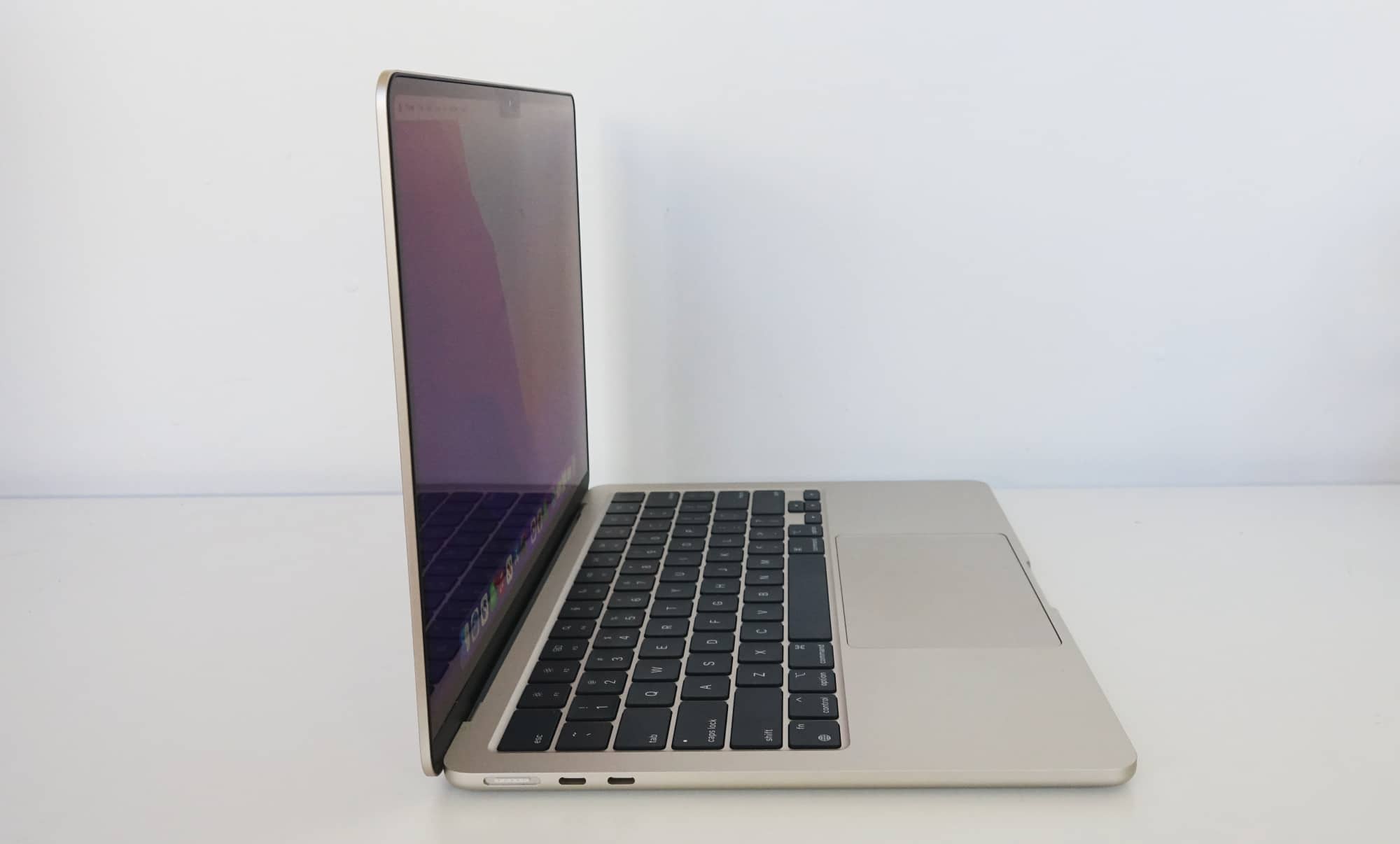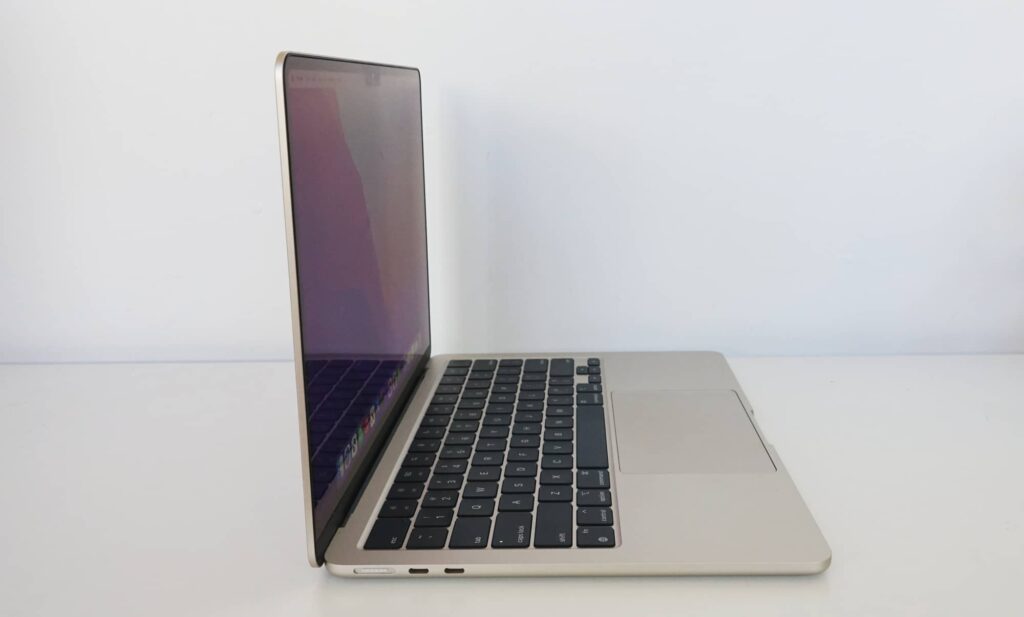 But if you want the best portable, the M2 is where it's at.
We've got Beck in our head playing through an improved Atmos-friendly sound system on the new Air when we say that, but it's also true: this isn't just a great Mac, but a fantastic portable as well. It's easily one of the best laptops to date.
There is just so much to like about Apple's latest laptop, and so many compelling reasons to consider this machine over so much else out there.
The 2022 MacBook Air could be your next laptop. It's just so good. Highly recommended.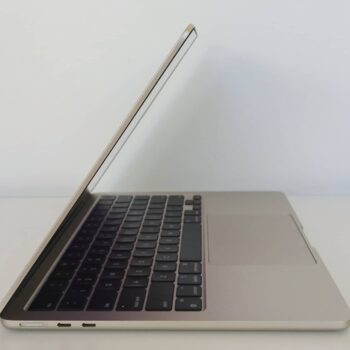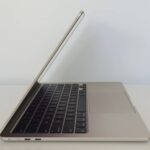 Apple MacBook Air (M2, mid-2022)
The good
Beautifully designed
Lovely screen
Screen packs in more size in the 13 inch form factor
Stunning performance
The return of MagSafe means you don't need to sacrifice a Type C port for power
Excellent keyboard
Brilliant battery life
Comes with a smaller battery pack with GaN
The not-so-good
You probably won't notice the speed difference or make use of the hardware