Quick review
Motorola One Vision (Moto One Vision)
The good
Big almost all-view screen
A clean version of Android
Still comes with Motorola's cute add-ons
Feels relatively premium
Massive 48 megapixel camera
The not-so-good
Camera is fairly slow to fire
No wireless charging
Minimal water resistance
Expensive phones tend to get you big screens, big cameras, and glass bodies, but the mid-range is doing it, too. The Motorola One Vision makes the case for a $499 phone that can look especially premium.
Take a quick glance at smartphone pricing, and it's not hard to feel a little disillusioned. Phones are not cheap, and if you're looking for a device that looks pretty and performs well, it's not thoroughly surprising to find you need to spend a pretty penny.
But pretty and penny don't have to also be as high cost, and Motorola's latest attempts to prove it, offering a pretty device that offers a cost that is mere pennies compared to the price of others.
Design
The latest take on Motorola's mid-range is a little different from the phones we've seen from Moto in the past.
It's smoother, sleeker, and definitely shinier than anything typically sitting in the mid-range, which is where the $499 Motorola One Vision definitely sits.
The Motorola One Vision is just that: one vision of where Motorola could take its phones, delivering a handset that looks more premium than normal, and yet carries a decidedly mid-range price.
At just under $500, the Motorola One Vision looks a little like Samsung's Galaxy S10, yet is closer to being half the price.
There's a glass front and back, and a long screen that stretches from top to bottom nicely with minimal bezels. It's a simple look that works well, and make this budget handset come off looking a little pricier than what you should find otherwise.
Features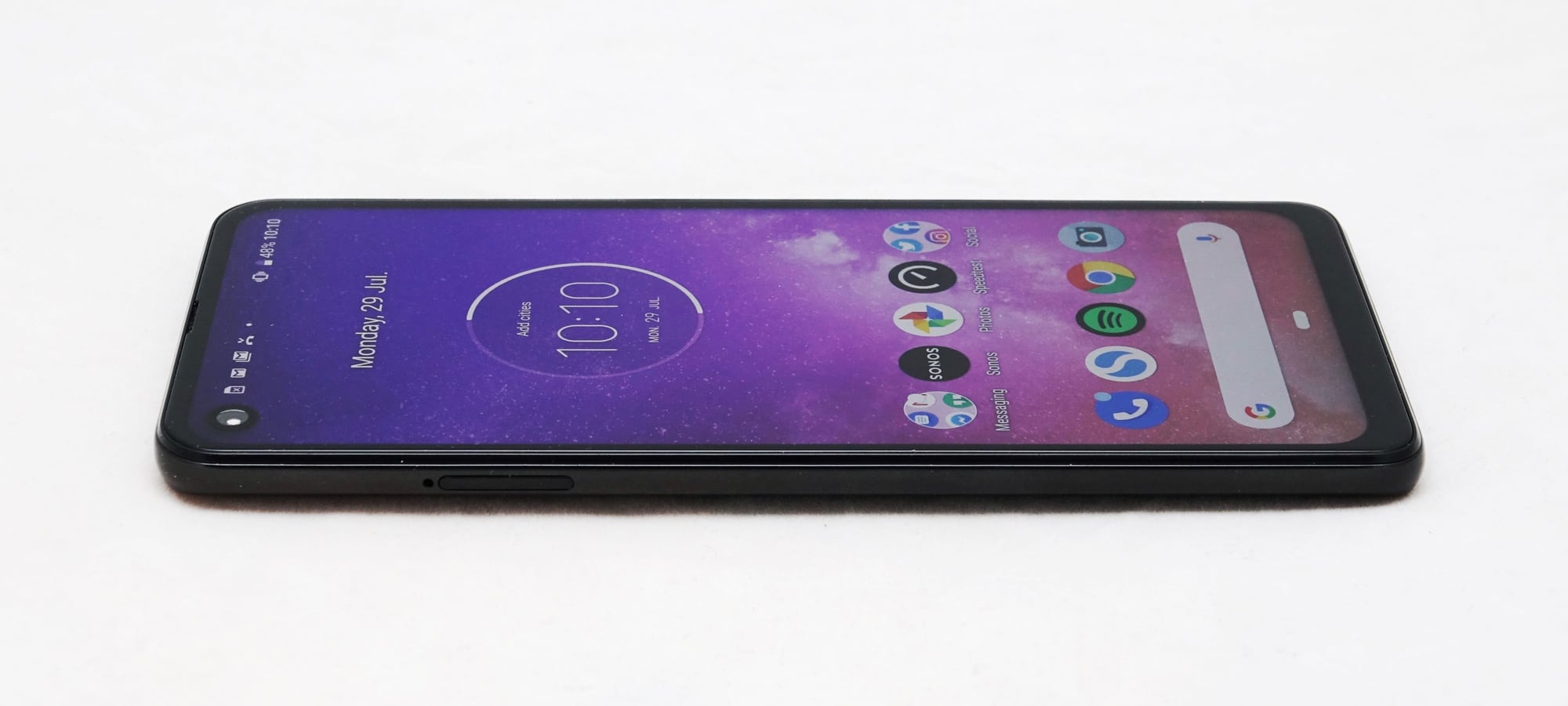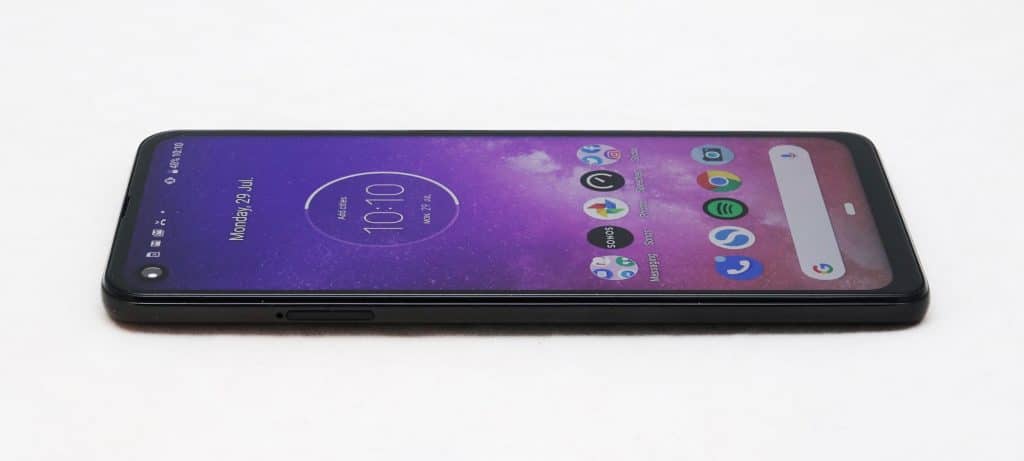 Under that premium glass, Motorola has gone with an unlikely chip choice, looking past the Qualcomm Snapdragon processors we're used to seeing on Motorola's phones, and opting for a Samsung Exynos chip instead.
In the Motorola One Vision, you'll find an Exynos 9609, an eight-core chip paired with 4GB RAM and 128GB storage, the latter of which can be expanded using a microSD slot.
Motorola is using Google's Android as it appears in the Android One program here, which is actually almost identical to how it appears on other recent Motorola Android phones.
Since it was only recently owned by Google (and is now a Lenovo company), Motorola has kept what it learned from Google in pretty much every smartphone we've seen, which is basically to keep Google stock and run its extra functionality as apps downloaded from the Google Play Store. In that respect, the Motorola One Vision is no different to the Motorola G range, or even the X or Z. It's just running Android like you'd get on the Google Pixel phones or even much of Nokia's range.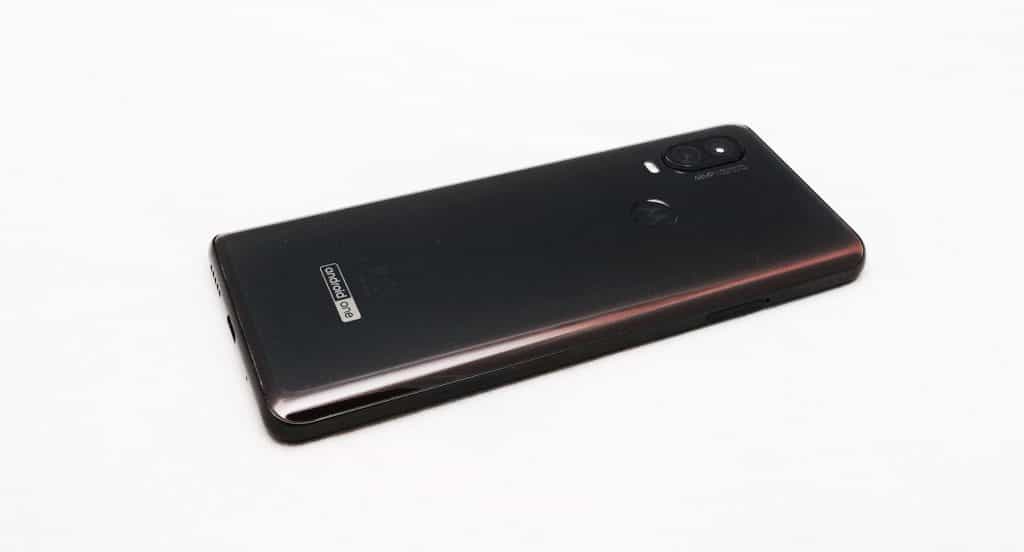 Where the difference appears to be is the guarantee of three years of monthly security updates, and a label of "Android One" on the back of the Motorola One Vision handset. That's it.
Fortunately, there's more to the One Vision than the chip, memory, and software.
You'll find a massive 48 megapixel camera on the back that utilises a quad pixel technology to downsample 48 megapixels back to 12 megapixels, with a secondary 5 megapixel camera for those portrait-styled defocused background shots. That 48 megapixel camera is paired with F1.7 for some low-light support, and will capture in 4K Ultra HD, as well.
The front camera also looks to be useful, with 25 megapixels at F2.0, too.
There's also 4G, WiFi 802.11a/b/g/n/ac, Bluetooth 5.0, GPS, and NFC, the latter of which is handy if you want to pay for anything using Google Pay. And there's a fingerprint sensor on the back as well, just under the Motorola logo, with face unlock built into the phone, as well.
And it all sits under a 6.3 inch display stretching the extent of the phone with a 21:9 cinema-style display. You might not realise, but movies are actually presented in the theatre at 21:9, not at the 16:9 our TVs are set to. Phones with this aspect ratio not only get a longer screen, but may watch movies without any black bars on the top or bottom at all.
The screen used here is a Full HD+ panel, meaning it gets 1080 pixels on the vertical, but beyond the 1920 on the horizontal. Instead of Full HD's 1920×1080, the Motorola One Vision achieves a Full HD+ resolution of 2520×1080, and delivers a pixel clarity of 432 pixels per inch.
The battery is rated at 3500mAh, and charges from USB Type C, though you also get a 3.5mm headset jack on the phone, as well.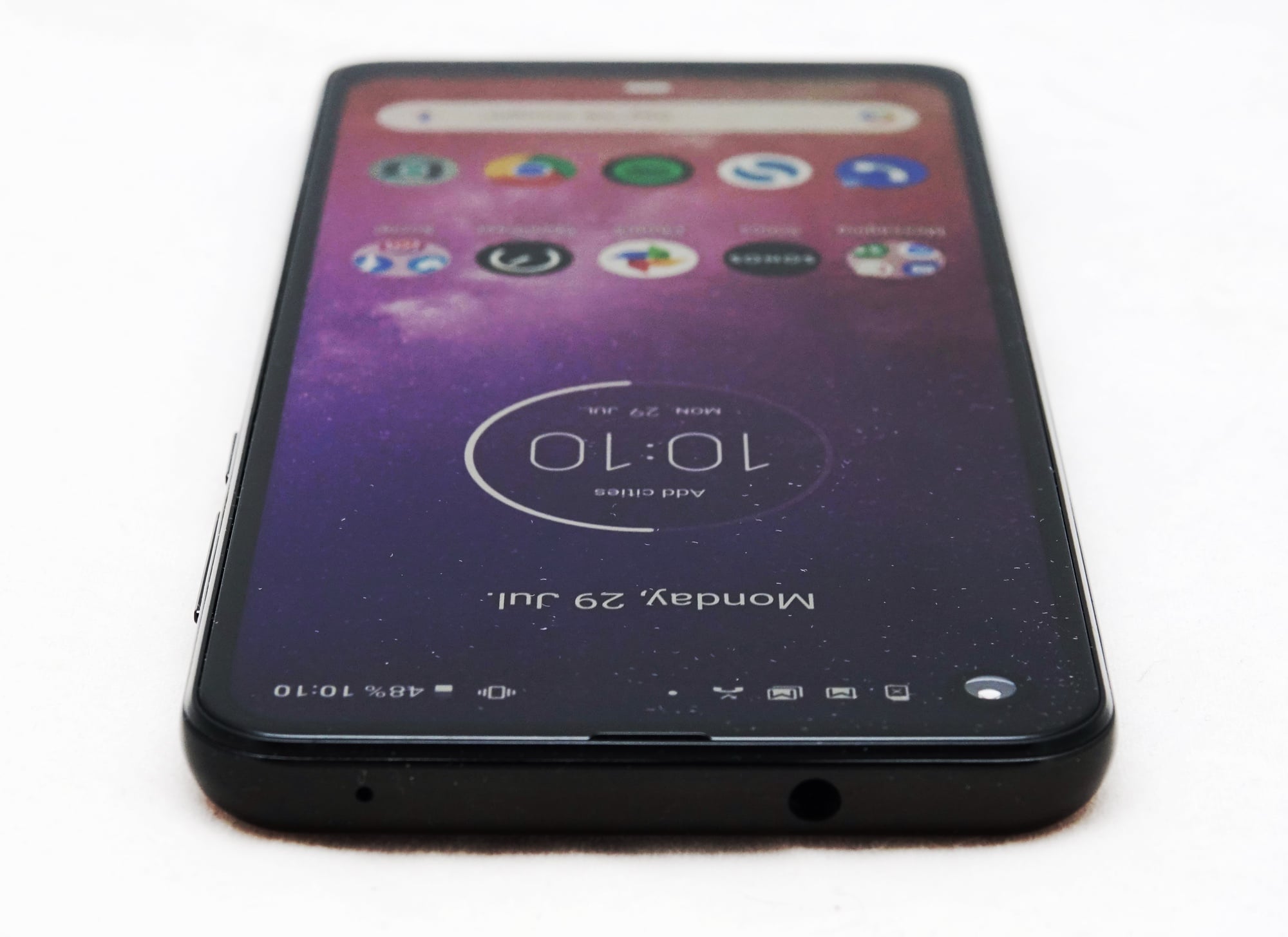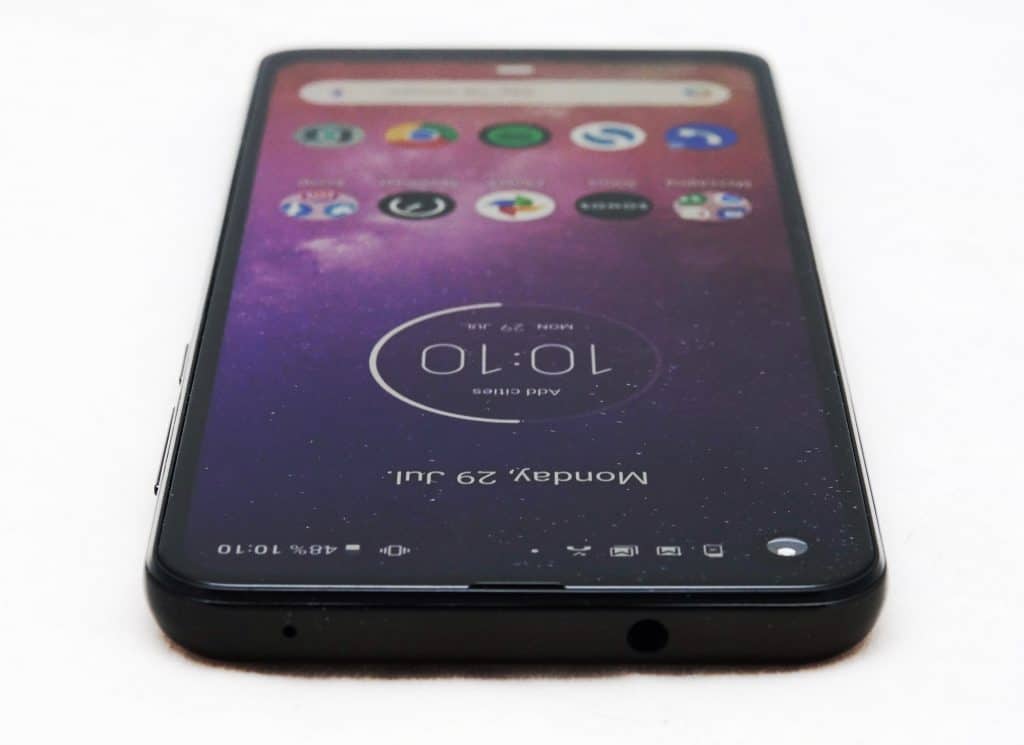 In-use
Start playing with the Motorola One Vision, and you'll find a smartphone that aims to be easy to use with no extra touches to that Android operating system.
This is Android One, plain and simple. Granted, there's not a lot of difference between Android One and Motorola's Android as it is, but if you have to have Android the way it is on the Google Pixel, this is it. It's clean, easy to use, offers the same multiple widgetised homescreens, left-most Google Discovery feed, and an app menu you can swipe up for.
There's an easy look here, gesture controls for you to swipe to use, and more or less everything you need.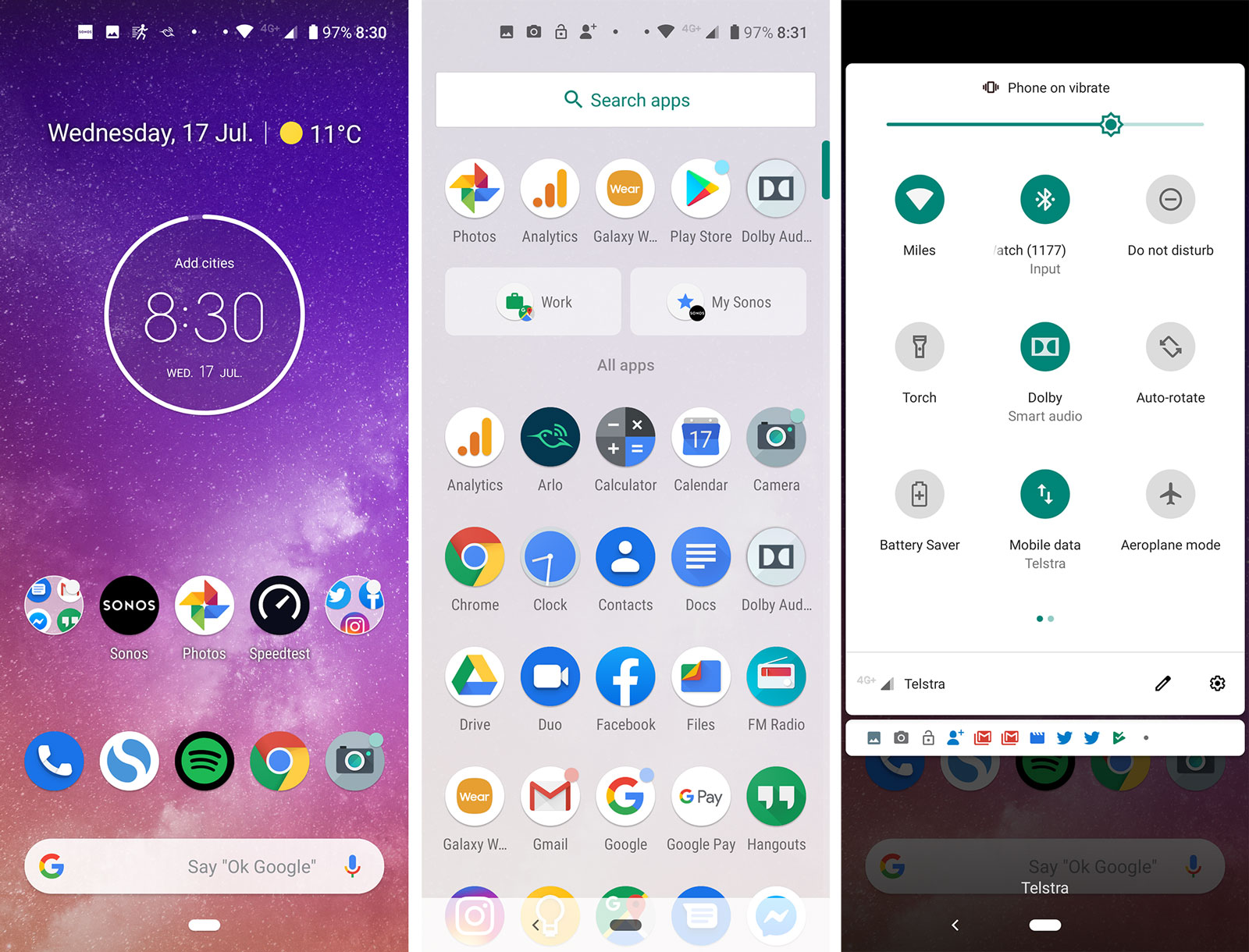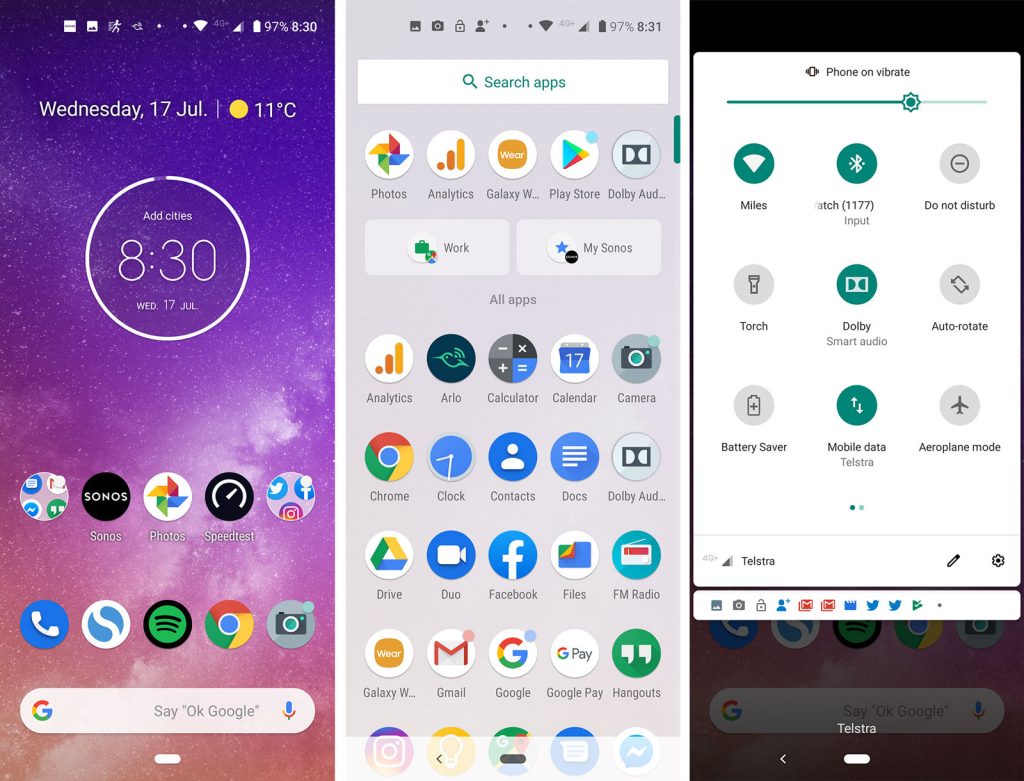 Performance
Even the performance is strong enough, with the Samsung Exynos processor providing more than enough power alongside that 4GB RAM. We typically like to see closer to 6GB, but 4GB is more than plenty, and the phone chugs along at the best of times.
You may find moments of lag, and there were definitely times when the phone needed to catch up, but they weren't many in number. In fact, they tended to appear around the camera. More on that in a moment.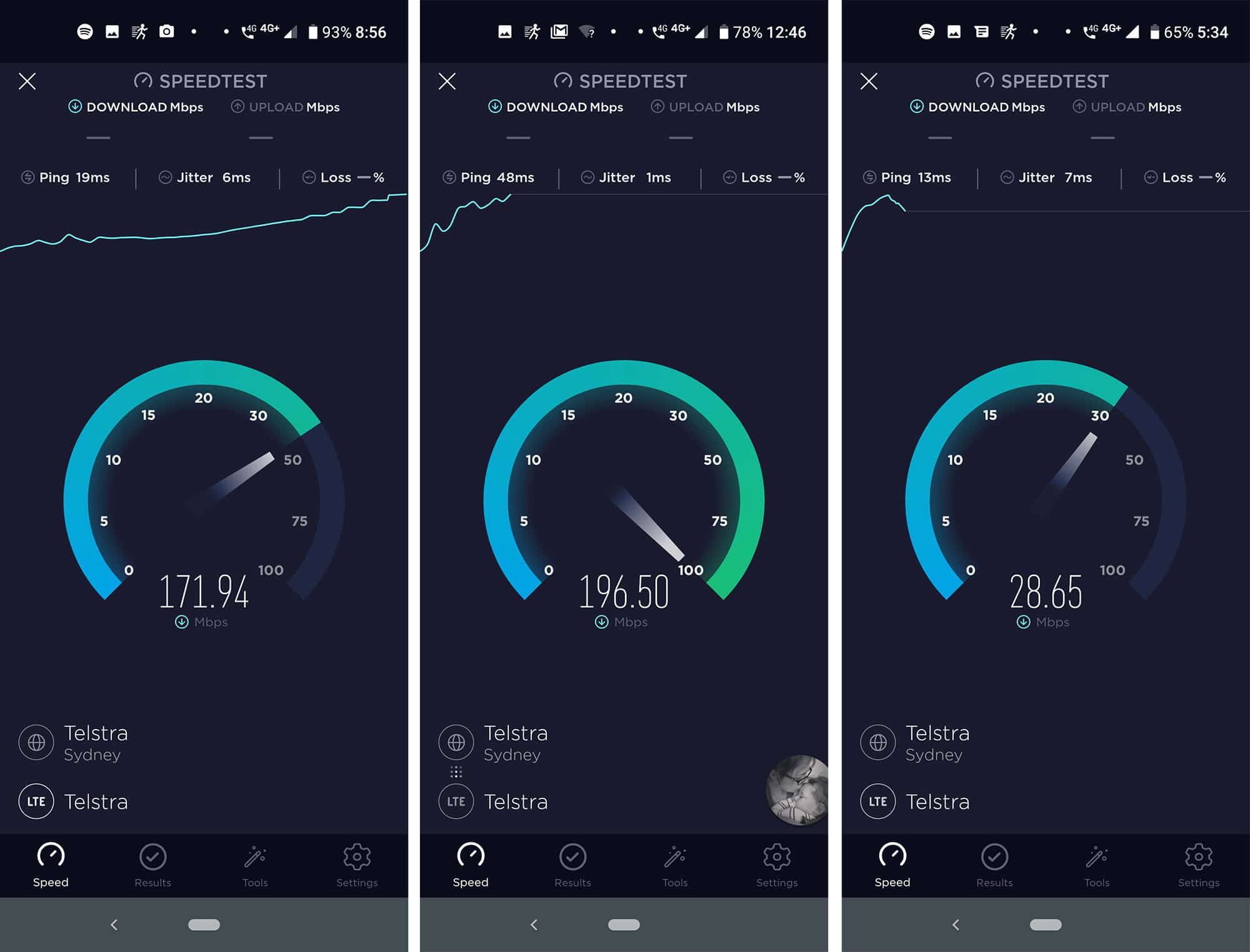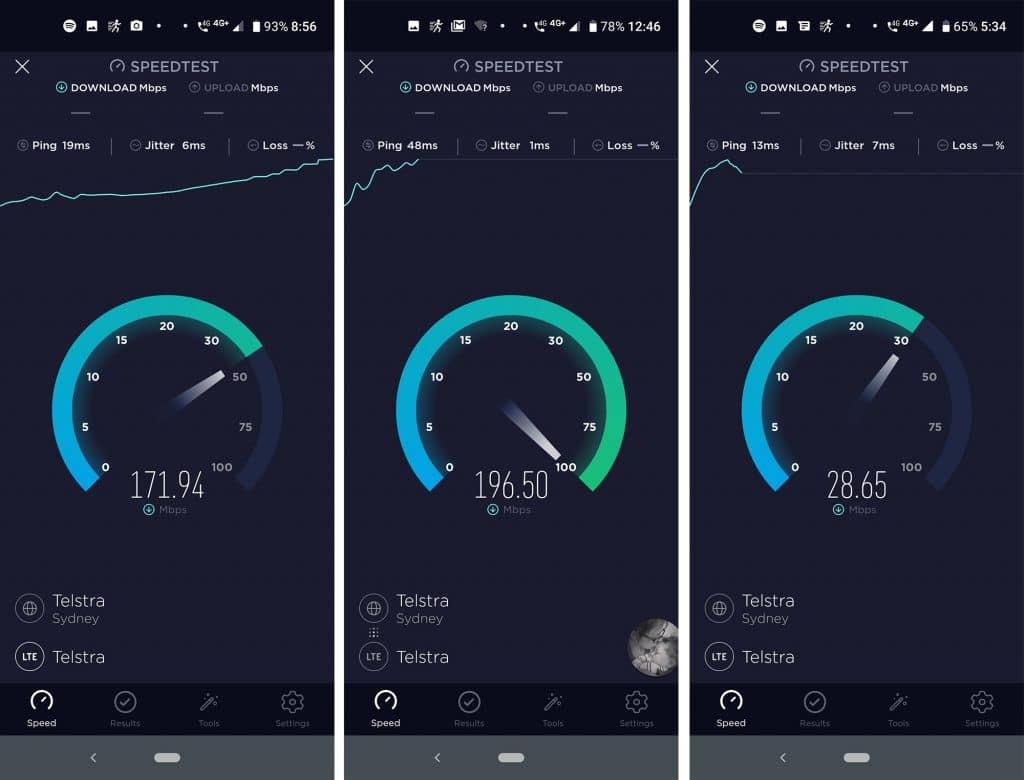 At least on the 4G side of things, you'll see a phone that can handle some decent speeds, because that's on offer in the Motorola One Vision.
As such, we saw speeds as high as 196Mbps from the Moto One Vision in our tests on Telstra's 4GX network in the Sydney CBD. Your mileage may vary, of course, as 4G speeds are entirely dependent on where you are, which telco you're using, and what network congestion is like at the time, but sufficed to say, you shouldn't have any major worries.
Camera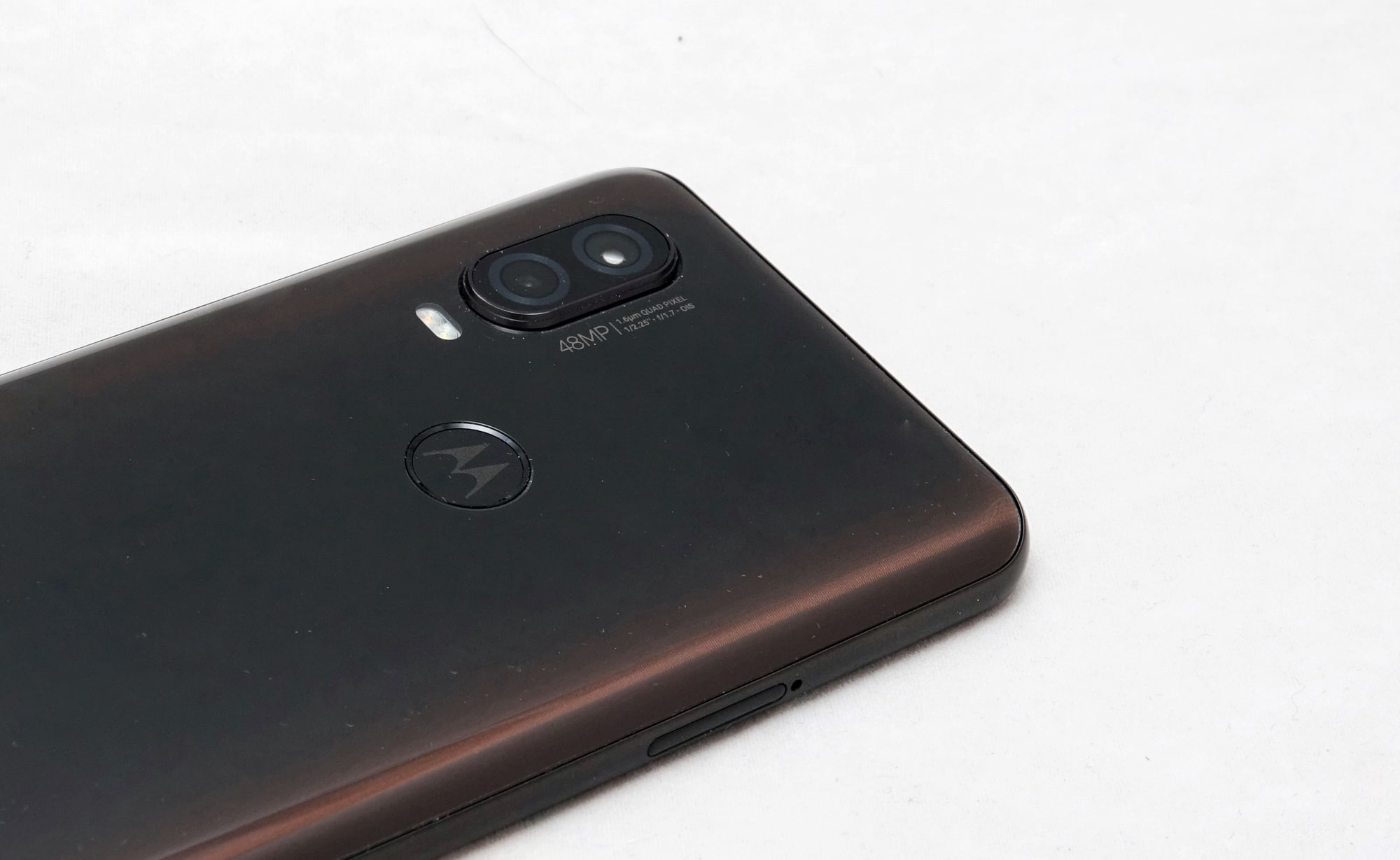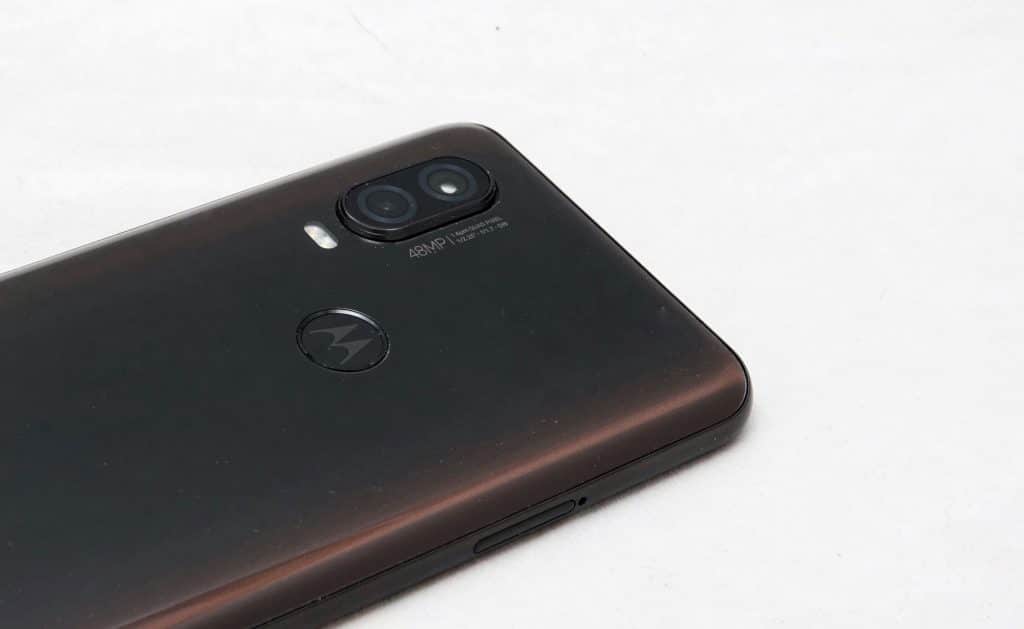 Alongside half decent performance is a half decent camera, helped along by a massive 48 megapixel camera that downsamples back to 12 megapixels.
That technology means you get an image quality that in essence should produce four times as strong an image, and which handles itself beautifully in daylight and not too badly at night, especially for a $500 smartphone.
We're not going to say the Motorola One Vision is as strong as say its big mid-range competition, the Google Pixel 3a, but competing with the high-end Pixel 3 camera plonked into the smaller Pixel 3a body was always going to be difficult, so we're not thoroughly surprised here.
The portrait mode is capable of some decent imagery, provided you don't get too close. From afar, the double camera system does a decent job of blurring the background, providing 12 megapixel images in the foreground with a defocused background in 5 megapixels.
Overall, the image results are quite good, and you get some AI-powered approaches to photography thrown in for good measure.
Even the low light mode handles itself respectfully enough, especially for a camera in a $499 phone, though between the night mode and the standard low-light mode, you won't find a lot of clarity. At least you can see the image, but don't expect your subject to be terribly sharp without the flash.
There is one major catch on that camera, and that's the speed of the camera, or rather the lack thereof.
Both loading up the camera app and firing off a shot are fairly slow, and if you rely on the Motorola One Vision camera to fire off a quick shot that you think would be awesome, you're probably going to be left disappointed. It's just a very slow camera, something that surprised us greatly. The shots from it aren't bad, but the speed with which it fires, well that's something different altogether.
Even though you get that super handy Motorola "twist your hand" gesture to launch the camera, you won't see a super fast trigger from the camera itself, so be patient.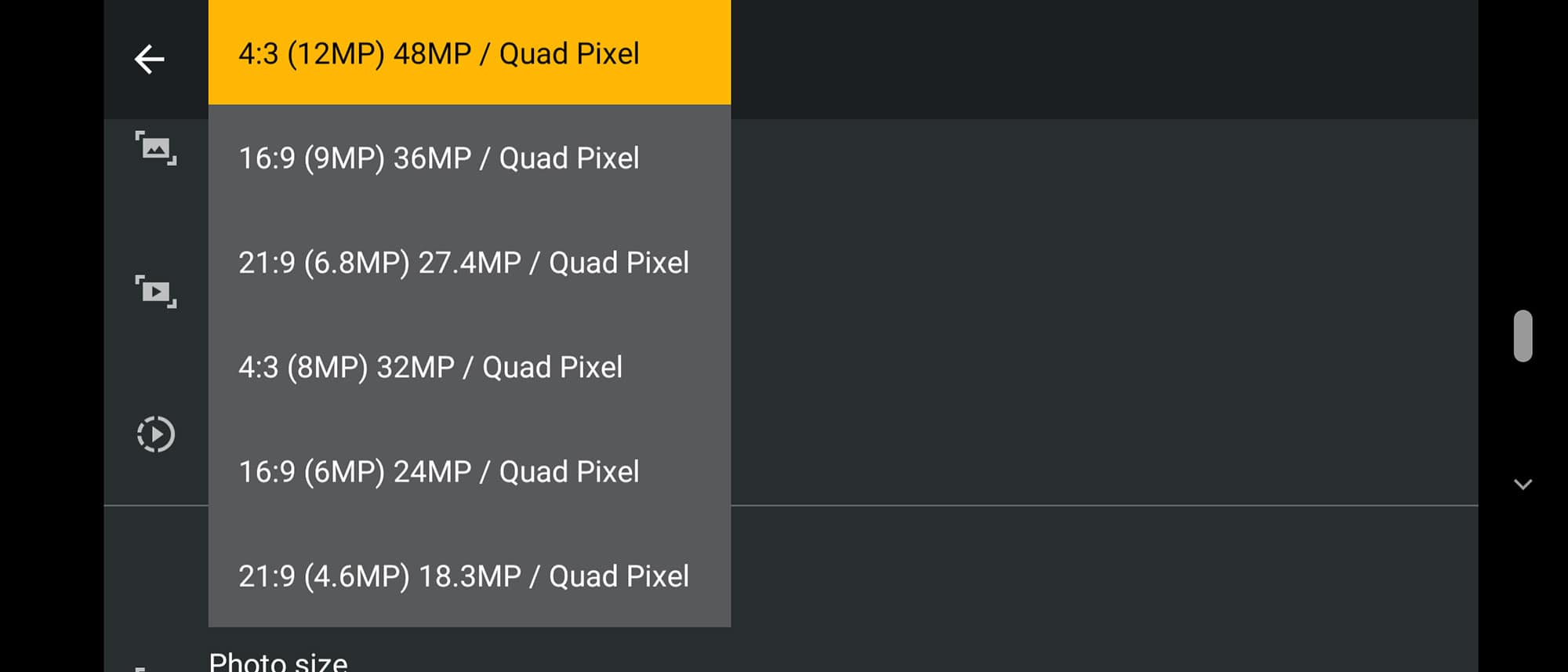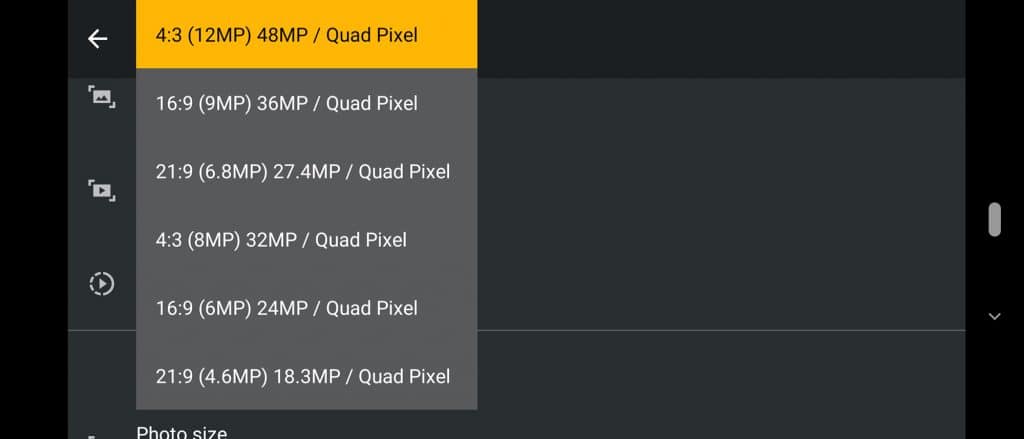 Battery
While the camera surprised us a little, the battery did too, though not necessarily for the right reasons.
Armed with 3500mAh, we expected two days of battery life from the Motorola One Vision. Sadly, you'll end up just short of that, hitting one and a half days of battery. That's not a bad result, but it could be better, even if it is par for the course.
We tested the Moto One Vision with a smartwatch connected at all times and a pair of wireless headphones for a couple hours a day, and found that you could hit around 36 hours before it definitely needed a charge, which isn't a great result from 3500mAh.
By comparison, Google's Pixel 3a — what is obviously the Motorola One Vision's main competition — has a smaller battery and roughly the same life. Clearly, Motorola needs to apply some tweaks to get a little more juice out of its big and tall handset. It's acceptable and surely better than a mere day, but it could also be better.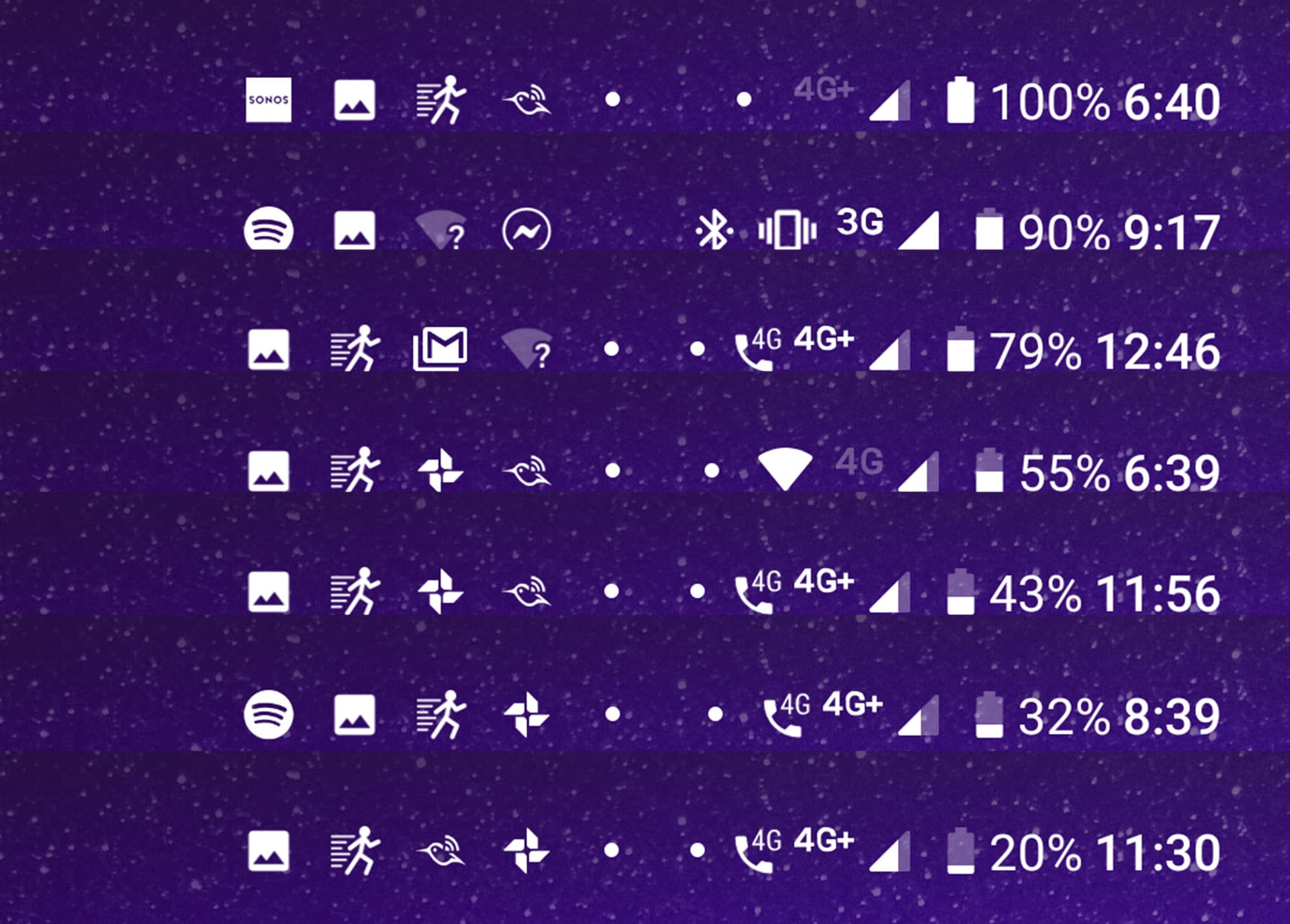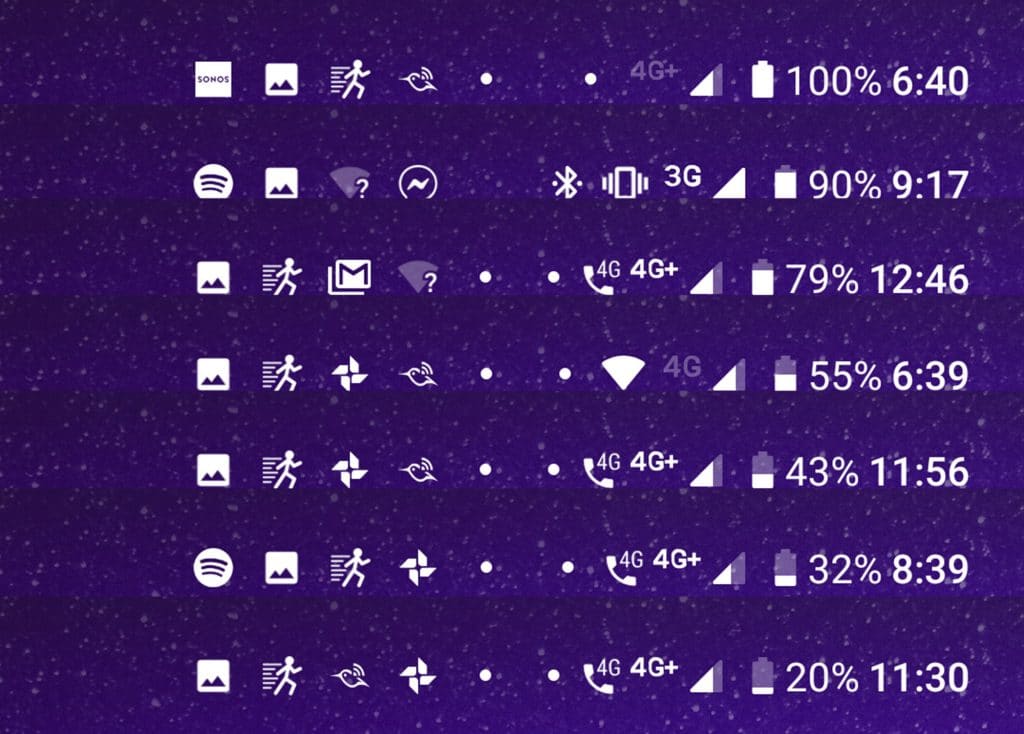 Value
Acceptable battery life is paired with a pretty solid price tag, with $499 genuinely hitting what many regard (us included) as what "mid-range" constitutes.
It's handy to remember that at one point, flagship phones would cost around a thousand bucks, though lately, this has increased. With some premium phones fetching close to $2500, the midrange has clearly changed, though it's nice to see Motorola is still looking at the original definition in the Motorola One Vision.
What needs work?
Despite the positivity, there are things that need work.
Take the ruggedisation of the phone: while Moto talks up the One Vision's design encased in glass as a premium feature, its water resistance lacks the same attention to detail. It's there with an IP52 rating, but that's basically sweat and light rain resistant, and essentially means that if you spill something on your phone, you should be fine, but that's about it.
Motorola has featured better water resistance in the mid-range before — back in 2015's G3 range, the phones were IPX7 and could be submerged — so while we seem to be permanently scratching our heads on why G-series since then lack the water rating, the IP52 is an improvement on the Moto One Vision, but not by much.
Bring back full water resistance, Motorola. It's definitely a point of difference in the mid-range world, and would be a welcome addition.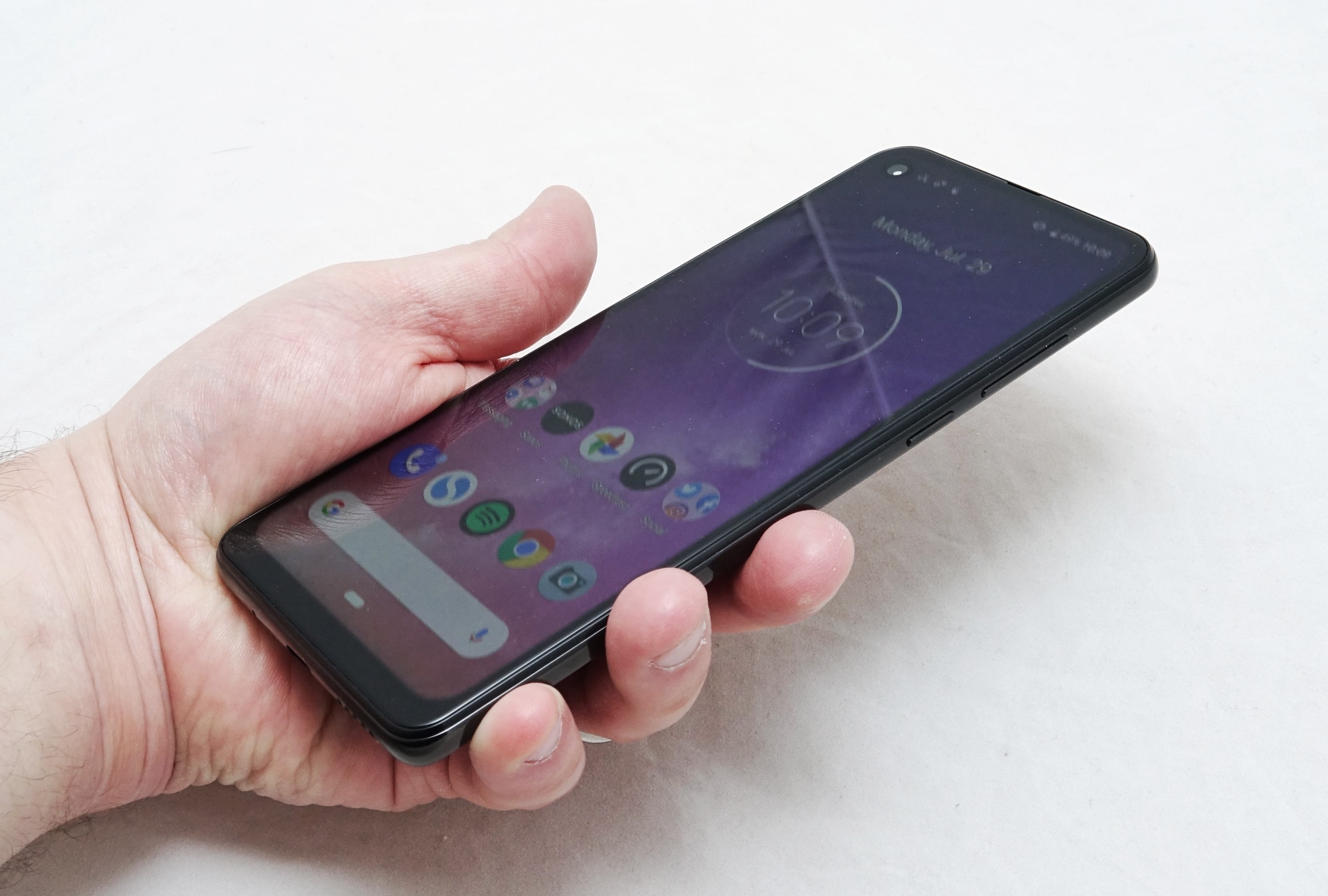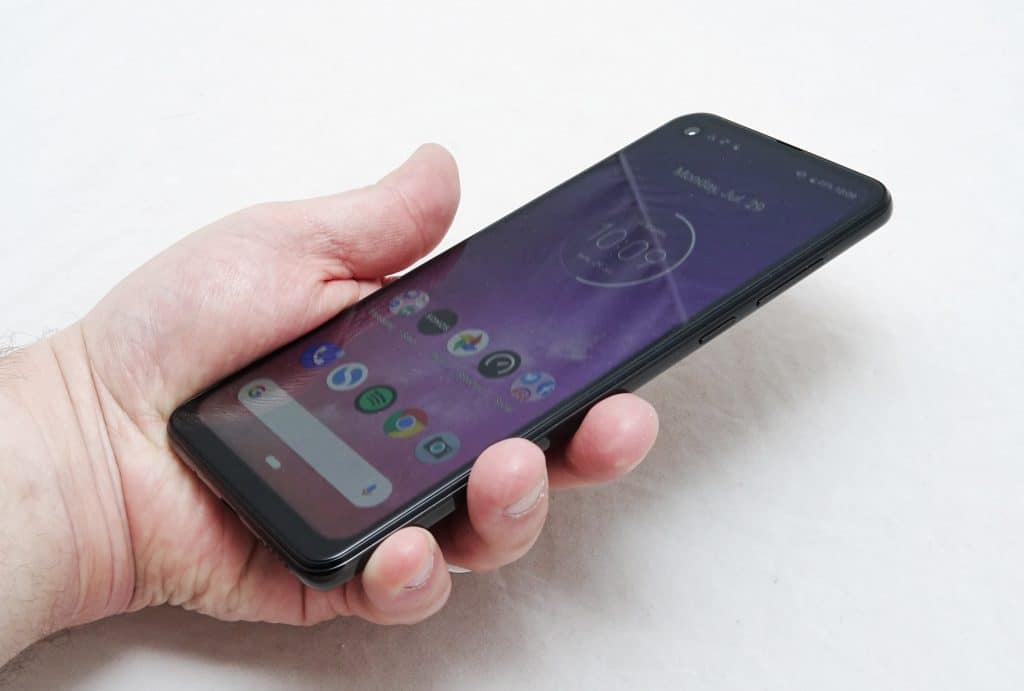 Likewise would be wireless charging. That's something you won't get on the Motorola One Vision, a real shame given that glass back would have been the perfect excuse to throw the technology in.
Oh, and speed up the camera performance while you're at it, Moto. It's no fun having such a powerful and technologically cool phone camera when the phone is too slow to fire off those great shots.
Final thoughts (TLDR)
With phones hitting some seriously high premiums these days, it's no wonder why the mid-range is such an attractive area for smartphone makers. You can spend upwards of a thousand dollars easily, and closer to $2500.
It's a high price to pay for a smartphone, but you don't have to necessarily hit that high value at all.
Mid-range devices are showing they can make a mark on wallets with an offering of something capable for the right price.
In the Motorola One Vision, Moto has shown it can not only get something capable, but also pretty, too.
Make no mistake, this is a pretty phone. The glass exterior is smooth and sleek and nice to hold, and the power inside is relatively strong, too. It's a bit of a budget beauty, actually, with that $499 price tag delivering something that looks great, and handles well, too.
It's not perfect, but for $499, there's a great offering in the Motorola One Vision if you're after a slick and slightly splash friendly take on what a phone could be.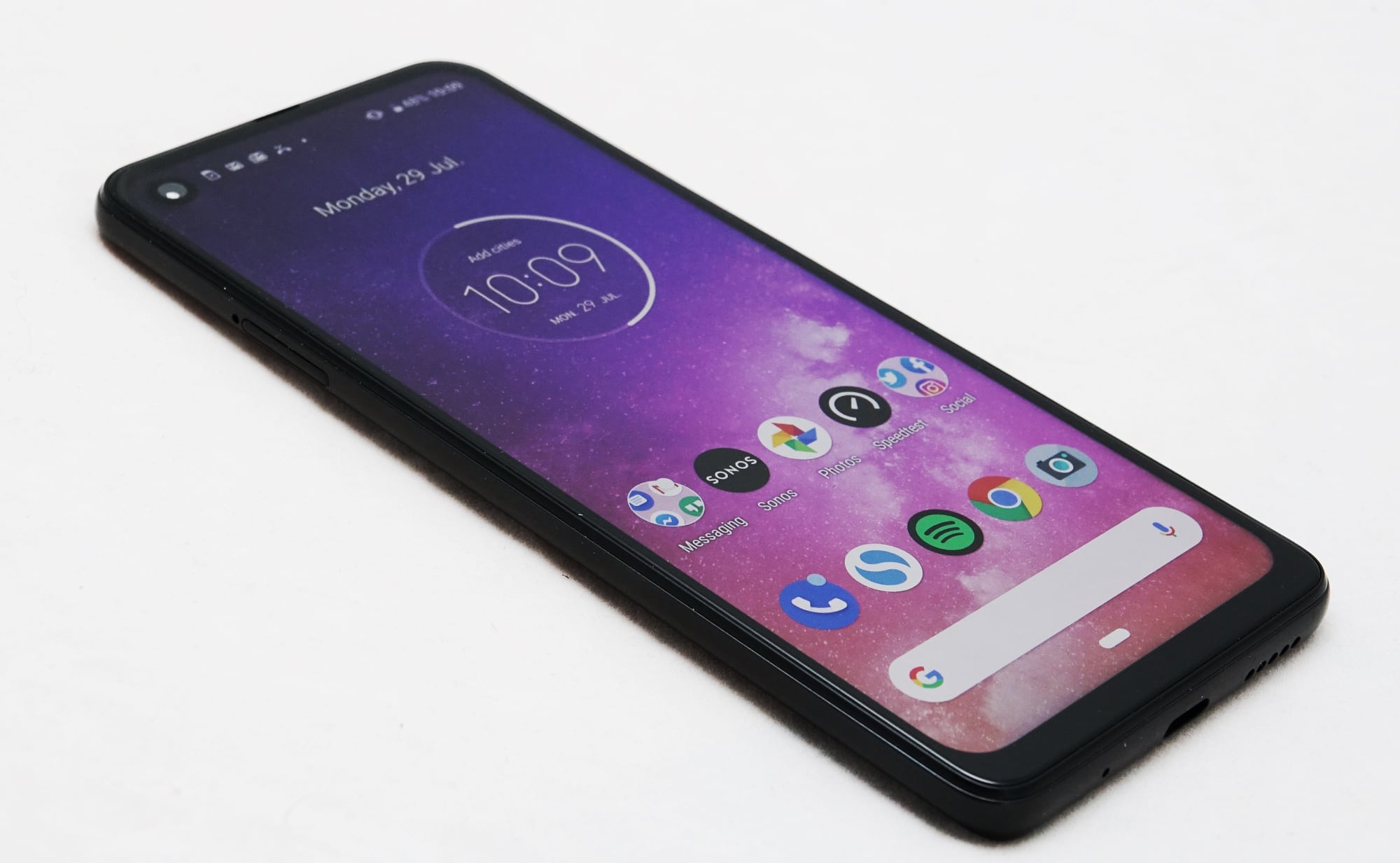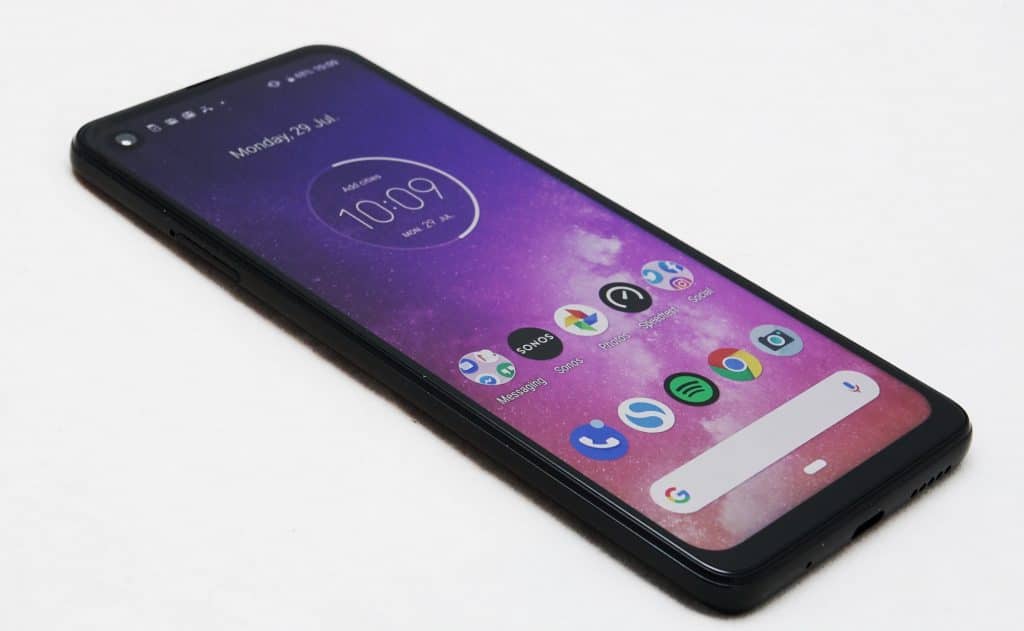 Motorola One Vision (Moto One Vision)
The good
Big almost all-view screen
A clean version of Android
Still comes with Motorola's cute add-ons
Feels relatively premium
Massive 48 megapixel camera
The not-so-good
Camera is fairly slow to fire
No wireless charging
Minimal water resistance