A more interactive movie experience where the colours jump off the screen is now available at home, but you'll need a few things.
Creating a memorable movie experience doesn't just require a nice screen and great sound. It needs that feeling that the movie has truly immersed you.
That's one of the reasons why we like big screens, because it's easier to feel immersed when the action comes off the screen, emitting a glow similar to a projection system in a theatre or a giant bright screen like the sort coming to homes lately.
There are more ways to feel connected to films, though, from 3D and VR technology to sound that really pumps to let you feel connected, and there's even specialised lighting.
In fact that last one is particularly interesting lately, as lighting can help make more of an impact when it connects with the activity on screen. Similar to a flash of light in a thrill ride, light can change the feeling of the room when it relates to an on-screen adventure, allowing the mood to jump off the screen and into real life.
That's a concept Philips once played around with in its Ambilight TVs, television panels that featured glowing edges where the end colour would bleed into real life. If the edges were red, the red would bleed onto the side, and the same with blues, greens, whites, and pinks.
The disadvantage to all of this was price, and Philips eventually got out of making TVs like this, shifting its focus to other areas in the home, such as wireless lighting, an area it does tremendous business in. So much, in fact, that Philips Hue is one of the leading wireless light manufacturers out there, and is even working with IKEA on a project in the area.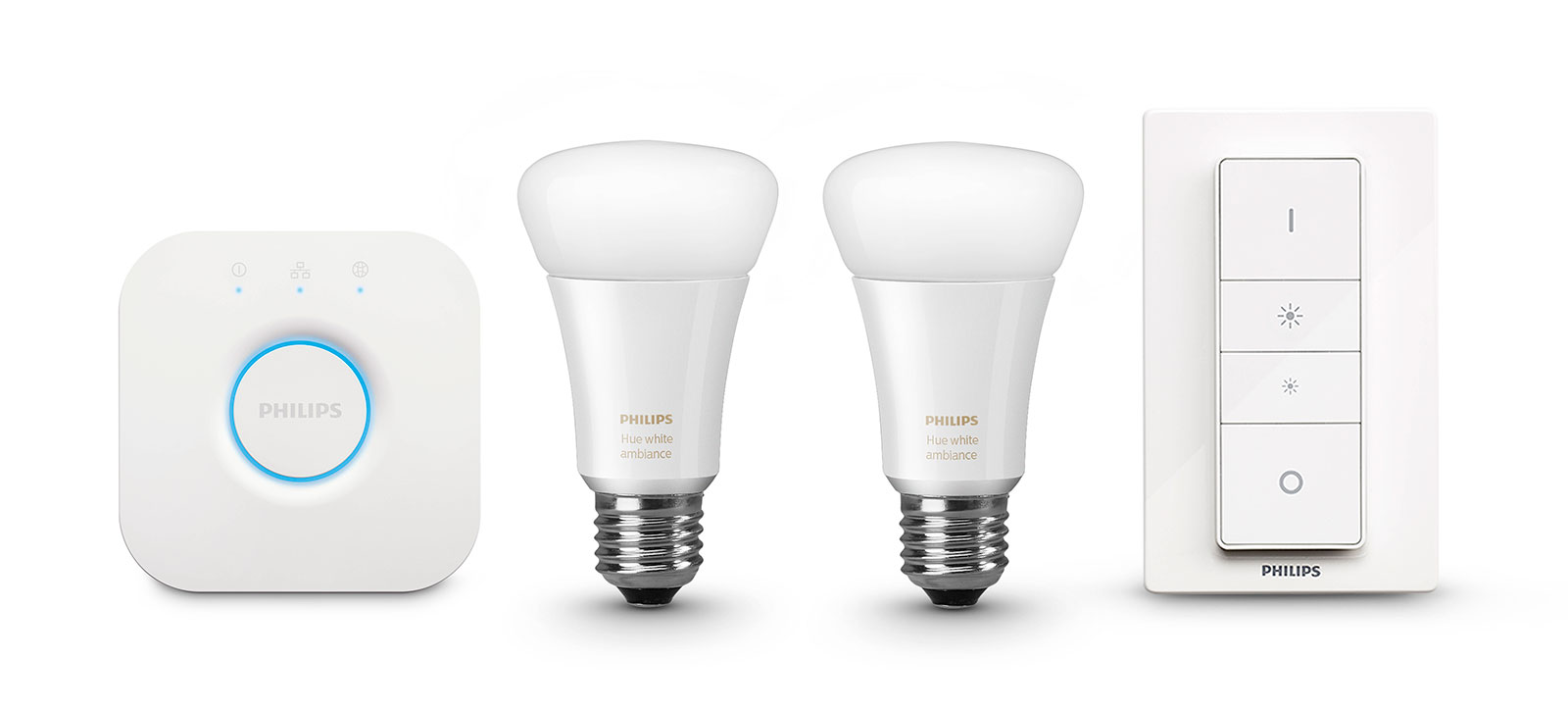 You can find Philips Hue lights for most homes, and while they don't work with some of the smaller light fittings, they exists for both screw mount and bayonet bulbs, as well as more portable light solutions like the Philips Hue Go, which can stay plugged in to charge and can be moved to other places.
And when paired with Philips' Hue entertainment apps, well, the fun can really begin.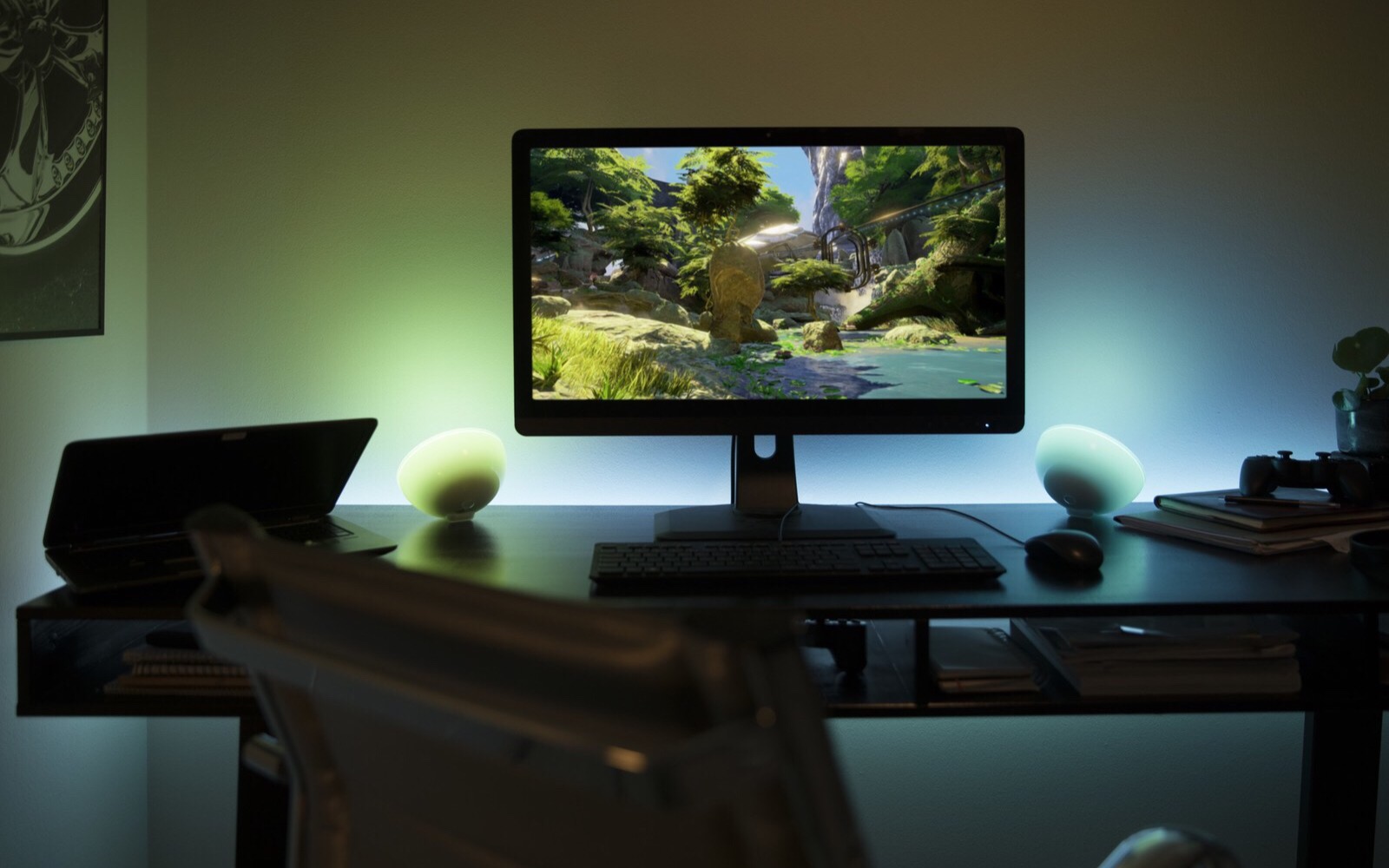 Syncing lighting with entertainment
A fairly new concept for Philips rocked up recently, and we've been giving it a bit of a whirl. It's called Hue Sync, and it's essentially a small script for a computer that syncs the activity happening at edges of a video frame with the lights in your home.
The setup is fairly easy, though it does require a Mac or a Windows PC to work, as well as a selection of Hue lights in your home. Essentially, you set the lights up around where the TV or main display would be using the Hue app on a phone or tablet, and Hue Sync on the desktop (or laptop) does the rest, syncing those lights with where the edge of the lighting would be on-screen on your computer.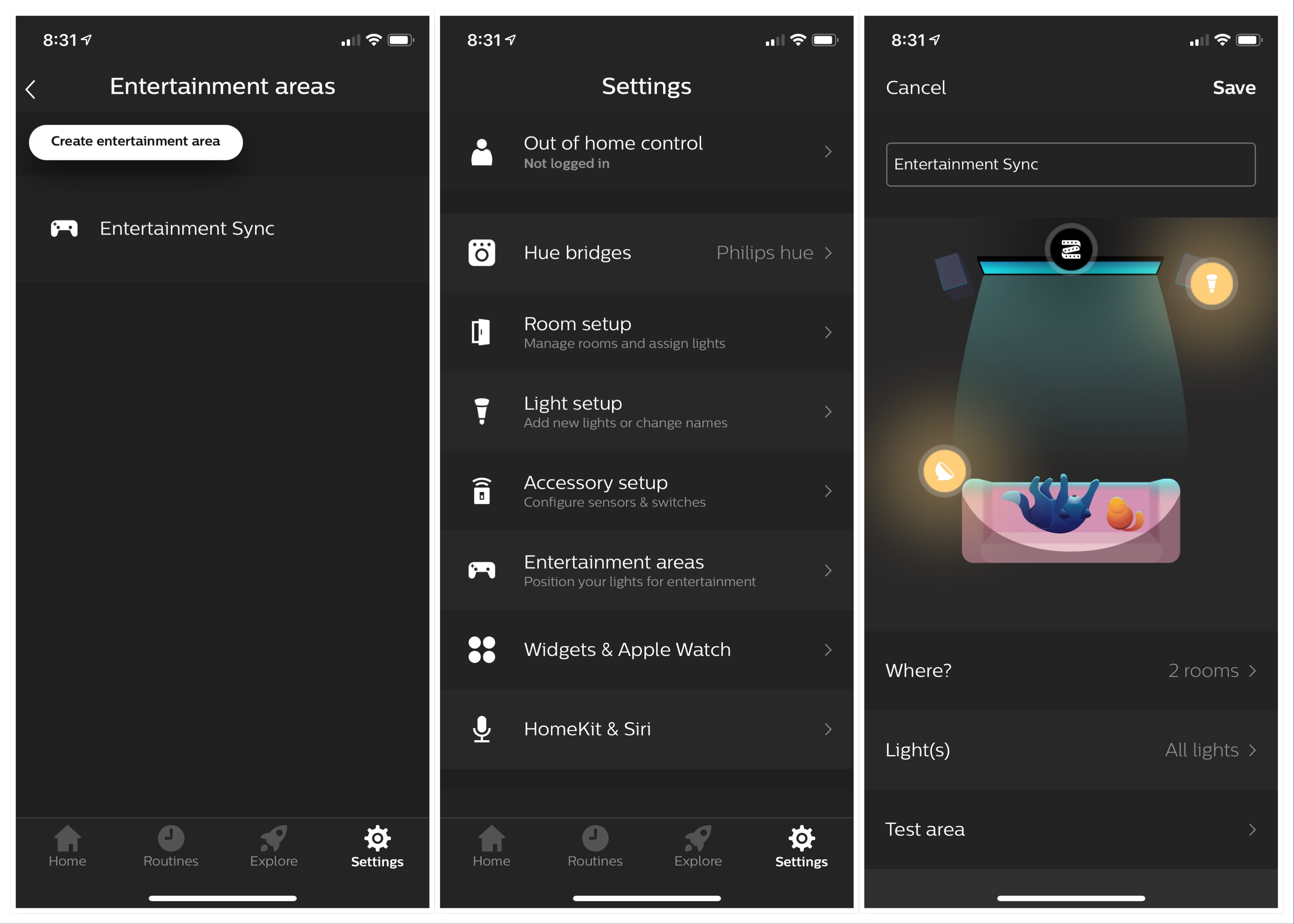 It's not just edge lighting, either, with a three dimensional approach to lighting exuding from the screen source.
If you place lights behind the TV, it will push the lighting found in those corners through to the lights in the positions, giving the room a glow on a scene-by-scene change.
That means if you're watching an ocean scene in something like "Finding Nemo", the entire room will be cast in a soft blue, until the next scene when the colour changes, and so does the room.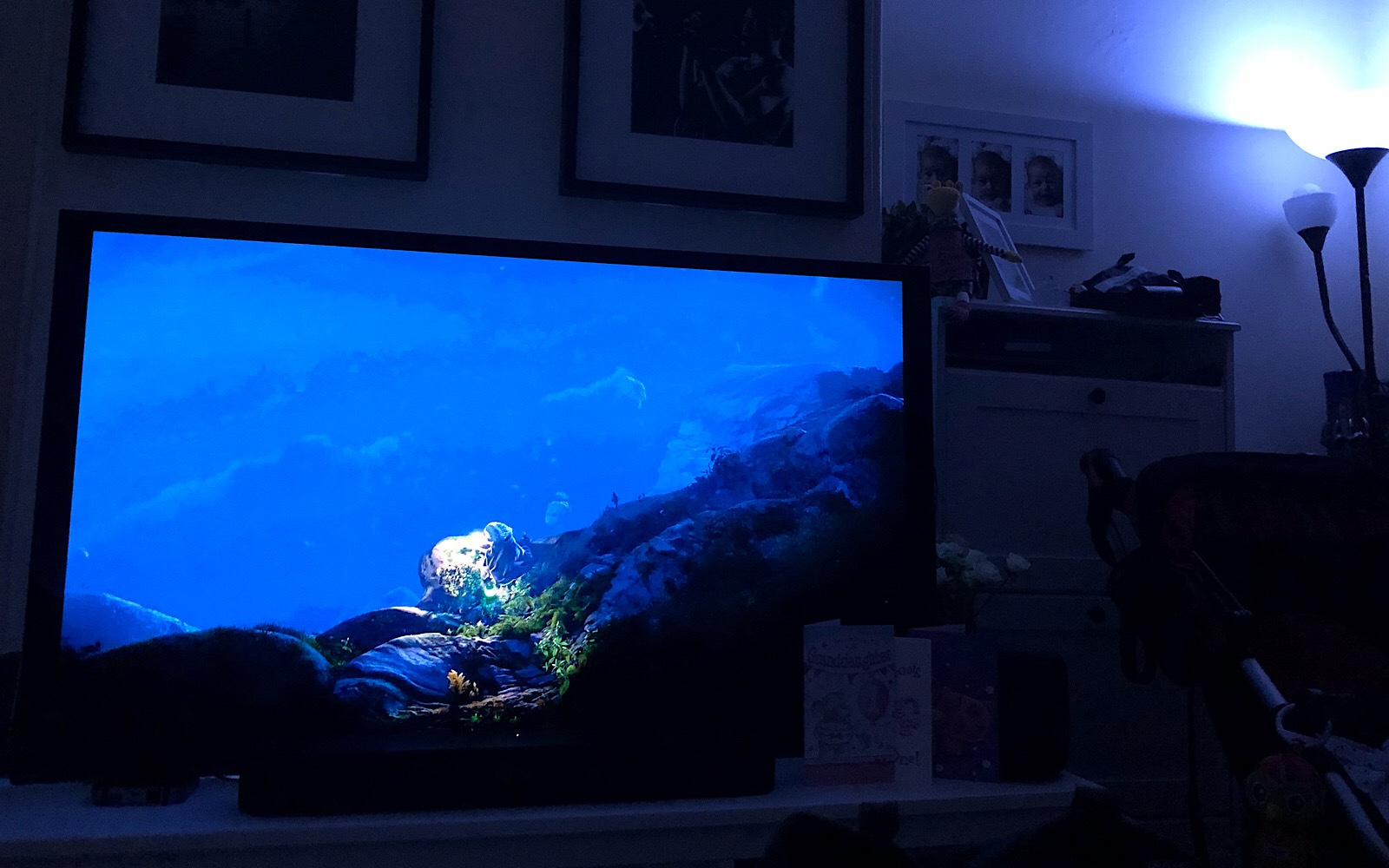 Making Philips Hue Sync work
Making this work obviously requires a handful of lights, but it also requires a Mac or Windows PC, and that's because this plugin only works from a computer.
Essentially, the application not only acts as setup and gateway to the lights, but also analyses what is happening on screen for that device, and sends it to the lighting in the room.
And that means if you normally watch media on your TV, you'll need to get that display working on the TV, be it through a cable or a stream such as with Apple TV.
If you have one of those options, Hue Sync is pretty easy, but it could be better.
How Hue Sync could be improved
There are some pretty obvious ways Philips could improve the Hue Sync process, and one of them would be to make the app run on a phone or tablet.
We're not sure how many people typically stream from a computer to a TV, but we're guessing the number isn't likely to be as high as those sending from a phone or tablet, and really, that's where Hue Sync needs to be.
Hey, we'd even take it on a smart TV or a Plex media server; really, Hue Sync just needs to be on something more likely to be used as a media playback tool. We're not sure the computer is that, regardless of how much it might be hoped for, especially given how few people will be streaming 4K movies from their computers to their 4K TVs. An app for smart platforms would just make so much more sense.
Hue Sync also plays better with Philips' newer lights, and while both the Hue bulbs and Hue Go portable lamp worked in our test, the bulbs appeared to fade between scene colours a little more staggered than the Go portable lamps.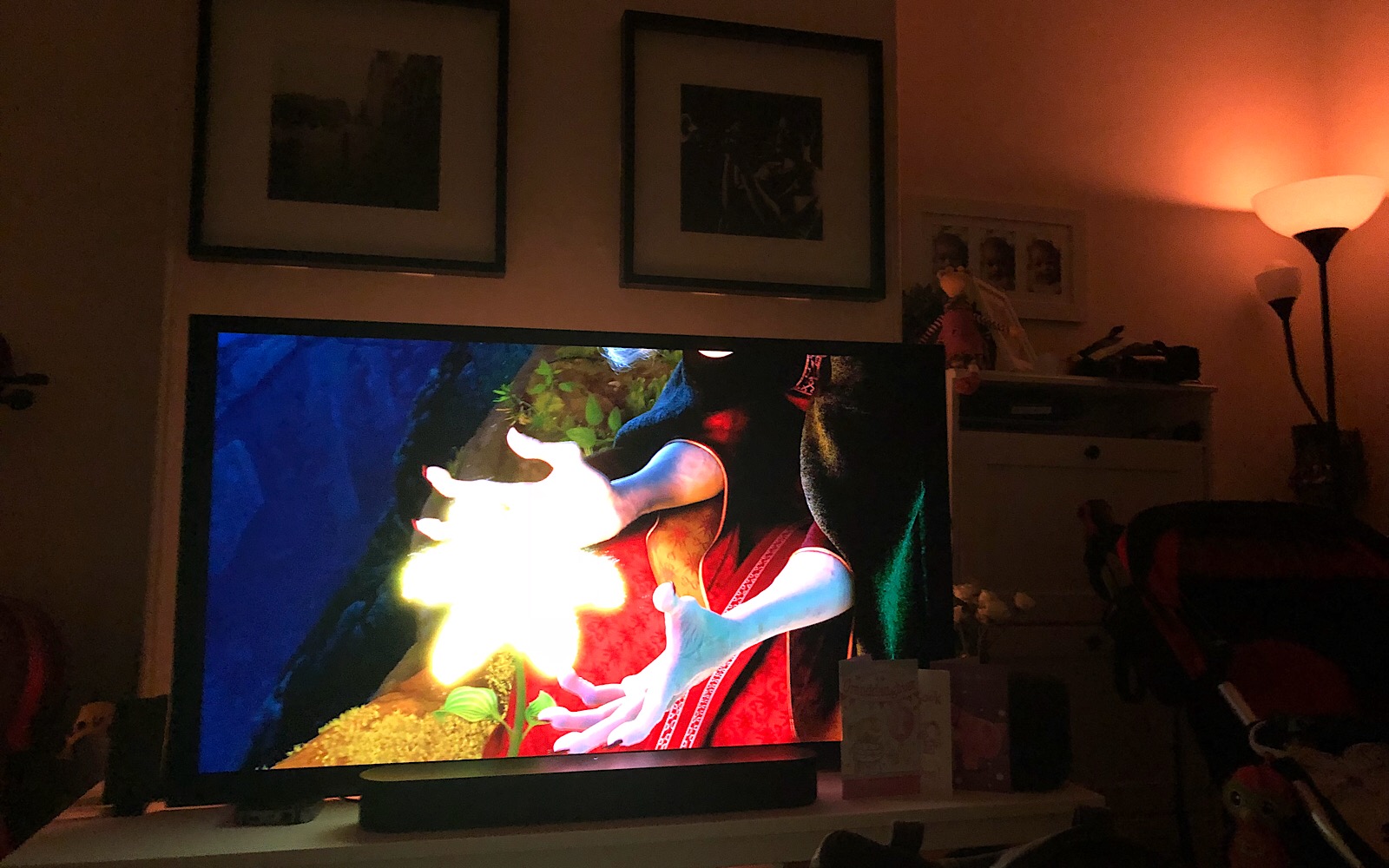 The experience is what matters
Regardless of these tiny points, Philips Hue Sync is a cute piece of technology, and one that makes the entertainment experience more about being entertained, and less about the big TV you're likely to be entertained by.
There are things that do need work, even in this early stage, but it's hard not to be a little impressed by what's going on, and feel a little taken by the magic of the lighting. The experience is largely like a thrill ride, only without the motion or need for extra moving parts, and is about as intriguing as absorbing you in the picture, of immersion in the film.
It makes more of a difference with films that have enhanced colour, such as kids movies that stock up on the colour dramatically and don't change scenes quite as rapidly as live action films, but it can work there, too. Really, it's about feeling like you're there, of pushing the on-screen beyond the screen and into your living room, and it's a fairly intriguing experience altogether.
If you're thinking of jumping into the WiFi lighting system or you have already, we'd give this thing a go. In the meantime, we'll talk to Philips and try to get the Hue Sync technology working on more devices, because that's what it really needs to light up our life considerably.