Quick review
The good
Bright and clear colours
Android TV installation offers a great smart TV interface with apps aplenty
Surprisingly strong sound even without a big speaker system
Fairly minimalist design (at least from the front)
The not-so-good
TV isn't the thinnest around
Remote is old school, lacking all any motion control or simple design
Everyone has a big TV, but one that makes the colour vibrant and beautiful? That's what it is to make a more modern experience, and that's exactly what Sony has crafted in the 2017 X9300E.
Every year, TV manufacturers do what they can to excite and intrigue, to tempt us to part ways with large amounts of cash and spend on something big.
In the past few years, the fad has been to get a bump to the next level of quality, a definition we all know now is fuller than full, and in 2017 sits at the pinnacle of quality, what is known as Ultra HD, or "4K" for short.
That's been the trend for the better part of four years or so, and finally now that content has arrived capable of delivering that, the focus is on improving the quality of the picture, and boosting the colours so that they're more real than the "real" we define things with.
And you likely have OLED to blame.
While TV panels built with organic light emitting diodes are still a relative rarity, the drive to deliver what those amazing panels can do in your standard conventional LCD screens is still a priority for manufacturers, many of which are working to make LED-backlit screens as impressive as OLED is.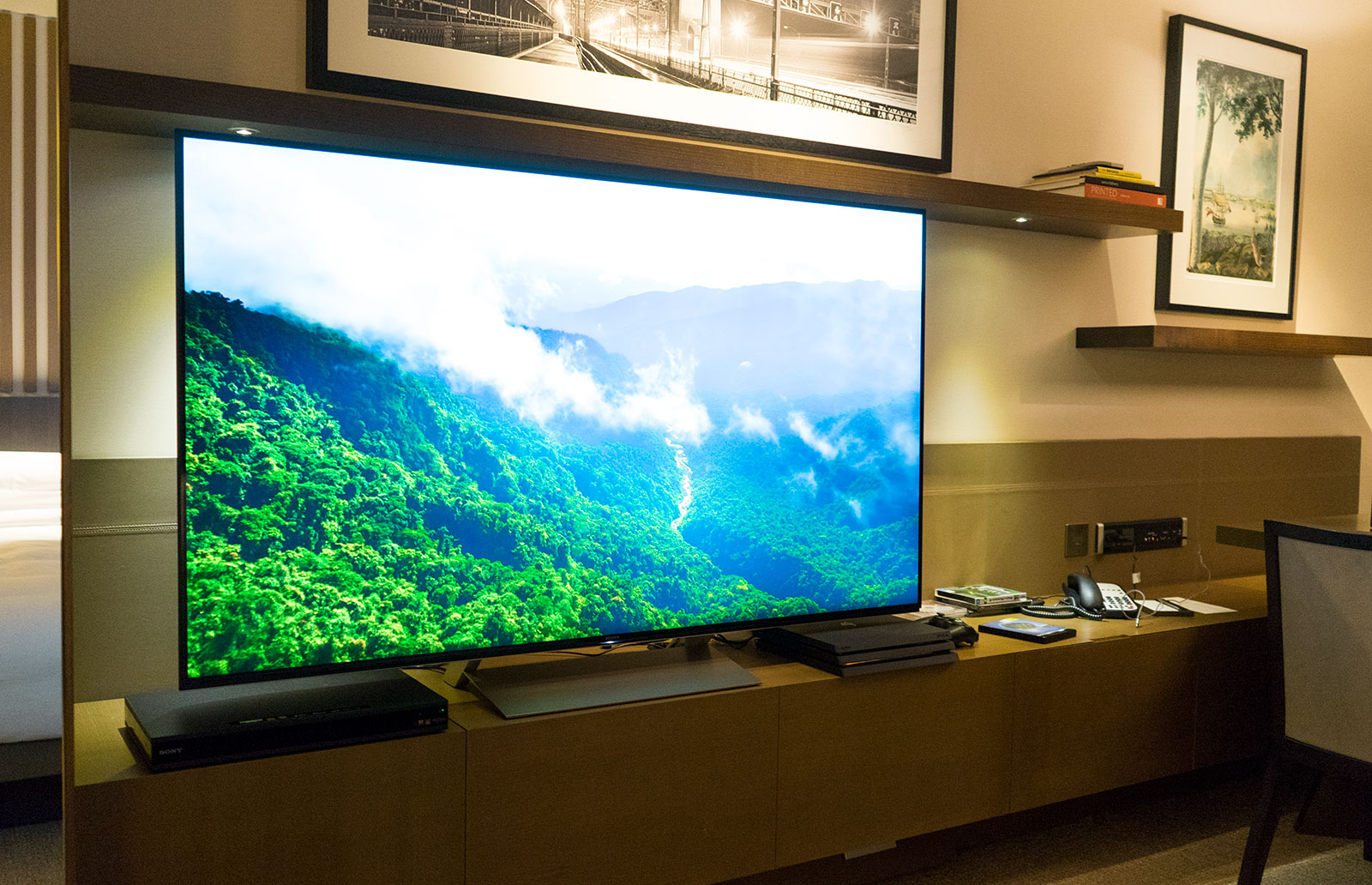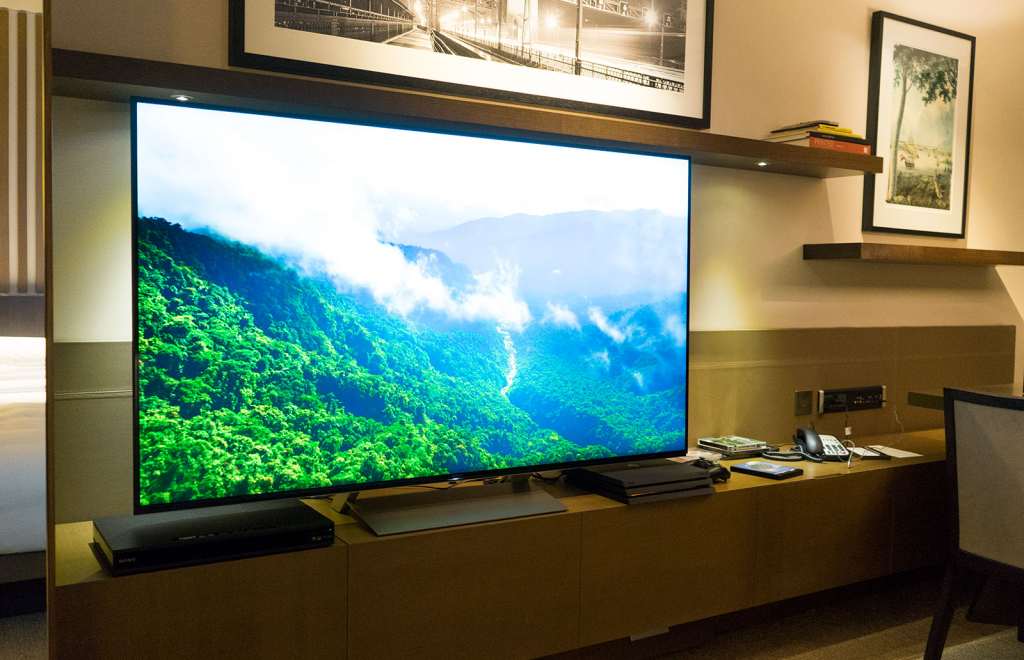 Features
For Sony, this push has come with the continued development of its Triluminos technology, one of the first uses of "quantum dots", which relies on small crystals put in place over each pixel to enhance the colour output of the display panel altogether, and this is a tech most companies are using in their flagship LED-backlit panels.
Sony has relied on this technology for quite some time, and in its latest Bravia flagships, we're seeing more of that on a 4K Ultra HD screen displaying 3840×2160, as well as some other goodies along for the ride.
First you'll find a heap of improved processing technologies designed to deliver better colour and support for high dynamic ranges, meaning you should essentially see more of the film or television show provided the HDR information has been captured, which means less dark lost to the depths of the shadow, and a more beautifully lit image closer to what our eyes are capable of seeing.
For the HDR side of things, Sony is relying on its "4K HDR Processor X1 Extreme", a mouthful of a name that basically means "the very latest HDR processor for big screens that Sony is using", while its "X-tended Dynamic Range PRO" technology keeps the contrast right on those images.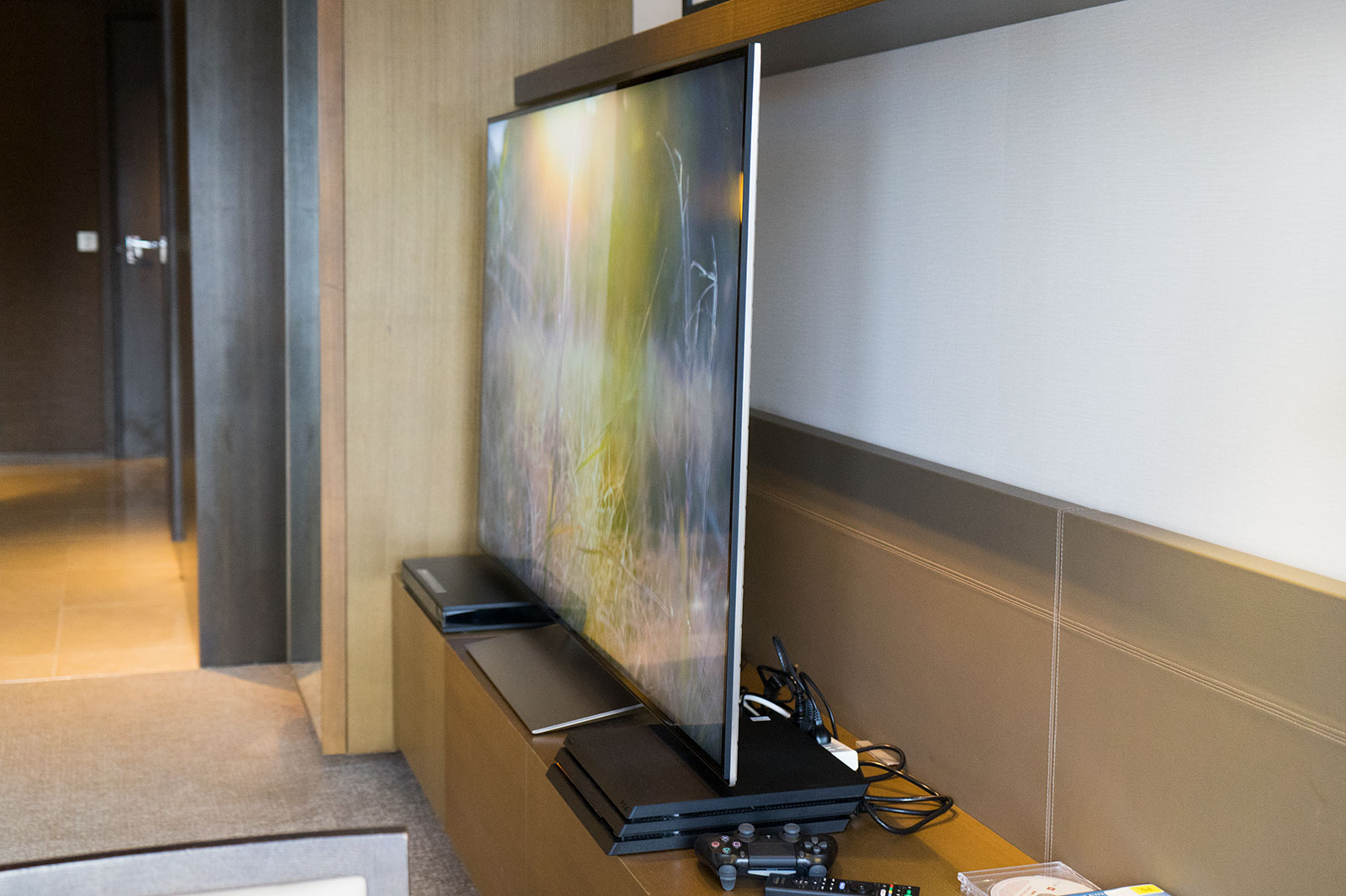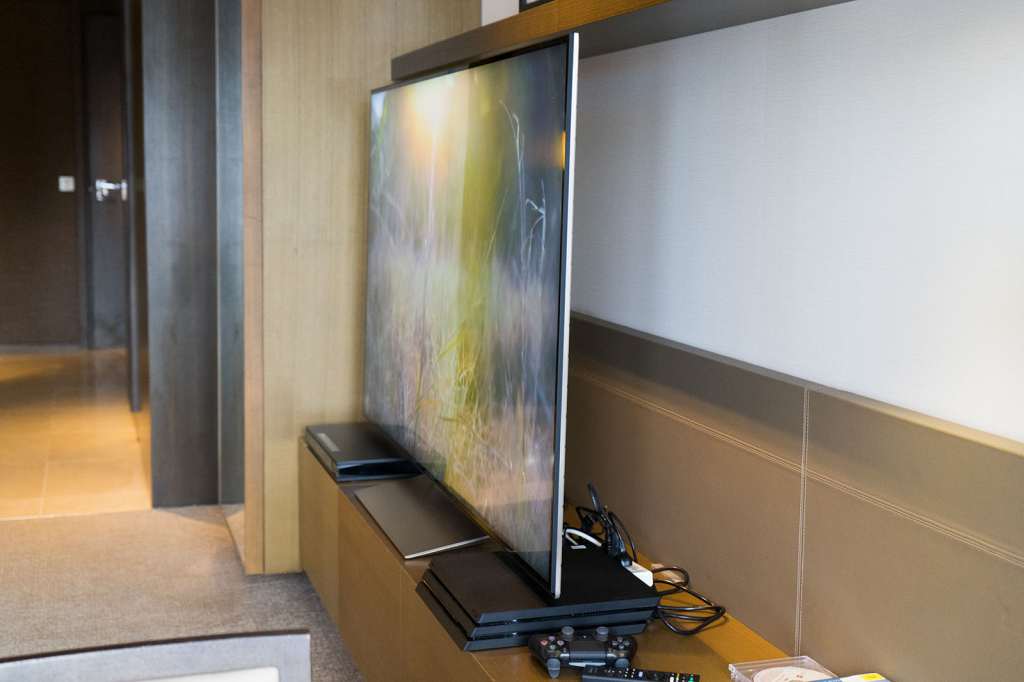 There's more marketing jargon in other chips, of course, like the "4K X-Reality Pro" which is used to analyse the scenes you're watching and provide sharper visuals across the board, almost like they were made for the TV you will be watching it on, and all of this comes together to drive the colour to be brighter and more vivid before you switch on the "vivid" setting in the screen.
Doing so will be performed using Android, because that's the smart TV interface. It's not just your standard Android install, either, with Android TV used here, delivering Chromecast built in using 802.11a/b/g/n/ac WiFi, as well as a wired Ethernet port if you prefer going for a hardwired connection.
Ports are also fairly consistent, offering four HDMI and two USB, with the ability to record on-screen video to an inbuilt PVR using the USB port.
And then there's also the design, which is slim and minimalist, though the back does come with some unique texturing to almost indicate that this is still a TV, something other manufacturers may have an edge on, so to speak.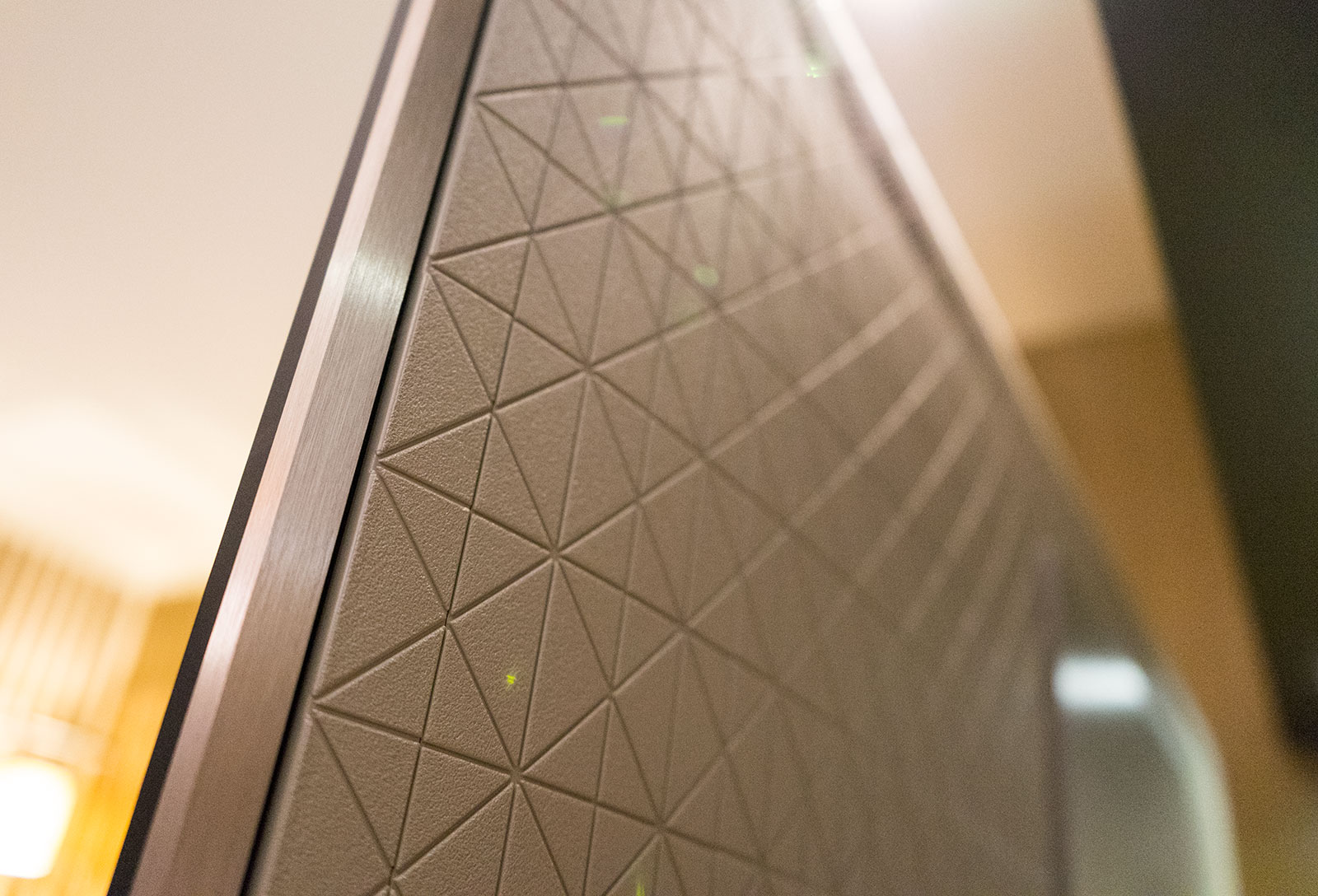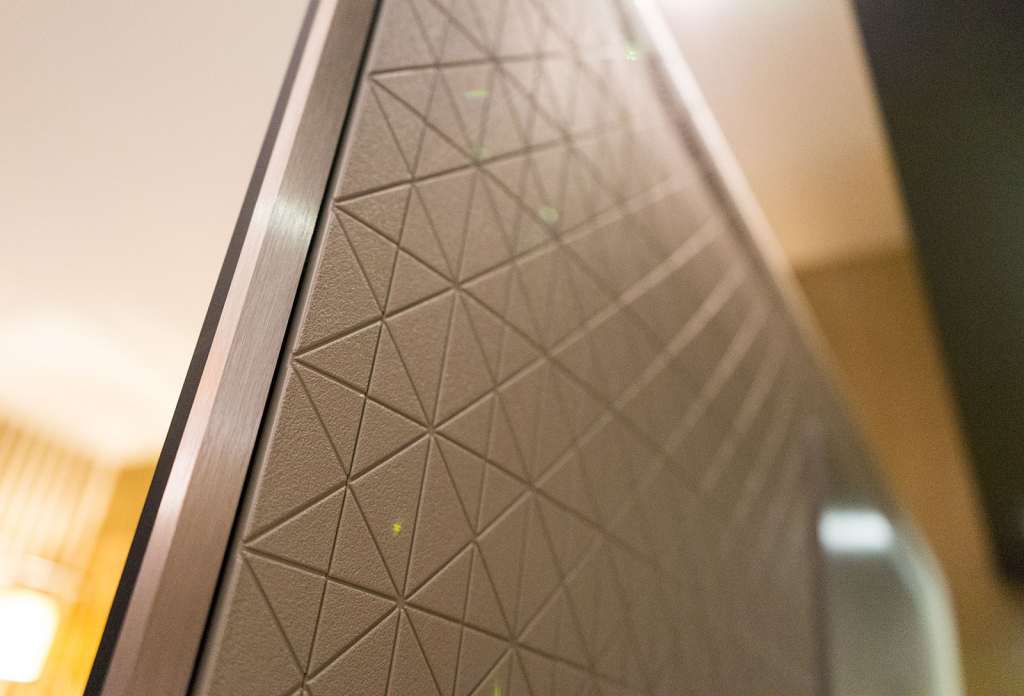 Performance
TVs are necessarily the bread and butter of what makes Pickr work, but for the Sony X93/X9300E, we were intrigued to give the television a run for its money, especially against the backdrop of where it was tested.
Amidst the colours of Sydney's Vivid light festival, Sony let us have a good play with its flagship television, sending its own display of vivid light our way and brightening up our lives with a dazzling display of clarity and realism.
For our review, Sony let Pickr play with the biggest of the range, the 65 inch X9300E, which is practically larger than life and also flat.
While other companies make the shift to curved, Sony has kept with flat, and the massive 75 inch screen still finds a way to encompass and envelope you, likely due to its massive size and remarkably minimalist design, which drives the bezels to a practically non-existent edge.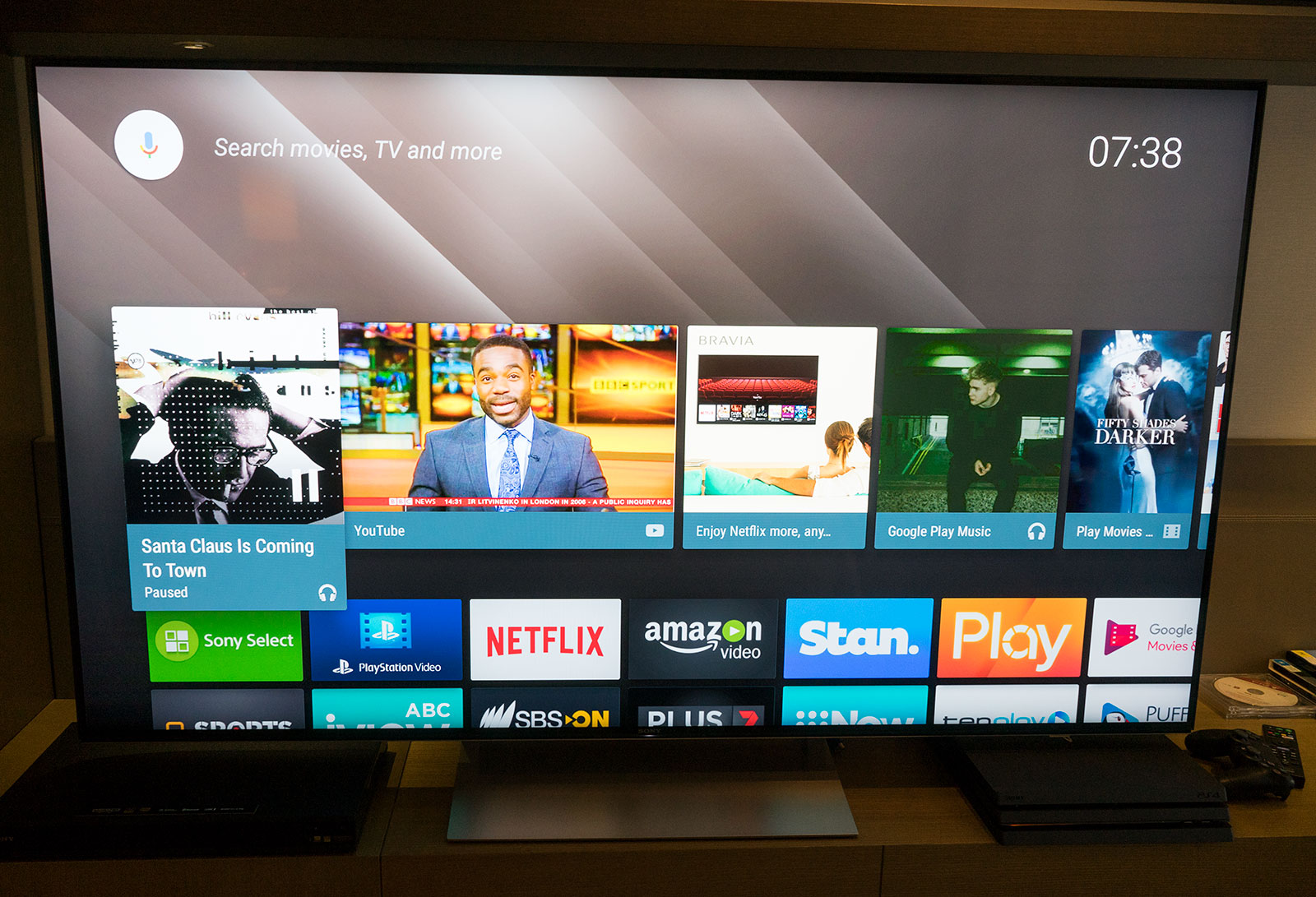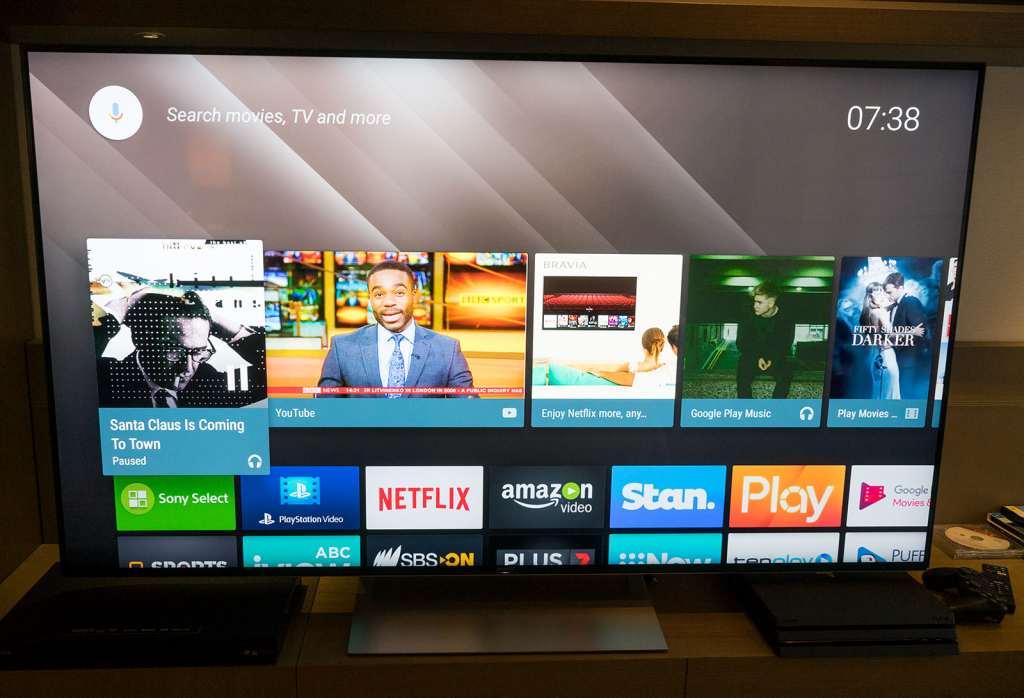 Switching the display on, you're greeted with Android as the main way of browsing your screen and its activities, giving you an easy way to not just connect to the web (which is pretty much instant once you've gone through the setup), but also to jump from devices to run on the TV, and it's not just something you'll use with the old school remote.
Yes, you get a standard remote, one of those sorts with lots of buttons and no gesture controls, which is probably the least developed part of the package, though fortunately you can control the TV with the spoken word.
You see Google's Android TV is still a good interface, but the use of Android Assistant works to let you speak at it and get an assortment of videos, as well as taking you to parts of the system, like switching to a different source.
We jumped from one source to the other by talking to the Google Assistant, which felt like a page taken right out of Google's own Pixel, something we're definitely used to, even if more Google Assistant-enabled devices haven't arrived on our side of the world like they have in America.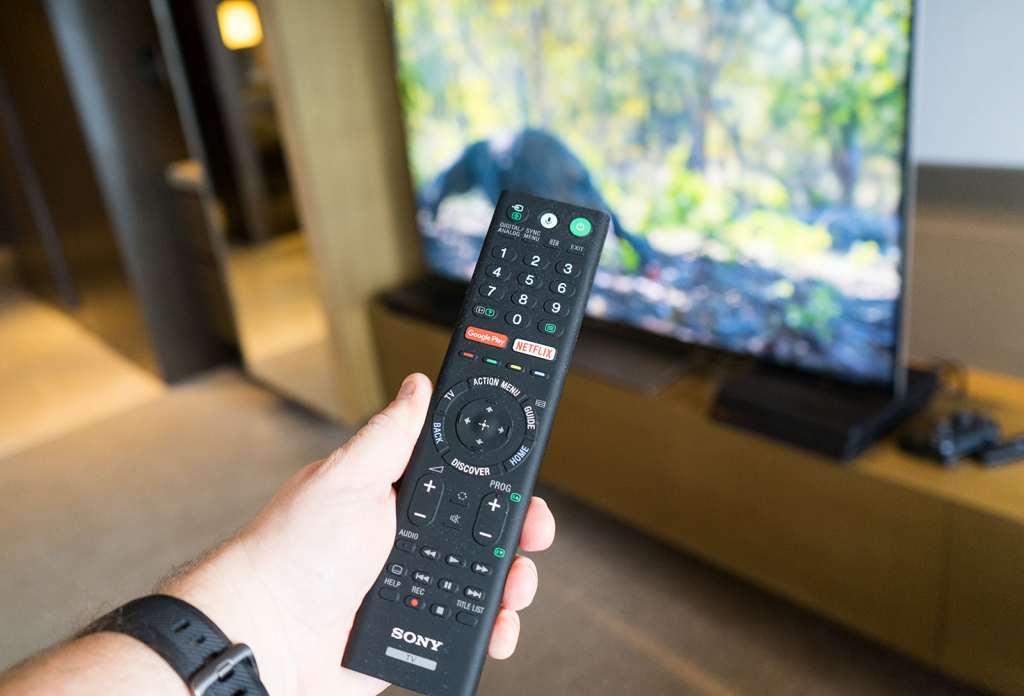 With that, we switched to a Blu-ray to test the picture quality offered by Sony, moving right into David Attenborough's "Planet Earth II", a visual feast that offers the world's treasures both in flora and fauna, and is one of the most dynamic and vivid displays of realism and a brilliant little test bed for any television that needs a testing.
And no matter what scene we saw through this display, the image quality was spot on, boasting beautifully clear blue serenity from the water, lifelike rich greens, and a sloth in the scenes we watched that almost felt like he could pop off the screen and have a nice albeit slow chit-chat with the reviewer.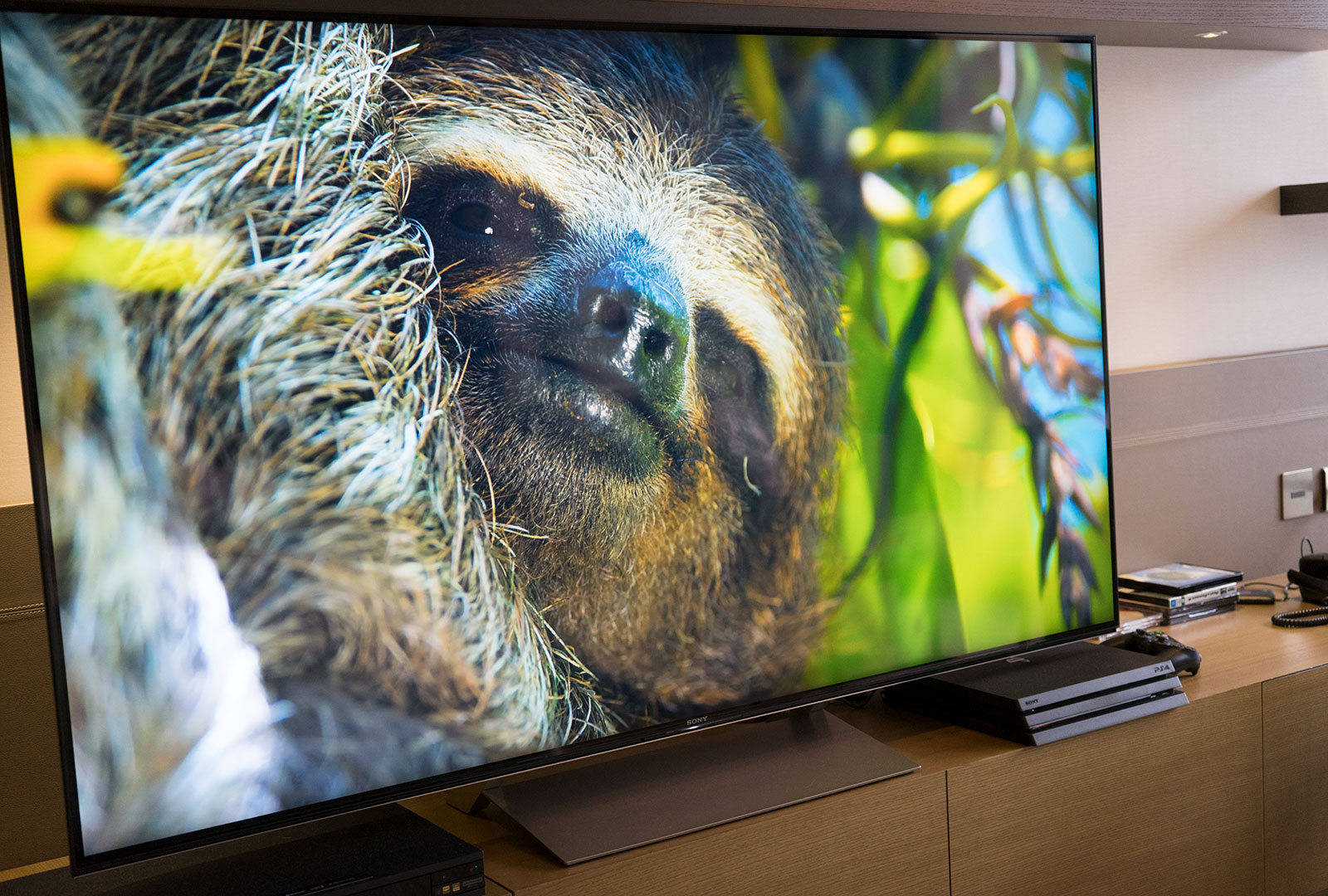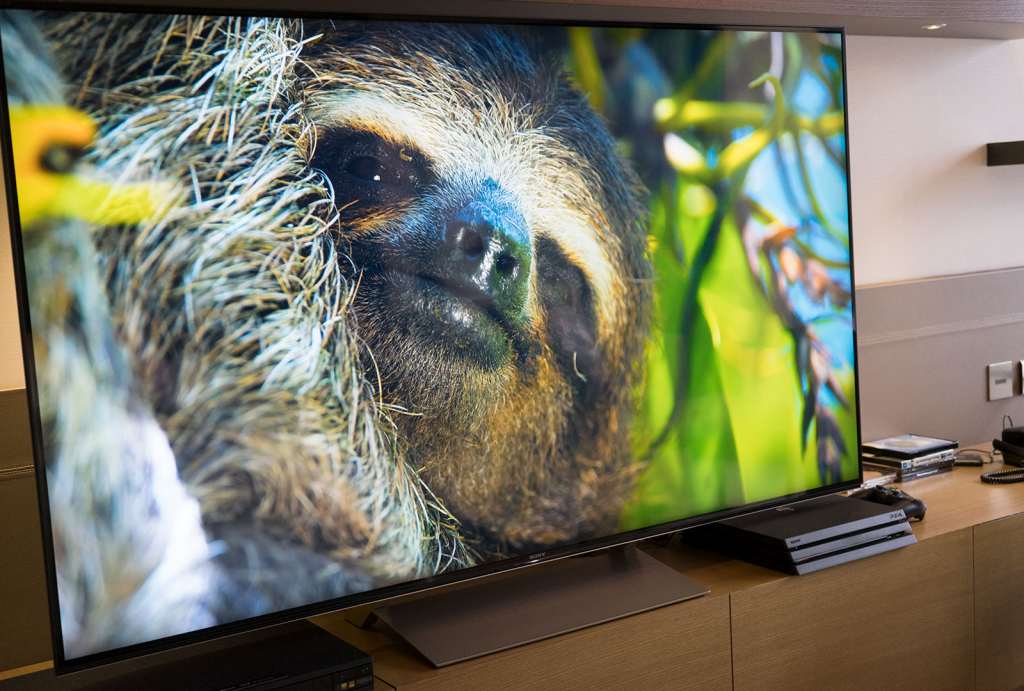 Switching over to some of the TV's smarts, we gave both the integrated Netflix app and YouTube a bit of a run, playing with some of the 4K downloads that the internet makes available.
The original way of delivering 4K content because 4K Blu-rays were made a reality, Sony's latest TVs let you latch onto 4K downloads thanks to Netflix's 4K library, as well as anything else made in an app that works with the platform.
For Netflix, a "House of Cards" episode not only revealed a dark plot inside the US government, but also sharp visuals as this Ultra HD show jumped off the screen and made us wish this sort of visual acuity could be found at home. It's easy to get lost in the image quality here, which will delight viewers not just because the filmmakers have done the right thing, but also the television makers.
Even upscaling appears fine, tested with "Rick and Morty", which while animated, only shows pixelation from the upscaling algorithm when paused. Otherwise, the show is clear, with the only jaggies picked up on the lines around the characters, thin as they are and the TV trying to recreate an Ultra HD equivalent as quickly as possible.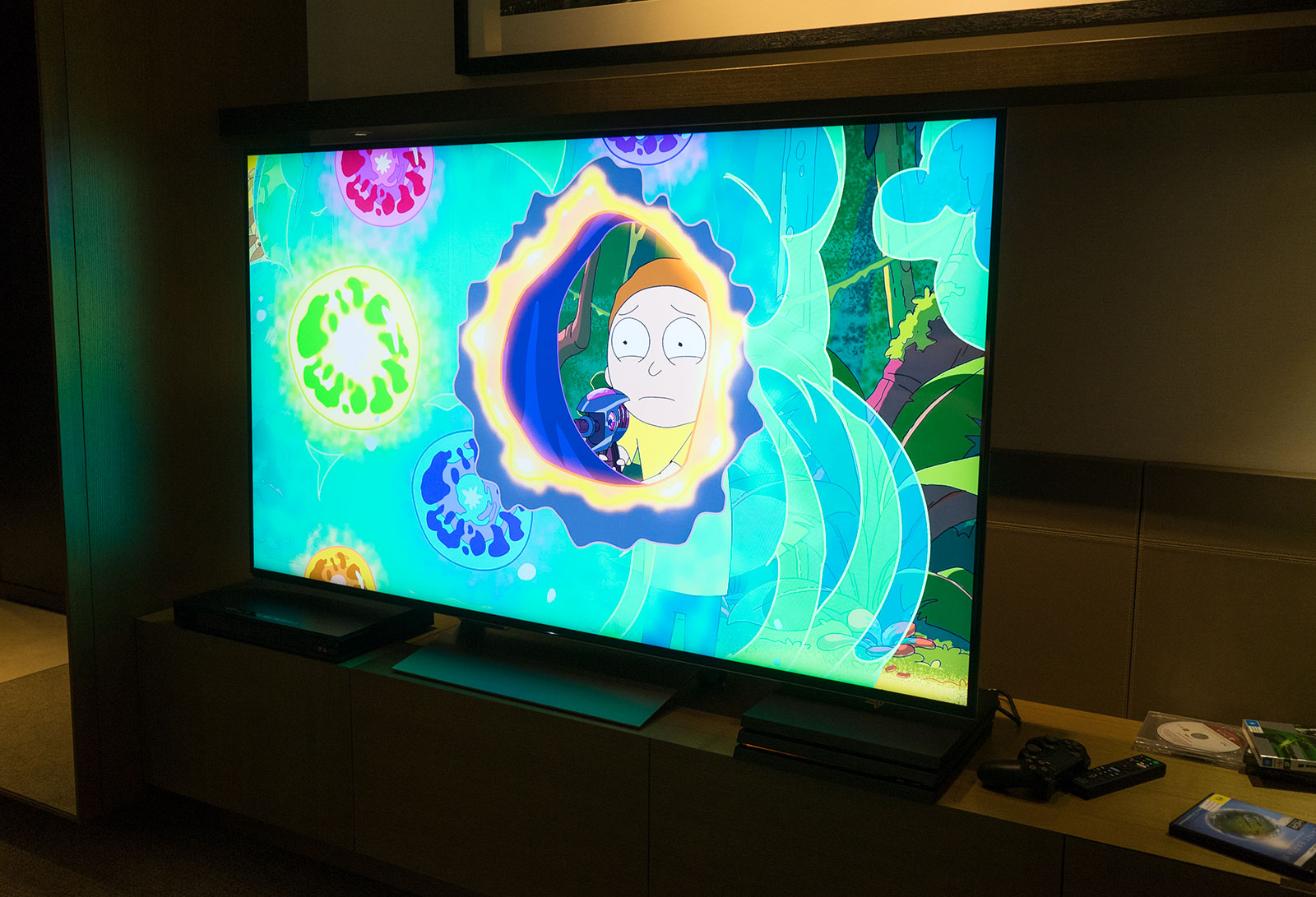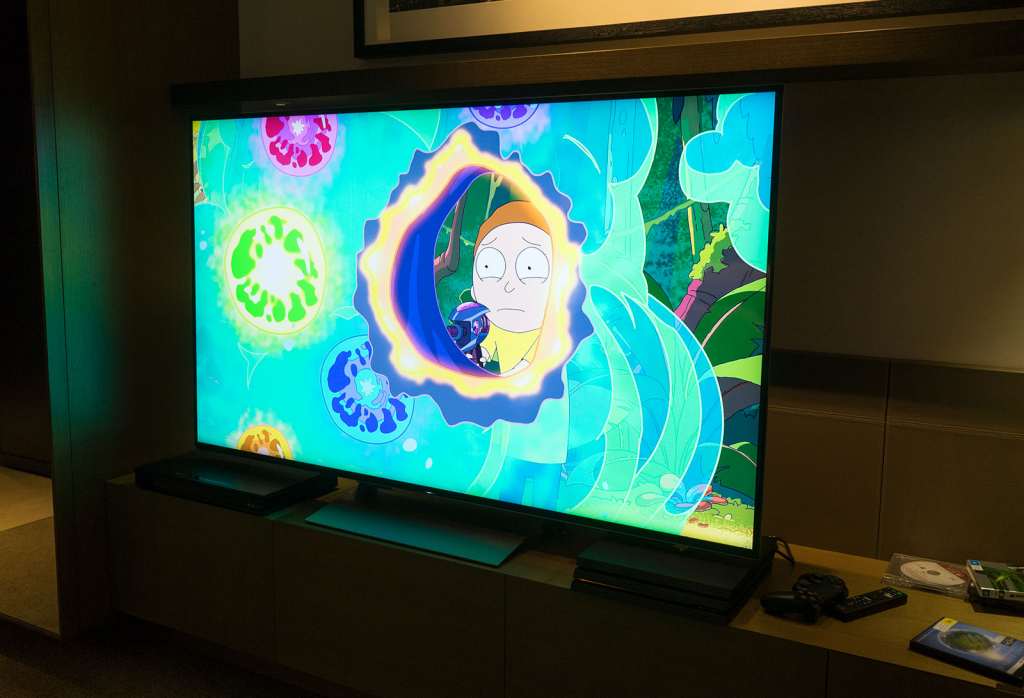 The motion engine is also one area that manages to surprise, strange because it's normally an area that causes immense amount of frustration to this reviewer.
A technology developed to make sports look clearer on bigger displays, we always find the motion engines give movies and TV shows that "home-movie" look, partly because it injects frames.
When you inject frames into sports to slow down the fast pans, it's fine, because you're doing it to make the image more watchable, but when you do it to media that has been intentionally shot at an intentional speed, it tends to make the footage look poorer, resulting in a quality that can make films look less than professional, as if you had shot it yourself with your own camera.
Usually we're the first to turn this technology off, and we've longed for a mode that could look up in a database and know that you're not watching sports to stay off, only switching on when you were tuned in, and folks, we might finally be there.
At last, Sony's TrueCinema mode appears to be what we've been after, clearing up the motion system and halting it on most media we tested with, only switching on when it needed to be. Our small sampling of a test felt like we could have had more time to find out if this is the Holy Grail of motion systems, but in that time, it was decreed that switching TrueCinema on helped a great deal, and made us wonder why this mode wasn't switched on to begin with.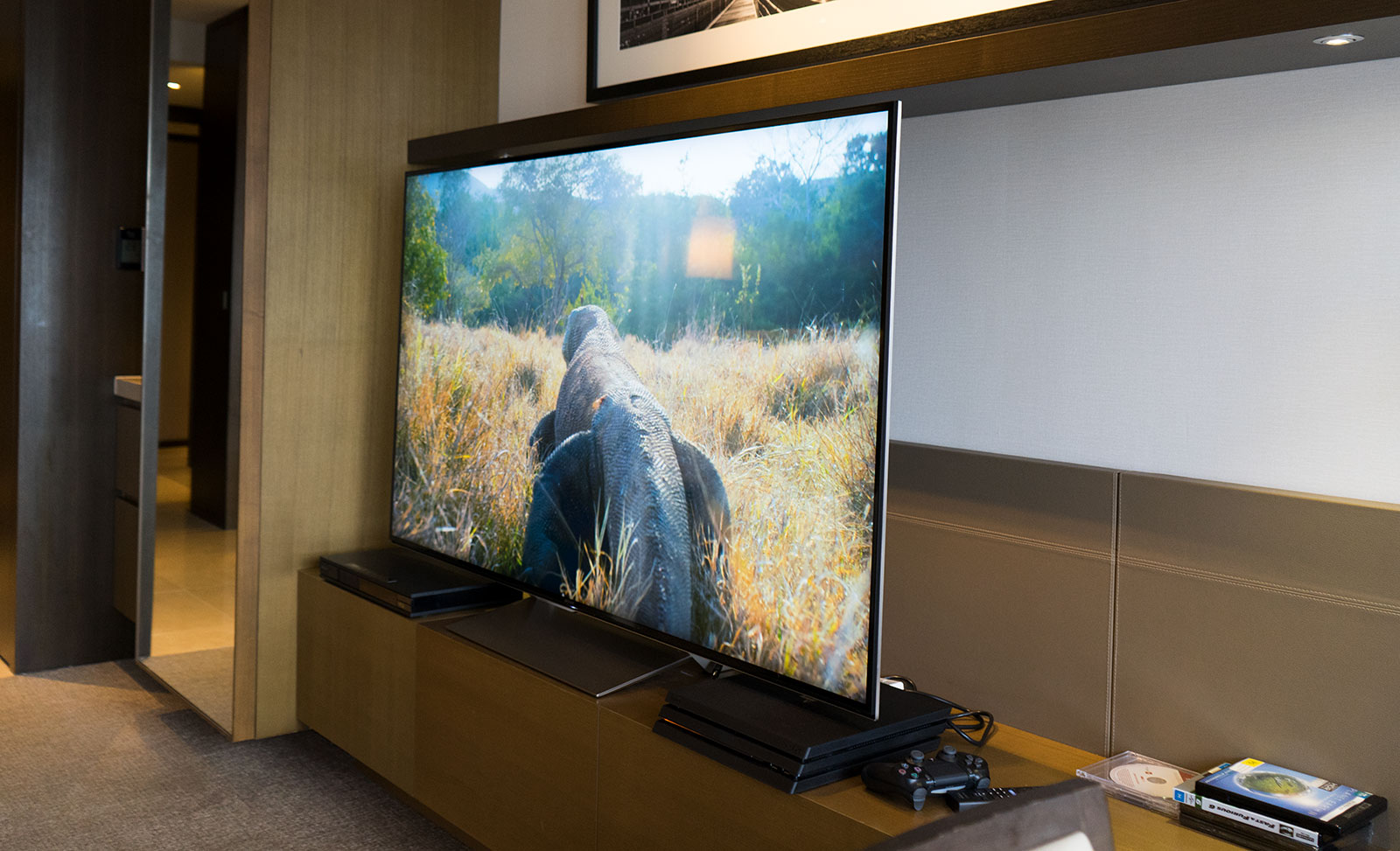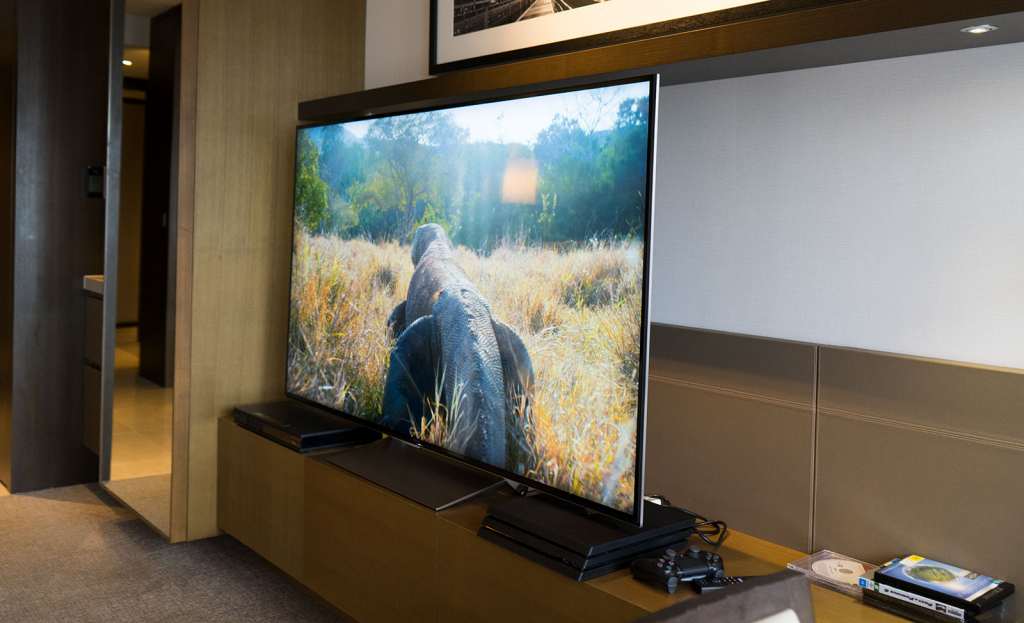 Overall, however, the picture quality is lovely, and is fairly well matched to the sound, which is surprisingly solid for a TV.
Normally an area you can disregard from a TV before quickly realising that you should go out and either but a full on surround system or soundbar setup, Sony's sound on its 2017 flagship is surprisingly loud and surprisingly balanced.
We shouldn't be all that shocked, mind you: this was the company that used space-age magnetic fluids to keep its TV sound system loud without shaking the room a couple of years ago, and this year announced that its OLED panel would make sound from each pixel thereby reducing the need for a reliance on dedicated speakers and a sub.
In the X93E/X9300E, the speakers are still hard to find thanks to that minimalistic all-screen design, but they're still there, driving a fair amount of balance, with decent mids and highs, and just enough of that low, low bass.
It's a type of sound that will make people happy if they haven't spent money on a speaker system, though we'd easily argue that things would be better if you did. Sufficed to say, you won't necessarily need to get a dedicated sound system on the X93, and that's a good thing.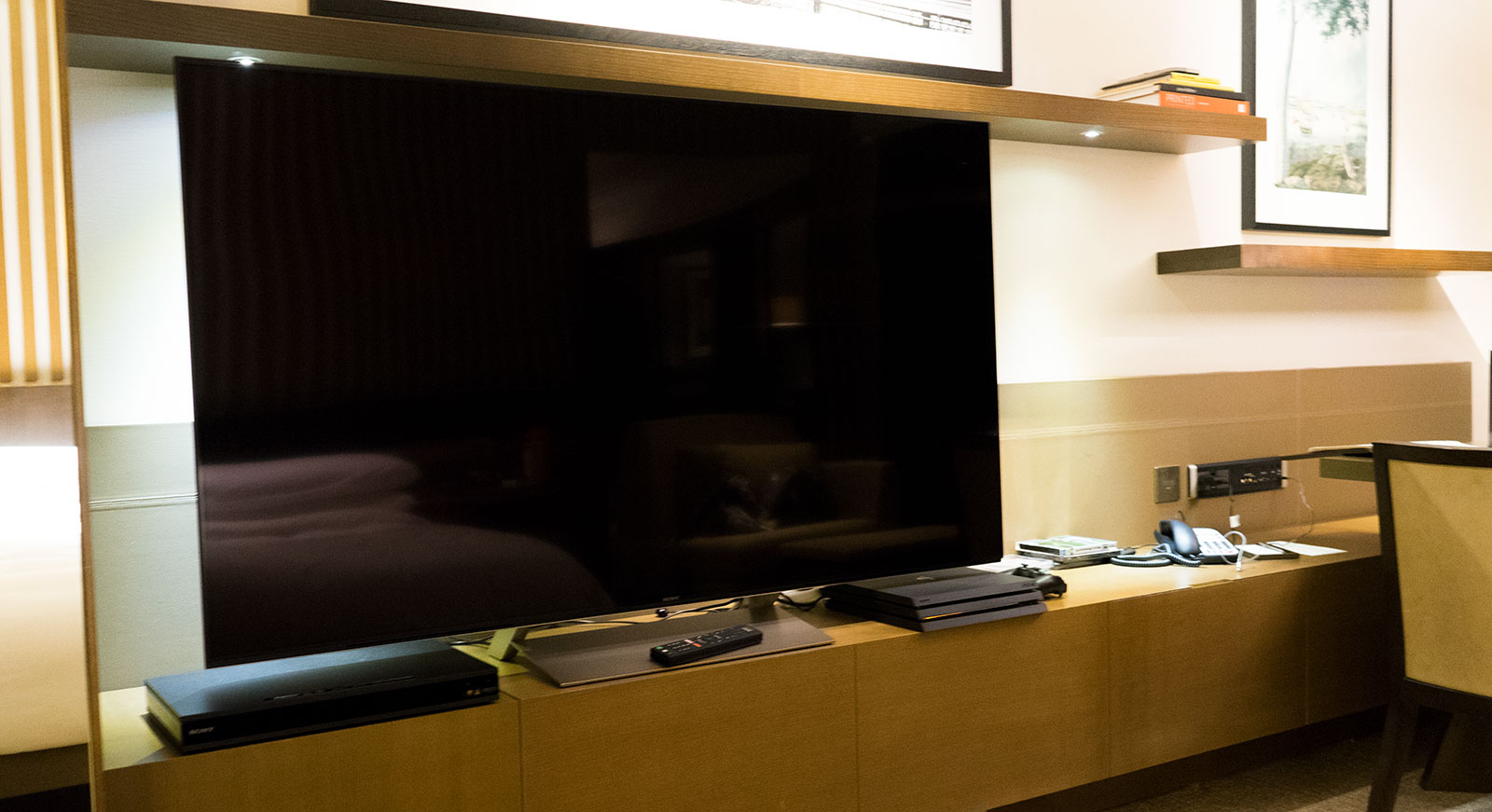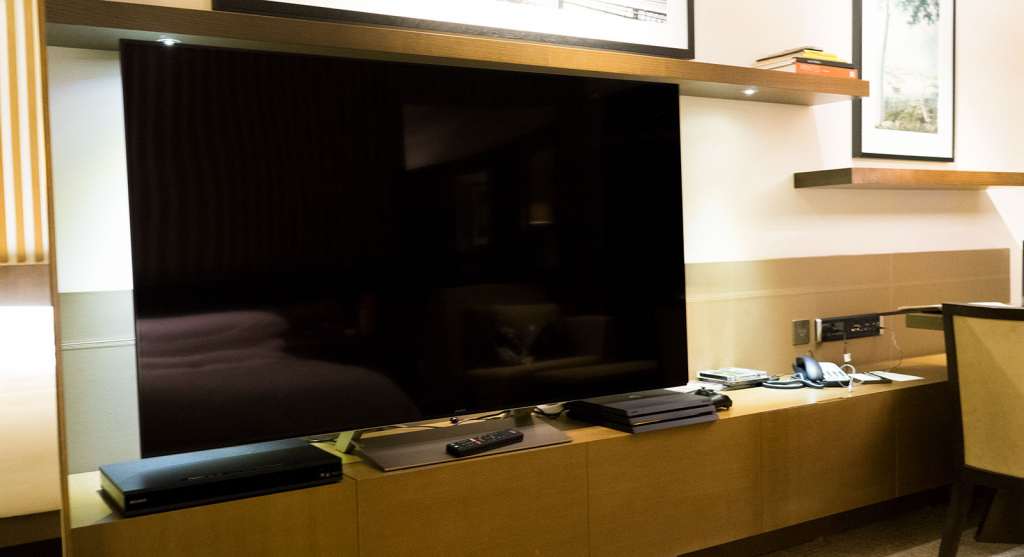 What needs work?
With some solid screen and sound, Sony should be focusing its efforts on design and remote, because these are the areas that seem to be lacking.
Take that design, because while Sony has made strides to show off the back with a textured finish, we have to ask the one question nobody seems to be asking: who really cares about the back of a TV?
For most families, it will be pressed into a home entertainment unit and never looked at again, not least until someone is bold enough to plug a new device into an HDMI port, or fiddle around with the settings arguing that the factory tint settings are always too high.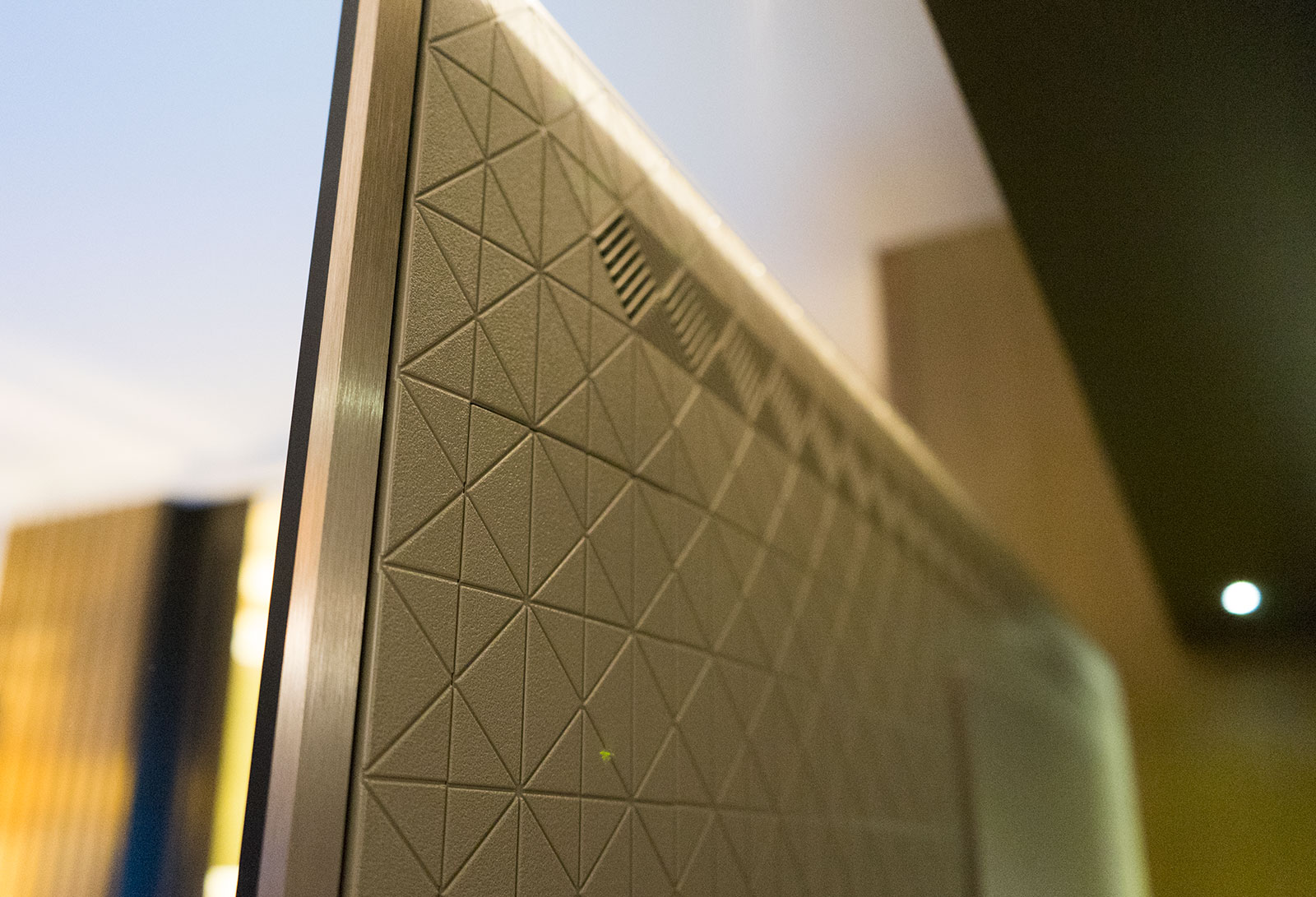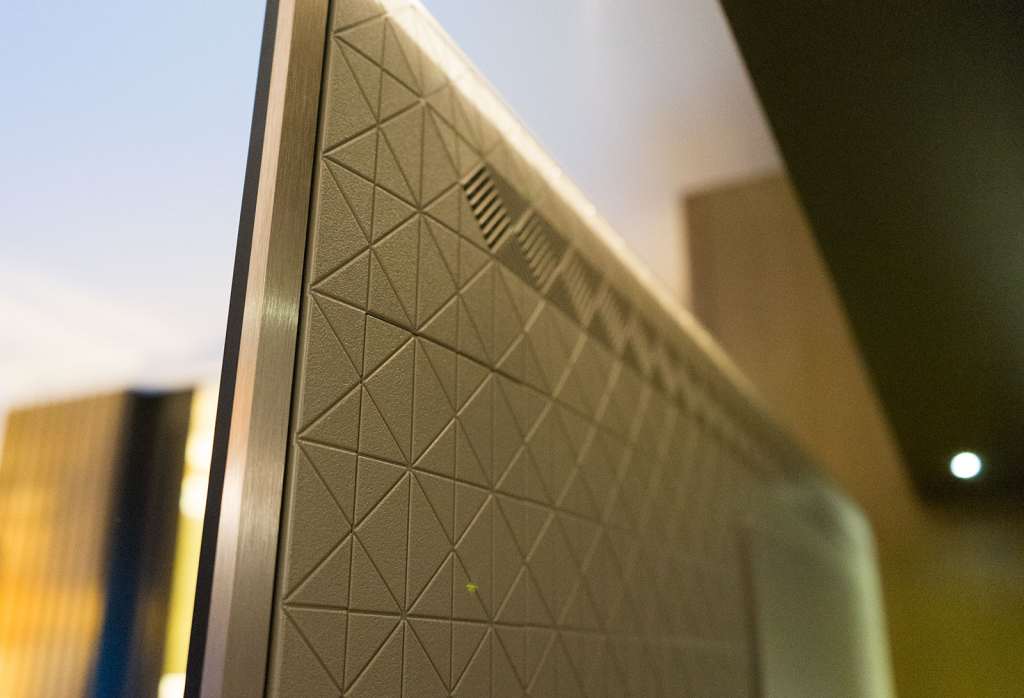 Rarely will someone look around at the back and say "what a nicely textured surface" though, which begs the question of why Sony paid so much attention to that. We suspect more people would have adored that beautifully thin and minimalist front paired with an equally beautifully thin and minimalist back, and while you get one, you definitely don't get the other.
The remote is also the other catch, because as companies seek to add gestures or slim down, Sony has decided to keep things deliberately old school.
Specifically, you get buttons, and lots of them.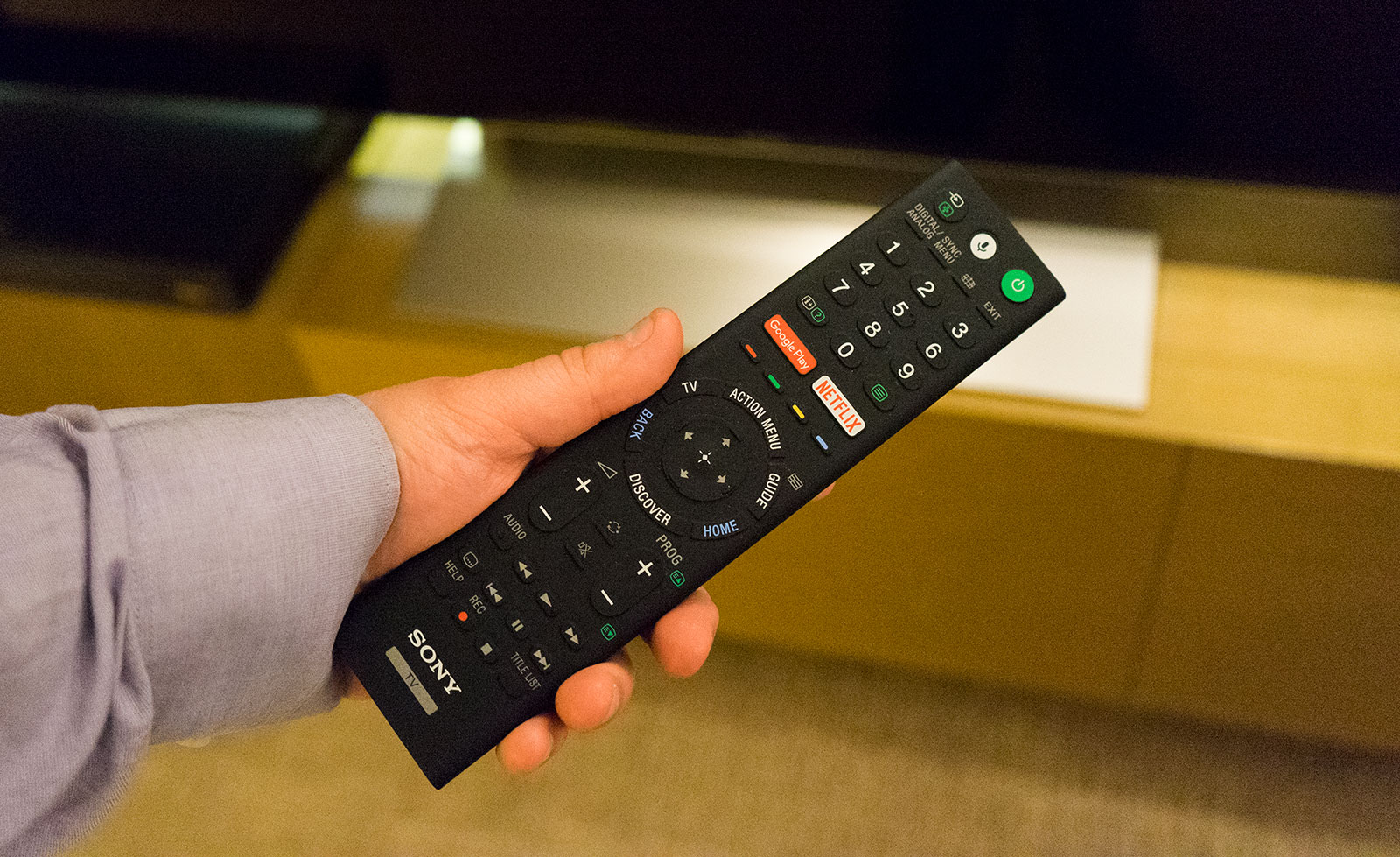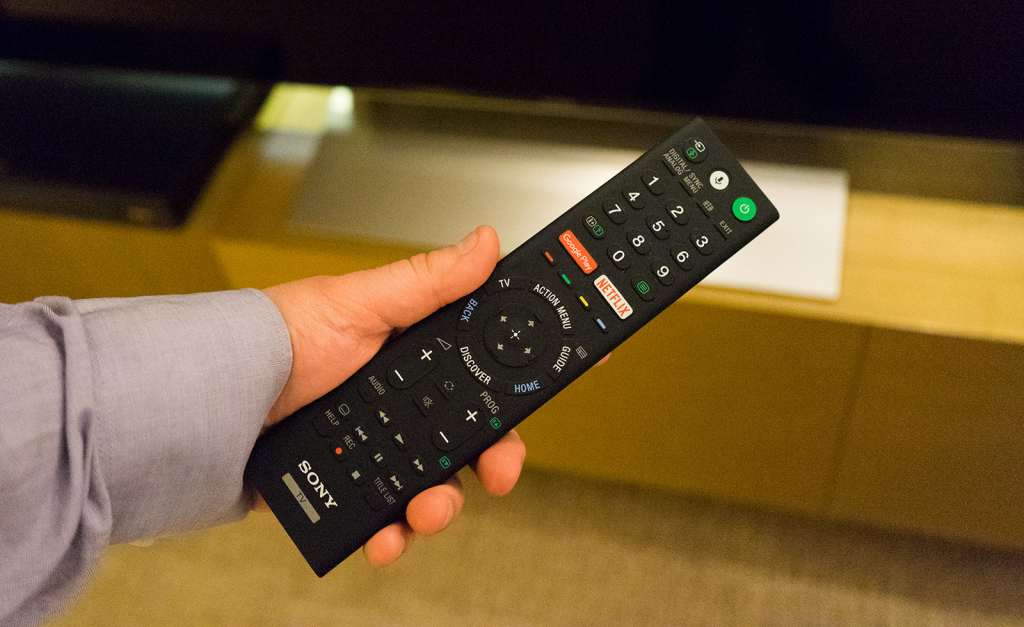 While Samsung offers the "One" remote and LG's Magic Remote is still about gestures, Sony's remote is a touch complicated, with Android TV controlling what happens, but through a very old school remote experience being offered for folks who like that.
At least it's the sort of remote that makes using a TV familiar, but it's also lacking in the sort of futuristic form that modern TVs offer, and makes you wonder why it didn't offer something else in the package.
It technically does, mind you, giving you a voice assistant in the form of Google's Assistant, but as good as the technology is, it too runs into a brick wall or two, only letting you search Google and YouTube, but nothing else. Heaven forbid you have a network of media or want to search on Netflix using your voice, because you can't, at least not yet.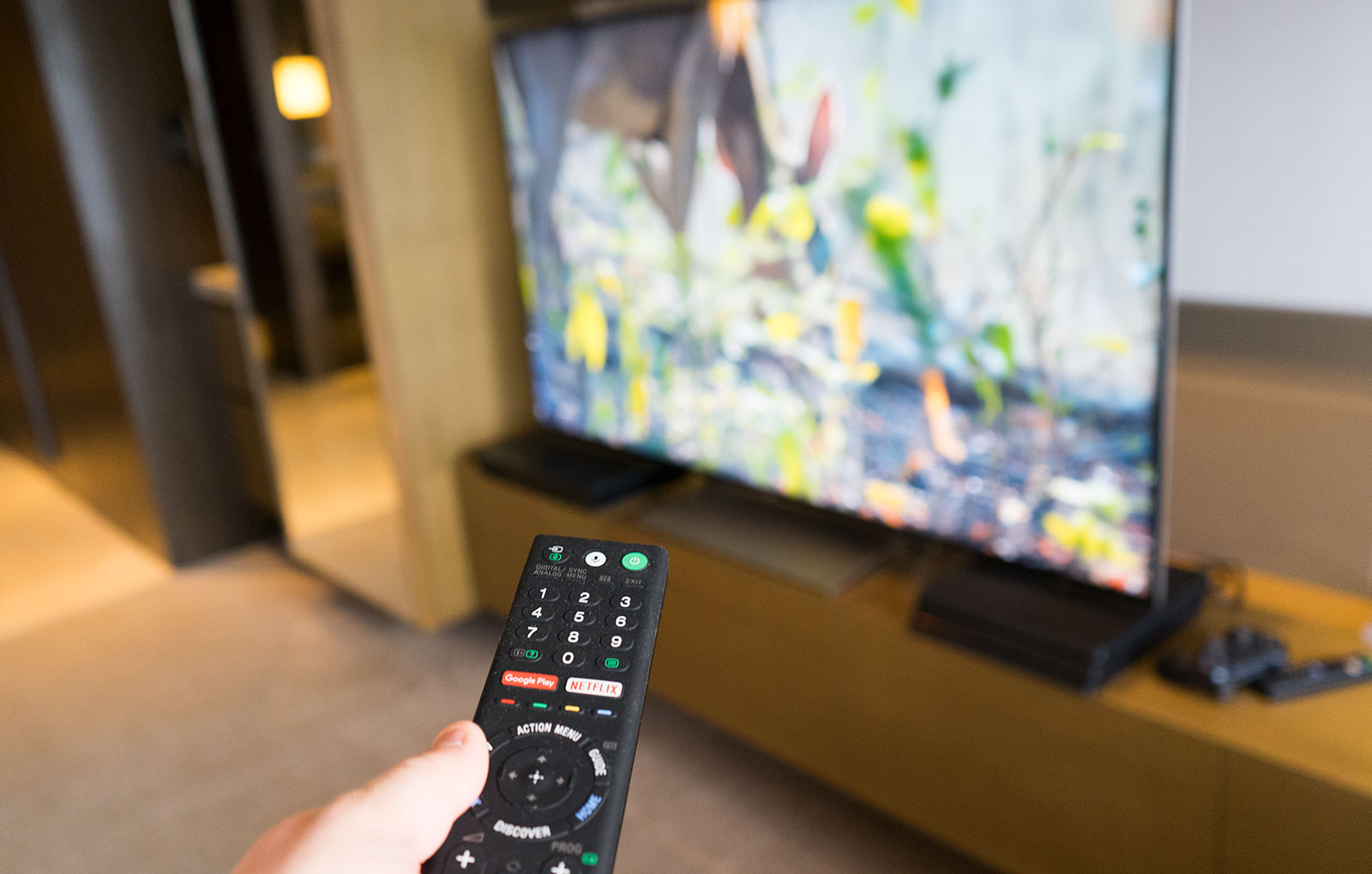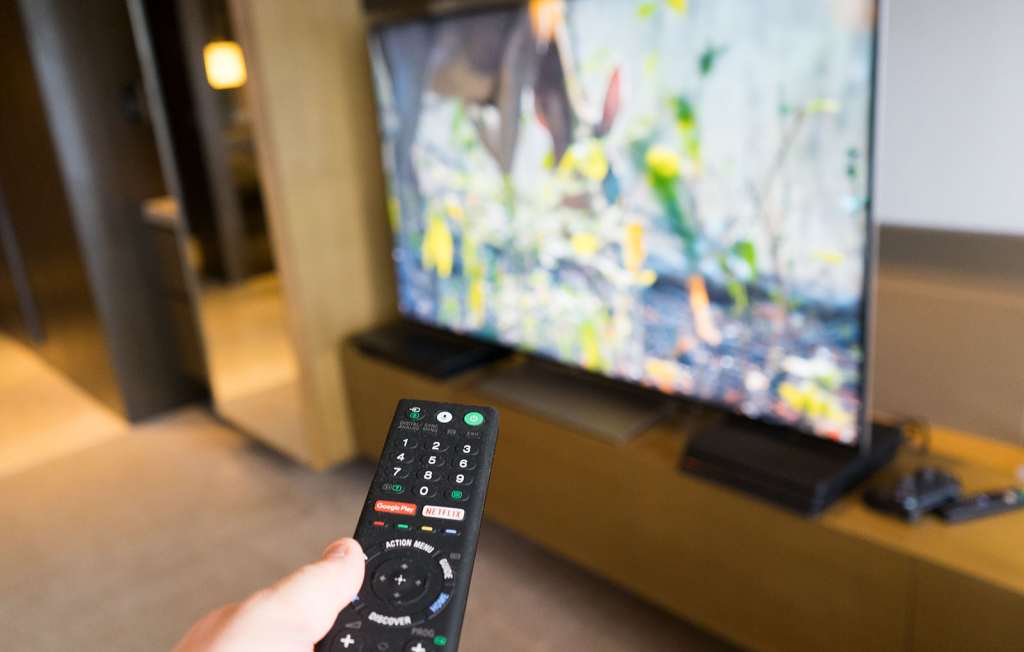 A second opinion
Throughout this review, the writer's wife felt compelled to make some points, and her thoughts were most welcome because the review was being written at a major disadvantage: with only one night being spent with the X93E TV, we were running at a severe loss of time.
Some things take longer to review than others, but TVs need a definite few nights to a couple of weeks of watching to get the hang of what they do and don't do well, depending on how much time you have available to invest.
But with only one night, a second opinion was most definitely welcome, and after experiencing a few screens this year, she pointed out that the image quality didn't seem as up there as Samsung's QLED displays.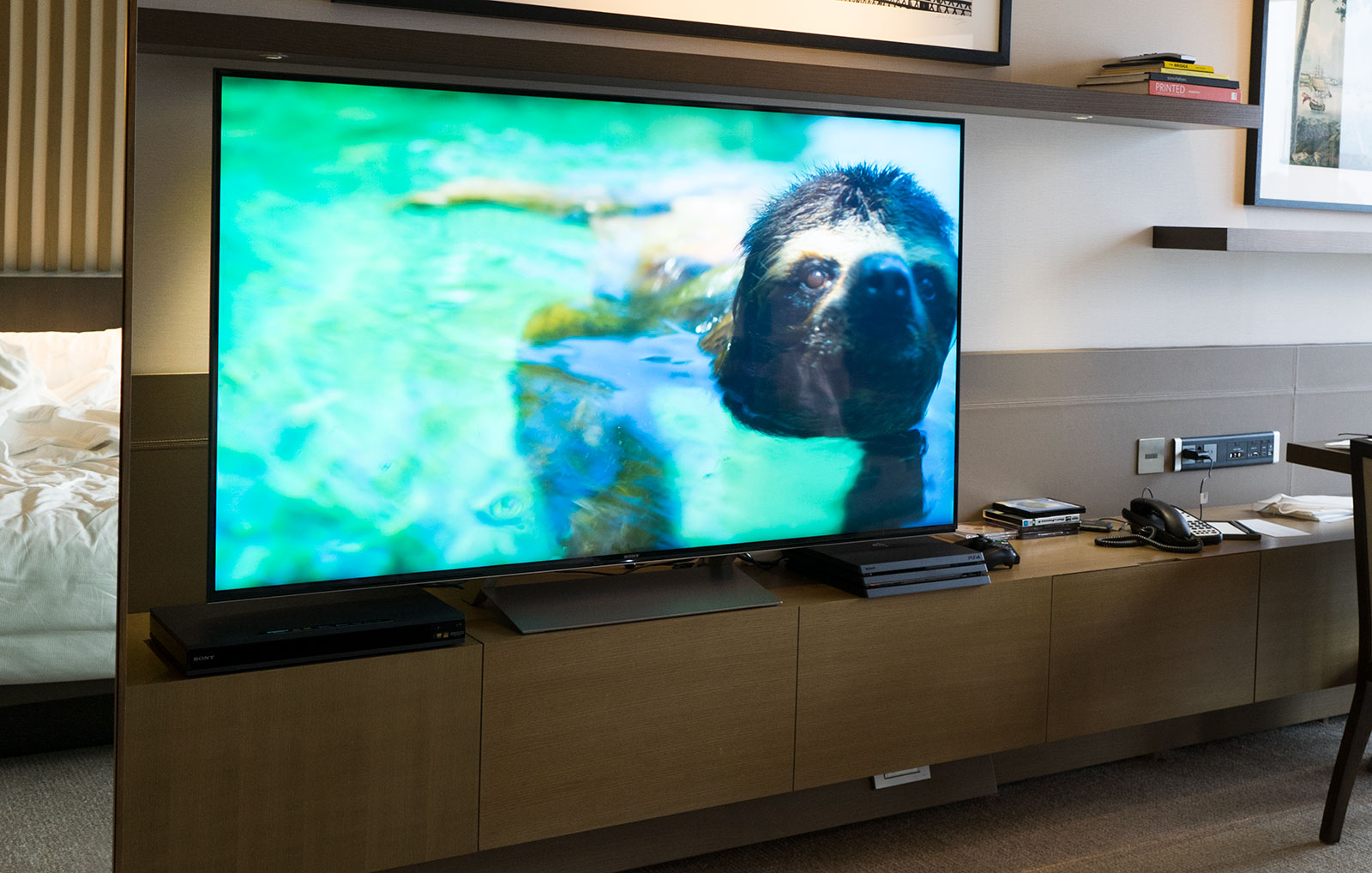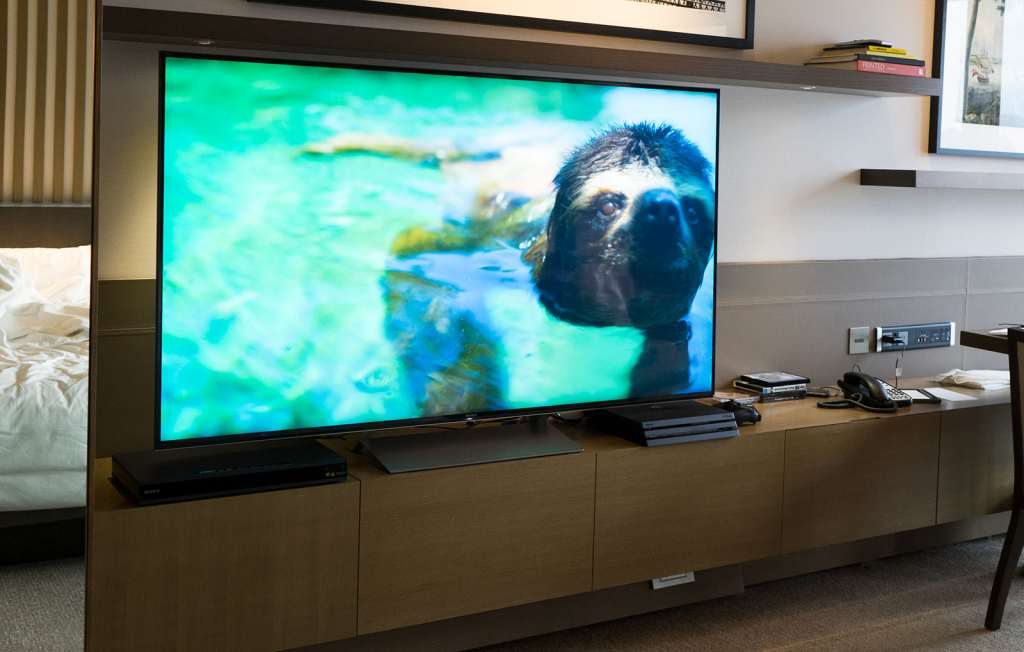 The technology in each is a little different, let's just make that clear. Both use quantum dot screens, but both use different variants of them, and while both Sony's and Samsung's flagship models aim to be bright, the settings are different. Sony hasn't said exactly how bright the X93E is, though we understand it should push out over 1000 nits of brightness. In comparison, the Samsung Q9 – which she was comparing it to – gets 2000 at peak, and ranges between 1000 and 2000 across the board.
That's a staggering difference in brightness, and the two are very different TVs with slightly different price points, the X93E 65 inch model we reviewed chiming in at $5299 and the 65 inch Samsung QLED Q9 netting a $6995 price tag.
None of this is to say that Sony's TV is worse, either; just different. This reviewer's wife preferred the colour volume on the Samsung, and that's completely fine, still pointing out that this was a great TV, but Samsung's looked better overall.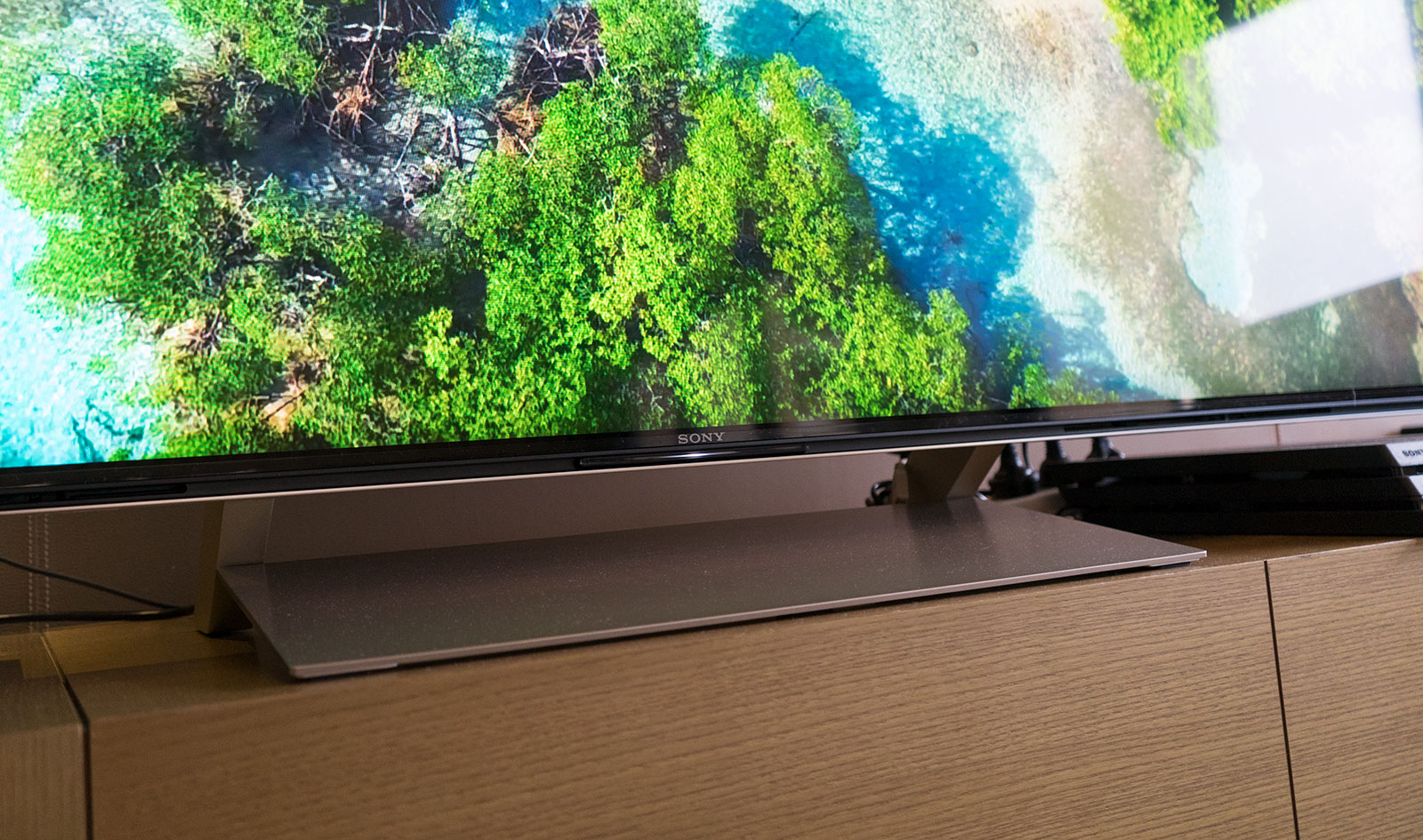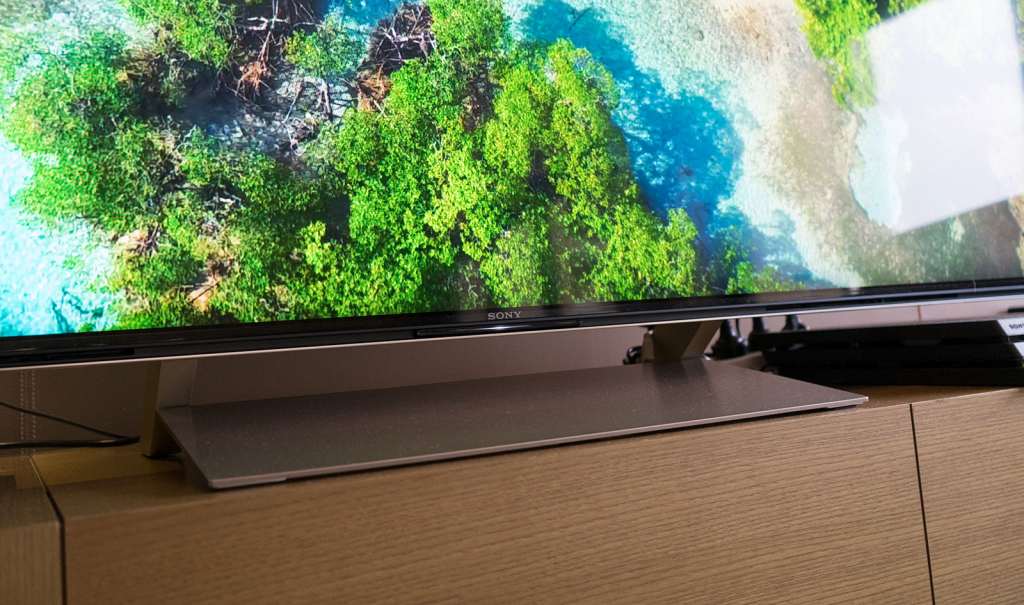 Conclusion
Ultimately, auditioning the Sony X93E TV for yourself will be the deciding factor, and in a year where televisions are getting better and better, making the colour experience the deciding factor actually makes it easier to settle on a decision.
Ask yourself the question the next time you're in store: which looks better to your eyes? And which feels like it would be matched to your living room better?
Sony's Bravia X93E is without exception a lovely TV, delivering a picture quality as clear as day and some great sound to boot. Whether or not it matches what you're after, that you'll need to decide for yourself.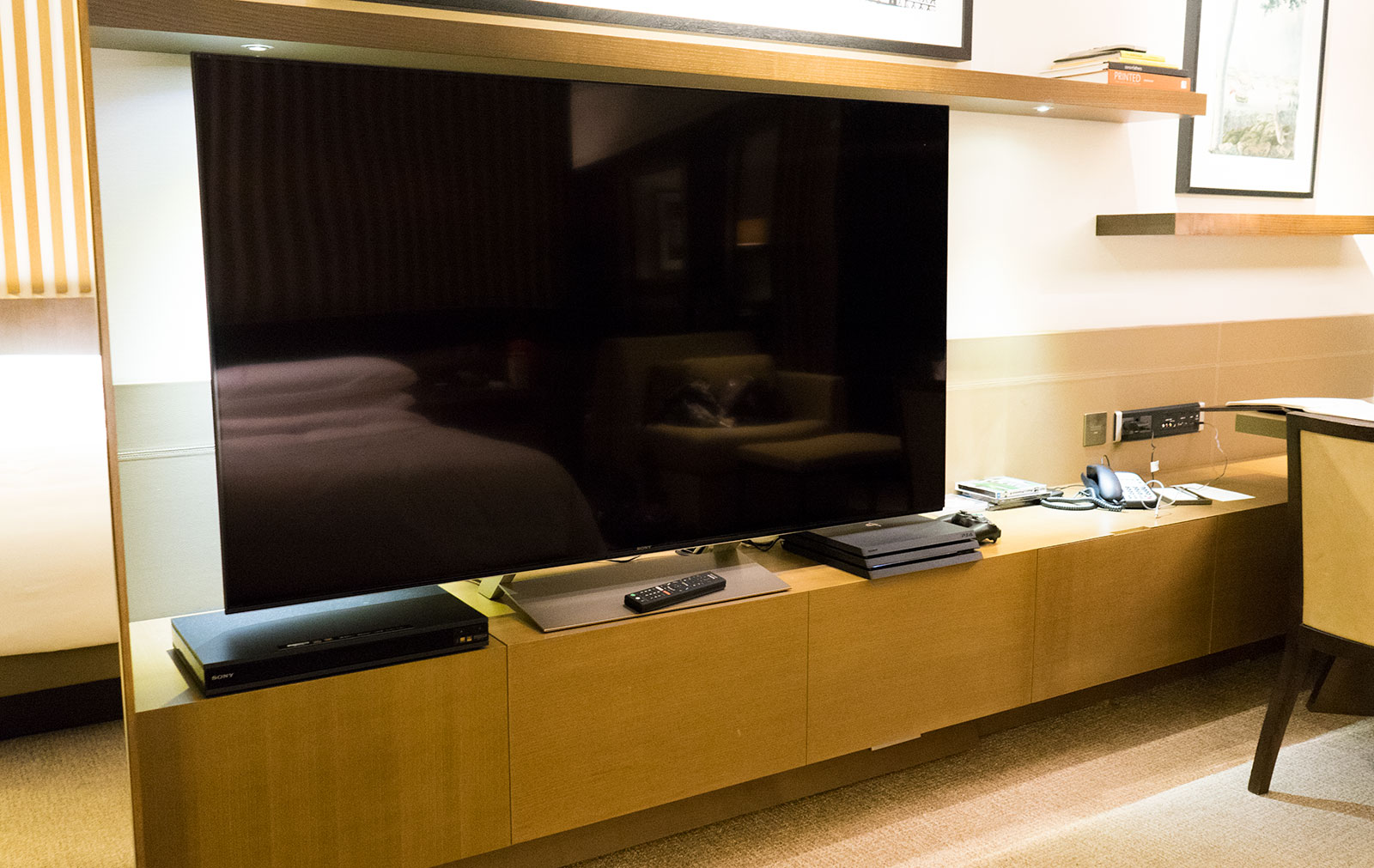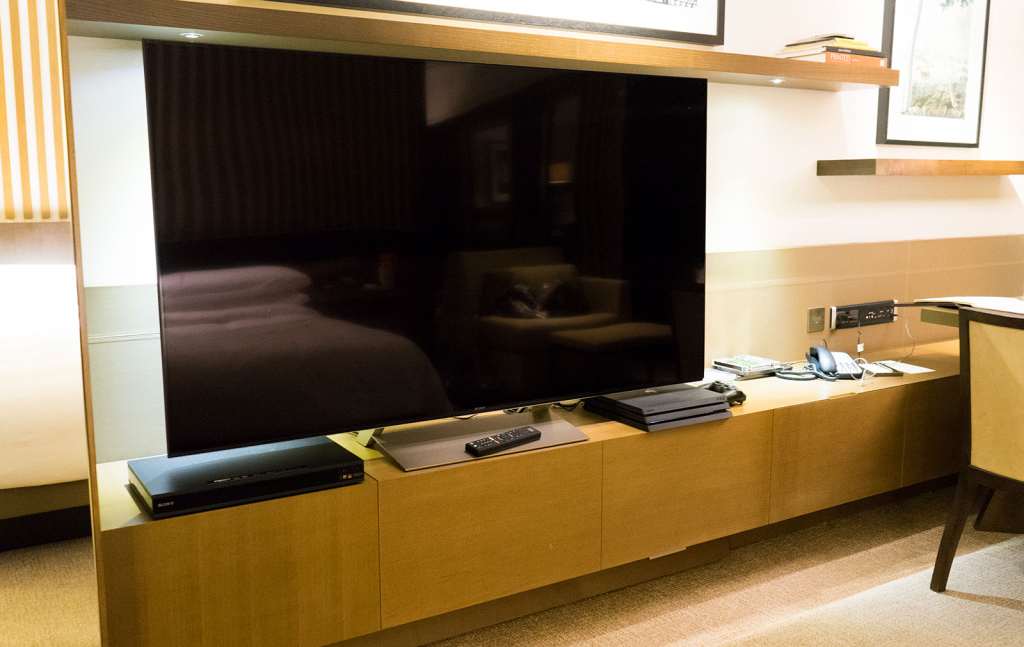 Bright and clear colours
Android TV installation offers a great smart TV interface with apps aplenty
Surprisingly strong sound even without a big speaker system
Fairly minimalist design (at least from the front)
TV isn't the thinnest around
Remote is old school, lacking all any motion control or simple design