Quick review
The good
Better desktop execution than you might expect
Quite a solid amount of screen real estate
Works with your standard Android apps out of the box
Supports USB devices
The not-so-good
Not many apps support DeX's view
Some cases won't fit in the DeX dock
Bugs
Owners of the Galaxy S8 have more than a phone at their disposal. They potentially have a new computer, too, with an experimental concept called Samsung DeX.
For the past few days, I've undertaken a little experiment, asking the important question: can a phone replace a laptop or desktop?
It's a question companies have asked before, as device makers seek to find the next big thing, with your phone potentially doing double dirt duty as the workhorse in your life, and given just how flexible these things now are, we're hardly surprised.
Our lives are on these phones, and these phones are practically super computers held in our hands and stored in pockets in our garments, so making them do something else should hardly be surprising.
As such, the next thing your phone is being tasked with is to become your everything, your one-stop shop and destination for what you need in your life. It has already overtaken most of your walkaround camera needs, and thanks to a big screen you may not even use a tablet anymore.
What else can we turn the phone into?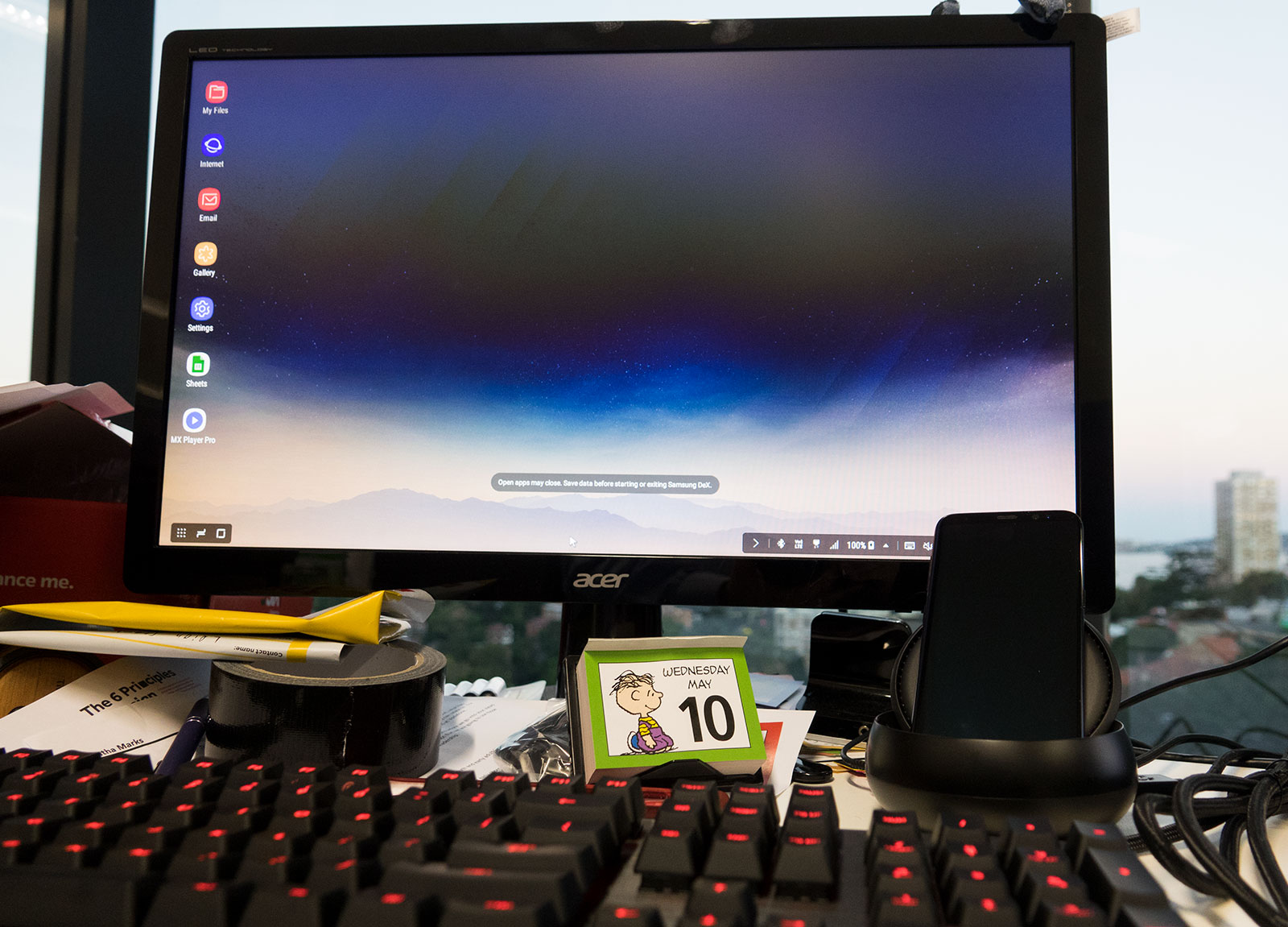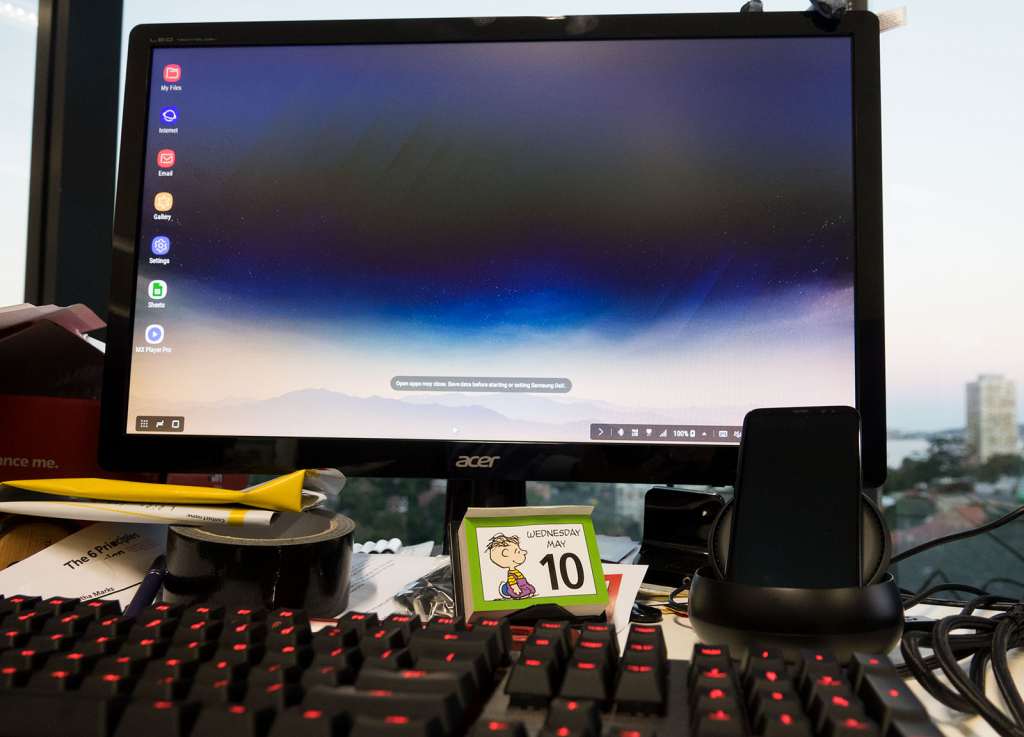 Desktop replacement
Unbelievably we still live in an era where the desk-based computer is a thing.
Sure, your laptop is now your dedicated system, but it is still technically a desk-based system, unless you work entirely from the road, using only your lap and the comfy plush bed you stay in nightly.
Most of us still use the desk, however, and regardless of the computer being a desktop or a laptop, we are still reliant on an assembly of silicon and electronics that tends to work best on the flat surface that houses the space necessary to hold it, often called a desk.
But what if you didn't need the laptop? What if your desktop could simply be your phone docked with a small box?
What if you only had to carry your phone with you to work and back?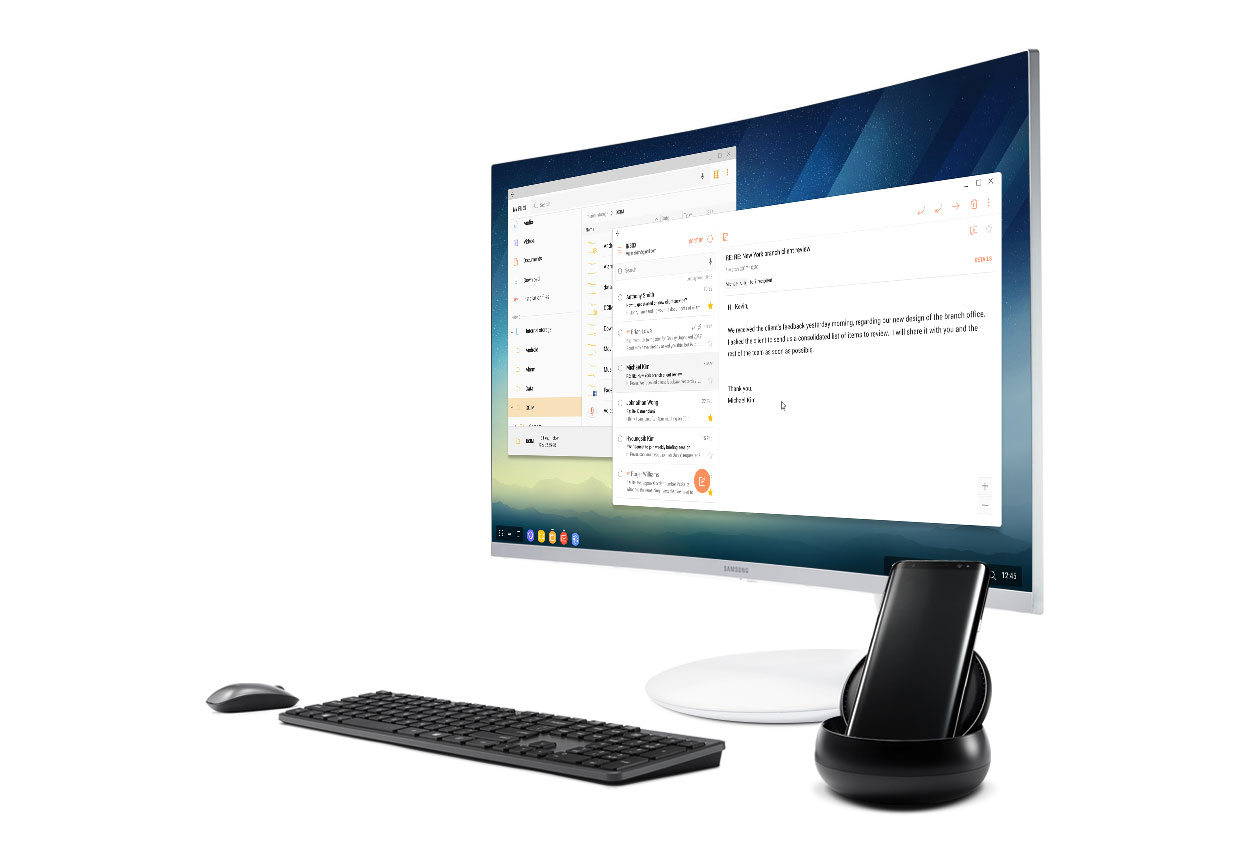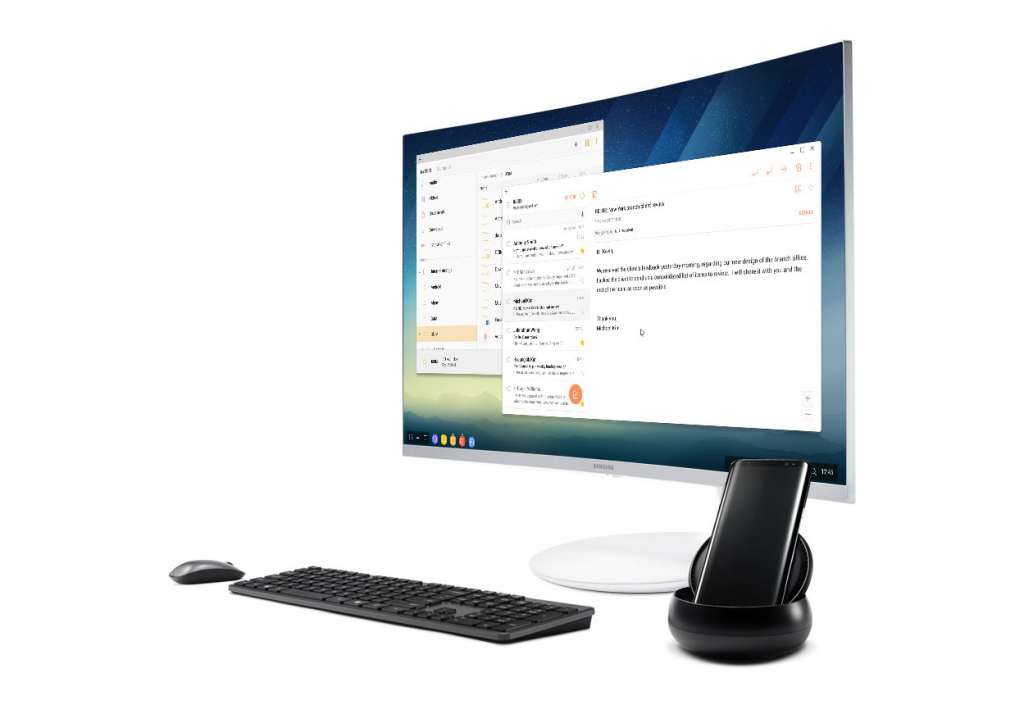 That's the concept in Samsung DeX, a product that literally translates to "desktop replacement", except it has been shortened, run through the marketing generator, and crunched into something that sounds far more futuristic.
The result is hardly marketing spin, with a USB-C dock designed to turn your phone into a computer thanks to some software smarts built into the Samsung Galaxy S8 and Galaxy S8+ handsets.
Design and features
When you first see the DeX, you'll probably be tempted to say "that's it?" followed shortly by an incredulous "seriously?"
And we wouldn't blame you, because the tiny circle of plastic doesn't appear to be much, resembling a mobile dock or charger with a small cover that folds out to act as nice place to rest your phone when you dock it in place.
On the inside, you'll find merely a USB Type C plug to dock that phone into, while the outside offers up connections to make the transition and transform the phone into a computer, with two USB 2.0 ports, one Ethernet port, one HDMI port, and a USB Type C port to plug in that charge cable that arrived with your Galaxy S8 to power the whole thing.
Overall, DeX comes across very plastic, but it has been put together very well, so you don't feel as if you're getting anything poor quality, and given the $199 price tag, that's a most welcome feeling.
Performance
Connecting the Galaxy S8 to the DeX, you'll find the system boots up quite quickly, and in mere seconds you're good to go, using your phone as a desktop environment.
Now let's talk about that, because you're not in Windows world any more. Rather, this is totally different, with an extra layer on top of Google's Android that makes DeX's interface shine.
Technically, this is Android, but it doesn't look like it, coming off more like a sort of half-breed between Android, Chrome, and Windows, and amazingly, it works.
While Chrome OS has you using the Google Chrome browser as an operating system, with each app loading in a tab, Samsung's DeX just adds an extra layer that desktopifies Android apps, turning some into more than just emulated phone screens and making them resizable.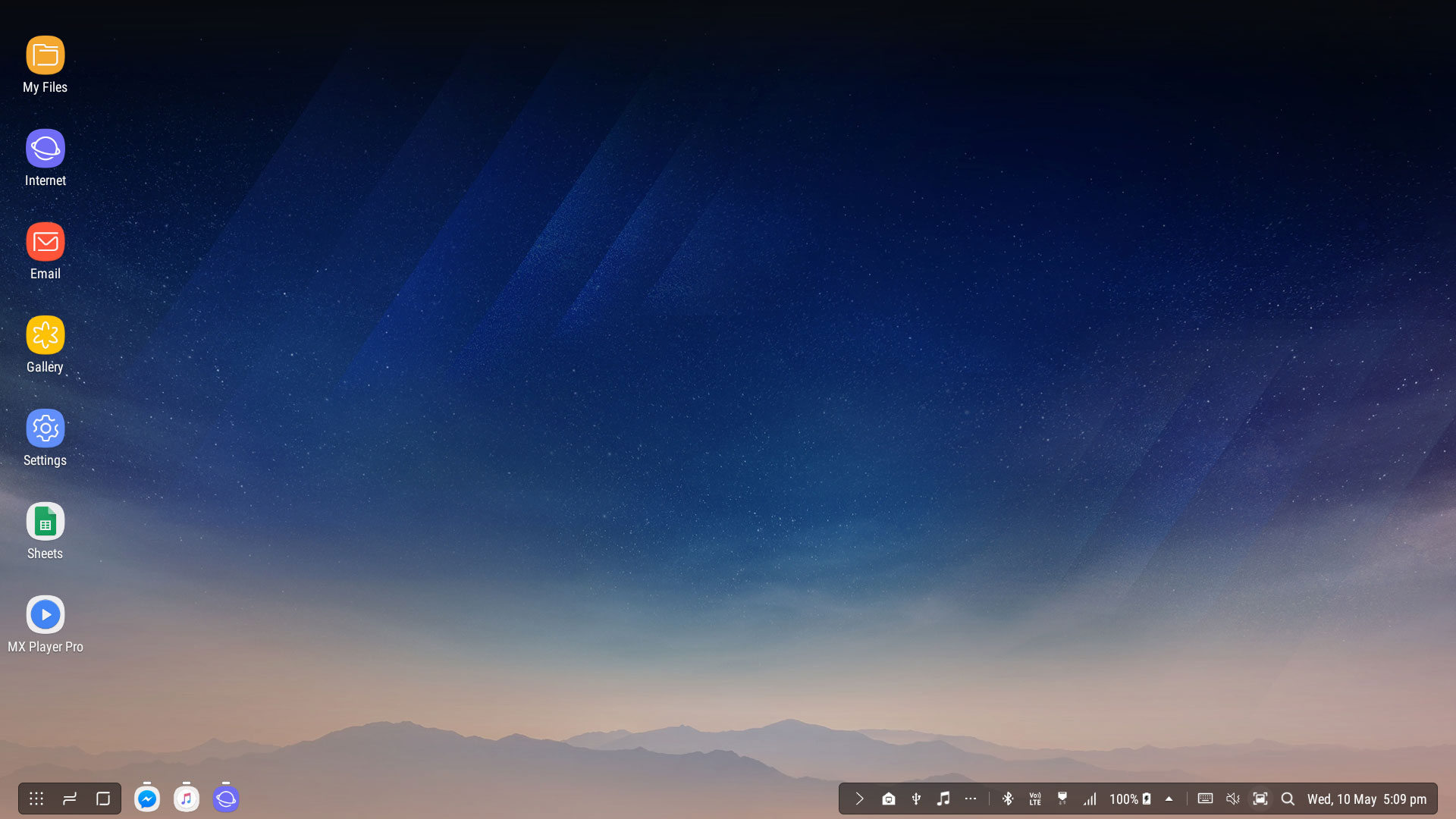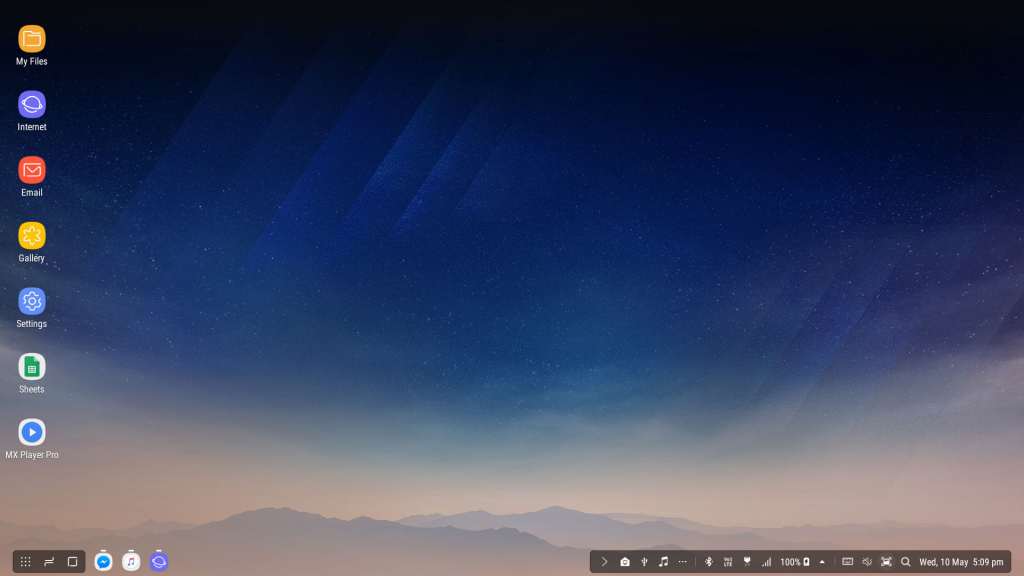 And it's a system that works surprisingly well, especially when apps have been customised to take advantage of DeX's unique interface.
There aren't many that do this as of yet, but you'll find Samsung's internet browser, the Samsung email, Microsoft's Office apps, and a few others that actually provide some flexibility for how you use the system.
You can expand the windows and generally work, all while loading the apps you normally use on your phone inside of a desktop.
Oh, and there's no risk of running out of battery life either, as your phone charges through the process.
Obviously the bigger the screen, the better the real estate, and with 4K screens supported, you could have a lot of room to move. Tested on the Acer Full HD screen we use at work, our experiment was clear: could we use the Samsung DeX in our working environment?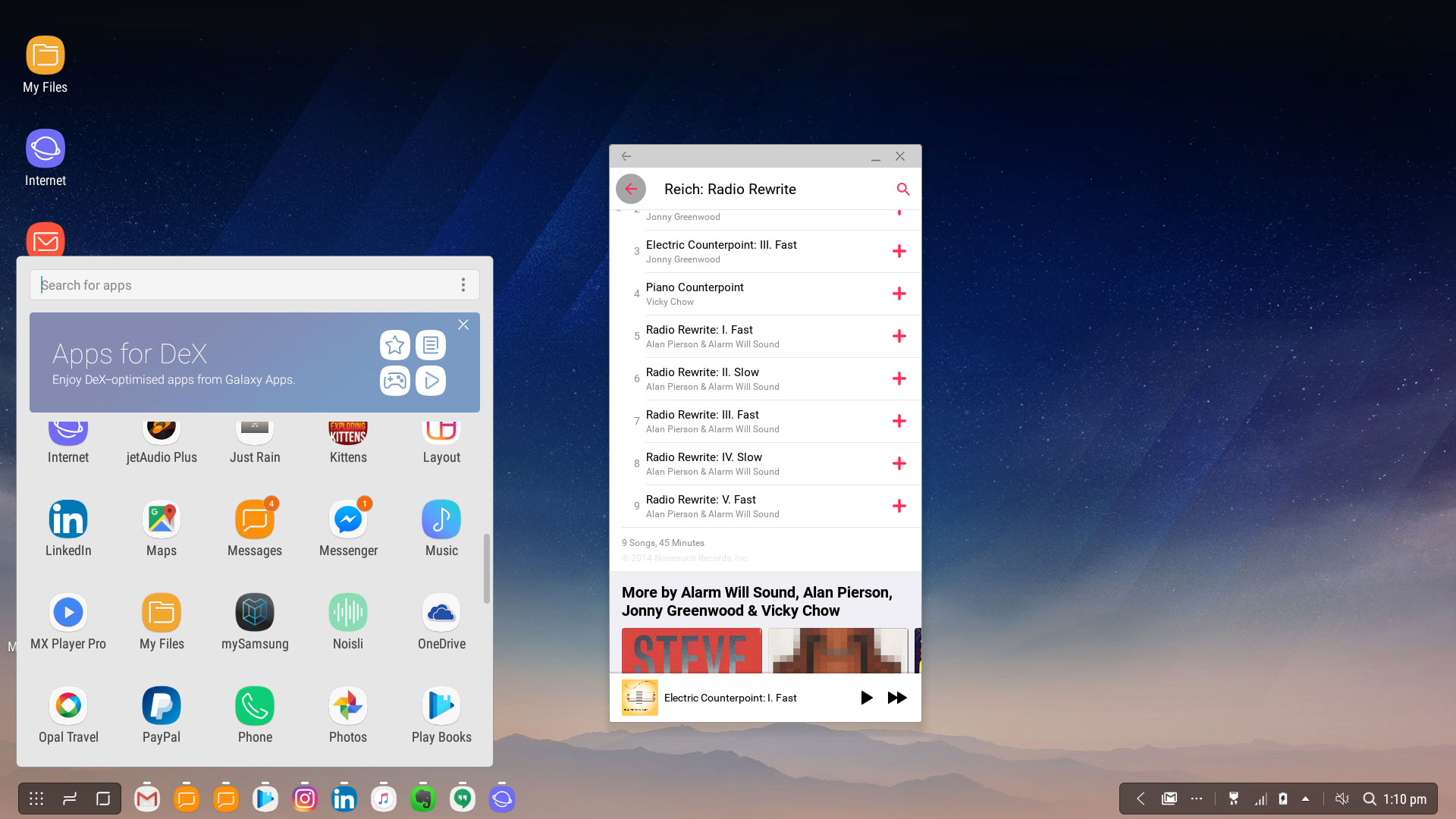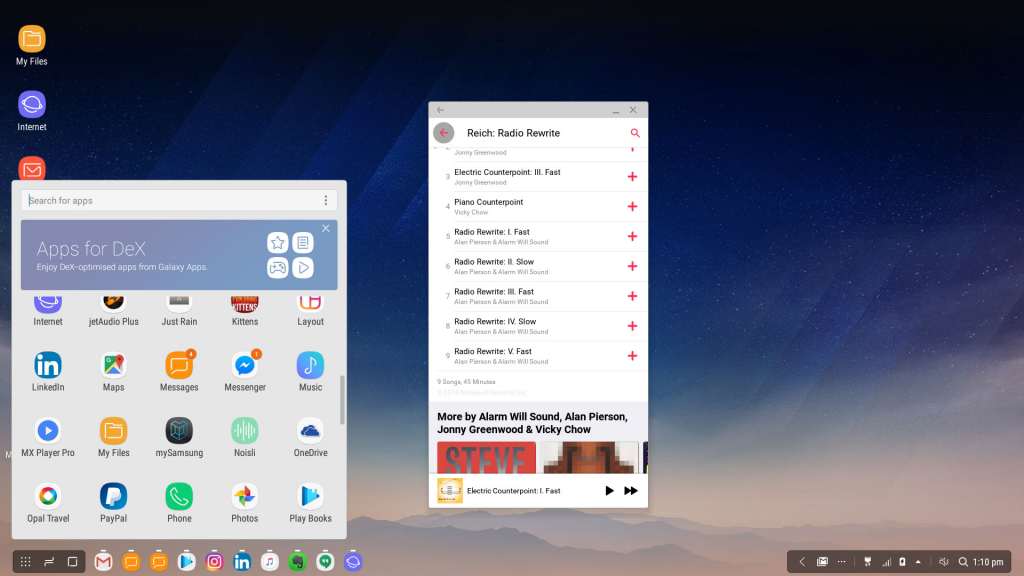 The experiment: using Samsung DeX for work
Pickr readers may not be aware, but Pickr isn't actually a full-time job, at least not at the time this review was published. In fact at this time, all of Pickr's writers work a nine-to-five somewhere else, meaning we're not doing this as a full-on job.
That means we're going into an office and doing work on another computer, and in the case of this writer and reviewer, he wanted to see whether the Samsung S8 and DeX could take the place of the regular laptop environment, which is normally plugged into a mouse, keyboard, and screen.
Few specific apps are used in this day-job, so we already knew it would be a little easier. With Google's suite of web-based applications employed regularly, we weren't going to see too hard of a struggle, though since the phone was personal, we wondered how this would all work out.
As such, we found using Samsung's browser "Internet" for work applications did the job, logging into mail and Google Drive through that system, and browsing through work documents that were loaded onto Google's online storage in this system.
Throughout this, we could continue listening to music either through Apple Music or Google Play (the ones we regularly rely on), and could use Evernote, LinkedIn, Facebook, and other app our phone had installed at the time.
And unbelievably, it worked. Surprisingly, it worked. Astonishingly, it worked, and we were shocked to find the system offered very few struggles, except to say the more you used, the worse it all got, running out of memory with the 3.5GB amount only so much.
That's one of the obvious flaws of the Samsung DeX environment: you're limited by the amount of memory you have, and while Samsung's resource management is better than you might think, load enough tabs, PDFs, and things that wouldn't normally tax a computer, and you'll find things go south after a while.
Fortunately, closing apps is easy, and you can manage how things run with little trouble.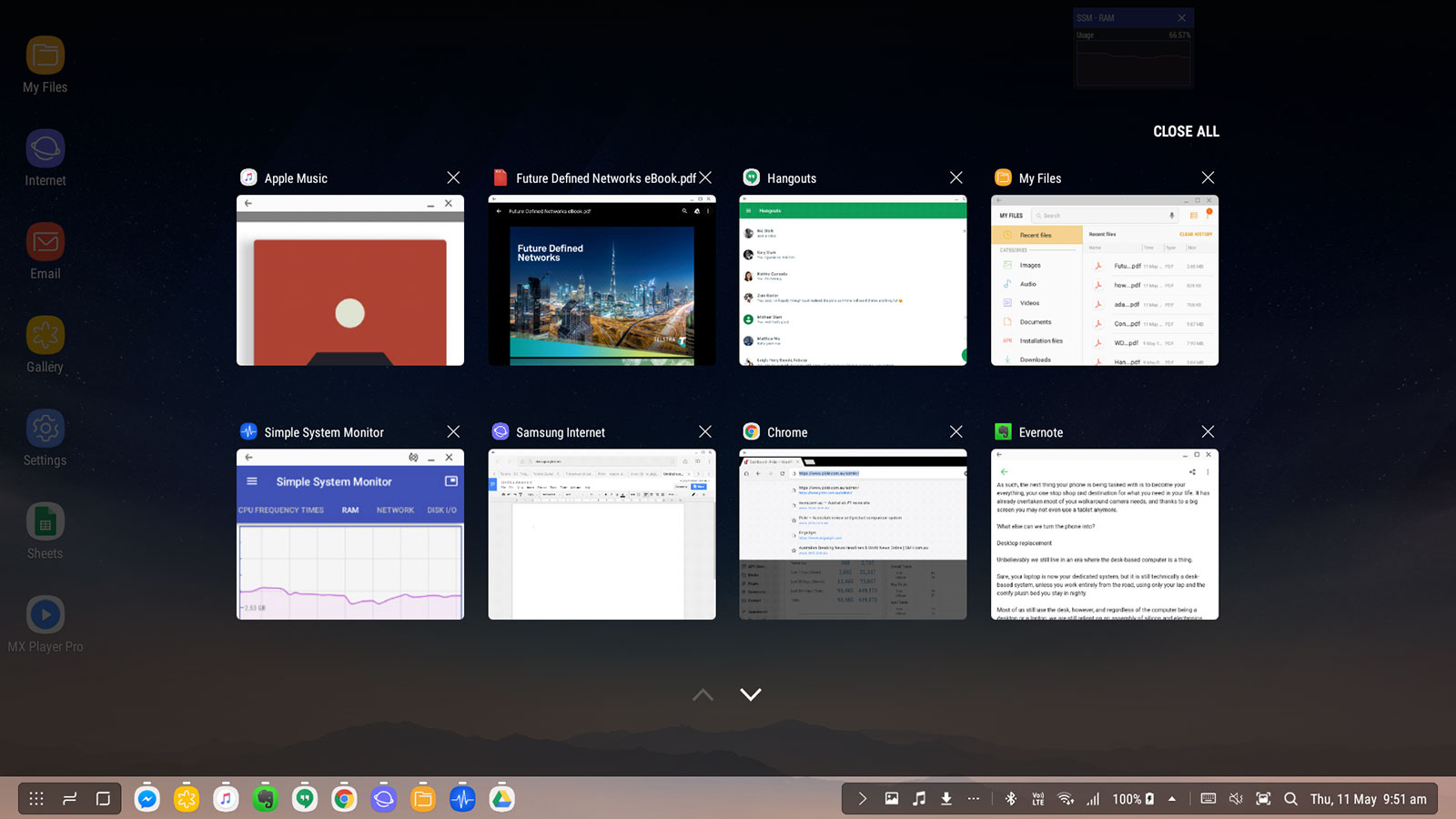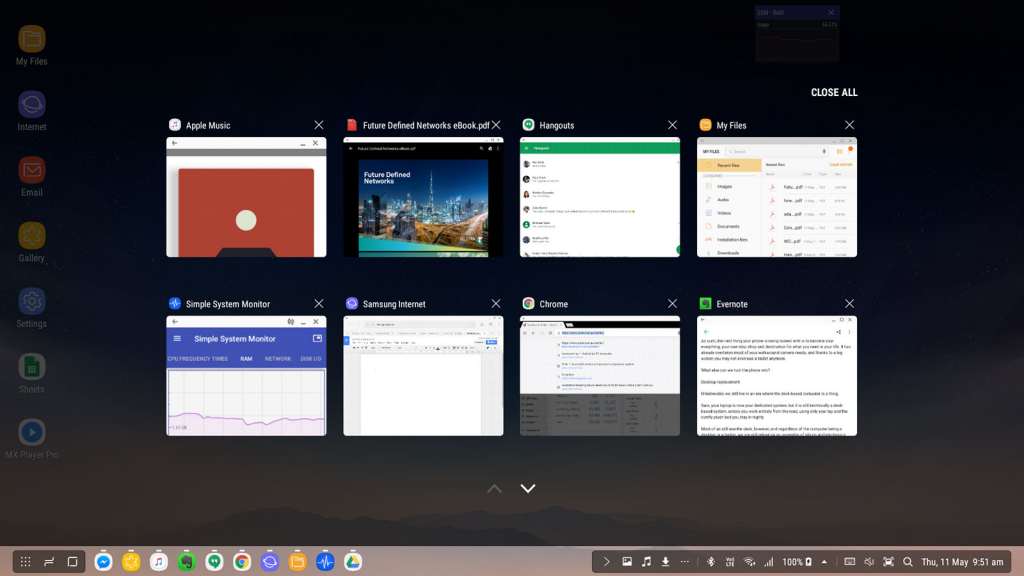 The other obvious flaw in DeX arises in the issues with the apps themselves, and how little they may resemble actual desktop apps.
For instance, your regular version of Google Chrome not only offers easy to access bookmarks, but the ability to run different logins to the Google suite.
As a point, I have one for Pickr and one for work, but Android's Chrome can only run one login at a time, so I have to pick. You can get around this by using a different web browser, such as Samsung's own browser, but if the browser isn't made to work with DeX especially — such as with Firefox or Opera — you'll just get a vertical strip to work with.
And that vertical strip of a program is there in other apps, too, such as Facebook, LinkedIn, and plenty others. You can rotate these easily enough, but you're not getting a tablet or universal app experience, but rather a mobile phone edition of the app, and that's a little strange. It almost feels like DeX should be loading the tablet edition, but we get why it isn't (because you have a phone, and DeX doesn't view the app any differently).
In most of these situations, you're basically waiting for the app developer to make its app DeX friendly, and that's not so bad. We found Evernote worked well here, as did Chrome, the Google Play Store, Samsung's email app, and even the Google Mail app.
There's even a bit of virtualisation from Amazon in the form of Amazon Workspaces, which uses the AWS side of Amazon to run versions of Windows with Microsoft Office, meaning you can access a full operating system if need be.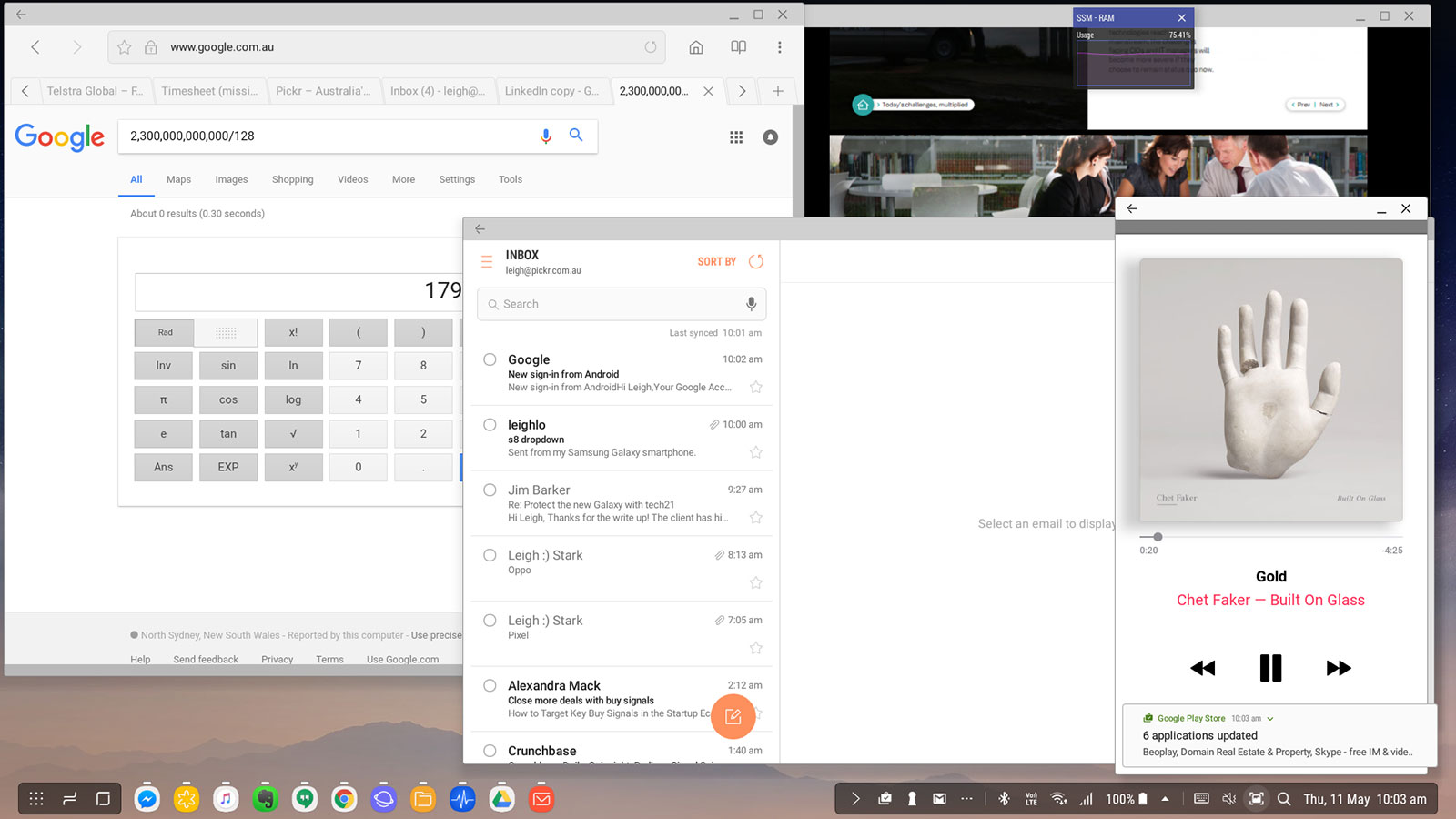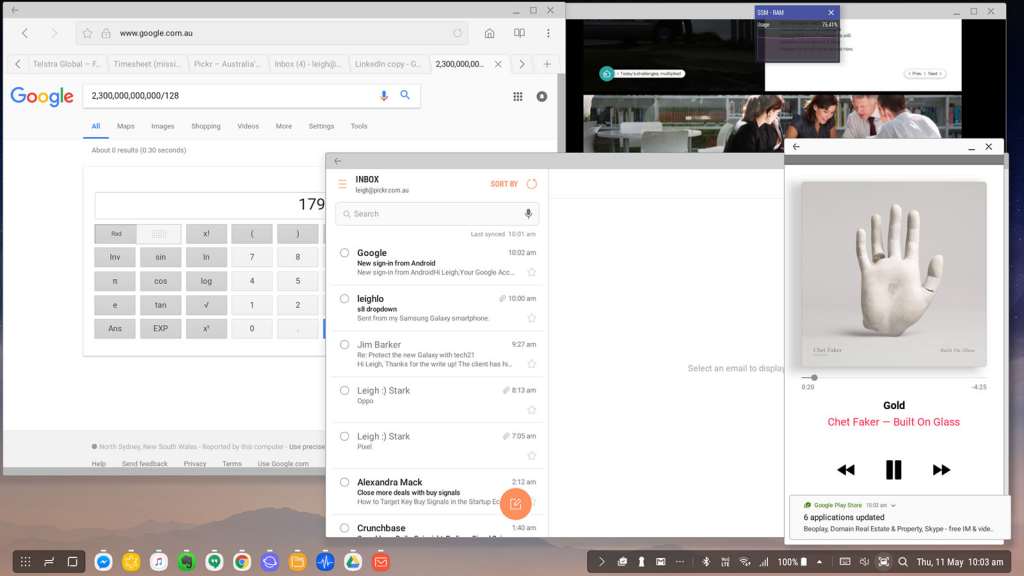 Value
It's even worth the $199 price, or it is if you're at all curious about dabbling in this future where you only need to carry a great phone and headphones to work and back, and can get by using only Android apps as a whole.
If your life exists in a web browser and you can operate from either the apps on your phone or a copy of Google Chrome — and you don't need a laptop, or are happy to take notes and such by merely swiping on your phone — you'll find the tag on this is no trouble, because you can save time, weight, and money on the laptop paradigm, carting only what you need, which is a phone, your apps, and your data.
What needs work
Aside for the odd phone-to-tablet app question, the only other issue that pops up with DeX arises from the problem of bugs.
In Facebook Messenger, for instance, you can't drag your little person icon to one side of the screen, forcing it to stay on the left side as if DeX could only see the left side as a vertical strip, like that of a phone.
And when you unplug DeX, the icon becomes super small, a strange issue to be sure.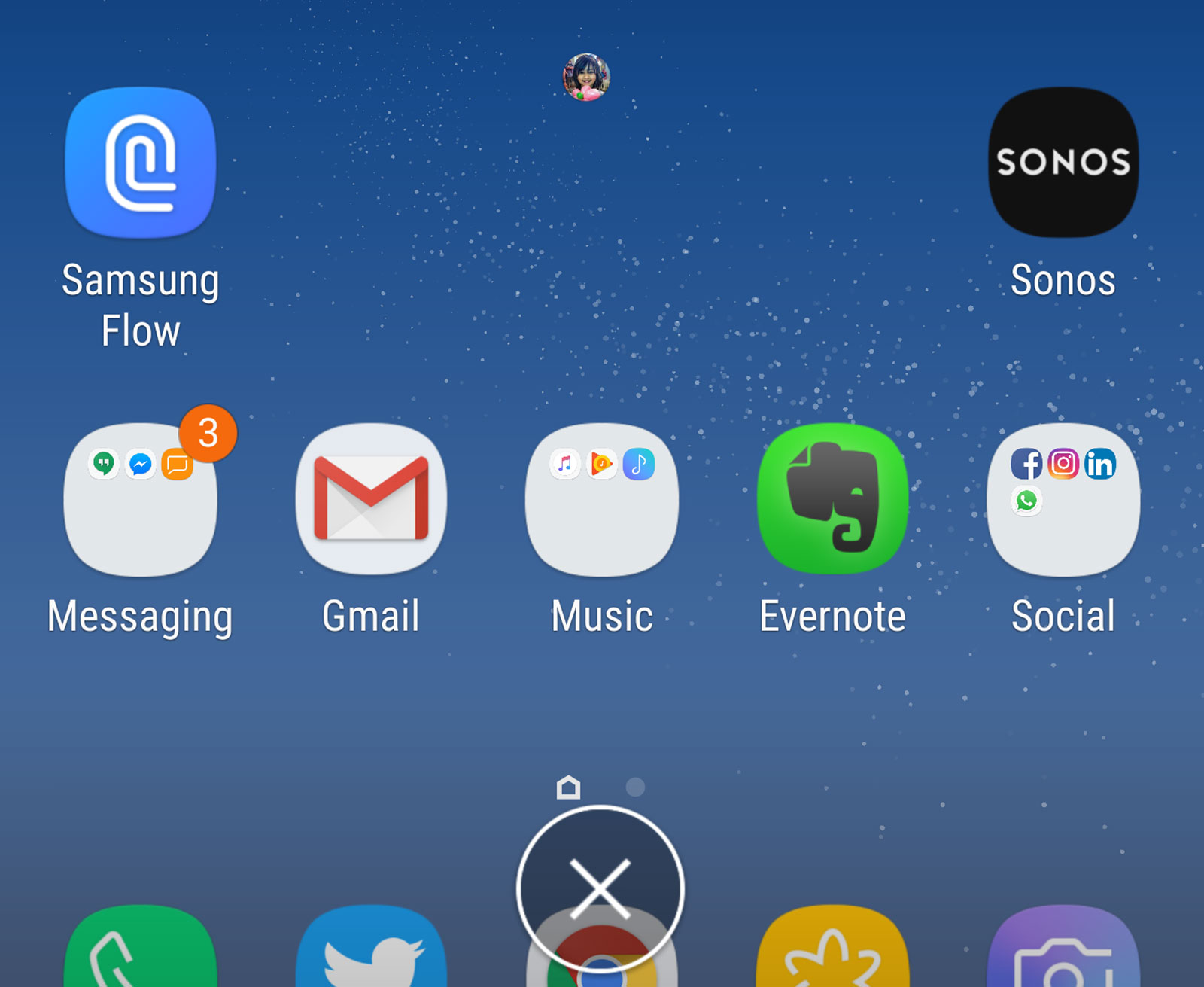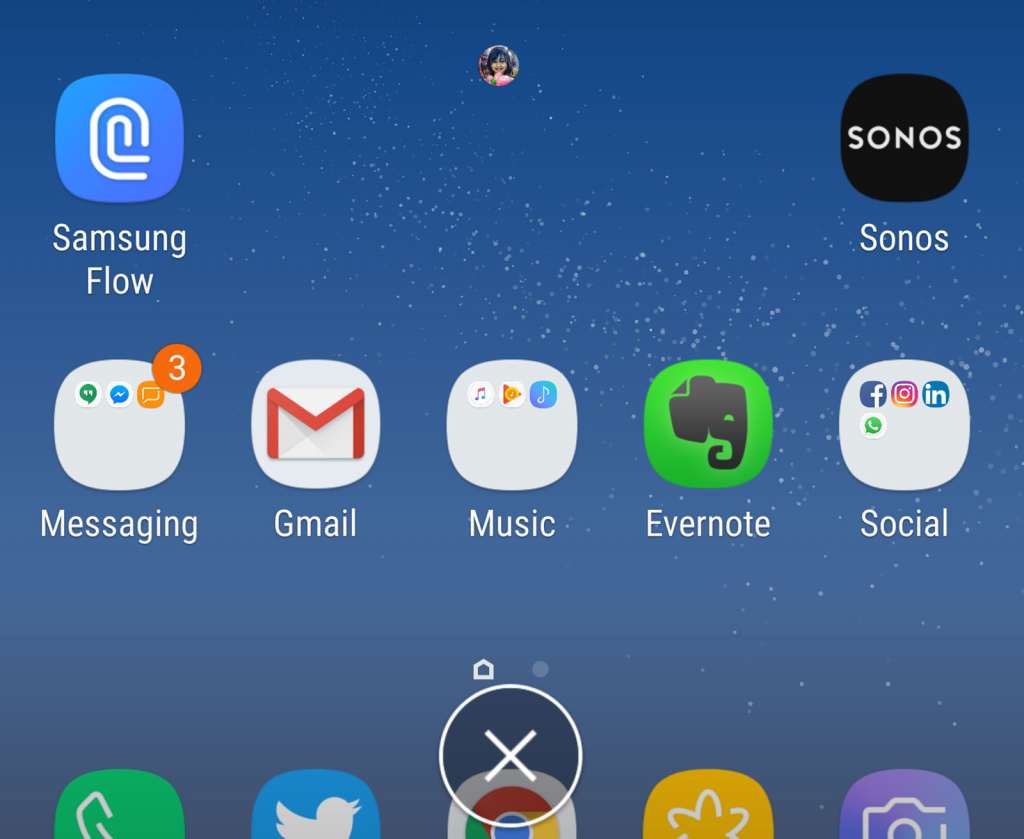 Cases may also run into problems, and we found you kind of had to remove third party cases from the Galaxy S8 to fit the handset on the dock.
We saw a few other bugs here and there, but most of these appear to be teething issues, like that of the lack of true Samsung DeX app compatibility, something that will eventually pop-up, we're sure.
In fact, DeX is surprisingly well tested for a first-generation product, and for Samsung's first experiment in phone-to-desktop conversions.
Let's not beat around the bush: this is definitely not the first time we've seen a company dabble in this concept.
Motorola tried it years ago with the Atrix in the Lapdock, and it was just an absolute disaster. Asus tried something similar in a tablet form with the Padfone, and more recently Microsoft attempted it with its Continuum dock for Windows Phone.
But none of these companies nailed it, and each product came out half-baked, in part because there were practically no usable apps and no real sense of usability. You were buying the products for the idea they represented: that is to say you bought these because you wanted a future where you only need rely on your phone to haul between home and work, between work and home.
None of these worked, but Samsung's DeX does, and it works surprisingly well.
DeX works so well that it's easily the best mobile desktop replacement we've ever seen.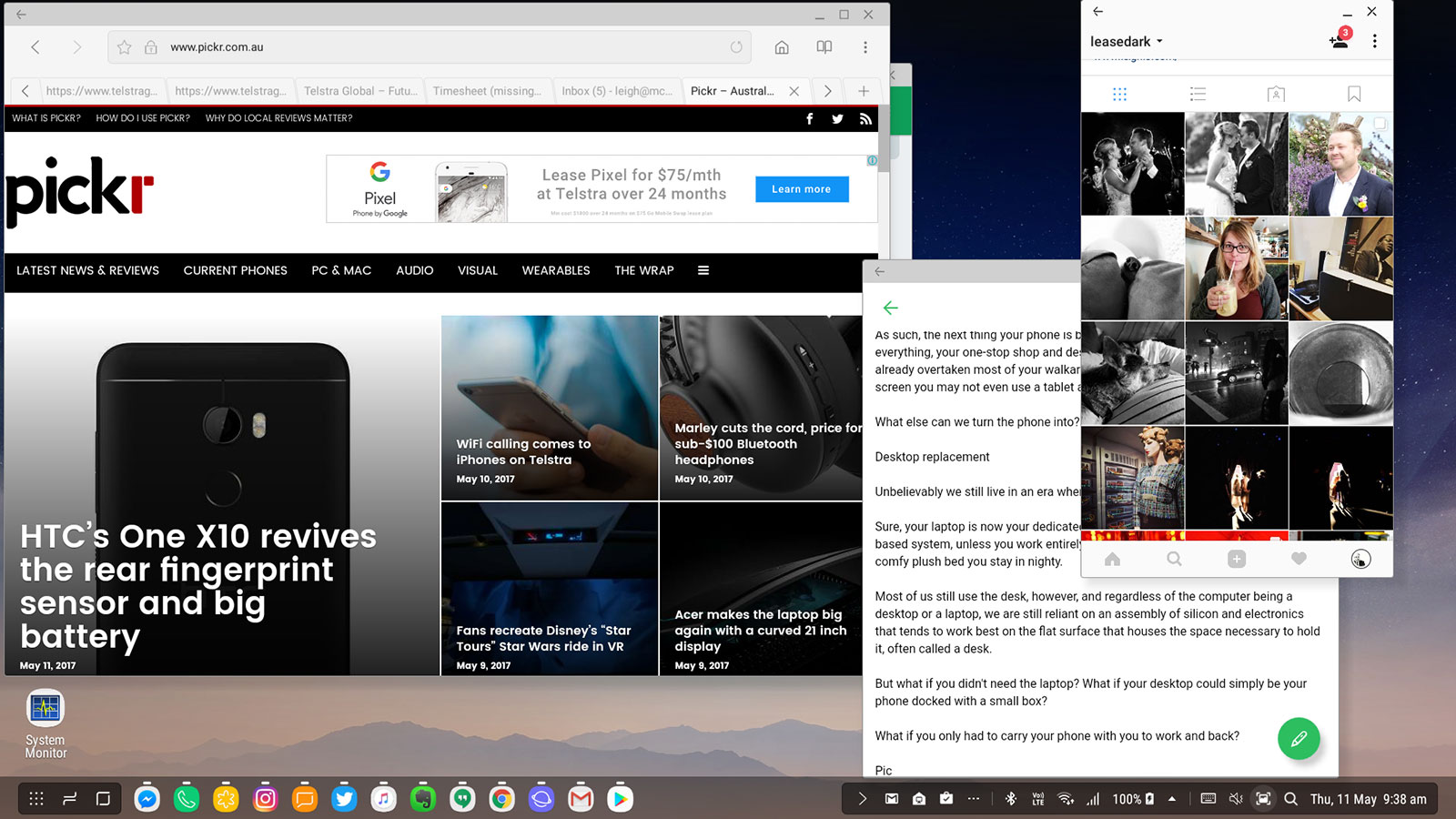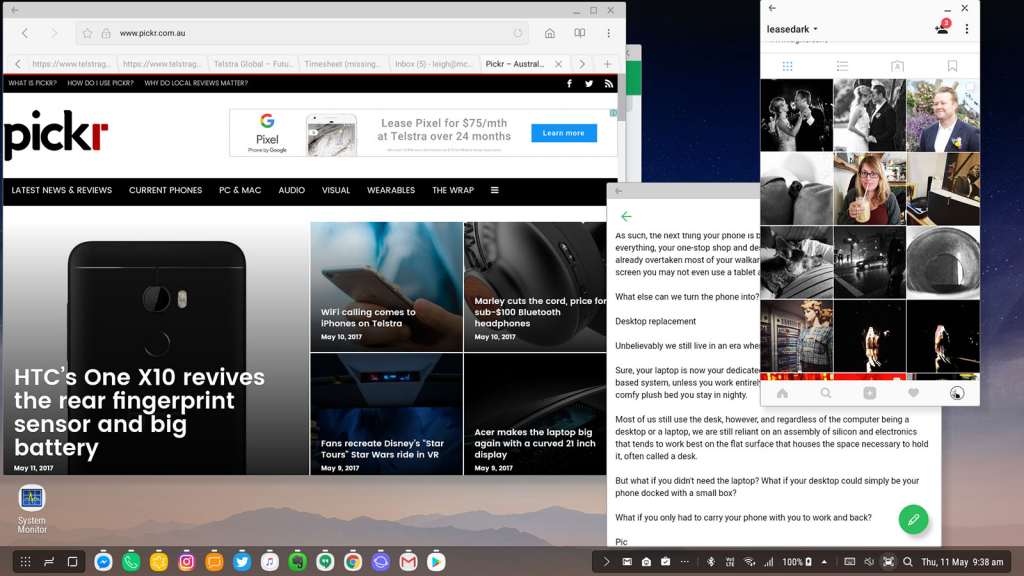 Final thoughts
Credit to Samsung where credit is due, because much like how the Galaxy S8 is a slam dunk and a home run (except for the uselessness of Bixby), Samsung's DeX also makes a superb run at desktop replacement computing, doing what other phone makers have tried before, and succeeding in the process with something that works better than anyone expects.
There are areas where Samsung could easily improve things such as with apps and switching to tablet variations, and we definitely think memory should be one of those spots. Seriously, if you're able to grab the even more impressive China-specific Galaxy S8 with 6GB RAM, you are likely going to have a much better time loading apps and tabs on Samsung DeX.
But if you're left with one of those standard Aussie, UK, American, or whatever else variations, Samsung's DeX is a solid experiment you owe it to yourself to try.
At the very worst, you'll have a great little charger for work, and at the most, a new way to remain productive without needing to carry anything else with you. Phone, headphones, brain… you're good to go. Recommended.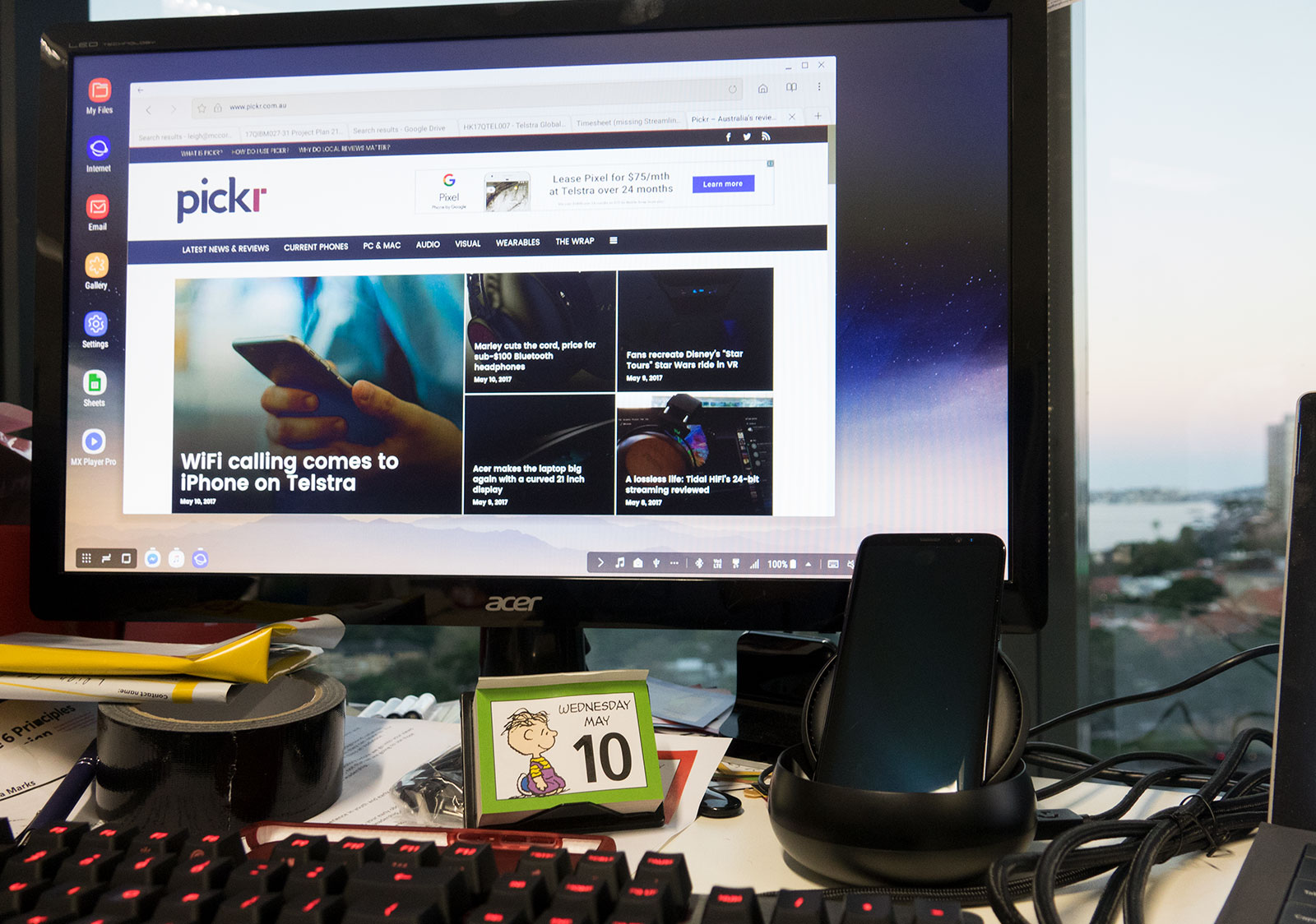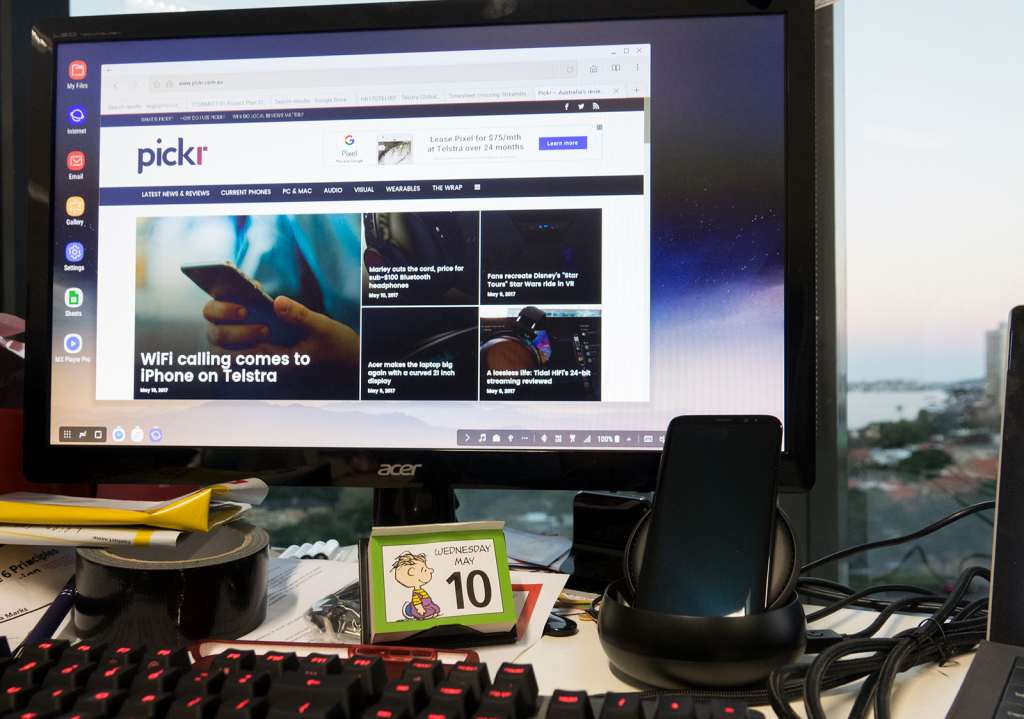 Better desktop execution than you might expect
Quite a solid amount of screen real estate
Works with your standard Android apps out of the box
Supports USB devices
Not many apps support DeX's view
Some cases won't fit in the DeX dock
Bugs