Quick review
The good
Big screen that takes up most of the phone
Fingerprint sensor is in a good position on the back
Standard but usable 24 hour battery life
Feels durable
Includes water resistance
The not-so-good
Kind of ordinary in comparison to other phones out in 2017
Lacks something to give the phone any sense of pow or pizzazz
Camera quality isn't amazing, especially in low-light
No wireless charging
Interface feels like it targets iPhone users only, with simply just the iOS way of doing things shown
Arriving on Pickr's review desk a little later than we anticipated, LG's G6 is finally given a review. Is it enough to take on Samsung and HTC, or even Apple?
Over the years, we've seen some interesting and unique designs from LG, a company that has done what it can to prove that its smartphone division is by no means intending to make an iPhone clone.
There have been numerous creative concepts before the company made its way to Android, including the Chocolate, with its unorthodox name and even more unorthodox ultra-wide screen, and there were Prada-branded phones at one point, too.
But it was in the "Optimus G" smartphones that the company found the bones to work with, shifting the moniker down to "G" after the first iteration. That first simple softened rectangular touchscreen G phone made its way to a more creative take on smartphone design, shifting the buttons to the back in a unique control scheme, something that stayed on with the G3 and G4, as LG experimented with different materials and curvatures, before it changed things one more time in the G5, leaving the power button and fingerprint sensor on the back and placing the rest of the buttons on the sides.
LG's G5 arrived with other differences, that said, such as the ability to replace the battery and add extra functionality through an accessory program called "Friends of LG", which the company abandoned quite quickly, but it was at least a point of difference to a phone which shied away from the rear controls that had helped LG made its presence known.
These cycles of changes, of refinements, of the little things that shift in order to improve and evolve are expected in smartphone design. They're some of the things that make reviewing smartphones interesting, because you get to see a smartphone brand evolve.
But with the G6, it almost feels as though LG is pairing things back, and the changes can feel as though the individuality is being reduced.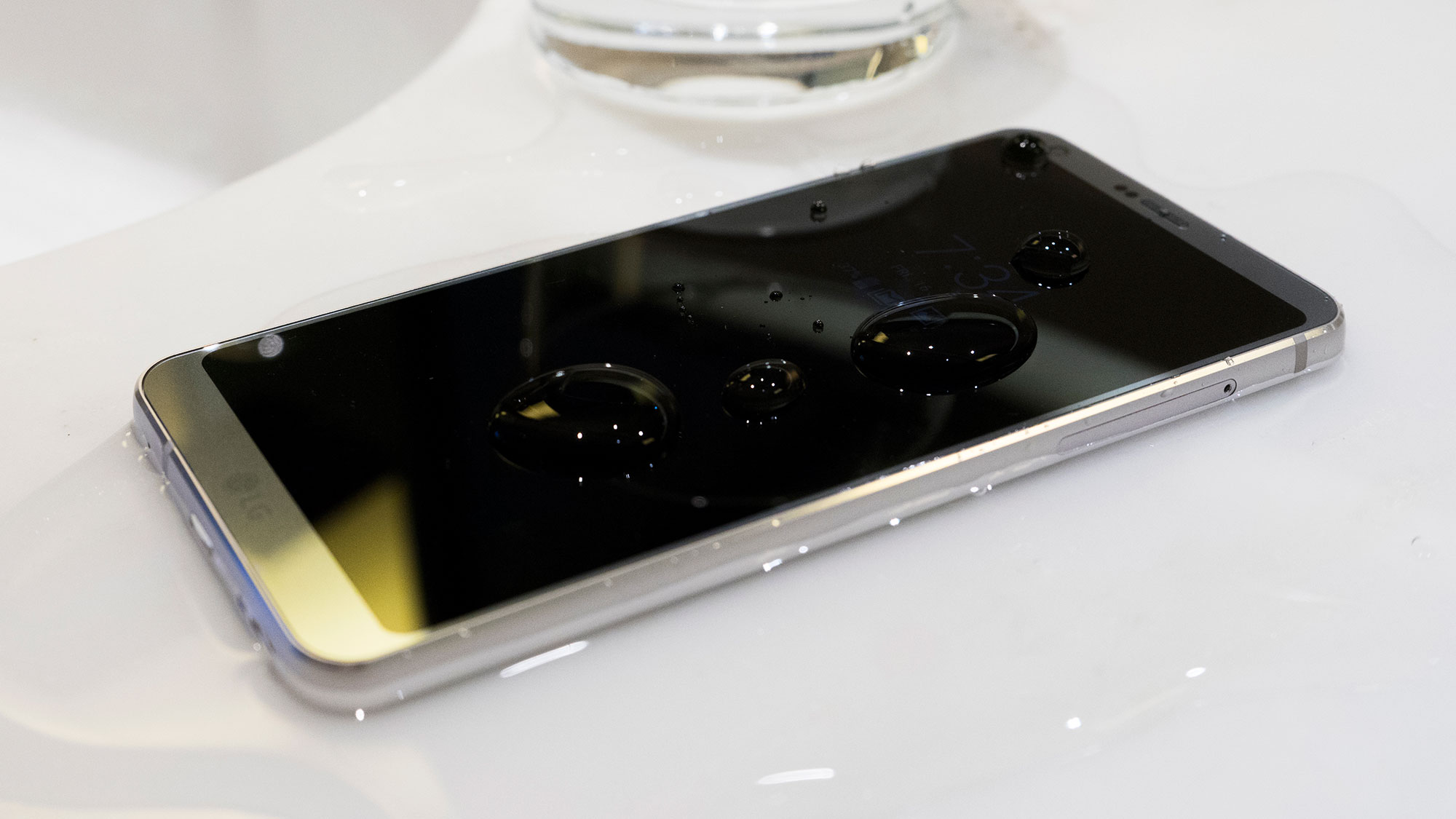 Design
That's one of the first feelings you get when you take a look at the G6, the 2017 flagship for LG, at least for the start of the year.
We've seen some unique and creative designs from this brand in the past, but the softened metal rectangular prism before you in the G6 feels like it harks back to the days when the "G" series first started in the Optimus.
While that model was a flat glass rectangle with softened edges, the G6 is much the same but with a metal frame, while the back is slightly curved on the edges, sloping back into that design.
It's a comfortable enough design, even if it's one that feels a little iPhone-like for LG, though we still like the power button with the fingerprint sensor underneath on the back, as it's a handy location, even if it's one that might take some time getting used to.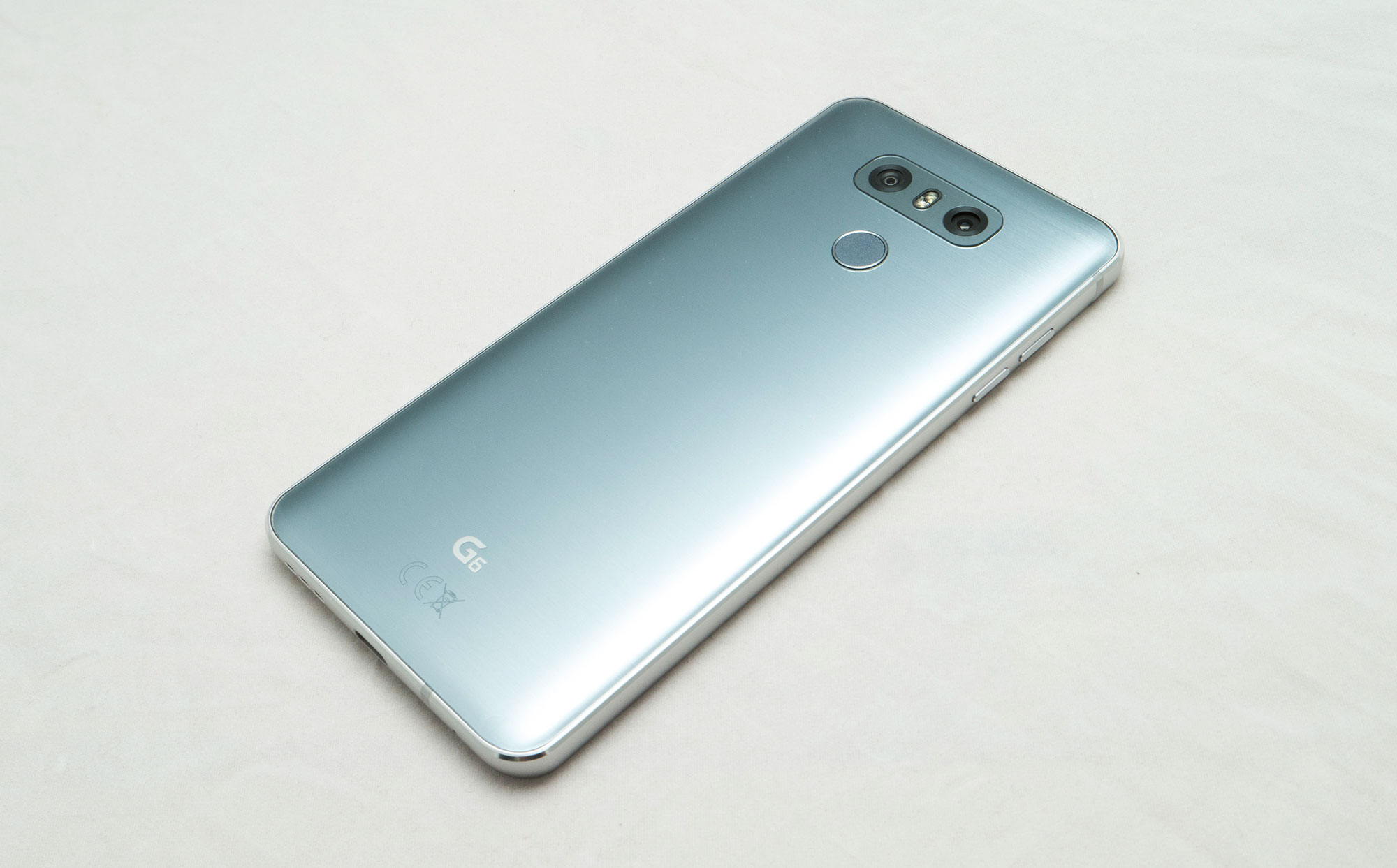 Features
Arriving just before the Galaxy S8 was announced, LG used Mobile World Congress to showcase its new phone, which rocked up shortly after.
Inside that new phone, the G6, LG relies on some familiar chips, even if they're not necessarily as new as we might like, with Qualcomm's Snapdragon 821 quad-core processor inside, the same chip used in Google's Pixel XL last year.
LG has paired that chip with 4GB RAM and 32GB storage, the latter of which can be upgraded with microSD cards, while LG has also made ensure Google's latest operating system arrives on the box and is ready to go, with Android 7.1 "Nougat" found here.

For cameras, LG is sticking with what it knows best, and what it knows is the two-camera setup on the back, differing from the approach Apple takes with one standard focal length and another closer, optioning instead for the standard focal length and then something wider with both running at 13 megapixels. Ultra HD 4K video capture is possible from these, and the selfie camera offers 5 megapixels if you fancy a nice self-portrait.
Connections for the camera are about standard, and the good news with the LG G6 is that you will find a 3.5mm headset jack, located up top.
You'll also find a Type C USB port at the very bottom for charging and data, while wireless is handled with Category 11 4G LTE capable of grabbing downloads of up to 600Mbps, Bluetooth, GPS, Near-Field Communication (NFC), and 802.11a/b/g/n/ac WiFi.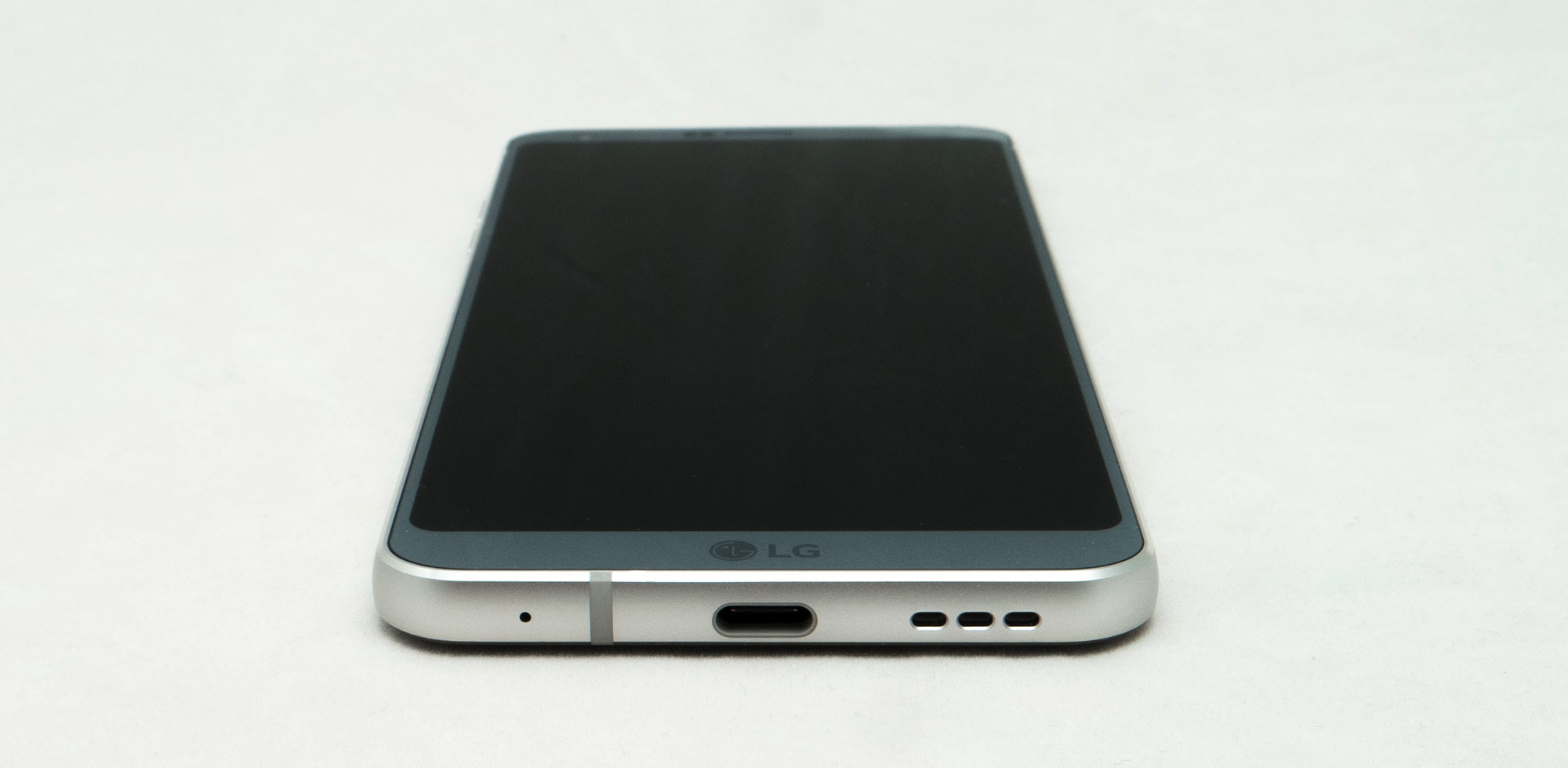 All of this sits under a 5.7 inch screen running the Quad HD resolution of 2880×1440 and showcasing a pixel clarity of 565 pixels per inch (ppi). The screen is fairly tall, one of the highlights of the phone, taking up most of the front with a long screen in a body that manages to get sizes down in other areas, slimming to 7.9mm at the thickness and a weight of 163 grams.
And that phone is also water resistant, a first for LG, with the G6 including a water resistance rating of IP68, making it dust proof and waterproof down to a metre for up to 30 minutes.
Only one slot can be found in the LG G6, found via a pin ejector tool and providing access to both nanoSIM and the microSD via the tray. Buttons are equally minimalist, with a power button under a fingerprint sensor on the very back, while volume buttons are found on the left edge.
The battery is rated at 3300mAh and is not removable.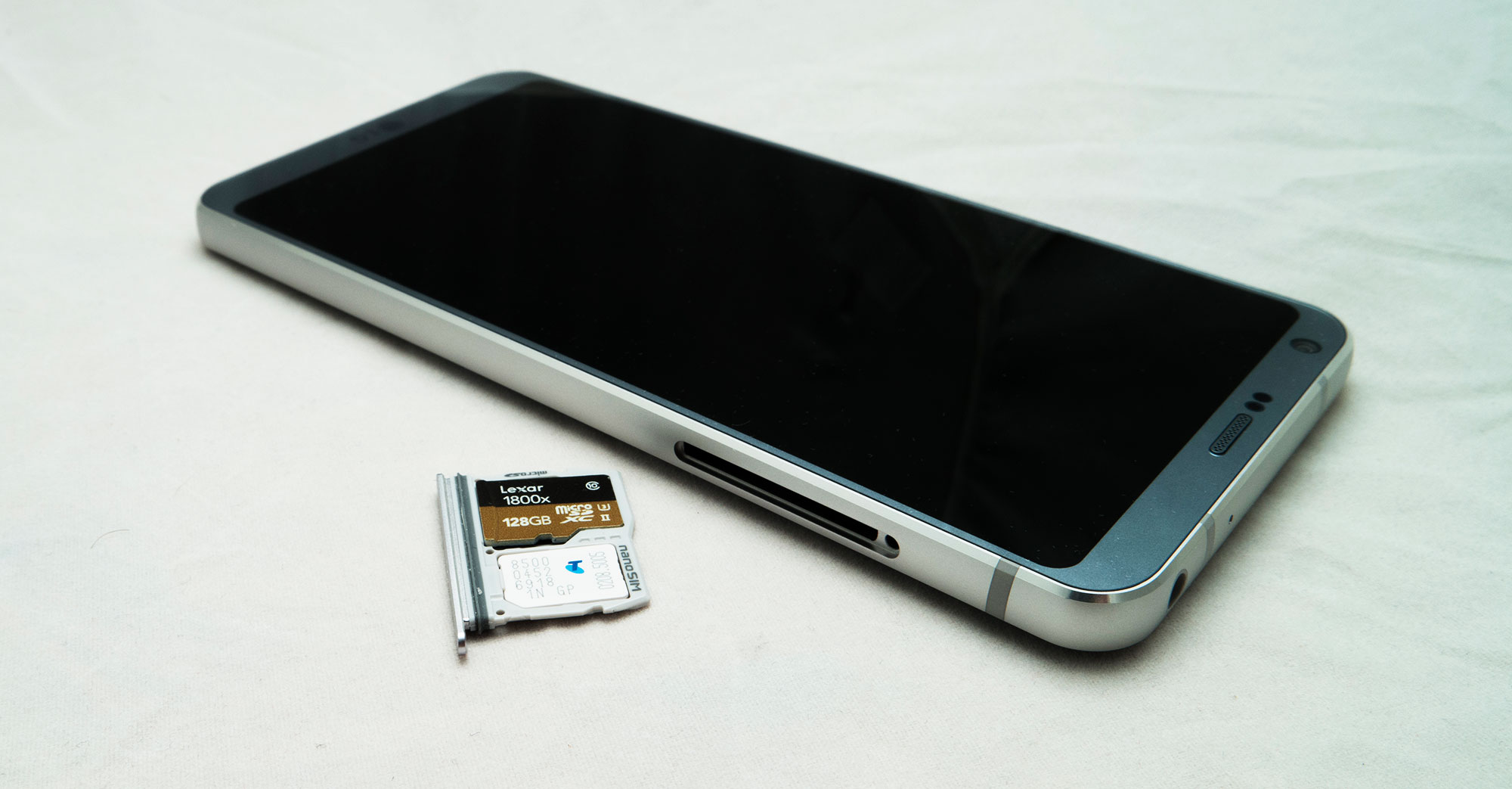 In-use
Switching on the G6 with its rear fingerprint-enabled power button, you'll find the big 5.7 inch screen springs to life, lighting up the front of the phone with a display that takes up most of the front of handset.
From the moment you switch that on, Android 7.1 "Nougat" stares back at you, though with a different take of Android taken care of by way of LG. While previous attempts have been very much skewed to be slight customisations on how Android has typically looked, the G6 instead offers something closer to the way iOS looks, with several widgetised homescreens and apps showing up as the shortcuts instead of offering a menu for those alongside.
That means it's more like an iPhone that runs Android, kind of like what we've seen in phones from Huawei and Oppo before, but it feels more like Android than the latter, and yet less than what Huawei has achieved.
It's a rather strange shift from LG, a company that has traditionally struck a good balance between what Google thinks Android should look like and the sort of geeky customisation LG thinks can apply, and we're not sure it necessarily works as well.
Testing it thoroughly, you get the feeling LG is specifically going after iPhone owners with this style, and we get it, we just wish the company had been a little more proactive in looking after the folks who have used LG's other launchers, leaving an option for a more Android-style interface.
And sure, it's not hard to get used to, but it would have been nice to have an option that looked back to the good ol' days.
Performance
Getting stuck into the phone, you'll find the LG G6 can handle its own, unsurprising given the hardware inside, with 2016's Qualcomm flagship processor still something that push apps quite well.
Paired with 4GB RAM and 32GB storage, LG's G6 isn't one to shy from the apps you'll want to throw its way, handling benchmarks acceptably and providing only a skerrick of lag.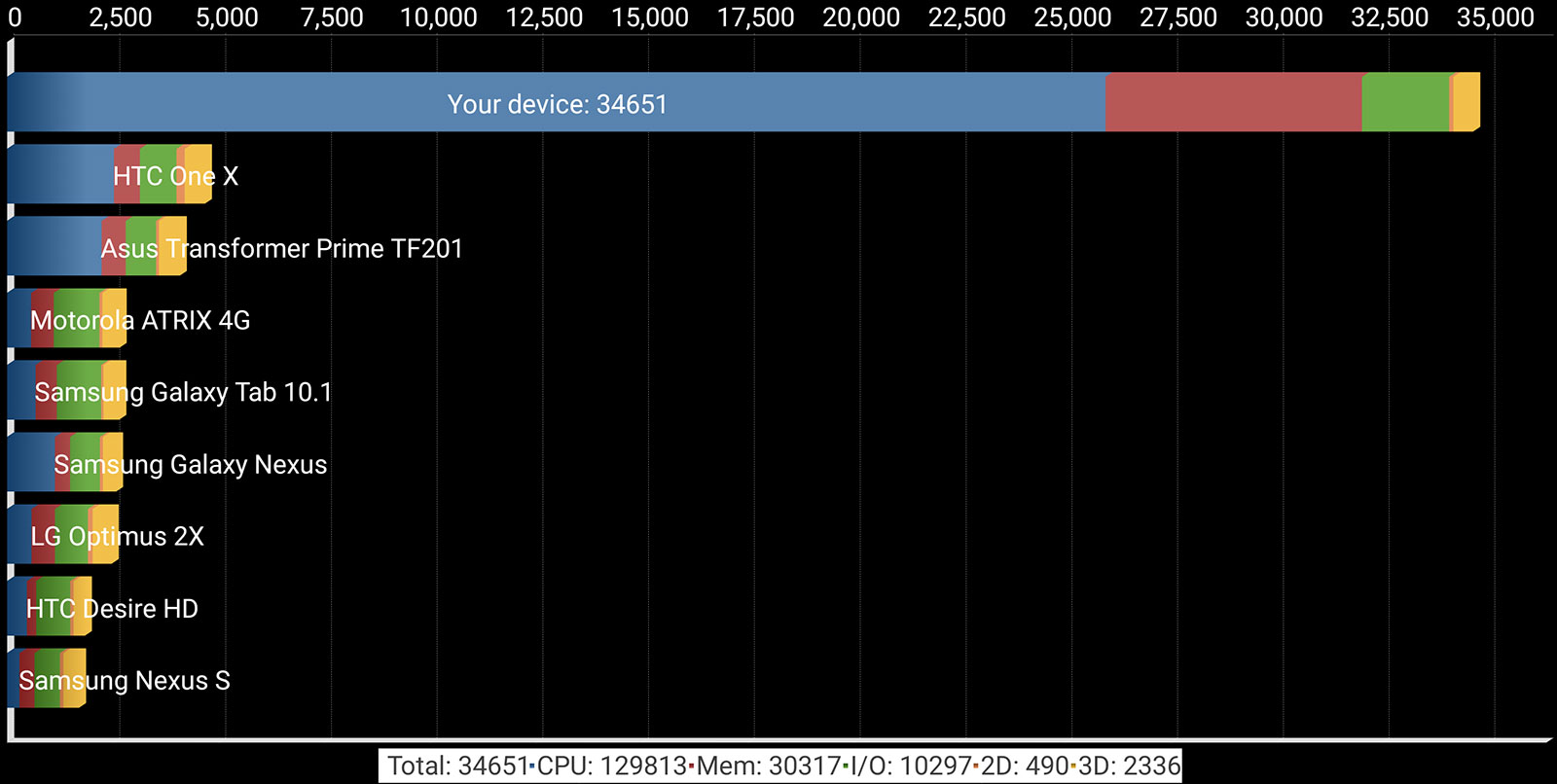 Granted, it's not the same level of high-end technology we're seeing in the new phones from this year, but the Snapdragon 821 can still make good work of apps and games, and paired with its Category 11 4G modem, it also takes on mobile download speeds nicely.
We weren't able to achieve the maximum downlink capacity of Category 11's 600Mbps in our tests, but with speed tests as high as 111Mbps in our tests on Telstra's 4GX network in Sydney's CBD, you'll find the mobile speeds are more than plenty for most of what you might plan to throw its way.
Cameras
One area that aims to impress these days is that of the camera, and just like other phones out there, LG is tackling the prospect of two cameras.
However, LG is doing things a little differently, shifting away from the logic Huawei uses with one monochromatic and one colour, and doing it closer to the way it did last year, with one wide camera and one standard focal length.
This year, you'll find that configuration, both with 13 megapixel cameras, enabling you to capture images that are a little closer to you than you might expect, with either a standard 71 degree camera with an F1.8 lens, while the wider 125 degree lens operates at F2.4.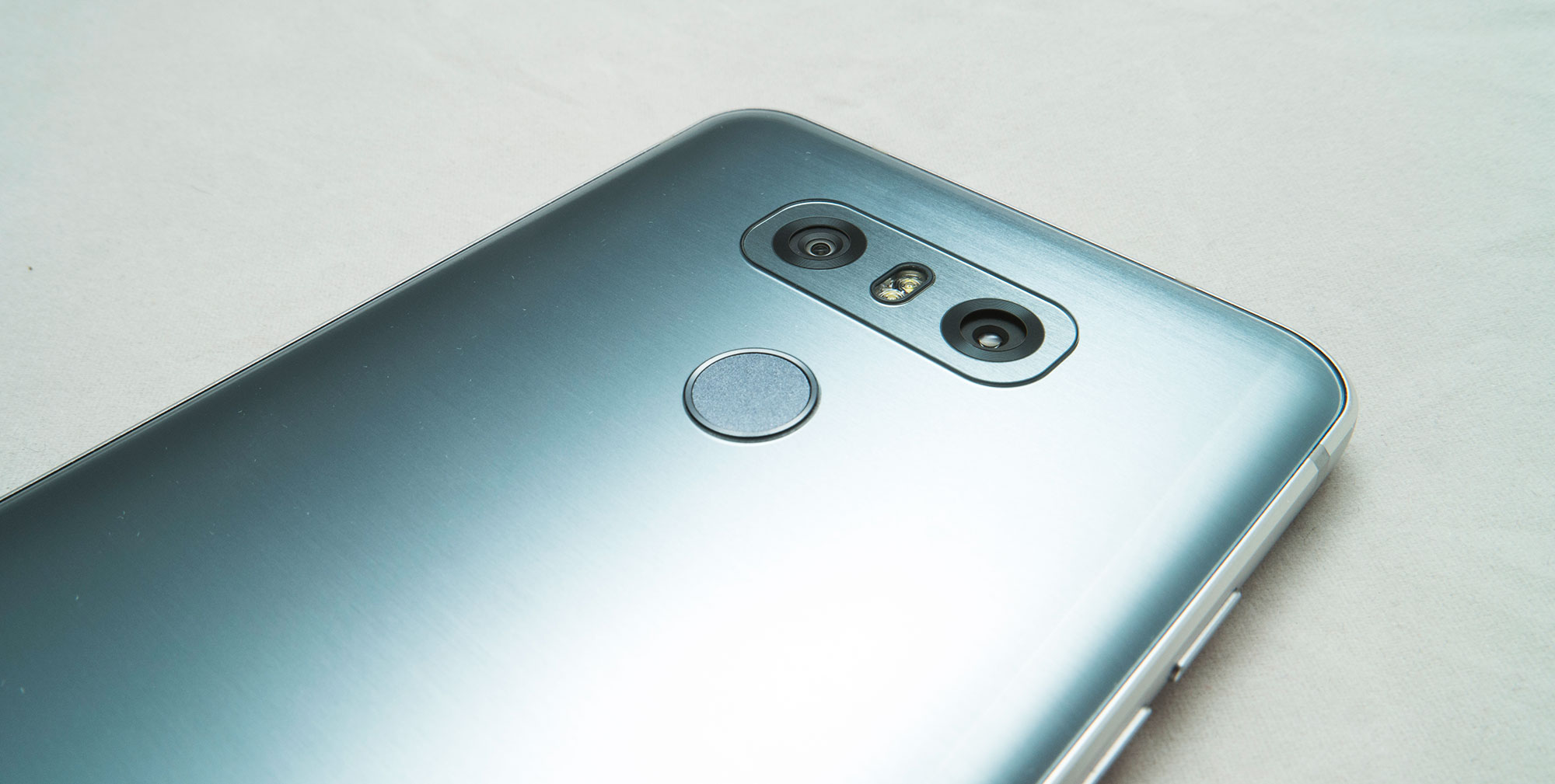 That might be a bit of jargon for you, but the idea here is that you as the photographer can shift between a standard camera and an ultra-wide camera, capturing more of the scene with the same amount of megapixels as you would on the other camera lens.
And for the most part it works, with the images in daylight offering fairly crisp colours even if the whites of a sky can blow out quite easily.
At night and in lower light, LG's camera doesn't get close to being the best for us, even though the ultra-wide camera angle is something we don't usually see, letting you get more of the frame in, even if the colour doesn't really match what it probably needs to.
Frustratingly, we did find that the up close and 100 percent image quality of the wider camera struggled to get even the level of sharpness the standard camera achieved, giving you an acceptable image, though one you may not have as much flexibility with as you might expect.
Make no mistake, there are better cameras on smartphones, but few are as wide as this, so if getting the full shot in is a constant struggle for you, this could be a winning feature.
It's also a feature that is thrown into the camera on the front, and while it only offer 5 megapixels, it's a relatively wide 5 megapixel camera that also lets you jump between wide and close, even if it does crop the frame instead of jumping to another camera entirely.
Battery
Next up is battery life, and with most smartphones these days aiming for a solid day of battery life at least, LG isn't changing things dramatically on the G6.
Tested with Bluetooth switched on and connected to a wearable and a pair of wireless earphones, you'll find a little over 24 hours is possible from the 3300mAh battery in the LG G6, putting things on about the same level as other flagship smartphones.
It's not really a tremendous score, but it's also not really a let down, and provided you keep a USB Type C cable with you, all should be fine, especially if you're a power user.
One thing we'd like to have seen is missing in action, however, with no wireless charging, meaning that USB Type C cable is all you'll have to plug in and power things up.
Value
And frustratingly, that lack of wireless charging does dent the value a little, especially when there's nothing really truly unique or outstanding about the phone.
Yes, it's a solid waterproof smartphone with a full day of battery life, a big screen, and two cameras, and all the features you might expect out of a phone these days. But it's also not really spec'd for 2017, and it lacks the pull, the drive, and the pow we expect a 2017 phone to have, especially for a price that puts it over the $1000 mark, or $1008 specifically.
There's a lot LG's G6 has going for it, but we're not exactly sure the price is it, and with a thoroughly ordinary design, the only real value the G6 offers is the fact that it is a flagship phone, even if it's one bereft of all the individuality LG used to apply to its top tier devices.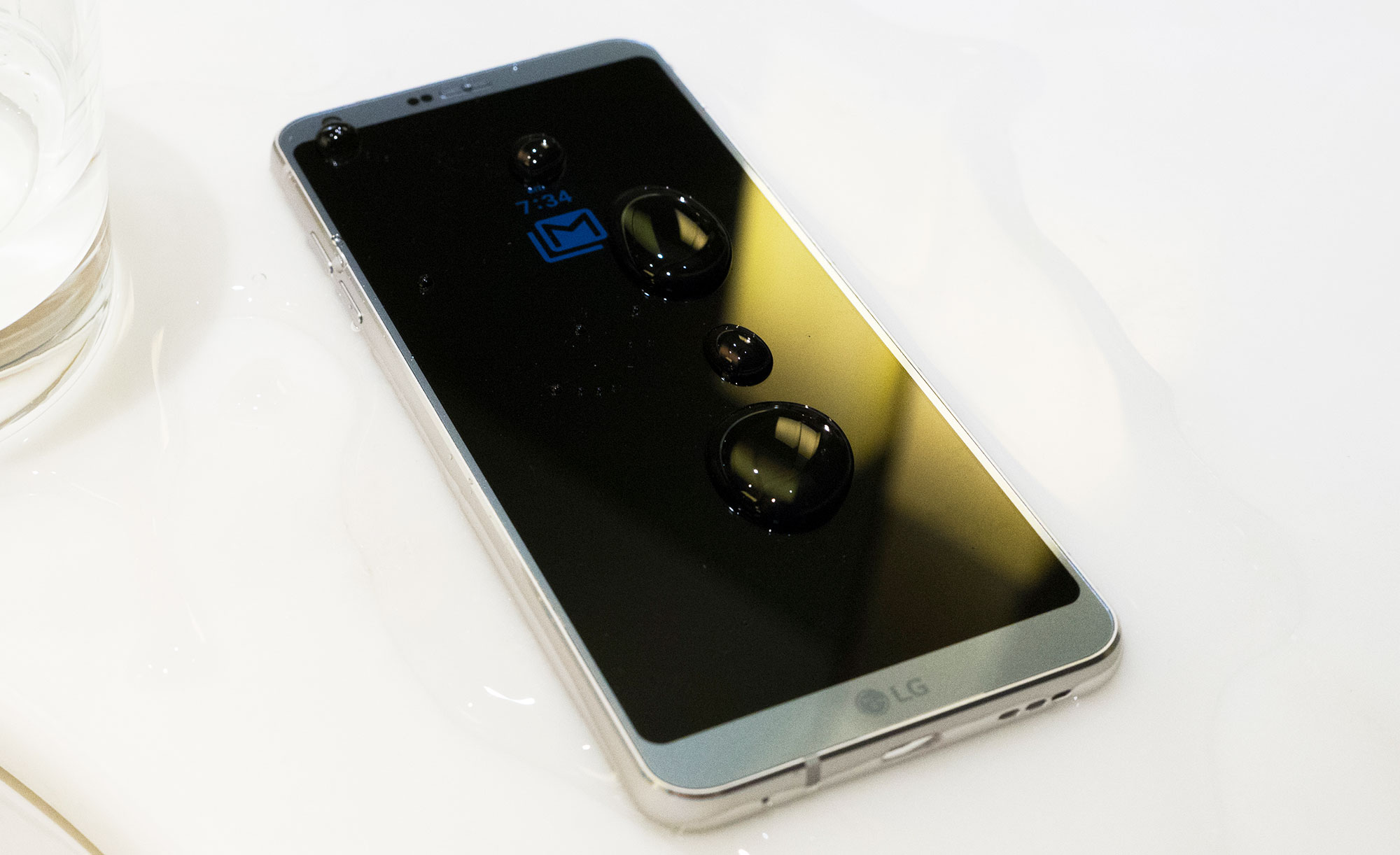 Final thoughts (TLDR)
We're not going to sugarcoat this one: Pickr's review of the G6 is late, but that's because we also received the G6 late, much later than we expected.
We'll always try and get reviews online as quickly as possible, even when other commitments of life and work get in the way, but with the G6, the product arrived for us to review particularly late, and while we'd hesitate to mention something like that normally, it's worth noting here because of how that affects the review.
Keep in mind that the G6's release and the associated reviews rocked up before the arrival of the Samsung Galaxy S8, and that is clearly the main competitor for this phone. In fact, the phone was out a good month or so before Samsung had its rival out, and while that's interesting to know, it's also a fact that would have likely affected the conclusion of the review.
Which brings us to this important point: had we reviewed the LG G6 before we got our mitts on the Samsung Galaxy S8, our opinion would have likely been a little more impressive. Had we reviewed it before we had seen the Huawei P10 and the HTC U11, our thoughts might have been higher, better, and a little more positive for a phone attempting to show that it has what it takes to bring the competition to Samsung and Apple in 2017.
But that's not the case.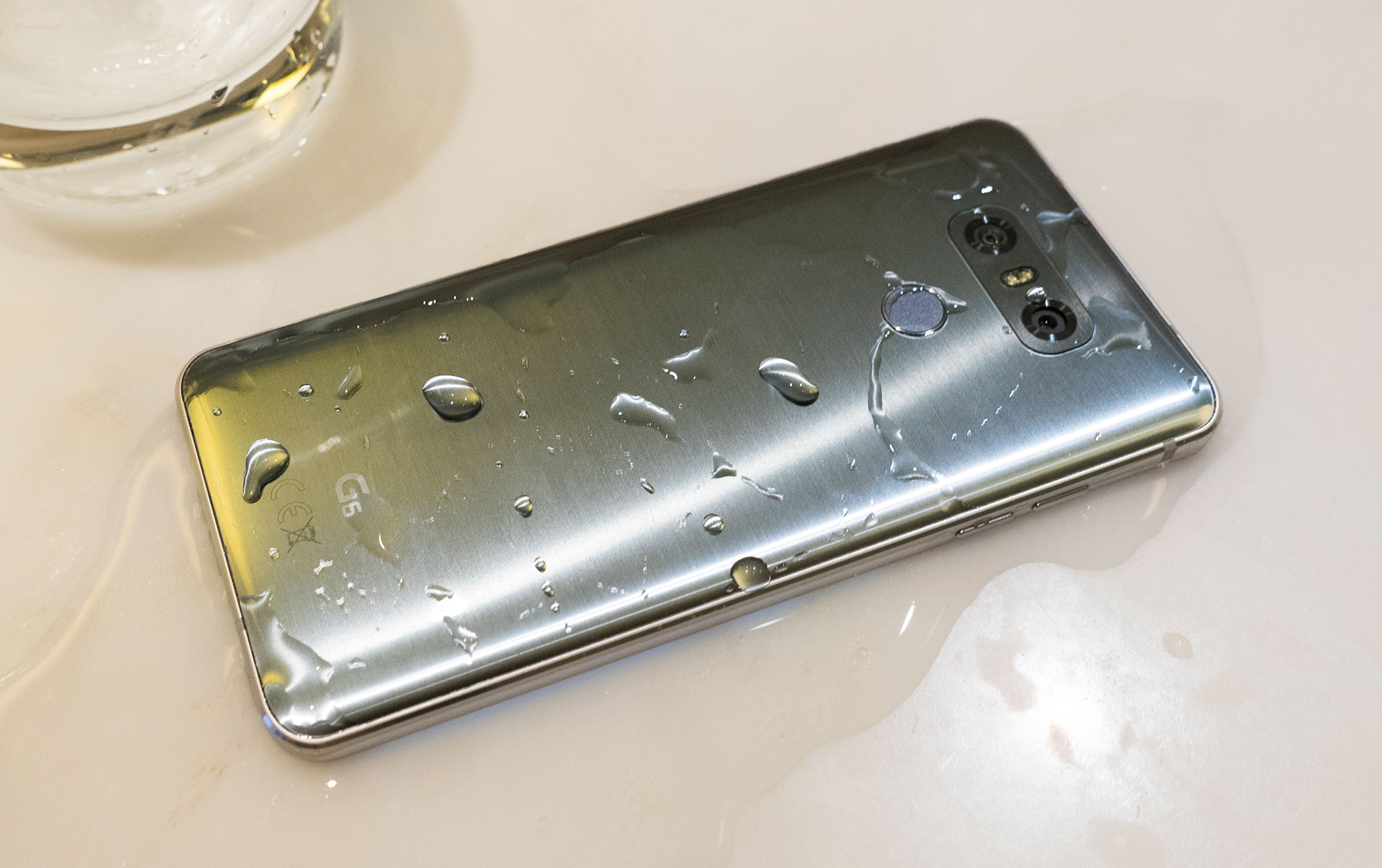 Our LG G6 review comes after the S8, after the P10, after the U11, and after the knowledge that the G6, as good as it is technically, isn't special enough to be one of the best phones of the year anymore. Before those phones turned up, maybe, but after, less so.
And that's a problem, because as good as the LG G6 is, in June of 2017 — barely two or three months after it was initially launched and released — it comes off as kind of ordinary: a good phone, but not a great phone.
If this were last year's LG, it would have been a great model for 2016, but these days it lacks that something special, and outside of a split screen for taking square photos, there's nothing with pizzazz that makes this a new special smartphone, especially in comparison to what has already arrived.
There's no grand slam amazing camera like in the HTC U11, or an ecosystem of accessories that makes use of the graphical hardware like in the S8, not like what was in the G5 with LG's now defunct "Friends of LG" range, which truthfully didn't last long.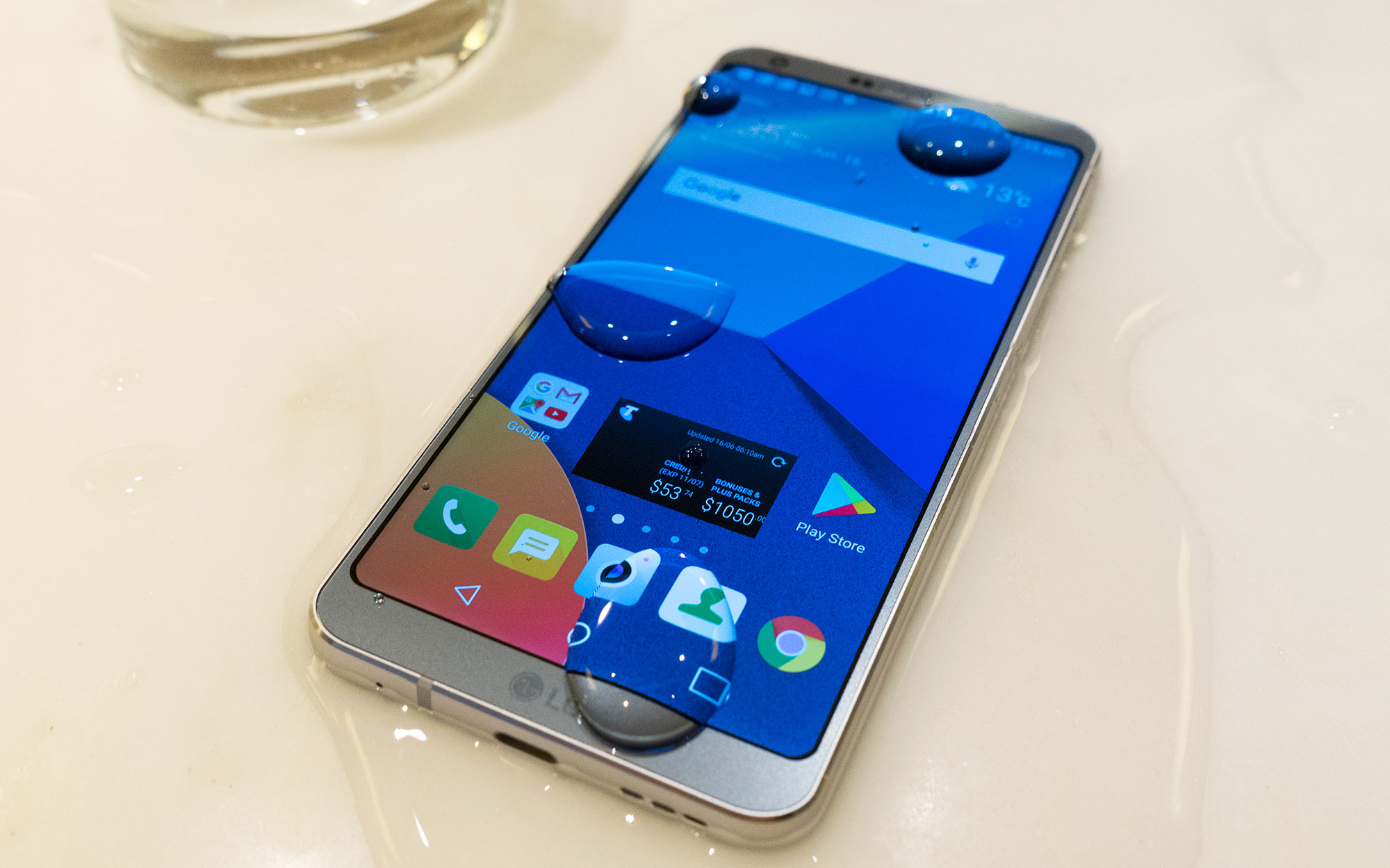 That's the problem with the G6: as good as a phone as it could be, it still comes off as merely ordinary, and a few months into the year, it feels like you could do so much better. In a way, it's like HTC's U Ultra, which ceased to be even an option worth considering the moment HTC announced the superior U11, which even came in at a lower price point.
None of this says that if you have a G6 you're not going to like your phone, but at this point of time — in the middle of 2017 — there are so many great options out there, and LG's G6, as good as it is, just isn't as flash as it might have been a few months ago.
The good
Big screen that takes up most of the phone
Fingerprint sensor is in a good position on the back
Standard but usable 24 hour battery life
Feels durable
Includes water resistance
The not-so-good
Kind of ordinary in comparison to other phones out in 2017
Lacks something to give the phone any sense of pow or pizzazz
Camera quality isn't amazing, especially in low-light
No wireless charging
Interface feels like it targets iPhone users only, with simply just the iOS way of doing things shown