The latest flagship phone from LG is both familiar and also totally unique, offering a phone that is not only fast, but also a dual-screen phone. Is the LG V50 a taste of the future?
Every year, consumers are treated to a whole heap of new phones tempting them to make the switch, to jump from whatever they own to something else. This year, those new gadgets are better than ever, sporting more features and cameras and slick designs amidst higher price tags.
Making them stand out is a big part of how companies try to convince us, and that might be with a special accessory or an amazing camera, or in LG's case, a second screen.
Yes, one of LG's big features for 2019 is a phone that arrives with a second screen, an intriguing concept and an interesting idea designed to fill that gap while we wait for a foldable phone to arrive.
LG's dual screen phone is like a foldable phone, except it's also not like one at all. It's something else, and it might be just enough of something else to grab the attention of folks looking for an upgrade.
But is there more to the LG V50 than just a dual screen accessory, and is that part even worth the upgrade at all?
Design
LG has been working on its G series for quite some time, and the V series for a little less, building the larger phone style out of what was once the Optimus G. Folks old enough to remember the Optimus might remember a glass body built to be slick, and when you pick up the LG V50, you quickly see the resemblance.
While the design has changed a little over time, the LG V50 5G ThinQ adopts a similar approach to the 2012 Optimus G, with a glass front, glass back, though with the camera flush against the body, something a little different from phones these days.
The look of this mostly glass phone is definitely slick and schmick, even if the full glass body is a little played out and used by nearly every manufacturer.
There's a 6.4 inch screen, meaning the LG V50 is by no means a small phone, and isn't a small block of glass and electronics either, measuring 8.3mm and weighing 183 grams, complete with three pins on the back to provide a connection for the dual screen accessory, which not only adds an extra screen, but more thickness and weight, too.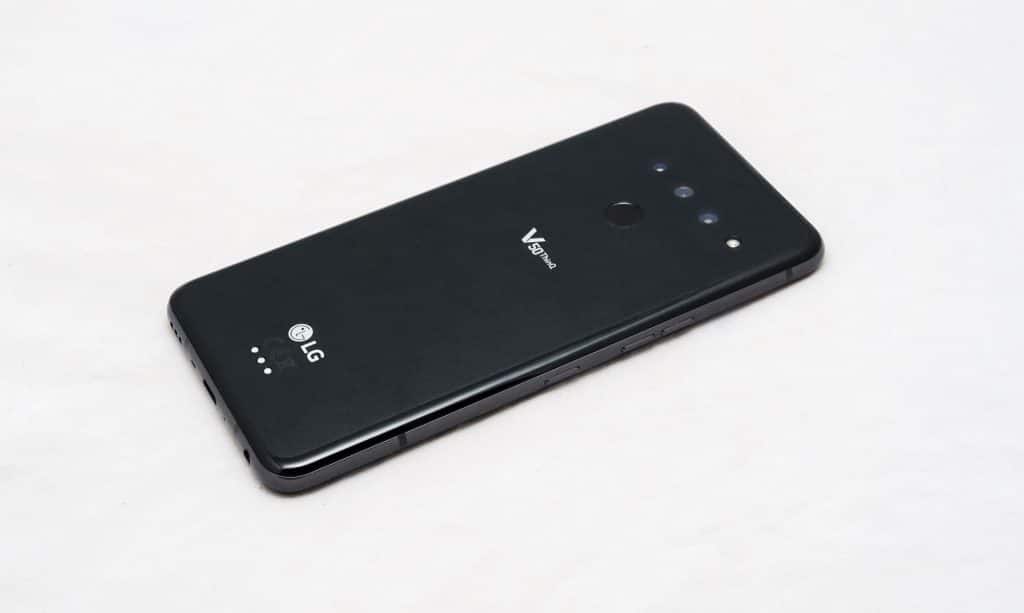 Features
Underneath that slick 8.3mm glass body of the phone is a set of specs a designed to put LG's 5G V50 at the top of the class, offering hardware built to impress.
You'll find the eight-core Qualcomm Snapdragon 855 processor here, paired with 6GB RAM and 128GB storage, as well as Google Android 9.0, also known as "Pie". If 128GB doesn't seem like enough, the V50 also has a microSD slot in the design, meaning you can expand it.
Cameras are also offered here, with two on the front and three on the back. Along the front, you'll find an 8 megapixel F1.9 and a 5 megapixel F2.2, while the back goes with a 16 megapixel wide F1.9, a 12 megapixel standard set to F1.5, and a 12 megapixel 2X telephoto set to F2.4. These cameras are all flush with the body, meaning no bumps for the camera extrusion, and no extrusion at all.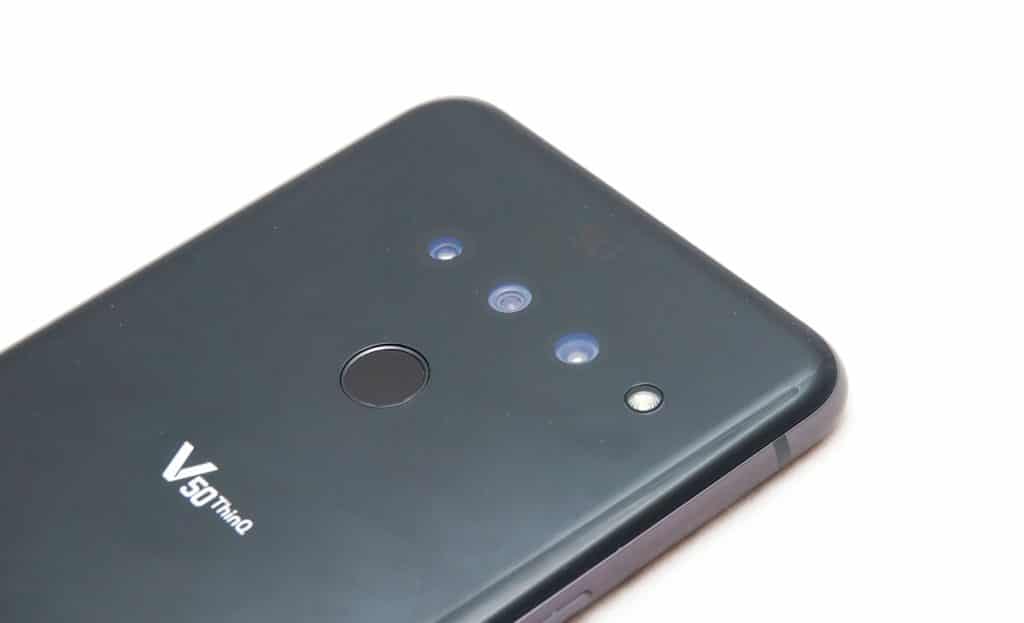 Connections aim to be solid, though, with 4G, 5G, Bluetooth 5, GPS, Near-Field Communication (NFC), and 802.11a/b/g/n/ac WiFi. You'll even find two hardware ports here, with Type C USB as well as a 3.5mm headset jack, plus a Quad HiFi Digital-to-Analogue Converter (DAC) for wired audio headsets.
A fingerprint scanner is built into the back, while a facial scanner is part of the front camera's capabilities, and this all sits in a body that is IP68 water resistant, weighing 183 grams. There are even three buttons, similar to what Samsung tried in the Galaxy phones, with power on the right, volume on the left, and a Google Assistant button just beneath it. No Bixby here, folks.
A 6.4 inch Quad HD+ screen makes up the rest of the LG 5G V50, with this offering a pixel clarity of 538 pixels per inch (ppi).
The battery in the LG V50 is rated at 4000mAh and is not removable, though can be charged wirelessly.
In-use
With the features out of the way, let's get stuck into usability. To LG's credit, that has been made fairly easy, thanks in part to the V50 using a relatively easy to work with version of Android 9.0 "Pie".
You won't see Android like it is as part of the Android One program, meaning it's not quite the version of Android seen on the Pixel.
Instead it's the mostly clean take on Android LG is known for, but with an option for either LG's take on what your feed should look like, or alternatively the Google Discovery feed on the left most screen. It's your choice, with LG letting you customise, something that has become par for the course with LG phones.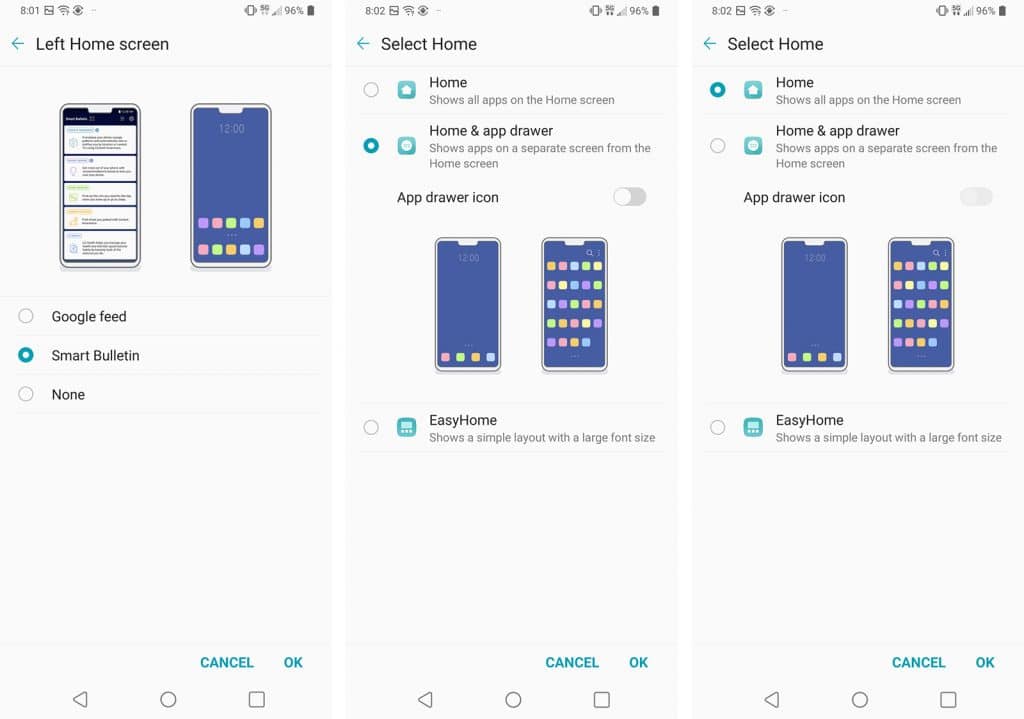 Using Android, you don't really have to think about this, and you'll find your regular assortment of widgetised homescreens, an app menu, and a dropdown notification bar. Nothing here pretends to be iOS, and is more like LG's take on the way Android should look.
It's not exactly the way Google does it, but it's not hard to get used to, either.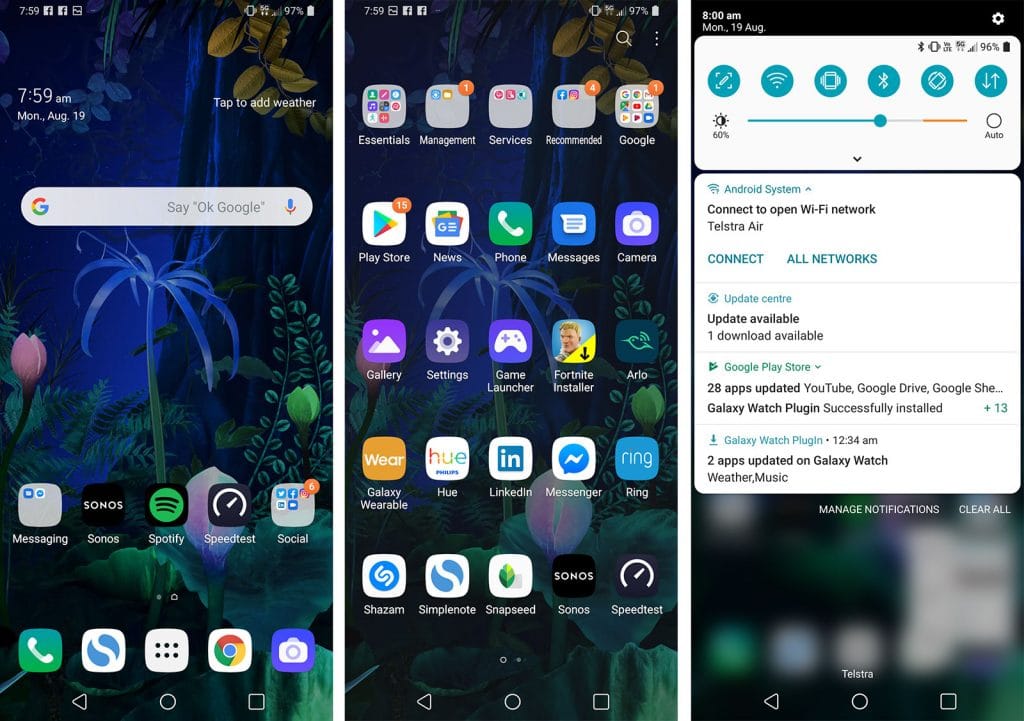 Performance
Armed with the eight-core Qualcomm Snapdragon 855 and 6GB RAM, those minor changes help the LG V50 to perform well, with pretty much zero lag or slowdowns in most parts of the phone.
Run an app and it's good to go, and with the exception of the camera which can be slow to fire, the LG V50 is fast where it needs to be in system performance.
The LG V50 is also a 5G phone, and when you're on a 5G network in the right place, the mobile performance can be impressive, too.
We're still not at the point where 5G is at the blistering speeds we've been promised, but our tests achieved speeds around the 800Mbps mark on the Telstra 5G network in Sydney with the LG V50 5G, making it not exactly slow.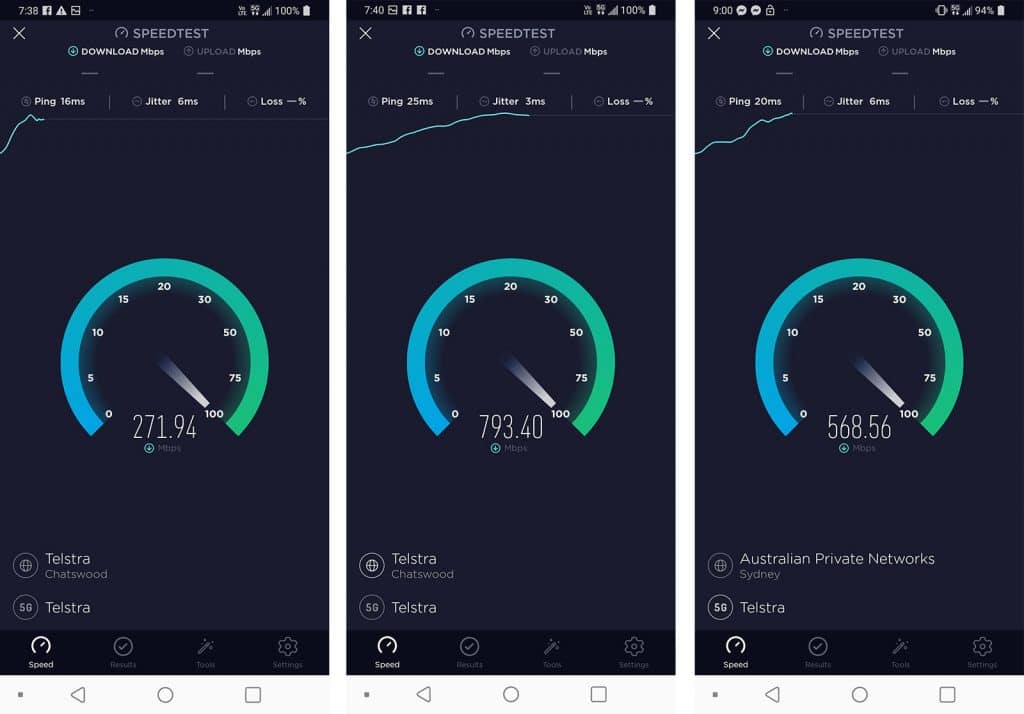 Camera
Alongside capable performance, you'll also find a capable camera. That's hardly surprising given the LG V50 is a flagship phone, though it's one sporting three cameras on the back, and for a nice change, they're even flush with the body. How often does that happen? Not very, we can tell you that.
Overall performance is decent and definitely what you can expect from a 2019 flagship, though it's clear the LG V50's camera setup can't quite match the benchmark smartphone camera of the year, the Huawei P30 Pro.
While you get wide, standard, and 2X telephoto, your low-light with no light is usable but not fantastic, or at least not as fantastic as what we've seen prior. That means daylight works a treat, as does night time, but we're not going to say it's the best image quality from a camera thus far.
To LG's credit, the V50 triple array handles most shots well, and there's even some AI there with some neat features, such a cinematic style of photography that lets you paint in where video should be in an image.
However the V50 camera doesn't stand out in any meaningful way, missing the low light quality of something like either the Pixel 3 or Pixel 3a models, and falling short of the crazy black magic Huawei's P30 Pro achieves.
The front-facing camera is actually two, and means you can go from a standard view to something wider, making it similar to the Google Pixel 3 XL, and a handy way to capture a little more of yourself and friends.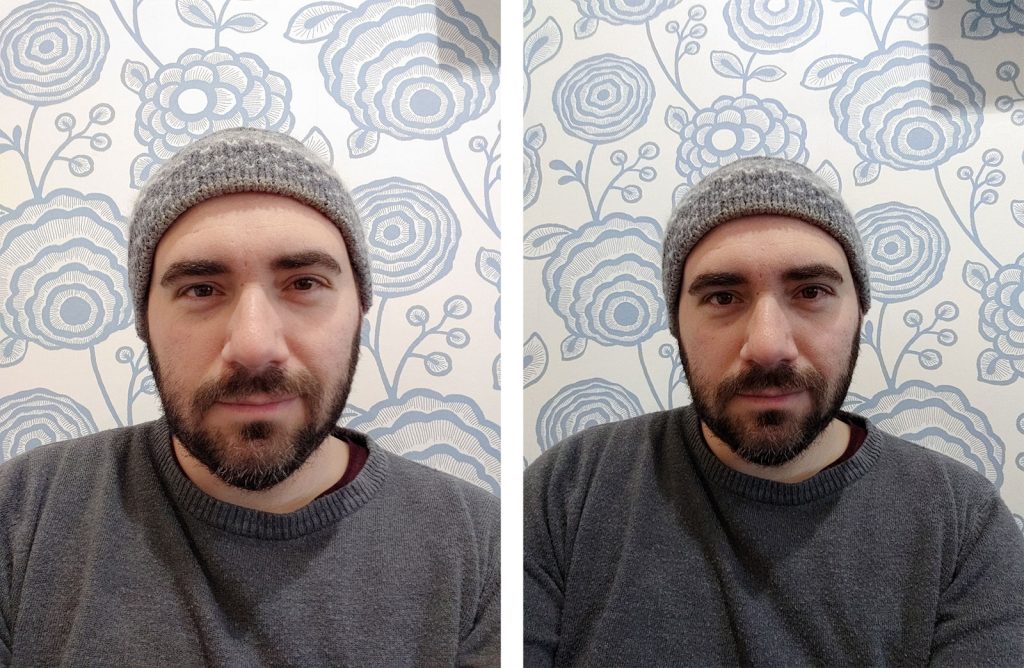 Battery
As a phone — and only as a phone without the Dual Screen accessory, more on that momentarily — the battery life on the LG V50 ThinQ isn't terrible, but it's not the best you'll find in the flagship phone world.
To LG's credit, we found better battery life on the V50 than on the Galaxy S10+, but that's about the only place the LG feels better than Samsung's big S10.
You can probably expect a full day of life here, and we managed to squeeze a little more out of the LG V50, with closer to 34 hours, or roughly a day and a half. We'd suggest recharging the V50 nightly, which isn't too unusual for a flagship, even one hitting as high a price as this.

Value
But the value is hard to account for, because at $1728, the LG V50 is by no means a cheap phone.
Your specs are acceptable, but not great value for a phone carrying this high a tag, as the 128GB storage and 6GB RAM feels like it should sit closer to the $1000 mark, not this close to $2000. At that price, you do get an extra screen by way of an accessory, but if that's the cause of the price hike, we'd want our money back.
The dual screen accessory
This dual screen accessory really is something else. Unfortunately, it's something else that doesn't add to the LG V50 experience in any meaningful way.
We get the idea, at least in theory, which is based on the foldable phone, or the hype for the foldable phone, anyway. The year 2019 was supposed to be the year of the foldable phone, but that hasn't quite panned out successfully. When foldable phones do properly arrive, they will likely be very expensive.
Ahead of that reality, the LG V50 presents an alternative approach that is a little more affordable in the grand scheme of things, tackling foldable phones with a dual-screened LG V50 connected by a hinge.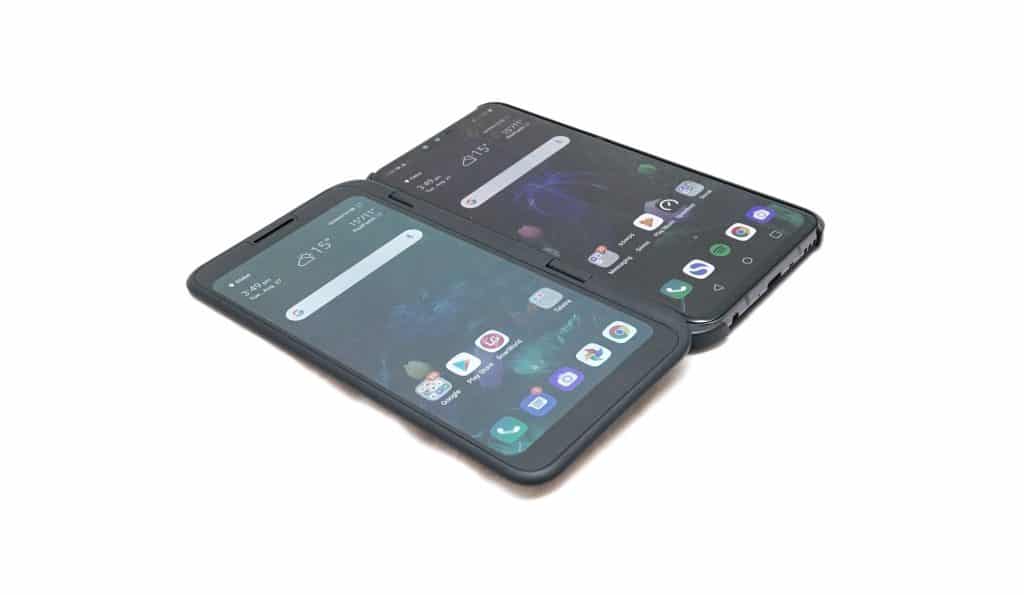 It's not technically a dual-screen LG V50, though. It's the LG V50 in a case that has an extra screen attached, using a set of pins on the back of the V50 to connect up a second screen for the V50, and only the V50.
In theory, you could use it to play games, with one screen working as controls and the other as the game screen, almost like a Nintendo DS, except not quite. That theory could extend to apps where you could turn one screen into a big keyboard with the other acting as the app, or even create dual-screened apps.
Unfortunately, this is all just "in theory", and the problem with the LG V50 Dual Screen accessory is that it doesn't feel like it was thought out properly. The apps that support dual screen functionality in this manner just don't exist, and when you run an app on the LG V50 5G Dual Screen, you're very likely running it as two distinct apps on each side of the screen.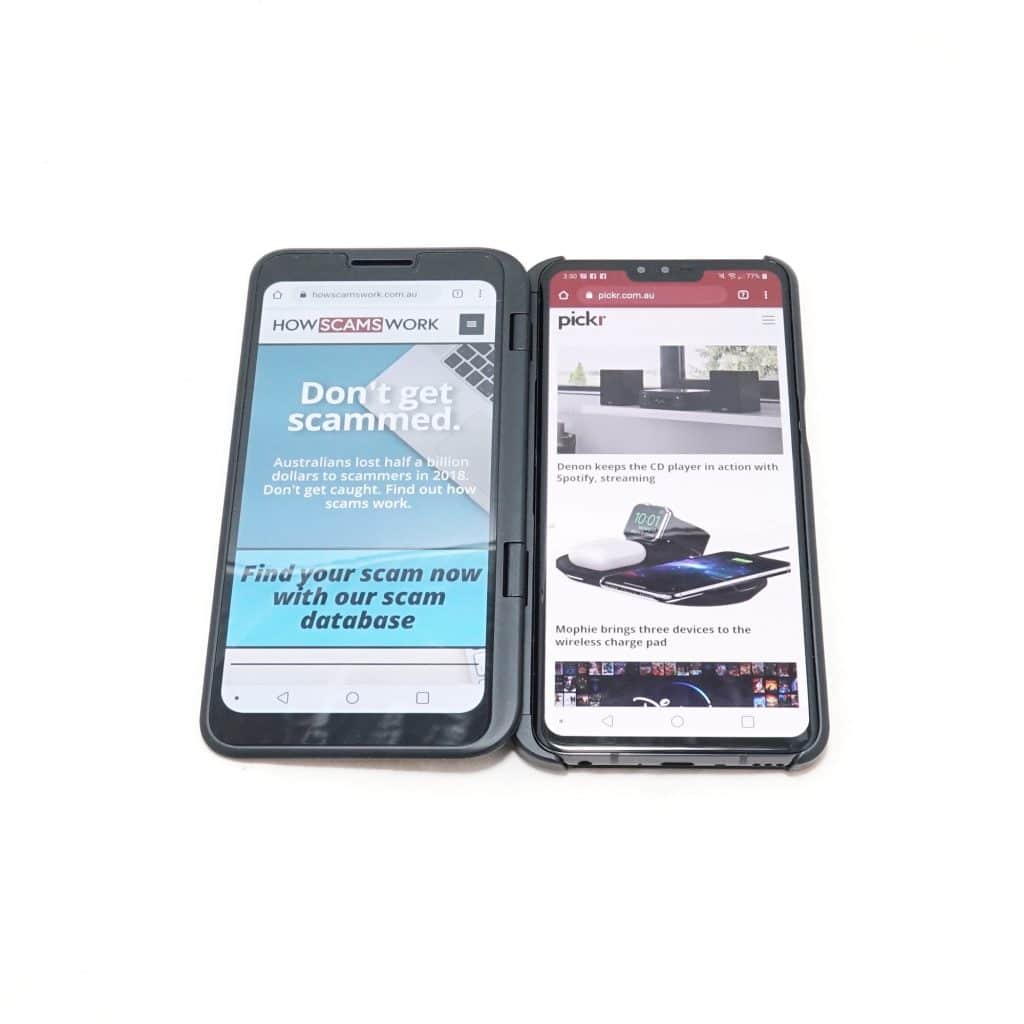 The whole thing is awkward, and comes off as more of a reaction to foldables, as if LG saw the Samsung Galaxy Fold and came to the realisation that it could beat its rival to the punch with something similar in an upcoming phone.
Yet that's not what this is. The LG V50 and its Dual Screen gadget aren't a replacement for a foldable phone. They're not even close, and come across as unfinished engineering, an idea that executes a neat concept without thinking about all of the software that it would need to get there.
It's a shame too, because this could have worked. The idea of a secondary screen hinged to the main phone could have resulted in something tangible and usable. LG could have sent any on-screen keyboard to one side and let you type on one large keyboard seeing the results on the other phone. It would have been almost like a Nintendo DS for writing and productivity. Instead, it's two screens sitting side by side, with over main one being used and the other, well, not.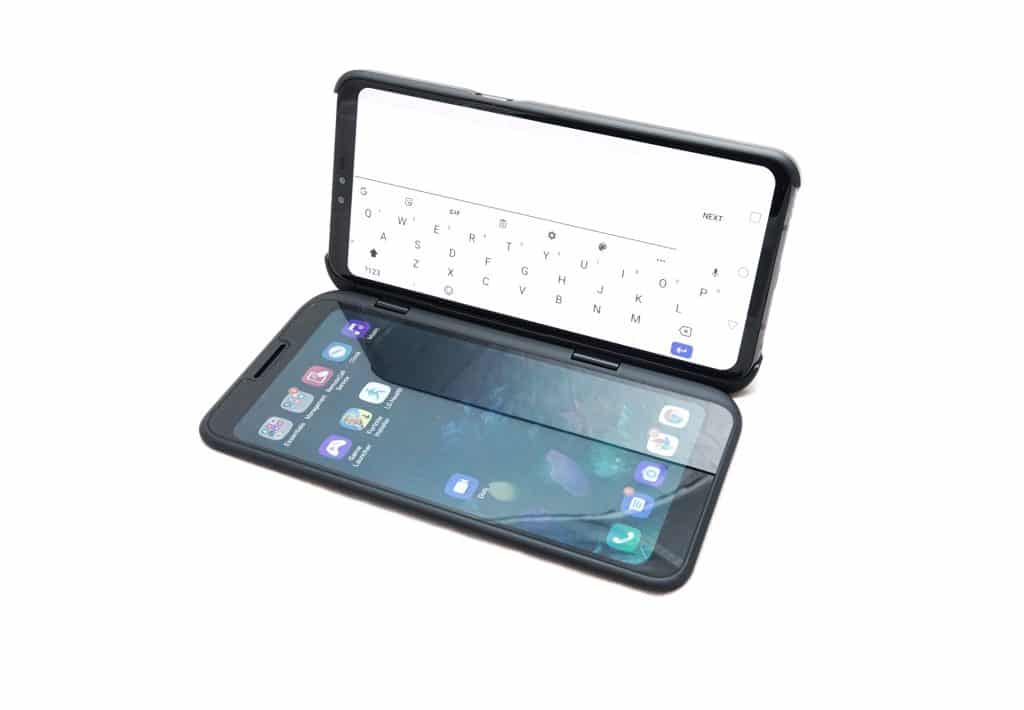 It's weird, awkward, unwieldy, and cumbersome, and it even makes the typing experience more difficult overall. You might be used to gripping a phone with both hands and typing with your thumbs, or holding the phone with one and swiping frantically to gesture type. In either situation, the LG V50 Dual Screen accessory is highly unaccommodating, forcing you to adjust your hold, desperately trying to find the right grip, which you never really do.
The right grip is to take the LG V50 out of the Dual Screen accessory and use the phone however you best feel comfortable. By itself, ditching the second screen altogether.
Frankly, the dual screen accessory makes the LG V50 harder to use, and that's before you even talk about what it does to battery life, cutting it to roughly a quarter of what you can get. We found closer to eight hours before the phone ran out of charge in that case, in that thick and heavy case, weighing down your pocket when you're not using it.
All of this just kills the need for the Dual Screen accessory, which affects the price. At $1728, you're not just paying for a 5G phone, you're paying for a part you'll never use. And that's a real shame, because the LG V50 isn't a bad phone, but the Dual Screen accessory is just absolutely forgettable.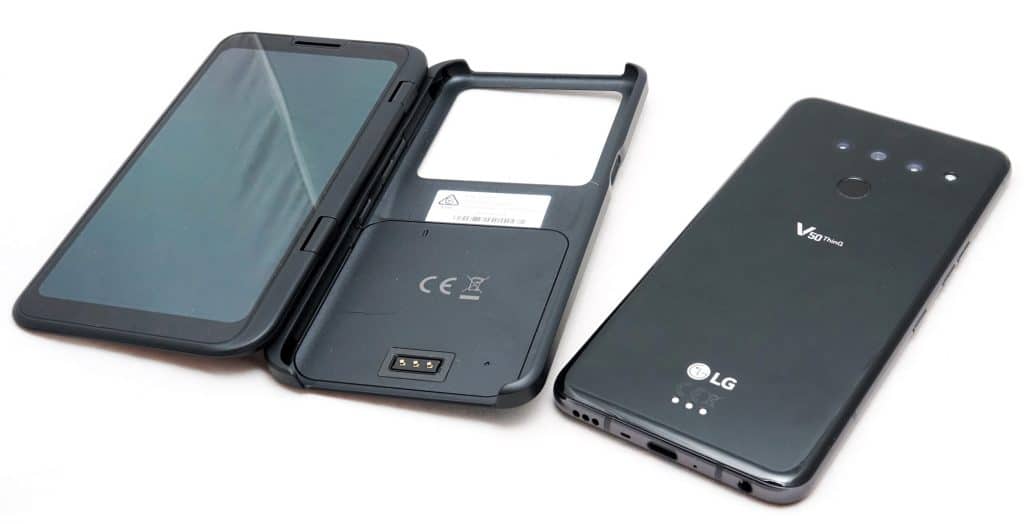 What needs work?
Beyond that Dual Screen accessory, the part of the LG V50 we'd probably improve most is the camera. It's good, but not amazing, especially in 2019, and it can be a little slow.
Even though you get a wide, a standard, and a long lens, the LG V50 camera is by no means as special as what's in the Huawei P30 Pro, or even in last year's Pixel 3 XL or this year's Pixel 3a. Huawei and Google seem to have our benchmarks at the moment, and both are faster to fire.
You'll find the LG V50 just isn't ready for either the on-screen shutter press or the volume key when you need it, which can result in photos that were triggered a half second or full second behind when you triggered them.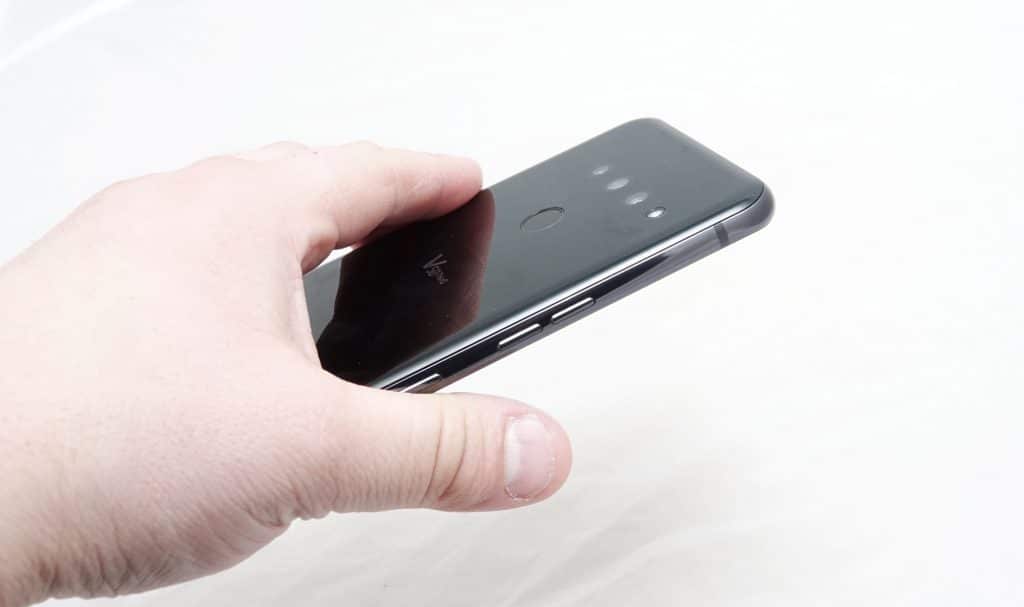 One other major point with the V50 is design, because this is a super slippery handset.
While LG has produced one of its slickest mobiles in recent years, complete without any camera bumps or extrusions, the phone itself is super shiny and slick, so much that it slides right off surfaces even when nothing is happening. We left the V50 on a coffee table doing nothing, with no notifications occurring, and it still managed to slip off moments later, hitting the ground with such a heavy thud that surprised this reviewer.
It didn't break, which is good, but that's not the point. The phone's lack of resistance to surfaces presents itself rather awkwardly, particularly when you hear it fall to the ground, which means it might be too slippery.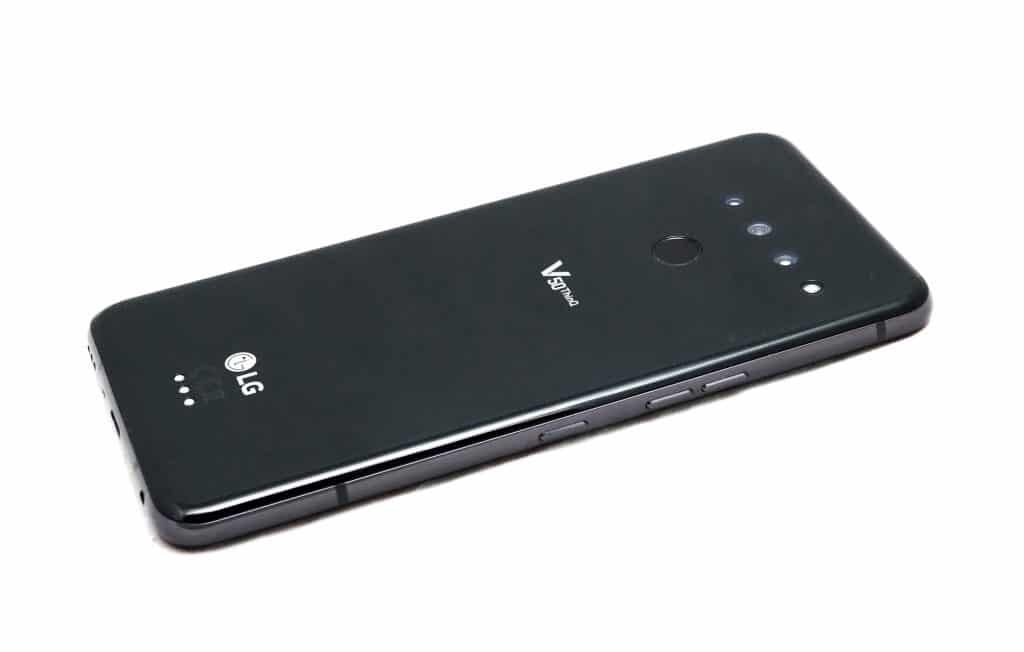 Final thoughts (TLDR)
While the LG V50 is a good phone, it can come across as rather ordinary in terms of how flagship phones are typically rated.
The phone itself is nice to hold, the battery life is definitely capable, and the camera is acceptable, but little about the LG V50 is truly remarkable. In fact, outside of the 5G capability, the LG V50 is otherwise ordinary.
It is, however, expensive, thanks in part to it being 5G — something that won't likely make that much of a difference — and because of the dual screen accessory, one of the only features that helps to make the V50 stand out.
Yet therein lies the problem: it is incredibly hard to justify an expensive phone based solely on an accessory you're not likely to use that doesn't add anything, or adds very little, beyond that of weight and thickness. The dual screen accessory for the LG V50 is one of the weaker parts of the V50 package, and really only serves LG as a way of saying "we were in this category first".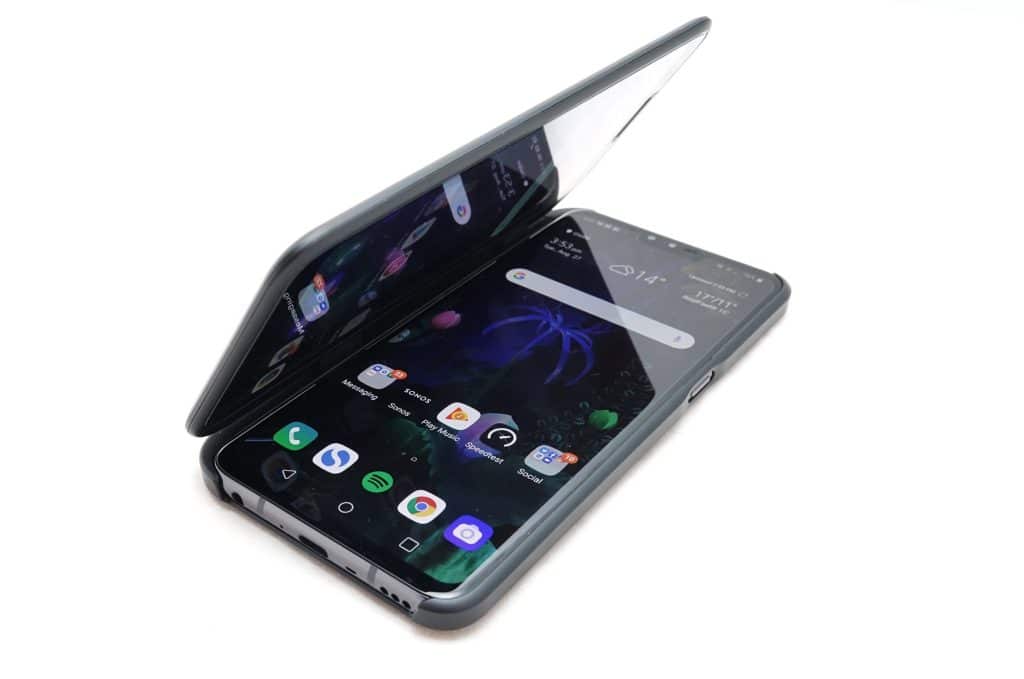 We would be genuinely surprised if someone found a use for the V50 Dual Screen in a way that was meaningful, beyond the logic of "it came with it, so I may well use it". Being free does not mean something is good, and that's kind of the problem here: the LG V50 Dual Screen accessory is free, but it's hardly good.
If anything, the Dual Screen component hurts the overall value, hitting close to the $2000 mark with an accessory that doesn't really help the phone or the person using it. Quite the contrary, in fact.
Perhaps if LG dropped the price and removed that Dual Screen, or just dropped the price entirely, the LG V50 5G ThinQ would be a great choice in this year's assortment. Right now, it's an interesting idea let down by overall value.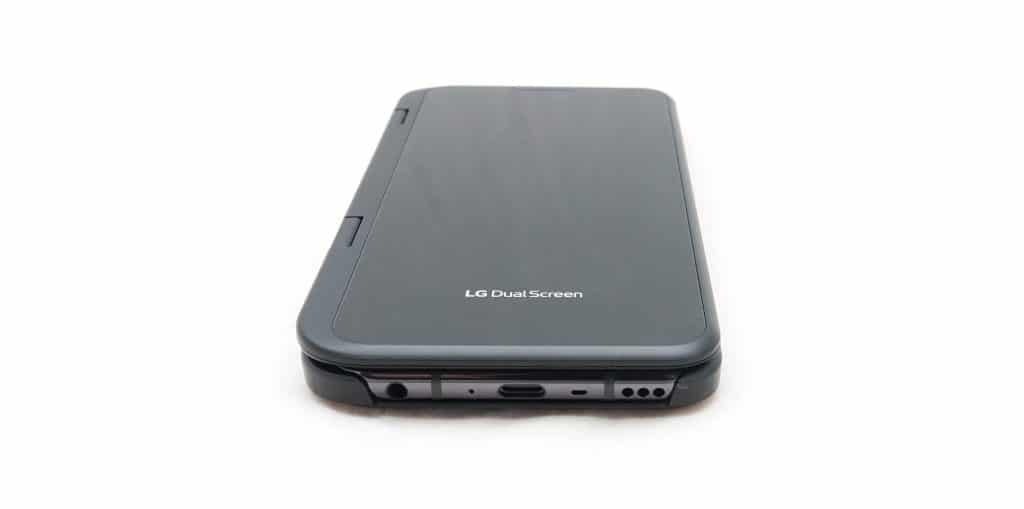 The good
By itself, the V50 feels nice in the hands
Cameras flush with the phone back
Decent performance
Water resistant
Better battery than some other flagships when used as only the phone
Offers a Dual Screen case in Australia, arriving with the phone
The not-so-good
Super slippery
Camera could be better
Very expensive
Dual Screen accessory is a disaster
Thicker and heavier than practically anything else with Dual Screen
Battery when using Dual Screen is woeful