Laptop keyboards can be hit and miss, which is one of the reasons reviews matter so much, but a new take aims to improve where it matters, making every keystroke count.
Depending on the laptop in your life, it's possible you're missing a keystroke every so often. If you are and you know, you might be regretting it, wondering if laptop keyboards have always been like this.
The original keyboard of Apple's laptops before the butterfly mechanism arrived in the thin MacBooks including the MacBook Air and MacBook Pro, Apple had one of the best out there, matching rivals such as Lenovo's ThinkPad range, Microsoft's Surface Book, and Dell's XPS. Now that we're on the butterfly mechanism, it can be a little less reliable, and may even mean you have to get it repaired a little earlier than you may expect.
Dell's recent approach has been to use magnetic levitation to keep its keyboards thinner yet still hold the keys in place, something that came out of left-field when it was announced last year, and we're sure it's not the only new technology looking to grace keyboards.
In fact, Razer has been dabbling with one, building something a little bit different for its take on laptops, and it has to do with light.
It's called an optical keyboard, and it's one that uses an small beam of infrared light to pick up on where the key has been pressed.
The keys still use a mechanical click action to provide tactile feedback, but rather than push down on a button to fire off the key, Razer's optical switch uses light to fire off the signal, helping to complete the action of when you press a key, the computer knows you've pressed that key.
Being a Razer keyboard, it still comes with colourful RGB lighting, offering up to 16.8 million colours to run through the keys that can play nicely with things like Philips Hue lighting, as well.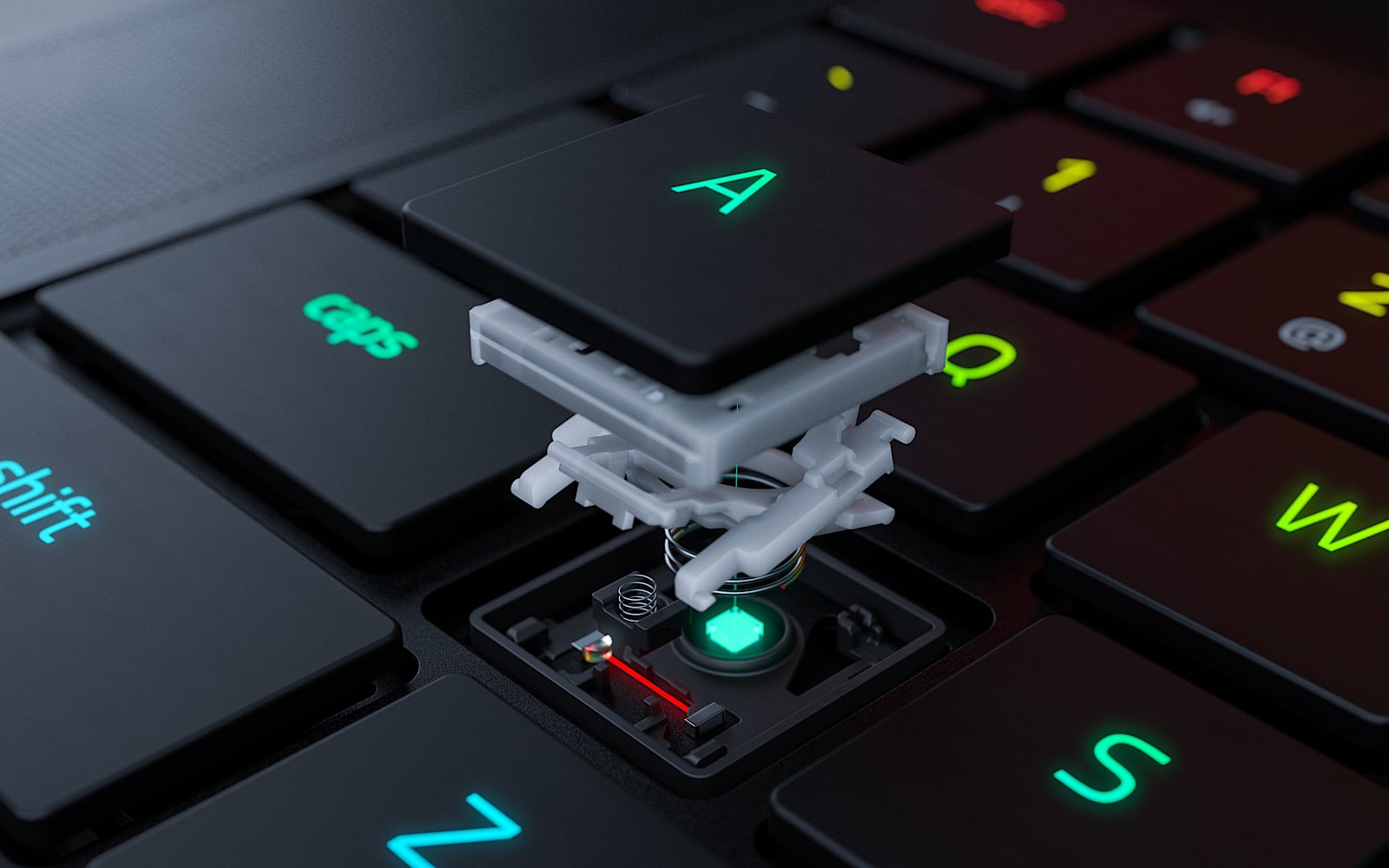 However the focus here is on interaction, and very fast key pressing, something gamers can be very much reliant on, though anyone with a laptop that has ever had a failed keyboard can appreciate, too.
Outside of the new optical keyboard, the Razer Blade 15 that gets this addition will be the "Razer Blade 15 Advanced", and features some pretty high-end specs, seeing 16GB RAM, 512GB solid-state storage, Nvidia's, GeForce RTX 2070 graphics chip, and the Intel 9th generation Core i7-9750 six-core chip. The Blade 15 is still a 15.6 inch laptop, and one that features a Full HD screen, though it's a Full HD screen running at 240Hz, a fast refresh rate built for games.
It's only available in US dollars at the moment, hitting the Razer website for $2649 USD, though Razer's AU presence should get it soon, too. Don't expect the optical keyboard to only be in this model, either, with Razer suggesting more laptops should see the keyboard technology from next year onwards.