Looking for a phone that won't break the bank like so many others? The latest from Motorola hits a price of $499 and packs a massive camera, too.
There's a lot of focus on high-end phones, but the mid-range is just as important. Phones that cost less are ideal for people who don't want to spend as much as people happy to spend top dollar, and that's resulting in some very interesting offerings.
Earlier this year, Google revealed the Pixel 3a, what is clearly one of the year's best mid-range phone so far, and now Motorola looks keen to take on Google's offering with something else.
Launching this week, Motorola has a new phone offering a tall 6.3 inch 21:9 display with a punch-hole camera not so dissimilar from the style Samsung is using on its top-tier Galaxy S10 phones.

Called the Motorola One Vision, the phone itself is encased in glass and comes across as premium, yet carries a decidedly mid-range price.
Sitting at $499, the Motorola One Vision is clearly not a high-end model, but is packing some interesting specifications that could be seen as high-end.
There's a big 48 megapixel camera on the back paired with a 5 megapixel camera for portrait images, while the front camera is a 25 megapixel camera. Motorola's focus on the back camera is a little different from what you might expect in the mid-range, with the 48 megapixel camera downsampling to 12 megapixel images, effectively providing what's called a "quad pixel" camera to provide four times the data for one image.
Motorola has also equipped the One Vision camera with support for AI, helping it to improve the quality of the shots compared to the standard camera.
But one of the main reasons for the Motorola One Vision to be released is that it includes Android One, the stock version of Android that arrives on the Google Pixel phones, as well. Motorola has included some of its own touches, too, something Motorola has worked with Google on, meaning you'll get features like shaking the phone to turn the torch on and twisting the phone to throw it into camera mode.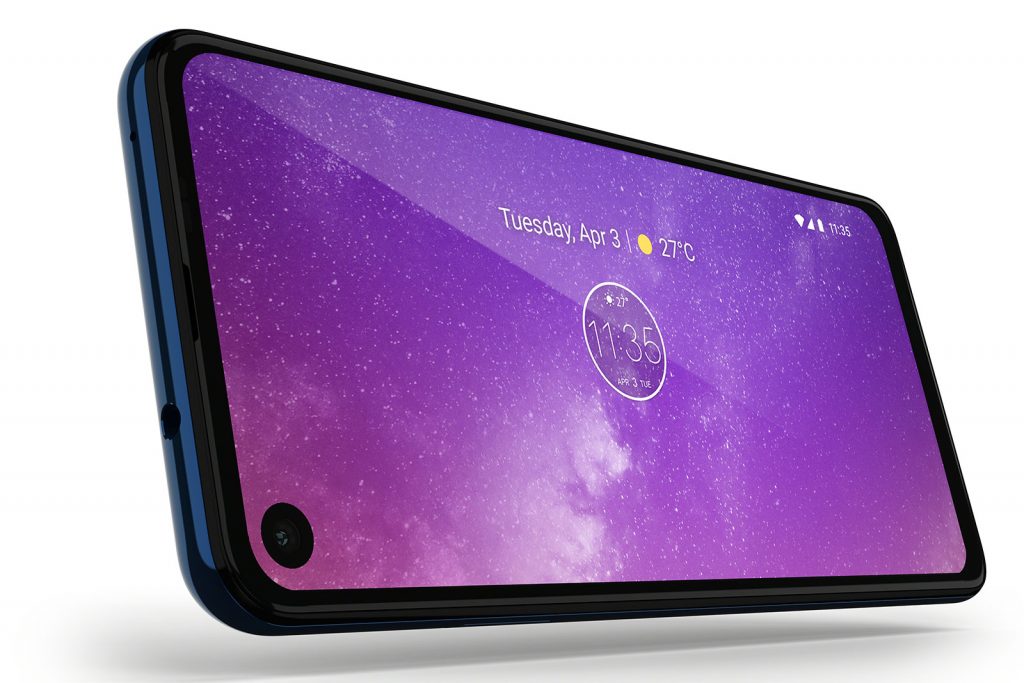 Interestingly, Android One on a Motorola phone is very similar to Android on any other Motorola phone. However the Motorola One Vision does come with a stamp on the back verifying it as an Android One phone, as well as certifying it to have three years of ongoing security updates as included in the Android One program.
That means it will get updates for the next few years, at least for security, with major updates for Android also included for some time, as well.
"We are excited to continue Motorola's legacy of delivering meaningful products alongside the latest smartphone innovations with the launch of the highly anticipated Motorola One Vision in Australia," said Motorola's Danny Adamopoulos.
"The device delivers a best-in-class night-time photography and superior viewing experience with Motorola's unique night vision imaging technology at an unbeatable price point for consumers," he said.
At $499, it's pretty clear that Motorola is going for what is properly the mid-range with this One Vision, and including 128GB of storage and a standard version of Android could sweeten the deal.
However, like other mid-range phones, what you won't get is wireless charging or true water resistance. Motorola has included support for IP52 water resistance, which is more or less sweat resistant, but we wouldn't take the Motorola One Vision into much water, as IP52 isn't really "waterproof" at all.
If that doesn't bother you much, you'll find the Motorola One Vision in JB HiFi stores shortly and on the Motorola Australia website for $499.