Thinking of starting the next big podcast or YouTube channel? You might want to look into a mic, and the latest from Blue is packing tech aplenty.
If you're thinking of maybe using your voice for some good and singing, streaming, or just starting a podcast, you'll want to look beyond your laptop's microphone. The on-board microphone is good enough for video conferencing, but when it comes to clarity, you generally need to look at something else.
Microphone makers in the instrument and sound world have been around for the longest time, and many of these have been adapting their wares for computers, too.
Take Australian audio manufacturer Rode, which produces computer-friendly USB microphones alongside its music studio-focused microphones made to work with big plugs that amplifiers and mixers rely on. You can still use these on a home computer, but you need a different type of sound card to make it happen, and possibly some expertise balancing sound, as well.
USB microphones make it possible to bring a big microphone to a computer, and help people who plan to record plug in and get going. There's still some learnings that need to be applied, but on the whole, they're a lot easier.
However Blue Microphones may have a way of making audio recording easier for all, so that you don't need those skills to make your voice pop poorly.
A company that has been working on microphones for a good 20 years and occasionally throws in a pair of headphones, it has been working on a reinvention of its Yeti microphone series to deliver broadcast-quality sound without the broadcast-quality skill set, developing a microphone on a desktop stand that you can use and see how you're going with.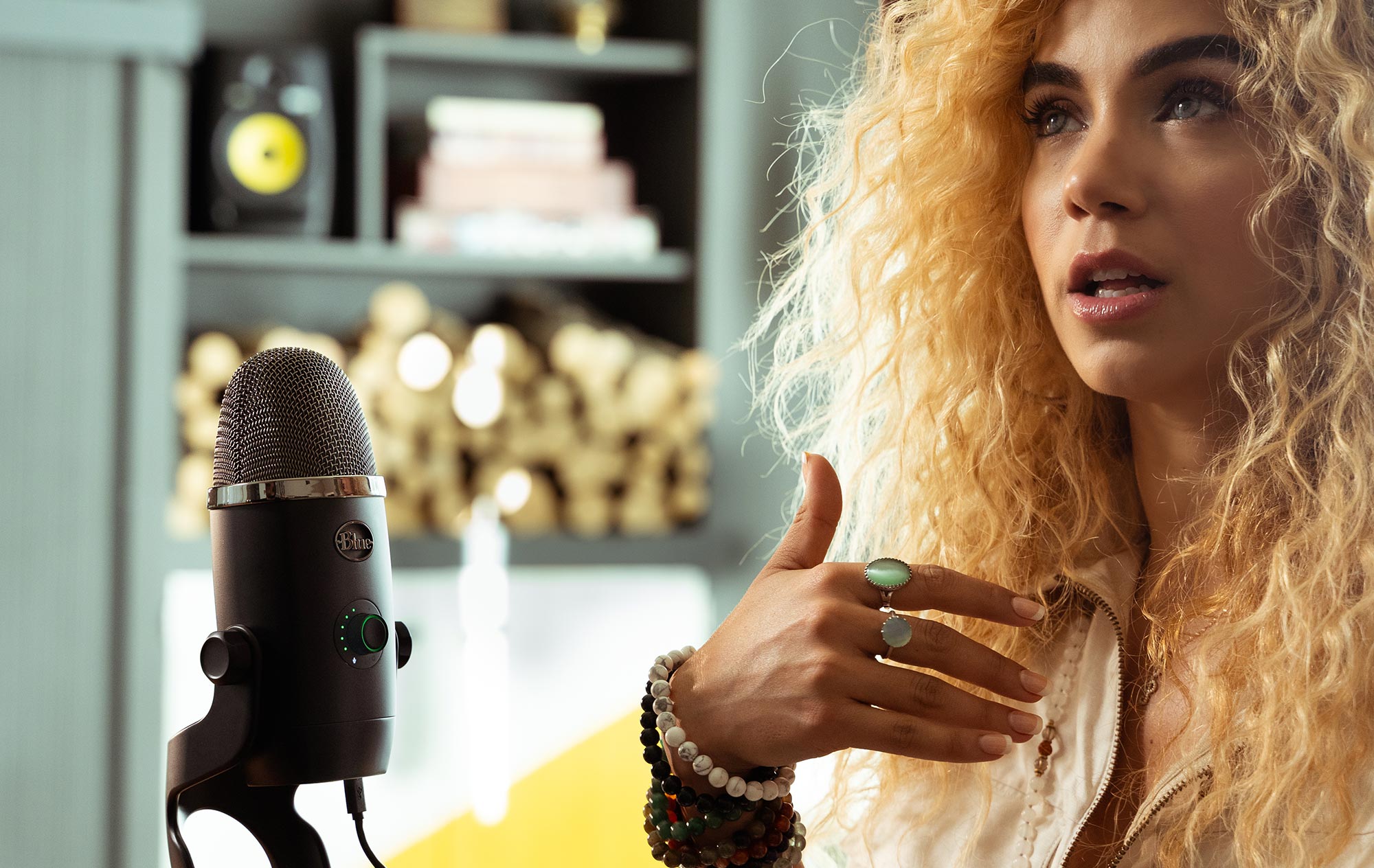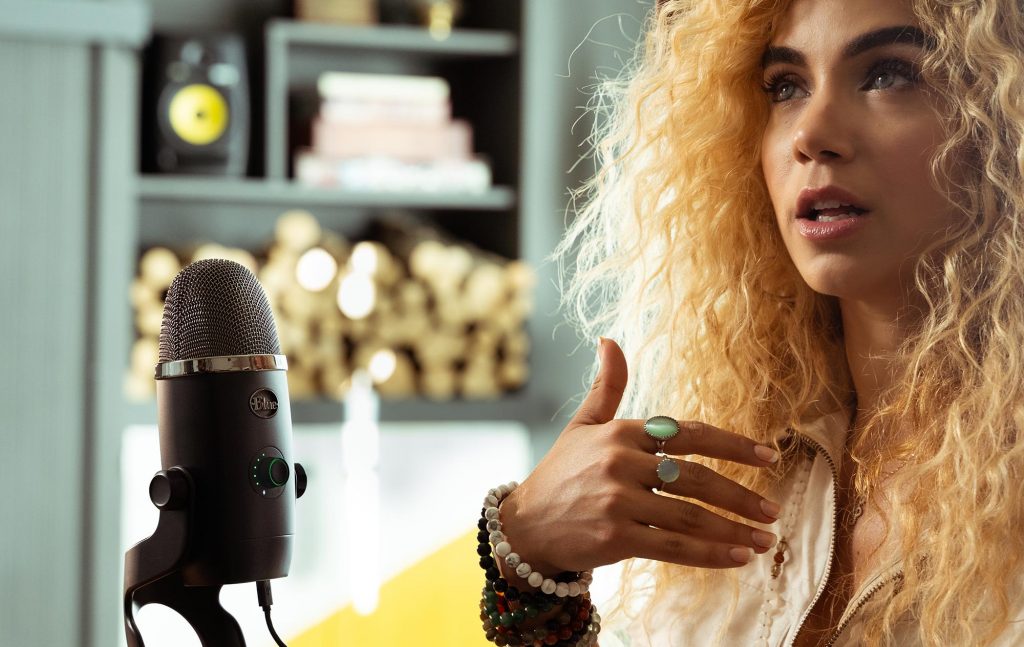 Called the Yeti X, it's similar to Blue's other Yeti microphones in that it supports four speaking modes, with a cardioid mode to pick up on sound in front, a bi-directional mode to capture audio both in front and behind for two people talking, a stereo mode to use the left and right channels when there are a few reasons to record (such as with an instrument), and an "omni" mode which works as an omnidirectional mode to capture from all around the microphone.
There are also some differences, such as its control knock, which can be switched between settings to control the microphone and sound levels without fiddling with software, jumping between microphone sensitivity, headphone volume, the amount of sound to blend with a computer, or even just to mute the microphone.
Around that knob is something very unusual for a microphone, with a volume guide providing metering for how loud you're getting. You might be used to green being good, yellow being warm, and red being too loud and hot, but you can also change those colours with the Blue software, which thanks to Logitech's ownership of Blue is now part of the Logitech G Hub platform.
It's not the only addition to the software, either.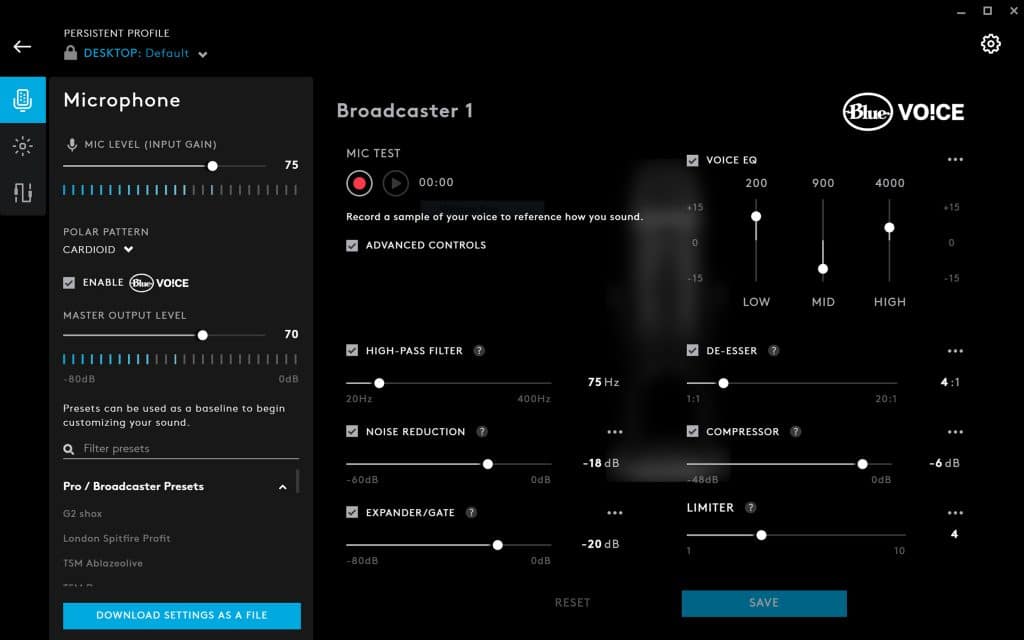 Blue's Voice (written as "VO!CE") audio software will let you apply affects and profiles to the sound, to provide warmer or more broadcast-quality approaches to your voice, thereby effectively removing the need for those skills in balancing audio you might still need.
You'll still need to bring your own talent and words to the Yeti X microphone if you plan on doing anything with it, but at least you might not have to worry too much about how the technology works in turning that into decent audio.
"We created Yeti X based on feedback from content creators all over the world, who need fast and easy-to-use tools that help them sound their very best," said John Maier, President and CEO of Blue Microphones.
Locally, the Blue Yeti X can be found at electronic and music stores across the country in October, arriving with a recommended retail price of $299.95, working on both Mac and PC.