The smart home is on its way, but what does that mean for your fridge? Depending on the model you buy, it just might help control that home of yours.
A smarter more connected home is on its way, and you have the internet to thank, but getting there isn't always going to be as simple as plugging something in and hoping for the best. While there's certainly a dash of that in some cases, some of the devices in your home will play along differently, and require the smarts to be built in, rather than added on top.
The fridge is one such example, and is one of a handful of devices in your home that never gets switched off, staying on to keep your food cool and preserved, while potentially learning when you use it most and optimising itself to improve energy output.
Technology to make that happen is only one part of the way a fridge can be "smart", however, as the fridge begins to make its transition from the centre of the kitchen to the centre of the home, no doubt a more important part of the household.
As TVs lose that place in some homes, and more people embrace the consumption of content where ever they are on their phone, tablet, or computer, the fridge has begun to erode the TV's position in the home, and has become the central place people go to do things. After all, it is the keeper of food, and it's the only place you have to go to get a snack, especially one that is cold during the warmer months.
While TVs are still the central part of many homes, this shift is one we've heard of as being expect, and as housing designs start to connect the kitchen, dining room, and living room with a more open plan, this transition and transformation is easier to see.
With this change occurring, the smart fridge can go beyond a mere buzzword to an actual device people can know and trust, making it more than just a net-connected fridge, but something more interesting.
Samsung has been investing in the smart fridge for long enough, and its latest model isn't just another fridge with a screen in it, but rather a fridge that connects to more parts of a smart home.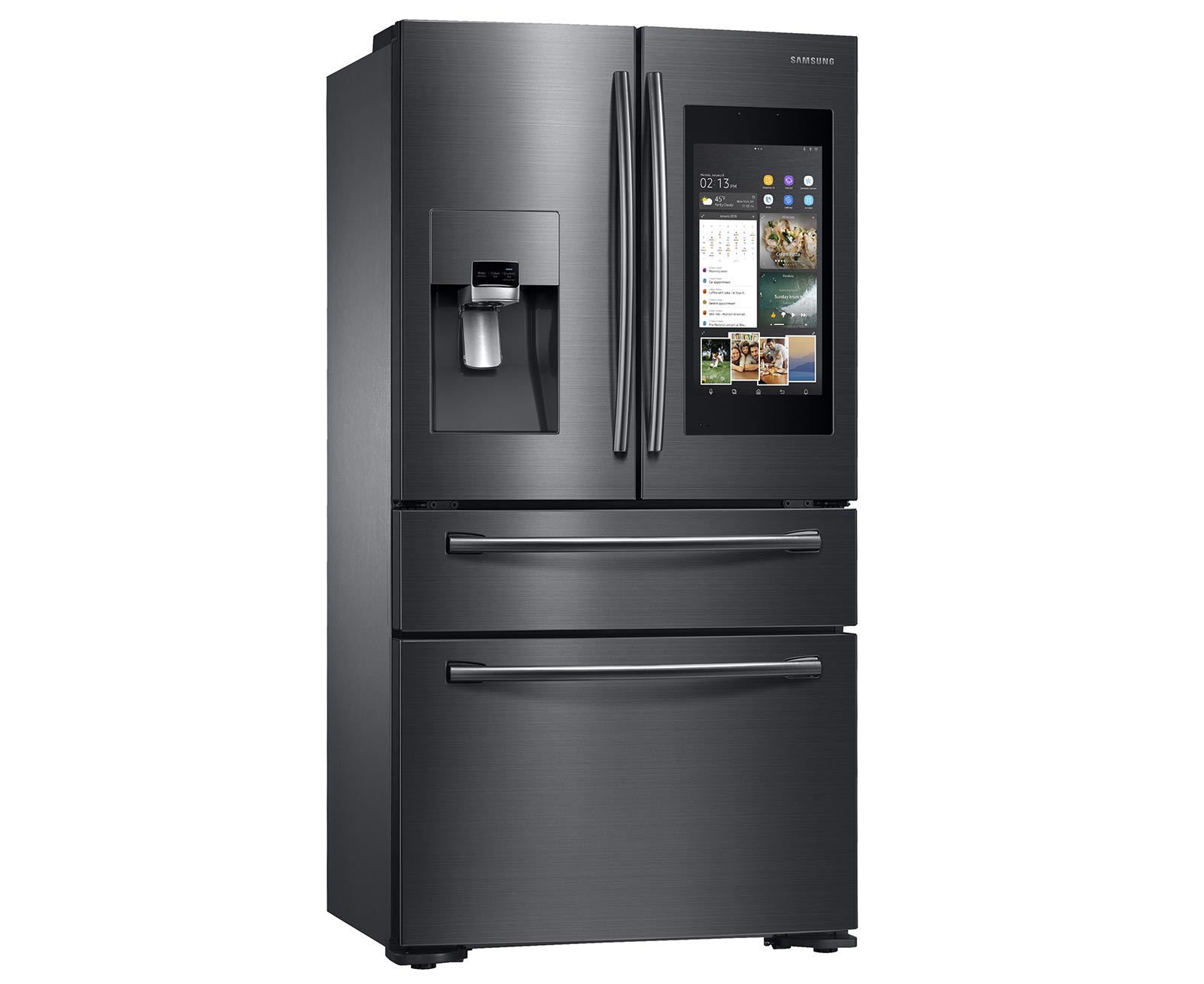 Continuing what we've seen for the past few years, the new Samsung smart fridge is a new generation of its "Family Hub" range, continuing the idea that the modern fridge is the hub of the home and the place we all go.
That's not just for food anymore, but for information as well, with the 21.5 inch LED touchscreen built into the Family Hub fridge showing photos and memos from the family, and this year supporting connected apps. New to the fridge is voice control, meaning you can speak to the fridge, though it won't be to tell it to stop you from eating too much chocolate.
Rather, it should let you control music, set timers, search them web, and add items to a shopping list. The apps on the Samsung Family Hub fridge aren't yet ready for your voice, but given they can call an Uber or connect with the Ring Doorbell from the fridge's screen, we suspect that will be coming soon.
And if you happen to have Samsung devices in your home, such as a recent Samsung washing machine, robotic vacuum cleaner, or one of the 2018 TV models, the Family Hub fridge will even let you control those, too.
"Australians are starting to realise the benefits that integrated smart technologies can make to their lives and the Family Hub is a great example of just how innovations in connected products can help make life easier," said Jeremy Senior, Director of Home Appliances at Samsung in Australia.
"By expanding our stable of connected apps on the Family Hub, we are building on our commitment to offer Australians new levels of convenience, support, and easy functionality to make busy lives simpler," he said.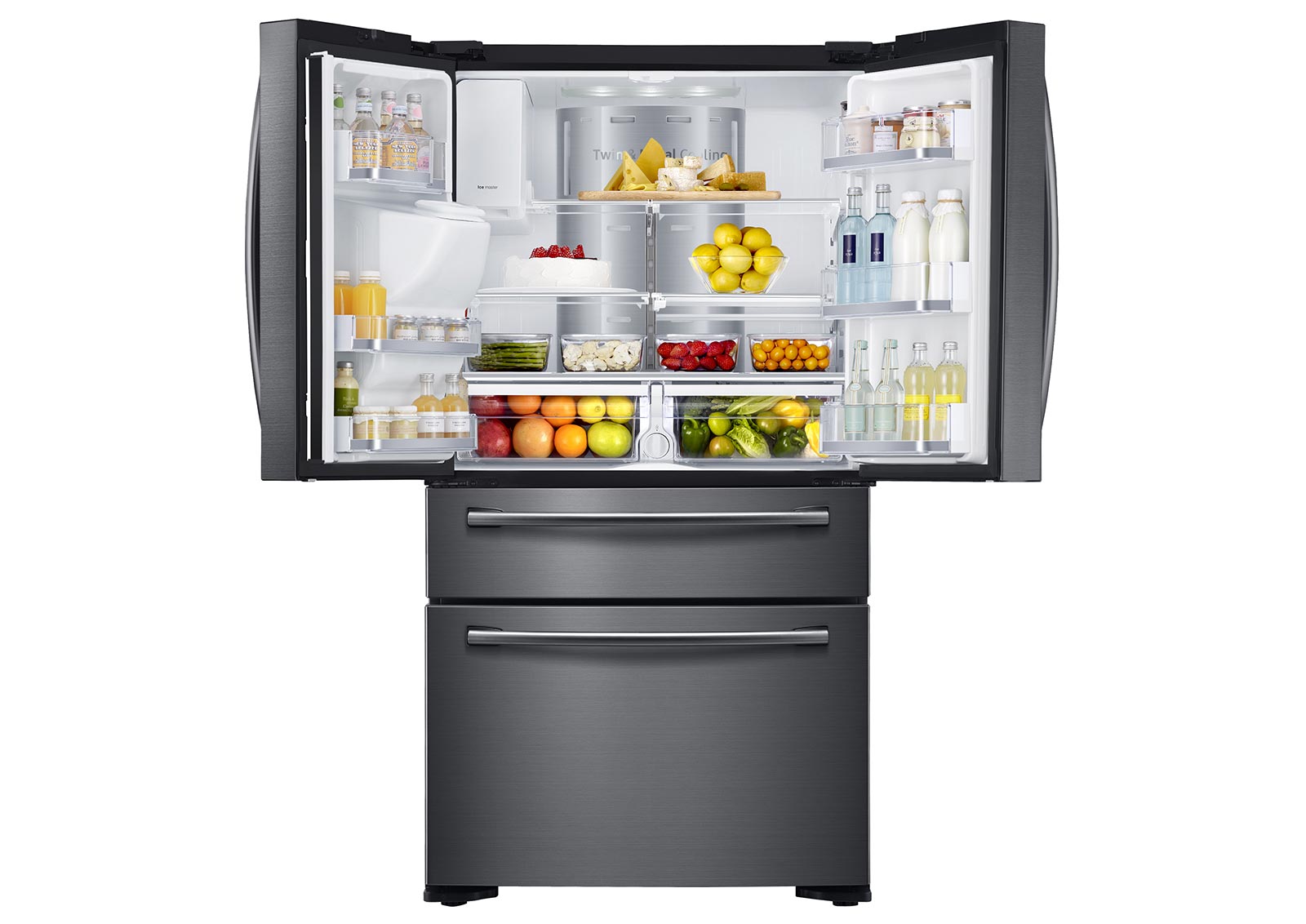 The apps also include support for Nespresso and Woolworths, which make it possible to order coffee pods and other groceries (respectively), with the Family Hub fridge featuring cameras on the inside of the fridge to track what you have not just without opening the fridge door, but from a phone when you're not home.
That means if you've wanted to know what you have available to you to eat that night, the fridge can essentially tell you.
All this functionality doesn't necessarily come cheap, though, and Samsung's Smart Hub fridge can be found locally for a recommended retail price of $5499, though it is available now.