The idea that the home can be automated is something being worked on by technologists, with new interconnected gadgets designed to make living easier. A fridge could add to this by letting you order groceries from the door, ideal if you're timepoor and shopping just takes too much of that whole time thing.
Samsung has this week announced a partnership with Aussie supermarket chain Woolworths to link its shops with a new fridge that will, in essence, let you talk to the supermarket from the front of the fridge.
As a precursor, it needs to be said that this isn't your ordinary fridge, with Samsung's "Family Hub" refrigerator not only having the first whitegood name for Samsung that isn't just a long sequence of letters and numbers — it has that too, SRF670HB — but also arriving as a relatively large fridge complete with an equally large 21.5 inch LCD sitting along the front.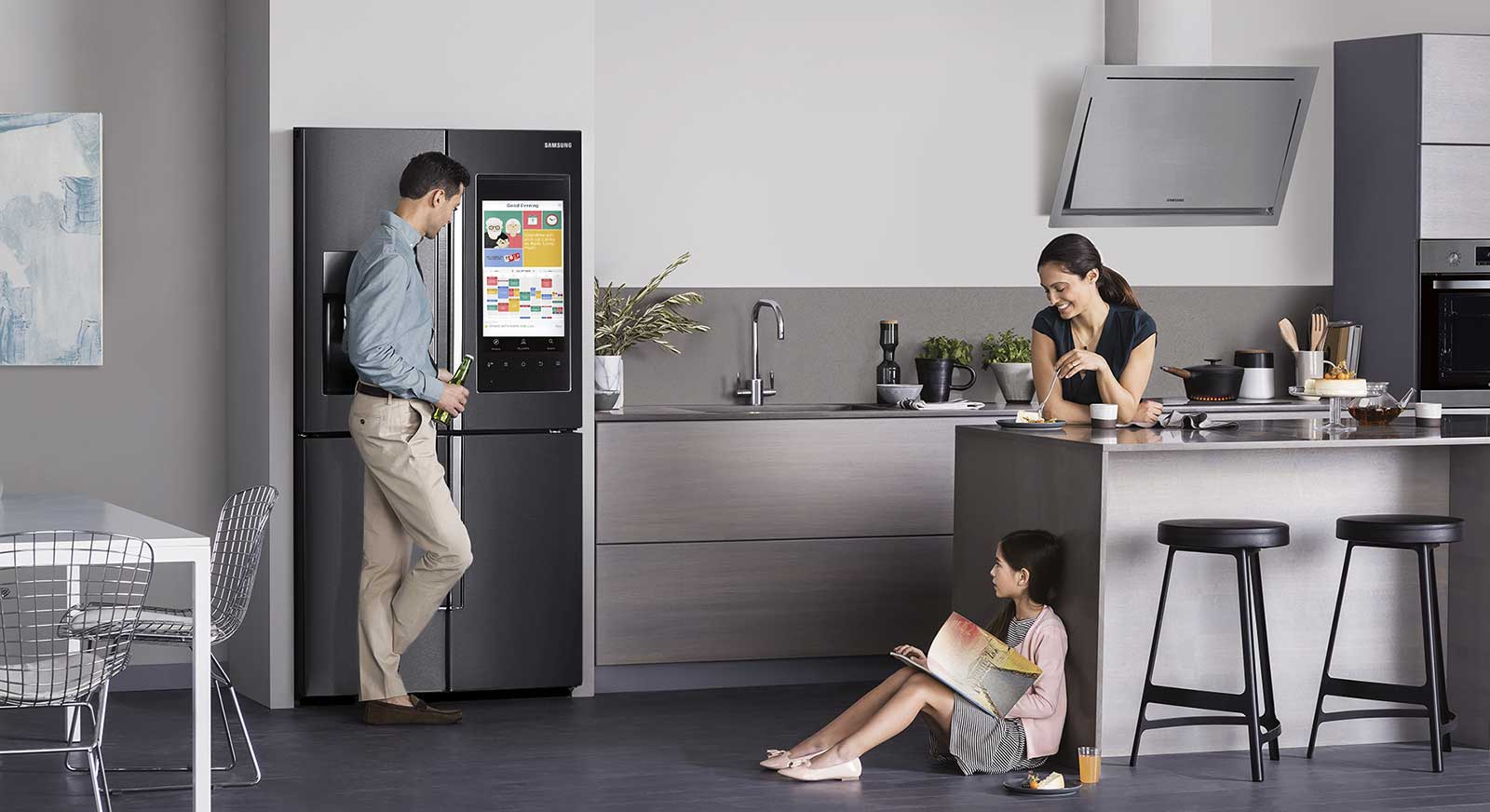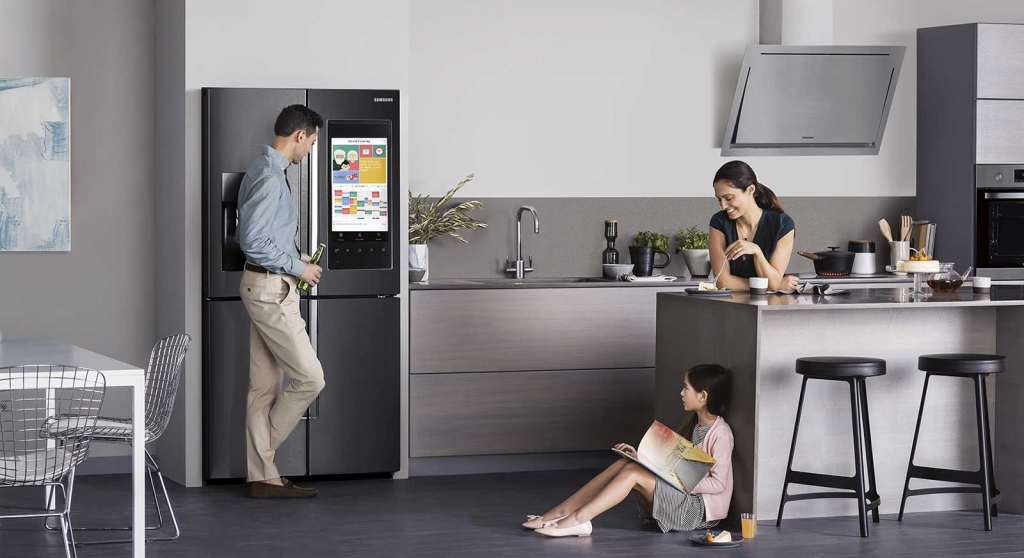 Yes, this is a fridge with a touchscreen, making it technically that fabled internet fridge companies have tried to push for years.
But while the "internet fridge" concept never had much to it outside of "surf the web from your fridge" or "play music from your fridge", or even "be the first person in the world to do more from your fridge" (we may have made that one up), Samsung is making the Family Hub more than just surfing or playing music, thanks to that connection to Woolworths.
Specifically, the Samsung Family Hub fridge will have a specialised Woolworths app made available to it, with Australians able to purchase groceries from the app.
"We're excited to be partnering with Woolworths to bring the Family Hub experience to Australian households," said Jeremy Senior, Head of Home Appliances at Samsung in Australia.
"The integration of the Woolworths App is designed to give Australians more convenience than ever before, saving time and adding an extra layer of support and functionality," he said. "Family Hub breaks new ground for household technology that is designed to transform the way Australians manage their food and life around the kitchen."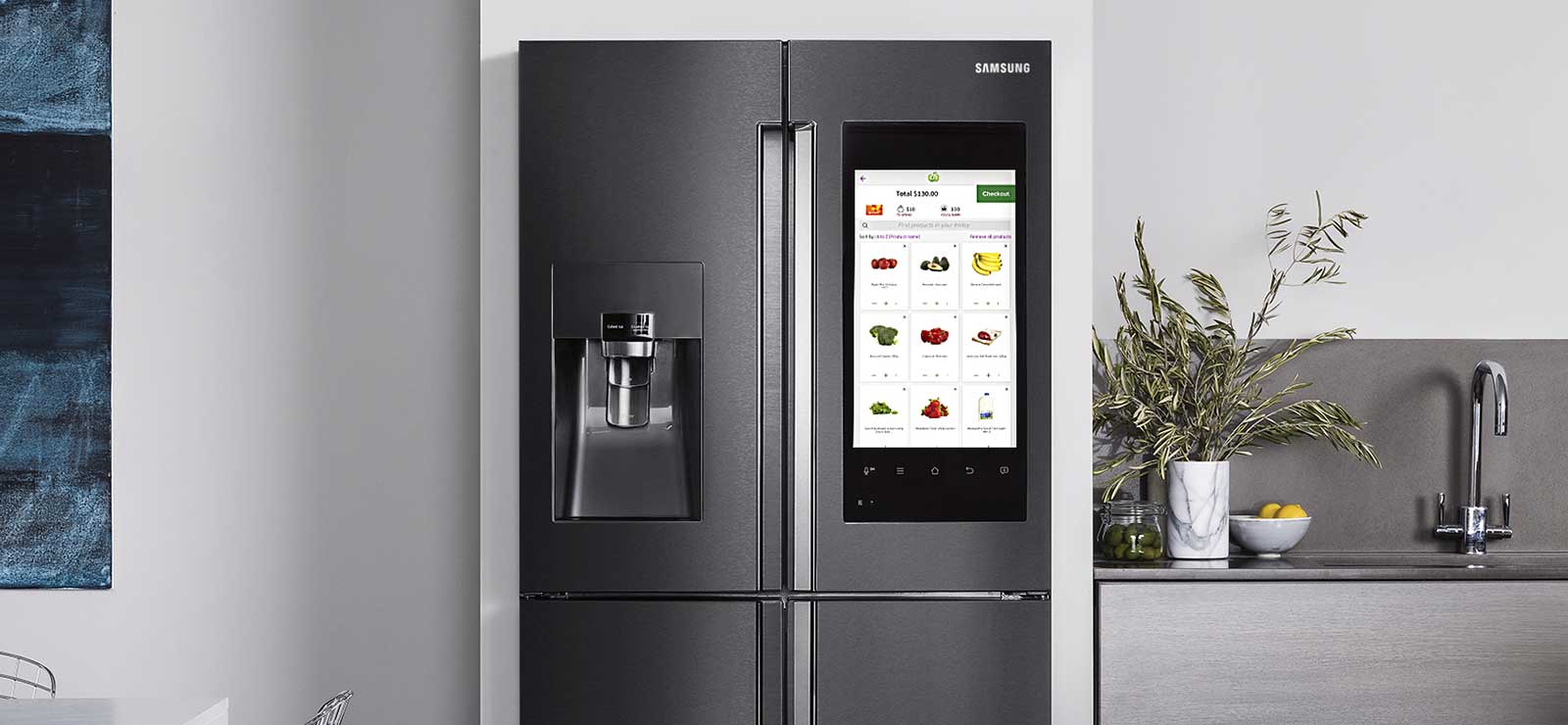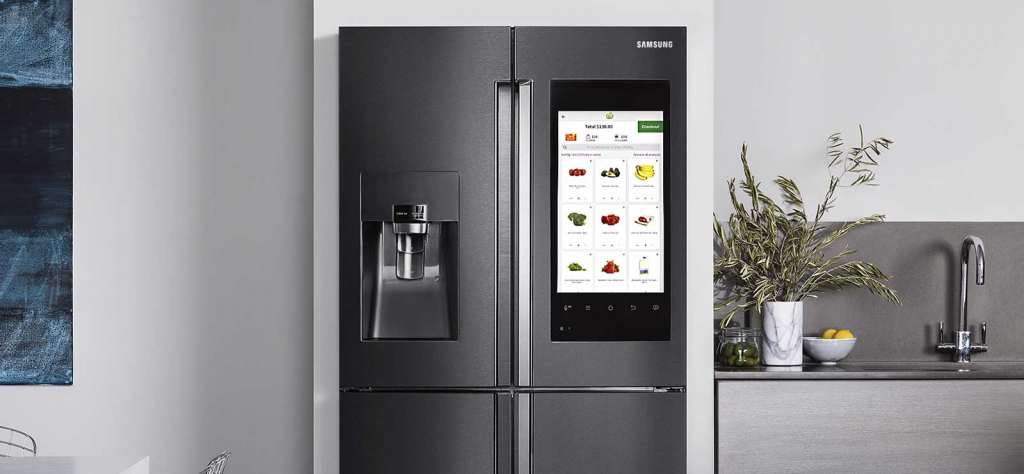 While we haven't yet seen the app, the smart money is on this being a custom version of the app Woolworths currently releases for other platforms, such as Apple's iOS (iPhone, iPad) and Google's Android, and that's partly because it's not expected to run the typical Android OS you find on Samsung's phones or tablets, but rather Tizen, the environment Samsung uses on other devices, like wearables and TVs.
As such, the LCD screen will have custom apps, which at the moment include a whiteboard for leaving notes for the family, a photo album for showing pictures of the family, AccuWeather for informing the family when to take an umbrella, and Pandora and TuneIn radio for annoying the family with your favorite music choice.
A web browser will also be included as, you know, this still technically is an internet fridge.
"At Woolworths, the customer is at the centre of everything we do, so working with Samsung on the Family Hub made perfect sense for us as we work to provide our customers with convenient ways to shop," said Kate Langford, General Manager of Digital at Woolworths.
"With the kitchen at the heart of the home, the Woolworths App on the Family Hub will deliver a great experience for customers, while also acting as a constant source of food inspiration," she said.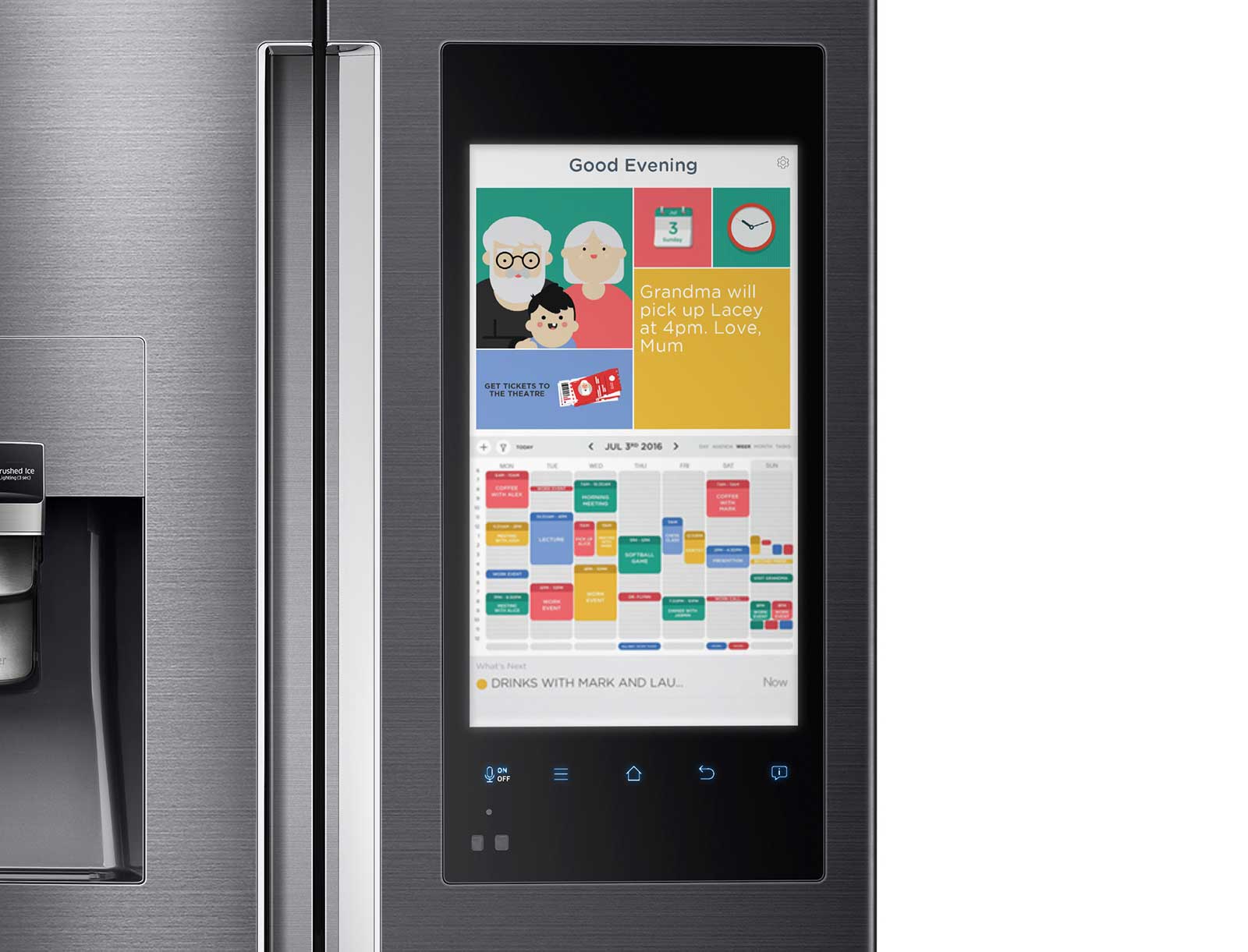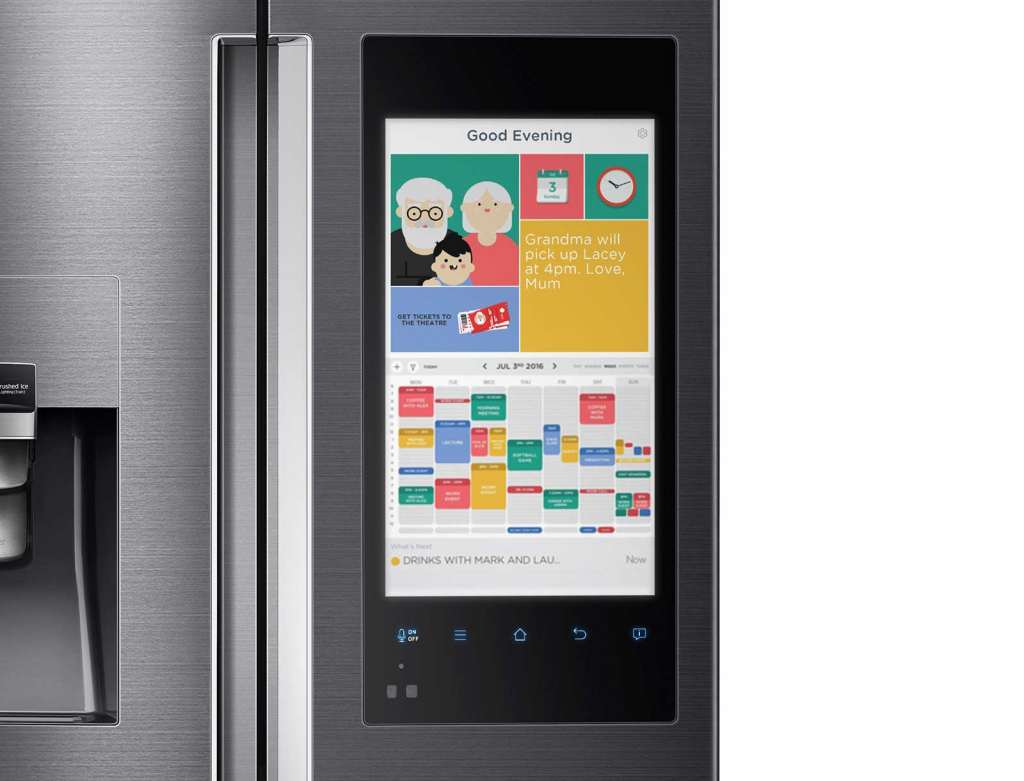 Outside of the Woolworths app — and indeed every other app — the fridge itself appears capable, with a 671 litre (671L) capacity and Samsung's "Triple Cooling System", which uses a network of sensors with three evaporators to keep humidity levels down and freshness up.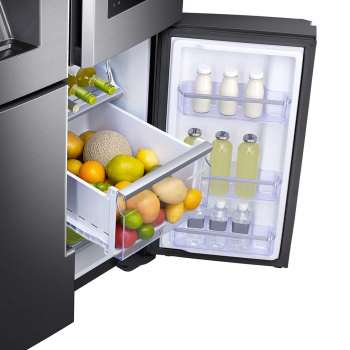 One section of the Family Hub fridge is also customizable, with the bottom right quadrant of the fridge able to shift from fridge to freezer and back again thanks to Samsung's "FlexZone" technology, which essentially cater for extreme temperature control to turn areas of the fridge into a freezer when more freezer space is needed.
Interestingly, Samsung hasn't mentioned what we saw on the Family Hub at IFA, with the fairly cool and quite handy cameras found on the inside of the fridge.
If Samsung is keeping this feature in the Australian edition — and we sincerely hope it is — you'll have three cameras to snap what's inside the fridge for you, with these pictures available to your phone from afar. Imagine checking if you had milk or tomatoes or anything else from out of home, because that's the idea here.
As for pricing, a fridge from the future doesn't come cheap, and Samsung is applying a pretty sizeable price to this one, with the SRF670HB — or just "Samsung Family Hub Refrigerator in Black Stainless Steel in a Counter Depth size" — for a recommended retail price of $7499.
That Woolworths app will come later, too, so if you're keen to order groceries, you won't be able to do it from your fridge until October, which isn't too far away so at least you won't be wandering the aisles for too much longer.